As borders open gradually and we all start making plans for the nearby future, I wanted to put on your radar a region of Austria that we visited late last year and had a terrific few days – Vorarlberg. To help you get an idea of the region, below you will find a FREE 5 day itinerary miniguide to the best things to do in Vorarlberg. To complement the guide you will also find a video that Sabrina created to give you a visual idea of all the places mentioned in the guide. Plus, on top of that with the help of the talented illustrator Jessica Smith ( with whom I collaborated on my book 'The Grand Hostels'), we even put together an illustrated guide to Vorarlberg, which you can download for free here. Altogether, I hope you find the guide, illustrated map and the video useful.
Vorarlberg Map
VORARLBERG
Nudging up against Germany, Switzerland and Liechtenstein on the borders of Lake Constance , a trip to the western most state of Austria, Vorarlberg is something that will stay with you for many years to come. Let me start with the landscape and the views from the countless beautiful peaks here. Hiking through the silence of the mountains and forests here, feels quite humbling, the way their silent grandeur make us and often our problems, insignificant. It helps you instantly trash all the crap in your head and filter out your stress and strains.
So many things to do in Vorarlberg – you're really spoilt for choice here.
You have beautiful hikes to choose from through some stunning locations. Each hike pushes you out of our comfort zone a little more and keep you craving to go a little longer.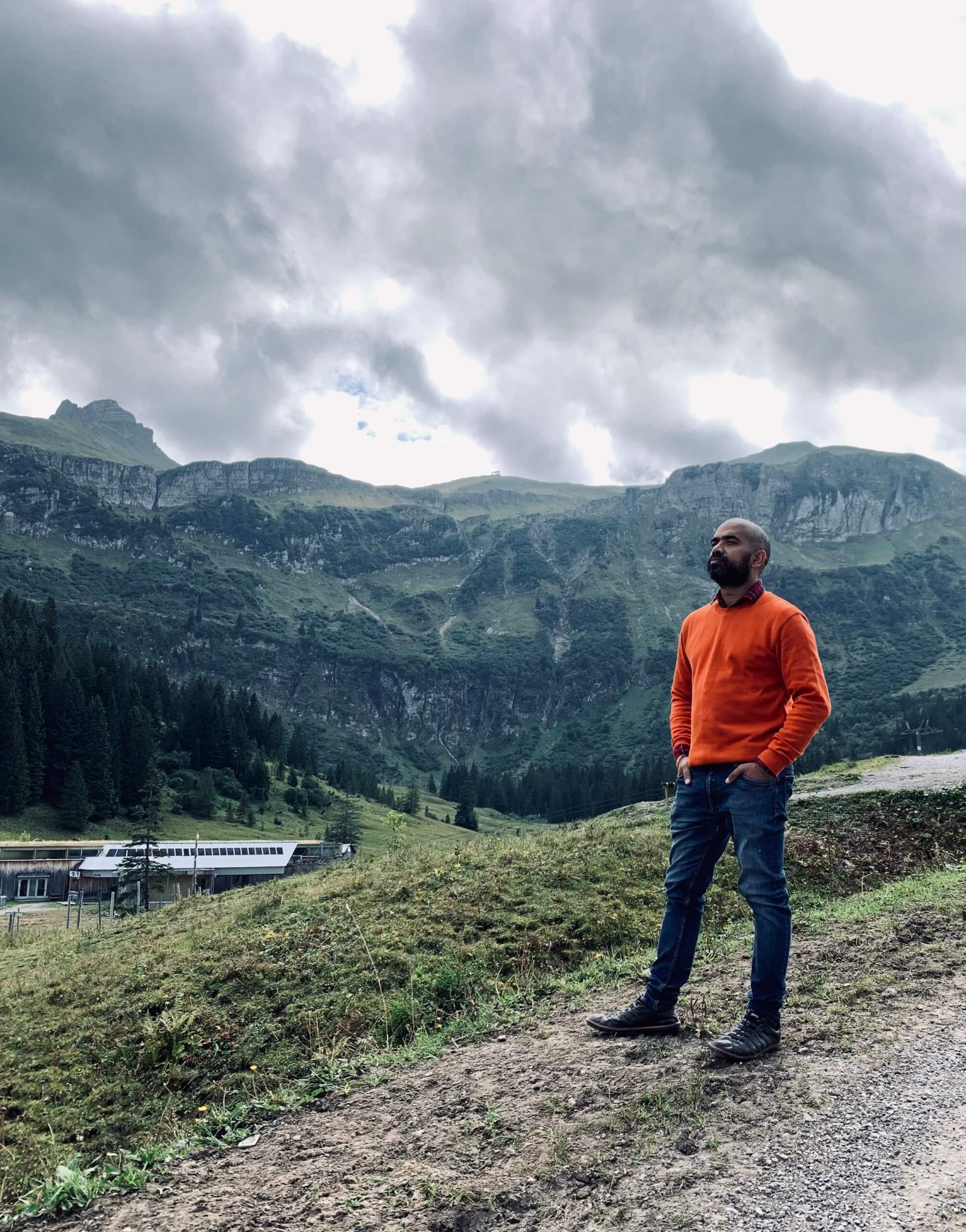 A holiday here is all about immersing yourself in nature. Whether you want to go on one of many countless stunning hikes or admire their wonderful wooden architecture, it is an extremely accessible destination. On top of that, you can find a bunch of wonderful places to stay and eat. They are not cheap by any means but all the places we visited, we think, represent great value for money. The following itinerary gives you some idea and a taste of what you can expect on a holiday in Vorarlberg.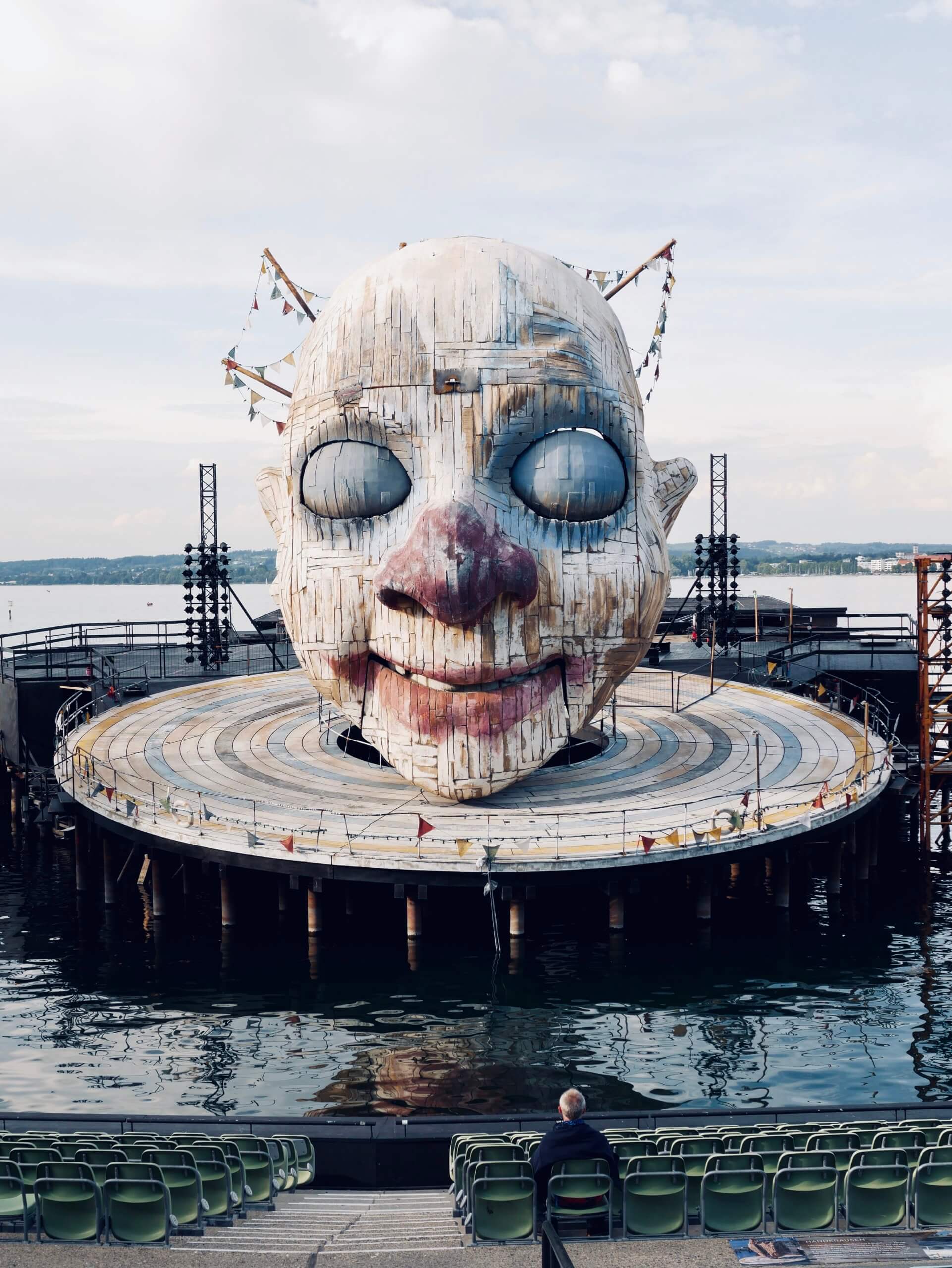 DAY 1
Bregenz
A picturesque city situated on a plateau with dreamy lakeside scenes, Bregenz was the ideal starting point for our week long adventure in Vorarlberg. Sitting pretty on the eastern edge of Lake Constance the perfect time to visit Bregenz is during their famed summer Bregenz Festival, where superlative operatic performances take place on a floating lakeside stage. Even though we missed the festival, we had the chance to see the spectacular floating lakeside stage ( Note: Bregenz Festival won't take place in 2020 and Verdi's Rigoletto will be the featured opera for 2021 season)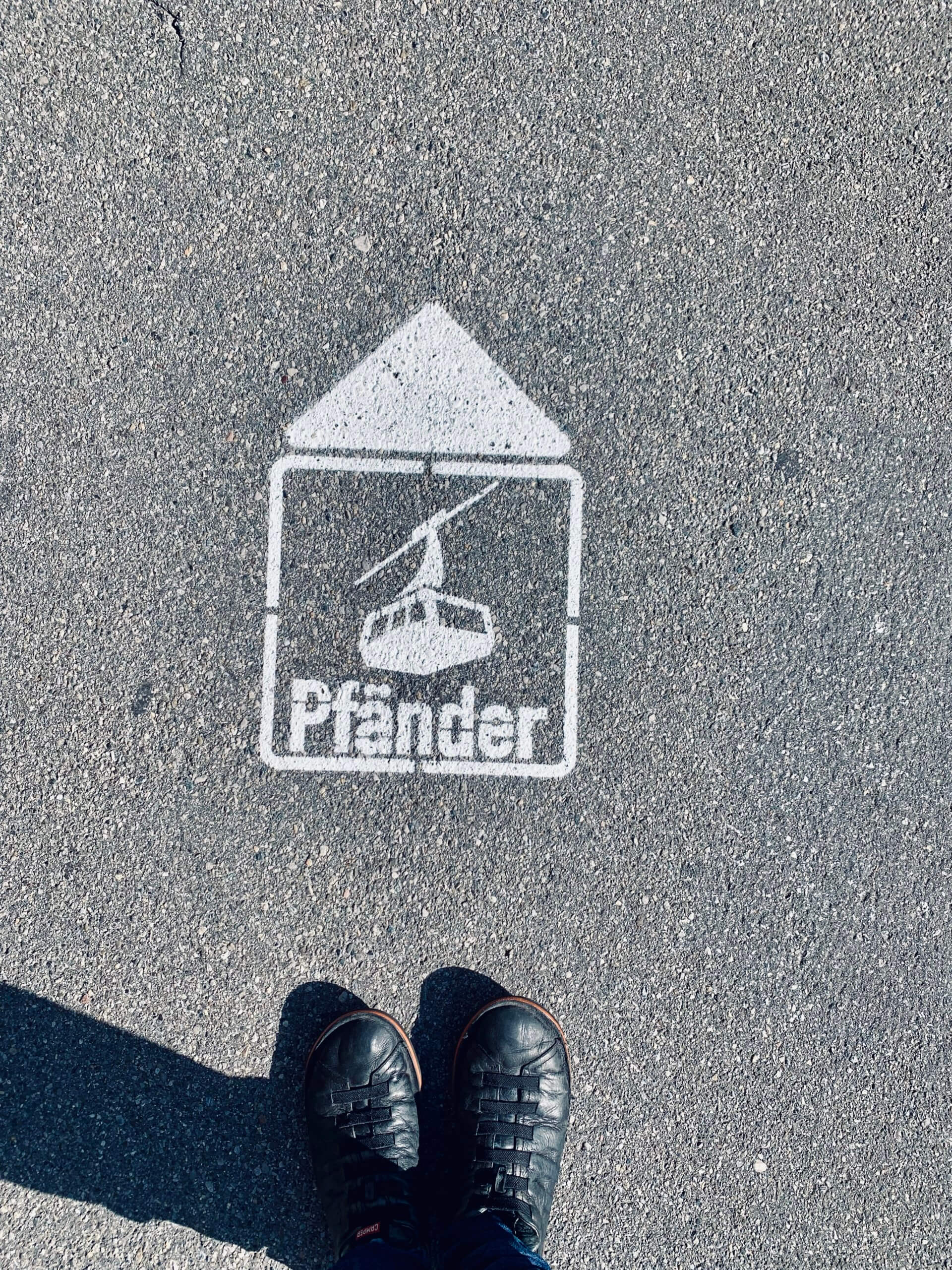 Hop on the Pfänderbahn cable car
If you have a short stopover in Bregenz like us, do make time to go to the top of the Pfänder mountain -offering stunning views of the city, Lake Constance and over 240 Alpine peaks of Austria, Germany and Switzerland combined, it really is some view. To enjoy the view, hop onto the Pfänderbahn cable car (Tickets for a return ride is €13.60 for adults, €6.80 for kids – 6-15 years- and €27.20 for a family ticket) On the top there is a panoramic restaurant from where you can enjoy the views while supping on a cold beer.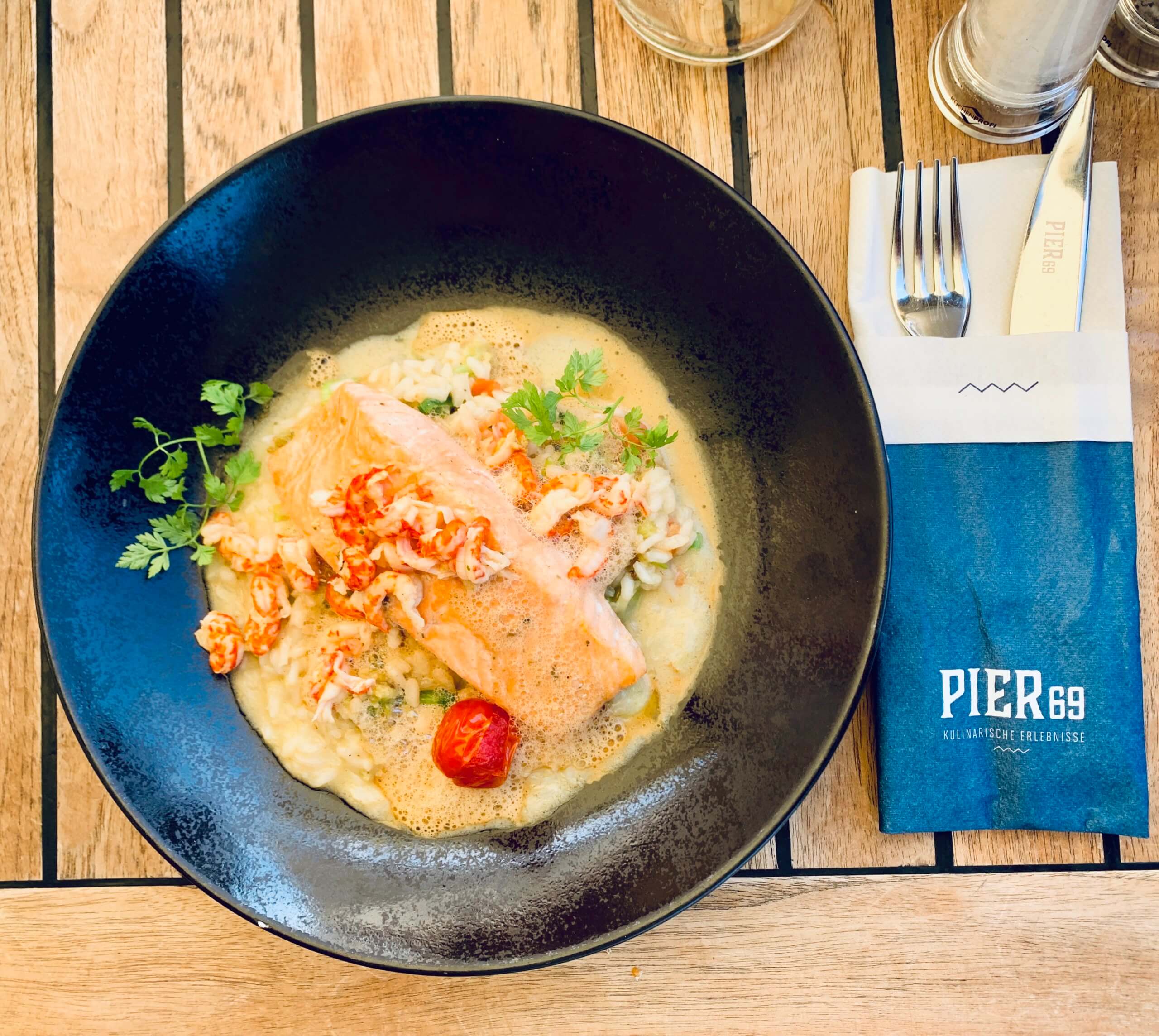 Lunch: Pier 69
The lakeside setting of Pier 69 is unbeatable, service is fab plus the food is a nice mix of modern European fare with dishes ranging from seafood paella to potato gnocchi with basil pesto. Their set lunch menu offer incredible value.
Bregenz Culture Mile
Also recommend a wee meander along the Bregenz culture mile which has an incredible mix of old and new architecture. The walk should include a visit to the uber-modern KUB aka Kunsthaus Bregenz museum for contemporary art.( Standard adult tickets costs €11, concessions €9. Combined ticket to KUB and vorarlberg museum is €17, €12 for under 25's). A rota of revolving exhibitions means that there is always something new to see here. Illustrious exhibitions that have been hosted here in the past include those of Warhol, Weiwei and Antony Gormley.
PS For more about cultural events and attractions, hop over to the Bregenz Tourism website.
The vorarlberg museum, ( Regular tickets €9, Concessions €7 ) another stunning modern building, is the repository of the state's art and cultural treasures. The collections here dig deep into the realms of archeology, folklore, art history and much more.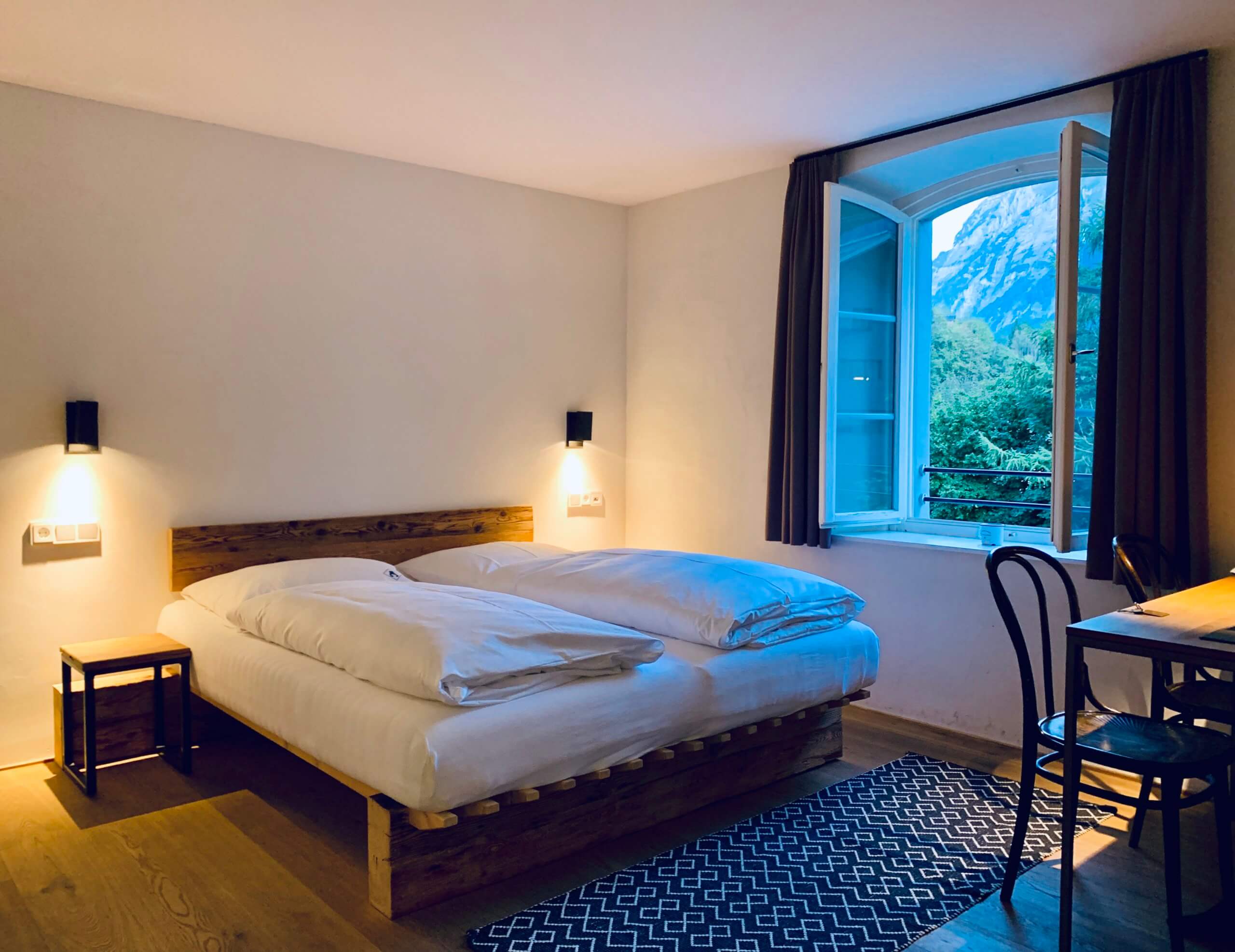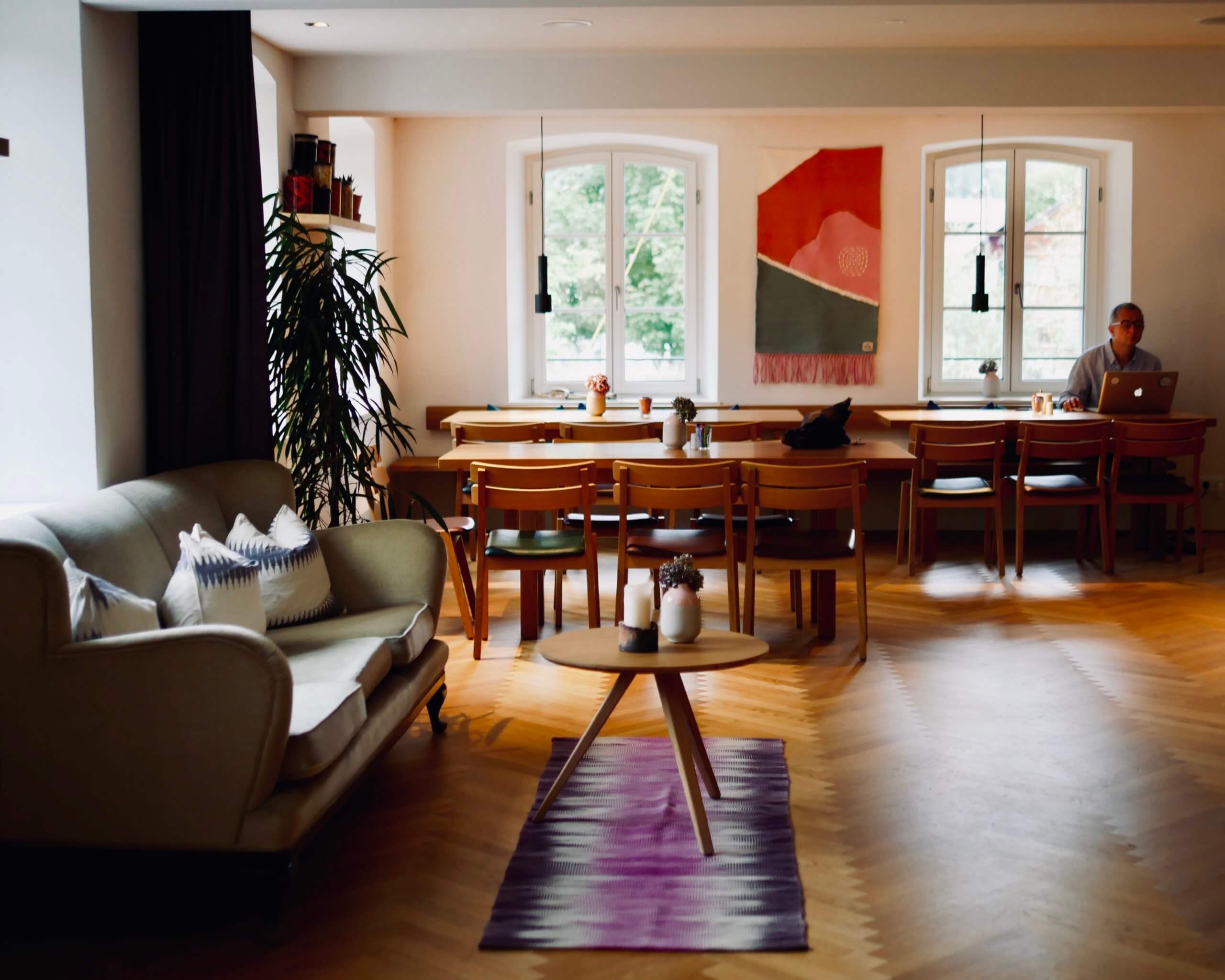 Sleep: Hotel Bären, Mellau
Our next stop and home for the next 4 nights was the village of Mellau (Take bus number 37 or 35 from Bregenz )
Mellau was a fantastic base to explore Vorarlberg. We spent 4 nights at the green-shuttered Hotel Bären of Mellau situated in the charming village square. With an in-house sauna with outdoor terrace, a well stocked library on the first floor and an excellent in house cafe-restaurant where they serve an excellent buffet breakfast, this is a great perfect place to rest after a long day of skiing or hiking in the mountains.
Essentials: Room rates on Booking.com start from €50 a night per person based on 2 sharing. Rates include their excellent buffet breakfast, access to the sauna, free car parking and the free Bregenzerwald Guest Card if you stay 3 nights or longer in the summer. Bregenzerwald Guest Card gives you free access to public buses, cable cars and local public swimming pools.
Tip: If you're on a more strict budget, recommend Gästehaus Meusburger in Bezau (Rates start from €58 per room, per night). With garden, sun terrace, fully equipped dining room for guest use and supermarket, konditorei and ski bus stop nearby, this is an excellent budget option. The Bregenzerwald Guest Card is included in the rate for stay of 3+ nights during the summer.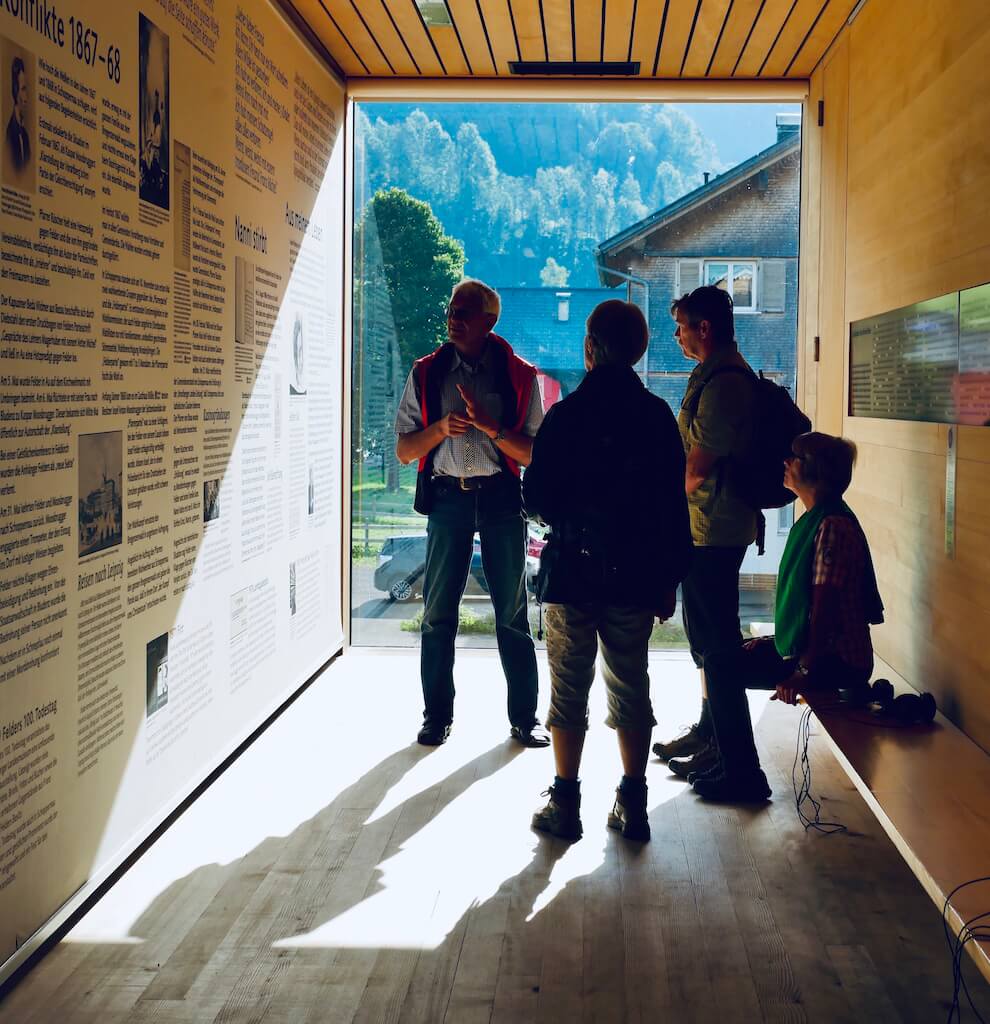 Tip: The Umgang Bregenzerwald, a planned walk through twelve villages, is a fantastic way to take in the region's beautiful architecture, the cheese of the Bregenzerwald, flora and fauna endemic to the area, including Edelweiss, the abundant winter snow and skiing and just enjoy the area's stunning panoramic views. Green in the summertime and a glistening bed of white snow during the winter – the walk is the perfect way to enjoy the region's unsurpassed natural beauty but also to learn more about the way people in the Bregenzerwald deal with their environment.
DAY 2
Schoppernau
Our first stop of the day was the idyllic village of Schoppernau. We start the day with a free guided tour along the Umgang Bregenzerwald trail of the village organised by the tourism office.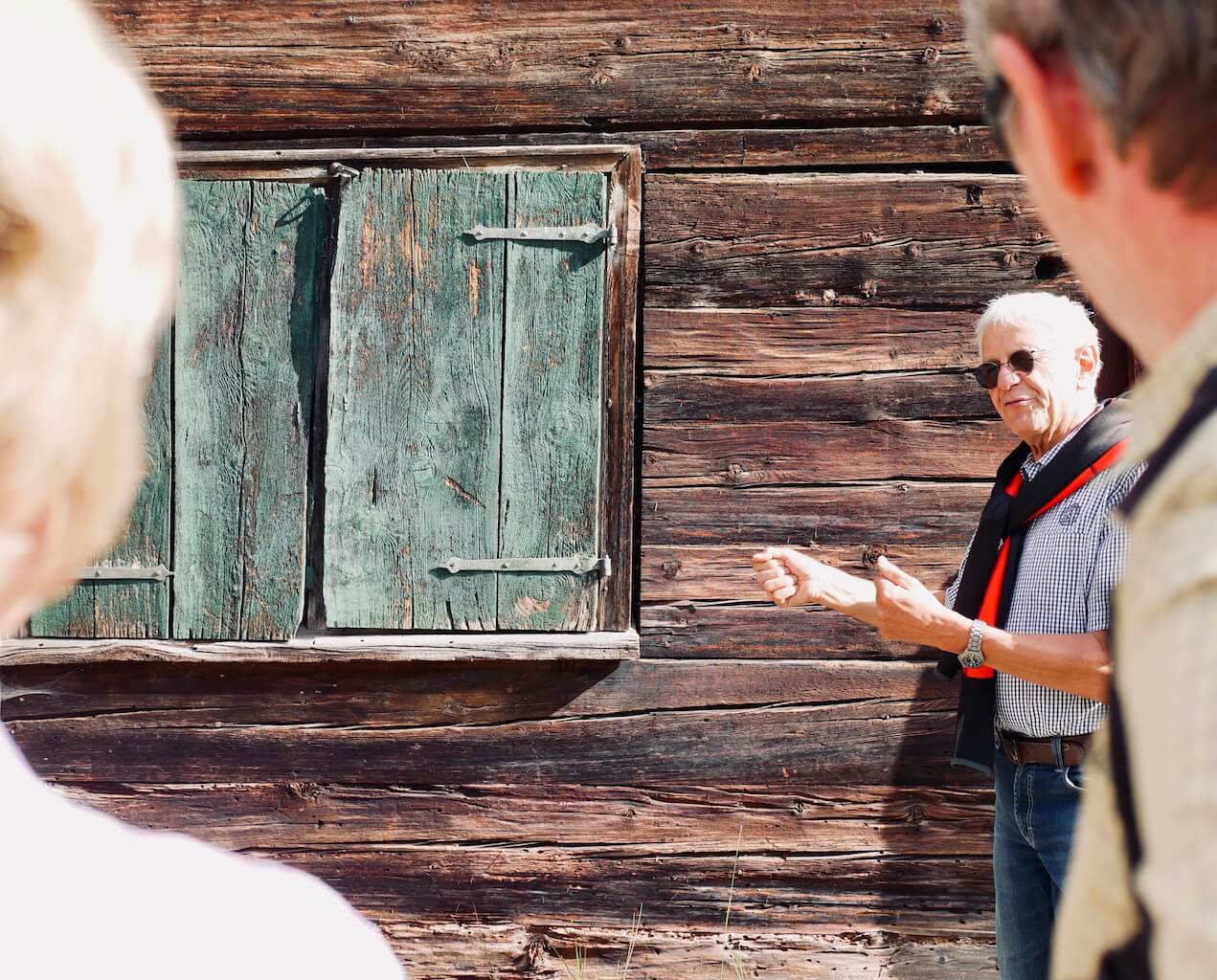 The tour allows you to see some of the town's most iconic buildings like the Bergkäserei Schoppernau, farmhouses, an old sawmill, the fire department, and the primary school. The half-timbered farmhouses with their overlaid beams and the white parish church with its black onion shaped dome are the buildings that caught my eye. Before you leave Schoppernau, make sure you sample the excellent cheese at the Bergkäserei as part of your tour.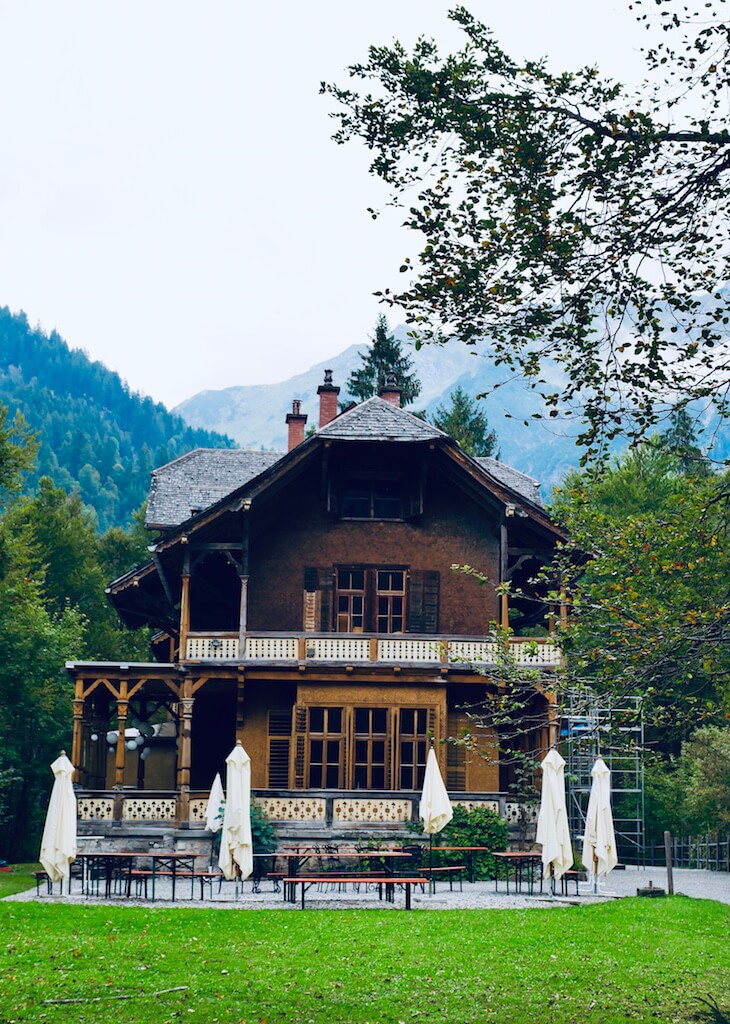 Another Schoppernau highlight is a visit to the Villa Maund, designed by the genius of William Morris. The villa was built for Sir John Oakley Maund in the 1890's and was later used by German Crown Prince William as a hunting lodge. Along its roster of notable guests is included the name of Queen Elizabeth II. The villa exterior is built in the English country style but the interior was a labour of love of several Bregenzerwald craftsmen. Master carpenter Johann Anton Strolz and Bischof Pius were responsible for the intricate wooden panelled interiors. I loved the place. With a striking wooden staircase decorated with taxidermy and a fireplace that is straight out of a Wes Anderson movie, it was a wonderful place to linger in. No surprise, the villa is highly in demand for wedding and special events. Access to the place is complicated but guided tours are offered in the summer by the nearby Hotel Adler ( E-Mail: [email protected] or phone +43 (0)5515 2106 to book your place or find out more details of their guided tours).
Lunch: Alphof Rossstelle
Food at the Alphof Rossstelle is decent and well priced with dishes ranging from Wiener Schnitzel with fries (or salad, €10.90) to typical Bregenzerwald Kässpätzle with potato salad (€9.50). Big plus here is their outdoor seating-perfect place if the sun is out.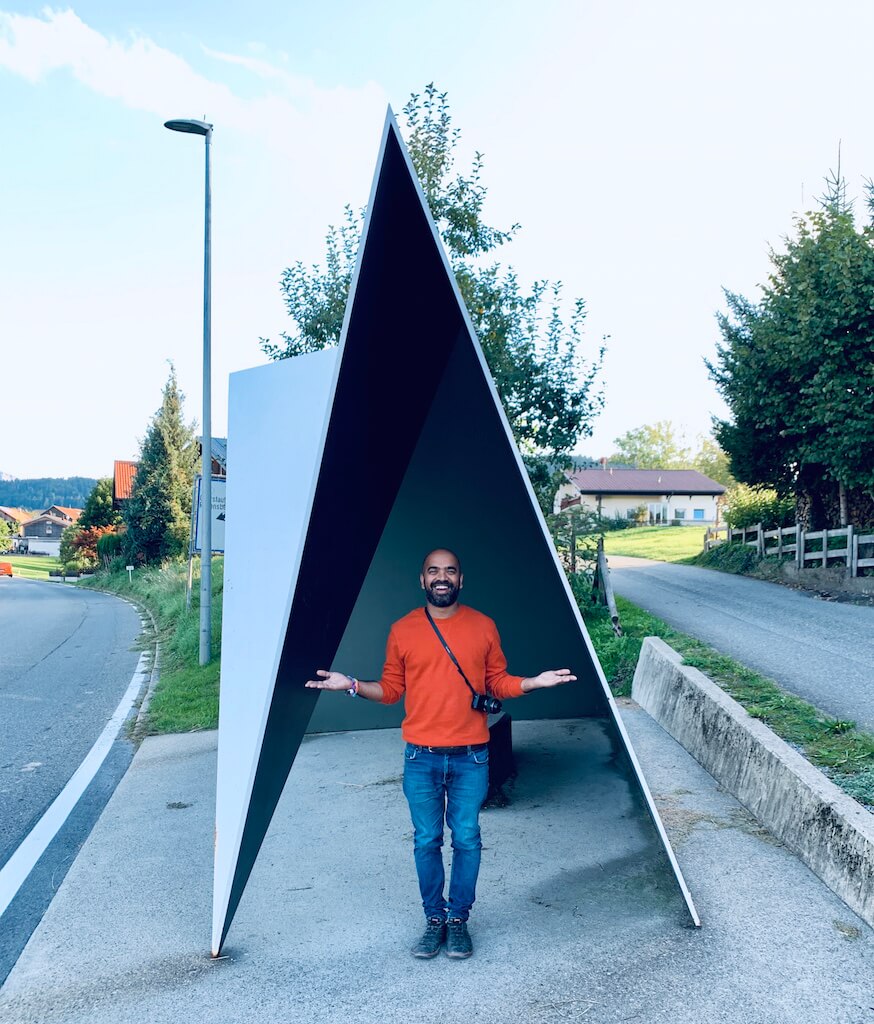 BUS: STOP Krumbach
We continue our architectural odyssey of Vorarlberg in the market town of Krumbach which is part of the Bregenzerwald region as well. The key highlight of any visit to the Krumbach are visiting their unique bus stops. I know, going to see a bus stop would not be the usual thing that one would put on a holiday wishlist but these bus stops, designed by 7 acclaimed international architects, are probably the most unique bus stops in the world. The project, known as BUS:STOP Krumbach attracted several international architects from Belgium, Spain, Russia, Norway, China, Japan and Chile.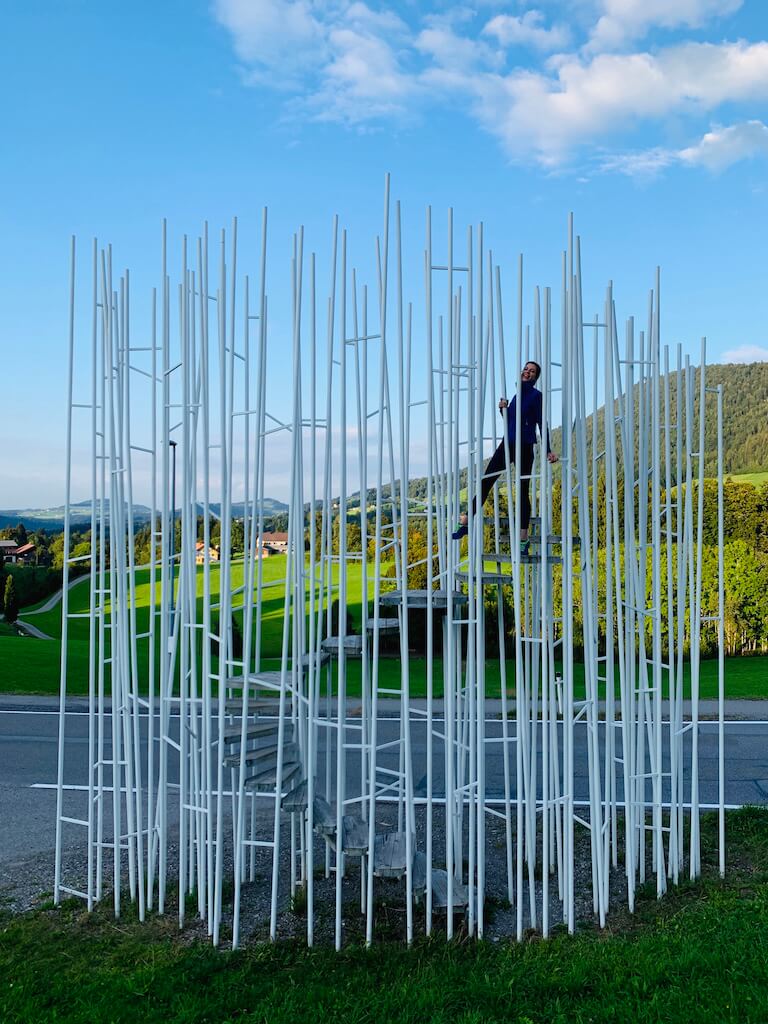 The architects while bringing their own vision and designs, had to rely on the craftsmanship of locals to build the 7 bus shelters. They were employed using local materials and unique skills to build the project. Hence, touring the bus stops is a way of not only assimilating the local craftsmanship but also taking in the village scenery. At the same time it shows how important and well-developed the public transport network is. More information about the BUS:STOP Krumbach project , click here.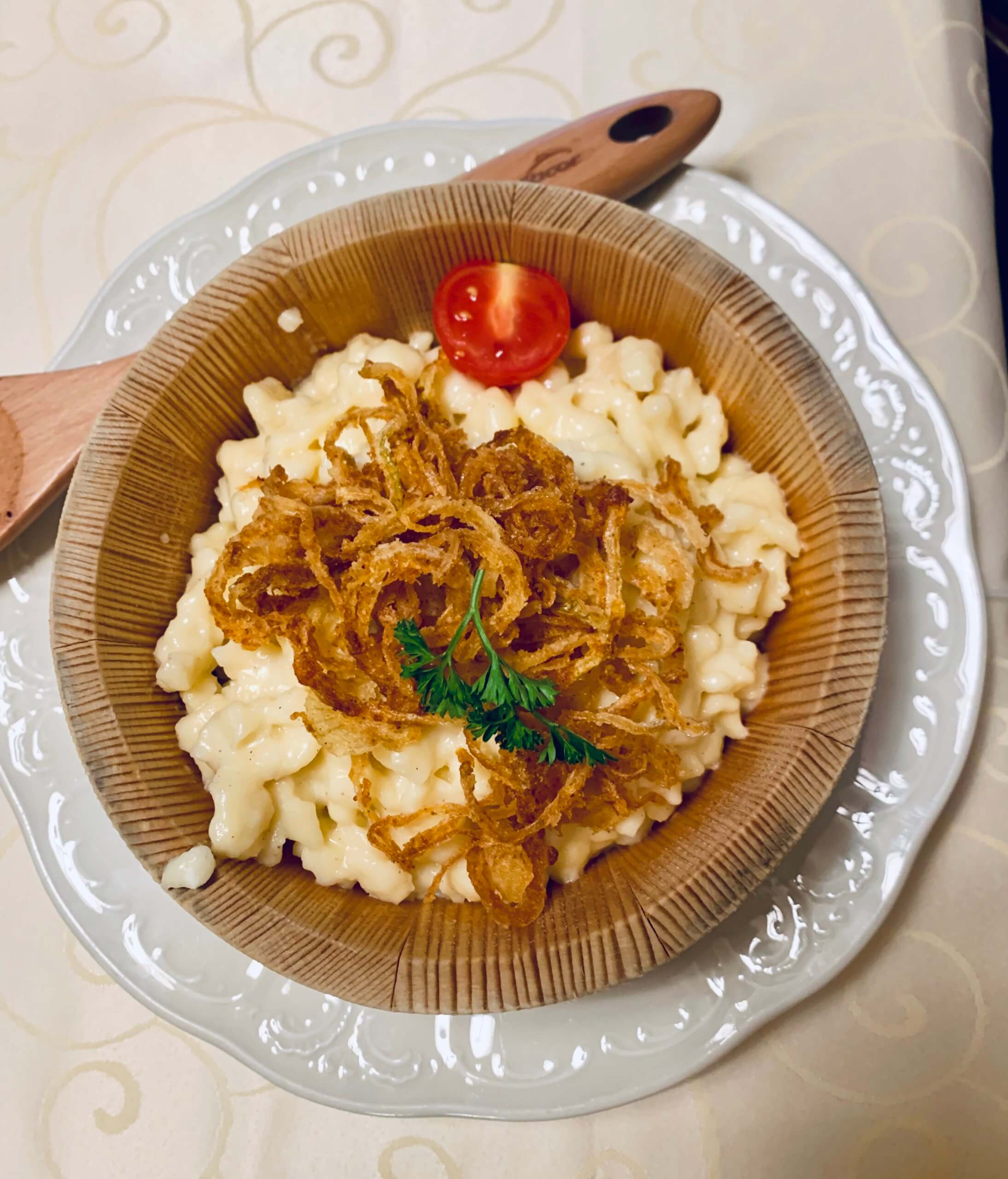 Dinner: Gasthof Adler, Lingenau
We finish our day enjoying dinner at the excellent family run Gasthof Adler which is part of a relaxed mountain hotel on the edge of Lingenau. The hotel is designed in the typical chalet style with the verandahs heavily laden with the bright flowers that are typical to this region. The dining here is rustic, relaxed and great value-perfect place to sample some classic dishes from the region. I enjoyed the classic Kässpätzle (German for "spätzle with cheese") which is a traditional dish enjoyed in Vorarlberg and also in Swabia Germany, Liechtenstein and Switzerland. The Vorarlberg variation of the dish uses Bergkäse and Räßkäse, a local hard cheese from Vorarlberg and it is topped up with butter and thin crispy onion rings (€15 and comes with a green salad) while Sabrina enjoyed pork medallions in a creamy mushroom sauce with spätzle (€18.90). The restaurant also serves a 3 course menu with wine for €38.90.
DAY 3
Breakfast at Hotel B

ä

ren | Off to Bezau
We fuel for a big day in the mountains with the mother of all buffet breakfasts at the Hotel Bären's cosy inhouse cafe. There is a big emphasis on local organic products here. From the bread which comes from the village bakery to the milk, cheese, yoghurt, eggs, jam and honey- all products in the buffet are sourced from Vorarlberg. There's delicious coffee on tap, freshly made juices plus there's unlimited supply of freshly brewed coffee. There are vegan as well as gluten-free options.
After breakfast we hop over to Bezau on the bus number 40 from where we hop onto the Bezau Seilbahn. All transportation is covered with the Bregenzerwald Guest Card which you receive for free from an hotel if you stay 3 nights or more.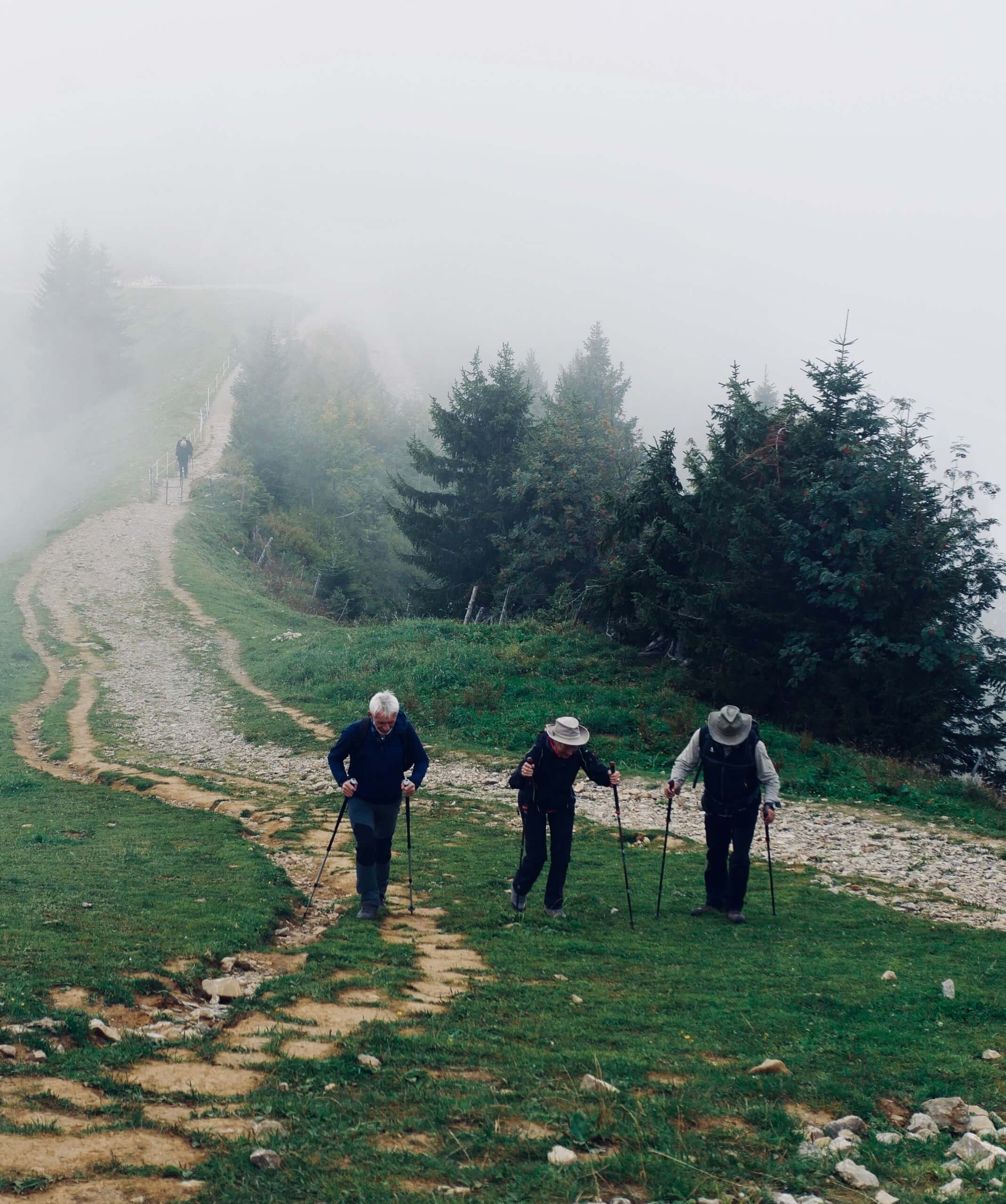 Baumgarten
We then hopped onto the gondola from the village Bezau up to the top, Baumgarten where we found a lot of people relaxing in their modern panorama restaurant with a scenic terrace. We then took a nice 1.5 hour panorama hike from Baumgarten which has a couple of scenic vantage points along the way. The day we went, the mist was thick and visibility poor initially. It all added to the atmosphere, especially with the distant refrain of cow bells filtering through the mist. The sun would occasionally burn through the clouds to reveal some breathtaking views of Lake Constance in the distance. Definitely a hike to enjoy when you have clearer skies but for most of our hike, the clouds remain hemmed in to create an eerie atmosphere that felt like out of a Sherlock Holmes novella.
Lunch at Bergrestaurant Niedere
At the end of the panorama hike was the promise of a wonderful lunch at the beautiful mountain inn, the Bergrestaurant Niedere . With spruce walls, maple tables and oak floors, the hut is a beautiful spot to rest after the hike. Gathered around the log fire, we have a glass of wine and sample their cheese platter which includes their homemade mountain cheese.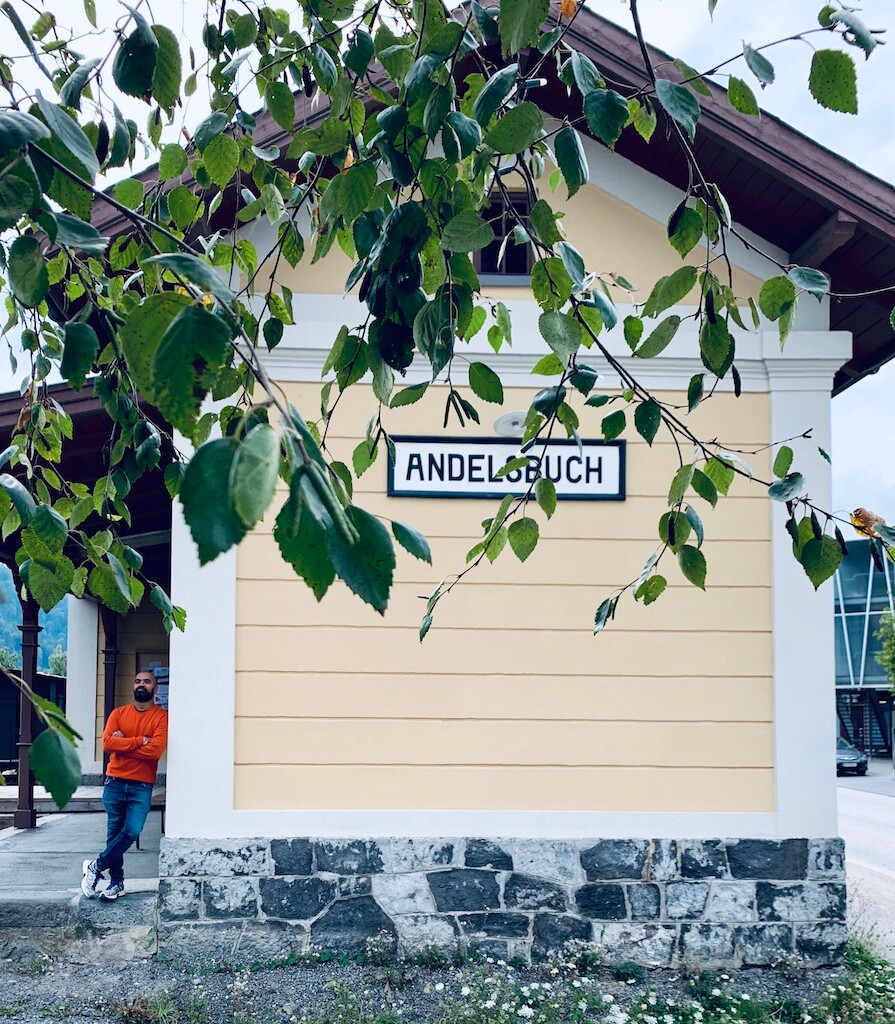 Andelsbuch
Afterwards we take the nostalgic retro chairlift down to the village of Andelsbuch. I don't have much of a head for heights but the chair lift was secure and with cloud clearing in the afternoon and the mountain valley bathed in sunshine, it was such a beautiful ride down.
Andelsbuch has a wonderful air of calm and peace that is only broken by the odd car whooshing by. You are right in the middle of the valley, surrounded by grassy meadows. The main drag of the town is a picture of Austrian rural idyllic perfection – lined with beautiful timber buildings, wooden balconies overflowing with colourful flowers.
Werkraum Bregenzerwald
The village naturally draws in many visitors thanks to its eye catching wooden architecture but the one place that stands out from all the surroundings is the Werkraumhaus, a minimalist glass temple designed by renowned Swiss architect Peter Zumthor.
Designed with the help of craftspeople of the region whose almost 100 members were involved in everything from wood processing, joining, carpentry to locksmiths, bricklayers and lighting producers working their magic, Werkraumhaus distills centuries of craftsmanship of Bregenzerwald under one roof. Within its 700 m2 space at any time of the year, you can expect a variety of exhibitions showcasing the works of its members. During my visit, I had the chance to experience the excellent GASTGEBEN exhibition which explores the important theme of what craftsmanship and hospitality have in common. Do take some time to browse the Werkraumhaus shop which showcases the handiwork of its members with items ranging from felt baby swings, wooden toys to chopping boards and stools.
Address: Hof 800, 6866, Austria
Admission fee is €7.50 while students enjoy a reduced fee of €5.
No fee for children and young adults age 15 and below
The exhibition hall is open Tuesday to Saturday, 10 am to 6 pm. Closed on Mondays, Sundays and Public Holidays. Checkout their website for more details of what's on.
Dinner: Jöslar Inn
Afterwards if you're thirsty for a beer and feeling peckish, highly recommend dropping into the old inn turned modern café and bar, the Jöslar inn. Their house speciality are their delicious toasted paninis which go perfectly with their excellent local Egger beer on tap. The inn also has a regular programme of live music plus on the 1st Sunday of every month they do a cinema (showing all the latest movies. Next movie being shown is Joon-ho Bong's Oscar winning Parasite) + 3 course dinner evening. Starting at €35 it is a popular draw with locals and tourists alike.

DAY 4
Lech am Arlberg
Our next and final stop of our trip brings us to the beautiful mountain village resort of Lech am Arlberg. Located in the Bludenz district by the banks of the mighty river Lech, Lech Zürs is a popular winter skiing destination but in summer transforms into a paradise for hikers, bikers and runners thanks to its vast stretch of unspoilt lush mountain meadows, deserted mountain lakes and incredible array of walking trails. It is a truly stunning place to be in the summer. Like wise old sages, mountains stand back to back, to form a stunning panorama of emerald green peaks. From whichever point you have the pleasure of standing, on the top of the mountain or in the town of Lech below, you have this wonderful patchwork of beautiful wooden log houses, thick alpine forests and wide grassy meadows bursting with wildflowers and of course the cows.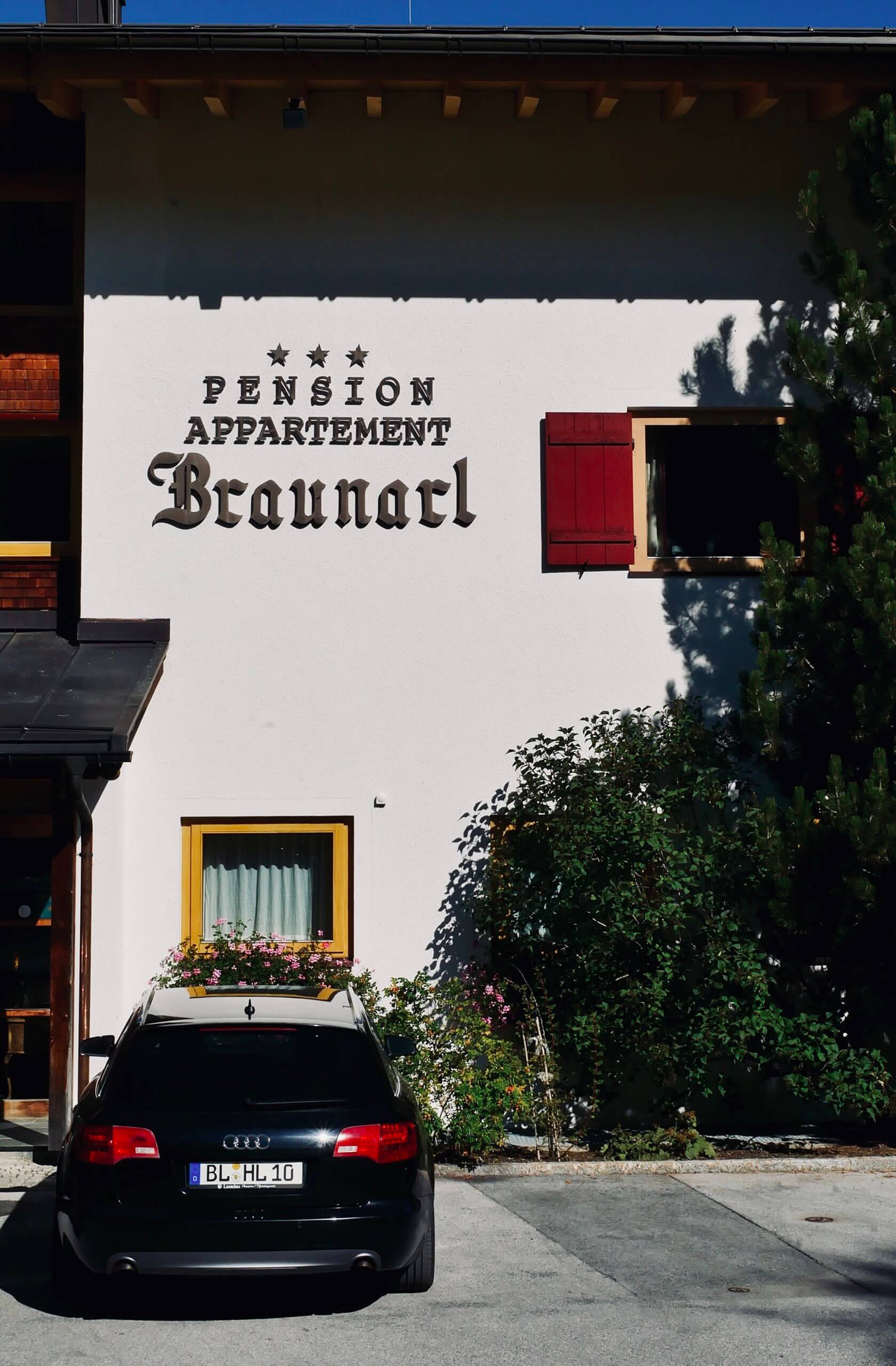 Sleep: Haus Braunarl
We hop on the bus 40 from Mellau Zentrum to Lech Schlosskopf.
From there it is a short walk to our hotel for the next few nights- the excellent Haus Braunarl. Run by Lech born and bred Anna-Katharina Gusner, this cosy and comfortable hotel was the perfect place to relax after a long day exploring the beautiful outdoors of Lech. The apartment rooms are spacious, beds very comfortable, great shower and of course, all rooms have dreamy views of the mountains. There is also the added benefit of a kitchenette, if you wish to prepare your own meals. Anna is happy to stock up your fridge before you arrive with milk, butter, bread, eggs -just request this in advance. There is also the added benefit of an onsite sauna, steam bath, solarium and chill out room-perfect way to chill after a long day in the mountains. For an extra €14 there is the luxury of treating yourself to their filling buffet breakfast. If you wish to prepare your own breakfast, there is a well stocked SPAR supermarket just down the road. Anna has a good selection of beers and wine, if you wish to indulge with a wee drink.
Essentials: Rooms here start from €84, per room, per night via Booking.com
Tip: Get the Lech Card
Our next stop is the tourist information point to get our Lech Card. The card, similar to the Bregenzerwald Guest Card gives you access to all public transport within the area, from enjoying the view on top of one of the mountains via their summer cable card or visiting the Lake Spullersee and the Lake Formarinsee in the Zugertal valley which I planned to visit. Plus there are other excellent fringe benefits like accessing the forest swimming pool or if the weather is bad, you can go bowling at the sport.park.lech. The Lech Card starts from €23 which is valid for 2 days. If you plan to stay longer, invest in their 1 week card which for €36 is excellent value.
The Lech Card was a good investment for me as I could hop on the Panorama bus to the beautiful Formarinsee Lake in the Zugertal valley. The bus stop is the starting point of a beautiful hiking trail that extends all around the circumference of the Formarinsee Lake and leads you to the enchanting Freiburger Hütte. It is an easy hike of about an hour and the scenery is just out of this world.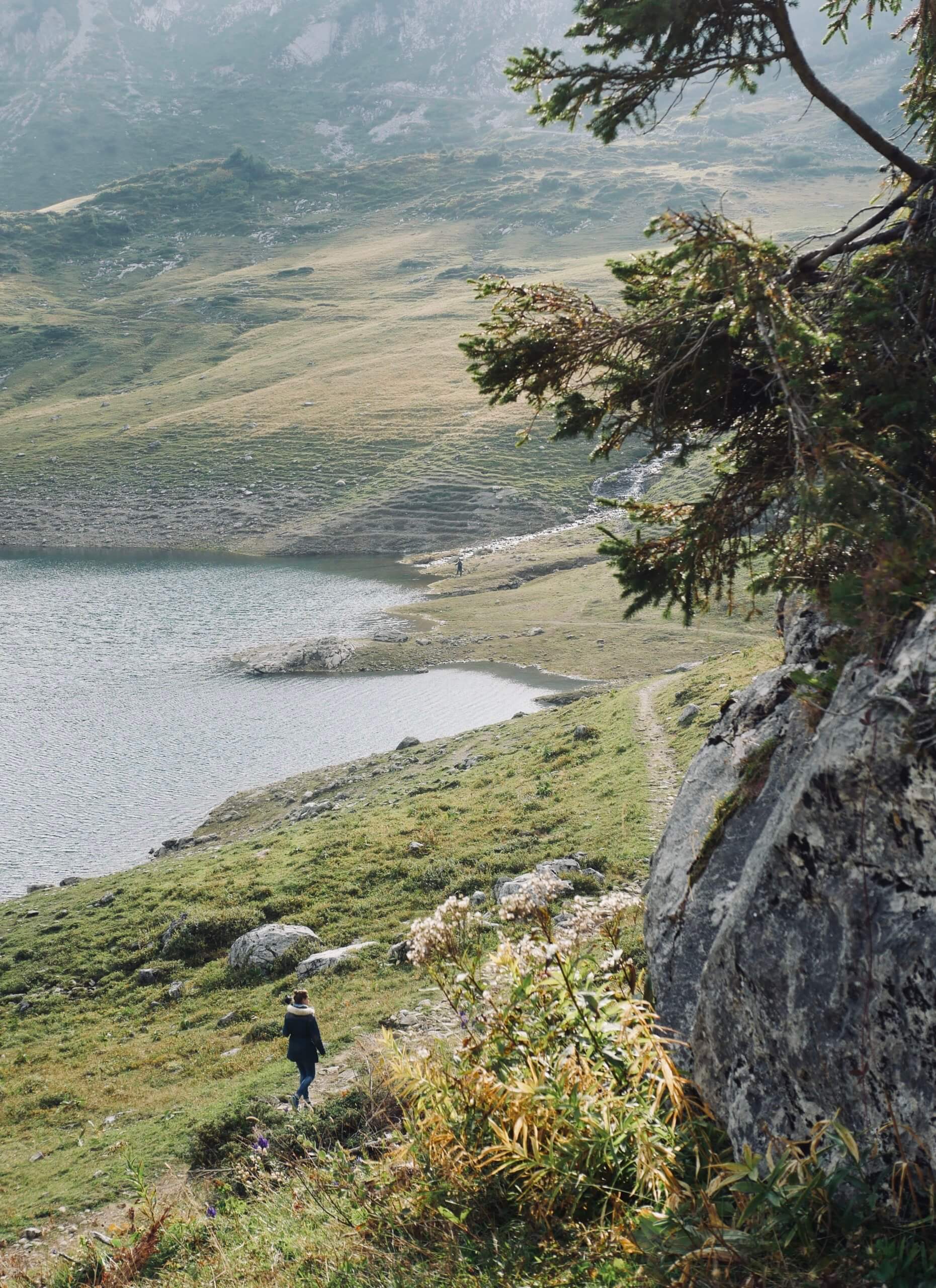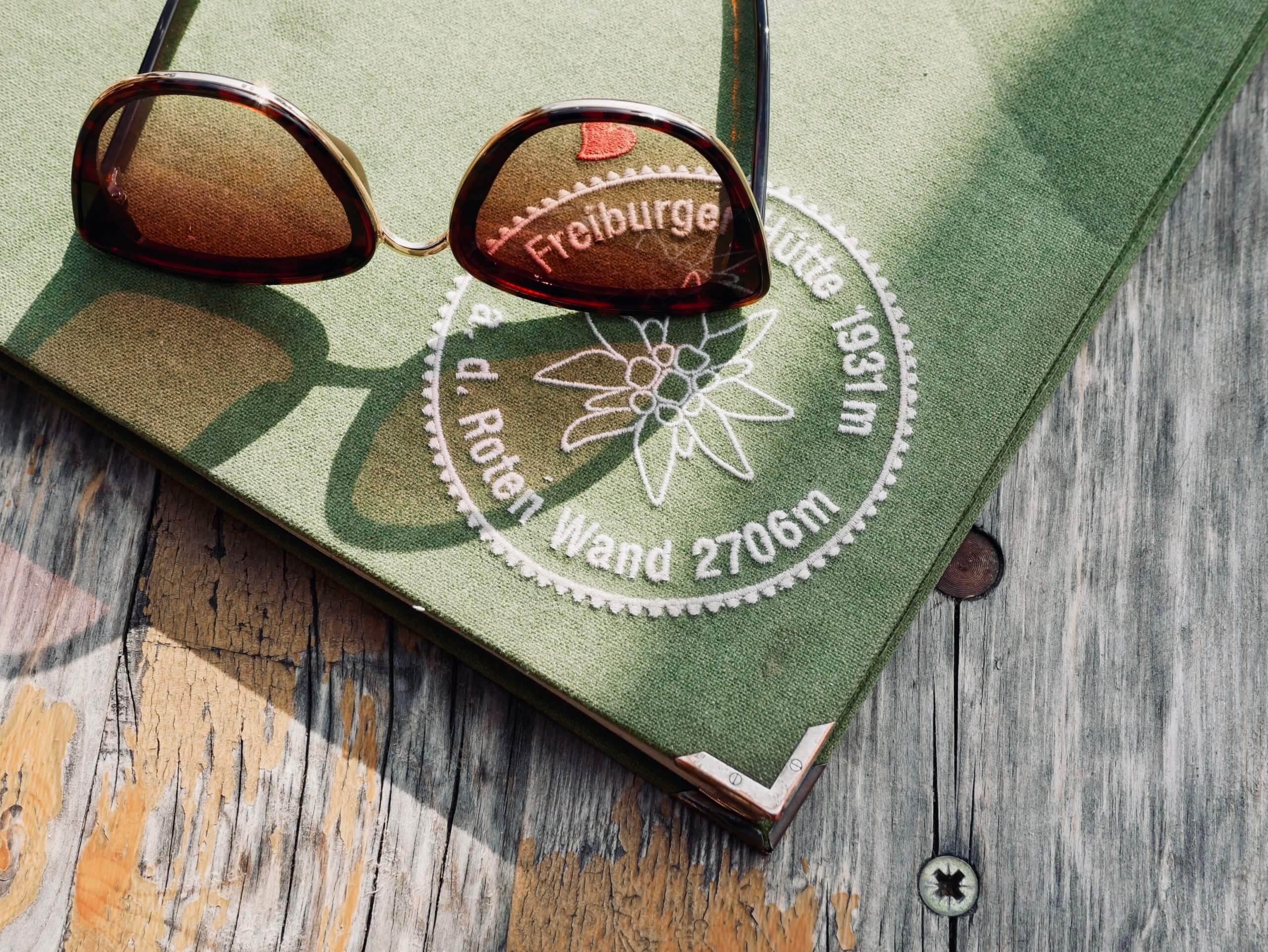 Hiking from 'Hut to Hut' is one of the key attractions of visiting this part of the world. Alpine Mountain Huts like Freiburger Hütte provide hikers and walkers with protection from the elements, a warm bed and a hot meal. Some are located high in the mountains and serve as ideal base camps during a long hike while others like the Freiburger can be easily accessed on a fun day out and perfect for families with children. The food here is hearty fare- I ate grilled sausage with a dab of mustard, shredded horse radish and bread washed down with a local beer. I think the mountain air and long day of hiking makes everything taste good – this meal was wonderful. Hop back to Lech on the panorama bus.
DAY 5
Rüfikopf
After a filling breakfast at Haus Braunarl we hop on the cable car (with the Lech Card ) from Lech to Rüfikopf which sits at an altitude of 2350 metres. The ride up and down is memorable, mainly for the breathtaking panoramic views of the Lech am Arlberg and the Tannberg hiking region above Oberlech.
Rüfikopf is a popular starting point for a few wonderful hikes that include the first stage of the Green Ring as well as the Geoweg Rüfikopf trail.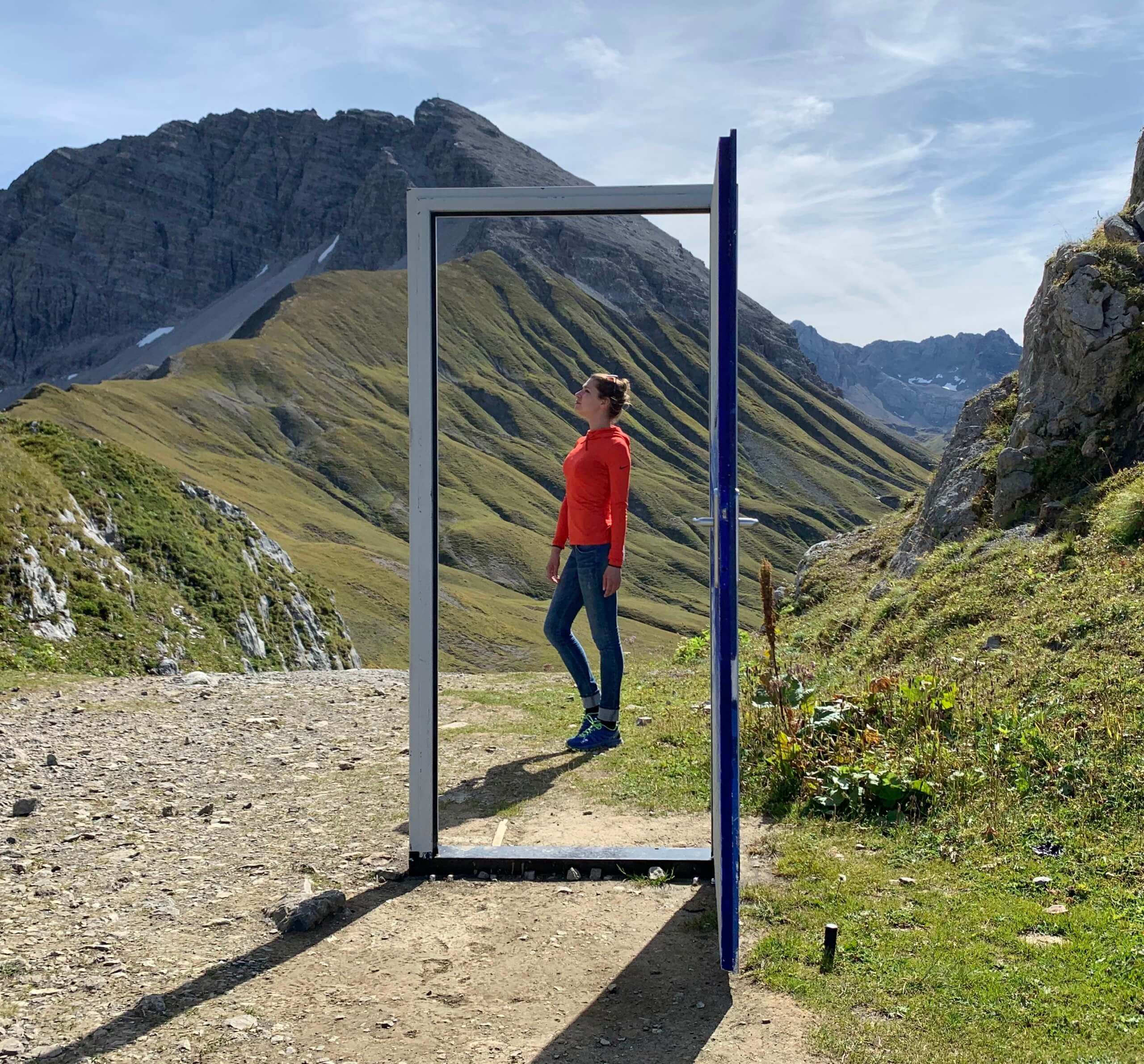 Given that we had limited time, we went for a short hike down to the stunning Monzabonsee lake. We found one of the famous 'doors' that were lined along the Green Ring trail. Sadly the project after several years in existence was disbanded in October 2019.
Afterwards we had lunch at the Rüfikopf panorama restaurant. Nothing beats drinking a cold drink and having lunch while enjoying the 360 degree views from the restaurant. I highly recommend trying their Rösti (potato pancake) with crispy bacon & alp cheese or if you're looking for something more simple, the Spaghetti Bolognese is fantastic. Worth mentioning that if you're visiting during July and August, the restaurant offers a morning pint with live music. Every Friday there's an exclusive sunset journey with sparkling wine reception or a panorama Fondue evening at sunset.
Oberlech
After hopping on the gondola back to Lech, we spend the afternoon exploring Oberlech. We take the Schlegelkopf chairlift from Lech and from there it is a scenic walk of about 30 minutes to the Gipslöcher nature reserve which is home to the unique gypsum holes. The crumbly gypsum karst of this area lends itself to these unique network of underground tunnels and caves. This unique geological phenomena is home to a large colony of marmots which we sadly did not see during our visit. We also did not see any orchids which bloom mainly from July to mid-August. Home to 20 different species of orchids, the area is a genuine treasure trove for botanists.
Skyspace Lech
From the gypsum holes it is another 30 minute walk to another unique structure – James Turrell's walk in art installation, The Skyspace Lech. James Turrell's work mainly revolves around the delicate relationship between light and space. A great example of this is the Roden Crater, an extinct cinder cone volcano located outside Flagstaff, Arizona which he is turning into a massive naked-eye observatory for experiencing celestial phenomena.
The Skyspace Lech continues his passion for 'apprehending light' -it is an enclosed room, large enough for roughly 15 people. Inside, you can sit on benches along the edge to view the sky through an elliptic shaped opening in the roof. The Skyspace hosts an evening sunset light performance (lasts for about 45 minutes) during which you can spot the Biberkopf summit and the village Bürstegg on one side and on the other the Omeshorn. The walls and ceiling are bathed in colour-changing light. Sadly, we did not time our visit for the sunset show but if your schedule permits, definitely book one of the guided tours which takes place before sunset. Tickets costs €15 and can be reserved via their website. In the event of bad weather, the dome is closed, so a second artists concept called the Ganzfeld space is played to visitors.
Getting around Vorarlberg : Travel for free with their inclusive card!
All of Vorarlberg's holiday regions offer an Inclusive Card. These cards can be used for public transport, cable cars, museums, recreational centres and for participation in various programmes. In Kleinwalsertal, Montafon, Brandnertal, Klostertal, Biosphere Park Grosses Walsertal and Alpenstadt Bludenz, guests are eligible for a card from participating accommodations from 1 night's stay (summer and winter) and from three nights' stay in Bregenzerwald (summer only; incl. Fontanella and Sonntag in the Grosses Walsertal Biosphere Park). For more details click here.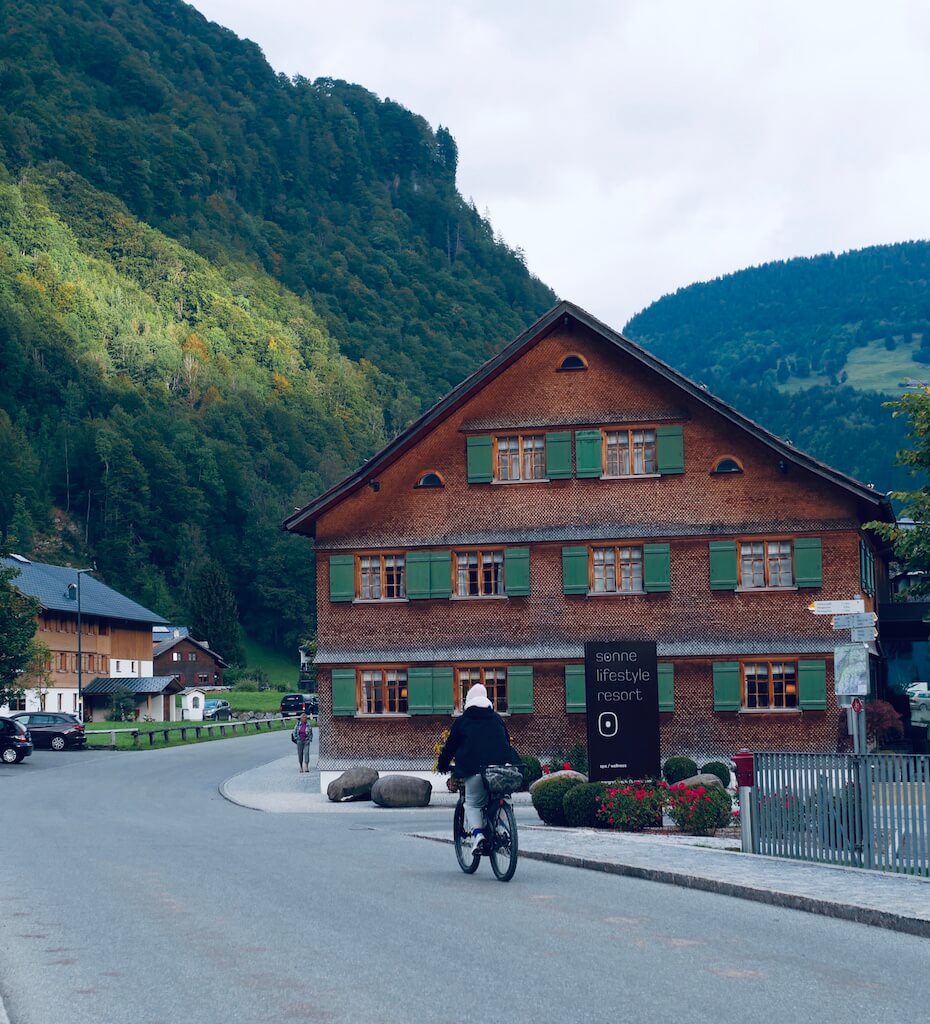 Getting to Vorarlberg
While Vorarlberg does not have its own airport, it is close proximity to the the international airports of Zurich (Switzerland) and Munich (Germany).

Further references
Checkout my earlier guide to discovering Vorarlberg's amazing architectural heritage and also my brand new guide to the best things to do in Feldkirch also visit the official Vorarlberg Tourism website to help plan your trip.
Disclaimer
I was invited to the Bregenzerwald by the Vorarlberg Tourism Board to write about the Bregenzerwald. As always, all opinions ( bad and good) expressed here are my own.
Huge thank you to Katrin Preuss, Katharina Fa and the Vorarlberg Tourism Board team for showing us your beautiful home and making our time there memorable.