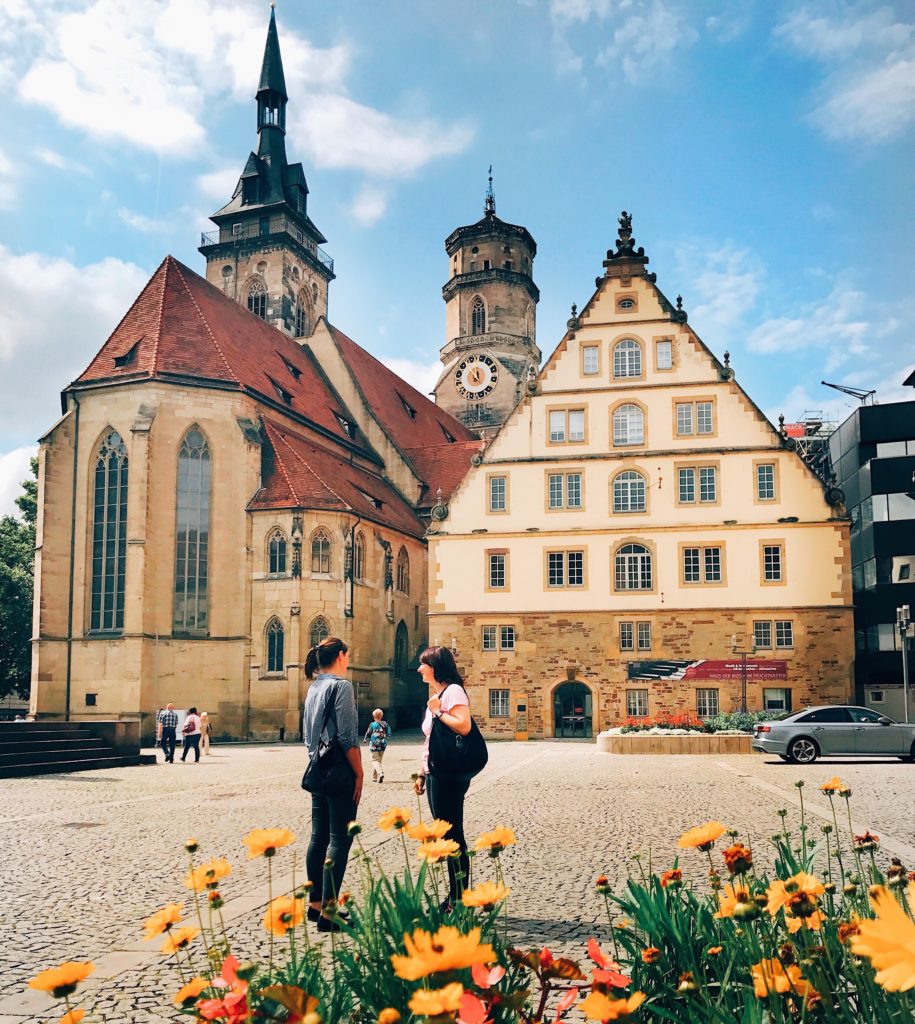 I visited Stuttgart originally as part of my German Wanderlust tour back on 2013 and here is my recently updated 48 Hour guide to Stuttgart which has a lowdown of cool things to eat, drink and see in the city.
Day 1
Start the trip with a view of Stuttgart at the 'Aussichtsplatform'
If you're arriving at Stuttgart's main train station, take the lift to the Aussichtsplatform (Viewing Platform, € Free) on the 10th floor from where you can get an excellent panoramic view of the city and the revolving Mercedes logo. Currently the train station is undergoing renovation so that might be a few eyesores but its still worth popping into for the view.
Perfect afternoon at Mercedes Benz Museum
Even if you are not an auto junkie, the Mercedes Benz Museum is a fascinating drive through 125 years of automotive history intertwined with all the key historical events that have marked the evolution of the world's great car.
A great feature of the place are the pictures of key events that have shaped the history of the world ( including a humbling apology and frank admission of the company's significant involvement in supporting the Third Reich). Pictures include poignant memories like the time when people would have picnics by the autobahn in the 60's or the empty autobahns of the winter of 1973 when due to oil shortages , a car free Sunday was imposed over 5 weeks.
Then there are the stars of the show to say hello to- from Gottlieb Daimler's motorized carriage to the world's first 4 wheeled auto mobile to the 'Gullwing'. Then you can see the dream car of the 1950's: the 300 SL Coupe to the machine that set the standard for racing cars: the Mercedes Benz W196 2.5 litre that then world champion, Juan Manuel Fangio powered to victory in the 1954 Formula One race in Reims.
Combined with the stunning architecture, the Mercedes Benz Museum is a great afternoon for people of all ages and definitely a must-see.
Opening hours: 9am till 6pm. Mondays closed Entrance price: €10
Top tip
Time your visit perfectly between 4:30 and 6pm to take advantage of the reduced price of €5. Also note that children aged under 14 go free.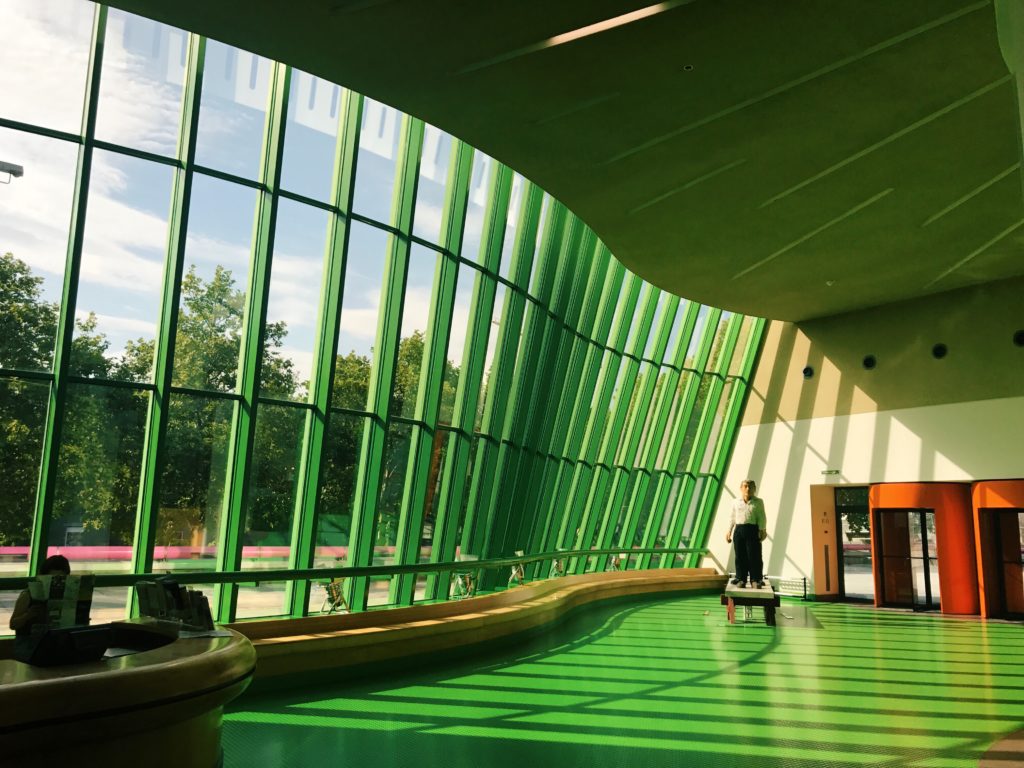 Staasgallerie Stuttgart: Visit one of Germany's best modern art galleries
Germany is blessed with the best modern art galleries in the world and few are better than the Staasgallerie Stuttgart. ( Wed, Friday, Sat + Sun: 10am till 6pm, Tuesday + Thursday: 10am till 8pm. Mondays closed. Entry cost: €7, Free on Wednesdays )
The building itself, designed by James Stirling is definitely worth visiting. Epitome of post modernism, the building is an interesting mix of old and news , built with sandstone which then contrasts with the brilliant pop pink, sky blue and green iron railings.
The building itself houses one of the finest collections of American Pop Art with Lichtenstein and Warhol prominently featuring. The museum also has a fine collection of work by Dali plus an impressionist gallery where you can see Monet's hauntingly beautiful 'Sunlight Effect under the Poplars'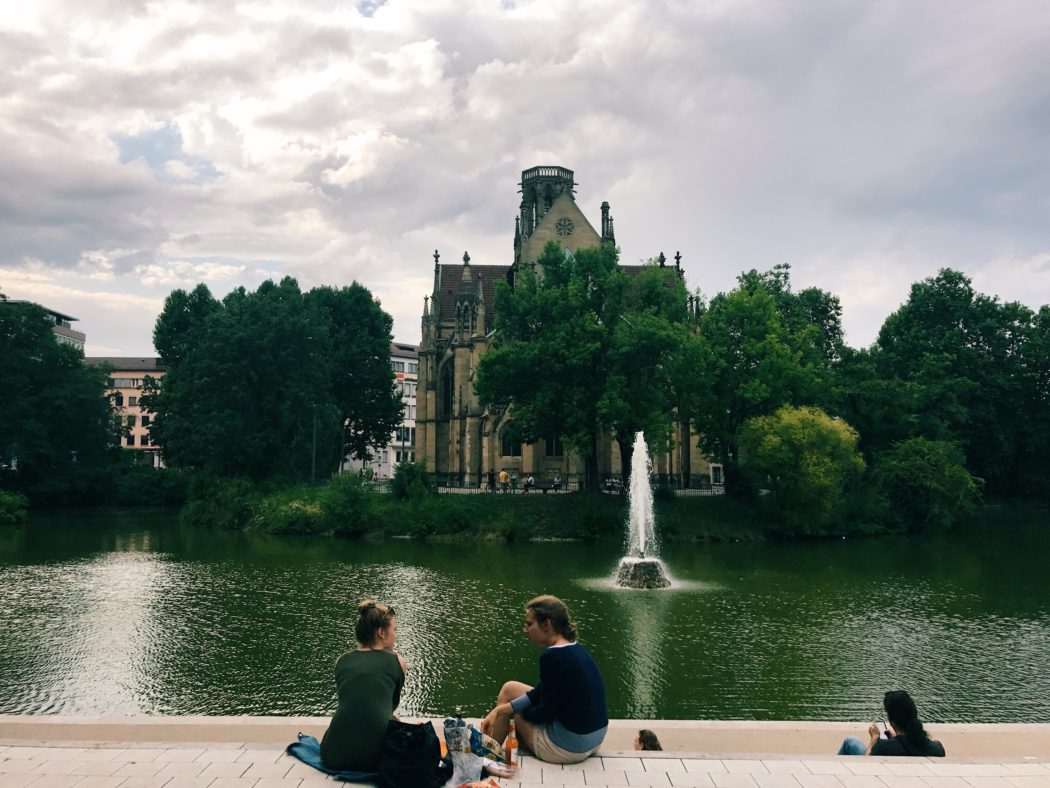 St John's Church, Stuttgart
If it is a nice evening and you're looking to chill and enjoy a nice view of one of Stuttgart's most iconic spots, then visit St John's Church. An oasis of peach and calm, the church is in the heart of the metropolis encircled by the picturesque Feuersee lake. The Gothic revival church was completely destroyed during the 2nd World War and then subsequently rebuilt. However, as you can see from the photograph above, the tower was intentionally not rebuilt to serve as a reminder of the horrors of war.
Dinner: Triple B Burgers
With a summer thunderstorm about to lash the city, I took cover in this joint. Suddenly the delicious smell of chargrilled beef, pickles and cheese and I realised I was in burger paradise. I tried their basic Hamburger with 100 g of beef ( €4.30). That comes with a relish, cheese, pickles and encased in a toasted bun. Fab. Plus do order on the side their thick cut potato fries. It is a pretty busy, popular joint so might take a wee bit of time before you are served. Trust me, its worth the wait.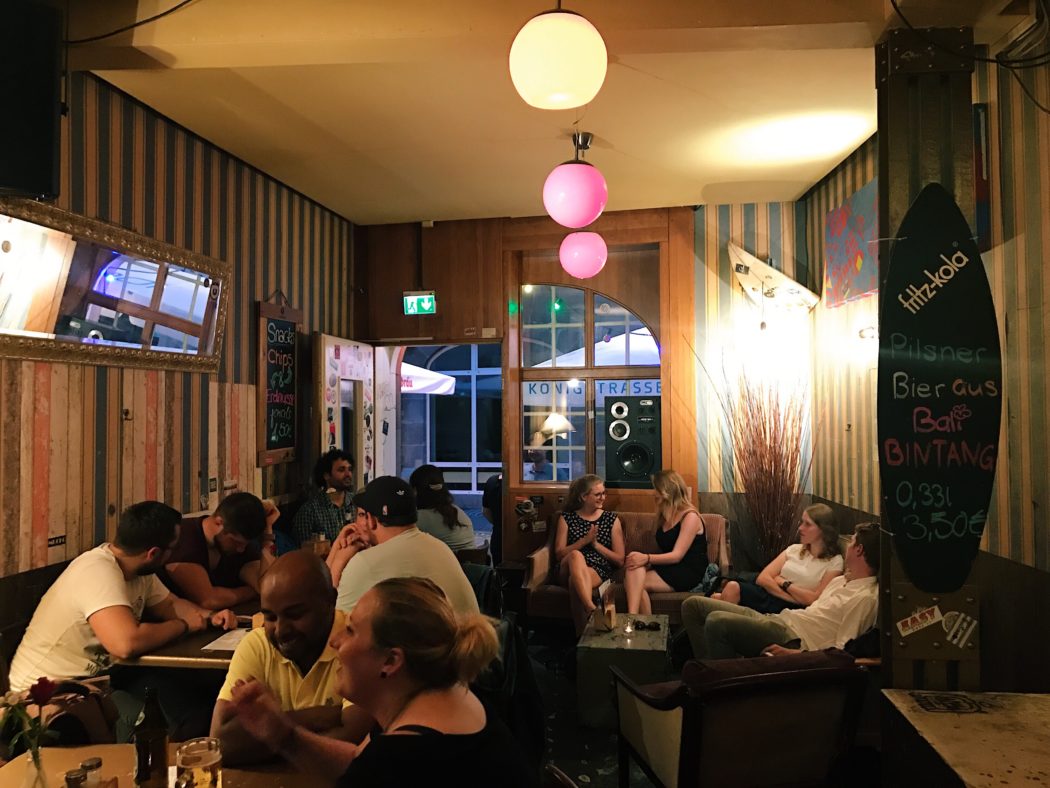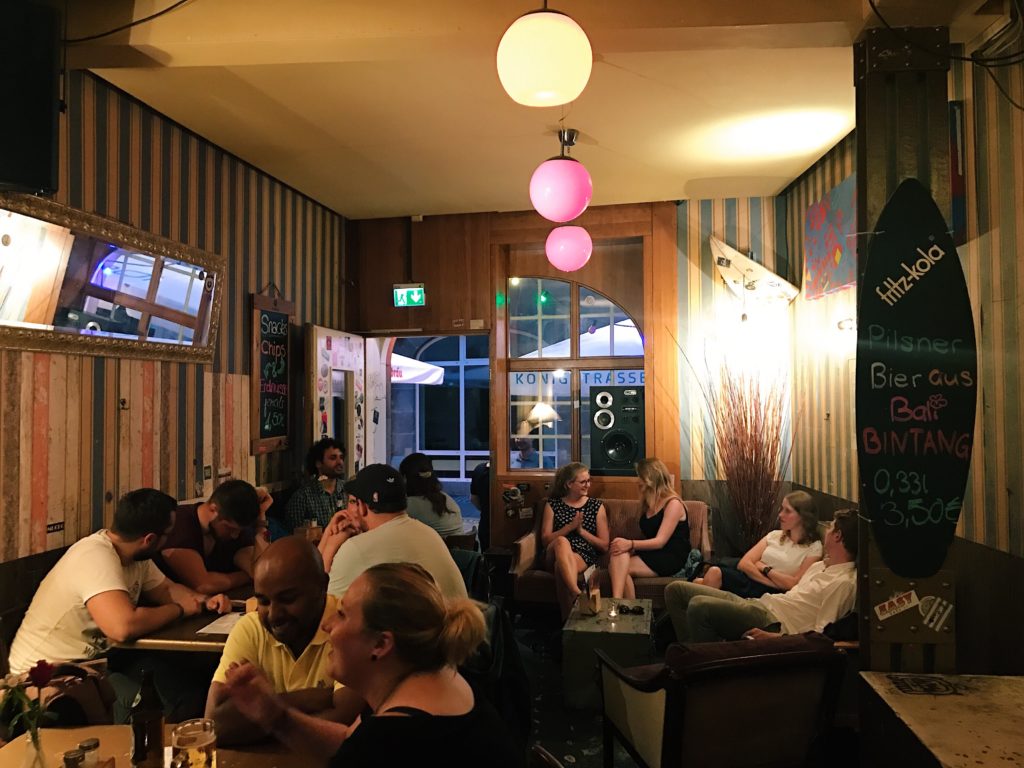 Matahari
Welcome to the living room of Stuttgart. If you're looking to enjoy a few beers in a sociable but too frenetic atmosphere then you got to check out Matahari ,one of the coolest bars and nightlife hotspots in Stuttgart. It's a kind of a meeting point in Stuttgart where friends meet for a few beers, catchup before hitting a club or rolling into one of the clutch of bars nearby in Hans-Im-Gluck.
Biddy Early's Irish Pub
If you're still thirsty and in mood for another drink, pop over to Biddy Early's Irish Pub. They serve a pretty decent pint of beer here ( €3.90 for a pint ) The bartenders are friendly and chatty. They also have live music bands and show the football here if you're on the hunt for a sports bar in the city centre.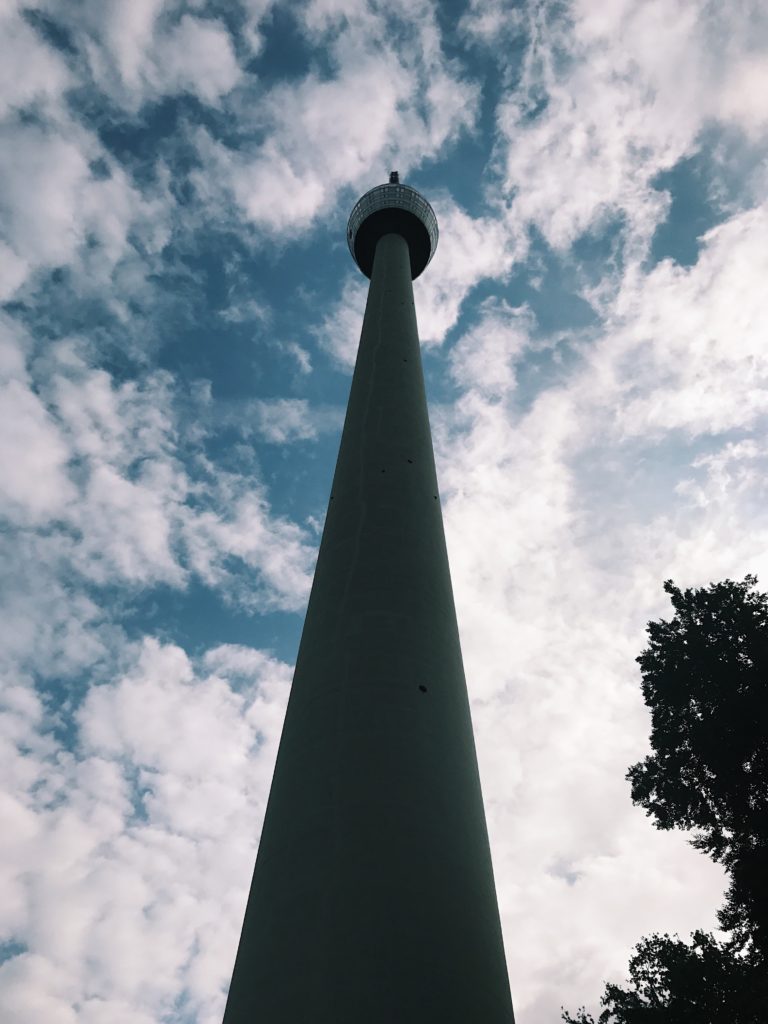 Day 2
Fernsehturm Stuttgart
Start the day with a great view and a true icon of Stuttgart: the Fernsehturm. Reaching an elevation of 216.61 m (710.7 ft) , this is the oldest TV tower in existence and celebrates
60 years in existence this year. The observation deck offer a great panoramic view of Stuttgart and the forests and vineyards that surround it.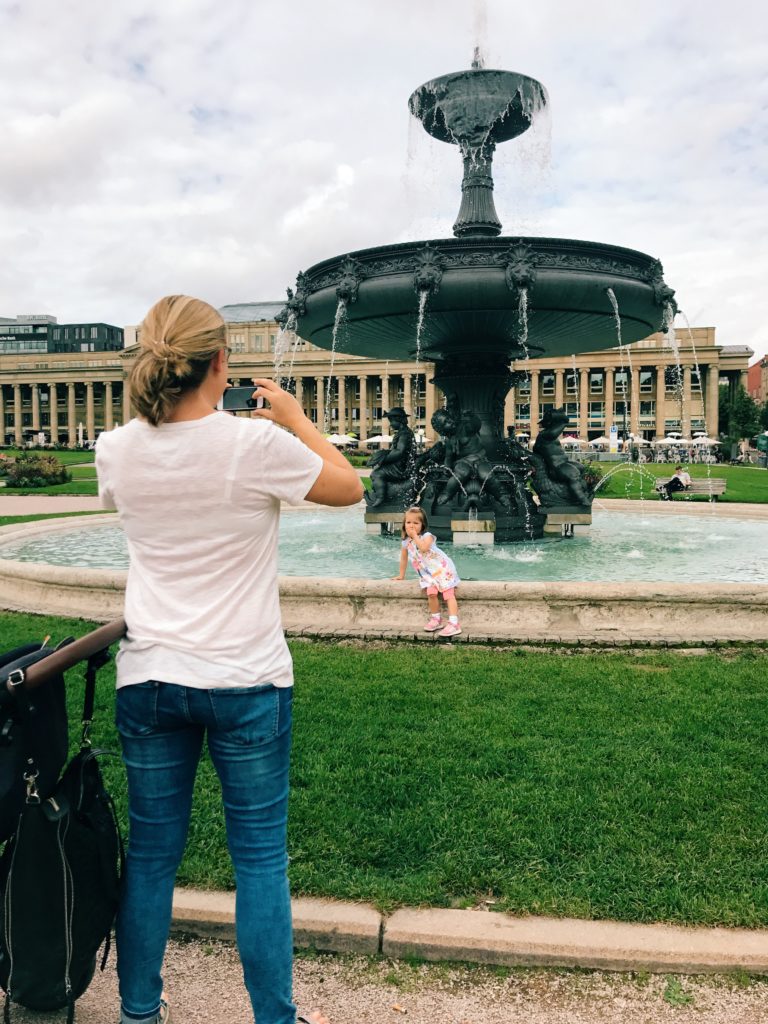 Schlossplatz
Next stop on day 2 is the regal, beautiful Schlossplatz where you can really feel the pulse of this city.
The dominating feature of the Schlossplatz is the towering Konig Wilhelm Jubilee column with the surrounding fountains representing the 8 rivers of Baden Wuttenberg.
On your immediate right is the impressive Corinthian columns of one of the city's key shopping arcades- Konigsbau Passagen.
Also on the eastern corner in front of the stunning glass cube structure of the Kunstmuseum Stuttgart you'll spot the weird geometric shape and primary colours of sculptor Alexander Calder's 'Mobile.'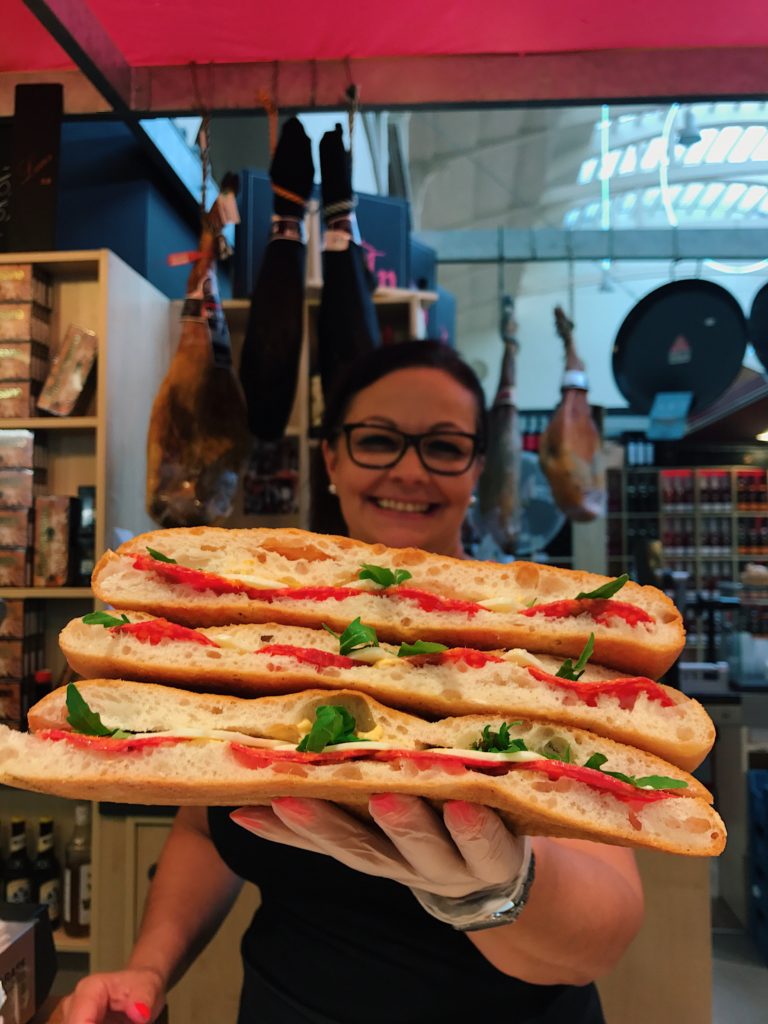 Lunch : Markthalle
The Markthalle is the perfect place for a quick tasty bite on the go. Choose from a number of gourmet delicatessens where you everything from local Swabian homecooking to a range of international cuisine.
My favourite go to place in the Market Hall is El Mercado Espanol where they make these fantastic sandwiches aka 'Bocadillo' I highly recommend the toasted Bocadillo ala 'Alicante' which iss stuffed with a grilled aubergine, cheese and rucola salad. It costs €4.20 and with a soft drink or sparkling water, €5.45.
For dessert, pop next door to the local confectionary, Gmeiner which has been satisfying the sweet tooth of locals since 1898. They have fantastic macarons, meringues, cupcakes of every variety. I tried the local 'Mandemakrone' which is made with almond and chocolate.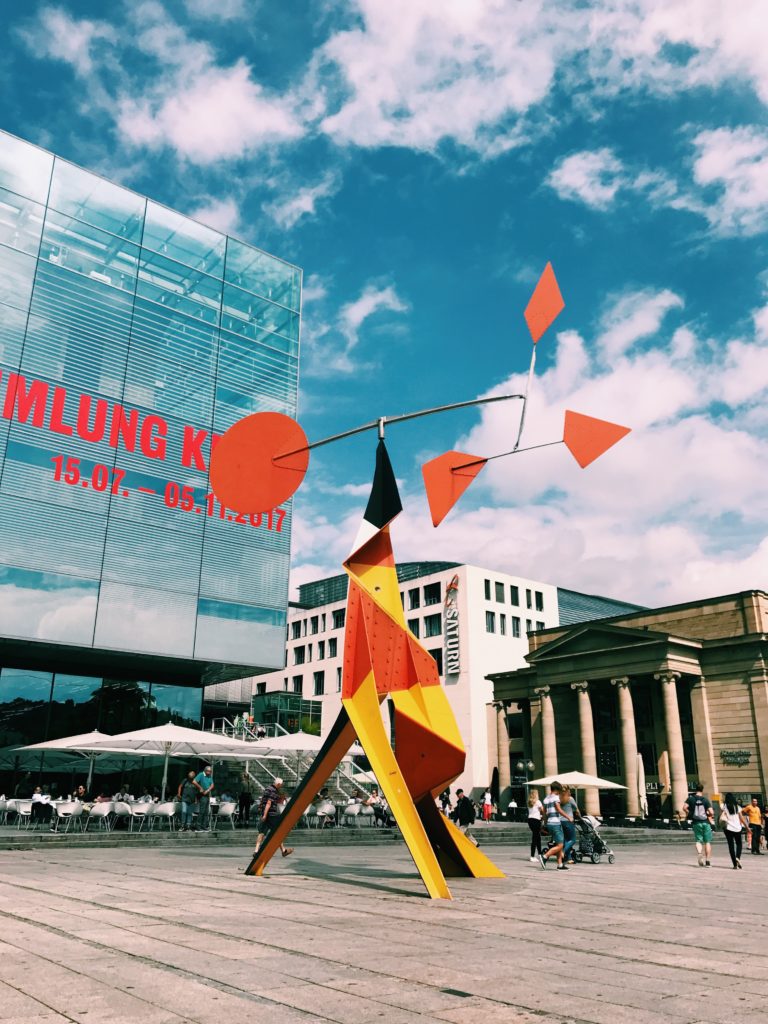 Kunstmuseum
Contemporary art lovers may want to swing by the Kunstmuseum. Shaped as a glass cube, the building really catches the eye, day and night when it is illuminated. I am not the biggest fan of modern art but the museum does have an impressive collection of the work of Otto Dix. Also if you are looking for a leisurely sit down lunch, the rooftop Cube Restaurant in the museum has a moderately priced lunch menu. ( €11.95 for a bowl of spaghetti with pecorino cheese and herbs) The view from the restaurant is fantastic.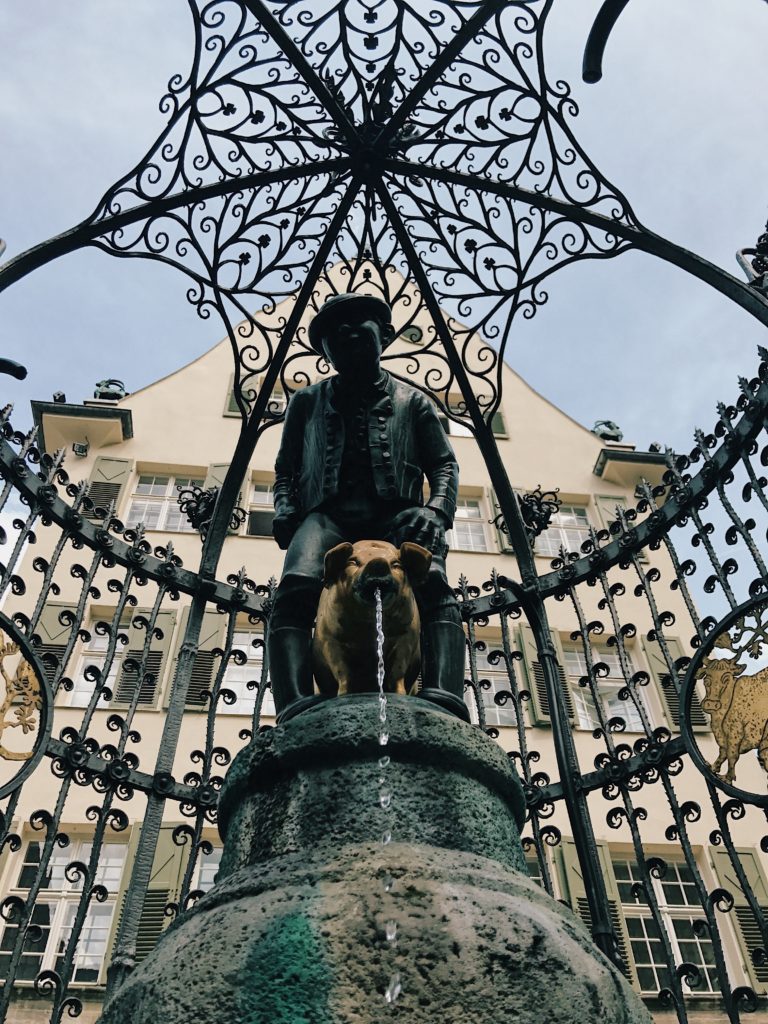 Hans im Gluck Platz
I missed this earlier when visiting Matahari but in the nearby Hans-Im-Gluck Platz you will see a beautiful fountain with the caged character of Lucky Hans from the Grimm's fairytale.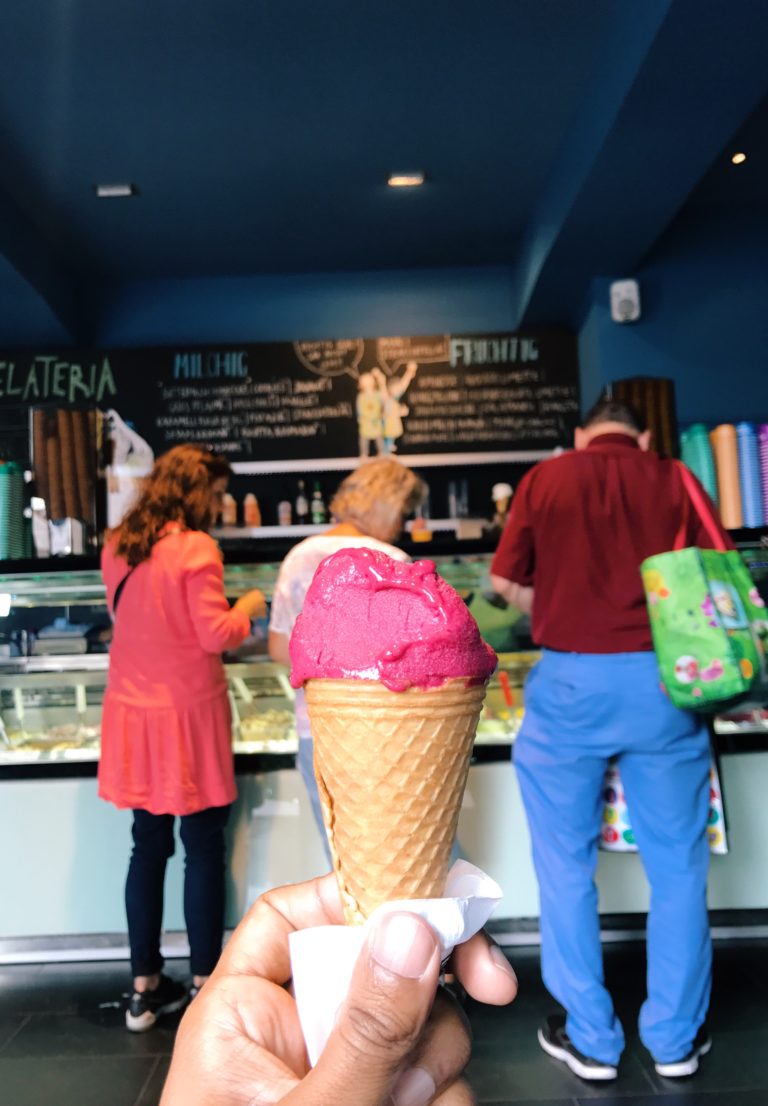 Gelataria Kaiserbau
On the suggestion from local Carolyn, I popped over to the hip and trendy area of Marienplatz. On the main square of Marienplatz, I found an assortment of pavement cafes and also an open air streetfood market. Amidst these cafes is Gelateria Kaiserbau which apparently serves the best gelato in town. True to word of mouth, the gelato was fantastic here. I highly recommend the 'Johannisbeere' aka blackcurrant flavour. (€1.50 per scoop)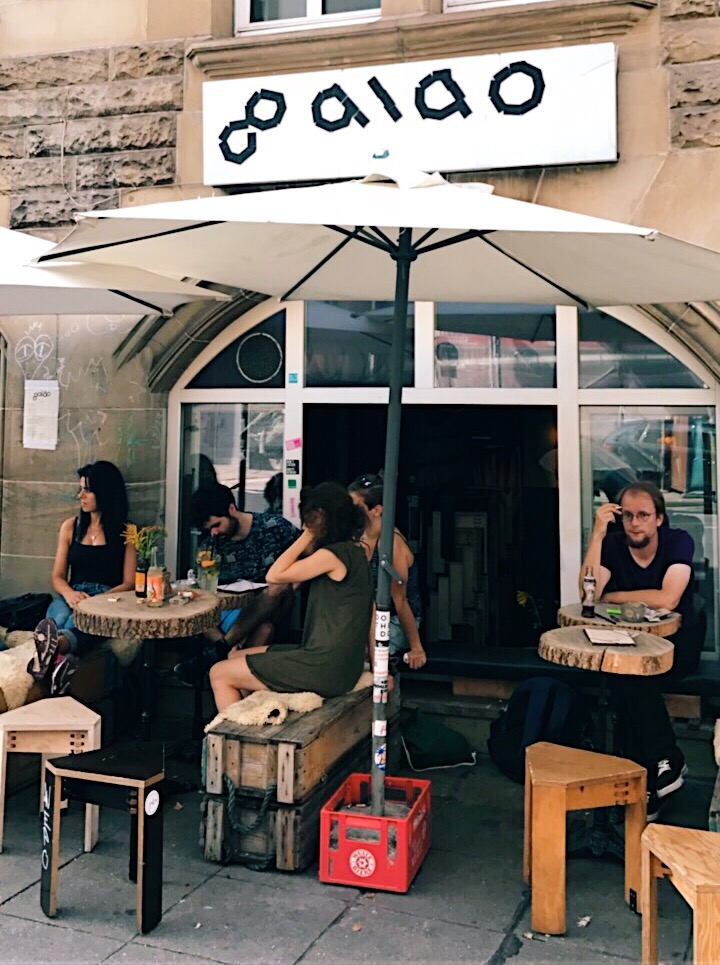 Cafe Galao
Another bar in Stuttgart with the 'living room' feeling where you can meet people from all over the world is the hip and trendy Cafe Galao. If you're looking for something fresh and non alcoholic, highly recommend their 'Galao Summer' mocktail which contains mint, soda, orange, elderflower and pomegranate.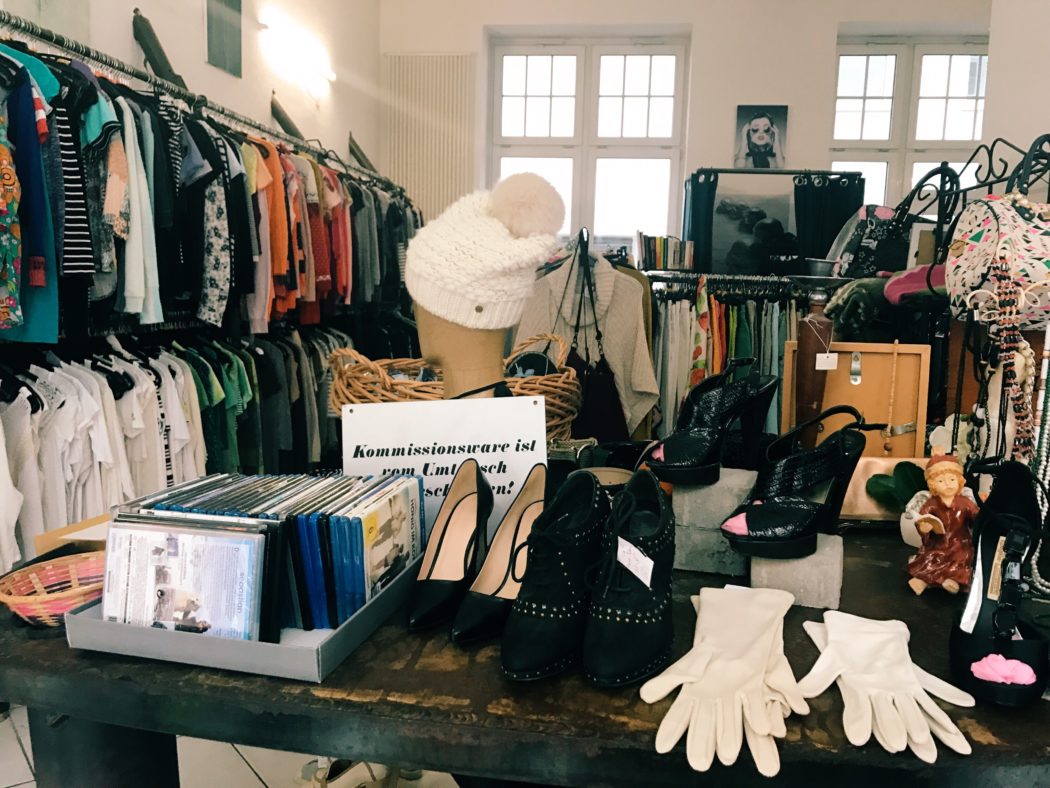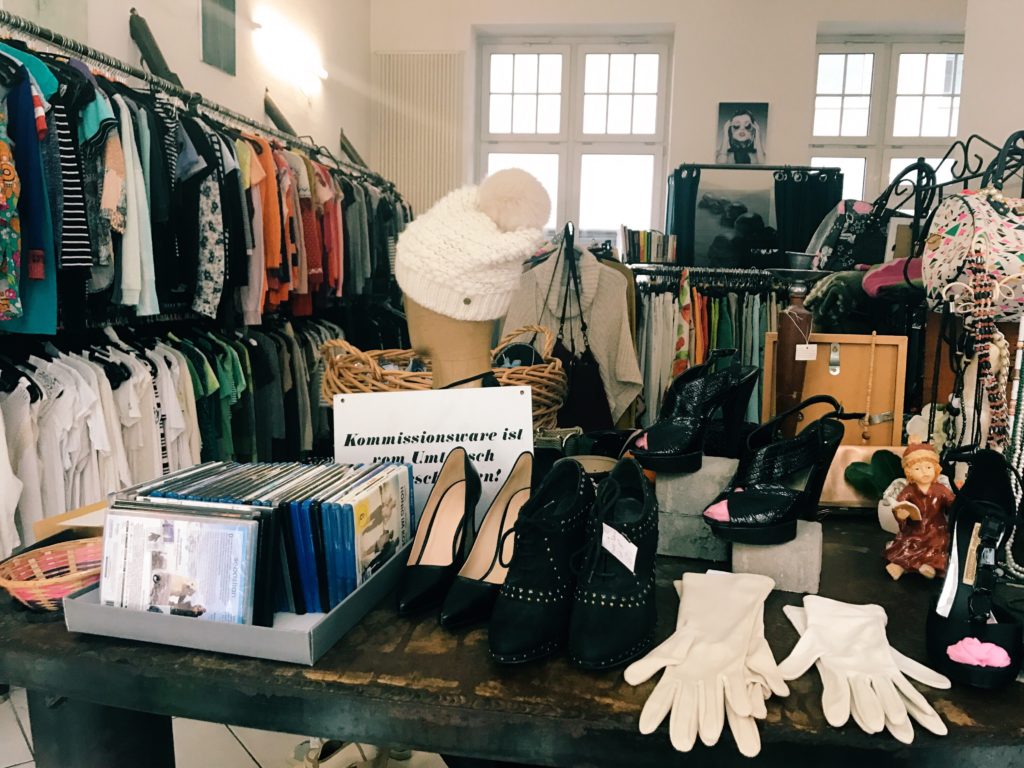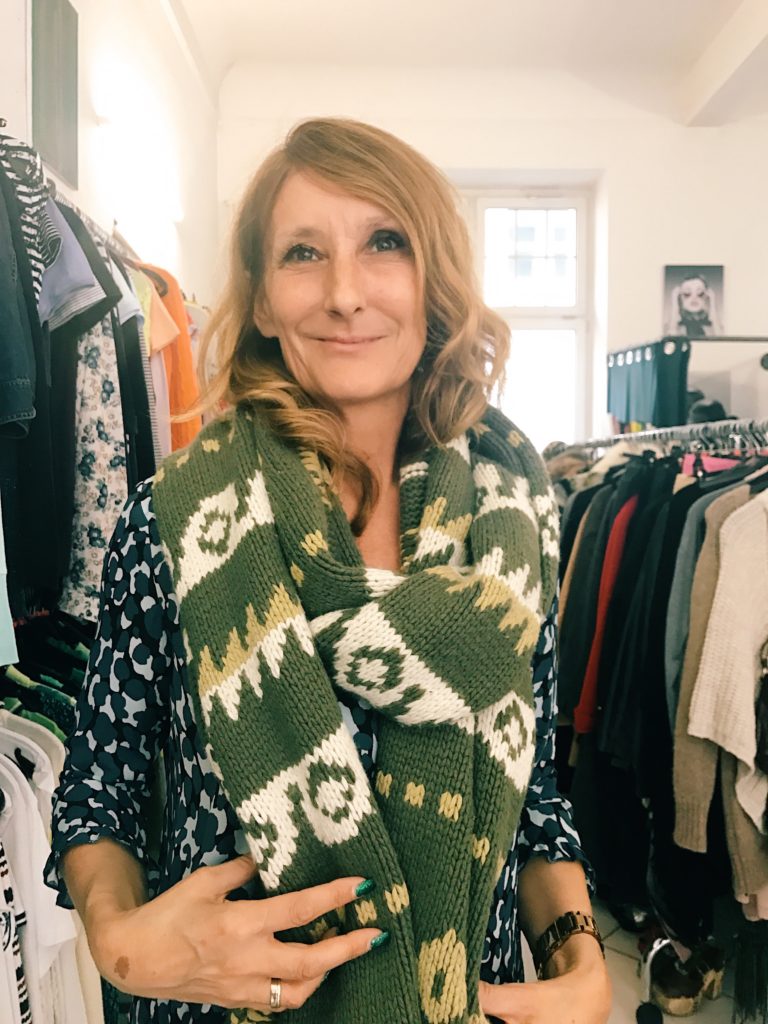 Top tip: Second Hand Boutique
Budget fashionistas will be interested in know that on the street of Cafe Galao there is an impressive concentration of second hand clothes shops where you can find big labels a fraction of their retail price. I have zero knowledge of fashion but popped into the popular Second Hand Boutique store run by Sybille Fischer who sells designer fashion labels in a relaxed atmosphere. To give you an idea of price, she showed me this scarf/throw from Hugo Boss which she's selling at €49 but apparently retails at three times that price. I'll let the budget fashionistas be the judge of this but just to let you know….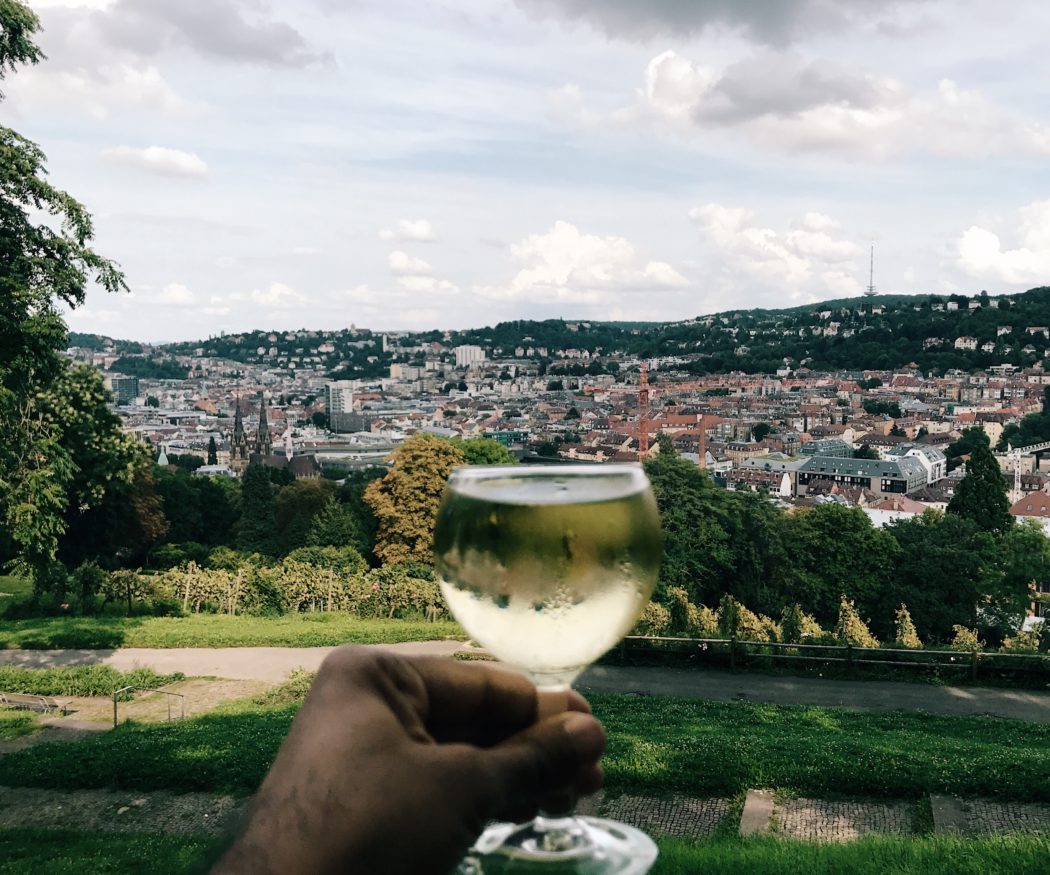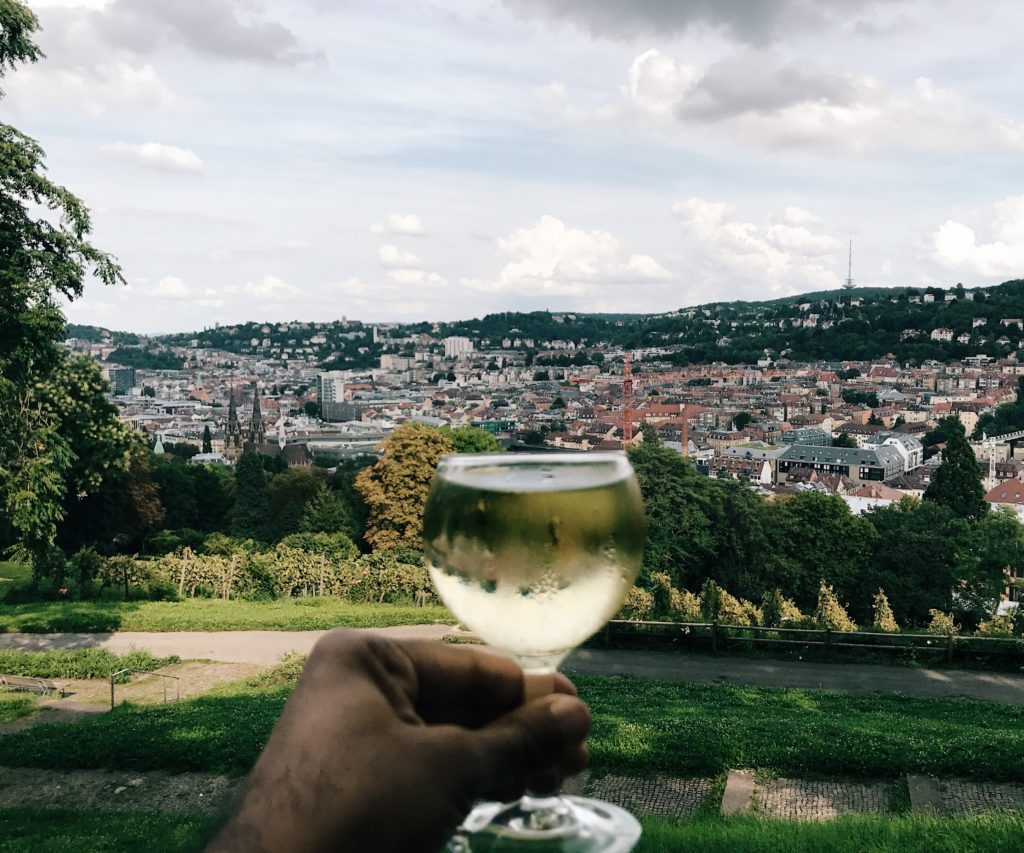 Tschechen & Stone: Drink wine or beer beside a vineyard
Just a 10 minute walk from Cafe Galao and I found myself in one of the city's few vineyards. It is quite a surreal feeling to be walking through a vineyard in the heart of the city with superb views of the city in the distance: that's the magic of Stuttgart. You can bring your own wine or beer and sit on one of the few benches or go for a beer or glass of wine Tschechen and Stone beer garden.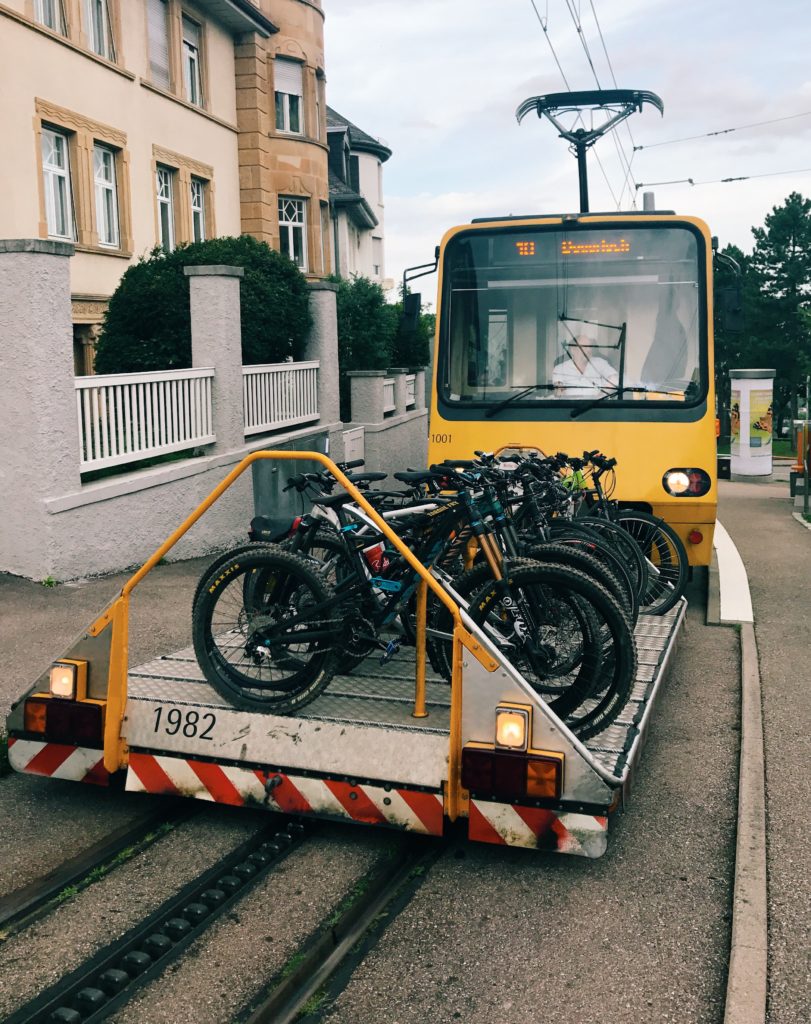 Rack Railway!
Here's something cool and unusual to do in Stuttgart: take a ride on the Rack Railway that starts from Marienplatz. The electric rack railway is apparently the only urban rack railway in Germany and one of only four rack railways operating in Germany.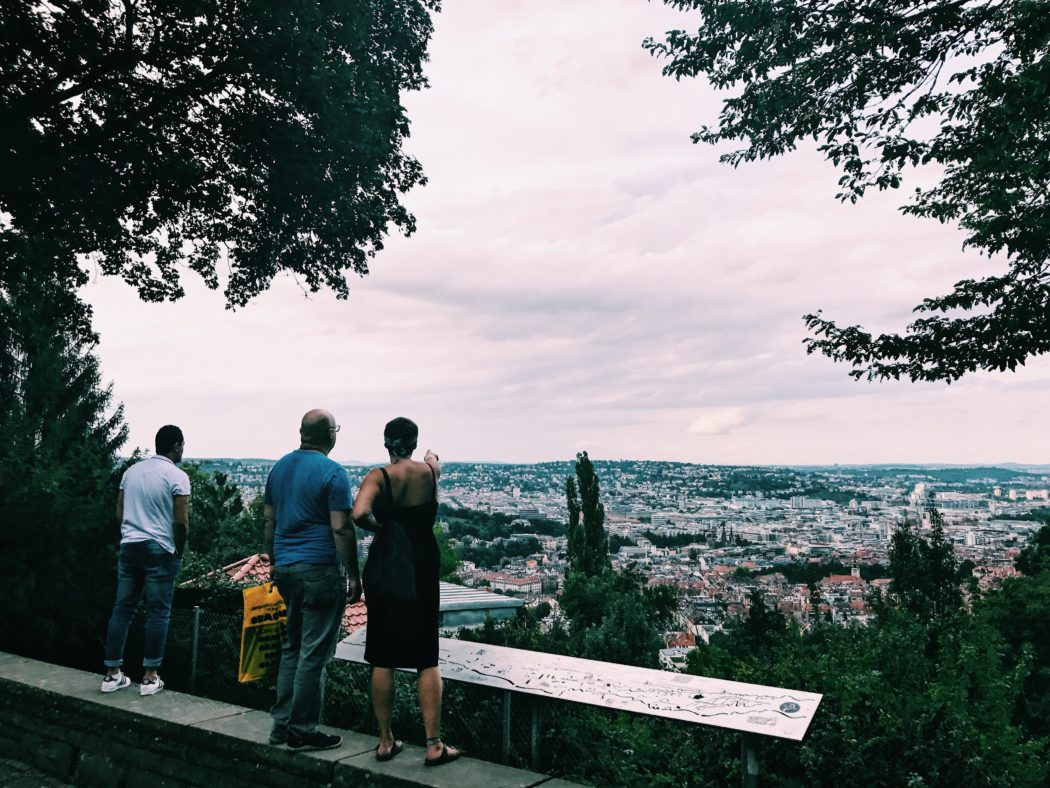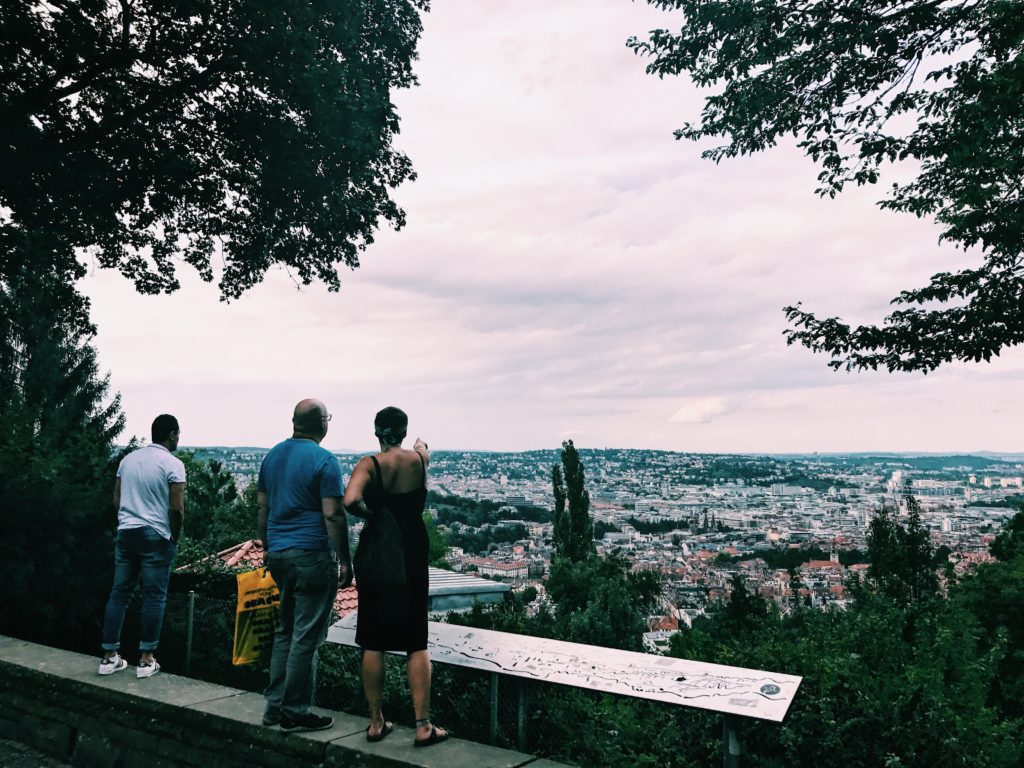 Combine a trip on the rack railway to visit Santiago de Chile Platz from where you get an epic view of the city.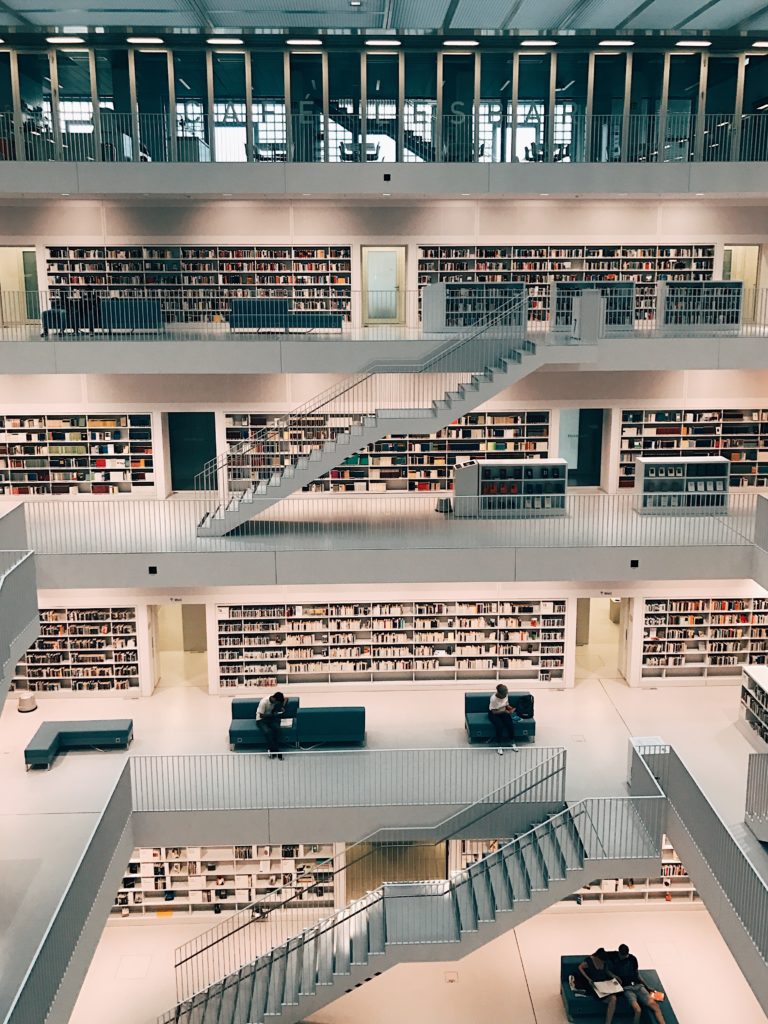 Stuttgart City Library
My last stop for the day is something I had been looking forward to ever since the library featured in National Geographic Traveller's photos of the year. Welcome to the world's most instagrammable public library, the Stuttgart City Library. This place takes reading to a whole new level and definitely should be bookmarked for any future trip to the city.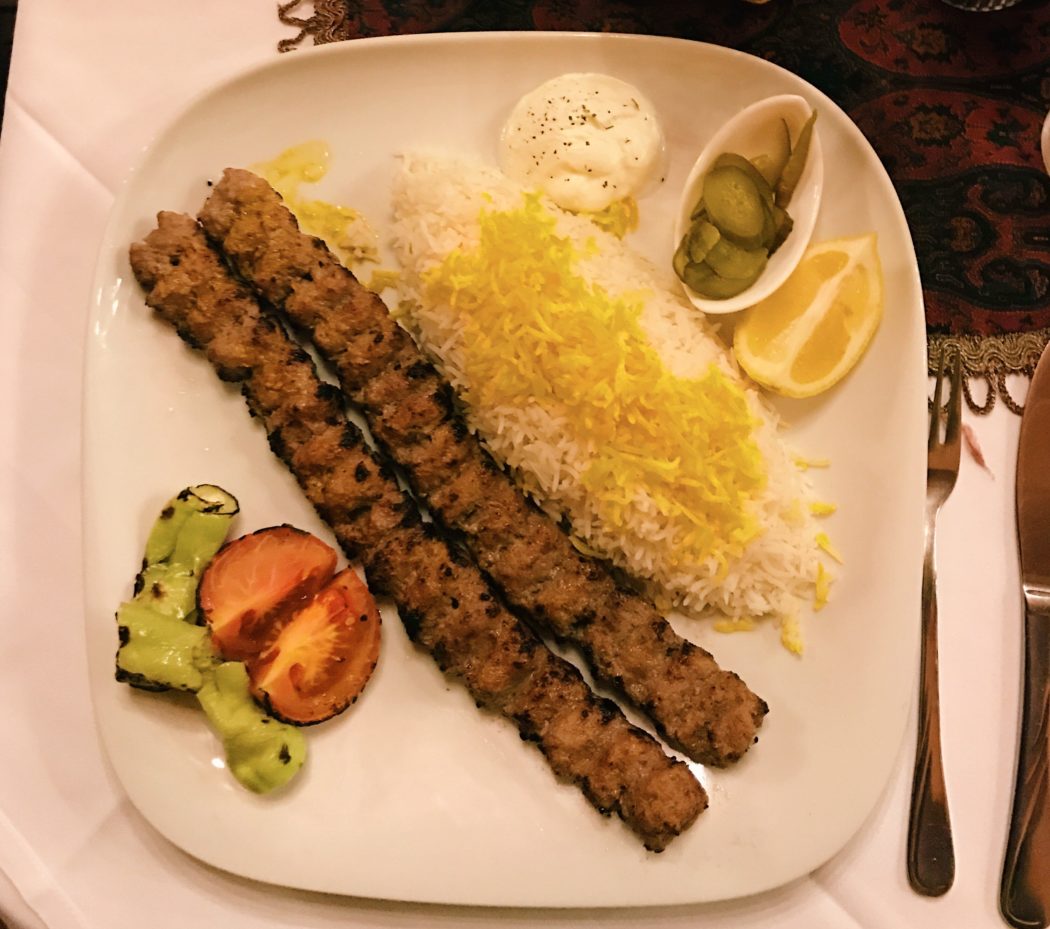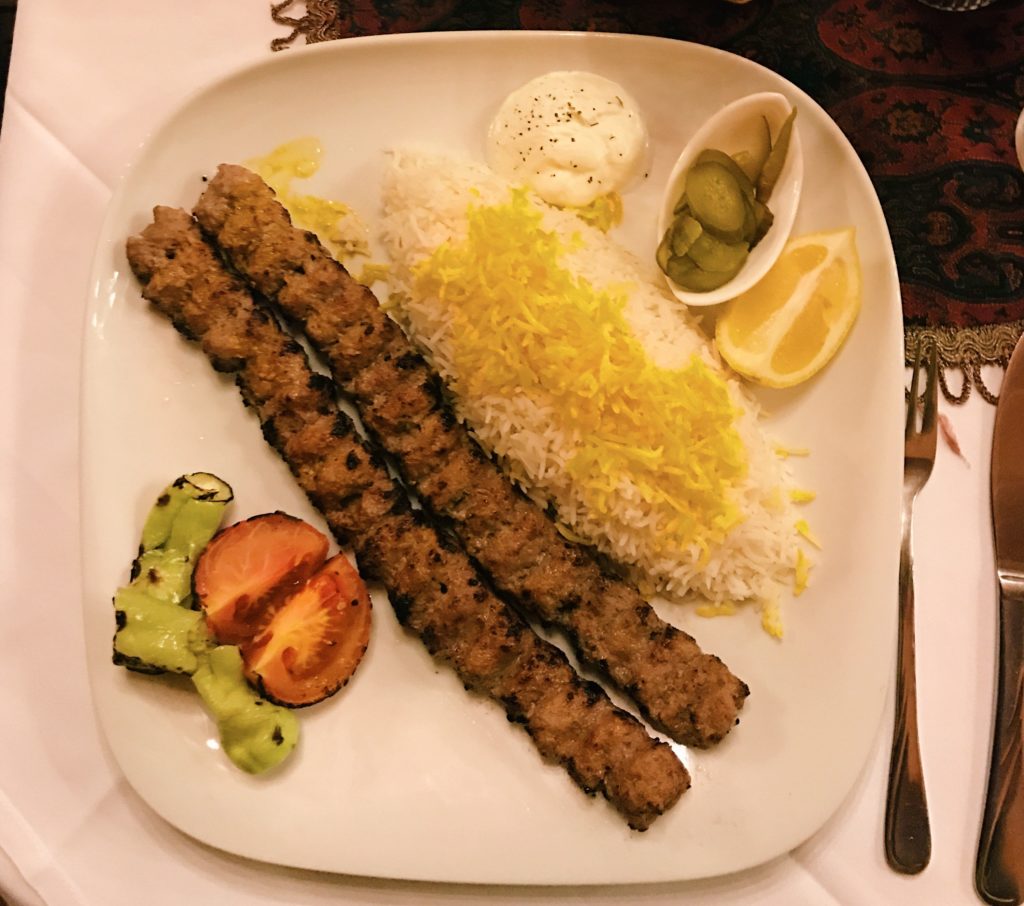 Dinner: Persian Restaurant
For dinner , enthused by positive reviews online, I popped into the Persian Restaurant on Kanalstrasse. I tried the national dish of Iran, the Chelo Kebab. This is a favourite dish from my childhood in Kolkata where I first tried the dish in a local persian restaurant there called Peter Kat. It is a pretty simple but beautiful plate of food and am glad to say that the Chelo Kebab here was pretty damn good. The saffron rice, steam and cooked gently in butter was perfect as were the beef and lamb kebabs. The chargrilled tomatoes and peppers compliment the dish perfectly along with the yoghurt. Highly recommend.
Alternative: Weinhaus Stetter
Or if you're looking to sample something more local and native to Stuttgart, pop into the Weinhaus Stetter where you can sample the best traditional Swabian cooking. On my previous visit to Stuttgart, I enjoyed their Linsen und Saiten ( lentils and sausage) with Spatzle- a traditional thick egg noodles that is typical of the region With a glass of the local Durrenzimmerner 'Trollinger mit Lemberger ' red wine, this was a fab meal.
Day 3
Morning: Visit Esslingen- a medieval city with a city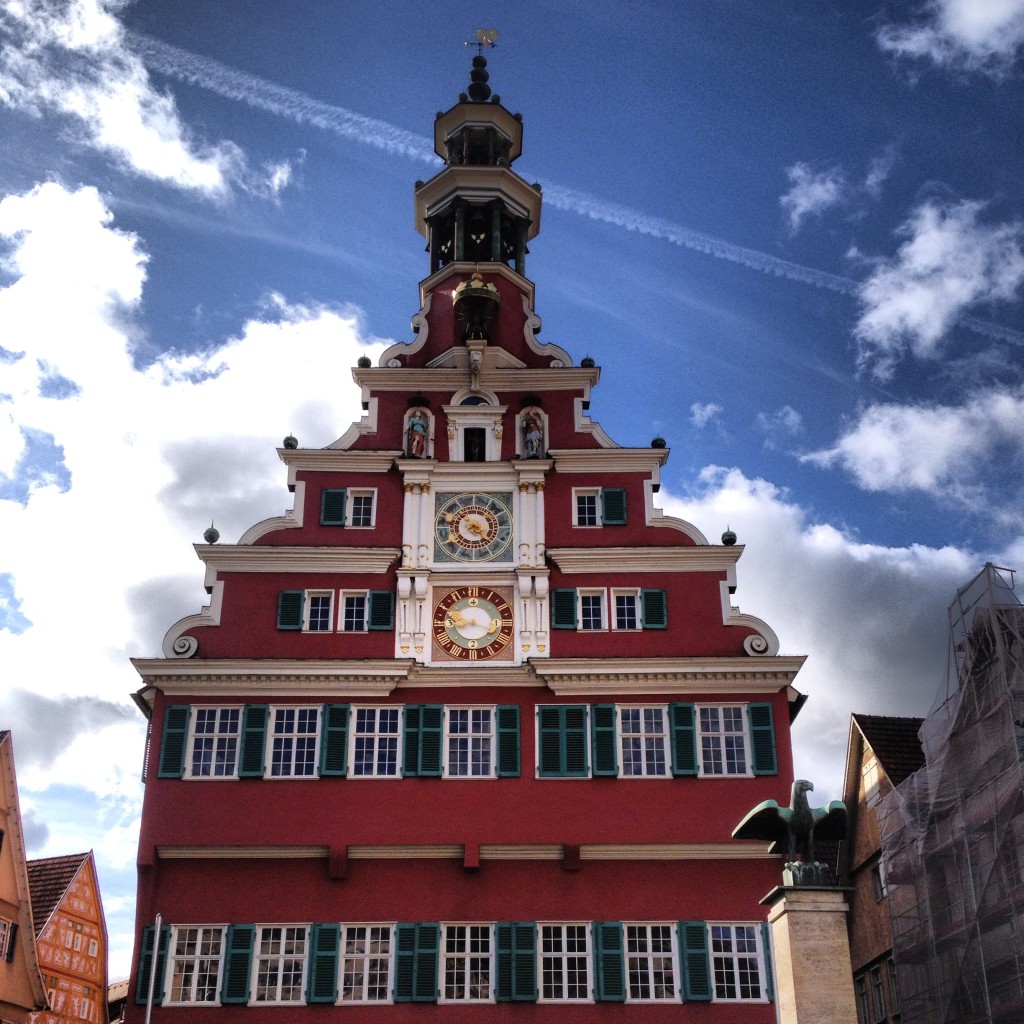 I visit the dreamy medieval city of Esslingen which is just 4 stops from Bad Canstatt on the S1 ( Direction :Plochingen )
Esslingen escaped the WWII bombing raids and as a result visitors can enjoy 1200 years of perfectly preserved medieval architecture.
It's the perfect place to wonder aimlessly and get lost in it's not too distant past.
To get the perfect view of the city, it's worth climbing the odd 370 steps to the ancient fort that dominates the skyline of the city.
Tip: After wondering the compact medieval core of the city, I recommend popping into Kessler for a glass of Sekt, the oldest producer of this fine tipple in Germany.
Lunch : Tobi's, Stuttgart
Before leaving Stuttgart , I wanted another fill of traditional Swabian cooking so after a bit of poking in and around the city I discover Tobi's ( Bolzstraße 7, just off Theodor-Heuss-Straße) a local , home-grown fast food chain that offers a nice mix of local and national cheap eats.
Order at the bar and within minutes the food is at your table.
From currywurst with three sauces to choose from, schnitzel and Maultaschen ( stuffed ravioli, delicious stuff) with potato salad (what I ordered) and regional Swabian spaetzle with lentils –there's good range of choice here.
Or if you're in the mood for quick junk food, you can have some French fries with Kölsch beer.
Tip: Everyday between 17:00 – 19:00 they have a happy hour where you can enjoy Gaffel Kölsch for €1,00 and between 21:00 & 23:00 hours you can sip on Wulle Bier for 2,00€
Top tip
I recommend purchasing the Stuttcard PLUS which gives you access to all the city's leading museums plus unlimited travel on the city's public transport. It costs €25 for 24 hours, €35 for 48 hours and €45 for 72 hours.
Here's the total cost of my 48 hours in Stuttgart
2 night stay at DJH Stuttgart Neckarpark: €51.20
( 2 night stay at International Student Hotel: €114 )
2 day Stuttgart PLUS card €35.00
Staatgallerie: FREE (with Stuttcard )
Mercedes Benz Museum FREE (with Stuttcard )
Kunstmuseum FREE (with Stuttcard )
Fernsehturm FREE (with Stuttcard )
Stuttgart City Library FREE ENTRY
Glass of wine at Tschechen & Stone €3.50
Dinner at Triple B Burgers €9.90
Gelato at Kaiserbau €1.50
Galao Summer at Cafe Galao €2.80
Lunch at Markthalle €4.20
Dinner at Persian Restaurant with a drink €15
Lunch at Todi's with Kolsch beer €9.20
Beer at Matahari €2.80
Beer at Biddy Early's €3.90
TOTAL €139
Big thanks to Stuttgart Tourismus, German National Tourism Office , their partners for the 'Youth Hotspots' campaign – Jugendherberge : The German Youth Hostelling Association and Deutsche Bahn for sponsoring my 'German Wanderlust' tour.
I was touring Germany as part of an effort to highlight and discover the country's emerging 'Youth Hotspots.'
Find out more about these hotspots at their website , feel free to add your own and also do download their free youth hotspots app that is now available on the Apple Store & Android Store .
Please note: While my trip has been sponsored, the views and thoughts represented in this article are my own.