3 weeks ago I attended the launch party of Berlin's hottest new hostel, Hostel One 80 in Alexanderplatz.
Like Lisbon, Berlin is probably the only other city I know in the world that is blessed with a range of world class hostels.
I'll be visiting and reviewing later this month Plus Berlin which has received rave reviews for its uber cool design and unique features like having its own swimming pool.
Then there is Circus Hostel which like Plus has raised the bar in terms of the modern definition of a hostel.
These are just a few hostels I can rave about-the competition is tough here.
So as a traveller, the good news is that you're really spoilt for choice in Berlin.
So naturally I was curious to see where Hostel One 80 would slot in amidst the stalwarts of the hosteling scene in Berlin.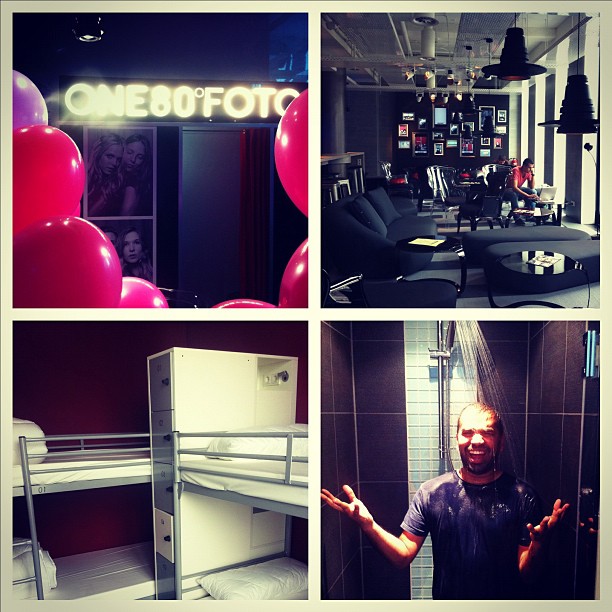 When I walked in, the hostel is clearly in a state of upheaval.
Last minute preparations are being made for the launch party.
The hostel has a private outdoor area where  a local band in the process of setting up their gear for the evenings festivities.
Hosting local acts is a regular fixture I am told by Stella, the hostel's dedicated concierge.
It's a way of the hostel promoting local talent , giving them a platform and also at the same time offering the guests the chance to sample some of Berlin's upcoming acts.
Stella is a one 'woman' army.
Every week she pulls together an eclectic schedule of events in the hostel for the guests.
This could be anything from a guide to her favourite dining haunts which she goes with her friends to a special walking tour of the city's amazing street art scene.
The idea here is to give the guests a view of the city, privy to only locals.
Being a large hostel with large groups often coming in, Stella also keeps an eye on the guest list for solo travellers.
Her job is to cobble together the solo travellers and make sure they don't feel left out which is often the drawback of larger hostels compared to the smaller , boutique hostels.
It's a cool idea and I'm impressed with Stella's sense of enthusiasm for her city and energy.
So what's the hostel itself like?
From outside the building it's a huge concrete block and doesn't impress.
Once you're inside , a different story emerges.
Once you've walked in, from a design perspective you feel like you're in the reception area of a 5 star hotel than a hostel.
The lounge area is filled with lots of comfy stylish sofas and has a very trendy vibe- I feel like I've walked into the middle of a MTV Video.
One cool feature in the lobby area is the hostel's own photo booth where guests can get their pictures taken –this gets sent to your email address, uploads to the hostels's Facebook page plus also it appears on a range of cool digital photo frames on the lounge walls. A cool piece of technology.
The hostel has it's own bar which for the launch night was heaving and later guests carried on the party in the hostel's basement nightclub- this is Berlin after all.
The rooms are bright, spotless and well maintained and you can choose from a double bed ensuite to a 4, 6 or 8 bed dorm ensuite to 6 bed or 8 dorm option with shared toilets.
The beds are dead comfy, I had a cracking sleep ( in no doubt helped by the great party)
Beds have a reading light plus 2 plug points to juice your gadgets-perfect for the needs of a flashpacker.
You also have excellent storage units below the beds to secure your backpack and a smaller locker each bed to secure your smaller valueable items-excellent.
The showers are super- so good, you can shower with your clothes on as you can see below….
Some of the rooms come with their own balcony.
Price point: The 4 bed ensuite come in at the 20 euro mark going down to 14 euros for a bed in the 8 bed dorm ensuite.
For 12 euros you can get a bed in the 8 bed dorm with shared facilities- great price point.
Couples or solo travellers can also choose the option of a double room for around £35 but these rooms get booked out well in advance.
Breakfast buffet is a generous spread and worth the extra 4 euros.
What more?
The hostel has a great location, just a few minutes walk away from Alexanderplatz which is a great hub for connecting with the rest of Berlin's sights and also travelling to Tegel and Schonfeld airports.
What could be better…
Few gripes.
The reception area is slightly cramped with just two people to service the needs of guests.
With this being a large hostel , I found this often lead to an overflow of guests in the reception , waiting to be checked in or to have any general issues addressed.
If they can remedy by adding more staff and expanding the reception area , this would be great.
The hostel offers a free wifi service which at the time of my review was a mixed bag.
I've found this to be a general problem in larger hostels who offer free wifi- guests start streaming movies and severely restrict the bandwidth for other guests- the way around this? I don't know.
Verdict
In the end, I was really impressed with Hostel One 80. I like the dedicated concierge service, nice rooms , superb design plus a brilliant price point. I hope the wifi service improves but otherwise there's little to fault.  A worthy addition to Berlin's rich hostelling scene.
PS: Below is a video including some clips of the hostel rooms , reception area plus my interview on German National TV about the Luxury Hostels project. I do hope your German is better than mine….. Auf wiedersehen!
http://www.youtube.com/watch?v=lLeKEUqokuQ&feature=g-upl