Everywhere in Lisbon ( being the city of 7 hills ) you can have a room with a view.
This is very true when it comes to staying at the Oasis Backpackers Lisbon.
You have great panoramic views of the Tejo from the bedrooms on one side and on the other side you have the hostel's peaceful garden, complete with a hammock and palm trees swaying in the breeze blowing in from the river.
Often the breeze will be accompanied by the whiff of tobacco and pondering, melancholy strains of Taylor's guitar.
Most morning's you'll find him gently strumming away perfecting a tune.
Taylor is one of the hostel super friendly staff members.
Talking about views, right in front of the hostel is the Miradouro Santa Catarina where there is always a gaggle of tourists and locals alike drinking in the mesmerizing panormama views.
Just a hop skip jump away, the hostel has a second building which houses a few doubles where couples travelling can get more privacy.
Which is handy if you not in the mood to party because this hostel is very much a party hostel.
Sometimes, the tag of party hostel can be quite intimidating to older, solo travellers. Like me.
I have to say that given the small intimate size of the hostel, it's not your typical crazy party hostel.
Drinking in the cozy lounge cum bar area ( You can bring your own drinks. There's a supermarket around the corner on the main drag. Drinks in the hostel are very affordable. Hot tip: If you say something to the bartender in Portuguese, you get rewarded with a free shot of something …) with other guests-  I felt like I was back at university drinking with friends at a house party.
The staff line up up their favourites on their custom Youtube channel.
Hostel guests often chip in with their favourites.
On a typical night you might be drinking to a very wide range of musical tastes.
Despite its proximity to Bairro Alto , which is just a matter of 5 minutes away, the hostel is on a quiet cobbled street.
The hostel staff go to great lengths to make the guests feel at home which is great especially if you're travelling solo.
The staff take out guests on bar crawls along the Bairro Alto.
If you want tips of places to eat or want to check out the latest art gallery exhibition-I found them quite resourceful.
The rooms itself are very cool- nice bright snazzy wallpaper, mattresses are comfy and linen, fresh and clean.
Super clean and efficient.
If you don't believe me check this ….
The best thing I enjoyed about this hostel is their dinner.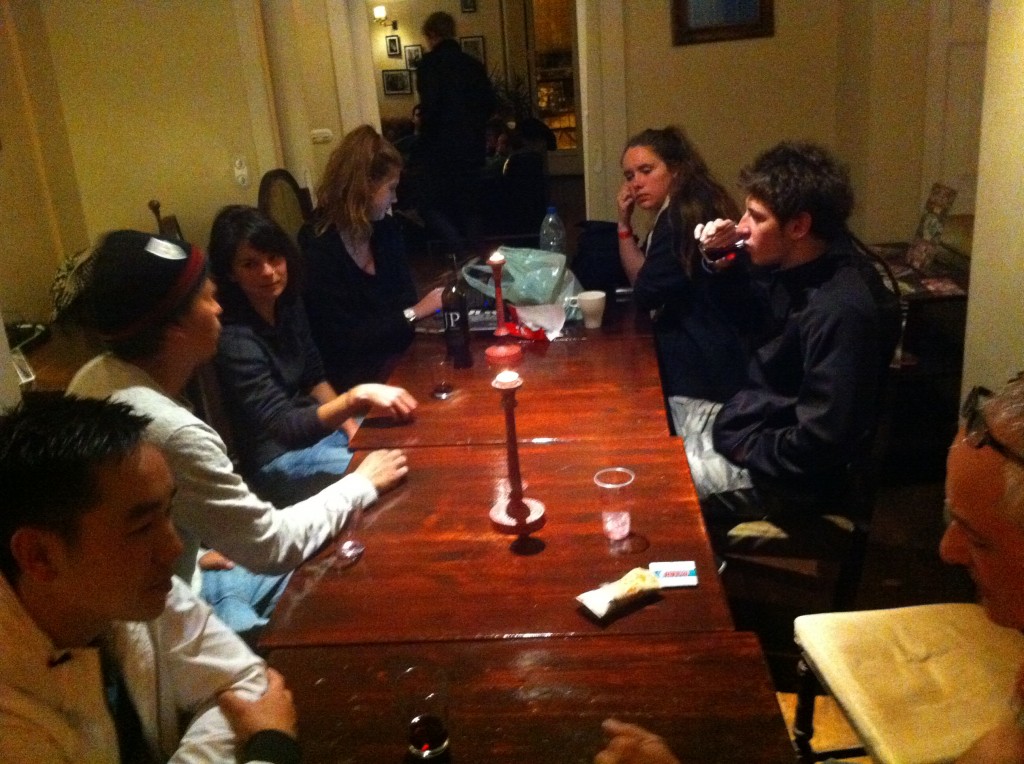 For just 10 euros you get dinner and wine included.
The chefs are friendly locals like Stella for example ( above, women of many funny expressions )- a local architecture student, who comes and cooks thrice a week just for the kicks of meeting new people.
It's a great way to meet and get to know fellow hostel guests- recommend you go for this option if you're staying in the hostel.
Verdict 
Oasis prides itself on being quirky and cool and in this respect with their ace location, cool design, rooms, the outdoor garden and also fun evening soirees, they triumph. I was worried being the older, solo traveller whether I would fit in but the staff made me feel at home immediately and I had two great days at this hostel. If you're looking for peace and space, go for their double rooms.
I'd recommend this to solo travellers, couples and even if you're travelling with friends.
Essentials
Fly from Edinburgh to Lisbon for as little as £24.99, one way in October with easyJet
Book you stay at Oasis Lisbon site http://www.oasislisboa.com/lisbon-hostel
Room prices start at around 60 euros for a Double Room ( shared bathroom), 24 euros for a 4 bedroom ensuite or as little as 17 euros for a 12 bed room dorms ensuite.