It's a 9 hour journey from Budapest to Ljubjlana.Plenty of time to think and reflect on the journey so far. Which is what I love about Interrailing. As I write, the train glides over the flat, lush green fields of the Hungarian countryside that stretch for miles to meet the infinite blue sky.Just when the scenery becomes a little predictable…ooh there comes a canal.A stork! Then out of nowhere two bronzed, middle aged balding men pop up, cycling by in red pants with bulging potbellies.
One thing that Interrailing has taught me that nothing in life is predictable. Definitely not for everyone.
I am struggling to draw a line between my recent past life in Edinburgh and my current reality. When you are Interrailing, somedays you don't where you came from and where you are really  going. I knew the name of the cities and the hostels I was staying in. That was pretty much it. Well that's pretty organised some of you would say but for me phew…. big change. I had left my beloved Europe on a Shoestring LP guidebook at home. I turned up at each city clueless with not even the foggiest clue of how to get from the train station to hostel. This is very unlike me. Whenever I travelled in the past I have always planned my each move meticulously a few moves ahead like a chess player.
This time it's different. The whole flexible nature of Interrailing allows room for spontaneous travel. I turn up at each city wide eyed in wonder. I admire the impressive landscape and beautiful architecture.
Whatever place looks interesting , I walk towards and inspect with inquisitive eye.I ask the local people about the history of the place and get all kinds of interesting insights. As Andy Jarosz observed in his excellent piece on why the best travel experiences often involve seeing nothing :  often these people you just meet on your travels , their faces and smiles are the memories that you carry away with you when you look back at your travels.
The places we go and the people we meet…
Like when I think of Prague, I remember the faces of the all the travellers at Plus Prague I met and having this awesome night out in town.Not likely that we will all meet again in the future- who knows …but hey was such a cool night out.
I was the following day wondering around Malastrana and wondered into the local Museum of Modern Art: The Museum Montanelli.I got chatting to the lovely Jana K there who kindly invited me to the degree show party of the local art college. A great night of great and bad art, weird and wonderful characters and awesome swing dancing to the tune of Caravan Palace [ Thanks Jana for introducing me to them] 🙂
Life without a travel plan? An itinerary? A guidebook? Life gets bloody exciting! Getting ideas of things to do is not a problem.You don't even need Twitter or a smartphone.
Few basic rules to remember to make the most of the Interrail experience.
Wherever possible, chat & meet the locals. I had an awesome walking tour of Copenhagen thanks to local blogger Alex Berger from Virtual Wayfarer  Thanks to him I stumbled upon possibly one of the most perfect sunsets ever at Nyhavn harbour.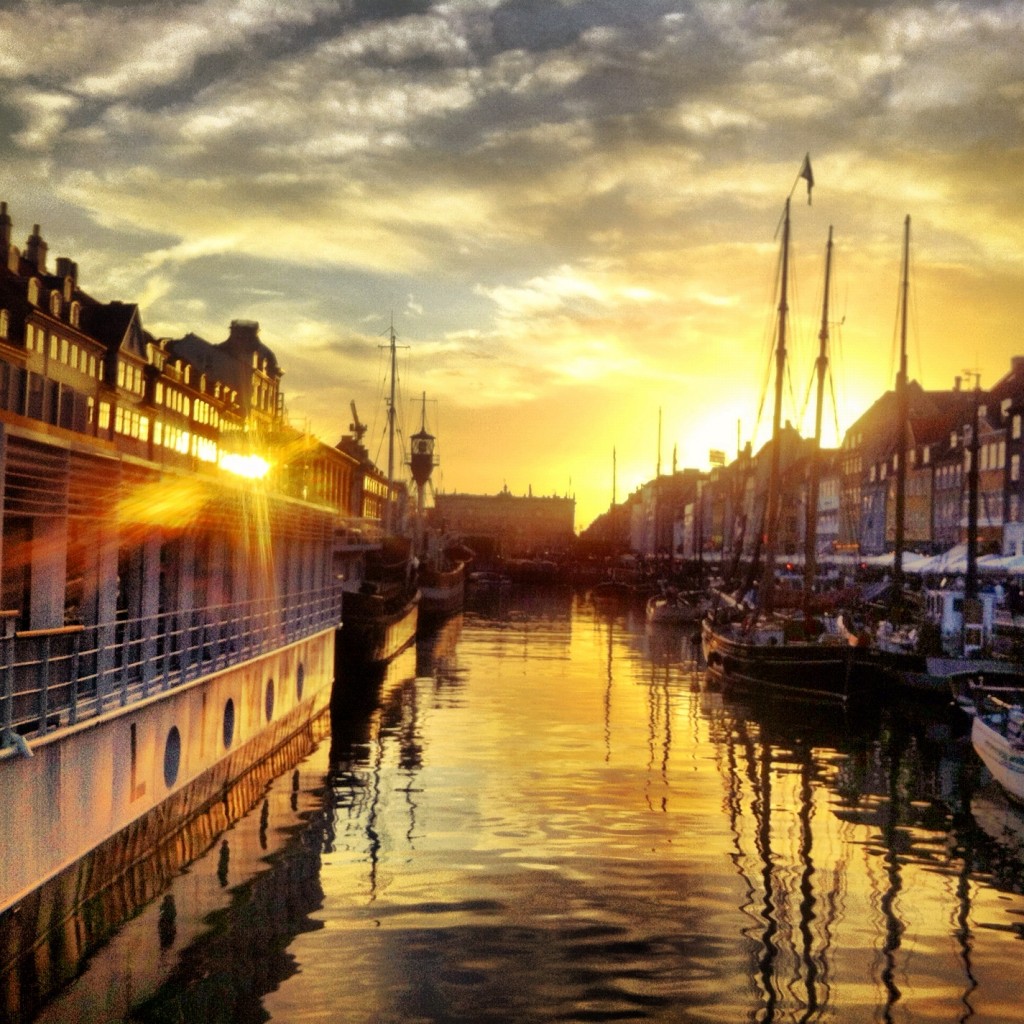 In all the luxury hostels I've visited so far is that there is no shortage of excellent ideas and tips from the staff members I've met. Being travellers themselves, they are keen to impress me with their knowledge and often enough they'll let me into a secret- a favourite bar or place to eat where they would tend to go with friends. For example when I stayed at the fantastic Plus Hostel in Berlin, one of their reception staff tipped me off about a cool bar at the Hotel Michelburger. This bar was the perfect place to unwind after a long day seeing the sights in Berlin.
Great ambience- Low lighting, a very cool retro feel,  the long wooden share tables, mismatched chairs ,comfy couches, musical instruments, bookshelves and lamps made out of book covers in the front. When chatting to the bar staff at the Michelburger, one of the bartenders turned out to be a bit of an authority on the underground club scene and points me in the direction of a cool club called the Watergate across the bridge on Warschauer strasse.So from pretty much planning nothing and depending on the kindness and knowledge of strangers, I had a great night out in Berlin sorted and it was one of the coolest nights out I had in a long time.
So is the way we travel essentially changing? Or just it's meaning….
For me personally, this trip has been quite a radical departure.For instance with an Interrail pass, travelling across Europe has been a breeze so far.It's just been a matter of looking at the timetables for the train schedules online then turning up at the station on time.
Supercool.Some trains require a reservation to ensure a hassle free journey. Berlin to Prague and Vienna to Budapest, though not compulsory, I'd recommend reserving your train. There is no stress.Maybe then again, this has been my ignorance till date, hopping across Europe on low cost airlines. I haven't had my passport checked once. Which is kinda of strange. No dark looks or hard questioning from the guys in uniform for the Asian man with beard and the black backpack. ( yup I've grown a beard, just today morning I finally got around to shaving it )
Maybe I've seen too many cold war and James Bond movies.
I'm sad that there is less mystery about international travel nowadays. Familarity breeds contempt. I've become quite irritated at the number of familiar shop outlets I am seeing in every city in Europe- Burger King, H&M, Subway, Starbucks, Tesco and Lidl. It's like I never left Edinburgh. When I walked into my room at the Aventura Boutique Hostel in Budapest, my first instinct was to walk towards the balcony and peek at the comings and goings of my temporary neighbourhood. I saw a cool grocery shop-luscious juicy plums, cherries, apricots and peaches on show, a sight you'll rarely see in Scotland. Right in front of the apartment there is a cool beer garden. Tick. Right beside it is a nice pastry shop which sold bread loaves quadruple the size of my head, no kidding. Awesome.Then to the left, I saw the glimmering glass edifice of the local shopping mall that is glued to the local Nyugati train station. Then I saw the sign of the British superstore Debenhams and the blood drained from my face.Deceived. It was like walking into your home to find that your girlfriend has been cheating on you with the bin man. My racing heartbeat slowed down. I shook my head and decided I had enough of my first exciting view of the city that was going to be my home for the next few days. It's inevitable with the increased political and economic union of Europe, that one day the high street of Budapest and Britain will increasingly look the same.
So here's my challenge to myself and to you- let's embrace the spirit of the unknown as long as it exists.
Let's be unpredictable!
What do you think of the following?
1. Don't pick up a map. Leave the guidebook behind. Switch off the smartphone.
2. Walk around wherever possible. Get lost.
In fact, try to get lost everyday on your trip and see how disorientated you can become. See what you discover.
3. Don't take the same free walking tour like everyone at the hostel.
Walk through every open door -march into whichever building or establishment that takes your fancy.
However significant or insignificant it's history maybe, discover something for yourself.
4. Eat something exotic and foreign to your palette everyday- desist from having your favourite Starbucks coffee and forgo the guilty pleasures of free wifi.
5. Try and learn to say thank you at least in all the countries you travel.
I'll start with these 5 ideas to start your un-travel Interrail manifesto.