Every year the University of Sheffield runs a charity hitchhike through the organisation 'Bummit', where 200 of its students hitchhike to Eastern Europe for charity. BudgetTraveller Intern and avid hitchhiker Amy took up the challenge of hitchhiking to Vilnius, Lithuania, in 9 days. (To donate to the awesome cause, please click here )
Here are her highlights of her hike from Sheffield to Cologne.
DAY 1: Sheffield-Calais
After recovering from the initial excitement of setting off, with 200 students grabbing their backpacks and running to be the first to get a lift out of Sheffield, we managed to make our way down the motorways from Sheffield to Dover in only a day. Say what you want about British motorists being a suspicious bunch, but we made it down south surprisingly fast, with people being more than happy to take us as far as they could, donating anything they could spare to our charities and generally just making hilarious conversation. Maybe it was because we were dressed up in ridiculous costumes, but noone refused us a lift on the grounds that we might be axe-murders!
By 8pm on the first day, we'd got a ferry from Dover to Calais, and having pestered every driver on the ferry we turned our attention to freaking out about where we'd spend the night (our only option was sleeping on a motorway in Dunkirk, not very appealing when snow had been forecast). Thankfully, a trucker came to our rescue, and dropped us at a strategically placed service station in Calais, where we found our next lift and bed for the night.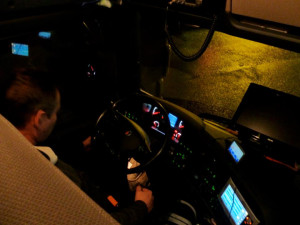 In hindsight, sleeping in a lorry with a man who a.) got us drunk on truck stop wine b.) told us repeatedly that he wanted us to 'make beautiful luuurve' in his truck (don't worry, he assured us he wouldn't disturb us, and would just be sleeping in his bunk below) and would c.) murder us (his exact words), was not the smartest idea.
Maybe  we did it because we had nowhere else to sleep and it was cold outside? Maybe it was because of all the wine? Maybe it was just so we could tell the story at the end of it?
For whatever reason we chose to sleep in his cab, against all odds it turned out to be the right decision, because in the morning we awoke unscathed, unmurdered and started truckin' towards Ghent, Belgium. To any wannabe hitchers, I am in no way recommending that you shack up with pyschopaths, but in this instance, it worked out a treat!
Taking unnecessary risks 1 – 0 Being sensible
DAY 2: Calais-Brussels
Having got to Ghent by day 2, we decided to take it easy and go explore. One of the best thing about hitching is sightseeing, taking a good look around the places you end up and knowing you are doing so for FREE!
Bruges, Ghent and Brussels in one day, we took sightseeing to the extreme.
Ending up in Brussels in the evening we stayed with a coachsurfer who cooked us a 3 course meal and provided endless entertainment with his choice of house decorations…
Note to anyone who anyone who has not tried coach surfing: if you are at all homophobic, do not stay with a man who lists that he prefers to host gay coachsurfers, and lists 'sleeping naked' or 'showering with other men' as his hobbies. Although myself and my boyfriend didn't mind staying with a man who doesn't have a door to his shower room and had a computer screensaver of a naked coach surfing man, his other guests found this pretty offensive, and maybe should have screened their host more carefully…
DAY 3: Brussels-Cologne
Ain't nothing fun about hitching in the snow. Having hitched to just outside Cologne, Germany with a woman and her baby in a smart car (who'd have thought?!) , we got stranded in blizzard conditions. Thankfully, we got picked up by no other than a woman who could have been my own mother's doppelganger!
Since I started hitchhiking, I have had countless stories to tell about freaks, wierdos and generally deranged human beings who picked us up along the way. Imagine my surprise then, when I spent the next 4 hours eating cake and drinking coffee with two middle aged German women who just wanted a civilised catch-up.
One of the most surreal and civilised hitchhiking experiences of all time!
And we made it to Cologne before nightfall, just enough time do some sightseeing and kick back with a beer and a steak in a German beer hall!
It's a hard job, but someone's gotta do it!