Continuing our series of travel ideas for your 2012 bucket list, if you're visiting London in 2012, this article is a great idea for exploring a relatively unexplored part of London.
Guest blogger, Kathryn from Tripstylist takes you for a wander through East London's Sunday markets , discover some East End history – as well as some bargains in the process.
Get those virtual walking shoes on and get ready for a nice walk!
1. Start your day on Columbia Road which is famed for it's flower market which takes place every Sunday 8am – 2pm.  As well as the flower market independent shops, art galleries, cafes and bars line this pretty Victorian street.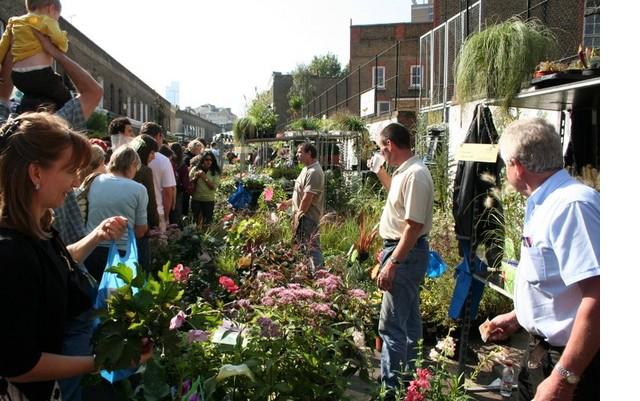 2. En route to the markets of Brick Lane take a peek at Arnold Circus.(below)  This beautiful bandstand and garden are built from the rubble of London's most notorious slum. It is the site of the former "Old Nichol" slum which was demolished and redeveloped to become London's first council housing estate. The mound of Arnold Circus is built from the rubble of the demolished slum.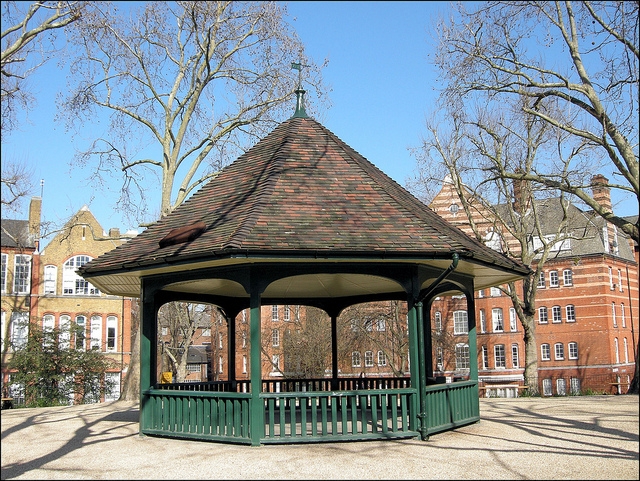 3. From here pass down hip Boundary Street and Redchurch Street to Brick Lane.  This end of Brick Lane is home to Brick Lane market, a sprawling collection of bric à brac, fruit and veg stalls and hawkers. It extends into Bethnal Green Road, Sclater Street and Cheshire Street too.  Cheshire Street has some great shops, mainly vintage, homeware and arts/crafts.
4. Continuing down Brick Lane you will pass The Tea Rooms on your left, a cavernous antiques, furniture and homeware sale under 93 Feet East.
5. Also on your left is the Backyard Market with stalls from up and coming young designers, selling mainly fashion and arts and crafts.
6. Opposite is Dray Walk, lined with some great cafes and bars including Cafe 1001, Story Deli and Big Chill Bar. Walk through Dray Walk to the Sunday Upmarket, home to 200+ fashion, art, accessories and food stalls.
7.  Next, wander through pretty side streets towards Spitalfields Market. This Spitalfields area is noted for its early Georgian terraced housing. The best examples can be seen down Fournier Street which has some of best preserved Georgian townhouses in Britain, dating from the 1720s.
8.  If you've still not spent up, there's more browsing and shopping opportunities at Spitalfields Market.  Recently redeveloped the market complex now includes restaurants and shops as well as hundreds of market stalls. Fancy a drink before you head home?
Try the Ten Bells pub on Commercial Road, Jack the Ripper's old local, check out the original tiling as you go in.
From here it's a short walk to Liverpool Street station.
About the  Author
Kathryn is creator of Trip Stylist, designing ready-made and tailored day out guides and self-guided walking tours for London and UK.
The printable ready-made London guides  explore some of London's hidden gems and hunt out some quirky places to visit as well as taking in more well known sights and attractions.
Each is a complete day out that includes a step-by-step walking route and map and stop-offs throughout the day at great cafes, bars and restaurants.
Kathryn is an aimless wanderer and explorer who loves London and seeking out the quirky and unusual. And is always on the look out for great places to eat, drink and visit!
Website:  http://www.tripstylist.co.uk
Email: [email protected]
Twitter: @trip_stylist