[tweetmeme]
[fbshare type="button" float="left"]
[fblike style="standard" float="left" showfaces="false" width="150″ verb="like" font="arial"]
[google_plusone size="standard" float="left"]
It was a Tuesday morning in late October and there were hardly any tourists in sight at Piazza Maggiore.
There are a fewer sadder, melancholy sights in life than an empty piazza.
After an hour of not so fruitful people-spotting , around 11am I spotted some activity:  a sudden procession of people across the piazza.
I saw a few world weary looking, hunched over elderly citizens making a beeline towards one of the northern exits of the Piazza.
I was curious. Where were they going?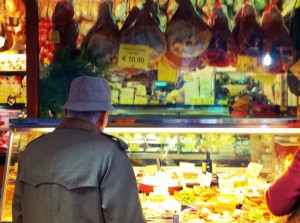 I follow their footsteps and soon found myself in Via Pescherie Vecchie: a hidden street of endless foodie treasures, amazing colours and heavenly smells.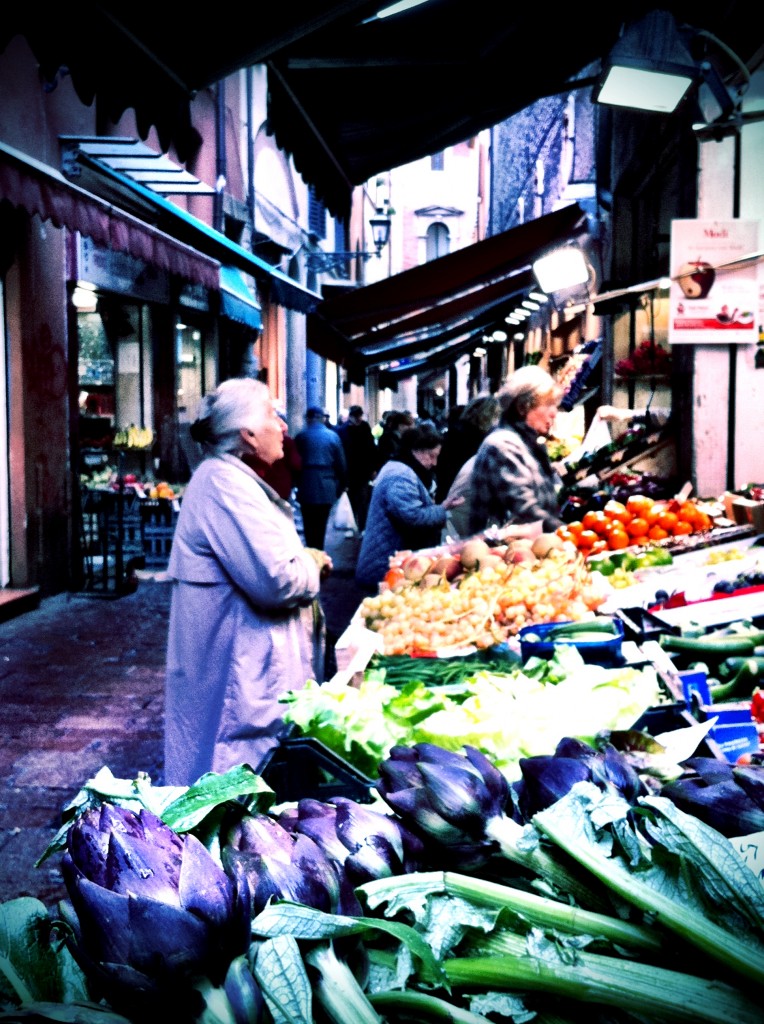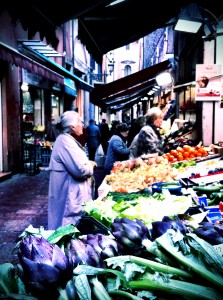 I felt like I was in the Diagon Alley of food fantasy.
I later discover that this area is known as the Quadrilatero : a mecca for food lovers in Bologna and across Italy.
You can find anything here.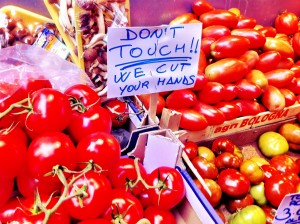 See how red these tomatoes are. There are so juicy and ripe, they might burst at the slightest touch… hence the cautionary sign maybe!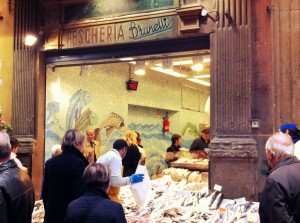 I love to have a decent Fishmonger locally-unfortunately they are a dying institution in Britain with people buying fish from the supermarkets nowadays.
At Pescheria Brunelli every fish was live and wriggling at my fingertips.
It was if the Adriatic was flowing beneath my feet and the shopkeepers were literally hauling their catch and serving it to customers.
Iwas swept away by the delirious commotion around me : a rowdy crowd of Bolognesi haggling over fresh fish : squid, scampi, octopus, anchovies all glistening in the styrofoam trays. Was an operatic spectacle not to be missed.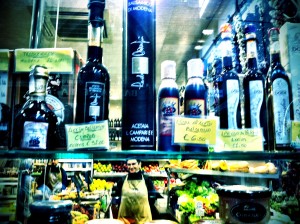 Each shop window I saw was a cornucopia of gastronomic pleasures of the Emilia Romagna Region- the wonderful handmade shaped pasta like Cappalletti, Salami, Prosciutto Crudo, Mortadella, Parmesan Cheese…list is endless of what great food you can sample here in this city and region.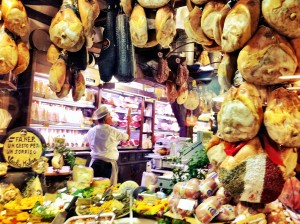 I treated myself to the ultimate gourmet picnic on a budget in Bologna  and paid a visit to La Baita Formaggi
It's literally Italian cheese heaven.  I could choose from an excellent selection of cheeses—eight types of mozzarella, six kinds of ricotta, and 21 different varieties of pecorino—in addition to the usual mortadella, salami, and both kinds of prosciutto. Before buying they happily spoilt my tastebuds with some generous food tasting.
I taste a few heavenly drops of Balsalmic Vinegar – wow. It tastes so sweet and awesome with the hard, crumbly Pecorino cheese. I get some of the pecorino cheese.
I have some baguette bread from the local co-op market. I also treated myself to 100 grams of the best Proscuitto de Parma ( 27 euros a kilo at time of my visit) so with the bread and cheese- I have a lunch fit for a king.
But what about a nice drink to go along with it?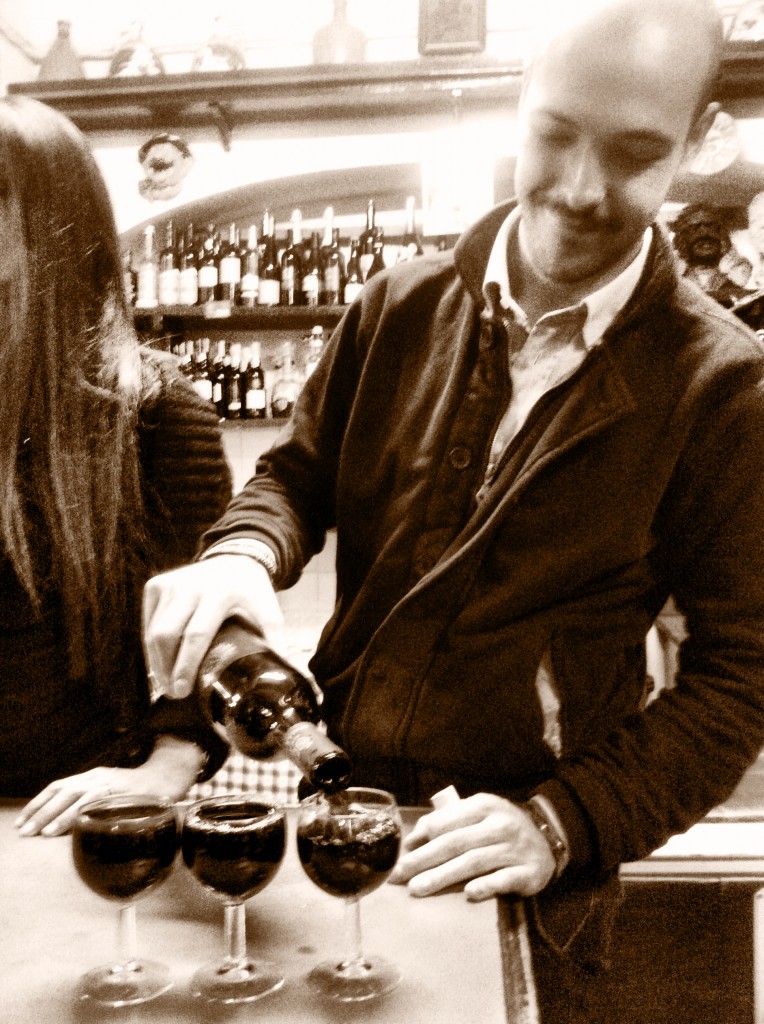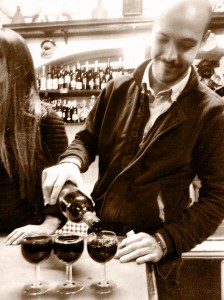 Being grey and miserable, I decide to have my picnic indoors in the local Osteria del Sole which is just around the corner.
Yes, you can bring your food here for free and sip on some of their fine local wines- I recommend their Sangiovese Red.
As good as any red wine I've tasted inTuscany.
At 2 euros a glass its fantastic- this place is a steal.
Welcoming weary travellers since 1465, the tavern is a portal to a hidden world of boisterous local characters, animated students…..without a tourist in sight.
I sigh. Rub my happy belly and heart.
There is nothing more cool than hanging out with the local, drinking good wine and eating good food…. and being anonymous in a foreign city.
In my next third instalment, I'll share with you a few more heavenly food treats in Bologna like the where to get the best espresso in town , the best gelateria and I also if you like to go chestnut and truffle hunting in the hills outside Bologna- a few tips.
If you missed my first slice of  'La Rossa'  you can read it here.
Again thank you to my kind hosts and sponsors of this trip: the Emilia Romagna Tourism Board.
Please note that all the opinion expressed here are my own.