Tourism isn't always pretty. Sometimes, it's difficult to swallow. It's about confronting the past and learning from the mistakes made. In the case of Nuremberg, we are talking about the actions and horrors inflicted of one man- Adolf Hitler whose legacy to Nuremberg is a tainted, poisoned one. It was his favourite city. He saw the city as a classic example of a city rich in Germanic and imperial history and agreed with it's mayor who once called it the "most German of German cities." Nuremberg became the venue for the Nazi Party Rallies and subsequently the Nuremberg Trials. The city and it's residents paid a hefty price for Nazi Germany's obsession with the city. Thousands of lives were lost and the entire city was destroyed by the Allied forces on 2nd January, 1945 which led one local to describe it as a 'hell on earth.' From those ashes, the locals over the past few decades have painstakingly rebuilt the city, helping restore much of the city's original character and medieval charm. Walking around the sandstone facades and timber framed buildings of present day Nuremberg, like Dresden,  the city is a symbol of the courage of the people and a reminder of the resilience, power of the human spirit. That spirit is evident today in their festivities like the world famous Christkindlesmarkt and in the friendly faces of people at the city's many excellent bars, shops, cafes where tourists are welcomed with open arms. In my opinion this is one of Germany's most underrated cities-a real hidden gem. There's so much to enjoy-the beautiful architecture, great museums, craft beer, a whole bunch of waist expanding gastronomic delights and very friendly people. 48 hours gives you just enough time to get a nice snapshot of this very cool city. Here's how you could spend 48 hours in Nuremberg -I visited during the Christmas markets which is a fantastic time to visit but Nuremberg is beautiful anytime of the year.
Things to do in Nuremberg
Christmas markets in Nuremberg
Nuremberg is a great all year round destination but the Xmas Markets, arguably the best in Europe, make the festive season possibly the best time to visit. There is a whole range of experiences to enjoy during the markets that will get you into the Xmas mood that include feasting on the small Nuremberg sausages, trying the famous gingerbread, enjoying mulled wine plus unique shopping experiences that include buying traditional handcraft products that are also an essential part of the articles sold at the Christmas Market, like Christmas tree decorations and the typical Nuremberg products "Rauschgoldengel" and "Zwetschgenmännle".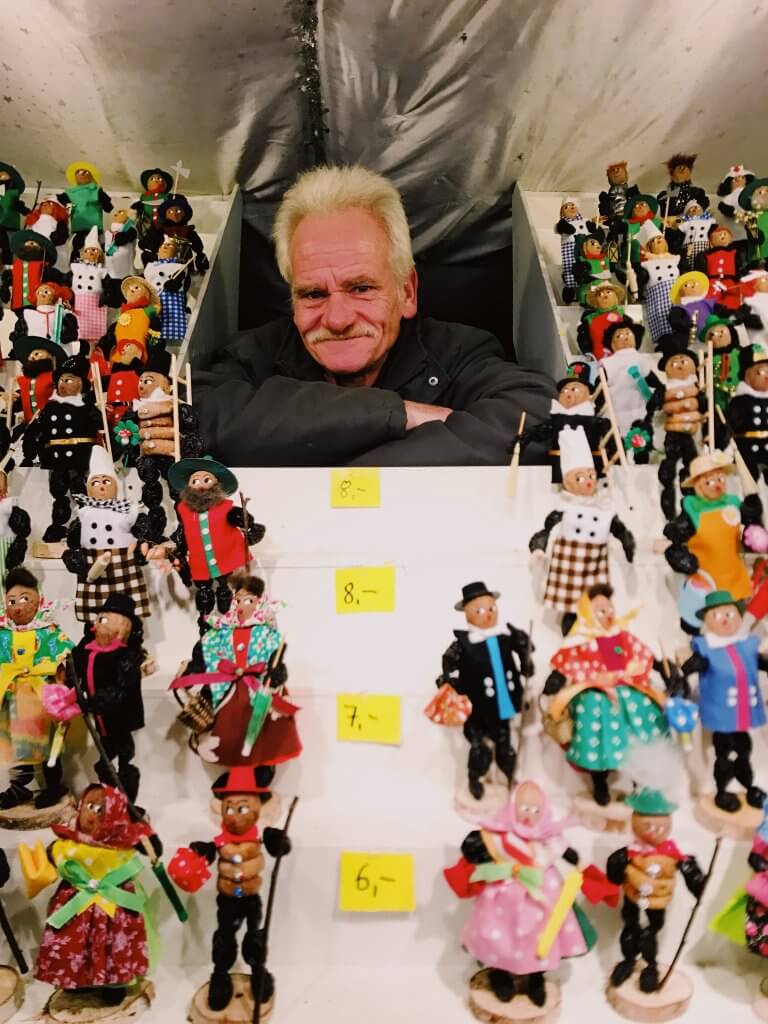 Top Tip: at the Church of Our Lady, the special exhibition "Christkindlesblick" allows you access to the balcony, from where the Christkind opens the market with the famous prologue. You have the perfect view over the market, great to take some cool pictures! The exhibition is open from 5 – 9 pm during the market and can be entered via the church ( entrance of €3,50 )
Next to the Main Market Square, the Christmas Market of the Sister Cities adds some international flair with a wide range of indigenous arts and crafts. The Children's Christmas Market guarantees an unforgettable experience not only for children but also for adults with a nostalgic merry-go-round, a mini Ferris wheel and hands-on booths!
Nuremberg- City of Human Rights
On the way to the Germanisches National Museum visit the Way of Human Rights, a huge outdoor sculpture designed by Israeli artist Dani Karavan.
Each of the 8 metre high , 30 pillars have one article of Universal Declaration of Human Rights engraved in German and a 2nd language. The sculpture is part of Nuremberg's effort to become a city championing human rights & move away from it's dark past of being Hitler's favourite city.
See the world's oldest surviving globe!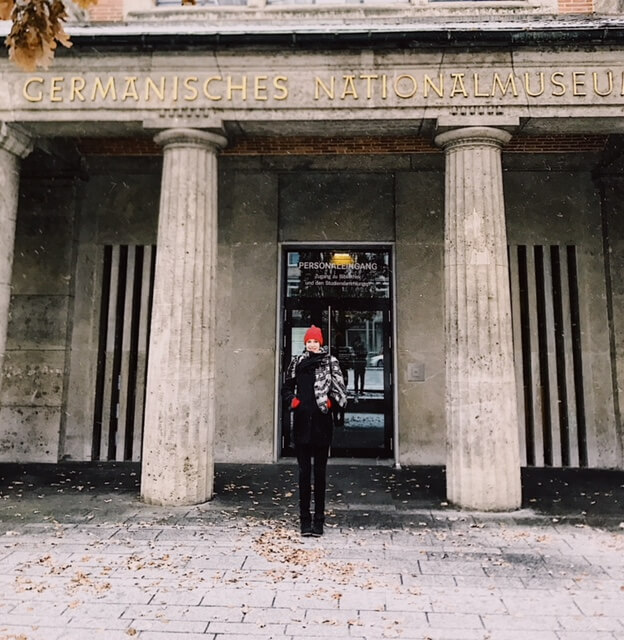 The main reason for me visiting the local Germanisches National museum was to see the world's oldest surviving globe by Martin Behaim. One of the interesting aspects of the globe is that there is no sign of America on the globe. America was not included because the year Behaim created the globe was 1492 and Columbus had just set sail to America. There are interesting titbits of information on each country on the globe to check out – startling facts revealed by Mr Behaim include the startling revelation that King of Ceylon possessed the world's largest ruby & Ceylonese walked everywhere naked! This globe symbolizes European exoticism at it's best.
Entry price is a steep €8 ( €5 reduced) but free every Wednesday between 6-9pm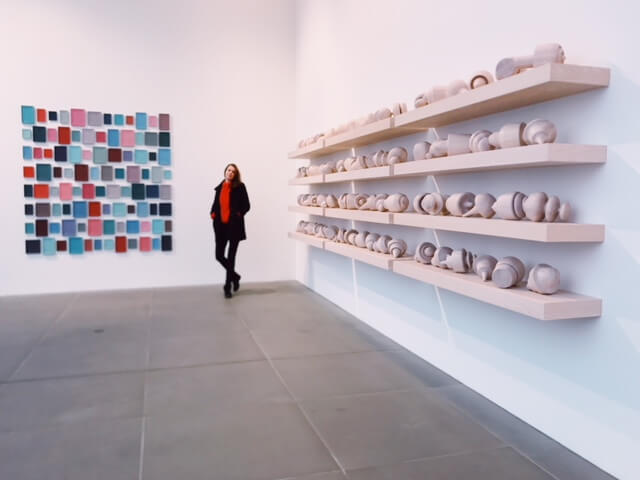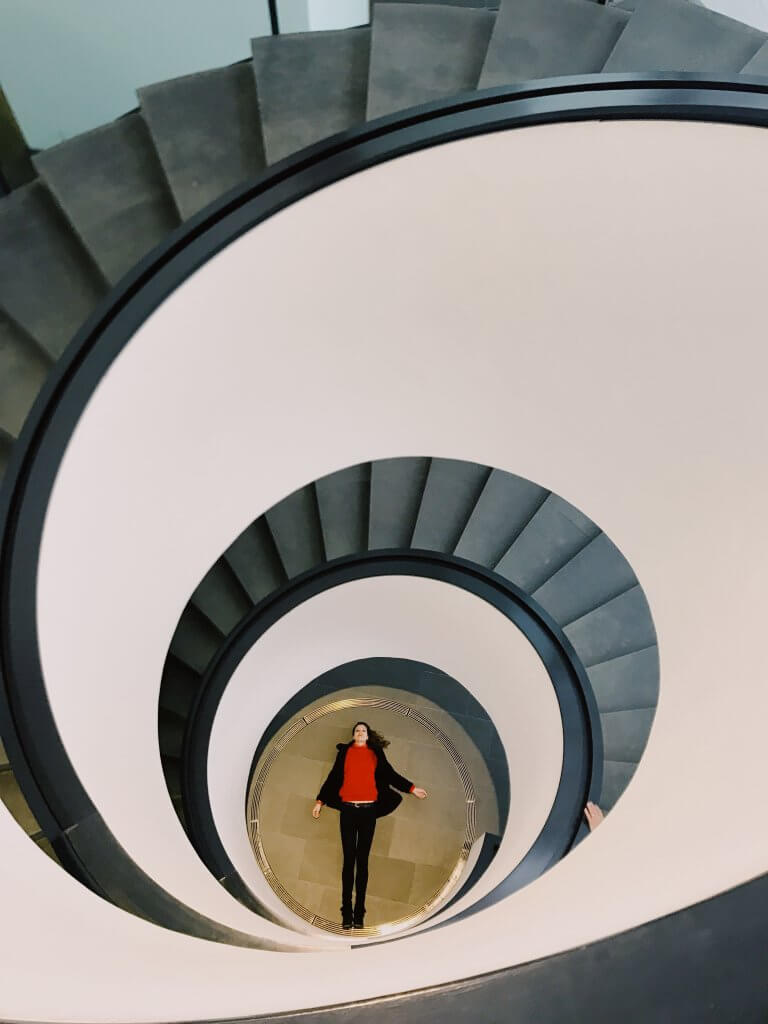 Neues Museum Staatliches Museum fuer Kunst und Design Nuremberg
Located conveniently in Nuremberg's historic centre this thought provoking modern art museum is situated in a uniquely curved building with a very Instagrammable spiral staircase-there's a lot to love about this museum.This contemporarily designed building provides eye-catching architectural contrast to its surrounds and is a joy to see and photograph. Plus the 3000 square metres of collection and exhibition space accommodate a fantastic range of painting, sculpture, video art, installations and photography- unmissable!
Address: Luitpoldstrasse 5, 90402, Nuremberg, Bavaria, Germany.
Hours: Open all days except Monday 10AM-6PM; Thursday 10AM-8PM.
Top tip Visiting on a weekend? On Sundays you get access to it for just 1 Euro!
Visit the Imperial Castle with the Sinwell Tower and the Deep Well
The Imperial Castle consists of a cluster of smaller medieval buildings of which the Sinwell Tower and the Deep Well form a part.
The Sinwell Tower takes its name from its cylindrical shape. Sinwell meaning perfectly round in old German. The Deep Well was the Castle's only source of water in olden times. The shaft is about 50 metres and various annexures were built to accommodate provisions for a bathroom and changing room.
Address: Burg13, 90403, Nuremberg, Bavaria, Germany.
Laze on the 'Love Island'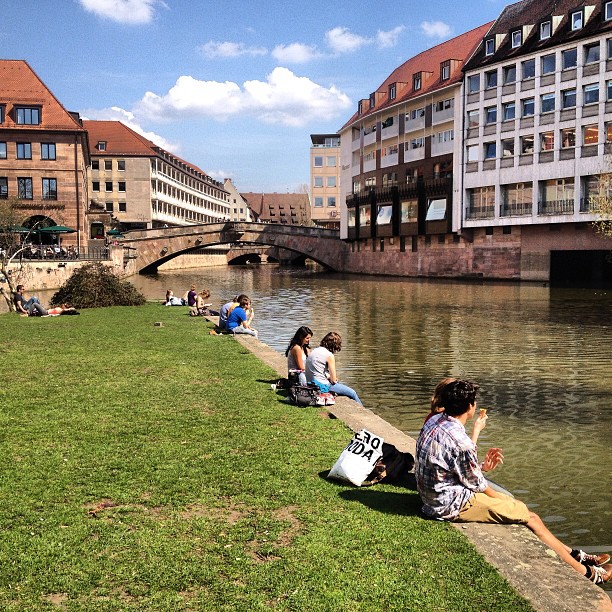 'Liebesinsel'– If the sun is out , the 'Love Island' is the perfect spot for lazing in the sun in Nuremberg, reading a book and as the name suggests, plenty of opportunities to observe amorous local couples. Ahh the irony…in medieval times they would butcher pigs here 🙂
Souvenir shopping at 'Handwerkerhof'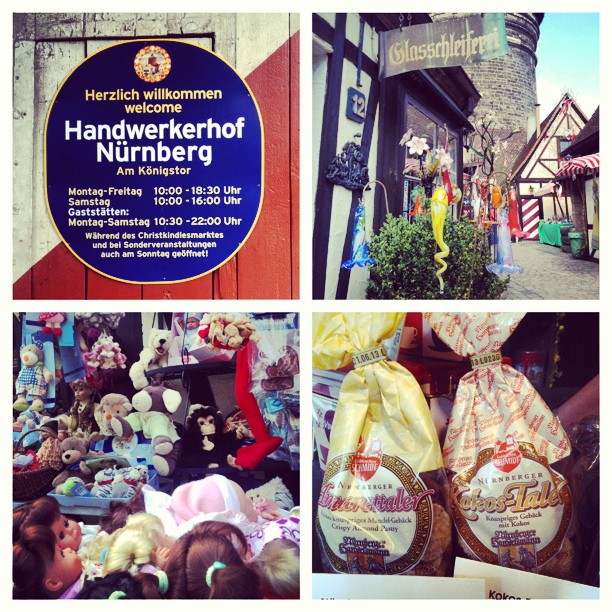 'Handwerkerhof' , a craftsmen courtyard by the old city wall is the perfect place for buying gifts for loved ones. From hand blown glass to dolls to model airplanes to localmade coconut cookies : this place has it all. You can also buy the famous Lebkuchnerei Nuremberg Gingerbread here. Made by the Franconian monks in the 14th century, back then the gingerbread was a imperial delicacy made with exotic ingredients like cardamom, cinnamon, cloves and southern almonds and honey from the imperial forest.
Nazi Party Rally grounds and the Documentation Centre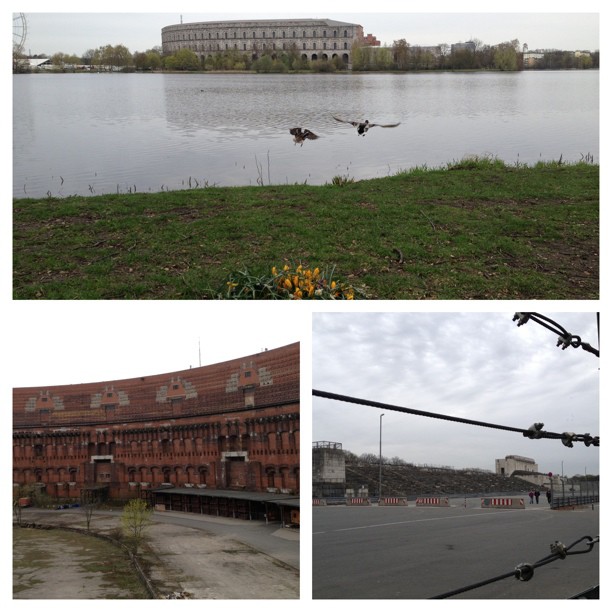 I dived into one of the darkest chapters of Germany's and Nuremberg's history at the former Nazi Party Rally grounds. The architectural megalomania of these grounds are still there for people to see. Spanning 11 kms the only thing that remains for visitors to see is the concrete, weed infested Zeppelin Grandstand which was modelled along the lines of the Pergammon Altar. The columns falling into disrepair were blown up in 1967. The building is currently under municipal ownership but having been used for open air events , currently lies in a bad state of disrepair and it's future legacy is unknown. It's hard to describe the emotions of visiting the Nazi Party Rally Grounds, the hollow emptiness of this huge place falling into disrepair and general decay.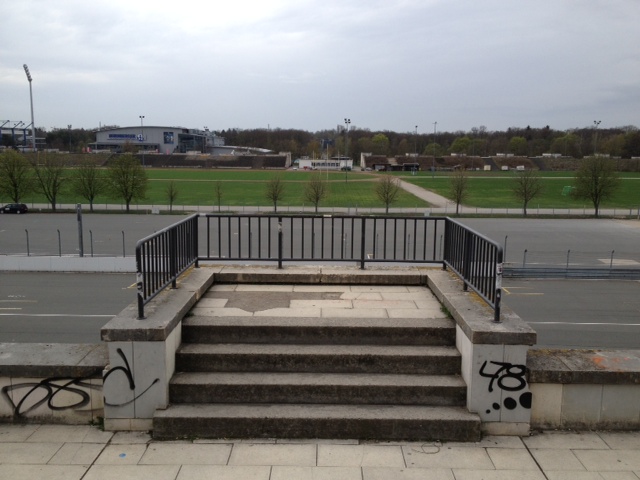 The whole idea of the gigantic structures was to make the visitor feel small and insignificant while the Fuhrer standing on his pedestal (in picture) in the Zeppelin stand would be even more larger than life and omnipresent. Decades on, ones still feels that sense of insignificance. Not personally but more ..the insignificance of the place and it's purpose. A wave of sadness & sense of  loss enveloped me after visiting the place,  thinking of the sheer absurdity of this structure.This feeling of loss is further deepened after a trip to the Documentation Centre.The North wing of the unfinished yet dominating Congress Hall ( planned to be bigger than the Colosseum) contains the Documentation Centre which focuses on the history of the Nazi party rallies where mass gatherings were used by National Socialists propaganda for demonstrating to Germany the model of the 'perfect national community'. The documentation centre has permanent exhibition 'Fascination and Terror' which looks at the dire consequences of Hitler's tyranny and also looks at the rise of his cult , the disturbing B&W films from the rally grounds where supporters are hailing the dictator & also the subsequent & significant Nuremberg trials. Today the area has undergone a controversial transformation with a football stadium that is home to the local football team FC Nuremberg & the Zeppelin field which is a venue for rock concerts and also international sporting events. Still, there is that sense of eerieness about the place that is hard to shake off, even hours after visiting.Something doesn't feel right about the place.
To get to the grounds, hop on Tram 8 from Hauptbahnhof to Dokuzentrum. Entry fee -: €6, €1.50 reduced fee for students.
Please note that the ticket for public transport: €8,10 for one adult and €12,30 for 2 adults.
Memorium Nuremberg Trials
If you still have the heart after visiting Nazi Party Rally grounds it is also worthwhile visiting the Nuremberg Trials to see the infamous courtroom where the leaders of the Nazi regime were prosecuted is a must-see if you want to explore the gritty past of the city. Guides are very knowledgeable and put into perspective everything that transpired in the trials or alternatively take a self-guided audio tour.
Address: Baerenschanzstr. 72, 90429, Nuremberg, Bavaria, Germany.
Hours: (April-Oct 31) Monday- Friday 9AM-6PM; Saturday-Sunday 10AM-6PM.
Please note that the Memorium Nuremberg Trials is closed on Tuesdays 
Guided Tour of St Sebaldus Church
Back in the centre of Nuremberg, the St Sebaldus Church is a medieval church, one of the oldest in Nuremberg, which shares a part Gothic and part Romanesque architecture. The church takes its name from Sebaldus, a hermit and missionary, who is appropriately the patron saint of Nuremberg. The baroque design interior is quite impressive and a tour of the statues, paintings, stained glass windows is highly desirable. Though St Sebaldus was heavily damaged during the Second World War, the restoration is quite remarkable.
Address: Winklerstrasse 26, 90403, Nuremberg, Bavaria, Germany.
Meet the unlucky bride at the 'Beautiful Fountain'
In the main market square where the Christmas Market is held you'll find locals come to buy fresh meat, vegetables and fruits throughout the week.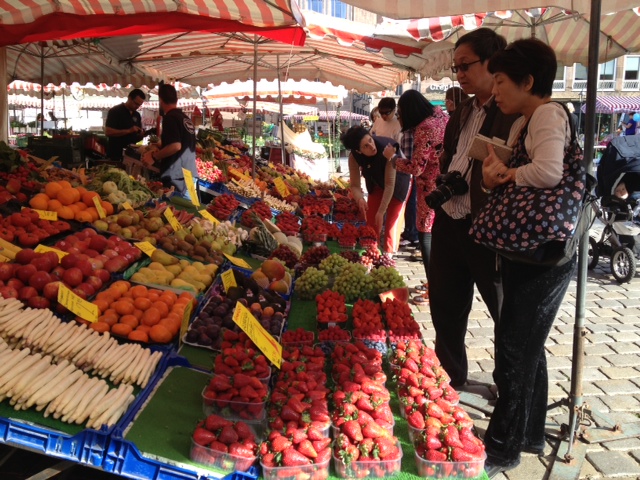 On my first trip to the city, I found a crowd of people gathered around a 19 metre long Gothic steeple known as the 'Schoene Brunnen' aka Beautiful Fountain. Beyond the usual gaggle of tourists, there is bunch of locals and a bride and groom.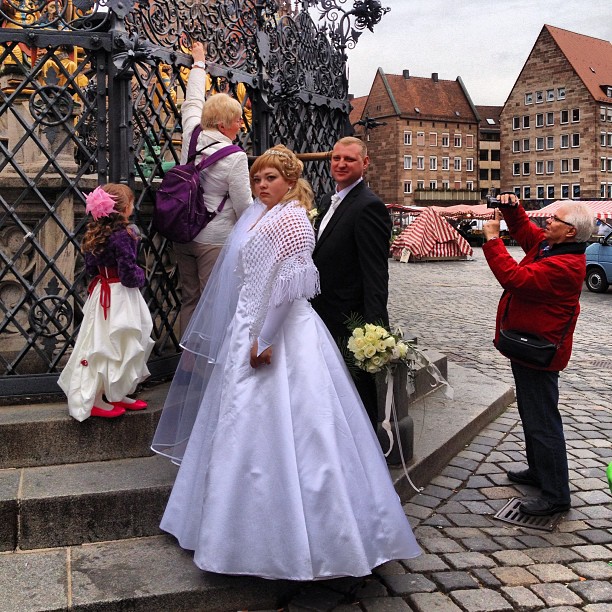 In picture-the rather grumpy bride & groom.They are standing by a gold ring attached to 'Beautiful Fountain.' Folklore dictates that if you turn the ring left three times, any wish you express will come true. Maybe it was the elderly lady muscling in, hogging the ring and her limelight…
Nuremberg's trendiest neighbourhood- the 'GoHo'
One of the highlights of any trip to Nuremberg for me is a visit to the 'GoHo' district of Nuremberg which is packed with vintage, secondhand and design shops like Fachmarie and Vinty's. This is a great neighbourhood for finding cool stuff. I fell in love with the independent spirit of this area back in 2013 and it was great to revisit the area again last year and discover a few more cool new independent boutique stores like edi m and anemoi's well curated stationary shops, which also delivers workshops.
edi m retails an eclectic collection of accessories and products from mainly local artists. Owner Stefanie Marthold has done a great job of bringing together unique pieces that are hard to find anywhere. Expect friendly service, smiles and also fantastic coffee if you are looking for a quick caffeine fix.
Anemoi ( Rothenburger Strasse 47 ) sells a range of products including cards, mugs, wrapping paper- all with the most lovely, whimsical design. They also have an impressive range of workshops for kids in school to help cultivate their inner artist. A place with great soul and lovely people like Lotte-definitely a place worth popping in when visiting Nuremberg.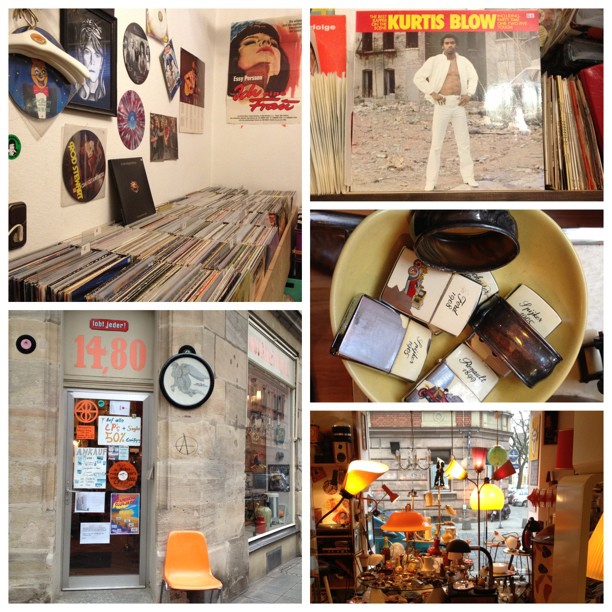 Other favourites in the district include Laden 14,80 (Kernstraße 32) which sells cool stuff ranging from vintage lamps, vinyl, sunglasses, records & other unusual antiques like the lighters in picture.
Where to eat in Nuremberg
1.Hot Tacos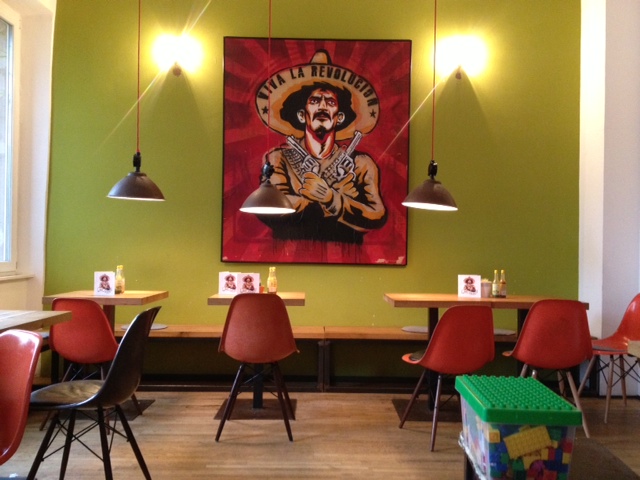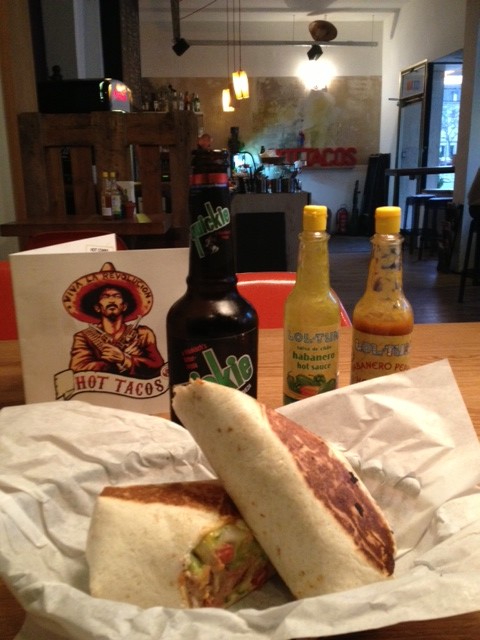 This place is as good as Mexican food gets outside Mexico and Berlin. Loved the chilled out vibe and the very tasty burritos paired together with the local pilsner-Quickie: a citrus flavoured, not too hoppy, light local pils.Service is slow but the food is lecker indeed. I'd go back to Nuremberg just to eat here again.
Cost: With beer €9 [ Burritos- €6.50 and beer is €2.50 ]
2. Hausbraurei Altstadthof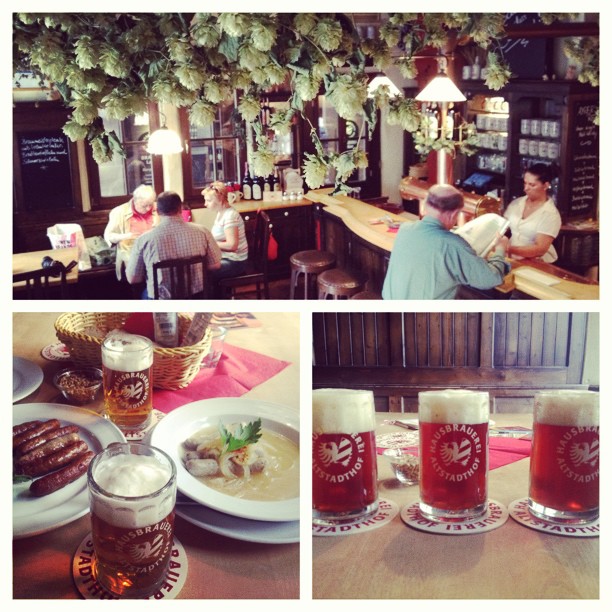 If you are hungry and also feeling a bit thirsty, head to the historic Hausbraurei Altstadthof. Sitting under a floral arrangement of hops order master brewer Herr Engel's excellent Rotbier & Dunkelsbier ( €2 for 0.2l) Paired along with the famous Nuremberg bratwurst ( €7.70 for 6 portions & comes in a red vinegar stock with fresh crusty bread) this is a memorable feast.
Cost: €10.90
3. Brezen Kolb
'Pretzels, fresh pretzels!'  bellows the man heartlily from a rather dull grey kiosk. Nuremberg is the home to the pretzel ( brought later to America by German immigrants ) and there's no better place to sample this salty treat than at Brezen Kolb. For 50 years Brezen Kolb in Nuremberg has been serving yummy pretzels via their kiosks across the city & they found a new fan in me. Lots of butter , garlic and chives- damn it was tasty!
At €1.60 this is a great snack on the go.
4. Zeit & Raum
A great place in midtown Nuremberg ( Wespennest 2) for comfort food and cocktails. Choose from European, French, International and even vegetarian and vegan friendly menu options.
5. Mam-Mam Burger
Arguably the best burgers in town ( Tetzelgasse 21). Choose from moist, mouth-watering hamburgers, cheeseburgers, grilled sandwiches or portobello burgers with toppings like bacon, avocado or blue cheese. With a side of crispy fries on the side, washed down with a milk shake, Mam-Mam Burger brings decadence to fast food.
6. Gasthaus Pillhofer
Enjoy typical hearty Franconian fare like Sauerbraten in a relaxed brauhaus style (78 Konigstrasse ) setting with Paulener beer on tap. The setting is a seventeenth century stone building that has plenty of atmosphere.
Where to drink in Nuremberg
1. Café Wanderer
Day or night the Tiergartnertor Platz is a great place to come and hang out with the locals. During the summer, action really hots up here in the evenings with locals coming armed bottles of wine or beer and spreading themselves on the warm cobbled stones. Great atmosphere.
My favourite spot here was Café Wanderer –buy a glass of their excellent house Franken Weisswein and just enjoy the feast of humanity in front of you. Plus there is free wifi here too.
2.Bergbrand Roesterei
A great gourmet handcrafted coffee place ( Weisgerbergasse 38 ) with a hipster friendly vibe. Enjoy fresh flaky croissants, beautifully designed latte art, delectable pastries in this coffee heaven.
3.Palais Schaumburg
Palais Schaumburg in Goho is a top place for drinking local Spatler beer ( €3 ) and serves affordable (€7-€11) range of German/Italian cuisine. Free wifi is excellent.
4. Mata Hari
Best place to end any day or any trip to Nuremberg is with a nice cocktail and if you love a good cocktail, Mata Hari this is THE place in town to come to. With glittering disco balls hanging from the ceiling and space for just 40 people so visitors can enjoy a nice low-key, intimate atmosphere. They have a regular programme of live music and DJ sets so this is a great place to enjoy a few good cocktails and wind down the day.
Cost: Cosmopolitan – €7.50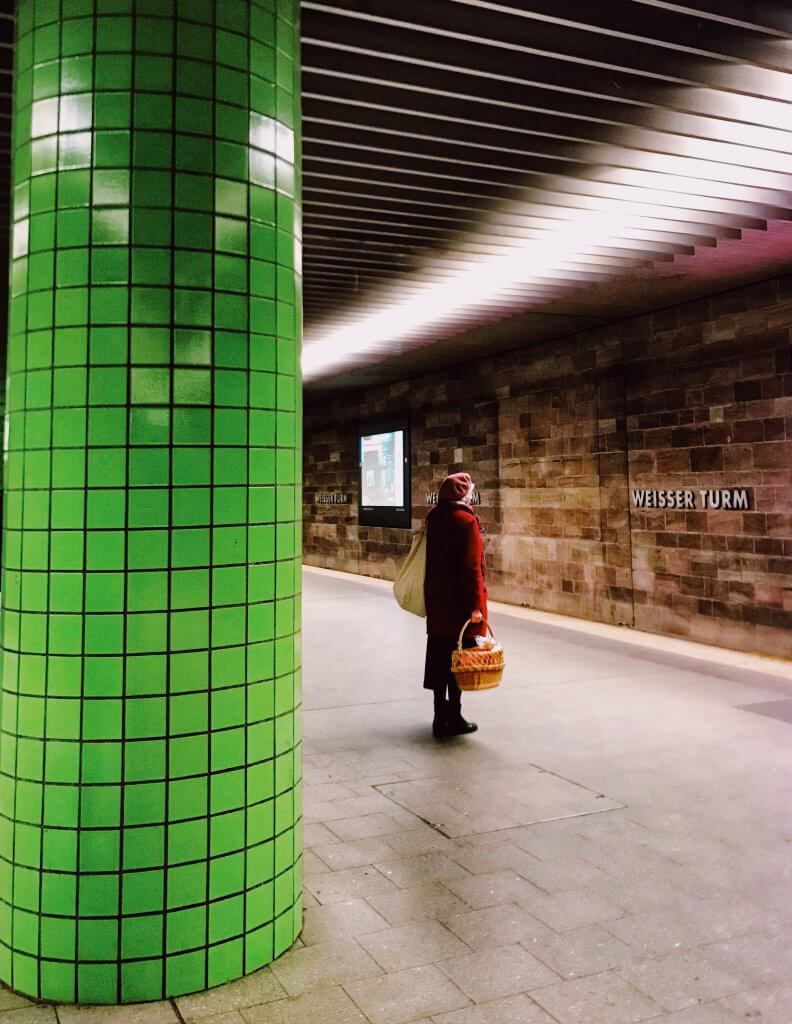 Where to stay in Nuremberg
Jugendherberge Nuremberg
If you love a hostel with character and history then you will just love Jugendherberge Nuremberg. Housed in a 500 year old imperial stables of the city's famous Kaiserburg Castle, staying at this hostel is an experience to remember. You can expect superb panoramic vies of the old town from the top of the hill and clean comfortable rooms.
Bed and breakfast in a single room costs starts from €28.90
Five Reasons Hostel
In contrast to the Jugendherberge, the Five Reasons is a contemporary hostel that is walking distance from the main railway station. The dorms are clean and have a minimalist design, with oak floors, sleeping 4-8 persons. Private rooms are available as well. Bathrooms are shared. A sleek bar and a communal kitchen make this a pleasant, family-friendly hostel.
Booking via Hostelworld.com , a bed in a 8 Bed Dorm starts from around €30 a night and Doubles start at €70 mark.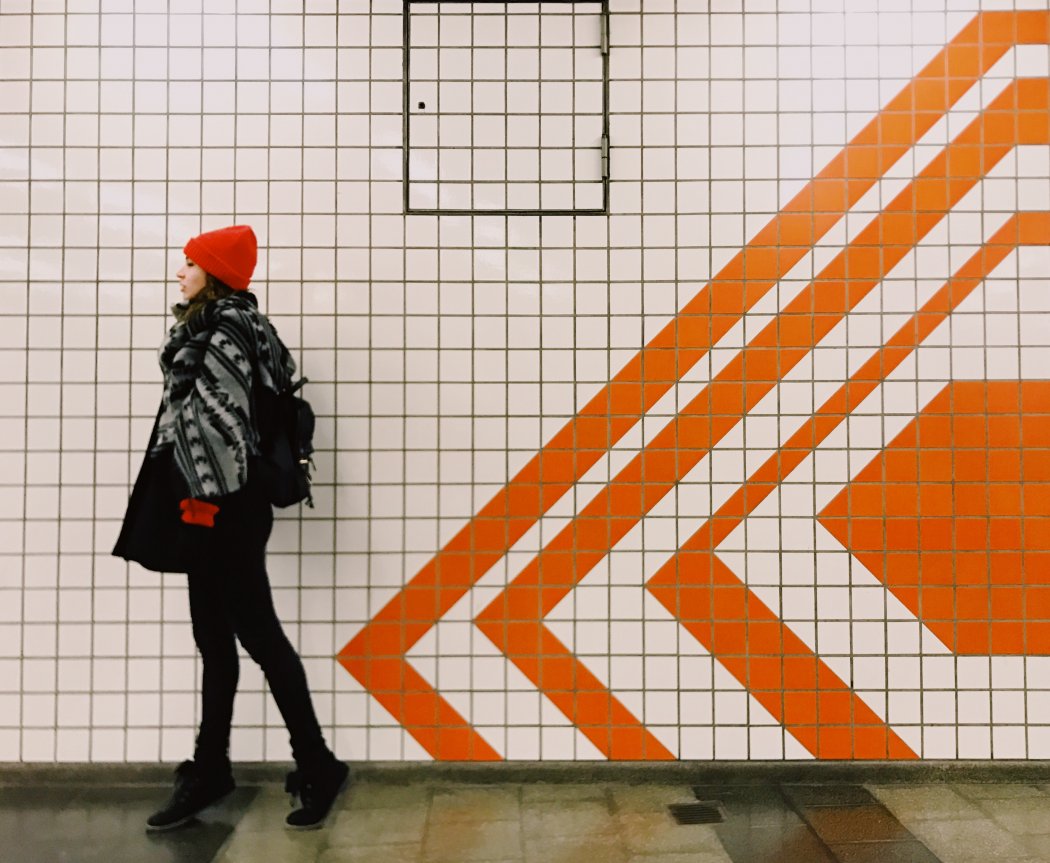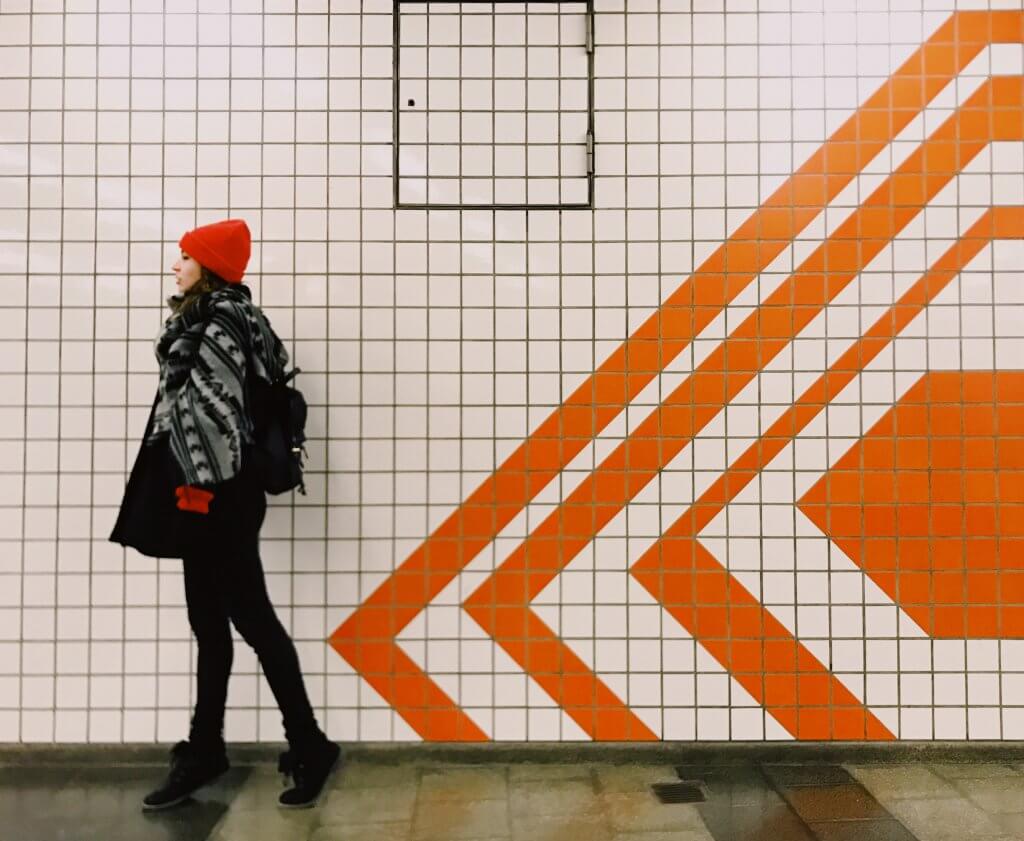 Nuremberg: Getting there and away
Nuremberg airport , 7km north of the centre, is served by regional and international carriers, including Lufthansa, Ryanair ( daily from London Stansted) and Air France. The underground U2 directly connects the airport with the main train station and the citycentre in just 12 minutes and costs just the price of a single metro ticket: €2.50 Deutsche Bahn  run trains hourly to and from Frankfurt (€39, 2½ hours) and Munich (€41, 1½ to two hours). There are direct connections several times daily to Berlin (€77, 3 hours) The lowcost Berlin Linien buses leave for Berlin daily at 12.10pm  and cost way €39 one way and journey time is four hours. They leave from the Hauptbahnhof.
Big hug and thank you to Angela Ditze , Sarah Mörsdorf and the Nuremberg Tourism Board for their continued support during my original trip and bringing back to Nuremberg again. Check out their website for more ace tips about things to do in Nuremberg.
Please note: While my trip has been sponsored, the views and thoughts represented in this article are my own.