Just over an hour from Paris by train, Rouen is the capital of Haute-Normandie and the perfect town to visit if you feel like getting out of Paris for a day. With some of the finest gothic architecture in Europe (including a stunning cathedral), rich historical and cultural past, as well as its fine culinary offerings, Rouen offers the chance to experience another region away from the hustle and bustle of the capital without eating too much into your budget and time in France. Its condensed historical center and many impressive monuments mean that you never have to walk more than ten minutes between one sight and the next. Having said this, depending on how much time you have (the last trains back to Paris are usually between 8 and 9pm), you may have to simply skip some of the suggestions below in favor of the things that interest you more and keep the others for another visit.
Getting There
The quickest and most convenient way to get to Rouen is by train from Paris's Gare St-Lazare (Metro Lines 3, 12, 13 and 14). The French national rail service (SNCF) frequently has deals on their website, so with a bit of planning and some vigilance you can get return tickets for as little as 24 Euro (though prices can also be very high, if you're doing this at the last minute). The train only takes one hour and ten minutes each way, which on a bad day is how long it can take you to go from one side of Paris to the other.
An alternative is to use the car-sharing system (covoiturage), for which there are several websites, such as www.blablacar.fr and www.covoiturage-libre.fr. The downside to this is that you may have to make some awkward conversation with the person you are hitching a ride with and it also takes longer (just shy of two hours). The SNCF has recently also introduced a very affordable bus system, which, however, once again, takes longer (about two and a half hours). Individual journeys can cost as little as 5 Euro.
These latter two options are obviously not ideal if you want to limit your trip to a day, but can prove useful if you want to spend a weekend or longer in Rouen, in which case time is less of the essence.
PS: If you are travelling from the UK, Rouen is the perfect weekend trip. You have the option of taking the Eurostar to Paris and then onwards to Rouen by SNCF or if you want to take the car, choose the ferry. Brittany Ferries are currently offering a deal of £112 per person , (departure from Portsmouth) based on 2 people sharing a double room and that price includes a one nights B&B plus return sailings to France with a car.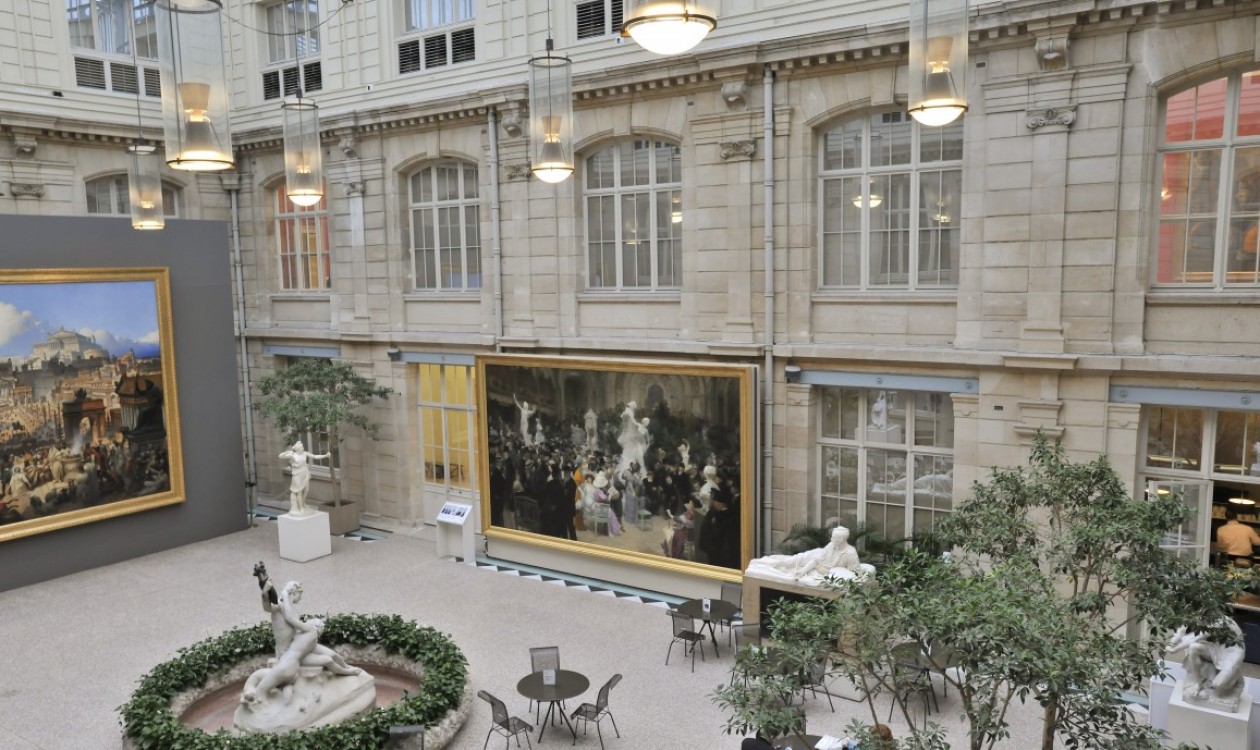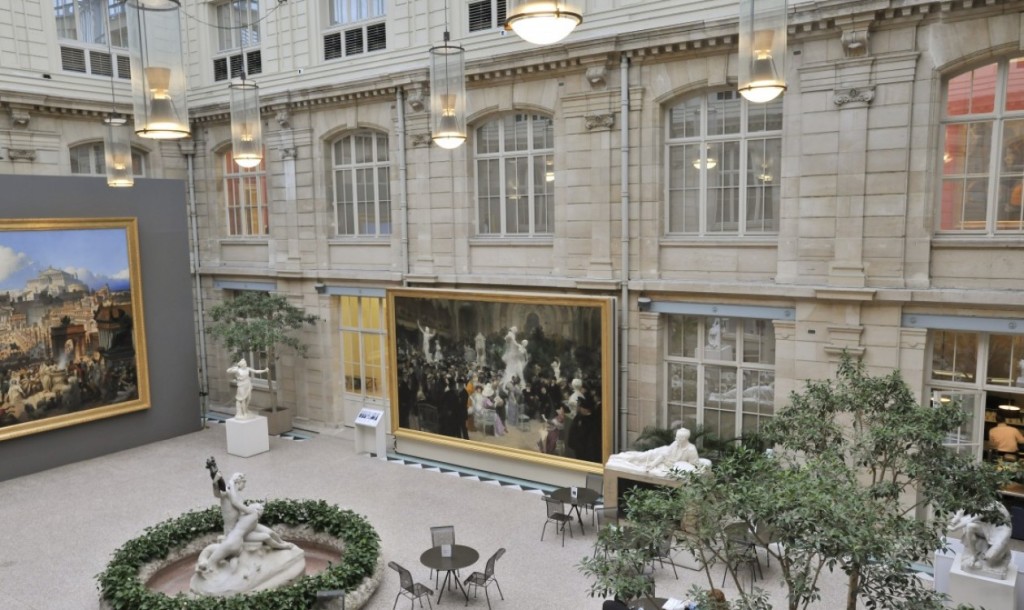 Musée des Beaux Arts 
(open daily from 10am to 6pm; closed Tuesday)
Once you've arrived at Rouen's art nouveau station (built in 1928), walk straight out onto the big main street that leads into town, fittingly called rue Jeanne d'Arc after the French heroine who met her untimely end here (more on this later). As you walk, after just a few blocks, you can see the Tour Jeanne d'Arc on your left, the last vestige of a castle built by the King Philippe Auguste in the early thirteenth century and the dungeon in which Joan of Arc was threatened with torture before her early demise. The museum inside is not necessarily worth the visit, as it merely explains the original construction of the castle and has a room dedicated to various representations of Joan of Arc over the centuries, which are only of limited interest.
Instead, continue walking for a couple of blocks until you see a park on your left. Behind this park is the Musée des Beaux Arts, a wonderful art museum built in the late nineteenth century with a collection that includes works by Caravaggio, Velasquez, Géricault, and many impressionists, most notably Camille Pissarro and Claude Monet, whose depictions of Rouen's cathedral are amongst his most celebrated paintings (one of the cathedral paintings can be seen here, alongside other paintings of Rouen's bridges and cityscape). The first thing you'll notice coming from Paris is how pleasantly airy and crowd-free the museum is compared to Paris's many art galleries. It makes for a very different and less stressful visit and also means you will never feel rushed when you find a work of art that warrants longer consideration.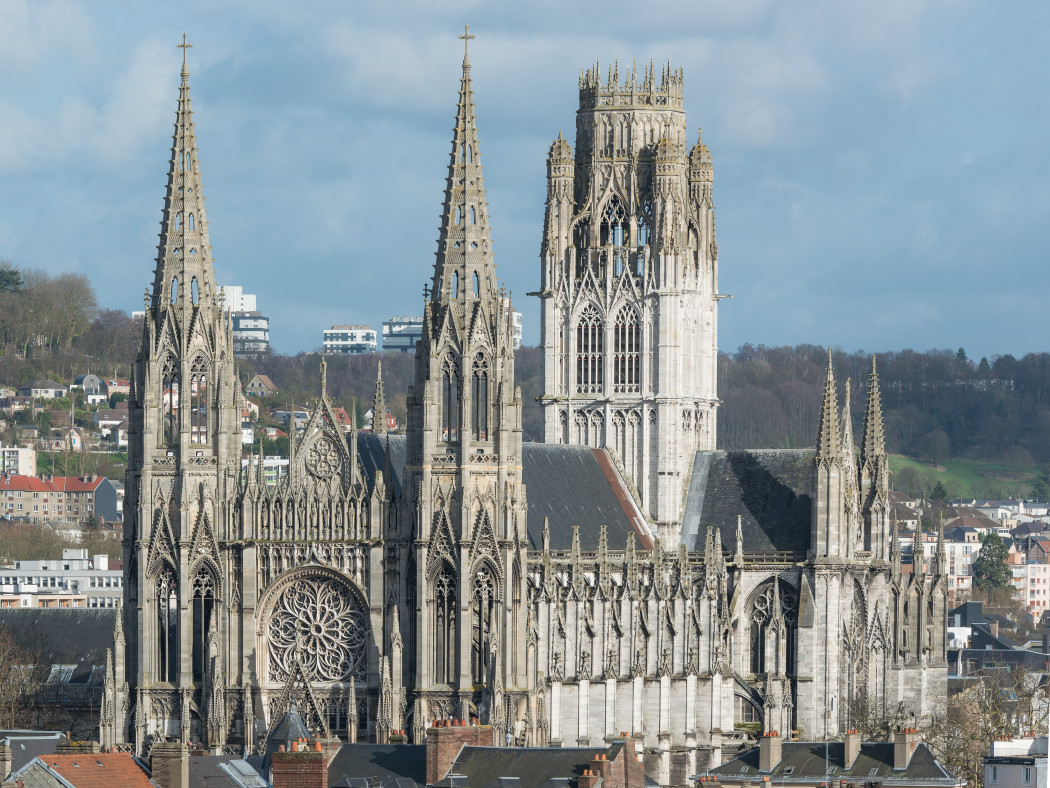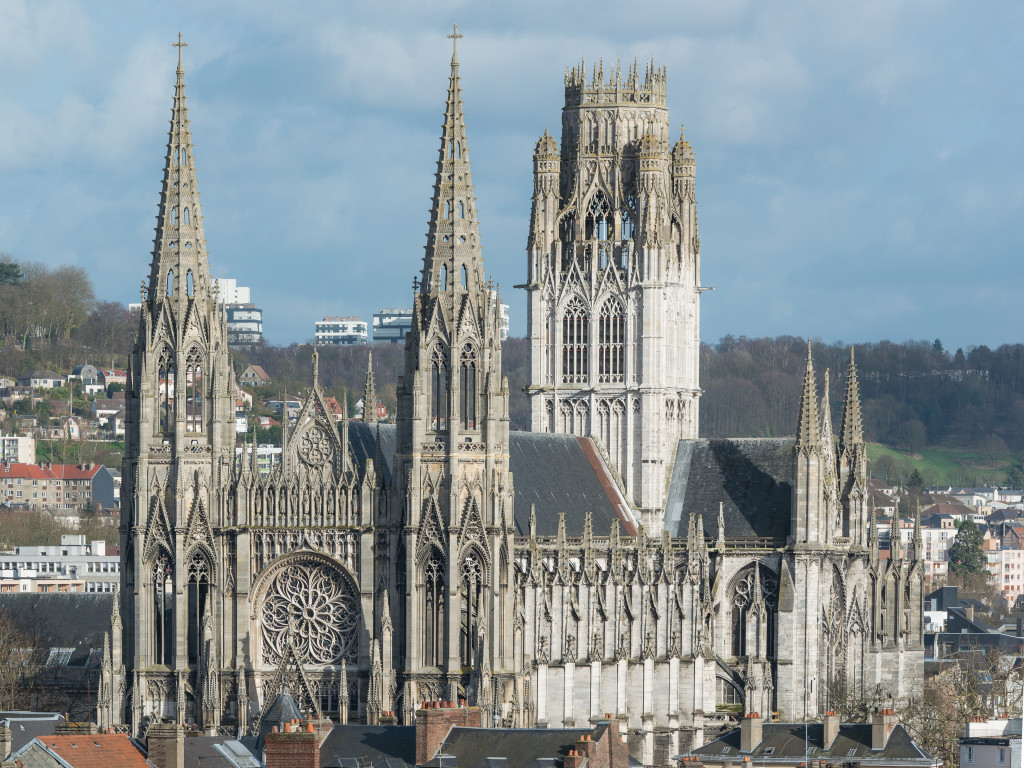 Abbaye de St-Ouen 
(free; open 10am to 12pm and 2pm to 6pm; closed on Monday and Friday)
Once you've exhausted the two floors of the fine art museum, head back out and turn left upon exiting, then left again on rue Lecanuet. Walk until the end of the road (about three blocks) and you'll hit a square with a park and a monumental gothic structure. This is the Abbey of St-Ouen, the contruction of which began in the early fourteenth century but didn't end until more than 200 years later. There are some spectacular stained glass windows to be seen here and a wonderful late-nineteenth-century reconstruction of a seventeenth-century organ.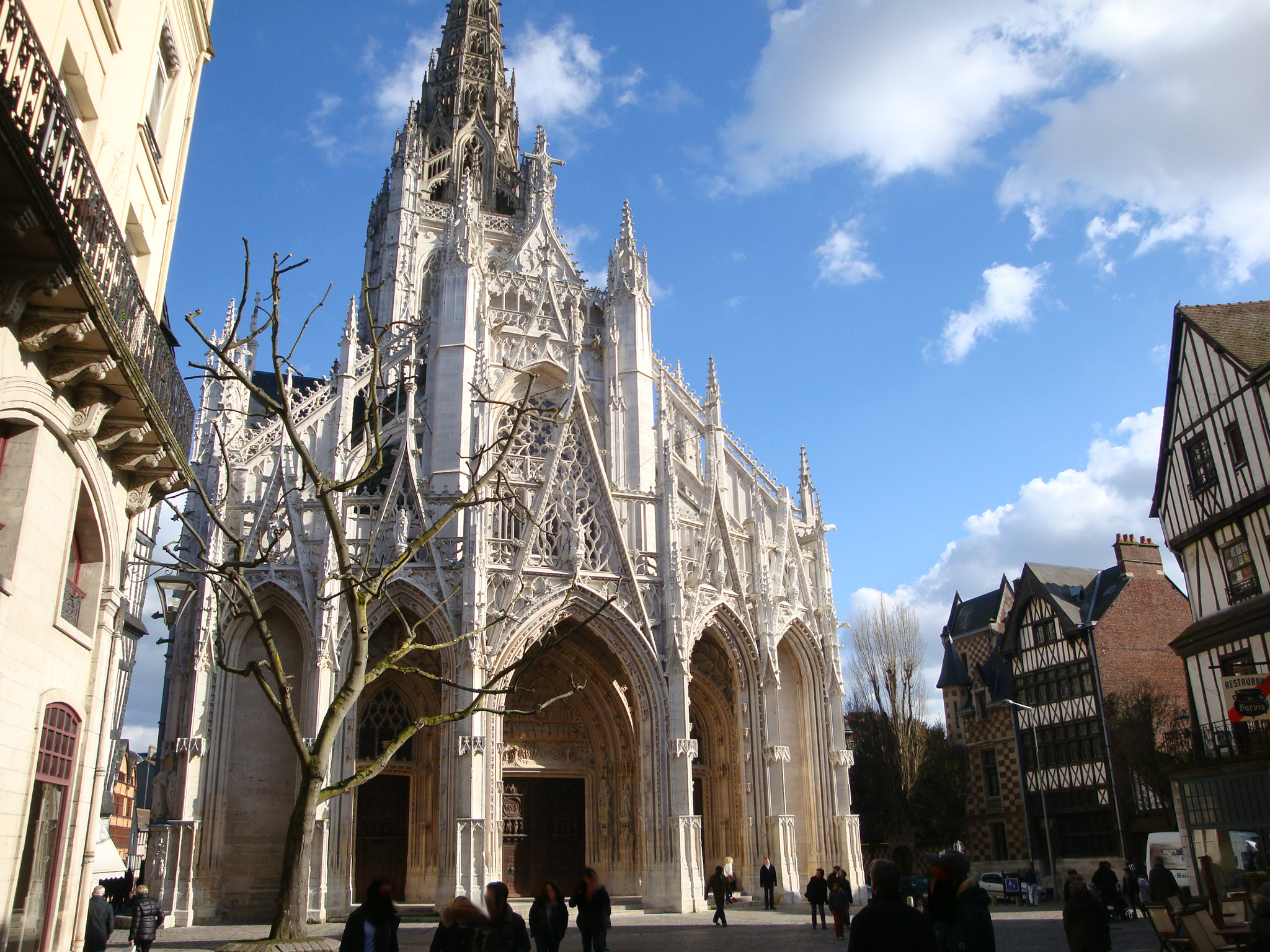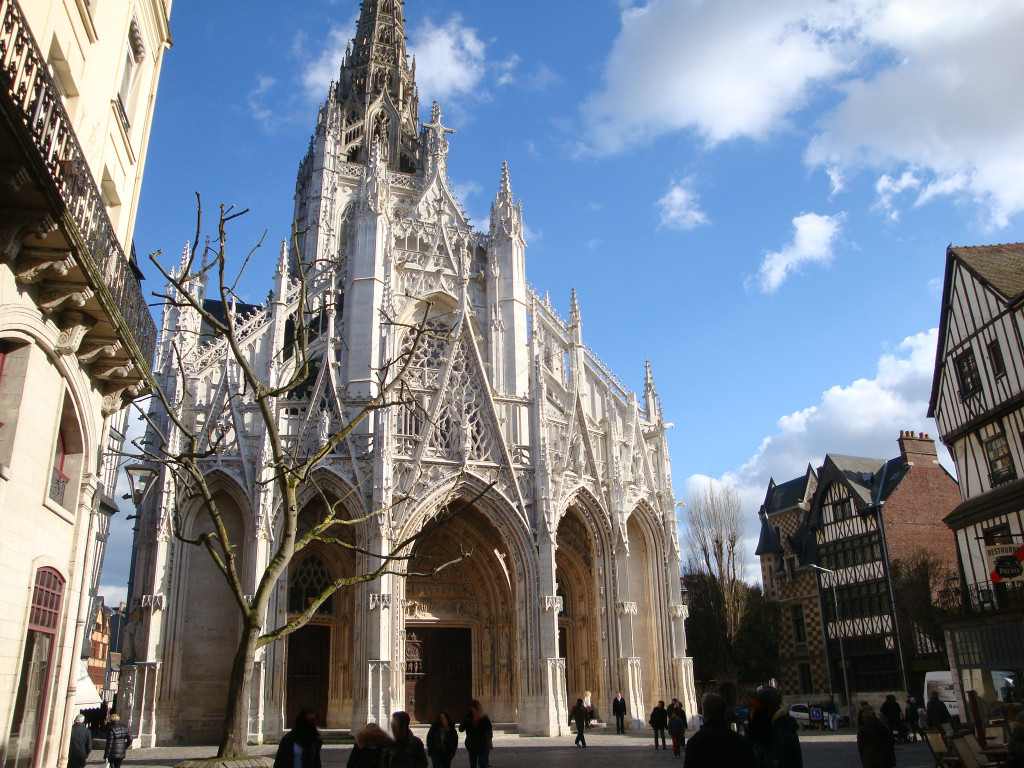 Église Saint-Maclou
(free; open Saturday, Sunday and Monday from 10am to 12pm and 2pm to 6pm)
It's time to relax with a cup of coffee and a comfortable seat. Walk south towards the river on rue de la République until you find a little square with another impressive looking gothic church on your left. On the right side of the square is an ideally positioned café called Antico Caffé. The Italian name reflects the plethora of Italian snacks on offer and they have a phenomenally creamy hot chocolate – plus the coffee is pretty good. In addition the view is great, as you sit in plain sight of the late-gothic Church of Saint-Maclou. It's also worth popping in to see the interior once you've enjoyed your respite. The influence of the devastating black plague in the fifteenth century is made obvious by some of the macabre decoration.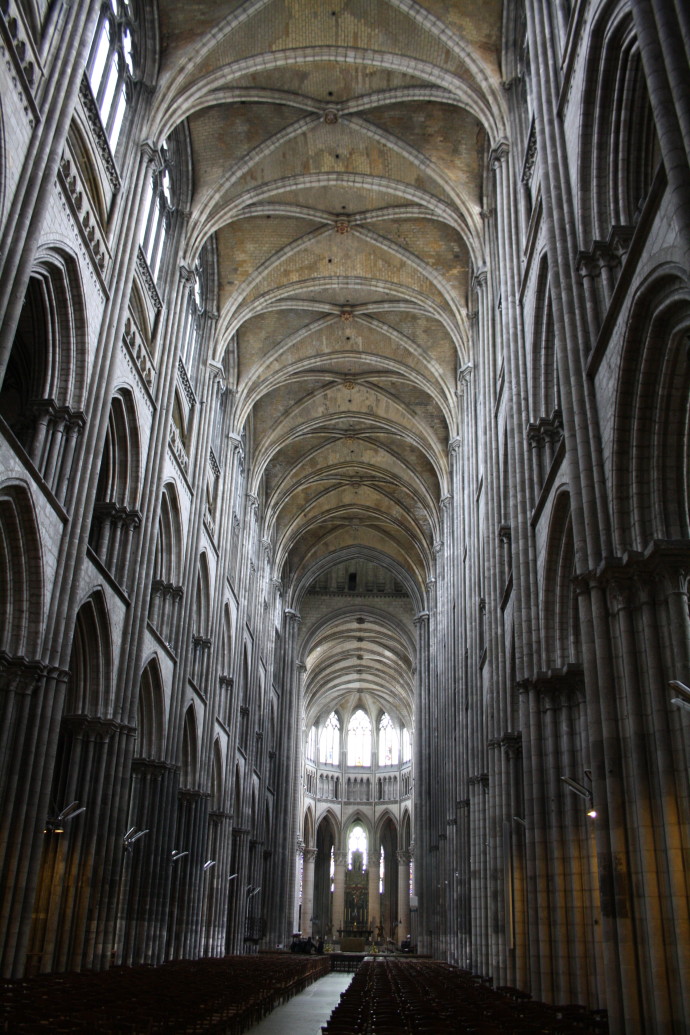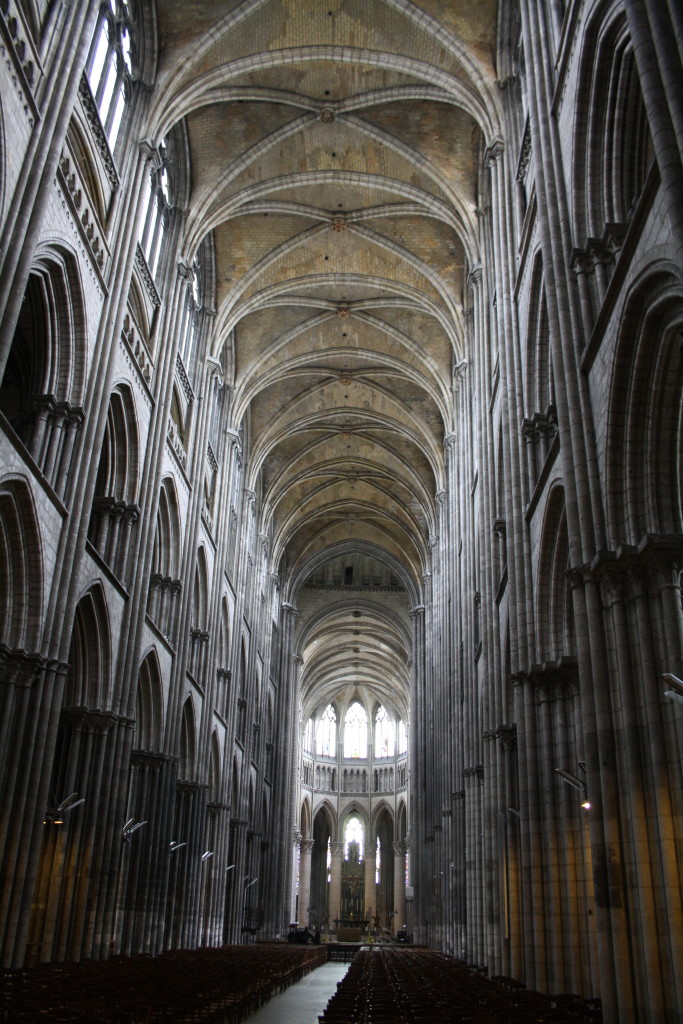 Notre-Dame Cathedral
(free; opening times change depending on season and holidays; see website for details)
Head back out the front entrance of the Église Saint Maclou and walk straight into the street that faces you, rue Saint-Romain. At some point on your left, you'll see the Historial Jeanne d'Arc (open daily from 9:45am to 7:45pm; closed Monday), the shiny new museum (opened in March 2015) dedicated to the tragically short history of Joan of Arc. It's time-consuming and sometimes a bit too detailed and too enamored with its use of multimedia, but if you're something of a history buff or simply want to brush up on your knowledge of the remarkable life of Joan of Arc, it's certainly worth a visit.
Regardless of whether you go in or not, if you continue down that same street you'll quickly get to the cathedral square. Turn around and take in the stupendously detailed façade of one of France's (and probably Europe's) most beautiful gothic buildings. This is Notre Dame Cathedral. Go inside to get a better idea of the vastness of the structure and to see the few remaining stained glass windows. Unfortunately, many of the windows were destroyed over the ages, in particular due to the severe bombings that Rouen experienced during the Second World War.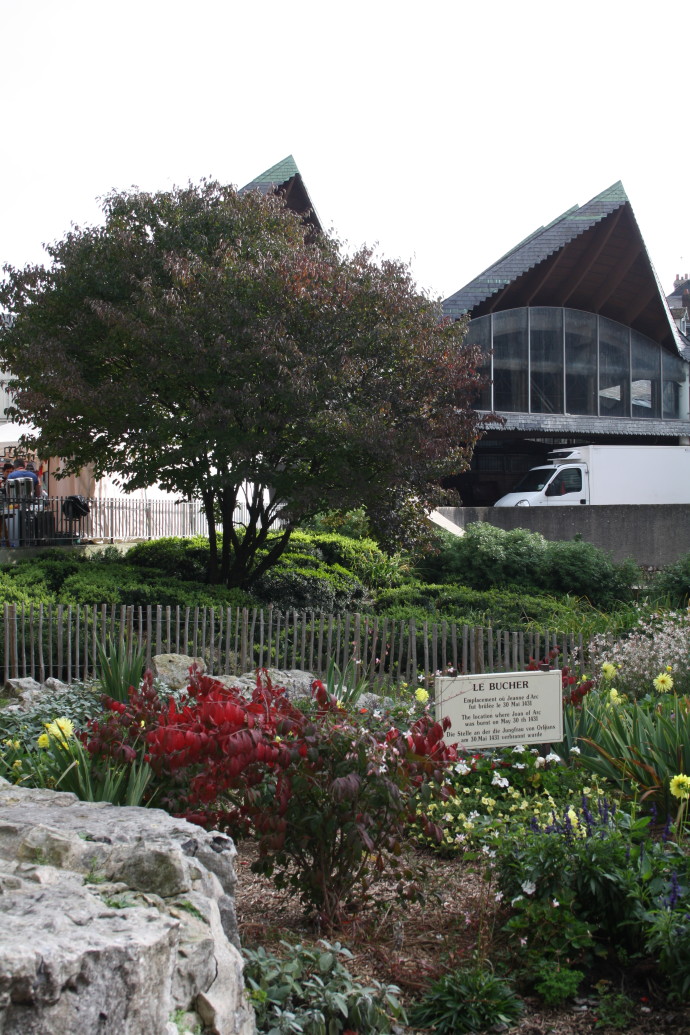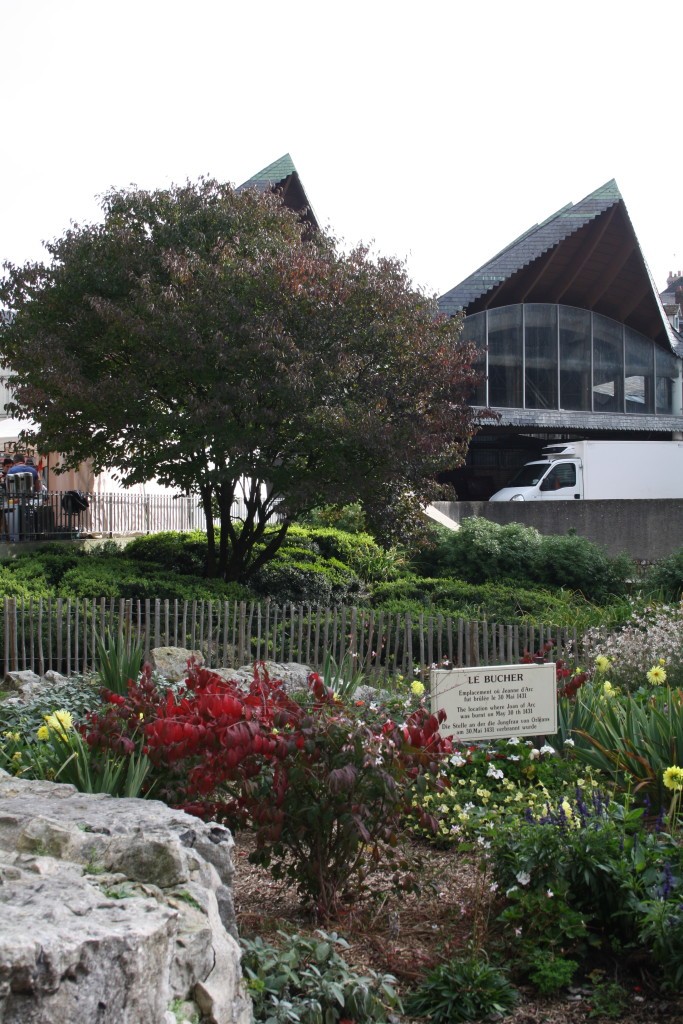 Le Vieux Marché
You may be getting hungry by now. Head straight out the cathedral and onto the street that opens up right across it, rue du Gros Horloge, named after the large clock that graces the Renaissance Arch over the street (the actual mechanics of the watch date back to the fourteenth century, making it one of the oldest mechanisms in France). If you follow this street, which is lined with chain clothing stores, all the way to its end, you'll hit the Place du Vieux Marché, which, as the name suggests, is a market square. Beyond your usual grocery stalls, you can also find a bite to eat here. Once you've found something you like, check out the landscaping around the modern church structure that stands in the center of the square. A sign in the middle of a flowery patch indicates the very spot where Joan of Arc was burned at the stake.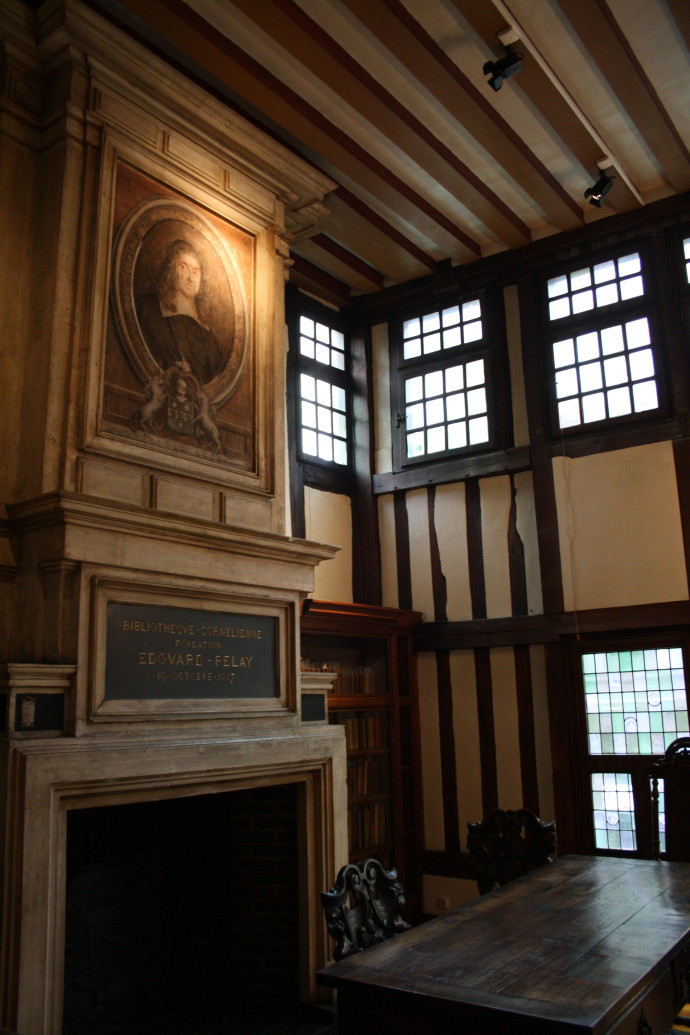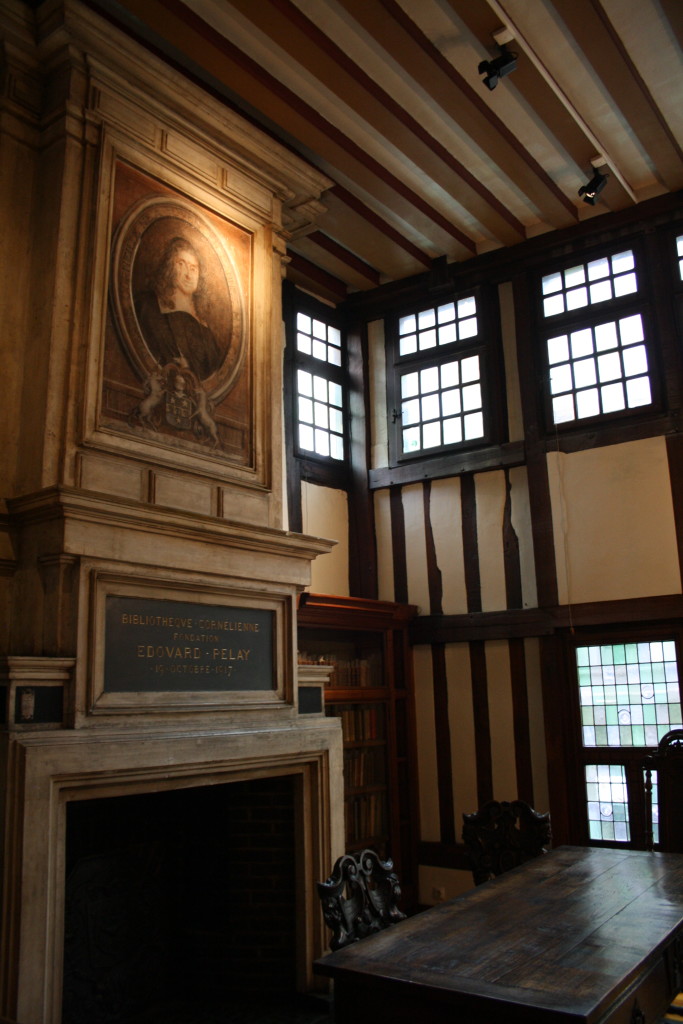 Musée Pierre Corneille
(free; Tuesday to Friday, 1:30pm to 5:30pm; Saturday, 9am to 12pm and 1:30pm to 5:30pm; Sunday, 2pm to 6pm)
Right off of the Place du Vieux Marché, at 4 rue de Pie, you can find an old house, which is the birth house of the seventeenth-century playwright Pierre Corneille. Alongside Racine and Molière, Corneille is considered one of the most important figures of French classical theater, known for such plays as Le Cid. Entrance is free, and the visit is a quick one, as there are just a few rooms that give a good impression of seventeenth-century life in Rouen, as well as a look into Corneille's trajectory from being an unknown writer to becoming one of the greats of French literature.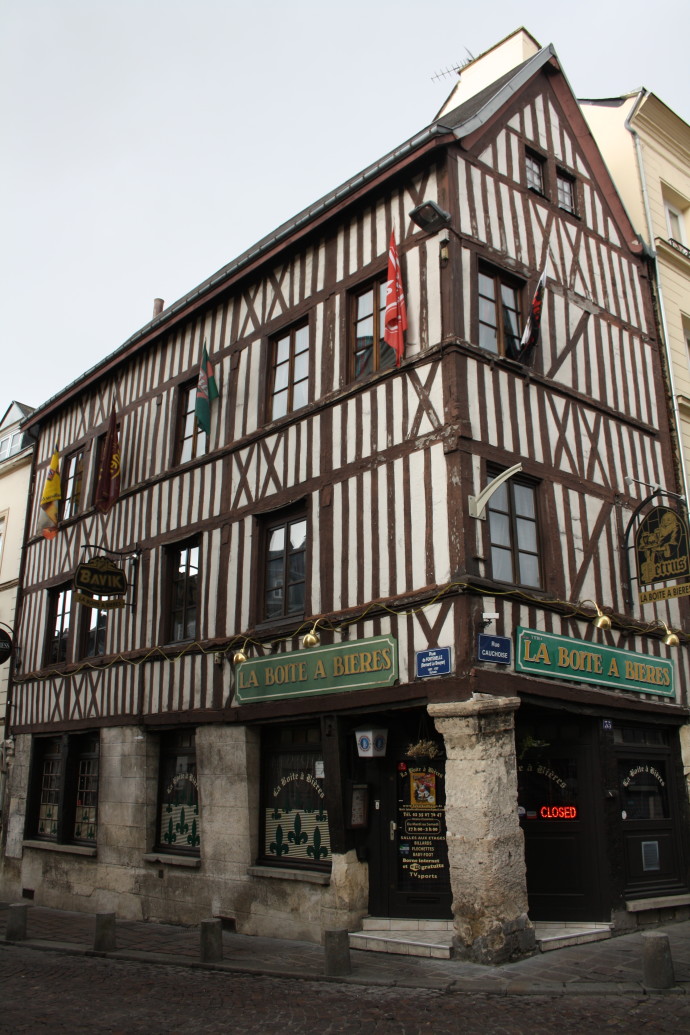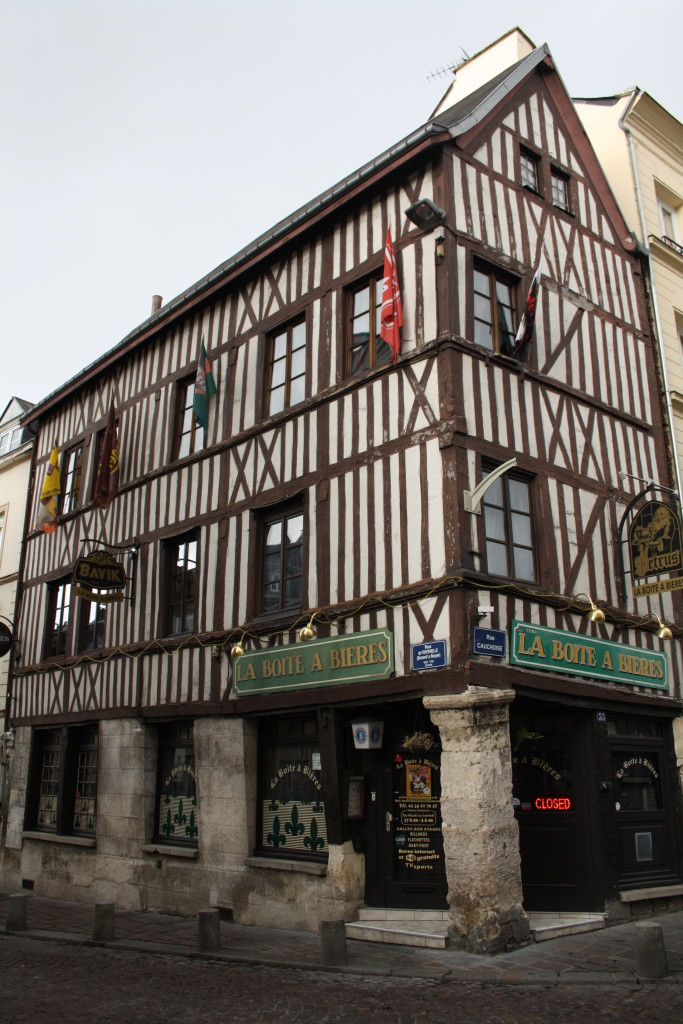 La Boite à Bières
(open Tuesday through Saturday from 5pm to 2am)
You may be ready for a drink at this point. Luckily, just a couple of streets away you'll find one of the best Belgian beer houses outside of Belgium. Leaving the Musée Corneille, turn right and immediately right again on rue de Fontenelle. Walk a couple of blocks until you hit rue Cauchoise. At the corner of these two streets (number 35) you'll see an old building that house the Boite a Bières, a bar specializing in Belgian beers. With over 15 beers on tap, and at least twice as many in bottled form, you're spoiled for choice. The price for a pint starts at 4.80 Euro, but may be far more for certain beers. The crowd in the place is mixed. Students, people stopping by for a drink after work and old regulars can be found in the various nooks and crannies that make up the four stories of this bar. There are two pool tables upstairs, as well as darts and foosball, so there is no lack of entertainment.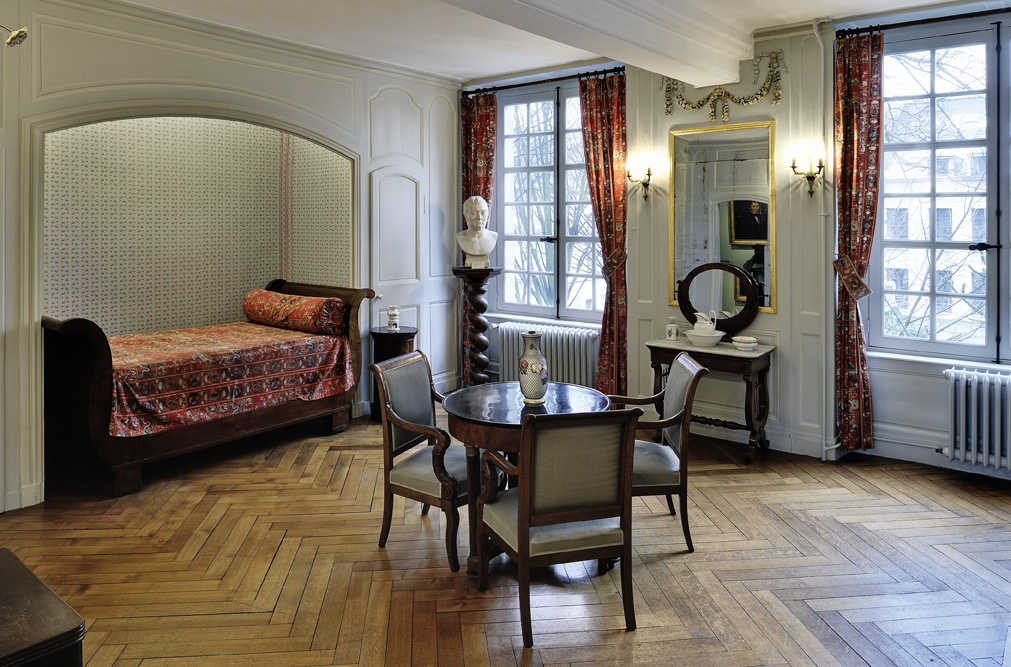 Maison Flaubert/Musée de l'Histoire de la Medicine
(4 Euro; 2 Euro with reductions; open Tuesday from 10am to 6pm; Wednesday through Saturday from 2pm to 6pm)
If you've still got a little bit of sightseeing energy left in you, or if you are a particularly big fan of French literature, you'll want to leave the bar and backtrack just a couple of blocks down rue de Fontenelle until you see rue de Crosne – take a right here. This will turn into avenue Gustave Flaubert and you will want to follow it until the end, where it hits rue de Lecat. Slightly to the left, you'll see the entrance to the house of the great nineteenth-century novelist Gustave Flaubert, most famous for his – at the time controversial – novel Madame Bovary. The museum is an odd one, as it gives an insight into the first 25 years of the author's life upstairs and discusses the inspiration for some his works, many of which are based around his city of birth, while serving as a museum of medical history downstairs. The grand edifice you will have noticed next to Flaubert's house on your way here used to be a hospital (though it now serves as the regional prefecture) and much of the old equipment once used there over the centuries has found its way into the museum, which is not without interest, as it assembles curiosities, including some of the more morbid variety like anatomical wax figures and mummified bodies.
La Petite Bouffe
(open Monday through Saturday from 11am to 3pm and 7pm to 11pm)
You're probably ready for dinner by now. Walk back across town in the direction of the cathedral on rue du Gros Horloge. Follow this road to the end and take a left on rue des Carmes, walk a few more blocks until you see rue des Chaîne, take a right here and follow it until you see Place du Lieutenant Aubert on your left. Take this road, which will turn into rue des Boucheries St-Ouen. At number 1 of this street, you'll find a restaurant called La Petite Bouffe ('The Small Meal'), something of a misnomer, because the meal you'll be served here is anything but small. Dinner costs €19.90 and consists of four courses (starter, main, cheese course and dessert), plus coffee or tea. There is a great deal of choice when it comes to each course and portions are generous, so make sure you come here on a very empty stomach. The food itself is phenomenal and you're unlikely to find such a good deal anywhere back in Paris. There is also an extensive wine list, with wines from all the major French wine regions at reasonable prices (starting at about 14 Euro a bottle). All of this does mean that bookings are necessary, because the place is very popular (Tel.: 02 35 98 13 14).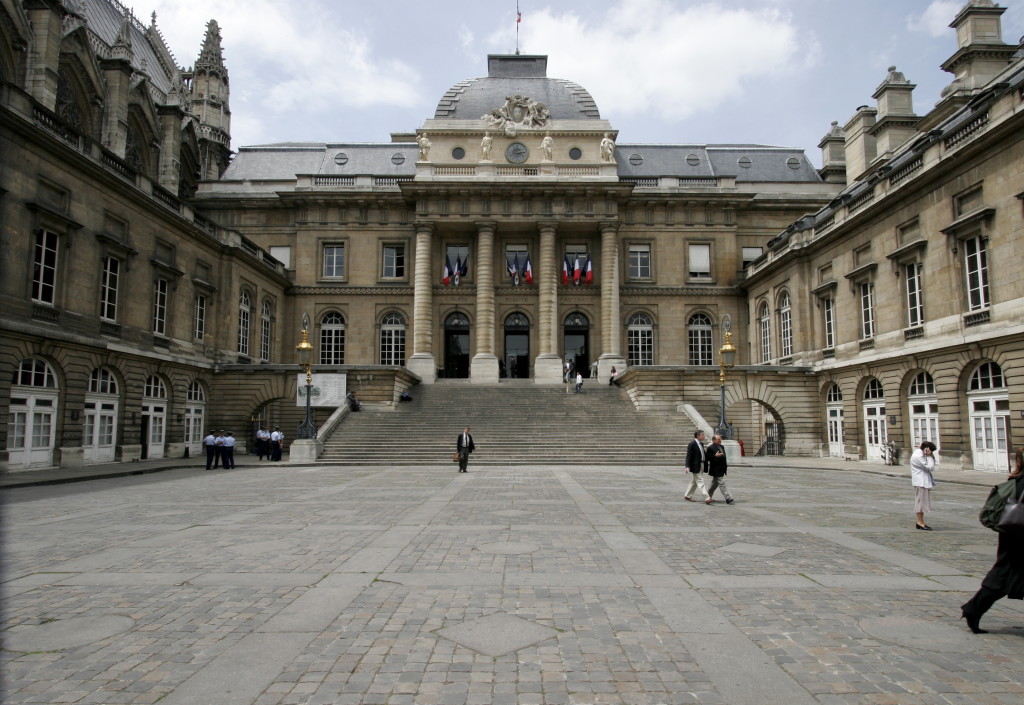 Palais de la Justice
It's time to head back to the station and grab that train home (or, if you're staying, the night, to take a digestive walk). If you've got the time, walk by the Palais de la Justice on rue Jeanne d'Arc (which leads straight back to the station), a final glimpse of Rouen's wonderful gothic architecture, though this time of a secular nature. At night, it'll be lit, giving it a particularly dramatic effect, and this makes for a nice final note to your trip.
Camillo de Vivanco is BudgetTraveller's Paris based contributor. Don't forget to checkout his earlier guides to Paris on the blog.
Please note that the images of Abbaye de St-Ouen , Église Saint-Maclou and Palais de la Justice were sourced via Creative Commons License from Wikipedia. Rest of images were taken by Camillo de Vivanco