Visiting the UK soon? Then this post is one to bookmark. In association with ticketclever.com and rail travel expert, Sophie Collard I've put together 5 cool money saving tips that will help you save money when you are booking your next train journey in the UK. Update: October/2018 – Check out my brand new updated guided on how to find cheap train tickets in the UK
1. Buy a package of multiple tickets on the day
UK train booking site ticketclever.com combines multiple tickets on some longer journeys to save money even on the day – and they don't charge a booking fee. Plus they also sell Advance fares and standard fares. I've said in the past never leave booking your train ticket till the last minute. I stand by that advice but if you do find yourself booking on the day of travel, it's good to know that it is still possible to save.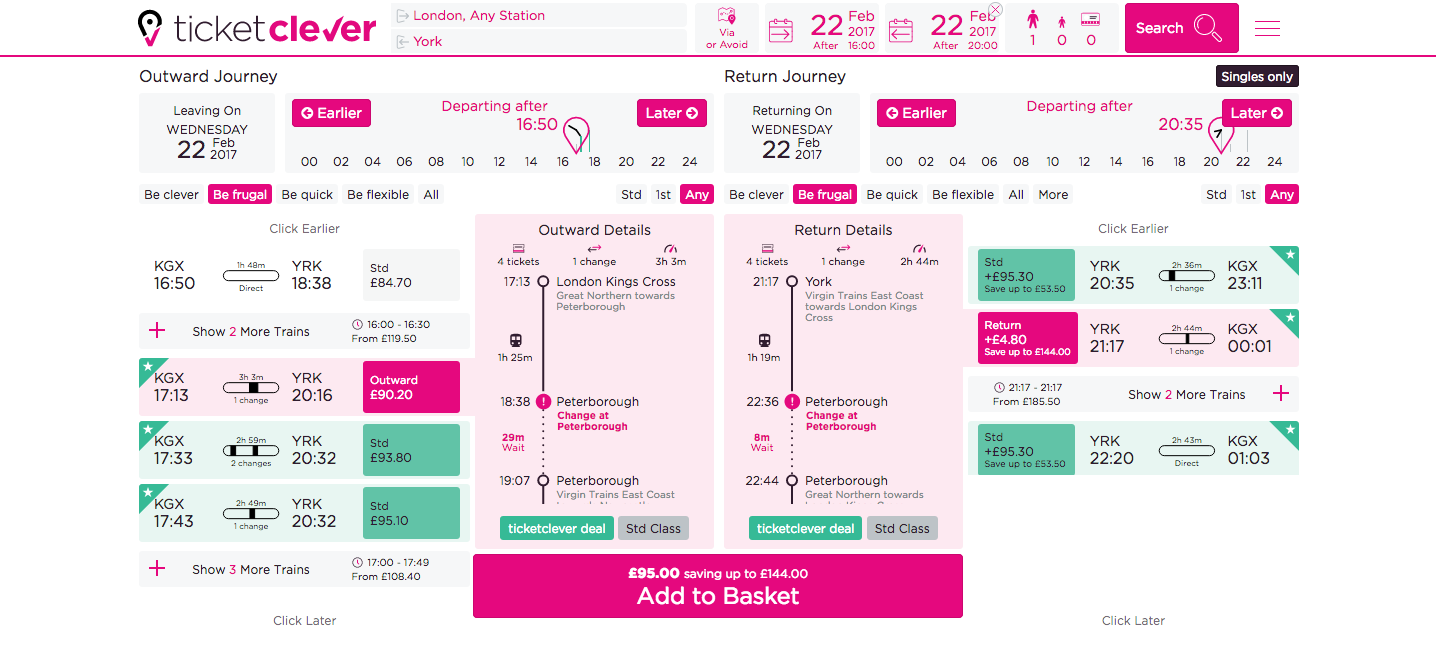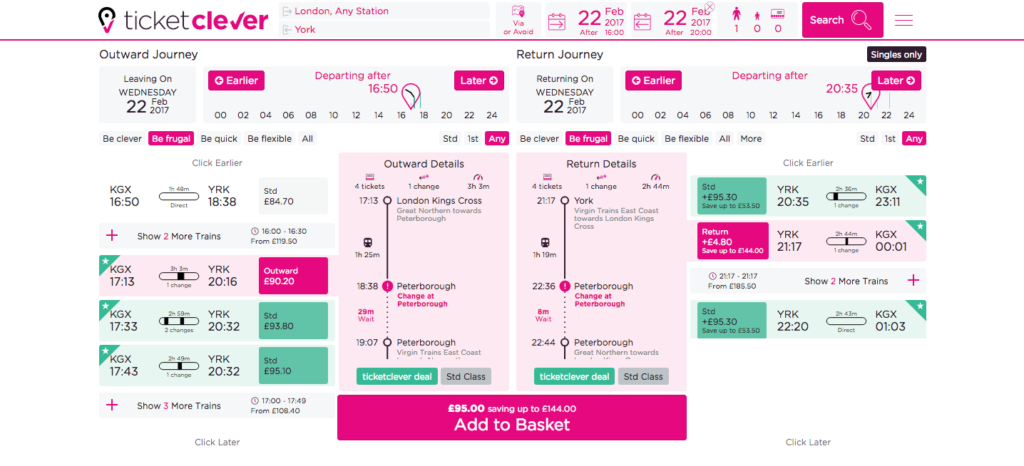 In this example, checked on the day of travel, the site splits your tickets for you at Peterborough, saving up to £144 when compared with the standard fare and saving £18.70 compared with the advanced purchase price checked at the same time (of which there was only one ticket left, so it would have cost even more if you'd missed the last cheap advance ticket).
2. Book in Advance
The UK sometimes gets a bad rep for its rail prices in the British press – but did you know that when you book in advance it actually has, as rail expert Mark Smith says, 'similar or even cheaper fares than Europe'? In the UK you can book up to 90 days in advance. The further in advance you book, the more likely you'll be to get a cheaper fare before they sell out. Advance fares are available right up until the day before you travel and in some cases earlier on the day of travel.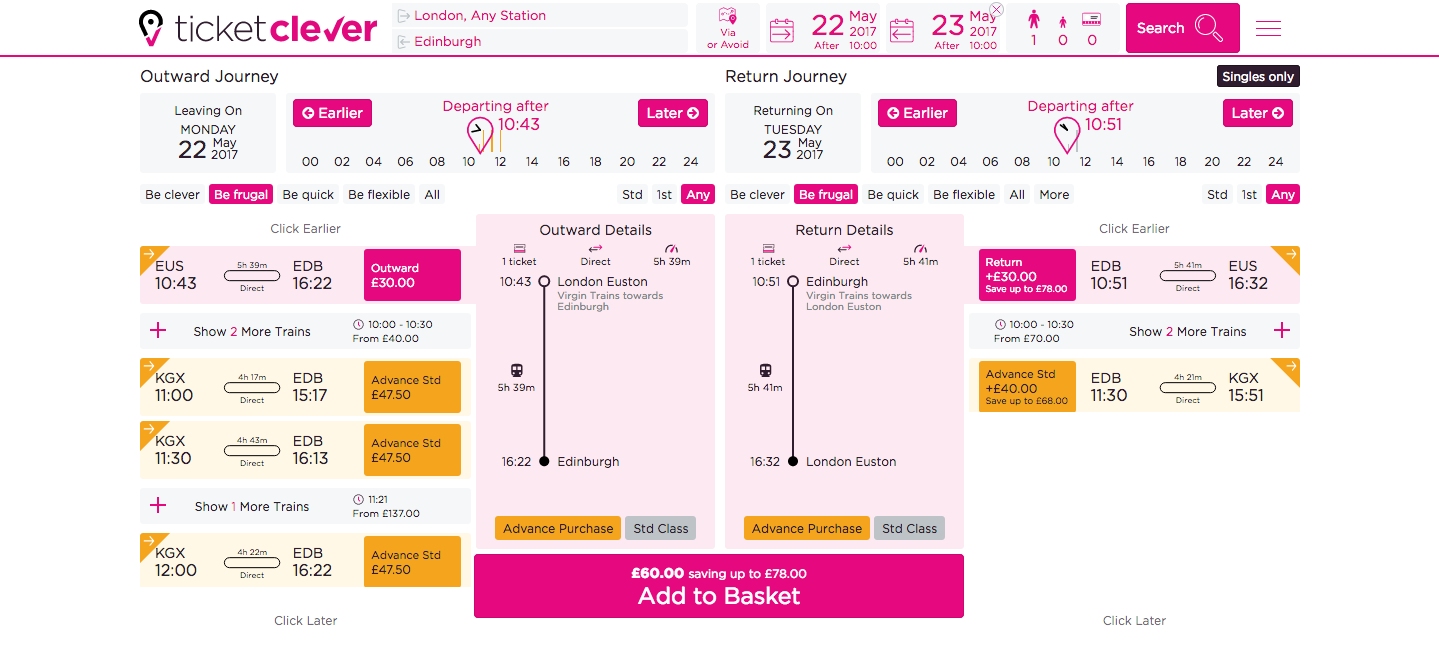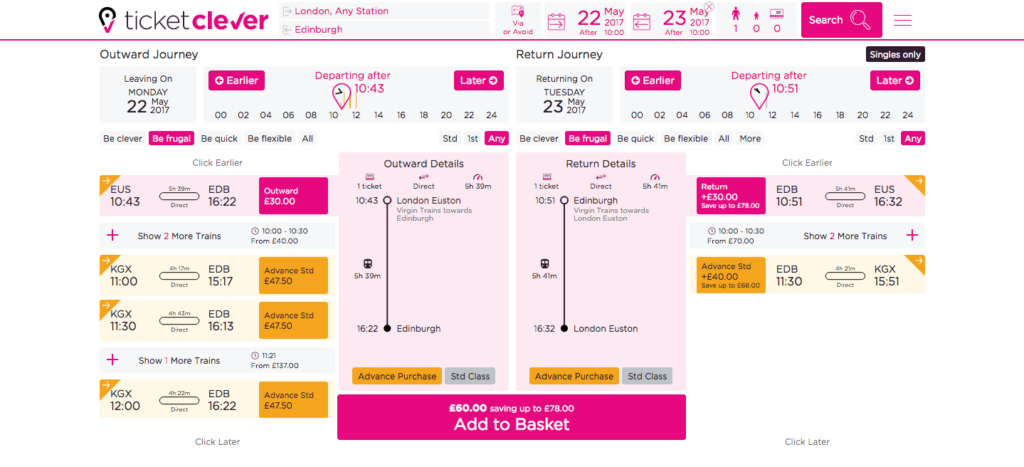 Here's an example of London to Edinburgh return when booked as far in advance as possible – £60 saving up to £78.
3. Travel Off-peak
Return 4pm or around 8pm onwards
The cheapest train tickets are often for off-peak journeys. This means that by avoiding rush hour – when everyone is going to work in the morning, or returning from work in the evening – you can save some of your cash for nice things, like coffees and cake and, I dunno, the cinema. The cinema can be pretty pricey these days… Although it varies from route to route, as a rule peak times are before 10am and after 4pm until 8pm. So if you can travel after 10am and return before 4pm on the day you want to come back I'd recommend doing so.
4. Get a Railcard
There's a good chance you'll be eligible for one of the many Railcards on offer. From the 16-25 card that's perfect for students, to the Two Together card for couples or friends and the Family Railcard for families. (Not forgetting the Network Railcard that covers travel within a defined radius of London). Railcards save you up to 1/3 on rail travel for the areas they cover. Often that means the savings you'll make will be enough to cover the cost of the Railcard in just a few trips. You don't have to be a UK resident either, although you should make sure you're going to use the card enough times to cover the cost of purchasing it.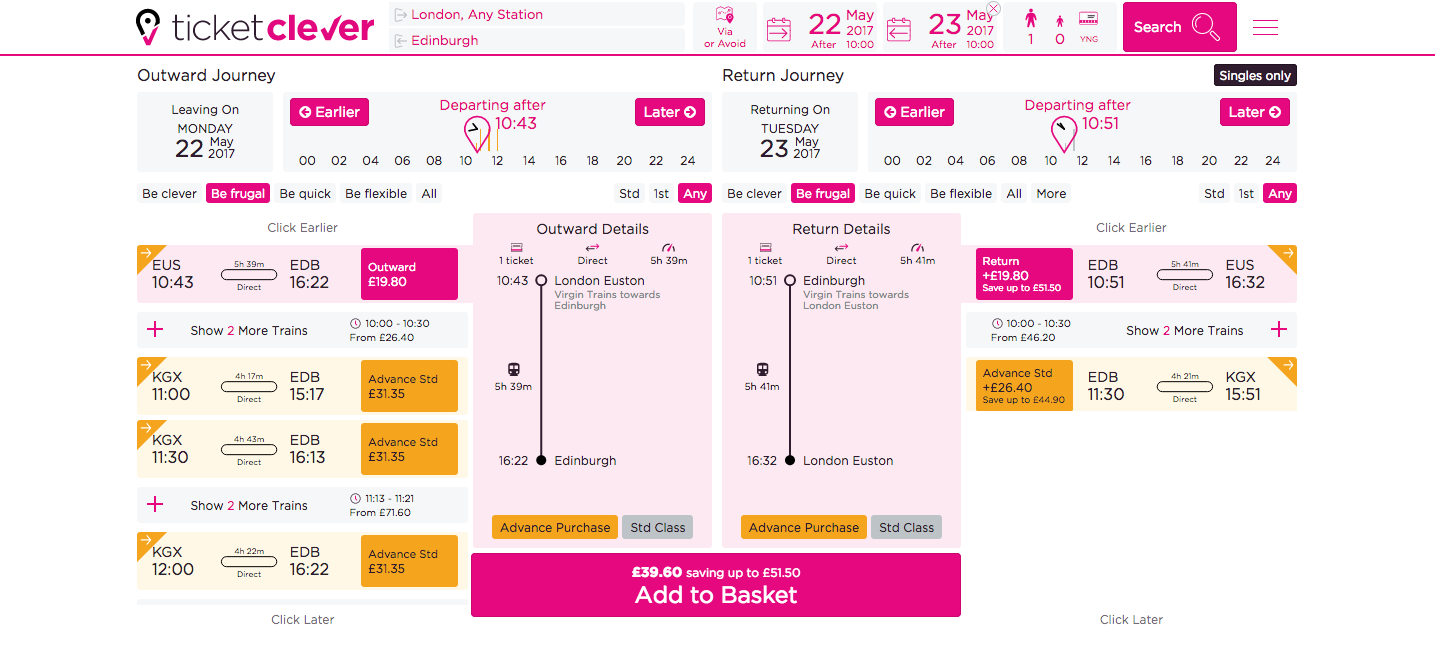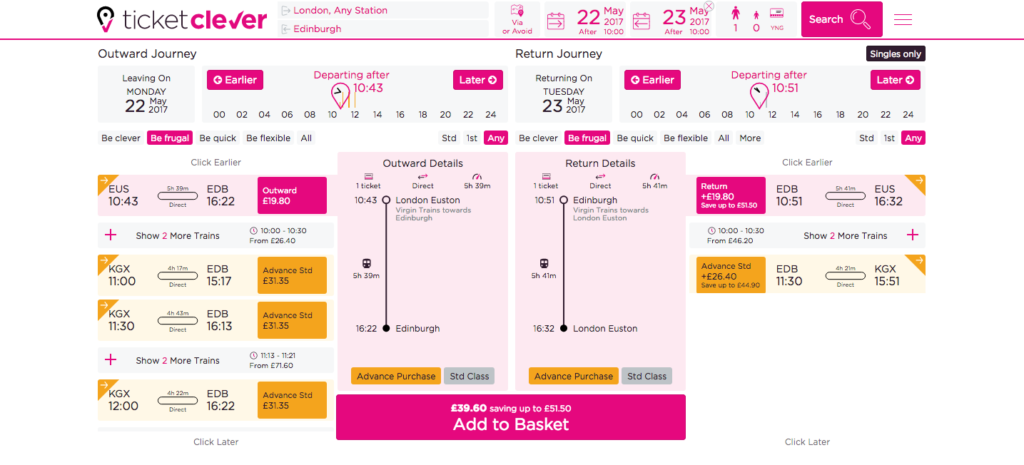 Here's that Advance London to Edinburgh journey I showed you before with a Railcard discount applied.
5. Groupsave
Most train companies offer Groupsave tickets if you are travelling as a group of between 3 and 9 people. You have to travel together – so make sure that if one of your friends decides to stay at your destination longer than everyone else that they foot the bill for fresh train tickets. Stick together and you can save 1/3 on each person's train fare. Nice.
So there we have it – 5 ways you can save money when booking trains in the UK. Now you know how to save, why not have a think about where you want to go…
6. Bonus tip: Download the new Skyscanner Train Travel app & get £3 off with my exclusive voucher code
If you are planning a trip to the UK, definitely recommend downloading the new Skyscanner Train Travel app.
It is very easy, intuitive to use and on top of that you get charged no booking fees for using the app. My favourite features of the app are the fact that you can save your credit card details, allow you to buy tickets with minimum fuss.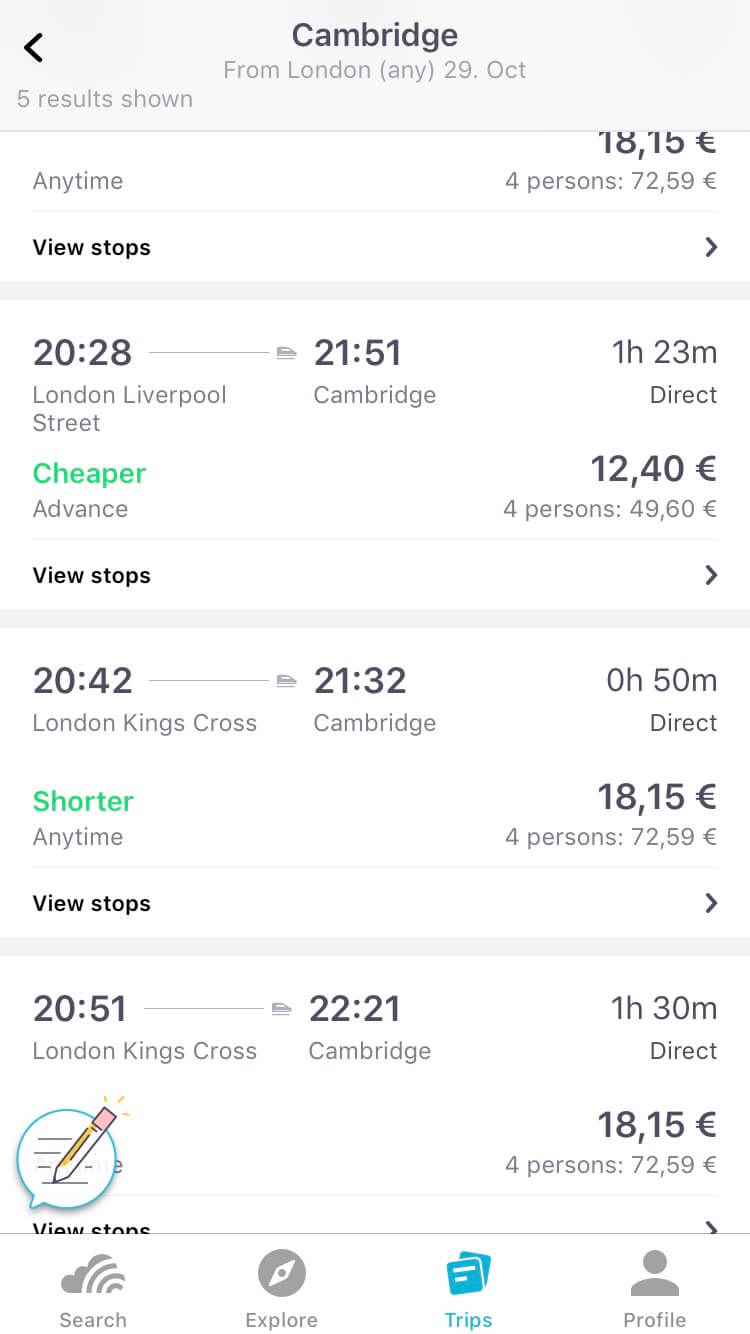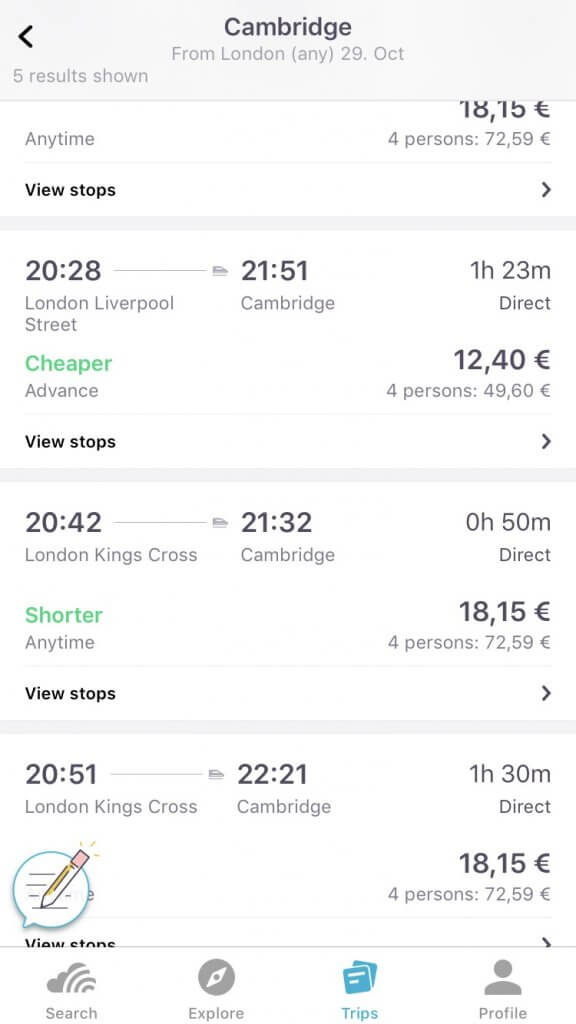 Also when you look at the results, the app will highlight the cheapest times to travel and also the fastest route. Other cool money saving features include the handy 'Groupsave' pop-up that will show on your screen whenever you book fares for more than 3 people. Groupsave function allows you to save upto 34% on your train fare so its for features like this that make me really love the Skyscanner Trains app. That plus 24/7 free customer support …lot to love
If you are planning a trip to UK in the next few weeks, download the new Skyscanner Trains app ( please sign up via this link) sign up or login into your account, pick a train journey and use the code 'BT3' at checkout to get £3 off your first train ticket! Note, that this code is valid only till 18th November 2018!
Where will you go by train?
Bright lights big cities your thing? I love city breaks by train as you don't have to worry about parking etc. and train stations are usually close to the heart of it all.
Edinburgh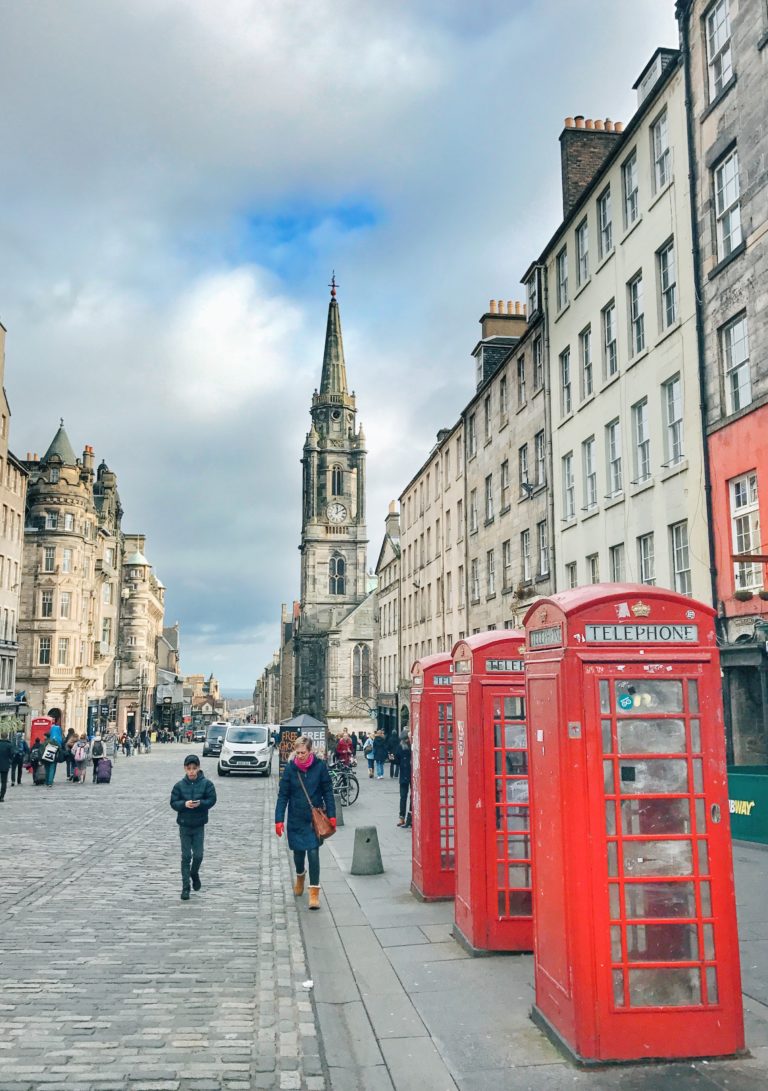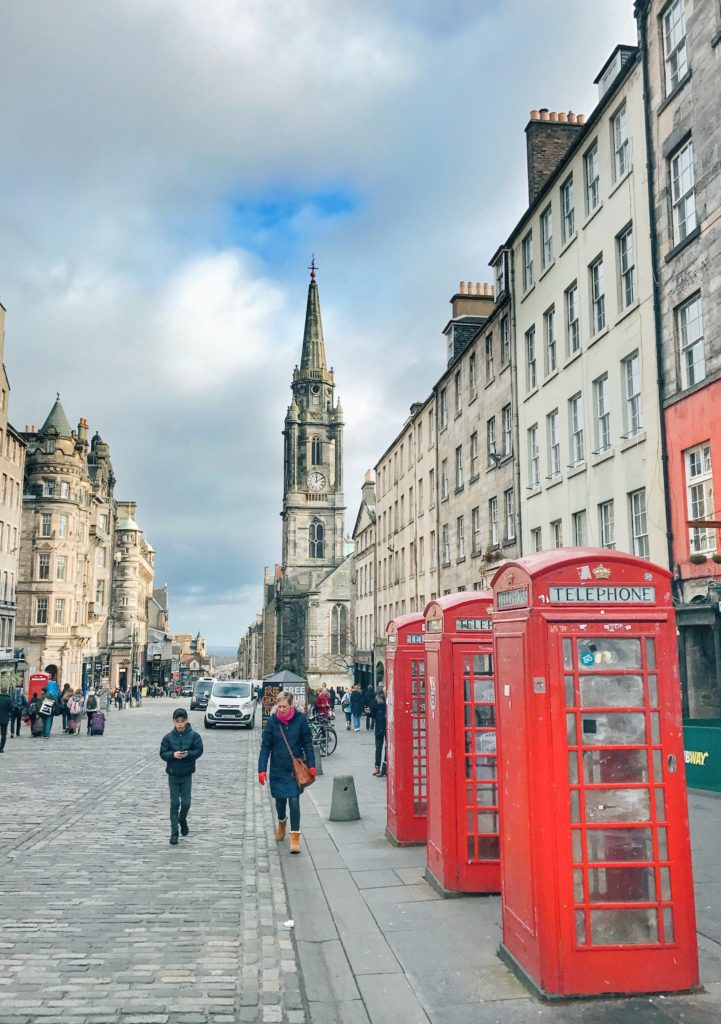 Checkout my recent 48 Hour Guide to Edinburgh for planning your perfect short break to the city. My personal favourite place to stay in Edinburgh is Haggis Hostels, which is in an 18th century Georgian Building slap bang in the heart of Edinburgh. You can read my review along with the low down on 11 of the best budget places to stay in Edinburgh
London
Checkout my guide of 50 free things to do in London. In terms of cheap and stylish places to stay in London, the former seaman's hostel Wombats is my first choice for London. Not far from the Tower of London for sightseeing in the day and from Shoreditch for great nights out, check out my review along with 9 other recommendations in my post, 10 of my favourite budget places to stay in London
York
My favourite York hostel is the Fort York Boutique Hostel – it's a stone's throw from York Minster and the rooms are clean and comfortable. Read my full review along with other tips for places to see in the UK in my post, Backpacking in style across England: A 2 week itinerary