48 Hours in Edinburgh: A guide to where to stay, eat, and drink in Edinburgh. You can't *quite* do Edinburgh in 48 hours, but you can sure try. Edinburgh is a great year-round destination with a host of amazing experiences to discover: from savouring the finest art museums in the world, to lazing in Princes Street gardens while drinking in the beautiful vista of the Castles above your head or just going for a seafood supper in Leith and then maybe a lazy stroll up the magical water of Leith.
There are so many unique experiences that this city can offer to a tourist and to locals. I was proud to call Edinburgh home for many years and I always love coming back here to visit places, old and new. Thanks to CrossCountry trains, I recently had the chance to revisit the Auld Reekie. I'd love to hear your thoughts on the guide and your recommendations of what you would see, eat and drink in the city so please leave a comment here, tweet me at @budgettraveller or email at [email protected]
8.30am| Breakfast at the Best Western Bruntsfield Hotel
Start the day with a fantastic cooked Scottish breakfast at the Best Western Bruntsfield Hotel. Guests can help themselves to the continental buffet which has different types of cereals, fruit, fruit juices, pastries and can also order a freshly cooked full Scottish breakfast or 5 different types of omelettes -whatever takes your fancy. I went for the full works- beans, fried tomatoes, haggis, black pudding, sausage, potato scones and scrambled eggs. It is not something I would eat everyday but it is so delicious. The full Scottish is definitely something you have to sample on any trip to Scotland.
10am| Scottish National Gallery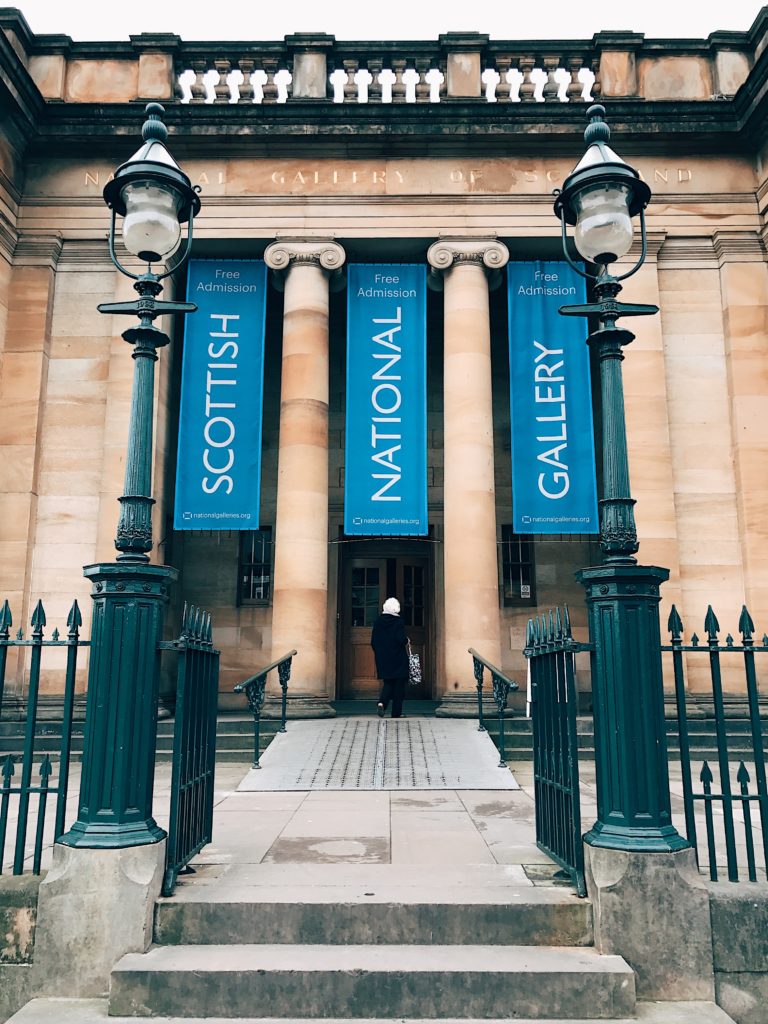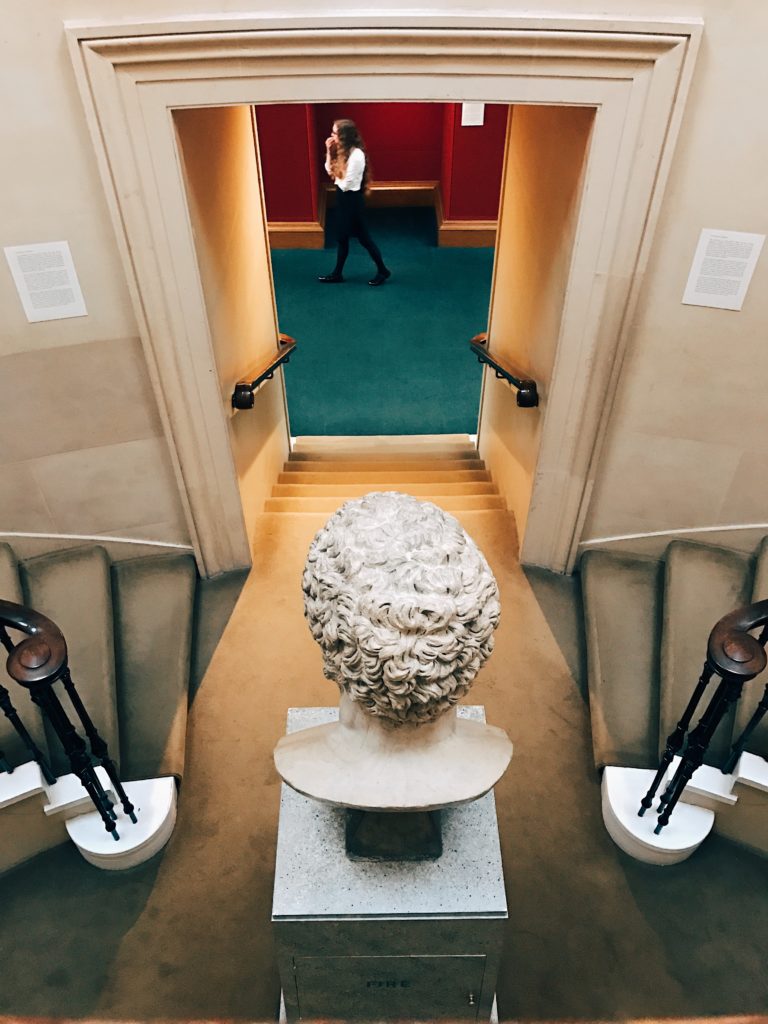 I enjoy a long relaxed stroll from Bruntsfield to Princes Street to work off the calories from breakfast. My first stop of the day is my favourite museum in Edinburgh: National Gallery of Scotland ( Open everyday from 10AM to 5PM. Thursdays they are open till 7PM ) The museum has one of the most impressive collection of fine art in the world with works of artists like Turner, Vermeer, Rembrandt and also some seminal works of Van Gogh and Monet. I am a huge fan of the Impressionists and there is an entire room dedicated to their work. Highlights here includes Van Gogh's 'Olive Trees' and 'Orchard in Blossom', Monet's 'The Church at Vétheuil' and Cezanne's 'Montagne Sainte-Victoire.' The other amazing thing about the museum is that it is FREE. Donations are welcomed.
11.30am| Lawnmarket and the Scottish Writers Museum
Gently flex your way up the steep Mound towards the Royal Mile. If you are in need of a caffeine fix I highly recommend the Cafe on the Mound. If you are still full from your Scottish breakfast and going strong, head up to Lady Stairs Close which is located in the Lawnmarket section of the Royal Mile. As you gathered from the name, The Royal Mile which runs from the Castle down to the Queen's Holyrood Palace is exactly a mile (Scots Mile) long. It is divided into 5 sections:  Castlehill (adjoining the Castle), the Lawnmarket, the High Street, the Canongate and then the Abbey Strand.
When you are in the Lawnmarket, lookout for the 17th century gables which are a mark of the city's Dutch influence.
Edinburgh has a fantastic writing heritage. Famous authors that call Edinburgh home and have used the city as their canvas include Alexander McCall Smith, JK Rowling and Ian Rankin. In the Scottish Writers museum ( Open 10 am to 5pm. Closed Monday, Tuesday) you can read all about the lives and stories of Scotland's first three great men of writing: Robert Burns, Walter Scott and Robert Louis Stevenson. The building itself and Lady Stairs Close is beautiful and definitely worth visiting. The Writers museum is free to enter -woohoo!
12.30pm| Edinburgh Castle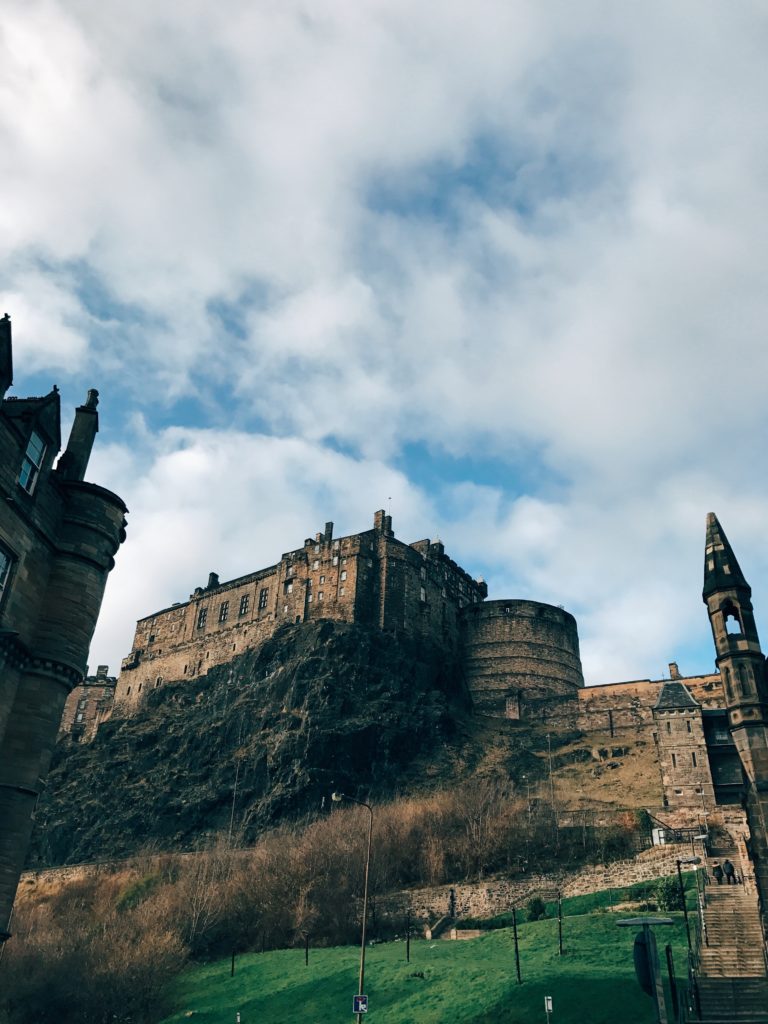 Do not leave Edinburgh without visiting the Castle [ Open everyday from 9.30AM till 5PM. Tickets are expensive and cost £16.50 for Adults and £9.90 for children (aged 5-15) ] Pop in, purely to see the Stone of Destiny. The stone of destiny (also known as the Stone of Scone) is the Coronation Stone, an oblong block of red sandstone that was used for centuries in the coronation of the monarch of Scotland and later the monarchs of England and the Kingdom of Great Britain. The stone of destiny is kept in the crown room at Edinburgh Castle alongside the crown jewels of Scotland. The last time the stone was used was in 1953 for the coronation of Elizabeth II. In keeping with Scottish tradition there are many myths and legends associated with this stone. Some say that this is not the original stone of Scone but a replica. On Christmas Day 1950, a group of four Scottish students removed the Stone from its then location, Westminster Abbey to bring it back to Scotland. When the stone was ultimately returned, many people disputed whether this was the original stone. Some say that the  original stone is buried beneath Scone Abbey, near Perth. It is a story that has always fascinated me and one very good reason why you should visit Edinburgh Castle. Time your visit to the Castle around the 1pm gun salute from the Castle. Also unmissable is the dreamy and beautiful St Margaret's Chapel, a 12th century chapel in the Castle grounds. It is still used for weddings and is the oldest building in Edinburgh. The views from the Castle, looking down onto Princes Street gardens and the elegant Georgian streets of the New Town are one of the most beautiful views you will ever see.
2pm| Tasty Thai Lunch at Ting Thai Caravan
Teviot Place, Edinburgh, EH1 2RA
On recommendation from a few readers, I popped into Ting Thai Caravan, which is always packed with students from the local Edinburgh University. There is no way of reserving ahead and you may have to queue -just to pre-warn you. It is worth the wait. I had the Massaman Curry ( £6.30) which was very tasty and great value for money.
3pm| Best coffee in Edinburgh? Try the Black Medicine Coffee Company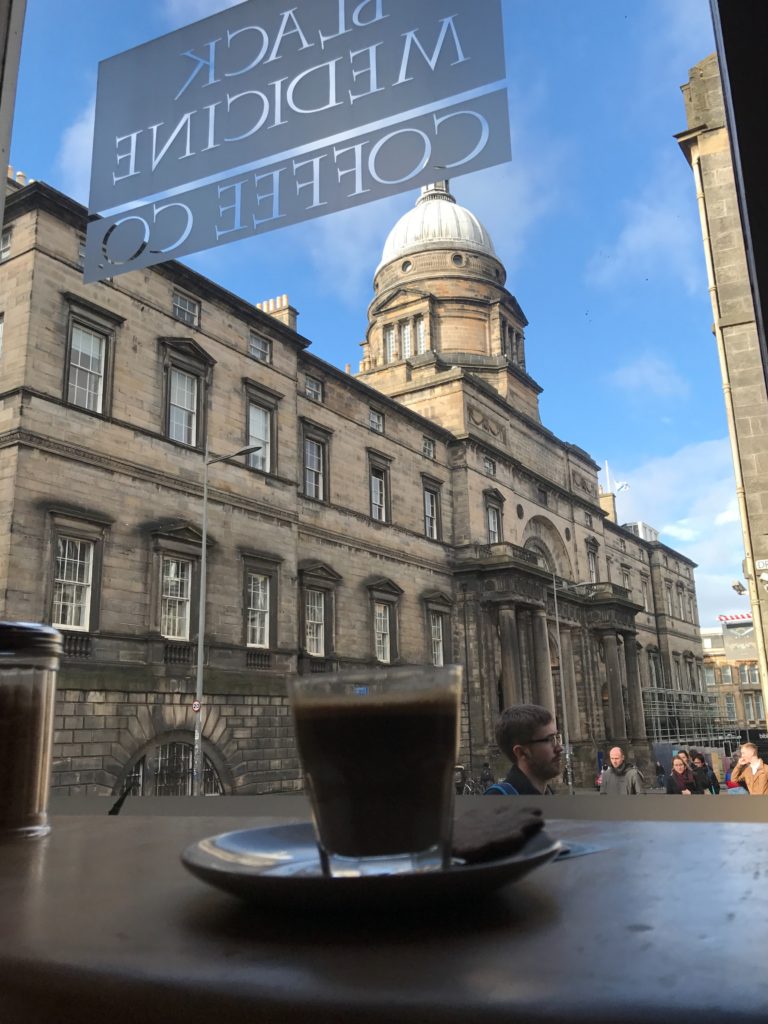 Again, an old favourite haunt of mine. Beautiful handmade wooden tables, excellent gourmet coffee and quirky and eccentric staff. Note: This is not the cafe where JK Rowling wrote the first few chapters of Harry Potter. There is a plaque somewhere on the ground floor clearly stating this which I found hilarious. The cafe where JK Rowling did write the first draft of her book was actually on the first floor of the building when there was a cafe called Nicholson's. This was then sadly converted into a terrible all you can eat chinese buffet and then in 2009 it became a cafe again called the Spoon Cafe Bistro.
4pm| Old College and Talbot Rice Gallery
Having lived in Edinburgh for several years I only discovered the existence of the Talbot Rice Gallery ( Open 10AM -5PM. Saturdays, 12 PM- 5PM. Closed Monday and Tuesday ) after an aimless wander through the beautiful quadrangle of the Old College. The gallery hosts a series of contemporary art exhibitions throughout the year and is free to enter. Currently exhibiting is 'Between Poles & Tides' which includes a number of thought provoking pieces like a set of clocks that tells the time of every planet in the solar system, a sculpture created over ten months in a French cave and a large gazing leopard projected over the main Gallery space.
5.30pm | Greyfriars Bobby and Greyfriars Kirkyard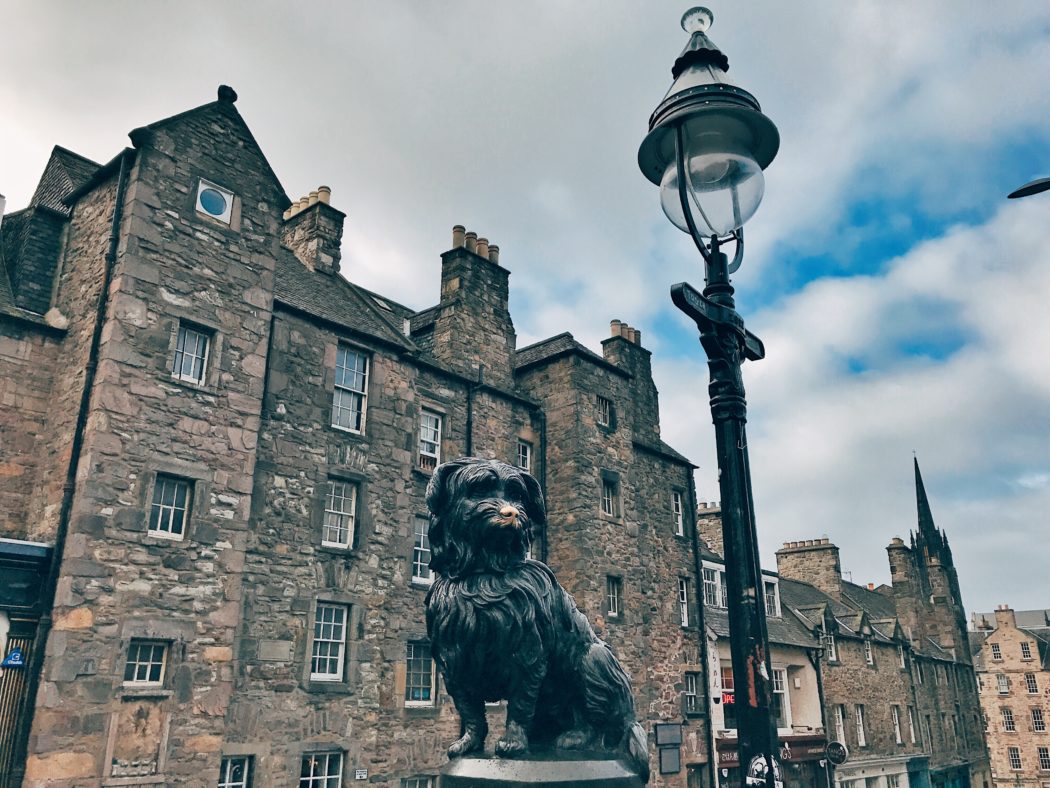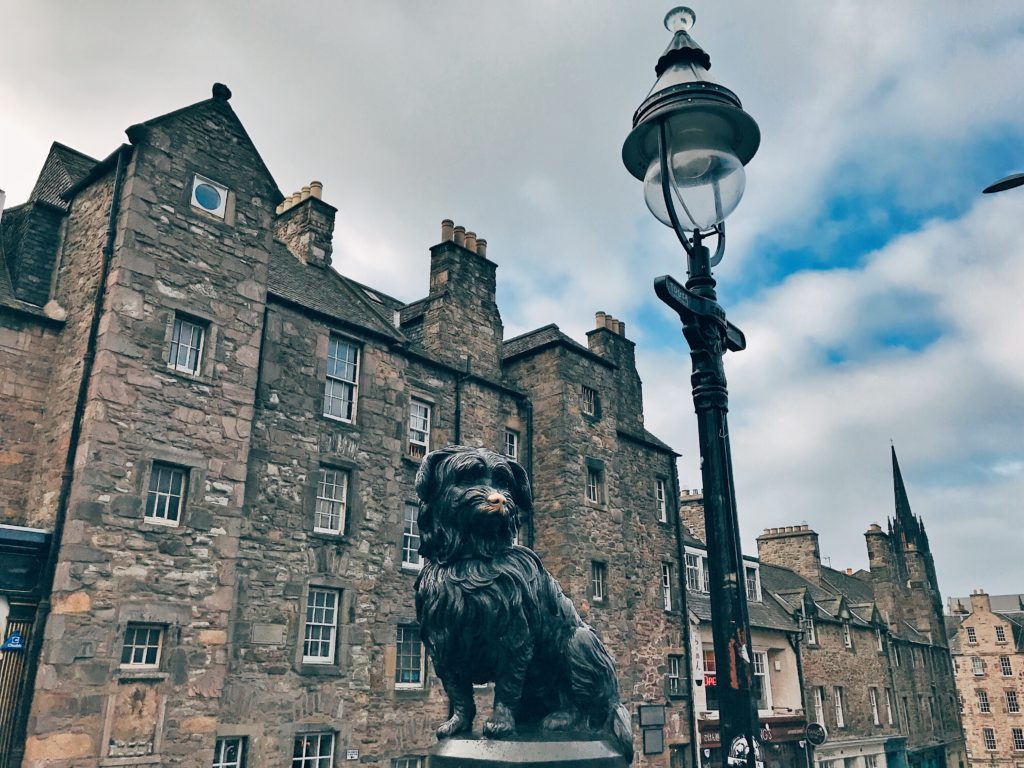 Spotted the statue of a Skye Terrier: that's the famous Greyfriars Bobby. You probably know the story of this dog? His grave is right in front of the entrance of the Greyfriars Bobby Kirk. The church and graveyard is beautiful with great views of the Castle. Some people say this is a haunted graveyard and ghost tours come here at night.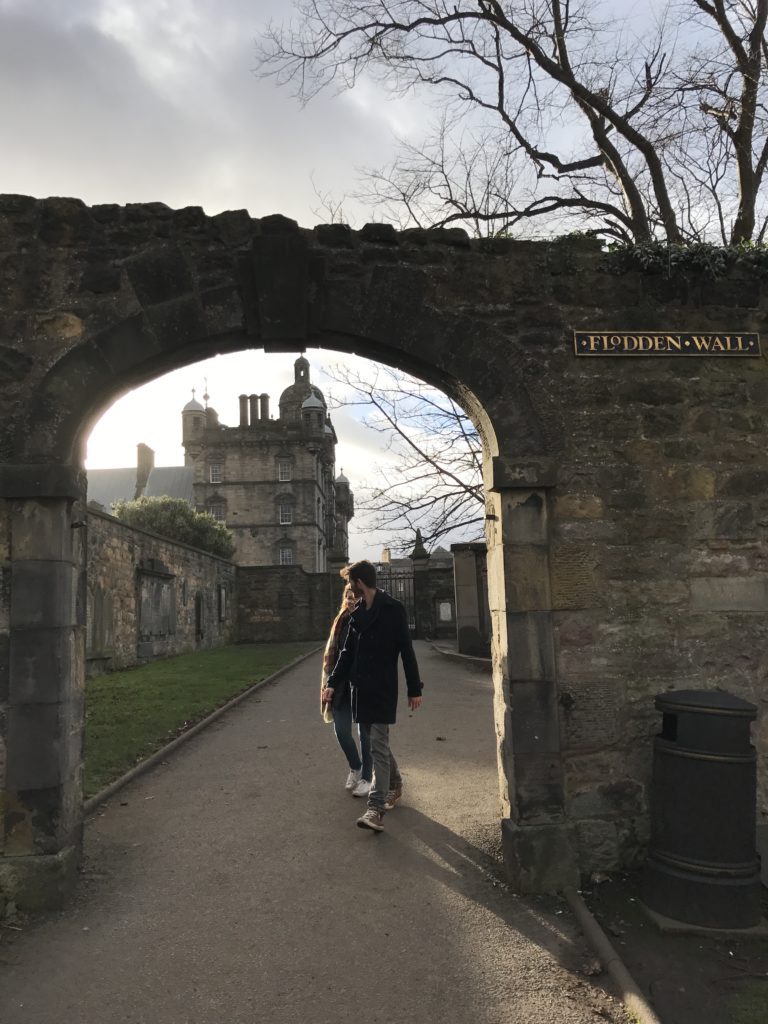 The wall marking the western boundary of the graveyard is one of the few remaining segments of the 'Flooden Wall' which was the original boundary of the medieval core of the city. Also you have a sneak view of George Heriot's school which was founded by George Heriot, great Scottish philanthropist and jeweller to King James IV. Apparently the school was also a source of inspiration for Hogwarts but I will let you judge that for yourself.
Once you come out of the kirk I go for a wander down Forrest Road which is where I first lived when I came to Edinburgh. I often started my night with a pint at Sandy Bells (25 Forrest Road) which is a small wee pub that specialises in traditional music nights. It always has a great atmosphere with a mix of tourists and locals. They have a good selection of whiskies and beers at decent prices so definitely worth popping in here.On your left is a place called Mums (used to be called Monster Mash) where they do an epic breakfast of 3 types of sausages with mash. I would go for their lamb and mint, the herby, pork and apple sausages sitting on a bed of delicious horseradish mash, smothered in a tomato and thyme (gluten free) gravy. Good hearty food, perfect for a cold winters day. Plus also on Forrest Road you have one of my favourite charity shops (Edinburgh has some ace charity shops and there is even a dedicated map/guide to them) run by the charity Shelter. They always have decent clothing labels and a great selection of books so worth a good rummage.
If you fancy a nice coffee, look straight ahead and you will see the beginning of the green lung of Edinburgh- The Meadows. In the summer the air is heavy with the smell of BBQ's and the grass is glowing with the yellow and red cans of Tennents. At the beginning of the Meadows on your right you will see a few shops. The one right at the end is St Peters Yard, a Swedish style bakery and coffee house. Coffee here is lovely and their bread has won many awards.
7pm| Catch a movie at the Cameo
Just a short walk into Tollcross my next recommended stop is the Cameo. If it is a typically blustery day/ rainy day (common in Scotland) and you need respite from the wind and the rain, escape here for a few hours. They have a lovely bar, walls adorned with classic film posters. Wine is decent. They serve sausage rolls in a pint glass. The popcorn is excellent plus they have Ben and Jerry's ice-cream. What more could you want? Plus they are a great supporter of independent cinema. It is a ritual of mine going to independent movie houses wherever I travel so I happily spent a few hours here watching the latest Trainspotting 2 here with my good friend and fellow blogger Abhishek Behl.
9pm | The Queens Arms
I hop over to Frederick Street in the New Town of Edinburgh to a pub called The Queens Arms. New Town, especially George Street is lined with many overpriced drinking dens filled with toffs and spoilt rich kids so avoid those (other than the Dome, which does great cocktails and is fab especially around Xmas). Queens Arms is very reasonably priced with friendly bartenders, nice range of local craft beers on tap, rare malt whiskies and also serve up pretty decent pub grub.
11pm | Late dinner at The Pakora Bar
I discovered this place thanks to my friend Abhishek. Run by a Punjabi family, the restaurant serves up real Punjabi home cooked food and everything is made fresh on the premises. They are famous for their pakoras-aubergine, veggie and the signature haggis pakora which wasn't too bad. I also sampled their home style authentic punjabi chicken curries (can be spicy), which I washed down with their super sweet mango lassis. Prices are very decent and with the lassi, pakoras and curry, it came to less than £10 which is a bargain for the location and is ten times better than your typical local takeaway.
DAY 2
9am | Experience a slice of golfing history for free: Bruntsfield Links
Just across from the Bruntsfield Hotel you have a true golf course right in the heart of the city and that too, the world's oldest short hole golf course: the Bruntsfield Links. Playing on the course is free. You just have to bring your own clubs and balls. If you want to hire equipment, pop into the Golf Tavern on the edge of the links and hire them from behind the bar. You can hire clubs and balls for £3.50.
10am | National Museum of Scotland
I start day 2 at the newly refurbished National Museum of Scotland. (Open everyday from 10AM till 5PM ) The museum houses a bunch of interesting Scottish artefacts ranging from the stuffed body of Dolly the sheep, (first successful clone of a mammal from an adult cell) to the 11 pieces from the famous Lewis Chessman set (one of the oldest chess sets in the world dating from the 12th century), plus you have Elton John's extravagant suits and the Maiden which was the earliest form of the guillotine. Plus you have an excellent permanent exhibition on ancient Egyptian artefacts. The museum's grand central hall and its ornate Victorian interiors are an attraction in itself. Tip: Head to the top floor for a great panoramic shot of the interior. Cost: Like the National Gallery of Scotland, this museum is free.
12pm| Experience one of the seven wonders of the whisky world: Scotch Whisky Experience
Time for a wee dram of whisky! If you are on a short visit to Scotland and don't have the time to visit one of the distilleries, the Scotch Whisky Experience is the next best thing. The attraction takes visitors on a journey through the process of how whisky is made in a fun barrel whisky ride. An expert guide explains the different types of whisky with the help of fantastic immersive 180 degree images. Afterwards guests can choose a dram of whisky to taste (Iron Bru for under 18's) in the Diageo Claive Vidiz Whisky Collection, one of the 'seven wonders of the whisky world' (I honestly don't know what the other 6 are) with a collection of 3384 whisky bottles: the largest in the world. Visitors can keep the crystal whisky tasting glass as a souvenir.
Cost Silver tour tasting costs £15 for adults, Kids £7.50 and £37 is the cost of the family ticket (2 adults, 2 kids)
1.30pm| Lunch. Beirut Express
Located in Nicholson Square, just off the Edinburgh University campus, this is a great value for money, authentic slice of Lebanese cuisine in the city. I highly recommend their Shish Tawouk: Charcoal-grilled skewers of marinated chicken cubes which they serve with rice & garlic sauce ( £10.95), Okra stew with lamb ( £8.95 ) plus they do tasty range of mezze (£5 each item) hummus, baba ganoush, grilled haloumi to name a few dishes. Plus it is BYOB (Bring your own bottle) so you can visit the nearby Tesco and grab a bottle of wine or some beers to accompany your meal. The staff are really friendly and helpful.
2.30pm| Few hours in Edinburgh's most beautiful village: Stockbridge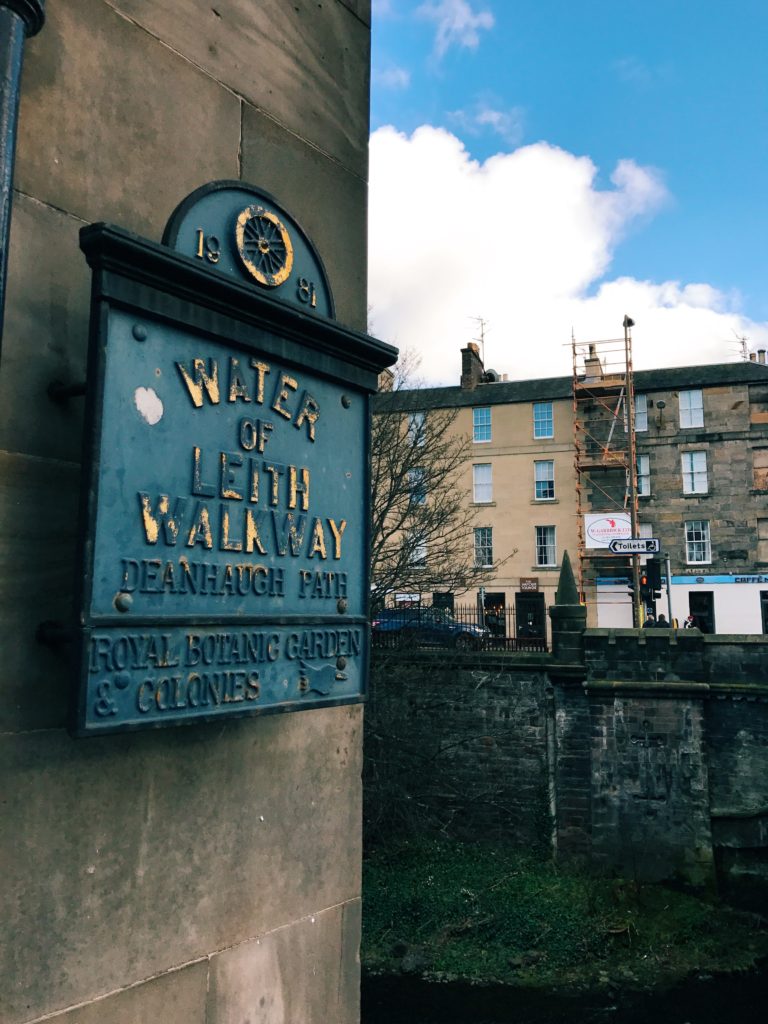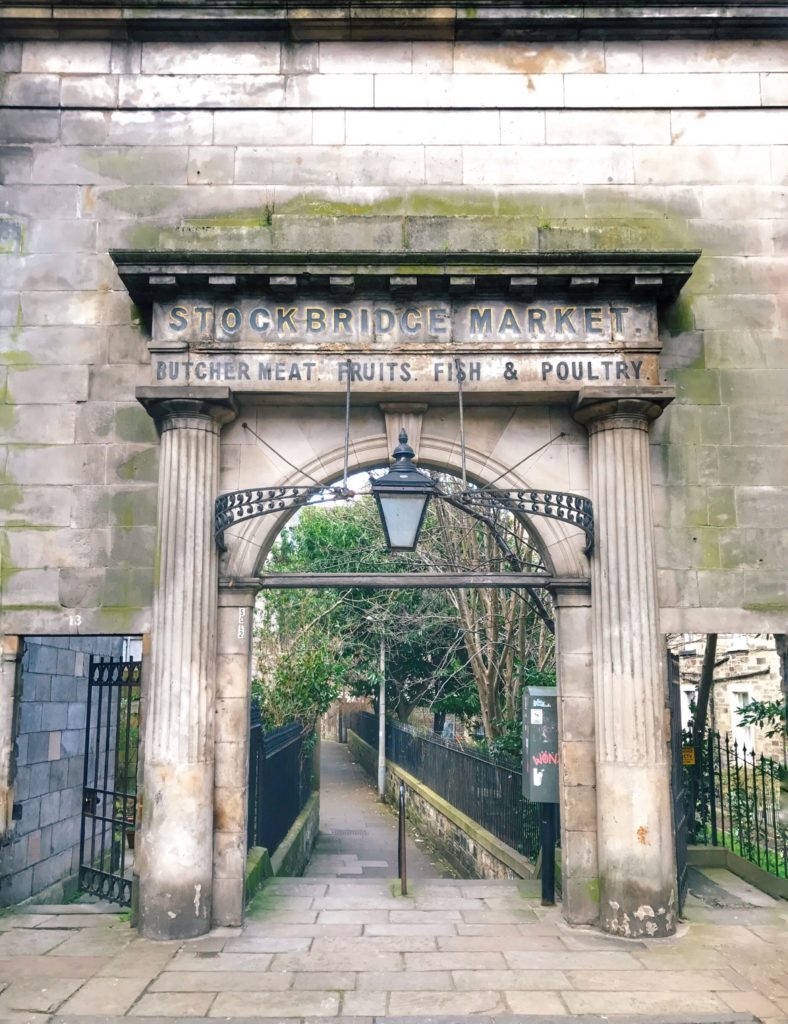 They call Edinburgh the world's biggest village and in many ways it has that cosy charm where the pace of life is unhurried and you can bump into friends easily. If you are short on time, take time to visit Stockbridge, a village within the city which sums up the city's relaxed and blissfully chilled out vibe.
The eastern boundary is marked by the beautiful St Stephens Church. Fans of Elizabeth Gaskell's 'North and South' book, will recognise the church as the 'Lyceum', where Mr Hale gave evening classes.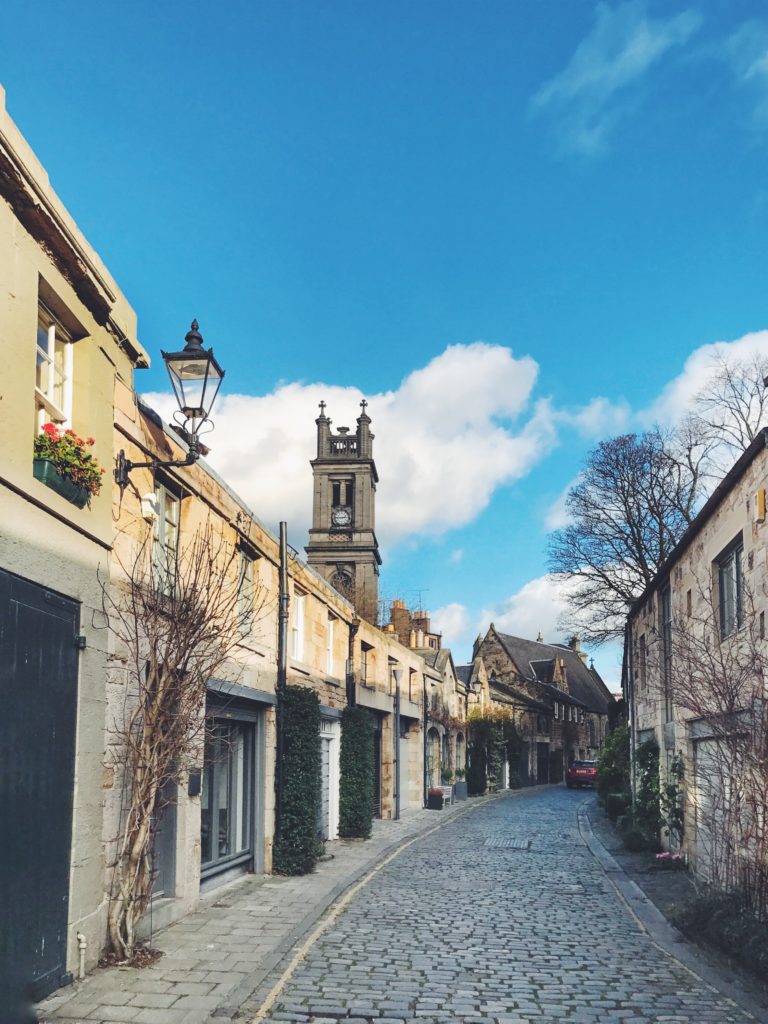 Adjacent is Circus Lane which for me is the third most beautiful street in the city, (2nd best is Princes Street. Best street, you will find out later).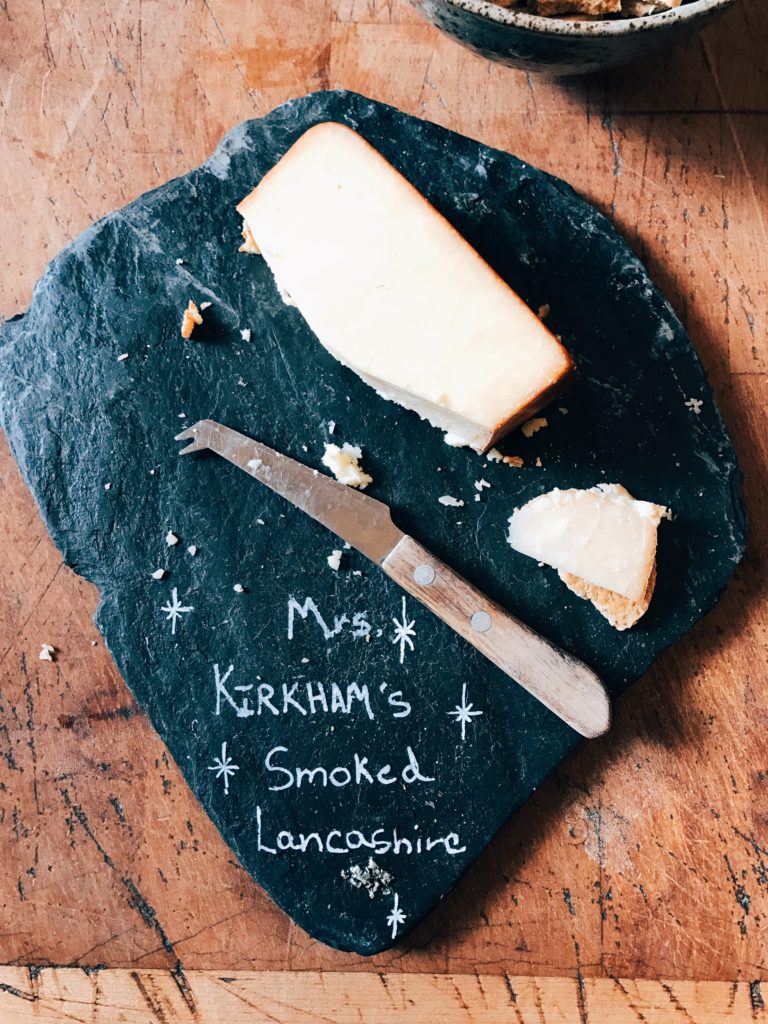 Wander up Circus Lane and you'll soon bump into the Stockbridge outpost of Edinburgh's finest cheesemonger: IJ Mellis. This place is heaven for any cheese lover where you'll find everything from Rochefort, Comte, Manchego, Gorgonzola, Prima Donna, cheddar and the Lanark blue. The staff are super friendly and will allow you to taste all the cheeses so depending on how much of a cheese lover you are, could easily spend a lot of time here. Stockbridge is also charity shop heaven where you can go hunting for everything from classic books, vintage clothing to big name fashion labels at a fraction of their price tag. So if you are into a cheap chic, keep some time aside for exploration. Pop in for a drink at Hector's before a long walk through the beautiful Royal Botanical Gardens — 70 acres of beautifully landscaped greenery. From Stockbridge you can join the Water of Leith which is for me Edinburgh's best kept secret where you come across gems like the quaint, historic Dean Village.The bridge in the village is probably my favourite part of the city. You feel like having walked back in time when you come to this spot. Back in the day the village was the centre of the grain milling trade. At one point there were 11 working mills here, driven by the force of the strong currents of the water of Leith.
5pm | Best gelato in town? Hop over to Mary's Milk Bar, Grassmarket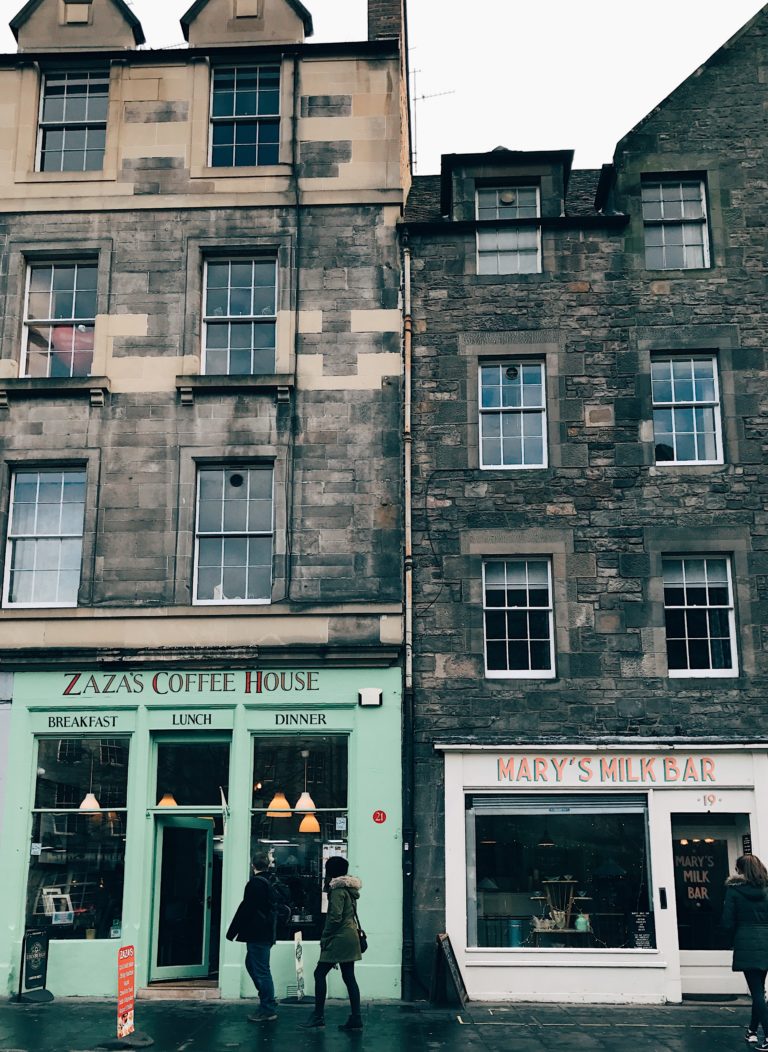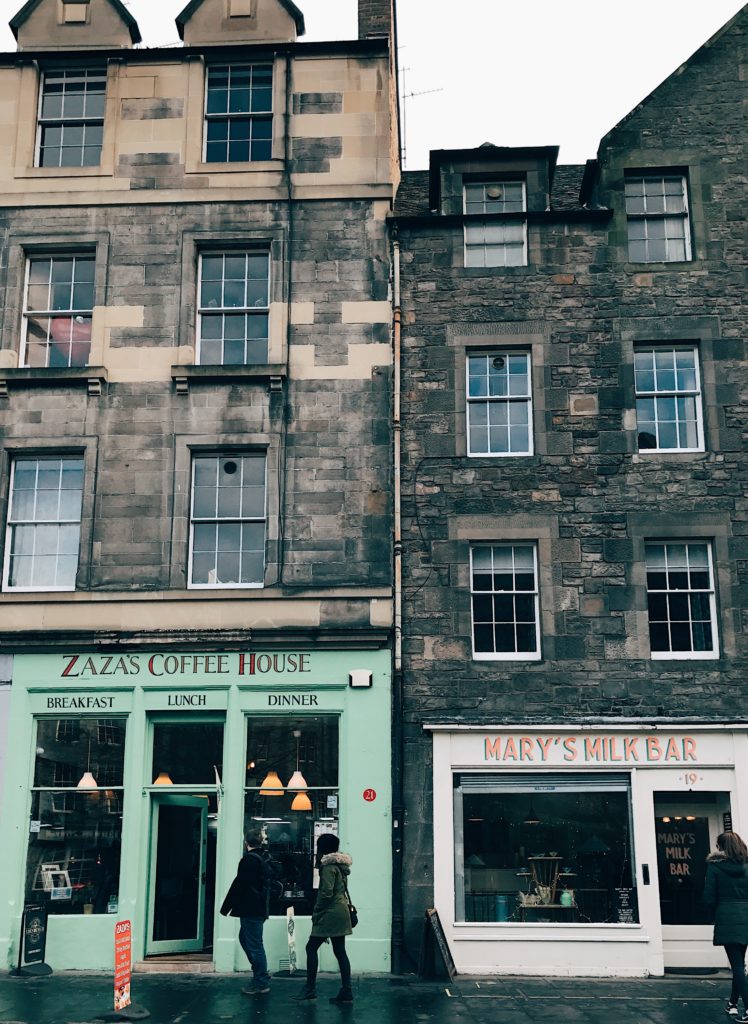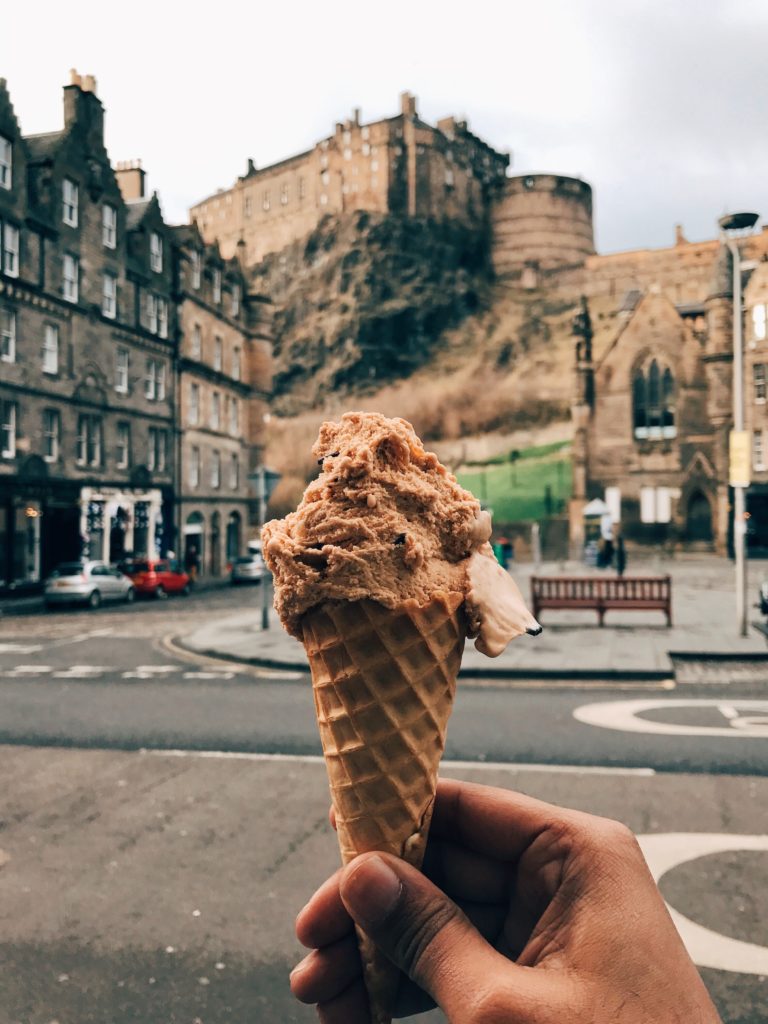 Hop on the bus to the west end of the Grassmarket to savour panoramic views of the Castle (beautiful when it gets dark and the castle lights up) and the best gelato in town, hands down at Mary's Milk Bar in the Grassmarket. Flavours change everyday but if you are in luck, try their smokey chilli chocolate (£2.50) or their pistachio gelato.
Grassmarket is the place where once upon a time people were publicly executed. You'll find the spot on the eastern end where they would hang the people. Right in front is the Last Drop pub. This would be the place where they would have their last drop of beer before being hanged. Other highlights of the Grassmarket are their two shops which specialise in vintage clothing which attract people from all over Scotland. Pop into Armstrongs which is in their own words 'a cornucopia of vintage and retro delights'. Every Saturday in the Grassmarket they have a fab street market, where you can find great street food, sustainably sourced produce as well as just-cooked street food, sweet treats and seasonal crafts and gifts from local makers.
Steeply winding up from Grassmarket in a perfect spiral, you will find yourself on the prettiest street in Edinburgh and probably Scotland: Victoria Street! It has a bunch of lovely shops and restaurants with different coloured facades. In Victoria Street you'll find one of my favourite pubs in Edinburgh called the Bow Bar. Proper pub which has a lovely range of ales and beers on tap. Highly recommend their chocolate and lime stout that is made with real dark chocolate.
8pm Bene's Fish and Chips
162 Canongate. Opens for Lunch, 12-2pm and then 4.30 till 12pm
Do not leave Edinburgh without a visit to Bene's Fish and Chips, which is at the bottom of the Royal Mile. If you are keen to sample the fabled deep fried mars bar, this is the place to come to. They also do deep fried pizza. Other specialities to try here included haggis, plus they do a pretty mean fish and chips. When you order chips here or in fact anywhere in Edinburgh, make sure you ask for the right dressing: 'salt and sauce'. No tomato ketchup. You want those thick cut chips (fried in lard) smothered in vinegar, salt, pepper with a liberal drizzling of brown sauce.
Alternatively if you are knackered, the Bruntsfield Hotel has their very own brasserie, the excellent Bisque Brasserie which serves a great value early evening menu (2 courses for £12 or 3 courses for £15). Highly recommend their rigatoni with wild mushrooms and tarragon sauce.
10pm | World's End Pub
This pub also does excellent fish and chips plus serves excellent draft ales- I recommend you make a pit stop here for a pint of Deuchars IPA, which is the local ale of choice. They serve a nice pint of Guinness here.
The reason this pub is called the World's End Pub is that this building used to mark the boundary of Edinburgh in the ancient period. You'll see some brass bars in the ground in front of the pub which mark where the wall used to be.
11pm Live Music | Whistle Binkies, Whiski Bar
There are lots of places to listen to live music on the Mile. Whistle Binkies is a year round favourite with live music 7 days a week and it is free to enter. Open till late, this is also the place where most people end up after a night out so the atmosphere can be pretty tasty here. Nearby Whiski Bar and restaurant on the Mile also have a fab live music scene so you could fit in a wee dram and check out their tunes. If you love Jazz, I also highly recommend visiting the Jazz Bar on Chambers Street.
Where to stay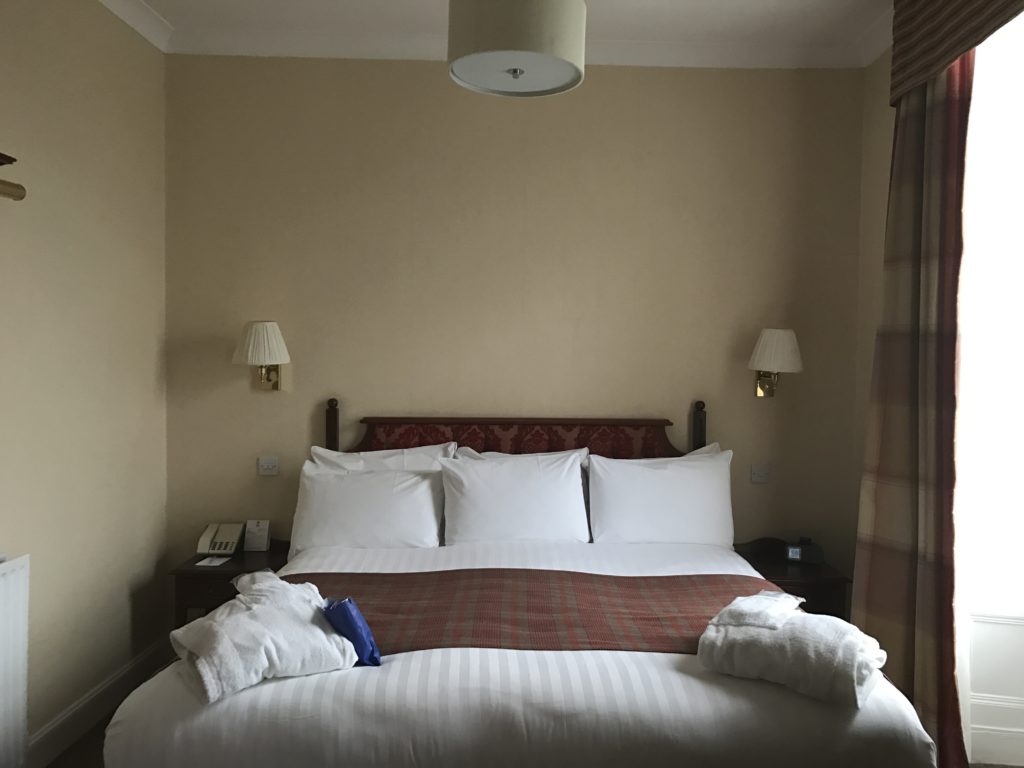 I stayed at the fantastic Best Western Brunstfield Hotel which is situated right in front of the historic Brunstfield Links. The hotel is within a short walking distance of Princes Street and Edinburgh Castle. You also have the joy of Morningside on your doorstep. My room was fantastic: king side sized bed with a really comfortable mattress. Had a great nights sleep. Plus I had tea and coffee making facilities, bottled water and complimentary chocolate chip biscuits-nice little perk. The bathroom was huge with a separate shower and the luxury of a bathtub. Their toiletries also are worthy of a mention. That plus their hot cooked and continental breakfast-little I can find fault with this hotel. The price point for a double room starts around the £70-£80 mark. Book ahead to get the best rates. If you're needing more recommendations checkout my roundup of my favourite budget places to stay in Edinburgh.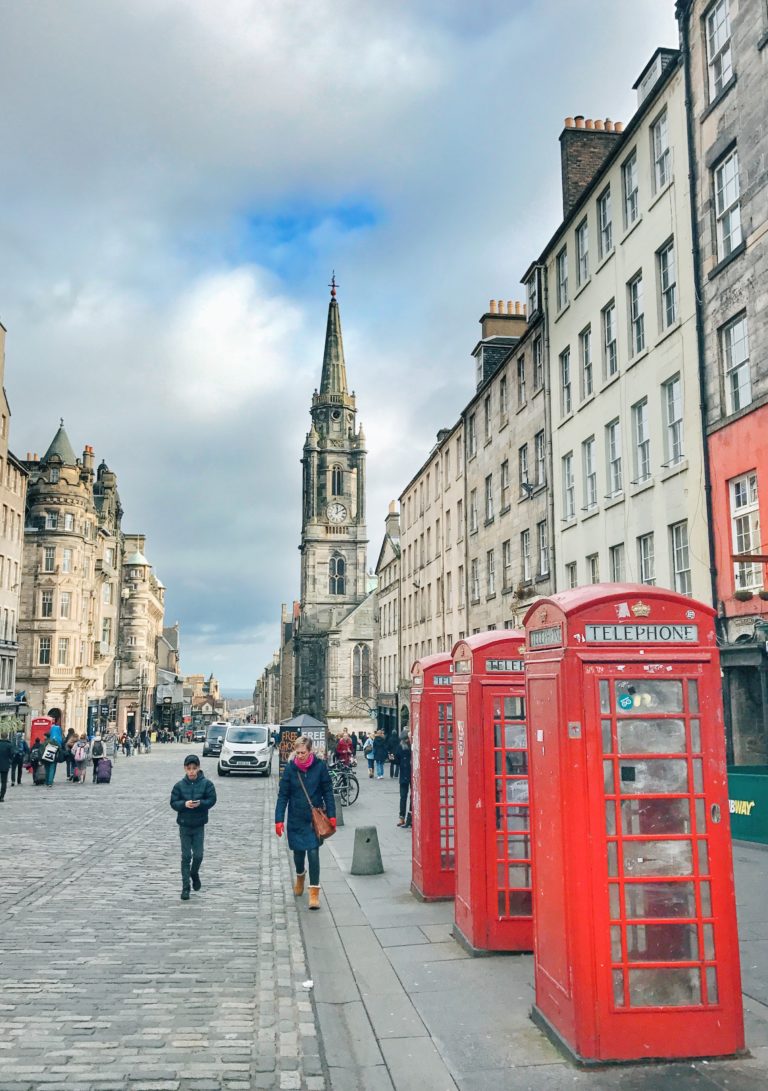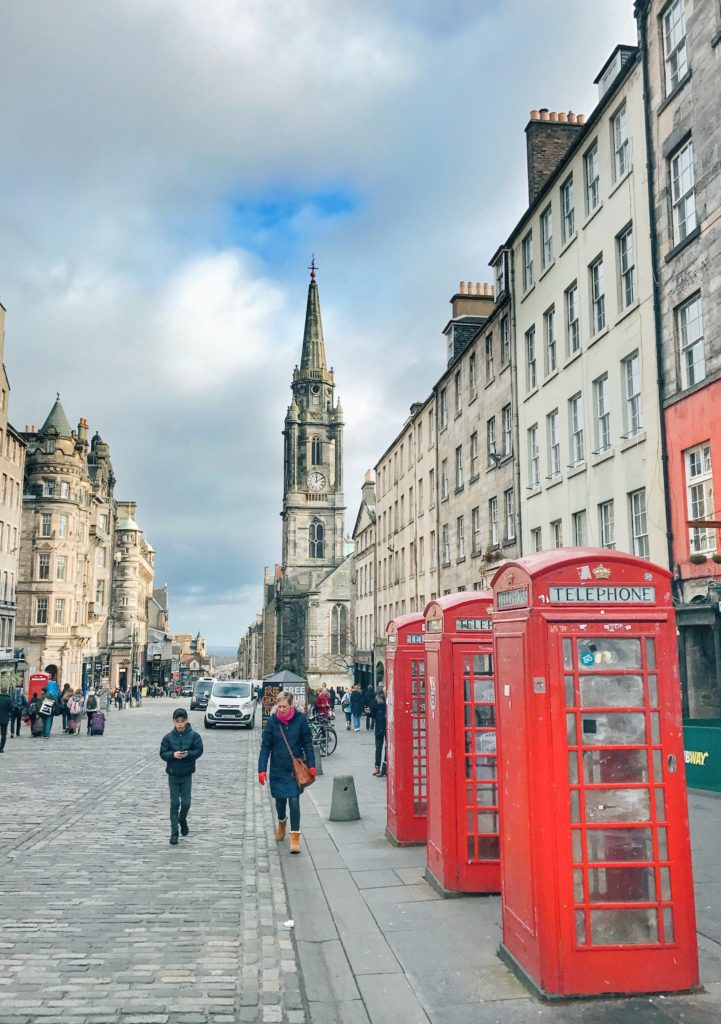 Getting there and away
Edinburgh is well served by road, rail and air. My preference is always to take the train. Sometimes, I'll splurge out on a first class upgrade. Not the biggest fan of flying nowadays. Plus with all the extras, transfers from airport to city centre, price wise there is not too much of a difference. I took the CrossCountry service from Bristol. It was a long but very relaxed journey. I managed to catchup with some work thanks to the free good wifi in the carriage. Plus I managed to catchup with reading my new book and just relax. The perks of travelling first class includes breakfast ( I had a delicious bacon butty ) and coffee in the morning and then later a sandwich lunch, crisps and a soft drink. You have unlimited coffee, tea , soft drinks and snacks so there is no danger of going hungry. Staff were super friendly and took good care of me.
Tip: Always book their advance fares. If you do need to change your dates, CrossCountry  allow you to do this for free (24 hours before departure is the deadline for changing) and do not charge a fee for this.
To get an idea of what CrossCountry's service is like, here's a wee video of my trip.
For more idea of fares and routes, checkout the CrossCountry website.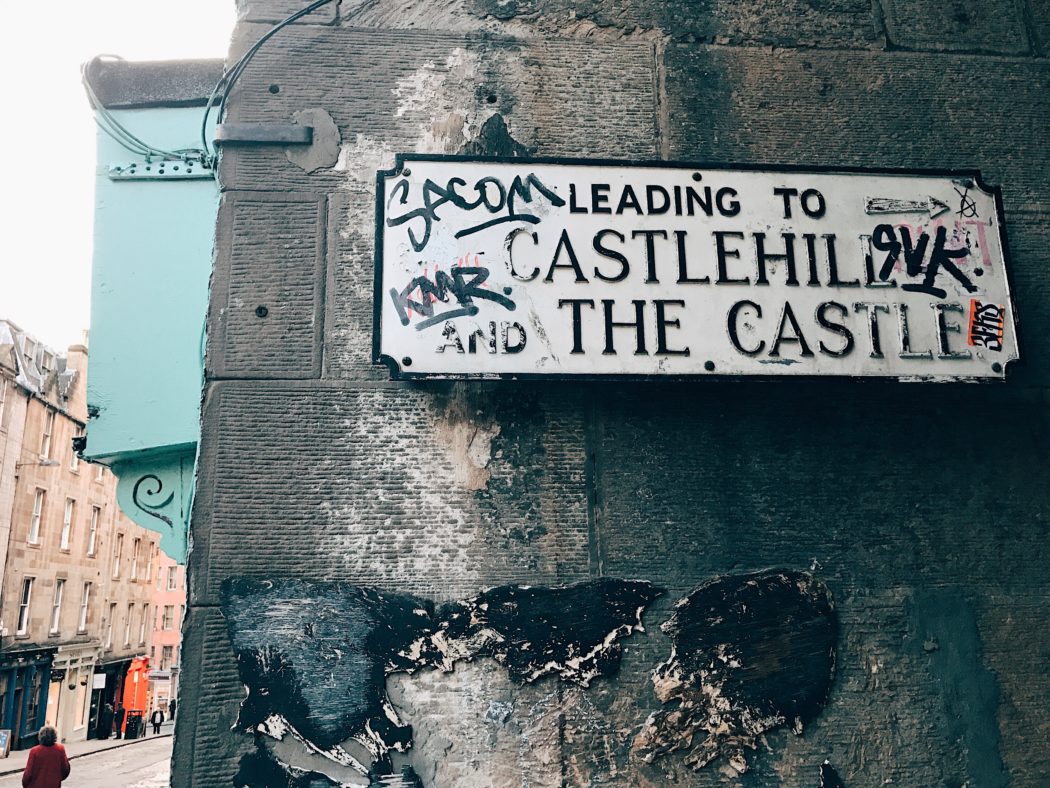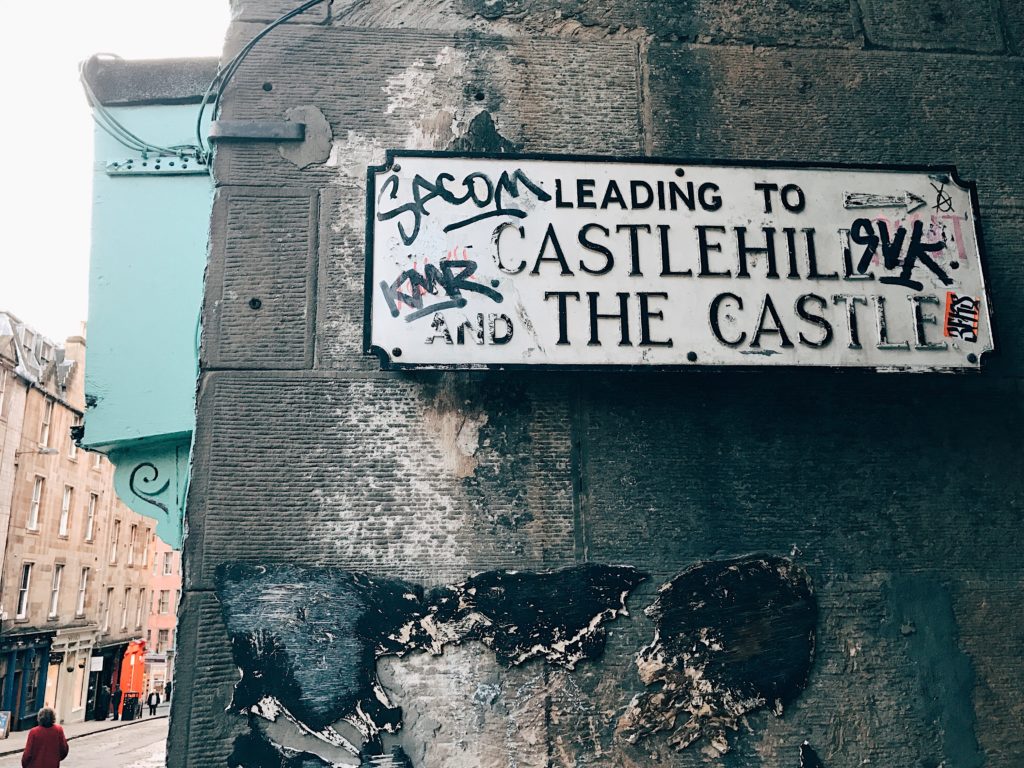 Getting around Edinburgh
Edinburgh is a very compact city and easy to walk around. The city's excellent local transport system of bus and trams means getting from A to B to C is easy. A single ticket costs £1.60 and you can buy this from the bus driver. If you are planning to take more than the odd journey, investing in a day pass is a sensible idea. It costs £4. If you are travelling with your child, the day ticket for a child is £2 (Child tickets are valid for ages 5-15). If you are travelling with your family, the family day ticket is great value for £8.50 and covers 2 adults and upto 3 children. For more information, pop over to the Lothian Buses website.
Disclaimer
I visited Edinburgh courtesy of CrossCountry Trains. Best Western Hotel were kind enough to put me up for a few nights. However I'd like to reassure you that all the views expressed here are entirely my own.