Famous for its pristine powder and white slopes the Three Valleys is a great place to ski for both experienced skiers and beginners like me. As I documented in my recent post, learning how to ski can be quite a uphill battle: both physical and mental. I was so focussed on the mission of learning how to ski that I was quickly forgetting that this is also meant to be a HOLIDAY. After the adrenaline rush of the slopes and the physical exertions of skiing, it was equally important to unwind. This is where the French are fantastic. First you have the Apres Ski. Then in terms of eating out, both Les Menuires and Brides Les Bains offer a choice of a fine selection of dining choices. Then you have the unassuming beauty of the mountains in winter. There's a whole range of activities that gives you intimate access to these mountains. There's more to the French Alps that simply skiing. To roundup my skiing in Three Valleys series, I present to you my list of 5 alternative experiences that you might want to try on your next visit to this region.
1) Spa
Les Menuires is a pretty big resort, with many sections that boast their own character. One of the key features of the resort is that it has not one but two spa centres. As many of you who have been following the blog, going for a spa treatment is not exactly something I look for when I go on holiday. However, after my first day on the slopes, I was really sore and a bit neverwracked. Estelle from Les Menuires tourism board suggested I take the afternoon off and chill out in one of their spa centres. Which sounded actually fantastic. They have a sports centre in Les Menuires and a second spa facility in Les Bruyères.
The sports centre boasts an aquaspa with swimming pool, sauna, hammam, jacuzzis plus the option of booking yourself a range of facial and body treatments, massage, spajet etc. The sports centre also has a well equipped gym,  squash and badminton courts for hire as well as a large fun park for children.
Later in the week, I switched from Les Menuires to Brides Les Bains which is another value for money, affordable place to base yourself for skiing in the three valleys. One of the key advantages of staying in the town is that it is famous for its spa. However this is not just any ordinary spa. The Grand Spa Thermal is famous for its slimming treatments. It has been even featured in a reality TV show/movie of French teenagers who come here to lose weight.
I am totally out of my comfort zone in this spa. I admittedly could lose some weight . However,I'd rather hit the gym or live on bread and water than be subjected to anti slimming treatments. In the end I didn't sign up to any of their treatments and just used their spa facilities. The highlight of my visit to this spa was the outdoor jacuzzi. Drinking in the fantastic panoramic views of the Alps in the crisp mountain air: fab experience. Other facilities in the spa include a herbal bath, aroma steam bath, sauna, hammam, indoor jacuzzi.
Now. I was curious about their weight loss remedies. In one area of the spa, they offer 2 types of complimentary hot drinks for guests. However these are not just your ordinary, run of the mill hot drinks. They have one tea which helps you lose cellulite and another for weight loss. I will let you watch the video above if you are keen to know what I made of these special teas. It was an experience, that much I will say. Price wise it costs €35 for a full day access to the spa. In winter they were running a special promotion of access to the spa, a massage and algae wrap for €65. Note that within these prices they also provide you with dressing gowns, towels and flip flops.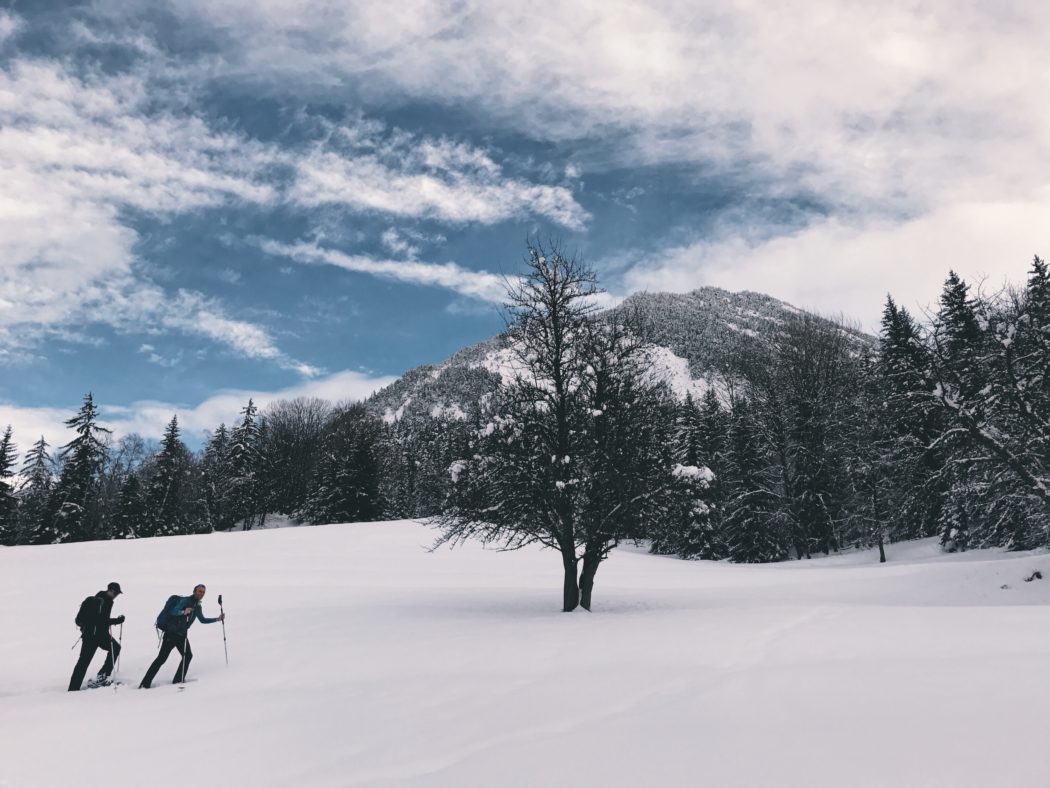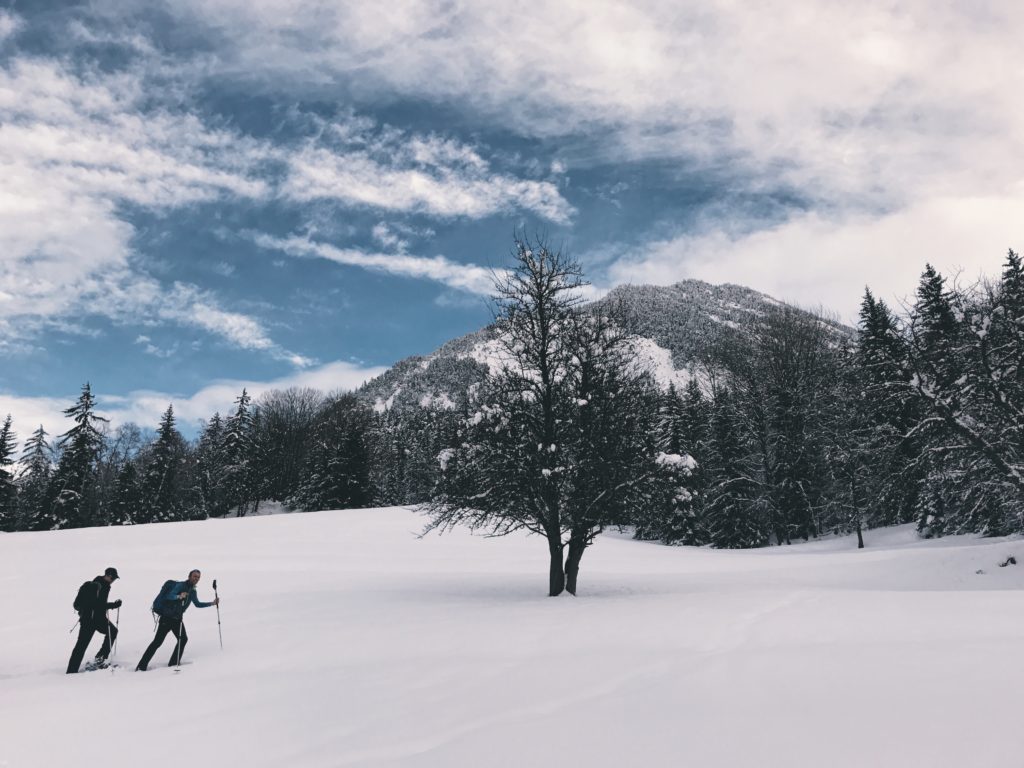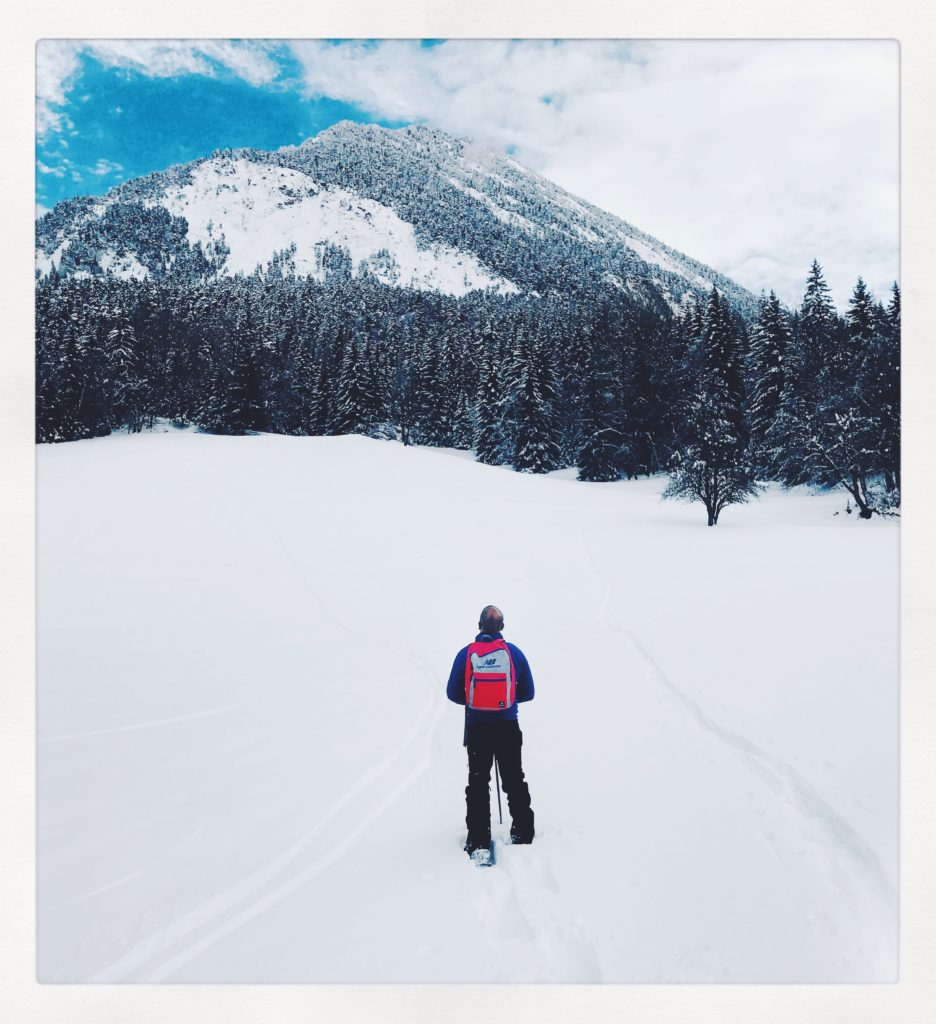 2) Snowshoeing
I honestly I had no clue about snowshoeing. Best, simplest advice my guide from the ESF school gave me: ' If you can walk, you can snowshoe.' The learning curve is much less steeper than skiing or snowboarding. In the beginning it feels a little awkward. However after awhile I got the hang of it. It is hard work initially. In Les Menuires I went on a half day hike from St Martin de Belleville through the Belleville Valley. We start off on a marked trail but then soon find ourselves carving out a route uphill through virgin snow. There was a decent few inches of powder. I enjoy the peace of nature around me, the silence of the mountains with nothing but the wonderful crunch of snow under my feet. Going uphill was a proper workout. I was sweating buckets under the layers and grateful I had brought water with me. Also for novelty value, some of us in the group were scooping the fresh snow and eating it. I'm still alive, yes. I enjoyed snowshoeing so much that when I was in Meribel later, I went snowshoeing again. The route we took, going through the forest and then later a pretty epic downhill journey down -was really beautiful. I'll let the pictures and the video do the talking.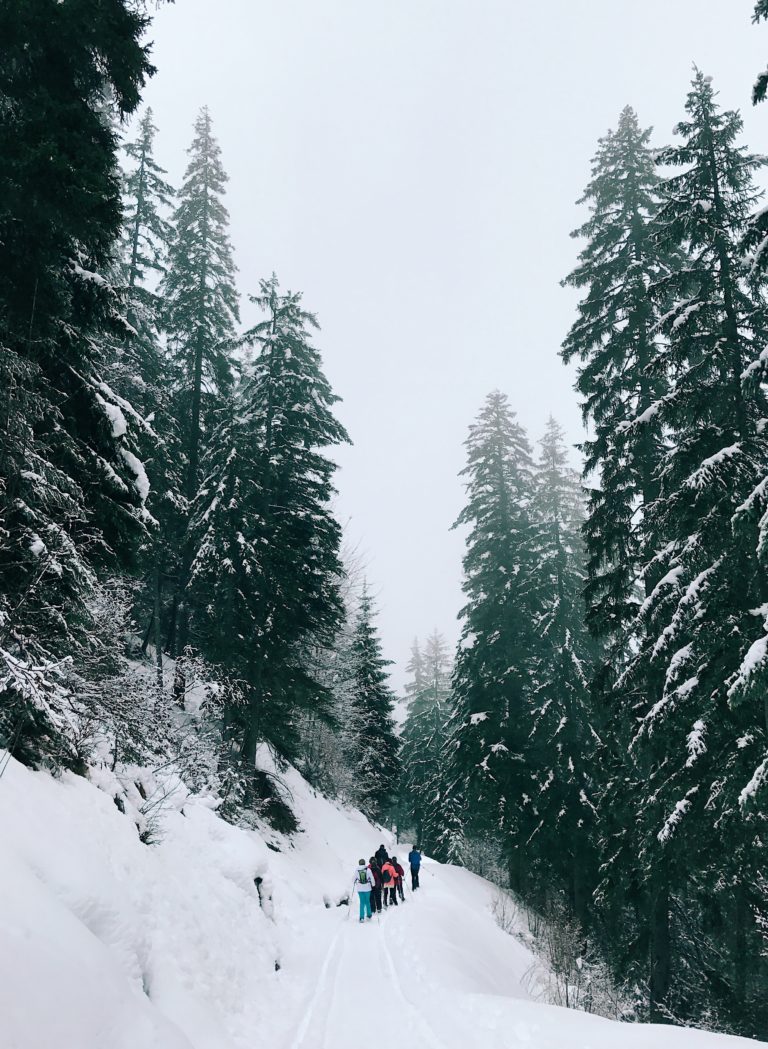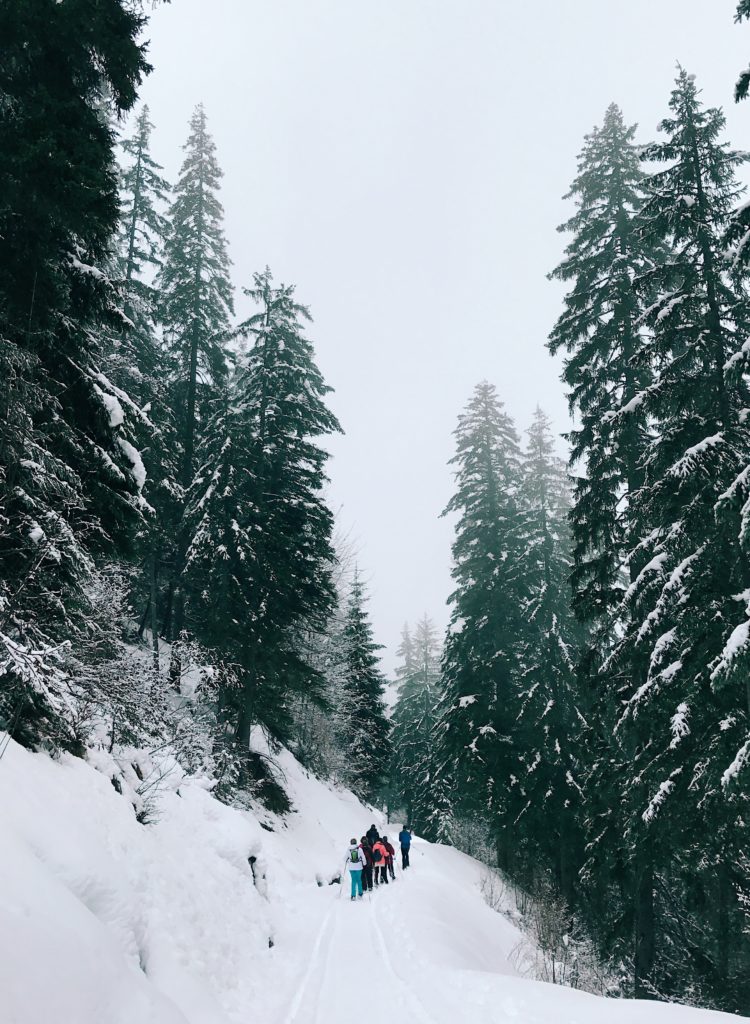 Essentials
Every day except Saturdays the French ski school ESF organises two different itineraries accessible on snowshoes. A half day is around €30. Equipment hire is included in the price. (Tel: +33 4 79 00 61 43 )
3) Sledging and tobogganing
If you or the kids are having problems staying upright and prefer sliding down the mountains , then sledging is a great fun way to experience the slopes of the Three Valleys. There are several slopes throughout Meribel resort that are set up specifically for sledging. La Chaudanne, Méribel Village and Méribel-Mottaret all have their own sledging areas with crash mats for safety.
There is also Mission Black Forest ( Cost: €11 with a ski pass and includes hire of a helmut and a sledge.Open in the afternoon everyday from 2-5pm except Saturday) a new sledding adventure where you can slide down through the forest area covering 3km in ground, descending 470m and negotiating over 28 corners. It is a real adrenaline rush as you can tell from this video.
In Les Menuires you have the 'Roc n Bob'  is an impressive 4km long track that mixes shorter turns with longer bends. The track is open every day of the week except Saturday in the afternoons from 2pm to 6.45pm.
It costs €10 for one run, €16 for two or €40 for five descents.  A family pass is available for €36 and that covers you for one run each for 2 adults and 2 children (or 1 adult and 3 children).
The other fun to try in Les Menuires is Speed Mountain: think of it as tobogganing on rails but very fast. Here's a short video of my experience to give you a flavour.
Cost: The speed mountain is open to five year olds and above. It is open every afternoon from 2pm to 7pm, every day except Saturday. The cost is €7 for one ride, five for €30 or ten for €45. Plus it is handily located near the spa in Les Bruyères.
4) Dog sledding in Les Menuires
This was a nice surprise. I tend to associate dog sledding as an activity you can experience in the Nordics and the Poles but the truth is that dog sledding has been around since 2000 BC. It originated in Siberia and North America, where many American Indian cultures used dogs to transport goods and people. As French influence extended to North America , they can began to assimilate the culture of the natives, the act of mushing or as the French called it : coureurs des bois (runners of the woods) became part of French culture in what was called then 'New France.'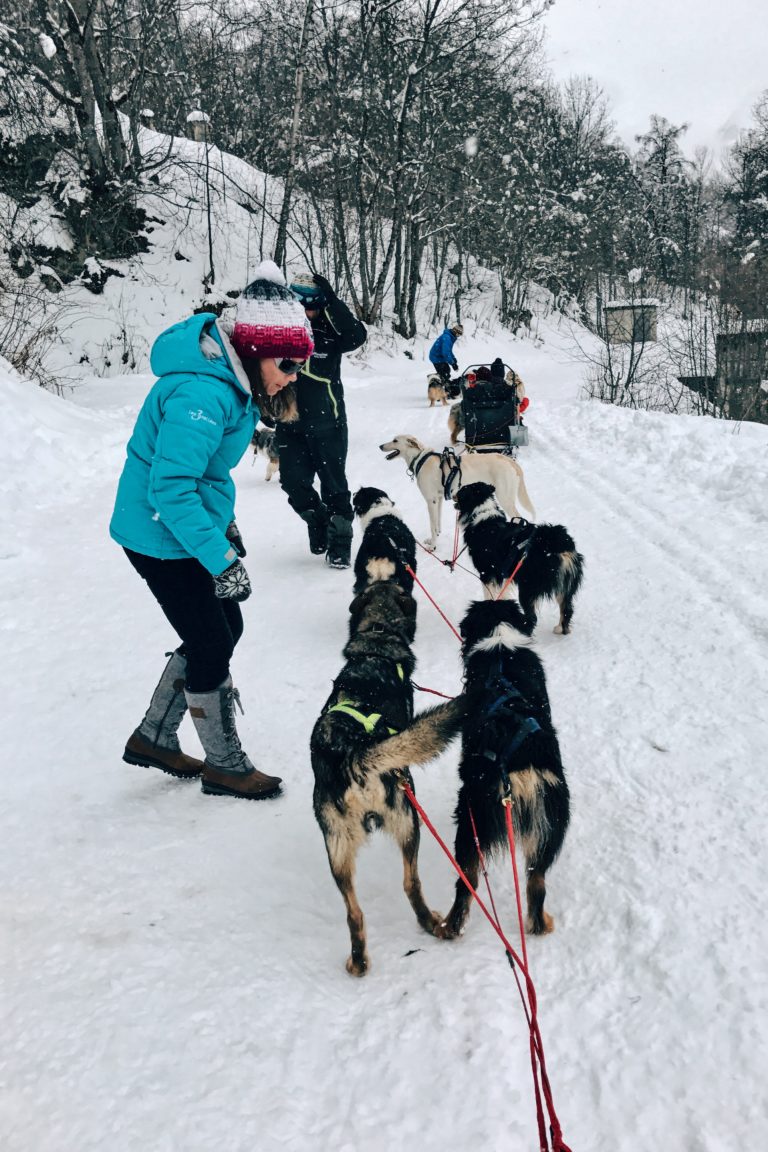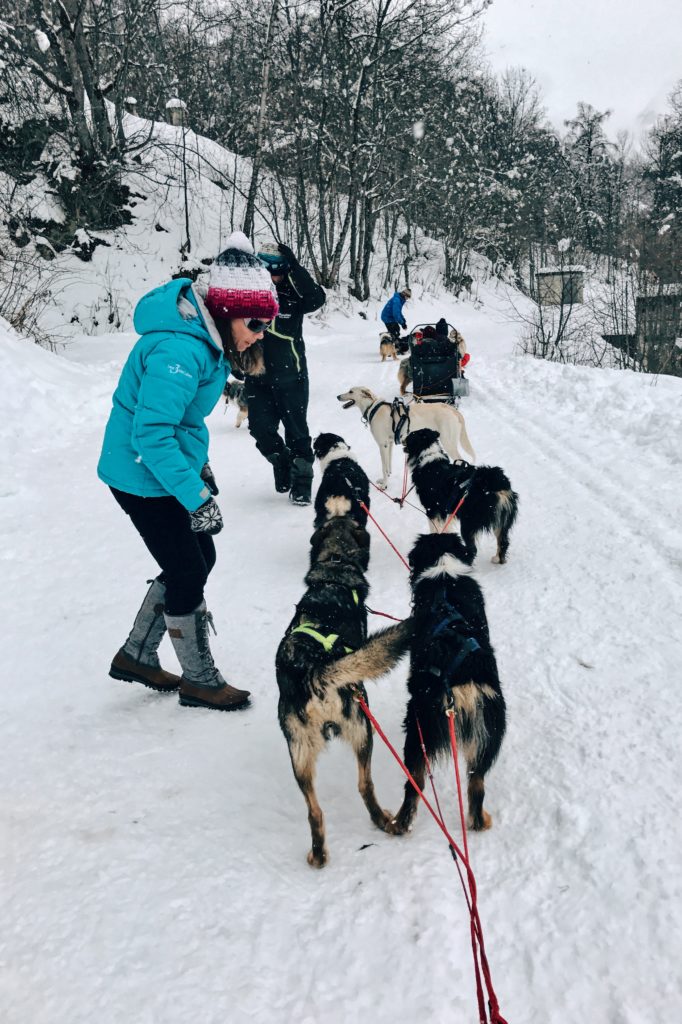 Dany has in many ways carried on the tradition of 'mushing' here in Les Menuires. He has been 'mushing' for 20 years and professionally for 8 years. Thanks to the passion of Dany, visitors to the region can now experience the magic of dog sledding in Les Menuires. The snow was falling when and it really felt like we were in some Narnia like winter wonderland as the dogs weaved their way through the snowy forest and rivers.
Cost: 30 minute outing costs €39
5) Food. Food. Food!
Food is the number 1 reason I travel and it should come as no surprise that the food scene here is fantastic. If you are visiting Les Menuires, you have two of the most lauded restaurants in the Alps at your doorstep: : La Bouitte in St Marcel de Belleville (3 Michelin stars) and the Restaurant Jean Sulpice (2 Michelin stars) in Val Thorens
However if you are on a budget the food scene in Les Menuires is good and well priced. My top picks were Ninkasi bar, an outpost of the Lyon based brewery. You can enjoy nice craft beers on tap, homemade burgers with delicious fries plus they serve a mean fish and chips. A meal with beer and coffee comes in at around €15. Other favourites in the area include Le Belleville for their excellent pizzas, steak and salads.
In terms of lunch, if you're skiing in Meribel my favourite pick for lunch was La Folie Douce  where if you sign up for their Seasonaire Card you can choose from their fixed price €10 and €15 menu which is great value for Meribel.
If you are a food lover like me, it is also worth checking the BrideSki Gourmet card that the tourist office sells where you can sample lunch at any of the area's Michelin Star restaurants for €50. Le Farçon in La Tania ( I star) L'Azimut le Praz in Courchevel and Le Chabichou, Courchevel ( 2 star) are part of this offer.
I went to the fabulous La Farcon in La Tania. As part of the offer I enjoyed a glass of sparkling wine ,their  tasting menu which included cod cooked in saffron, french beef matured for 10 weeks served with mustard and mashed potato , the chef's surprise which was roasted scallops in a citrus sauce finishing off with a coconut banana pudding which was really tasty. Granted this is not budget but this was 2 hours of pure bliss and superb food. One of those things worth splurging on.
Other experiences I didn't try but I think would a lot of fun include the chance to learn how to mountain bike on snow ( 35 € for 2 runs). Also Les Menuires has a 1,800m2 circuit for all sorts of snow mobiles.
Disclosure : I was a guest of Atout France , France Montagnes,  to help promote winter sports in the French Alps. However, all opinions expressed here are entirely my own