13 hours and 15 minutes
If you're clearly in a hurry to get to Bruges, then the P&O Ferries Hull to Zeebrugge ferry is probably not your best choice. There's plenty of flights that will get you to Brussels and then onto Bruges in a few winks plus, there's also now a new direct train service from London. Clearly, you have to be a fan of slow travel to enjoy the concept of taking a ferry.
If you're looking to travel with your family and bringing the car to Europe, then the choice of taking the ferry is an easy choice to make. Plus if you have pets, it is a far more easier bringing them by ferry. I can't think of anything more terrifying that being stowed into the cargo hold of a plane and being stuck there for the duration of a flight.
However, I don't have any pets. No car too. Which begs the question- why on earth am I taking the ferry to Zeebrugge in the first place?
Open disclaimer. P&O Ferries invited me to experience their route plus secondly, I really don't know Bruges. Last time I visited, it was a cold December night, just 2 days after the Brussels attacks, There was a sombre mood in the air and I wasn't particularly feeling in the Xmassy mood to soak up the markets and melting snow.
My other reason, is simple. Nostalgia. I took this trip based on a memory of a previous crossing to Amsterdam with a rival ferry company. It was February and not the ideal time to cross the North Sea. However, I was with a great group of friends. We weren't in any particular hurry to reach Amsterdam and the fares were pretty decent. The ship and facilities were nothing much to write home about. I did enjoy the novelty of watching the latest Indiana Jones movie onboard in their cinema. The rest, the dining experience was nothing much to write home about. Nor was the terrifying spectacle of drinking beers with a bunch of inebriated stag and hen groups tearing up the bar from the early hours. Luckily, we were tired enough and slept through the night with hardly any disturbance. Then there's the fact of waking up in a boat and hearing the ship's horn bellow as it is about to enter port. It is quite a thrilling way to reach somewhere. Beats waking up for a 5am cheap flight anyday.
Hull to Zeebrugge by ferry
So almost 10 years later, for a variety of reasons, I am back on a mini cruise , from Hull to Zeebrugge with the girl. The trip gives us the opportunity to spend the night in the beautiful and historic city of York. From York, Hull is just over an hour and 30 minutes by train. We hop on a cab at Hull Station and soon find ourselves in Terminal 2 in the Port of Hull which is where we will depart for Zeebrugge.
The ferry terminal is pretty chill. There is hardly any queue for checking-in. It was 2 hours before departure and a surreal sight to see no queues. The chatty and friendly lady at check-in tells us that with only 200 passengers ( it can hold upto 930 passengers ), it will be a pretty quiet crossing given it was a bank holiday Monday. Security is a breeze and barely 5 minutes after getting our tickets, we were walking up the ramp via the rear of Red Deck 5. Curious, we have a wee wonder and find the deck has a Sunset Show Lounge, a Bar, a casino that is no longer in operation, a Starbucks Coffee café, duty free shop, a reception, a Bureau de Change, and cabins to the front.
We have a standard inside no frills cabin with two bunk beds. The room comes with an ensuite shower and toilet. The room is a bit dated but functional. You have a reading light, plug points (including a USB port) and the beds are itself are pretty comfy. Granted, it is pretty cramped but given the amount of time we intended to spend in the cabin , we were pretty happy with this. However if your budgets permit, definitely do consider the option of upgrading to one of their club class cabins. They are quite spacious and I'd love to wake up to the view of the sea.
After dumping our bags in the rooms we head to the outer decks as the ship is about to leave port.  There is a nice outdoor sundeck where you can grab a bottle or glass of wine from the ship's bar and have a drink. It was a gloriously late April sunny afternoon and perfect for alfesco drinks. At £14 a bottle for their house wine, granted this is not the cheapest bottle of wine you will buy in your life but then again, I have spent far more on far worse wine.
We soak up the sun and get chatting to some of our older fellow passengers. When I asked them what made them choose a minicruise they mentioned they loved the onboard dining options and also the entertainment provided- 'Its a holiday within a holiday plus we can bring the car with us so it gives us a lot more freedom.'
Their feedback whets our appetite and after we polish off the wine, we clearly look forward to our meal.
You have the choice of two restaurants on the P&O cruise ferry from Hull to Zeebrugge. You have the Kitchen, an all-you-can-eat dining venue with a very impressive selection of meal options. On the other hand you have the Brasserie, à la carte restaurant offering a more premium dining experience. I check the prices for the Brasserie and the Kitchen and they are not too far apart but we had already pre-booked a package of dining in the Kitchen plus breakfast which for around £24 which is pretty decent value.
I've never been a huge fan of the all-you-can-eat buffet type restaurants but when you have the leisure of time and the luxury of an open evening, it doesn't seem like such a bad idea.
The buffet options are impressive as I mentioned and include a salad bar, a selection of hot soups, a hot buffet that include meal, fish and veggie options and a themed hot buffet which had a nice selection of curries plus naan bread and poppadoms. I really enjoyed the curries and the salad bar. To top it all of they have a fantastic cheese board selection plus dessert selection that included mousse, baked desserts, fruit and a range of gourmet ice-creams. This was the mother of all buffet meals. I think I went a bit overboard with the buffet and ate too much.
After the meal, I was naturally comatose. We went for a stroll around the ship to walk off the post dinner coma and found ourselves pretty much alone on the outer sun deck again. To our left was the last stretch of sun drenched land we would see in awhile. A quick look at Google Maps revealed the place to be the Spurn National Nature Reserve.
We head back to checkout the range of entertainment options available onboard. There's plenty to keep you amused. We discover a games arcades , a small play area for kids ( worth noting that during the summer months children's entertainers are employed to keep the kids entertained plus there are specially trained staff to help run a kids club). There's even a quiet lounge where you can sit down with a book and just enjoy the sea views. There's also a programme of live music and bingo which pulls in the crowds. I'll admit, I wasn't too enamoured by the live musicians but they had the sparse crowd of onlookers entertained. The floor later transforms into a disco which I imagine pulls in a few punters. We leave soon. We don't know whether it was the incredible amount of food we consumed or whether we were just tired but we go for another wee stroll on the outer deck for a breath of fresh  sea air.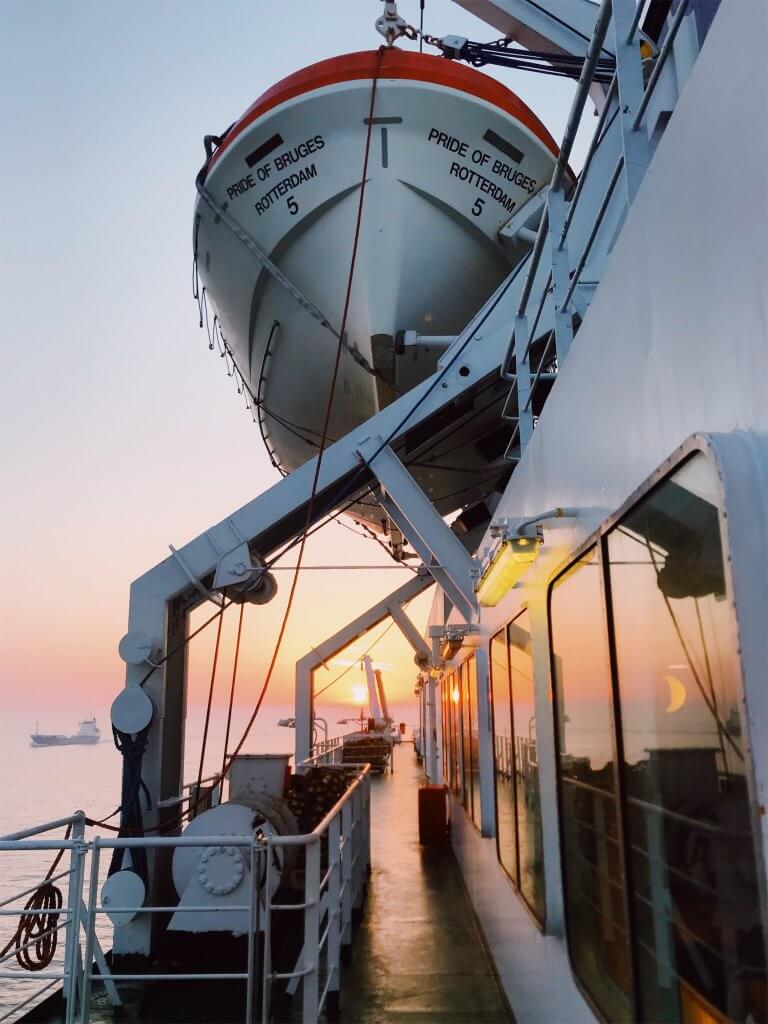 We had timed it perfectly. The sun was about to sink into the horizon and given the clear weather conditions, the sky looked spectacular. I don't know if you've ever had the pleasure of seeing the sunset from the sea but it really is something else, especially given how perfect the weather was. We huddled together on one of the benches and enjoyed the sky turn red, pink and then that beautiful shade of pale blue when you can't tell the difference between the sea and sky.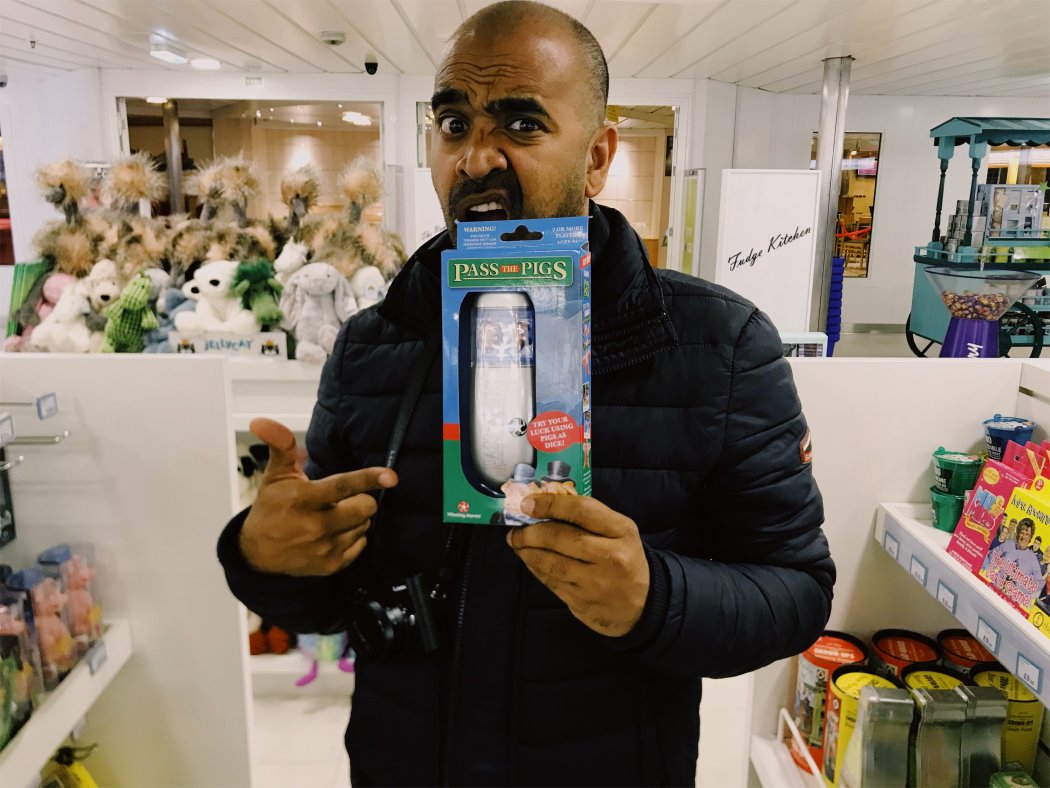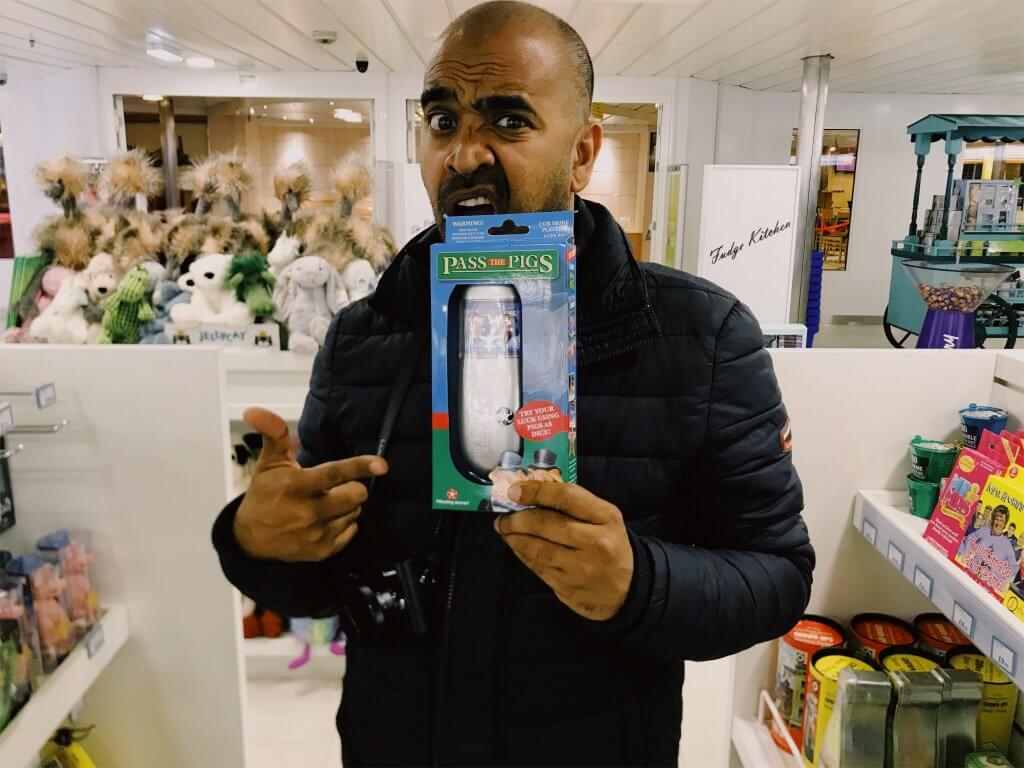 We head back to our cabin but get distracted by the duty free shop enroute. It is a good time to catch up on a bit of window shopping. We try out some designer shades, try out the latest range of perfumes and even buy a few essentials- extra storage memory cards for the GoPro! While shopping, we had duty manager Carrie who has been working on this route for the last 18 years! We were curious to know more about what life was like onboard and what motivated her to do the job all these years.
'I love meeting people and onboard you're always meeting people from all walks of life. Plus our staff are multinational so it is a pretty diverse and interesting work environment. We all take care of each other here and are one big family. The work itself is enjoyable but pretty intense but I have the flexibility of working a few weeks then taking a few weeks off. I have a good work/life balance and I can't see myself doing anything else.'
We go to bed at around 11pm and sink soon into a deep sleep. At 6.30am we have a wake up call and bleary eyed head to the kitchen for breakfast. There's a nice selection of hot food on offer but we're both still heavy from last nights epic buffet so we slurp on lots of caffeine and grab some fruit before heading back to the room to pack our bags. Around 8.30am the ship finally comes into sight of land. Skies are blue. Sun already has a nice sting. The prospect of another beautiful day in a different country. The seagulls whirr above our head as the ship honks loud and clear to announce journeys end. We grab our bags and return our keys at reception. The end of any journey in life is always a bittersweet moment. The end of an experience and the beginning of something fresh, unknown. What next?
Securities and custom is a doddle and within 5 minutes we're walking our way towards our transfer coach that will whisk us to Bruges in little over 30 minutes. Ostend is just 25 minutes away while Antwerp is 1 1/2 hours away so there's plenty of choice of places to visit. If you are returning in the evening, you have little under 7 1/2 hours in  Bruges to enjoy yourself. We had the luxury of staying for 3 whole days and then travelling to Portugal so that was pretty much our journeys end. I'm not a fan of rushing through a place and I would much prefer staying for a 2 night short break before returning. The P&O Ferries site give you the option of booking your onward stay in Bruges so checkout their site for more details.
Verdict
So. In the end to summarise, we both enjoyed it. The food was a major highlight and surprise compared to my previous experience of mini cruising. While the entertainment am sure will appeal to others, I'd love to see other options like the in house cinema making a comeback. Another plus were the staff who were really friendly and helpful.
The overall package works well if you have the luxury of time and in no particular hurry to get from A to B. Taking the mini cruise harks back to a more distant era of travel when the journey itself was truly the adventure. Cruising is making a comeback, maybe a reaction to the frantic pulse of modern life and the difficulty of getting away from it all.
After an hour of leaving land, the night before my GPS signal disappeared and I could no longer track the ship's route on my phone. No wifi ( you can buy it onboard if you feel the need to be connected) and no clue of where we were in that wide stretch of blue sea between the English and Belgium coast- it felt strangely exciting and peaceful.
Out to sea. No stress and strains, just the gentle waves below lulling you in a deep sleep.
Factbox
P&O Ferries run frequent crossings to and from Hull to Zeebrugge. There are lots of choices of cruises, with the Bruges minicruise a very popular one. The mini cruises (based on a short break, car and two adults and an inside cabin) from Hull for £129. For more information and offers ring 0800 130 0030 or check out the P&O Ferries website.
Disclaimer
I was invited by P&O Ferries to experience their mini cruises from Hull to Zeebrugge. All opinions expressed here, are entirely my own.