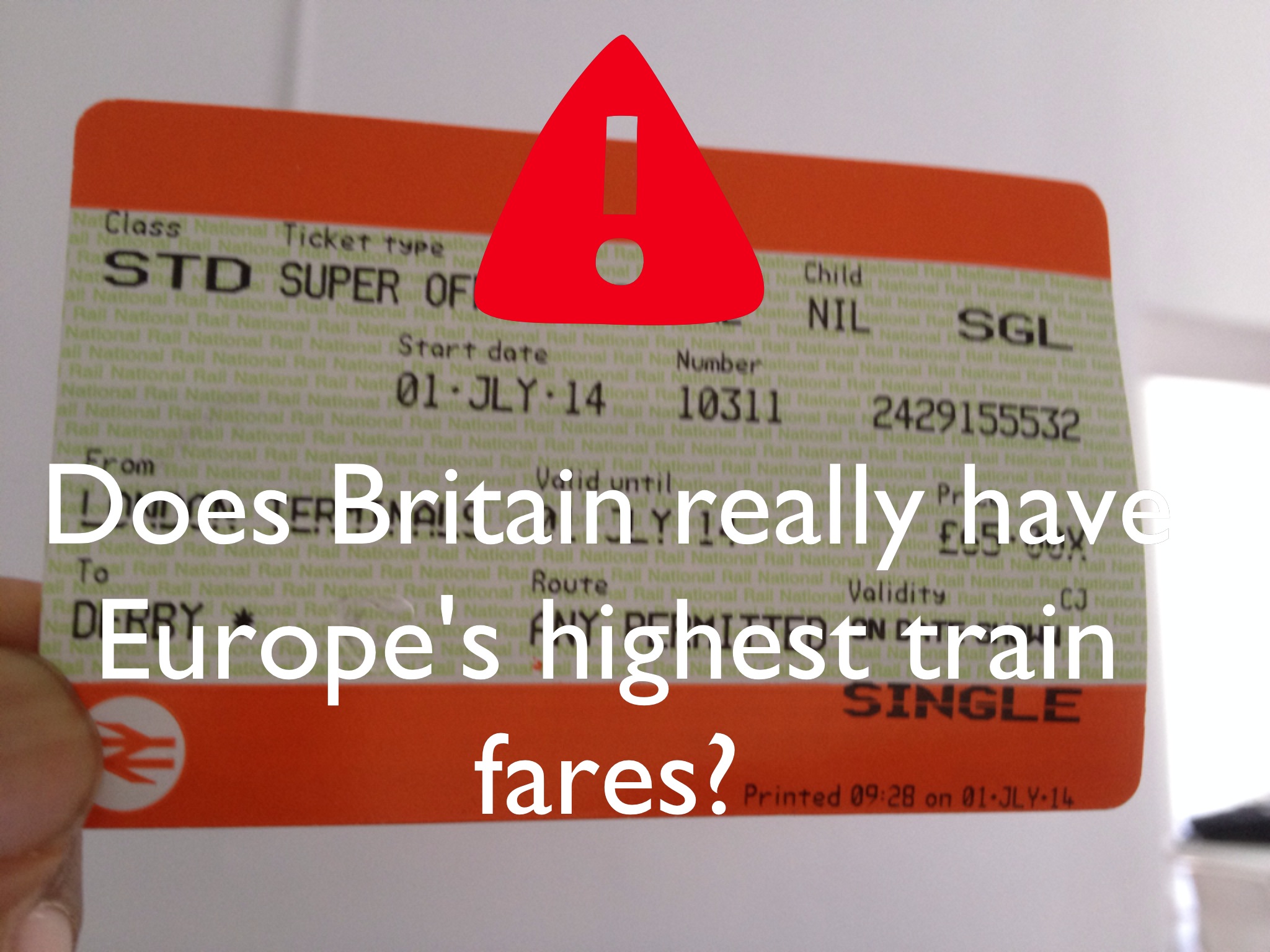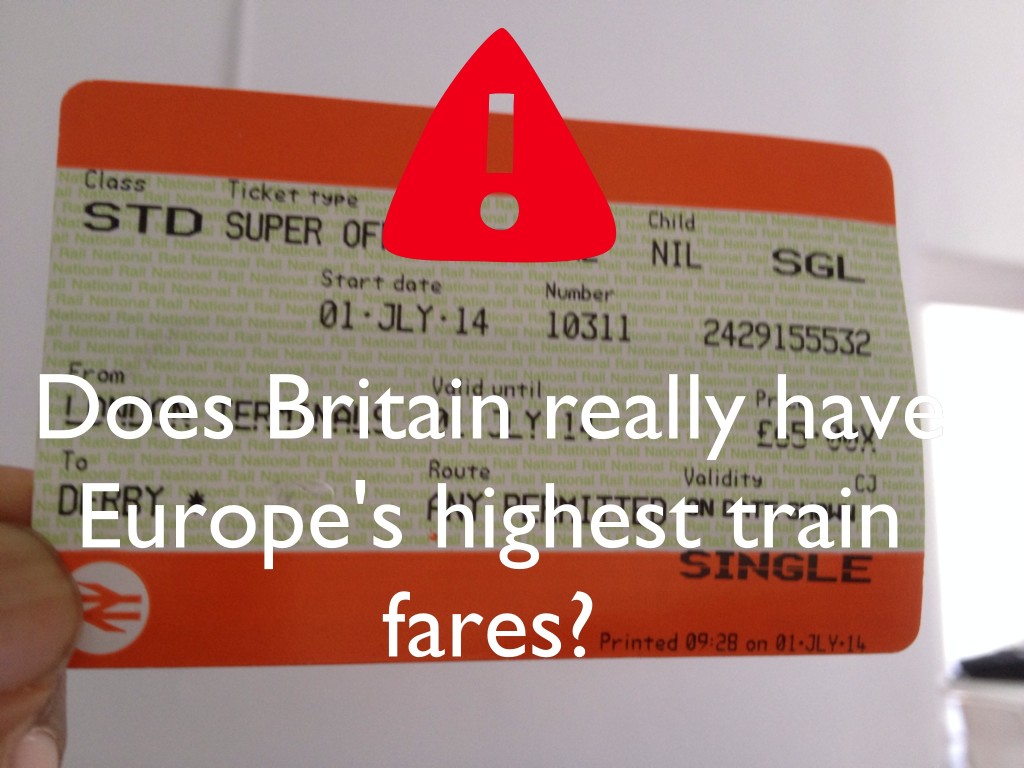 Having lived in Britain for more than 10 years, I should have known better : Never leave booking your train ticket till the last-minute.
A fortnight ago, I booked my flight from London back home to Madeira and found a really good deal ( £65), one-way with the low-cost airline Jet2 from East Midlands Airport. The alternative flight options from Gatwick on the same day were almost double that price. So at the time, it was a no-brainer. London to Derby by train. Then a short hop on the airport bus from the train station to East Midlands airport. It shouldn't be too expensive.
I made the fatal error of not booking my train immediately after buying my plane ticket. I was in the middle of a busy roadtrip across England so I left booking the train till the day of departure. When I made it to St Pancras station and walked upto East Midlands ticketing office on the day…I was in for a rude shock.
It was 9:30am. I was informed by the ticket sales officer that a one way ticket would cost me a whopping £93! Initially, I thought it was a joke. I then asked her to check if there were any cheaper options.  After 10:30am, train services would fall into the 'off-peak' timezone so price for a one-way ticket would come down to £65. Still, it was an eye-watering amount of money to pay for a 1 hour 25 minute journey. I coughed up and then over a cup of takeaway coffee, I asked myself the question …
Does Britain really have Europe's highest train fares?
I already knew that by leaving it till the day of departure, I had made a fatal error. I had committed a similar mistake when travelling from London to Edinburgh 4 years ago. The walk up fare on the day was £105. The same ticket, booked in advance could cost be as little as £19.  Advance tickets are released 12 weeks in advance so it requires a certain degree of planning.
The earlier you book in the UK, the cheaper your fare.
Later you leave it,  the more ridiculous the prices become. Add to that the multiple types of ticket options and fare structures and you have a recipe of chaos.
So a few questions for me to address:-
A) Are UK train fares really expensive compared to our European counterparts?
and
B) What steps can you take to get the best possible deal.
To answer question A, I came up with the challenge of comparing the cost of my train journey to Derby with some other similar train journeys in Europe.
I've done a comparison of prices of train tickets booked 2 weeks in advance, day before and on the day.
I've made use of the really handy travel planning tool: GoEuro.co.uk which compares the price of journeys across bus, rail, plane and also if you used your own car. So handy if you are looking for the cheapest option. The tool also gives an indication of the time needed so if that is a factor, this tool is excellent. For Paris to Tours, I've used the train planning tool Loco2.com
2 weeks in advance. Departing on 17th July, 2014. 
Winner: Spain. Loser: Germany
Spain was narrowly the winner here. Germany trifle more expensive and the cheapest train too was in the evening. My train to Derby from London is just £20 but interesting to find via GoEuro.co.uk that the National Express coach is just £5!
London to Derby: 212 kms
Using GoEuro , leaving London St Pancras at 12.58pm reaching Derby at 2.23pm, train costs just £20. Worth noting that the National Express leaving from London to Derby at 10:30am is just £5 but takes 3 hours and 40 minutes.
Paris to Tours: 239 kms
Leaving at 4.16pm and reaching at 5.29pm. Cost £21.50
Dusseldorf to Frankfurt: 227 kms
Leaving Dusseldorf at 8.51pm and reaching Frankurt at 10.30pm with Deutsche Bahn , the journey takes 1 hour 39 minutes and costs £23.18
Malaga to Seville: 216 kms
Via GoEuro I found a 5.25 pm train from Malaga to Seville. It 2 hours 8 minutes and costs just £16.70
Note: Buses in Spain are fast and very economical. GoEuro also gave me the option of taking the Alsa bus from Malaga to Seville which takes 2 hours and 30 minutes and costs just £14.84.
A day in advance. Travelling on 4th July, 2014
Winner: Spain  Loser: Germany
Spain coming up trumps. However that fare is a limited option and only available at the time of 5.25pm. If I started looking at other times, prices almost double. Germany, again if you are flexible it helps. Looking at England, even booking a day in advance, the difference in cost is huge. If I had booked a day in advance, I could have got the same ticket to Derby for just £26. 
London to Derby
Taking the 8.56am train , reaching at 10.23am, this trip costs just £26.00
Dusseldorf to Frankfurt
Taking the 8.27pm train ,reaching Frankfurt 11.11pm, this trip costs just £31.
Malaga to Seville
Leaving at 5.25pm and reaching at 7.33pm costs £16.70
Paris to Tours.
Leaving at 3.27pm and reaching at 5.57pm costs £30.
On the day. Travelling on 3rd July, 2014
Winner: Spain Loser: England
As I had predicted, on the day, England is the most expensive when it comes to booking trains. Germany comes second by a distance while Spain remains the cheapest option. Worth noting that the National Express via GoEuro was offering a £25 ticket but a far longer journey of 4 hours.
London to Derby
Leaving at 4.26pm and reaching at 6.04pm, the train costs £93.
Paris to Tours
Leaving at 5.27pm and reaching at 7.38pm , costs £30
Dusseldorf to Frankfurt
Leaving at 8.27pm, reaching at 23.11pm, costs £43.97
Malaga to Seville
Leaving at 5.35pm, reaching at 7.33pm, train costs £16.
3 simple steps to get the best possible deal on trains
1. Book in advance 
The more you can book in advance, the better the deal. This applies to most countries, not just Britain. Do not leave booking your ticket till the last day.
2. Be flexible. Travel 'off-peak'
If you are flexible with your time of travel you can save a huge amount of money. Prices can almost double, depending on the time of day. In Britain, if you travel off-peak you can save a 1/3 of the ticket price.
3. Use a travel planning tool 
Recommend using a travel planning tool like GoEuro which gives you a nice comparison of transport options including driving your own vehicle. Note, at the moment GoEuro's coverage is limited to UK, Germany, Spain, Belgium, Netherlands and Luxembourg.
4. Return ticket is better value
My London to Derby train fare was £65 one-way. However, if I was planning to return to London from Derby within a month, a return ticket would cost £66. Just a £1 extra.
If you like this post , you might like to read this…
Cheap rail tickets in the UK: 11 Train Travel Hacks
5 tips to save money on train tickets in France