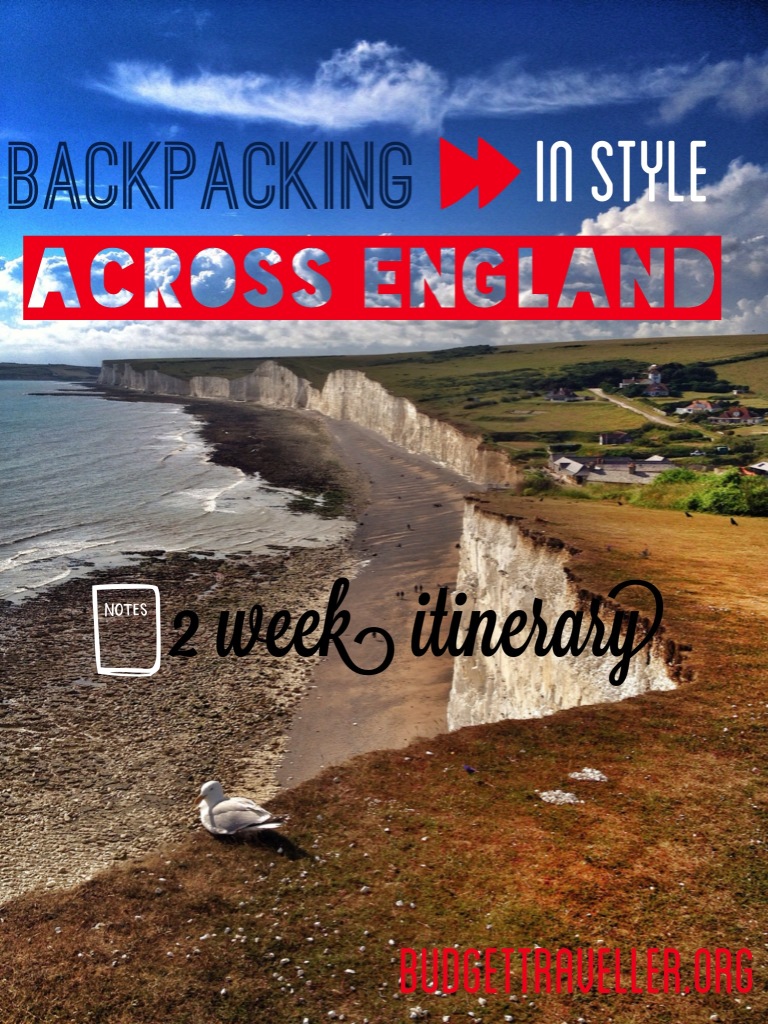 England.
So much to see and yet so little time.
It's a question I've been asked many times by my readers.
When is the best time to visit England? Where should I go in England? How much should I budget? Bus, train or car-what is the best way to explore England? Do you know any cool hostels to stay in for my trip to England? ALL these questions will be answered and more in this monster post.
When is the best time to visit England?
Anytime. I would recommend you to avoid July and August when the motorways grind to a halt and the queues for popular attractions are neverending but England is beautiful to visit anytime of the year….Ok. Maybe it can be bleak in January and February but in the winter months, prices of hotels/hostels are significantly cheaper plus you can get some great deals on flights. So it balances out. My favourite time to travel in England and Britain in general is Autumn: September-October when the hordes of tourists have thinned out and the weather is reasonably warm, crisp and fresh.
Bus, train or car-what is the best way to explore England?
Fortunately, England has an excellent public transport network that makes it quite easy to explore the country by coach or by train. Coach services provided by National Express are extremely budget friendly. Booking in advance, you can get excellent fares. The other alternative is taking the train. Contrary to popular opinion, taking the train in England can be affordable, as long as you do not make the mistake of buying your tickets on the day when it can pretty expensive. The other option to also look at is hiring a car.
To help you plan your trip across England in the best possible manner, I suggest downloading the Skyscanner app as it gives you the most economical options to get from A to B using planes or trains.
Planning a trip to the UK soon- Use my exclusive £3 money off voucher!
If you are planning a trip to the UK, definitely recommend downloading the new Skyscanner Train Travel app
It is very easy, intuitive to use and on top of that you get charged no booking fees for using the app. My favourite features of the app are the fact that you can save your credit card details, allow you to buy tickets with minimum fuss.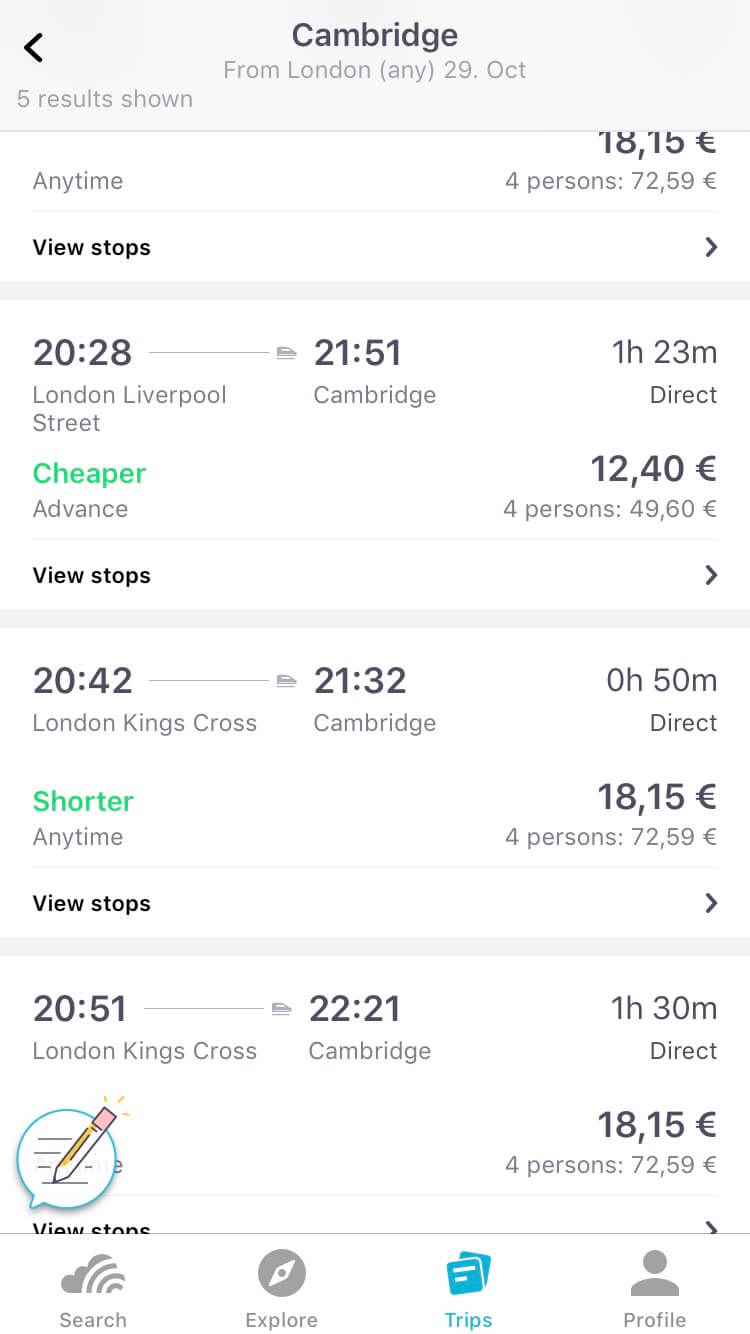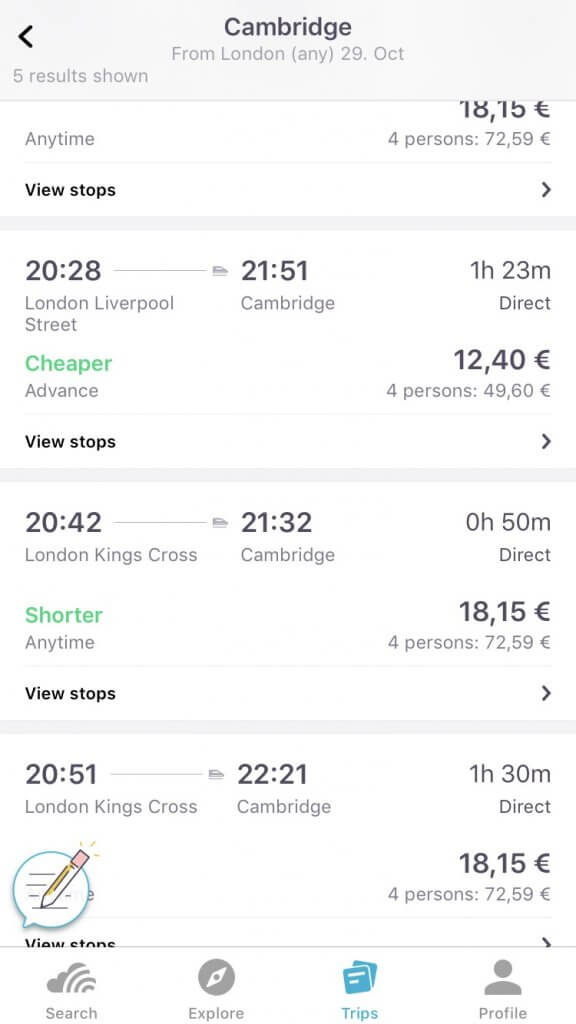 Also when you look at the results, the app will highlight the cheapest times to travel and also the fastest route. Other cool money saving features include the handy 'Groupsave' pop-up that will show on your screen whenever you book fares for more than 3 people. Groupsave function allows you to save upto 34% on your train fare so its for features like this that make me really love the Skyscanner Trains app. That plus 24/7 free customer support …lot to love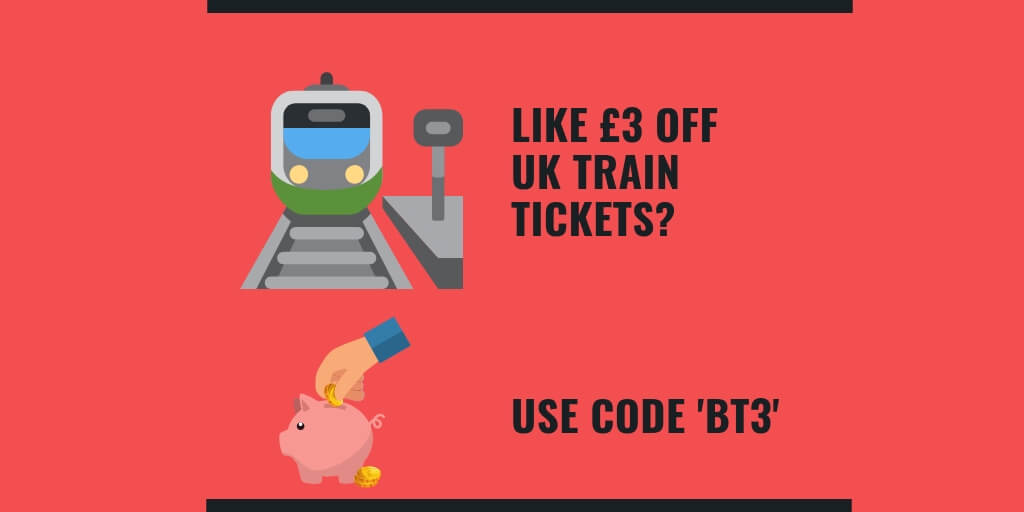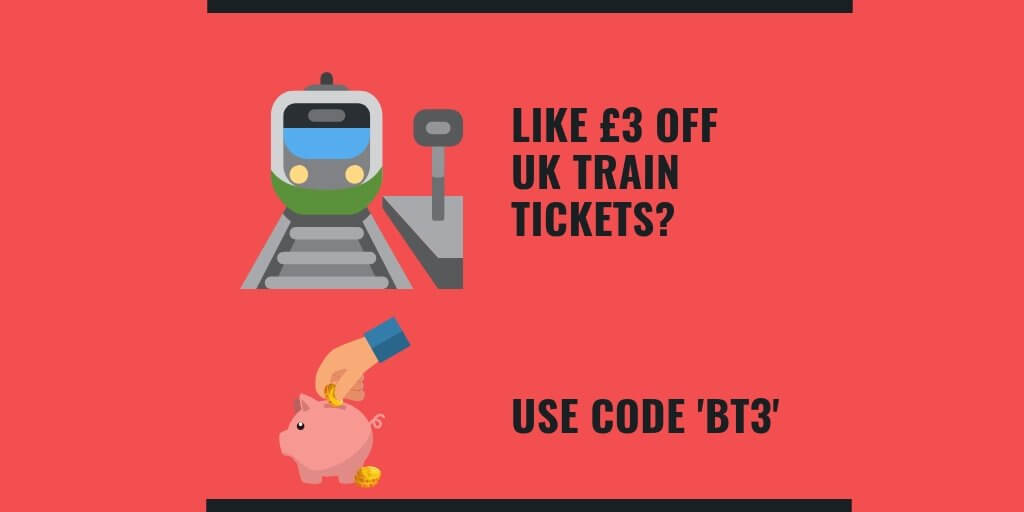 If you are planning a trip to UK in the next few weeks, download the new Skyscanner Trains app ( please sign up via this link) sign up or login into your account, pick a train journey and use the code 'BT3' at checkout to get £3 off your first train ticket!
Note, that this code is valid only till 18th November 2018
Where should I go in England?
Tough one to answer. There is such a wide variety of experiences to savour in England. England has layers of amazing history, beautiful medieval and modern architecture, breathtaking countryside and picture postcard like villages, best museums in the world (most of them are free) , great shopping and also excellent cuisine, pubs, bars, clubs and of course a bunch of classic seaside resorts.
I recently completed a 2 week road trip across England with my friend and filmmaker, Peter Parkorr from TravelUnmasked.com We created an itinerary that gave us a balance of the best of what England has to offer. We've missed out on exploring some places like Bristol, Bath, Manchester, Liverpool, Cornwall, Norfolk, Northumberland and obviously London which we hope to cover on a second roadtrip across England at some point next year.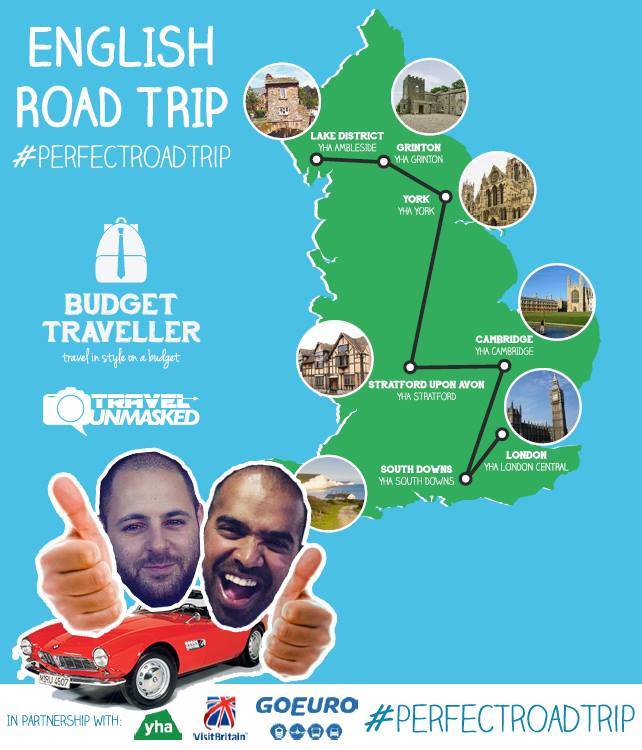 These are the places we visited
Day 1, 2, – Lake District
Day 3, 4 & 5– Grinton
Day 6 & 7– York
Day 8 & 9– Stratford Upon Avon
Day 10, 11 – Cambridge
Day 12, 13 & 14– South Downs
Day 15 -Back in London
Where should you stay in England?
England has a really good range of budget accommodation. Definitely recommend looking into staying at some point at a bed & breakfast which is a great way to experience life in Britain's local communities and to enjoy a more personal feel.
My other top recommendation is to checkout staying at one of YHA's newly refurbished hostels.
The YHA just undergone an extensive refurbishment programme across many of their historic properties. Each hostel has it's own unique character and heritage which makes staying at any YHA hostel, a great experience. The newly refurbished YHA's all have a choice of privates and dorms rooms so perfect whether you are travelling as a couple, solo or with a family. Most hostels also have an onsite restaurant and bar which offers excellent value meals. Many of the hostels are located in heritage buildings that have been gifted by YHA members and patrons so you can also expect a lot of character. Drawbacks- With the exception of a few hostels in their network, the hostels are little on the quiet side and not very social. Plus wifi is free for only YHA members ( worthwhile investing in their annual membership which gives you free wifi access ) and currently only available in the common areas.
What experiences can you expect
I've below a rough guide to all the places we visited, activities and also where we stayed to give you a
Lake District
Where to stay in Lake District
YHA Ambleside hostel for me is the perfect base to explore Lake District. This is probably one of the most scenic hostels in England perched on the edge of Lake Windermere. It has its own jetty waterside picnic benches, excellent bar and restaurant. The facilities here are excellent- from kayak hire to large self catering kitchen. The bunk style rooms are comfortable and good for families and couples, many with Lakeside views.
Book via Hostelworld. Privates from £30, Dorm beds from £15
Things to do in Lake District
You can follow in the footsteps of some giants of world literature. Lake District was home to Beatrix Potter, Arthur Ransome and Wordsworth who were all attracted by the area's amazing natural beauty.
Beatrix Potter's Hilltop ( Cost of entry: Adult: £9.00, Child: £4.50 & Family: £22.50 ) is definitely worth a visit. Beatrix Potter's books comes to life at Hill Top – the farm on which she wrote many of her 22 books. There's a real sense of time having coming to a standstill when you visit Hilltop. Since her death in 1943, National Trust (to whom she bequeathed a generous legacy of her 1600 hectare estate) have preserved the farm in the exact style in which Beatrix Potter would have lived in. Thanks to this careful preservation visitors today can recognize furniture and details of the house , straight out of the pages of her books.
Address: Near Sawrey, Hawkshead, Ambleside, Cumbria, LA22 0LF
You can follow the visit with a trip to World of Beatrix Potter Attraction ( Cost of entry: Adult £6.95 Senior Citizen £5.95 Child £3.65 Infant (age 2 & under. The World of Beatrix Potter Attraction is situated on Crag Brow in the centre of Bowness-on-Windermere. For lovers of her books and also for kids and adults unfamiliar with her books- you can instantly immerse yourself in the world of Beatrix Potter through an extremely well thought out route with the decoration along the way which is almost like walking through all of Potters tales.
Another reason I love visiting Bowness on Windermere is grabbing some bird feed and feeding the swans , ducks and geese.
If you're feeling peckish, definitely recommend trying a cheese and onion pasty ( £3.50 ) at Pasty Presto. You can also choose from fillings like Thai Chicken, Spicy Chickpea and Potato and even Curried Parsnip. The gourmet coffee here is fantastic, (made with coffee beans from Union Roasters) far better than the Costa Coffee across the road. Plus they have fast free wifi. Next door, you can pop into Vinegar Jones who do amazing fish and chips ( with curry sauce if you prefer) Lovely crispy, light batter and beautiful fresh fish with fat chips. Fish supper costs just £5
After Bowness, if you are a railway enthusiast, definitely recommend a trip on the Lakeside and Haverthwaite Steam Railway that leaves from the southern tip of the Lake at Lakeside. Combined with a ride on Lake Windermere cruises from Ambelside the costs of a return is £10.80 for kids and £21.50 for adults.
On Day 2, follow in the footsteps of a certain William Wordsworth.
Visit Rydal Mount & Gardens ( Cost of entry: £7 for adults. £3- Children 5-15 years old ) which was Wordsworth's home for the greater part of his life from 1813 till his death in 1850. It was here that he improved many of his earlier works and published the final version of his most famous poem 'Daffodils'. Another reason for visiting Rydal Mount is its beautiful landscaped gardens and in season visitors can see daffodils, bluebells and rhododendrons in full bloom. Turns out that Wordsworth was a keen landscape gardener and this four acre garden has remain largely unchanged from his day. The gardens consist of rare shrubs, fell-side terraces, lawns, rock pools and also an ancient mound that was used as a site for beacon fires to warn people of raiders from the Border.
Our next stop was the village of Grasmere where Wordsworth had a second home, Dove Cottage ( Cost of entry: £7.75. Children: £4.50 ) This was the first family home of Wordsworth and he lived here from 1799 – 1808 with his sister. The standout feature of the cottage is the garden, a place of refuge, meditation and inspiration. It was, wrote Wordsworth, 'the work of our own hands'. In this garden he composed some of the greatest poetry in the English language.
When in Grasmere definitely pay a visit to Sarah Nelson's famous Grasmere Gingerbread shop which can be found at the entrance of the churchyard of St. Oswald's Church.
The church is a haunting place to visit and the last resting place of William Wordsworth.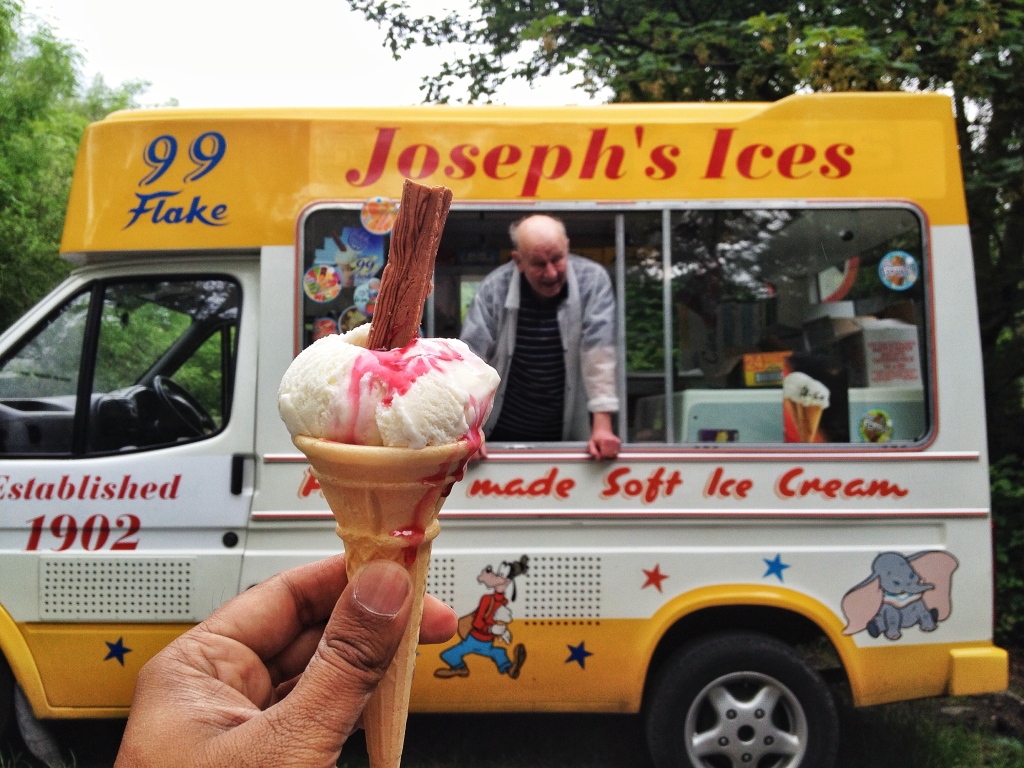 Top tip: On the way back to Ambleside in Rydal, definitely pay a visit to Joseph's ice-cream van to savour the 99 Flake, an essential for any trip to England. Mark, great grandson of Joseph has been serving customers in this idyllic spot by Rydal water since May 7th, 1972- the day his father died.
Grinton
Grinton, situated in the Yorkshire Dales will not feature highly on the dream England itinerary of many popular travel guidebooks.The reason I picked Grinton is thanks to its scenic location in the heart of northern Yorkshire dales.
Where to stay in Grinton
There is a beautiful YHA hostel here, a former shooting lodge which offers panoramic views of the surrounding Yorkshire Dales.
The joy of visiting this part of the world is the gorgeous scenery and landscapes that earned Yorkshire the moniker 'God's own country.' I will let the pictures be the judge of that.
This hostel is the perfect base for a relaxed walking holiday and also if you are a keen mountain biker. The other star feature of this hostel are their luxury camping pods. Housing upto 4 and starting from just £50, these camping pods are very comfortable and excellent alternative to camping. This unique hostel also boasts a gorgeous honeymoon suite complete with a free standing roll top bath on the top floor – perfect for couples.
Prices of private rooms at YHA Grinton start from £39 while dorms room start from £18.
Things to do in and around Grinton
If you have a car, Grinton is the perfect base to explore the charms of the Yorkshire Dales. The historic market town of Richmond is just 10 miles away. This is your typical picture postcard English market town, complete with cobbled streets and photogenic stone cottages. Highlights of a trip here include Richmond Castle, built in 1070.
The other highlight of the visit is a trip to the quirky historic Georgian Theatre Royal. Built in 1788, it is Britain's oldest working theatre and also the country's most complete Georgian playhouse. The theatre is also home to Britain's oldest set of theatrical scenery, known as The Woodland Scene. This was painted shortly after the end of the Napoleonic wars. Another unique feature of this theatre is the survival of the kicking boards, which members of the audience would use to kick to show their disapproval .
Tours run every hour from 10am to 4pm Monday to Saturday. Occasionally tours are unavailable due to performance schedules so check in advance. Suggested donation for the tours are £3.50 per adult and £1 per child.
Other picture postcard towns in close proximity to Grinton that you can visit include West Burton, often voted as the 'Most Beautiful Village in England.'
Also definitely worth visiting is Hawes , home to Wensleydale, the historic fresh, mild cheese that has been made here since 1150 by Cistercian monks. The cheese is now world famous thanks to its patronage by Wallace ( who is crackers about the cheese ) one of the lead characters of Aardman animation, Wallace and Gromit.
Top tip: Do visit the shop at Wensleydale Creamery which give you the option top try over 20 variations of cheese for free before you buy.
On the way back from Hawes, definitely stop by at the village of Aysgarth where the River Ure tumbles over a series of broad limestone steps known as Aysgarth Falls. Although not particularly high the waterfalls are one of region's most famous beauty spots and were visited by Turner, Ruskin and Wordsworth. The upper and middle section of the falls were also featured in the Kevin Costner film 'Robin Hood – Prince of Thieves'
York
There are few cities in England and indeed the world that can lay claim to such a rich multilayered history as York. That unique history is reflected to this present day in the city's stunning Roman architecture and standout buildings like the awe inspiring York Minster, probably the finest Gothic cathedral in the world.
I definitely recommend staying in York at least 2 days to explore this city.
Things to do in York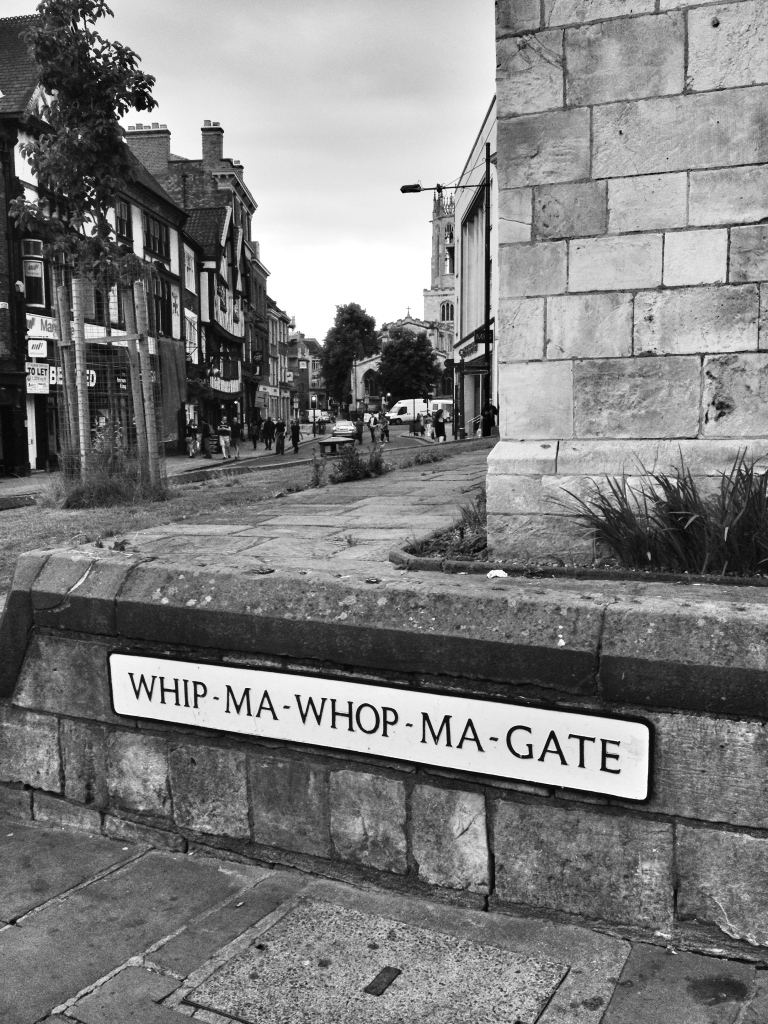 The simple joy of visiting York lies in wondering it's narrow streets and losing yourself in time. Everywhere you look there is a delightful mix of century old half timbered Tudor buildings standing side by side with museums, restaurants, bars and traditional pubs. Some of the streets are straight from a Harry Potter novel.
Like my favourite street here ( apparently the most visited street in the world ) the Shambles which easily can pass as Diagon Alley. Here is a wee instavideo of the Shambles
Another must do when visiting is walking the city's original Roman walls.
Other key highlights include a visit to the Jorvik Viking Centre ( Cost of entry £14 -adult , £9.25 for children. Tickets are valid for free admission for upto 12 months after purchase ) If you're interested in seeing, hearing and smelling how the Vikings lived, this is as close as you get to the real thing. Thirty years ago while laying the foundations of a new shopping centre on Coppergate, archeologists discovered houses, workshops and backyards dating back to the Viking-Age city of Jorvik. They removed eights tonnes of rubble and found over 40,000 artefacts. These artefacts form the basis of the Jorvik Viking Centre which has been built on the very site where the excavations took place. The centre recreates what life was like in Jorvik through a haunted house-style ride through an authentic recreation of part of the Viking city. Visitors glide in a time capsule through reconstructed Viking streets, complete with life-size models of the original inhabitants.
For chocolate lovers of all ages, a visit to the York Chocolate Story (Cost of entry: Walk-up Prices. Adult £9.95. Senior Citizen £8.95. Children (4-15) £8.95. Family of 4 -£29.50. Family of 5 -£35. Children under 4- Free. There is a 15% discount of you book online in advance ) is a must. York is actually the home of chocolate. While other northern centres made their wealth from wool, cotton and steel, York went its own sweet way and built a city from chocolate. Home to key chocolate manufacturers like Joseph Rowntree and Terry's , iconic chocolate brands like Kitkat and Chocolate Orange were born in York. Here's a magical fact- Over 6 million Kitkat's are made in York every day.
Besides a not too long but informative trip into the history and origins of chocolate, the factory also allows guests the chance to make their own customised chocolate bar with some assistance from a professional chocolatier. With plenty of chocolate tasting and samples along the way, this is definitely an experience not to miss on your visit to York.
Other quirky and fun, free thing to do in York is follow the 'York Cat Trail'- a collection of cat statues located in historic buildings of the city. It is a really fun way to see the city and gets you off the beaten track. The original idea of installing the cat statues was to ward off the rats and mice during the time of the plague. There are 17 of them in existence. I found 10 of them. For more information and to download the 'York Cat Trail' map, checkout the official website.
Where to stay in York
YHA York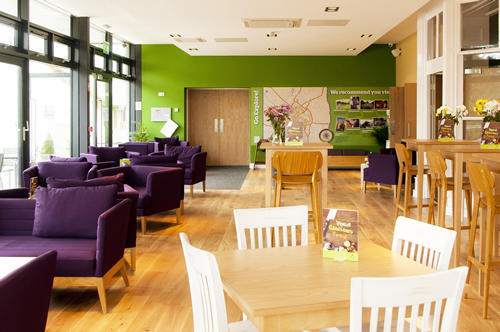 Having recently undergone extensive refurbishment and set within a Victorian mansion with its own private gardens, YHA York is a lovely base to explore the charms of York. Rooms are clean and modern. Staff are extremely helpful. As is standard with most YHA hostels, they have a nice self-catering kitchen if you wish to cook your own meals plus an onsite bar and restaurant that offers great value food and beverages. It is a bit out of the city but in really peaceful, quiet location by the river. A 15 minute walk along the river Ouse bring you to the city. My only minor gripe is the non availability of wifi throughout the building. If they can remedy this, this is the perfect hostel.
Perfect for families, groups and couples. Booking via Hostelworld, privates start from £49 , dorms from £15.
The Fort York Boutique Hostel
My favourite hostel in York is the Fort York Boutique Hostel. It is in a cracking location just off the Stonegate just a few hundred yards from the historic York Minster. Rooms are comfortable, clean and comfortable. From dorms to private doubles-something to suit everyone's budget. Staff are really helpful and accommodating. The hostel has the excellent onsite The Kennedy Restaurant and Bar which is in itself a great place to come and have a bite or just to relax with a book during the day with a coffee or a glass of wine. Plus they have the basement Sotano Charcuterie & Bar which serves wonderful cocktails, craft beers, great wines and delicious tapas. Weekends it tends to get a bit noisy with people flooding out into the streets from the bar below so if you are a light sleeper this hostel may not be ideal for you. Otherwise, there is little else to fault with this hostel.
Perfect for couples, solo travellers.
Booking via Hostelworld, privates start from £45, dorms from £30.
Stratford Upon Avon
If you love towns oozing with history and antiquity then Stratford-upon-Avon is a great destination to include in your England itinerary. The town is best known as the the birthplace of William Shakespeare. Shakespeare dominates the cityscape with the Royal Shakespeare Theatre and the five beautifully preserved Tudor homes and gardens of the writer including his birthplace.
We reached there quite late in the afternoon when all the museums were closing and the busloads of tourists were disappearing leaving quite a desolate and eerie feeling. We did try and attempt to visit the grave of William Shakespeare at Holy Trinity Church but at the time of visiting, the church was closed for choir rehearsals so we had to be content with a walk around the graveyard of the parish church.
Where to stay in Stratford-Upon-Avon
YHA Stratford-Upon-Avon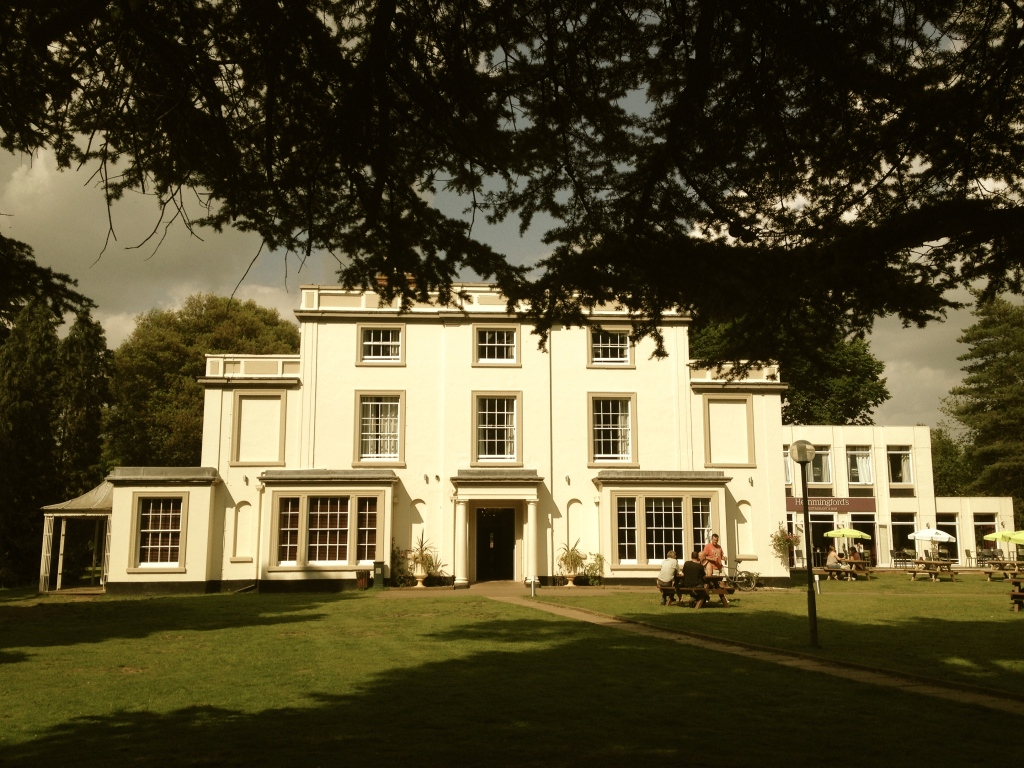 We stayed at the YHA Stratford-Upon-Avon: a beautiful hostel in a Grade II listed Georgian building built in 1874. The hostel has undergone £1.2 million of refurbishment and re-opened in Spring. There is a large dining room/restaurant, games room and lounge and good cycle shed. The hostel is a few miles outside of Stratford Upon Avon in the pretty village of Alveston so if you don't have a car, your movements are restricted. However there is a regular bus service from the door of the hostel to the town which runs late into the evening in case you are without car and catching an evening performance at the theatre. The staff are friendly and extremely helpful.
No trip to England is complete without a Sunday roast and the hostel's excellent onsite restaurant , Hemmingford's made my wish come true serving an excellent Sunday roast – roast beef and all the trimmings included. For an extra £5, you enjoy the hostel's all you can eat breakfast buffet which is very filling and includes a mix of hot and cold items. The other nice feature about this hostel is the beautiful stretch of lawn and outdoor seating areas. Just grab a book and maybe a coffee or jug of pimms from the hostel bar and you are sorted.
Booking via Hostelworld, privates start from £35, dorms from £19.
Things to do in and around YHA Stratford-Upon-Avon
There is more to Stratford than Shakespeare. The surrounding countryside has a bunch of scenic walking routes. The other key incentive for staying at YHA Stratford-Upon-Avon for us was its proximity to the Northern Cotswolds. It's a part of England I always wanted to visit. Thatched cottages, stone churches and narrow winding country lanes, it doesn't get anymore quaint and more English than the Cotswolds.
Our first stop was the picturesque town of Chipping Campden. The curving main market street is probably one of the most scenic streets you can visit, lined with honey coloured limestone cottages that all probably have been models for Lilliput Lane. During our visit we stumbled upon the weekly market held under the beautiful Market Hall built in 1627.
Other highlights included a visit to the east pavilion of the 'Old Campden' , a once grand Jacobean house destroyed by fire in 1645 during the Civil War.
For lunch, we popped into the Cotswold Cheese Company on the highstreet which stocks local Cotswold produce for our version of an english picnic. We bought a nice bottle of cava, some olives and local cheese. From Maylam's Delicatessen across the road we got freshly made double gloucester cheese and chive sandwiches ( £2!) and some kettle crisps. Grand total of our posh picnic came to £30 which divided amongst 3 was brilliant value.
Later we visited the picture postcard pretty village of Bourton-on-the-water. Straddling the river Windrush with a series of low, arched stone bridges, gives one the impression of being in Venice and Amsterdam.
Top tip: If you are visiting with family, another excellent nearby attraction you must visit is Warwick Castle. An authentic medieval castle experience , visitors can meet 'Henry VIII' in the Great Hall, delve into the castle dungeons and see the castle birds of prey take flight plus climb the lofty towers and soak in the amazing views of the surrounding countryside.
Cambridge
On arrival in Cambridge, visitors may be forgiven if they feel that they have wandered into a Tudor fantasy.
A quick look at the prices in this fabled place though, and spirits can be punctured as swiftly as one of the city's many bicycle tires.
Cambridge is expensive but there are some tips to follow that might save you a lot of money.
The prime attraction of Cambridge is the university, which essentially means the thirty odd colleges that pin the city together. Unfortunately, the colleges are well aware of this fact. It may be possible to enter the ivory tower these days, but not without paying around £5 for some of the most famous colleges.
But if you do want to dodge the men in purple robes, here's a few things to bear in mind.
Firstly, it's a university. If you are vaguely interested in studying there you have the right to introduce yourself as a prospective student (though be prepared to meet the Admissions Tutor haha). Students are allowed to take guests into the colleges: it's looking for a friendly student to let you in as a guest. Be discreet though, and remember that the college is a working environment.
Secondly, a great many colleges don't charge. Enclosed within the brick walls of Newnham is a jewel of a garden – it was also one of the first women's colleges in the university.
Just down the road is Robinson, a modern college that nevertheless has an atmospheric chapel and wonderful, rambling grounds.
Christ's College is also free. It's worth passing by just to see the Great Gate which is adorned with the spotted Beaufort Yale, Tudor roses and portcullis. Visitors for a fee of £2.50 can visit the rooms of Charles Darwin who was a student here. You can also visit Darwin's garden which besides a sculpture of a youthful 22 year old Darwin (the age he was during his final year at Christ's ) also contains plants which represent Darwin's voyages around the world on the H.M.S. Beagle.
Another tip. King's College Chapel charge £7.50 for entry but if you do attend the evensong, it's FREE. For many visitors, attending evensong is one of the most memorable parts of a trip, and it's absolutely free. Although Kings College holds the most famous evensong, it is far from the only one. Trinity, Selwyn, St. Johns and many other colleges also have crisp-voiced choirs.
Finally, the vigilance with which colleges are guarded depends upon the season. Taking a walk along 'The Backs' (Queens Road) any time from autumn to early spring is likely to reap rewards. It also offers one of the best views in Cambridge: Kings College Chapel across the meadow and this, at least, won't cost a penny.
Top tip: Definitely recommend going punting along the Backs. Mornings are less crowded. Here is a little instavideo of us punting along the Backs.
You can hire a row-boat or kayak and try your hand at punting but it is a challenge. Operators like Scudamores offer you a 45 minute guided tour of the Backs and cost £13.50 if booked online. Same ticket costs £17.50 at the kiosk so always book online plus e-tickets are valid for 6 months.
Top shopping tip: If you are in Cambridge on a Tuesday and looking for a whiff of English nostalgia, pop over to Retro Kate's delightful stall in Market Square Street Market. You can find everything ( reasonably priced) from Cambridge memorabilia , books of Noddy, Snow White playing cards to Rupert the bear stationery sets, dolls & trinkets.
Where to eat
In terms of the best cheap eats, recommend checking out Guardian budget foodie Tony Naylor's guide to his 10 best cheap eats in Cambridge. Also the YHA Cambridge hostel offers great value meals in their onsite Scholars bar and restaurant so recommend checking them out if you are staying with them
Where to stay in Cambridge
We stayed at the YHA Cambridge which has recently undergone a £1.4 million refurbishment. The result is a modern, clean and comfortable hostel. Location of the hostel is fantastic, just a stone's throw away from the railway station and a 15 minute walk into the city.The hostel has 11 ensuite rooms which go very quickly so book early. I stayed in a twin bed dorm which was bit stuffy when I stayed earlier in the summer. There is a nice sized self catering kitchen for guests to use. There is an open lounge area and dining room leading on to a secure pleasant courtyard area to the rear of the hostel. There are 4 bike lockers in the courtyard area with ample seating. Free wifi is available to HI members in the common areas but not in the rooms. The onsite Scholars restaurant offers great value meals and a hot breakfast. Plus the staff here made the best coffee from all the YHA hostels we visited so definitely have your caffeine fix here. Staff were super friendly and helpful. Overall, given the lack of budget accommodation in Cambridge, I think this is hostel is an excellent choice.
Booking via Hostelworld.com, privates start from £48, dorms rooms from £20
South Downs
South Downs National Park is on the doorstep of London but feels a world away from the hustle and bustle of the capital city. It's a part of England that backpackers rarely venture to which is a shame.It's popular with walkers and hikers who follow the 100 mile long South Downs way that stretches from Winchester to the sea. From rolling hills, scenic views at every twist, picture postcard villages and medieval sites this area has a lot to offer to tourists.
Where to stay: YHA South Downs
Good news for backpackers is that a superb brand new hostel that has been opened in the area by the YHA. YHA South Downs is a beautifully converted sussex farmhouse ( with barns ) with ensuite dorms, private rooms, family rooms ( a self contained, 3 bedroom family unit with its own kitchen area available for exclusive use ) and also the option of luxury camping pods. Luxury camping pods? Yes you heard me right. These wooden log pods offer all the magic of a camping experience but with creature comforts like lighting, heating and electrical plug points. Guests have to bring their own bedding. There is a dedicated shower cum toilet bathroom for guests staying in the pods. Pods are perfect for family of 4. Check out my 15 second Instavideo review below of the camping pods below to get a better idea.
Location of the hostel is perfect for exploring the South Downs area. The hostel is right on the South Downs Way making it ideal for either long distance walkers wishing to tackle the whole thing or for those wishing just to cherry pick the sections with the stunning views, many of which are within easy reach of the hostel.Plus the hostel has its own dedicated train station- just a few hundred meters down a country lane brings you to Southease Railway station. The station has direct trains to Brighton ( 25 minutes) and London Victoria every hour ( Journey time: 1 hour 20 minutes )
The hostel's onsite 'Courtyard Cafe' offers a relaxed atmosphere for guests to unwind after a long day. From homemade cakes to coffees to three course meals, the cafe has it all. To get an idea of the food on offer when you dine at the Courtyard Cafe, check here.
Booking via Hostelworld.com , privates start from £39, dorms from £20.
Top tip: Hike upto Firle Beacon which just a wee jaunt from the hostel door and take in the stunning panoramic views across the hills and out to sea.
Things to do in South Downs
The hostel is close to traditional Sussex towns such as Lewes or Newhaven.
Lewes is a quiet picturesque market town with elegant Georgian buildings, ruined castle and a clutch of excellent bars and pubs. On Western Road, keep your eyes peeled for the plaque that marks the zero degree of longitude.
Top tip: For the perfect pint of local ale, pop into the 220 year old Lewes Arms where they have a range of Harvey's seasonal ales on draft ( Brewery is located just half a mile away if you fancy a visit )
For a great day out for the family , I highly recommend a trip to the port of Newhaven to visit the Newhaven Fort ( Cost of entry: £6 Adults , £4 Children with a Family ticket [ 2 Adults & 2/3 Children ]£18.70 ) which is a bit of a hidden gem of East Sussex and strangely neglected by popular travel guidebooks.
The fort has existed in some form or manner from the Roman period because of its strategic position on the coast and has 'lived' through the Spanish Armada and also the Napoleanic wars. The current structure was built in 1860. It served as a vital part of the English defence during the two world wars. After its days as a military fort ended, the fort fell into a sorry state of neglect (serving as a YHA Hostel briefly in 1986) before being reborn as a visitor attraction
The military museum recounts the story of the fortress and the role it played through two World Wars. Highlights of my visit included an amusing light hearted introductory movie about life at the fort through the ages and also the opportunity to experience a mock WW2 air-raid shelter experience. A stroll around the ramparts offers great views of the Newhaven harbour and surrounding countryside. Overall a great day out for young and old.
Other highlights of a visit to South Downs includes a visit to Eastbourne and Beachy Head.
Eastbourne is a walk back in time, a old fashioned British seaside resort which warrants a brief stopover for a stroll down its beautiful promenade plus it has a huge number of excellent charity book shops ( Guilty confession- I love a good rummage through charity book shops, a must on any visit to England )
The jewel in the crown on the promenade is the historic Eastbourne pier, one of the few in existence . However sadly after our visit the Pier was sadly burnt down but plans remain to rebuild it.
Just near Eastbourne is probably one of the most beautiful stretches of coastline and scenery in Britain. Welcome to the famous white cliffs of Beachy Head. From Beachy Head you can wind you way down the Seven Sisters Chalk cliffs and visit the seaside village of Birling Gap. Sadly, I did not make it that far. I was content just to sit and soak in the views and the sunshine in the companionship of this seagull.
Top tip: This is the perfect spot for a picnic but if you are thirsty and hungry, recommend popping into the nearby Beachy Head pub. There is a nice bit of history behind the pub. During WW2 it served as an advanced listening post when according to one local, nothing was served but mince and onions. Food selection is better nowadays and they have a good selection of ales and beers on tap to choose from.
The other city that definitely warrants a day visit is the colourful , lovely seaside city of Brighton. It is a 25 minute train ride from the hostel. It has a brilliant nightlife, Britain's oldest cinema ( Duke of York ) , a fantastic street art scene ( check out my guide to Cassette Lord ) , great markets (check out North Laine ), a tad touristy but interesting pier, great museums and also a nice selection of bars and restaurants. Checkout my earlier 48 hour guide to Brighton and if you are in town and looking to sleepover, recommend checking out the Umi Brighton Hotel.
My other top tip for a great day out for people of all ages is Middle Farm which is just down the road from the YHA South Downs hostel. It is a working farm and visitors can meet their prize winning pedigree Jersey cows and also meet their adorable ponies and Llamas. There is a nature trail to which allows you to savour the wild variety of wildlife the farm has to offer. You can enjoy a traditional country lunch after or tea with their home baked cakes at the restaurant. The other fantastic feature of the farm is the national collection of cider and perry- 300 examples of the finest cider from across England. Visitors are allowed free samples to taste which we thoroughly enjoyed as you can see from our Middle Farm #cidergram below.
We stumbled out later with a few bottles of England's finest cider. If that isn't enough, pop into the farm shop and bakery after where you take home artisan cheeses, their own chutneys and preserves plus some of their mouth watering cakes.
Middle Farm ( Firle, Lewes, East Sussex.) is situated between the villages of Firle and Selmeston. The Open Farm opens at 10am and closes at 5pm with last entry at 4.00pm. There is no charge for entry to Middle Farm, apart from the Open Farm where tickets are £4.00 per head. There is no charge for children under 3.
How much will the trip cost
With the strength of the pound against the euro and the dollar, managing England on a budget can be quite a stiff challenge. If staying in dorms and eating out once a day, you can easily do the trip on £40-50 a day.
Here are a few tips to make your pound stretch further
Eating on a budget in the UK
For food, if you are looking to keep costs down, make full use of the YHA's self-catering facilities which are excellent.
Top tip: If you're shopping at any of the major British supermarkets, generally after 7-8pm, you can pick up a whole range of food items at heavily discounted prices.
Lunch offers the best value option for eating out in the UK. Download apps like Vouchercloud where you can get 2 for 1 deals on a number of chain UK restaurants. Plus watch out for pub chains like JD Wetherspoons where you can get deals like 2 for 1 meals for as little as £6.99
Also don't forget the great British sandwich lunch! Whenever I am in UK, I love popping into either Co-op supermarket or the high street chemists, Boots for their meal deal special. They offer a huge range of delicious sandwiches ( sushi too which is not bad ) plus a choice of crisps or chocolate plus a drink for as little as £3.29. ( £3 at Co-op )
If you want to splurge out on a nice meal but looking for value for money, do check out sites like opentable.co.uk and 5pm.co.uk and lastminute.com where you can get excellent deals on top restaurants in London and across the rest of the UK.
Transport
Transport can be a major cost so wherever possible. try and walk everywhere. Most UK cities are quite compact with the exception of London and you can cover all the main sights by foot. If you are planning to travel by train or plane, book ahead.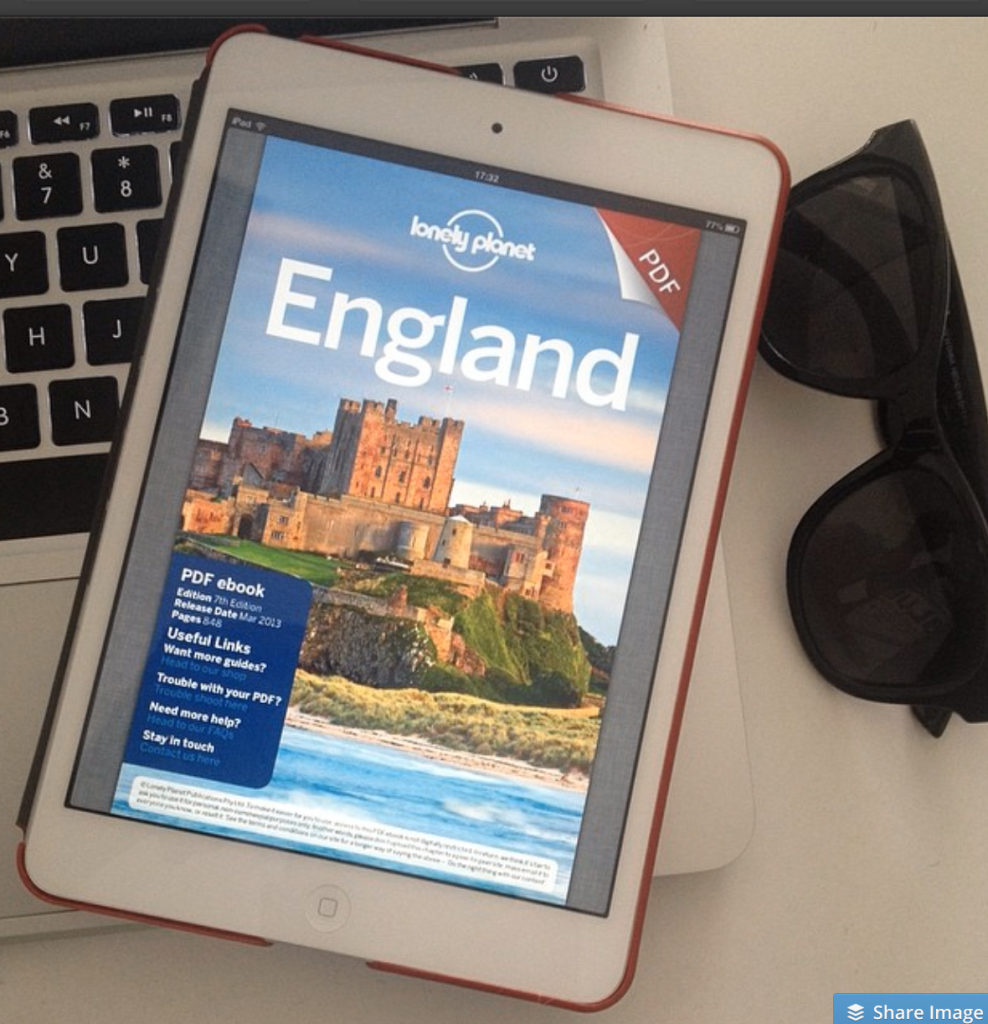 Invest in a good guidebook
Wherever possible, I used Twitter and Facebook for recommendations for places to visit but on days where internet access was difficult, my Lonely Planet Guidebook to England proved to be a really handy backup option. As much as we use the internet and social media to plan our trips, I still think that the traditional guidebook still is an indispensable tool when it comes to longer trips, especially where internet access is tricky. I downloaded their e-book which currently retails at €15 in their store or you can choose to download individual chapters if you know where you are going for as little paying €3, per chapter.
Hope you enjoyed the post. Please leave your feedback and comments below. Planning a 2nd roadtrip next year and love to hear your suggestions of where to visit.
Many thanks first of all to YHA, Visit Britain and Go Euro for supporting my trip. Also, thanks to the legendary Peter Parkorr- was a ball exploring England with you…thanks for the laughs and memories. We must do it again someday soon. Also thanks to Mia Pebleton from UK Travel Room and Sophie Collard from Travel Darkly for joining the roadtrip -no roadtrip is complete without the company of good friends.
Clear disclaimer: While my trip was made possible by my sponsors, the views expressed here are my own and remain honest and unbiased!