'One of the very nicest things about life is the way we must regularly stop whatever it is we are doing and devote our attention to eating.'
Luciano Pavarotti
One of the things I love about coming to Italy is to just eat. I eat like a pig and have no shame in telling you this. I explore countries through my stomach.
I eat well in this country. It has some of the finest food and wine known to mankind.
Like Pavarotti said, you really don't need to find an excuse or a time to eat in Italy. Breakfast, lunch, noon or dinner. Forget the schedule here. You can eat at all times of the day ( and drink too if you like) All you need to do is be in the right part of Italy where you can eat lots of amazing food , drink lots of great wine- all within a short radius.
Somewhere like Modena perhaps where Pavarotti was born.
Tucked away in the heart of Emilia Romagna , north of Bologna lies Modena. It is up there with San Sebastian, Roses, Tokyo as one of the food capitals of the world.
Modena gave birth to Balsamic vinegar, Lambrusco Wine, Parmesan cheese, Lamborghini and Maserati to name a few. Plus the area is also home to leading Michelin star chef Massimo Bottura and lets not forget Ferrari.
It's a city that embodies the soul and spirit of Italy.
Now thanks to the new high speed rail link between Milan and Bologna and the launch of a brand new shuttle service (that picks up people from Reggio Emilia and Modena train station which lies on the high speed rail link ) it is much easier for tourists coming to Italy to explore this city and the surrounding region.
For the price of just 60€ you get a microchipped 'passport' which allows you to the use the hop on hop off shuttle service for 2 days. The service does a loop around all the treasures of the Modena area allowing you to visit local Balsamic Vinegar producers, Lambrusco wine cellars , Parmigiano Reggiano cheese factory, Prosciutto and Salami producers, pop into Pavarotti's house which is now a museum , visit the two Ferrari Museums plus a lot of tastings at these spots. The shuttle service stops every hour at the different producers from morning to evening plus giving you the chance to schedule a stopover in Modena and some of the region's smaller villages like Nonantola and Sassuola to give an authentic slice of the "Italian way of life" "Plus you don't need a car and you can drink as much as you like
I recently had the opportunity to try the new shuttle service and spend 48 hours in the land of Pavarotti and Ferrari. These are some of highlights you can look forward to using the new service.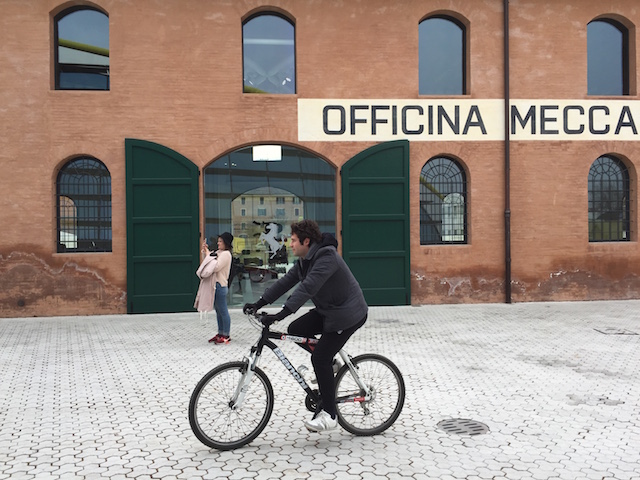 Ferrari
I google Modena and the first thing that pops in my research is that it is known as terra dei motori (land of motors) When I arrive in the city I expected it to be some sort of petrolhead's mecca, teeming with flash cars like Ferrari, Maserati, Lamborghini or the Stanguellinis or Bugattis that were all born in this city. However, the reality is different. There are far more bikes than cars which lend to a genteel, relaxed air .  The streets I discover have been named after the medieval canal system that once helped strengthen Modena's trade system.
I have my priorities. I start the trip with a glass of Pignoletto and a plate of the region's finest meats- salumi, proscuitto and mortadella. I am sitting in the cafetaria of the Museo Enzo Ferrari museum which is our first stop. As I told you, food is an intrinsic part of life in Italy, even in the Ferrari museum.
I am sitting in a sleek glass edifice with an arcing yellow aluminium roof and faux cooling vents that are nod to the Ferrari 125 racecar, one of the brand's iconic racing machines.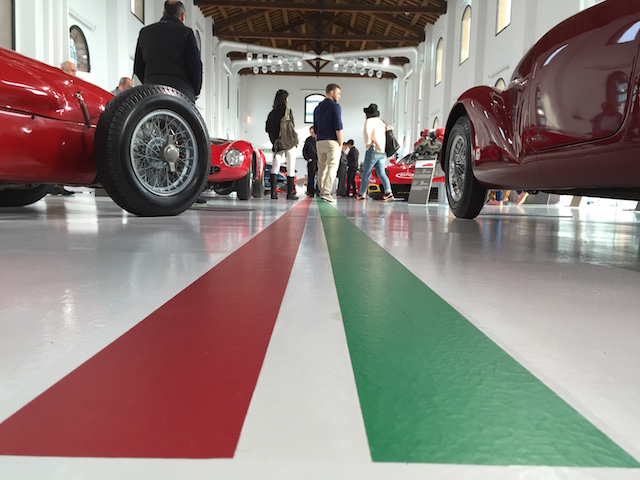 I am not the biggest fan of cars but Ferrari has always been a motorsport brand that I have admired. It has always represented something that is so much more than just a car. It is a religion to million of motorsport lovers worldwide.
It is the realisation of one man's vision, Enzo Ferrari who (had worked with Alfa Romeo before) had a vision of creating his own racing car. While there was an emphasis on design, these cars were built to win races. Cars were not beautiful for Enzo if they did not win races.
The main gallery houses classic Ferrari's like the Testarossa, Dino, 410S and 166 MM Barchetta that float on specially designed platforms, while newer models like the Enzo and F40 sit nearby.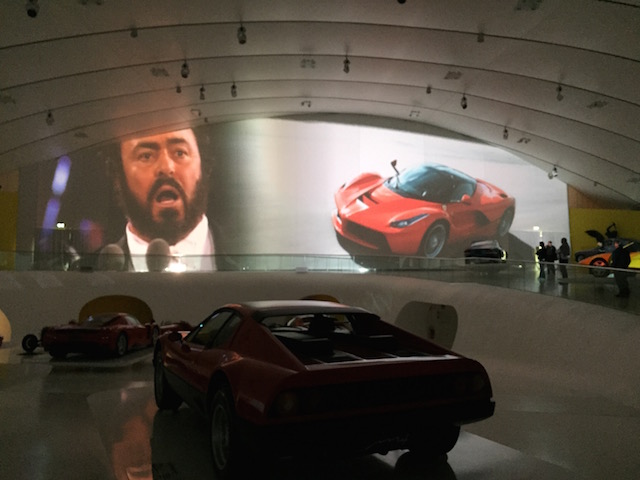 Modena's other favourite son Luciano Pavarotti had also a passion for Ferrari and the museum celebrates that fact with a multimedia spectacle that uses 19 projectors that flash images from the lives of Enzo and Luciano, accompanied by a soundtrack of some of tenor's songs.
Opposite the gallery you have the red brick house, the "Officina Meccanica Alfredo Ferrari" which was the birthplace of Enzo Ferrari in 1898. Currently it houses the Museum of Ferrari Engines plus also has a reconstruction of Enzo Ferrari's office plus the big man himself.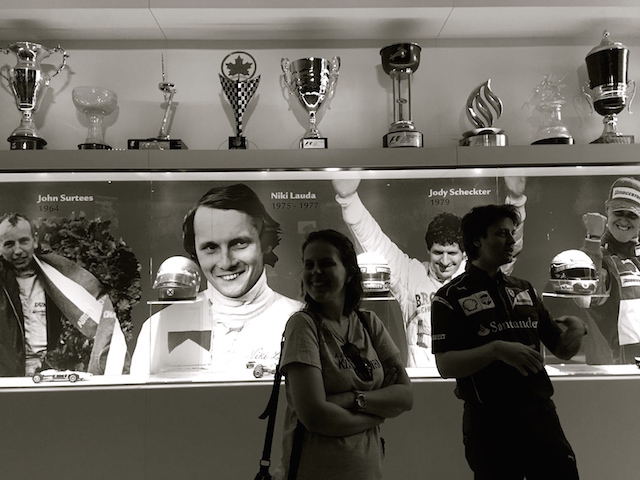 We spend the night in Maranello and the following morning continue our Ferrari pilgrimage by visiting the Musee Ferrari, home to a collection of the most famous Ferraris in the world, including a number of Formula 1 cars.
For me the highpoint of the visit was the chance to experience their semi-professional simulators to get an idea of what it is to drive a Formula 1 single-seated car. After a briefing from the technician about how to use the gearbox, I took the simulator 'for a spin' on their virtual Monza track. I was pretty pathetic at it to be honest. While everything is realistic, nothing happens to driver or car. I have a few accidents, crashing into the kerbs and spinning off the track. Few moments when I get to master the gearbox (F1 type with shift paddles and no clutch) ) and enjoy accelerating down the straight. Its exciting and less difficult than you might think. Great start to the day.
Duration and prices: a 7 minute race for € 25.00, including VAT. Note that entry to the Enzo Ferrari museum and the Museo Ferrari is not included as part of the shuttle bus ticket and costs an extra €25 to see both places or €12 to see just one of the museums.
2. Parmigiano Reggiano
No trip to Modena is complete without visiting a Parmigiano Reggiano factory…that wonderfully smelly and tasty cheese and then obviously tasting them fresh from the source. Caseificio Hombre Bio Farm is one place which you can visit with the shuttle bus service. There I met the Panini brothers ( sons of the famous Panini sticker brothers) who are producers of this wonderful cheese.
It is approaching sunset and the air is heavy with the sound of cows mooing. 225 of them in fact. These cows produce 20.000 quintals of milk which are processed every year. 12 Bio Hombre DOP Parmigiano whole cheeses are produced every day, completely organic, respecting land, animals, and consumers. These cheeses are put on the market only after a 24 month seasoning in the company storehouse.
Our guide informs that the cows graze in a relaxed ambience. Apparently while being milked, they listen to classical music to avoid becoming stressed.
Before a tasting session, the guide ushers into this huge shed which houses classic Maserati automobiles collected by the farm's late owner.
Cars before food. Food before cars. This is Italy. This is Modena.
The cheese itself is nutty but not too piquant. Delicious.
We also visited later in the tour, the Madonne Parmigiano Reggiano factory 
Visitors to the cheese factory can witness all the different phases of Parmigiano Reggiano processing first-hand:from the milk delivery to the finished wheels,following all the production phases.
You also have the chance to visit the brand new warehouse ( which was heavily damaged by the earthquake in May 2012) It contains around 33570 wheels of Parmesan cheese so if you dream, love and eat Parmesan cheese, this is closest thing to heaven on earth for you. There is the cutting room and also the factory shop where you can taste a range of aged cheeses. Guided tours can be given in English , family friendly and our guide Pamela was funny and informative. Highly recommend.
3. Sassuolo
The shuttle bus offers a stopover in the pretty little town of Sassuolo which is famous for its ceramic industry. The key highlight here is a visit to Palazzo Ducale, the palace of the Duke Francis of Este. Surrounded by landscaped gardens and adorned with lavish frescoes by the French artist Jean Boulanger, this palace is a gem of northern Italian Baroque art.
4. Maranello
We spent the night Maranello which is home to the Ferrari factory and the Scuderia Ferrari Formula One racing team.
Other than the Ferrari connection, the town is your typical laid-back Italian small town with a handful of good restaurants and bars. We visited Drakes Restaurant which is packed with locals on most evenings and a safe bet. They do an excellent aperitivo here. I had the first time, Tigelle here, a quintessential food of Modena. It is a disc shaped bread with a soft centre and crisp crust. You usually split it open with a knife and then fill in a variety of ways with nutella for example or in our case with some delicious thinly sliced Prosciutto di Parma, salumi and mortadella. This was washed down with my first glass of the sparkling red Lambrusco. Simple but delicious meal.
5. Lambrusco
There is no such thing as wine o'clock in Modena. Like Pavarotti said, you can stop anytime working or travelling. Just drink good wine and eat.
It is 11am. The morning sunshine feels mellow on our skin. I visited first the Cantine Chelo Chiarli and later Gavioli Antica E Museo for a double bill of the finest Lambrusco wine known to mankind. Living in the UK, my impression of Lambrusco till date had been of an inferior, cheap and nasty white wine. However the trip to Cleto Chiarli  and subsequently to Gavioli Antica E Museo winery cleared up a few misconceptions about Lambrusco.
First thing I learnt was that Lambrusco is both the name of both a grape and a wine. A red grape. Lambrusco is red not white. The colour from wine comes from the skin not the flesh of the grape, and any white Lambrusco you may have seen has been vinified without the skins.
Cleto Chiarli is a producer from dell'Emilia Romagne with a history that sweeps back to 1860. It is known for producing high-quality wines created by selecting top quality grapes from over 100 hectares of its own vineyards supplemented by neighbouring vineyards.
Cleto Chiarli Pruno Nero NV Lambrusco is produced using the Lambrusco Grasparossa grape variety (the are multiple varieties of Lambrusco, the best being Sorbara, Salamino -so named because the grapes resemble salami – and Grasparossa).
It is fermented at low temperature to retain flavour, and gets its sparkle from the 'cuve close' production method –where second fermentation happens in tank rather than bottle, the same method as Prosecco and tastes as good as the former.
Anselmo Chiarli was a great host and very generous in allowing us to sample his wines.
If you can't get enough of Lambrusco tasting at Cleto Chiarli then the shuttle service also takes you to the picturesque town of Nonantola where you an visit the Gavioli Antica E Museo, part  Lambruscan winery and also part museum. You will find here the most diverse range of tools and machinery used for the production of wine, some even unique pieces of more than two hundred years.
As I mentioned before , wherever there is great food or wine, there are amazing cars in Modena sulking somewhere in the background. In the middle of the tour, we were ushered into a section dedicated to the owner's impressive collection of racing cars that included  the F1 Williams that Ayrton Senna drove.
If you want to experience what life is like in a small Italian town completely devoid of tourists, then come to Nonantola.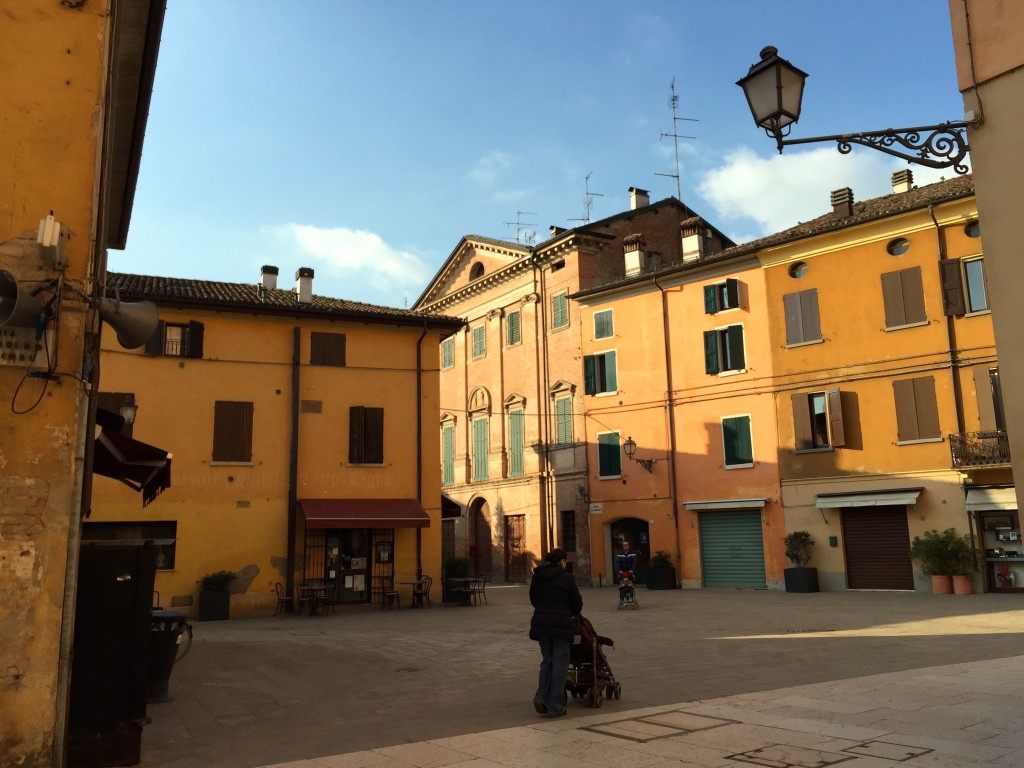 The highlights of the town include the imposing Romanesque abbey of S. Silvestro that dates back to the VIII century.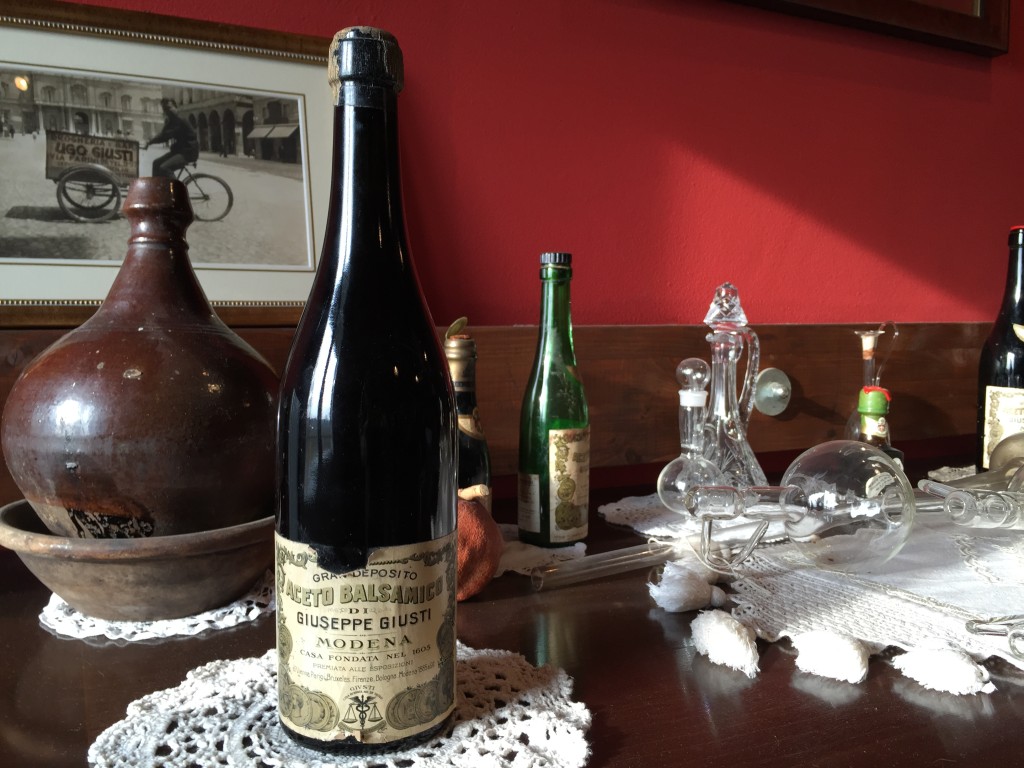 6. Balsalmico Vinegar
Another highlight of any trip to Modena is the opportunity to taste the traditional Balsalmic Vinegar , also known as 'Liquid Black Gold.' I had visited Modena a few years earlier and spent a memorable afternoon tasting the black gold at the Acetaia Giorgio ( which I highly recommend) So I was going to pass on the chance to do some more tasting. This tour offered me the chance to visit two of the region's traditional Balsamic Vinegar producers Acetaia Giusti (oldest) and Acetaia Malpighi 
Again like Lambrusco, the balsalmic vinegar you are likely to have tasted till date will be probably from the supermarket shelf. The balsalmic vinegar from Modena is much more denser, sweeter and richer in flavour. In order to be certified as balsalmic vinegar , it has to be aged for a minimum of 12 years so the final result is rich, sweet and very delicious. Just a few drops on some pecorino cheese or pasta is all that is needed. At both the acetaia's they walked us through the fermentation process, during which the vinegar is aged in a series of wooden barrels for a minimum of 12 years. Both tour conclude with a generous tasting of different varieties of the rich, syrupy liquid ( tasting is included and free) after which you have the option of buying a bottle. If that hasn't satiated your love of Balsalmic Vinegar, there is now a museum dedicated to the black stuff in the tiny village of Spilamberto where the shuttle bus will drop you off.
7. Pavarotti
The tour also takes you to the house where Pavarotti lived. Unfortunately at the time I visited, the house was closed and was getting ready for the grand opening on 1st April so that was a shame.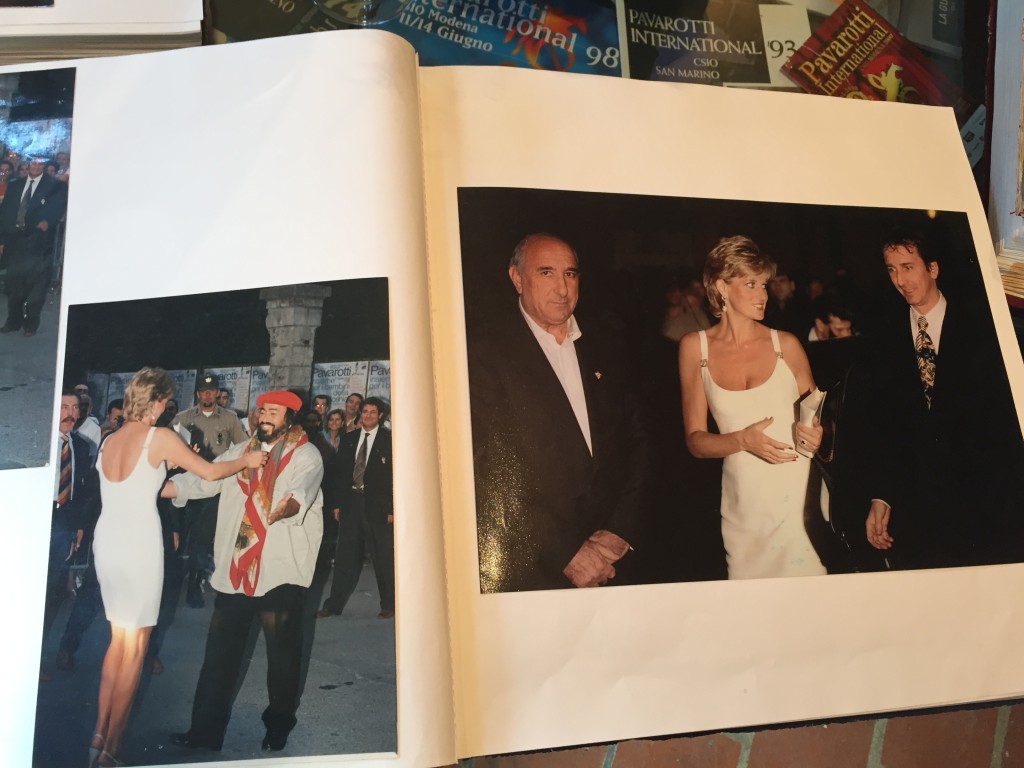 Nevertheless, my trip was entirely fruitless because we got the chance to meet Mr Cesare Clò,, owner of the Europa 92 restaurant which is next door to the restaurant. He regaled us with stories of the maestro and dusted off the photo albums to show us some of the famous personalities to have graced the restaurant: Bono, Jon Bon Jovi, Princess Diana to name a few.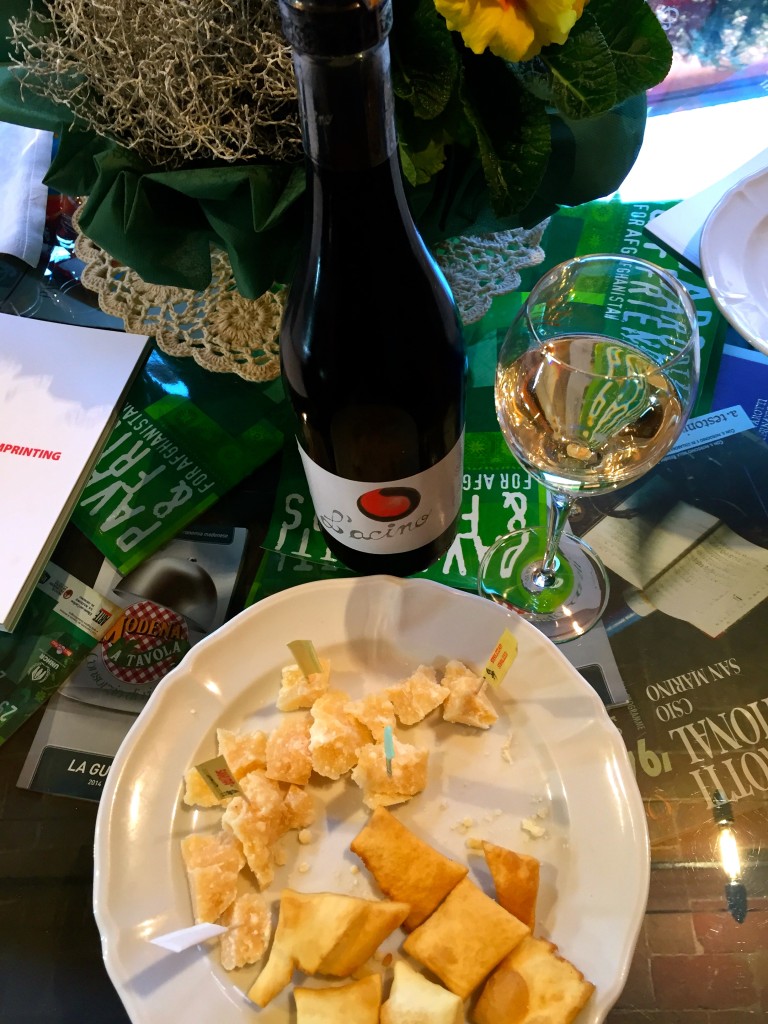 We didn't get a chance to eat here but he did offer some Gnocco Fritto, a delicious fried savoury bread that is typical from the region and you can try at the restuarant. So good. I could just eat Gnocchi Frito all day.
8. Modena
The tour finishes in Modena. Suns down and day is turning to night. I am standing in the historic cobbled Piazza Grande with the 12th century Romanesque Duomo ( a UNESCO world heritage site) towering down on me. It sends a shiver down your spine. It is a Friday night. The antiques market is wrapping up for the day and the streets are packed with locals embarking on their evening passiagiata.  After 2 days of drinking wine, stuffing my face with cheese, balsalmic vinegar tasting and eating heaps of tigelle and gnoccho frito I am quite tired to see the sights and just decide the best thing to do is keep ..eating. (If you have a day to spare, do take advantage of the free audio guides which are included in the package to conduct your own tour. You can pick them from the Tourism Information Point in the centre of town.)
I pop into the beautiful Caffe Concerto ( Piazza Grande, 26; 39-059-222-232; caffeconcertomodena.com), for their evening aperitivo. Afterwards I go for a stroll in the bustling Mercato Albinelli which has been fulfilling the needs of locals since 1931. In the market, you can sample further foodie delights like Amaretti di Modena almond cookies or chomp on culatello, the region's tasty salumi. If you still have room for more food, do pop into Bar Schiavoni (Via Luigi Albinelli, 13; 39-059-243-073), which situated in the front corner of the market. For just 1 euro you can grab one of their tasty panino's which have creative, delicious filings like smoked tuna, figs, herbs and red onions.
So. There you go. Modena. The land of Ferrari and Pavarotti. I ate to my hearts content, savouring some of the finest cheese, wine known to mankind. All holidays should be more like this. Good food, good wine and some fast cars in-between to drive you to a different dimension. I met some great people- the Modenese are some of the most charming, hospitable people you will meet on your travels in Italy. I had 2 brilliant days. My only regret is that I didn't stay longer. There is always next time.
---
For more details visit  www.ferraripavarottiland.it and contact [email protected]