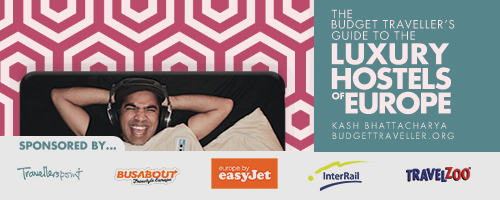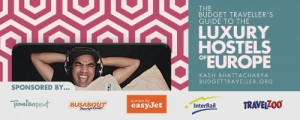 I've never been tempted to visit Milan till recently.
I heard vile things about the city -that it was very ugly, industrial and had little heritage or character.
Mind you, the people who were telling me this were Italians from Venice or Tuscany.
It's a big city-loud and very brash. Reminds me a lot of Glasgow.
However if you pierce the brash glamorous exterior, beneath, you can find a city with great soul and very friendly people.
To discover the soul of this city and meet it's citizens, I can't think of a better place to stay than Ostello Bello, the latest luxury hostel to be reviewed on my tour of Luxury Hostels across Europe.
Location
Just 10 minutes walking distance from the Duomo, Ostello Bello boasts a great location with easy access to Milan's nightlife and fashion hotspots.
Perks
It's a scorching hot summer's day when I land at the reception of the Ostello Bello.
While checking in and doing the paperwork, the receptionist quickly shuffles over to the bar next to the reception and asks me what I like to drink?
'A welcome drink?'  Yesssss please.
I ask for an Aperol spritz and after a few sips and all the stress, strain of my travels just melts away.
So where do I start?
Wifi- that most precious commodity for modern day backpackers.
You get free WiFi in the rooms and common areas. Good signal in my room on the 3rd floor.
All rooms are ensuite and there is air conditioning in the rooms and common areas.
Hostel offers an ace Mediterranean breakfast which is included in price
The best part of this deal is that the breakfast is available whenever you wake up- which means even if you can get your ass out of bed by noon, you can still walk downstairs and have your…brunch.
I can't think of any hotel or hostel that offers breakfast on demand-I think it's the ultimate luxury you can offer mankind. More of this please in other hostels!!
The hostels boasts some top notch facilities-some of the best I've seen on my tour of Luxury Hostels so far.
The common room is one of the coziest ones I've come across.
It's got a bunch of fun stuff for guests to use like ping pong tables, subbuteo and if you like musical instruments, they have a piano, guitars plus a huge library & book exchange facility.
You have at the reception, a traditional Italian style bar and restaurant where guests and locals mingle during Aperitivo Hour- yes, they host the greatest Italian tradition of all.
I would stay in Italy forever just to enjoy Aperitivo everyday.
For the price of a drink ( 4 – 5 euros) at the bar you can help yourself to the food. The bar is open pretty much 24 hours which is another cool feature.
What I loved about the bar was the number of locals pouring into the joint after work in the evening. They definitely add further flavor to the evening and the atmosphere of the hostel.
The hostel becomes a meeting point where Milanese can mingle with travellers from all over the world.
Another great feature of the hostel is on two floors guests can relax in a large and bright terrace, complete with hammocks and BBQ facilities.
I stayed in the ensuite double room- bright, spacious and the biggest plus is that the ensuite bathrooms are huge.
I had a peek at the dorm rooms – the beds are well spaced out and more importantly drawers below to allow you to secure your valueables.
Last but not least the staff here at Ostello Bello- from reception staff to the bartenders are all very friendly and a massive plus point for staying at this hostel- they make Ostello Bello more than just a hostel but more like a sanctuary for travellers to relax in and enjoy Milan.
Drawbacks
Hard to pick any faults with this hostel. The price point is higher than the hostel average but that again has been a feature for many of the luxury hostels I've reviewed so far. So for a dorm room ensuite , the cost is 28 euros and goes upto 80 euros for a double room ensuite.
If you are in a group of 3 or 4 people, there is a triple bed ensuite room for 110 euros a night and a 4 bed option for 150.
Verdict
Despite the higher price point, Ostello Bello is worth it in my opinion.
Every euro cent.
It's one of the best hostels I've visited and I left with good memories of the place and also of Milan.
In fact, I think it's so cool, that it should be made into a tourist landmark and be one of the main reasons for visiting Milan.
Getting there
From Central Stations (Stazione Centrale) take underground yellow line M3 to Duomo, then take via Torino and via Medici will be the 8th street on your right (5 min walk)
or take tram 14 or 2 for 2 stops.
From Cadorna Station you can take bus 94 for 3 stops and come out at De Amicis and Cesare Correnti. On via Correnti take the 3rd road on your left and you at Ostello Bello