After 7 years I'm heading back to Sweden on a long but pleasant 8 hour train journey from Copenhagen. Our destination?
The 31st biggest town in Sweden.
Falun.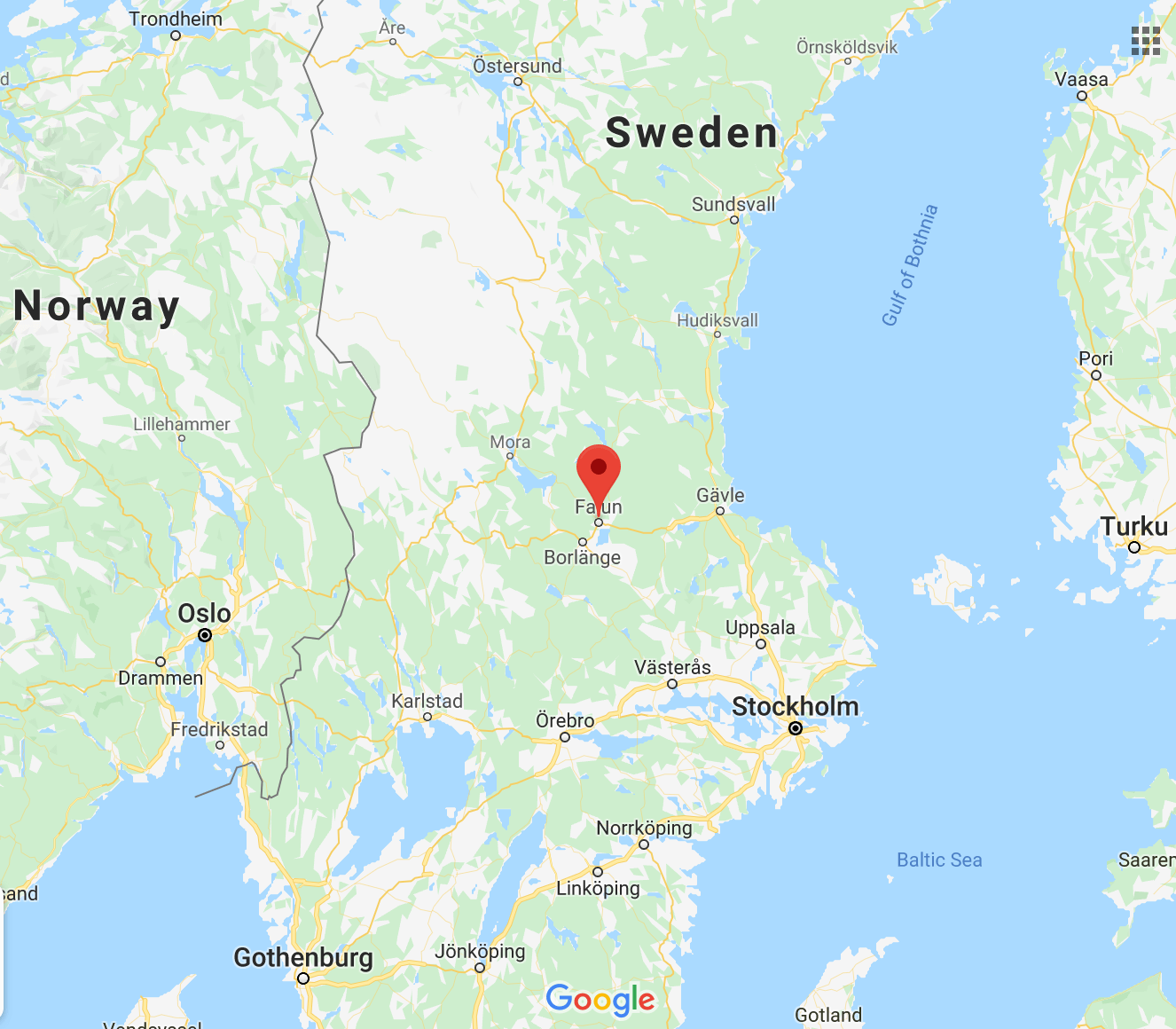 A tiny dot on the map of Sweden, 223 kms northwest of Stockholm, not too far from the border with Norway, Falun is the capital of the ancient medieval Swedish kingdom of Dalarna, referred to as the 'Swedish dales' thanks to its scenic hills, valleys and beautiful lakes. Some of the town's most noteworthy cultural exports are the world famous Swedish power metal band Sabaton, who organise their own annual music festival here in August and the colourful Dala horses- an emblem of the region.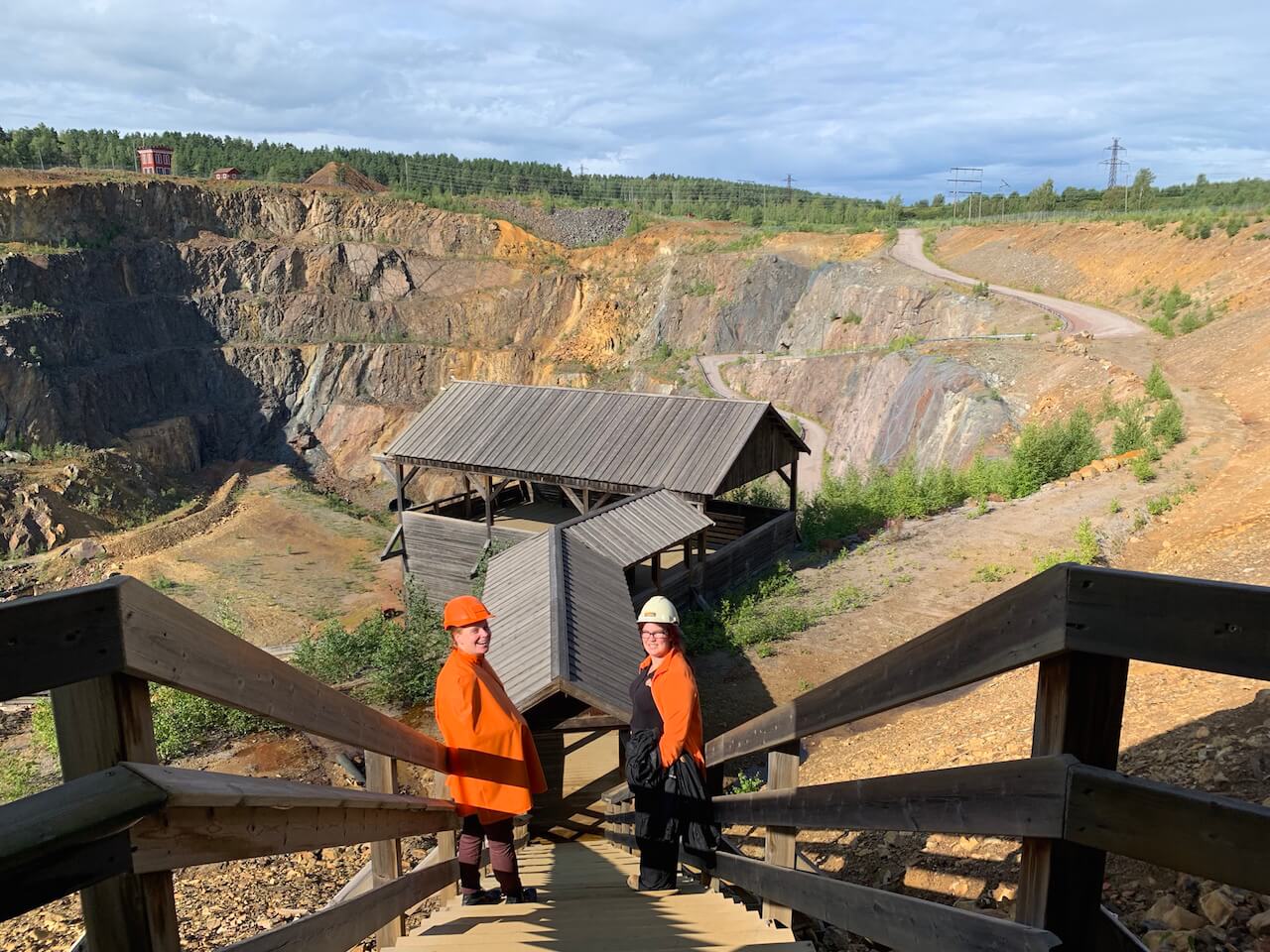 Falu Gruva
However, what all Dalmasar and Dalkullor (that's what the male and female are called in the region) are extremely proud of is that Falun is inscribed on the UNESCO World Heritage list, including the mine, the town centre and the surrounding landscape. The mine, Falu Gruva, is one of the oldest and biggest copper mines in Europe, which at one time produced 2/3rds of all copper in the western world. During the 17th century, the mines rose to the heights of economic prosperity, with Sweden becoming the major producer of copper. The Falun Mines are a fine example of how the wealth and prosperity of a small region can have far reaching impact on the social, political, technological and economic character of a country and indeed a continent.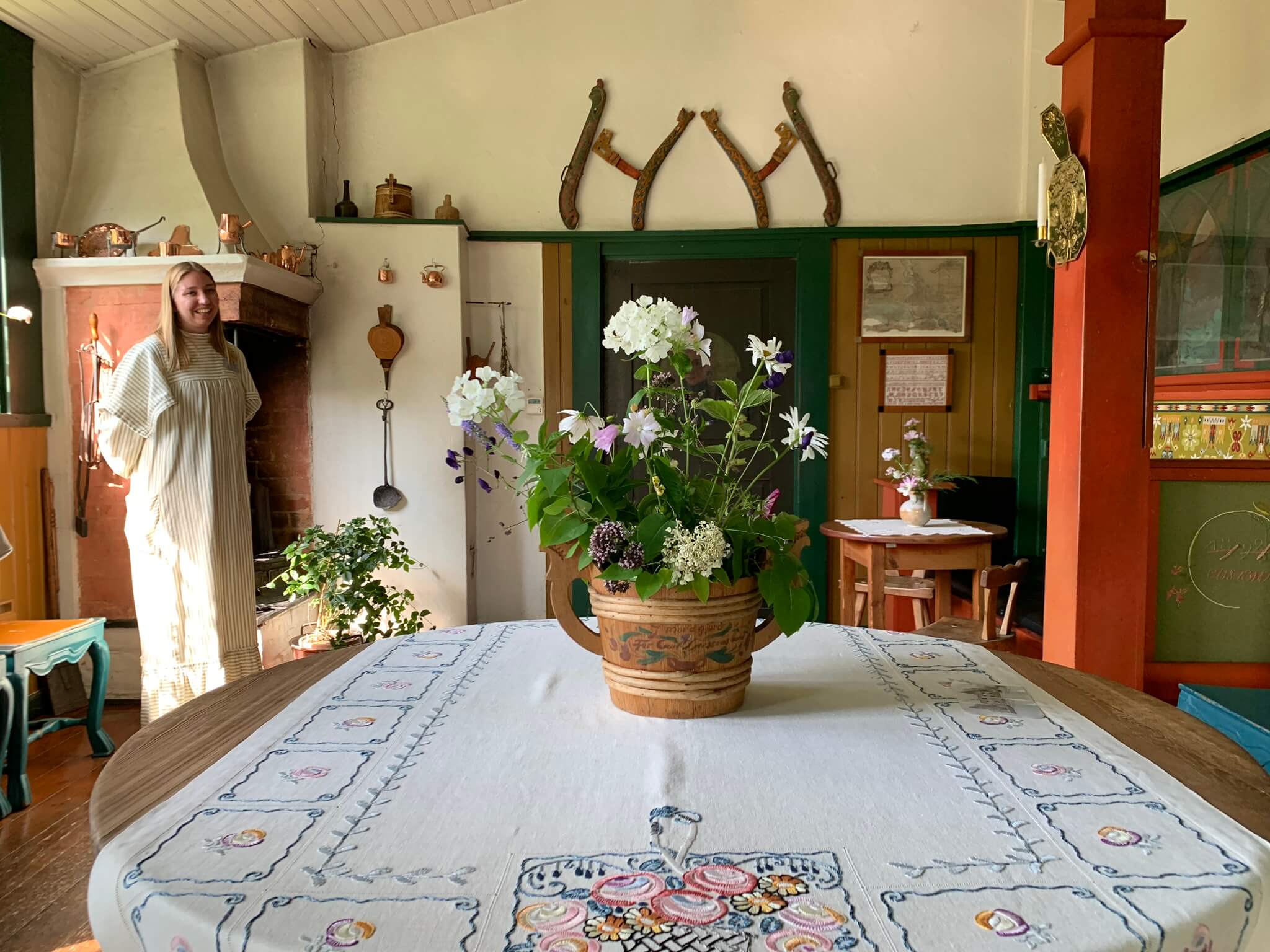 Plus in the neighbouring village of Sundborn you can discover Carl Larsson-gården, the beautiful country home of the artists Carl and Karin Larsson. The interiors of this house had a huge influence on 20th-century Scandinavian design and became an icon for Swedish interior aesthetics. It's interesting to muse that perhaps several IKEA products were influenced by this Swedish couple.
Known as Sweden's treasure chest, the story of the UNESCO World Heritage listed Falu Gruva plus Carl Larsson-gården is the story of Sweden itself. I had no clue of what to expect and had never been to many well preserved mines, so the trip would definitely be an eye opener into a forgotten world, one that might give me a better understanding of how far Sweden has come and an insight into what the future holds.
While Carl Linnaeus, the Father of Modern Taxonomy, described the Falun Mines as being "one of the great wonders of Sweden", he certainly was aware of the hard working conditions.
Our guide Johanna knocks the entrance door to the 1000 year old mine 3 times for good luck, an ancient miner's tradition. I'm also told not to spit or swear or else we could all be eaten by an evil old lady dressed in white sheets. Or something absurd like that.
The tour is fascinating. Johanna regales us with captivating stories and legends of the hardships and heroes of the mine's history. Like the amazing legend of Fet-Mats. Security arrangements were poor and a worker was known to have died in an accident in the darkness. Some were even mummified by the same hard mineral matter that they were seeking to excavate. The most famous example was Fets-Mats Israelsson of Svärdsjö, who was discovered by his long betrothed fiancée Margareta Olsdotter in 1719. He had drowned in a poorly placed tunnel and lay there for 40 years. Fet-Mats' story inspired numerous works of art- a short story by E.T.A. Hoffmann which was then the basis for a libretto for a Richard Wagner opera.
We slowly wind our way through dark narrow tunnels, damp and muddy in places. Even for someone of my miniscule height, it feels quite claustrophobic. There's a slow drip of water from overhead but I've got a bright orange cape and helmet for cover. In parts the tunnels gets very cramped for space.They would be quite hot and dirty with large fires burning overnight to help the ore break loose in the morning. On top of that, temperatures in the mine would drop to a bitter cold 5 degrees. It must have been a terrible place to work in.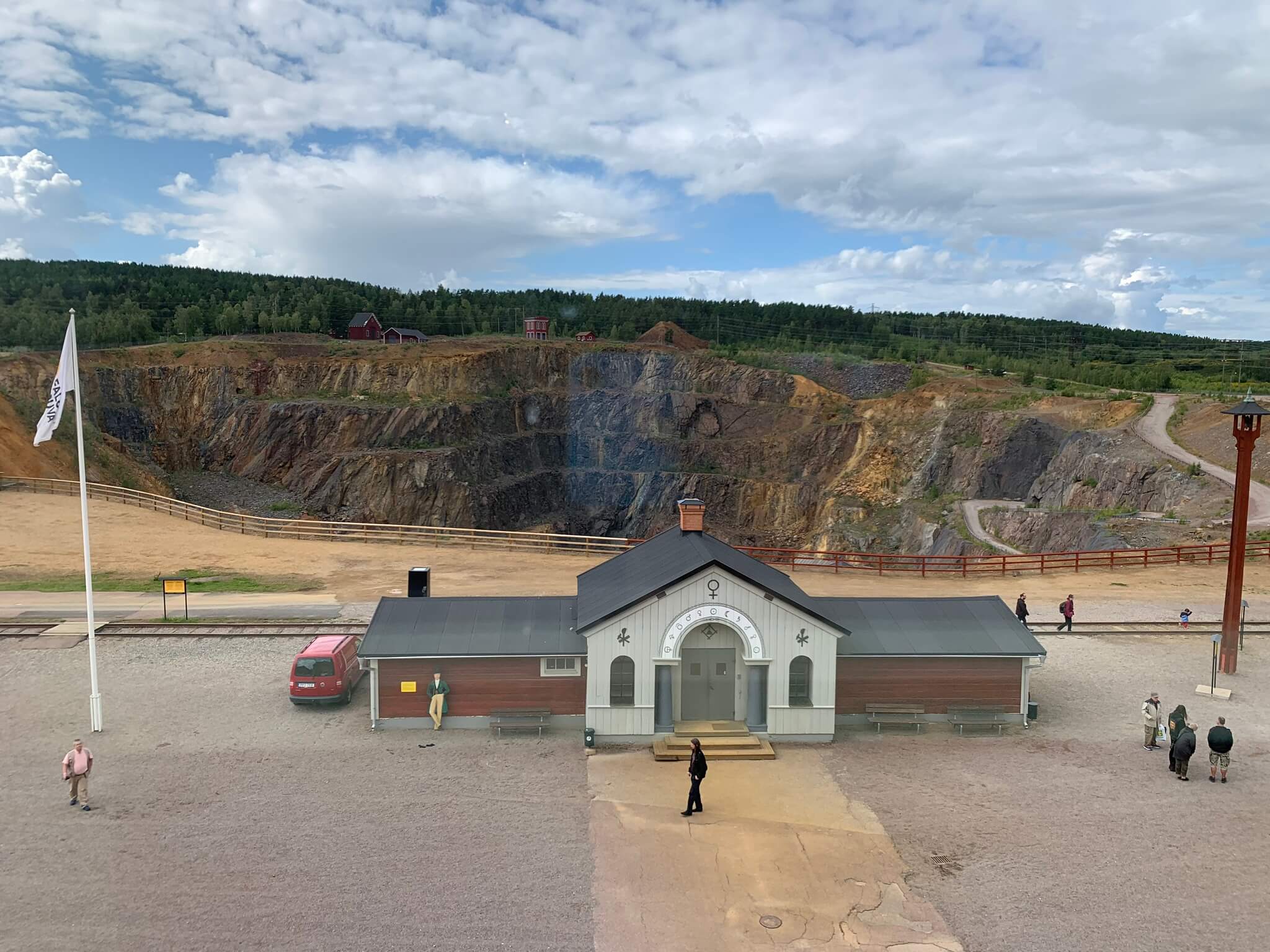 In 1734, the famous Swedish naturalist Carl Linnaeus documented the terrible conditions at Falun copper mine in his book, A Most Damnable Invention: Dynamite, Nitrates, and the Making of the Modern World.
"The walls are blackened by soot; the floor is of slippery rock; the passages are narrow, tunnelled out as if by moles; and vitriolic water drips from the ceilings.The lads working here did so bare-breasted; they had a woollen flap over their mouth, lest they inhale too much smoke and dust. They cannot take a breath of pure air, sweat streams from their bodies as water out of a bag."
I emerge from the darkness into the light of a very warm day in late August, a more grateful and humbled person.
Afterwards we go for a walk around another key attraction of the mine, the 'Great Pit', a gaping hole that offers a breathtaking array of earthy hues. There's definitely a beguiling but also eerie quality of peering through the fences that have enclosed the pit since it shut down in 1992 after operating for a millennium. Arsenic and lead poisoned the surrounding land and destroyed vegetation and helped create this unworldly massive crater in the landscape. However, the area outside the mine still thrives. The nearby Mining Museum with tons of history about the mines gives us a nice insight into what life was like for the miners. There's plenty of hands on interactive stuff to delight both the big kids and small kids. Its a light, fun ending to an interesting few hours.
One thing you must sample when in Falun is their world famous local sausage, Falukorv
You can sample this unique speciality at the mine's very own Cafe Bagarstugan, which does a wonderful Fika plus serves delicious salads and sells local gourmet products from the region. There is a great story behind Falukorv. To help winch up the copper ore from the mines, lines of twined ox hide were needed. The beef from the slaughtered oxen were then made into delicious sausages- a technique that the German miners introduced to the Swedes alongside their significant knowledge of mining. Walking around the well-preserved district of Elsborg which has some of the oldest houses in Falun, you can see clearly the influence of Germans in the street names.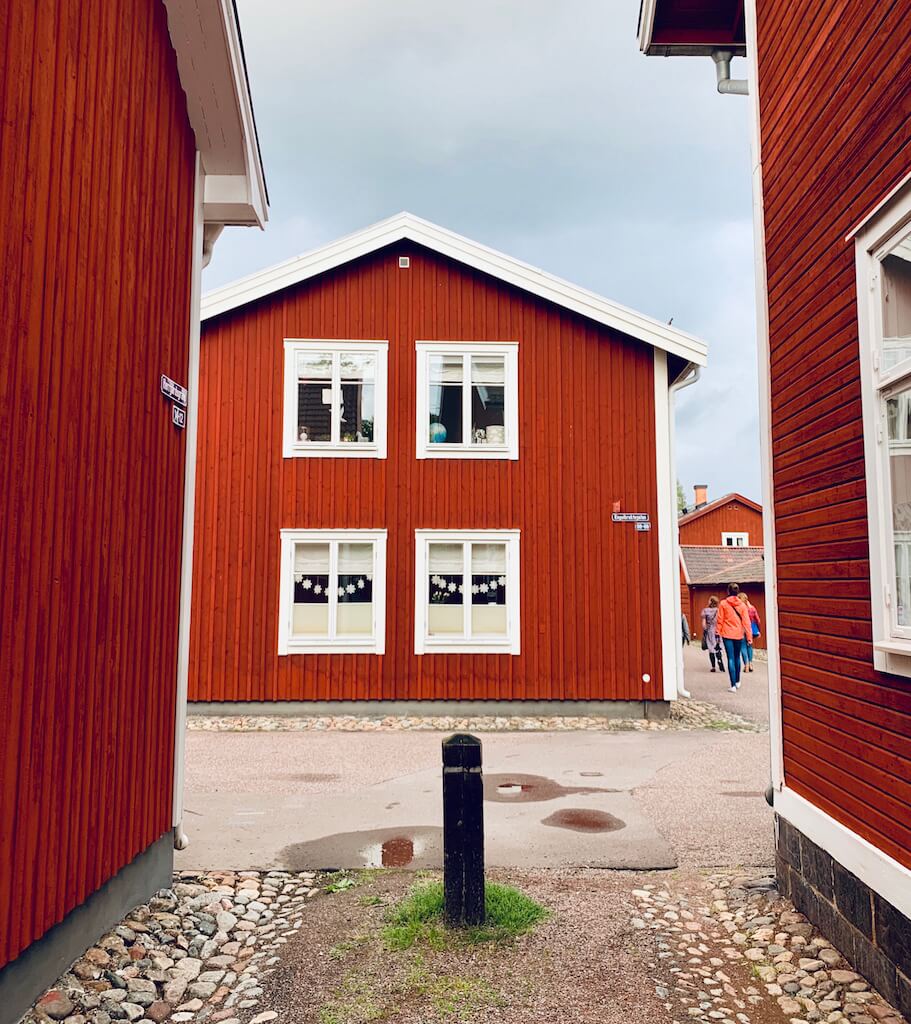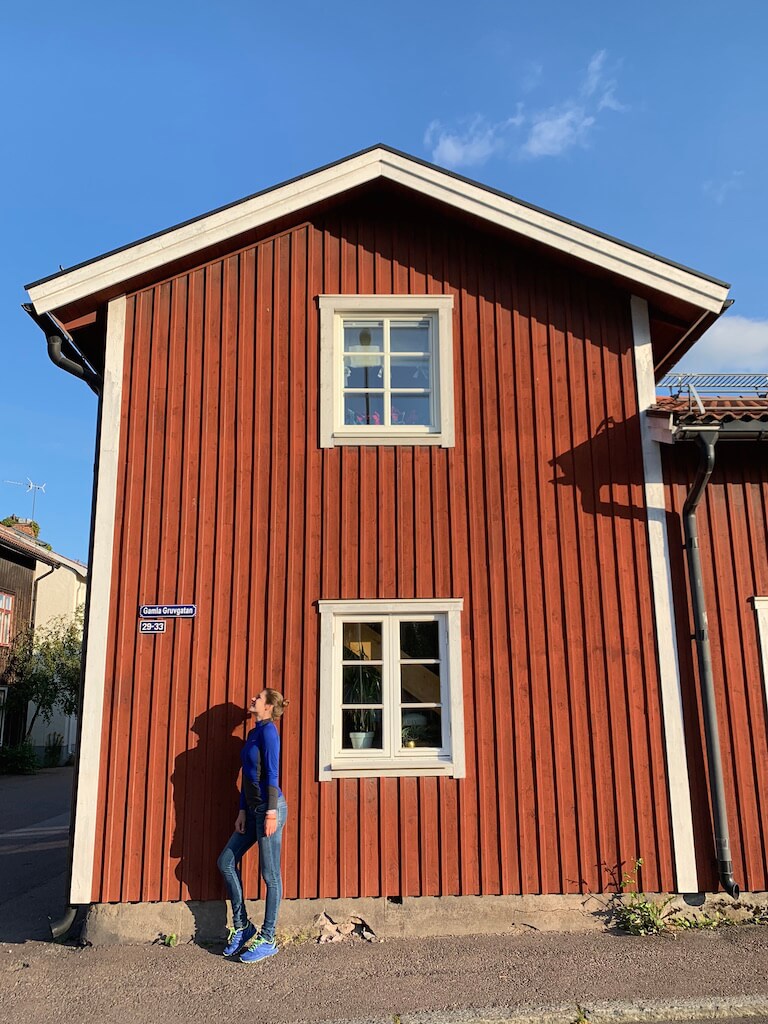 NCS S5040-Y80R. Falu Red. The paint that gave Sweden its colour.
Falun's most famous export and gift to the world besides its copper and sausages is NCS S5040-Y80R aka Falu Red, a colour that can be found on the houses and barns throughout Scandinavia and as far afield as the east coast of America. While walking through the miners quarters outside of the mine, you'll see the iconic deep rust red colour everywhere, daubed on the wooden homes, barns and outhouses of the town. Manufactured from the iron-rich waste materials left over from the mines, the colour became famed for its preserving and protective properties. Similar to the colour of European red brick houses, the colour became prized by wealthy tradesmen. Nowadays, the colour having travelled the world, is less about status and preservation and carries a more evocative and nostalgic quality. When you think of Sweden, some of you probably picture a Falu Red Swedish country cottage with white corners next to a lake, a visual that has been immortalised in many Swedish songs:- "den röda lilla stugan invid grinden" ( ~ the little red cottage by the wicket).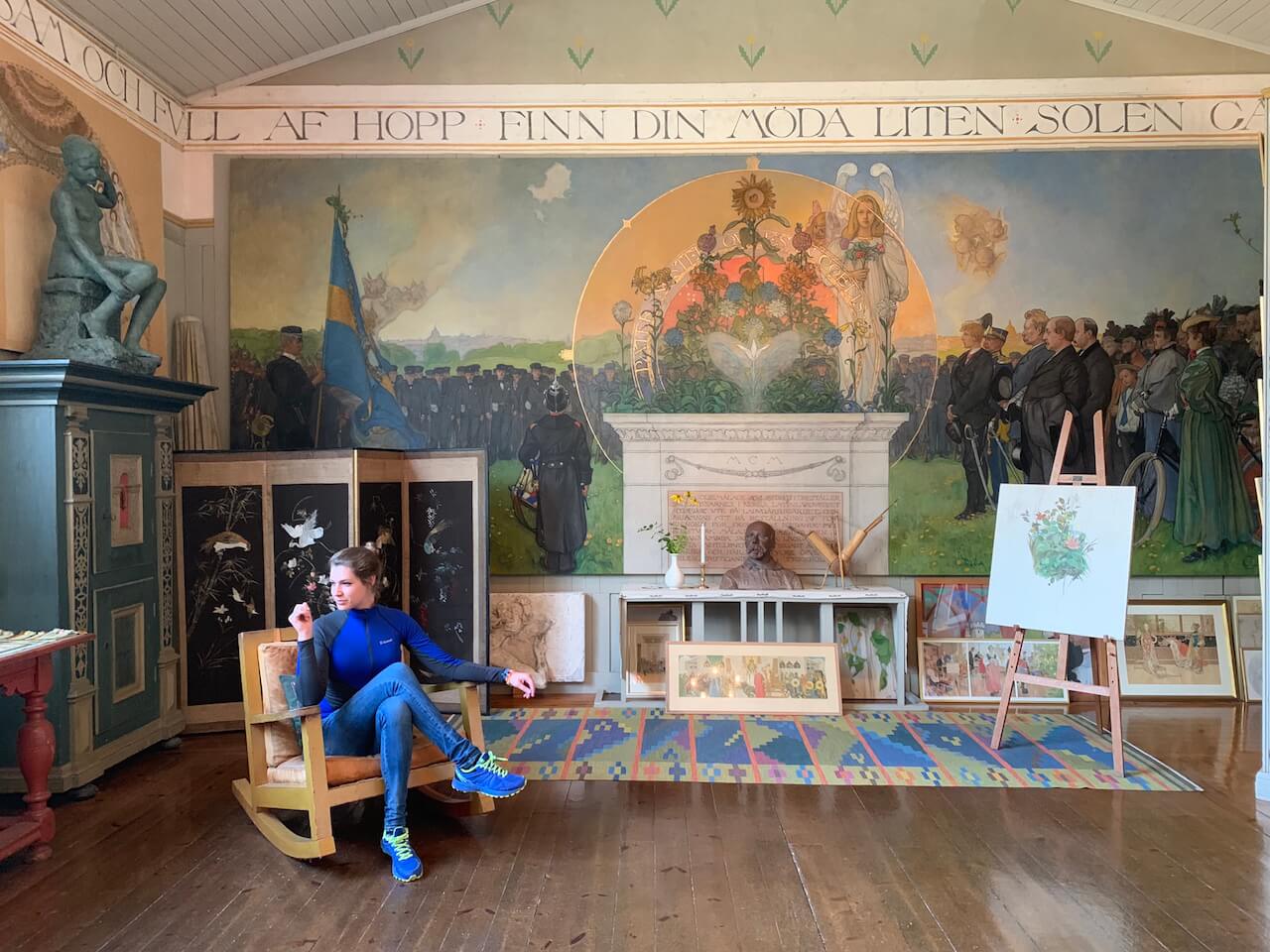 Talking of dreamy Swedish cottages brings me nicely to the last stop of our brief trip to Falun- Carl Larsson-gården, the much loved home of Carl and Karin Larsson, one of Sweden's most visited houses. Carl Larsson and his wife, Karin are basically the godfather and godmother of Swedish interior design. Many of IKEA's designs were inspired by the couples design work and by this house. The director, Chia Jonsson, informs me that IKEA apparently visit their home once a year to get inspiration. The house is a dreamy place, one in which I could have easily spent days. There are so many lovely design details that really make this place special. It is nice to hear that the house is still used as a residence by the relatives of the Larssons.
Our 48 hours in Falun flies by.
I can't help marvelling at the magnificent heritage of the area. When I close my eyes and think of Falun and its legacy, the first thing I think of is the incredible wealth of stories that the area holds for us. Stories of struggle, death, cultural identity and of how we built our world. In the end, the story of Sweden is not too different from the story of the world and the story of us. We are more connected together than many would like to admit. We just need to get off the beaten path more, unearth these incredible stories of us, preserve and pass them on for posterity.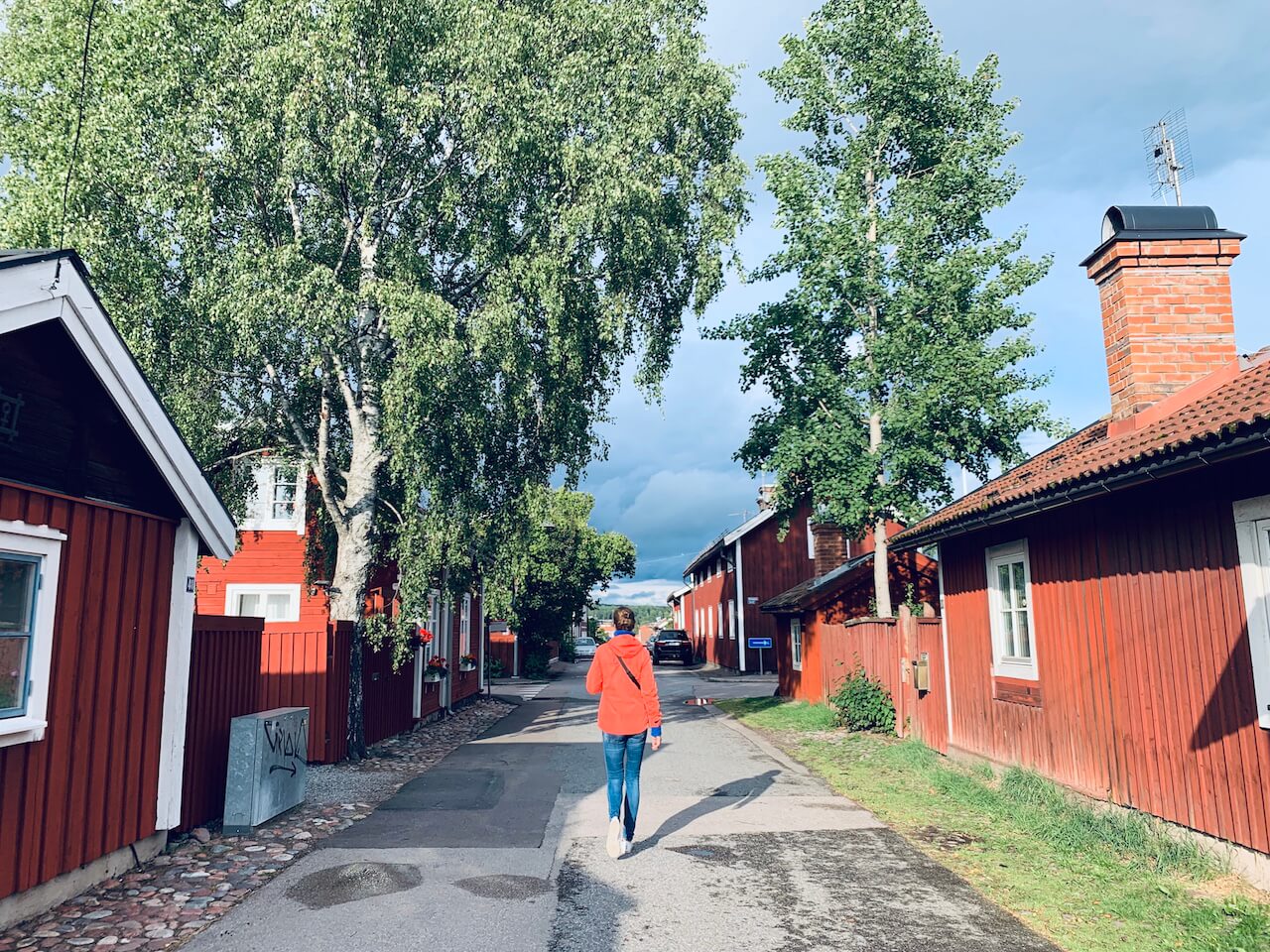 Essentials
How to Get to Falun
Nothing beats travelling Sweden by train. I took the train from Copenhagen with a stopover in Stockholm. I booked my tickets via SJ.com. Single ticket starts from around 400 SEK ( €38)
If you are coming to Sweden by plane, Stockholm's Arlanda Airport is 200 kilometres from the city of Falun. From Arlanda there are direct trains to Falun. Journey time is 3 hours and tickets start at 300 SEK mark (€30). The mine is walking distance of the city's central tourist area.
When to Visit Falun
Falun Mine
Falun Mine is open all year. Keep in mind that the temperature in the mine is always 5 degrees Celsius, no matter what time of year. So bring a warm layer of clothes if you are visiting in the summer.
Order your tickets for tour of the mine and the Mine Museum online, by telephone, or on arrival. Please do keep in mind there maybe queues during the peak season so it is wise to book in advance. Do also make some time to visit the World Heritage House onsite where there is a reception, shop, film show, exhibitions, plus you can get information about different activities on the site. You have to be over 3 years old to visit the mine under ground.
1st May to 30

th

September
Under ground (including activities above ground)
230 kronor per adult (from age 16)
200 kronor per student/pensioner
100 kronor per child (age 3–15)
600 kr Family ticket (2+2)
Above ground
110 kronor per adult (from age 16)
60 kronor per child (age 0–15)
300 Family ticket (2+2)
1st October to 30

th

April
Under ground
210 kronor per adult (from age 16)
180 kronor per student/pensioner
80 kronor per child (age 3–15)
530 Family ticket (2+2)
Above ground
80 kronor per adult (from age 16)
40 kronor per child (age 3-15)
210 Family ticket (2+2)
The Mine Museum are open Sun-Sat during this period.
There is a tourism information point, in the centre of Falun that can offer you advice and help plan your stay

Carl Larsson-gården
Visitors to the Carl Larsson-gården can book a tour via their website. Tours are in Swedish but there is the option of English and German language tours during the summer. Please do enquire ahead of your visit. Carl Larsson-gården also has a beautiful shop with carefully selected designs straight from the house and grounds.
Off-season: August 26th – May 23rd
Adults: 195 SEK
Children (6–16 years): 60 SEK
High season: May 24th – August 25th
Adults: 220 SEK
Children (6-16 years): 60 SEK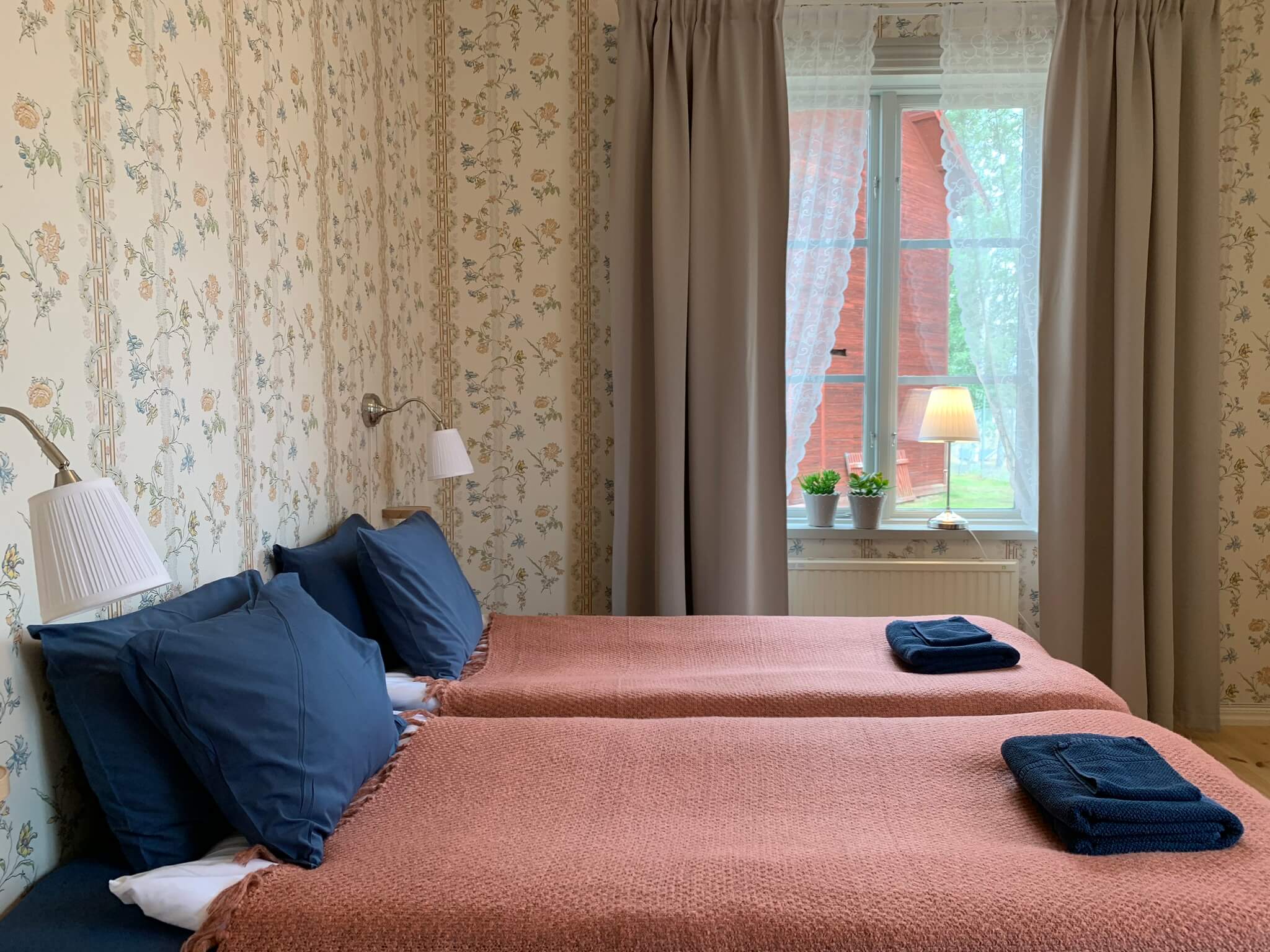 Where to stay in Falun
Stay in the beautiful bed and breakfast Gruvortens B&B which is set beside the mine.
In the evenings you can watch the sun set over the huge pit from the B&B porch with not a tourist in site! The rooms here are lovely, you get a really nice breakfast and the lady who runs the place was very helpful.
Another budget friendly option is the clean and quiet STF Falu Hostel situated 2 kms from the centre of Falun beside the beautiful Lake Runn.
I visited Falun as part of a new storytelling project with UNESCO and the new World Heritage Journeys of the European Union project. This project implemented with the support of the European Union in partnership with National Geographic brings together 34 World Heritage sites through four different thematic itineraries: Royal Europe, Ancient Europe, Underground Europe and Romantic Europe. For more details and plan your own UNESCO World Heritage adventure, hop over to the Unesco World Heritage Journeys of Europe website. Big thank you to UNESCO for bringing me to Falun and also a huge thank you to the team at Falu Gruva, Carl Larsson-gården and Visit Dalarna for being such great hosts.