Continuing the focus on the 'city of short walking distances' : Lubeck is home to not one but three Nobel Prize winners; Thomas Mann, Gunter Grass and Willy Brandt.
Visiting the three museums dedicated to their genius was one of my highlights of my trip to Lubeck.

1. Buddenbrookhaus
 
The Buddenbrookhaus: dedicated in the memory of Thomas Mann is a unique homage to Thomas Mann's life set against the backdrop of his masterpiece 'Buddenbrookhaus' which is strongly evocative of characters and people from his childhood.
Instead of a stuffy boring museum filled with his slippers and his favourite smoking pipe this museum really gets into the mind of the genius, allowing you to interact with his life by recreating scenes from the strongly autobiographical novel. Awesome. Loved this place.
2. Gunter-Grass House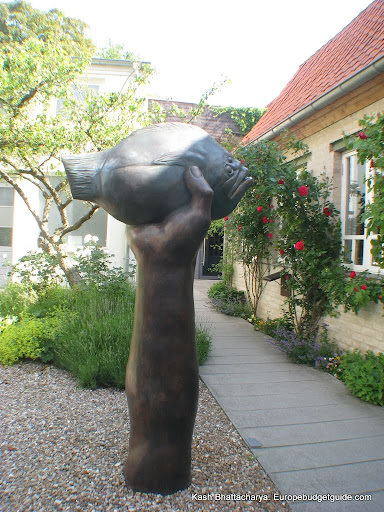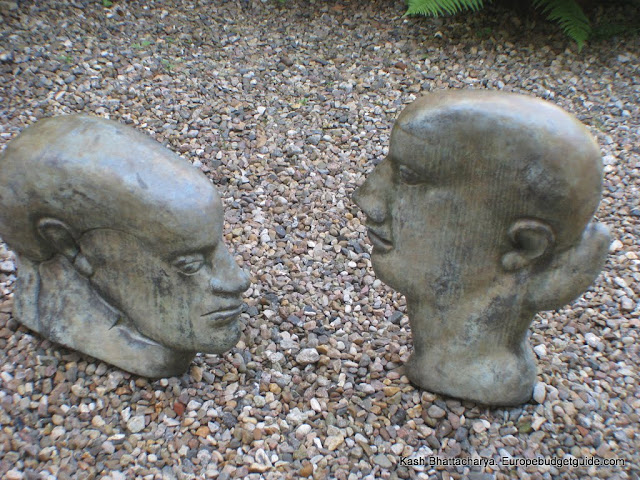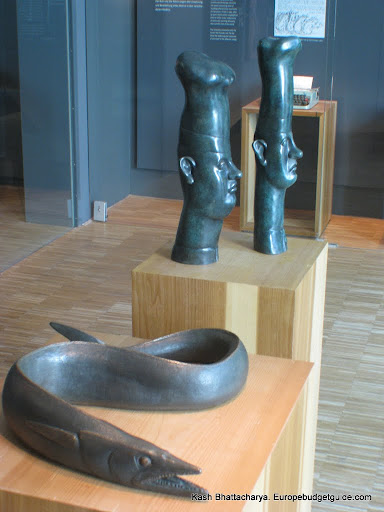 Not very far from the Buddenbrookshaus at Glockengießerstraße 21 is the Günter-Grass-House ( Admission Adults 6 euros,  Kids and Young Adults ( till 18) : 2 euros, Students: 3 euros ) : a museum dedicated to Gunter Grass-another literary genius who has made Lubeck his home.
The museum is a unique testament to his genius: an artist  who has uncovered a unique marriage between the visual arts and the written word as you can see from the pictures above.
The museum has a beautiful garden with some stunning bronze sculptures plus inside there is a thought provocative exhibition of illustrations and drawings works including reflections on his famous work the Tin Drum, which has since been made into a great movie.
Few doors past Gunter Grass-House you can have a memorable glimpse into the medieval history of the city at the Glandorps Gang– a charitable housing estate built to accommodate the city's growing population of craftspeople and artisans.
It's accessible via a tiny walkway from Glockengiesserstrasse which leads one into the courtyard of the Glandorps.
It's a beautiful , very serene place.
Top tip: Inhabited by mainly elderly residents now living there who do give the odd awkward stare to tourists so do tread carefully….
3. The Willy Brandt Haus  (Königstraße 21, Admission: Free) is dedicated to Lubeck's third Nobel Laureate: Federal Chancellor Willy Brandt.
I did not know much about Willy Brandt but it was an interesting exhibition. Besides his biography the exhibition focuses on the topics of democracy, human rights and peace plus there is an interactive guide to history of 20th century Germany: from the Weimar Republic to the reunification of Germany.
When to visit Lubeck
Lubeck is a great all year all rounder of a travel destination. Its has plenty to offer to all kinds of tourists, especially couples with plenty of sightseeing, shopping boutiques, great outdoor café culture, some nice restaurants plus lots of wellness and relaxation choices.
In Christmas, they have a lovely market here.
Top tip:
Do stop by at the Lubeck Tourist Office: just across from the Holstentor to stock up their excellent walking tour maps of the city plus spades of friendly advice. Its worthwhile investing at the Tourist Office, a 1 day Happy Day Card which for 5 euros gives you unlimited travel on bus including train to the Airport and Travemunde (nearby sea resort) plus discounted entry to all the key museums including those mentioned above.
Lübeck und Travemünde Marketing GmbH
Holstentorplatz 1
D-23552 Lübeck,
Tel: +49 (0) 451/ 88 99 700
Where to stay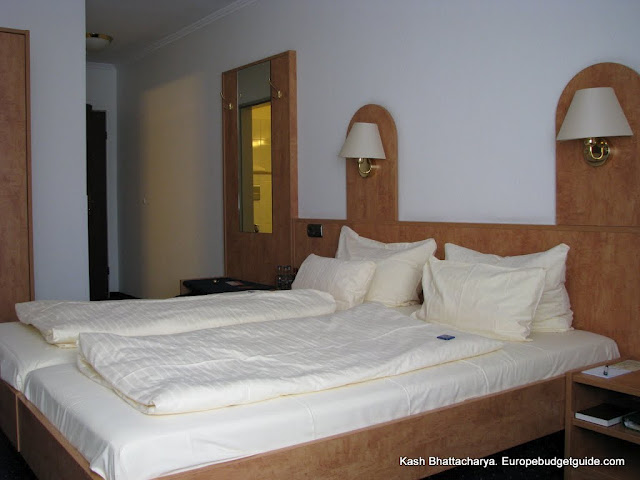 I stayed at the Hotel Lindenhof.
In a great location just a stone's throw away from the Lubeck Train Station and the Holstentor. The Hotel Lindenhof is a peaceful, comfortable 3 star hotel which offers all the conveniences and comforts you need for a weekend break.
The beds were very comfy, ensuite facilities with good range of all essential toiletries.
There are some nice quirky touches like a complementary bowl of apples at the reception to chomp on and free juice. After all that walking and shopping –a healthy boost I guess!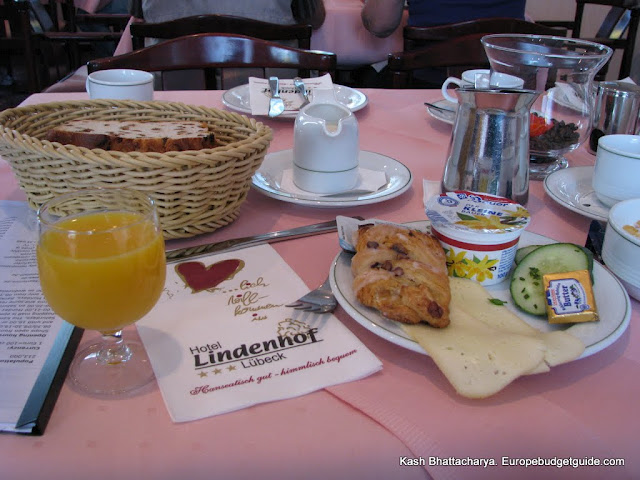 The breakfast buffet is excellent and a generous spread ( The Germans really know how to rock breakfast! ). Lots of different cheeses, sausages, hams and fish.
For the location and convenience, the prices are great with a single room for 64 euros upwards and double 80 euros upwards.
Hotel Lindenhof Lübeck
Lindenstraße 1a • D-23558 Lübeck
Tel: +49 (0) 451 8 72 10-0
www.hotel-lindenhof-luebeck.de