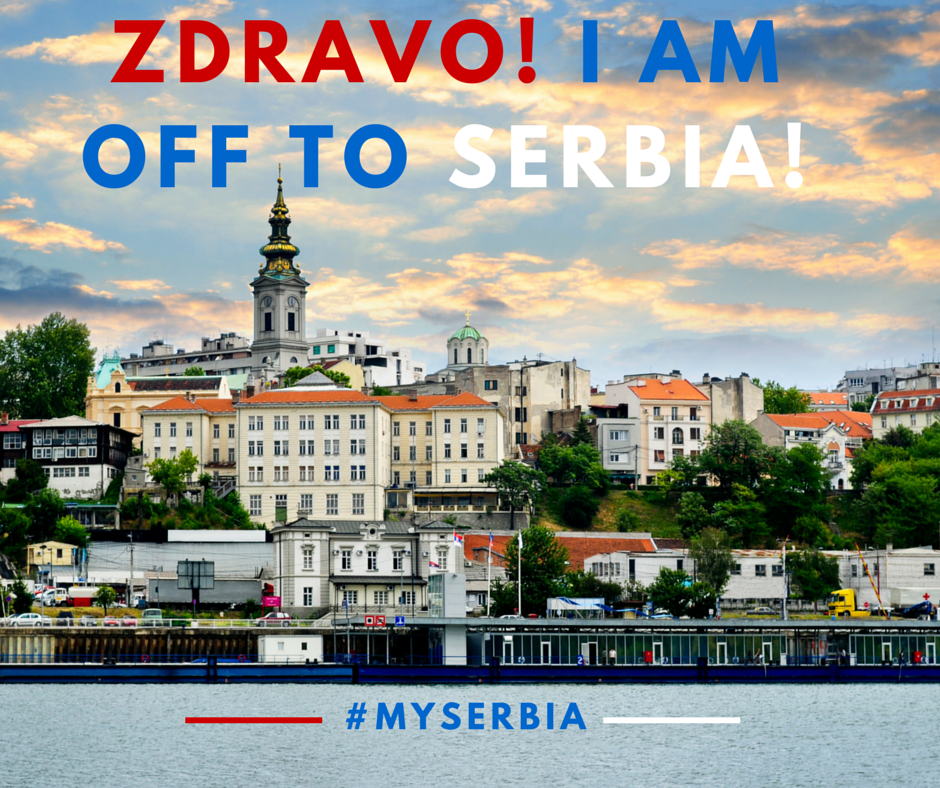 Hello or Zdravo! (Pronounced ZDRAH-voh) as they would say in Serbia.
Hope you are all having a great summer so far.
I am currently in Lisbon for a quick stopover to get my visa to India before heading to a new country tomorrow.
From the title of this post you must have somehow figured out that I am indeed going to Serbia!
I feel pretty damn excited about this trip.
It has been on my invisible list of places I'd like to see so I am glad I have finally got the opportunity, thanks to the kind invitation from the Serbian Tourism Board.
I have to admit to you that I don't know too much about Serbia. This much I do know….
…that it is a budget friendly destination. Beer can be cheap as 1 euro. Breakfast for €3. Plus you can sleep for little over €20. Correct me if I am wrong here!
This is a major plus for me. ( I'll be giving a breakdown of costs in the posts so you can get an idea of how much you need to budget) plus….. all the Serbians I've met before at university and through work have been very friendly and lovely people. So it was no surprise when I learnt recently that statistically, Serbs are the most hospitable people in the world. I'll validate this statistical observation for you v.soon.
I also know that Serbia hosts one of the biggest music festivals in the world: EXIT, which is currently taking place in Novi Sad. The country hosts a bunch of lesser known but great festivals so I will report back to you on that later. Plus I know from friends who have visited that Belgrade has a cracking nightlife scene which I am looking forward to exploring plus…the city has some pretty awesome coffeehouses. See. I am already in love with Serbia you see.
I know a few other random facts. For example, the fact that you already know one Serbian word.. (Two, now that you know how to say Zdravo!)
Vampire! Petar Blagojević was the first "official" vampire. Not to worry.He lived in Serbia in the early eighteenth century.
So vampires didn't originate from Romania after all. Fangtastic.
Plus another great fact that I did know is that Serbia is the largest exporter in the world of raspberries. 95% of the world's raspberries come from Serbia. So I am looking forward to raspberries for breakfast, raspberry jam on my toast and definitely raspberry cocktails.
So these are just a few things I know about Serbia.
I've deliberately not researched further. I have an itinerary of places I am going but to keep it interesting , I won't share it with you. You'll have to follow the hashtag and find out.
Older I grow, the more I would like my life to be spontaneous. I dream my life to be a series of serendipitous moments where I meet amazing people, eat great food, see beautiful places, learn something useful that broadens my horizons.
So lets be serendipitous! Tweet me with your suggestions and ideas of what I should see in Serbia over the coming week. Lets meetup for a drink if you are nearby. I would love to meet you and say zdravo!
Please say hello to some of my awesome blogger friends who will be joining me on this epic journey. I'll be in tandem with the one and only dude, Melvin Boecher from Traveldudes. We've had some amazing adventures across the world so I am looking forward to adding one more epic trip to our collection.
After I leave on the 28th, we'll be handing over the baton to the gregarious, fun loving duo of Becki Enright aka  bordersofadventure.com and Rob Lloyd, the man behind stophavingaboringlife.com
Plus we will be in the company of Serbia's top travel bloggers: say hello to Zorica from eurotribe.com
Milos from milosblog.com, Uros – neblog.bjuti.info and Thiago – bemvindoaservia.com Looking forward to their company and seeing the country through their eyes.
It is DEFINITELY going to be an exciting week ahead and the great thing is that you can be part of it.
Follow the trip at http://my.serbia.travel and check the hashtag, #myserbia
Share your favourite photos, memories, videos and suggestions using the #myserbia on Twitter/Instgram/Facebook and at the end of our trip, me, Melvin, Rob and Becki will pick out the best tweet, the winner winning an all expenses paid holiday for two in Serbia.
I am reach Belgrade tomorrow evening (22nd) so stay tuned for all the action as it happens.
---
The #mySerbia trip was created and managed by iAmbassador  in association with the Serbian Tourism Board. I maintain full editorial control of the content published on this site.