Following my recent guides of the best budget places to stay in Amsterdam, London, Paris, Berlin, Edinburgh, Lisbon and Venice, excited to be finally be able to share with you my best budget places to stay in Rome. There's a nice mix of my favourite luxury hostels and budget hotels to choose from, depending on your budget. Hope you find the guide useful and if you are visiting Rome, do checkout my other guides to the best cheap eats in Rome and the 20 best things to do in Rome on a budget.

1.The Rome Hello
Perfect for : Couples ,Solo Travellers and Art Lovers
The RomeHello has the unique distinction of being Rome's and possibly the world's first street art and social enterprise hostel. World famous street artists from all over the world such as Alice Pasquini, Facte, and Victoriano were inviting to decorate the walls of the hostel and the end result is colourful, inspiring and adds energy to the place. It reminded me a lot of one of my other favourite luxury hostels: the Gallery Hostel I love the idea that a hostel can double as a creative space and act as a platform that allows local artists to showcase their talent. The idea of inviting street artists to decorate the walls of the hostel was born from owner Lorenzo Busi's passion for graffiti art. As a former graffiti artist himself he had witnessed first hand the power these artists had of inspiring change in places where there is little hope for change. That theme of inspiring change continues with the hostel's unique identity of being also a social enterprise. The problem of high employment amongst the city's youth and also people from disadvantaged backgrounds inspired Lorenzo to focus on employing hostel staff from disadvantaged backgrounds. One staff has Down's syndrome, few are asylum seekers and refugees. For this reason alone, this hostel gets a massive thumbs up.
More about the hostel. It enjoys a fantastic central location just a short walk from Termini train station and Repubblica Metro station. The Trevi Fountain, the Pantheon, and the Spanish Steps all within a 20-minute walking radius.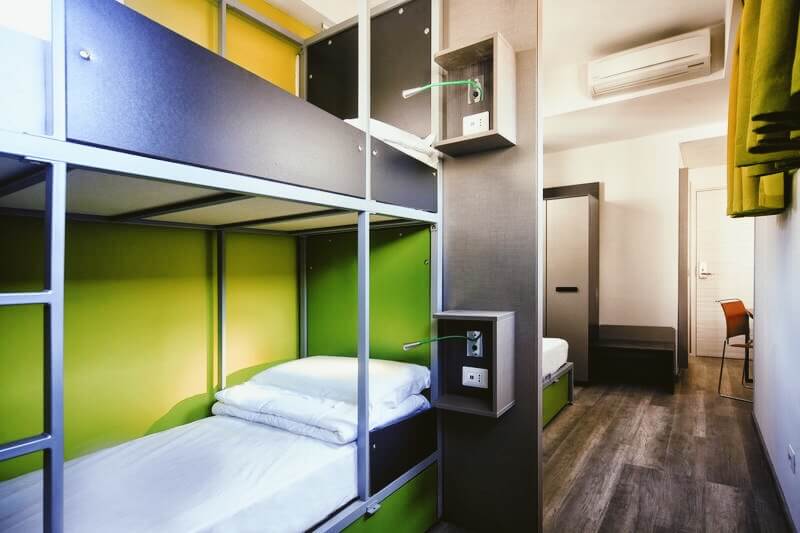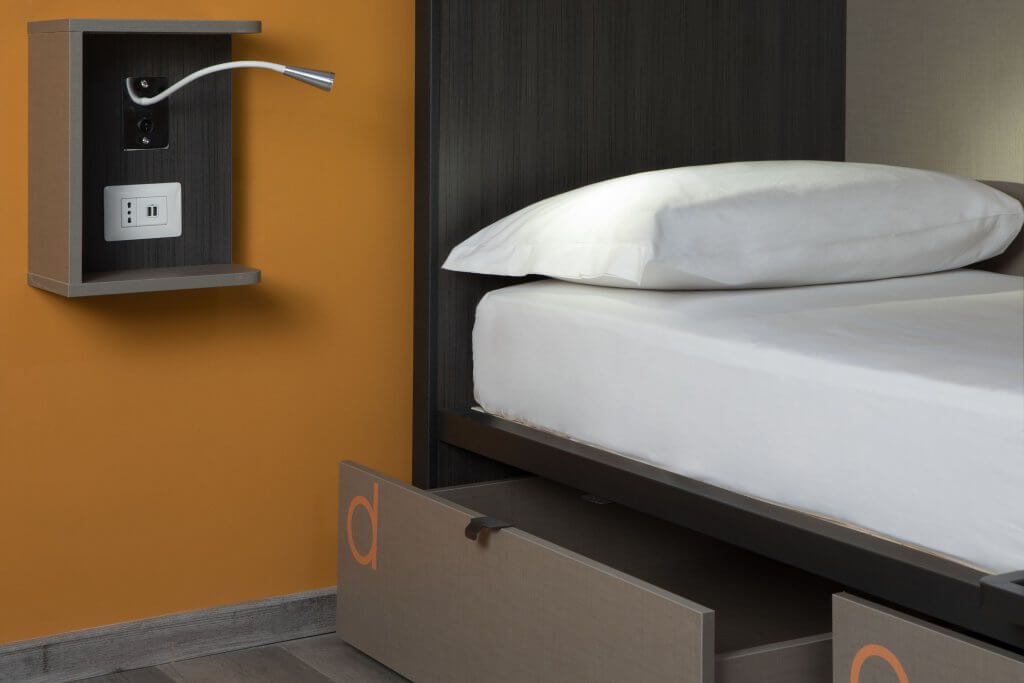 Other impressive feature of the RomeHello are their rooms, a mix of spacious dorm and private rooms, all with extremely comfy beds and en-suite bathrooms. You have the added bonus of a reading light, a USB charger plus also spacious storage locks beneath every bed. Just remember to bring your own lock. On the ground floor, you'll find a very well equipped guest kitchen and cosy lounge, complete with a Nintendo Switch and sofas to sink into with one of our travel guides from the bookshelf.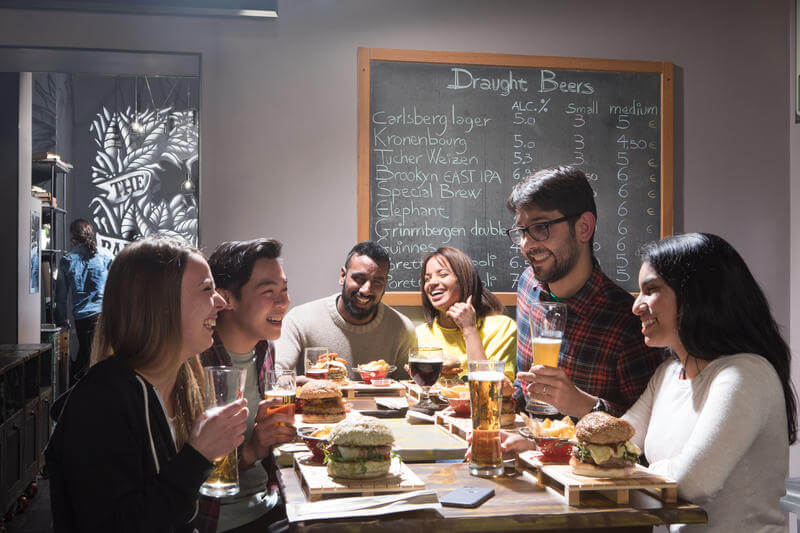 Prefer to chill with a beer? Socialise with guests and locals in the hostel's bar, The Barrel Bar -an American, post industrial style-bar which features live music from the best of the Roman and international music scene.They also serve a very generous buffet breakfast with fruit, fresh bread, beans, bacon, scrambled eggs, coffee, tea and cake for an extra €8. ( €6 if you book online in advance)
Book your stay with the Rome Hello hostel
Average price of a bed in a dorm is €20 and €70 for double booking via
Or book directly via the RomeHello website and if you quote 'BudgetTraveller' , you get 10% off!
The hostel also has excellent partnerships with local tour providers. If you are short on time and want to discover all the sights of Rome in a few hours, then I highly recommend a tour with the Roman Guy. Besides packing the main sights on foot, they offer the added luxury of a car to drive you around the sights and several hills of Rome. So from capturing the perfect panoramic shot of Rome from the dreamy Giardino degli Aranci on the Aventine Hill to capturing sunset over the magical Ancient Roman Forums behind the Campidoglio-this tour allows you to do everything. Plus if you are in a group, you can choose to customise the tour. I was keen to checkout some of Caravaggio's works and our lovely guide Maura took me to Church of San Luigi dei Francesi which houses three paintings of his on the theme of Saint Matthew the Evangelist.
You can book the Best of Rome Driving and Walking Tour I did here. It last 3 hours and costs €95 which is by any means not cheap but if you're short on time and want the luxury of someone local, knowlegeable to guide you and take you across the city in a luxury vehicle, this tour is for you.
If you are interested in discovering more of the street art scene, the hostel can connect you with Stefano from the Big City Life project which has set up an open air street art museum in a former run down housing project in the suburb of Tor Marancia. Thanks to the initiative of Stefano and the locals from the housing project, artists from all around the world were invited to create a unique piece of art onto the side of each block of flat.
The families living in each block of flats chose the imagery. The result are 22 breathtaking pieces of art, each one with a unique story.
Book a tour with Stefano?
A tour with Stefano of the open-air street art museum costs just €5 which is a bargain for street art lovers and for those who want to experience a different side to Rome. To book your tour, drop a line to Stefano at [email protected] with your desired time and date you'd like to visit.
2. The Beehive Hotel and Hostel, Rome
Perfect for: Couples, Solo Travellers, Vegans
Right next to Termini station, this eco-conscious hostel-meets-hotel in Rome is an oasis of calm in this fast-paced city, complete with a garden and an organic vegetarian café that offers generous portions of locally sourced, home-cooked goodness.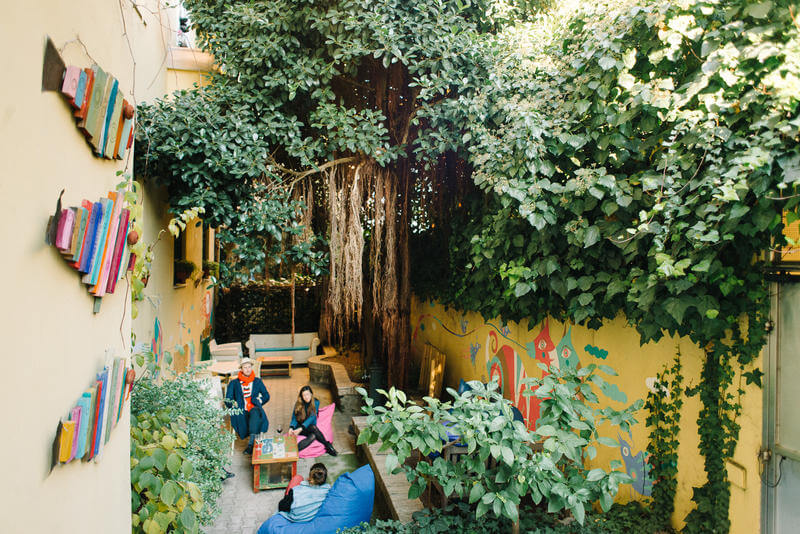 A hybrid of a hostel, hotel and a holistic retreat, The Beehive is the perfect place for unwinding after a day of exploring Rome. Just two blocks from the chaos of Rome's Termini Station, guests are ushered into their blissful garden area, an oasis of calm and the perfect place to mingle with fellow guests while enjoying a glass of their organic wine from Umbria (€8 a bottle, €2 a glass) .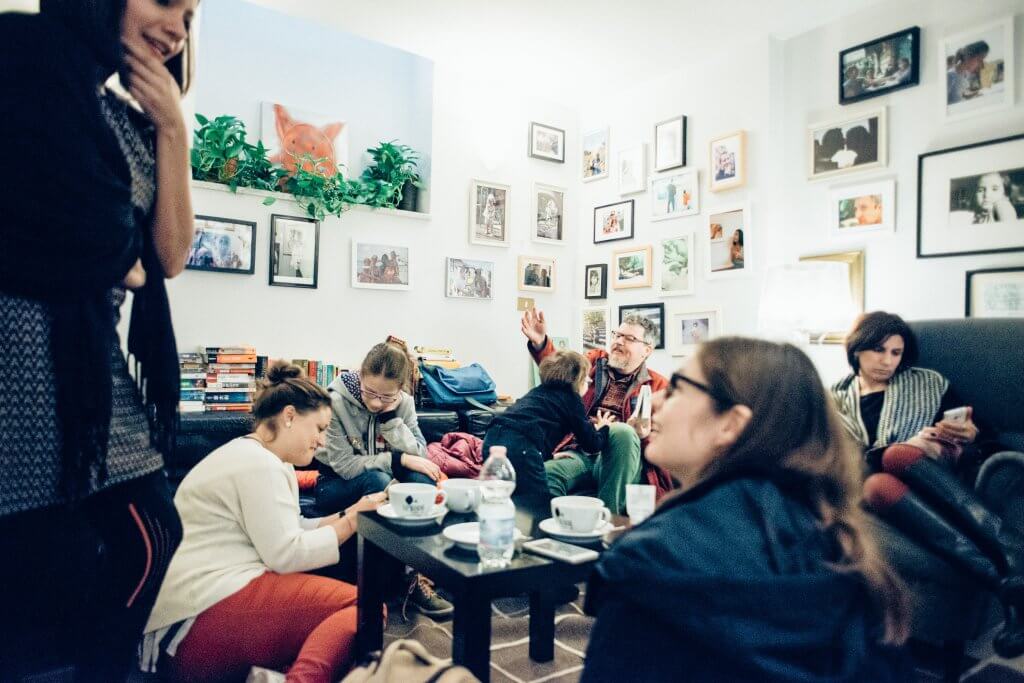 Enjoy the contemporary design elements of the place like the Phillipe Starck inspired chairs at the reception, the warm coloured interiors, Steve's beautiful family portraits and facilities like the basement organic café.
The owners, Steve and Linda Brenner are passionate locals and have some great tips to share to make your stay more enjoyable, like recommending the best Gelateria in town (a subject of fiery debate amongst the Romans). Breakfast is not included in the room price, but if you do splash out, it is a real treat. You have some exciting options ranging from scrambled tofu with veggies or Juk: Korean Rice Porridge (has to be ordered a day in advance) or French toast with fruit and honey. They also host pop up dinners, lunches from local chefs, a yummy weekly vegan aperitivo buffet, cooking classes plus a fab monthly storytellers' event.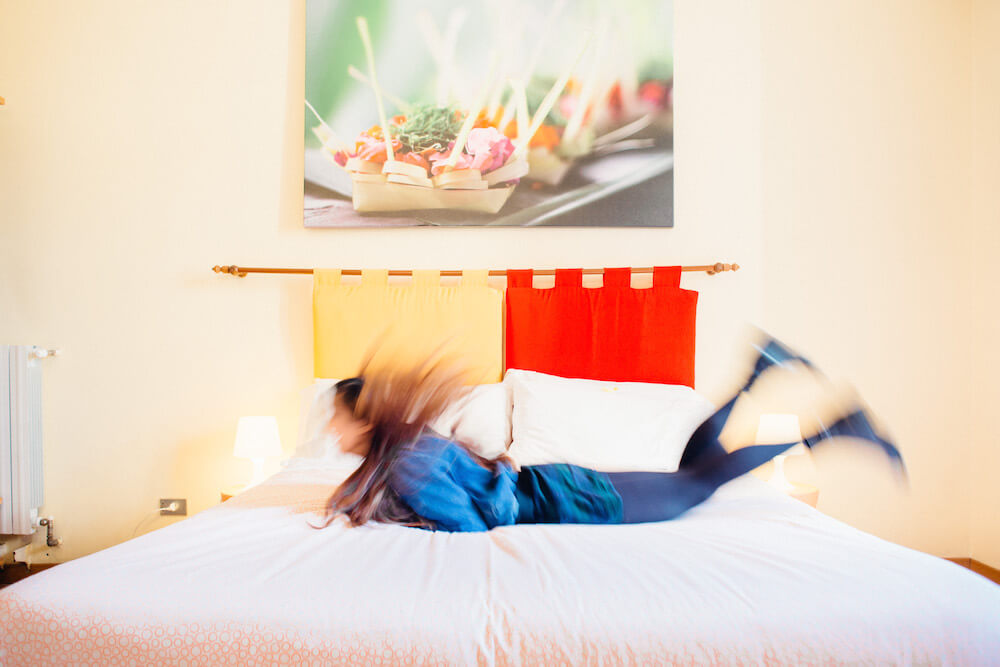 There's an option here to suit every type of traveller and budget, from their dorms ( including several female only dorms) to their stylish privates and guest rooms with self-catering facilities off-site. Privates are the top pick for guests with their bright colours, beaded lamps, huge windows that breathe in light, lots of wardrobe space plus your own private sink and locally sourced, handmade vegetable soaps.
If you like places with a personal touch and attention to detail, then the Beehive is the place to stay for you in Rome.
Book your stay at the Beehive Rome
In the low season dorms start from €25, singles from €40, doubles from €60 per room booking via Hostelworld.com
Address: Via Marghera 8, 00185 Rome, Italy.
3. The YellowSquare
Perfect for: Couples, Solo Travellers, Party Lovers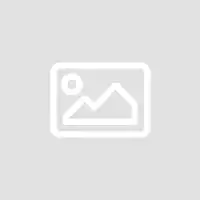 is possibly the greatest party hostel on earth. This hostel has been designed with the idea of you having the wildest night of your life. There are a lot of cool spaces within the 'Square' where you can easily meet your fellow guests: greatest of which is the Yellow Bar. However, it would be a huge mistake to label the YellowSquare as just a party hostel. The YellowSquare is a bold concept in hospitality where guests can eat, party, sleep and work in one space. A hostel is no longer just a place to rest your head. You can catch a local band in action.

Go on a food tour of Rome with a local or enjoy a cooking class preparing something typically Roman like a pasta guanciale. If you are travelling for work you can catch up with work in their brand new co-working space. Even get your hair cut in their recently launched hairdressing salon. There are plans for even an escape room. Yellowsquare is a very exciting fun space.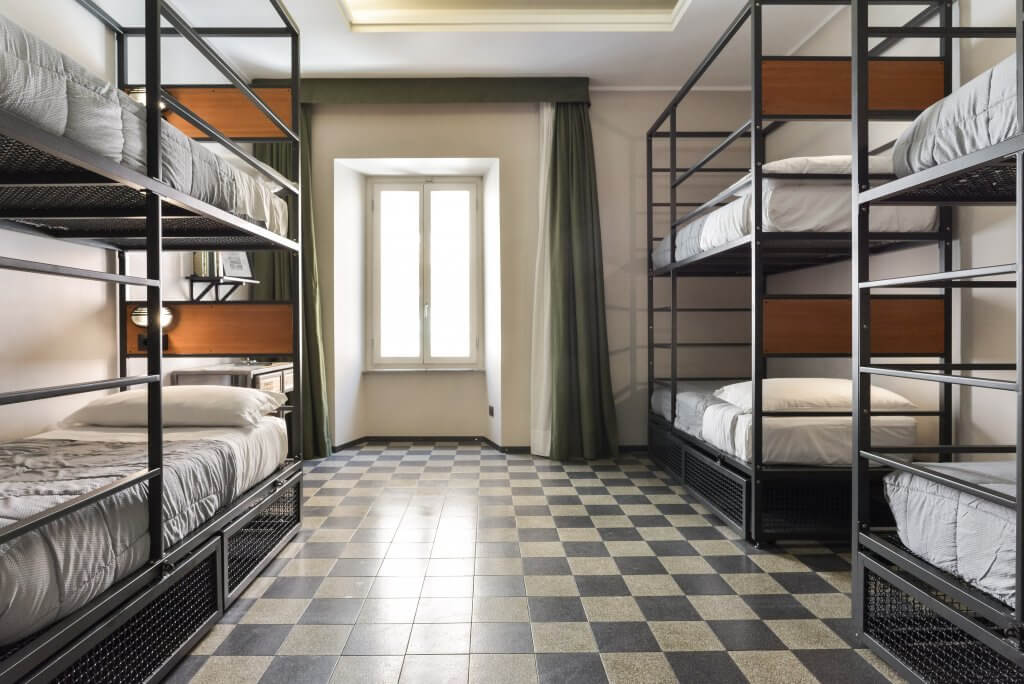 The Yellow caters to all types of travellers. If you are travelling solo and want to meet people and party in Rome then the ensuite dorms are perfect here. (There are non-ensuite dorms available too). Equipped with reading light, power outlet and lockers- they are comfortable and clean. Plus, most importantly in summer the ensuite dorms have air conditioning.
If you are looking for something more peaceful and relaxed, their private rooms in the newly launched Yellow Hotel across the road are great. They are equipped with a private en suite bathroom, direct-dial phone, independent Air Con, heating, a safety deposit box, hair dryer, mini fridge and wired Internet access.
The Yellow Bar across the road is where all the action happens. With some of the cheapest drinks in town, a regular programme of events that includes great local bands and DJ nights in their basement nightclub, Arcade. The cherry on the cake is the downright bizarre yet entertaining Tonika -a kind of x-rated fitness live video is one way of describing it. If that doesn't get your pulses racing, you can sign up for a fee and grab a seat on the 'Rollin Bar': a magical mystery tour of Rome by night. Imagine a van with strobing lights, half crazed backpackers knocking down unlimited booze on offer accompanied by the surreal beautiful view of Rome at night.
The hostel serves a la carte breakfast available from €2.50 and up. Plus most importantly, they have a proper coffee machine here. There is an all day menu where you can help yourself from burgers to salads. Pretty decent fare for a hostel. My preference would be to dine at Mamma Angela's Trattoria across the road. Great selection of antipasti, fab bruschetta and amongst many other dishes they serve a fantastic Roman classic: cacio e pepe (cheese and pepper)
Hostel offers a variety of great walking tours and organises cooking classes in the new basement kitchen of the hotel area. Kitchen is available for use by all hostel guests.
In the new hotel building, there is also a 'movie garden'- a hidden inner courtyard where you can watch classic movies or just relax with a book during the day and chill.
In terms of other key facilities, the hostel has a laundry service. For a small fee they will take care of your dirty clothes.
To summarise, crazy, sexy and fun are the three words I would use to describe the YellowSquare experience. If you feel young at heart and want to party like its still 1999, then you will love the YellowSquare forever. If you are not the partying, social type and looking for something placid then look elsewhere. YellowSquare is so much more than just a party palace. It is an experience that will stay with you for years to come.
Book your stay at the YellowSquare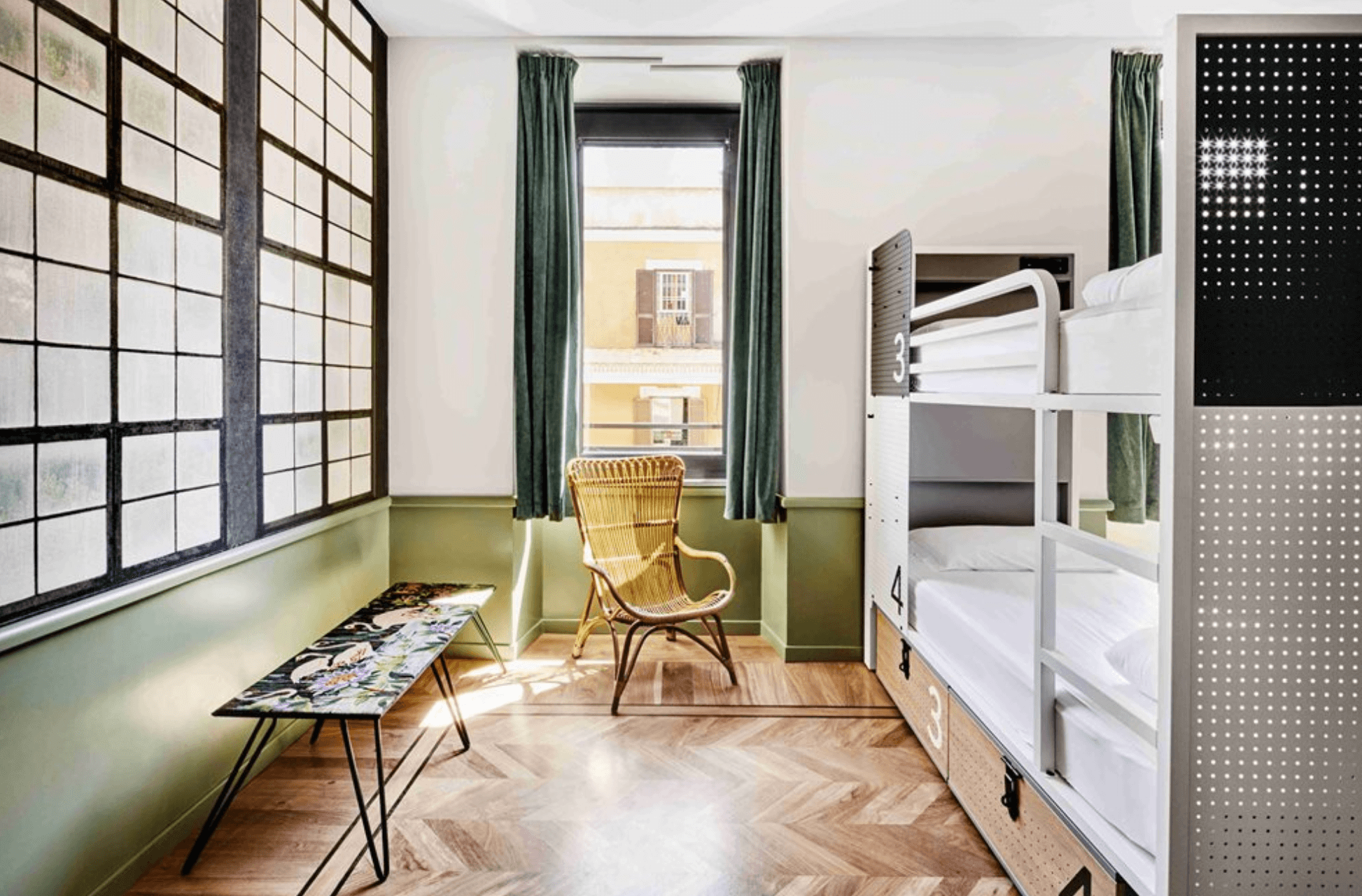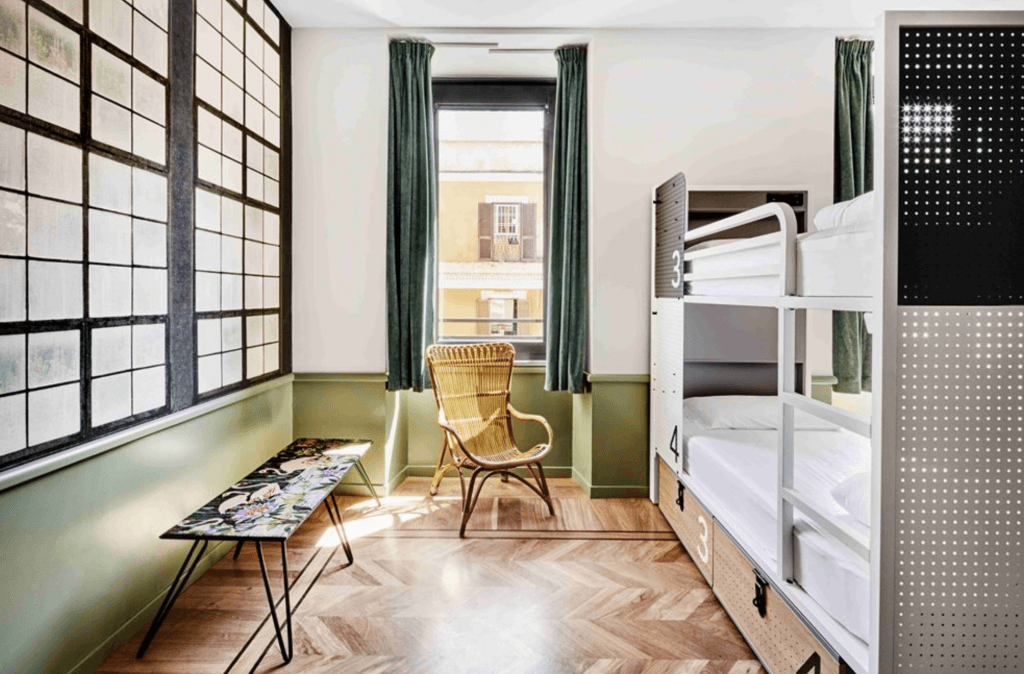 4. Generator Rome
Perfect for: Couples, Groups
If the above 3 hostels have no available rooms then definitely consider staying at the stylish Generator Hostel. It is conveniently located near Termini. With just 12 dorms and 53 doubles, this is more hotel than hostel and features clean, comfortable beds with vintage style desks in the rooms plus air conditioning, wifi and ensuite bathrooms. Staff are friendly and helpful. The €5 breakfast offers guests unlimited coffee, juices, pastries, meats, cereals and cheese.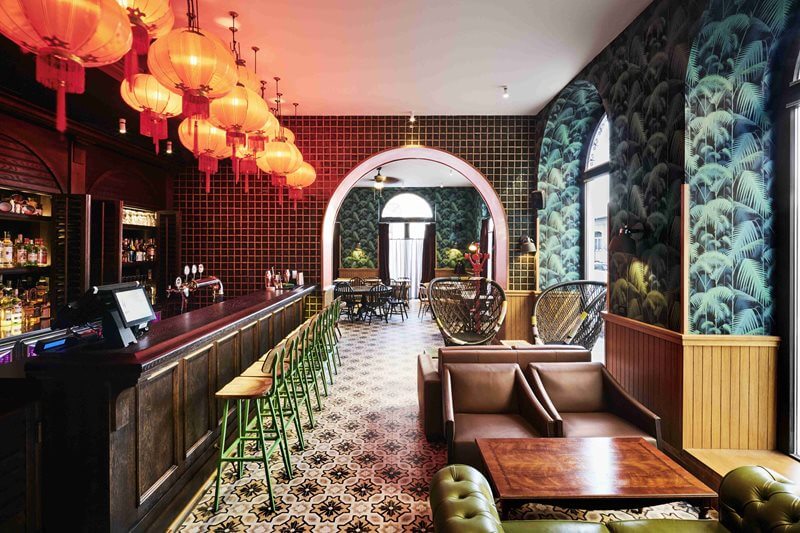 The hostel includes a fab rooftop terrace with panoramic views, a hip cocktail bar and chill-out lounge.
5. Lilium Hotel
Perfect for : Couples
If you're looking for something more romantic and stylish, highly recommend the Lilium Hotel. The hotel is situated on the 3rd floor of an 1850' Umbertine Palazzo, a few steps from the ancient city gate Porta Pia which was designed by Michelangelo in 1561. Painted in pastel colors with purple parquet floors and turquoise doors, the 14 rooms here, named after different flowers, all feature free Wi-Fi, flat-screen TVs and minifridges.
The rooms are spartan but comfortable . Guests can choose to upgrade to their 'superior rooms' which are well furnished with potted plants and also leafy terraces.
One of the highlights of the hotel is their excellent complimentary continental breakfast
Book your stay at the Lilium Rome