What to eat in Rome ? I invited local, Steve Brenner founder of the fabulous Beehive Hostel and Cross-Pollinate network to spill the beans (or the pasta) and share his favourite Roman dishes, known only to locals.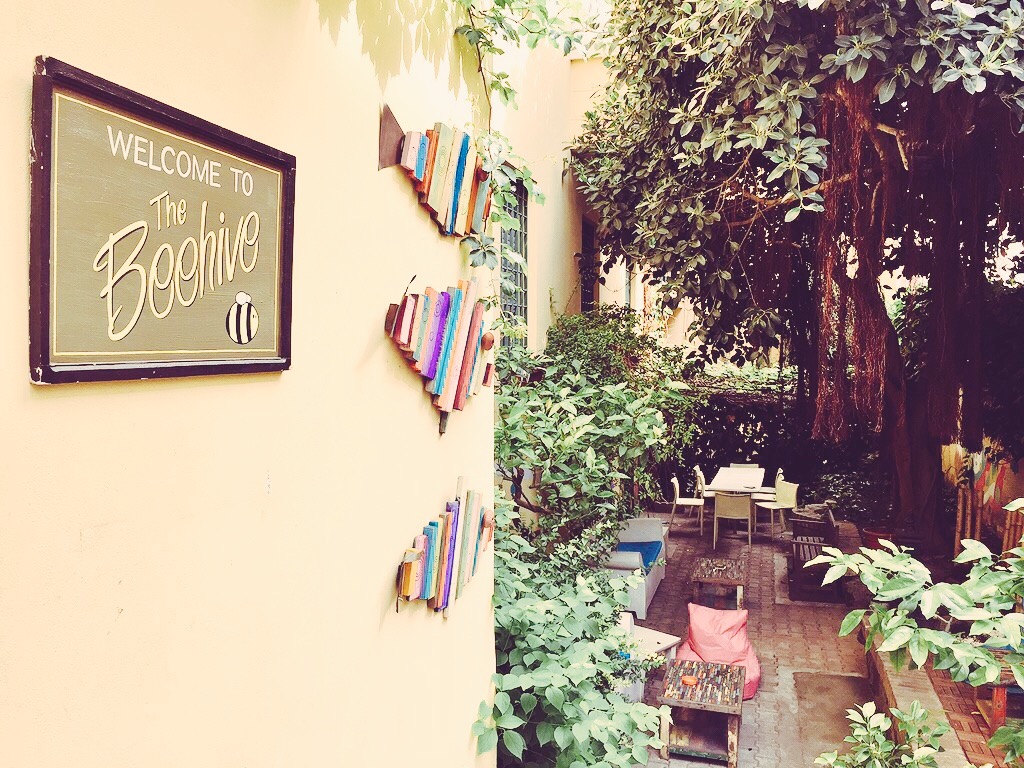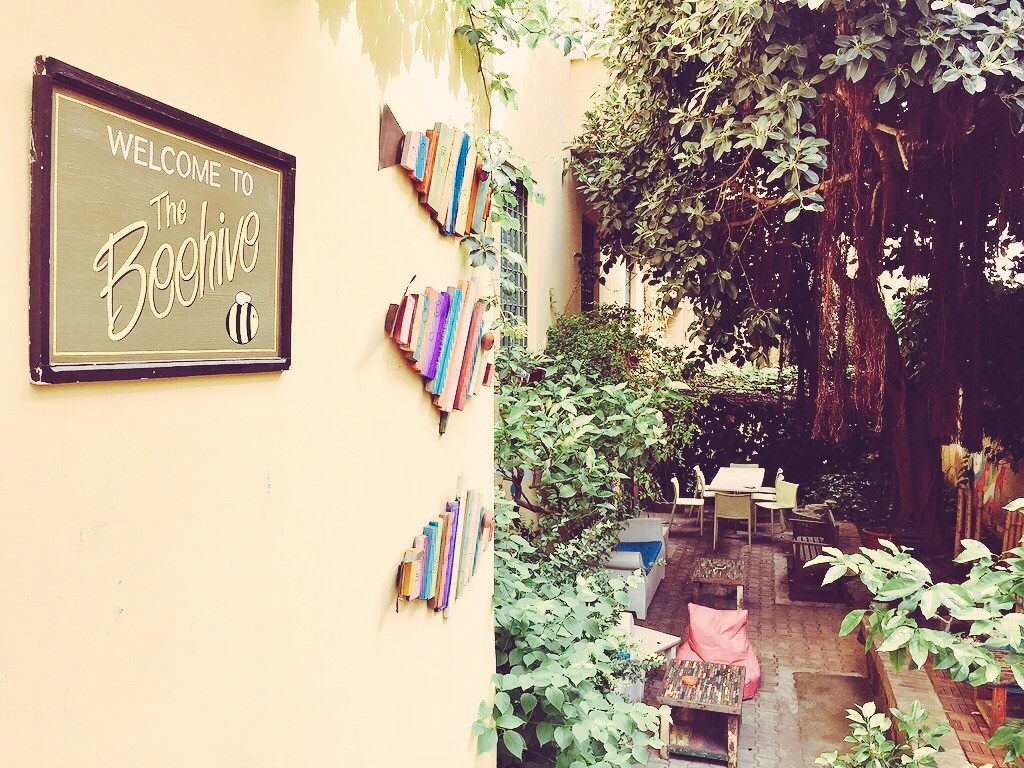 Since 2000, we were turning away so many people that wanted to stay at our hotel, The Beehive, that we started Cross-Pollinate, a way for us to suggest other places to stay that can be reserved through us. Now operating in 8 European cities we know and love, we make sure we know our properties and their owners so that everything on our site is a personal suggestion.
There are loads of resources out there both in print and online of what to eat in Rome: where to find the best Carbonara or enjoy great artisan gelato.  As a long time resident of Rome, I like to tell people about the more subtle, yet wonderful food related things that many visitors overlook or don't know about.  In no particular order, and jumping around by season, here's a list of of some my favorite things that are easy to find but often unknown.
1.  Spremuta d'arancia Fresh squeezed orange juice
In the winter months you can find this at any coffee bar, and when they use the Sicilian blood oranges, called Tarocchi, it is simply divine.  As a diehard coffee drinker, I like to think of this as second breakfast, or a late morning pick me up.  Get one at the bar – average price is from €2-3.50
2.  Caffè con panna Espresso with fresh cream
This is another winter specialty that you'll find in many bars.  The beauty of it is that the panna sweetens the coffee so you don't need more sugar, and it's kept cold, making the espresso a mix of hot, cold and sweet.  Sometimes you can find other "crema" like zabaglione to put in your coffee.  If in Rome, check out Panella at Via Merulana, 54 near Basilica Santa Maria Maggiore.  They do it well.  Or, if it's hot out, and you can't decide between a gelato or a coffee, get an Affogato Al Caffe – usually crema gelato (but you can do it with other flavors), a shot of espresso poured over it, and a dollop of whipped cream.
3.  Cappuccino freddo Cold cappuccino
This is a summer thing, and for some reason you only find it in Rome and further south.  If you ask for one north of Rome, they tend to make a hot coffee then try to cool it down with cold milk – which just doesn't cut it.  In many bars in Rome, the barista makes enough coffee to fill a liter glass bottle and keeps it cold in the refrigerator.  This Caffe Freddo (cold coffee) is already sweetened so a bit is poured into a glass and then cold milk is added. In the summer months, this is literally the most refreshing way to get that early afternoon coffee fix.  It's basic, small, and perfect.
4.  Grattacheccha Shaved ice
In Rome, you can find these stands all along the river Tiber.  They have various syrups, you choose your flavor and then it is poured over shaved ice.  Lemon, when it's hot out, is a real life saver.  It's not exactly the same as a granita which has a smoother consistency, and is a Sicilian thing.  If in Sicily, a coffee or almond granita is the way to go.
5.  Supplì
This is an afternoon and evening snack that is found more commonly in Rome. Take risotto rice made either with tomato sauce or ragù (a tomato-based meat sauce) and form it into a ball.  Stick a piece of mozzarella in the center, bread it and deep fry it.  These are typical starters in pizzerie and can be found in bakeries as well.  My absolute favorite are made at Panificio Roscioli just off Piazza Vittorio a Via Buonarotti 48.  Pizzeria Emma at Via del Monte della Farina, 28 near Largo Torre Argentina makes a great one too.  Supplizio at Via dei Banchi Vecchi, 143 has a whole menu devoted to different kinds.  In the south, there are cone shaped versions called Arancini, which are made with a variety of ingredients with rice that is typically flavored with saffron.
6.  Olive Ascolane  Stuffed, fried olives
This appetizer is from the Le Marche region and is another typical starter in pizzerie.  They are large green olives stuffed with a pork mixture then breaded and deep fried.  Unfortunately, many places use frozen ones, but when made in-house, these too are a great way to ease into a night of pizza induced gluttony.
7.  Prosciutto e melone Prosciutto and melon
In the summer, when cantaloupe is really ripe and juicy, this is a typical appetizer in Roman trattorias.  Very simple – just a few slices of melon with prosciutto on top.  If you've never had, it might be life-changing, because even the biggest failure in the kitchen can successfully reproduce this one.
8.  Fiori di zucca Stuffed zucchine flowers
Zucchine plants, when they grow, have a long, pretty flower on the front, which in Italy are often stuffed with cheese and anchovies, then battered and fried.  Sometimes a pizzeria thing, sometimes found in restaurants, they're a great addition to the fried wonderland that can begin a meal.
9.  Carciofi alla Romana Roman artichokes
So these might not be that unknown, but I find that many people still find artichokes to be a bit foreign.  Many visitors think of artichokes as those things you pull the leaves off of, dip in butter, and then suck on.  Italian artichokes are eaten whole – stem, choke and all.  They are sometimes fried (alla Giudea – which is Jewish style) or they are stuffed with wild mint and garlic and braised until they can be cut easily with a fork (alla Romana).  This is the way I love them, as a side dish, and they can be found in most restaurants around Rome when artichokes are in season, which luckily is a long season – most of winter and through spring.
10.  Saltimbocca alla Romana Veal cutlet with ham and sage
In my opinion, this is the King of all meat dishes. It's simply one of the simplest, yet most satisfying of the Roman "secondi".  You take a thin piece of veal, put a bit of fresh sage on, then a piece of prosciutto ham.  You dredge it in flour and sauté it in butter and oil.  Then you deglaze the pan with white wine and pour the sauce over it.  This is a perfect example of a traditional dish that simply can't be improved on.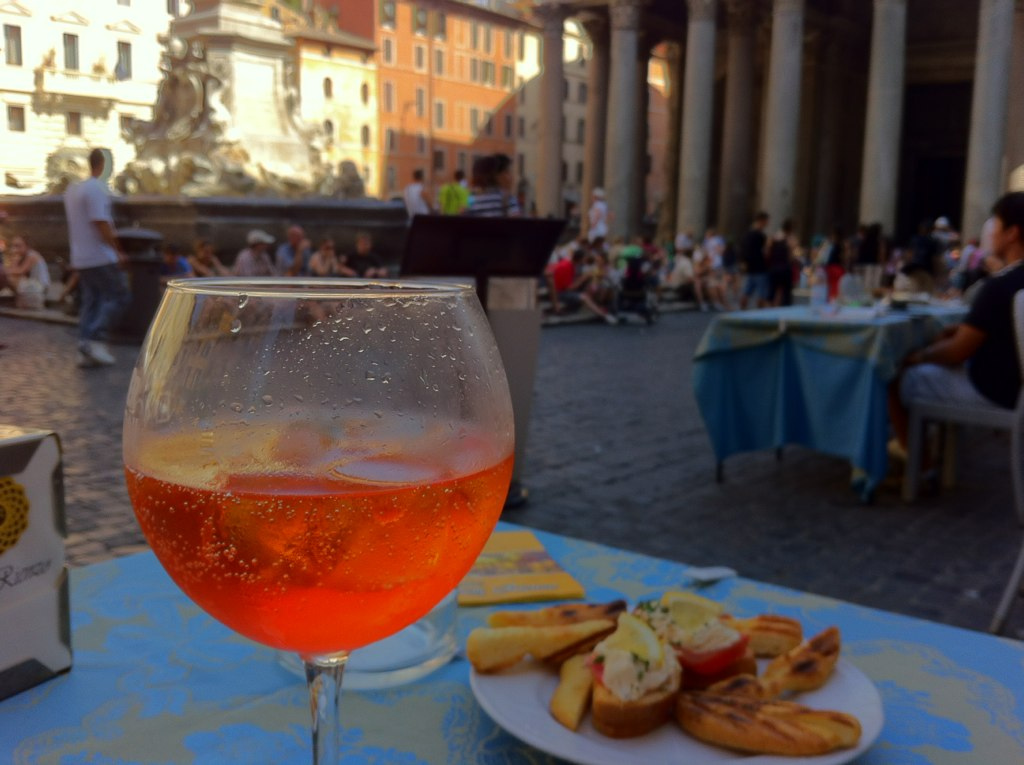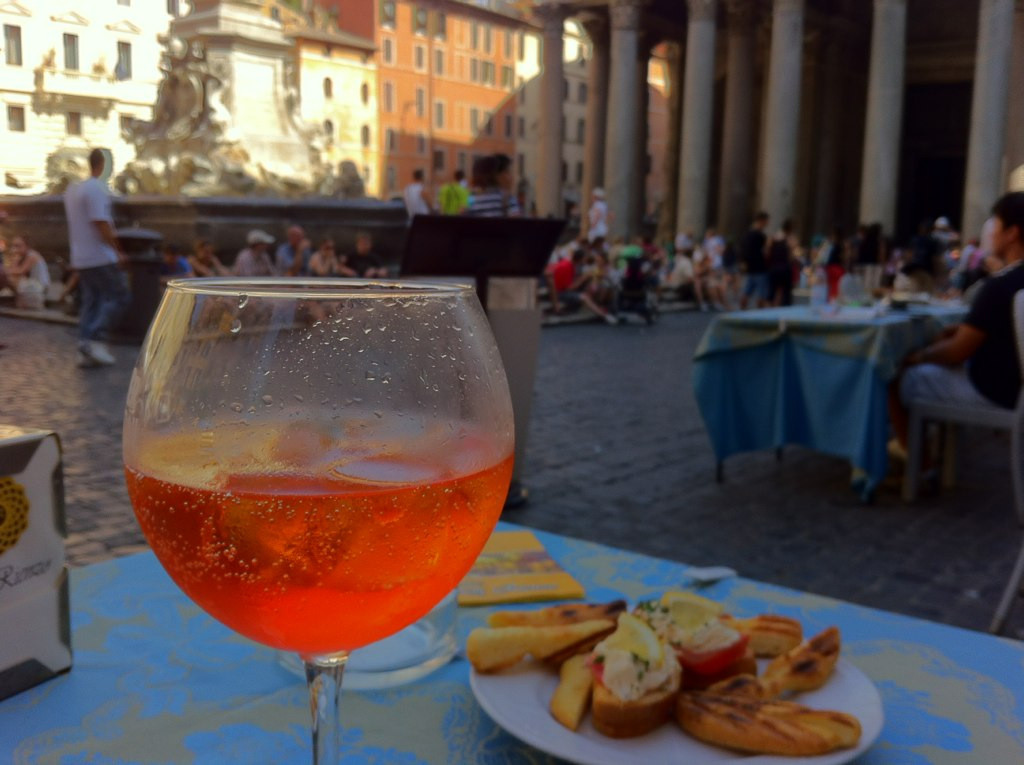 11.  Aperol Spritz
This is part of the family of Italian "aperitivi", a drink consumed before a meal that can be alcoholic or non-alcoholic.  Think of it as what you go get when it's too early to eat, or when you're waiting for a table in your restaurant of choice.  A Spritz is a combo of prosecco, soda and Aperol – a non-alcoholic, orange flavored bitter.  Although this is probably the most famous, and the lightest and easiest to like, you can get one with Campari instead of Aperol, for a bit more alcohol.  Or go for a Negroni: a mix of Campari, gin and Martini Rosso.  If you want to go classic, you can always just order a glass of prosecco.  Along with your drink you'll be served anything from a bowl of nuts to a nice little spread of pizzette and finger foods.
12. Puntarelle.
Here's a rare one.  It's a salad green that's pointy and curly and usually mixed with an anchovy dressing.  Easy to find and really tasty, but relatively unknown.  This too is seasonal.
13.  Frappe / chiacchiere and castagnole 
These are sweets made around the time of Carnevale.  The Castagnole are basically donut holes – sometimes filled with a cream and sometimes plain. The Frappe are flat, fried sweet dough covered in powdered sugar.  Some are baked, but those are totally inferior to the fried version.
14.  Pan d'Oro 
This is a Christmas and New Year's sweet bread that's kind of like Panettone – another Christmas cake, but without the candied fruit inside.  It's tall and shaped like a star on top and you're supposed to open the powdered sugar and then put it back in the bag and shake it around.  It makes incredible French toast the next day, and it's also nice toasted and eaten with jam.  It's not really something you find in restaurants, but it's the go-to gift that people give each other around the holidays and in grocery stores during the holidays you will literally see mountains of them.
15.  Fragole al limone Strawberries with lemon
Typical in the spring, this is a great example of how Italian restaurants practice "simple is better" to fruit when it's in season and delicious already.  Much like a fruit salad (macedonia), strawberries are served mixed with some lemon juice and sugar and served in a small bowl.  When in season, it can compete with even the best tiramisù.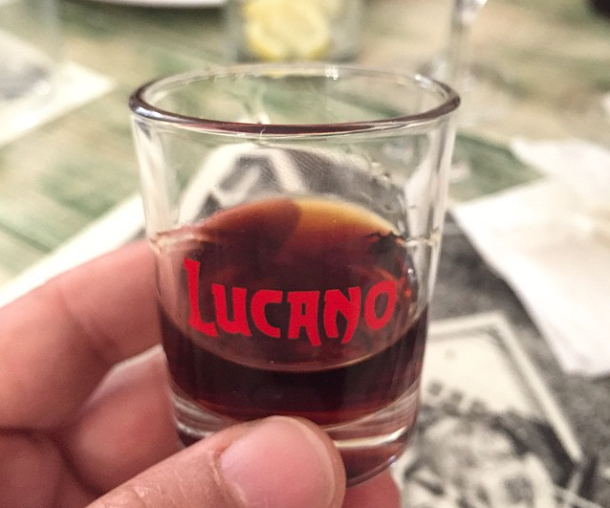 16.  Digestivi (after-dinner digestive drinks).  I'll end the list here, because it's how I like to end a long, heavy meal!  There's a few kinds.  If you like sweet, go for limoncello – made with lemons, alcohol and sugar and served cold.  If you want to go hardcore – get a grappa.  This is a distilled alcohol made from the leftover grapes once they've been pressed for wine.  If you want to try something in the middle, order an "amaro" which means "bitter".  There's a few kinds – Lucano and Averna are our favorites. They're strong, earthy and have a great tickle going down.  All the of these are to be sipped – not drank like a shot.
Creative Commons attribution
Photo of  'Cafe Freddo' by Mararie  http://bit.ly/1Ljv9H2  ,"Allafontedoro" by Lucahope  http://bit.ly/1BK5hlv, "Saltimbocca alla Romana" by Cyclonebill http://bit.ly/1QO8maQ & "Castagnole" photo by Fugzu http://bit.ly/1fxC42Z