Florence is a wonderful city full of fantastic options for foodie's and lovers of Italian cuisine.
It can be hard knowing what is 'good' in the center since there is an abundance of choice and not always the most accurate reviews on tripadvisor. These are my suggestions after living in Florence for many years on a budget and by living with a hungry local (literally). Try and  learn a little Italian to at least make your waiters laugh, it helps! Don't forget that wine is cheaper than water so take advantage (and be responsible).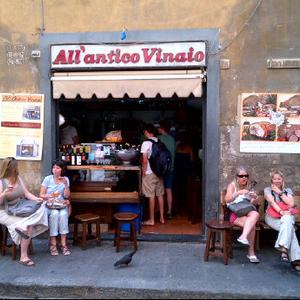 To-Go (takeaway )
I Due Frattelini
Via dei Cimatori 38R, 50122 Firenze, 055 2396096.
This is a famous sandwich shop run by two brothers near Piazza della Signoria, you will know you're in the right place by the long line of people waiting for their 2.50 Euro paninos and cheap glasses of wine. Try goat cheese and spicy salami, that's my favourite!
Gusta Pizza
Via Maggio 46R, 50125 Firenze, 055 285068.
A local favorite near Piazza Santo Spirito, this is one of the best pizzeria's in town and for a cheap price, think €5-€8 euros per pizza it's a great choice on any given night (except Monday when it's closed). Usually crowded, go early if you want to eat inside but the better idea is to grab your pizza and drinks to go and sit on the steps of Santo Spirito church to eat your pizza like a local.
All'Antico Vinaio
Via de' Neri 65, 50100 Florence, Italy. 
One of my personal favorite streets in Florence, very lively and this is a great example of an Italian sandwich shop. People calling out their orders above one another, wine by the glass that you pour yourself and pay later, the ambience itself is worth a visit. They have great focaccia and I highly recommend the gorgonzola & salami panino, don't forget to add sundried tomatoes. Cost is €4.50 per (huge) panino.

Cheap lunch & dinner spots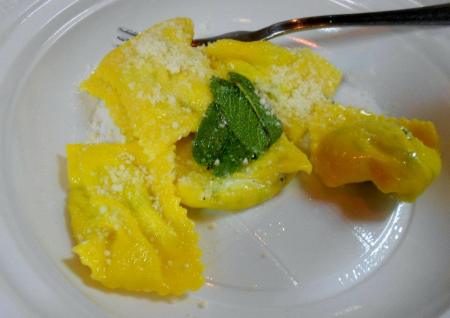 Osteria il Buongustai
Via dei Cerchi, 15r, Florence, Italy (close to piazza signoria) 055 291 304.
My favorite restaurant in Florence and located near Piazza della Signoria this is a small trattoria that's easy to miss if you're not looking. The same three ladies make lunch every day and you can see them working their magic when you walk in.
Try the daily menu for new pastas/risotto/salad, all of which is top-quality.
Prices range from €5-€8 euros for a primo piatto. Pasta alla carbonara is my favorite and all of their desserts, especially their tiramisu (all made in house). Come early.
Trattoria Anita
Cuisines: Italian 2 Via del Parlascio, Florence, Italy +39 055 218 698.
Closer to Piazza Santa Croce, they offer menu deals (around €10-€12 for a first, second and side dish) – all of the food is Tuscan home-cooking.
Great house wine and coffee. Go on Thursday, when they make fresh lasagna, also open for dinner
Acasamia
Santa Ambrogio area of Florence,| Piazza Ghiberti, 5-6/r Florence, Italy +39 0557390449|
Popular with Italian university students. Open for lunch & dinner (4 euros for a Pizza Margarita!).
I like their lunch menu (around €7 euros for a first and second, all of which is great food, get the 'burrata' (fresh mozzarella).
They have a fabulous house red-wine, bottle of wine for two + two lunch menu's and coffee adds up to no more than €11 euros a person.
Chicco di Caffè
Via della Chiesa 16R, 50123 Firenze 3356923465.
A favorite with the locals, this is a Florentine institution and located near Piazza Santo Spirito hidden on a side street. They offer cheap lunch menus and all of the food is Tuscan. I had a really good tagliata alla rucola (sliced beef over rucola salad with parmesan cheese) – I recommend going early to score a table.
Hosteria il Desco,
Via Delle Terme 23R, 50123 Firenze, 055 294882.
Perfect for lunch (also open for dinner but during lunch they offer cheap specials) this is a classier joint with great food. Very close to Ponte alle Grazie in a swankier area of Florence, this is a recent find even for me (and I have lived here since 2007).
I recommend trying the lunch menu which they offer M-F, they have great soups & seconds all for under €10 including water/glass of wine. Make reservations as it can get crowded.
Other top tips
Also don't forget to try out the many food festivals/sagre around town.
They are the perfect place to mingle with locals and eat local specialties for a cheap price.
Check my blog for information regarding seasonal updates.
I prefer to drive outside the city for food-festivals but if you don't have access to a car,  try Piazzale del Gusto in Florence which starting this year has run a permanent festival near Piazzale Michelangelo usually offering seasonal specialties and occasionally even artisan beer festivals.
They will have their own "Oktoberfest" from September 19 until October 7th.
It's easy to reach by either walking up to Piazzale Michelangelo or by taking the number 12 bus in the direction of 'piazzale michelangelo' which you can get from Piazza San Marco. The bonus is great views of Florence!
This edition of cheap eats comes from the beautiful city of Florence, courtesy of Italian foodie Georgette Jupe.
Georgette is in her 20s and has lived in the land of pasta, Dante, and intrusive future Italian mothers-in-law since 2007. Dozens of jobs later, she still takes pleasure in making up new names when placing reservations.
Personal passions include travel, random moments, wine, culture, language and food festivals
Check out her blog,  Facebook page: https://www.facebook.com/GirlinFlorence follow her on twitter at  https://twitter.com/Ggnitaly84