Review by Larissa Olenicoff aka the Blonde Gypsy
A mishmash of modern design and old-school Swiss comfort, Backpackers Villa Sonnenhof provides the luxuries of top-notch service and all-inclusive perks in the adventure capital of Europe.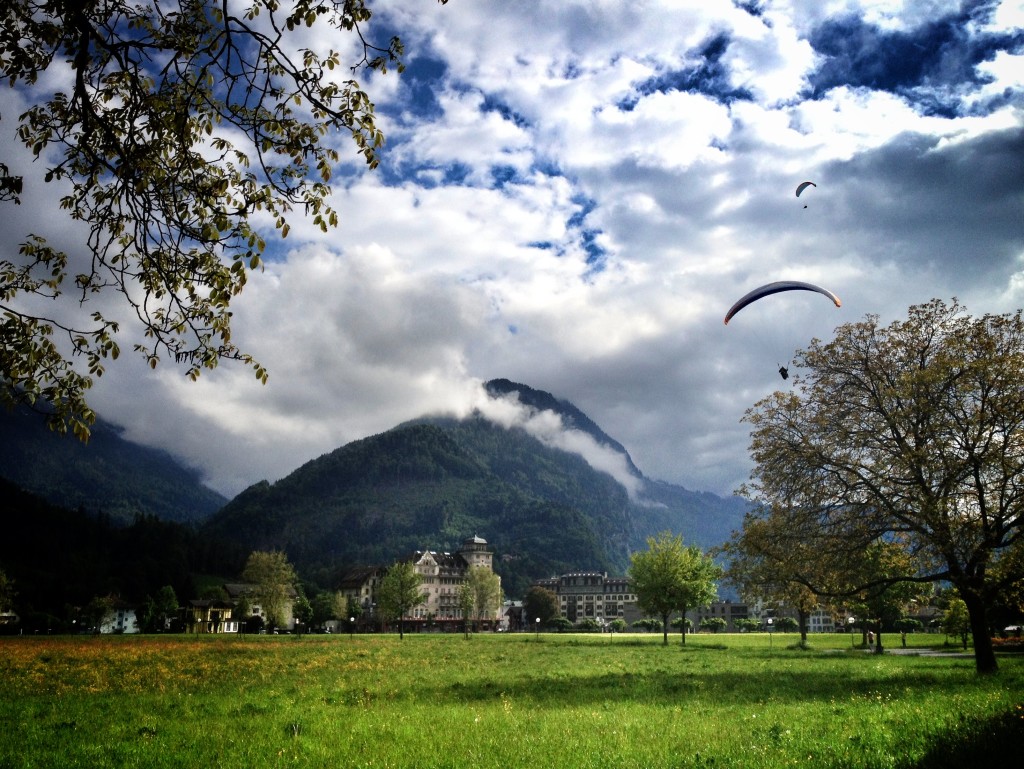 Location
Backpackers Villa is conveniently located directly behind the Höhematte, Interlaken's famous green space where paragliders land, and right in between the town's two train stations.
Rooms & Bathrooms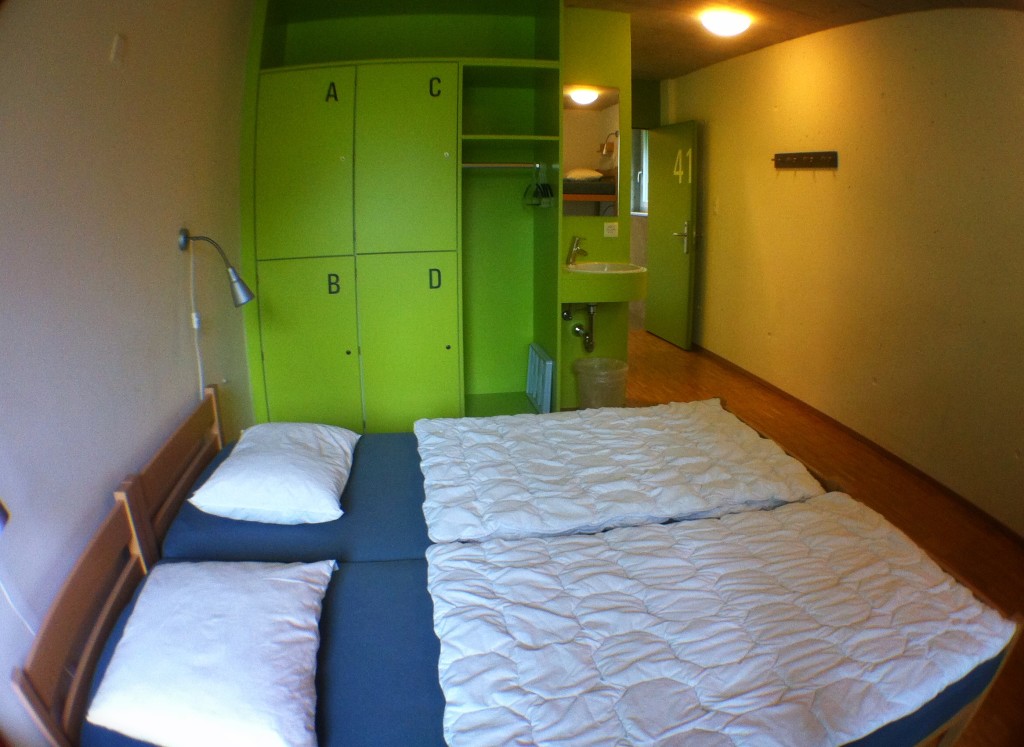 The hostel is split into two parts: the historic Chalet side and the modern extension that opened in 2009. On the modern side, you find Comfort Rooms, which are the newest in the hostel and have an ensuite toilet and shower. These rooms have one to six beds.
On the historic Chalet side, there are either the cheap Eco Rooms, which have two to six beds, private lockers, and a wash basin, or the Jungfrau Rooms, which have four to seven beds with a balcony and view of the mountains.  All rooms on the Chalet side have shared bathrooms.
Power adapters and hairdryers are available at reception.
Facilities
Though the hostel is quite large and can accommodate up to 200 backpackers at one time, it still feels intimate. Whether you want to relax on your own or hang out and be social, you will be well accommodated. The common room was cosy and inviting with gorgeous parquet flooring, big screen TV and more than 100 films on offer.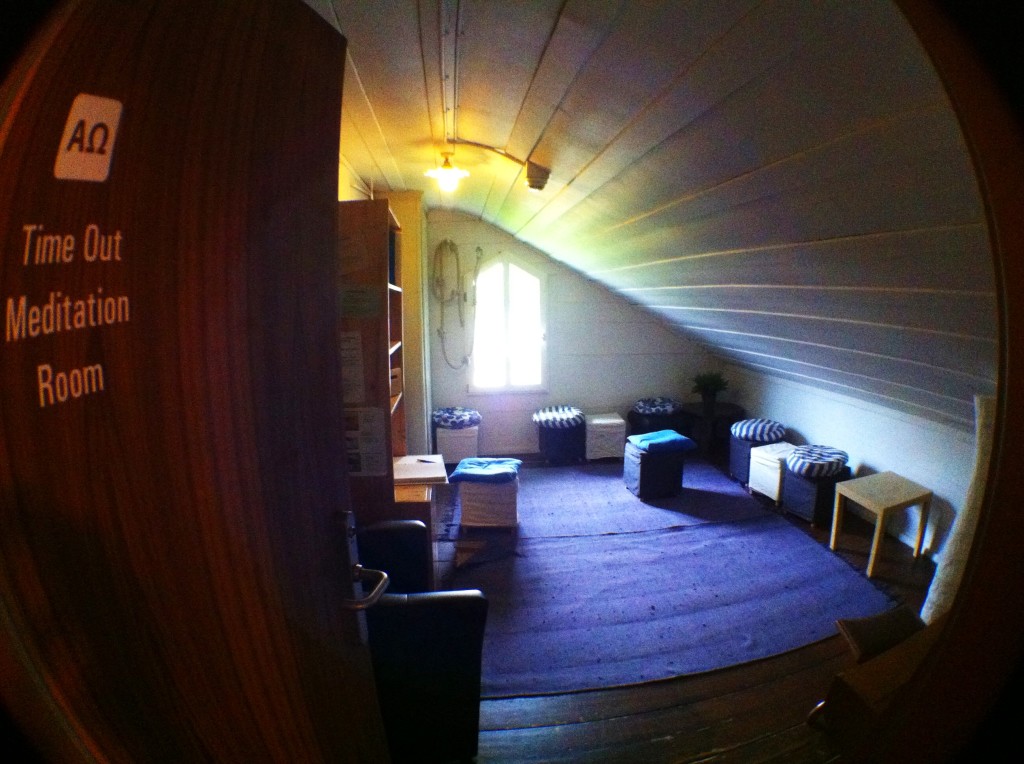 For those who want some Zen, there is also a great meditation room on the top floor of the Chalet with a wide selection of spiritual books and religious texts in several languages.
The kitchens are incredibly well kept and large, which is great because cooking for yourself is a surefire way to save money while in expensive Switzerland. There is technically a kitchen in each building, but they're adjoined. You'll find extensive dining space downstairs, upstairs, and on the patio when the weather is nice.
There is also a nice-sized garden with an outdoor pool table and excellent view of the mountains.
With so many things to do in Interlaken, you don't have to worry about getting overwhelmed – the staff are there to advise you and make bookings, whether it's adventure sports or day trips. Free guided walking tours of Interlaken are also offered three times a week during the summer season, and upon check-in you are given a card that entitles you to complimentary use of public buses, entry to nearby swimming pools, mini-golf, and discounts at a few local restaurants.
If there's one drawback to this hostel, it would be the selection they have for breakfast. Though it is 'all you can eat', they just serve basic cereal and slices of white bread with jam, butter, and cheese spread. Considering that this is an adventure town, it would nice to see the hostel offer a breakfast that provides people with the fuel they need for adrenaline-filled days.
That said, there is a Lidl about a seven-minute walk away where you can stock up on groceries of your own.
TOP TIP: If you don't drink much tea or coffee, you can use the two daily coins they give you for hot drinks to do your laundry. It costs two per load to wash and using the dryer is free. It gets busy down there, especially at night, so try to get your laundry done in the morning.
Verdict
The quality and atmosphere at Backpackers Villa is that of a clean and modern hostel for independent backpackers and families alike – but the element of luxury is evident in the service they provide for their guests.
Factbox:
Address: Alpenstrasse 16, Interlaken, Switzerland
Phone: (+41) 33 826 71 71
Website: www.villa.ch
Prices
Eco Rooms from 37 CHF (€30) per person, Jungfrau Rooms from 41 CHF (€33) per person, Comfort Rooms from 45 CHF (€36) per person.
Getting There
From each train station, the hostel is a 10-minute walk away.