Apologies for not posting in the last few days. As some of you who follow the blog will know, I am currently in the middle of a whirlwind roadtrip across England with my good friend and talented video blogger, Peter Parkorr.
We dubbed it the #perfectroadtrip in an attempt the perfect English roadtrip.
We wanted to create an itinerary that would give you a flavour of the best experiences you can sample on a roadtrip across England, all with my customary budget twist.
We've stayed so far in a stunning variety of luxury hostels . From a former shooting lodge turned hostel in the scenic Yorkshire dales to a grade 2 listed Georgian mansion turned hostel near the birthplace of Shakespeare- the YHA has amazing network and variety of hostels which have been recently refurbished.
The other key thing we've focussed on this trip is eating good food. For both me and Peter food is one of the easiest ways of getting into a country's DNA and learning how the locals live. We travel to eat and it is one of the things we look forward to on our travels.
A trip to England would present a challenge if you believe the popularly held conception that English food is bad.
Especially if you are from France.
The arch enemies of the Anglo Saxons- the Gauls have had a major hand in cultivating the notion of English food being bad.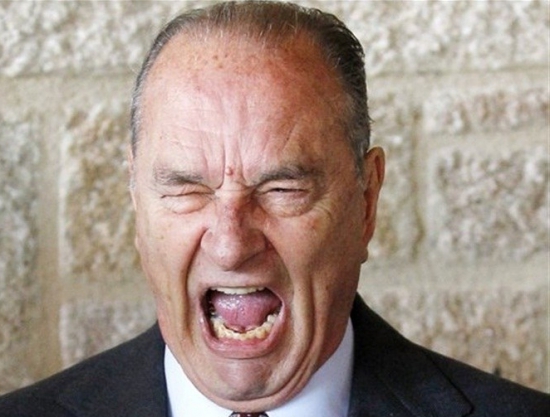 "One cannot trust people whose cuisine is so bad"
Jacques Chirac once famously declared at an international meeting in 2005, when serving as France's president.
"The only thing they have ever done for European agriculture is mad cow disease," said the former French prime minister. "After Finland, it is the country with the worst food."
Their disdain for the English and their cuisine has led to the creation of the insult 'les rosbifs'- eaters of roast beef. (It is worth pointing that the English have also long derided the French as 'frogs' for their fondness of eating frogs. )
English food is so much more than just rosbif.
I've outlined 5 culinary experiences from our roadtrip so far that might go some distance to help address the debate.
Chicken Karahi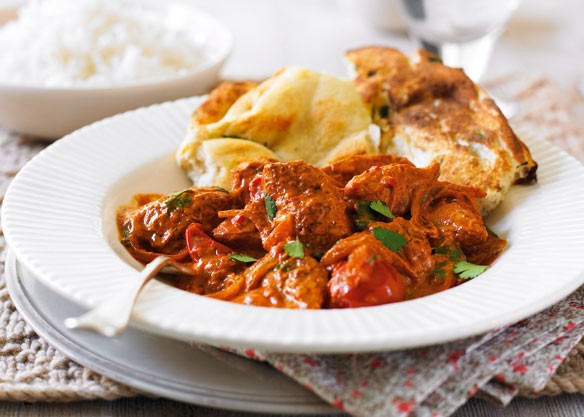 We started our trip in Manchester which has been home to Peter for over a decade. The best thing food wise that Peter loves about Manchester is the city's love of curry. Curry in fact is England and Britain's favourite national dish.
But wait…is curry an English/British dish?
Well the word 'curry' itself is a very British invention. The word curry comes from the Tamil word kari, or spiced sauce, which was originally a thin, soup-like, spiced dressing served in southern India. So if you go to India and ask for a curry, you might be met with a confused look.
For curry lovers, there is a dedicated curry mile in Manchester. We didn't have the legs to make it there on the night. So we decided to pop into a popular Indian restaurant in centre of town called the Bollywood in Castlefield just off Deansgate.
We ordered the 'Chicken Karahi with Bhindi.'
This for me was the closest thing to ordering a homestyle chicken curry in North India. The variation of chicken with bhindi (okra) again was a nice twist. Delicious. Nice level of spice. Really enjoyed it. You can find this dish on all menus of Indian restaurants across England.
England 1 –  Kash Ramsay Bourdain 0
Darjeeling tea with Kendal Mint Cake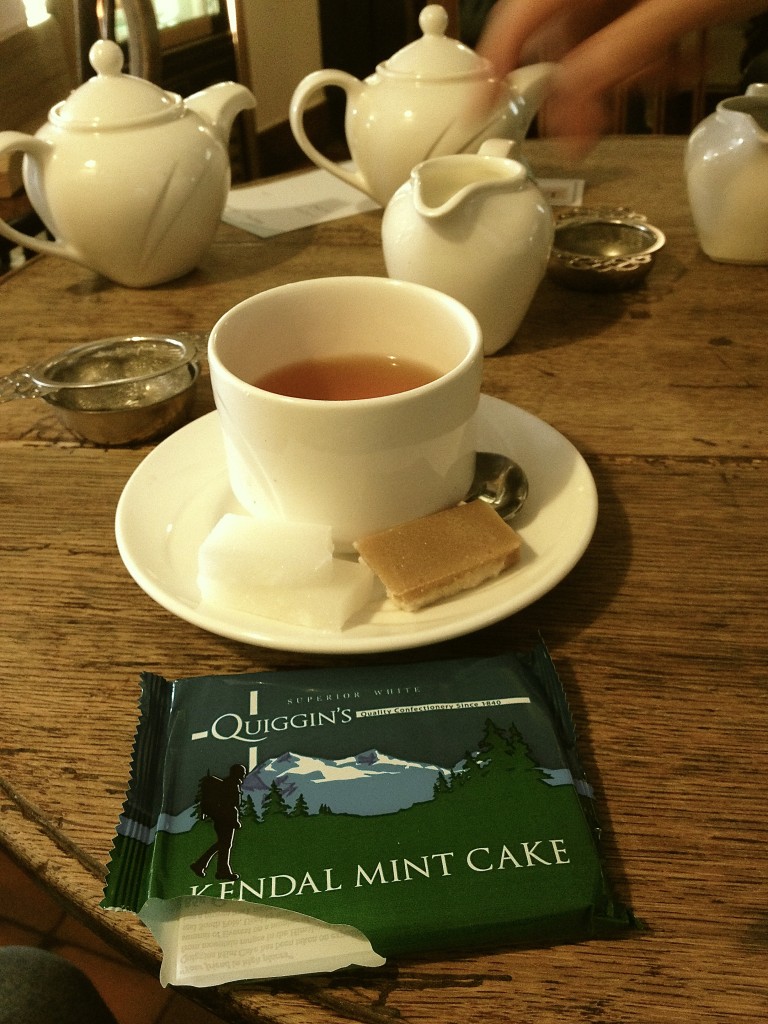 We stopped off in the picturesque market town of Kendal specifically to try it's famous Mint Cake. After going round in circles for an hour we stumbled upon the historic Farrer's cafe which has been making its famous Lakeland tea and roasting coffee since 1819. The cafe is beautiful and you can treat yourself to everything from Lakeland to Darjeeling and Assam tea.
Along with my cup of Darjeeling tea (which was excellent) we got a slab of the famous Kendal Mint Cake. The 'cake' part of the description is actually misleading. There is no cake.  It was a solid slab of sugar that set my teeth quivering with fear. Some may appreciate the minty goodness of this unique creation but for me it was way too much sugar. Definitely should carry a health warning.
Sorry England. I have to give the thumbs down to this English classic.
England 1- Kash Ramsay Bourdian 1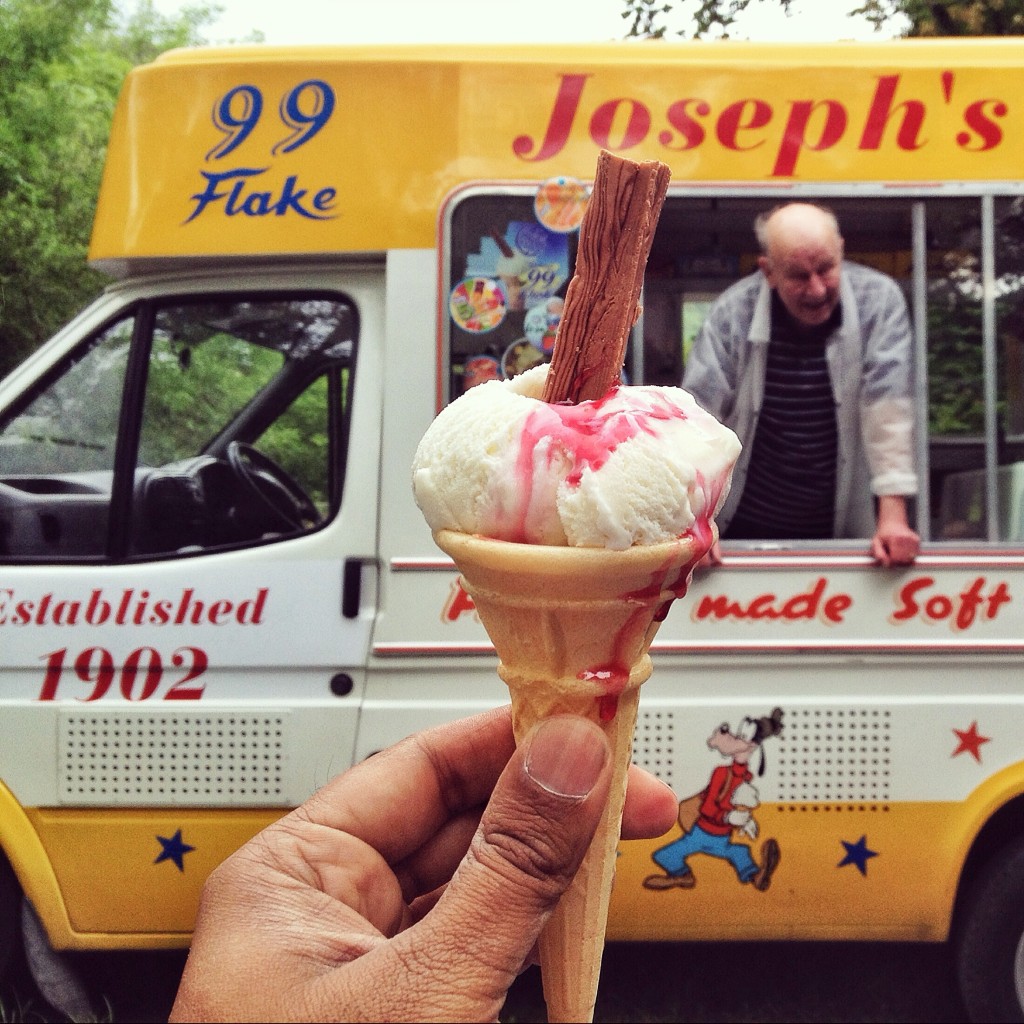 99p flake
On our way back from Grasmere to the YHA hostel in Ambleside we stopped off at Joseph's Ices. We had a great chat with Mark, great grandson of Joseph who has been serving customers in this idyllic spot by Rydal water since May 7th, 1972, the day his father died.
The taste of an English summer is surely the 99 – soft ice cream in a cone with a Cadbury's Flake. It tasted great, especially with a dribble of raspberry syrup.
A must eat on any road trip across England.
Interestingly, the 99 flake gets the name not because it used to cost 99p. This quintessential english culinary classic has strong Italian roots. Majority of ice cream merchants in the fifties across England when the 99 flake was born were Italian. The King of Italy had an elite bodyguard consisting of 99 men. So anything elite was called 99s by Italians. So they called this elite new ice cream a 99.
England 2- Kash Ramsay Bourdain 1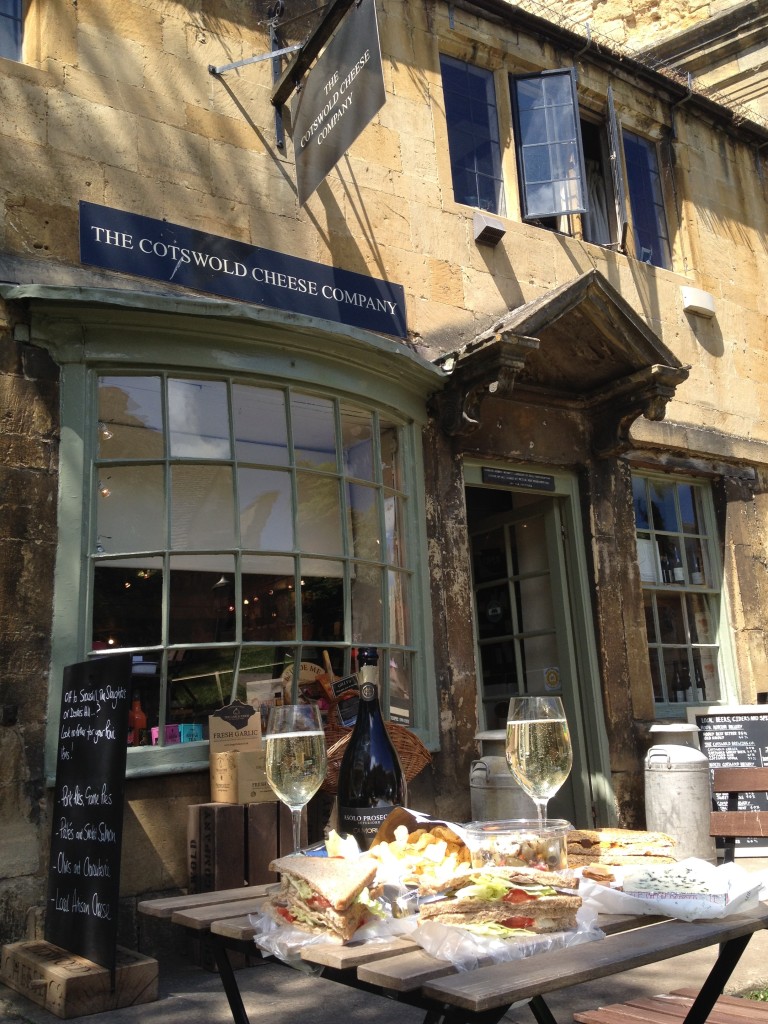 The English Sandwich lunch
Nothing is more english that the mighty sandwich lunch.
The sandwich is a mainstay of the English diet since 1762 when the 4th Earl of Sandwich ordered his manservant to bring him some sliced cold beef between two pieces of toasted bread.
Britain consumes 11.5 billion sandwiches each year and the classic chicken salad is supposedly the nation's favourite.
My favourite sandwich is the Ploughman's sandwich which comes with cheddar cheese, lettuce, pickle ( preferably Branston's ) and sometimes tomato.
In the beautiful town of Chipping Camden in the Cotswolds we had a variation of the Ploughman's sandwich- Double Gloucester cheese with pickle and lettuce. Paired with a bottle of Cava and some delicious marinated olives from the local Cotswolds Cheese company -it was some lunch and quite a twist on the traditional english sandwich lunch. Plus , yes we did have crisps. No english sandwich lunch is complete without crisps. We had Tyrells sea salt and black pepper crisps-can't get more English crisps than that.
Perfect lunch.
England 3 Kash Ramsay-Bourdain 1
The Sunday Roast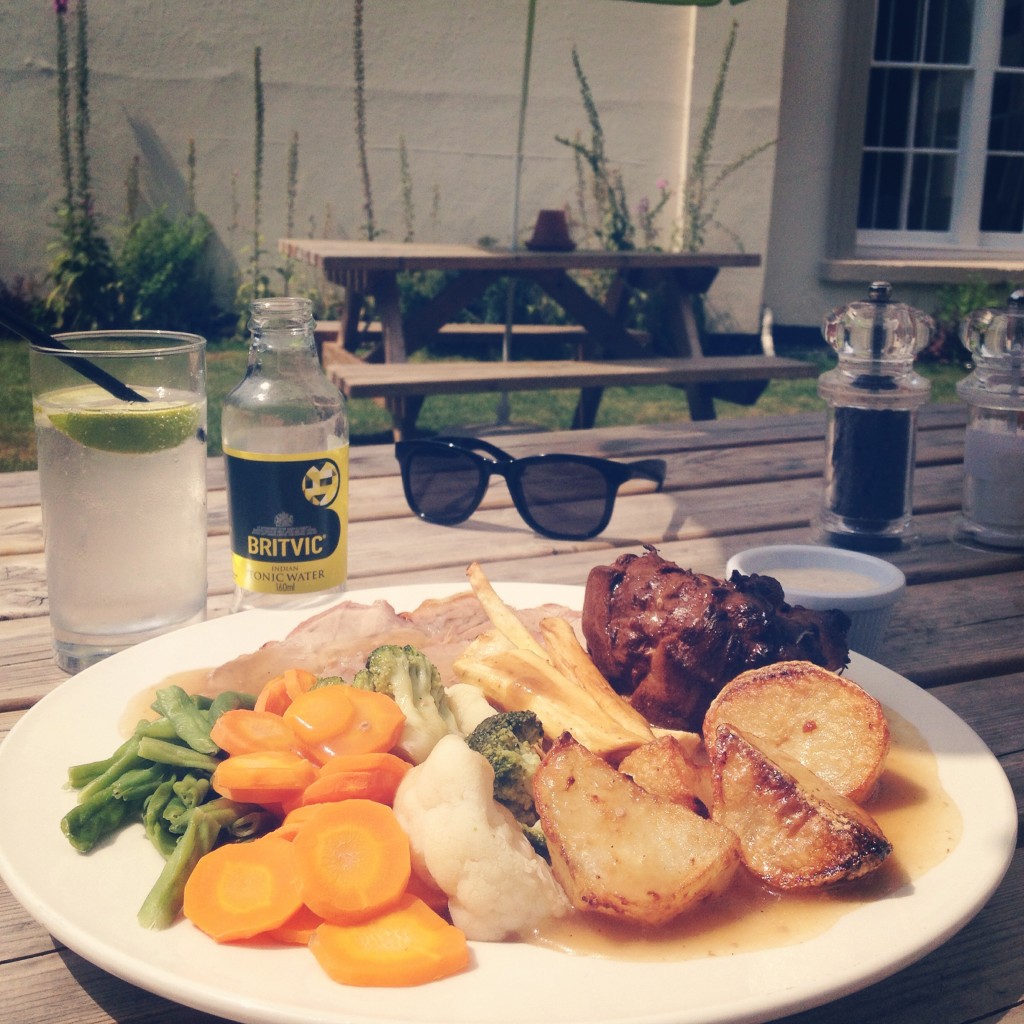 Throughout this trip we've been staying at hostels that are part of the YHA network. There are in the process of refurbishing many of their historic properties and the result is that you get to stay in a hostel with great character that offer a blend of old and the new.Besides ensuite dorms and private rooms, comfortable lounges, onsite bar the YHA also have restaurants where you can eat good value and freshly prepared food. On sundays at many of their properties, you can treat yourself to a traditional Sunday roast
No matter how much the French may deride the English for their love of roast beef, nothing is more typically english on a sunday than a sunday roast with roast beef and all the trimmings.
I am not much of a beef lover so I went for some roast pork with yorkshire pudding, roast potatoes and parsnips with seasonal vegetables. The roast was served with Horseradish sauce which for me is the thing that binds all the ingredients together of this meal. It adds a nice spicy kick. So for anyone who says a Sunday roast is bland….
England 4 Kash Ramsay-Bourdain 1
So a comprehensive win for the English. As you have noticed from the examples above English cuisine has evolved over the decades, absorbing influences from across the world to create a multifaceted food culture. They may still struggle when it comes to the beautiful game but in terms of culinary treats, the rosbifs have a lot of variety to offer to the food tourist.
What is your opinion of English food? Hit or miss for you? I would love to hear your thoughts.