If you are first-time visitor to Thailand, then you should definitely set aside some time for an island holiday. Southern Thailand has an incredible choice of islands to choose from, some featuring several iconic landmarks that are famous around the world. I've pulled together a 3 week Thailand itinerary that will allow you to take in some of the most popular beaches and islands of southern Thailand which includes Phuket, Koh Lanta and the finally Ao Nang, Krabi.
PS Checkout my earlier post of why I love Thailand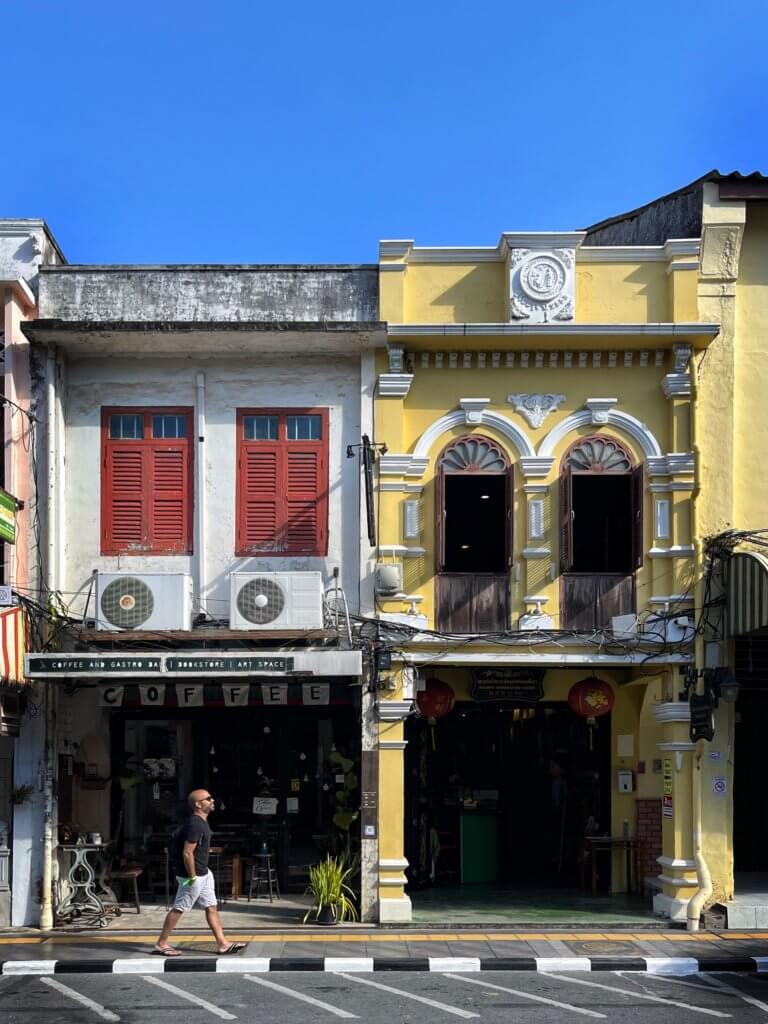 PHUKET
Arriving in Phuket Old Town
We flew into Phuket International Airport from Singapore. The airport is one of the most scenic airports in the world, located by the water, directly behind Mai Khao Beach.
Typically 16 million passengers pass through Phuket's airport annually but at the moment there's barely a small fraction of those numbers coming through which means it is a breeze to pass through immigration, customs and then picking up your baggage.
There are inexpensive hourly bus services from Phuket Airport to Patong/Karon and Kara and also to Phuket Town. Services run from 6.30am to 9.30pm and tickets costs as little as 100 baht ( can be bought from the driver, depending on your final destination.
We had a pre-booked taxi that was organised by our hotel, The Besavana Phuket. Our journey to Phuket Old Town was around 45 minutes and costed us 700 Baht.
Where to stay in Phuket
We stayed at the Besavana Phuket Hotel in Phuket Town. It is a small boutique hotel in the heart of the historic Thalang Road. The staff, led by the wonderful Nick are very helpful and the rooms here are spacious with very comfortable beds. Some of them feature a balcony which faces onto the pool which is a nice bonus. Other points worth mentioning-the internet is fantastic here.
Room rates here vary from €20-€30 a night ( Via Agoda ), depending on the season.
Getting around Phuket
I would recommend using Grab Car app for getting around Phuket. Besides the public bus services from the bus terminal of Phuket Town, your cheapest and easiest choice is Grab. You can also hop on a motorbike taxi if you're going on a short hop within Phuket Town-these are fairly inexpensive. I would avoid taking the red Tuktuk taxis they tend to be on the more expensive side. Feel free to haggle a little but try to be fair and reasonable when discussing a price.
What to do in Phuket
We were working most of the time from our laptops during our 1 week in Phuket but dedicated our weekend to exploring a little more of the island.
Try Kata or Karon beach
Our favourite beaches were Kata and Karon. We deliberately avoided Patong and the party scene -wasn't for us at that time. Kata has a 1.5 kms long strip of white sandy beach in the shape of a crescent moon with clear deep blue waters. Water was lovely, nice beach and few decent beach bars dotted along the beach ( I recommend Ska Bar ) Compared to Patong, Kata has a very laidback relaxed vibe so it was perfect. Sunset here was amazing. We later hopped to the longer strip of Karon's golden sandy beach fringed with palm trees and lined with lots of bars, places to eat and resorts.
Say hello to the Big Buddha
If time permits, do pay a visit to the Big Buddha aka Phra Phutta Ming Mongkol Akenakiri (which translates as Buddha sitting gloriously on top of the hill of Naka) At a staggering height of 45 meters sitting on top of the Nakkerd Hill , it is the third largest statue of Thailand and visible from most parts of the island. Come early, to beat the crowds. Plus, remember to cover up to avoid any disappointment of not being allowed to enter.
Visit the Phuket Elephant Sanctuary
Bordering the Khao Phra Thaeo National Park, please pay a visit to the Phuket Elephant Sanctuary, the first ethical elephant sanctuaries in Phuket. The rescued elephants roam free here, enjoying their newfound freedom. Visitors can observe them from a distance and at the end of the tour are given the opportunity to feed these beautiful wee giants.
Explore Phuket Old Town
We were very happy to have the Old Town as a base to explore the island. One of the best things of staying here is the stunning Sino Portuguese architecture, also known as the Peranakan style, a fusion of Chinese and Portuguese architectural styles. The house are very colourful and quite kitschy here. Ranging from shophouses to public buildings and stately mansions, these structures mostly date back to the early 1900s, when Phuket Town was going through something of a mining boom. If you have been to Penang in Malaysia, you will see a lot of similarities.
I would also recommend climbing up the hill behind the Old Town to the Khao Rang viewpoint where you get a fantastic panoramic view of the Old Town and also a view of the coast. You will also stumble upon the tribe of cute monkeys that call the hill home. I would really highly recommend a meal or even a beer at the romantic Tunk-ka cafe from where you can enjoy the views and watch sunset. Also in Phuket Old Town, do pop your head into 'The Memory at On On Hotel.' Formerly known as the 'On On Hotel' , this was the first hotel built in Phuket town back in 1929. Later the hotel featured famously in the movie 'The Beach' with Leonardo DiCaprio. The hotel has been refurbished since the movie & brought back to its original glory.
Last but not least, on Sunday, pay a visit to the bustling Sunday Walking Street Market ( Lard Yai Market ) along Phuket Town's Thalang Road is a must. It takes place between 4 and 10pm and you'll find some fantastic local streetfood vendors , discover local handicrafts plus find a colourful array of street musicians of all ages ( and quality ) performing.
Where to eat in Phuket
All my tips are from Phuket's Old Town which thanks to rich mix of influences , has a very rich gastronomic scene. Here are my top 5 places to eat
1.Ko Yoon Phuket Noodle
This is a must-try Hokkien mee in town. Truly love the taste and especially the soup with full of dried shrimp flavor.
2.Khun Jeed Yod Pak Restaurant
This joint is famous for their Radna (noodle in gravy) and the place did not disappoint. Try their delicious Thai Coconut milk custard if you love sweets.
3. Aroon Po Chana
This is a fantastic little place for amazing roti which goes so well with their chicken curry. Fab ice coffee too.
4.Mingalar Coffee Shop
Incredible Burmese breakfast joint that serves delicious chicken curry , home made naan made freshly in turkey oven and tasty samosas.
5.KOPITIAM By Wilai
This Kopitam , filled with nostalgic photos from the island's past is a lovely place to dine, serving classic Peranakan dishes. The Massaman curry is a winner but their best dish is the Hokkien Mee- a noodle soup with yellow fried noodles in a delicious broth with fish balls and leafy greens.
KOH LANTA
Hard to summarise what makes Koh Lanta such a special island. There are islands with more stunning beaches ( Koh Lipe) and natural beauty but I think its the combination of so many factors, from the friendly locals, to the stunning sunsets and all the lovely bars and places to eat here and the choice of affordable high quality accommodation- we love coming back here and it never disappoints.
Arriving in Koh Lanta
You can hop to Koh Lanta ( Saladan Pier) by speedboat from Phuket ( Rassada Pier near the old town ) with a stopover in Koh Phi Phi. Journey time was 3 hours and it cost us 1500 baht per person. We booked via 12go -very reliable and helpful. I have to admit that riding on the speedboat is not for the faint hearted but the sea was pretty calm so it wasn't too bad in the end.
If you are coming to Koh Lanta from Krabi airport, journey time by private transfer is around 1200 baht and roughly takes 3 hours. Most accommodation providers can book you a transfer so ask them in advance if this is possible.
Where to stay in Koh Lanta
Koh Lanta is blessed with a range of high quality budget accommodation. We prefer staying around the Long Beach area. If you are looking for something simple, clean and comfortable, would highly recommend Pra-Ae apartments. The rooms here are very spacious, few come with their private balcony and the rates here are extremely reasonable, starting from €12-€18 a night, depending on the season.
Getting around Koh Lanta
For short rides, we would hail local tuktuk drivers. Expect to pay anything between 100 -150 baht for a ride. For longer drives that included visiting the Old Town on the east coast and some of the stunning beaches on the southern tip of the island, we hired a minivan from Pra-Ae apartment owners. They offered very decent day rates and spreading the cost amongst 3-4 friends, meant it worked out to be pretty affordable.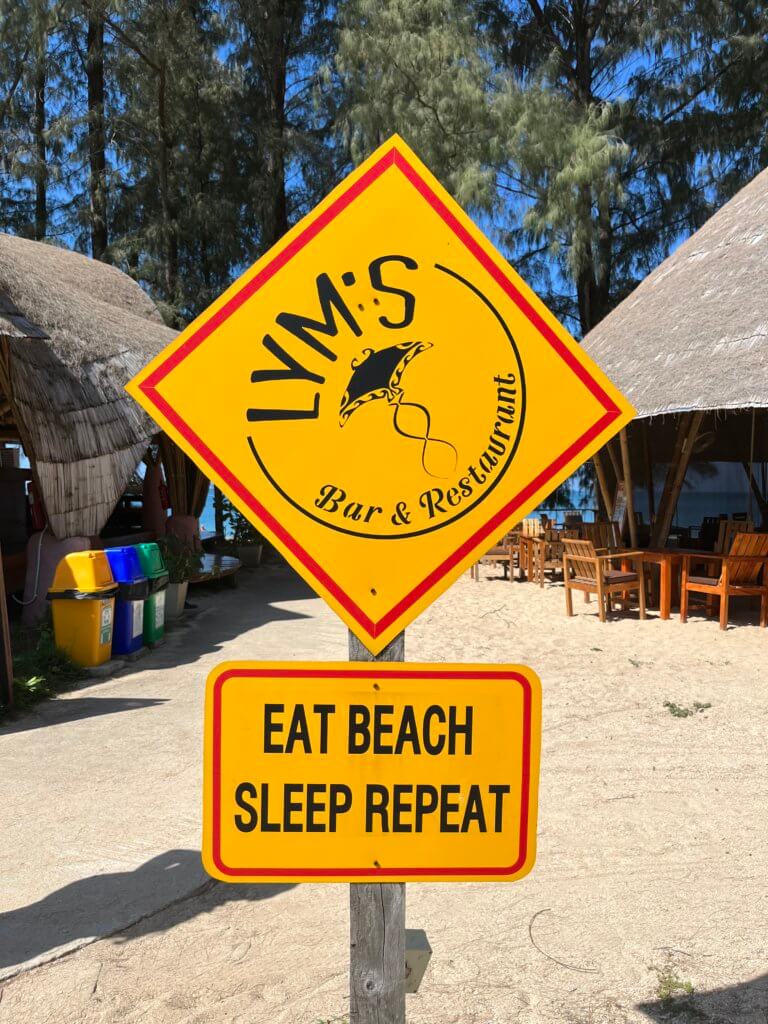 What to do in Koh Lanta
Just as in Phuket, we were busy working away on most weekdays and then using the weekends to relax, explore and also go out for a few drinks.
Koh Lanta is a perfect base for digital nomads with a range of affordable places to stay with decent wifi and also a few places to work from. The main hub for digital nomads is the fantastic Ko Hub. Sadly, because of the pandemic, Ko Hub remains closed but they will fully reopen in November 2022. During our time there, we worked from the fantastic Glasshouse Cafe at the beginning of Long Beach. They have good coffee, very decent wifi and few airconditioned rooms plus a large outdoor terrace for taking calls. There is no cost for using the space-just buy coffee and have the occasional lunch to support them.
Catch sunset on one of the beaches
There are sunsets and then sunsets in Koh Lanta- few places in the world can match the staggering beauty of sunsets here. Every day, sunset is different here and magical. Just take your pick of one of the many beautiful beaches on the west coast of the island , grab a cold Chang and just watch the most glorious sunsets you will ever see. Our favourite bars for watching sunset were Lym's and the Lighthouse Bar ( often plays decent house/electronic music at sunset )
Visit the Old Town
With its atmospheric wooden houses on stilts perched over the water, Old Town of Koh Lanta has the feeling of a place stuck in time. Originally a sea gypsy settlement, the Old Town was the main trading hub for original Chinese settlers and over time as the influence has waned, the town is slowly repositioning itself a hub for tourism. There are a number of nice boutique shops to browse and also some really good restaurants to dine in. I really recommend the fantastic Big Tree Beer Garden where they serve delicious Thai food ( Penang curry is amazing here ) and they also serve homemade burgers and delicious pies. Plus as the name suggests, they offer a wide selection of local and international craft beers so if that is your jam, come here.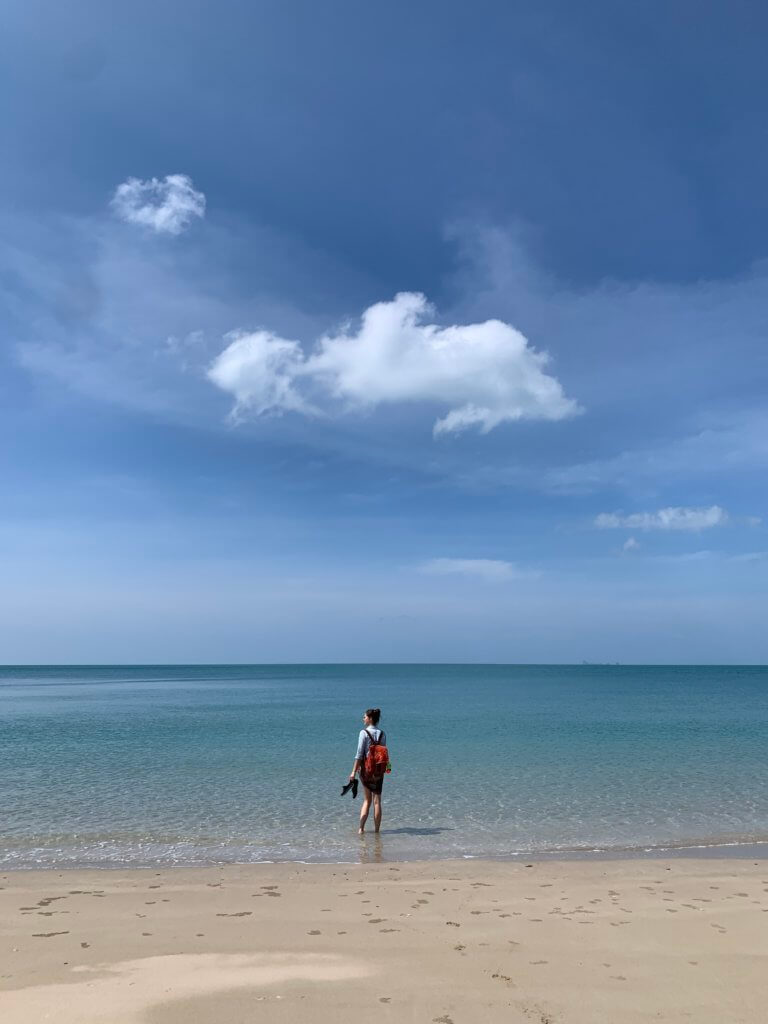 Nui Bay
This tiny, pretty bay tucked away at the south western corner of the island just before you hit the national park has to be one of the most beautiful beaches in Thailand. Especially now with the lack of crowds, you can have the beach pretty much to yourself. The water is azure blue, crystal clear and warm so it is perfect. There's a Robinson Crusoe style abandoned shack on the beach which used to be a restaurant/bar so that's a good point to get some shade in. Bring your own water, drinks and snacks as there's not a soul in sight here. We spent a whole day here, swimming, snorkelling, drinking, chilling – it was perfect. There's also Bamboo beach nearby which is also very beautiful but I preferred Nui Bay.
Tip: If time permits, visit the nearby Koh Lanta National Park located at the southwestern tip of the island. It is just as quiet and deserted as Nui Bay and Bamboo beach, especially post Covid. Expect isolated sandy beaches, waterfalls, impudent cheeky monkeys and a lighthouse. The trail to the lighthouse leaves most underwhelmed so go with low expectations. Also, be careful with your personal belongings- monkeys are known to snatch bags/phones from unsuspecting visitors. There is a waterfall but the lack of rain meant we never saw it in full force. Admission to the National Park is 100 baht. Please do bring your own food and water and don't wave the food in front of the monkeys 🙂
Lanta Cinema
Lanta now has a beautiful open air cinema where you can watch for free a mix of old classic films, new blockbuster releases and also family friendly movies. They also put on a few Premier League games live and the occasional live music event. ( When we visited , they had an 'Elvis' night where the local Thai 'Elvis' performed in full garb which was followed by a screening of Jailhouse Rock-great night! )
Entrance is free but you pay in terms of beers and snacks so it is a very affordable night out in front of the stars.
Where to eat in Koh Lanta
Heama Indian Restaurant
Koh Lanta has one of the best Indian restaurants in Thailand thanks to the lovely Shanti and her husband. You'll find all the classic international Indian dishes served here like Butter Chicken , Chole Bhature ( with puri ) ,Tikka Masala, Paneer Korma….plus they serve a fantastic Veg and Non Veg Thali from prices as little as 120 baht. Unmissable!
Kwan's Cookery
Kwan specialises in cuisine from Northern Thailand and serves the most amazing Khao Soi plus a mean Yellow curry amongst many dishes. Eating here feels like eating at your parents or aunts place. Kwan is a warm hearted soul and adorable- meeting her is one of the highlights of coming to Koh Lanta. She also runs a cookery school so if you want to learn to prepare some classic Thai dishes, this is the place to come to.
Aleena Minimart
Aleena's is an institution on Lanta- they serve the most amazing breakfasts from stuffed bagels to breakfast burritos to porridge to bacon & eggs or just really good burgers ( veggie burger is a winner) plus they do fresh fruit shakes and delicious baked goods. There is a minimart on site where you can buy large Chang/Singha for just 60 baht to enjoy with the food or just as a drink so it is an ideal place to start your big night out in Koh Lanta.
Nightlife in Koh Lanta
Koh Lanta is not a party destination like Koh Phangan but there is always something going on , every night of the week.
If you're looking for deep house or techno, go to Ozone Bar ( Thursday) or Pangea ( Tuesday and Saturday ), if you like Reggae/Rock and live music, hop to Irie Bar or the Reggae Bar.
If you want to listen to some nice music and watch the sunset, also recommend Lighthouse and Freedom Bar.
I also love Free Descent Bar in Saladan. They have really good music, a kind owner and also a really good pool table- the vibe here is always nice.
AONANG/ RAILAY , KRABI
We spent a week in the resort town of Aonang which is an excellent base to explore the Phi Phi islands and is also next door to the stunning Railay beach. We came by minibus from Koh Lanta- about a 3 hour drive and it cost us 1500 baht.
We stayed at the Sea Seeker Krabi resort. Currently they have rates for 600 baht ( €16, via Agoda ) for a mountain facing room which is an incredible deal. In this price we had a very generous buffet breakfast included plus access to their small but well equipped gym. Not sure if these are normal prices but am guessing this is a special Post Covid rate so if you do visit Thailand soon, you can take advantage of these incredible rates.
Since we were working during the week we had the one weekend to explore the area and we dedicated most of the weekend to exploring Railay.
Long tail boats from Aonang's sandy strip of beach will take you to Krabi's limestone islands Koh Hong for example and in our case, to Railay. The ride takes roughly 30 minutes and costs 100 baht-tickets can be purchased in advance from the official ticket office which is right before Aonang beach. Protected by towering limestone cliffs, Railay beach is only accessible by boat which partly explains the magical allure of this place.
Zipping past the stunning limestone cliffs, the longtail boat to Railay has to be one of the most thrilling experiences of your trip to Thailand. After dropping of passengers at Tonsai beach, your final stop is the world famous Phra Nang beach. With its powder perfect sand, framed by palm trees with all the long boats lined up by the beach, the moment you see that picture postcard scene unfurl in front of your eyes, it sends a magical tingle down your spine. I loved Railay in a heartbeat-it had a very chill, laidback backpacker vibe.
In terms if things to do in Railay, the craggy limestone cliffs are a big draw for rock climbers from all over the world.
Other than that, there are the two stunning beaches to relax in and a wide choice of resorts to choose from. West Railay has the more higher end, upscale resorts while East Railay has more of the midrange to budget end resorts to sleep in. We spent the night at the Avatar Resort in East Railay. It cost us just 1350 baht ( €37 ) for the one night for 2 people, including breakfast-this is a considerable discount on their normal room prices. You'll often find members of the local monkey tribe hanging out in the resort. They can be a source of entertainment and also local mischief- they are known to snatch items from guests so worth reminding yourself to keep your balcony door locked at all times….otherwise.
Our main highlights of our brief one night stay in Railay was catching sunset at the stunning Phra Nang Beach. One of the highlights of this beach is the Princess Cave at the tip of the beach. Framed by mighty limestone rock formations inside the cave you will find a fertility shrine filled with wooden and stone penises of all shapes and sizes, which have been offered by visitors to help realise their long-awaited desire for children. If you are lucky you may spot the resident Macaques monkeys or spectacled lemurs near the cave.
The beach is perfect, crystal clear water and the soaring limestone cliffs above your head- the sunset from here is incredible and has to be one of the magical moments of anyone's trip to Thailand.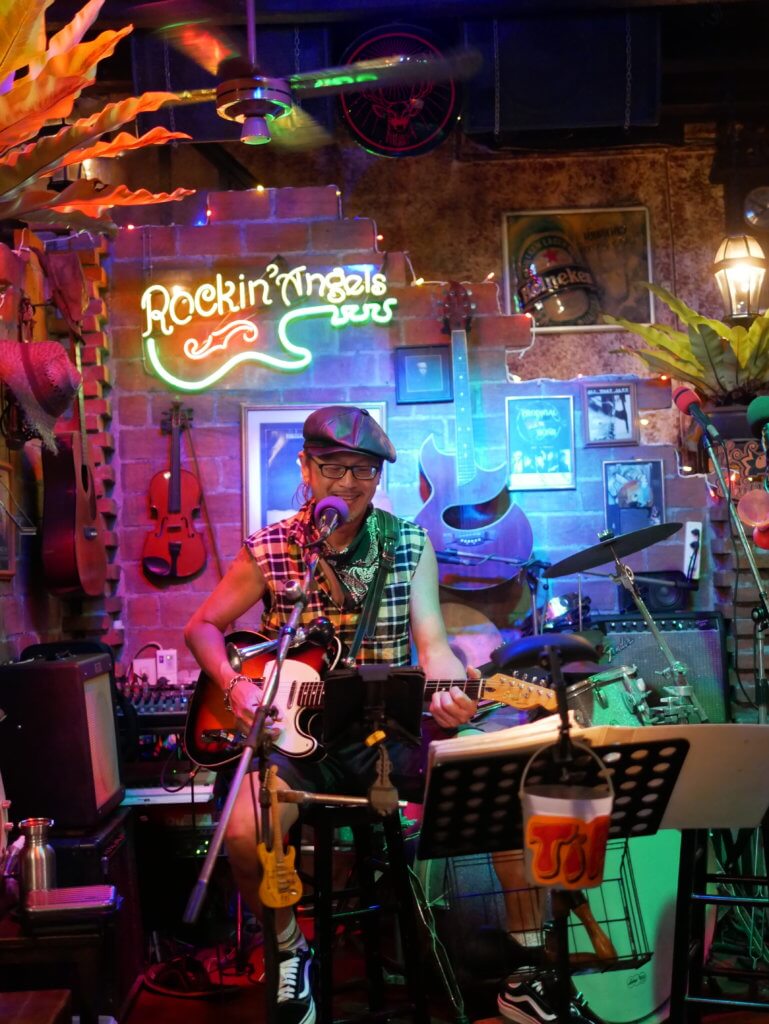 Where to eat and drink in Railay
Read a book, enjoy the views and have a fresh juice or cold beer at the slightly overpriced but scenic Tew Lay Bar. If you're looking for a happy shake and something bit more adventurous, Jamaica Bar is the place. Coffee Station serves up wonderful coffee and for food, my favourite go to place here was Railay Family Restaurant where you can get delicious Thai curries and plenty of ice cold beers, all at affordable prices.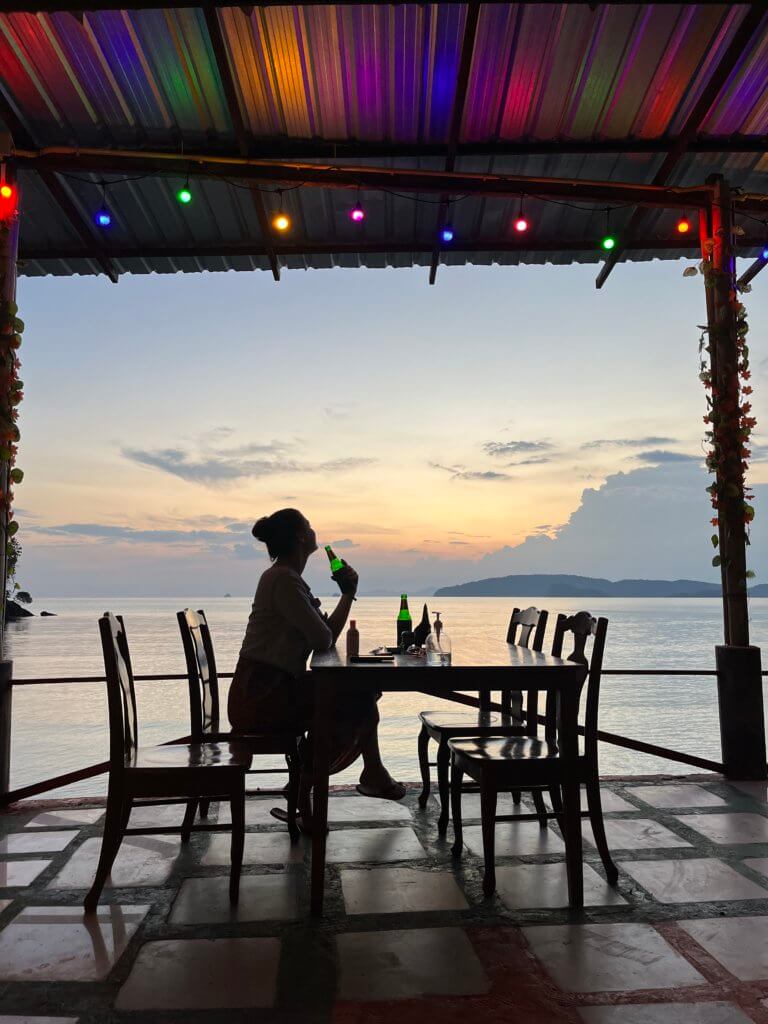 Where to eat and drink in Aonang
Definitely checkout the Aonang Landmark Night Market near the scenic Nopparat Thara Beach ( sunset is lovely from here ). It is quite modest compared to night markets you might find in Bangkok but there's a wide selection of tasty local Thai food and the prices here are fantastic.
In southern Thailand, you will find a number of 'roti' pancake joints where you can all kinds of interesting combinations , from cheese and banana to the more traditional nutella and peanut butter pancakes- very tasty and really cheap ( 50 baht). My go to place was the Best Pancake Zipi Halal joint in Aonang, right near the Sea Seeker Krabi resort where we were staying. Hom Mali Thai Food & Noodle, also near the Seaseeker resort does a fantastic Penang curry and also Pad Thai- around 80 to a 100 baht per plate.
In terms of nightlife, my favourite go to place in Aonang was Boogie Bar where they host some great live music acts. If you love well crafted cocktails at a really good price ( 99 baht ) , then do pop you head into the Cha Plu Bar right before Aonang Beach. They do amongst many drinks, a really tasty Whisky sour.
Disclaimer
This article was supported by Fan Club Thailand but as always, the opinions and photos in the article are all my own. This post was produced in collaboration with the Tourism Authority of Thailand (TAT) and Traverse Events.