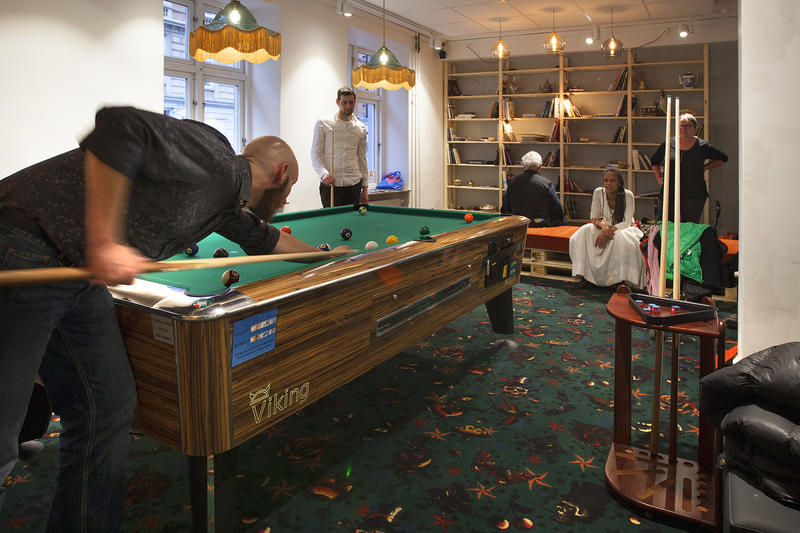 Urban House Copenhagen by Meininger is a modern, self-service hotel/hostel hybrid located in vibrant Vesterbro, a 2-minute walk from Copenhagen Central Train Station. They offer everything a modern guest will need, from speedy check-in and gourmet hot dogs to a tattoo parlor and bike shop.
Wi-Fi is free!
At Urban House, guests can choose from private rooms with their own bathroom, to dormitories with shared facilities. All rooms include linen, towels and personal reading lights. Dorm rooms provide individual lockers as well.
The fun center of the house is on the ground floor. Here, local craft beer and live music can be enjoyed at our Urban Bar. Guests can mingle in the billiards lounge or in our Green Escape garden. They also provide a Quiet Room (aka the Hangover Lounge), a Cinema Lounge and a Game Room. The house offers events on a daily basis, ranging from walking tours, to movie nights or parties.
They serve a grab-n-go breakfast bag with fruit, yogurt and a fresh bun along with cold cuts each morning. The restaurant and snack kiosk should satisfy any of your other food urges throughout the day. They also provide a fully-equipped communal kitchen, 24-hour laundry room and luggage lockers on site.
Urban House is a mere 5-minute walk from Tivoli Gardens. City Hall Square and the Strøget pedestrian shopping street are within 10 minutes by walking. Bicycle rentals are available and offer guests a chance to explore the city like locals do by riding unique vintage bicycles made by local craftsmen.
Vesterbro is a great choice for travelers interested in pop culture, street art, vibrant cafes and restaurants.
Policies and Conditions:
Guests will receive a confirmation email after booking where you will have the possibility of checking in with a big blue button. On the day of arrival, you will receive the room number and door code in an email or SMS which can be used to get into your room after 3 pm. This allows guests to avoid queuing at the check-in counters or having to wait for your room. Urban House provides check-in counters in place for guests to use as needed.
Cancellation policy: 24 hours before check in time.
We cannot accept payment in cash or pre-paid credit card.
This property will pre-authorise your card before arrival.
Check in from 15:00
Check out before 11:00 am
Taxes are included in the price.
Breakfast is not included – 75.00 DKK per person per day; 40 DKK for a child continental breakfast, 40 DKK for a Breakfast To-Go Bag
General:
There are 2 Check-in counters and staff in the common areas and the lobby available 24/7.
Guests can go straight to their room using the details from the email that they receive on the day of arrival. No waiting time to check in or out.
When booking dorm rooms, there is no guarantee that you will be placed in the same room together. If it's important that you are in the same room, a private room should be booked. Smoking is prohibited anywhere in the building. If this happens, guests will be subject to a 2000 DKK fine. Late check-outs will be subject to a 100 DKK charge per person, per hour.
Guests booking a bed in a dorm room need to be 18 years or older.
Free cancellation policy for a notice (over the phone or email) given 24 hours before the check in time. After that, the full amount of the first night will be charged. The same applies for modifications.
No curfew.
No pets allowed.