I've had the pleasure of living in Germany on and off for 9 years now. I'm proud to call it home nowadays. One of the question I often get from friends visiting is what popular German food and dishes they should try when they visit. I'll admit, initially I wasn't the biggest fan of German food culture. My idea of traditional foods in Germany, ( much to Sabrina's frustration ) was rostbratwurst ( roasted sausages) , sauerkraut and fried potatoes- a dish I still love. The general perception of the most typical German dish is still very much the plate of food they would eat at Oktoberfest or currywurst. Reality is that German food is much more varied , weird with lots of interesting variations from region to region. Yes, there are potatoes almost with everything but then again, all the best things in life must have potatoes-am I right? ( and rice ) I'd like to demystify German cuisine and help you get a better understanding of the variety it has to offer and what better way to introduce you to German cuisine by talking about all the weird traditional food dishes you can order in Germany and where you can eat them.
1.Bremer Knipp
I'll start the series of weird traditional German food with the Bremer Knipp, a sausage meat that comes from the Hanseatic town of Bremen. The sausage, available in the form of a stick ('stange') or roll ('rolle') is a hybrid of minced pork belly, head and rind, that is mixed with oatmeal to give it a heartier texture. All spice, salt and pepper and herbs can add layers of flavour to the Knipp.
The Bremer Knipp may look a tad unappealing ( bit like its Scottish cousin, Haggis) but when fried in butter and thickly applied to a generous hunk of wholemeal bread, can make for a delicious and filling dish.
The Knipp can be eaten with roast or boiled potatoes. Alternatively, pickled gherkins or apple sauce can add a piquant touch to this meaty repast.
Where to eat Bremer Knipp
Pop into Schüttinger Gasthausbrauerei in Bremen for the Bremer Knipp and wash it down with their delicious brewed beer. From 5 till 8pm they run a happy hour where you get small glasses ( 100 ml) of beer for €1 and the Maß (1l) for 5€!
Curious to read more about Bremen-checkout this guide to Bremen I wrote from my first trip to the city back in 2012.
2.Currywurst
Currywurst is the unexpected but not unappealing marriage of the German Bratwurst sausage and ketchup doused with Indian curry powder. The dish was the brainchild of a Berlin lady, Herta Heuwer, who started selling this unusual dish from a street stand in Berlin's Charlottenburg district. The sausages were boiled and fried and then smothered in a tomato ketchup seasoned with curry powder, obtained by British soldiers. This sauce, named 'Chillup' was later patented by Heuwer. The cheap and delicious street snack was popular with construction workers whose task it was to rebuild the city after the ravages of the Second World War. At the peak of its popularity, the street stand was serving up 10,000 portions every week and later, due to popular demand, was turned into a more permanent restaurant. A plaque in Charlottenburg, stands to this day, engraved with the name of the lady responsible for feeding hoards of people involved with reviving the city of Berlin.
Where to eat currywurst in Berlin
My go to place for currywurst in Berlin is Curry 61 in Hackescher Markt. They also have a vegan version plus their fries are not too shabby.
3. Schweinshaxe (German Pork Knuckle)
Schweinshaxe is undoubtedly pork meat but when the fine mound of meat is presented on your plate, you might be curious to find out which part of the pig, the impressive joint of meat is derived from.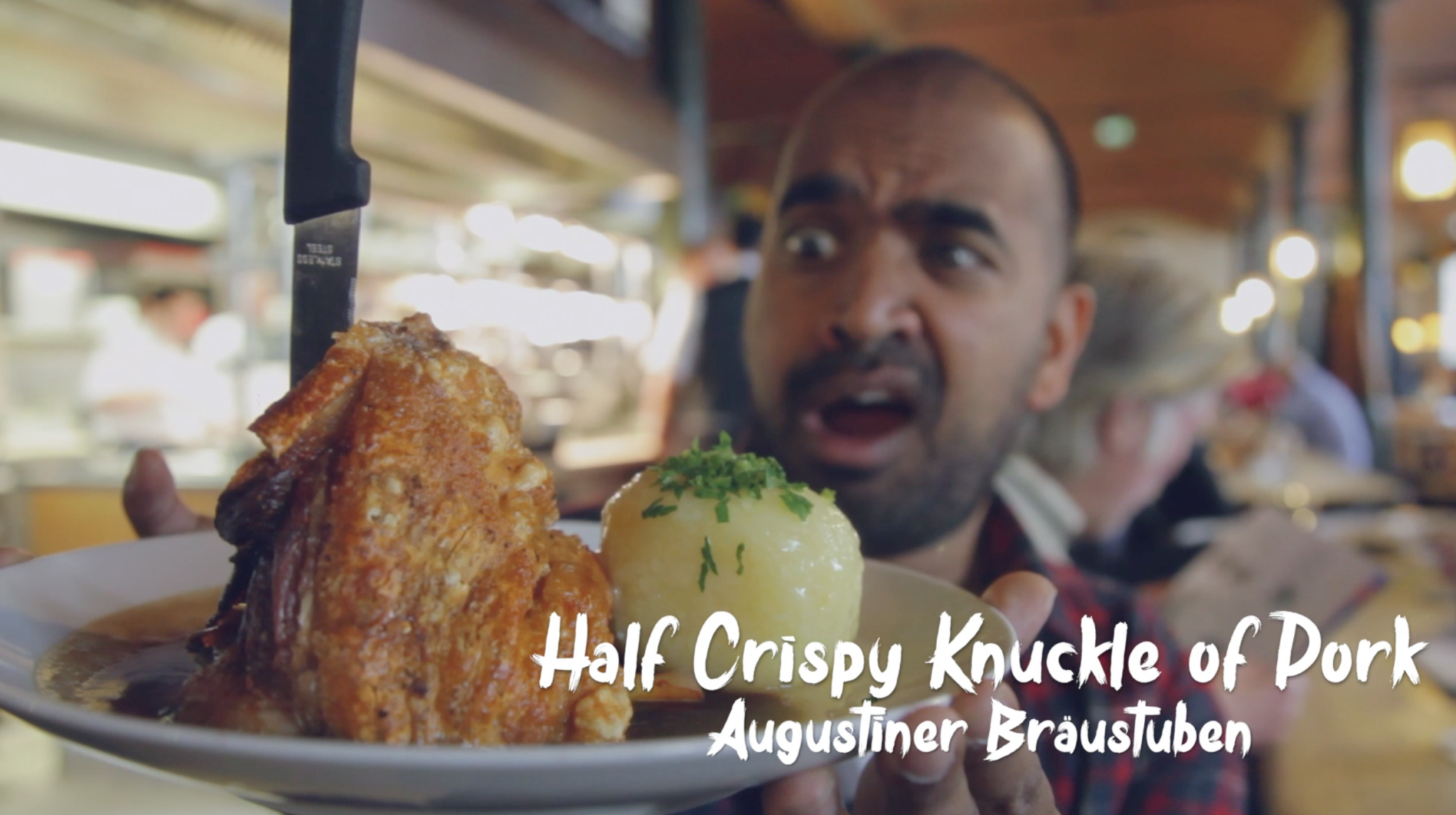 'Schweinshaxe' is nothing but roasted ham hock. The hock is the lower extremity of the pig's leg, just above the ankle but not including the juicy and meaty ham portion. In anatomical terms, it's the part of the hog's leg in between tibia fibula and metatarsals.
The pork hock was originally a popular peasant's meal, where cuts that were not as palatable or tender as the juicy joints of the pig were prepared at low cost. Marinated for longer periods to render the meat soft and cooked for longer, 'Schweinshaxe' can be eaten with potatoes and cabbage on the side. For a perfect 'Schweinshaxe', the knuckle has to be roasted for hours to crisp, crackling perfection. Doused with heaps of gravy, this can make for a memorable meal. Just don't feel intimidated by the generous size of the meat.
Where to eat Schweinshaxe
In Bavaria you can have excellent 'Schweinshaxe' at the Augustiner Braustuben ( Landsberger Str 19, Munich )
4. Labskaus
This culinary specialty from the north of Germany (particularly Bremen, Lubeck and Hamburg) used to be a poor person's food: leftovers — corned beef, beets, onions, boiled potatoes — are mashed together. The resulting puree is not very appetizing-looking, but at least it's partly hidden under a fried egg, served with herring and pickles. As unusual as it sounds, the dish is having a revival — Labskaus is now served in fancy restaurants.
Historically, the dish was popular among sailors in the big northern port cities, in particular. Potatoes and salted meat would keep well on voyages and the addition of potatoes would enlarge portion size of the meal and be filling. The dish has many regional variations. Even outside the country it can be compared to British hash, various Scandinavian variants utilizing local ingredients like herring instead of beef for instance.
Where to eat Labskaus
Head to the Lübeck institution, Im Alten Zolln which has been serving locals since 1589. Try their Labskaus or pickled herring with fried potatoes and onions in cream sauce. Pair it with the local Jever or Haake Beer.
5. Raw minced pork sandwich (Mettbrötchen)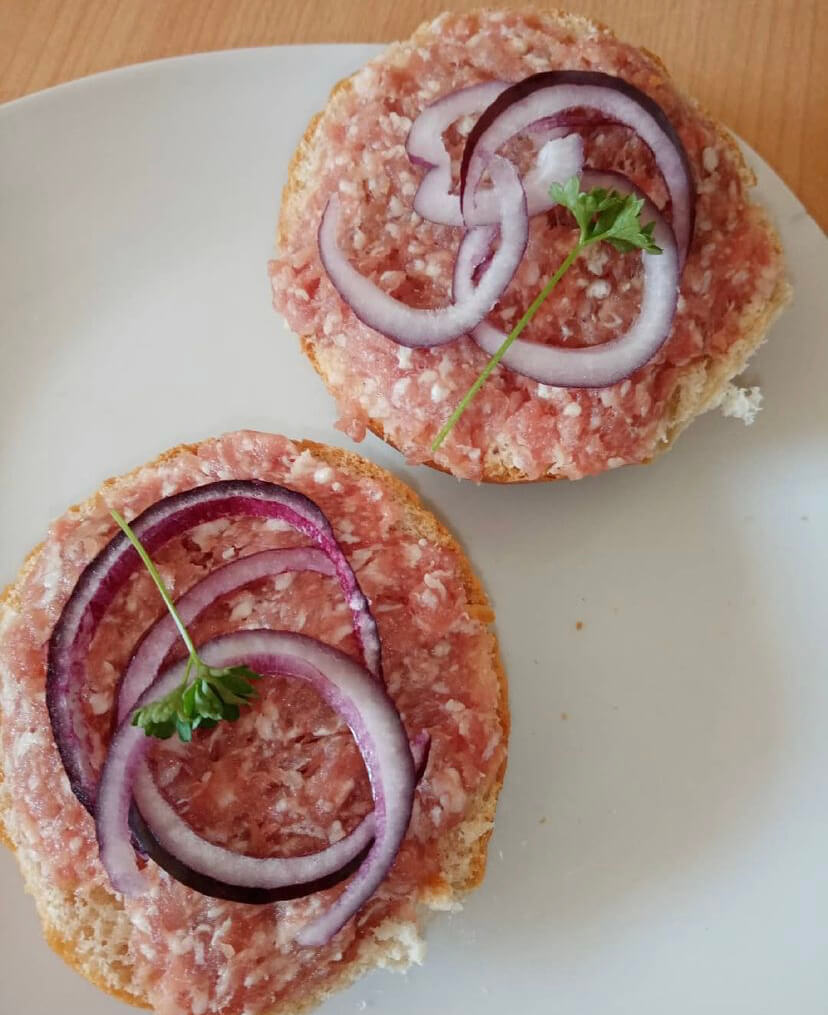 Mett is a spiced, minced pork preparation which is eaten raw. The raw part of the description is most unusual and to my mind honestly quite concerning, but in Germany it is a popular dish with the mett served up in many forms. Typically, the minced pork is spread over a roll of bread and is called 'Mettbrötchen' with raw onions as garnish. Sometimes, the minced pork can be moulded into the shape of a hedgehog, with olive shaped eyes and nose and quarter rings of onions as hedgehog spikes. The pork hedgehog or 'Mettigel' is a centrepiece at buffets sometimes. Despite the fact that the meat is eaten raw, there are health and safety practices enforced regarding the serving of the Mett. These include not allowing the temperature of the food to exceed 2 degrees Celsius, the pork being processed in a state of semi-frozen ness and the food having to be consumed on the day of production.
Where to eat Mettbrötchen
I always enjoy snacking at Mettbrötchen at any of the outlets of Junge Die Bäckerei, popular bakery that you will find in most cities in Northern Germany which include, Lubeck, Hamburg and also Berlin.
6. Spargel
'Spargel' or the German White Asparagus might not look so appetizing, but trust me when I say it is worthy of its accolade of 'white gold' in the vegetable kingdom. There's a good reason why it is considered 'white gold'. The reason is that the rather limp looking morsels of white asparagus have a milder flavour than green asparagus, with a delightful tender texture that pairs well with a rich smothering of sauce, preferably hollandaise. The spargel are slightly sweet to eat with a hint of bitterness. The asparagus is typically grown covered in soil to prevent photosynthesis – hence the absence of green colouring. Eat Spargel with a rich sauce, a nice side of Black Forest Ham, potatoes or even thinly sliced boiled eggs. Spargel is deserving of its name 'white gold'. If you can buy the vegetable pre-peeled then that saves on the preparation time. Enjoy Spargel in soups, salads as appetizer or mains.
Where to eat Spargel in Berlin
Spargel season starts in April in Germany and lasts till June. If you are visiting Berlin during Asparagus season do visit the Mars Restaurant in Berlin's Wedding district ( checkout my Berlin Wedding guide ) and also checkout the Visit Berlin blog for their 11 tips for restaurants that serve white asparagus in season.
Disclaimer- This post was in partnership with Germany Tourism and Traverse as part of a campaign to promote German Local Culture. If you want to dig deeper into German Food Culture, have a peek at their site