Luxury. A word that for most of us has a positive connotation with the expenditure of money. It is not a word you traditionally associate with a website about budget travel. Well, prepare to be surprised!
Following on from the launch of my new guide to Luxury Hostels of Europe and given that many of us are in 2017 travel planning mode , I wanted to share with you some of my favourite travel experiences that you could try in 2017 that I would classify as 'luxury on a budget'. The list, as you will notice, is dominated by food , which for me has always been one of my main reasons to travel. So if you don't like food, apologies in advance.
1.     An outdoor swimming pool in a hostel in the heart of Barcelona?
A hostel with an outdoor pool and sun terrace in Barcelona? Welcome to the uber cool TOC Hostel Barcelona. This hostel is in the heart of Barcelona, just 700 m from Plaza Catalunya Square. Metro Universtitat is a 2-minute walk from the property and a 25-minute metro ride will take you to Barceloneta Beach. Sagrada Familia is 10 minutes' metro ride away. Similar to its sister hostel in
Madrid and Sevilla, the rooms here are beautifully designed. Known for its warm weather and sunny days, its perfect that you can spend your time in Barcelona staying in a hostel with a glorious outdoor swimming pool and terrace. They have a bunch of sun loungers available for guests to lie down and sunbathe after having a swim, or just to relax and have a read- you decide. I will let 50 Cent, who recently filmed his own version of MTV Cribs here, sum up why TOC Barcelona is special "I've traveled the world and have stayed at some of the most insane places but none of them had the same vibe and energy that I found at the hostel in Barca, I never knew hostels could be that dope."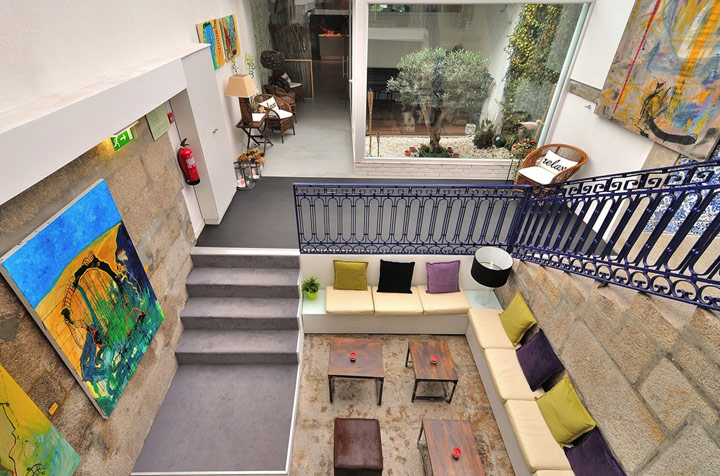 2.     Dine like a local at The Gallery Hostel, Porto
This is probably my favourite hostel in the world in one of my favourite cities in the world: Porto. This is a hostel that marries the old world charm that Porto is famous for with great, modern design and comfort, plus a liberal sprinkle of charm and hospitality for good measure. The hostel is an excellent poster child for the stunning metamorphosis that Porto has undergone. Formerly an 18th-century villa owned by a member of the local aristocracy, the building has been restored to its former glory by two friends. They had the unique idea of creating a designer hostel that could also function as an art gallery. Many Portuguese hostels offer the option of 'dinner with locals' but few do it better than the Gallery. For a princely sum of €12, you can enjoy a three course meal prepared by the hostel's in-house chef. You could be enjoying anything from the delicious 'Caldo Verde' soup to classics like 'Bacalhau' or 'Arroz de Pato.' There is always a vegetarian option. You also offered a couple of glasses of wine with the meal so its a fantastic offer. The dinner table at the hostel has space for 15 people so it is a wonderful way to meet other guests and bond over the shared love of food and good conversation. It's the kind of  food your mother-in-law would make, it's that good.
For a full in-depth guide, check out my earlier review of the Gallery Hostel Porto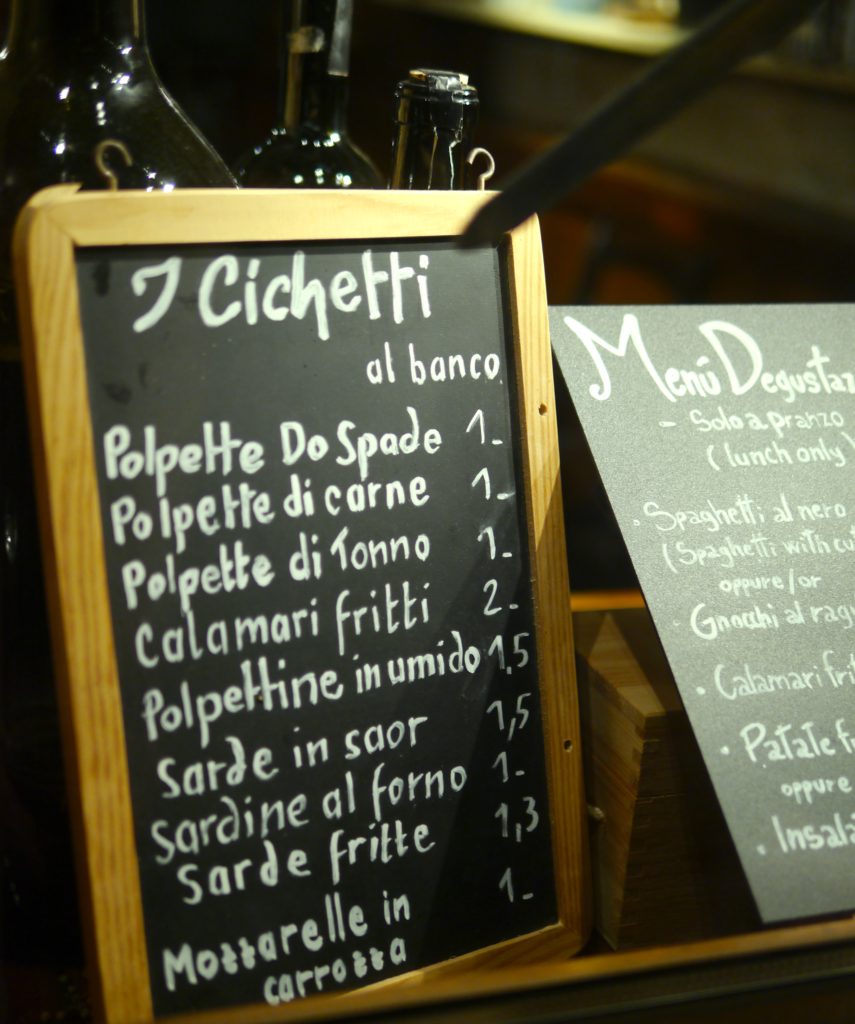 3 Eat at a Cicchetti Bar in Venice
Venice has many gems but undoubtedly, one of the stars of the show is the hidden network of 'cicchetti' bars (pronounced chi-KET-tee) across Venice. 'Cicchetti' is a form of Venetian tapas or inexpensive snacks served all day in bars around the city. Locals usually start nibbling 'cicchetti' over glasses of local fine Prosecco, often late in the morning, or as an afternoon snack or in the evenings when locals will go on their version of the 'pub crawl'- the 'giro d'ombra' (Giro means stroll, and ombra, slang for a glass of wine, refers also to the shade cast by the domes of San Marco). The cicchetti is served at a bàcari ('Bah-car-eeh'), small, local bars tucked all over backstreets of Venice. You can order at the Bacari, a spritz, Aperol or Campari at a fraction of the price of what you would pay in the piazza.  The cost of each cicchetti can vary ranging from as little as €1 (if you are eating 'verdure' vegetarian options) to €3 for those which are meat or seafood based. Some notable names to try out include Al Merca, Cantina Do Spade and All' Arco.
For more details, checkout my guide to cheap eats in Venice
4 Eat at a Michelin Star Restaurant on a Budget
A hallmark of exclusive, fine dining around the world is the highly coveted Michelin Star bequeathed to a select few restaurants around the world. Eating at such a restaurant does not need to be an expensive affair. The most inexpensive Michelin star restaurant in the world is Hong Kong's 'Tim Ho Wan'. The popularity of the place means that there is a bit of a queue to get in but it is worth every minute of the wait once you gain entry. Highlights include their steamed fresh shrimp dumplings or pork dumplings, each costing only $27 HKD (4 pieces). Another highlight of the meal was their baked pork barbecue buns (3 pieces, $20 HKD) – so good that it is worth returning to Hong Kong just to eat these little beauties.
For more about places to eat and cool things to do in Hong Kong, checkout my recent guide to 72 hours in Hong Kong.

5 View World Class Art at the Metropolitan Museum of Art, New York.
Situated at the junction of where Central Park East meets Fifth Avenue this is an imposing museum housing about five thousand years of human history, through a collection of over 2 million objects of art. Highlights from the museum include the Impressionist and European Galleries, Galleries displaying Modern Art and the Egyptian collection. Don't miss the opportunity of visiting the Rooftop Bar for a drink and unparalleled views of Central Park! The best part? The entry to this spectacular museum is pay as you wish.
For more cool things to do on a budget in New York, checkout my earlier guide to 10 things to do for free in New York and seasonal tips on how to enjoy New York on a budget
6 Visit a luxurious, historic, English townhouse for free at The Wallace Collection
Located at Hertford House, Manchester Square in Central London, this art collection in a Marquesse's former townhouse is as decadent a look into a nobleman's establishment as it gets. 25 Galleries worth of French 18th century painting, furniture, porcelain and Old Master paintings make this Collection an unmissable stop on your London visit. Best of all, entry here is absolutely free.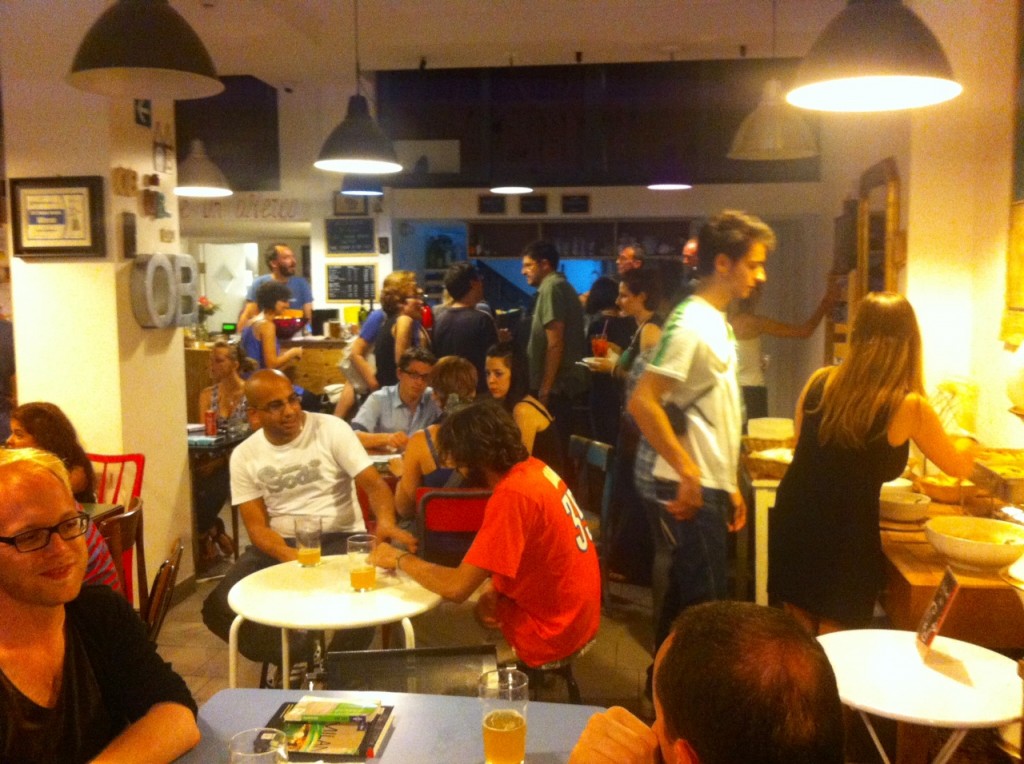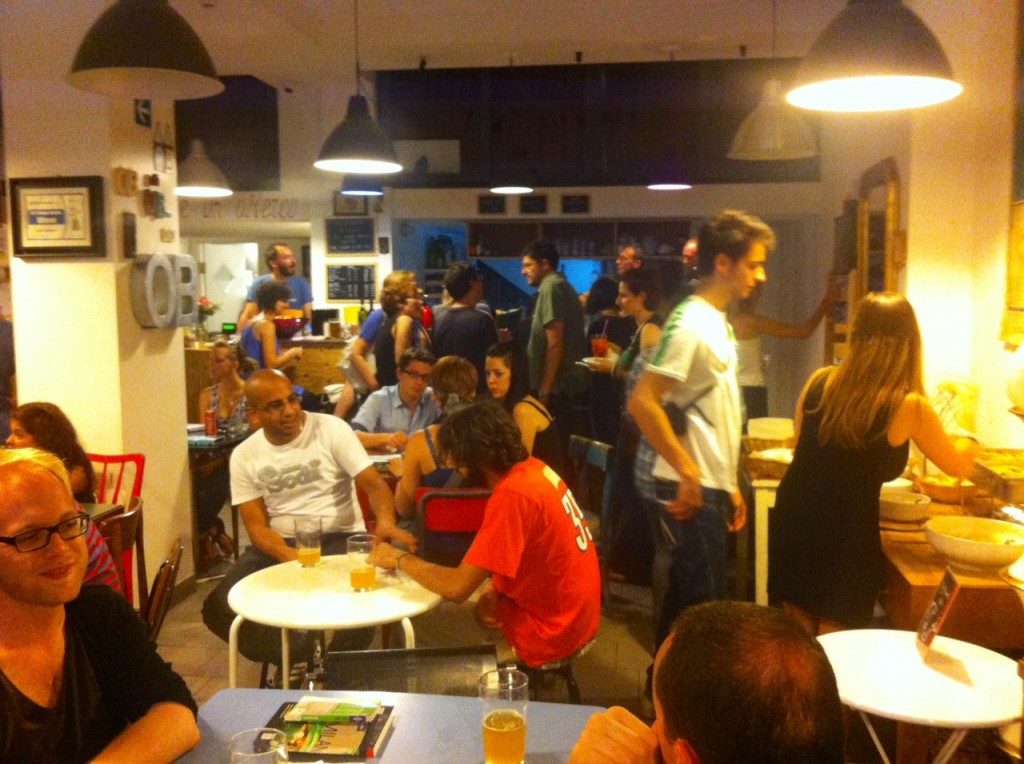 7 Experience the great Milanese tradition of Aperitivo for FREE at Ostello Bello Hostel, Milan
Ostello Bello is a hostel with an amazing difference and a great reason to visit Milan, even more due the fact of the traditional Italian-style bar and restaurant where guests and locals mingle during Aperitivo Hour. Hostel guests can help themselves to the food for free and grab a glass of wine or beer from the bar. The bar is open pretty much 24/7, which is another cool feature. What I loved about the bar was the number of locals pouring into the joint after work in the evening. They definitely add flavor to the atmosphere. Ostello Bello isn't just a hostel, but a meeting point where you can mingle with Milanese and travellers from all over the world. This hostel is up there with my best hostelling experiences in the world.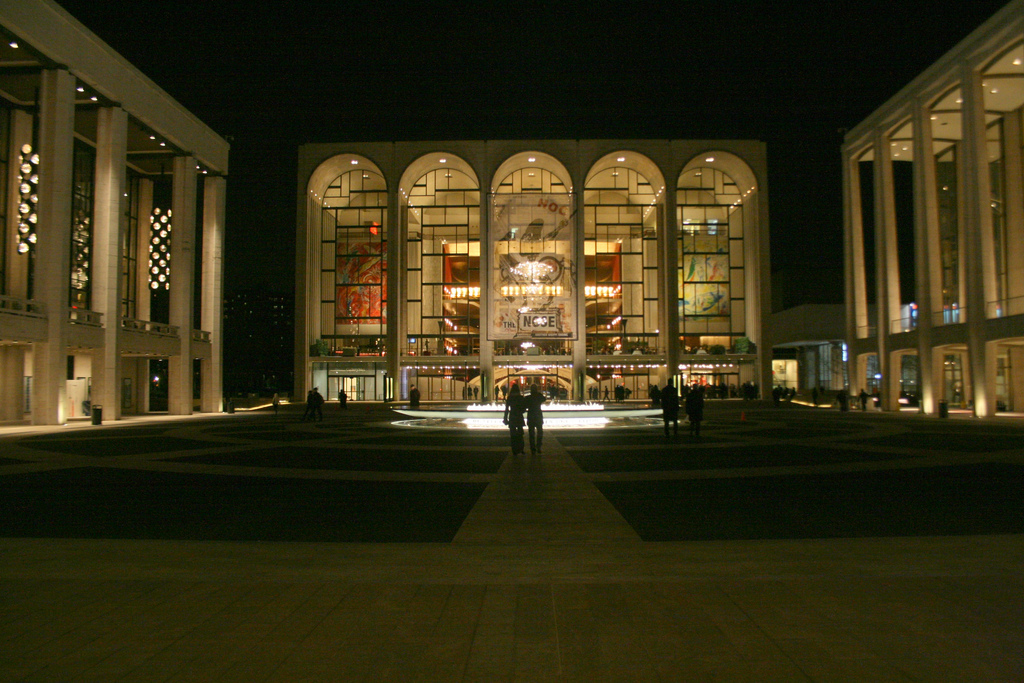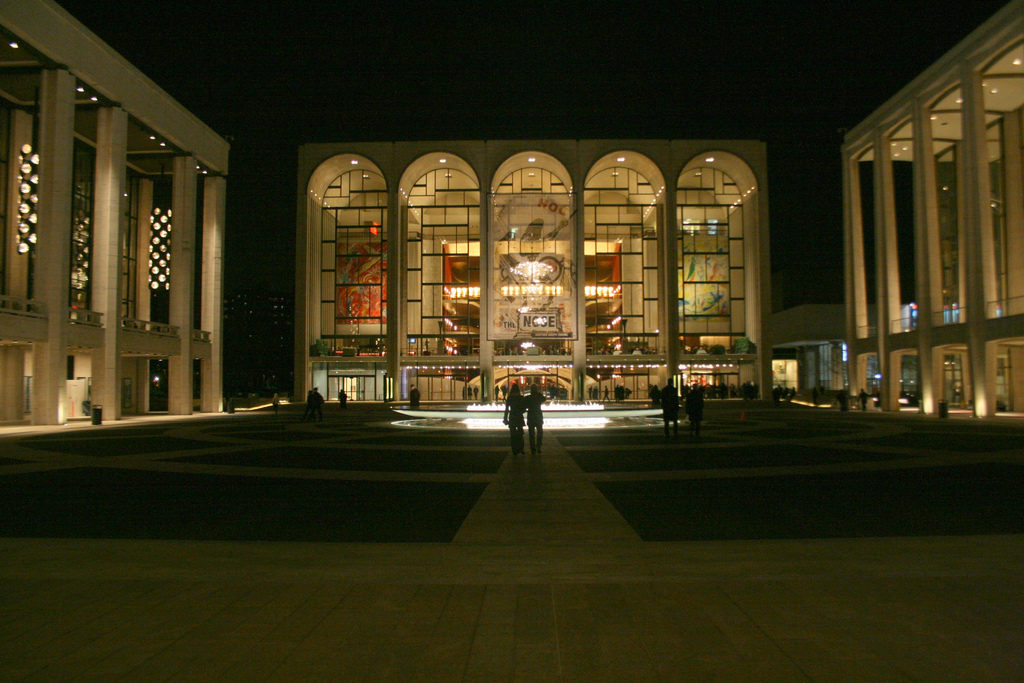 8 Standing Room Only Tickets at the Metropolitan Opera, New York.
Even if you are not an opera lover the stage productions at the Metropolitan Opera in New York are something. The tickets can be quite expensive especially if bought last minute. However, on the day of the show, starting from 10 am you may pay for standing room only tickets, which are very affordable. If nothing else, use this opportunity to go inside and enjoy the opulent interiors and view Chagall's beautiful murals up close. You never know it may be your lucky day and some benevolent opera lover may go home at the interval and on the way out slip you their ticket.
9 Discover the gastronomic secrets of Andalucia with a Tapas Food Tour at the Bed and Be Hostel, Cordoba
Cordoba was once the heart of Moorish Spain where you can find some of the most beautiful examples of Moorish architecture like its stunning 'mesquita.' If you want a real authentic taste of Andalucia, without the crowds, come here. After the crowds in Granada and Seville, Cordoba is so blissfully chilled out and relaxed. Plus there is a fabulous new luxury hostel here called the Bed and Be. Great rooms and you are guaranteed a warm welcome from Jose and his team. This is one hostel and one city you will not regret visiting. There is a tapas tour every night from the hostel leading you to discover the best foodie locations. With this tour you can uncover all the gastronomic secrets of Andalucia.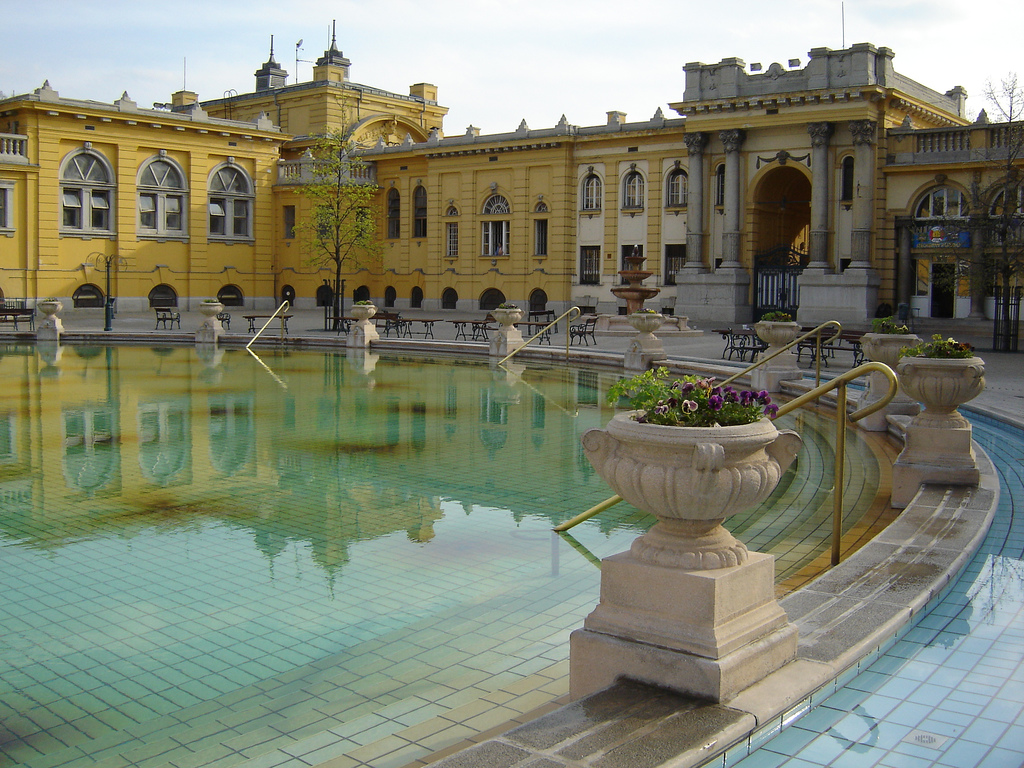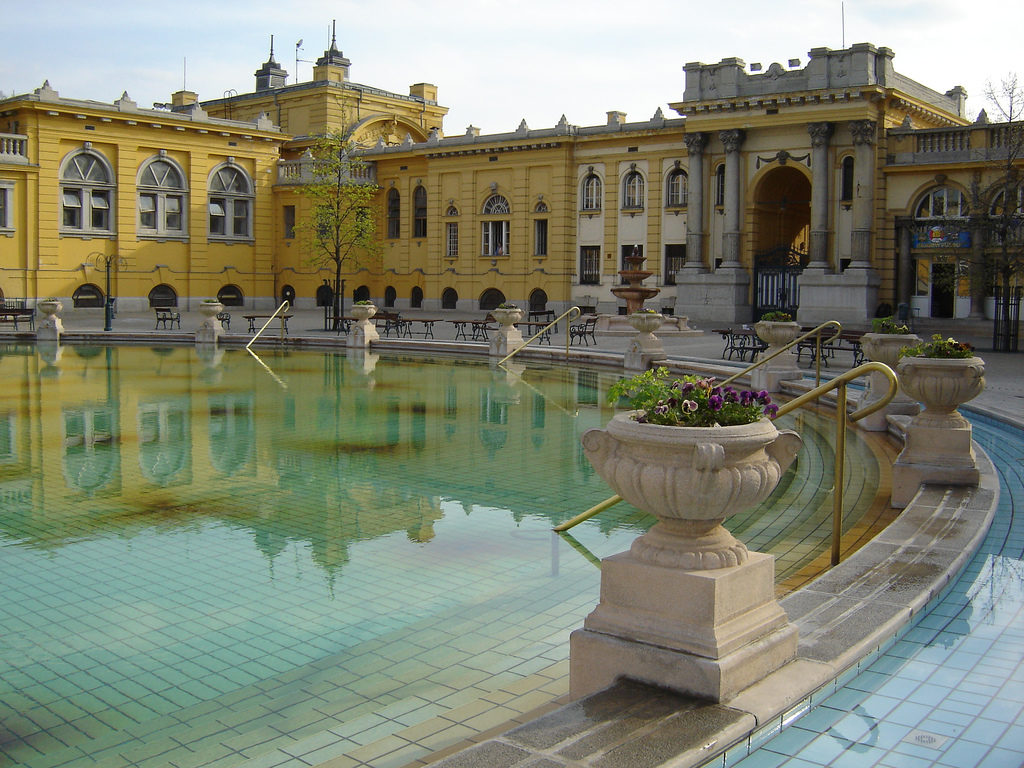 10 Visit the Thermal Baths in Budapest
Budapest sits on a bed of hot springs and taking a dip in the waters has been lauded since ancient times. Apart from the potential therapeutic benefits provided by taking the waters, some of these thermal baths are architectural gems. Some are Art Nouveau gems, others have Turkish designs; a few even hark from the Ottoman era. Admission charges start at 2400 Ft, which is around 8 dollars.
11 Listen to a free organ music recital at Notre Dame on weekends
Visiting organists from all around the world take advantage of the brilliant acoustics of this famous cathedral in Paris and every week there is something different to thrill the audience. The recitals take place regularly on Saturdays at 8 pm and on Sundays before Vespers. A must do Paris experience. || For more cool experiences in Paris on a budget, checkout our dedicated Paris section.
12 Use a City Pass to gain access to a wealth of experiences
Once you have spent a tonne of money on plane or train fare to visit the city of your dreams, you don't want to skimp on experiences once there, because it is prohibitively expensive. A way to bypass this problem is to invest in a city pass. Although it can hardly be viewed as a budget purchase, when you consider the amount of money you save and the wealth of experience gained, it is certainly a smart move, especially if you are staying in the city for more than a couple of days and you want to visit a number of places with expensive entry fees.
13 Drink the World's Best Sake for free in Niigata
On my last trip to Japan to experience the real Japan and get off the beaten path I headed west to the city of Niigata. The prefecture of Niigata proudly boasts to be one of the finest producers of Sake in the world and it has something to do with the snow that this region receives. The snowmelt and pristine run-off creates a recipe for magic on the paddy fields. My top tip for a sake brewery tour in Niigata is the Imayotsukasa Sake Brewery run by Mr Yamamoto, a ninth generation producer of sake and the friendliest guy you might meet in Japan. The best thing is that the sake tastings here are free. You just have to call in advance to book an appointment for a tasting. The stuff is lovely and I am sure after a few tastings, you will be taking a few bottles home. Hands down, one of the best food and drink experiences in the world.
---
Creative Commons License Attribution
Tim Ho Wan dim sum restaurant photograph was licensed  under Creative Commons License  courtesy of Chika Watanabe; met at the met photograph was licensed  under Creative Commons License  courtesy of Kai Schreiber; Szechenyi Bath photograph was licensed  under Creative Commons License  courtesy of Elin B;  NewYork Met Museum photograph was licensed  under Creative Commons License  courtesy of loumurphy; Facade Rose window and organ pipes Notre Dame photograph was licensed under Creative Commons License courtesy of Chris Waits.