Cocomama Amsterdam

Full Disclosure: I earn a commission if you click this link and make a purchase, at no additional cost to you. Really makes a difference. Thank you supporting the blog.

is situated in a beautiful 130-year-old building with high ceilings and chandeliers. It has a garden complete with picnic tables and gnomes, a cuddly hostel cat called Joop, a kitchen stocked with beers for €1 plus the hostel is run by a bunch of energetic ladies who know the city like the back of their hand, plus an authentic, not-too-touristy location – what more could you want from a hostel in Amsterdam?

Location
Cocomama Amsterdam Full Disclosure: I earn a commission if you click this link and make a purchase, at no additional cost to you. Really makes a difference. Thank you supporting the blog. is a 20-minute walk from Amsterdam's tourist-filled red light district and much closer to Rembrandt Square and the Heineken Museum lies Cocomama.
It's definitely an interesting location: the premises of Cocomama were once the address of one of the city's most famous brothels,'Yab Yum'.
Guests can still view pictures of the flamboyant former owner and his girls at the entrance. You'll also find a few pairs of racy, lacy underwear hanging beside the pictures of its former residents as a tongue-in-cheek reference to the history of the building.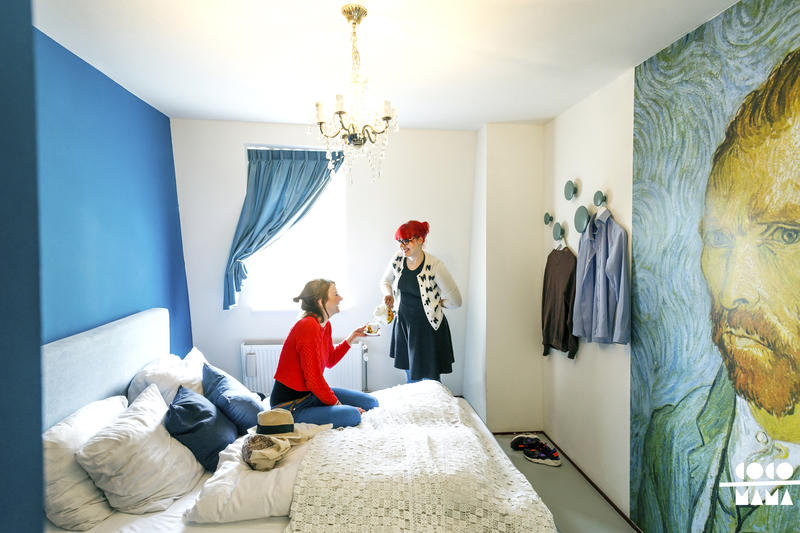 Rooms and Bathrooms
All their rooms are decorated with different Dutch themes, so that guests can enjoy a proper Dutch experience. You'll find comfortable beds, lockers, power outlets and a shower in your room, but what they really want is for you to come and hang out with them and all the other travellers in the common areas.
If you're on a budget but still looking for a unique experience, you can stay in the Windmill six-bed dorm. With triple-decked custom-made bunks, each bed in this room comes with its own privacy curtain, reading light, power outlet and secret compartment. Linen is included in the price and the beds are freshly made prior to arrival. (A rarity in most hostels). There is an en-suite bathroom and large luggage lockers too.
If you're looking for more privacy, you can choose one of their five private double rooms, which are all ensuite and come with a queen sized bed, linen, towels, bathroom amenities by Stop-The-Water-While-Using-Me, a hairdryer and coffee/tea set-up. Each room has a traditional Dutch theme like 'Tulips', 'Van Gogh', 'Royal', and 'Cow & Milk'.
Wi-Fi is free and works in all rooms.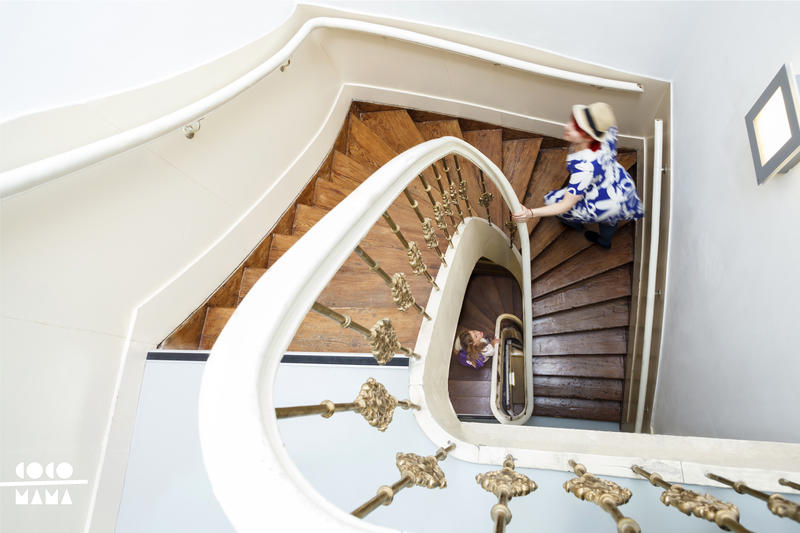 Facilities
Being a boutique hostel, Cocomama never caters for groups. The maximum group size they accept is four. This means that the hostel audience is primarily comprised of solo travellers who are keen to mix and socialise with other guests.
Expect the style of a high-end hotel without the stiff formality and high prices.
Hostel guests can get together dining in the cosy kitchen/living room that is the focal point of socialising in the hostel.
I've volunteered to cook a simple dish of pasta with peppers and smoked sausage, accompanied by a €3 bottle of Merlot that I picked up from the nearby Lidl, just a block away. The hostel provides basic cooking ingredients, pastas, and spices for the guests' use.
I had thought about venturing out for dinner but I enjoyed the buzz and banter so much in the hostel that on both the nights, I stayed in and ate dinner with the guests.
Cocomama staff organise a bunch of events to give you the best possible experience of Amsterdam. Ranging from tours of the red light district to a tour of their favourite nightlife hotspots on weekends-they keep you busy here.
The hostel has its own beer fridge, which operates on an honesty box policy.
Cocomama is also home to Sunny, the hostel cat. He's the star of the show at Cocomama, scurrying around the garden, chasing his imaginary foes. Many an afternoon is spent on his back in his beanie bag, being showered with affection by the hostel guests.
Expect many acts of random kindness at Cocomama.
Right from the moment you walk in, guests are orientated with their surroundings with a detailed and handy explanation of their surroundings with a neat map. Soon, I'm given the lowdown on places where the hostel staff like to eat – I always enjoy these kind of recommendations.
When you're constantly travelling, it's great to be in a place where you can relax, talk to some nice people and just chill.
I've lived in hostels that make a great base to explore and discover a city. Cocomama, on the other hand, really felt like home. During the two days I spent in Amsterdam, I actually ended up spending most of my time in Cocomama.
In the end, thanks to Cocomama, I saw a very different side of life that is known only to the people who have had the good fortune of staying there.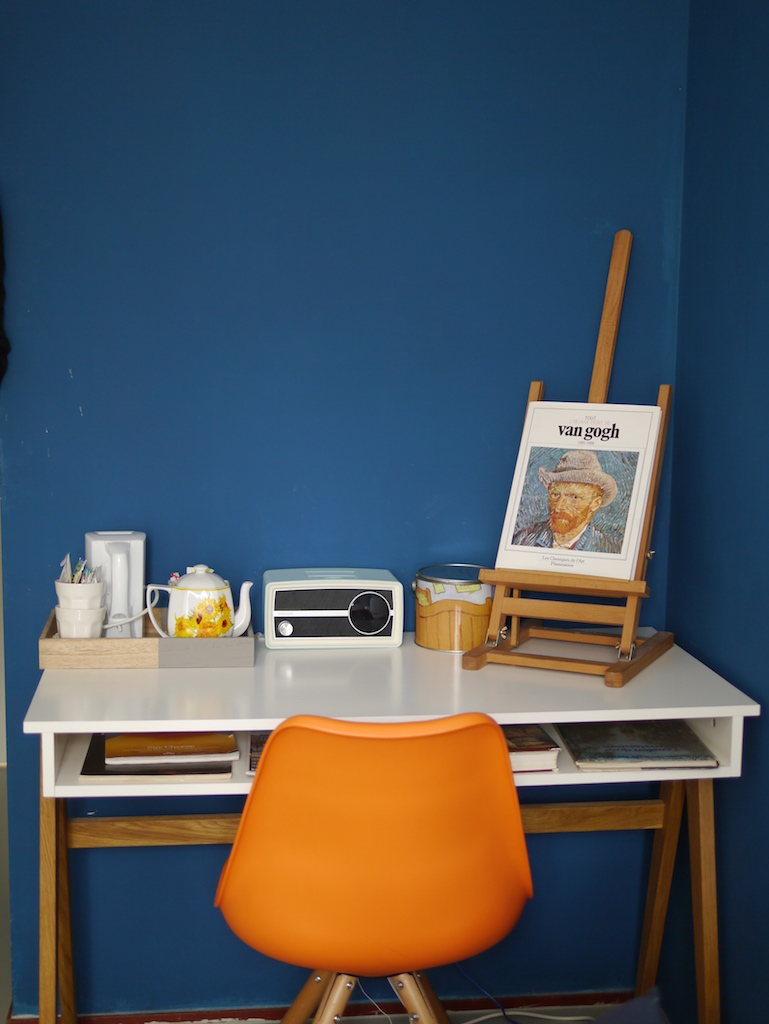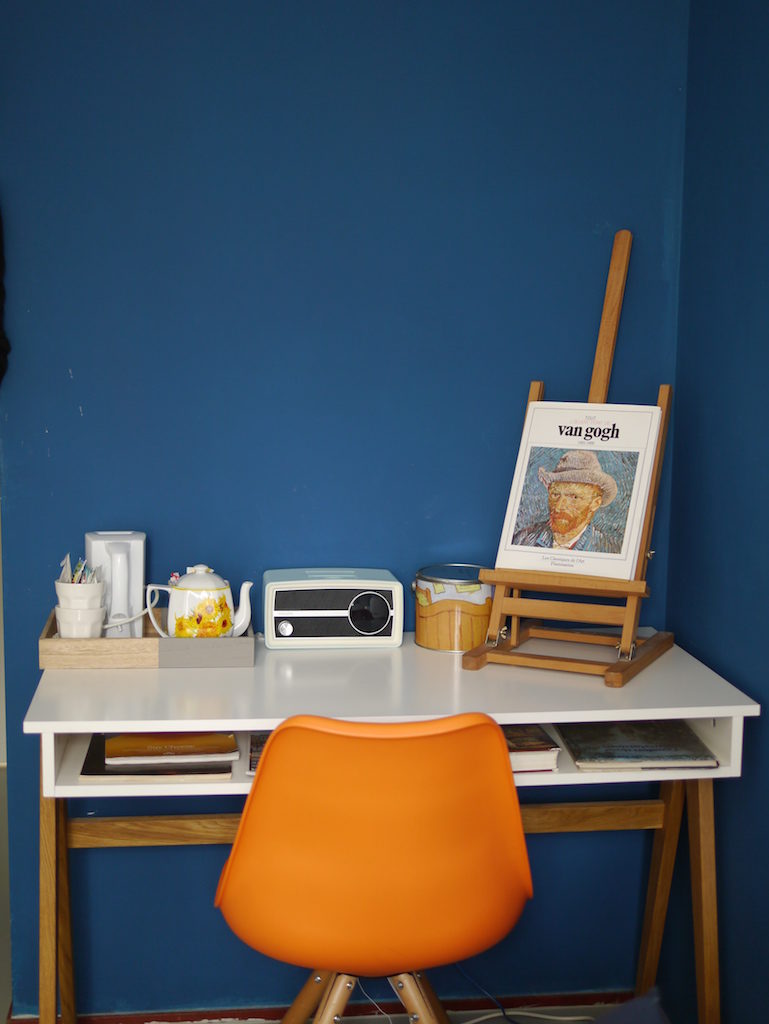 Why is this a luxury hostel
One guy I met who moved to Amsterdam six months ago stayed at Cocomama for the first few days. He summed up the Cocomama experience perfectly:
'Even after leaving the place and getting my own apartment I come back here. I know all the staff well now; they are now some of my closest friends. Cocomama felt like home from day one and wherever I go in the world, it will always be like a home to me where I know I will be welcomed with open arms.'
Booking this hostel
The dorms at Cocomama Amsterdam Full Disclosure: I earn a commission if you click this link and make a purchase, at no additional cost to you. Really makes a difference. Thank you supporting the blog. start from 21€ going upto 45€ and privates range from 76€ – 150€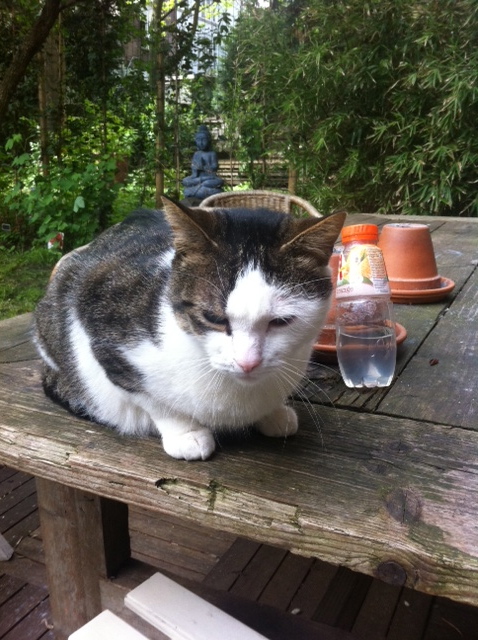 Cocomama Amsterdam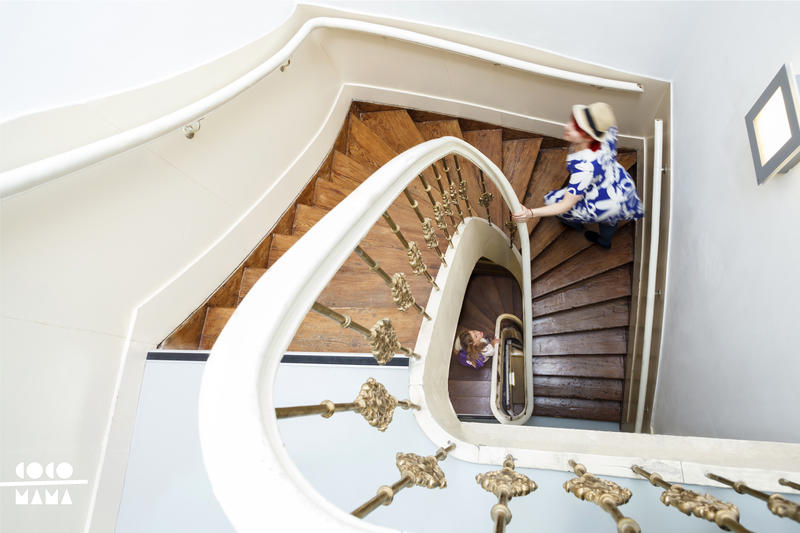 Full Disclosure: I earn a commission if you click this link and make a purchase, at no additional cost to you. Really makes a difference. Thank you supporting the blog. Last Updated: 01/10/2018