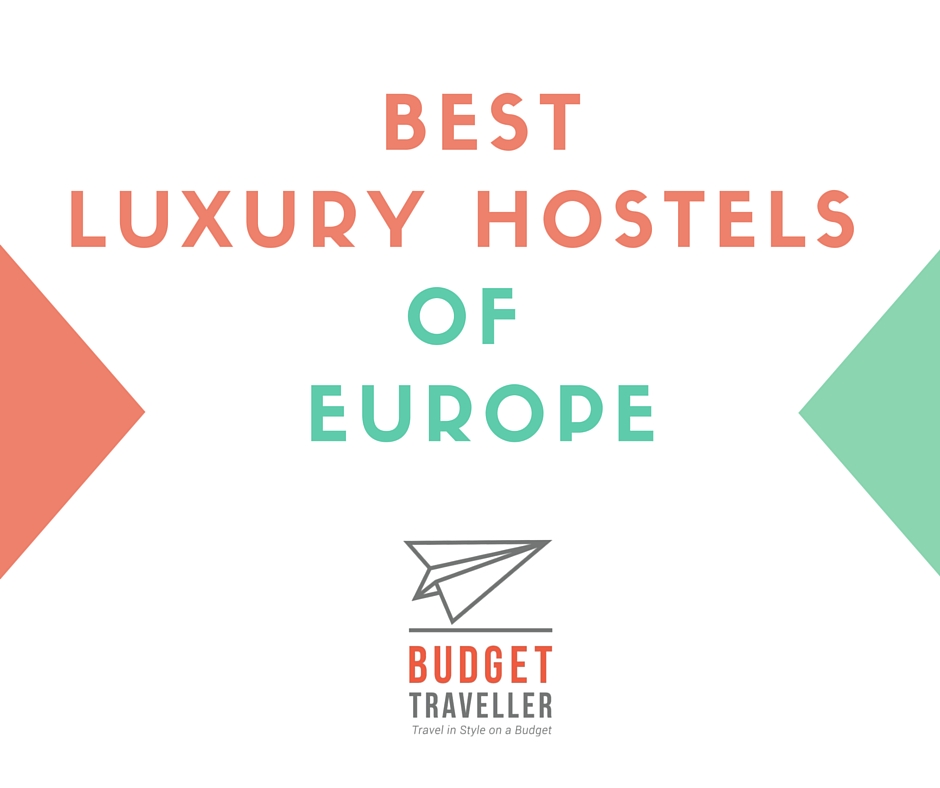 Thanks to the Luxury Hostels revolution sweeping Europe and the rest of the world, hostels are no longer the place to grunge about whilst trying to save a few pennies. Some of the best luxury hostels have a cool social vibe combined with stylistic design elements typically seen in boutique hotels. They can have a quirky element thrown into the mix- an art gallery, a swimming pool, a party-suite with a performance stage that folds into a row of beds with chilled beers in the headboard. What ultimately defines luxury after all is not just comfortable bedding, luxury linens and a private bath- it boils down to the experience. Here, in no order, is my list of the best hostels in Europe, broken down by country and city. This list will be updated every quarter of the year so please bookmark this page and keep coming back to discover new hostels to stay in. If you have any suggestions or feedback, please drop me a line or leave a comment below.
PS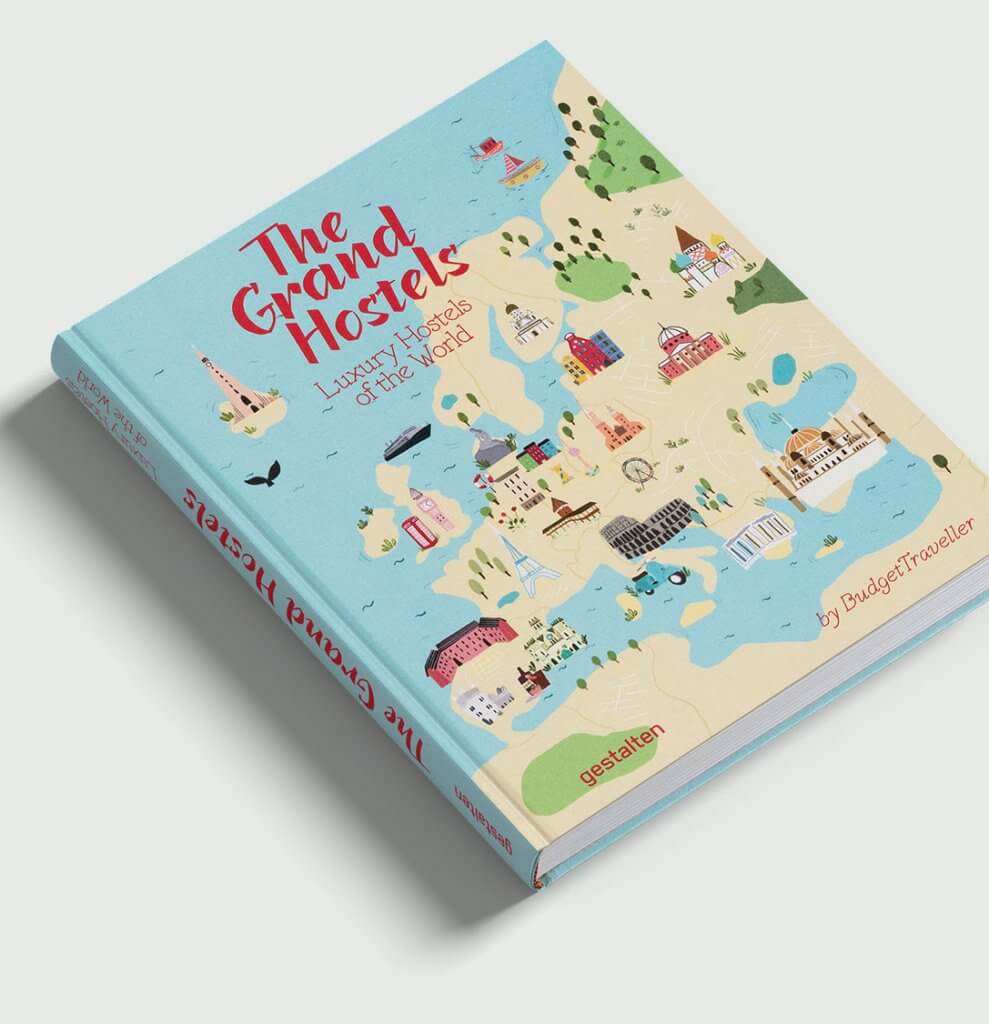 Checkout my brand new guide 'The Grand Hostels: Luxury Hostels of the World'
I've just published a new book that tells the story of 116 luxury hostels across the world and the amazing people who run them. More details of the book , click here
PS Big thank you to Arpita from Bagfullofbooks.com for helping me update this list.
AUSTRIA
Vienna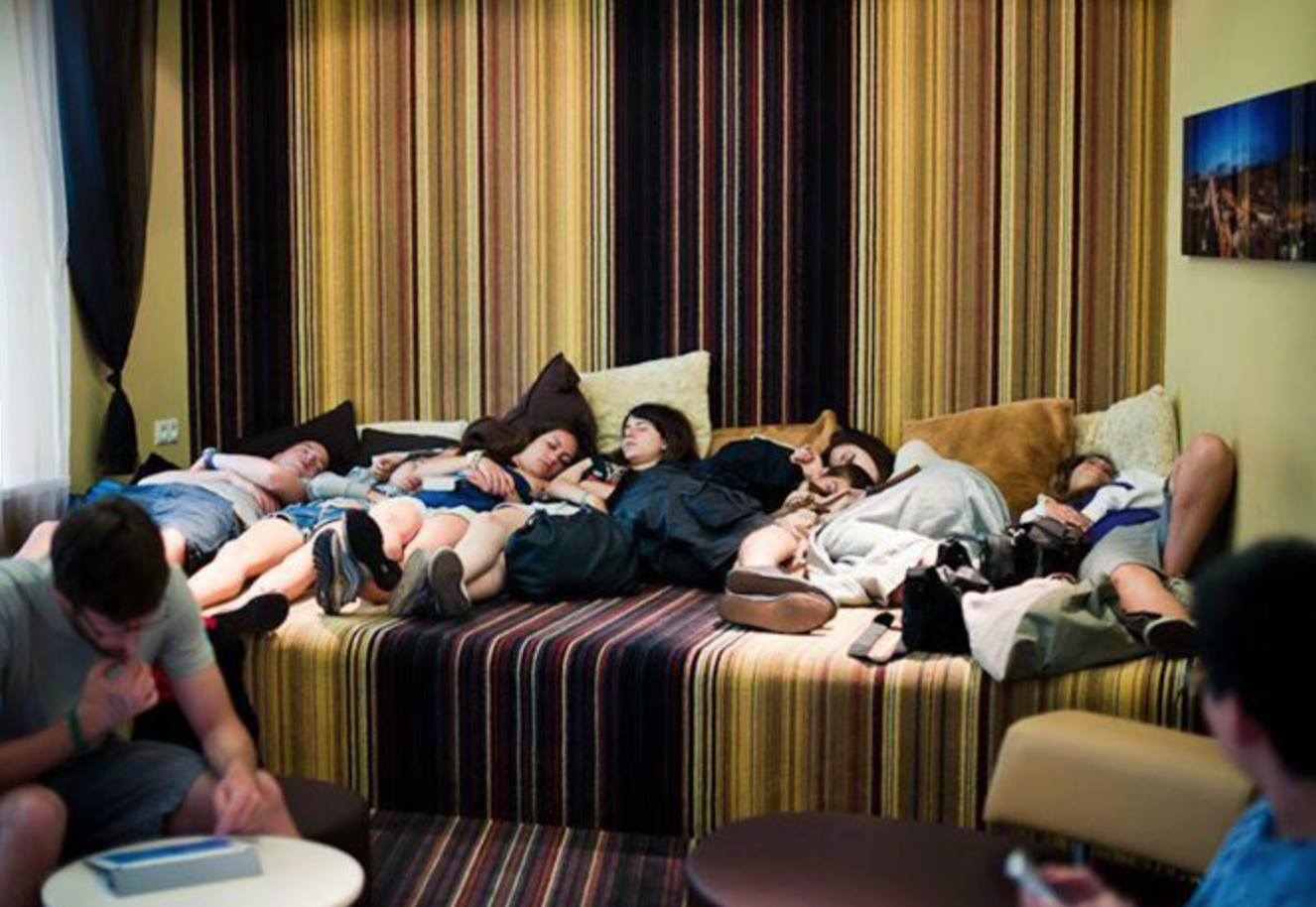 1) Wombats Hostel Vienna Naschmarkt
Thanks to its great location in the Naschmarkt, excellent facilities, cool design, and superb value for money breakfast, Wombats City Hostel Vienna Naschmarkt is the perfect base for exploring Vienna. The hostel is a short walk from the Hofburg, Secessionhaus and the Vienna State Opera, making it ideal for those looking to soak up some culture while in the city. Some of Wombat's excellent facilities include free Wi-Fi in the common areas, personal lockers, secure key-card access for the front door and rooms, an excellent all-you-can-eat breakfast for a small add-on fee, a small kitchenette for guests to use and a front lobby stocked with lots of brochures, travel guides and maps of the city and onward destinations to help with your trip planning.
BOSNIA AND HERZEGOVINA
Sarajevo
2) Franz Ferdinand Hostel Sarajevo
This hostel can be best described as a Museum Hostel. The owners of Franz Ferdinand created a unique hostel (involving young designers and architects from Bosnia) that tells the story of Archduke Franz Ferdinand whose assassination put Sarajevo on the world map for the very first time. People love to stay here just to learn the history of the archduke. All rooms, privates or dorms have been named after people that participated in the assassination plus the walls of reach room have some interesting facts and trivia. Beside the history and unique comfortable rooms, the hostel offers guests theme nights, pub-crawls and sightseeing tours. Staff are friendly and keen to promote their city and share its beauty with their guests. Dorms run from €9.90, doubles from €32.
CZECH REPUBLIC

Prague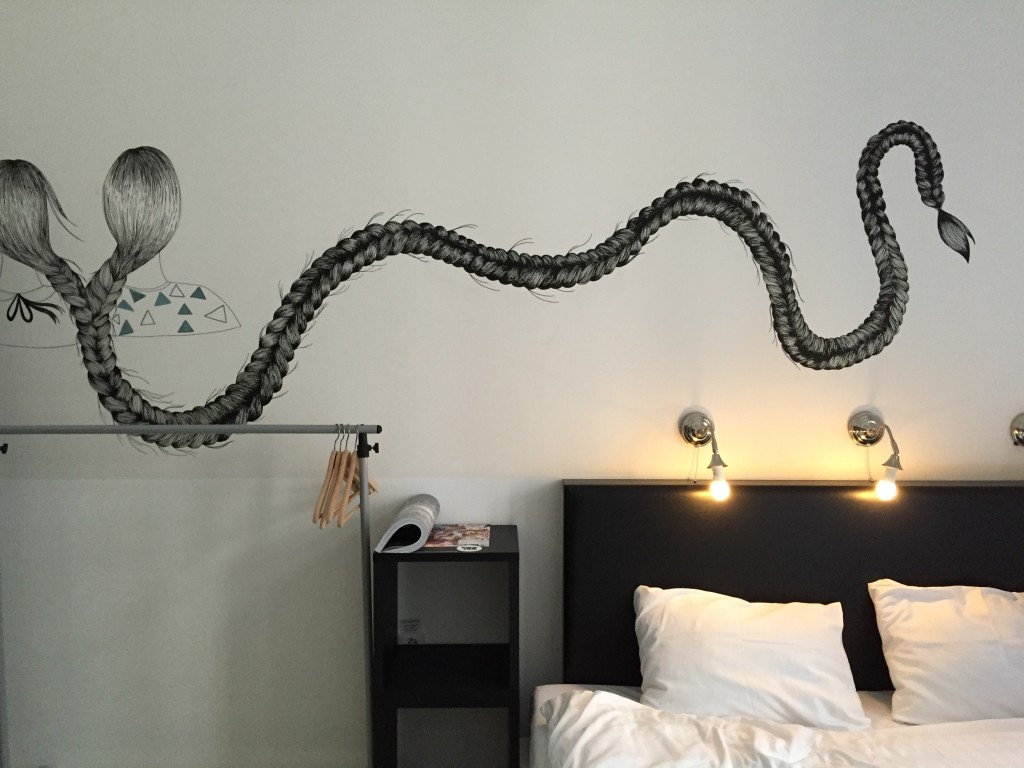 3) Fusion Hotel and Hostel Prague
Smart interiors, a revolving bar, central location in Prague and with all the technological trimmings you could dream of in your own home like an interactive gaming room, a Skype booth and Apple TV's-Prague Fusion Hostel and Hotel is a flashpacker's dream. Right in the center of Prague, within walking distance of the main train station and the key historical sights, bars and shops, this luxury hostel is an excellent base. Public transport such as trams and buses are just a few minutes walking distance from the hostel. Fusion's concept already lies within the name- it combines a neat boutique hotel with unique private rooms and a cozy hostel with dorms of several different sizes with a restaurant, a bar and a soup diner, bringing together locals, interior design enthusiasts and of course travellers on different budgets from all over the world. What I loved the most about Fusion was the social aspect. You can have your lunch with locals at "soup in the city", the hotels own diner that serves 5 different soups from typical Czech and vegetable cream soups to Far East-inspired soups. You can also enjoy home made sandwiches and cakes or a typical Czech dinner at the restaurant, where every dish you order comes with a free beverage. Breakfast is included within your stay.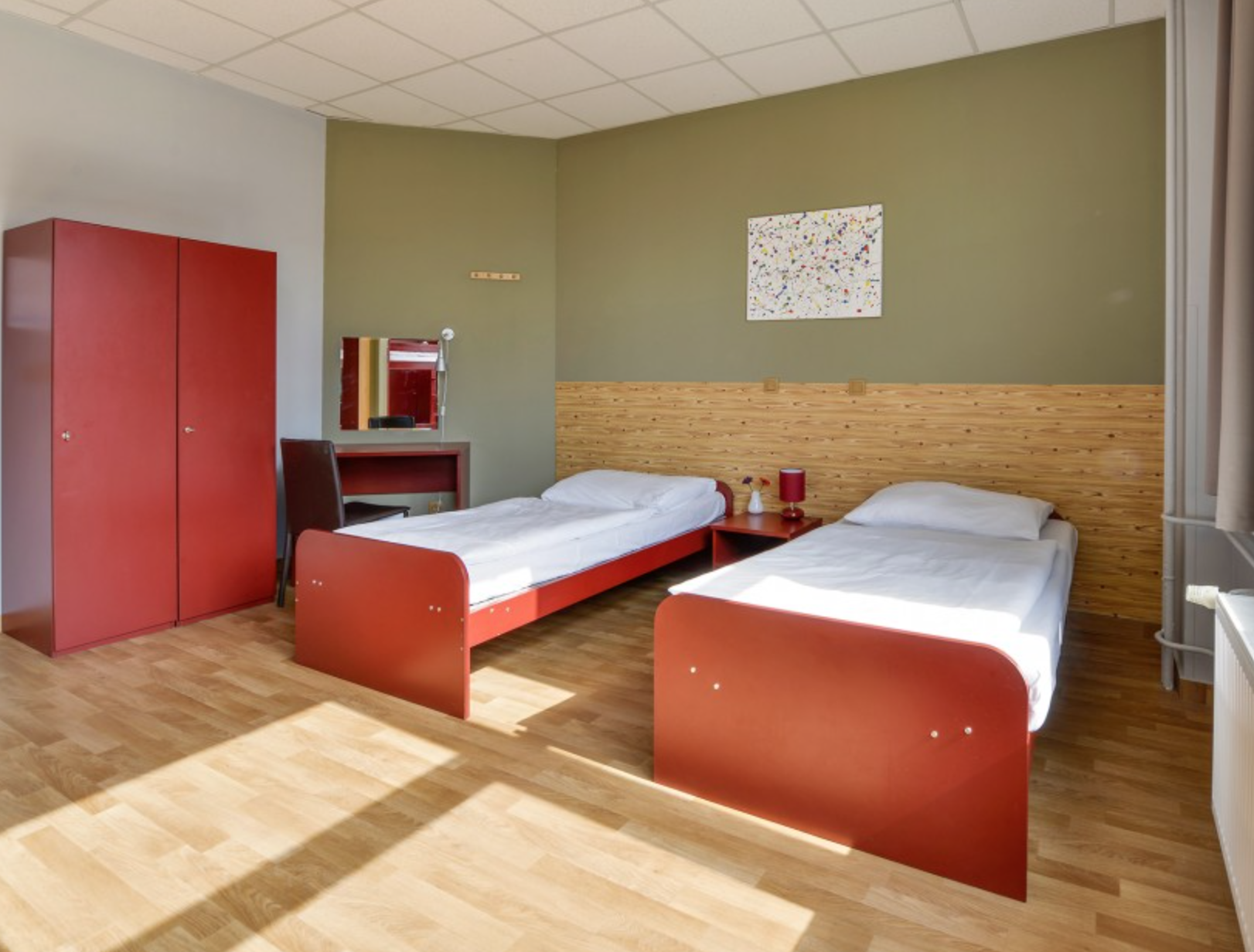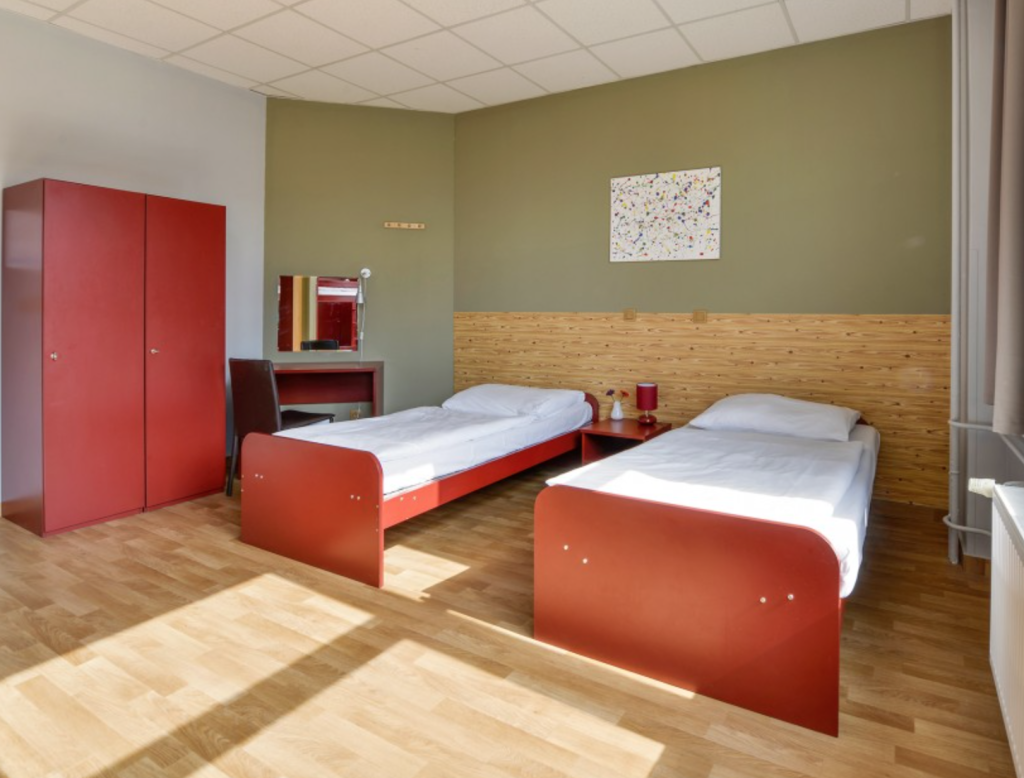 4) Plus Hostels Prague
If you're looking for an alternative view of Prague, Plus Prague just might be the hostel for you. At first the location of the hostel may seem a bit of a drawback. Outside the hostel is a tram stop that drops you into Malastrana in 15 minutes, which I found to be pretty convenient. Plus, Holesevice train station is just one stop away, so it's handy if you're coming into Prague by train. The other great thing about this location for me was discovering Cross Club, a very alternative club just a few minutes' walk from the hostel. I encountered mainly locals here. While they play a lot of drum and bass, even if you're not into that kind of music, you will love this place. There's a nice outdoor seating area for chilling, two bars for drinking, and two clubs for dancing. Plus Prague has an excellent range of facilities including a swimming pool, sauna, and a nice on-site restaurant and bar. There is a cool bar and social space, which is ace for meeting fellow guests. In the evenings, the bar gets busy and doubles as a nightclub and often hosts its own themed nights for guests.
5) Miss Sophie's Prague
One of the first design hostels to pop up back in 2004, Miss Sophie's in Prague is definitely a hostel to checkout. The hostel is receiving a makeover and in addition to its artsy apartments and designer dorms, the hostel is in the process of launching a cool bar and restaurant onsite to give the place a more social twist. The hostel has a superb location in the heart of Prague's New Town (Nové Město) and is a 15-minute walk from Wenceslas Square. The highlight of the hostel in my opinion is their breakfast. The hostel chef offers you a hot cooked breakfast- whether you like eggs scrambled, an omelette or benedict, she will cook this to your desire. Plus you have a choice of cereals, pancakes, fruit, muffins, toast, fresh bread rolls, orange or apple juice plus freshly brewed coffee or tea-this is the mother of all hostel breakfasts. Since space at the breakfast table is limited, you have to prebook a slot. Other standout features include their amazing rain showers, again probably one of the most powerful and best showers I've had in a hostel. Tip: Use the promotion code 'Kash' to get 15% off all bookings made directly with the hostel. Dorms run from £8, doubles and apartments (sleeps 2) start from £50.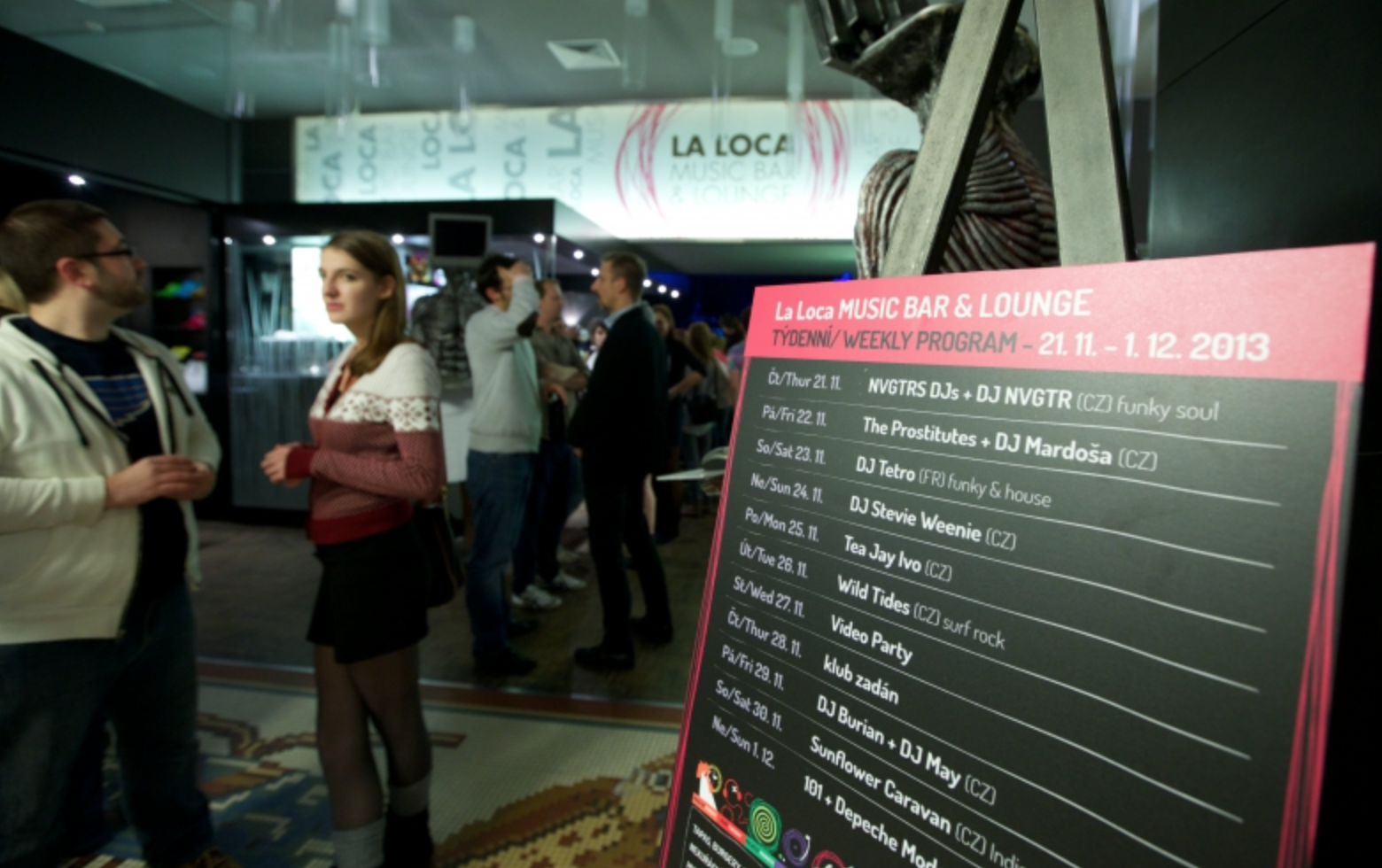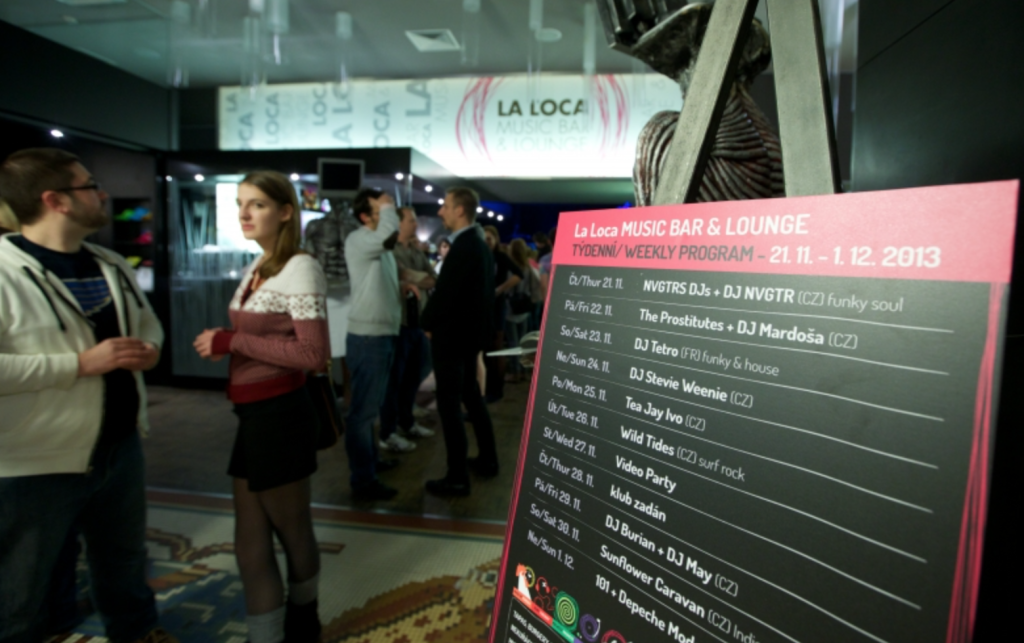 6) Mosaic House Hostel
Another hostel to checkout in Prague is the newly refurbished Mosaic House Hostel. Under new ownership since the beginning of 2015, the hostel has rebranded as a design and music hostel. All the 55 shared and 41 private rooms at Mosaic House have private bathrooms including shower or bathtub plus rain-dance shower. The superior rooms and apartments along the top floor feature spacious walkout terraces with spectacular views of the city. The La Loca Music Bar is a destination in its own right with live music and entertainment every night -from tango nights and Karaoke to hosting upcoming and established acts.
From just across the road of the hostel they've renovated a beautiful art nouveau building where on the ground floor they've opened a mini hostel called Mingle which has a bunch of cool 4-6 bed dorms (beds with private lights, plug points and a storage space for iPads/phones/keys) and beautiful shared kitchen space (bottom left corner) On the floors above they have private apartments which are perfect if you are visiting with family or friends. Prices for the apartments start from €120 mark while beds in Hostel Mingle start from €10-€15 mark depending on the season. Plus guests have access to the Mosaic House and the La Loca Music Lounge.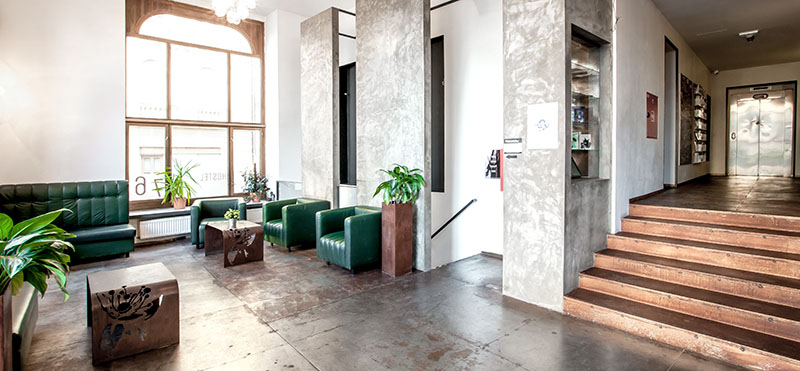 7.) Czech Inn 
Czech Inn is another design hostel in Prague that makes this list. Situated in a 19th century building, a mile from the historic centre, you will find a friendly welcoming hostel that offers a variety of accommodation options: from custom-designed dorms to private en-suite rooms and their rooftop apartments which offer fab views of the city. Star features of this hostel are their friendly staff,heir stylish clean bathrooms and fantastic rain dance showers plus the laid back underground Basement Bar. Take advantage of their happy hour from 6 to 8pm where for as little as 25 CZK , you can get beers for less than a €1.
DENMARK
Copenhagen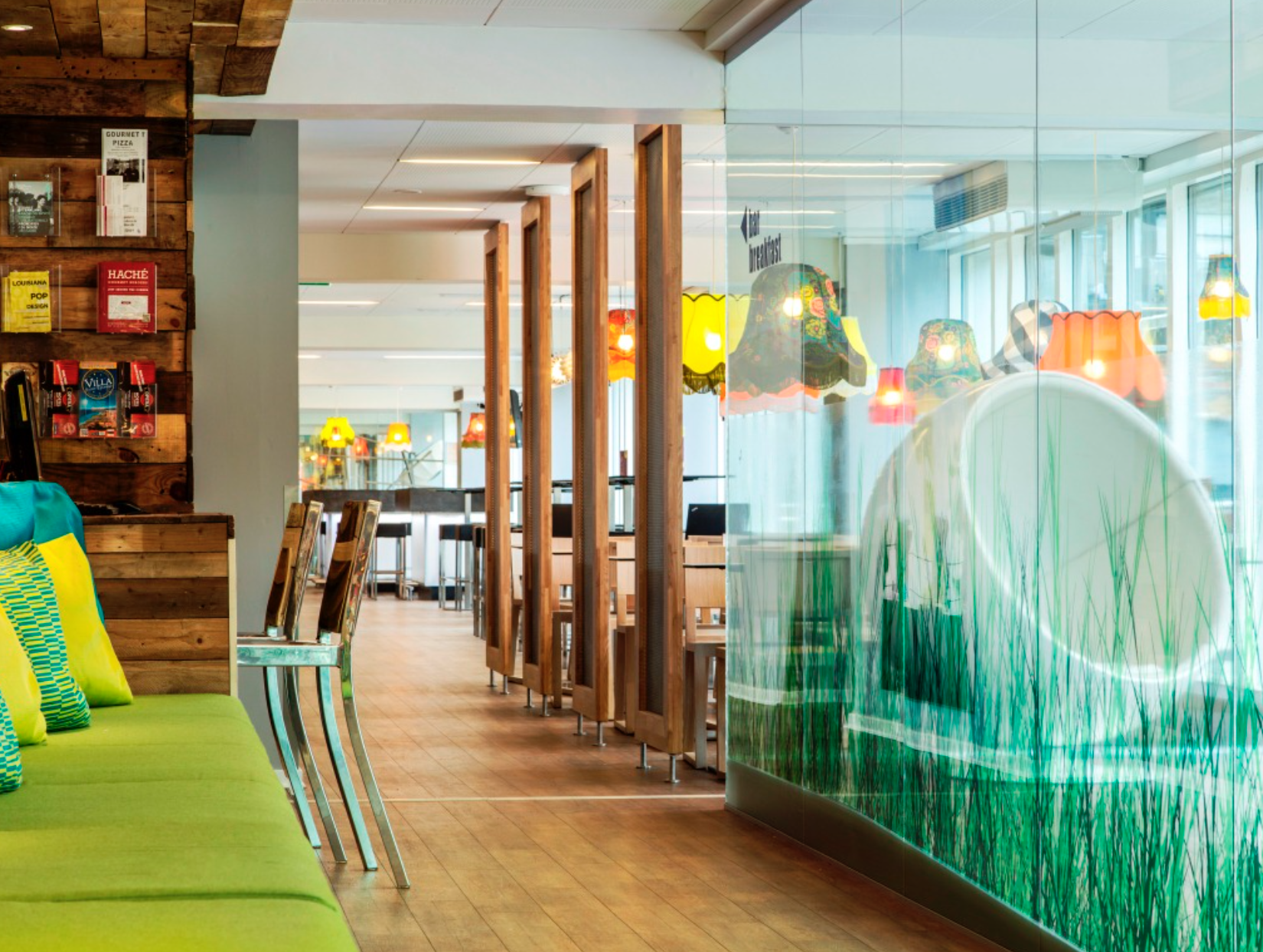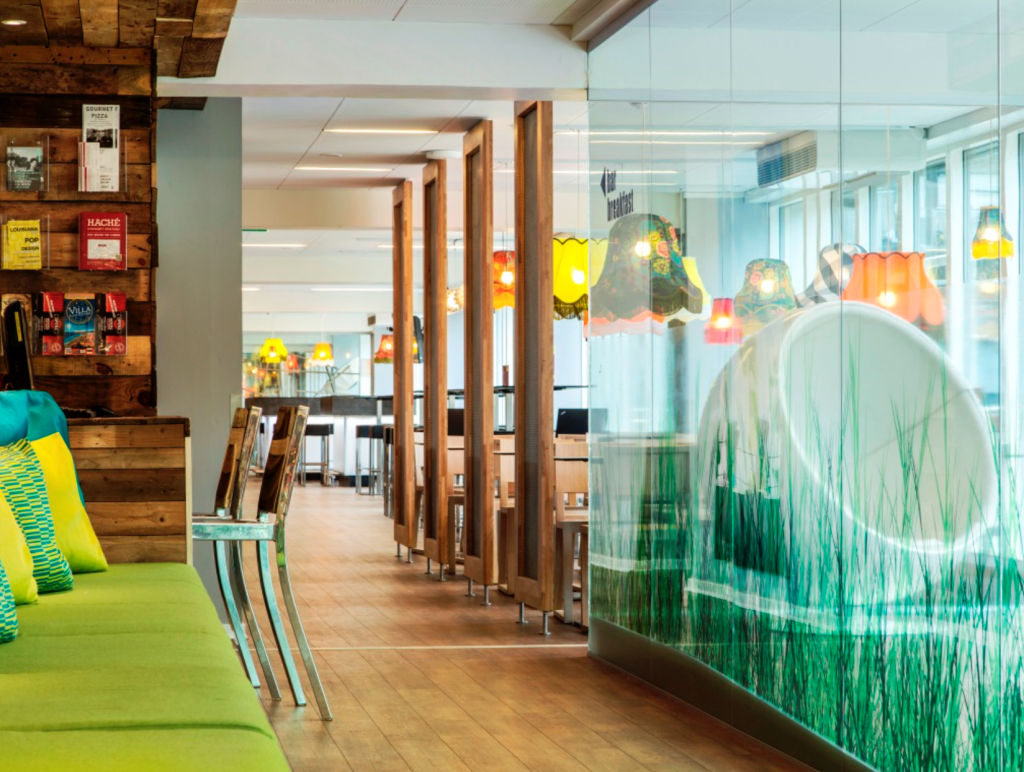 7) Generator Copenhagen–
This hostel has a great central location just off Kongens Nytorv, the main central square and is just a few hundred yards away from the metro station. Hostel boasts top-notch facilities, including a stunning wooden outdoor patio which make Generator Copenhagen the hippest hostel in town.
FINLAND
Ylläs, Lapland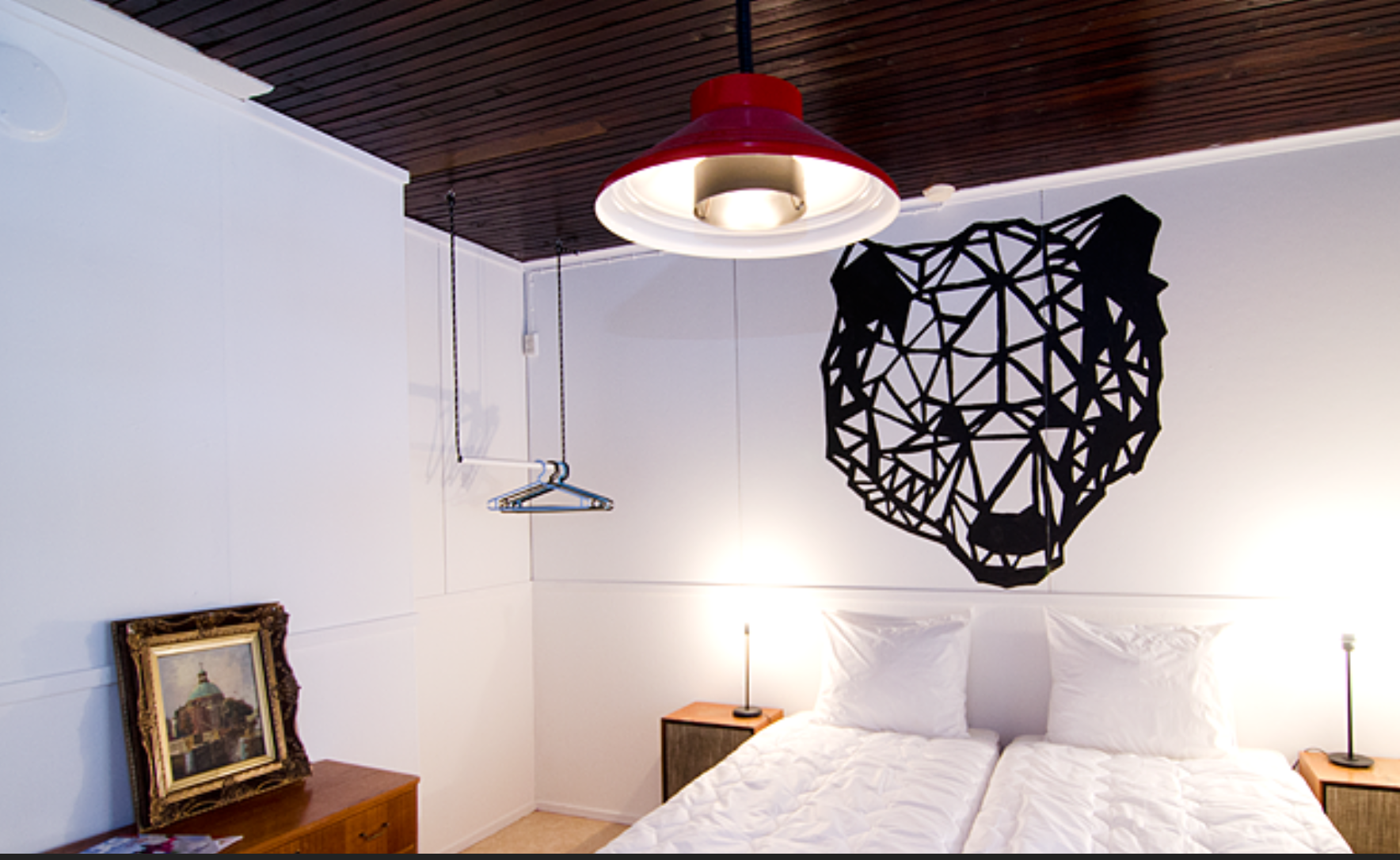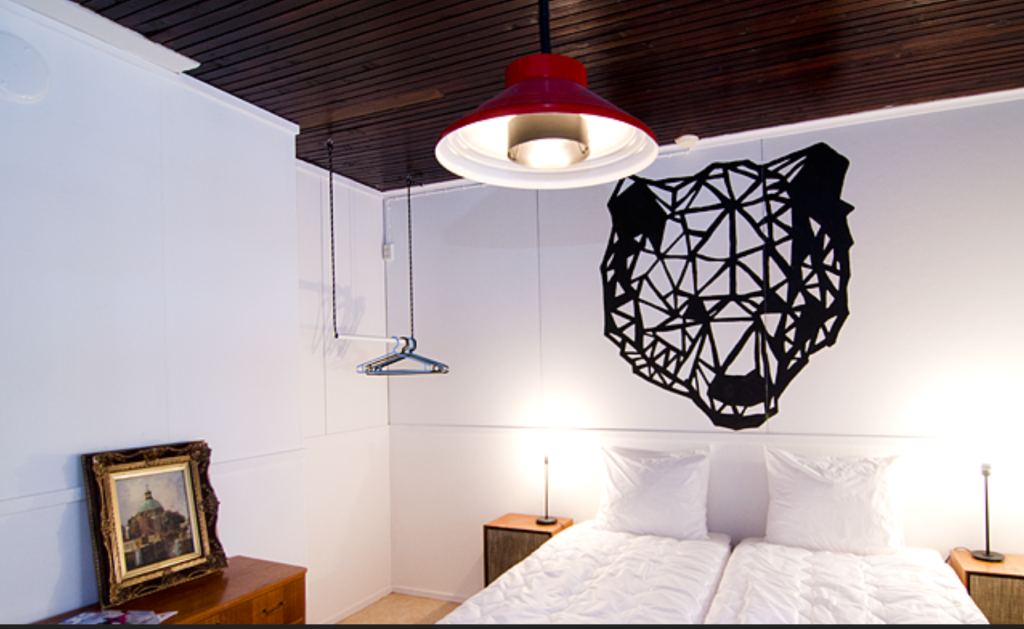 8) 7 Fells Hostel
This is a new eco-friendly hostel located in beautiful Ylläs, Lapland. It is the ideal location to take a break from the rest of the world and immerse yourself in the beauty of the surroundings. The location is great for hiking and also trying to glimpse the Northern Lights. The 7 Fells Hostel is owned and run by a retired backpacker. Facilities offered at the hostel include free Wi-Fi in the lounge area, free organic tea and coffee, books and magazines, a sauna, linens and towels, laundry and several other things to meet your comforts.
Tampere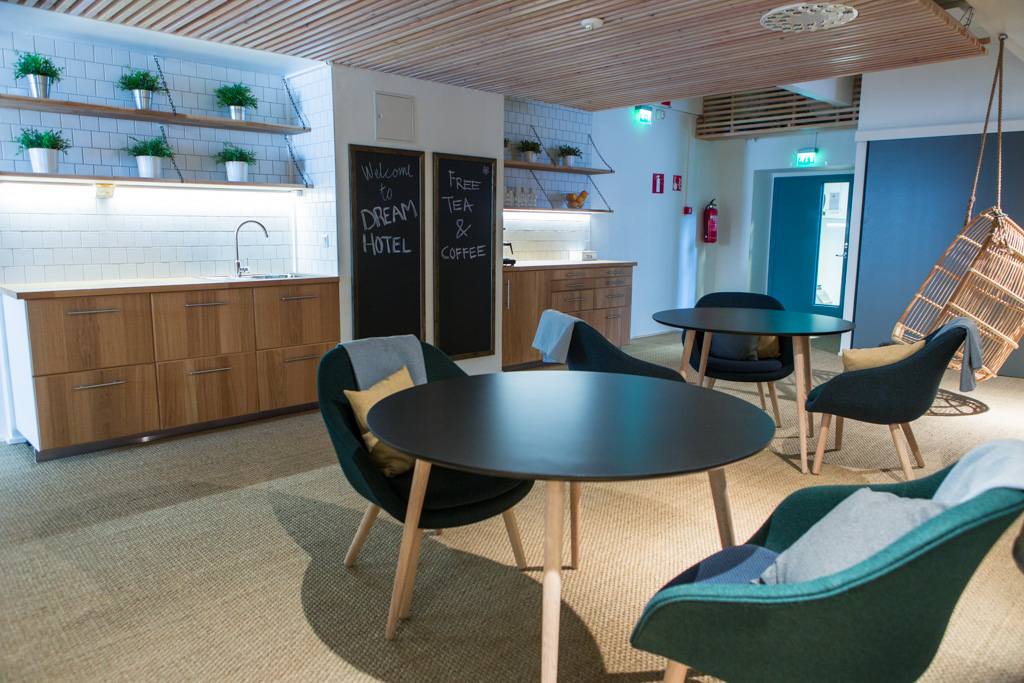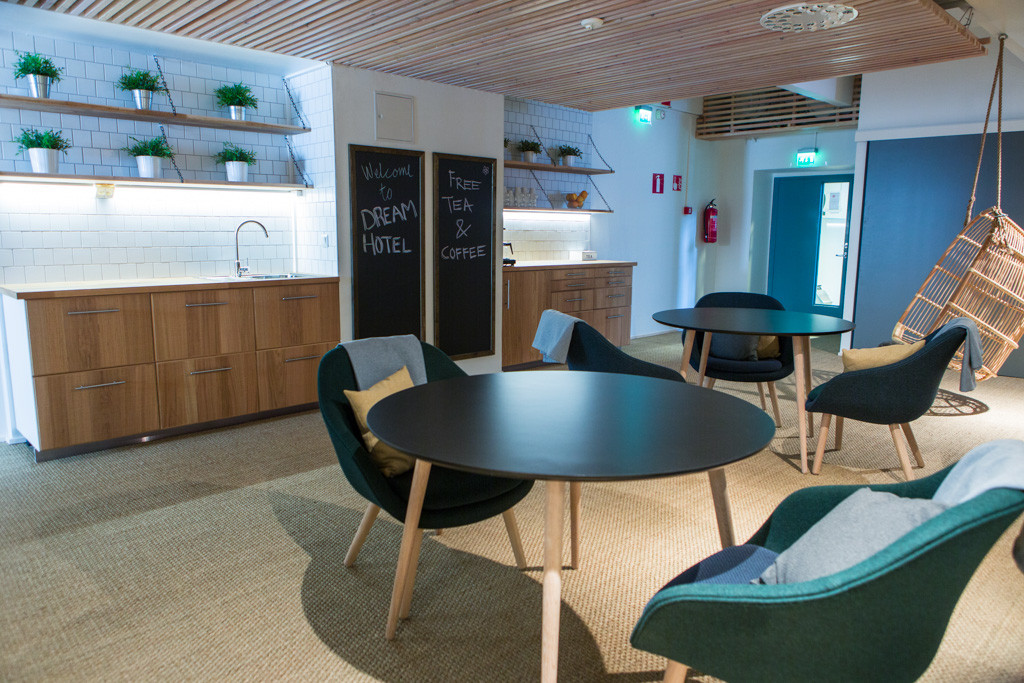 9) Dream Hostel
Dream Hostel is the perfect blend of blue and white, warm hospitality and Finnish design philosophy which makes it the best hostel in Finland ( and possibly the best in the rest of the Nordic countries ).
Just a few minutes walk from Tampere train station, in the Tulli district, Dream Hostel is in a great location near several well- known local landmarks like Tampere hall, Tampere university, Pakkahuone and Sorsapuisto Park. The hostel is in the hub of the city's nightlife: trendy bars, local restaurants, an outdoor market, secondhand stores, and a grocery store are just a stone's throw away. Some of the facilities of the hostel include the kitchen, which also doubles as a social space, board games to play, a great selection of books to read, excellent free Wi-Fi, unlimited refills of top-notch Colombian coffee, free pea soup on Thursdays and free popcorn when it rains (which it does a lot in Tampere, so your chances are good!) and on Friday nights. A noticeboard lists the staff's daily tips. The hostel has excellent connections with local adventure sports tour operators, so if you're looking to go mountain biking, hiking or canoeing, you've got plenty of cool options.
FRANCE
Bourg St Maurice
10) Loft Mountain Hostel
This hostel is just a 10-minute walk from Bourg St Maurice train station. Just a five-minute walk to the Les Arcs express funicular, Loft offers excellent access to the huge Paradiski area, which has three parks, two half-pipes and over 400 km of skiable piste. The Loft Mountain Hostel looks like a very chic French chalet but the interior is very spacious, comfortable and homely. The living room is like that of a 5-star ski resort, with big, comfy sofas and large windows, with a huge 40-inch plasma screen TV with Sky channels. Outside, there is a nice terrace and garden patio area where guests can relax in the sun. The kitchen is probably my favourite part of the Loft – so much so that I featured Loft in my list of top five luxury hostel kitchens. There is a Lidl supermarket right across the road that stocks a number of local French specialties, so you won't have to go far to find ingredients for your next meal. I loved visiting Vanoise National Park, a short drive away. Bourg St Maurice has weekend markets where you can get your hands on some stunning local fare – from the ripest, juiciest tomatoes to freshly baked baguettes to deliciously nutty Beaufort. The key thing I loved about my stay was just chilling out in the Loft and the village of Bourg with its quaint narrow streets, patisseries, nice restaurants, and weekend markets. If you're looking for more excitement pop up to Les Arcs 1800 on a Friday and Saturday evening where there are a few good bars and nightclubs.
Lyon
11) Slo Living Hostel Lyon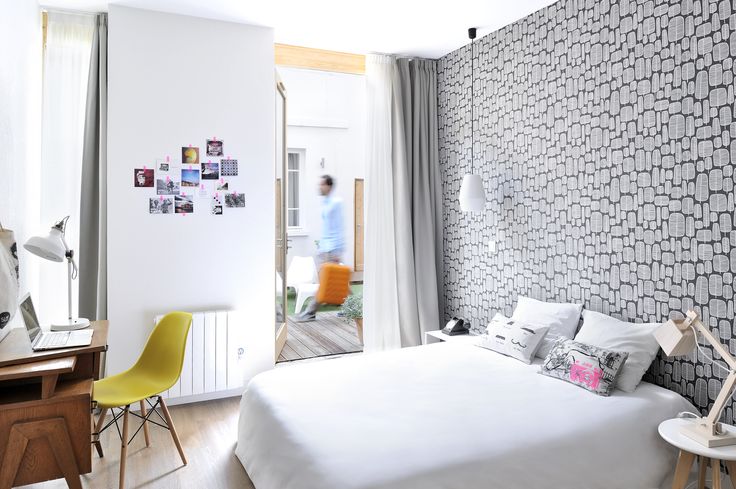 France sucks when it comes to finding decent hostels so I was very very excited when my fellow blogger and good friend, Julien Routil opened Lyon's first ever luxury hostel- Slo Living Hostel in June 2014. It is situated in the centre of city. It is a small but intimate hostel with comfortable dorms, very nice private rooms and a large patio to enjoy summer nights. With a maximum capacity of 40 guests, this hostel wants to promote "slow travel" values: the staff organizes dinners with local products, and also events to create a convivial atmosphere between guests. The hostel also focuses on design and decoration, inspired by Scandinavian trends that will hopefully create a unique, comfortable and modern place to stay in Lyon.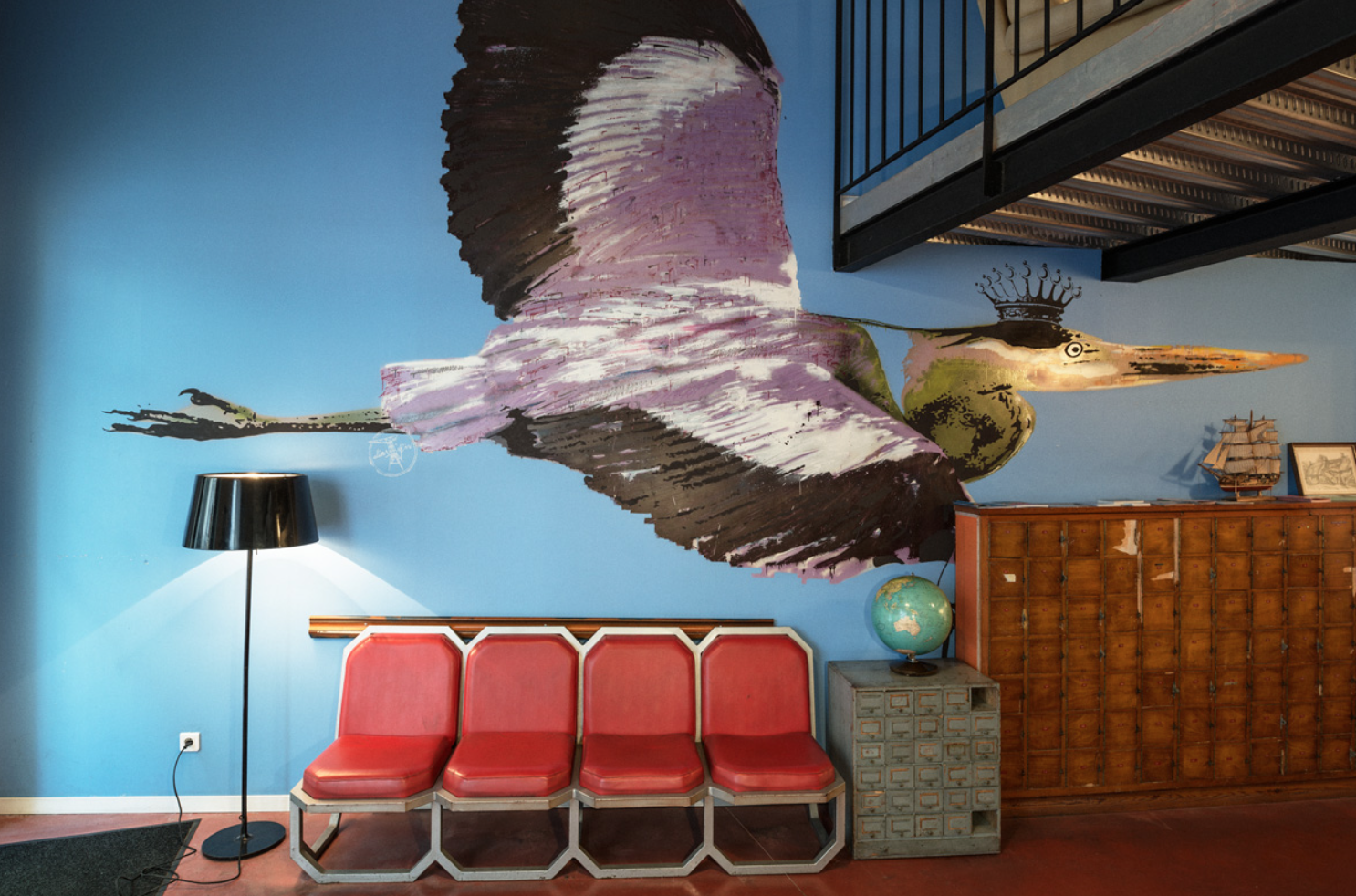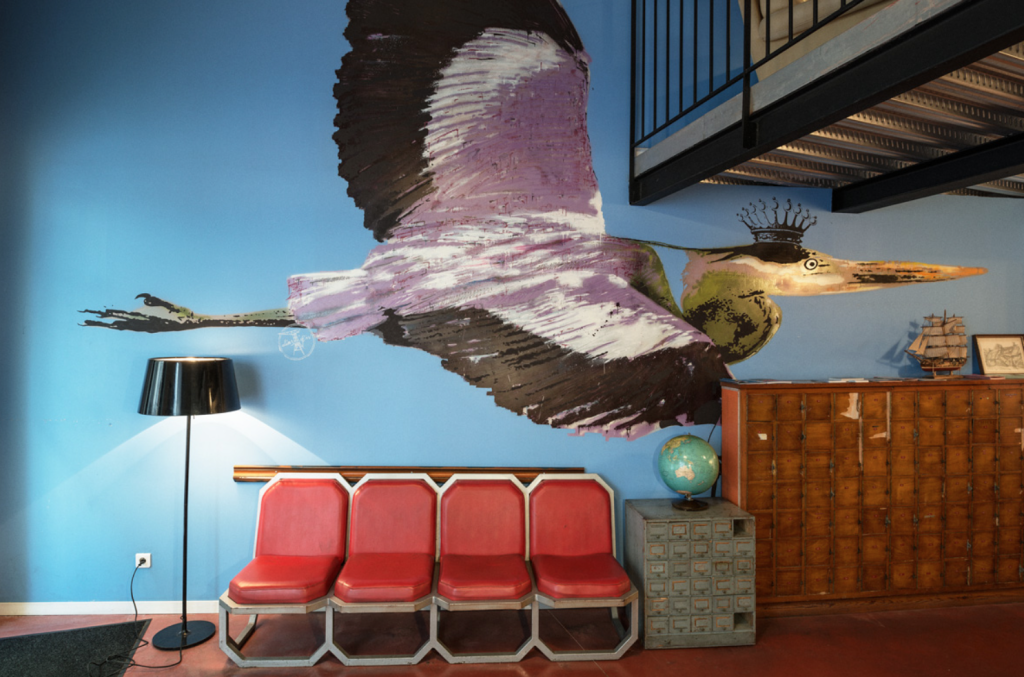 Marseille
12) Vertigo Vieux Port
This is a recently renovated hostel in Marseille. The location of the hostel is in the Old Port area of Marseille just a stone's throw away from the Central Market, the famous Notre Dame church and plenty of cafes and bars. The hostel offers different dormitories housing between 2-6 occupants. All the have a private shower and toilet facilities. Stylistically, each of the dorms has a unique design that is individually crafted by different local artists. The building interior of Vertigo Vieux Port looks cosy but at the same time represents the interiors of a typical Marseillean abode. Facilities include breakfast, Wi-Fi, linens and a fully-equipped kitchen– all complimentary with the cost of stay.
Paris
14) Generator Paris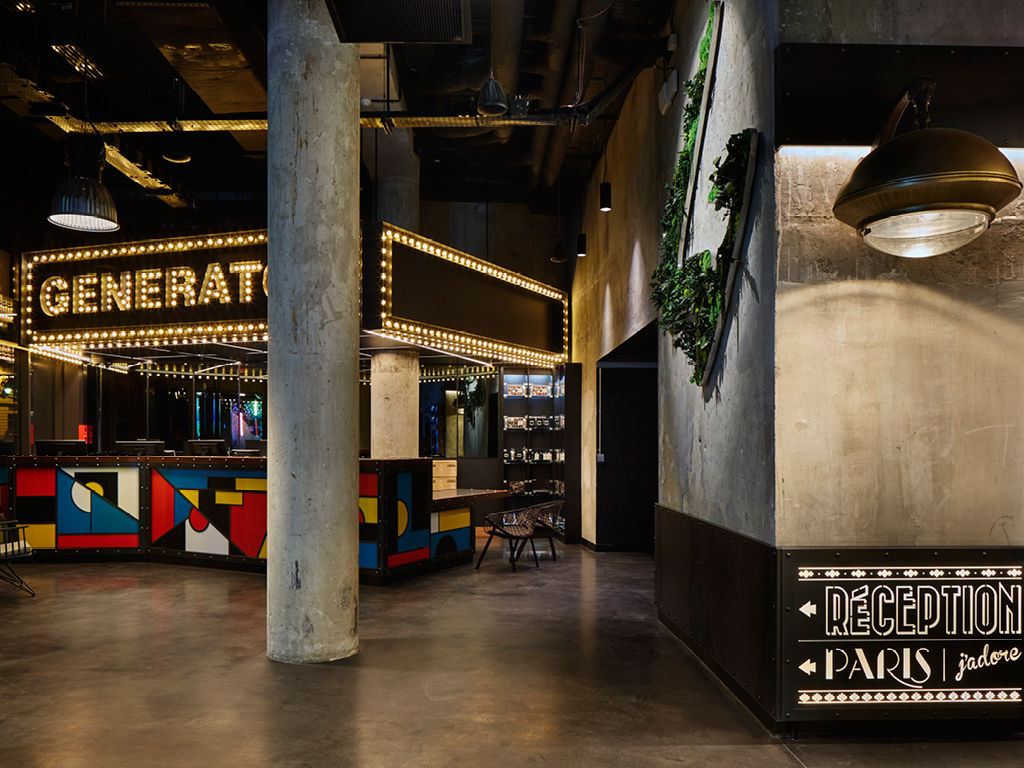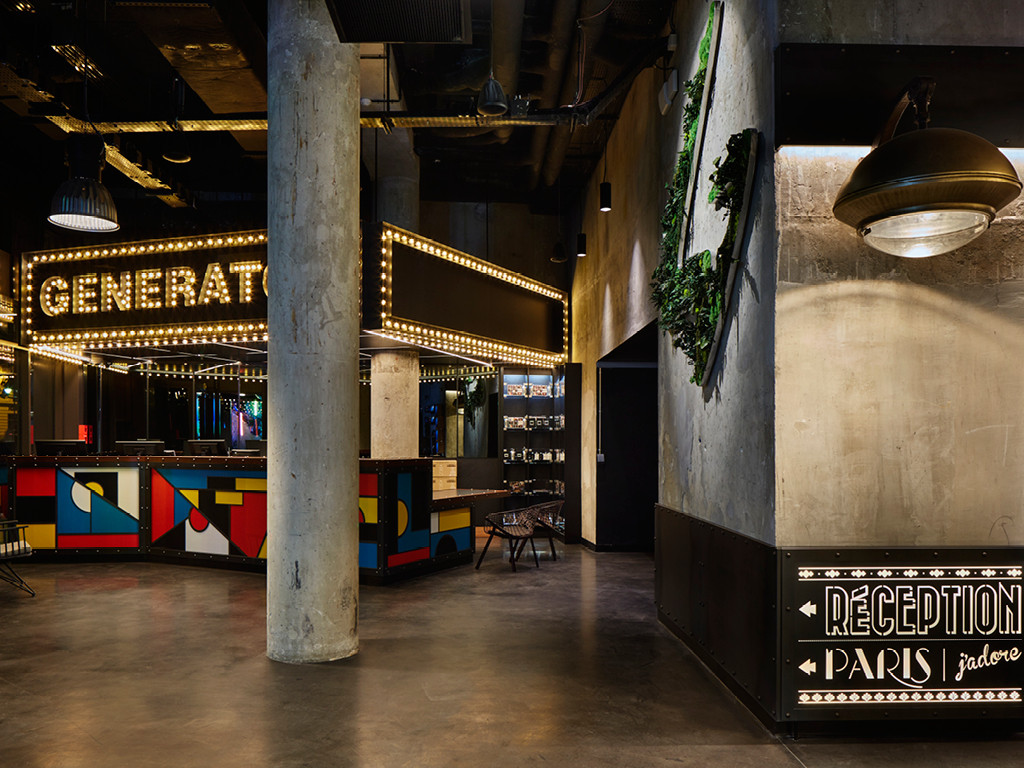 This is a biggie. Paris has always been a problem area when it comes to finding decent value and good quality hostels so I am really excited about the launch of Generator Paris. Located in the emerging district of the 10th Arrondissement, a one-time derelict office block is currently being transformed into a chic array of private terrace wielding private rooms and stylish rooms to share. The hostel will be just a 15-minute walk from Gare Du Nord. Guests will be able to take a stroll through Buttes-Chaumont Park and mix with the locals, wander from art galleries to vintage shops or relax in a café by Canal St-Martin. Star features includes a stunning rooftop terrace , Moroccan themed 'Cafe Fabien' and their underground Metro Bar.
GERMANY
Berlin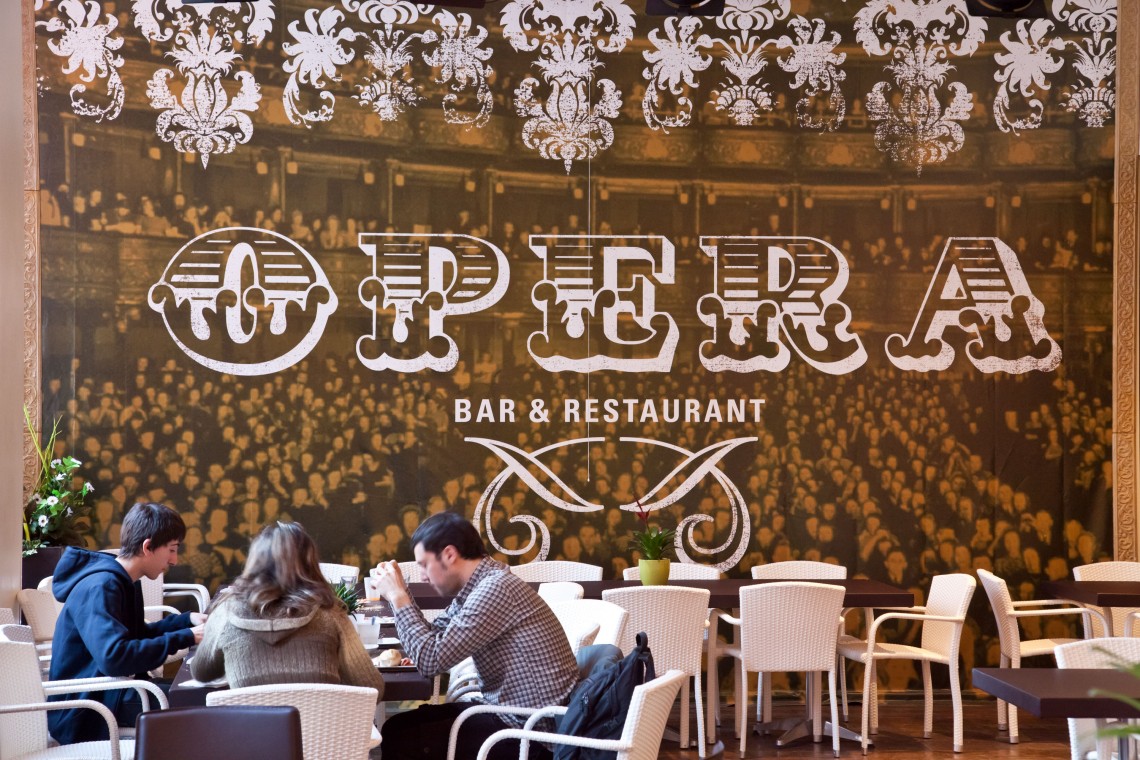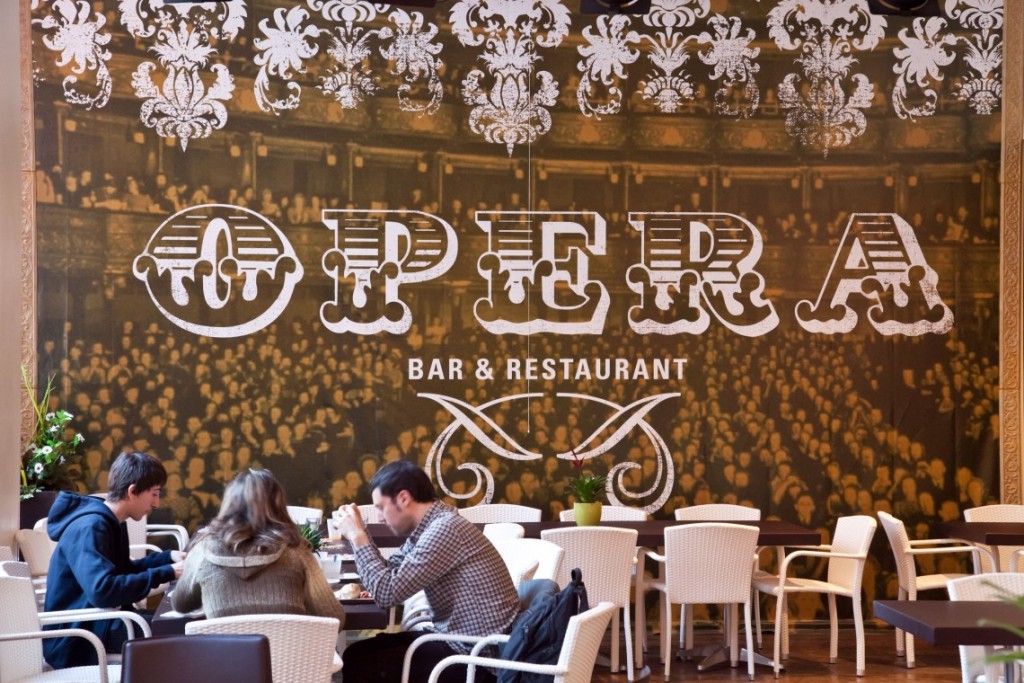 15) Plus Berlin 
An indoor swimming pool, sauna, jacuzzi, excellent Italian restaurant, and iconic artists' commune all under one roof? Say hello to Plus Berlin, a hostel with a big difference. Plus's Berlin branch is in an excellent location just off Warschauer Strasse near the S-Bahn station, so you're well connected to the Hauptbahnhof and the heart of Berlin. The East Side Gallery – one of the remaining stretches of the Berlin wall – is a few hundred yards away. There's a clutch of cool bars in the area and across the bridge is the hip Watergate club. One key signature of the Plus hostels is that they have a swimming pool and sauna. The perfect place to relax in Plus is the courtyard and garden. There is a series of wrought-iron sculptures exhibited in the garden. Another defining space is the Opera Restaurant and Bar. It's an impressive room with polished wooden floors and vaulted ceilings with an impressively stocked long bar. To the front they have a huge projector screen showing all the big games, as well as a well-stocked library of books that guests can use. Adjoining the front is a room with a pool table. In the evenings, you can enjoy a choice of pizza or pasta dishes for a small price. At night, the bar is a great place to hang out and meet fellow guests. The staff in the hostel were some of the friendliest I've come across so far – extremely helpful and cheerful with lots of great tips for places to eat and drink at nearby.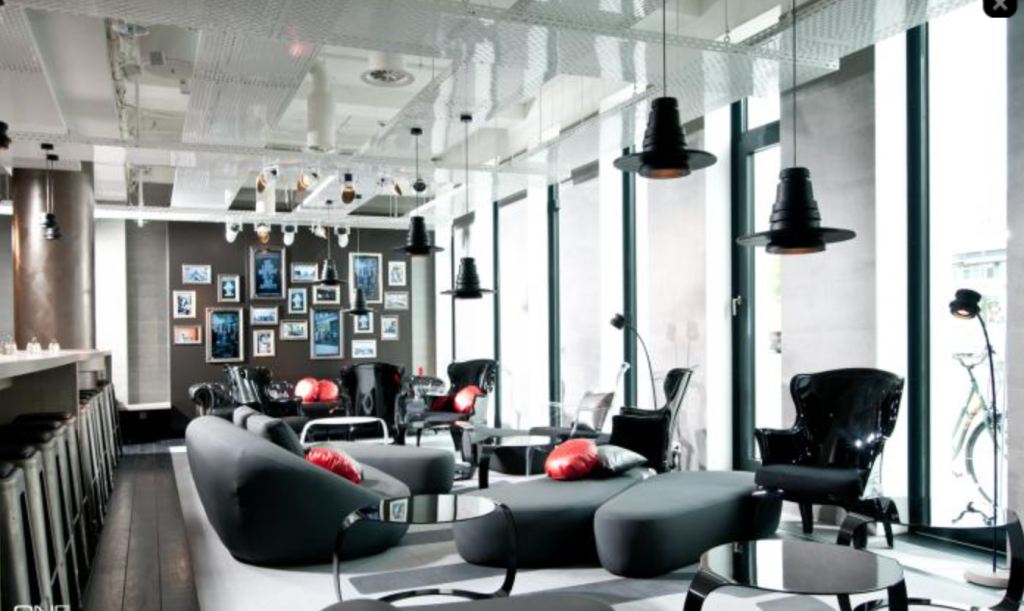 16) Hostel One 80, Alexanderplatz
Thanks to a great central location- only an eight minute walk away from Alexanderplatz, guest relations manager, ace breakfast buffet, and a lobby that would not look out of place in a five-star hotel, this is one of Berlin's coolest hostels. One cool feature in the lobby area is the hostel's own photo booth, where guests can get their pictures taken. The picture gets sent to your email address, uploads to the Hostel One Eighty Facebook page, and appears on a range of cool digital photo frames on the lounge walls.
The hostel has its own bar and a nightclub in the basement. The breakfast buffet is generous and worth the minimal costs. Where the hostel really shines is its guest-relations manager who pulls together an eclectic schedule of events in the hostel for the guests. Being a large hostel with large groups often coming in, the manager keeps an eye on the list for solo travellers who can be brought together so they don't feel left out, which is often the drawback of larger hostels compared to smaller boutique hostels. Great idea.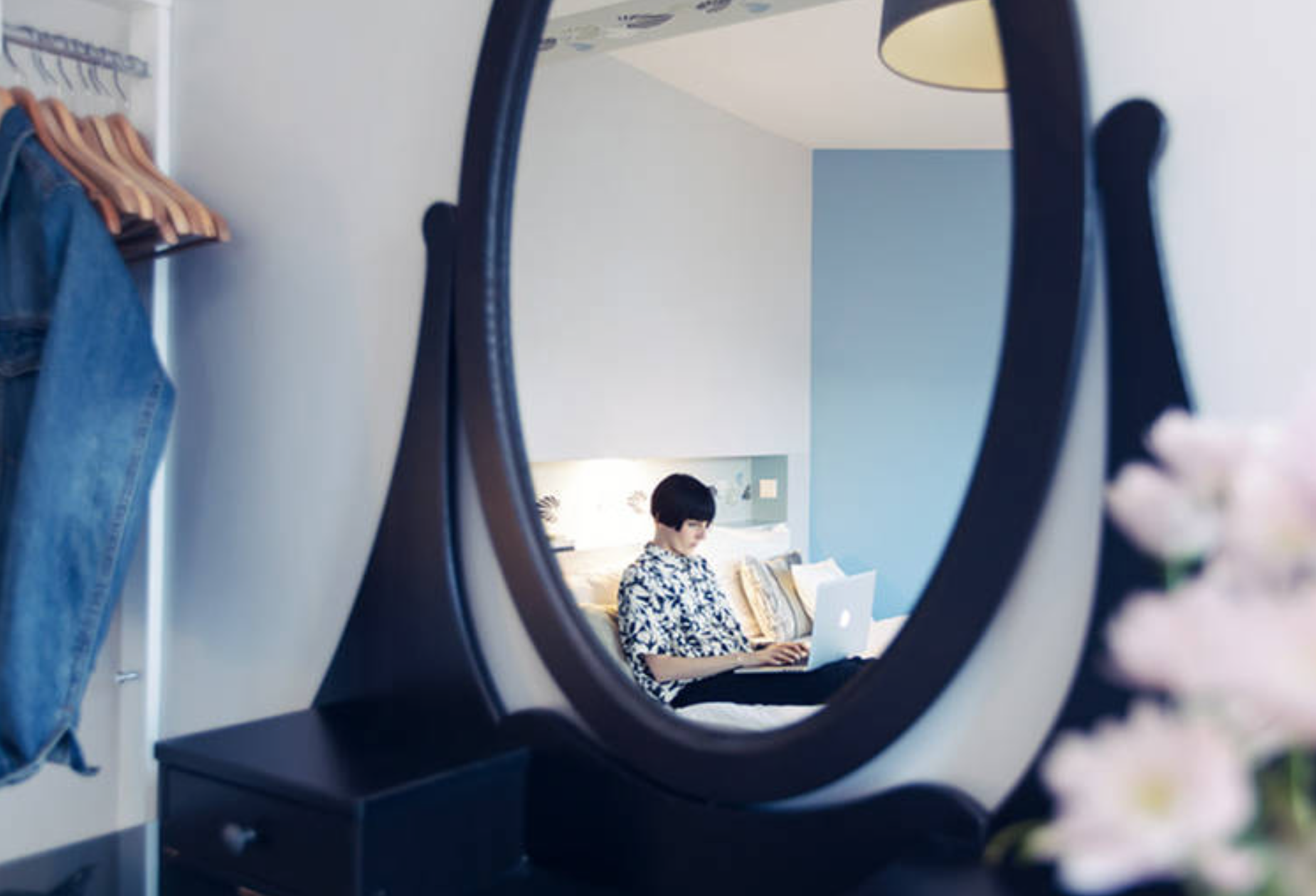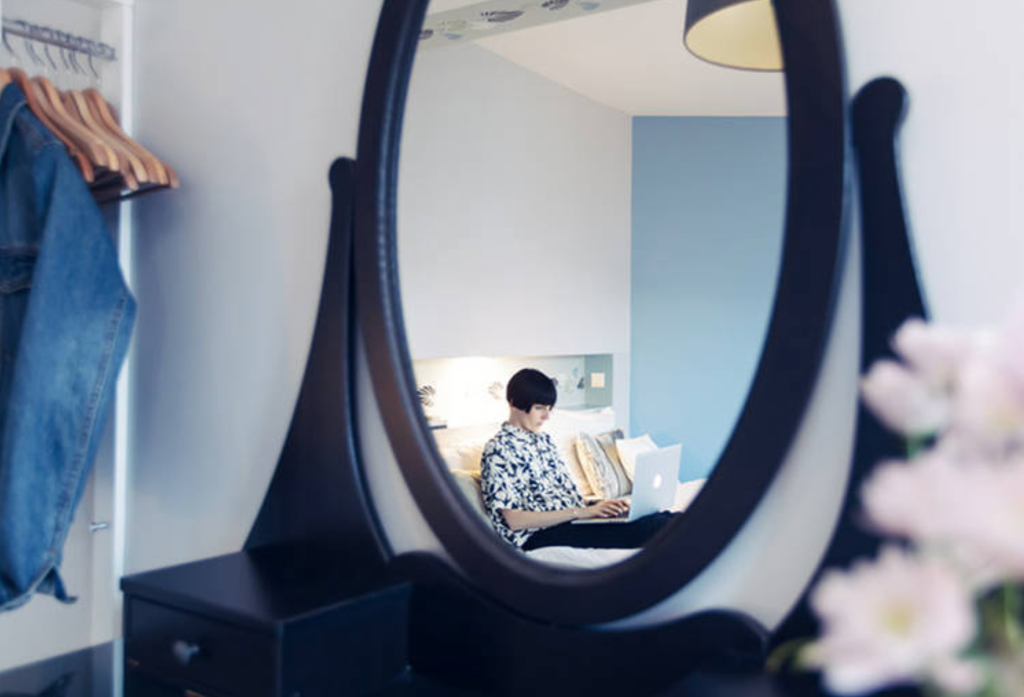 17) Circus Hostel Berlin
I love the location of the Circus Hostel. Guests are in the prime location of Rosenthaler Platz where you are within easy reach of everything in Berlin. Alexanderplatz is a 15-minute walk away. Prenzlauer Berg is up the hill. Right across you have the uber hip St Oberholtz cafe and also Main Haus Am See bar (open 24/7- need beer, want a coffee at 5 am, or doze on their comfy leather sofas, listen to cool dj's…anything goes). Circus Hostel welcomes a nice mix of travellers- backpackers, students and also couples and mature travellers. This hostel offers the perfect balance of great value, funky vibe and really nice dorms plus private ensuite rooms. You can even rent a penthouse apartment, which comes with a full kitchen and stunning panoramic views of Mitte and TV Tower in the distance. Staff, like their international guests come from a wide variety of cool backgrounds and are really helpful and friendly. All rooms offer safety deposit boxes and access to shared bathroom facilities. It's not strictly what I would call a party hostel but has a nice communal vibe and social atmosphere. The on-site bar and café area called Katz and Maus does a great selection of food including the excellent €5 all-you-can-eat buffet breakfast that is served till 1pm. There is also the basement Goldman's Bar, which has the unusual feature of a dedicated shrine to the 'Hoff'- complete with free postcards with cool Hoff facts who is a cult hero in these parts thanks to his role in the fall of the wall. The Hoff Shrine has been such a hit with guests and locals alike that there are now plans to create a dedicated museum for the Hoff within the hostel.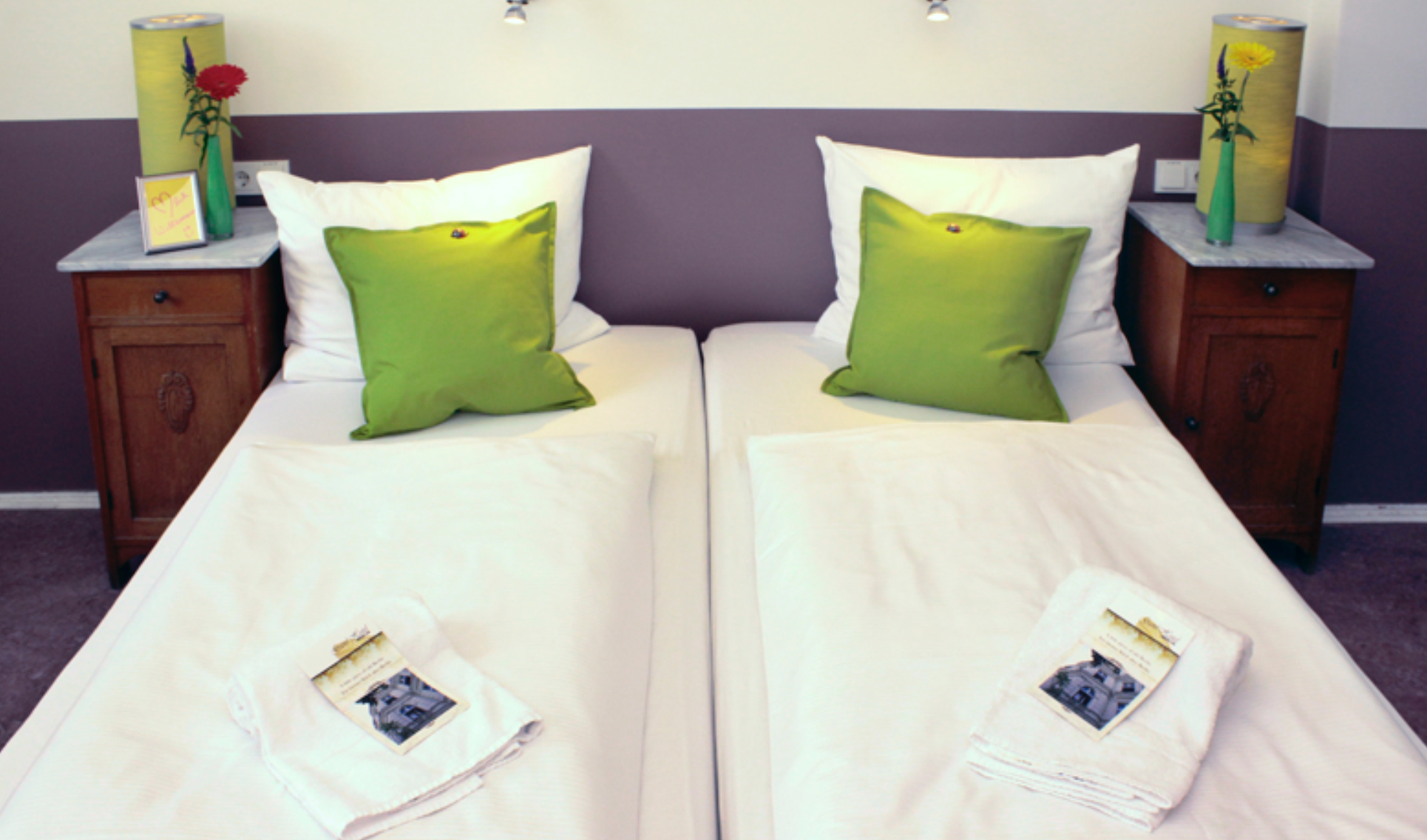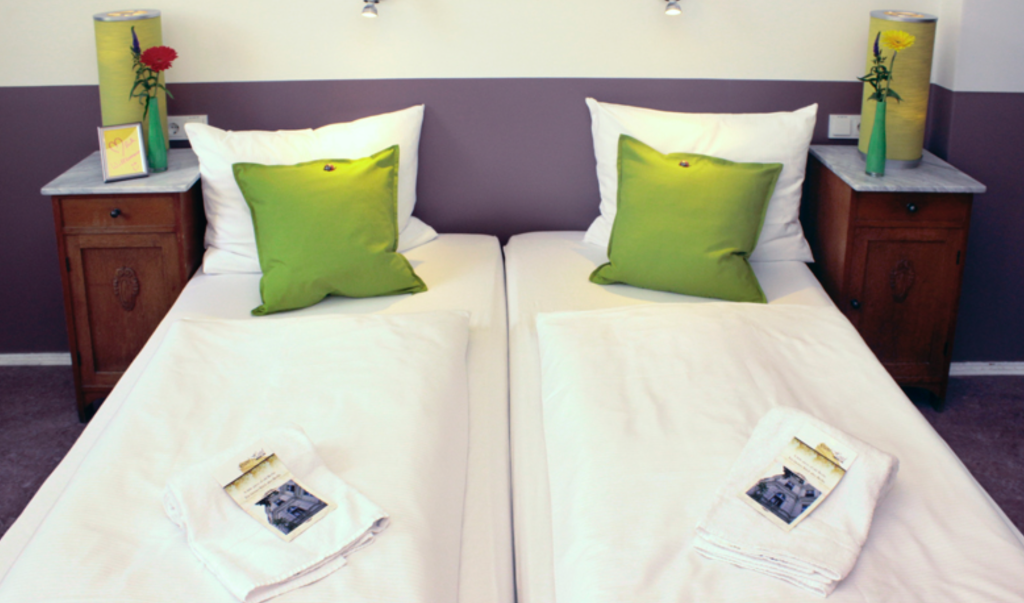 18) Grand Hostel Berlin
Situated in the trendy Friedrichshain-Kreuzberg district in a former Bishop's Palace dating back to 1874, the Grand Hostel Berlin is a hostel that combines a bit of old world Berlin charm with great modern hospitality – as well as a stunning library bar. The location is excellent – just a three-minute walk to the Möckernbrücke station, from where you can access the U1 and U7 lines. It's in a quiet neighbourhood, so this hostel is as relaxing as it is conveniently located for exploring the city and its nightlife. The staff here are a real credit to the hostel and some of the best I've encountered on my luxury hostels tour- professional, courteous, and always willing to help. A standout feature of the hostel is the library bar. It's impossibly cool with volumes of old dusty books from floor to ceiling that you can leaf through. During the day, I spent a lot of time sitting on one of the leather armchairs reading a book or just catching up with friends on my laptop with the help of the free Wi-Fi. In the evening, the bar opens and the library becomes the meeting point of the hostel. Breakfast is not included. However, the hostel's very own Grandwich Bar just next door to the hostel offers a good breakfast, variety of delicious sandwiches, paninis and traditional German food at decent prices.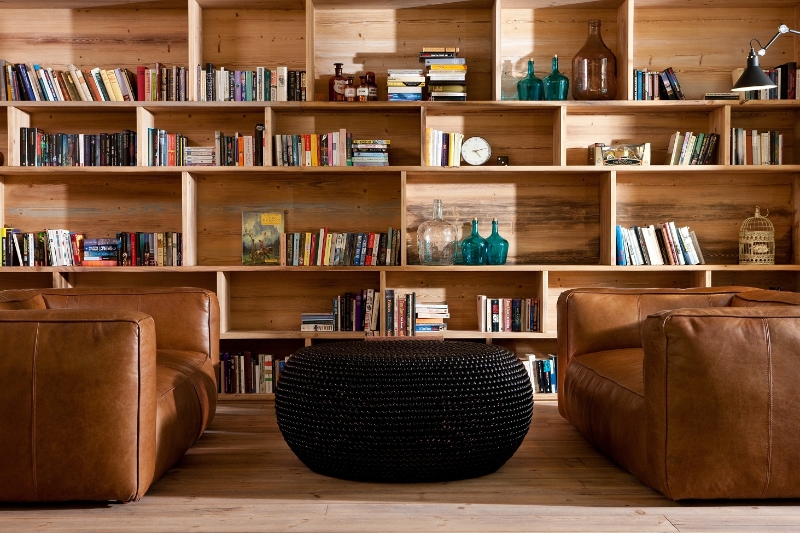 19. Generator Hostel Berlin
Generator Berlin Mitte , is located in the heart of Mitte and is a great base for exploring Berlin. Oranienburger Strasse S-Bahn Train Station and Oranienburger Tor U-Bahn Metro are within 500 metres. Berlin's Alexanderplatz Square, historic Hackesche Höfe courtyards and Brandenburg Gate are all within 2 km of the hostel while the Museum Island is only 500 metres away.
I love the design element of this hostel like Bella Leonard's wire embroidered stainless steel 'G' sculpture in the historic courtyard, the exposed wooden panels in the lobby punctured by a horizontal line of wooden pegs or the cool sculptural string installation in the cafe bar area by French artist Sebastian Preschoux.
Guest can chill in their atmospheric bar, lined with sleek black walls and raw copper panels, playfully lit with recycled fire extinguisher tubes and party in the hostel very own private nightclub -this is one helluva hostel.
Berlin Mitte branch in addition to ensuite dorms offers brightly decorated private rooms with ensuite bathrooms. On-site laundry facilities can be used for a fee. Additional conveniences here include a luggage storage space and safety deposit boxes.
Bed in dorm starts at just €17.50, premium rooms from €55 while you can book a private-single or double from €30
Frankfurt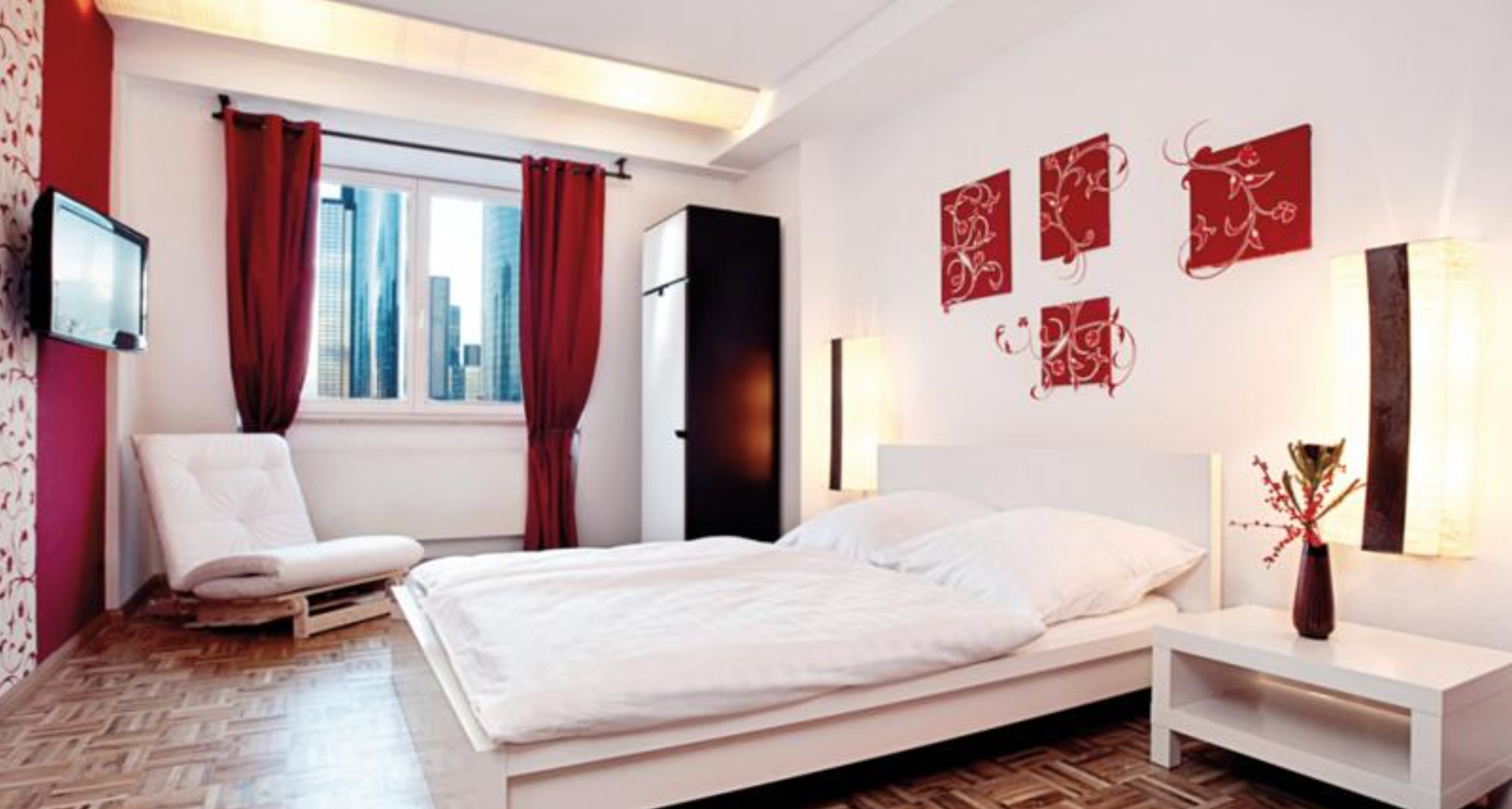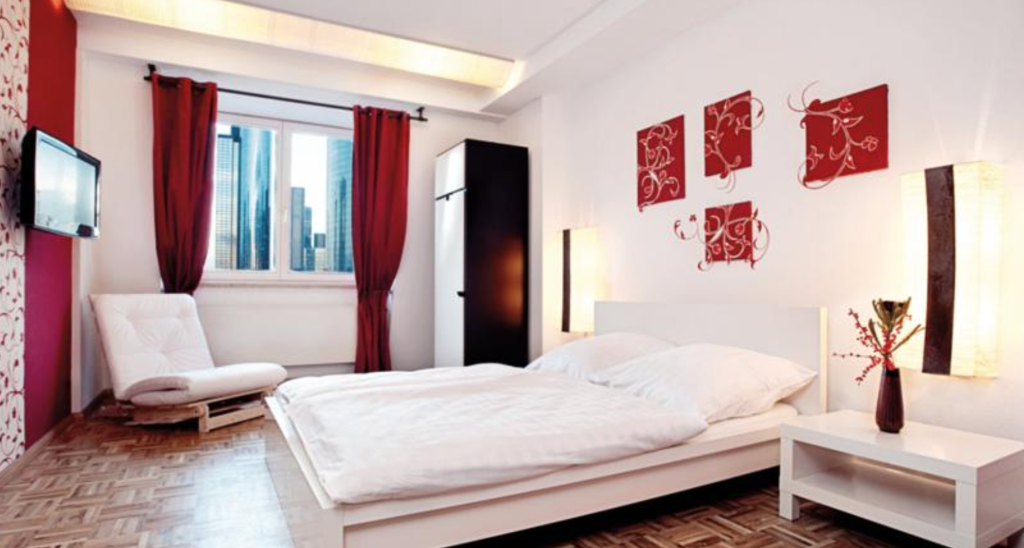 20) Five Elements Hostel
This hostel was created around the philosophy of providing the five basic elements that contribute to the success of the hostel. These elements are: perfect location, clean well-equipped rooms, around the clock reception service and bar, a wide variety of tours and activities and lastly, dedicated friendly staff. In addition to this recipe for success are the added perks of staying at the hostel that include an all you can eat breakfast till noon, billiard room, laundry and free Internet. Most of the cities main sights can be reached on foot. The hostel is in close proximity to the train station.
Hamburg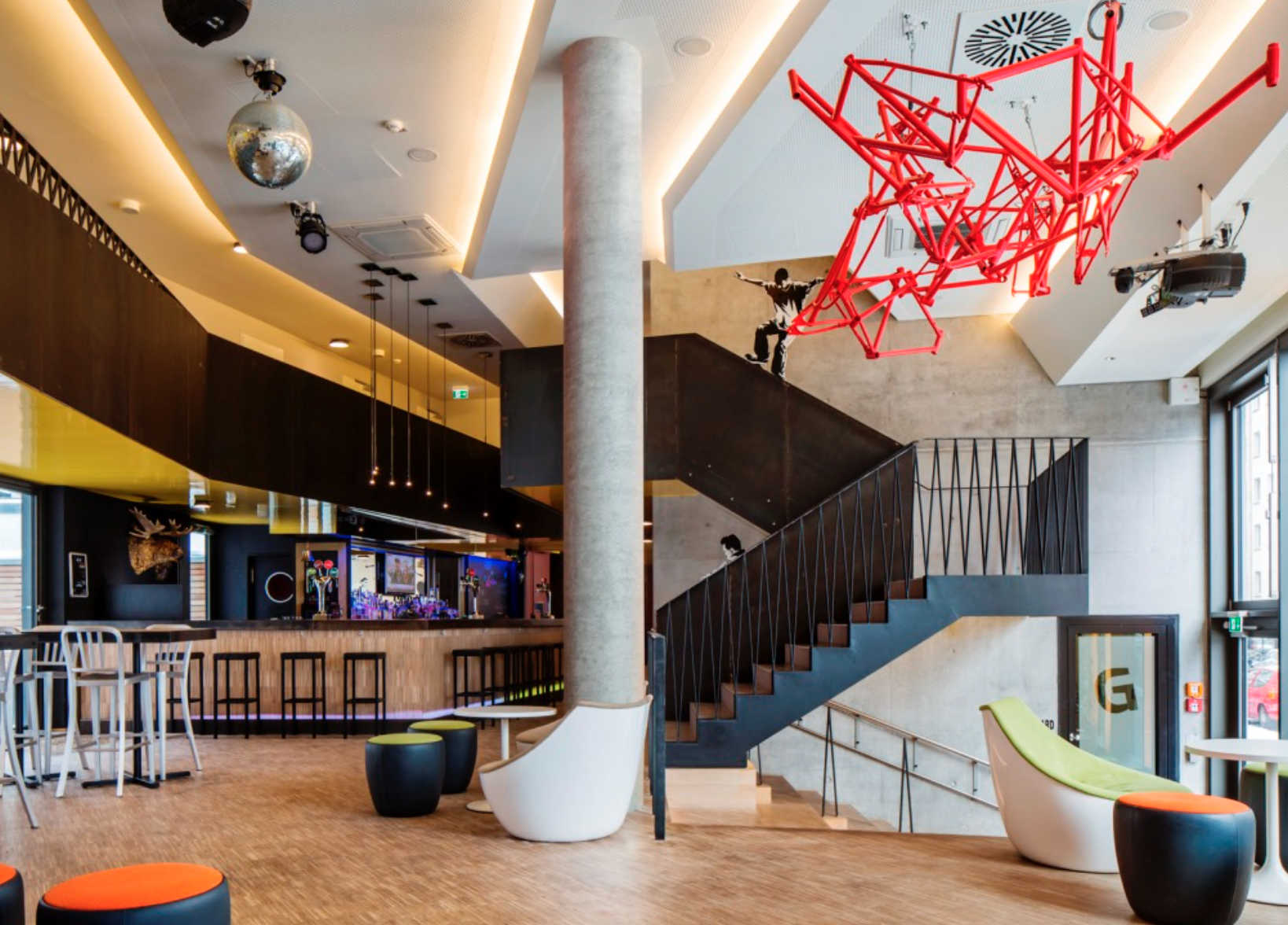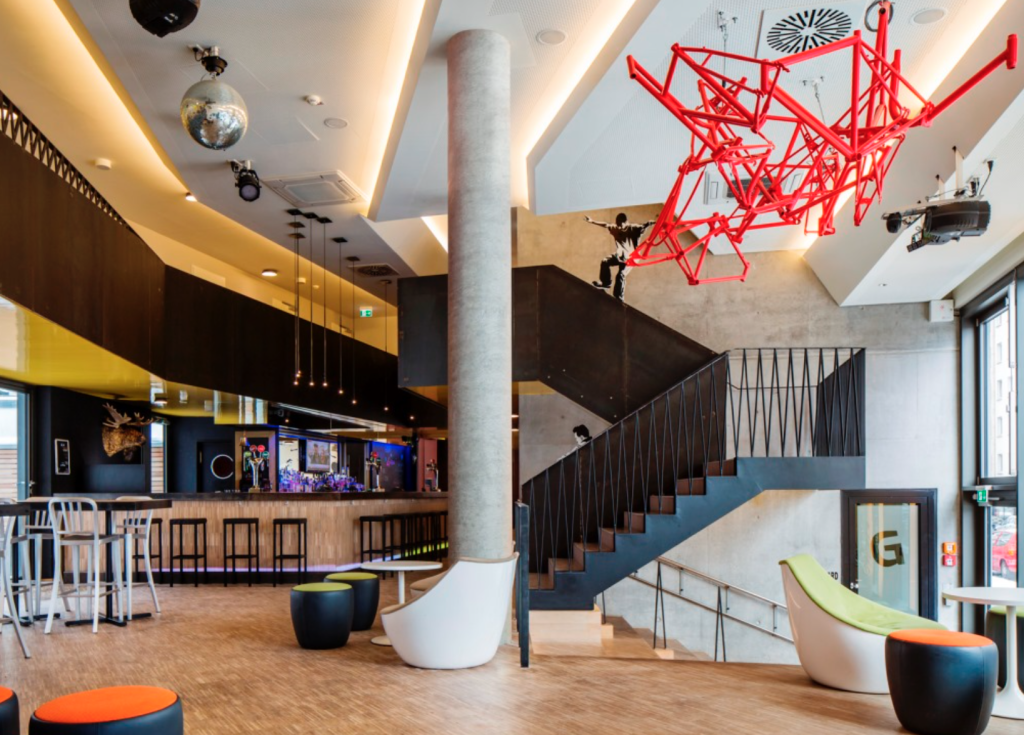 21) Generator Hamburg
This is a modern, clean, and very comfortable hostel in a superb central location just across the street from Hamburg Hauptbahnhof. It is also walking distance from some key sightseeing spots like the Deichtorhallen, the City Hall and Speicherstadt. Security is another great feature of the hostel. At the entrance you have a friendly security guard who lets guests in and checks to see their room keys. Entrance into the elevator is security card operated. The lobby bar area is a bright, welcoming area with lots of comfy furnishings where people can relax, chat with fellow travellers. This is not a typical loud party hostel.
The age range is a good mix so travellers of all ages will feel comfortable in this hostel. The hostel has an excellent bar with lots of great drinks offers including a happy hour where you can get beers for as little as a euro. They organise a whole bunch of activities from DJ nights, fancy dress parties and even Jagermeister parties so if you're in the mood to party, there is something to look forward to.  Just like it's counterpart Generator Copenhagen, there is a nice outdoor patio area where guests can enjoy drinks on the long summer evenings ahead. Breakfast is an extra 4.50 euros, which is pretty decent but there are plenty of breakfast options around. There is an excellent Wi-Fi reception in the lobby area and I was impressed with the strength in my room on the 2nd floor.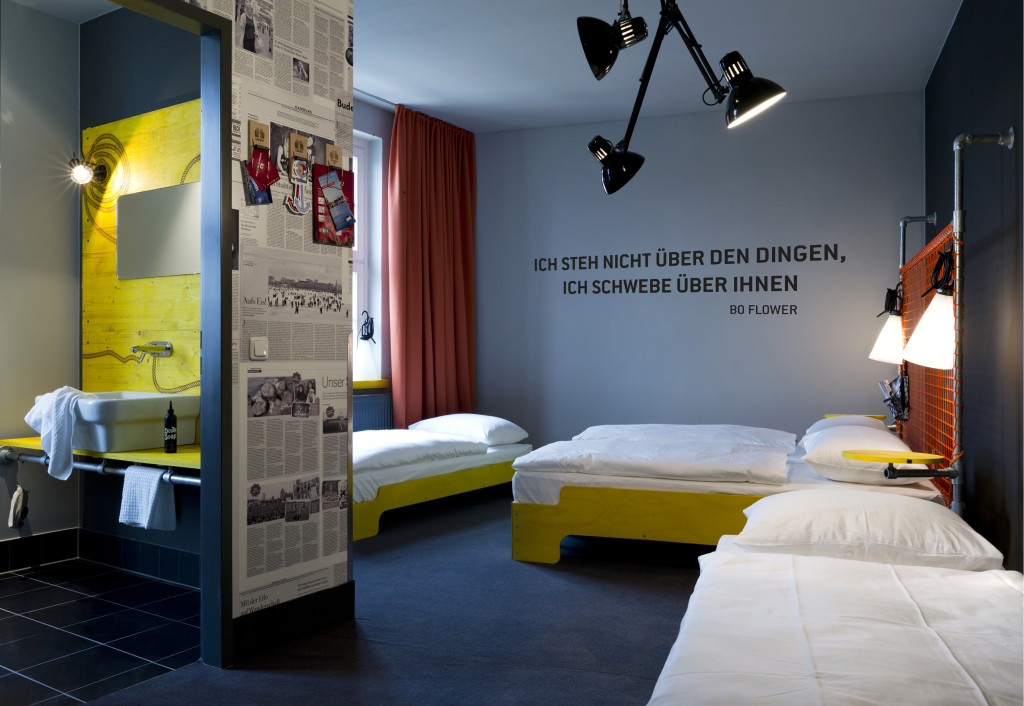 22) Youth Hostel Hamburg Superbude St. Pauli
The Superbude hostels in Hamburg are located in two different areas. Both are very good. The St. Pauli hostel is close to Reeperbahn, Schanzenviertel and Karoviertel districts, concerts, clubs, bars, cafes, culture, street art, lifestyle, a vibrant cultural scene, and partying in Hamburg. If you are looking to hit up the nightlife then this branch may be a good choice. Key features of this hostel include double rooms with private baths, a unique Astra Rockstar Suite, which can be hired for the express purpose of private parties. The room has a stage, which folds up into a sleeping area. Astra beer is available in the headboards! There is also a self-service kitchen. The hostel has a beautiful common room with plenty of comfy sofas, upholstered leather chair which you can relax in and enjoy all the latest magazines. They also serve a decent if slightly expensive buffet breakfast here. Local bands organise free mini concerts in the lounge area so this hostel has so much to offer. In terms of design, probably one of the best hostels in the world.
Hostel Superbude St. Georg is just 800 m from Hauptbahnhof Hamburg (Hamburg's central station). The hostel features free Wi-Fi throughout the building. Both the Superbude hostels have a really cool, unique vibe and are definitely the place to be if you are coming to Hamburg.
HUNGARY
Budapest
23) Aventura Boutique Hostel Budapest
If you are looking for a friendly, cosy hostel to enjoy after a long day of exploring the sights and sounds of Buda and Pest, then the Aventura Boutique Hostel, Budapest is a perfect base for your adventures in this fantastic city. The hostel is in a quiet neighbourhood just off the 5th district and a 15-minute walk from Parliament, the Bazilica, Opera House and Margaret Island. Nyugati Ter metro station is just one block away. Nyugati Palyaudvar train station and the grand boulevard of Budapest, home to the tram network, are also close by. There are two inexpensive convenience stores around the corner from the hostel and a modern shopping mall is just down the road. Sleeping 25 guests, this is a cosy, peaceful and friendly hostel.
In terms of facilities the hostel offers an in-house massage service for a fee, nice kitchen, free excellent Wi-Fi and the staff are very friendly and knowledgeable with lots of cool tips for things to see and do.
ICELAND
Reykjavik
24) Kex Hostel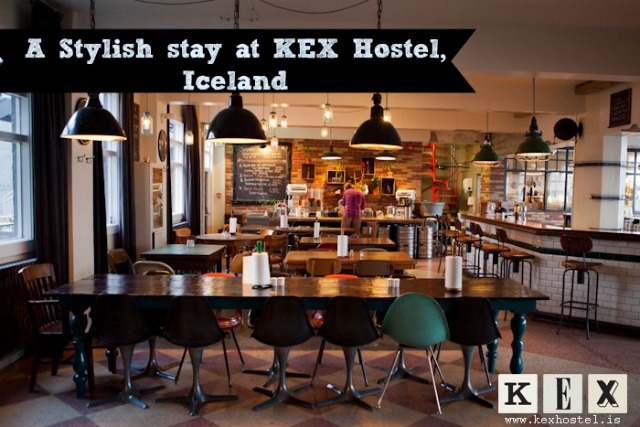 More like a retro hipster lounge than an Icelandic abode, Kex Hostel is one of the most stylized hostels in Northern Europe. Reykjavik is a small, colorful,and very walkable city. Kex hostel is located right on the water at Skúlagata 28. Cafes and shops can be found within a two-minute walk; the epicenter of the town is a 10-minute walk away. Travelers to Iceland most often spend their days chasing adrenaline: climbing glaciers, rafting, hiking through the volcanic landscape, snorkeling in near-freezing water. At the end of a day in the chilly outdoors, all you want to do is curl up with a book or your computer. Kex understands that and has all the facilities- the massive common room has comfy couches and a library. Free Wi-Fi is available in the common room only. If you're stumped when it comes to the dozens of excursions on offer in the Reykjavik area, the staff at Kex serves as a travel agency and will help you choose and book them. Nearly all excursions will pick you up and drop you off at Kex. As a bonus the Kex restaurant is excellent.
25) Hlemurr Square Reykavik
This establishment combines the elements of a luxury hostel with an upscale hotel all under one roof. Historically this once served as a watering hole for travelers and their horses; hence the name. Key features to lookout for with this hostel are youthful and vibrant communal spaces. The library, restaurant and lobby are built with the intent of promoting relaxed social interaction. The hostel is conveniently located near Reykjavik's shopping, nightlife, restaurants, art galleries, swimming pools and spas.
IRELAND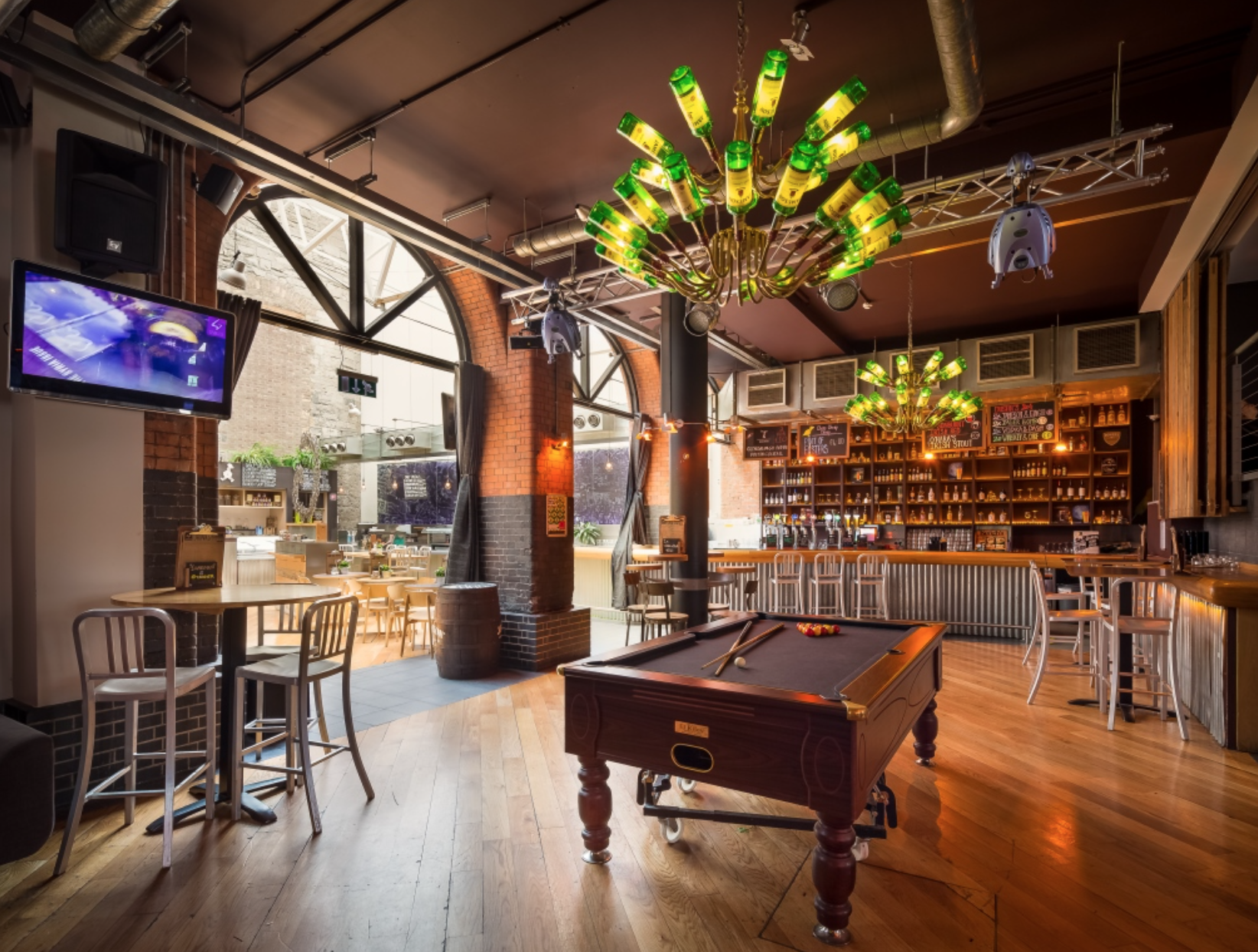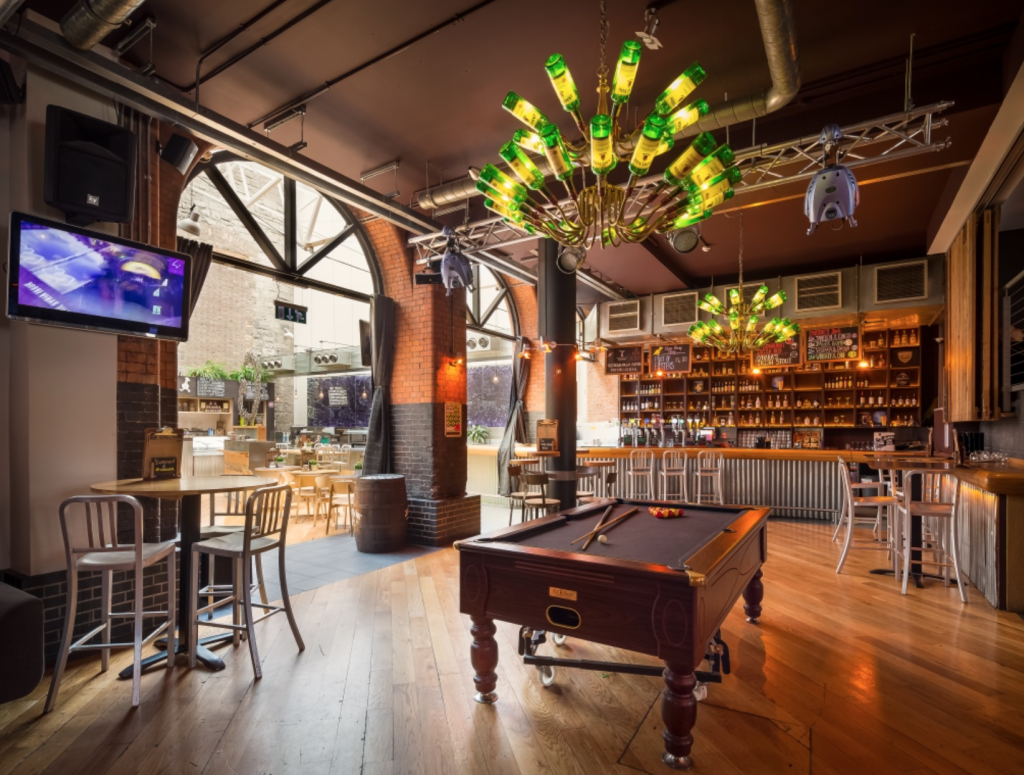 26) Generator Dublin
Located in the northern Dublin, this hostel is accessible to key tourist sights in south Dublin with the help of bike hire stations, the light rail tram, the city's hop on hop off tour bus stops and the town and airport buses. The hostel is adjacent to the Old Jameson Whisky Distillery, in itself a top tourist attraction but is suitably distanced from the remainder of the attractions to guarantee a respite from the crowds. The hostel décor is beautifully light, airy and trendy.
ITALY
Florence
27) Plus Hostels Florence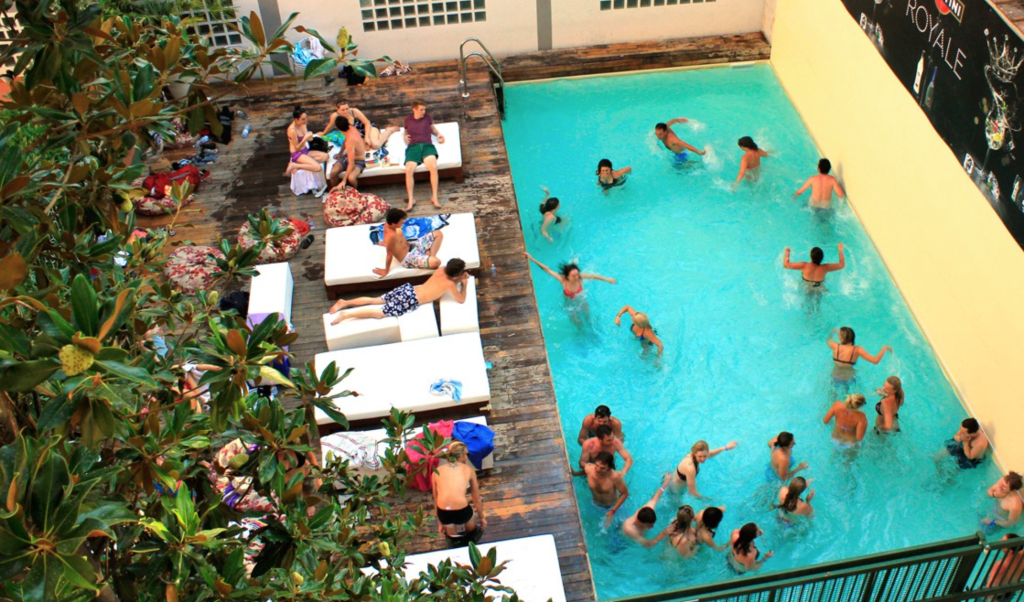 It's not often that you visit a hostel boasting not one but two swimming pools in addition to a Turkish bath, steam room, and sauna -but there's so much more to Plus Florence than these incredible amenities. Plus Hostels Florence is in a nice quiet location, about a 10-minute walk from Firenze Santa Maria Novella Station. From the hostel, a short walk brings you past the markets to the Duomo and historic core of the city. The rooms are akin to what you would find in a budget hotel: clean, spacious and come with ensuite bathrooms. You have lockers within the room, dressing table, mirror and also a small TV. Beds come with a reading light and also a power socket to charge your gadgets. The hostel also has family friendly mini-apartments that come with all of the above plus fridge, microwave but no cooking facilities. Tip: If you're not in the party spirit, choose a room in the top floor where it is much quieter.The facilities are outstanding here.You have a huge outdoor pool to cool down after a long day in the heat. In the winter, guests can access their indoor pool plus Turkish bath, sauna and steam room so for a hostel, these are truly outstanding facilities.There is a bar by the pool plus they have their own Opera restaurant that offers excellent value meals. Pizzas are excellent here.
Milan
28) Ostello Bello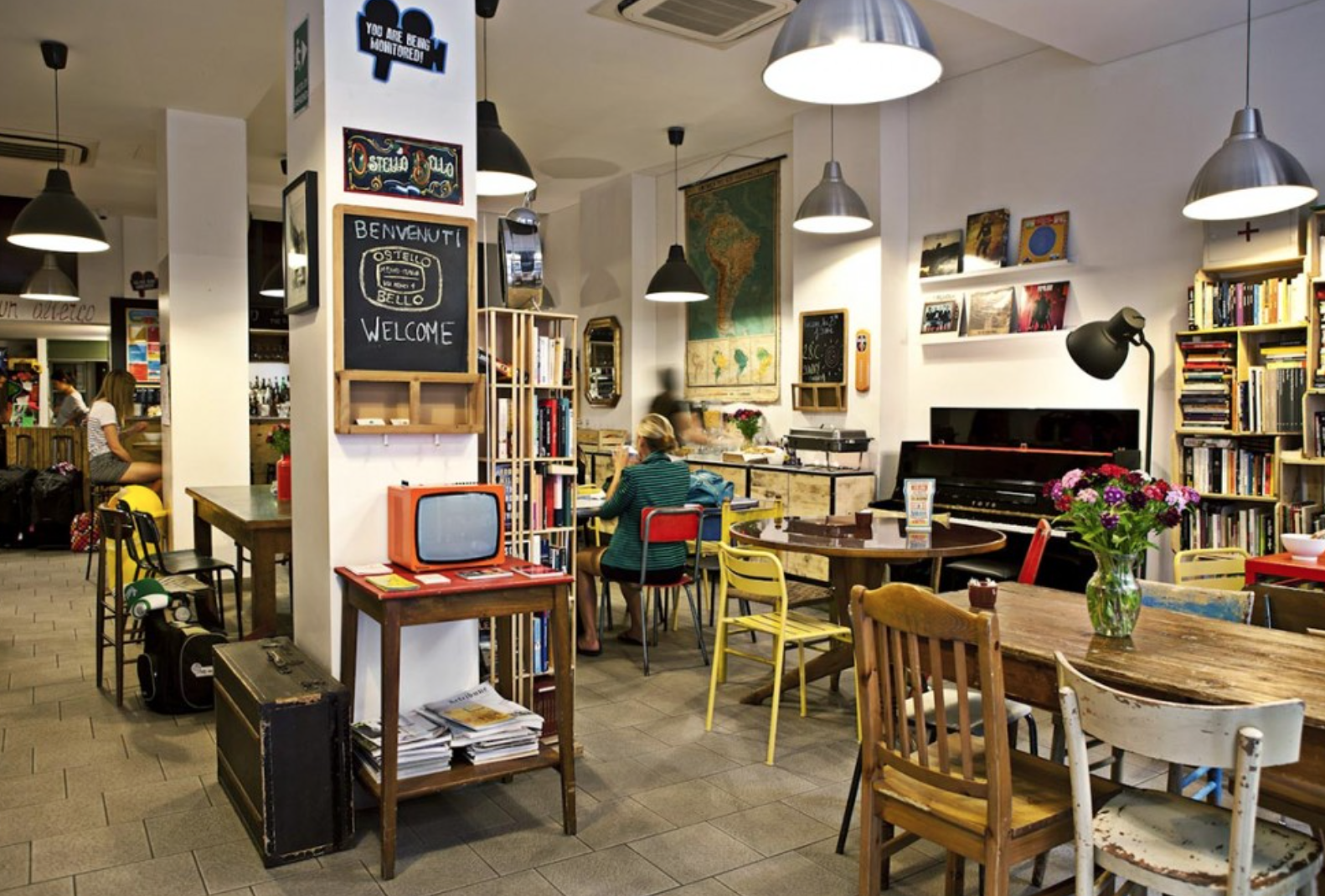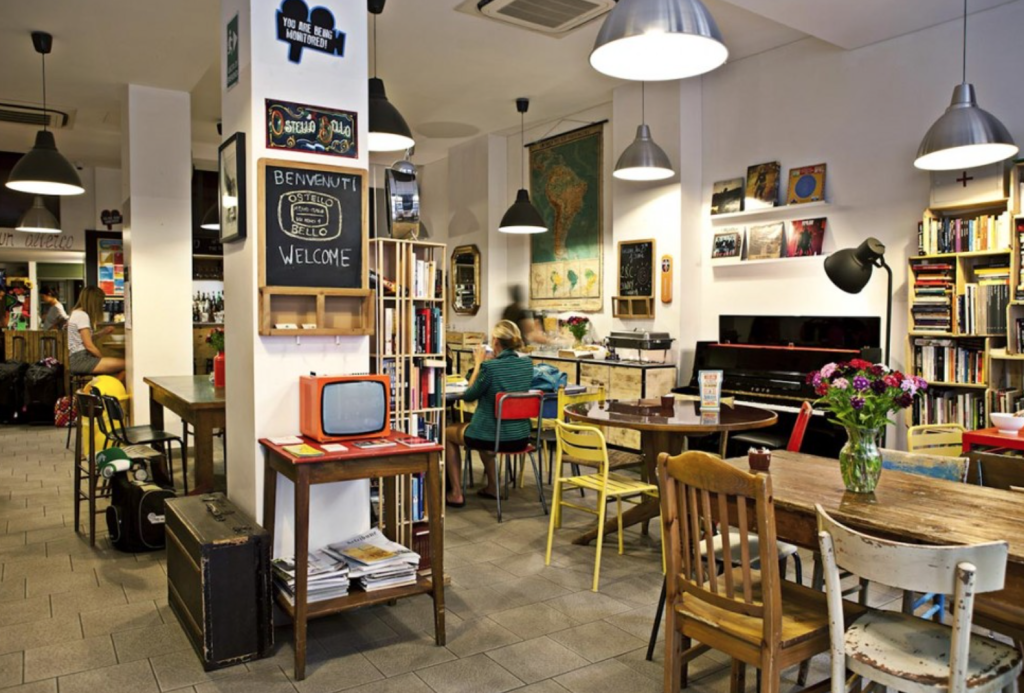 A free Mediterranean breakfast whenever you wake up, aperitivo in the evening with locals in a traditional Italian-style bar, lazy afternoons on a bright terrace with hammocks and barbecues – Ostello Bello is a hostel with an amazing difference and a great reason to visit Milan. Just a 10-minute walk from the Duomo, Ostello Bello boasts a great location with easy access to Milan's nightlife and fashion hotspots, as well as sites like Galleria Vittorio Emanuele, La Scala, Santa Maria della Grazie and Castello Sforesco.
Rome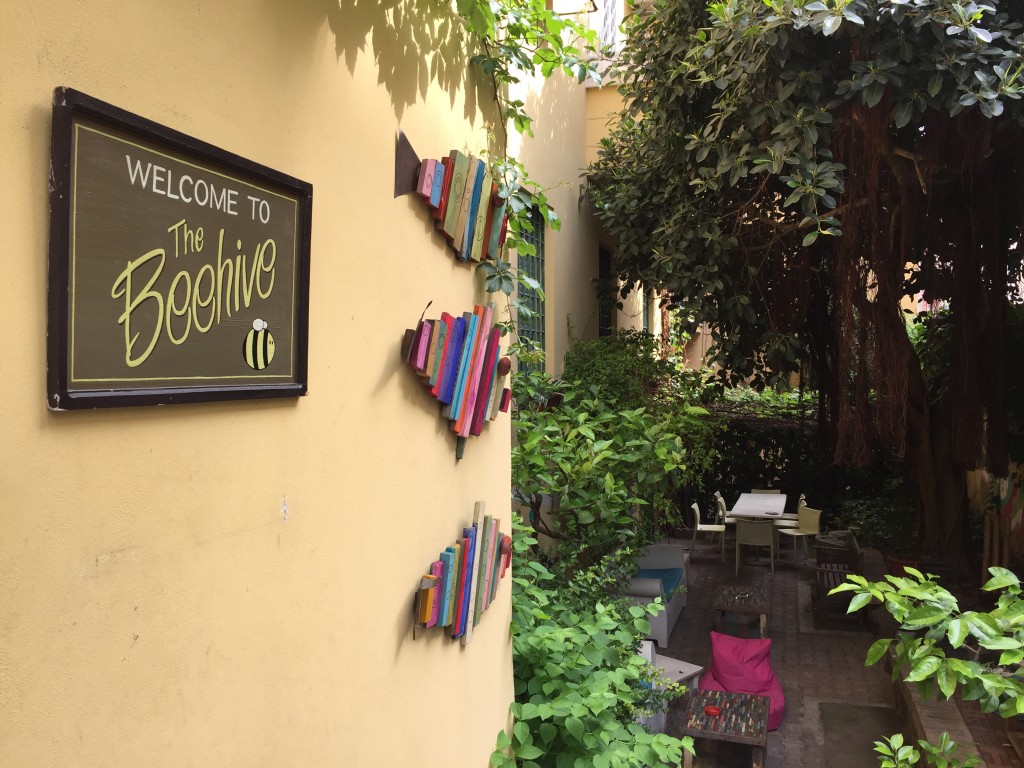 29) The Beehive Hotel & Hostel Rome
Right next to Termini station, this eco-conscious hostel-meets-hotel in Rome is an oasis of calm in this fast-paced city, complete with a garden and an organic vegetarian café that offers generous portions of locally sourced, home- cooked goodness. Just two blocks from Rome's Termini station in the historic area of Rome lies one of the friendliest places in the city – the Beehive. Situated on Via Marghera, the hostel is in close proximity to Piazza della Repubblica and sights like the Basilica di Santa Maria Maggiore. This place is a hybrid of a hostel and a holistic retreat – perfect for unwinding after a day of exploring Rome. The common lounge has a huge Mac desktop for browsing the Internet, plus a nice selection of travel guides. The garden area is a blissful oasis of calm – the kind of place where you can linger for hours while chatting with guests while drinking wine and losing track of time. The staff are friendly and attentive. The owners, Linda and Steve are passionate locals and have some great tips to share to make your stay more enjoyable, like their own free guide to Rome, which you can download from the Beehive website. The real added bonus of staying here is their excellent organic vegan café. Breakfast is not included in the room price, but if you do splash out, it is a real treat.
30) Generator Rome
Like Paris, Rome has a dearth of good quality hostels, my favourite till date being the beautiful Beehive Hotel & Hostel by Rome Termini station. The building for Generator Rome, I am told has 7 floors of incredible architecture and dates back to the 1900's. A standout feature of this new hostel will be a huge roof terrace, which will offer guests panoramic view of the city. The hostel will be located in the middle of the Esquilino area, where age-old archways, local markets and the artists have set up residence. Stone's throw away is Vittorio Emanuele, a monumental sculpture with panoramic views of the city from the top. A 15-minute stroll will bring you the Colosseum. Opening date for this hostel should be the middle of 2015 so keep your eyes peeled for this one.
Siracusa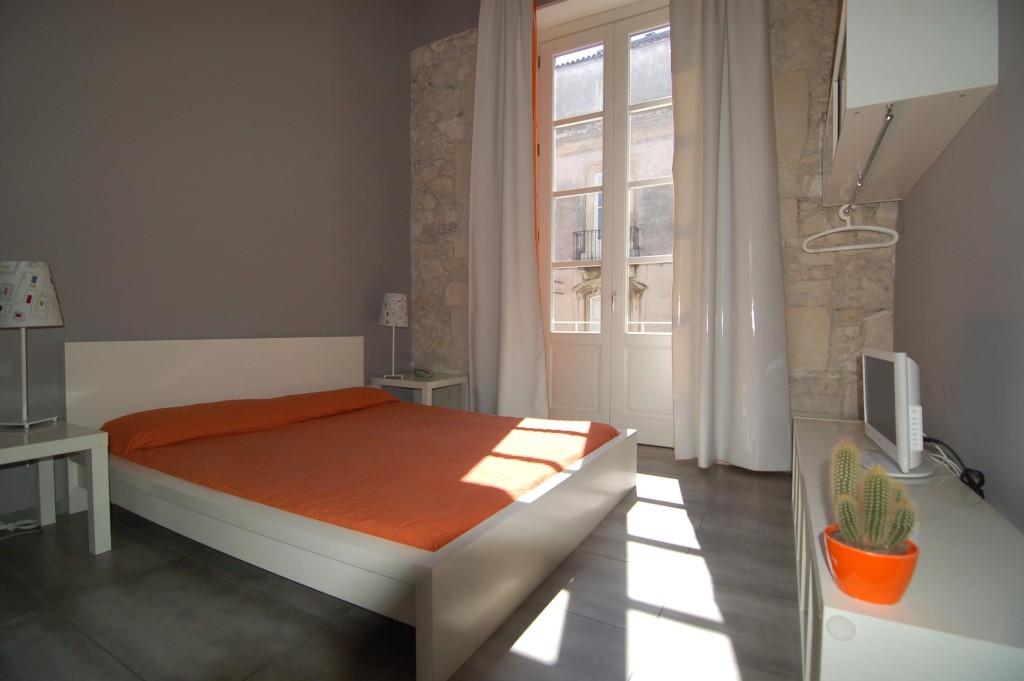 31) Lol Hostel
This is a luxury hostel in a fantastic city, with history and the Mediterranean Sea to discover, Lol Hostel is an excellent base for exploring Sicily. The well-presented Lol Hostel is less than 100 yards from both the bus and train stop in Syracuse, and a ten-minute stroll from the island of Ortigia, the historic centre of what the Italians call Siracusa. A ten-minute walk in the opposite direction will take you to the city's legendary archaeological sites. While the hostel's spot is unremarkable, it's a great point for exploring the city and has a plethora of cheap eats in the immediate vicinity.
Venice
32. ) Generator Venice
This is one of Generator's best hostels ( and most expensive hostels) with an unbeatable location in the heart of Venice. The hostel building is a historic converted granary. The exact location is on the waterfront of the Giudecca. The hostel retains all the Venetian charm but has a modern design twist to it. Highlights of the design include mosaic flooring, Rubelli textile curtains and glass chandeliers from Murano. In addition there is a huge fireplace reminiscent of Palladian craftsmanship. Key sites like the Piazza San Marco is just 5 minutes away. You can choose between private and shared rooms, some of which have views of the sea.
NETHERLANDS
Amsterdam
A beautiful 130-year-old building with high ceilings and chandeliers, a garden complete with picnic tables and gnomes, a cuddly hostel cat called Joop, a kitchen stocked with beers for €1, a hostel run by a bunch of energetic ladies who know the city like the back of their hand plus an authentic, not-too- touristy location – what more could you want from a hostel in Amsterdam?
34) Clink Noord , Amsterdam
After the success of it's two backpacker hostels in London, Clink Hostels are opening their first hostel outside the UK in Amsterdam Noord in 2015. This is going to be a great location – on the other side of the River IJ, Amsterdam Noord spacious and green where you can find picturesque country villages and stylish restaurants on the water. The initial designs of the hostel look beautiful.
35) Generator Amsterdam
Also opening in Amsterdam will be a new Generator hostel right next to Oosterpark, where they plan to accommodate 566 guests with a luxury apartment to boot. The property will have 168 en-suite twin and quad rooms with views of the park Guests can expect high ceilings, stylised architecture and locally inspired interiors. They will be adding two extra floors with glass walls just like Barcelona, plus kitting out one with a luxury apartment for 6 people. The ground floor will include a lobby with glass-fronted elevators, a raised café with a terrace and outdoor seating area overlooking the park. There are plans for a chill out lounge and bar, which will sit in the former lecture hall, while the old library will become an intimate relaxation area doubling as a private meeting room. The basement will be fitted with a spacious dining space and a secret bar tucked away in the original boiler room. Like the café and ground floor bar, the intimate speakeasy will be open to both our guests and locals. No firm dates for the launch of this hostel but should open late 2015.
36)  Ecomama Hostel Amsterdam 
Is a green and luxurious update to its sister hostel in Amsterdam, Cocomama. Similar to Cocomama, Ecomama places a big emphasis on the social aspect and has a large communal space, a big kitchen and a real teepee tent where guests can meet and interact. It has 7 different types of rooms tailored to a wide variety of people, from the El Cheapo room for those on a shoestring, to a Double Deluxe for a romantic night for two. The hostel has impressive green credentials- from a water saving system, green roof to a beautiful range of recycled design furniture. The icing on the cake? Ecomama donates €1 for every night that you sleep at the hotel to NGO's and good causes she supports, such as Niños de Guatemala which aims to improve society through education and entrepreneurship in Guatemala. Dorms run from £19, doubles start from £66.
Rotterdam
37) KingKong Hostel Rotterdam
From a tattoo shop, illegal casino and a famous brothel to a very cool hostel that blends industrial design with 21st century contemporary art- say hello to the KingKong Hostel in Rotterdam. It has a superb location in the beginning of Witte de Wittestraat, which is in the heart of Rotterdam's social scene and all the city's best bars and restaurants are on your doorstep. The founder Ron Sterk is the man behind two of Rotterdam's most successful bars- the 'NRC' and 'de Witte Aap' (the White Monkey) which was declared 'Best Bar in the World' by Lonely Planet in 2009. So he knows how to show his guests a good time. Key features of this hostel are hip and trendy dorm rooms, great central location in the centre of the "Witte de Withstraat"- a spot surrounded by bars, clubs and eateries, free Wi-Fi and a welcoming reception staff.
The Hague
38) Kingkool Hostel, Hague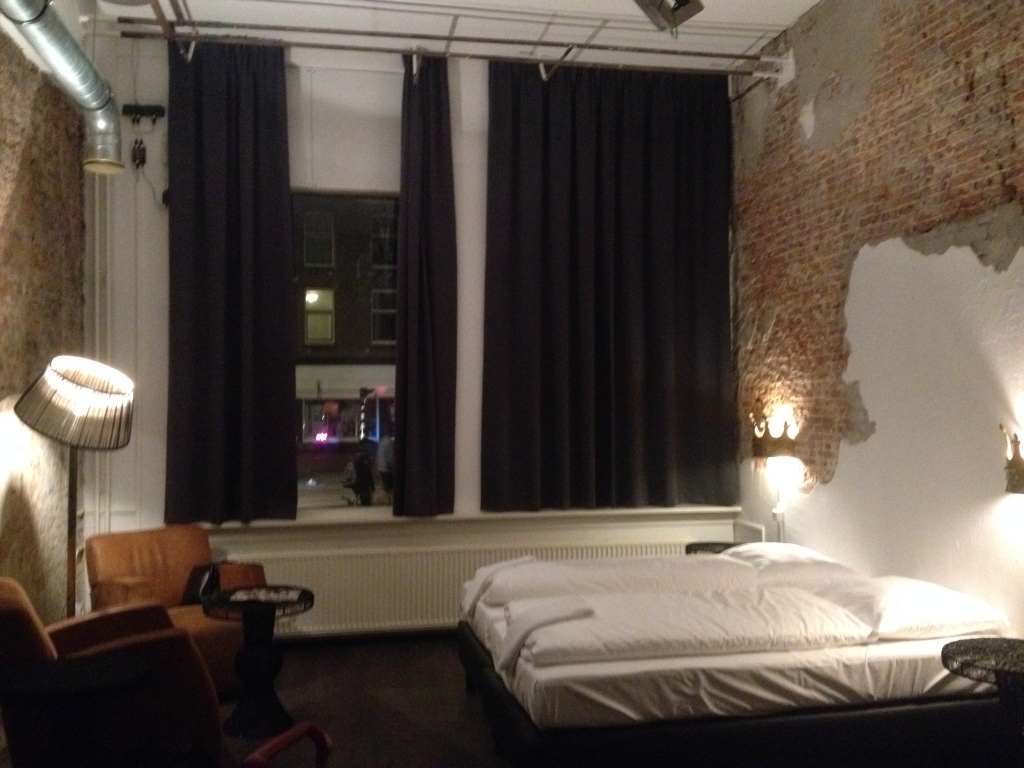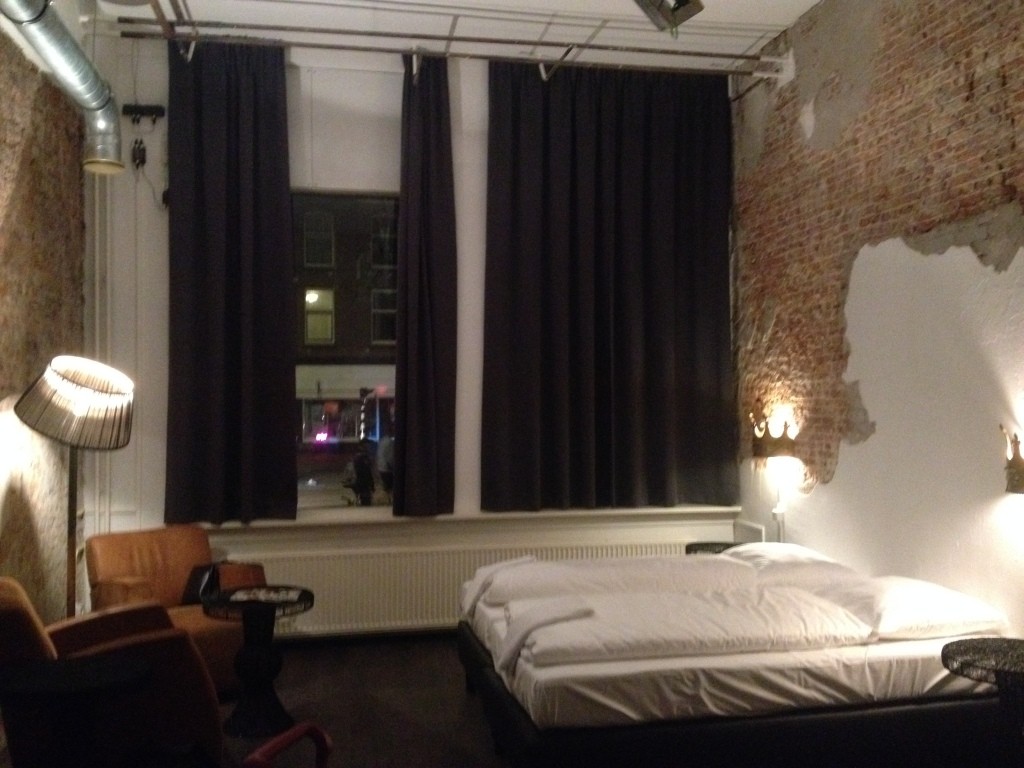 I was lucky enough to discover this cool hostel on a recent trip to the Netherlands. Enroute to Rotterdam for the Rotterdam Unlimited Festival I got the chance to spend the night at the Kingkool Hostel, which is by no way related to the KingKong. The hostel is the dream and vision of one man- Jan de Koning who designed and built the hostel with his own hands recycling everything from old Bordeaux wine cases and creating tables out of them to creating a Japanese style capsule room using old shipping containers and piling them on top of each other to create triple bunk beds. Besides being extremely creative in designing the hostel he has a quirky sense of humour, which is evident when you walk into the 'Bunny-room', fully covered with posters of naked Playmates or the 'Paard van Troje-room', a tribute to the Hague's iconic music venue. If you fancy sleeping in a camper van in the middle of the Hague then you can have the whole 'Urban camper-room' to yourself which houses a full size bright green camper van. Kingkool is very cool but I will let you be the judge for it so do go and pay Jan a visit if you're passing through Netherlands next year.
POLAND
Wroclaw
39) Grampa's Hostel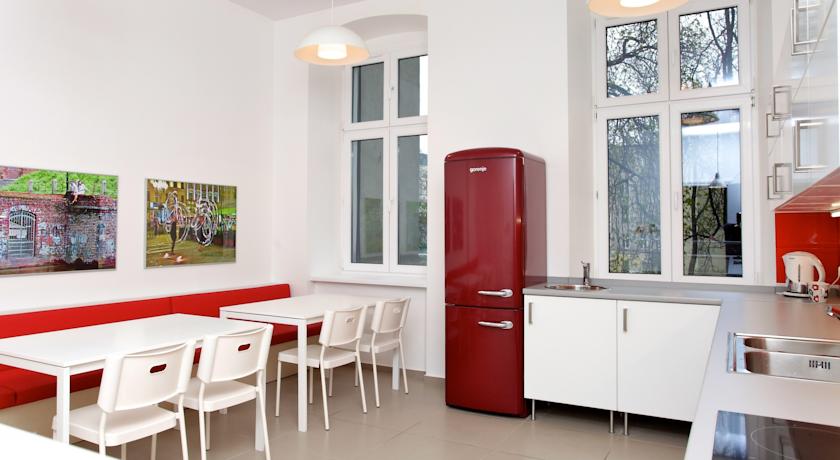 Grampa's Hostel in Wroclaw, Poland, is a budget-friendly, casual, and stylish place where strangers become friends. This family-run establishment balances a party atmosphere with quality facilities, great hospitality, and comfortable beds. Situated just a 15-minute walk from the biggest market square in Europe, the hostel is a stone's throw away from the heart of the city. If you walk to the hostel, you will pass some beautiful bridges and realize why Wroclaw is also known as the 'Venice of Poland'. The hostel is also very well connected via the city's excellent tram and bus network. On arrival, guests get an orientation of the hostel's various facilities, a carrot keychain, and receive a homemade cupcake. The clean and generous kitchen is a nice meeting point. Whether you are treating yourself to free tea and coffee or if you are cooking your own meal, chances are very high that you will run into another guest and can have a pleasant conversation. The hostel holds cooking events on Sunday evenings, which you can participate in for a minimal fee. The generous free breakfast sets you up nicely for the day. You can start your day with different choices of cereal, bread, cheese, ham, butter, miscellaneous marmalades, hazelnut cream, tea, instant coffee, and milk. The hostel offers other great facilities like free access to the hostel's common computer, a 24-hour reception with friendly staff, free hairdryers, adapters, or an iron (just ask at the reception), and a free laundry machine.
PORTUGAL
Lisbon
40) Lisbon Poets Hostel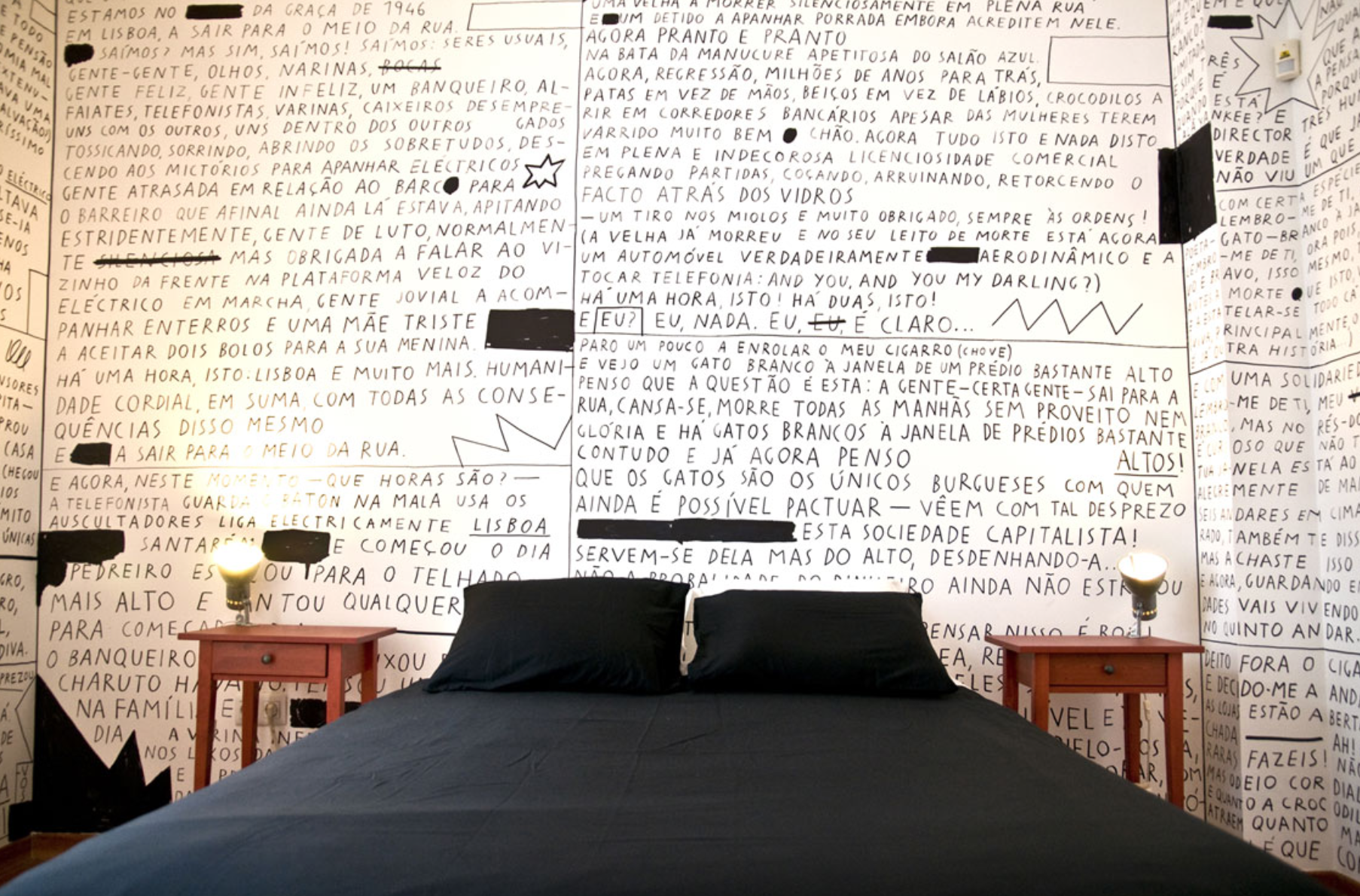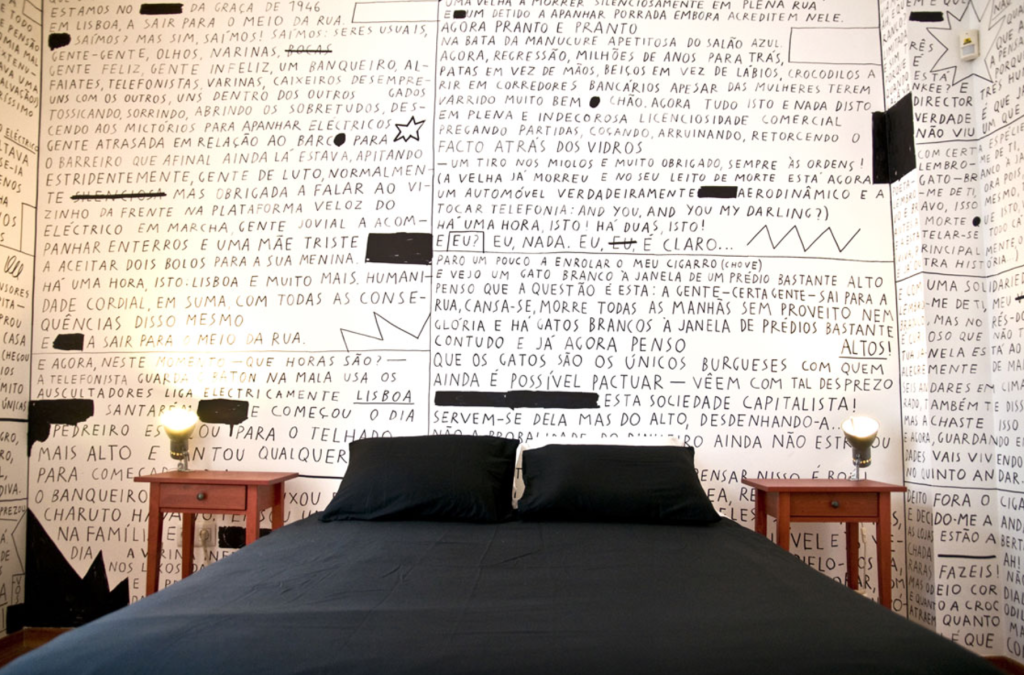 This hostel was a pioneer in the hostelling movement along with the Living Lounge Hostel. As artists, the owners were more concerned about creating an experience rather than just a cheap bed to sleep in. In many ways they have set a new standard and continue to lead the way for other luxury hostels in Lisbon and the rest of the world. This is a hostel with a great location, right at the foot of the Chiado metro station. Guests entering the living room are treated to a breathtaking view of Chiado through the huge floor-to-ceiling windows and can admire the beautiful architecture of the buildings of the area, most of which were restored after the earthquake of 1755. Facilities include one of the most impressive common rooms I've seen on my luxury hostels tour, excellent free Wi-Fi, an extensive collection of books, a well-equipped kitchen where guests can cook their meals. A continental breakfast is included in the price and is a nice affair with toast, jams, pastries, fresh orange juice, and pretty decent coffee.
41) Independente Hostel & Suites, Lisbon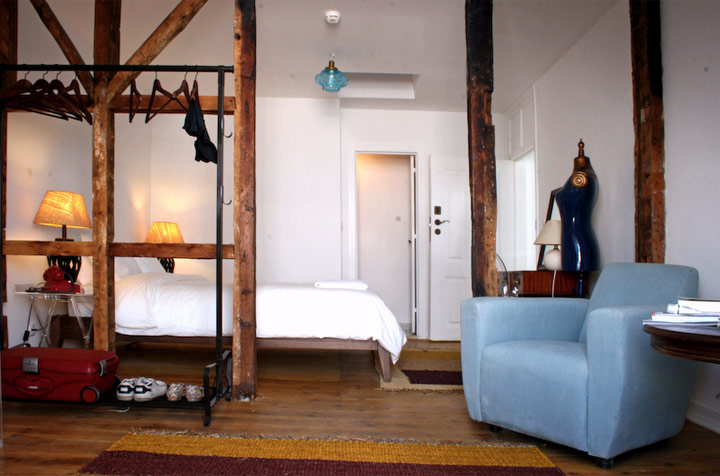 Lisbon is blessed with the best luxury hostels in the world and the art deco-inspired Independente Hostel is one of its most glorious creations. The hostel is the brainchild of three brothers who envisioned a different concept in hospitality: creating a meeting point where 'travelers as well as locals can come together'. Overlooking the Miradouro de Sao Pedro de Alcantara, Independente Hostel is in a great location at the intersection of three of Lisbon's most vibrant and celebrated neighborhoods: Bairro Alto, Principe Real, and Avenida da Liberdad. The most outstanding feature of this hostel is that it also houses one of Lisbon's most stylish and popular restaurants. The Decadente is known for serving up modern Portuguese cuisine using locally sourced ingredients. The staff here are friendly travellers themselves, and the perfect opportunity to mingle with them is the nightly 'dinner with the staff' where you get to enjoy a sumptuous buffet for as little as €7.
42) Stay Inn Hostel, Lisbon
An excellent location in the Bairro Alto area just a two-minute walk from the Largo Camões in Chiado, the centre of Lisbon, cool and chic decor, and a friendly staff make this a great base for exploring Lisbon. The rooms are very nice and in line with what you would expect from a boutique hotel. Good lighting and lots of bright colours create a happy ambience. The hostel offers excellent free Wi-Fi, a nice enclosed dining area linked to the common area, simple continental breakfast of delicious rustic morning rolls with cheese, ham and jam and unlimited free access to a Nescafe coffee machine. There are self-catering options and a supermarket just across the road from the hostel. The hostel also has a wash and dry laundry service for as little as €2.The hostel is not a party hostel but a place to relax and take it easy, and if you do want a party, Bairro Alto is at your doorstep.
43) Lisbon Calling Hostel
Part of a charming 250-year-old building, Lisbon Calling Hostel is stunning, overflowing with beautiful period features and vintage charm. It's also where the owners and their friends live, so staying at this hostel really feels like you've been welcomed into someone's home. Situated just a short walking distance from the city center of Chiado and the nightlife hotspots of Bairro Alto and Cais de Sodré, this hostel is in a fantastic location. One of the great features of staying in the doubles is the free breakfast. The free Wi-Fi is excellent and the staff here is friendly and helpful with lots of great tips to make the most of your stay here. There is free secure storage with individual lockers, locks and keys, as well as 'all day do-it-yourself coffee and tea', in the words of the owners. With its beautiful interior design, and vintage charm this hostel is easily one of the most stylish and romantic hostels in Lisbon.
44) Good Morning Hostel, Lisbon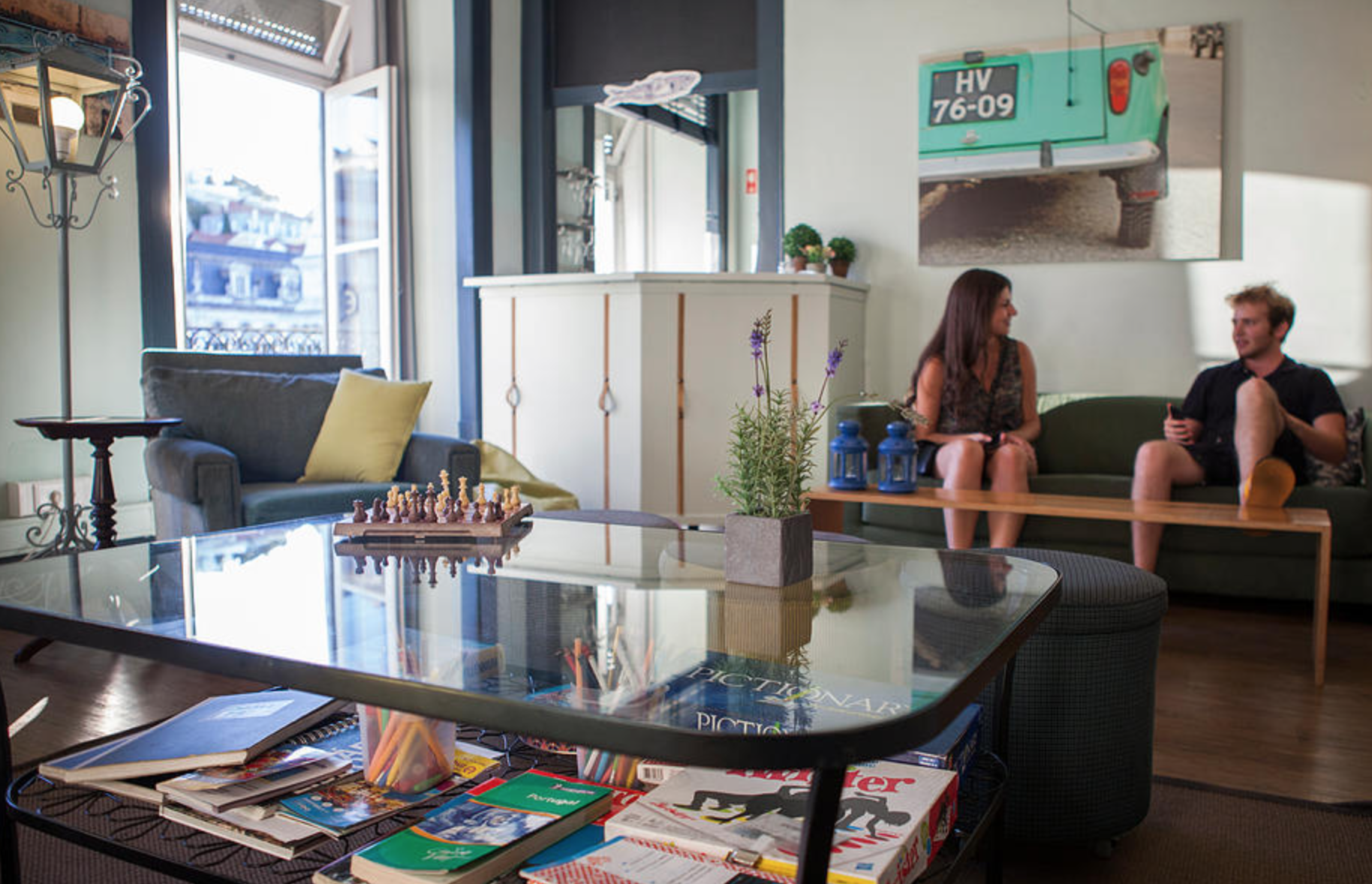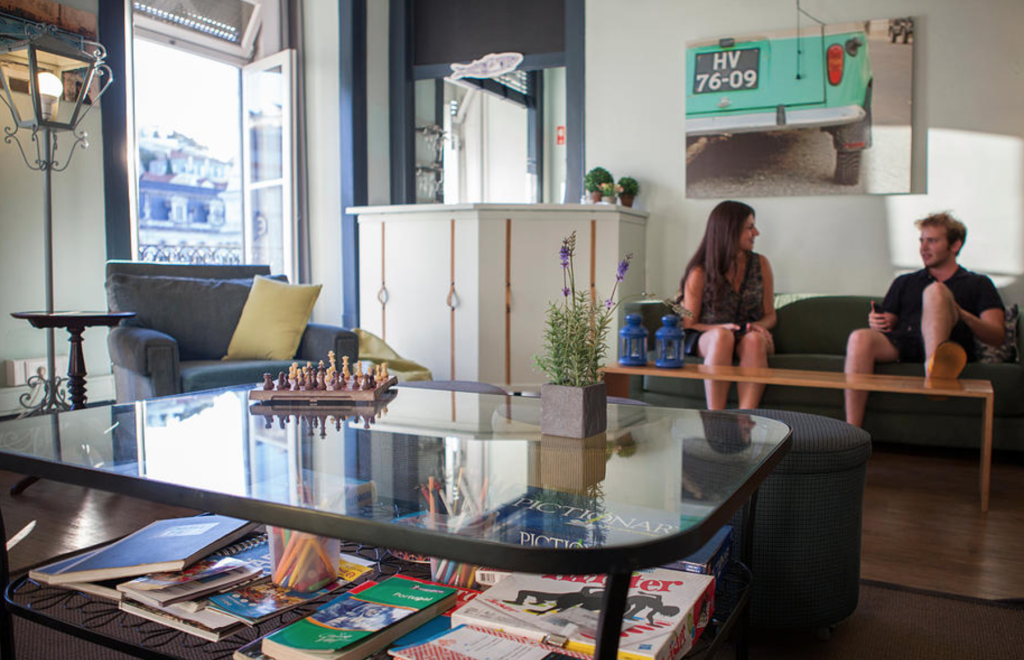 If you're looking for a taste of warm Portuguese hospitality in an unbeatable location in Lisbon, say hello to Good Morning Hostel on your next visit to the city. Good Morning Hostel is in an unbeatable location in Praca dos Restauradores, just a stone's throw away from a metro station and Rossio Train station. The airport shuttle leaves from just across the square. The friendly and interactive staff is the outstanding feature of this hostel. The staff organise excellent free walking tours of the city and also a 'dinner with the locals', where they introduce guests to local Portuguese dishes. The free breakfast is fantastic and something different from your standard hostel fare – they offer freshly made waffles, as well as good filtered coffee and juices. Free coffee and tea are offered throughout the day. The hostel has a dedicated Internet room with free Wi-Fi available throughout the hostel.
45) Home Hostel Lisbon
The location of this hostel is fantastic, right in the middle of the Baixa district. Several of Lisbon's key sightseeing attractions are within walking distance plus there is a clutch of fantastic, moderately priced restaurants and bars nearby. Every member of staff I met was friendly and helpful. Besides the cool staff, the colourful ambience of the hostel's common, social spaces makes this a unique hostel.The lounge here is my dream lounge. Lots of plush comfy sofas that you just sink into and can happily fall asleep on. During the day I would happily be sitting on the sofa, checking my mails on my laptop using the hostel's excellent Wi-Fi connection. You have the biggest widescreen TV you can imagine with a DVD library of more than 150 films. The interior decor is a pleasing mix of vintage and contemporary minimalist. They have a very cool, well-stocked bar, which also doubles as the reception desk. In the evenings, the small intimate bar area with a few long tables becomes the meeting point where guests congregate and get to meet each other. In the mornings, they serve a simple but nice breakfast that consists of bread, cereals, jam, nutella and coffee. Don't forget to try 'Mamma's homemade pumpkin and nuts jam'- I think I must have wolfed down 5 slices of bread pasted with that delicious stuff. Other few cool features to point out: there is free Wi-Fi available in the common room areas and it is excellent. There is a common kitchen for guests to use. They have a blackboard in the common room called 'Share my ride' where guests share details of their rides to the airport and pick-up times allowing fellow guests to share their ride & save money.  Every hostel should have a board like this. Brilliant idea. My personal highlight was the hostel 'mamma's' superb 3-course meal. For just €10 you can book a place at one of 'mamma's' legendary dinners where you are treated to a delicious three course authentic Portuguese dinner with wine or beer or sangria. The dinner ends with a toast where guests get a small shot of 'Ginjinha', the excellent local cherry brandy or a small glass of Port Wine.
46) Lisboa Central Hostel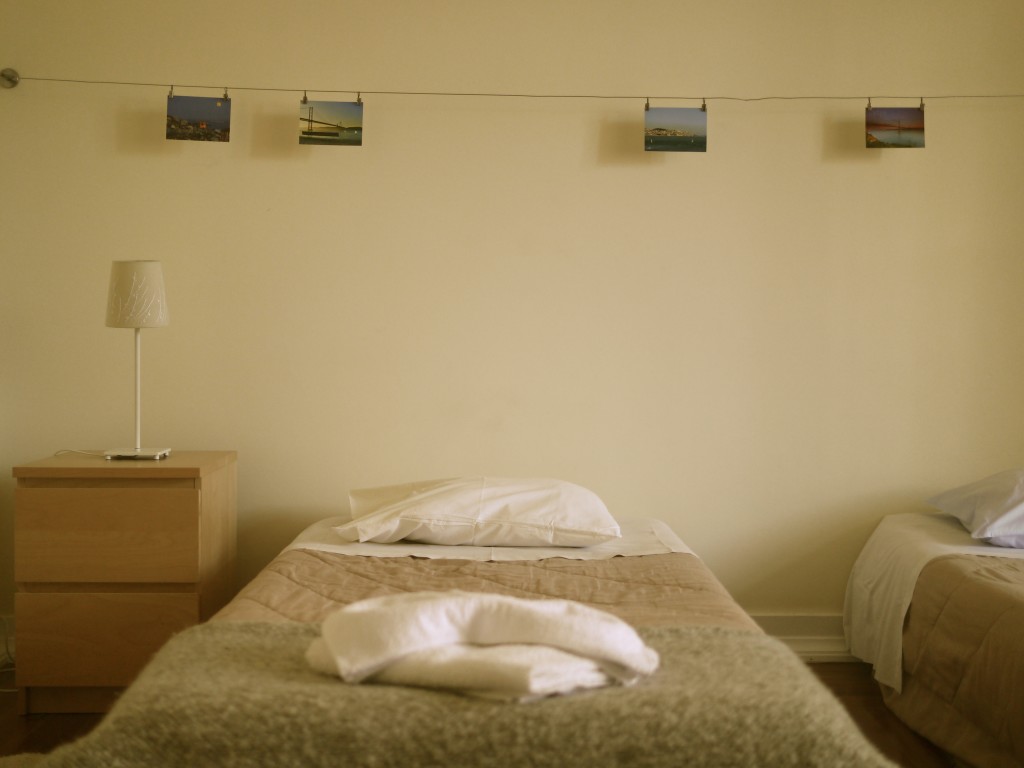 Is in an excellent location in Marques de Pombal just across from Lisbon's grandest boulevard, the stunning Avenida da Liberdade. Just around the corner is the Marques De Pombal metro station, which is on the blue line that takes you straight to the airport. Baixa and Bairro Alto is just a 20-minute walk from the hostel or a few stops on the metro. The staff here (special mention for Ricardo) are warm, welcoming and from moment one, will make you feel like you're being welcomed into someone's home. They really go the extra mile here to help you with any of your queries like finding the best restaurant, mending a torn pocket in your trouser or even helping you out with your laundry. After a few days living there, I felt like I had known the staff for a long time. It's that kind of place. Hostel has a daily roster of activities to keep guests entertained. It has a dedicated cinema room complete with projector where they host their weekly film nights. They also host the quirky 'Milkshake Monday' where each guest gets a free milkshake. On weekends, Ricardo takes guests out for his legendary pub-crawl across some of Lisbon's best nightlife hotspots. In the summer, they have a nice enclosed courtyard where guests can congregate and chat into the late hours. They have a cool mini refrigerator in the reception area where guests can help themselves to ice-cold beers for €1. Please keep in mind that this is not a party hostel but still a sociable one where you easily meet fellow guests.
Porto
47) Gallery Hostel Porto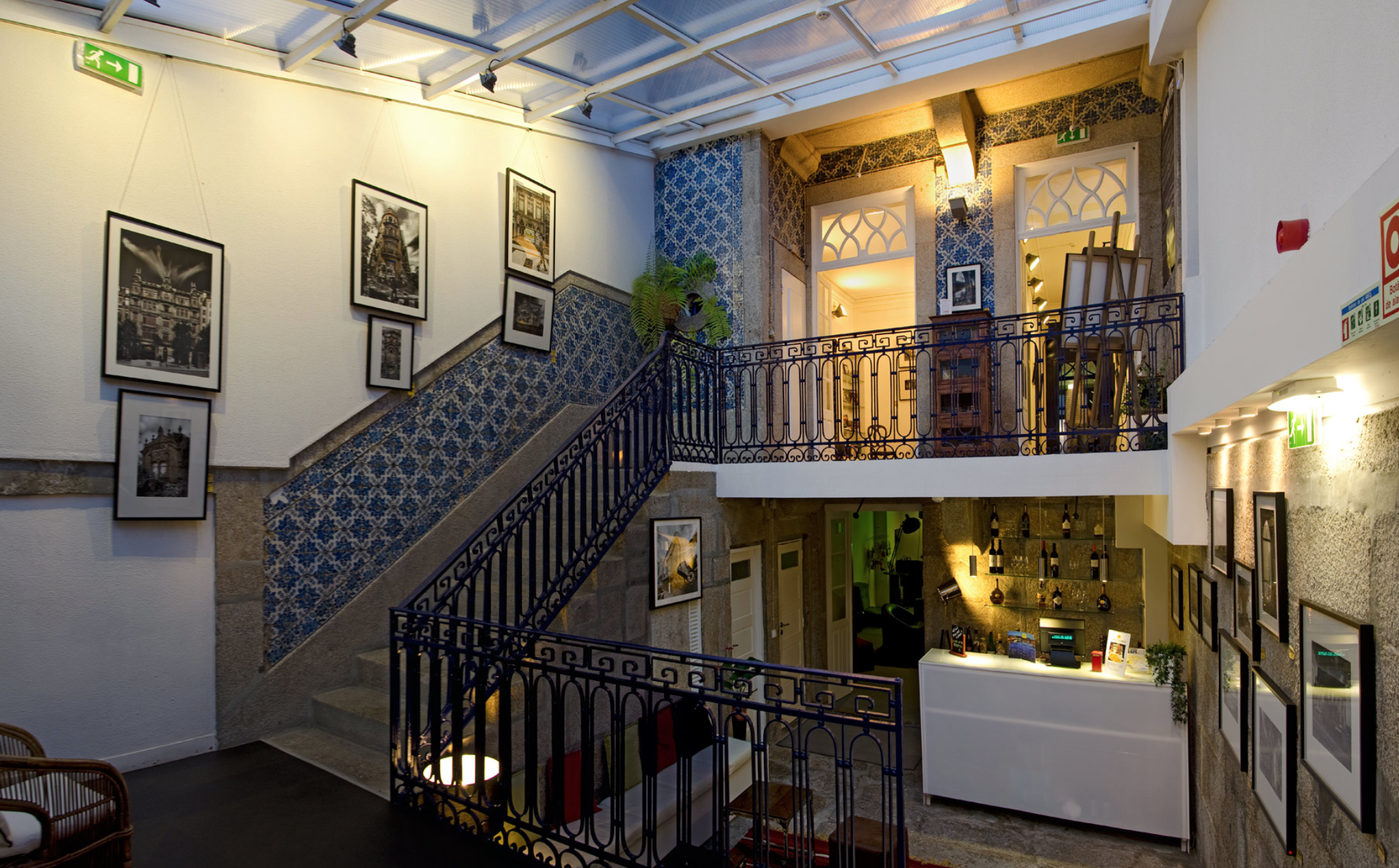 Located in the trendiest quarter of Porto, between the art district and hip nightlife, the eco-friendly Gallery Hostel characterizes the concept of the luxury hostel –service, cleanliness and facilities are top priorities along with friendliness and a familiar atmosphere. The Gallery Hostel on Rue Miguel Bombarda, just a 10-minute walk from the centre, is one of the impressive faces of the new reimagining of Porto's landscape. The hostel is a rehabilitation of an impressive 1906 building and seeks to maintain the original aspects of a traditional Porto house, while blending it with modern decor and furnishings.
48) Tattva Design Hostel Porto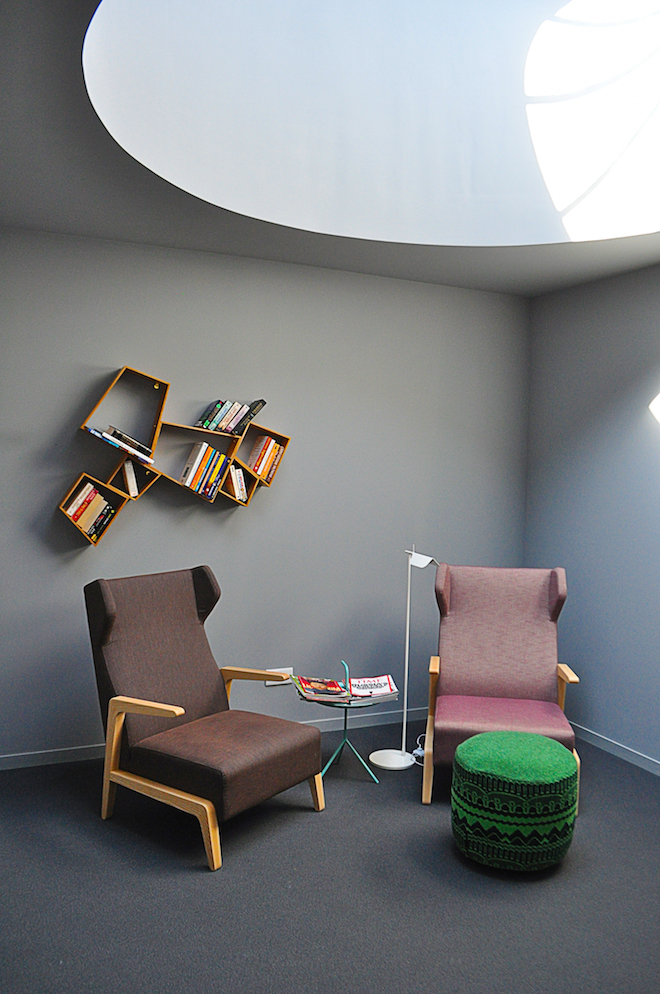 The hostel has a great location, in the heart of Porto and the 'world heritage' protected area. All the main sights of Porto are within walking distance. Ribeira district is a 15-minute walk. The hostel is a 3-minute walk from Sao Bento Train and metro station (direct link to the Airport) and the Rede expressos bus terminal. This is a beautiful hostel, designed with the traveller in mind. Great design is not something you would normally associate with a hostel. Nice balance of bold but not overpowering colours, well furnished and beautiful light features. Free Wi-Fi is available throughout the building and worked well during my stay. The common areas are very relaxed, informal and homely. I spent a lot of time in their aquarium room, catching up with my writing on the laptop, the huge 3 metre aquarium tank filled with its exotic looking fish, my soothing eye candy. They have a fully equipped and spacious kitchen. There is a grocery store just down the road with all the essentials, which is handy. They also have a fab rooftop terrace and bar. The free breakfast is awesome. Any hostel breakfast where you can enjoy freshly made pancakes, fruit and help yourself to a bottomless tub of Nutella, is a good breakfast in my mind. Other cool features of the hostel are their free walking tours. Plus, if you wish to explore the Douro valley and beyond, they run a couple of day tours. The staff I met during my stay were friendly and helpful so that is another major plus point of the hostel.
SLOVENIA
Ljubljana
49) Hostel Celica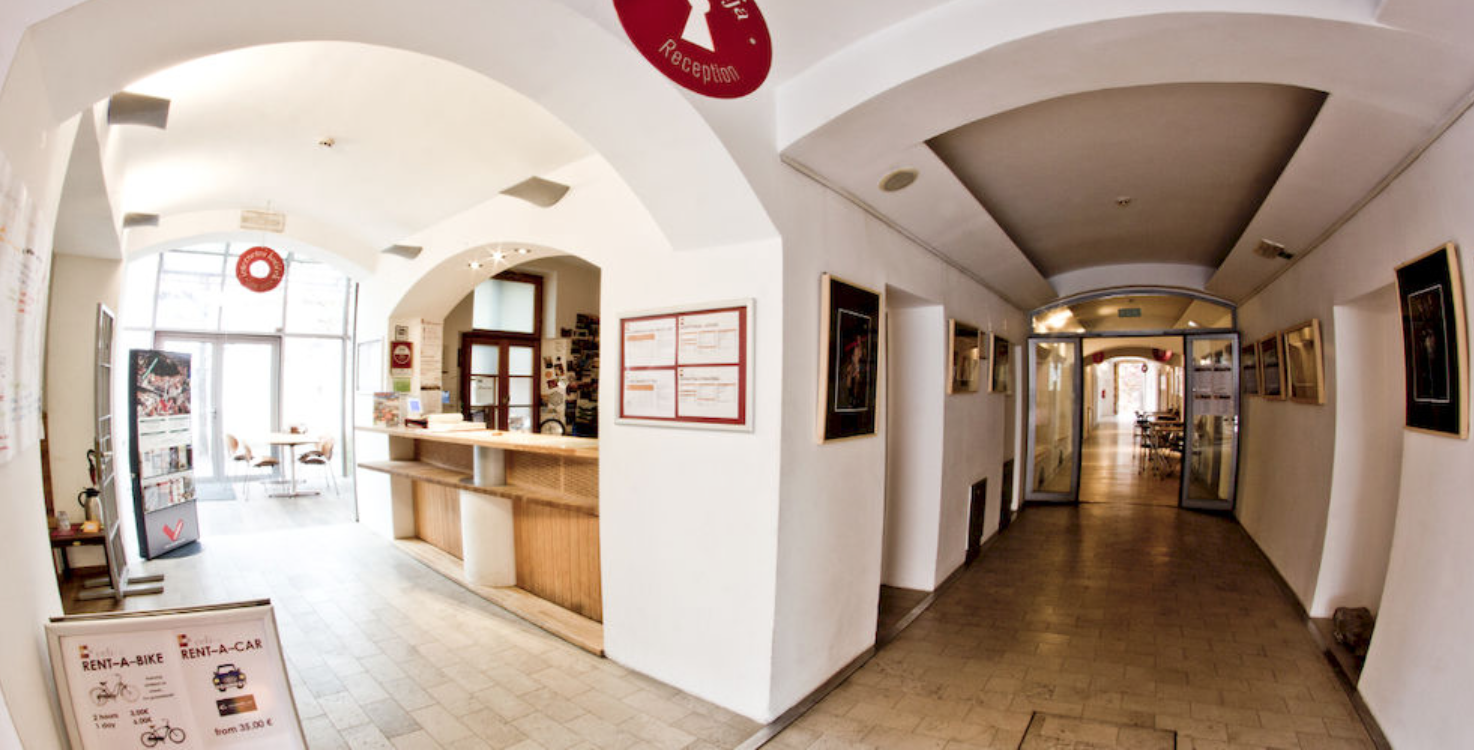 Ever considered spending a night behind bars without getting arrested? Welcome to Hostel Celica, a former jail. Hostel Celica is located just a few meters from the main bus and train station in Ljubljana and a 10-minute walk from the Ljubljana city centre. My room was Prison cell #107. It was quite a radical departure from all the other hostels I've stayed in, complete with a barred metal door. Like all good hostels, Celica offers good hospitality, a garden with tall trees, tables and umbrella shades and at night time, with the aid of candles, becomes the venue of live concerts, art exhibitions, and themed parties, all of which are free for guests to attend. The hostel has excellent lunch specials. For as little as €6.50, you can enjoy a three-course meal. Luxury is not just a concept that can be simply defined by a double room with ensuite facilities in a hostel. Luxury is an experience.
SPAIN
50) Casa Gracia Barcelona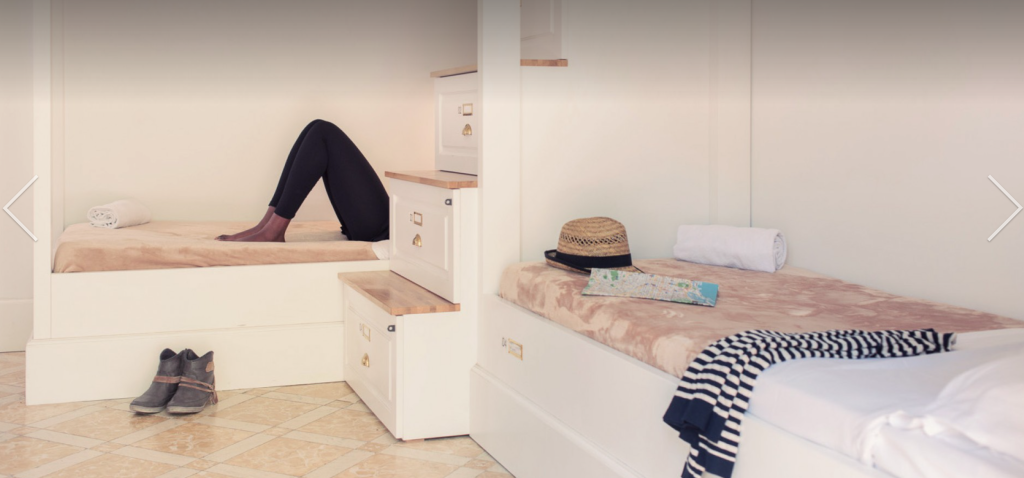 As you can tell from the first word 'Casa', the concept of this hostel is all about feeling at home – a 'home in Gracia' — and that's what they focus on offering their guests. The hostel is centrally located on the grand boulevard of Paseo de Gracia in the neighbourhood of Gracia, close to Gaudi's la Pedrera and Casa Batlló. You are away from the touristy drag of Las Ramblas, Barrio Gothic, and the menace of pickpockets. Choose from a variety of rooms- from six-bed dorm rooms and one-, two-, three-, four-, and five-bed private ensuite rooms, all of which are spacious, cosy and quiet. They have a regular programme of events in the hostel and the staff are really friendly and helpful. An oasis of peace in the city, this is a great hostel to call home for a few days.
51) Generator Barcelona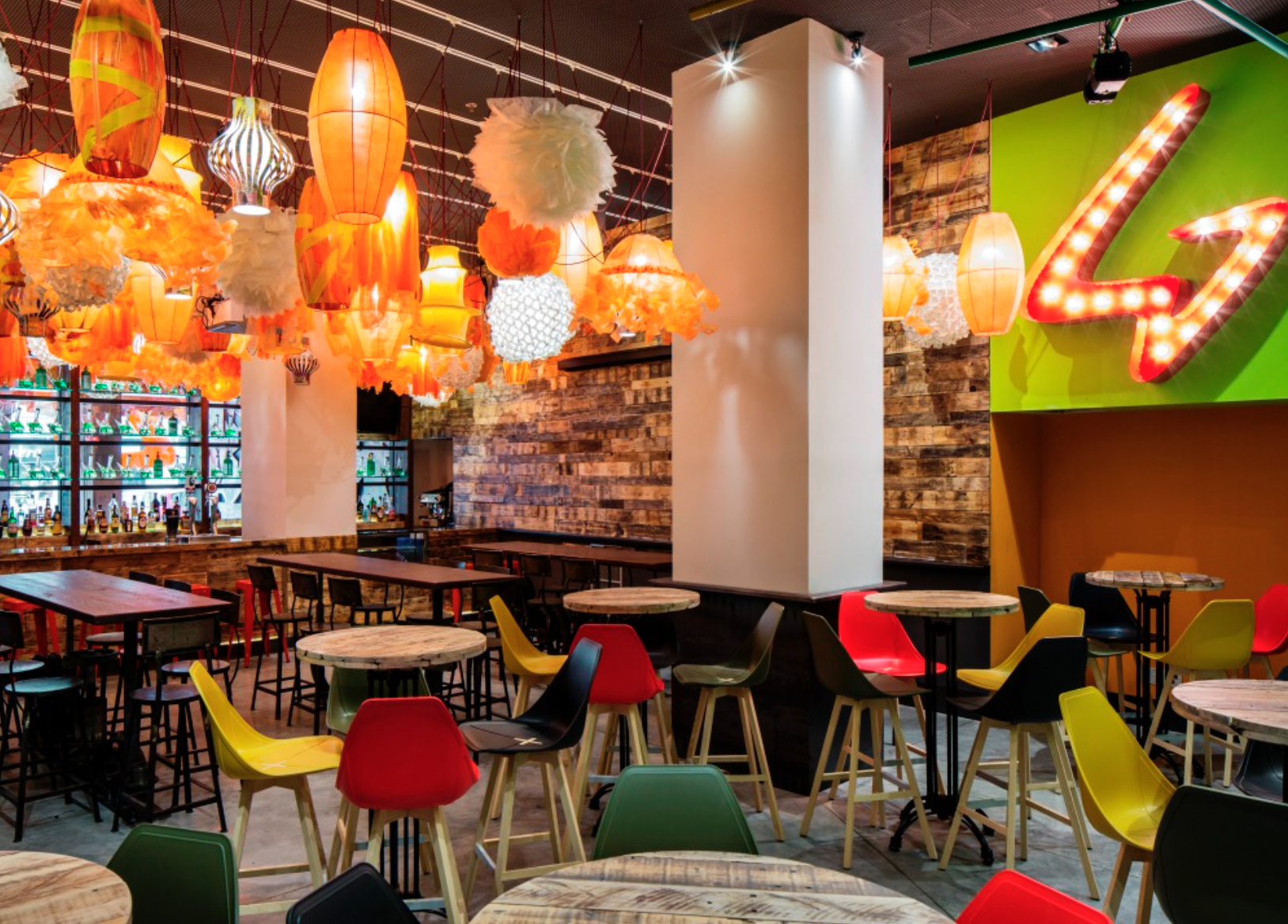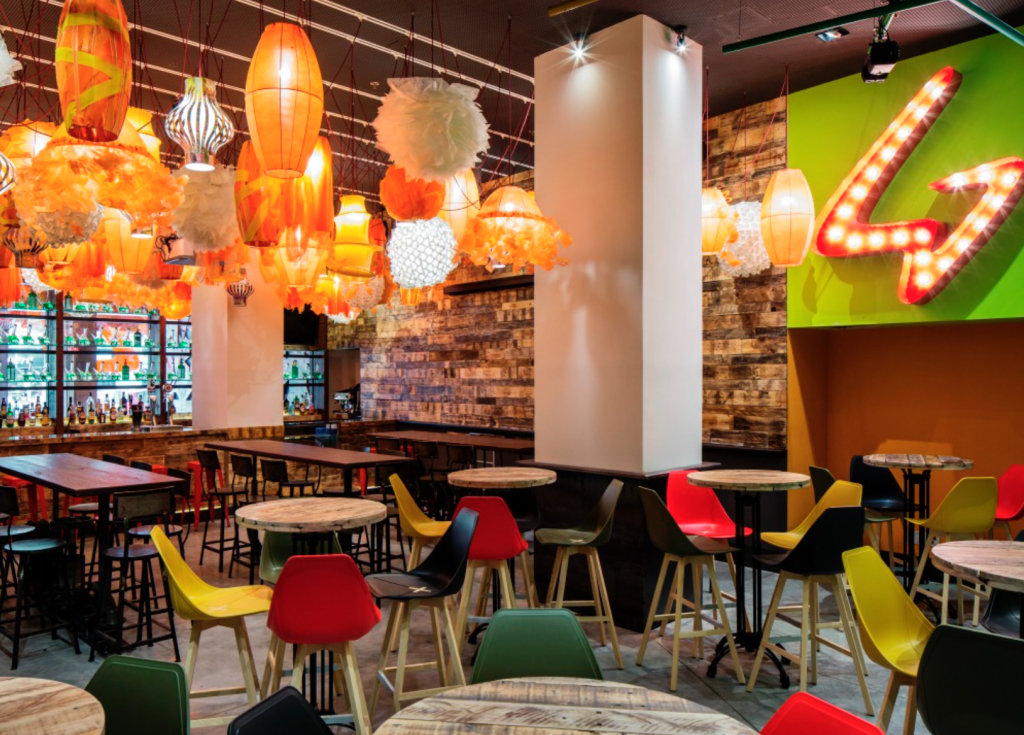 I visited Generator Barcelona recently with my girlfriend's family and was mega impressed with this hostel. I admit I was nervous as the boys ( 6 & 8) who had never stayed in a hostel before. I have stayed in Generator Hostels before in Hamburg, Copenhagen and recently in London which are impressive properties in terms of design and facilties but they've created something really special here. I was blown away by the style and gaudy design of this hostel. Lots of light and colour.  The kids loved hanging out in the communal lounge with its broad street facing windows that are perfect for people watching, snazzy wallpaper, array of 300+ colourful paper lanterns (lanterns were inspired by Barcelona's annual Festa Major de Gràcia and created by local artist, Julie Plottier) that lend a dreamy feeling plus the beautiful multicolour floor patchwork, Towards the right of the entry of the hostel lobby amidst the 23-foot high wooden boards there is the "Bird Cage"- a bunch of hanging loungers which became a great playground for the boys. On the split second floor of the building, there is a pool room plus a photo booth where guests can get their photo taken. The hostel has a separate hotel floor (6th floor) with a private elevator which completely insulated us from the hustle and bustle of the dorms below. They offer a choice of beautifully designed family rooms to suit all family sizes plus they are all ensuite. Other great feature was the fact they had a excellent kid friendly food menu so if you are looking to dine in after a long day of seeing the sights of Barcelona, this hostel is perfect. However if you are on a budget, looking to cook your own meals, the only drawback of this hostel is the lack of a communal kitchen. To summarise, a fun hostel for both adults and kids.
Granada
52) Granada Inn Backpackers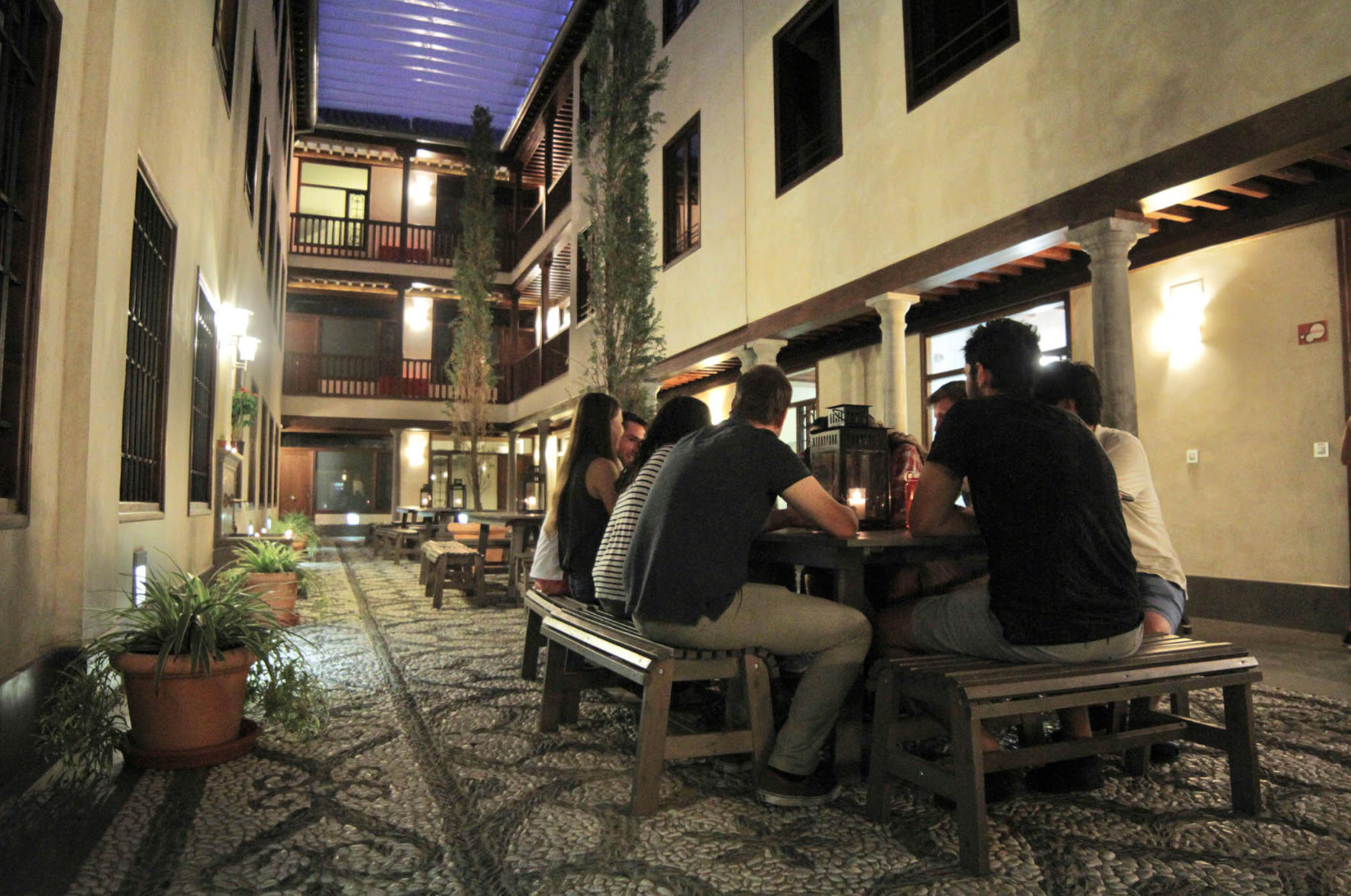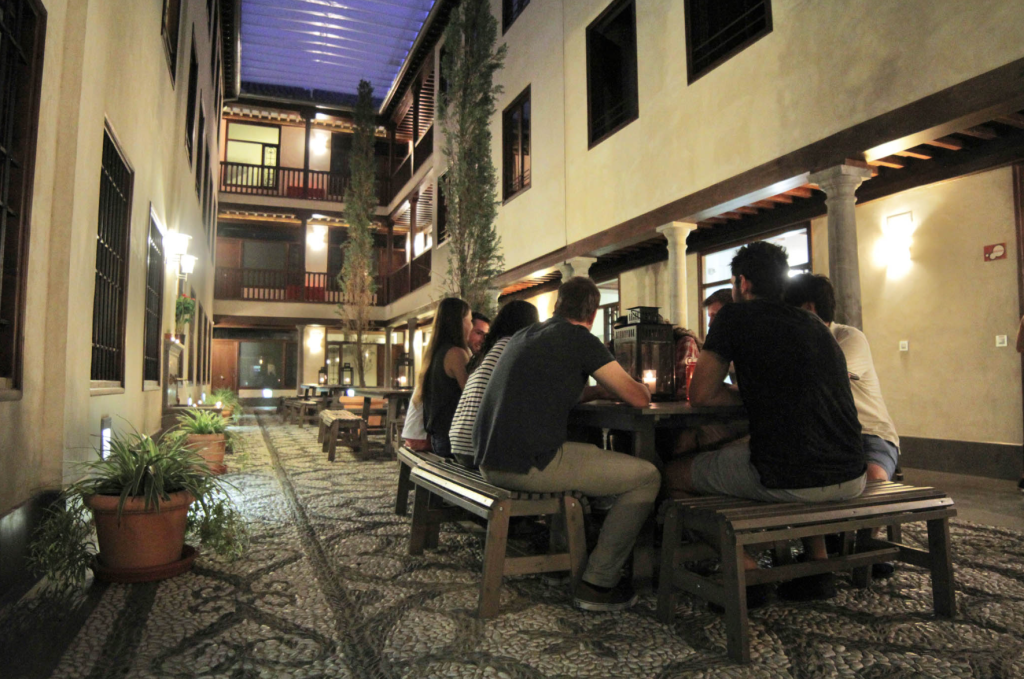 Granada Inn Backpackers is certainly a place to indulge in luxury on the budget. Spacious, mellow, charming and filled with Moorish influence Granada Inn is luxurious yet affordable and easily accessible to the sights of Granada. Only a few steps away lie the Cathedral, City Hall, the old Albayzin neighbourhood, lots of nightlife options, and Spain's best tapas zone. Granada's most famous attraction the Alhambra is just a 30-minute walk or a 5-minute bus-ride away. Perhaps the best feature of Granada Inn Backpackers is its relaxing patio. It's a great spot to relax or chat with new friends or enjoy the free breakfast in the morning. Self- caterers can take advantage of a fully stocked kitchen. Coffee, tea, biscuits and milk are available to guests all day. There is a small washing service as well. There are free internet terminals open until midnight but the free Wi-Fi is weak and accessible from select spots. The reception is manned 24 hours a day and the staff are polite. There is a comprehensive activities programme for guests. I attended the education and exhilarating Flamenco tour.
Madrid
53) U Hostels Madrid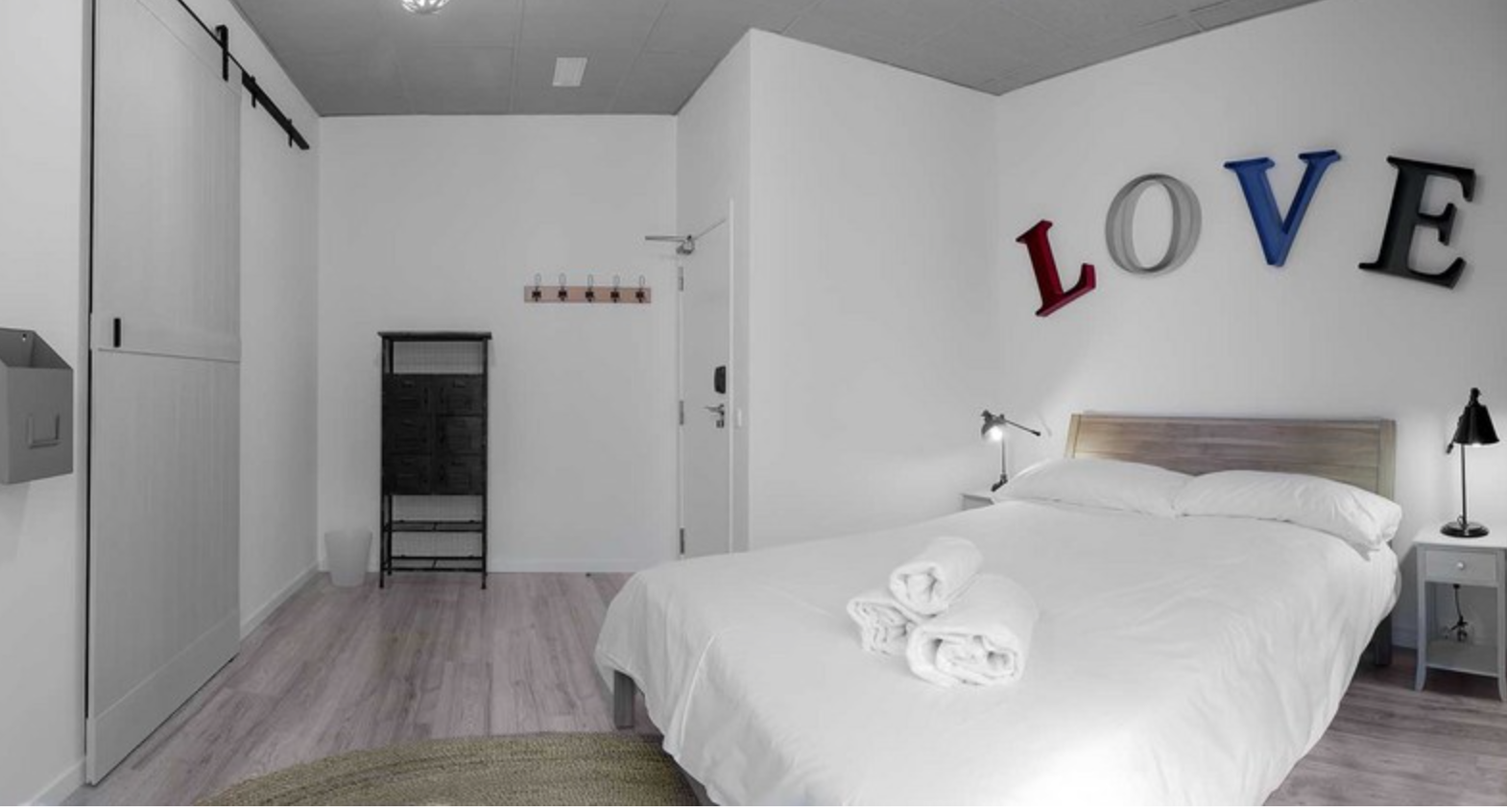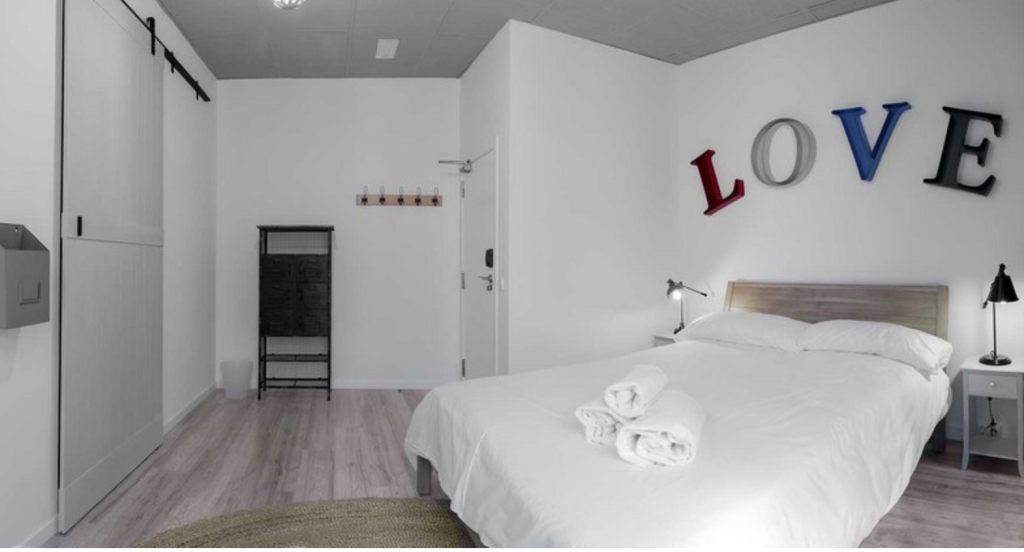 A design hostel in a 19th-century Palace with its own private cinema room, rooftop terrace, and bar? Welcome to U hostels, Madrid.
Located right beside the Alonso Martinez metro station and just a 15-minute walk to Puerta del Sol, the hostel is a great base to explore Madrid. In the nearby Malasaña district, there is a vibrant neighborhood of bars and restaurants. U Hostels boasts its own private cinema room where guests can relax and catch the latest football match or choose a movie from their extensive DVD collection. The hostel has an excellent on-site bar with very competitively priced drinks. Staff members run an excellent programme of daily activities to help guests plug into the city's DNA. From excellent free walking tours to visits to Flamenco bars and pub-crawls, there's something for every type of traveller. The free Wi-Fi, rooftop terrace, nice-sized kitchen for guests' add exceptional value to a stay at U Hostels Madrid.
Seville
54) Oasis Backpackers Palace Seville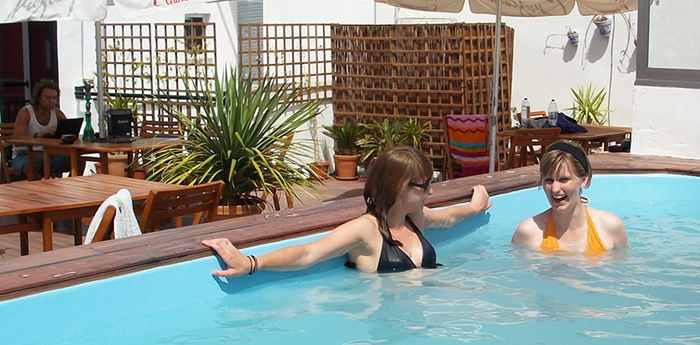 With a stunning outdoor pool and terrace bar, close to some of Seville's oldest tapas bars and cafes, Oasis Backpackers Palace is a great base for exploring Seville. Situated in a 19th-century building near Plaza Encarnación, the hostel is in a great location with plenty of historic tapas bars and some of the city's best nightlife spots within a short radius.
Guests checking in get a free drink token that they can redeem at the rooftop terrace bar, which also has its own pool. There is a first-floor common area with access to Internet terminals as well as free Wi-Fi. Plus there is a roof top terrace with a pool, which becomes a party zone at night with cocktails, live-bands and a DJ.
SWITZERLAND
Interlaken
55) Backpackers Villa Sonnenhof Interlaken

A mishmash of modern design and old-school Swiss comfort, Backpackers Villa provides the luxuries of top-notch service and all-inclusive perks in the adventure capital of Europe. Backpackers Villa is conveniently located directly behind the Höhematte, Interlaken's famous green space where paragliders land, and right in between the town's two train stations. Though the hostel is quite large and can accommodate up to 200 backpackers at one time, it still feels intimate. Whether you want to relax on your own or hang out and be social, you will be well accommodated. The common room was cosy and inviting with gorgeous parquet flooring, big screen TV and over a 100 films on offer. For those who want some Zen, there is also a great meditation room on the top floor of the chalet. Facilities include a a kitchen in each building, but technically they-re adjoined, a nice garden with a pool table and views of the mountains, free guided walking tours, and a card offered at check-in that provides complimentary entry to local swimming pools, mini golf and local restaurants. Though the included breakfast is not substantial in my opinion the luxury aspect of this clean and modern hostel is the exceptional guest service.
Saas-Fe
56) Wellness Hostel 4000 Hostels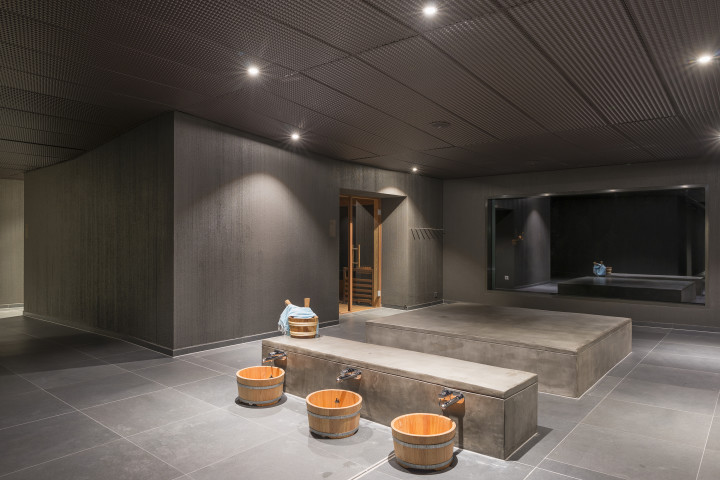 Hostelling International have just launched a Swiss spa hostel amidst the mountains in the glacier village of Saas-Fe. The exhaustive list of eco-friendly facilities in this hostel includes saunas, whirlpools, massage showers, relaxation lounges, water slides and progressive training programs for athletes (pause for breath). To top that off, the hostel has an in-house restaurant and bistro where you can be served tapas, body-boosting smoothies, or even an aperitif with the Alps as your picture-perfect backdrop. Dorms run from €35, doubles from €88.
TURKEY
Istanbul
57) Bunk Hostel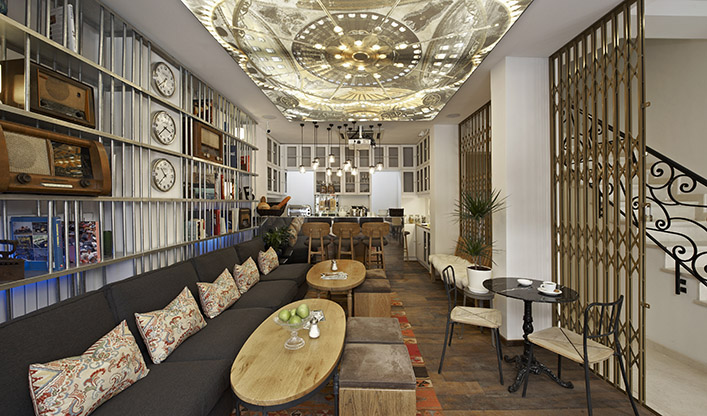 This hostel is the winner of Hostelworld's prize for top hostel in Istanbul in 2015. The hostel opened it's doors in March 2014. At the Bunk Hostel they truly prescribe to the mantra that you don't have to sacrifice style when on a budget. Bunk Taksim Hostel in Istanbul is 500 m away from Taksim Square, practically in the centre of the city. The neighbouring area includes old and new shops, restaurants, bars and cool nightlife. The blue mosque and old bazaar of the Old City are a ten-minute drive away but can also be reached by public transport. The hostel has a cool vibe and is a newly renovated historic building. The rooms are clean and security protected. The upper deck affords wonderful views of the city and is equipped with a bar, pizzeria, table-football and projection screen for movies. Facilities provided include free linens, towels, laundry, free Wi-Fi and a tour desk.
UNITED KINGDOM
ENGLAND
Ambleside
58) YHA Ambleside Hostel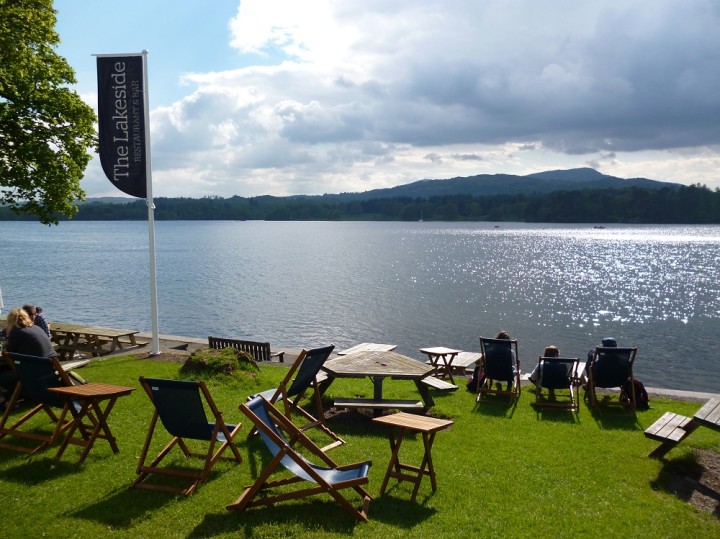 For me, this hostel is the perfect base to explore Lake District. This is probably one of the most scenic hostels in England perched on the edge of Lake Windermere. It has its own jetty waterside picnic benches, excellent bar and restaurant. The facilities here are excellent- from kayak hire to large self-catering kitchen. The bunk style rooms are comfortable and good for families and couples, many with Lakeside views.
Brighton
59) YHA Brighton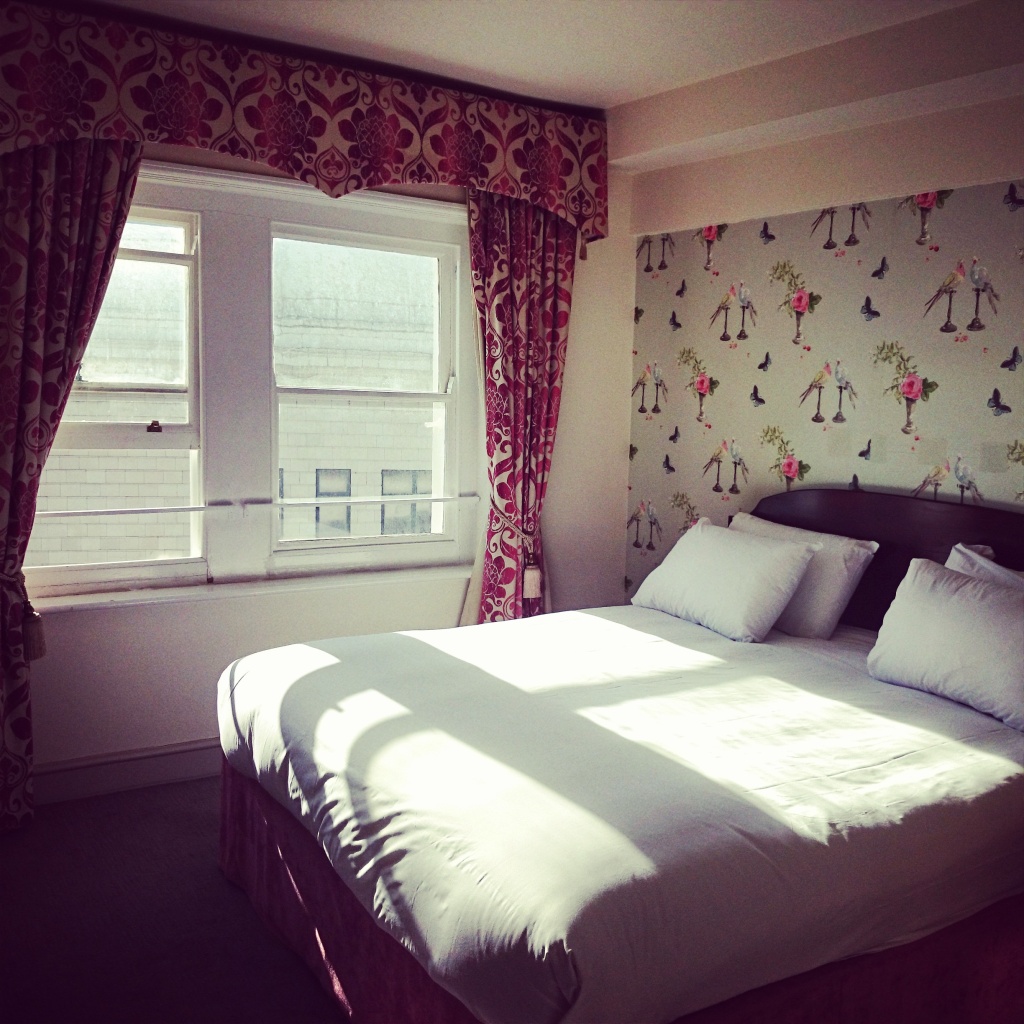 The kitsch bohemian YHA Brighton, boasts a fantastic location, just a stone's throw away from the attractions of Brighton Pier and the famously cool shopping district-The Lanes. Ideal for solo travellers and backpackers, all 51 of YHA Brighton's bedrooms are en-suite, ideal for convenience, and the Youth Hostel has 18 double bedrooms for those looking for more privacy. In a major departure from most hostels, YHA Brighton is also offering premium rooms where you can expect king-sized bedrooms with a beautiful sea view and a roll top bath. Premium rooms include beds instead of bunks, TV, hairdryer, room safe, soap, towels, two pillows per person, storage space, dressing table and chair. YHA have refubished upto 20 of their properties with fantastic results so if you are planning a trip to England, do check out these hostels. I visited and reviewed some of them earlier on a roadtrip across England. Dorms run from £14.50, doubles from £25.
Cambridge
60) YHA Cambridge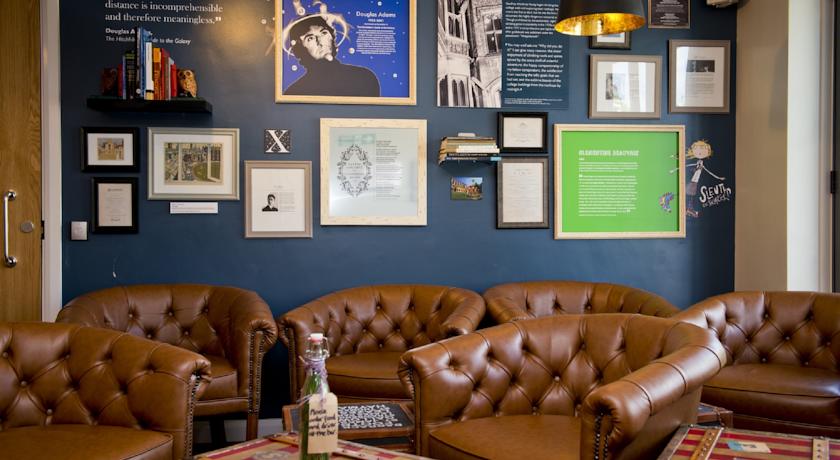 Has recently undergone a £1.4 million refurbishment. The result is a modern, clean and comfortable hostel. The location of the hostel is fantastic, just a stone's throw away from the railway station and a 15-minute walk into the city. The hostel has 11 ensuite rooms, which go very quickly so book early. I stayed in a twin bed dorm which was a bit stuffy when I stayed earlier in the summer. There is a nice sized self-catering kitchen for guests to use. There is an open lounge area and dining room leading on to a secure pleasant courtyard area to the rear of the hostel. There are 4 bike lockers in the courtyard area with ample seating. Free Wi-Fi is available to HI members in the common areas but not in the rooms. The onsite Scholars restaurant offers great value meals and a hot breakfast. Plus the staff here makes the best coffee from all the YHA hostels we visited so definitely have your caffeine fix here. The staff were super friendly and helpful. Overall, given the lack of budget accommodation in Cambridge, I think this hostel is an excellent choice. Privates run from £48, dorms rooms from £20.
Grinton
61) YHA Grinton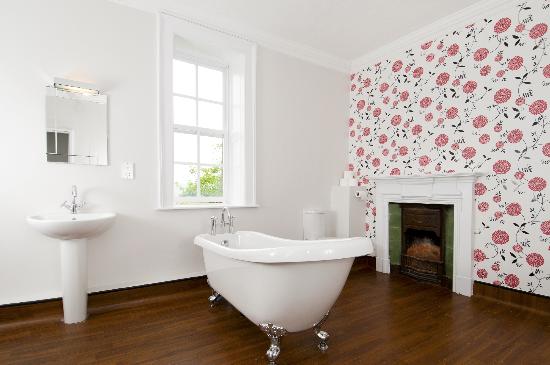 Situated in the Yorkshire Dales , Grinton will not feature highly on the dream England itinerary of many popular travel guidebooks. The reason I picked Grinton is due to its scenic location in the heart of the Northern Yorkshire Dales. There is a beautiful YHA hostel here, a former shooting lodge, which offers panoramic views of the surrounding Yorkshire Dales. The joy of visiting this part of the world is the gorgeous scenery and landscapes that earned Yorkshire the moniker 'God's own country.' I will let the pictures be the judge of that. This hostel is the perfect base for a relaxed walking holiday and also if you are a keen mountain biker this will delight you. The other star feature of this hostel is their luxury camping pods. Housing upto 4 and starting from just £50, these camping pods are very comfortable and an excellent alternative to camping. This unique hostel also boasts a gorgeous honeymoon suite complete with a freestanding roll top bath on the top floor – perfect for couples. Prices of private rooms at YHA Grinton start from £39 while dorms room start from £18.
Liverpool
62) Hoax Hostel
The hostel is just a 10-minute walk from Liverpool Lime Street, just around the corner from the Cavern and just off Matthew Street, the birthplace of the Beatles and the heart of the city's party zone. Not ideal if you are a light sleeper. The building has a rich history- it was formally a tea and grocer's warehouse back in 1829 and a century and a half later you would have found the Robert Wade Smith department store here. This is the place where the 80's casual trend began. Nowadays, the building has still retained a bit of that edgy street vibe which is reflected in it's graffiti art walls daubed with murals of local icons like John Lennon. The staff were helpful with lots of suggestions for places to eat and bars to checkout. There is free excellent Wi-Fi available throughout the building. The star feature of the hostel is their very cool restaurant/bar called the 'Hopskotch', which attracts a nice mix of locals and guests. You can enjoy craft beers here on tap or choose one of their excellent cocktails.
London
63) Palmers Lodge Boutique Hostel- Swiss Cottage and Willesden Green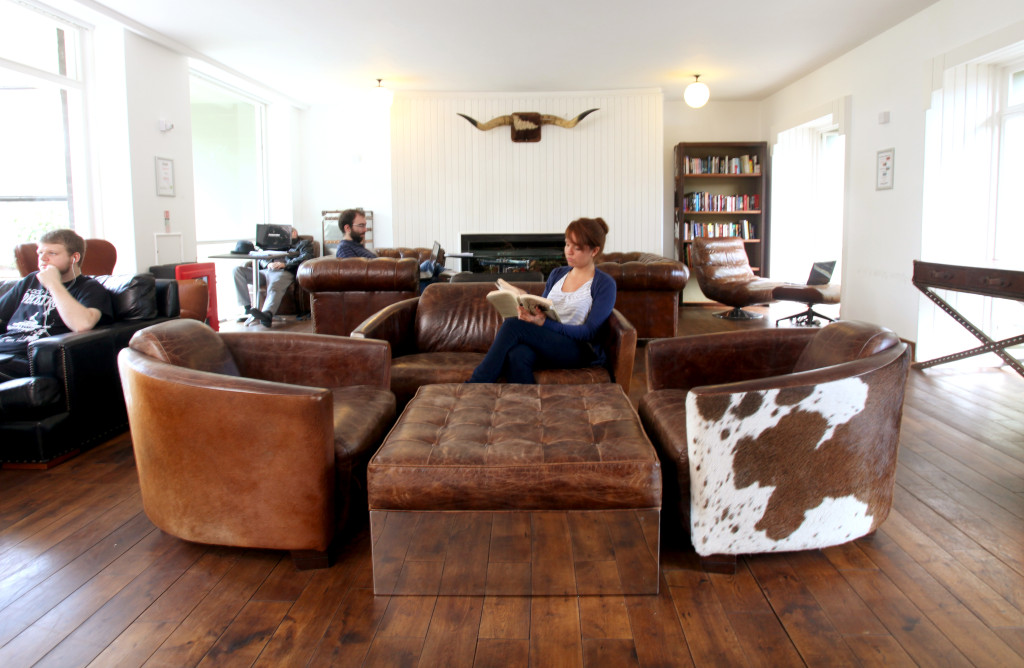 Palmers Lodge Swiss Cottage is in a superb location, just a few minutes walking distance from Swiss Cottage tube station in zone 2. The Hillspring Lodge is also located in zone 2 of London in a quieter residential location, about a 10-minute walk to 24-hour bus stops, the underground and overground. Key facilities include 20-dorms with bunks made of solid oak, with thick mattresses and fluffy pillows along with private ensuite rooms. The staff are very helpful and are well informed with tourist tips. There is a huge laundry plus an on-site restaurant that does decent pub-style grub. Overall, these hostels are a nice alternative to the mundane, soulless chains of London budget hotels and offer the personal touch that you crave when you're a stranger in the city.
64) Safestay, Elephant and Castle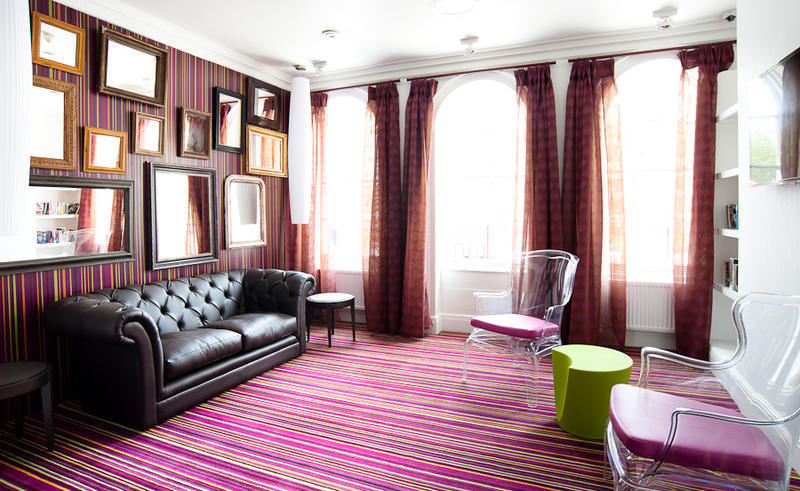 Situated in one of London's less fashionable but up-and-coming neighbourhoods, Safestay is a beautifully designed hostel with top-notch facilities, offering a comfortable base for exploring London's sights and delights. There's also an added bonus advantage of having the bus stop right at your doorstep, taking you straight to Victoria station and the heart of London. The Electric Elephant Cafe, just around the corner from the hostel, is one of the many interesting finds in this relatively undiscovered neighbourhood of London. This great neighbourhood has tons of character with cafes, takeaways, and little pots of history that give the location a great deal of character.
65) Clink! 78 London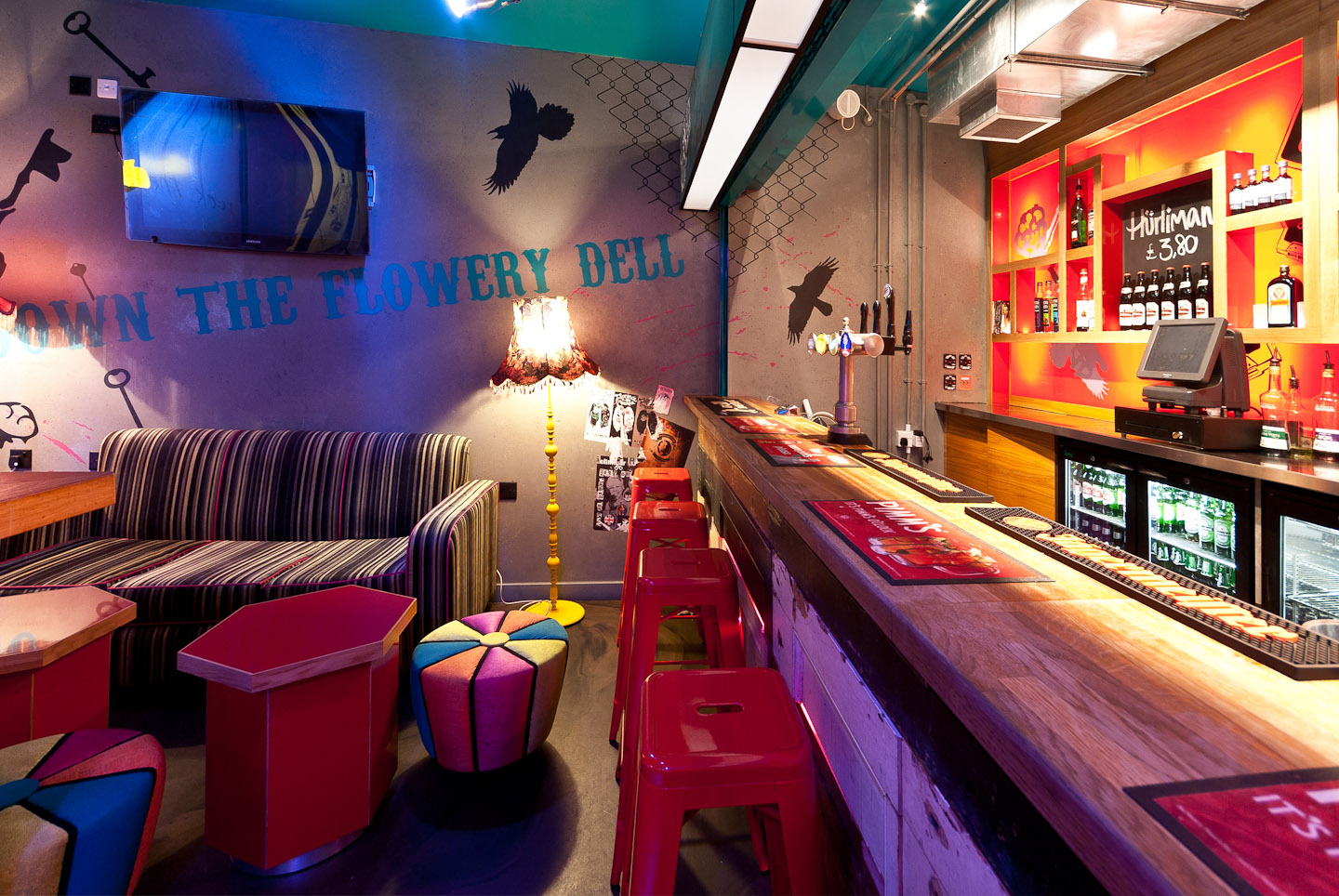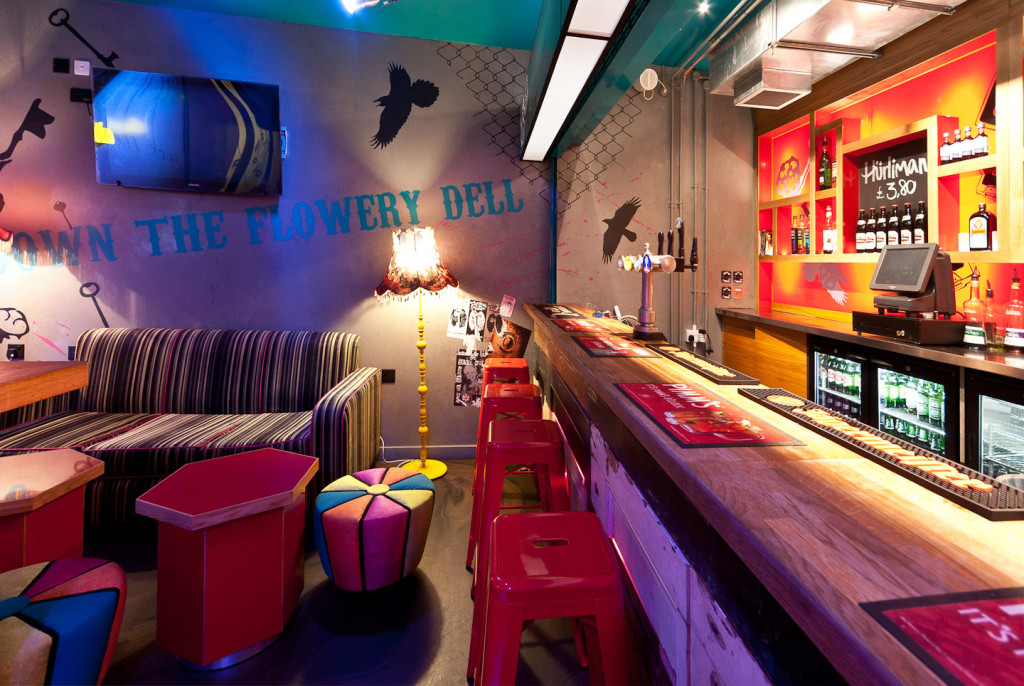 From Charles Dickens to The Clash, there are few hostels in the world that can lay claim to an illustrious history like Clink! 78 London. Today it's one of London's coolest party hostels, accommodating up to 500 guests. Clink! 78 is set in a stylishly renovated Victorian 200-year- old courthouse in an excellent location, just a few minutes walk from Kings Cross Station. Charles Dickens worked here as a court scribe and the court cases he saw here served as inspiration for his classic novel Oliver twist. In the reception and in the courtroom, you can read quotes from Dickens' works tastefully written high on the walls, adding a very stylish and contemporary touch to a heritage building. Facilities on-site include an excellent bar and a travel shop helping guests book discounted tickets for top London attractions, as well as assisting with airport transfers and onward travel arrangements. Other bonuses include a free filling, all-you-can-eat-breakfast, a modern, fully equipped kitchen for self-caterers, unlimited Wi-Fi for the whole of your stay for a minimal fee. A top tip is that this is a party hostel and a very sociable one. If you're looking for a quieter stay, check out the nearby sister hostel Clink! 261, further down Grays Inn Road.
66) Wombats City London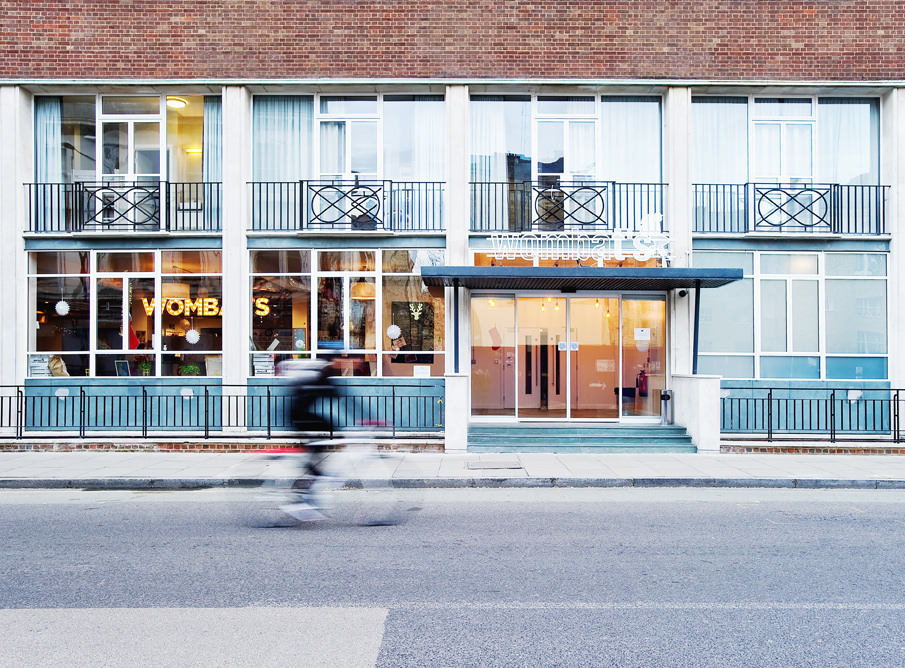 Opening doors just in December 2014, Wombats City Hostel London is  located at 7 Dock Street, a five minute walk away from Tower Bridge or 10 minutes' walk from Liverpool Street. The hostel has a chequered history. In the Victorian age it used to be a hostel for sailors, who dropped into London from the nearby docks. The house served as an accommodation for sailors and seamen for a century and was known as the Red Ensign Club. Some of the Sailors often referred to it as "Alcatraz", because of its small cabin-like, spartan rooms. It was also once upon home to the author Joseph Conrad. Great history. The hostel has a terrace in the yard, a big guest kitchen, fab hangout areas in the basement and lobby, a laundry, a bar with an outdoor area. There are 23 fully equipped double rooms. Doubles and dorms come with ensuite bathrooms and separate ensuite toilets, plus an extra washbasin, so people can brush their teeth, even though toilet and bathrooms are occupied. The biggest dorm is a 10 bed, although most dorms are 6 bed dorms. Every bed has its own reading light, a UK power outlet and a USB port. As with every Wombat's there is free Wi-Fi all across the hostel, free linen provided, towels and hairdryers to borrow at reception. Standout feature: The 7th and 8th floor consist of two superior 6 bed dorms that share an exclusive living room on the 9th floor with a balcony looking onto the Tower Bridge, The Shard, Canary Wharf and the City of London. This is a beautiful hostel, probably my favourite in London at the moment alongside the Generator.
67) Generator London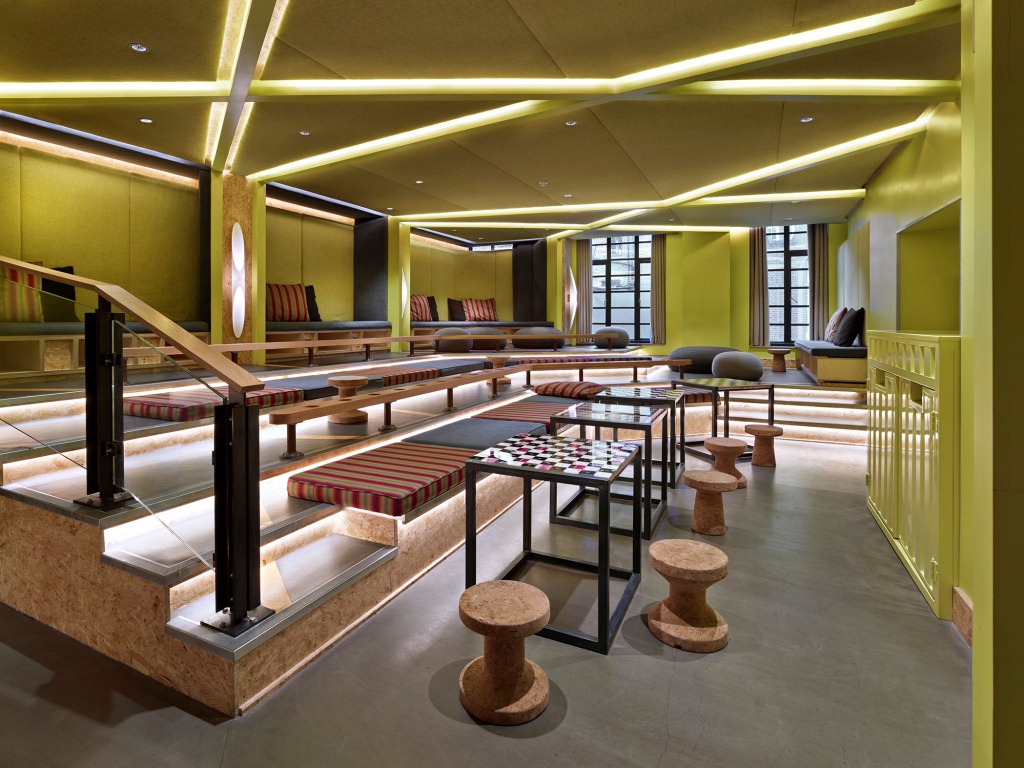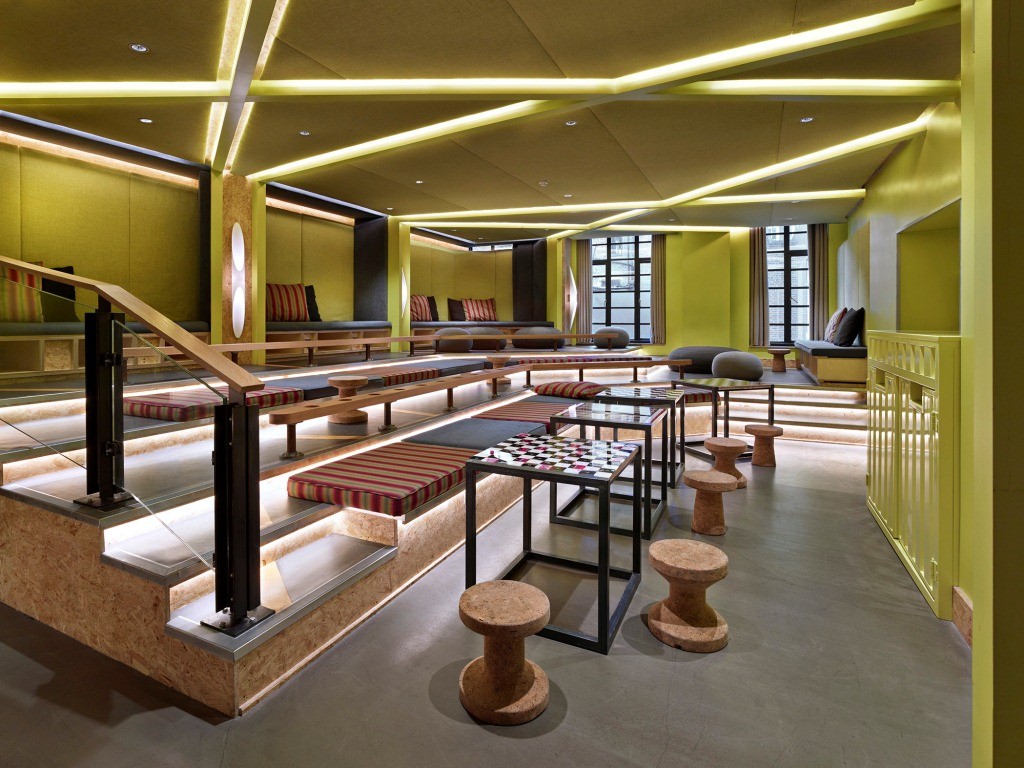 Is the one of the hostels leading the luxury hostels revolution. It recently has undergone a major refurbishment which has transformed this place in a huge way. I arrived quite late on a Wednesday night, close to midnight and the place was still buzzing. Reception staff were friendly and checked me in super quick time. The room was compact, cosy and very comfortable. There was a clothes hanging rail, full length mirror, comfy beds, linen and towels were supplied plus Wi-Fi signal in the room (4th floor) was excellent. The ensuite bathroom was very stylish with a powerful Grohe Shower and came with complimentary Waitrose toiletries. It definitely feels more like a budget boutique hotel room. Downstairs they have a bunch of cool social spaces where guests can relax. If you want to party, they have a cool Generator Bar that organises a number of events for guests. On Wednesday night the Karaoke night was in full swing. Away from the bar they have a nice chillout lounge complete with flatscreen TV and nice low lighting where guests were surfing the net on their laptops or tablets. During the day, within this lounge, they have a nice in-house cafe where you can order coffee and their excellent brownies. The other cool feature in this Generator Hostel is the movie room. Love the location, just a few blocks from Russell Square underground station and walking distance to the British Museum and Leicester Square. Bunch of cool cafes , bars and  budget friendly restaurants in the neighbourhood. It's definitely one of the best hostels I've stayed in London and a cut above many similarly priced budget hotels in the city.
South Downs
68) YHA South Downs
This is a beautifully converted Sussex farmhouse (with barns) with ensuite dorms, private rooms, family rooms (a self-contained, 3-bedroom family unit with its own kitchen area available for exclusive use) and also the option of luxury camping pods. Luxury camping pods? Yes you heard me right. These wooden log pods offer all the magic of a camping experience but with creature comforts like lighting, heating and electrical plug points. Guests have to bring their own bedding. There is a dedicated shower cum toilet bathroom for guests staying in the pods. Pods are perfect for a family of 4. The location of the hostel is perfect for exploring the South Downs area. The hostel is right on the South Downs Way making it ideal for either long distance walkers wishing to tackle the whole thing or for those wishing just to cherry pick the sections with the stunning views, many of which are within easy reach of the hostel. Plus the hostel has its own dedicated train station- just a few hundred meters down a country lane brings you to Southease Railway station. The station has direct trains to Brighton (25 minutes) and London Victoria every hour (Journey time: 1 hour 20 minutes). The hostel's onsite 'Courtyard Cafe' offers a relaxed atmosphere for guests to unwind after a long day. From homemade cakes to coffees to three course meals, the Courtyard Cafe has it all. Privates run from £39, dorms from £20. Top tip: Hike upto Firle Beacon which just a wee jaunt from the hostel door and take in the stunning panoramic views across the hills and out to sea.
Stratford-upon-Avon
69) YHA Stratford-Upon-Avon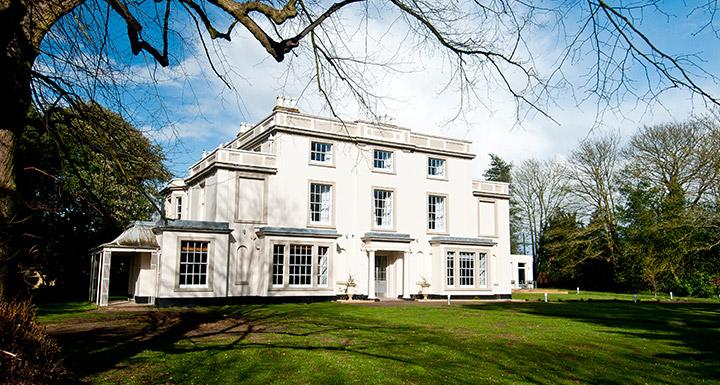 This is a beautiful hostel in a Grade II listed Georgian building built in 1874. The hostel has undergone £1.2 million of refurbishment and re-opened in Spring. There is a large dining room/restaurant, games room and lounge and good cycle shed. The hostel is a few miles outside of Stratford Upon Avon in the pretty village of Alveston so if you don't have a car, your movements are restricted. However there is a regular bus service from the door of the hostel to the town, which runs late into the evening in case you are without car and catching an evening performance at the theatre. The staff is friendly and extremely helpful. No trip to England is complete without a Sunday roast and the hostel's excellent onsite restaurant, Hemmingford's made my wish come true serving an excellent Sunday roast – roast beef and all the trimmings included. For an extra £5, you enjoy the hostel's all you can eat breakfast buffet which is very filling and includes a mix of hot and cold items. The other nice feature about this hostel is the beautiful stretch of lawn and outdoor seating areas. Just grab a book and maybe a coffee or jug of Pimms from the hostel bar and you are sorted. Privates run from £35, dorms from £19.
York
70) Fort York Boutique Hostel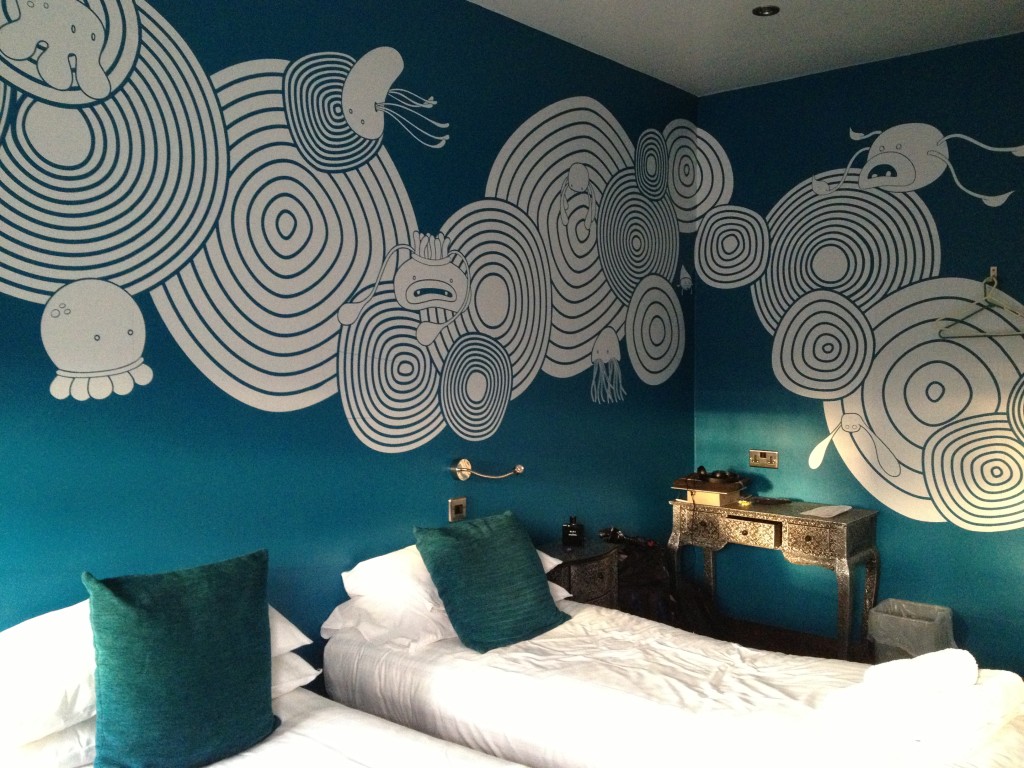 My favourite hostel in York. It is in a cracking location just off the Stonegate just a few hundred yards from the historic York Minster. Rooms are comfortable, clean and comfortable. From dorms to private doubles- there is something to suit everyone's budget. Staff are really helpful and accommodating. The hostel has the excellent onsite The Kennedy Restaurant and Bar which is in itself a great place to come and have a bite or just to relax with a book during the day with a coffee or a glass of wine. Plus they have the basement Sotano Charcuterie & Bar which serves wonderful cocktails, craft beers, great wines and delicious tapas. Weekends it tends to get a bit noisy with people flooding out into the streets from the bar below so if you are a light sleeper this hostel may not be ideal for you. Otherwise, there is little else to fault with this hostel. The place is perfect for couples, solo travellers. Privates start from £45, dorms from £30.
71) YHA York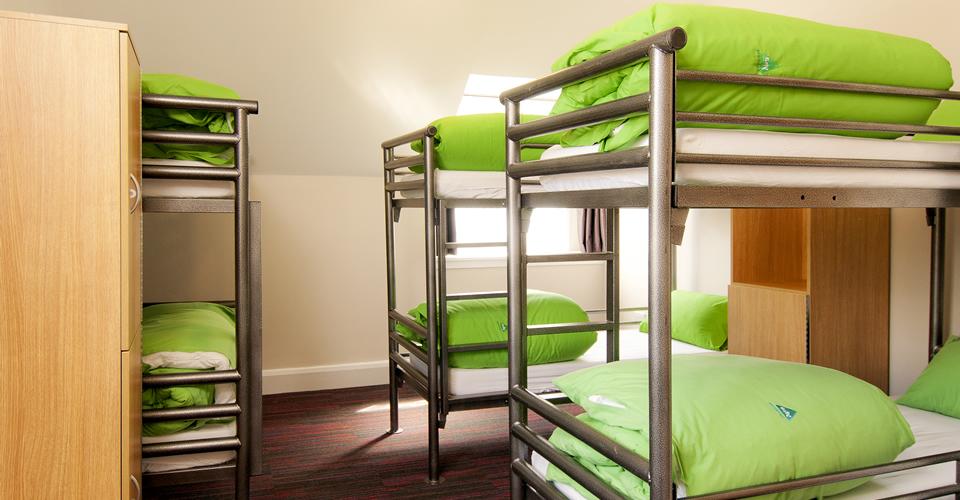 Having recently undergone extensive refurbishment and set within a Victorian mansion with its own private gardens, YHA York is a lovely base to explore the charms of York. Rooms are clean and modern. The staff are extremely helpful. As is standard with most YHA hostels, they have a nice self-catering kitchen if you wish to cook your own meals plus an onsite bar and restaurant that offers great value food and beverages. It is a bit out of the city but in a really peaceful, quiet location by the river. A 15-minute walk along the River Ouse brings you to the city. My only minor gripe is the non-availability of Wi-Fi throughout the building. If they can remedy this, this is the perfect hostel. The hostel is perfect for families, groups and couples. Privates run from £49, dorms from £15.
SCOTLAND
Edinburgh
72) CODE Hostel Edinburgh
The capsule hotel concept has finally crossed the great length of Asia and Europe and arrived in Edinburgh.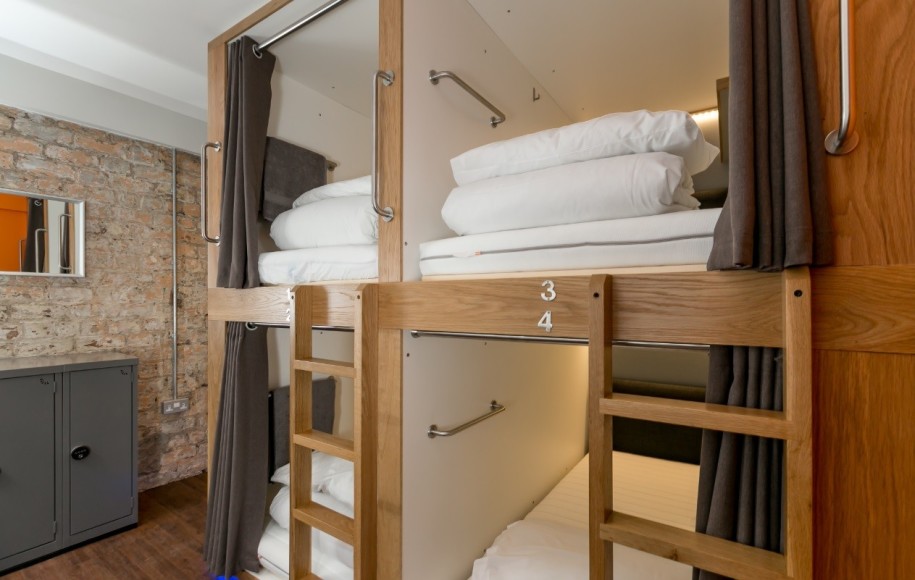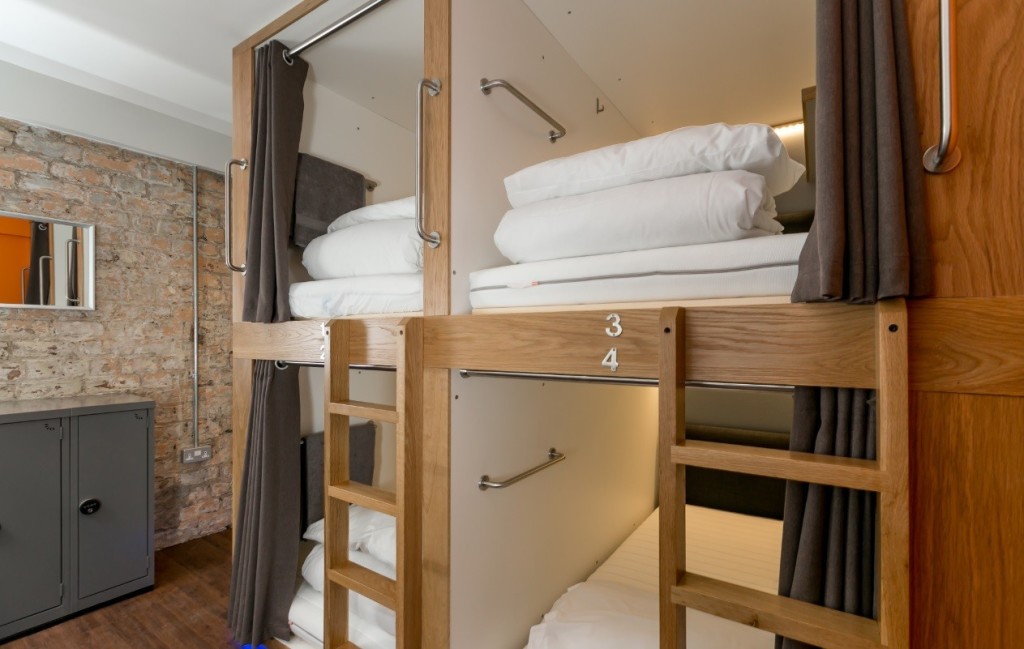 I've long advocated the idea of pods replacing bunk beds having seen them first at the Fort York Hostel in York and in Japan last year at the 9 Hours Hotel at Narita Airport. The pod style of beds means you have complete privacy when you are sleeping in the dorm.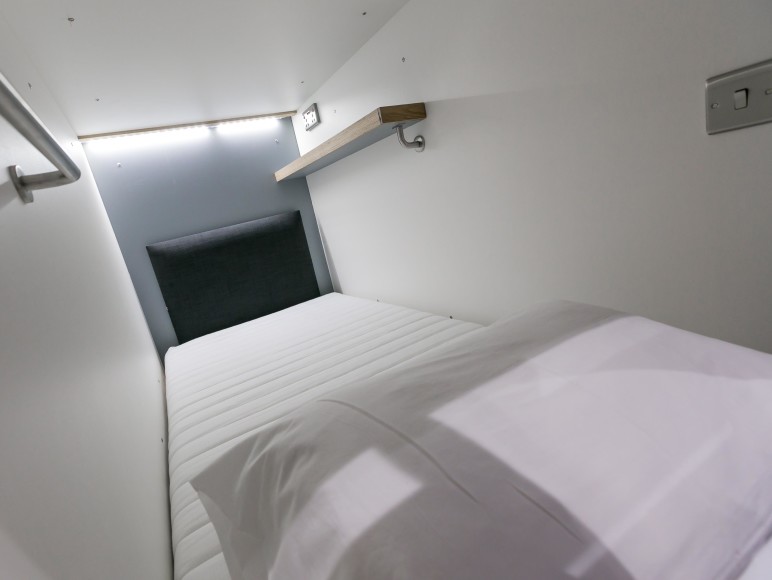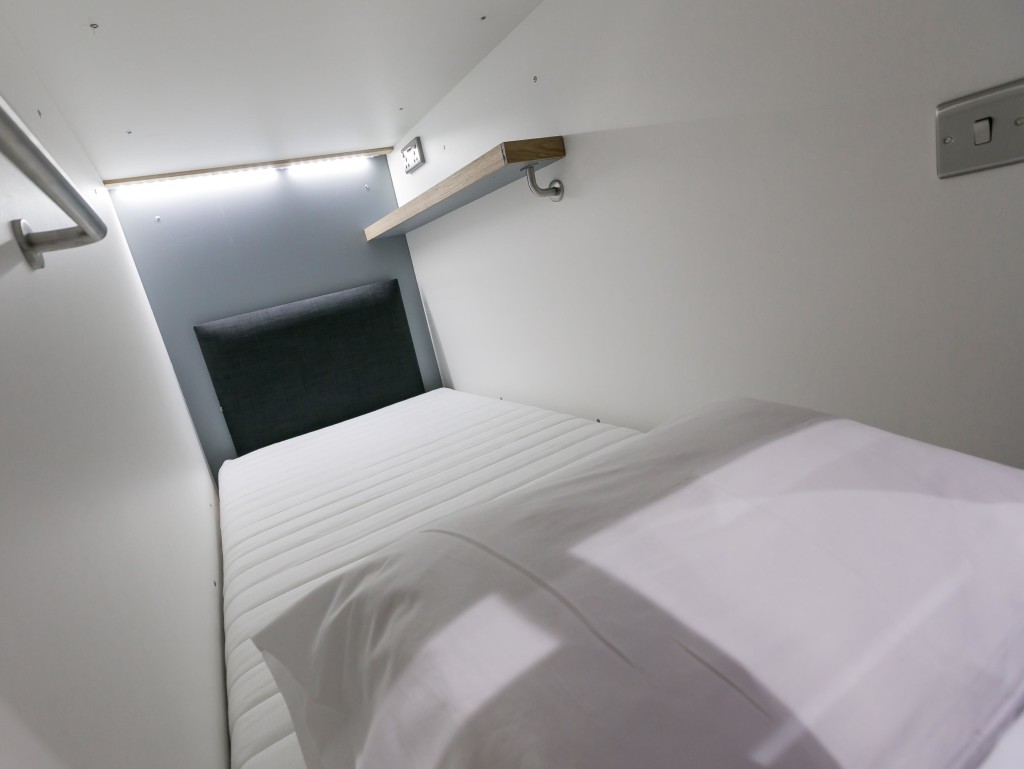 Each pod as you can see in the picture is equipped with a privacy curtain which means even if someone ambles in at a late hour and switches the light on ( I need to blog about hostel etiquette soon) you won't be disturbed. Plus each 'pod' is equipped with a reading light and a socket for charging all your gadgets. Pod bed in a 6 bed dorm currently starts at around the £18 mark.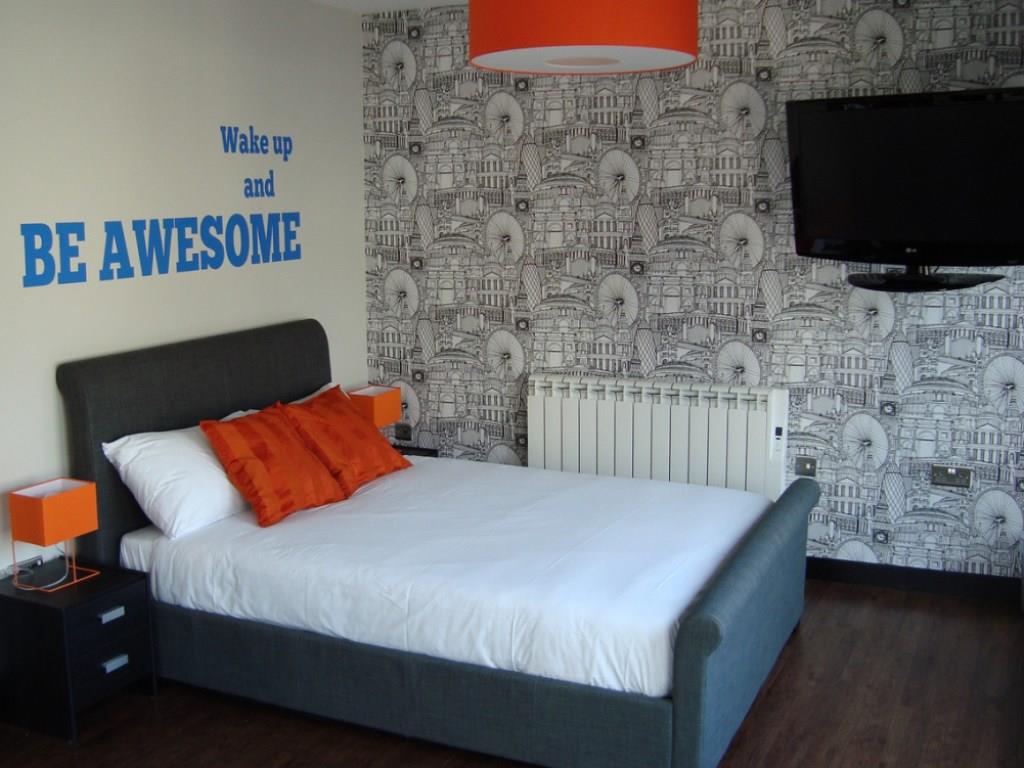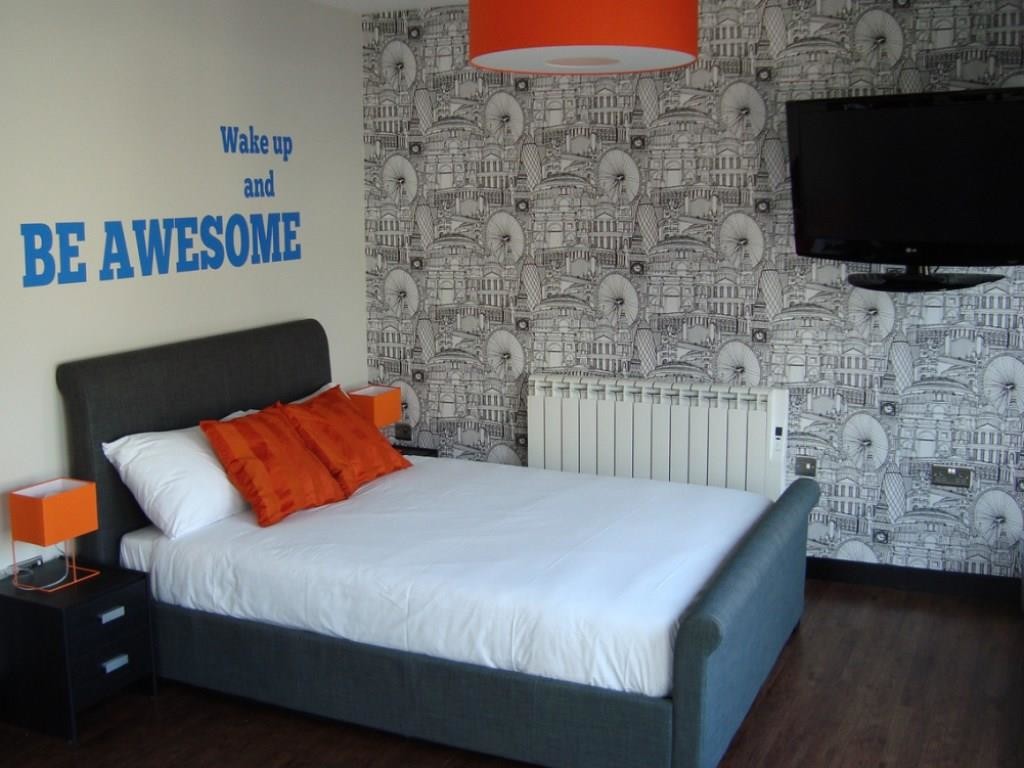 The hostel has a rooftop luxury penthouse suite with a private garden. I had the luxury of staying in this for one night and I loved it. With prices starting from just £50 currently ( Prices will vary according to season. Always book in advance to get the best possible rates) this has to be one of the best bargains in Edinburgh.
The communal showers are clean and showers are excellent. The hostel has a small communal area with a full equipped kitchen. Free tea and coffee is available all day. The staff – Ben, Rafy are wonderful hosts and really take wonderful care of their guests. They organise whisky tasting, pub crawls and celidih dancing ( Scottish traditional dancing- fun and not too difficult to learn. Here's a video to give you an idea ) nights plus they plan to organise a variety of social events in the summer. Stay tuned to their Facebook page for details of what's happening.
WALES
Cardiff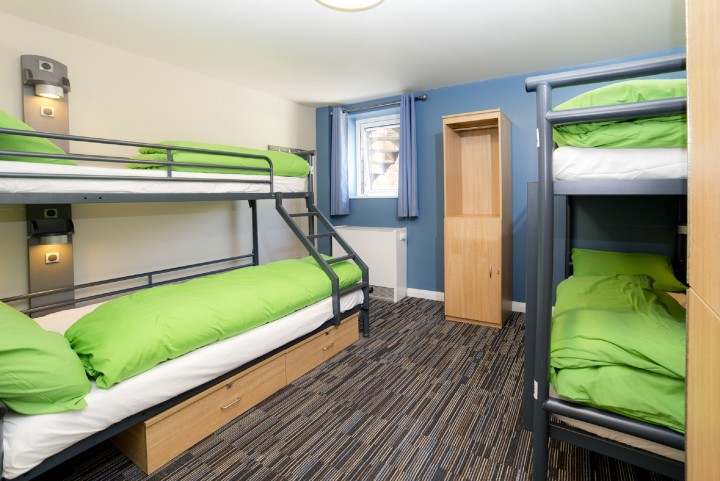 73) YHA Cardiff Central
The newly refurbished YHA Cardiff Central is located in the heart of the city centre but with on-site parking and within walking distance of all the city's best attractions. It provides comfortable rooms with state of the art facilities, which are all en-suite for your convenience. You can choose between socialising and meeting new people in a dorm room or keeping your family cosy in one of the gorgeous private rooms. Double rooms are also available for the single traveller or a couple's getaway. Like it's Brighton counterpart, YHA Cardiff Central also has premium rooms available.
74) Safehouse Hostel Cardiff
Opening in the center of Cardiff in 2015 is the Safehouse Hostel. The hostel is steps away from Cardiff Castle and just down the street from the Millennium Stadium, and about 5 minutes walking distance to Sophia Gardens and Swalec Stadium. The hostel aims to offer guests guided walking tours of Cardiff and bikes to rent. Other facilities will include a breakfast café, coffee available 24 hours a day plus a self-catering kitchen on the Ground Floor. On the First Floor the hostel has a beautiful wood paneled room, which will act as the resident's lounge. On the Second and Third Floors the hostel will have several dorm rooms that are fitted out with the bespoke bunks where guests will get birds eye views of the Castle and the Stadium. The bunks will all have a full depth mattress with memory foam, a shelf, curtain, lamp and USB port built in. The fourth and final floor of the hostel we will have 3 double bedrooms and will be complete by September. The hostel is also keen for guests to feel a sense of connection with the local community when they stay. They are currently hosting German language group sessions and a local theater group is using the lounge for rehearsals.
Capel-Curig, Snowdonia
75) Plas Curig Snowdonia Wales
Beautiful interiors, superb facilities, and the stunning lush green landscape of Snowdonia make Plas Curig one of Europe's best hostels. Once you come here, your opinion of hostels will change forever. Plas Curig is in a dreamy location in the picturesque village of Capel Curig at the foot of Snowdonia. Come here to escape. I spent most of my time snug in the lounge, admiring the mist-shrouded views of Moel Siabod in the distance with the river Llugwy at its foot, winding its way to Betws-y-Coed. It's also not far away from the beautiful stretch of North Wales coastline, so it's a great location for exploring the great Welsh outdoors. The staff here are a great asset to this place – they're extremely knowledgeable with lots of great tips of nearby hiking trails and places to eat. They offer guided walks of the area and wildlife tours for a small fee. The hostel offers an excellent self-catering kitchen and a large separate dining area. The communal entrance area includes a well-stocked library. Stay warm by the wood-burning stove in the lounge and enjoy sitting by the broad bay windows, perfect for spending hours gazing at the beautiful scenery. The free Wi-Fi is excellent. Beautiful interiors, top-notch facilities, and a great location makes this stunning abode the best hostel I've seen in Britain.