Belgrade has always featured high on my list. Possibly yours too? Maybe Novi Sad too. Chance to see the legendary EXIT festival? However when you mention Serbia as a destination to tourists, you tend to find people prefer visiting the more prettier Balkan counterparts like Croatia or Montenegro. However for the curious traveller who is willing to dig a little deeper, if you go beyond the old world charm and pomp of Belgrade you will discover a country rich in layers of history, culture, gastronomy and amazing festivals.
I was fortunate to receive an invitation earlier this summer to explore this hidden side of Serbia that is rarely visited by tourists. I went with little or no expectation and came away surprised and enriched by a rich range of experiences. I've summed up my experiences in the following 40 photographs. 40 images that will hopefully change your opinion of Serbia and make you visit this beautiful country.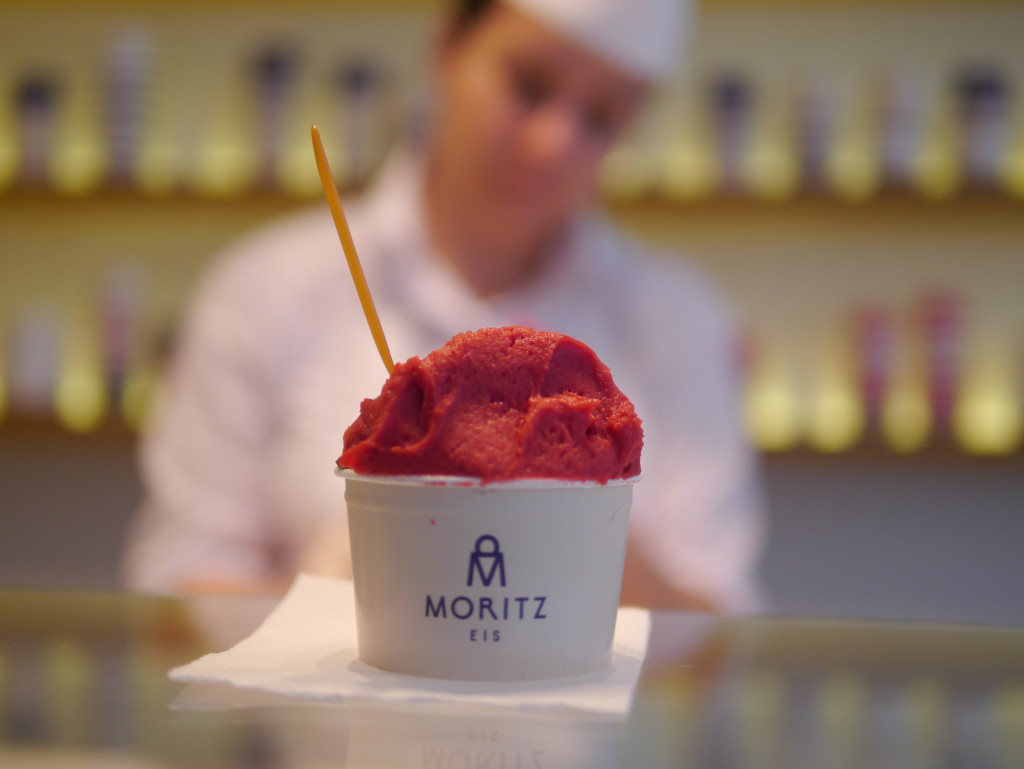 1. Moritz Eis
When in Belgrade visit Moritz Eis. They have a range of amazing flavours to try like their 'Raspberry & balsamic vinegar' sorbet. Probably in my top 3 gelatarias in the world.
2. Architecture of Belgrade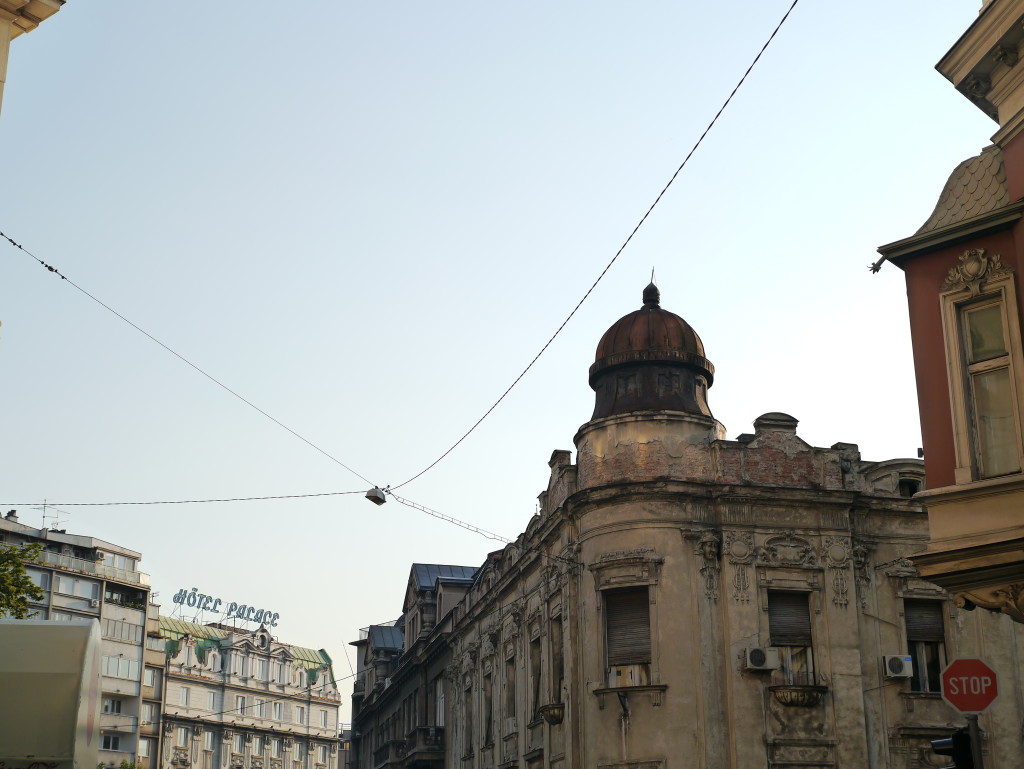 I loved Belgrade's wildly varying architecture from the Art Nouveau to the modernist.
3. Kalemegdan Park.
At sunset on my first day I went for a stroll through the Kalemegdan Park towards the Kalemegdan Fortress. The park in itself is beautiful.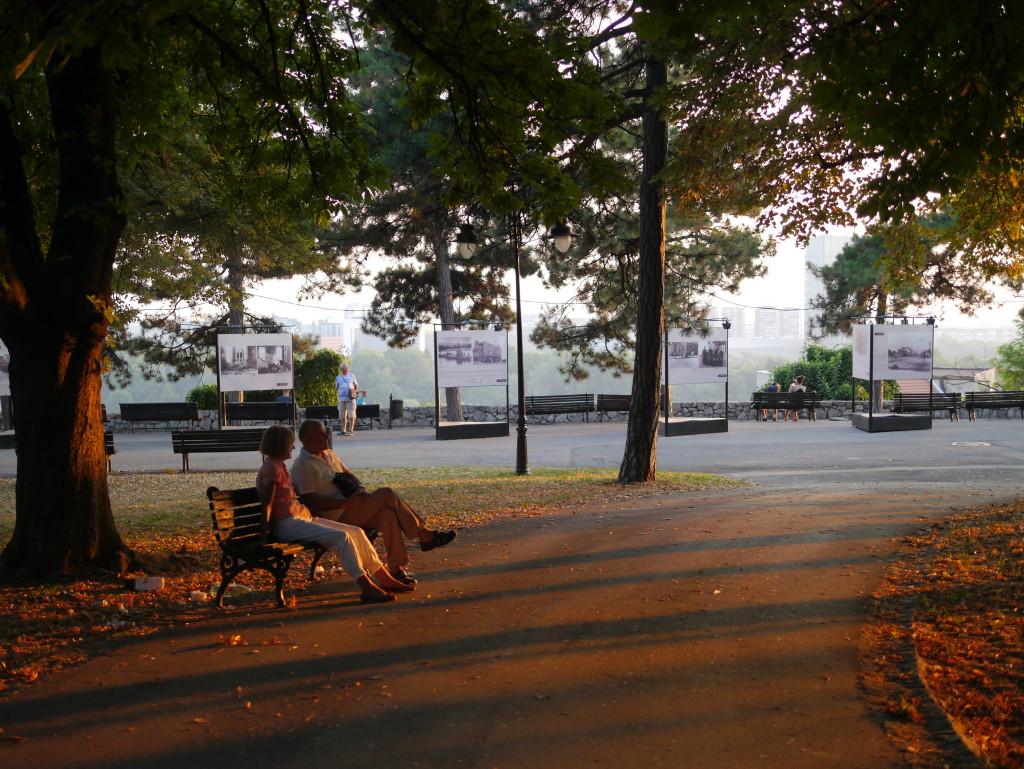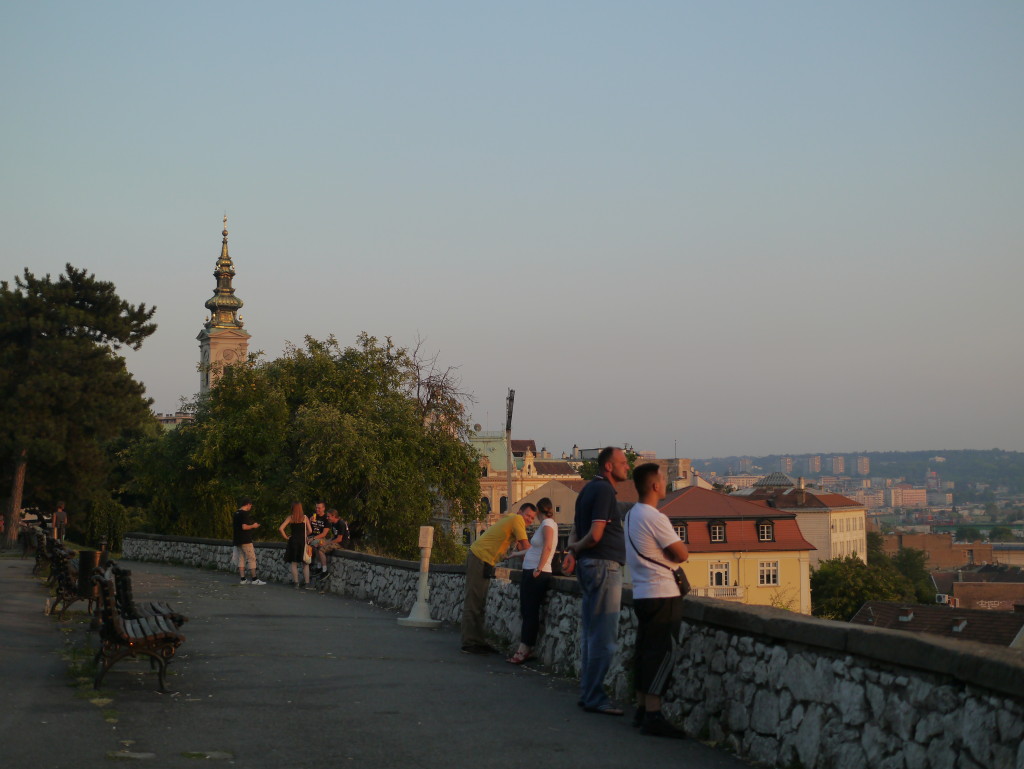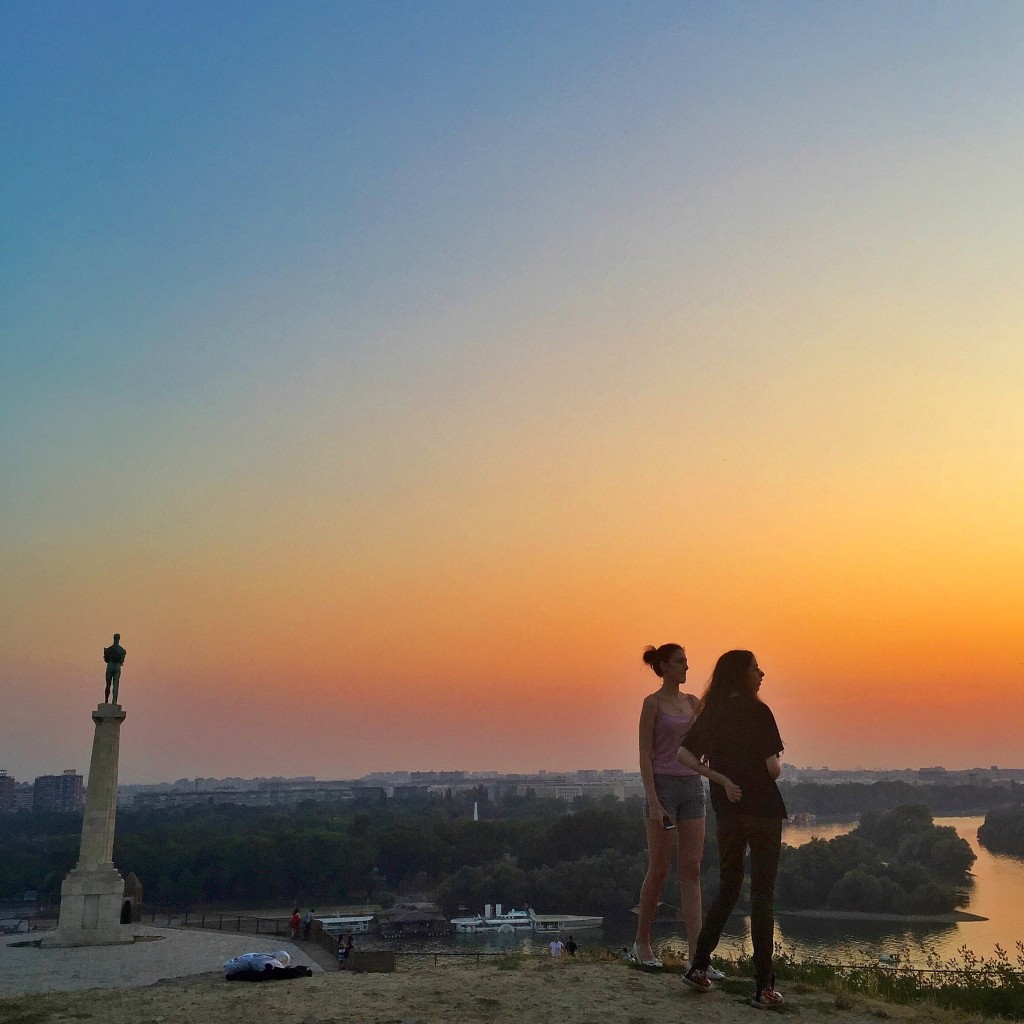 4. Sunset at Kalemegdan Fortress
Sunset from the fortress, was special. You the meeting point of the Sava and Danube river plus a great panoramic view of Novi Beograd, Zemun, and wide plains of Pannonia.
5. Monasteries of Fruska Gora
If you're visiting Novi Sad, dedicate some time to exploring Fruska Gora National Park : it is pure nature, forests , lakes and land of magical, mystical centuries old monasteries.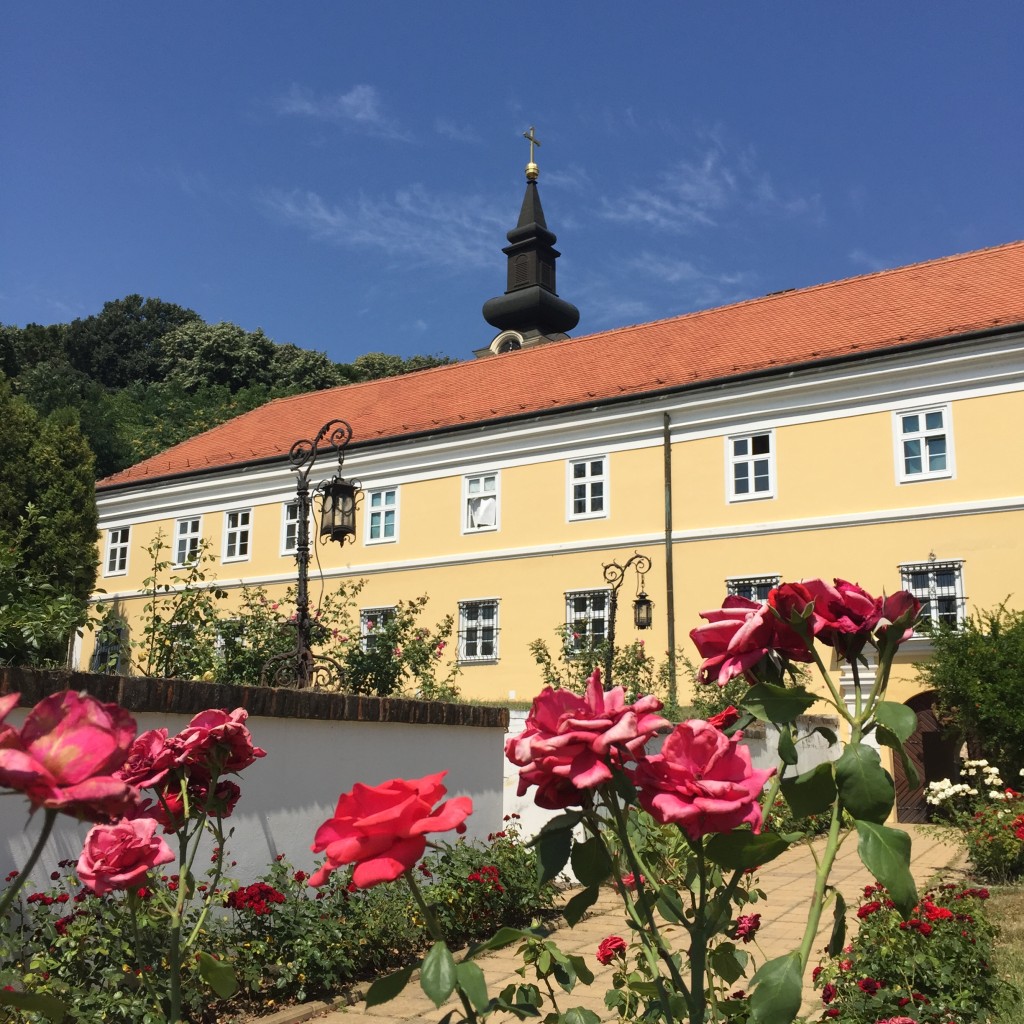 I visited the Hopovo Monastery , a hauntingly beautiful place.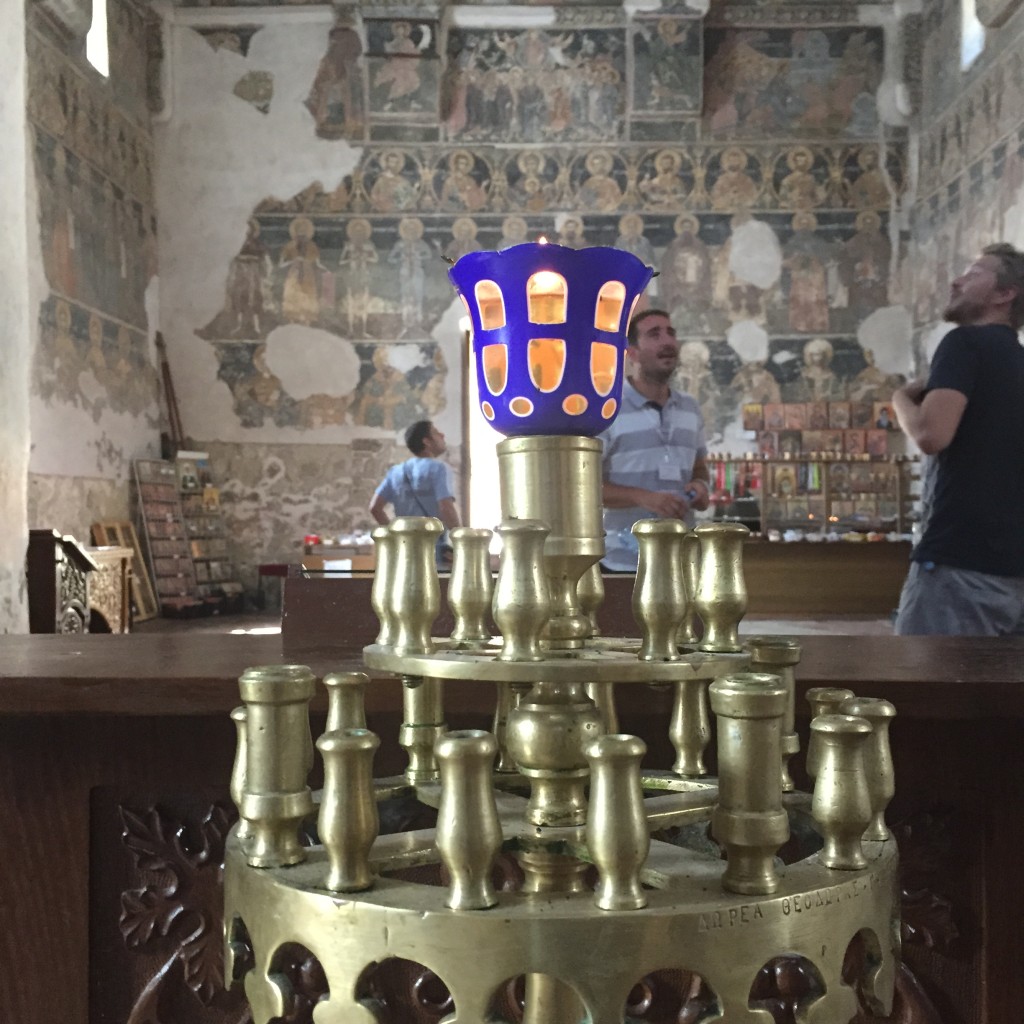 6. You could spend hours just gazing at the ceilings, rich in fresco artwork.
7.  Death to fascism, freedom to the people. Do not miss the awe inspiring Sloboda  statue when visiting Fruska Gora.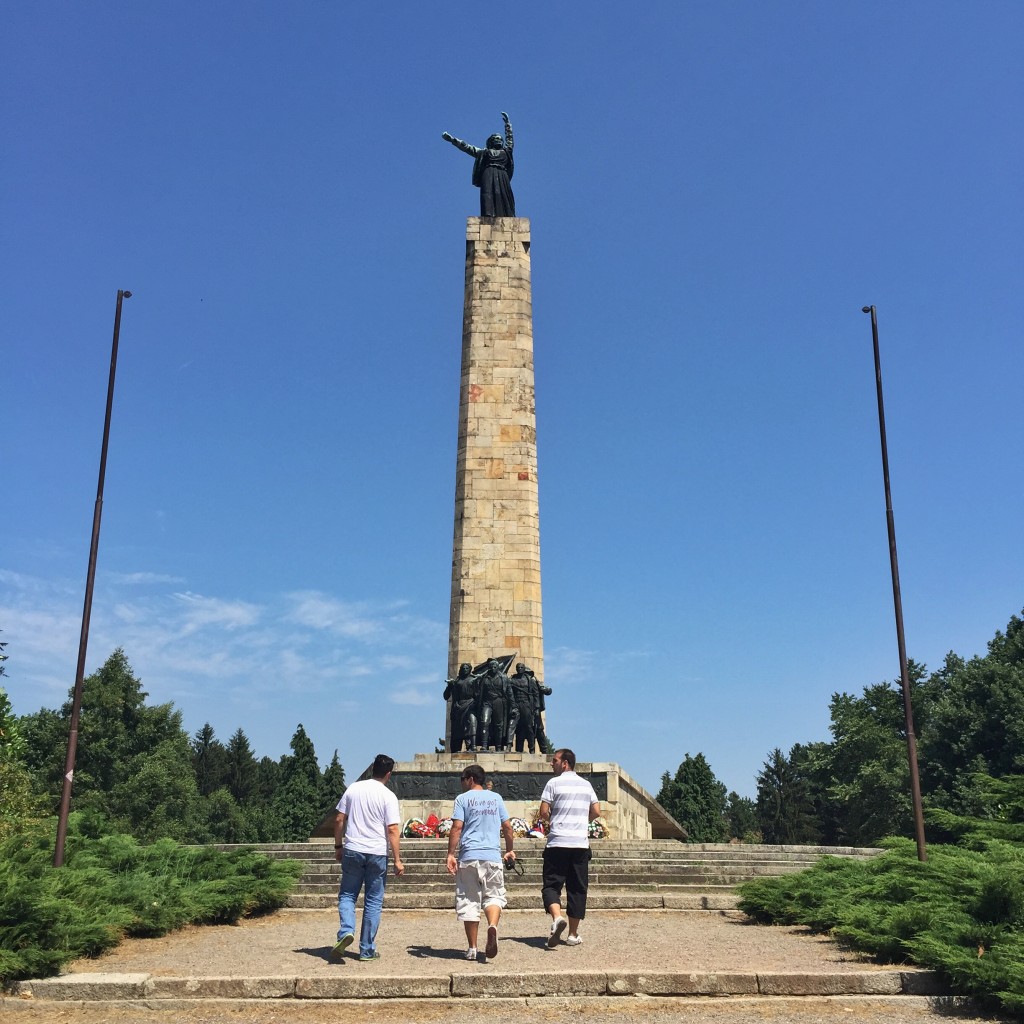 8. Greetings from Novi Sad. After the energy and buzz of Belgrade , I loved the relaxed vibe of this city.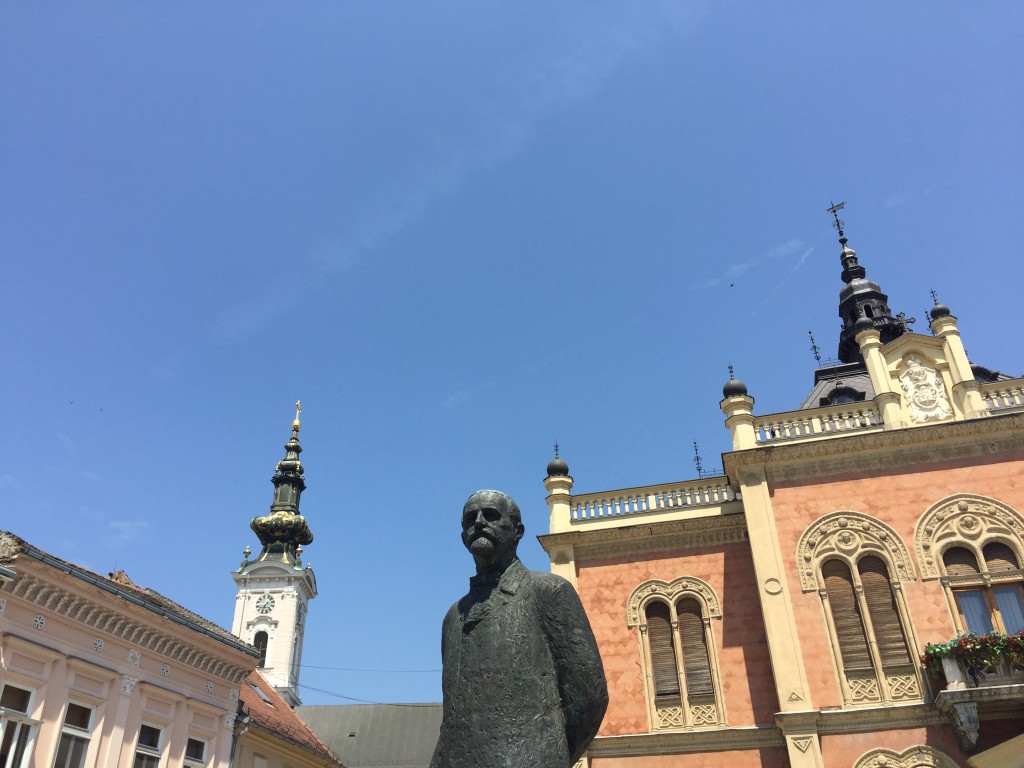 9. The infamous Index sandwich of Novi Sad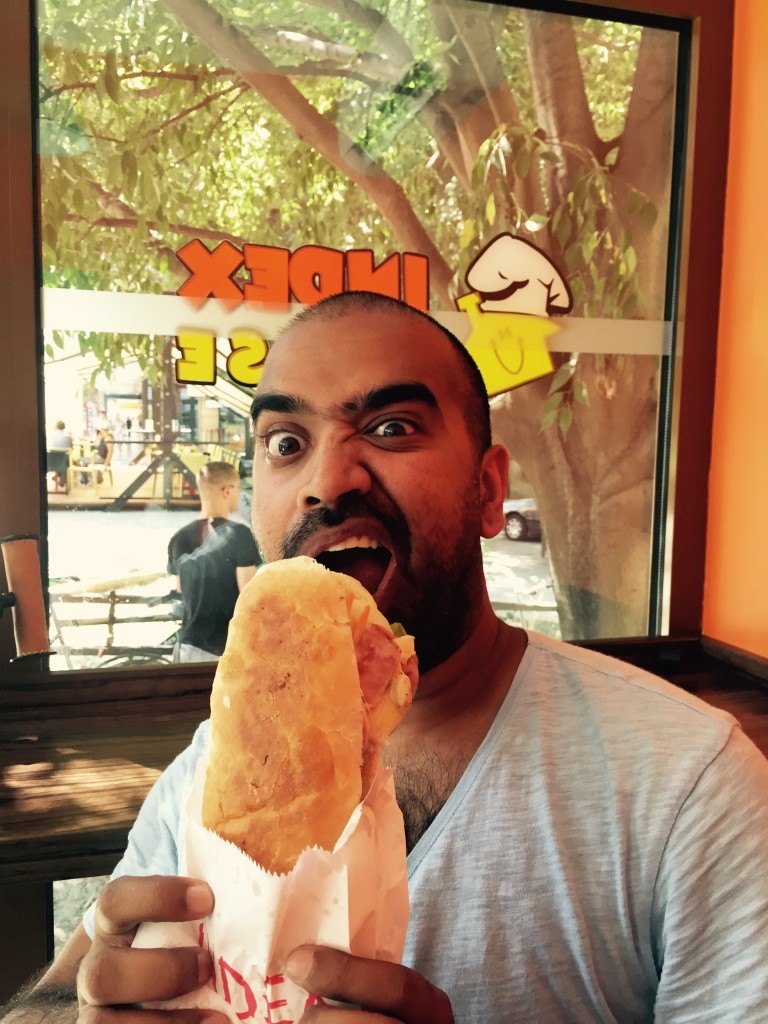 Delicious and VERY filling. Mother of all sandwiches. Only one place to go and try this in Novi Sad: Index House.
10. The beautiful Petrovardin Clock Tower.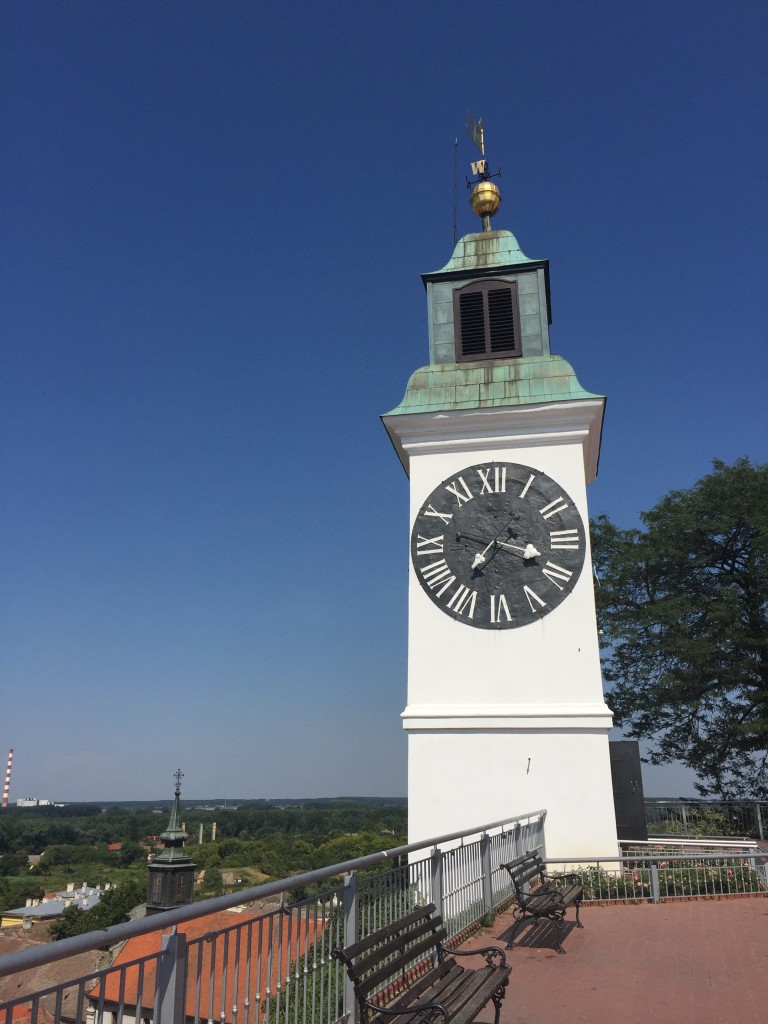 You get a great view of the Danube and of the town itself. A must
11. This is the pretty baroque town of Sremski Karlovci , 12 kms south from Novi Sad.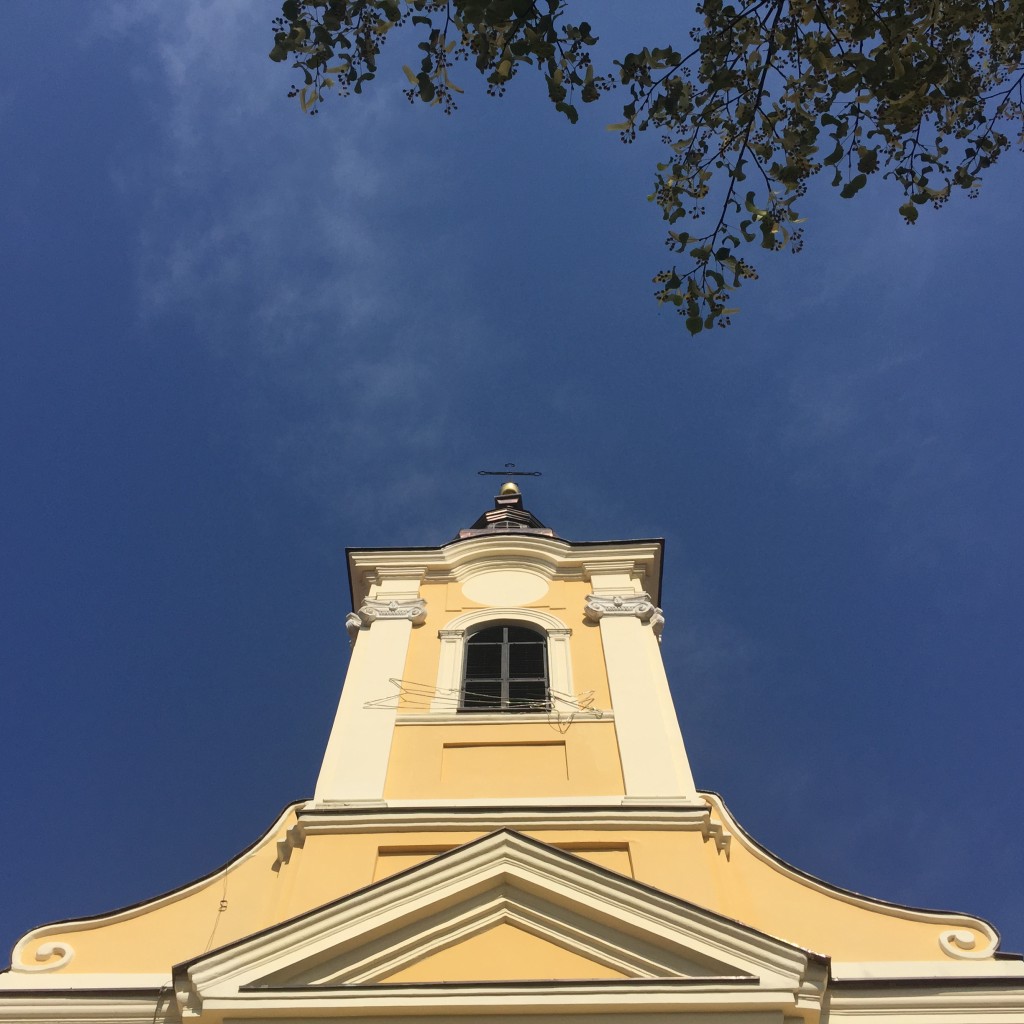 It is very pretty and lot of beautiful baroque, neo-classical buildings. You could feel you are in some part of Prague or Budapest
12. Wine! It is only after visiting Serbia did I realise that the country is a producer of really good wine.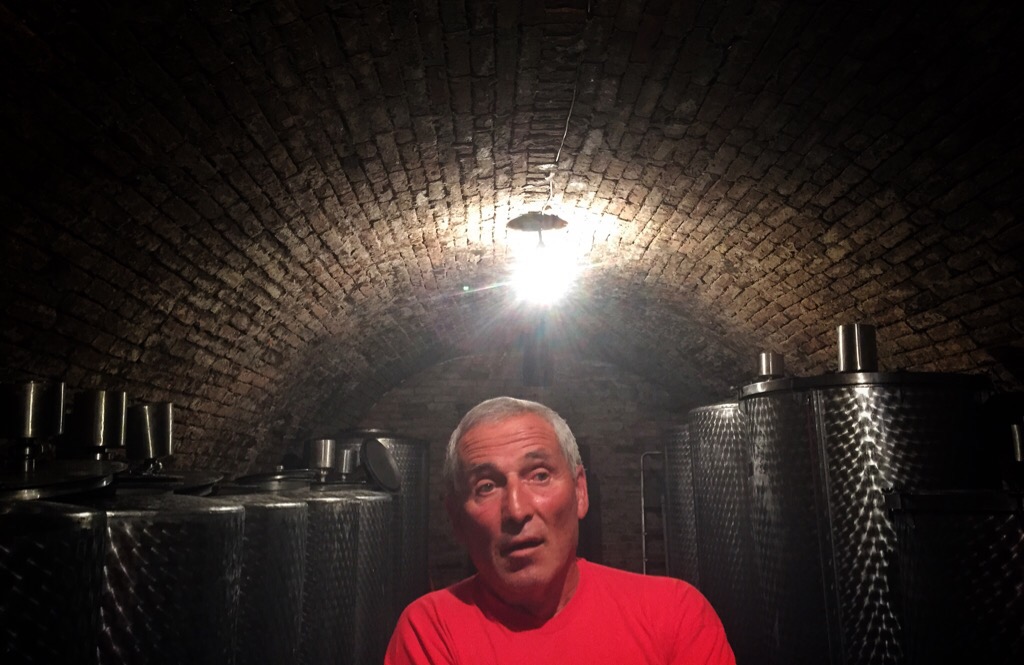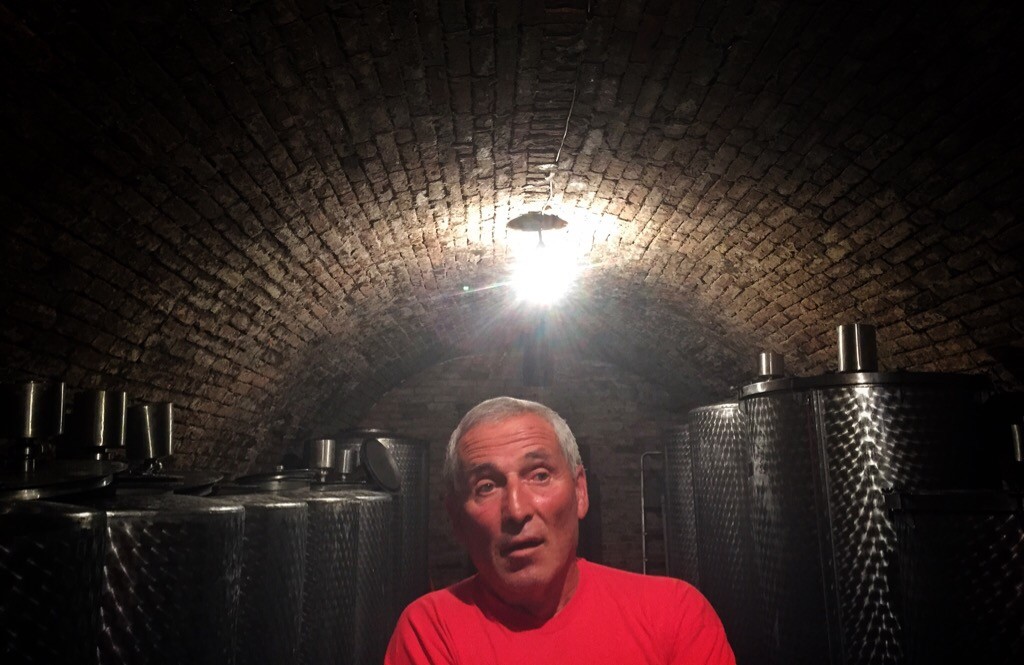 I really enjoyed spending a few hours in the company of Mr Kosovic , a local pioneer in wine tourism who produces a delicious Bermet wine. It is unusually sweet but delicious and very strong (16%) So if you are in the area do drop by…
13. Love a beautiful ruin and a great view to go with it?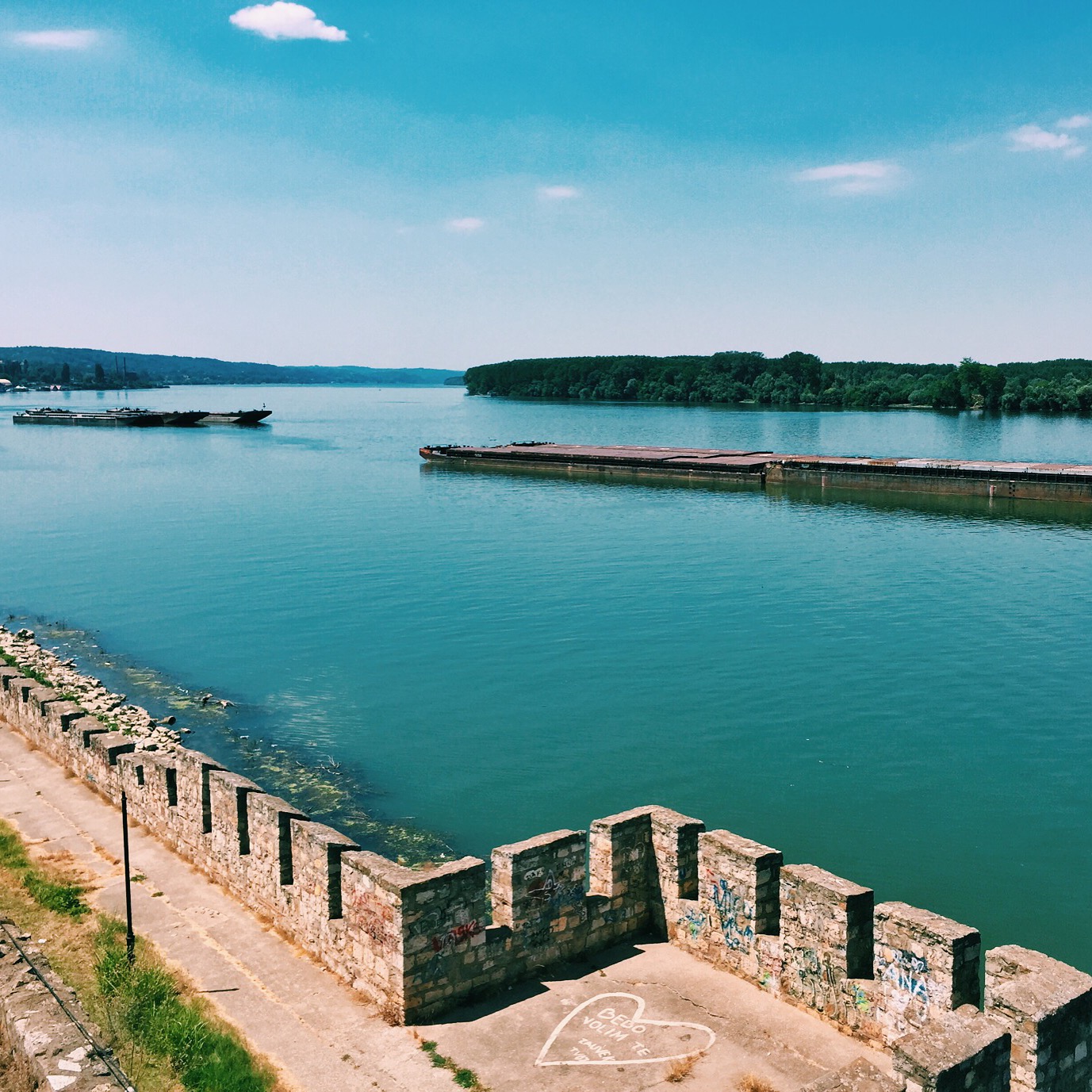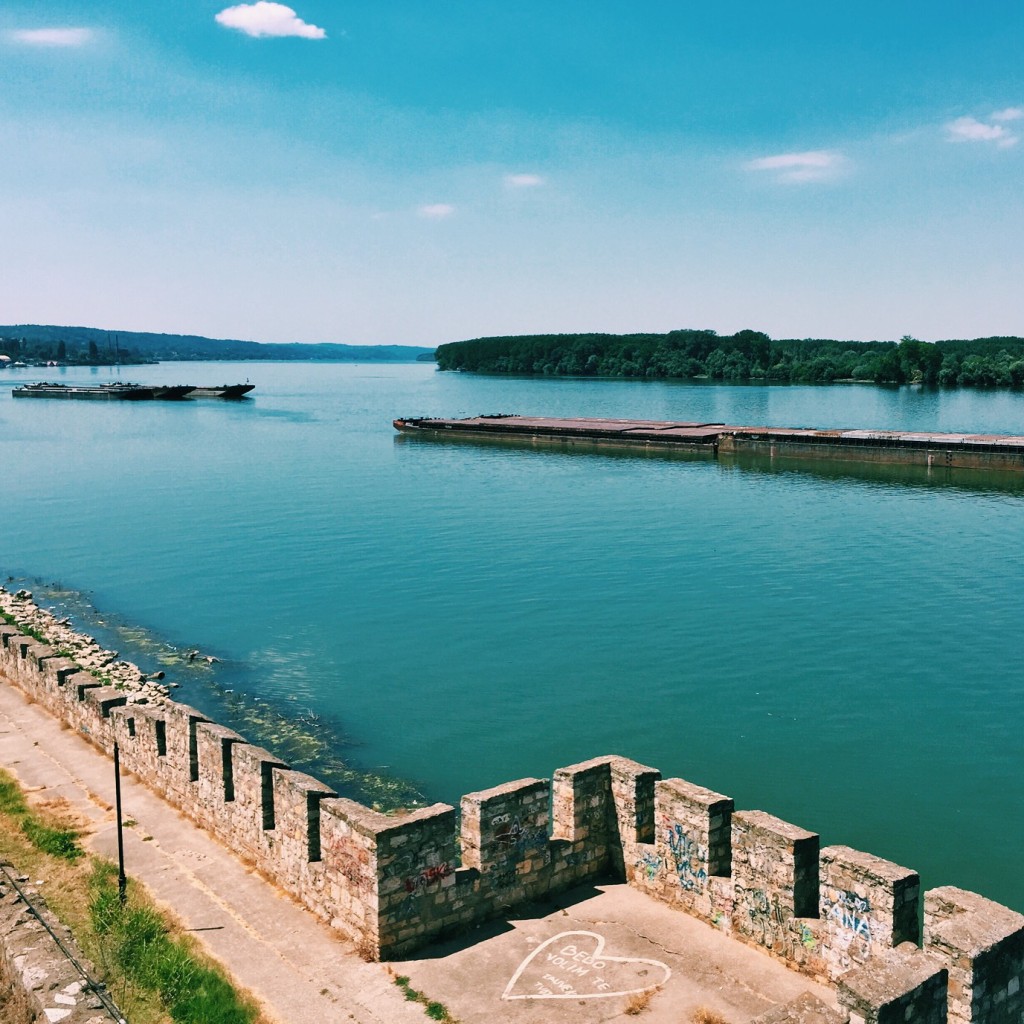 This is the view of the mighty Danube from the desolate Smederevo Fortress, seat of the ancient capital of Serbia. 35 kms downstream from Belgrade , the fortress was built between 1428 and 1430 by despot Djuradj Brankovic, the last of Serbia's medieval rulers.
14. This is Golubac.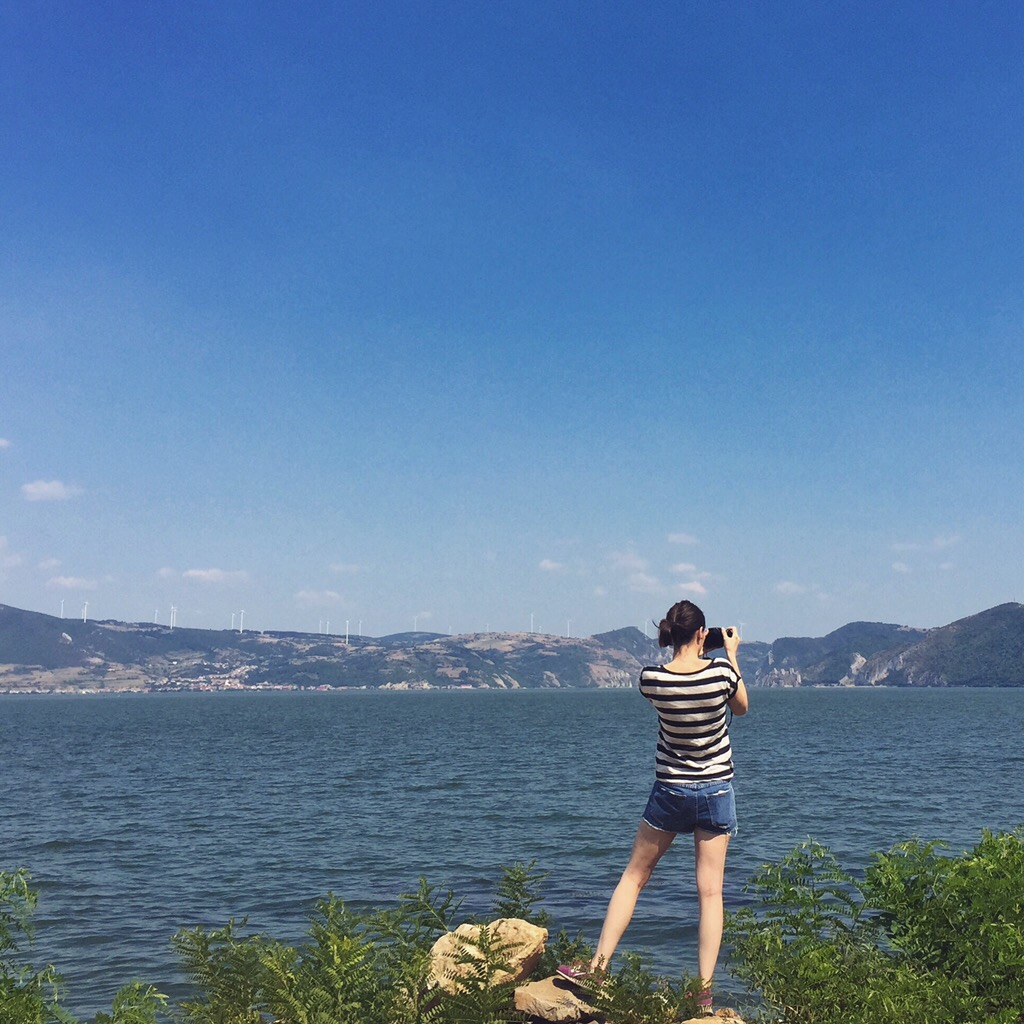 Across the Danube is Romania. The Danube is at its widest here.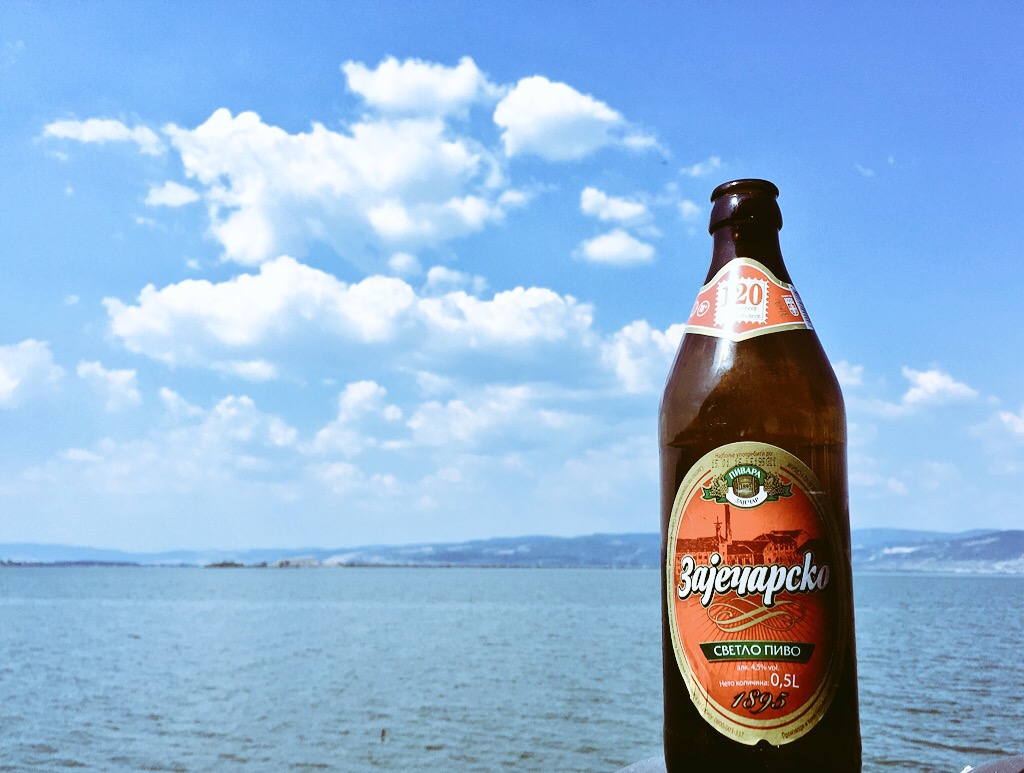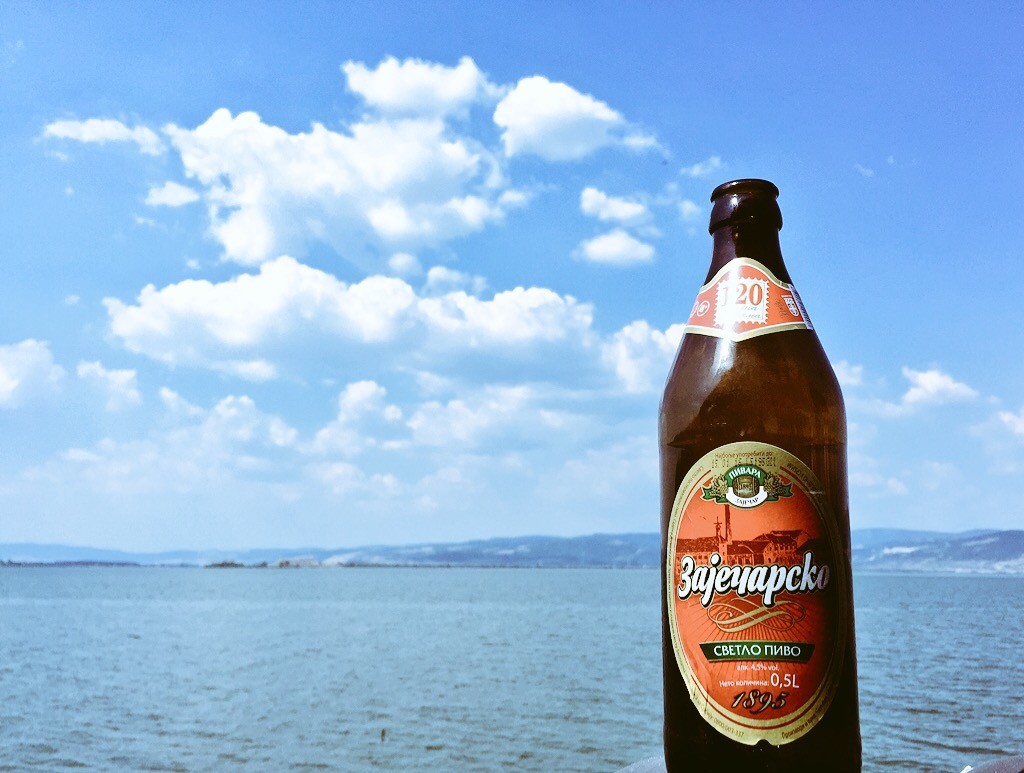 15. When in Golubac, sample a taste of the excellent Zaicharsko beer while admiring the wide expanse of the Danube.
16. Since 7000 BC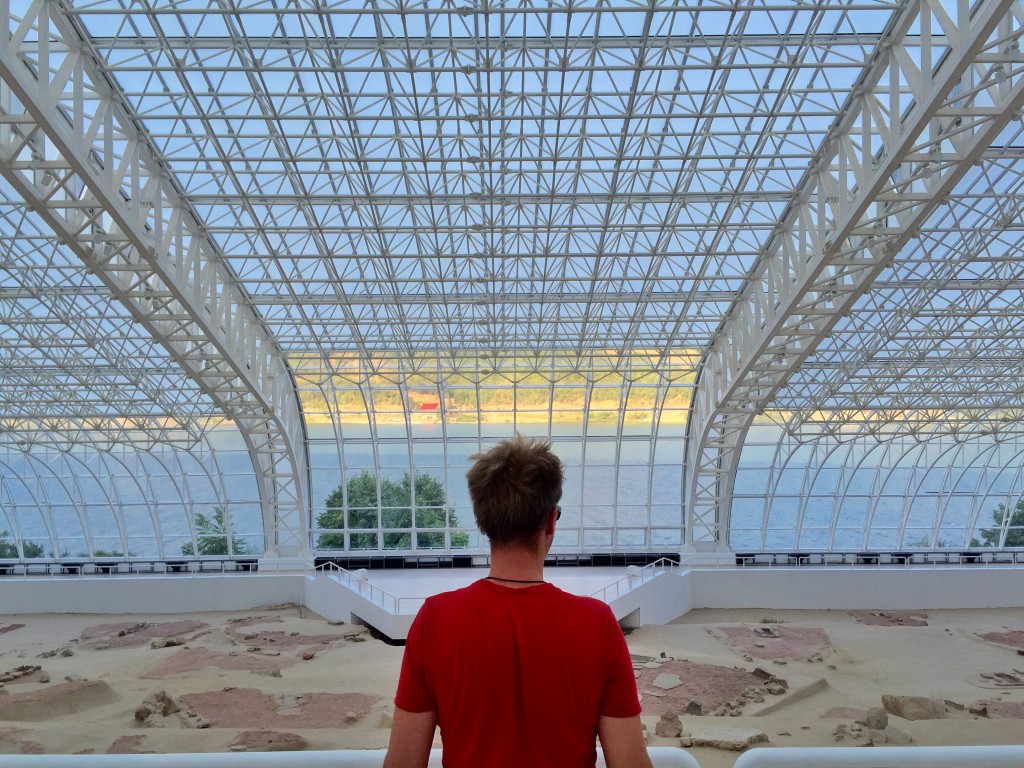 The archaeological site of Lepenski Vir has some of the oldest stone sculptures known to mankind and predates Mesopotamian civilisation.
17. Book this place when you visit Serbia. Kapetan Misin Breg.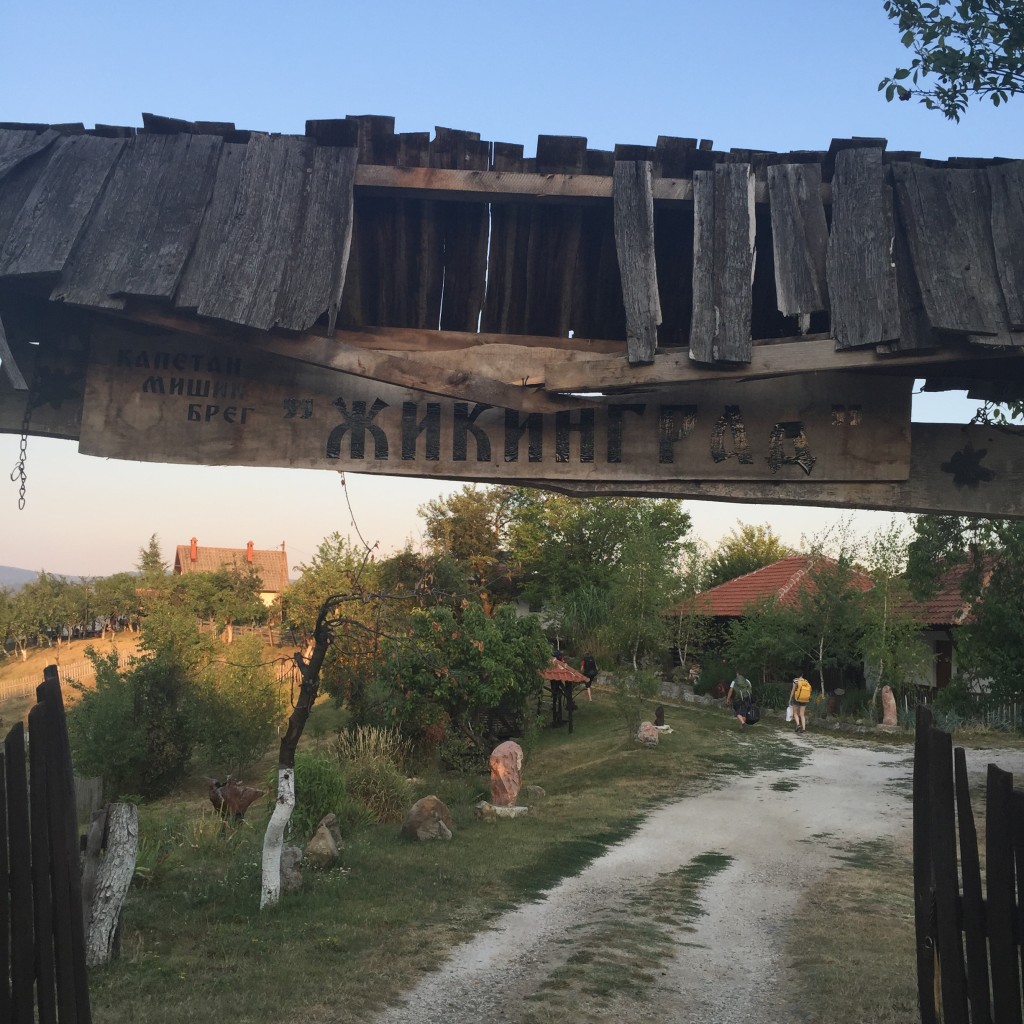 Rooms from €15. Beds are a bit firm but the hospitality is wonderful as is the view of the Danube from the garden.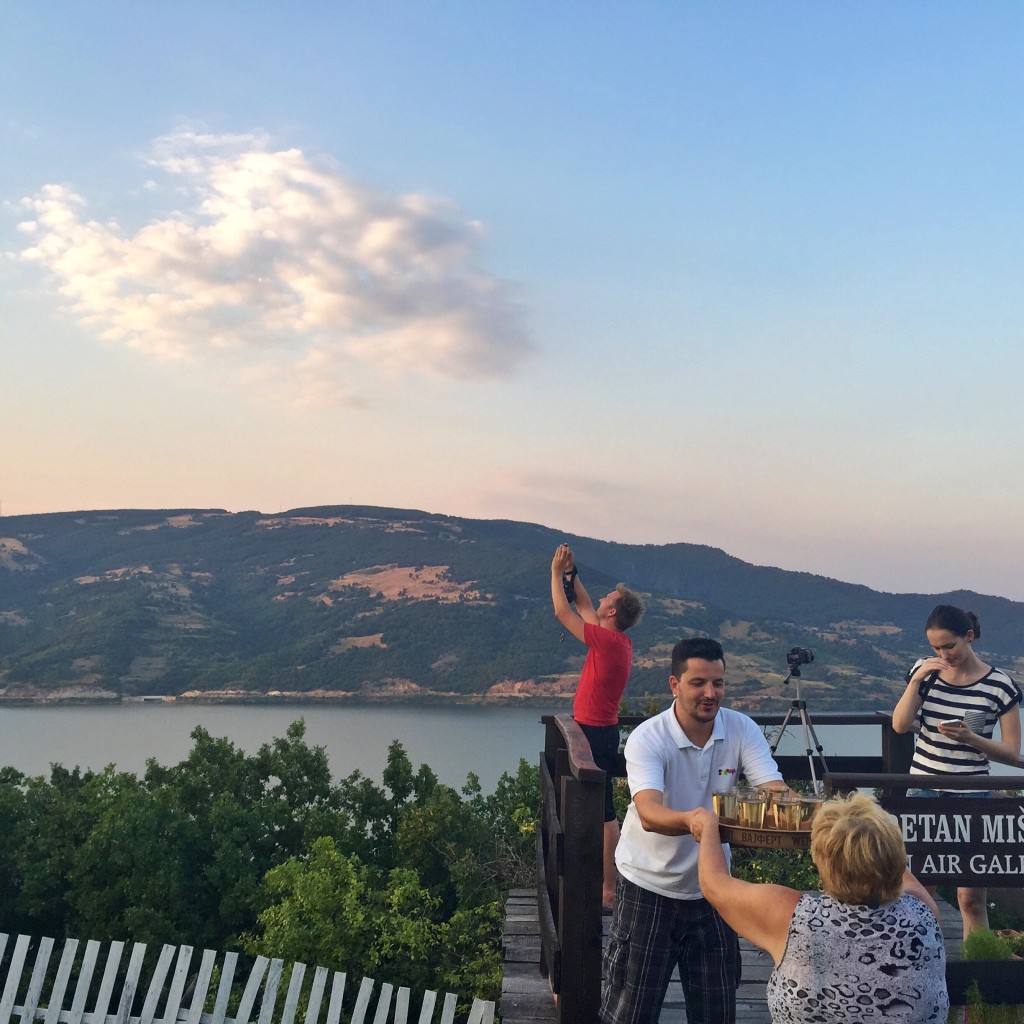 18. I fell in love with Serbian breakfasts at Misin Breg.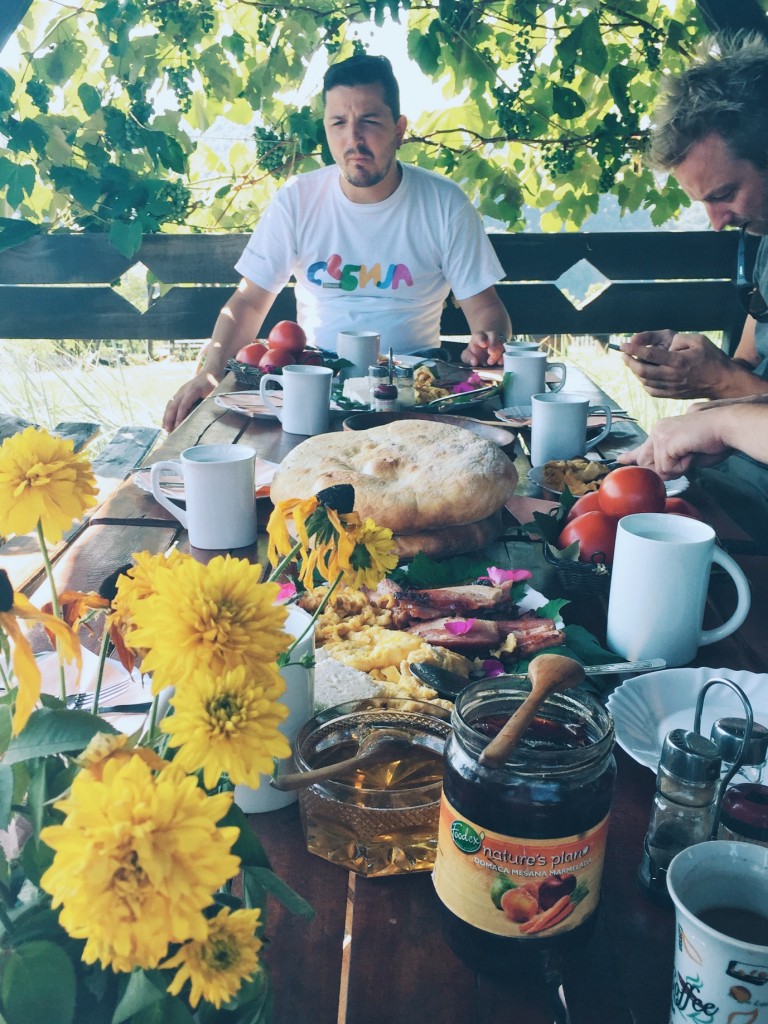 19. Further up the Danube, we went hiking in Kazan. After a 45 minute hike, we were greeted with THIS VIEW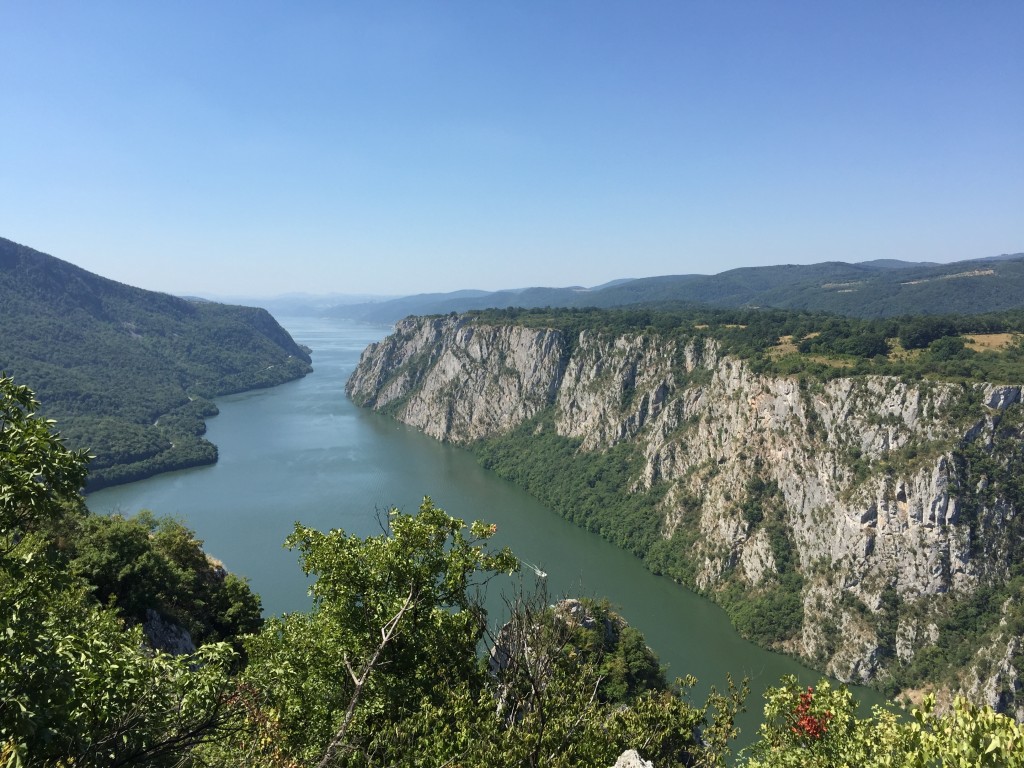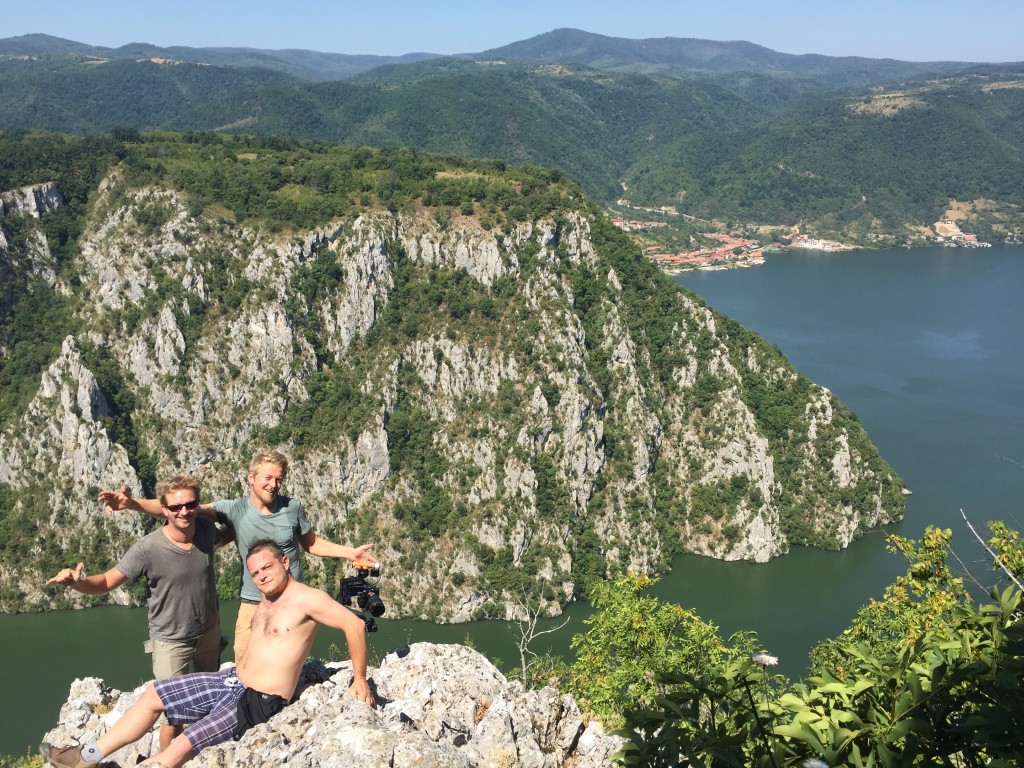 20. At Kazan, the Danube is just 190m wide.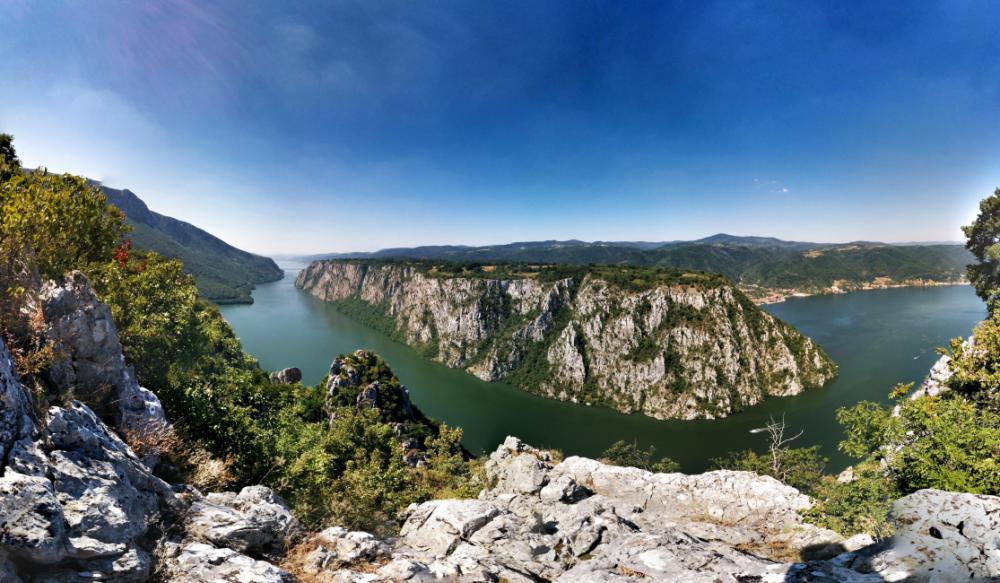 21. Another dreamy panoramic shot of the Danube courtesy of fellow traveller and blogger, Melvin Boecher Traveldudes
22. Gliding over the emerald green waters of the Danube in Boban's boat was a personal highlight of my trip to Serbia.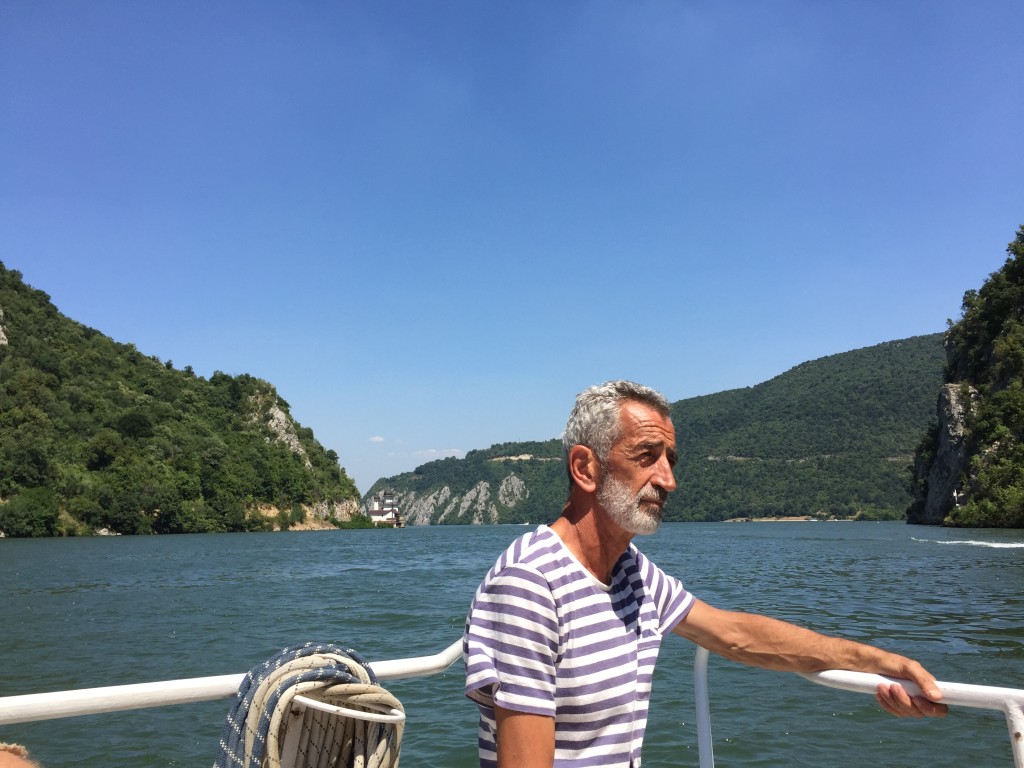 Especially when Boban starts handing out ice cool Zaicharsko beers from his fridge.
23. Another cool feature of Boban's tour is the chance to see the Tabula Triana aka Trajan's Bridge.
You can't see the actual bridge but by the river you can see the Roman memorial plaque Tabula Traiana on the Serbian side facing Romania near Ogradina. It is 4 meters wide and 1.75 metres high and commemorates the completion of Trajan's military road.
24.  Donji Milanovac is a sleepy little town on the Danube.There is a FREE small public beach that is popular with locals.
Come here for a dip or just enjoy the calm and still beauty of the Danube. 
25. Loved our brief time in Zajecar.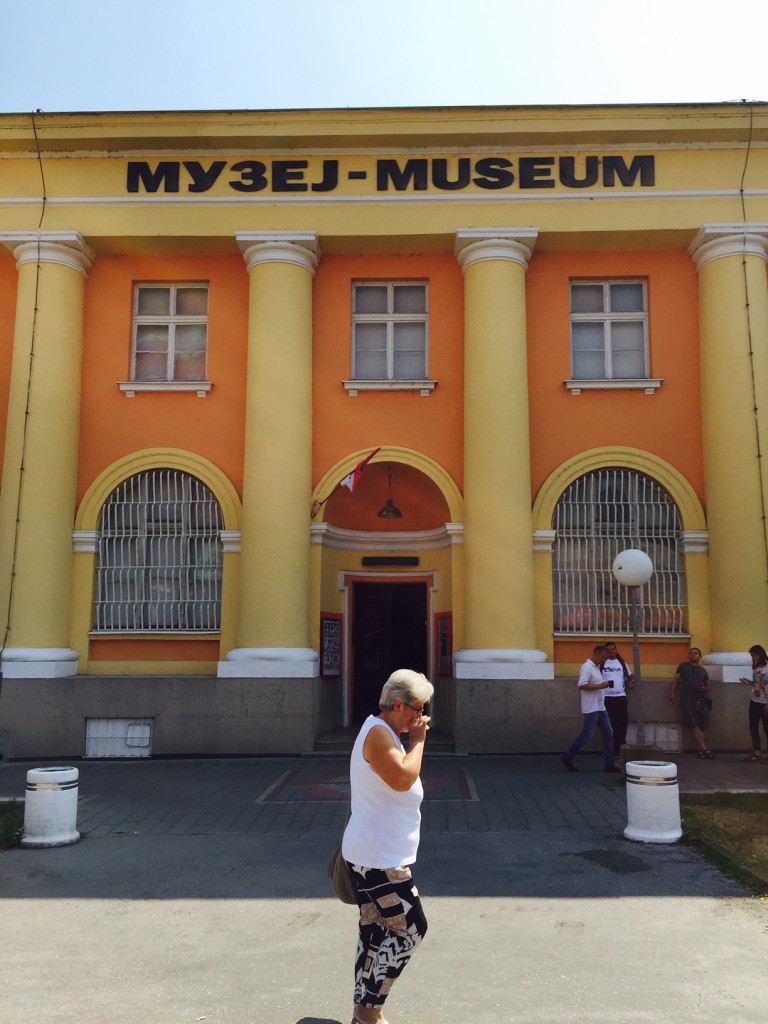 Located in the eastern part of Serbia, near the border with Romania this town comes to life in July during their famous Gitarjida festival which is the biggest rock festival in south eastern Europe.
26.  Another reason to come to Zajecar is to discover the region's rich Roman history. Three Roman Emperors were born in the municipality of Zaječar: Galerius (r. 293–311), Maximinus (r. 305–312) and Licinius (r. 308–324).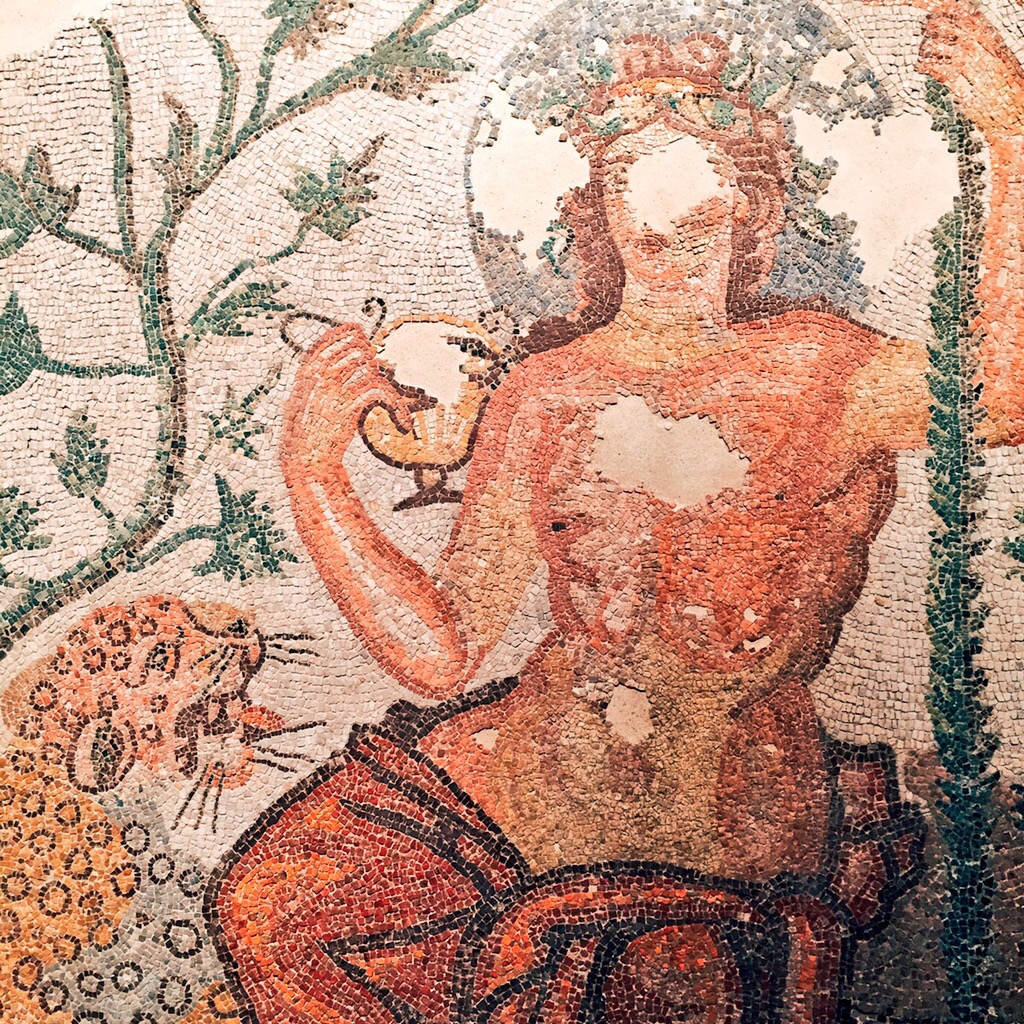 At the city's local history museum , I discover this beautiful 1st century AD mosaic from Felix Romuliana, the palace of Roman Emperor Galerius. Stunning eh?
27. This is the UNESCO world heritage site of Gamzigrad, situated on the outskirts of Zajecar.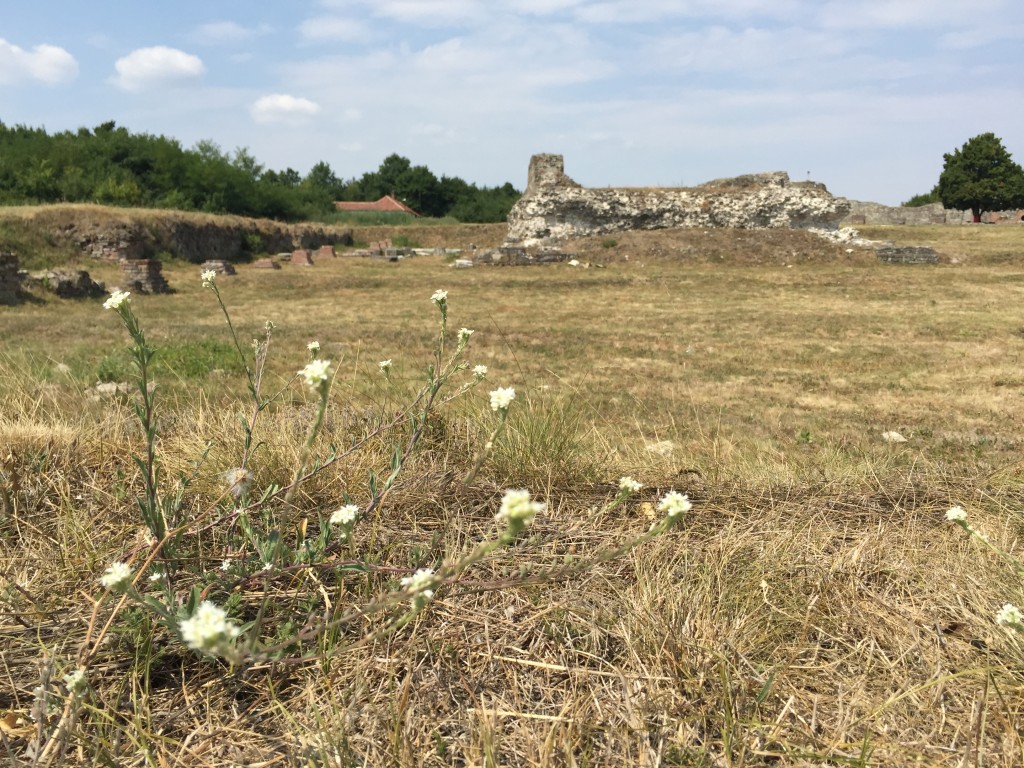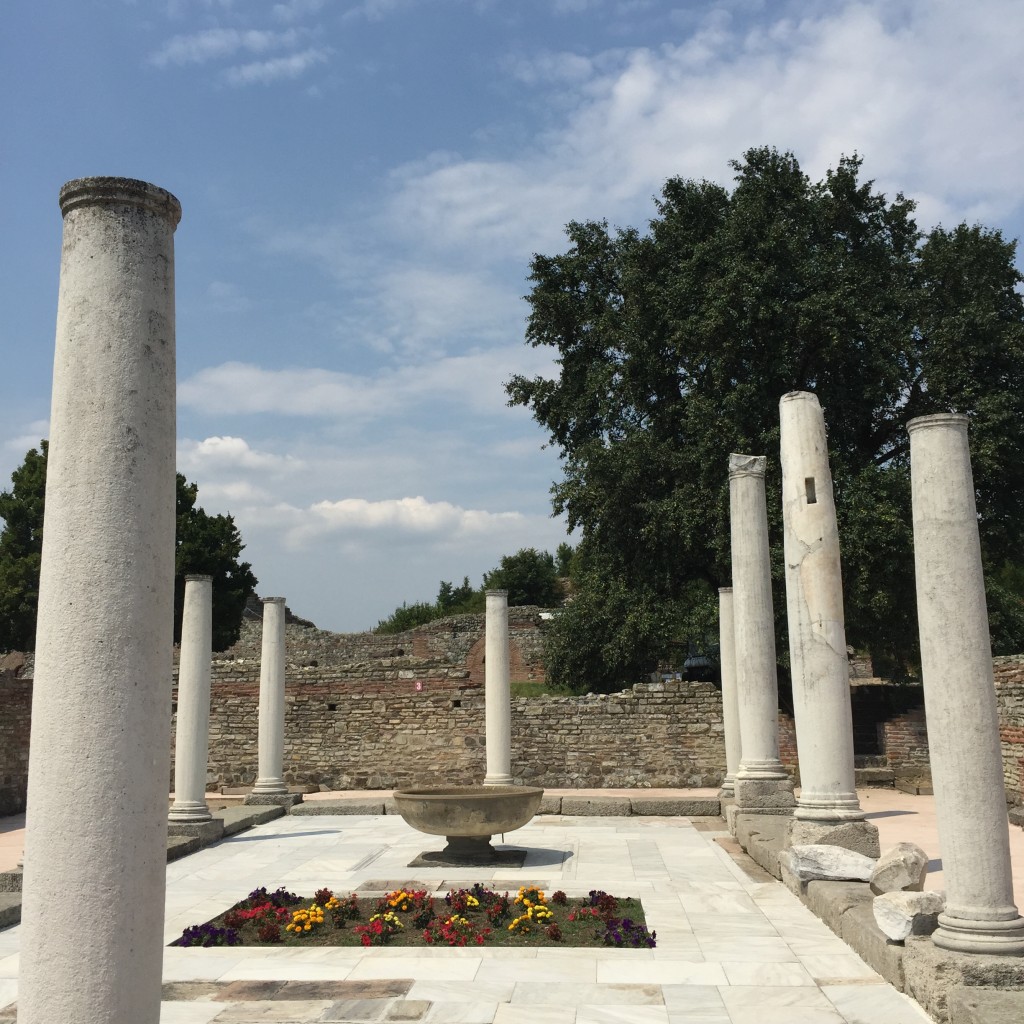 It is the location of the ancient Roman complex of palaces and temples of Felix Romuliana, built by Emperor Galerius.
28. Spent a Sunday afternoon wine tasting in the fabulous Vinarija Jovic for free!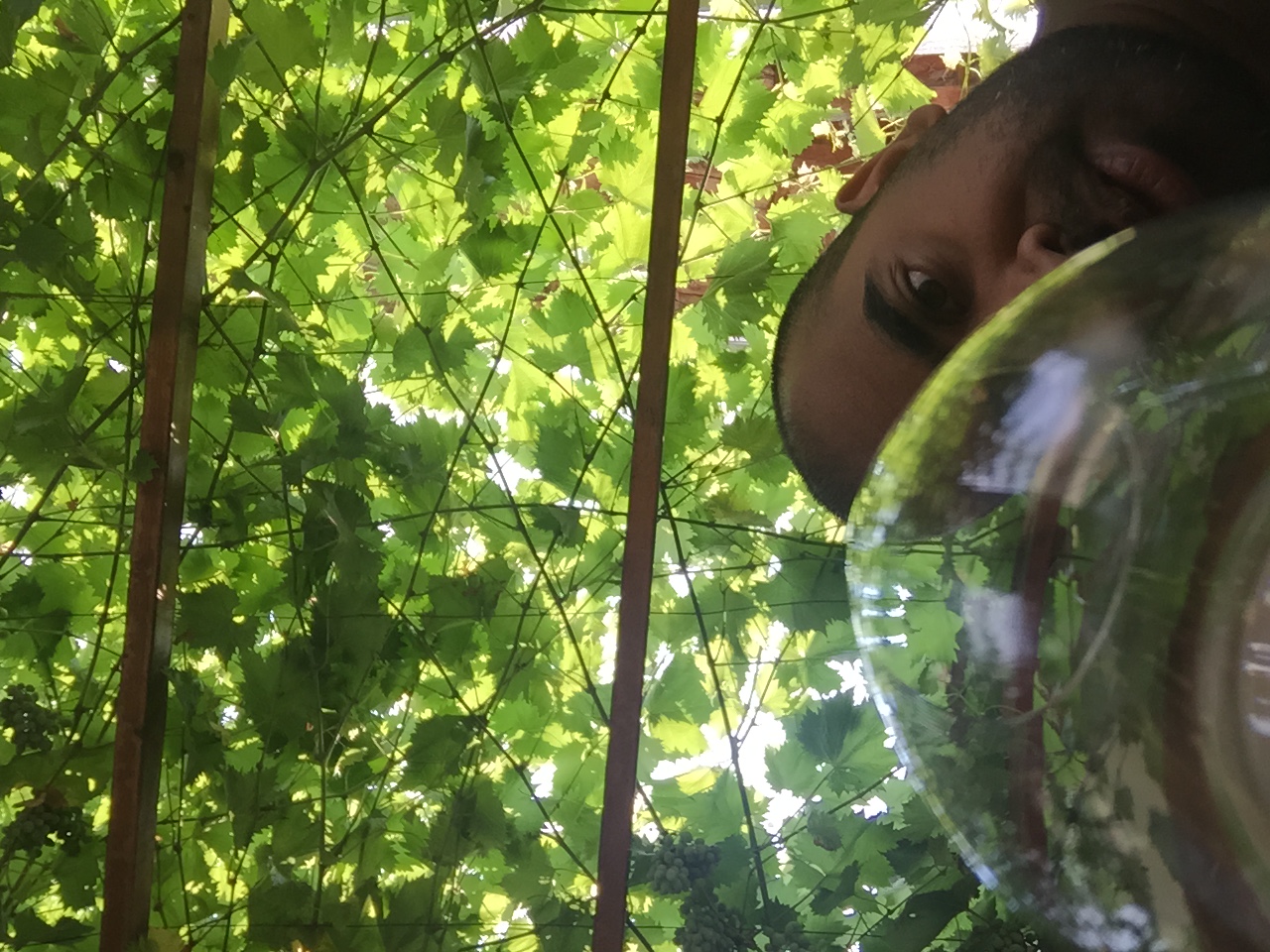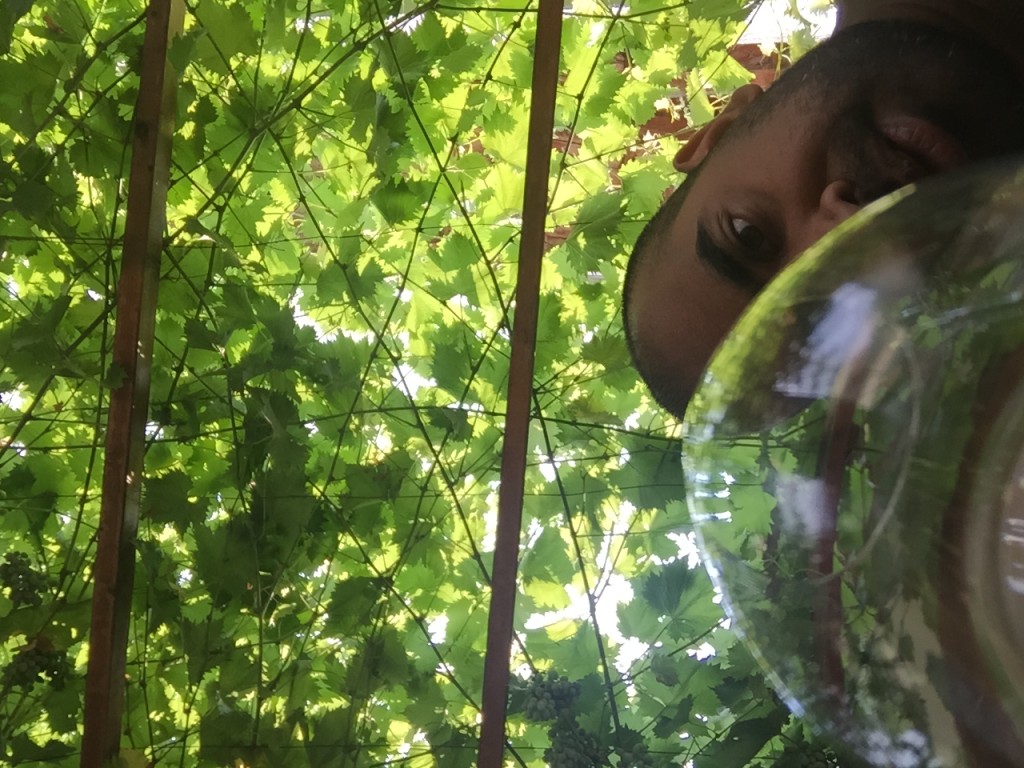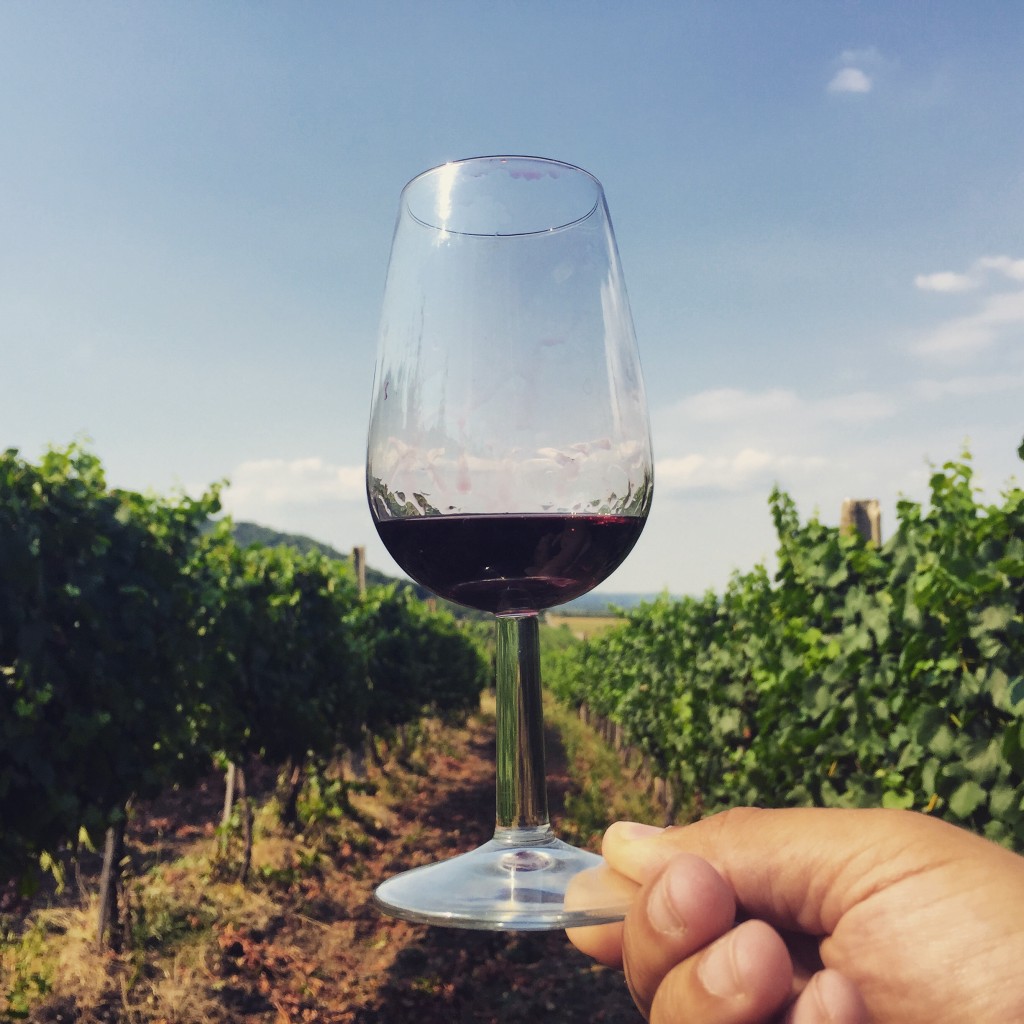 Can't think of a better way to spend a Sunday afternoon…
29. Brief stopover in Nis last night. A city definitely with a rich & interesting history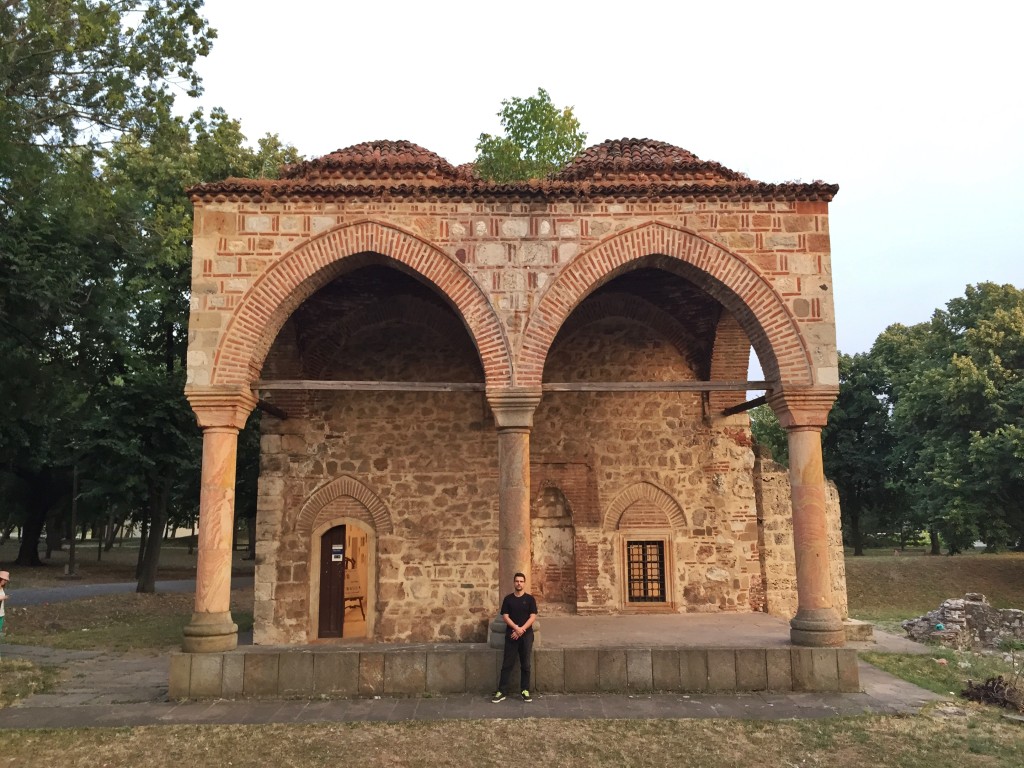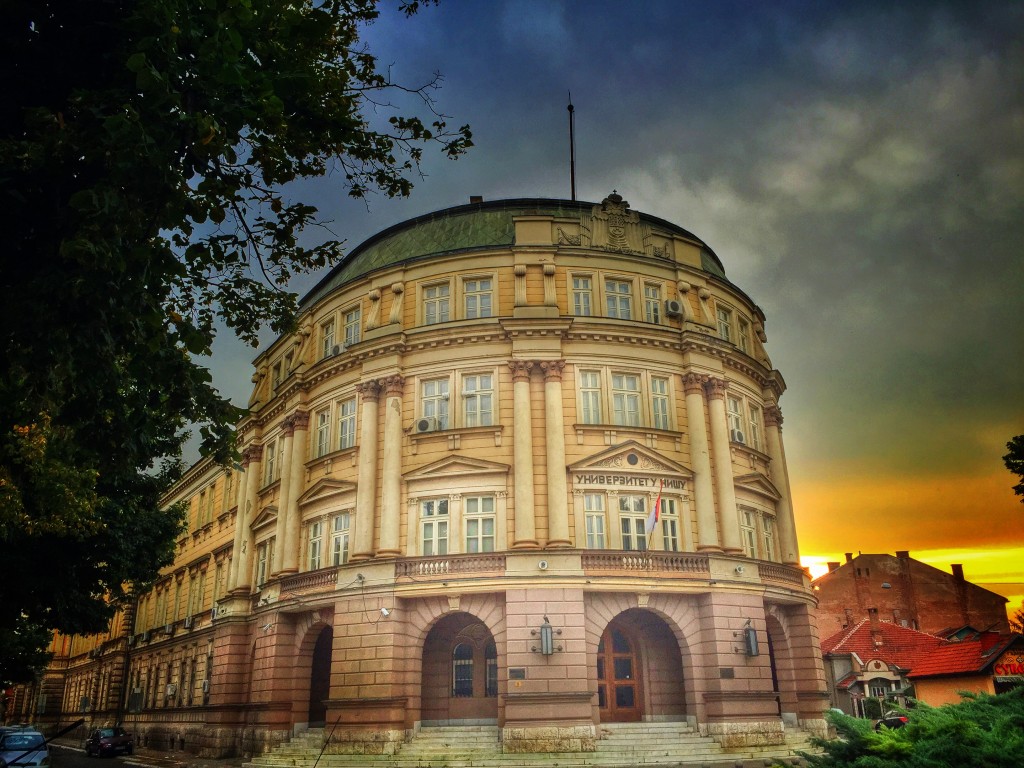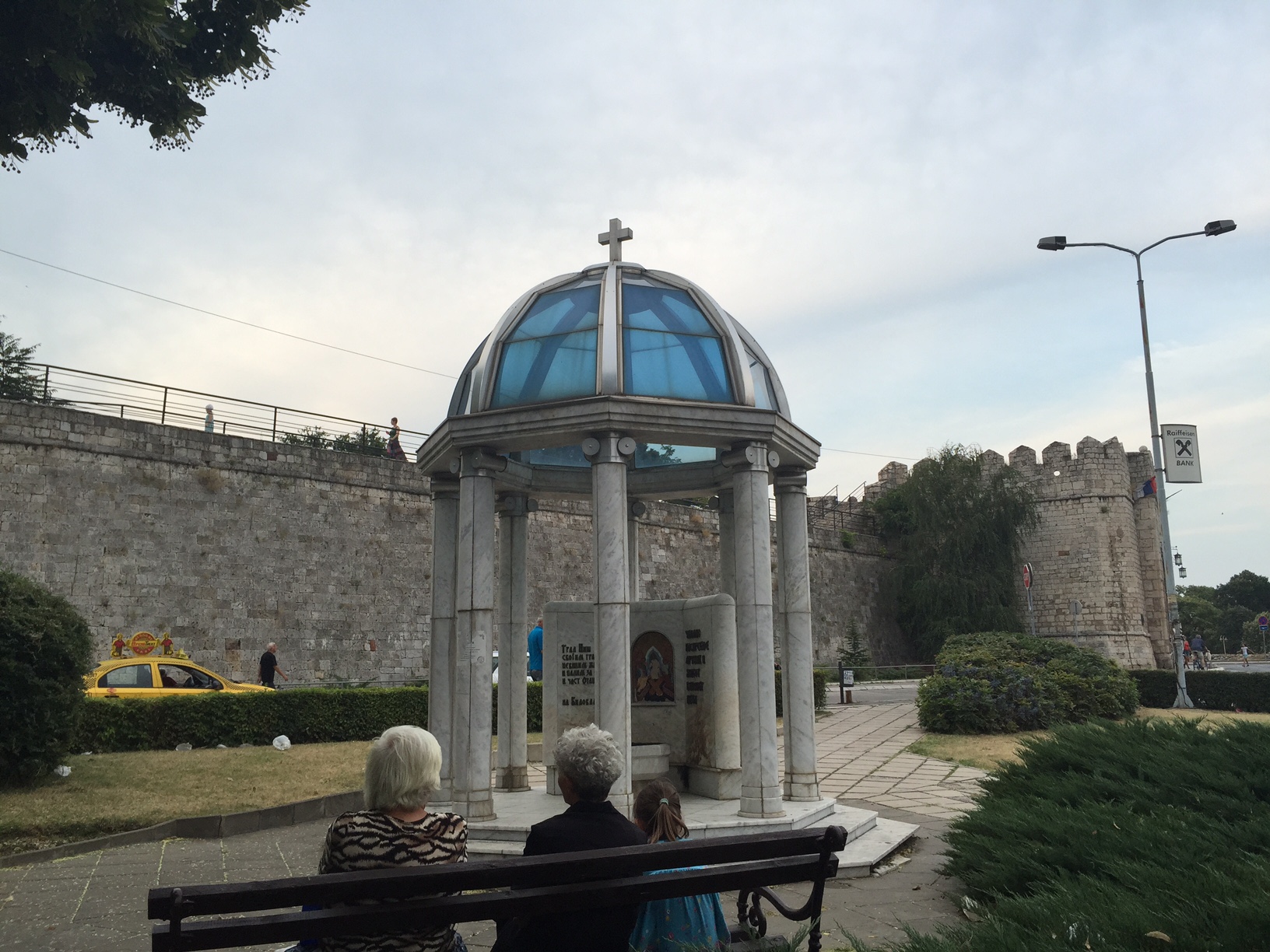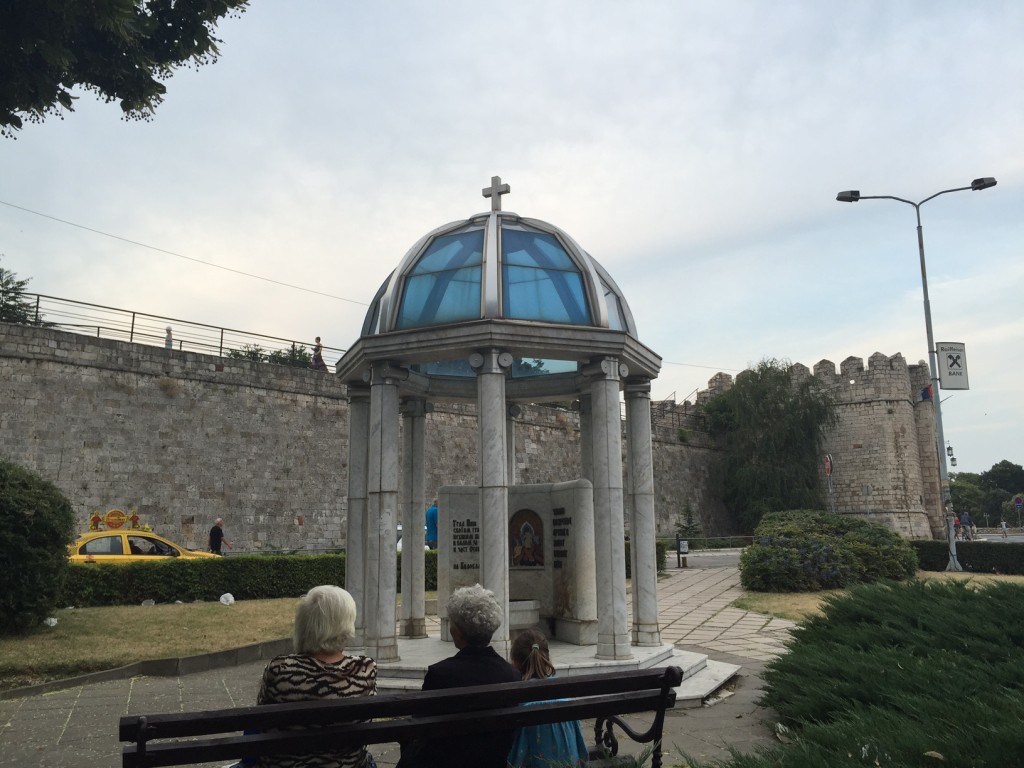 31. This is the Memorial Chapel, Nis built in remembrance of the victims of the NATO cluster bombing in 1999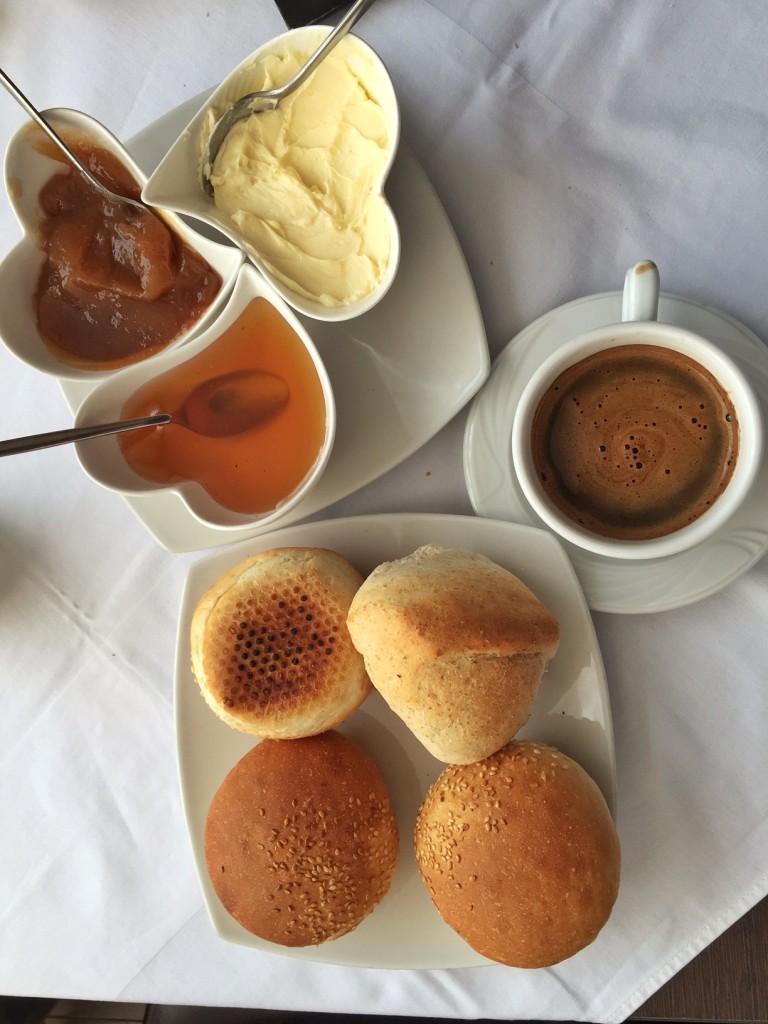 32. Another picture of Serbian breakfast-my favourite meal of the day in Serbia.Apricot jam. Honey. Strong coffee. Delicious goats cheese. Great bread.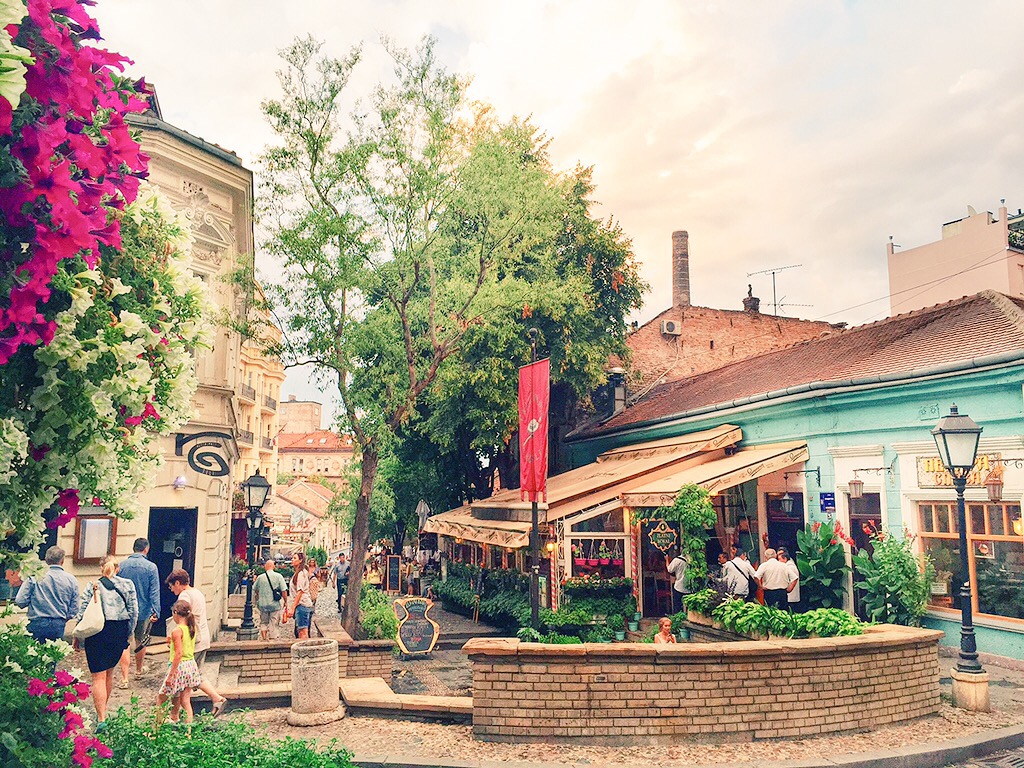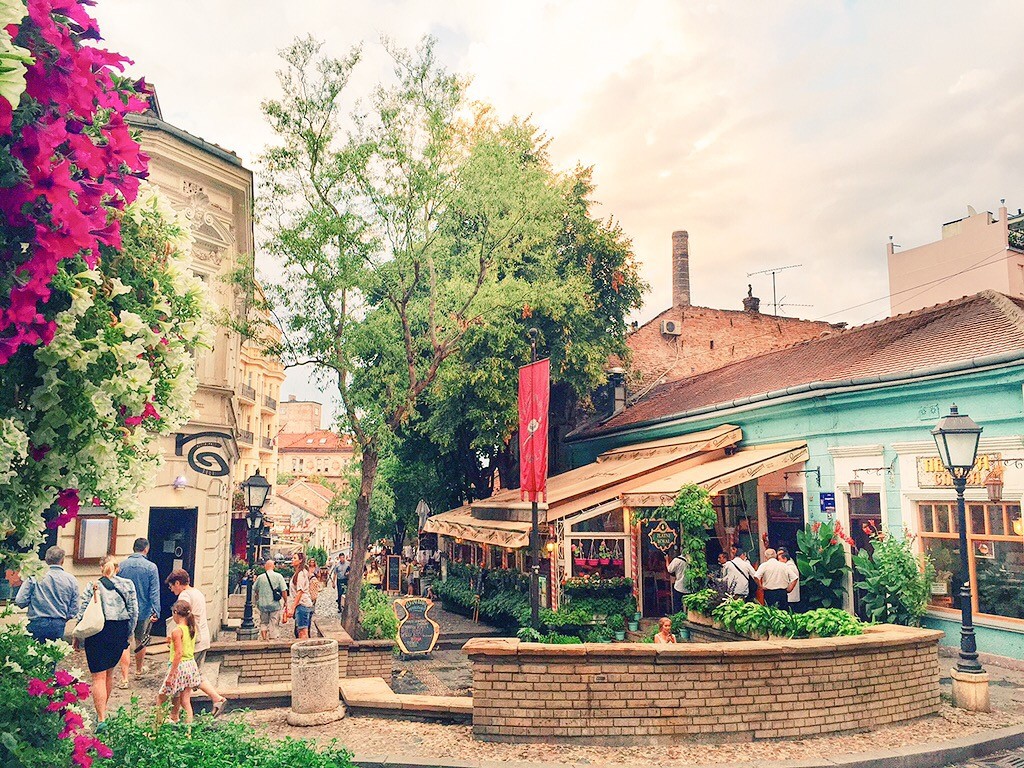 33. This is Skadaraska, the 'Montmartre' of Belgrade where poets, writers and bloggers meet. Beautiful bars and good food-great place to finish my trip to Serbia.
34. Here are a few more pictures from the trip of some lovely friends I made on the trip. My biggest takeaway from #mySerbia trip was how warm and kind hearted the people were.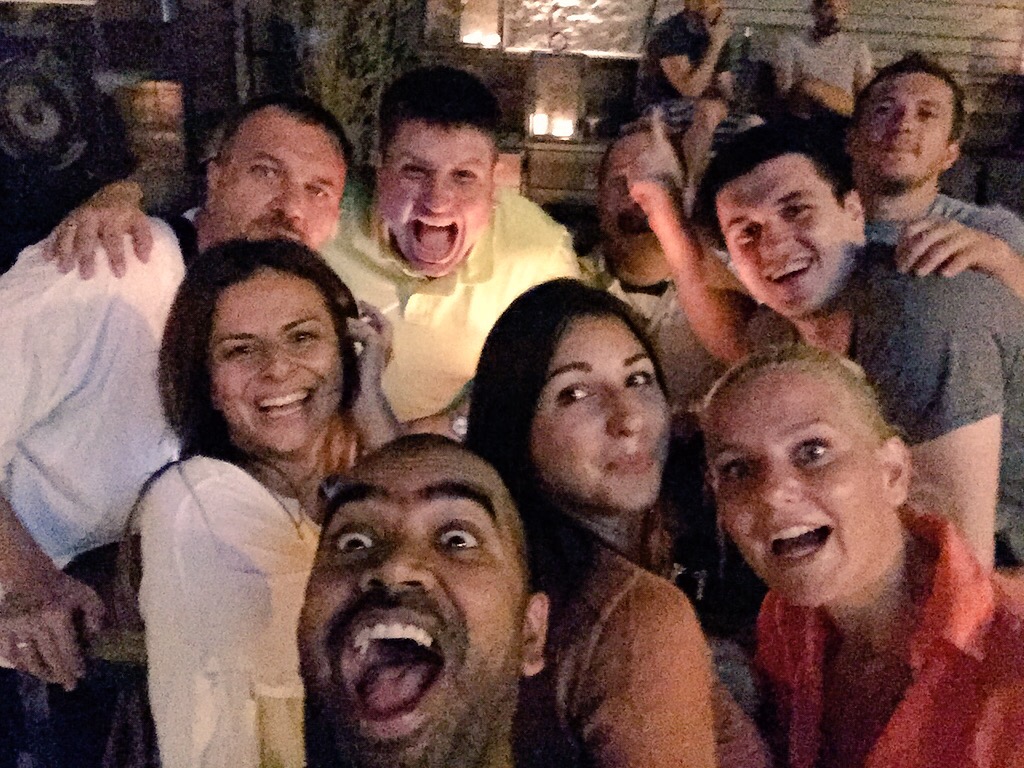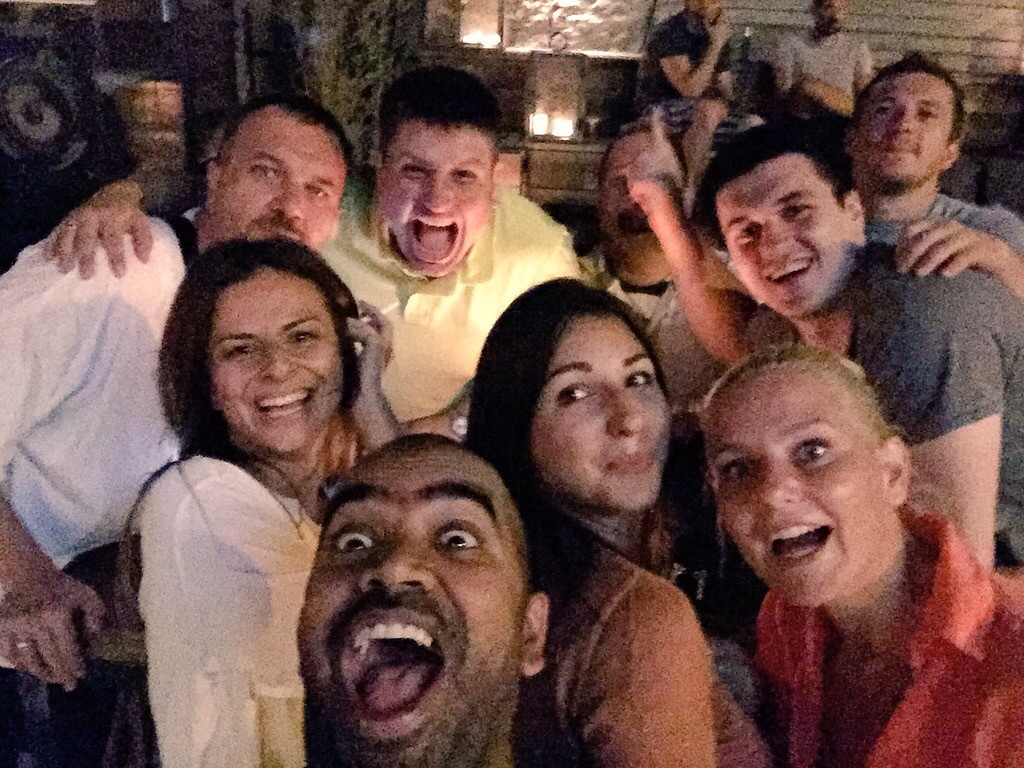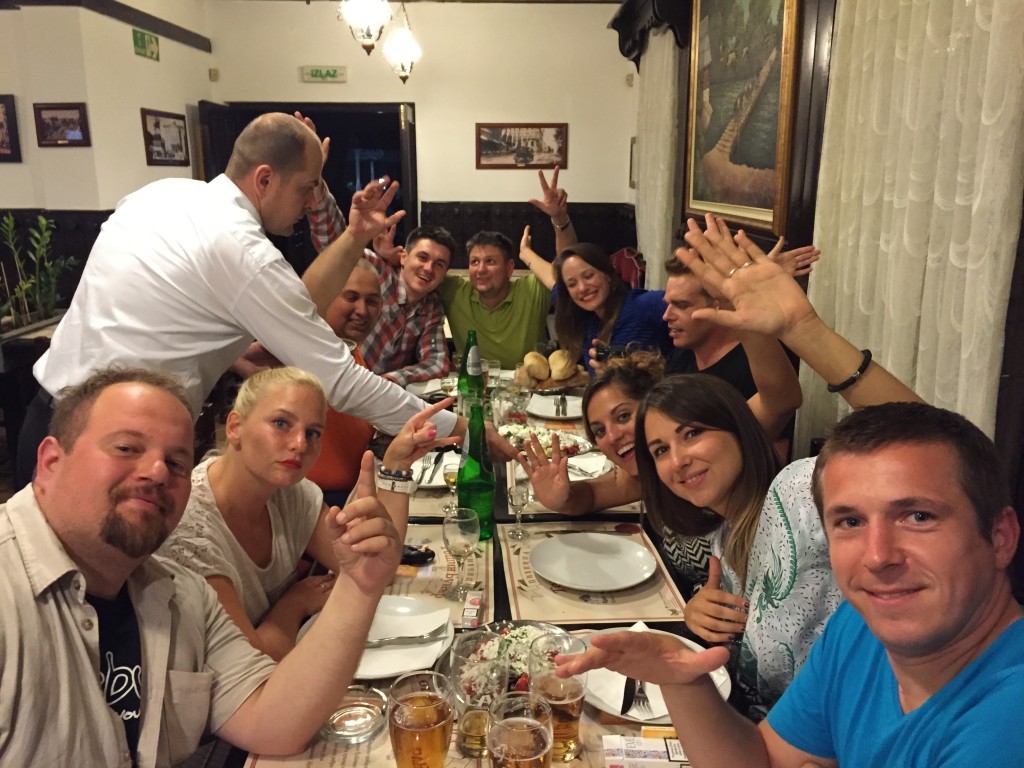 What I missed but hope to see on my next trip to Serbia..
35. Love to see this crazy little house on the Drina River.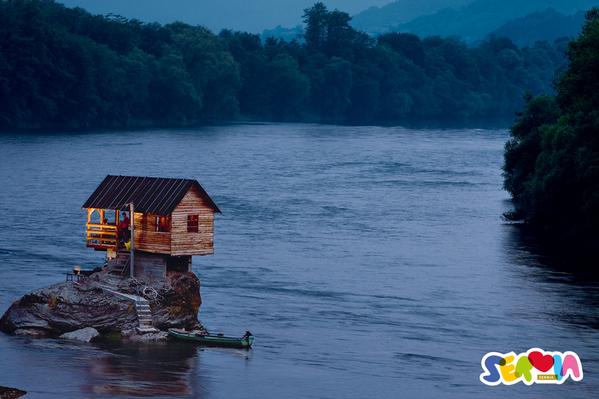 36. Love my trains and anything celebrates heritage…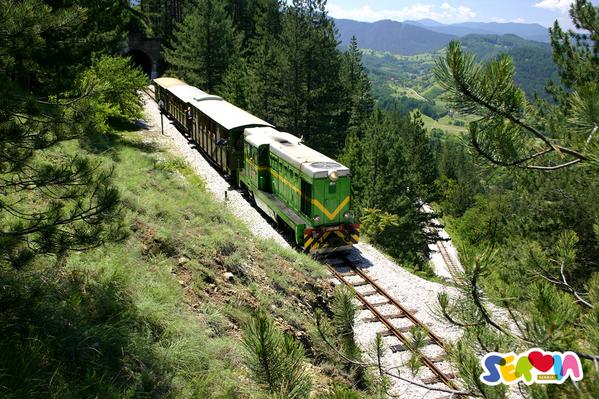 so the idea of soaking up the magnificent scenery of Zlatibor  and MokraGora from the famous Šargan 8 heritage railway would be definitely something I'd love to do…
37. I love the irresistible energy of Balkan music so a visit to the Guca Trumpet Festival would be great.
38. I missed out on seeing the Cathedral of Saint Sava in Belgrade , one of the largest orthodox churches in the world. So next time I visit Belgrade…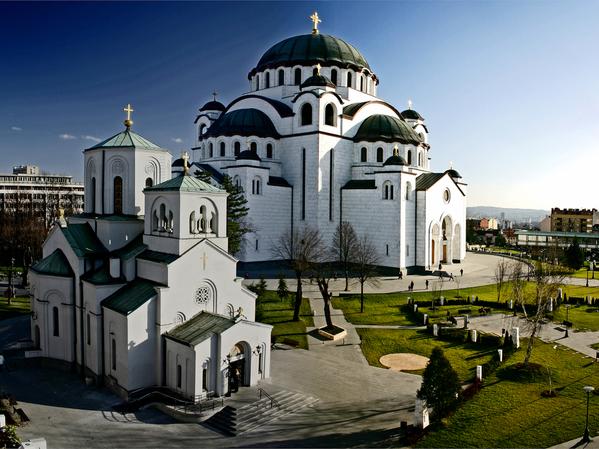 39. Ibarski Kolašin is another of Serbia's hidden gems I'd love to visit.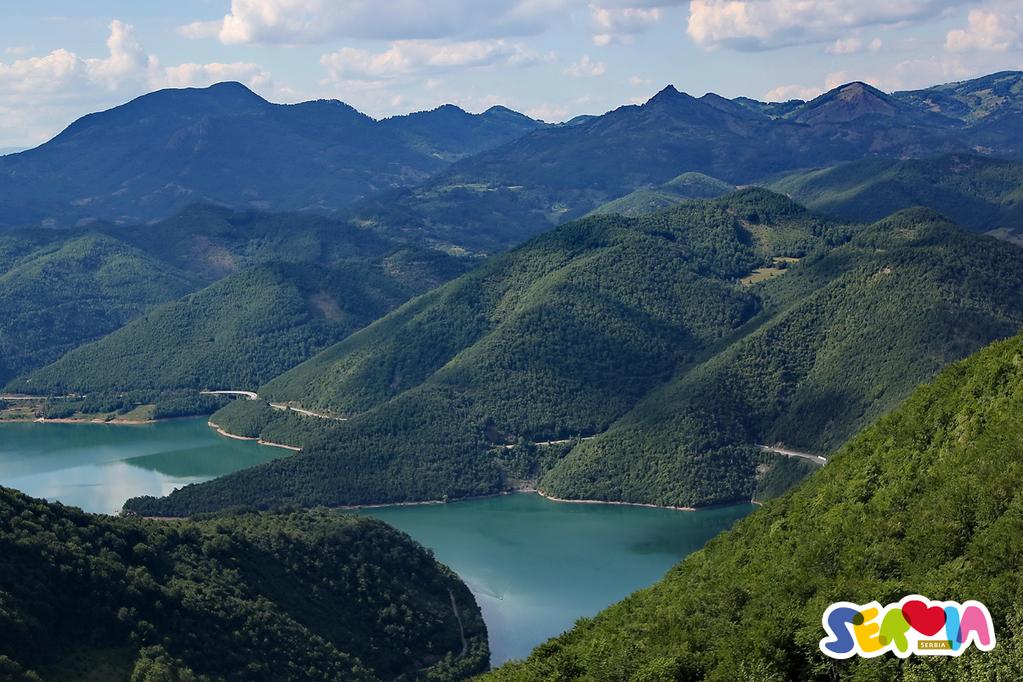 40. Last but not least, love to visit the Tara National Park and see this view.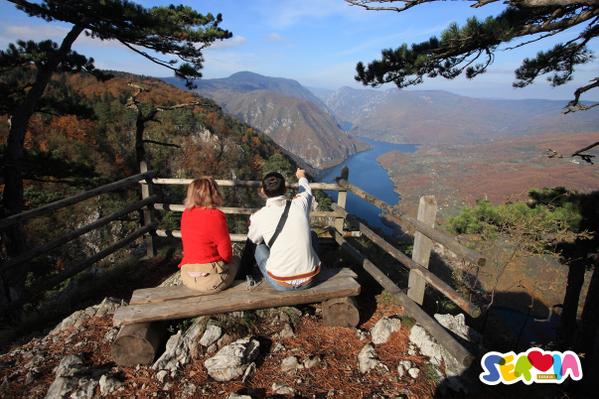 PS Bonus photo
Burek. There is nothing more Serbian than Burek. I can't remember where I ate this but… I do remember that it was delicious. It was stuffed  with cheese and I had it with yoghurt.  So tasty. No surprise that Guardian voted Burek as the 5th best fast food in the world.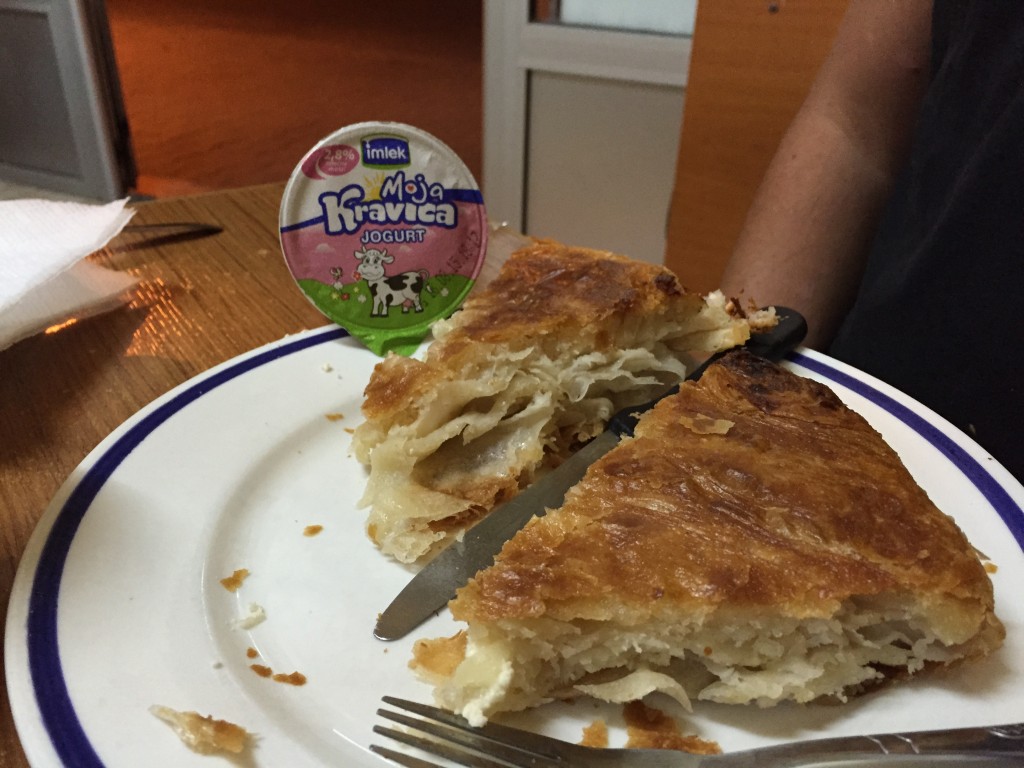 So. Hope you liked my photos and they've inspired you to visit Serbia. Any questions, leave a comment below. Welcome also your suggestions of places I should checkout on future trips to Serbia.
---
I visited Serbia thanks to a kind invitation from the Serbian Tourism Board. Checkout the #mySerbia for more pictures and words from the  trip. This trip was created and managed by iAmbassador  in association with the Serbian Tourism Board. As always, I maintain full editorial control of the content published on this site.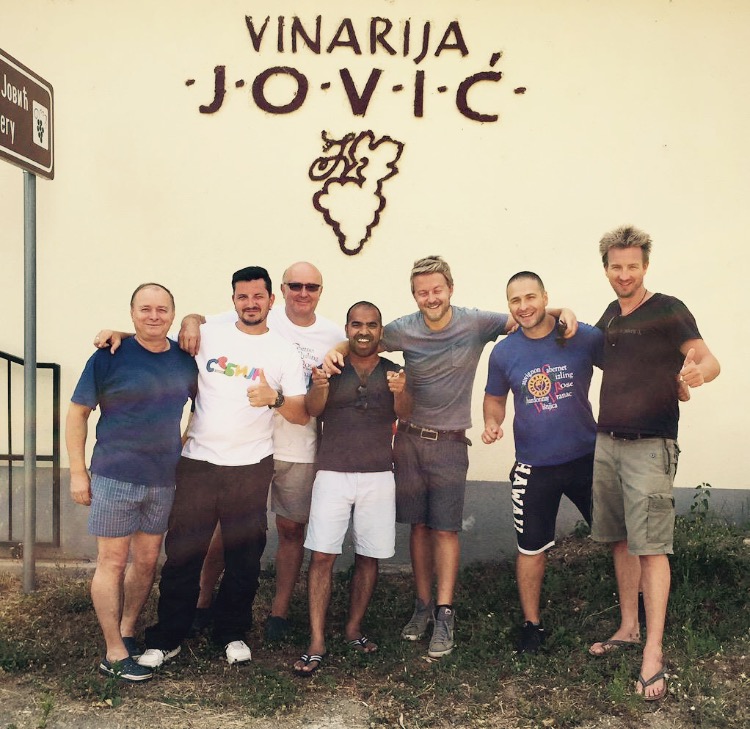 Big thank you personally to  Nebojska, Marko, Pascal and the legend that is Ivan for showing us your beautiful country. Also thanks to the #mySerbia team: Melvin, Mark, Uros, Zorica, Rob- was great hanging out with you guys. Keith-you have to visit soon.