Continuing my Spanish rail trip, in my latest instalment from the series, I head to the moorish gem, Seville which was recently awarded with the title of the best city to travel in 2018 by Lonely Planet.

 

What makes this city unique and what are the must see places? Find out what I discovered in my 24 hours in Seville.
PS Hope you've enjoyed following my #SpainByTrain adventures. I'm pleased to share with you a cool competition where you have the chance to win two RENFE passes! Please scroll to the end of this post for details on how to enter.
Explore the Royal Alcazar
The moorish rule from the 8th till 15th century left a lasting impact on the Spanish language, culture and also their architecture. During their prosperous reign they created a number of outstandingly beautiful buildings which you can see to this day like the Alhambra Palace in Granada to the bewitching Mesquita in Granada. The Mudejar style, which was a kind of hybrid mix of Moorish and European styles, is the style that defines these glorious buildings. One of the best examples of this style can be seen in Seville at the Royal Alcazar.  The palace will be familiar to Game of Thrones fans (I'm not one of them. Yet to watch this series!) The Royal Alcazar is the oldest working Royal Palace in use. It is a pretty breathtaking place with a lot of detail to take in : from ceilings covered in rich intricate Mudejar decoration to the star patterned azulejos tiles and then you have the huge Italianate-Islamic gardens with their towering palm trees. I recommend a few hours for exploring this place.
Tip: Beat the long queues by buying your tickets in advance v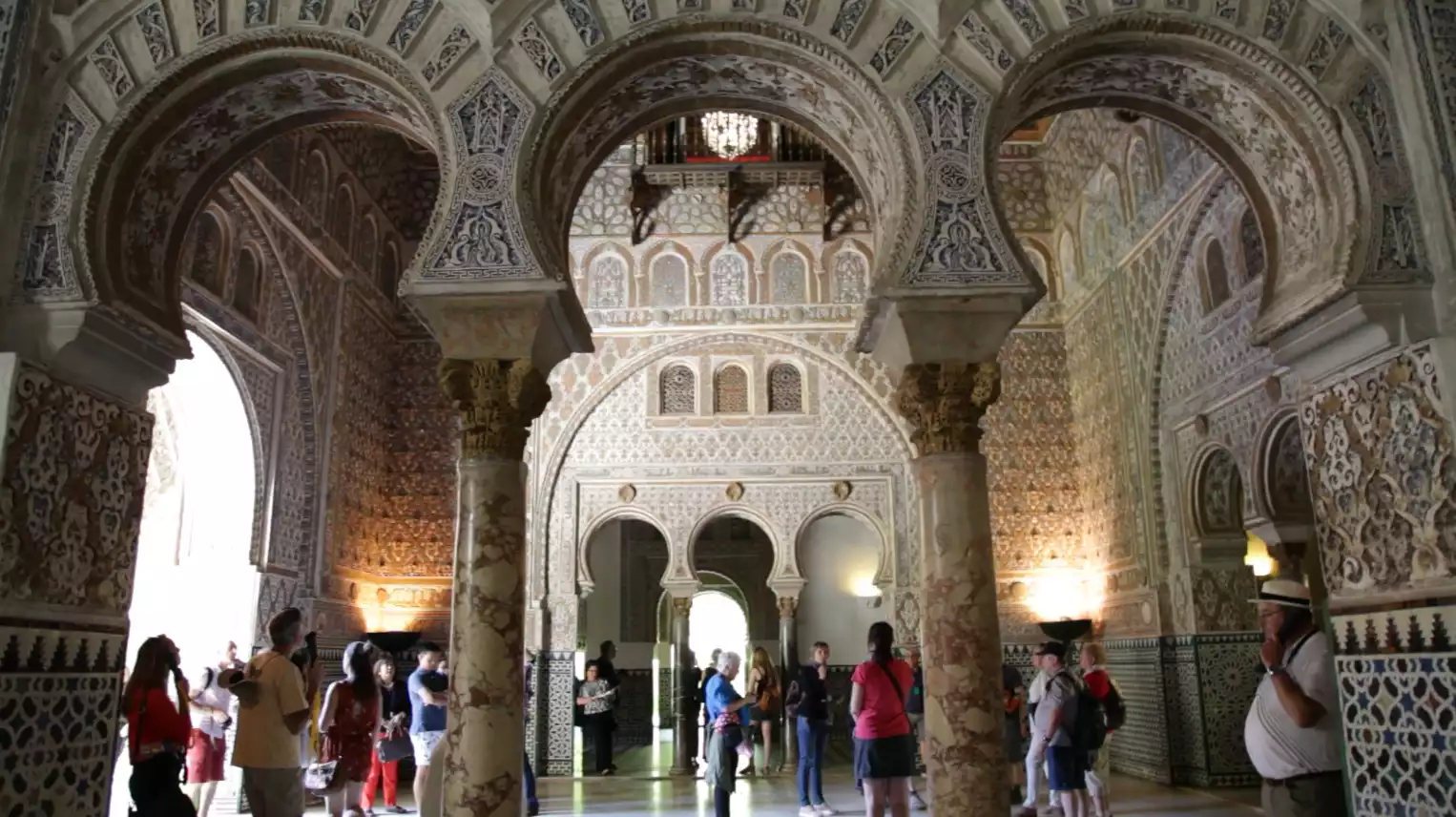 . Plus go early, ideally at 9.30am before the groups swamp the place.

Hours: April to Sept: Monday to Sunday, 9.30-19:00; Oct to March: Monday to Sunday, 9:30 – 17:00.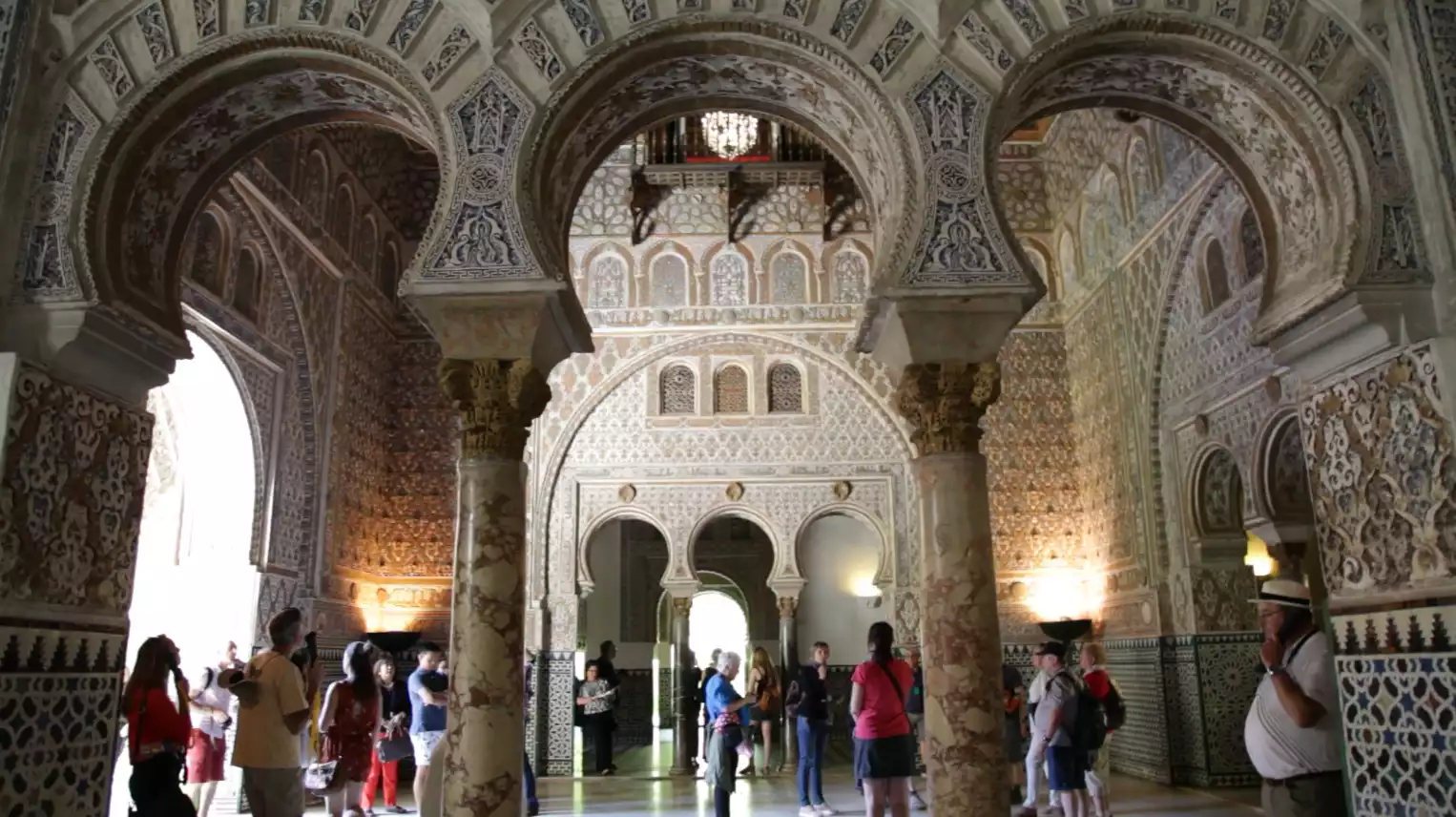 Orange Wine at Taberna Perejil
Since 1904, this wee joint has been serving Vino de Naranja , famous local orange wine which comes from Moguer (a little town from Huelva) It is a sweet wine, perfect for an aperitif or can be enjoyed as a dessert wine. At €1.20, you can easily quaff a few of these.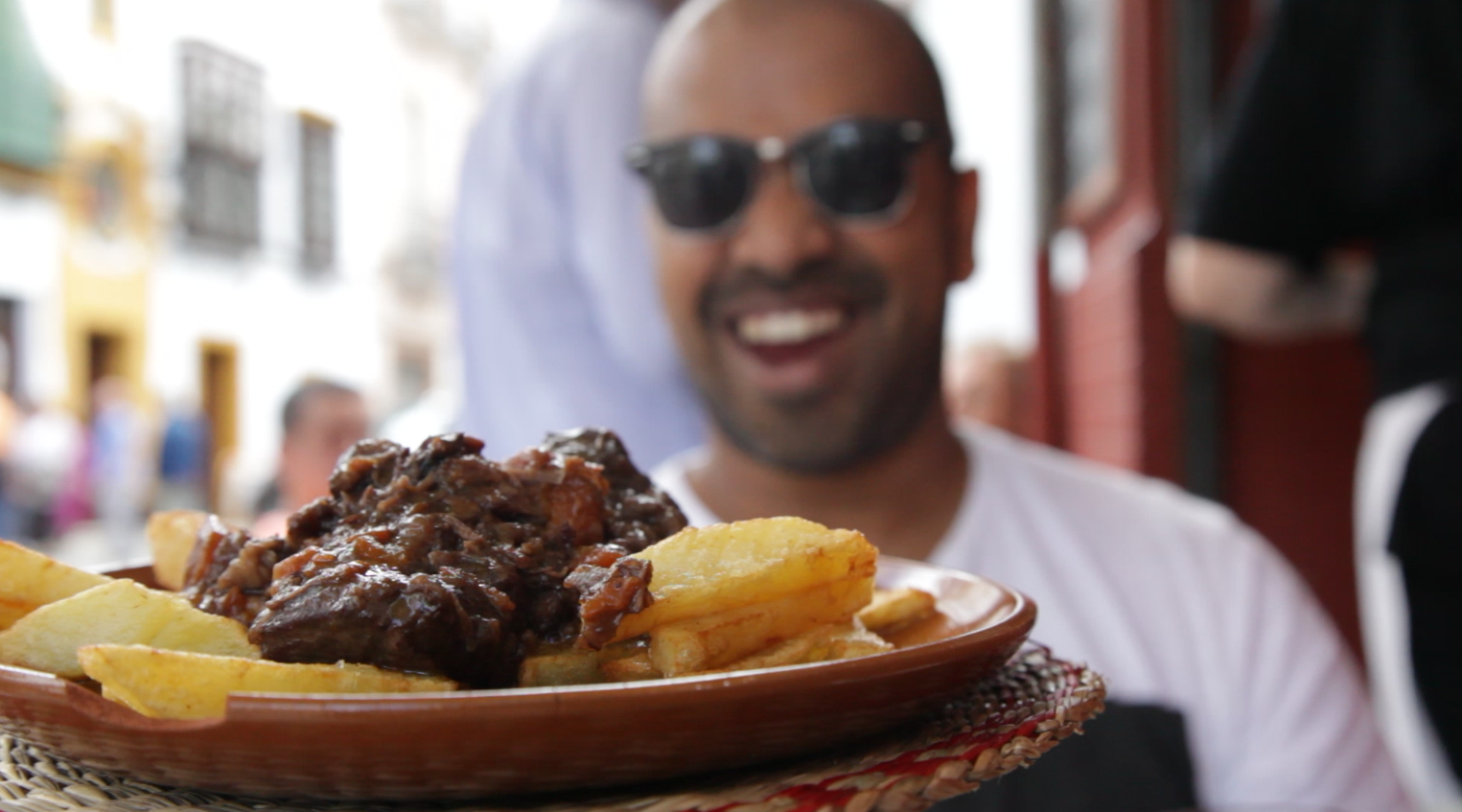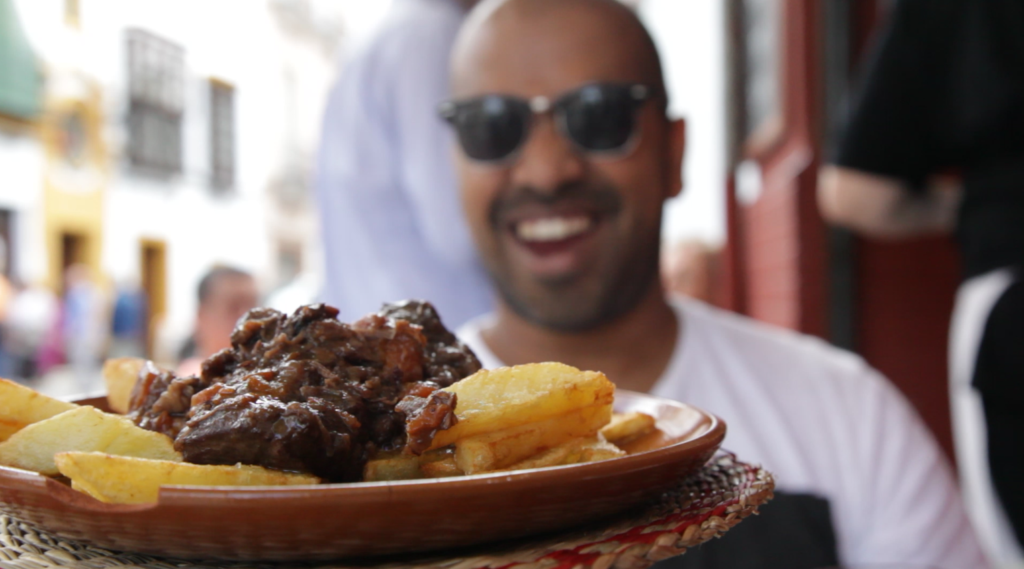 Enjoy Carrillada at Antigua Abaceria de San Lorenzo
One of my favourites moments from the trip was visiting this atmospheric wee abaceria or bodega. It is little bit off the beaten path but probably one of the best tapas restaurants in the city. The waitress and owner speak little english but were friendly and patient with my questions. In the end we decided to try Carrillada which is braised Iberian Pork Cheeks, slow cooked in the local fino aka sherry over a low heat for at least a few hours. The end result as you can imagine is this delicious, heavenly tender meat which is perfectly accompanies with roasted potatoes.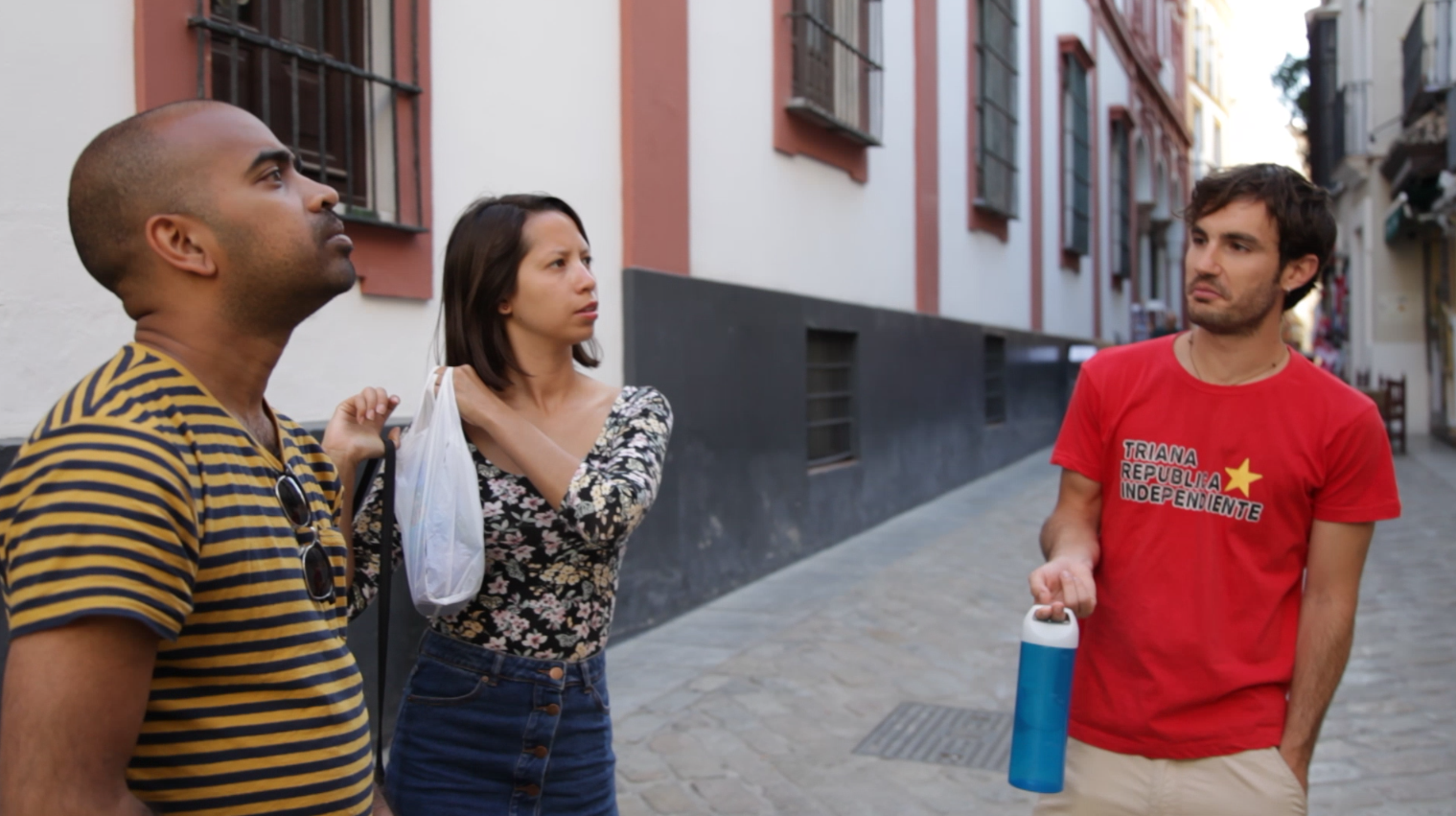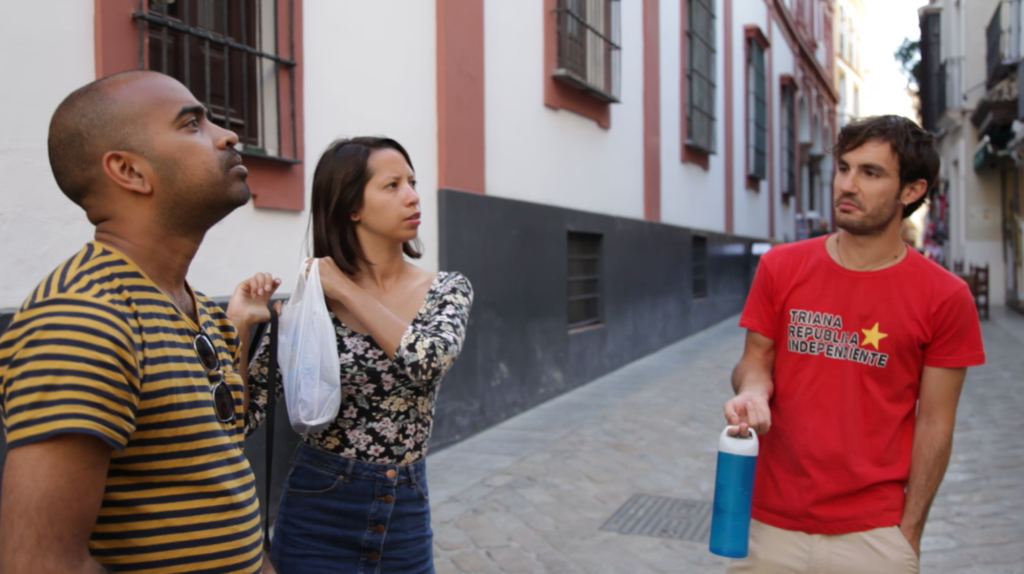 Take the free walking tours from La Banda Rooftop Hostel
A great way to get a feel of the city in a short period of time is to do a walking tour. The guys at La Banda Rooftop Hostel run two free walking tours : You have the choice of going on their 'Golden Sevilla', a discovery of all the main sights in the city, and 'Tales of Santa Cruz': a late evening tour which takes you around the City's Jewish Quarter. The tour takes a few hours and tips are welcomed.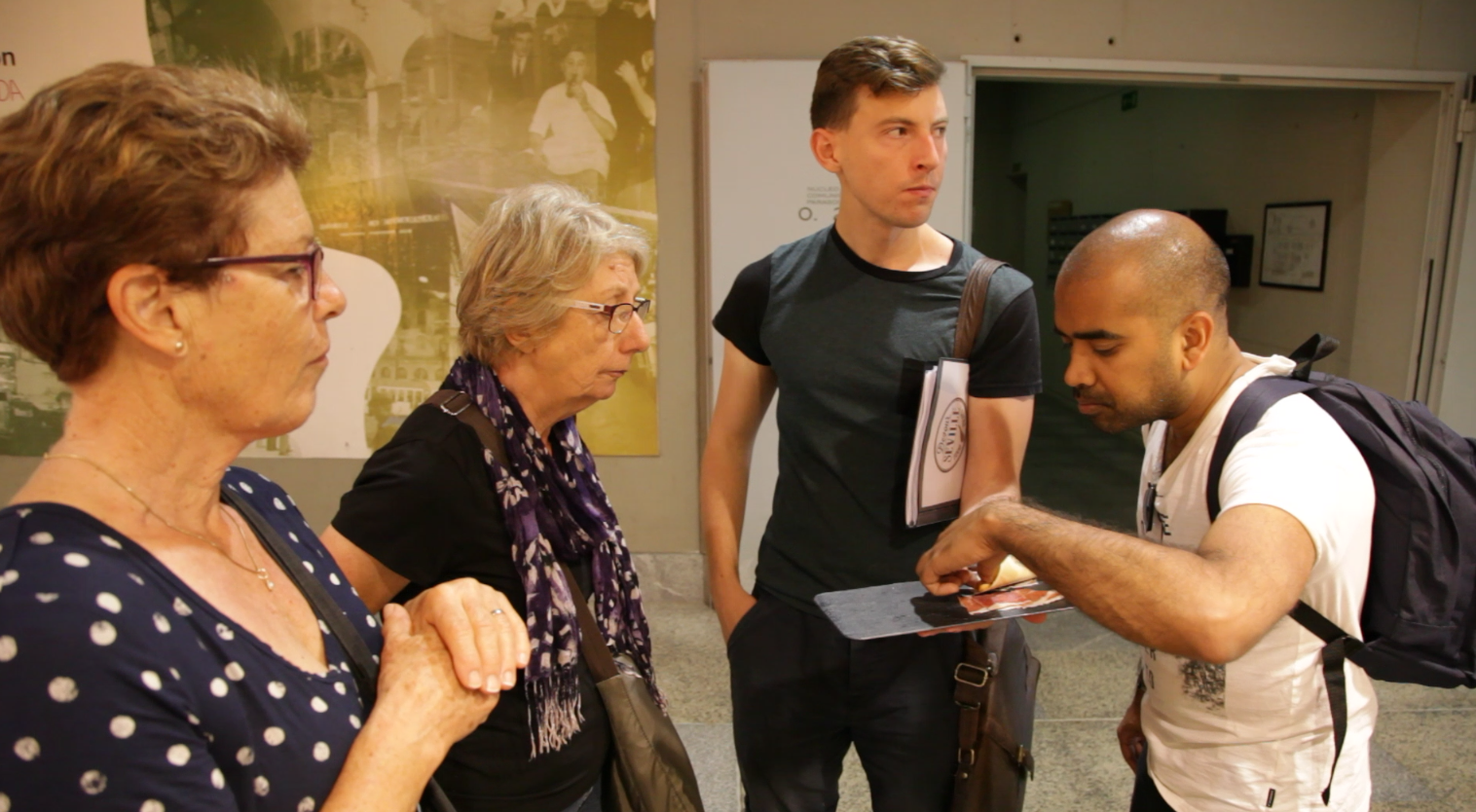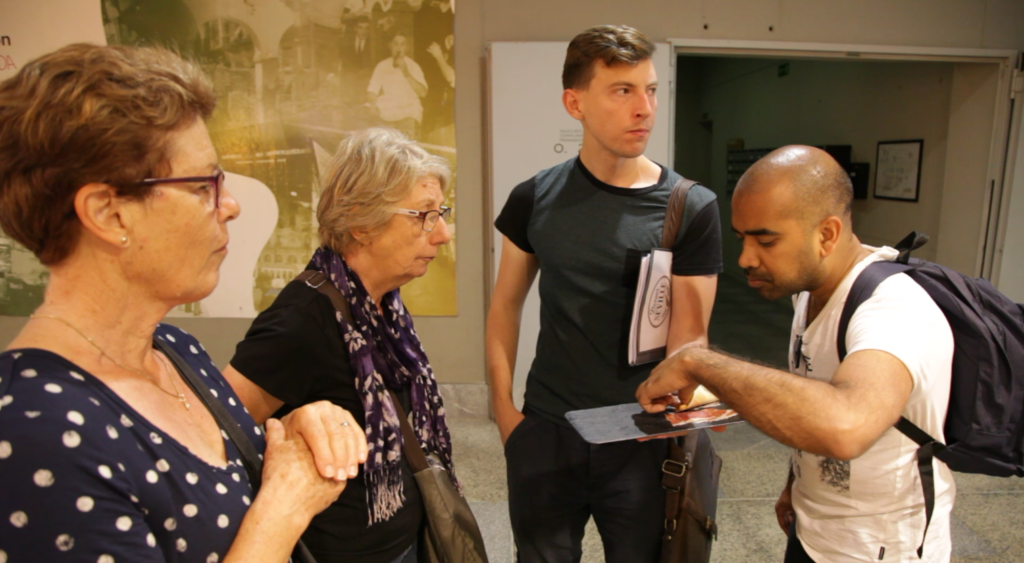 Explore city's rich food scene with a local: Devour Seville Food Tours
If you are a foodie like me, then I highly recommend trying one of Devour Seville's Food Tours. I've been on tours with their guides in Madrid and Barcelona- they are extremely passionate about their food , energetic and full of tips and ideas. Taking one of their tours is a great way to get a sense of history of the place and after the tours they always handout a sheet with tips of their favourite places to eat, drink and see. The emphasis in their tours is always supporting locals: no food chains, corporates are involved so by taking their tours, you are really putting money back into the local economy. I won't give you the lowdown of where we visited but this food tour had it all: we ate a lot (come with an empty stomach), sampled some amazing gelato which was unexpected and also the tour was filled with lots of nuggets of local history.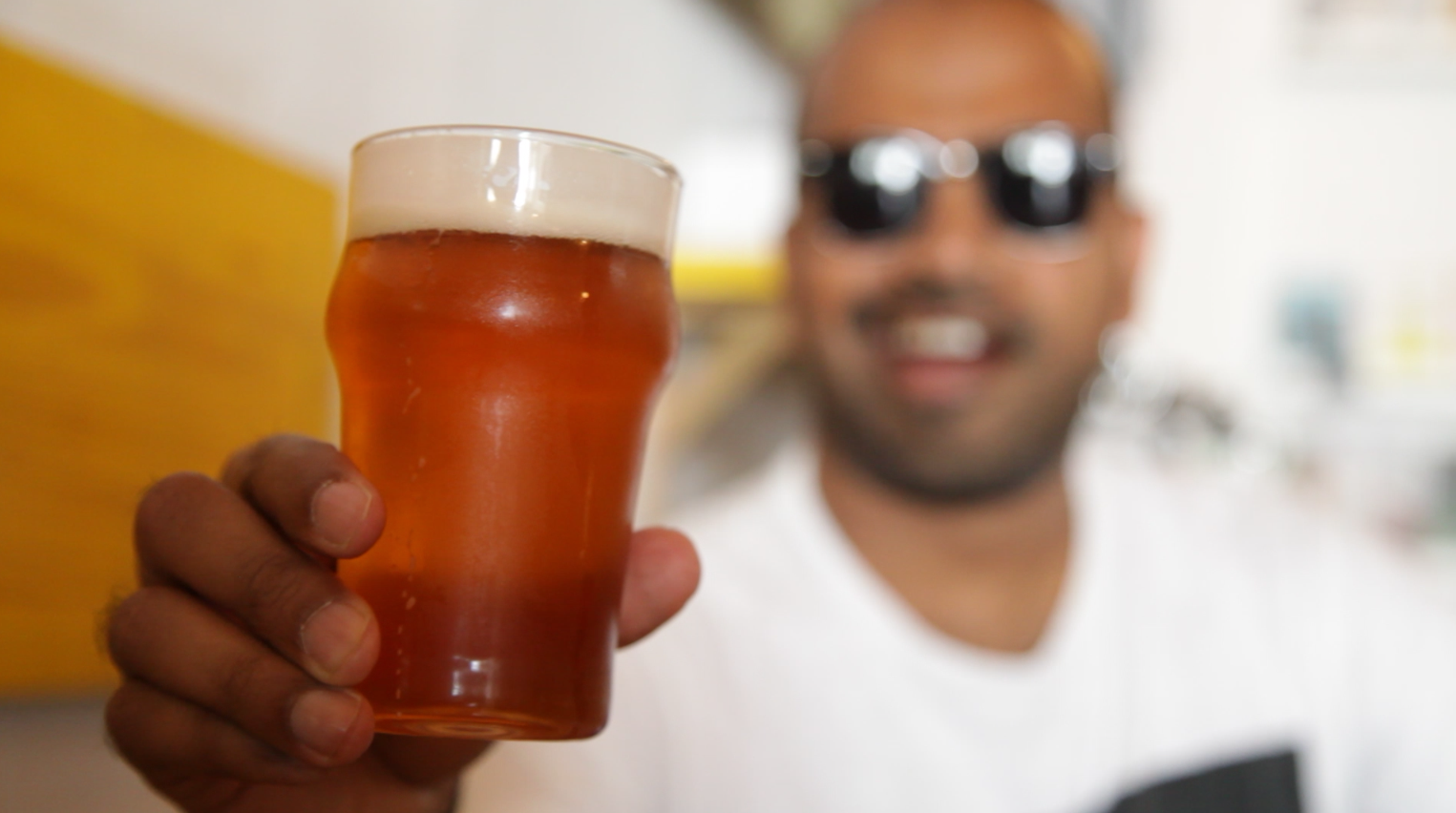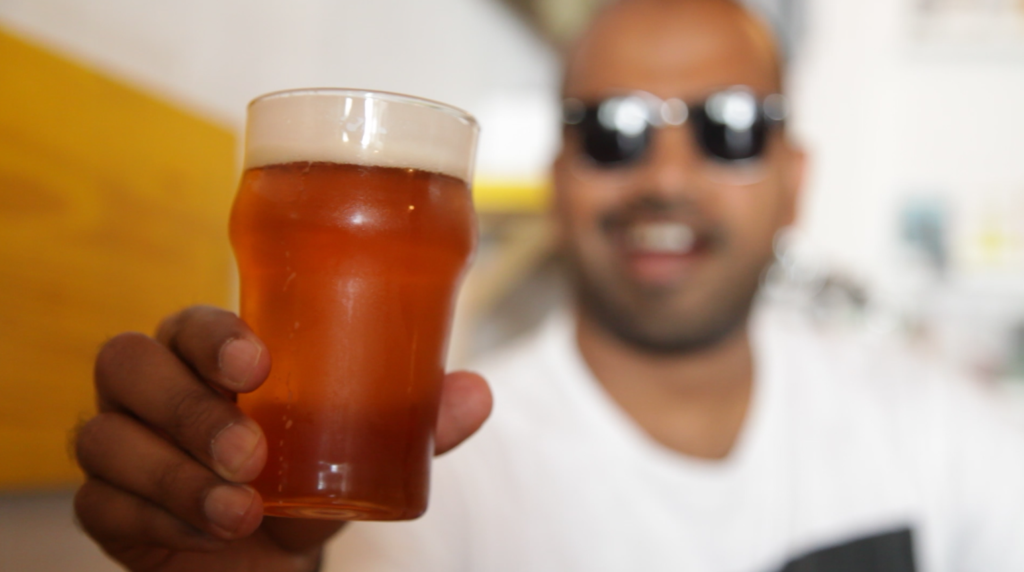 Try local craft ales like Zurda Golden Ale at La Jeronima
I wasn't aware that Seville and Andalusia had such a rich craft beer scene until this trip. If you are feeling thirsty, highly recommend a trip to La Jeronima where you are invited you to 'read our beers and drink our books.' Part library stocking publications from local publishers and a menu featuring over 30 craft beers from across Andalusia-this is a real authentic slice of Seville. If it is a warm day and you are thirsty I highly recommend a bottle of the refreshing Zurda Golden Ale.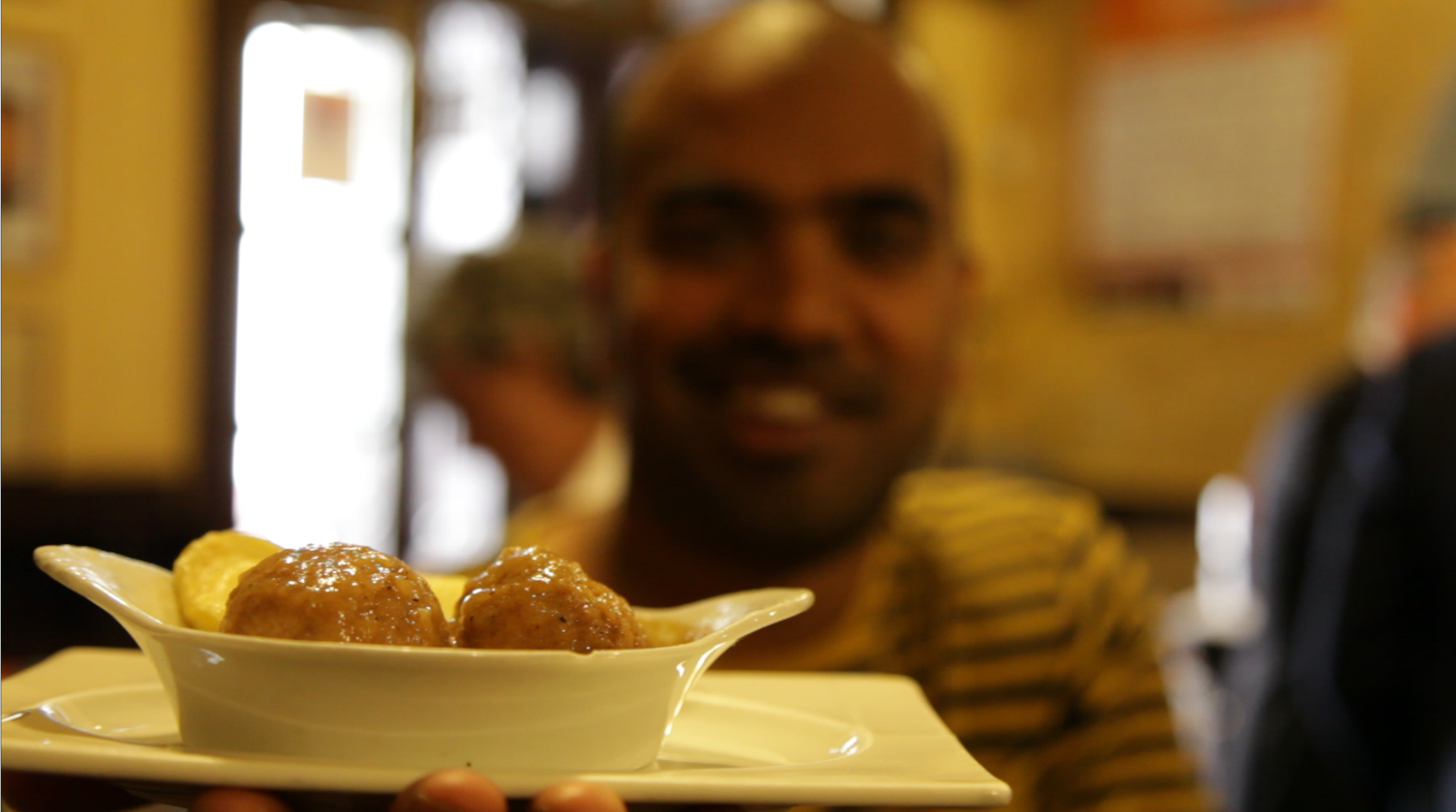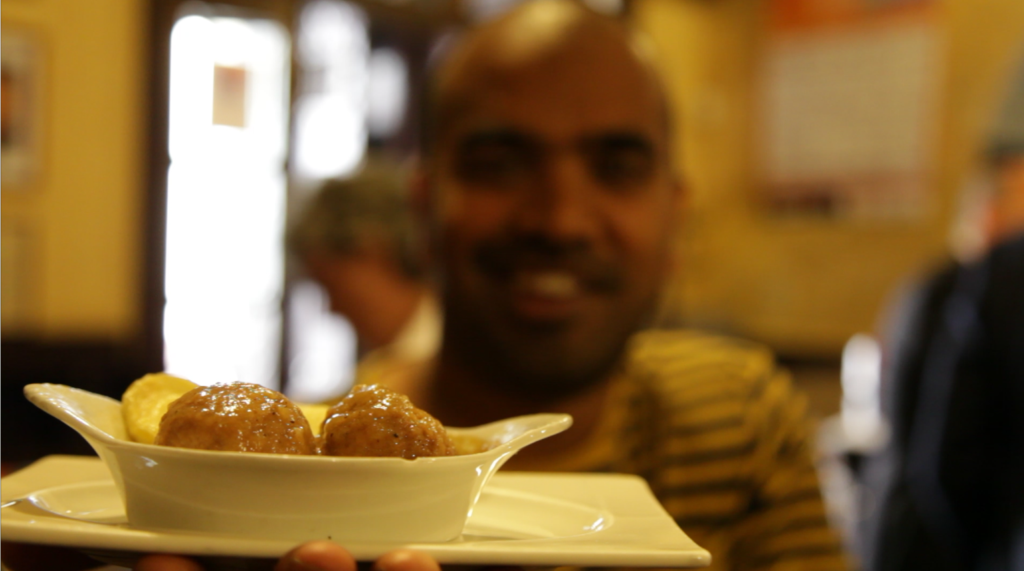 Taste Albondigas and Solomillo al Whisky at the historic Bodega Santa Cruz
More recommendations of places to eat. Yup. That's pretty much what I do when traveling nowadays. Bodega Santa Cruz is definitely one excuse for coming back to Seville. First reason is that the prices of the tapas here is very reasonable, starting around the €2 mark. Secondly, the food is fantastic. Try their delicious meatballs albondigas and Solomillo al Whisky ( pork tenderloin in whisky sauce) The latter dish is one of the most authentic tapas dishes you can try in the city and tasted damn good here.
Dive into Spain's colonial history at the fascinating Archivo de Indias 
Housed in the ancient merchants' exchange building of Seville, the Archive de Indias is a great place to understand the history of Spanish colonialism in America. The archive has some gems ranging from a request from a certain Miguel de Cervantes' for an official post to a journal of Christopher Columbus plus maps dating from the 17th century of almost every Spanish colony across the world. Best of all entrance is free.
Mon-Sat 9.30am-5pm, Sunday and holidays 10am-2pm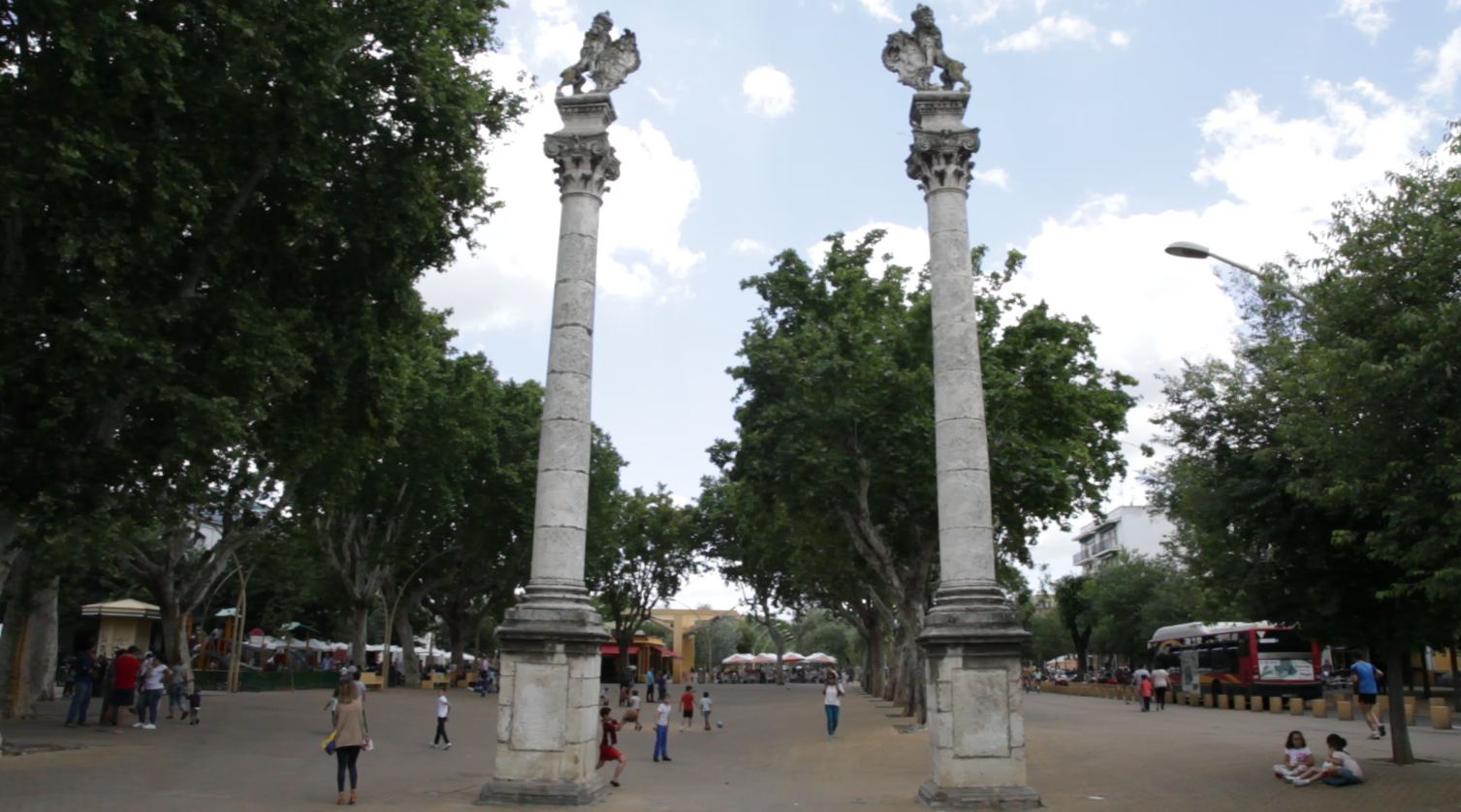 Alameda de Hercules -Discover the real heart of Seville 
If you want to get a feel of local life in Seville, head to Alameda de Hércules, or simply La Alameda. This huge square is where you will find locals gathered sipping on their Cafe Con Leche and savouring their morning breakfasts. In the evenings, the square becomes the heartbeat of local nightlife with people drinking ice cold Cruzcampo's or drinking fino. One of the characteristics of the square that you should checkout are the two columns which were retrieved from the remains of a nearby Roman Temple. On top of the columns you will find sculptures of Hercules, the mythological founder of Seville and Julius Caesar.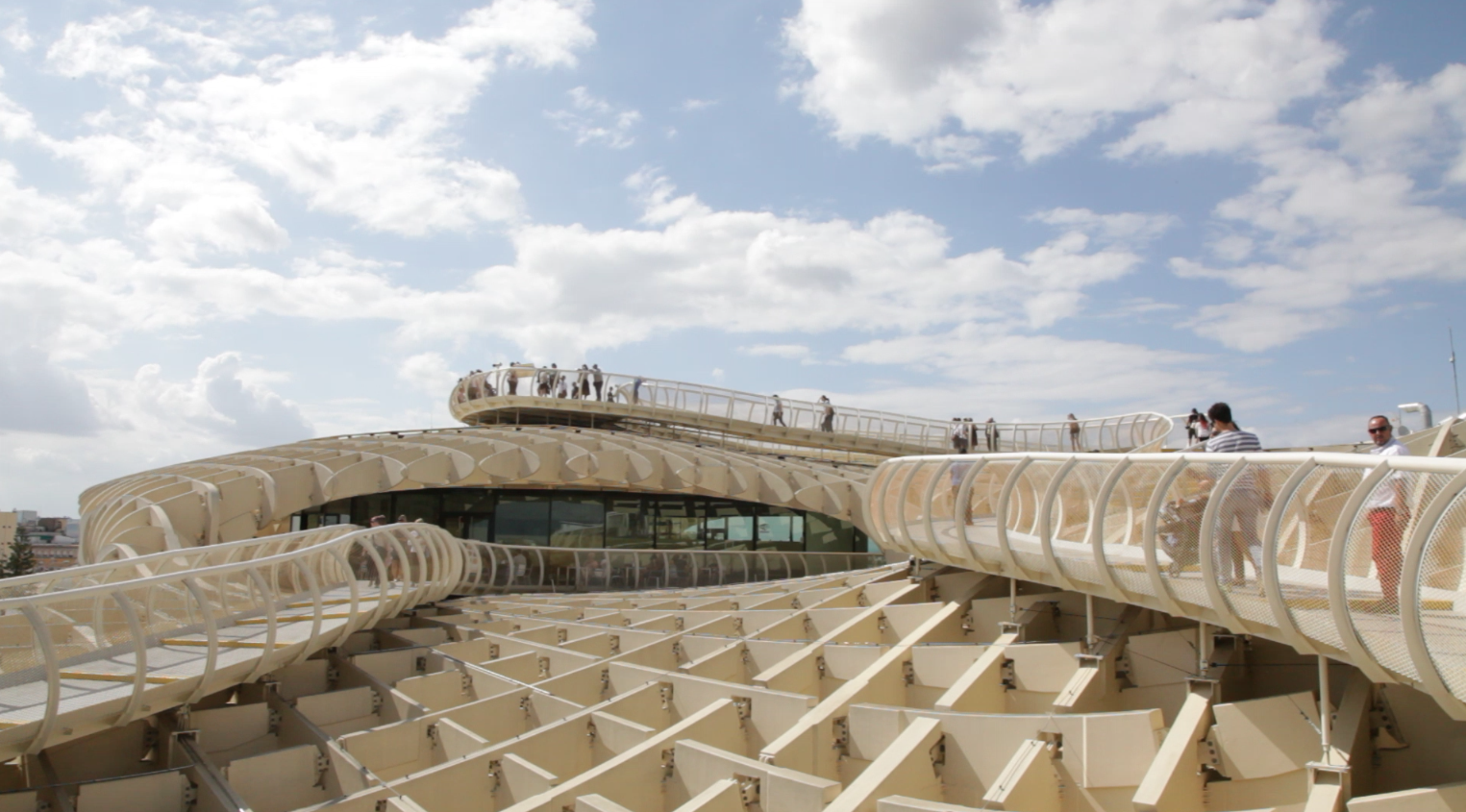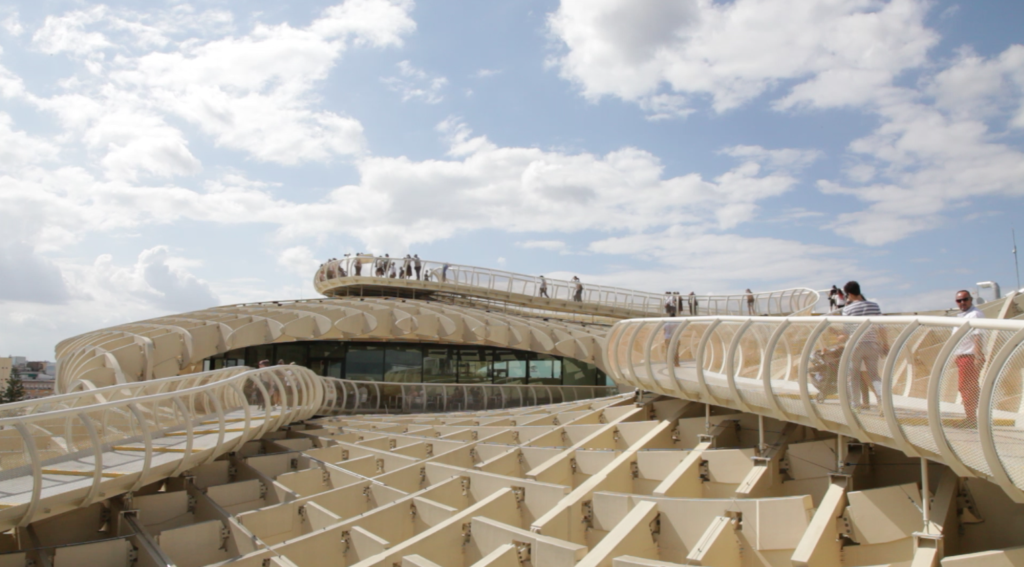 Enjoy panoramic views of the city from the Metropol Parasol: ' Las Setas de Sevilla'
To get the best views of the city, head to the unworldy wooden structure of the mushrooms aka 'las setas.' The spiral, fungus like walkway is apparently the largest wooden structure in the world and was designed by German architect Jürgen Mayer-Hermann. The structure, supposed to represent sunshades divides local opinion bitterly but has become something of an icon for the city.
If you have more time..
Visit the recently renovated and very grand Palacio de Las Duenas which gives you an insight into life in a 15th century palace. Beautiful building with amazing gardens (complete with lemon trees ) Tip: Visit on a Monday after 4pm for FREE ENTRY.
Keep your eye out for the hidden but beautiful Plaza del Cabildo in the heart of the city: Seville is filled with beautiful corners like this.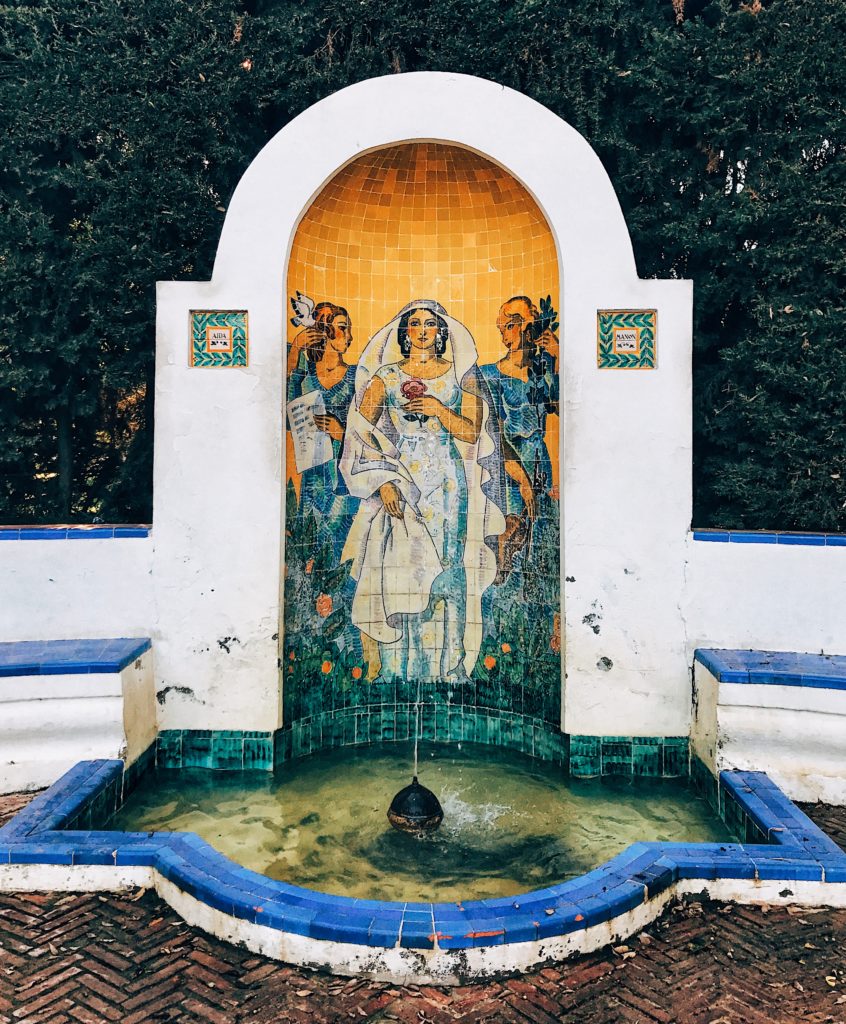 Also definitely worth visiting the grand Maria Louisa Park, home to the majestic Plaza de Espana. Covering over 100 acres, this park is a real oasis of calm in the city plus is home to a large population of white doves.
Tip: There are bikes available for hire from a shack in front of Plaza de Espana. It is a nice way to see this huge park in a short period of time!
Do pop into El Rinconcello, the oldest tapas bar in the city dating back to 1670! Dishes to try here are their excellent chickpeas with spinach and also their bacalau aka cod in a tomato garlic sauce-heavenly stuff!
Freskura, near Alameda de Hercules could be in with a good shout for having the best ice cream in the city: try their lemon basil sorbet ( €2.50)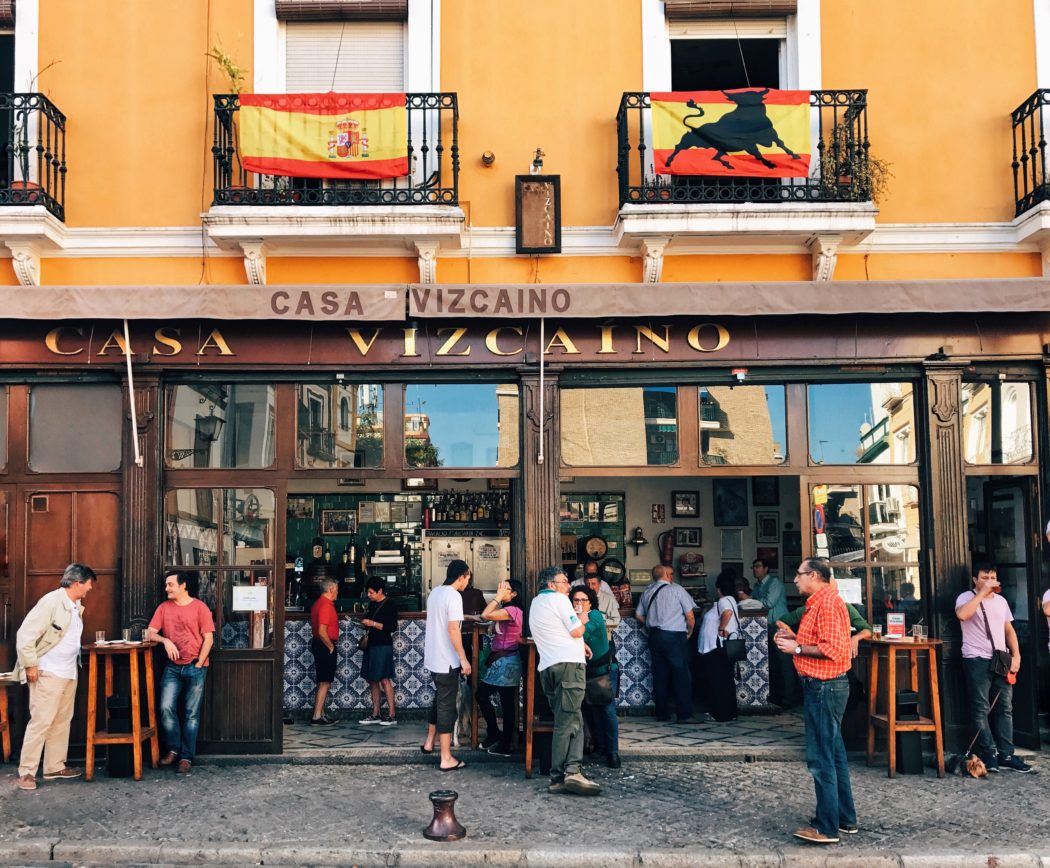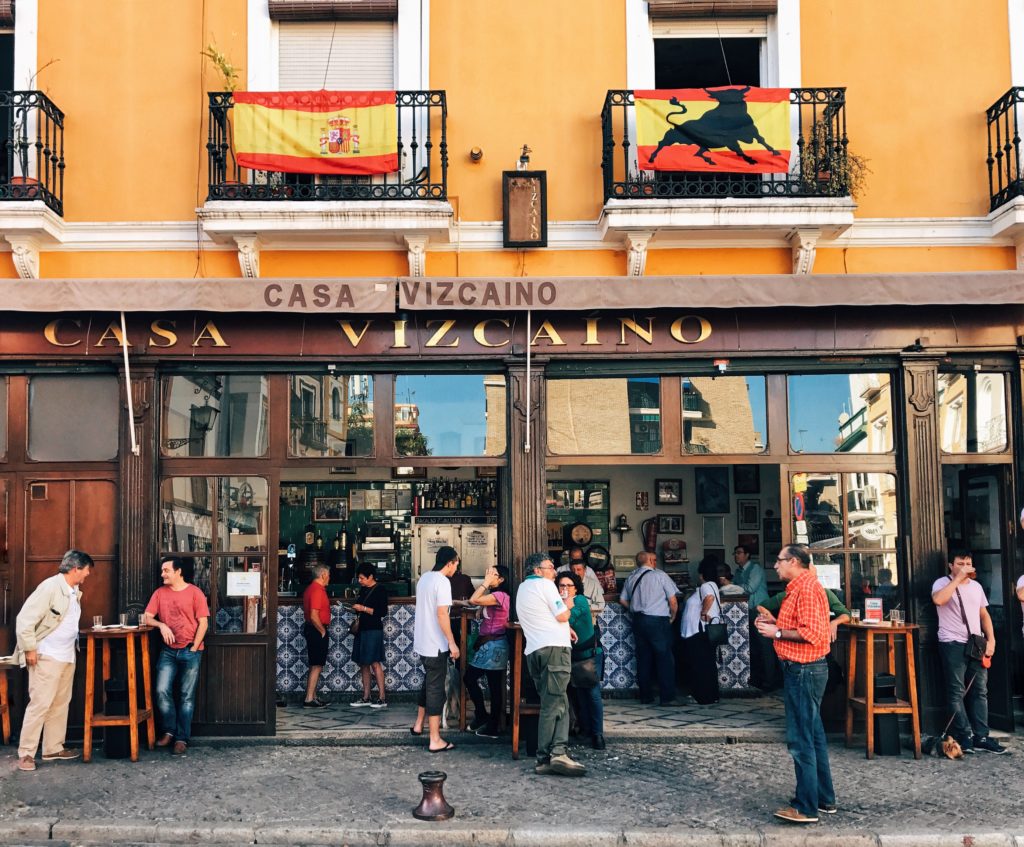 Getting there and away
Seville is just under 3 hours by the high speed AVE train from Madrid. Prices for tickets start around €22, booked in advance ) and is 5/5 hours from Barcelona. The city also has an airport which is extremely well connected and served by a number of budget airlines.
Where to stay in Seville on a budget
Seville is home to two fabulous hostels. I love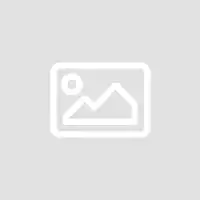 : staff here are amazing, rooms are clean and comfortable plus they do these affordable and delicious rooftop dinners and music concerts which feature local musicians: great hostel for meeting travellers and enjoying life!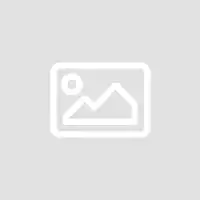 My other recommended hostel in Seville is the stylish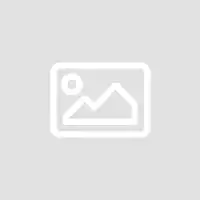 . As with their hostels in Barcelona and Madrid, this hostel has incredibly stylish dorms and privates. Some of the privates enjoy their own private terrace: perfect for couples. Plus the hostel has an onsite tapas restaurant plus their very own inhouse cinema which is free for guests to book and use.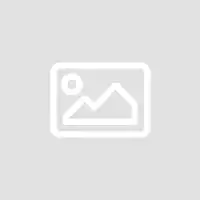 Disclaimer
This trip was made possible by the Spanish Tourism Board in London and Renfe. Huge thanks to Paco, Ana and everyone at the Seville Tourism Board for inviting me back to the city.
WIN 2 RENFE passes: Your chance to create your own Spanish railtrip
You've followed my trip. Now it is your turn to create your own Spanish rail-trip and to help you achieve that goal, the BudgetTraveller has partnered with the guys at RENFE to give you the chance to win two RENFE passes. RENFE pass gives you flexibility to explore Spain at leisure, similar to a Eurail pass. Do be in a chance to win these two RENFE passes, simply answer the following question:
Which cities did I visit on my #SpainbyTrain adventure?
1.Madrid, Barcelona, Valencia
2.Tarragona, Zaragoza, Madrid, Seville
3. Málaga, Granada, Seville