'You don't know boring till you've visited Denmark. Copenhagen is pretty but there's not much else to see.'
A friend from university told me this 12 years ago. That image, stereotype of Denmark being this flat and boring country stayed in my head for many years. I have visited Denmark twice since. Both times only to visit Copenhagen. I can confirm that Copenhagen is a pretty city: very regal, great cafes and wonderful gastronomy. The trips to Copenhagen, however, made me even more curious about the rest of Denmark.  That is one of the reasons why on a cloudy, muggy afternoon in late August, I was excited to be visiting Aarhus, Denmark's second largest city. As much as I love revisiting my favourite old haunts in Paris, Amsterdam and London, I've also tried to seek out more lesser-known, off the beaten path destinations like San Sebastian and Finnish Lapland in recent years. Another reason to be excited about Aarhus is that just recently in 2017 it had dual status of European City of Culture plus European region of gastronomy. So, you can expect some really fantastic food during your holiday here. The key theme and message from their year as European's City of Culture was to encourage locals and visitors alike to rethink the way we live. Be creative. A message that resonates with me massively. 'Could things be done differently?' In an era of globalisation where we live in an increasingly homogenised society, we travel to the same places and seek comfort in the known, this message has a powerful relevance. It is a fascinating idea. Creating an open city that is rethinking the way we live. So, to have a glimpse of what the city of the future might look like, I went to Aarhus. Here's a summary of our 48 hours in Aarhus and what to do in Aarhus.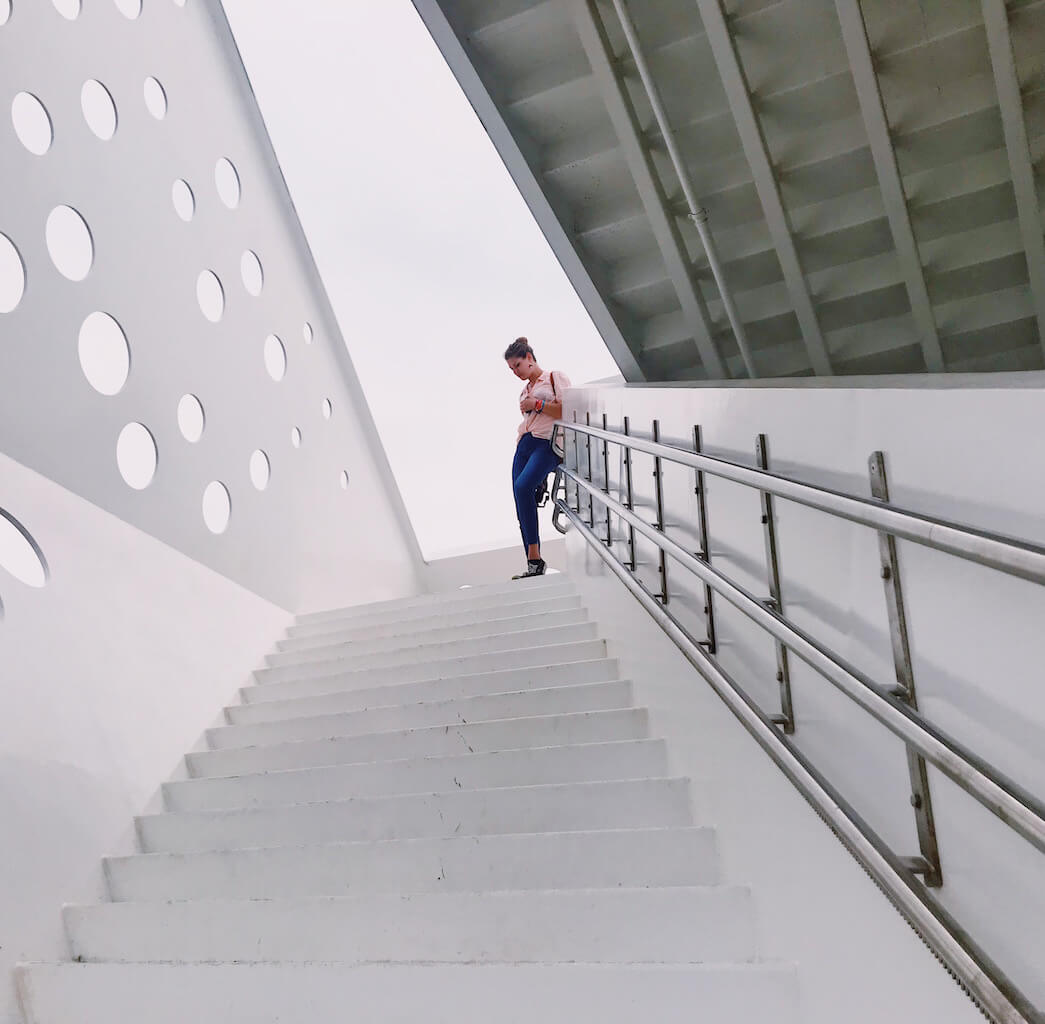 Day 1: Old Town of Aarhus aka Den Gamle By
"Study the past if you want to define the future" Confucius
Inspired by Confucius, the first stop on our trip was to visit the 'old town' of Aarhus aka Den Gamle By.
Den Gamle By ( Admission fee: Starts at  110 DKK for adults, Students: 55 DKK and free for children under 18 ) is not your usual 'old town' that you find in a city. This is a living and breathing experience of what it was like to live and work in a Danish market town.
Everyone we meet in the museum is in character, dressed in traditional costumes.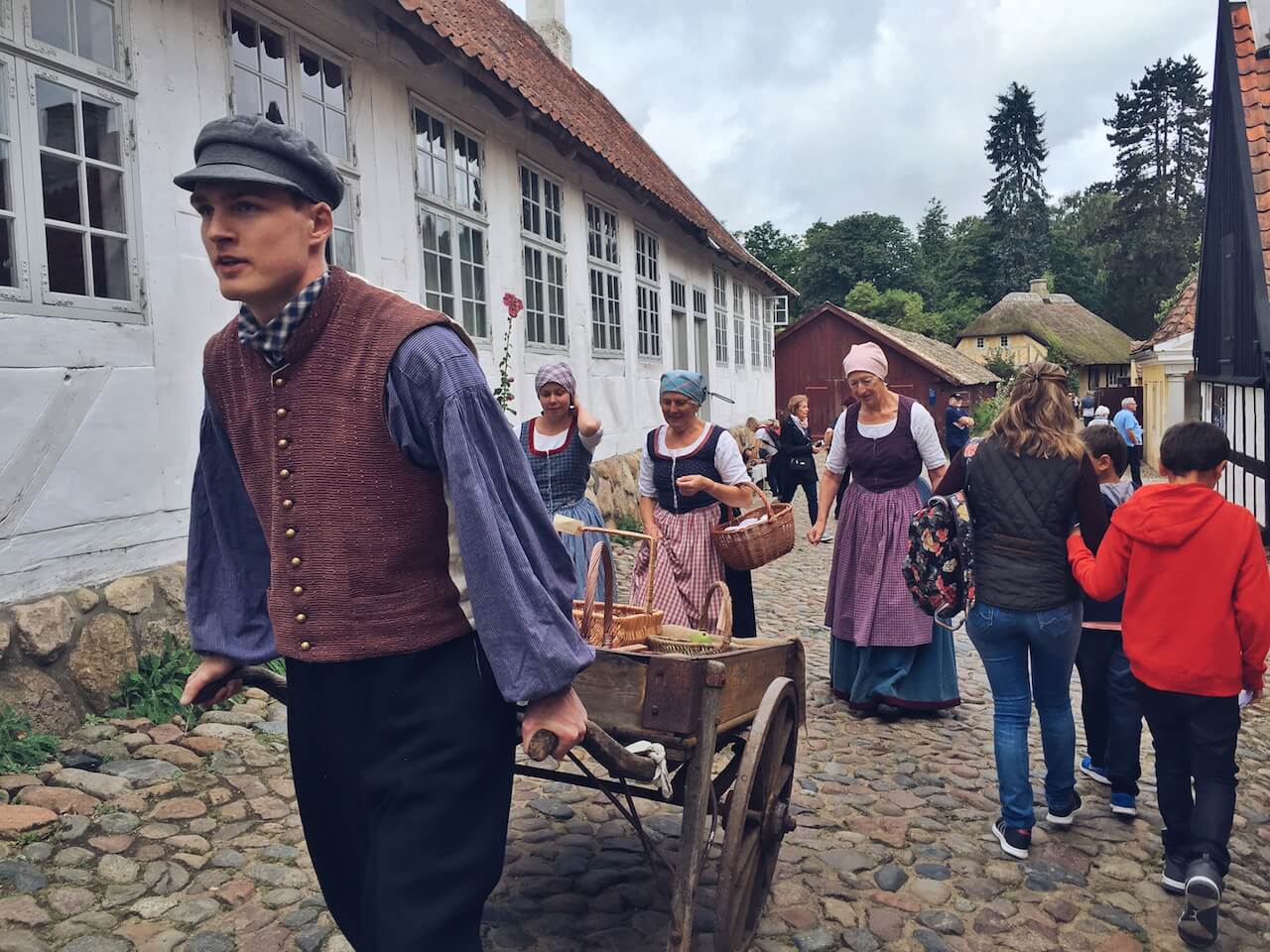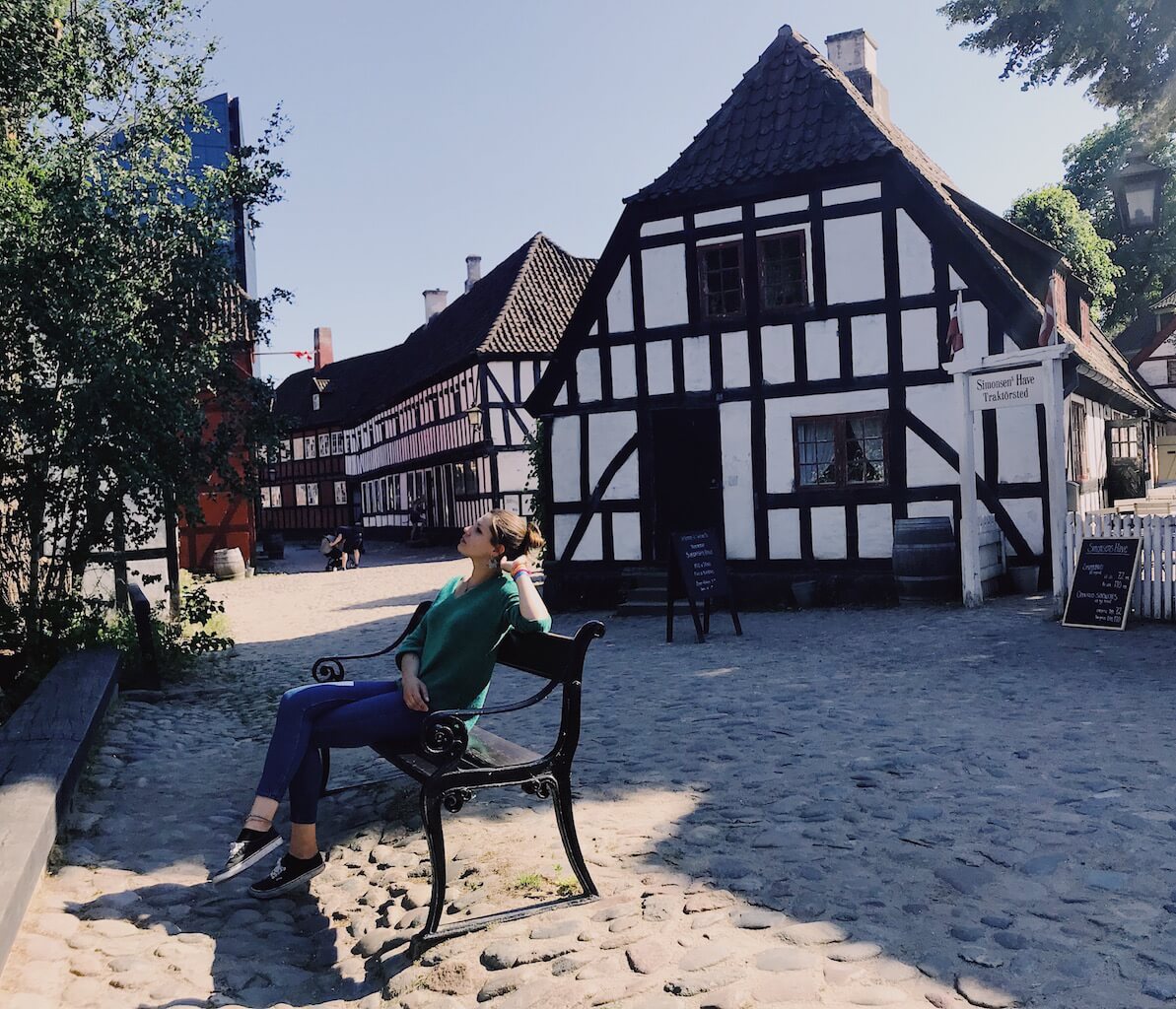 It felt quite surreal. It was the closest thing to discovering a portal into one of Hans Christian Anderson's fairytales. All the streets are covered with cobblestones and the buildings are half-timbered. These buildings were built between 1550 and the late 19th century in various parts of the country and then later moved to Aarhus during the 20th century.
The town itself is a fantastic attraction with most buildings open for visitors. After a brief jaunt through the town meeting the local baker and the blacksmith, we are given a tour of the village by a traditional horse-drawn carriage.
Afterwards we get carried away with some of the 19th Century amusements like a wooden bowling alley, a small brightly-painted carousel, mumbly pegs plus a set of wooden stilts which I tried to walk on but horribly failed.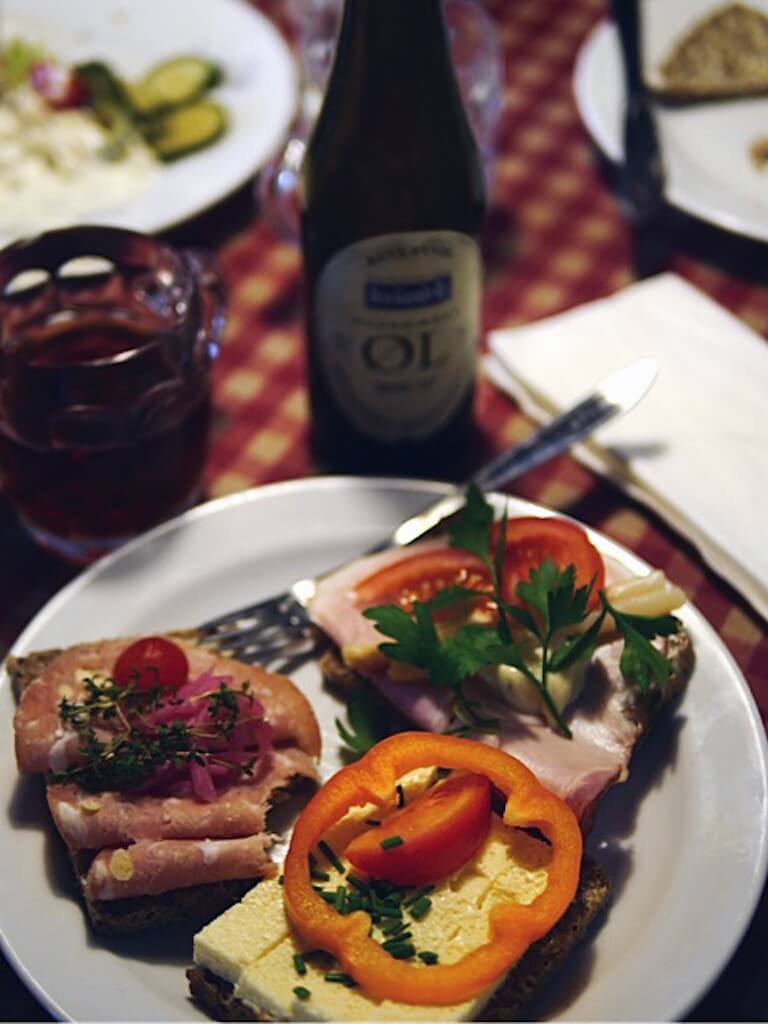 Day 1: Lunch at Traktorstedet Simonsen Garden
We had lunch in Traktorstedet Simonsen Garden, a restaurant with a cozy patio – beautiful. Here we tasted the typical sandwiches of Denmark-Smørrebrød!
These are made with dark bread and you can choose different types of fillings from vegetables, cheese and cold meats. For as little as 69 DKK, it is a good value for money option.
There is a real sense of connection with the environment and passion for sustainable living in Denmark. This is reflected in the Danes love for the outdoors, parks (there are 164 parks in Aarhus!) and places like the city's Botanical Gardens.
Besides being a leading research centre, the gardens are a good place to recharge your batteries. Lying just beyond the medieval walls of the Den Gamle By, we took some time out on the grass, enjoying the beautiful late August sunshine.
Day 1: Visit to ARoS Museum
The highlight for many people visiting Aarhus is visiting ARoS, one of the most amazing and unique museums I've been to in the world. (Admission fee : 130 dkk ( 100 dkk for people under 30, Free for children under 18) The museum showcases the work of progressive artists from all over the world either through painting, sculpture, photography, videos, drawings and art installations.
The star feature of the museum is the incredible rainbow panorama roof top installation by the Danish-Icelandic artist Olafur Eliasson.
The 'rainbow panorama' takes the form of a circular, 150m-long walkway made of brightly-coloured glass panels. Walking around this installation you enjoy this amazing 360 degree panoramic view of the city in all colours of the spectrum. No word can describe the happiness you feel walking in the rainbow panorama.
The museum has a fantastic cafe where they have excellent coffee, sandwiches and ice-cream from local producers like Hansens Flødeis. I recommend their delicious strawberry and vanilla ice-cream.
Day 1: Dinner at VACA- Mexican Finger Food
After a long day or exploring Aarhus , we ended up here at VACA. I am not an expert in Mexican cuisine but their Clasico burrito with slow cooked beef, beans, rice, sour cream and salsa was one of the best things I have ever tasted. ( 72 kr, €7 )
Day 2: Visiting Højbjerg
The following morning, we head out to Højbjerg, a suburb of Aarhus, Denmark to dig a little deeper into Aarhus's past.
There is the Moesgaard Museum where you can view several other archaeological findings from Denmark's ancient past plus view the legendary Grauballe Man (who has the enviable title of the world's best preserved bog body). The Grauballe Man was discovered in 1952 from a peat bog near the village of Grauballe in Jutland.
The museum is equally fascinating on the outside. Danish firm Henning Larsen Architects have designed a unique wedge-shaped museum with planted roof that rises from the sloping landscape. Perfect place for kids who will love running up and down that slope. It becomes a place for picnics in summer and sledging in winter.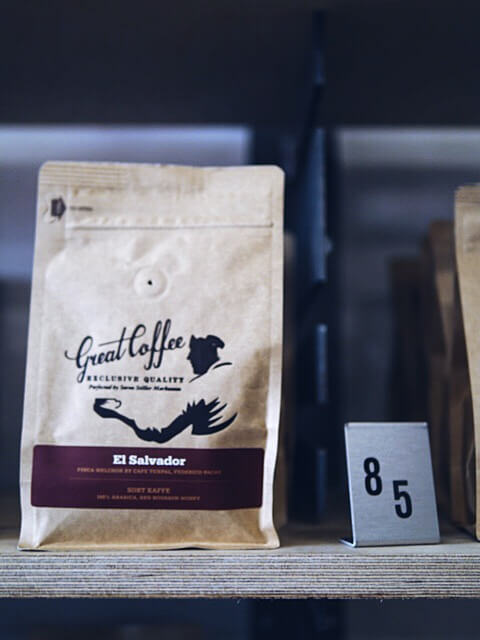 Day 2: Best Coffee in Town: Great Coffee
If you're looking for best coffee in town, pop by Great Coffee. The owners of the cafe are extremely passionate about their coffee and roast the coffee by themselves. You walk in and are greeted by the delicious smell of freshly roasted coffee beans.
It's a very chilled out place with plenty of wooden tables to read a book or even get some work done (35 DKK for a coffee).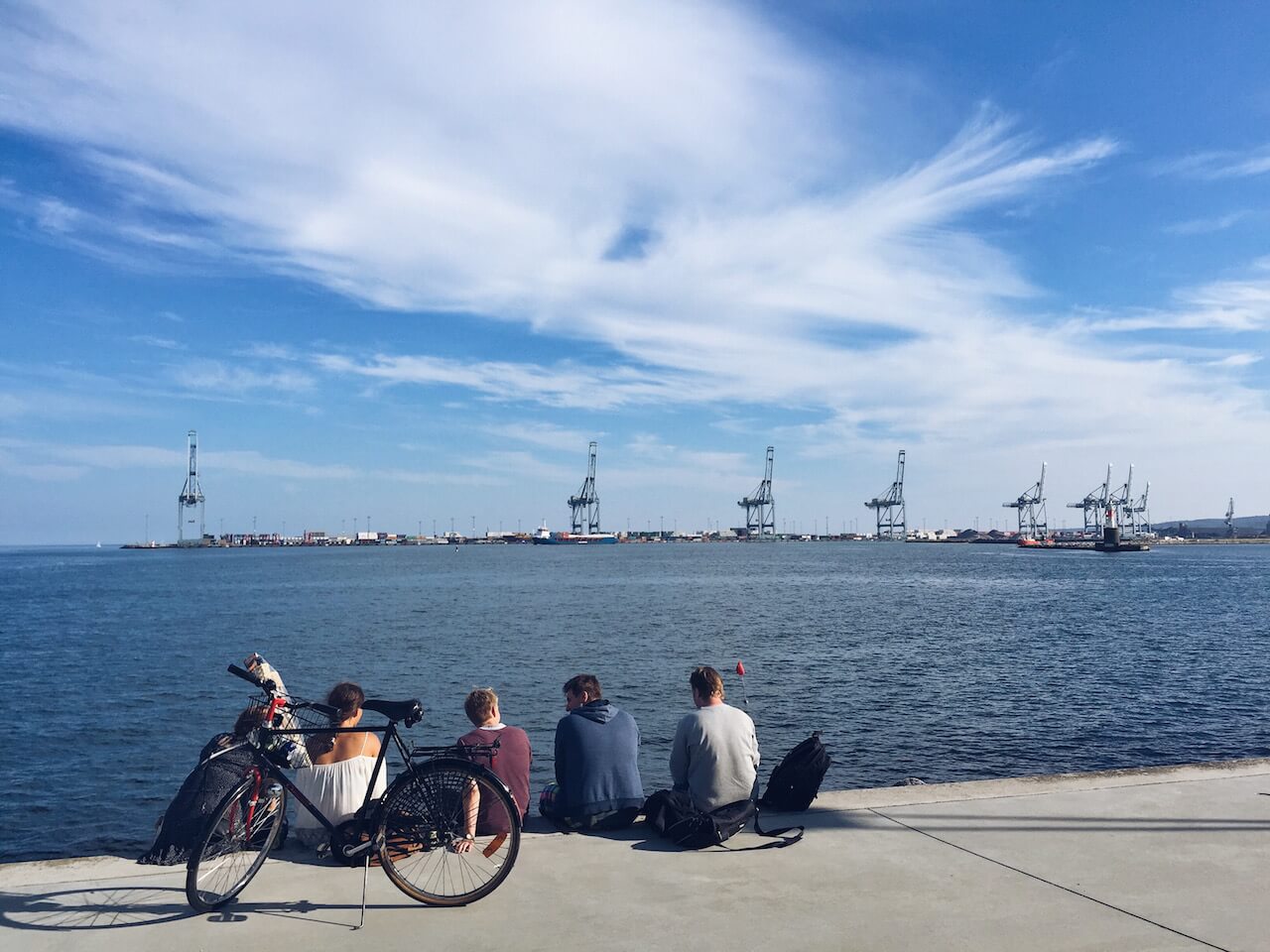 Day 2: Daytime Exploration of the Port Area of Aarhus
We headed to the port area of the city by bike. Aarhus is Denmark's largest container port. The port area is undergoing a huge redevelopment at the moment. Lots of new apartment buildings and fascinating futuristic structures are popping up in this neighbourhood. The most iconic building in this area is the Isbjerget aka the Iceberg. The roof rises up and then plunges down, creating the illusion of seeing a real iceberg.
Day 2: The Beach at Strandbaren
We later pop into the nearby Strandbaren, a pop up beach where you can savour BBQ burgers, sip on cocktails and watch the container ships float by. Or if you are feeling energetic, join the locals for some beach volleyball.
We later stumble across this sculpture by Swiss artist Marc Moser for the summer's Sculpture on the Sea exhibit in Aarhus, Denmark. Called Sea Pink this is pop art at its best: huge, oversized sunglasses at the beach with pink tinted lenses that allow the viewer to see the "sea pink".
Day 2: Dokk 1-The World's Best Library
Cycling on our way back we stopped off to admire another awe inspiring piece of architecture- Dokk 1, which was recently voted as the world's best library.
Encircling the library is also one of the coolest playgrounds you will find in a city. Dubbed the Kloden (The Globe), each section represents various cultures and regions of the world.
My favourite is the large wooden eagle on an erupting volcano: these both apparently represent Iceland and the American continent.
At the back of the library, you also get a nice panoramic view of the city's impressive skyline.
Day 2: Dinner at Aarhus Streetfood
For dinner, we went to the fantastic Aarhus Streetfood. Inspired by the success of Copenhagen Street Food on Paper Island, this streetfood mecca has food from all corners of the world.
We enjoyed everything from prosecco from Italy, Banh mi sandwiches from Vietnam, delicious dumplings to nutella crepes and even fish and chips! Prices are reasonable and affordable. People here are lovely, warm and welcoming. Definitely not a place you want to miss when visiting Aarhus.
Or try Aarhus Central Food Market
Following the success of Aarhus Streetfood and its status as a region of Gastronomy in 2017, a new food mecca launched in the heart of the city called Aarhus Central Food Market. Similar to the concept of Aarhus Streetfood you can find a ton of delicious food from all parts of the world. Price of food here is not cheap but pretty decent value. We loved the food here so much that we came twice. On the first visit we tried the homemade ramen at Ramen Takumi– lots of flavour and really tasty.
On the second visit ( pretty hungover after attending Northside Festival) we had delicious shakshuka at William Malloul's Shakshuka. There is a vegan version with just vegetables plus if you order a shakshuka on weekdays (till 5pm ), you get a free Søbogaard juice.
After dinner drinks at Bodega Kurts Mor
Denmark can be pretty expensive for drinks but each city or town has a bodega where you can find some pretty good deals on beers and some pretty interesting characters. We walked into Bodega Kurts Mor with the intention of having  a quick cheap beer but left a few hours later, bit drunk but having met some really cool people. The master of ceremonies at Bodega Kurts Mor is John ( in picture) He's a very entertaining host and meeting him was definitely a highlight of the trip. The beers are ridiculously cheap, starting at around 15 kr ( €1.50) which is pretty crazy.
Or try….Fairbar
Another excellent place for cheap beers in Aarhus is Fairbar, a non profit cafe-bar run by volunteers and a great place for live music as well as film screenings and workshops. Prices for a beer start from 20 DKK.
Top tip : Visit Aarhus during the Northside Festival
One of the best time to visit Aarhus is during their fantastic annual NorthSide Festival. I loved this festival. Taking place over 3 days, with over 40 acts and spread across 3 stages, NorthSide 2018 was an intimate affair with over 40000 people attending the festival everyday. The 2018 lineup was pretty well tailored to my musical tastes: The National, Cigarettes After Sex, Queens of Stone Age, Liam Gallagher, Bjork were some of the main highlights of the festival for me.
After experiencing Lollapalooza in Berlin ( 2017) where it was a mad scram and hard to get up close and personal to see your favourite bands, NorthSide felt a lot more chilled out and much more accessible.
Also the festival grounds are pretty close to Aarhus: it was a 30 minute walk from the door of our city centre hotel to the festival entrance. This was one huge plus for us compared to other festival experiences which involve a cumbersome bus journey to the middle of nowhere. The walk to the festival itself is quite an experience: called the Camino,  along the 800-metre strip of Brabrandstien there was are all kind of pop events taking place. Plenty of enterprising food and drinks vendors like the Camino offering cheap beer and water, perfect given it was very hot weather.
The other aspect that really impressed me about Northside was the food offering -all sustainable, locally sourced and organic.
These oysters: 10 for 180 kroner – thats €1.80 per oyster were delicious and pretty great value.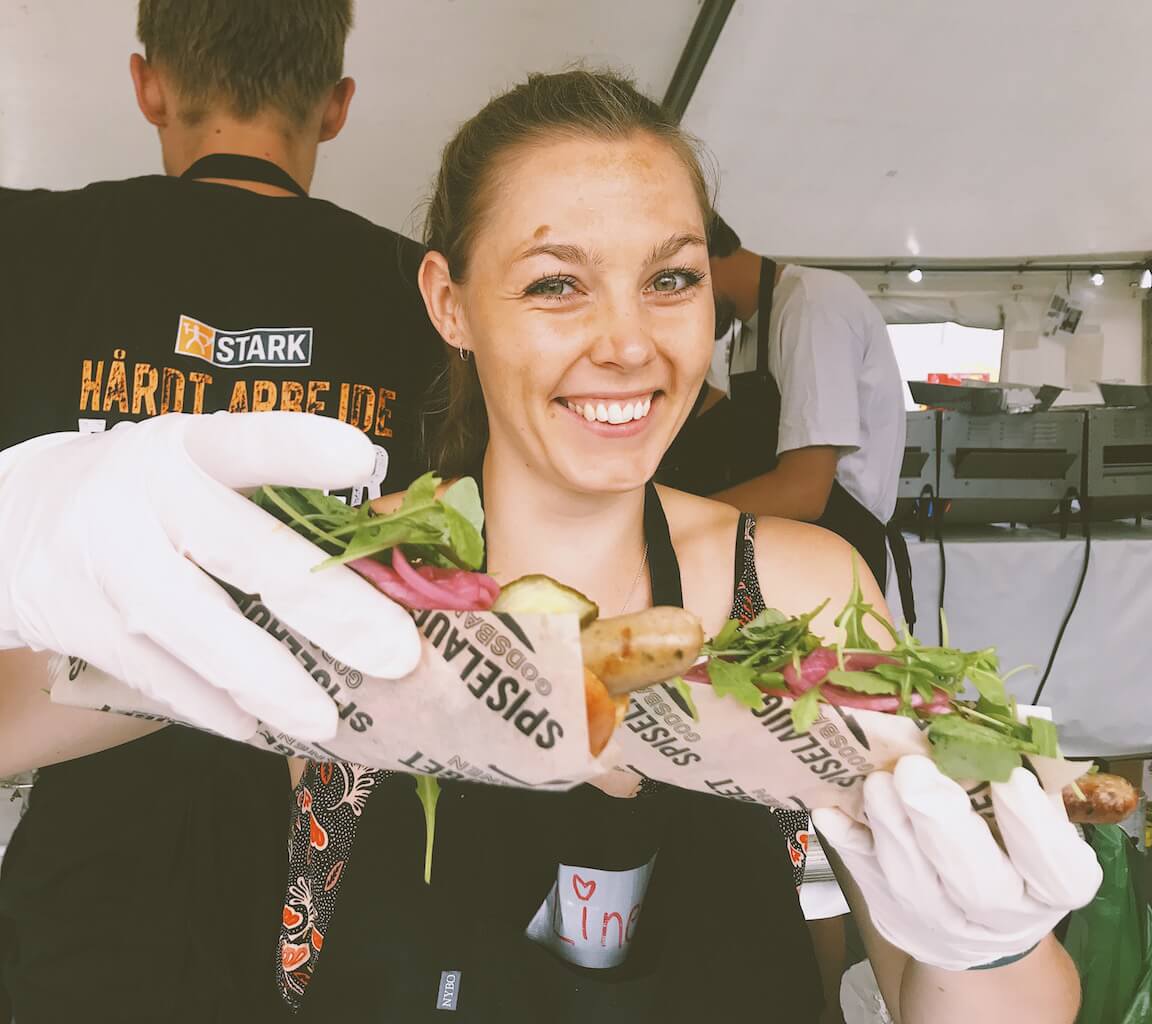 Theres a whole bunch of other cool things going on like champagne tents..not my cup of tea.I'm more a cold beer and hotdog kind of guy so yup, was pretty chuffed to try one of their delicious gourmet hotdogs.
More about the green aspect of the festival: more than half of the waste produced is reused or recycled and the festival reforests in order to cancel out its use of wood. So that was another positive aspect of the festival and one worth supporting.
Oh yes, important to note that the lines for beer and toilets were short and the serving staff were fab. It was quite a relief after my experience of Lollapalooza where the queues were a nightmare.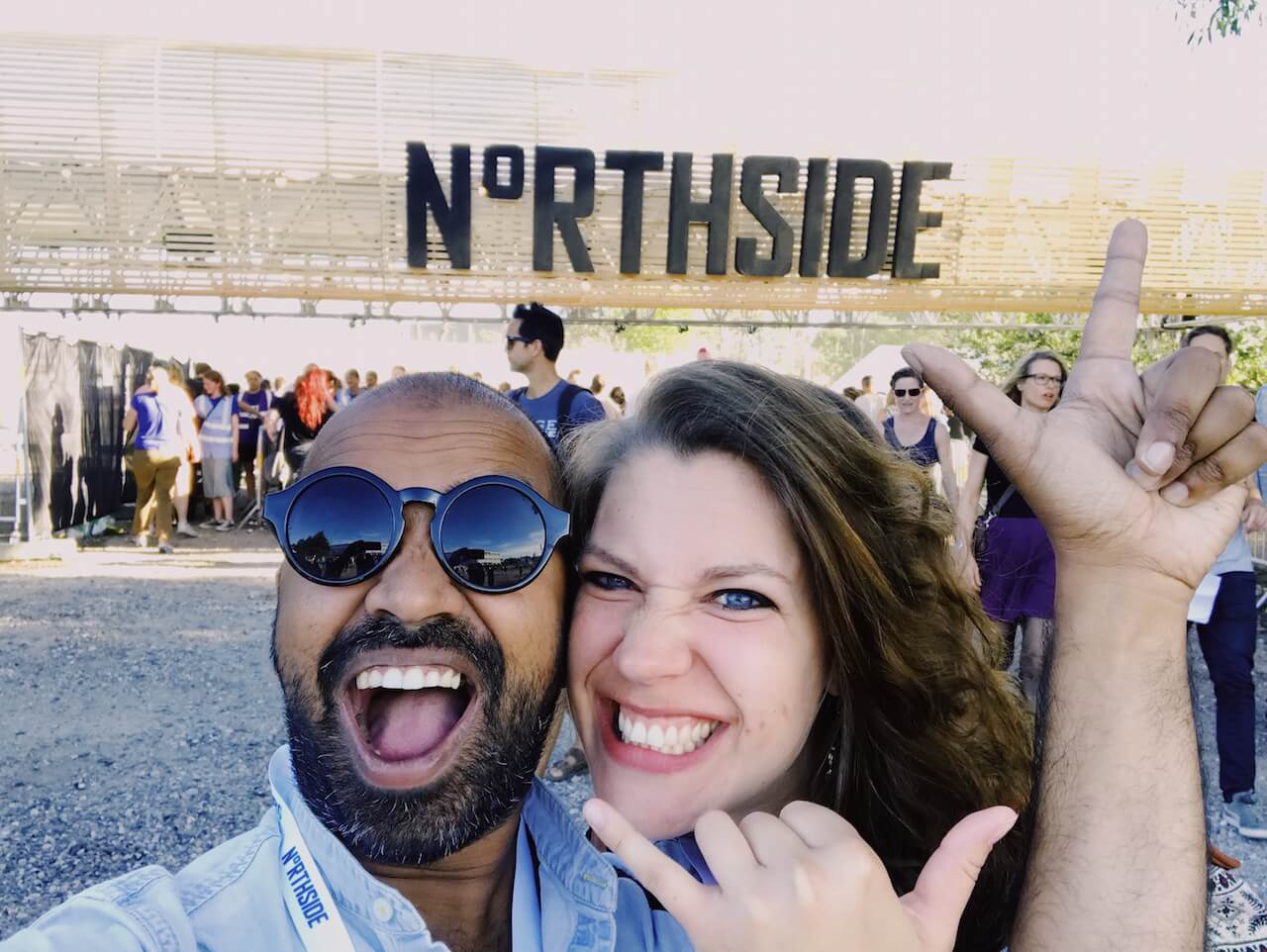 So. That was our 48 hours in Aarhus.
A quick snapshot…a few memorable days in a truly unique city. A city of the future with a glorious past, we met some truly wonderful people in Aarhus.
I need to reconnect with my friend who visited Denmark all those years ago.Tell him that the rest of Denmark is still flat.However, it is a country that is far from boring. Aarhus has changed, thanks to its glorious rainbow effect. A city in a constant state of flux and self-reinvention – is there anywhere in Europe that can compare?
Where to stay in Aarhus on a budget
Choice of budget hostels and hotels in Aarhus is limited. Usually anything below €100 for a private and €30 for a dorm bed represents pretty good value in Denmark so take that into account when planning your holiday budget.
Cabinn Aarhus falls into the sub €100 bracket. Affordable, clean , a great location in the heart of Aarhus and a generous , no frills continental buffet breakfast are the reasons for staying here.
Danhostel Aarhus City is a new design hostel in the centre of Aarhus that is worth checking out. I haven't stayed there personally but have heard rave reviews about their rooftop cafe, superfast wifi and rooms are clean. Privates here start from €75 a night while a bed in their mixed dorm starts from just €26 a night. They do charge 50 kr for bed sheets here so bring your own or be happy to pay the supplement.
If you appreciate hotels with Scandi minimalist design , good quality service at mid range price, then checkout the City Hotel Oasia in Aarhus. The hotel has a great central location in Aarhus and also a fab buffet breakfast. Rooms here start at the €120 mark.
If you're happy to stretch your budget to €130- €150 per night mark then have a look at the Radisson Blu Scandinavia Hotel. This hotel enjoys a fab location, right beside the Aros Art Museum. Despite the central location, it is very quiet. The family room is spacious and comfortable. The two bedrooms are divided by a glass door and each room has a window, a bathroom and a huge flat screen TV.For the princely sum of €23 a night the hotel offers a very generous buffet breakfast. Hotel staff are professional and friendly.
Getting Around Aarhus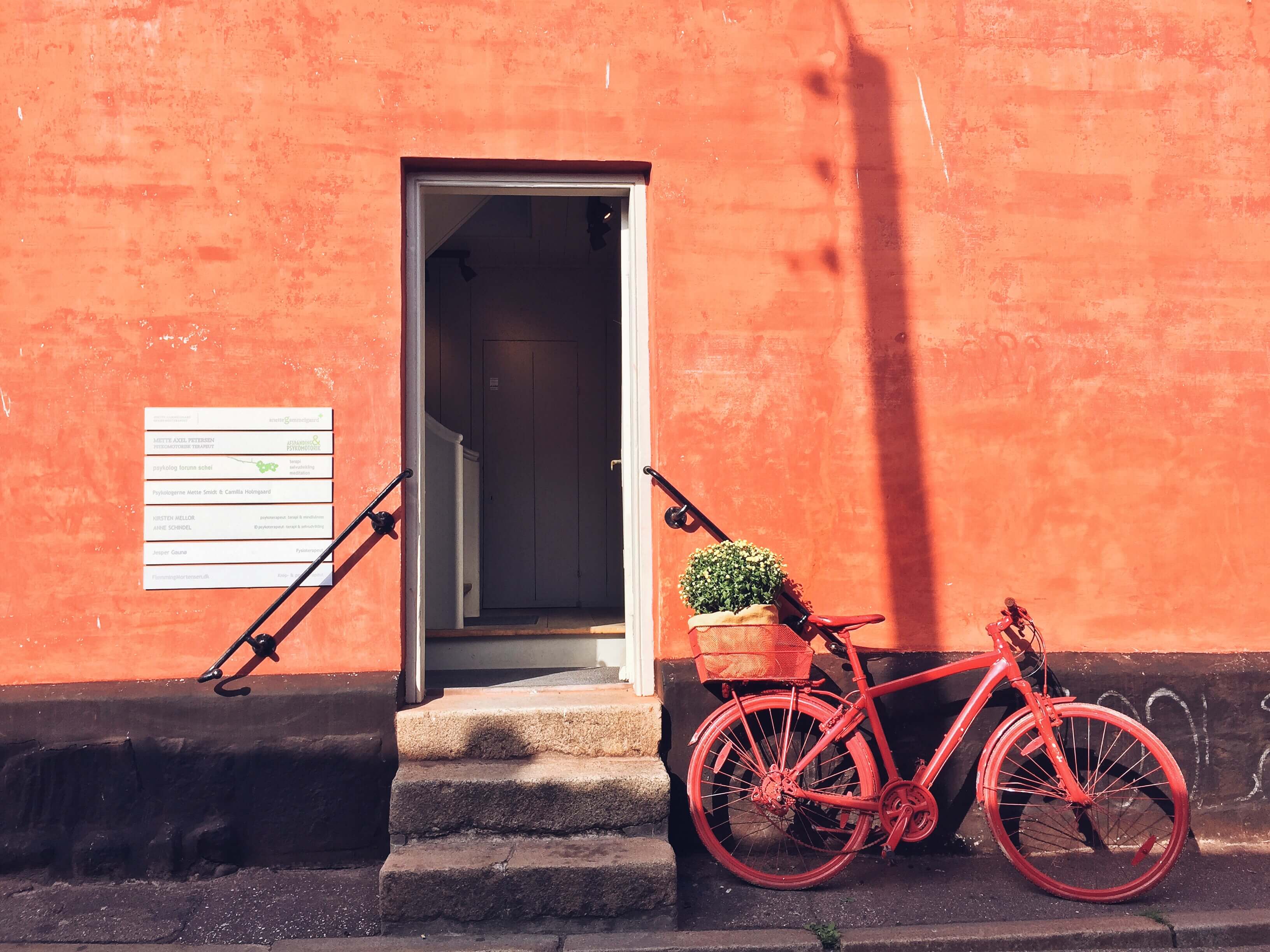 One of the best ways to experience Aarhus is by bike.
Cycling Aarhus offers daily-guided tours (299 DKK) that give you a nice overview of the city. We decided to rent a bike (110 DKK) from them and create our own tour of Aarhus.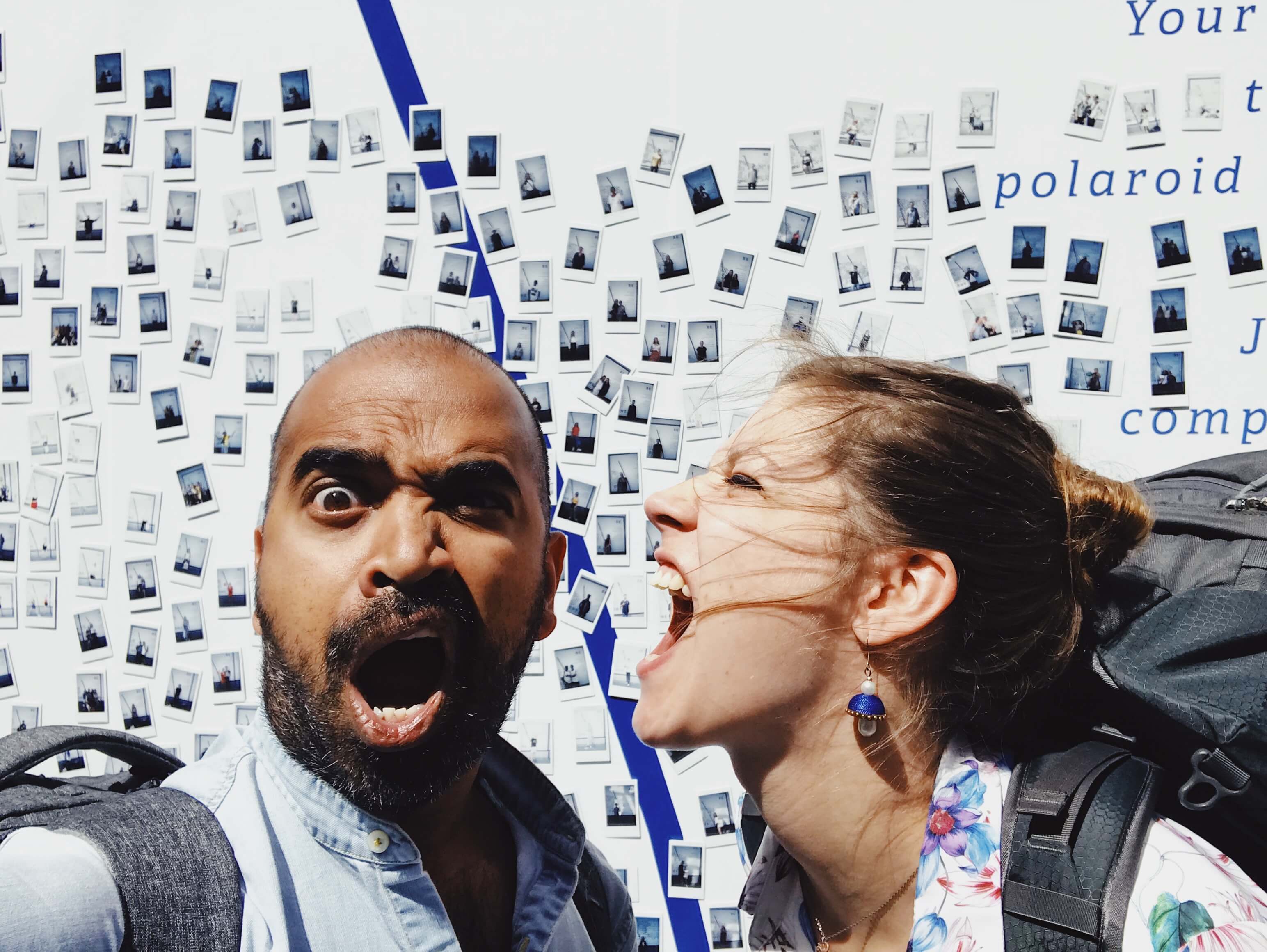 Disclaimer
My trip to Aarhus was made possible thanks to the kind support of Visit Aarhus (Thank you Anne, Mette and Peer) and Visit Denmark (Thank you Kathrine). The views all represented here are my own. If you are visiting with your family, please checkout the excellent family guide to Aarhus compiled by Sofia Vasconcelos,