Some moments stay etched in your memory forever.
This was once such moment.
It was a mellow, cloudy morning in October. Quite early, around 9am. We had just arrived by car from Bilbao. The sea was silent as the hills in the distance. Waves were slowly rolling onto an empty pristine golden beach. On the left I can make out the the thickly forested Monte Urgull with its 12th century castle and English cemetery.
We were standing on the top of Monte Igueldo, just west of the city. What's the view like?
You can judge for yourself from the photograph below.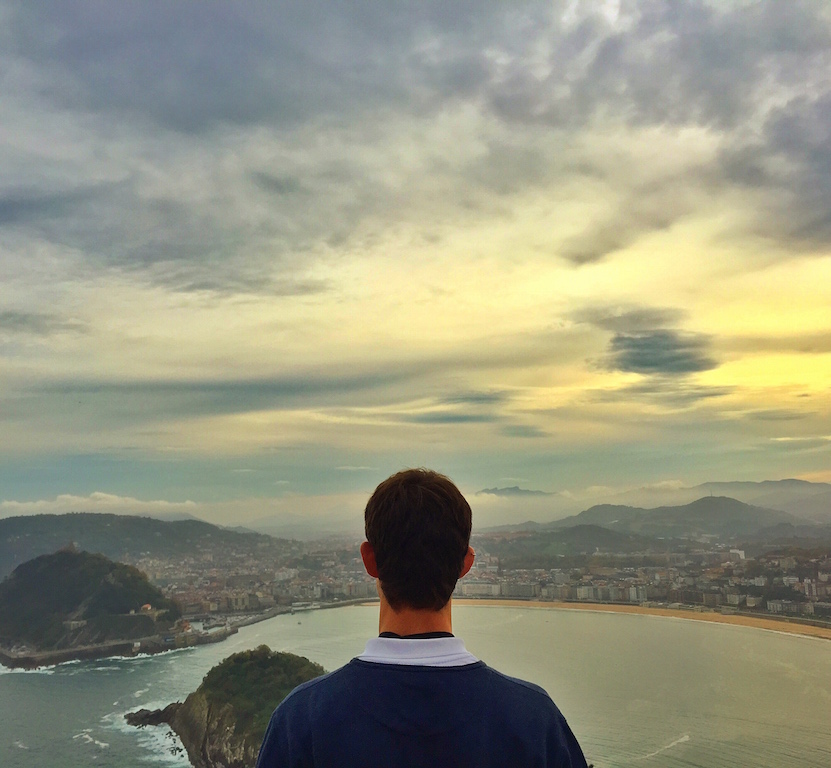 I present to you probably the best view of San Sebastian's beautiful scallop shaped bay: the Bahía de la Concha.
I would happily spend the whole day just sitting here admiring the view. However given that we had only the weekend to explore the city, there was a lot to see and do.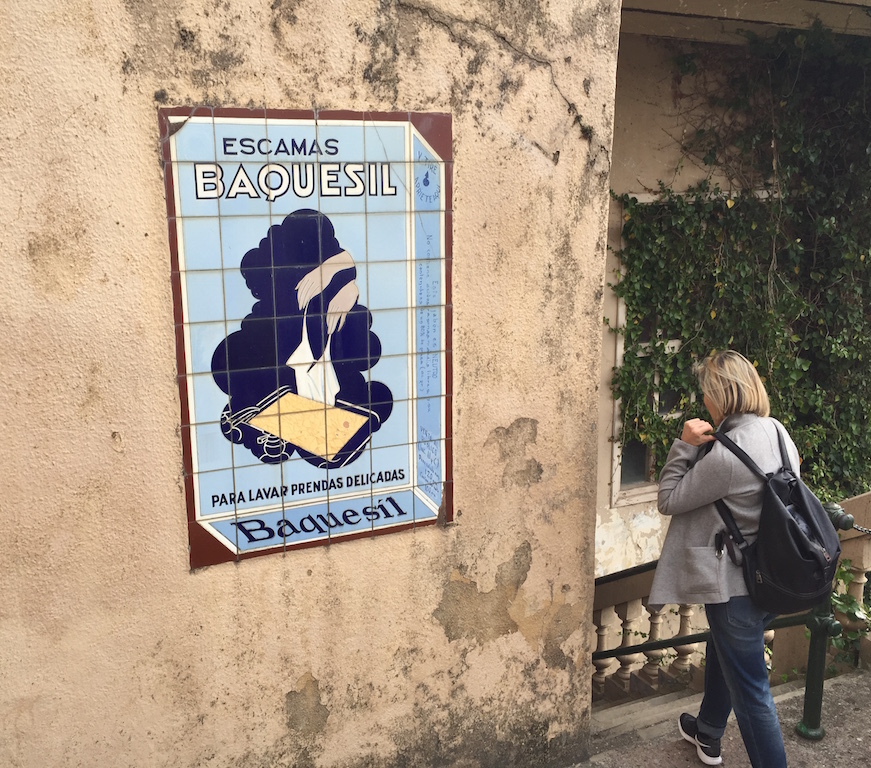 It was a short hop down on the historic funicular ( 3rd oldest in Spain) and straight into town.
The city is lively. Saturday morning and there is a steady flow of locals and tourists in town.
Lots of people watching opportunities, as this baby can testify.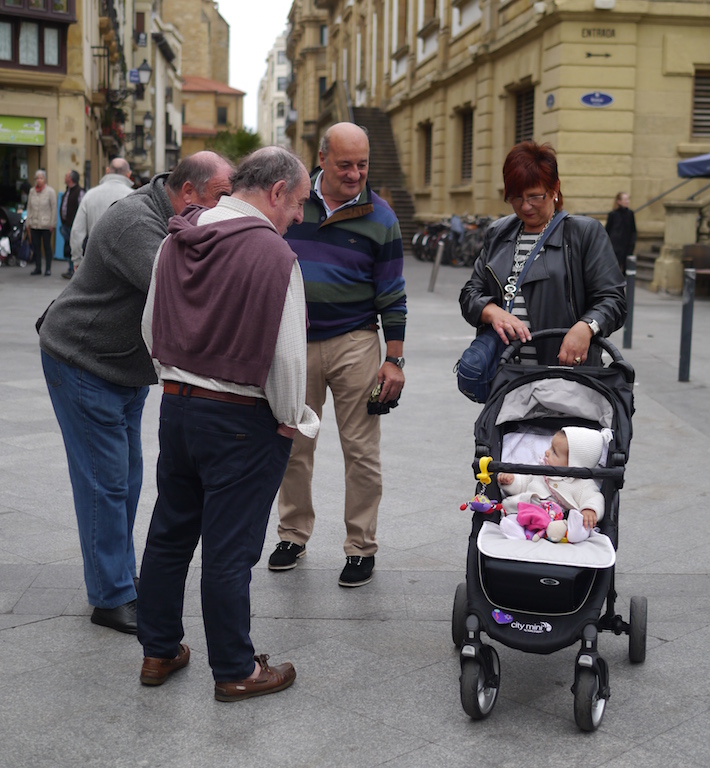 Lots of dog watching opportunities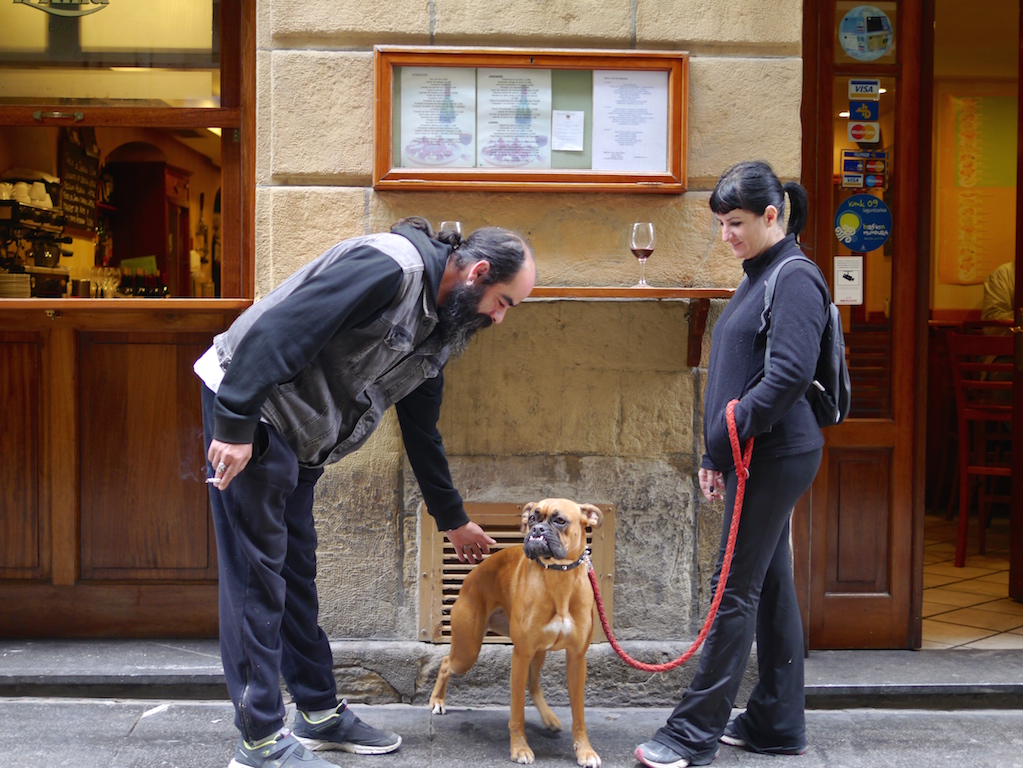 ---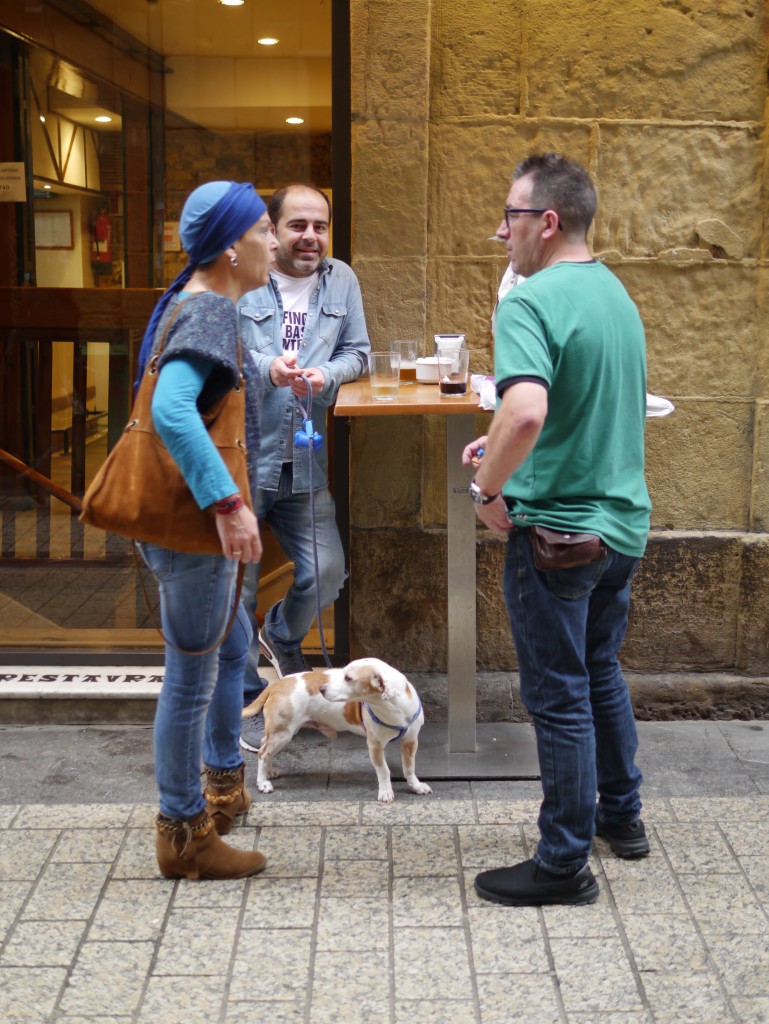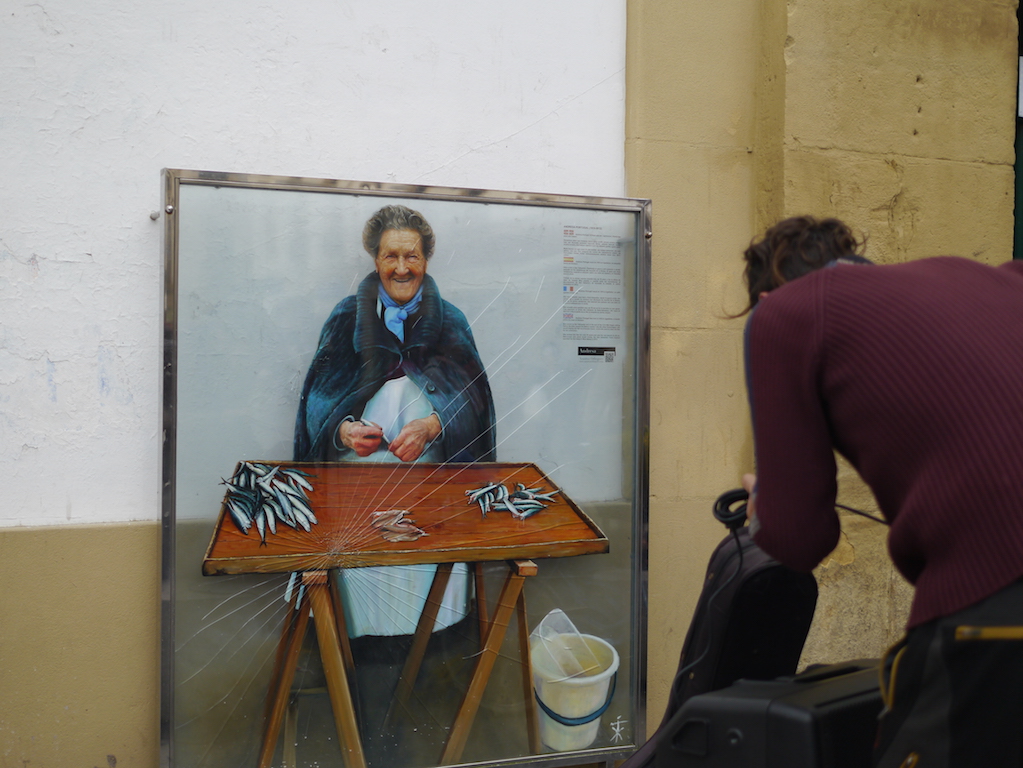 San Sebastian is anchovy country.
On the corner of the square in front of the market there is a picture of a weather beaten old lady with a table full of glistening anchovies. Apparently the lady, whose name I did not find out , used to sit here in the corner, ripping the heads off a pile of fresh anchovies and scraping out their guts with her fingernails. This is the story all along the Basque coast where the anchovies are canned, filleted by hand first, and then layered down into tins covering them in oil to seal them.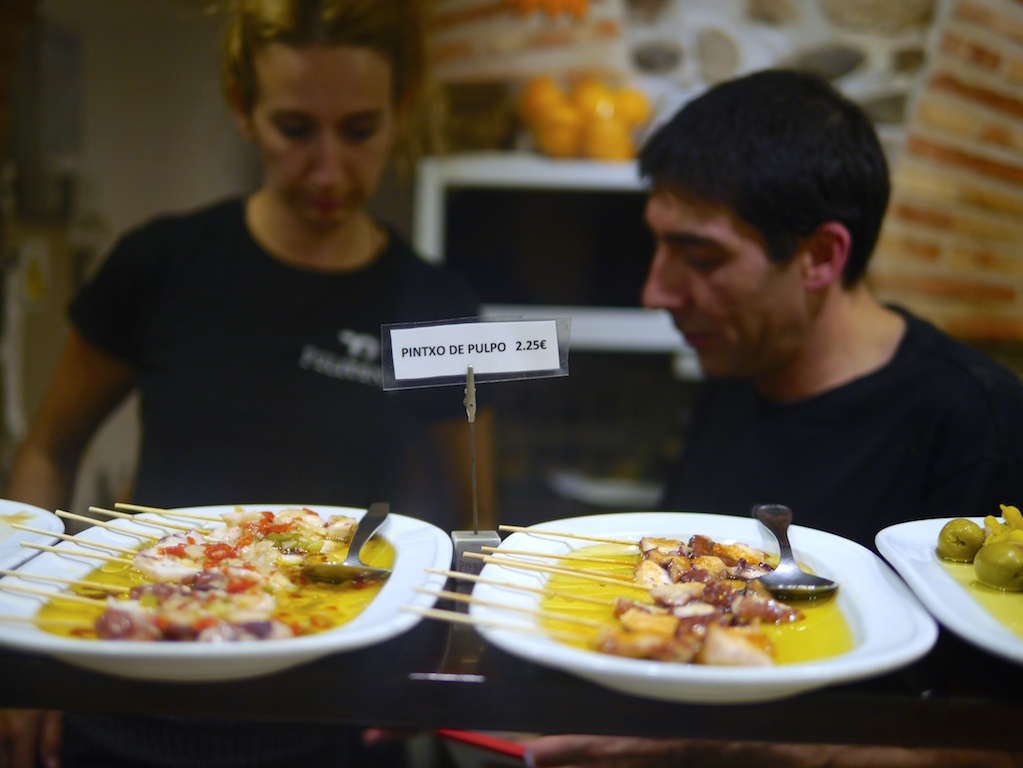 San Sebastian is home to this wondrous creation called 'pintxos.'
Forget eating tapas in San Sebastian. It is all about the 'pintxos' here: delicious but complex small bites that contain a variation of maybe some artisanal ham,or  pickled peppers, salted anchovies,  wild mushrooms, octopus or some scallops that are ultimately bound together in perfect harmony by a toothpick.
You can easily just spend your weekend here just eating 'pintxos' in San Sebastian and drinking the local wine and cider. To help navigate the maze of Pintxos bar we enlisted the help of Iñigo from Go Local San Sebastian  to give us a little tour of the best places to eat Pintos in town. We went to the two best streets for pintxos: 31 de Agosto ( named after the fire that destroyed the city in 1813. This was the street that was untouched by the fire ) and Fermín Calbeton.
We start at A Fuego Negro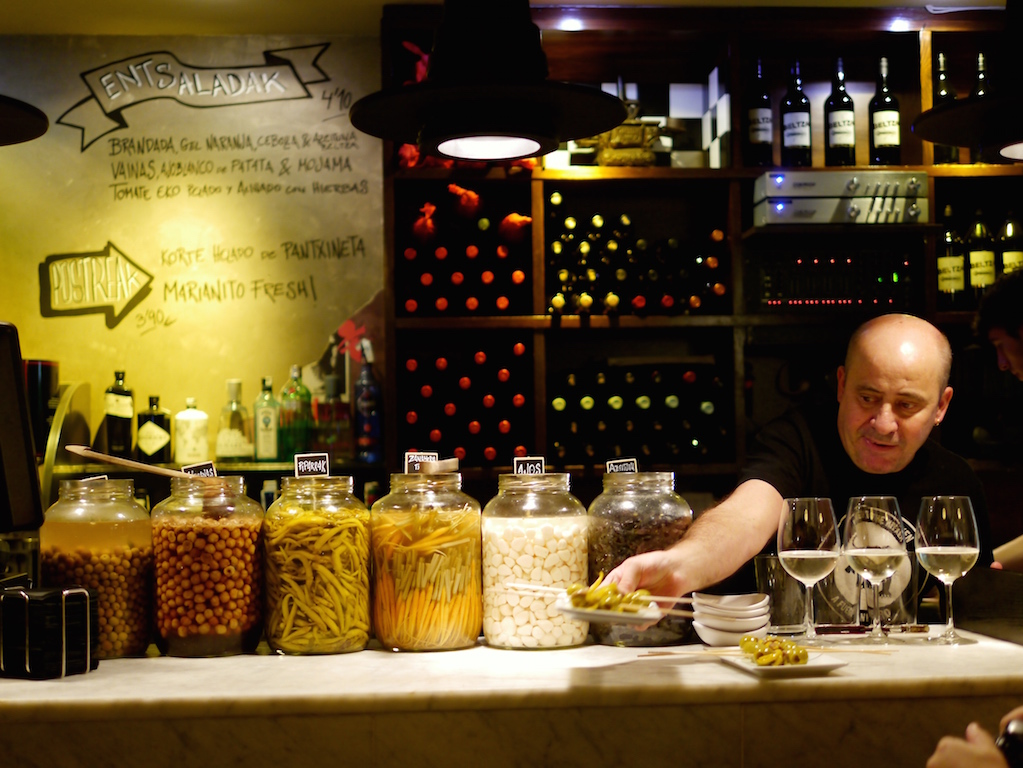 It is barely 11am but the bar is already busy with a nice mix of locals and tourists. They have excellent craft beer on tap here but I am dying to sample some of the famous local Txakoli wine: a slightly sparkling, dry white wine.
This is accompanied by a plate of the deliciously crunchy fried sea anemone and also the famous 'gilda' pintxos: a magical combination of pickled peppers, salt-cured anchovies and an olive on a toothpick.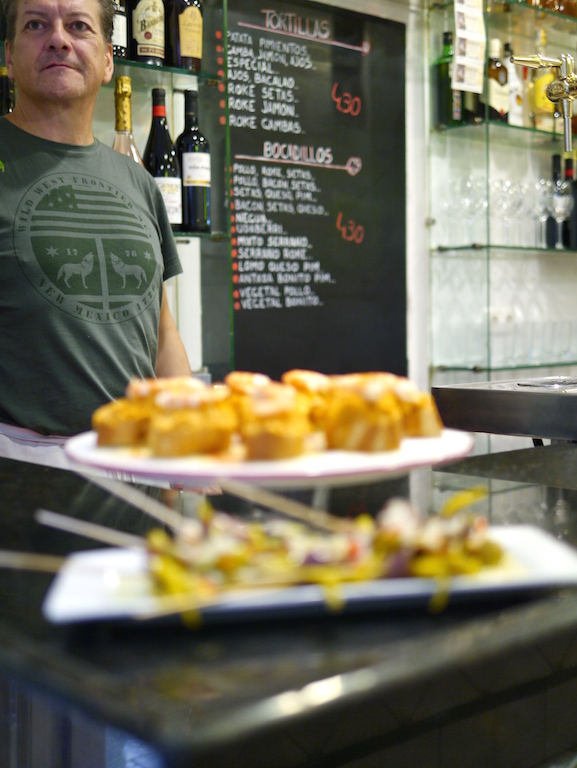 Food, glorious food everywhere you go in this city. My heart , soul & tummy aches looking back at the photos now.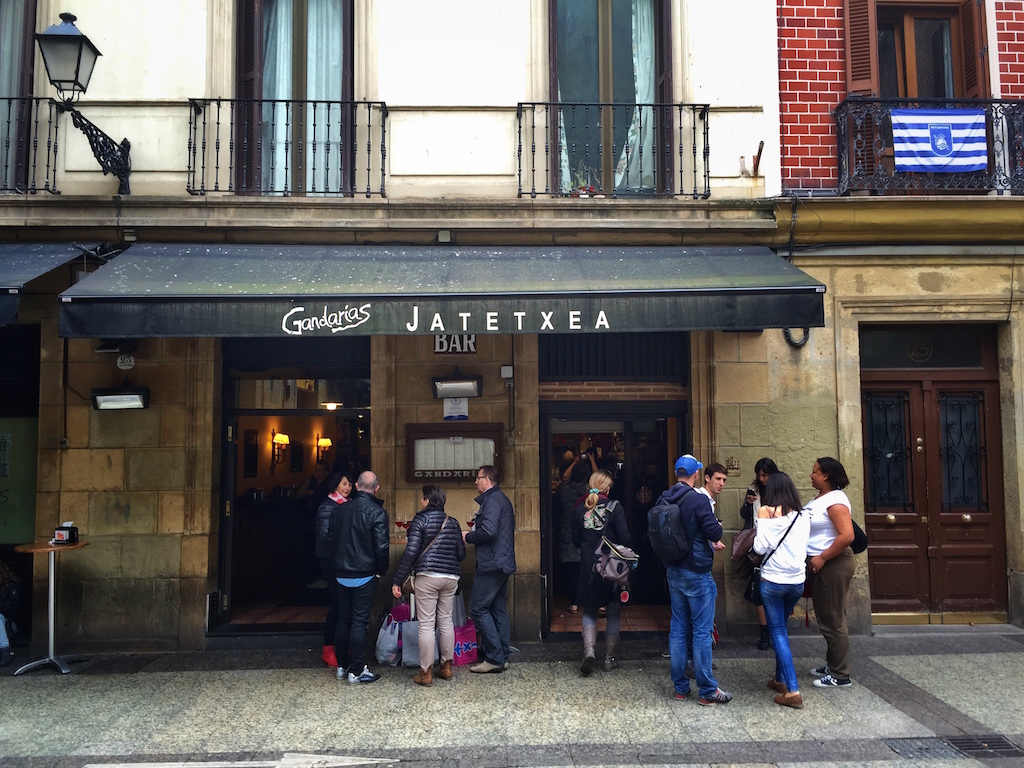 This is Gandarias btw. Probably the best Pintxo bar ( great value too) I visited in Donostia.
This is your old school, traditional pintxos bar. Lovely staff.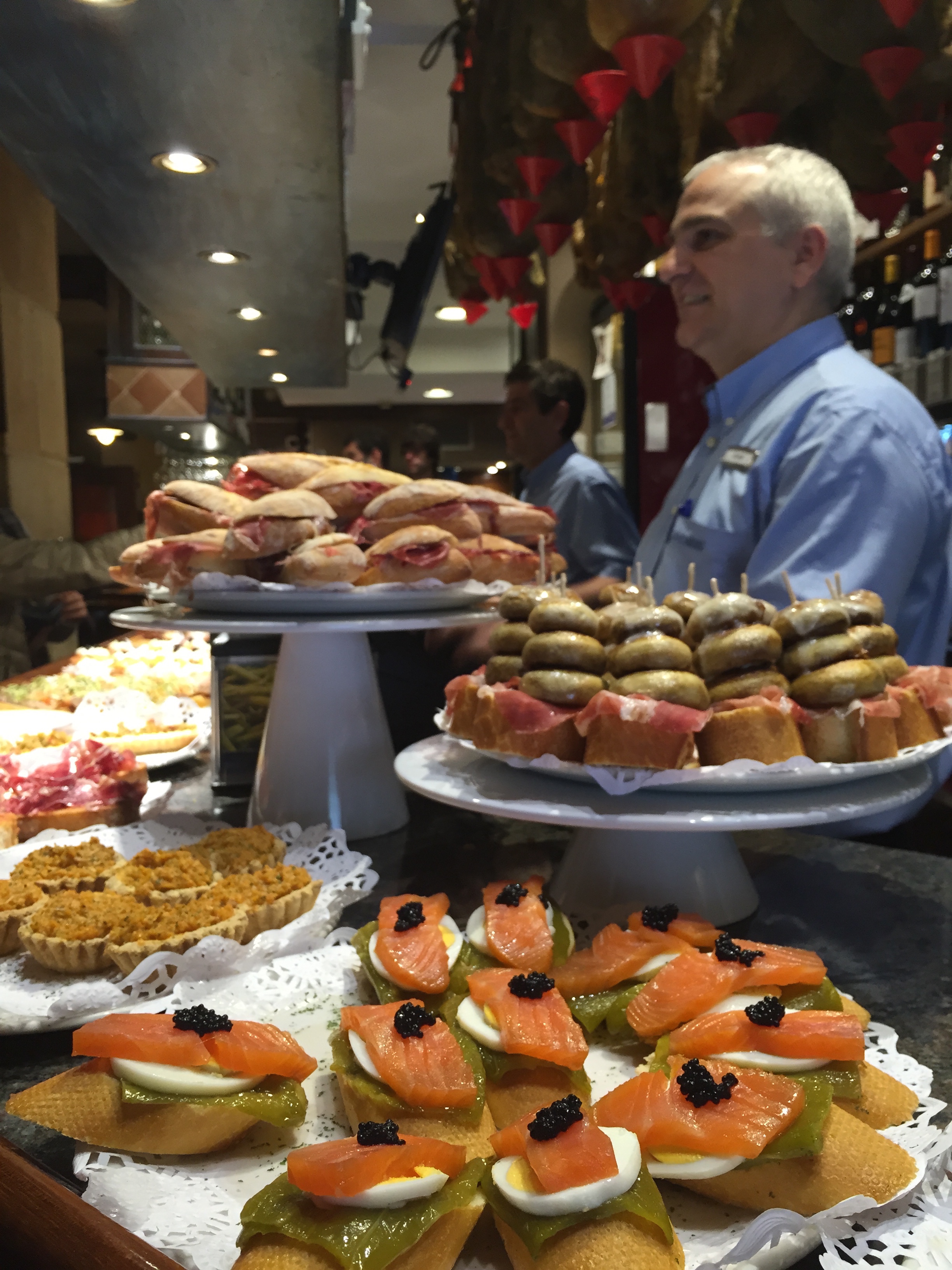 I'm standing at the bar and my eyes are swimming on wave after wave of the most colourful and delicious food you can ever imagine. I tried red peppers stuffed with crab , a plate of fried porcini with some delicious pieces of acorn fed jamon iberico on bread and some sirloin with green peppers. It all tastes heavenly. You must be thinking-wow, this looks delicious but very expensive. Well here's the amazing thing. The pintxos here start at €1.65 going upto €4 tops. So this place is great value for money. You can also sample wine here from all parts of the world by the glass.
To give you more of an idea of the history and what to expect , here is an interview I recorded with the lovely Aitziber from the restaurant.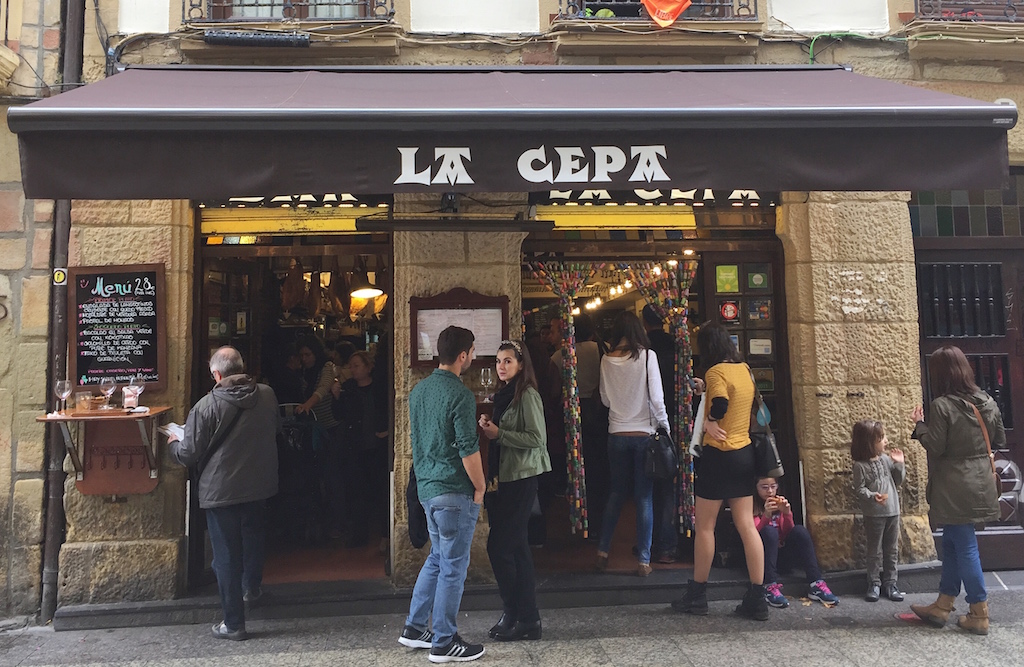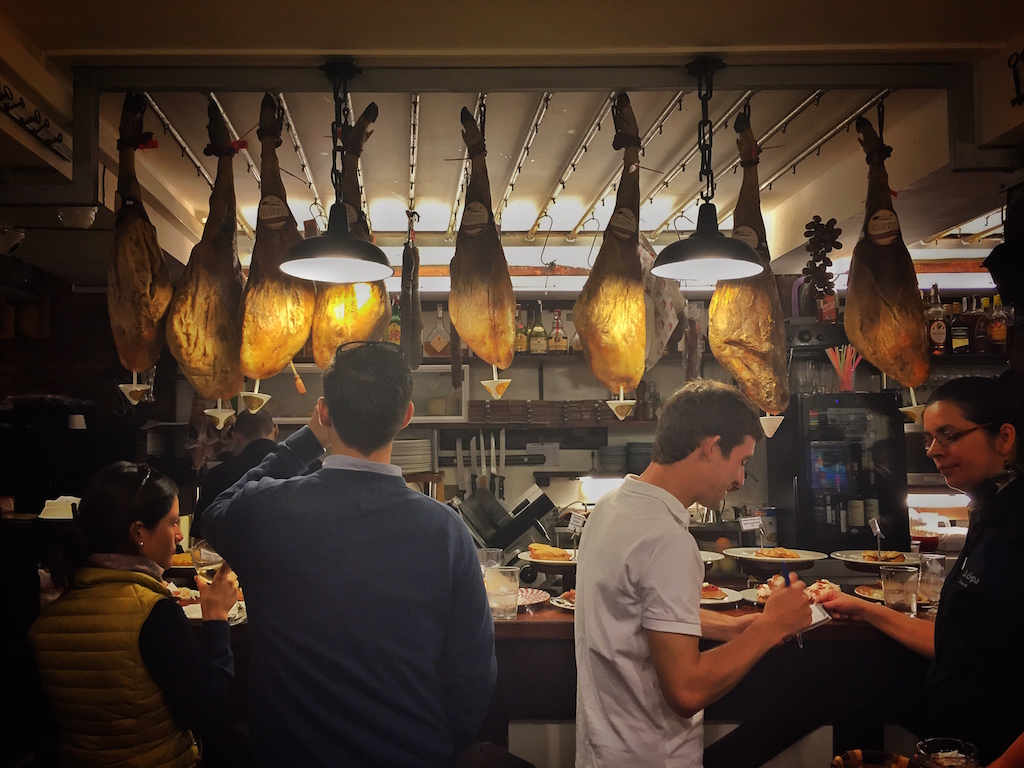 Another one of the many busy Pintxos bars on 31 de Agosto, La Cepa is known mainly for its delicious jamon and also dishes like hongos a la plancha. Plus the fried green peppers are excellent here too.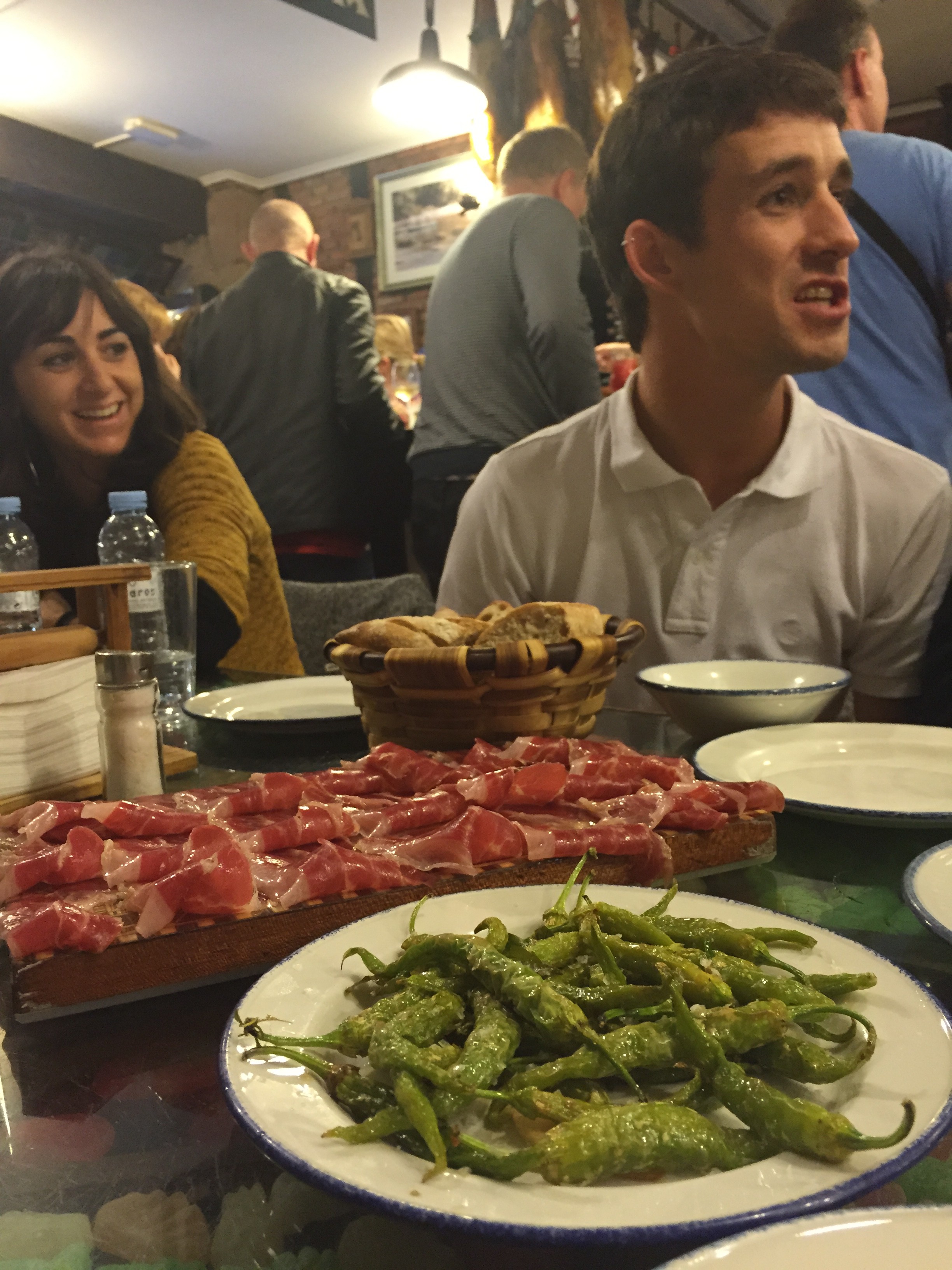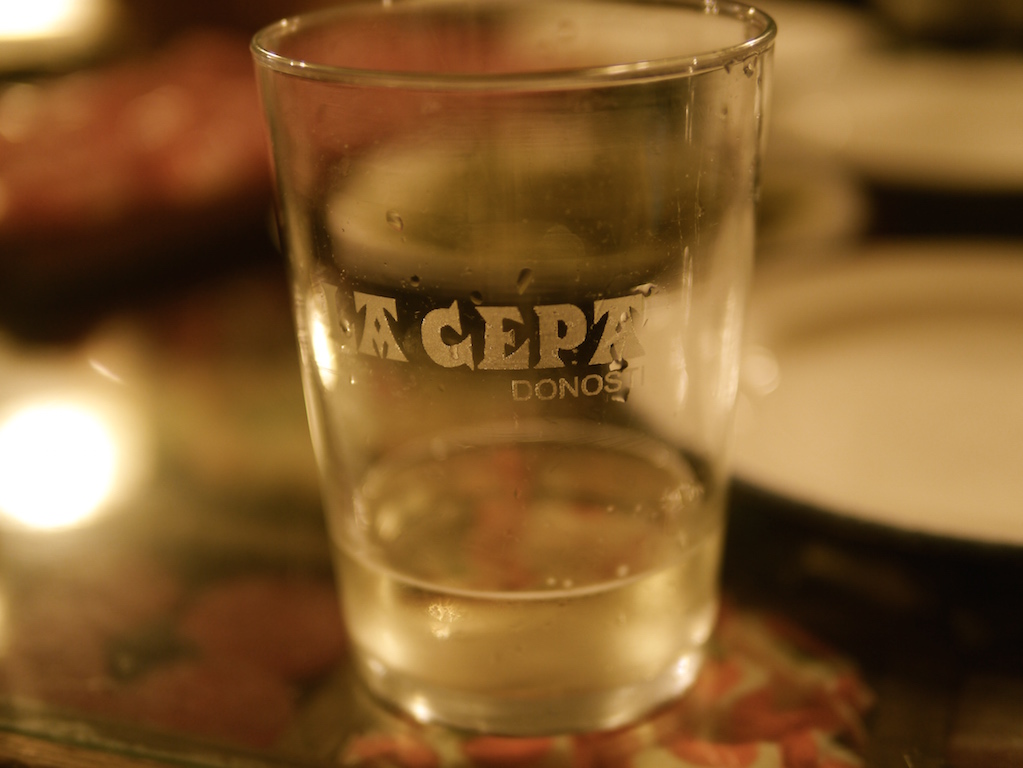 Ok. Enough of food. If that is possible in San Sebastian. Lets see a little bit more of the city.
I am now in the medieval heart of the city and this square is called Plaza de la Constitución. This was the place where all the bullfights took place. It was originally built by Hércules Torrelli in 1723 but destroyed by the great fire of 1813. If you look carefully at the picture, you will notice that each balcony is numbered.  These boxes were reserved for distinguished guests during festive occasions such as the bullfights.
2016 is a big year for San Sebastian as the joint European City of Culture alongside Wroclaw. The city will be building on the status as a global capital of gastronomy and its thriving reputation as a city of festivals ( dominated by the excellent San Sebastian Film Festival ) There is a whole programme of exciting events taking place throughout the year.
The recently opened San Telmo Museum is one of the hubs of this cultural renaissance.
Here's a picture of me and the rest of the group doing a post lunch jumpstagram in front of the museum to shake off our food coma.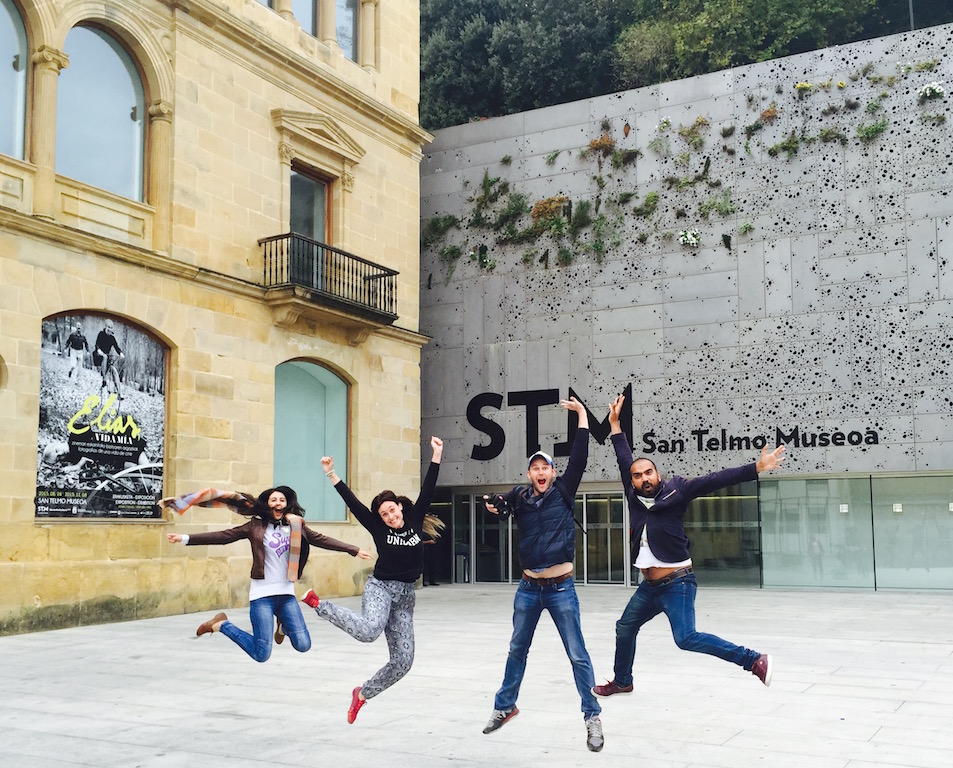 The museum , architecturally, is a stunning mix of old and new.  Built into the hillside of Monte Urguell, the exterior of the building has a stark gray wall marked with holes through which greenery sprouts. This nicely contrasts with the adjoining building, a refurbished 16th century former Dominican convent.
The museum is an excellent introduction to Basque culture, people and art. There are over 26000 pieces of Basque art and historical artifacts on show. Plus the museum gives an insight into the current political strife and the fight for independence.
To help further shake off our food coma, Inigo took for us for a bike tour of the city. Organised twice a day, at 10am in the morning and 4pm in the afternoon, they are a great way to get a feel of the city. As someone who recently learnt how to ride a bicycle, I found San Sebastian a really easy paced and relaxed city to bike in with dedicated bike lanes. The other cool thing is that Go Local San Sebastian use the Orbea brand electric bikes which are fantastic to ride on. Cost of a typical tour is €25 and lasts 3 hours.
Highlight of our bike tour was a visit to the beach. It's October but the sea was still warm enough to surf.
For some people, Playa de Concha is a place for contemplation and to spend time with loved ones.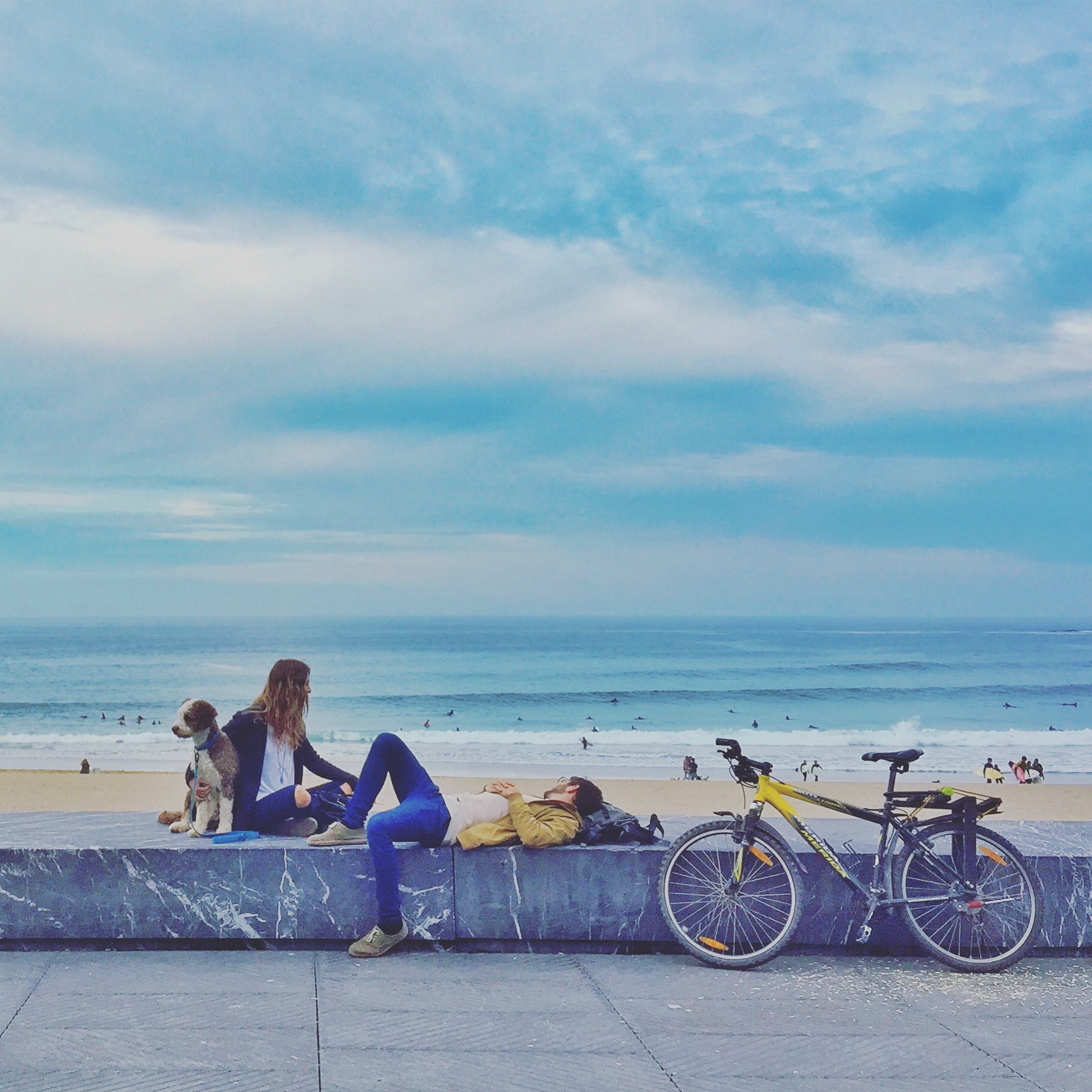 Another highlight was a visit to the newly opened museum, the Tabakalera. From producing cigarettes to culture, the Tabakalera is a symbol of the cultural renaissance that San Sebastián has undergone in the last decade.Dating from 1913 and covering 12000 square metres this factory used to produce 250 million cigarettes a year. 25 years in the making, the space is now the beating heart of contemporary culture: from showcasing visual, audiovisual artists to a centre for performing arts and a residence for artists: this is a place definitely to checkout if you are visiting in 2016 when the city celebrates its status as European City of Culture.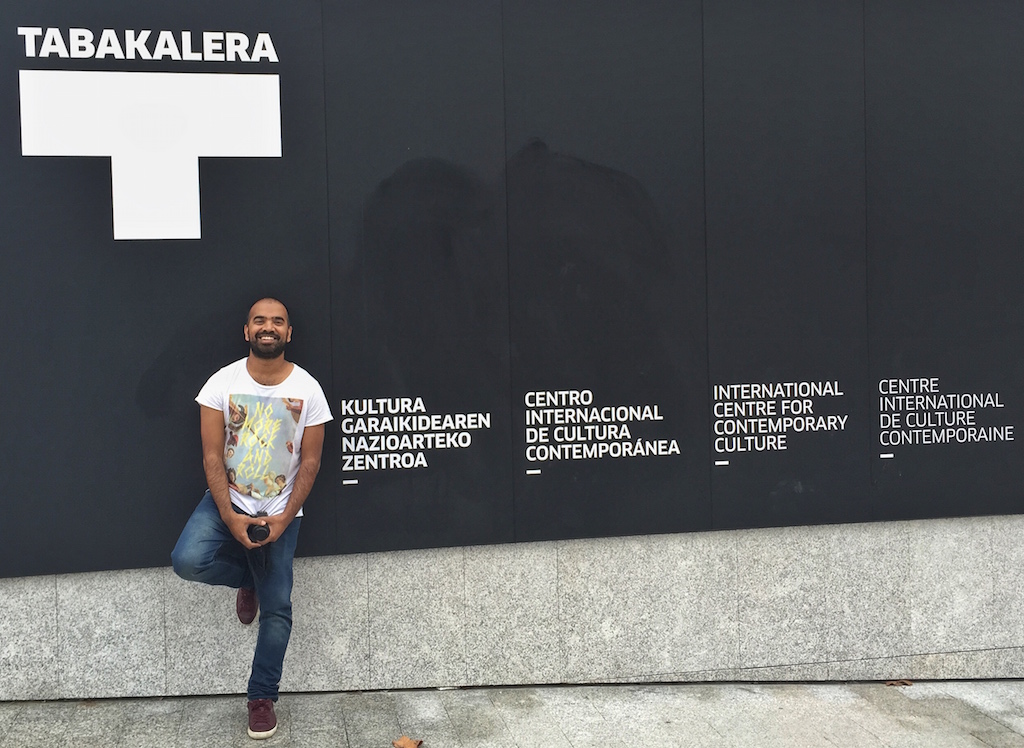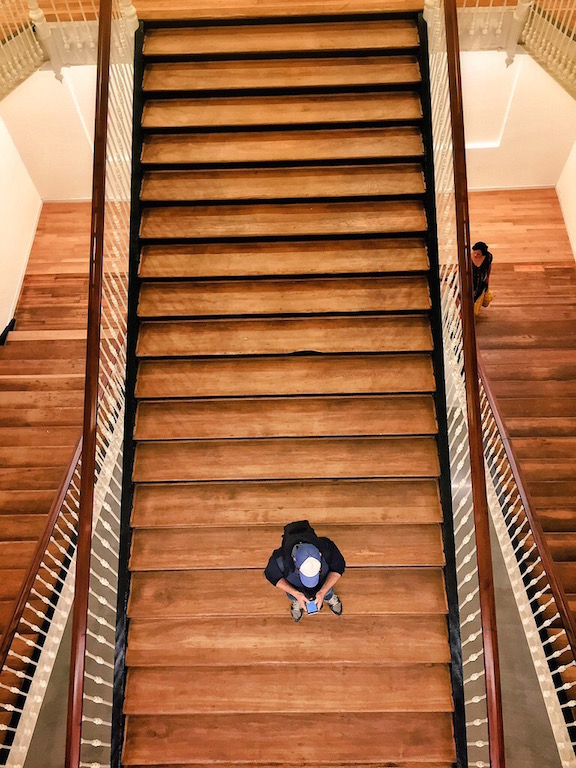 The staircase at the Tabakalera Centre of Contemporary Culture.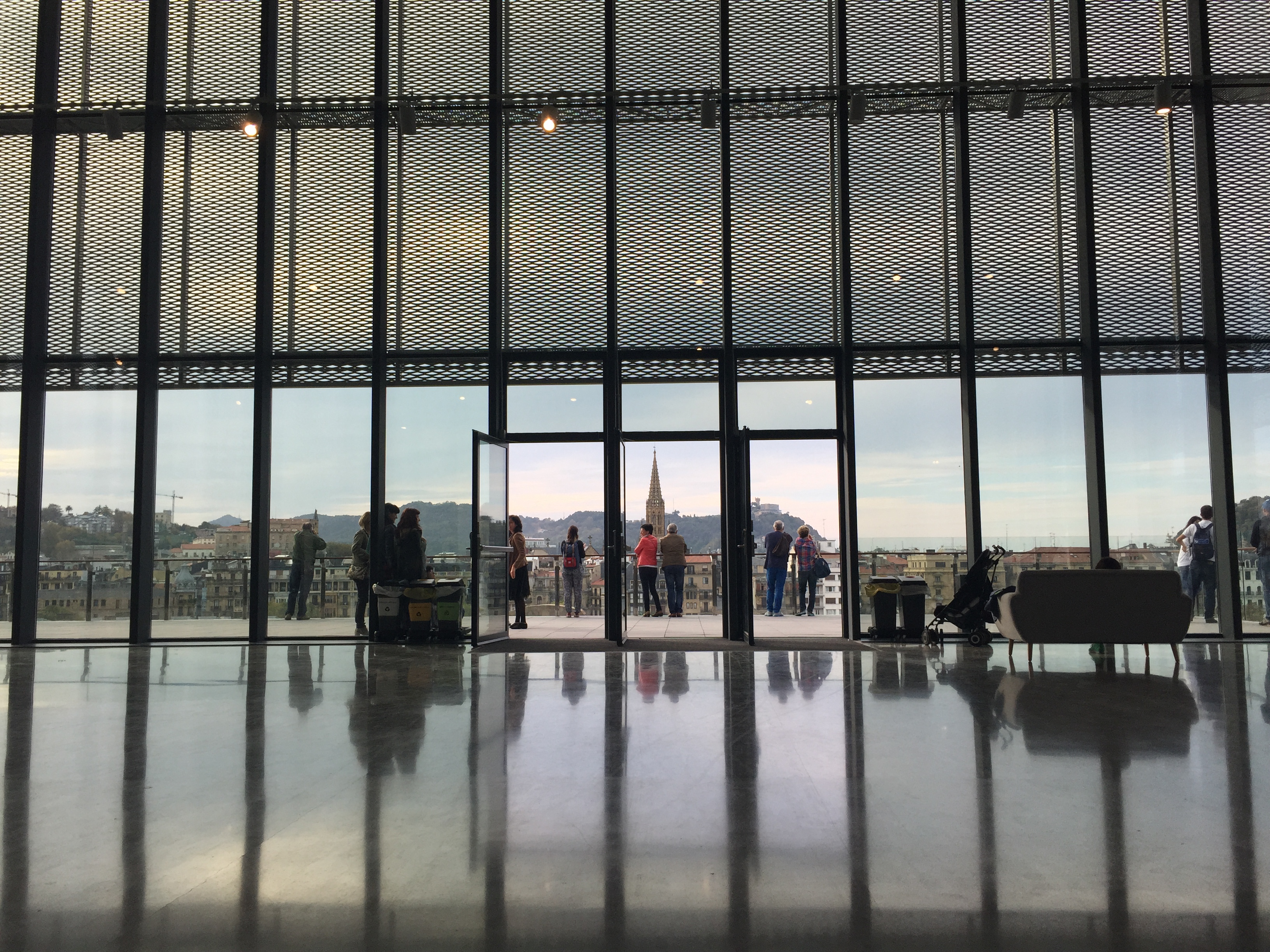 The building has a beautiful glass prism top and roof terrace from where you get to enjoy the city's lovely skyline.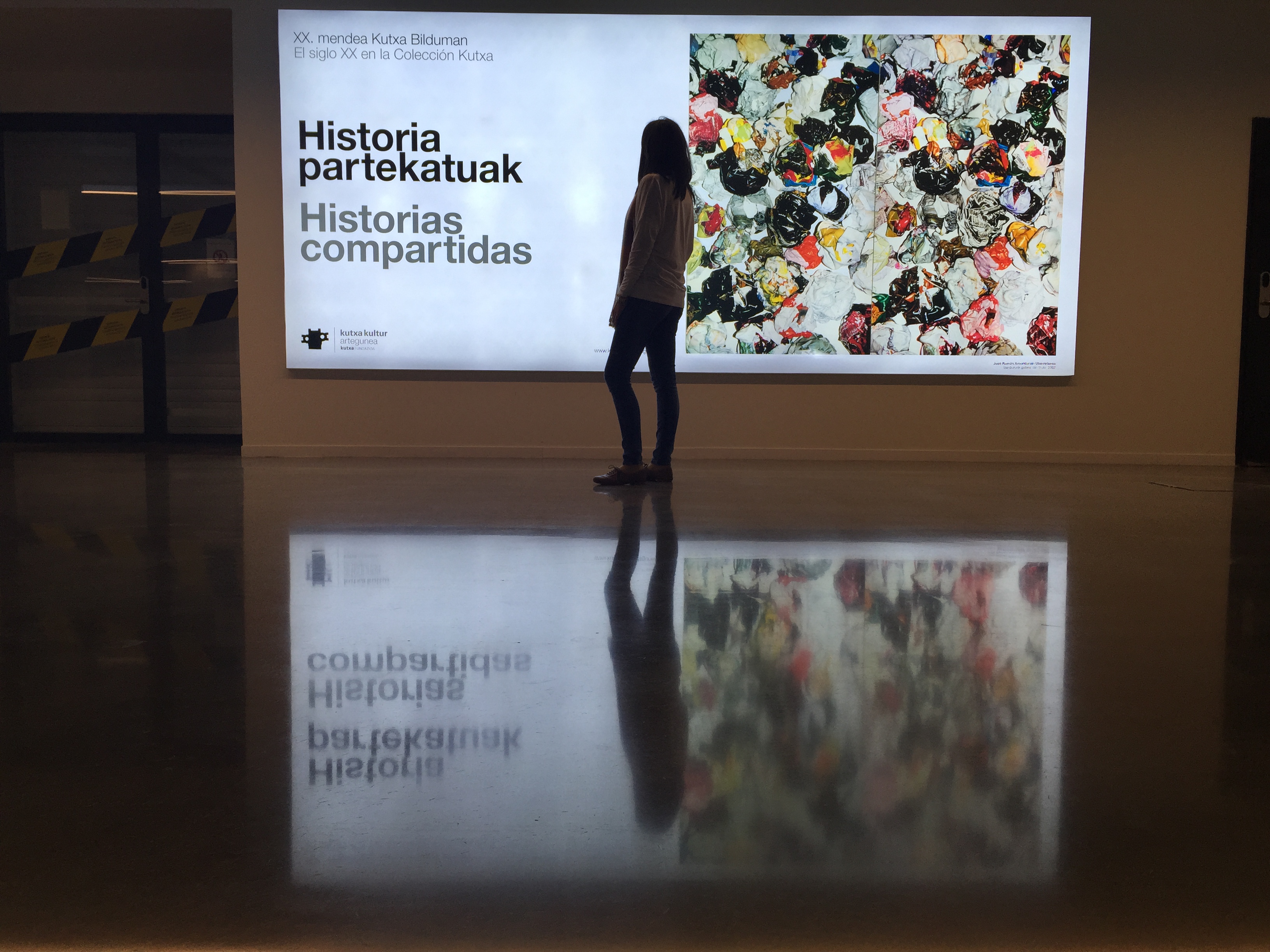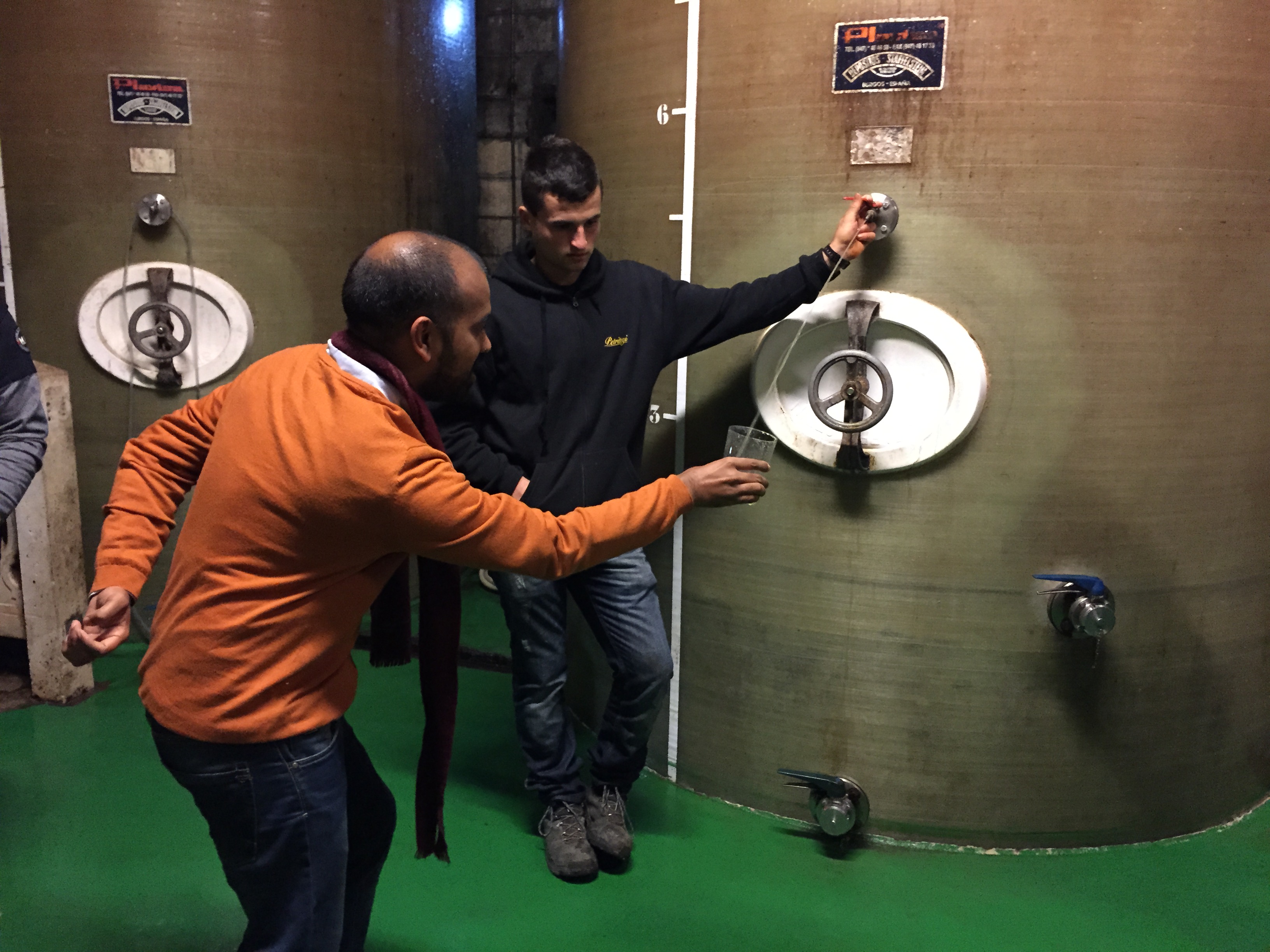 We round off the day with a trip to Sidrería Petritegi, a traditional cider house. Visiting the cider house was definitely up there with one of the most entertaining and unusual food experience I've ever experienced on my travels. Instead of being served cider in the glass, guests visit the cider cellar where you drink it straight from these huge barrels. As expertly demonstrated by moi in the the picture.
The traditional menu served at these cider houses is a cod omelette or cod with peppers followed by a t-bone steak and dessert is the local Idiazabal cheese served with quince jelly and nuts. Not the biggest fan of steak but the dessert was tasty along with the fish. The total cost for this menu is €25 . This includes unlimited visits to the lower section of the sagardotegi where the barrels are located where you fill up your glass at various intervals with a txotx ( a taste) as it is called in these parts.
Following morning we explored more of the beautiful coastline that San Sebastian is famous for. This was  the desolate beach of Zarautz.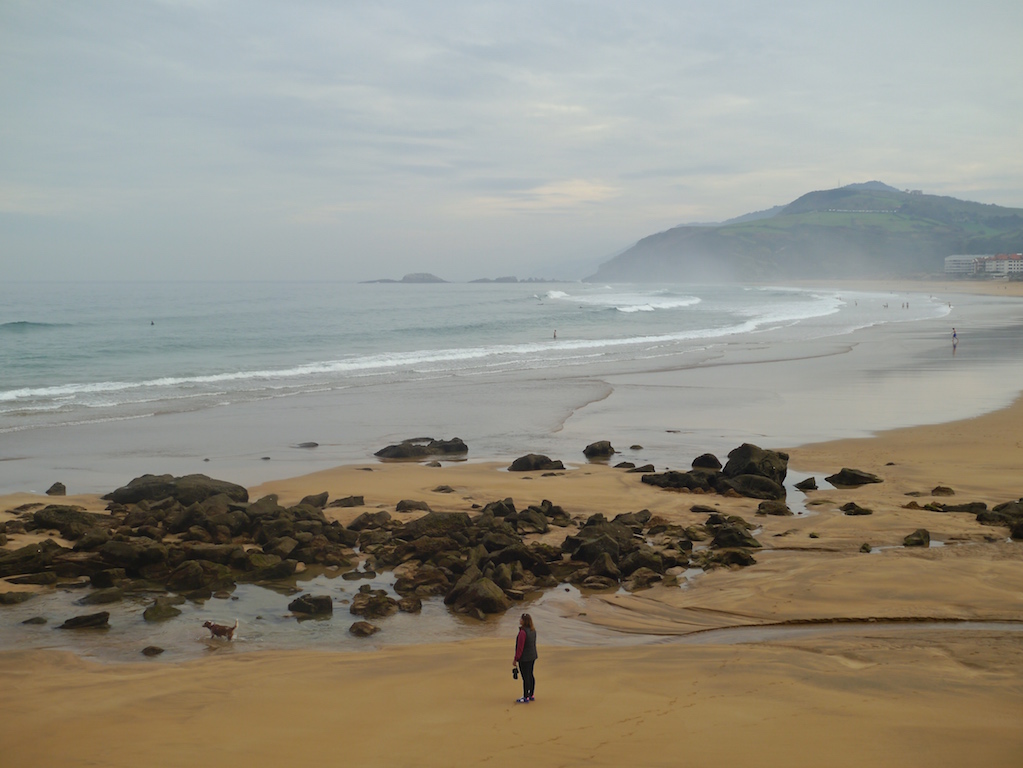 Later we wind our way to the fishing village of Getaria.
The village is better known as the home of the iconic fashion designer Cristobal Balenciaga.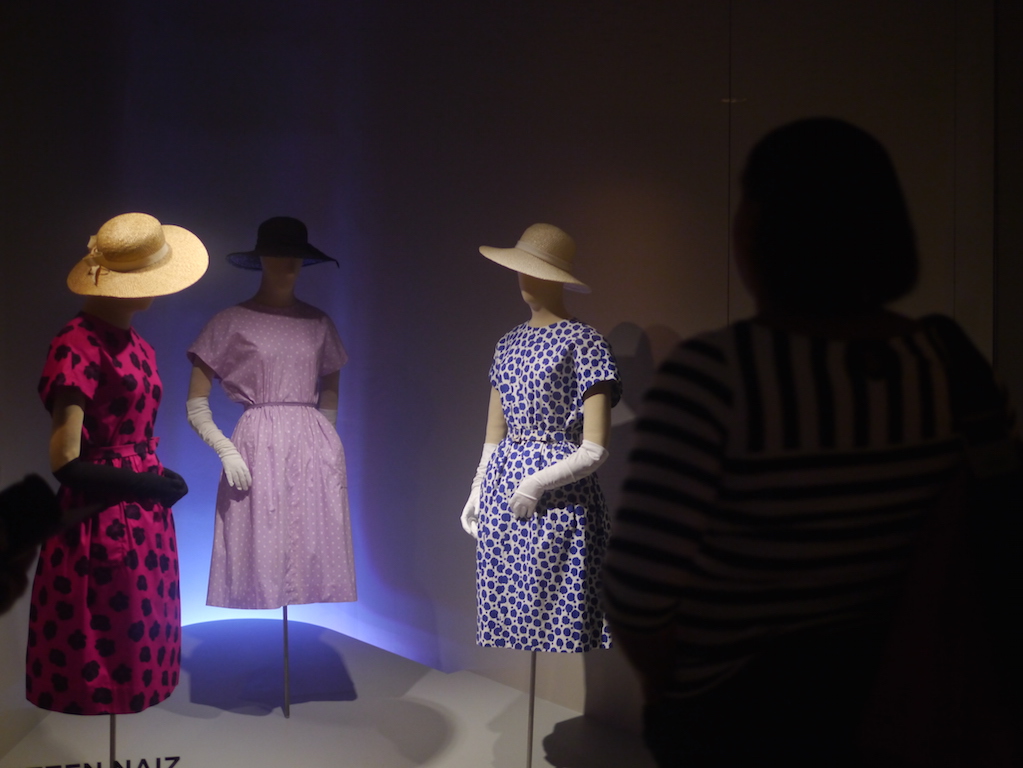 There is now a dedicated museum you can visit where you can see his amazing designs  that have inspired  other designers such as Oscar de la Renta, André Courrèges, Emanuel Ungaro, Mila Schön and Hubert de Givenchy.
Getaria is also home to the little known Juan Sebastian Elcano, the first person in the world to circumnavigate the globe. There was me thinking that it was Magellan…..
Here is his statue, overlooking the harbour.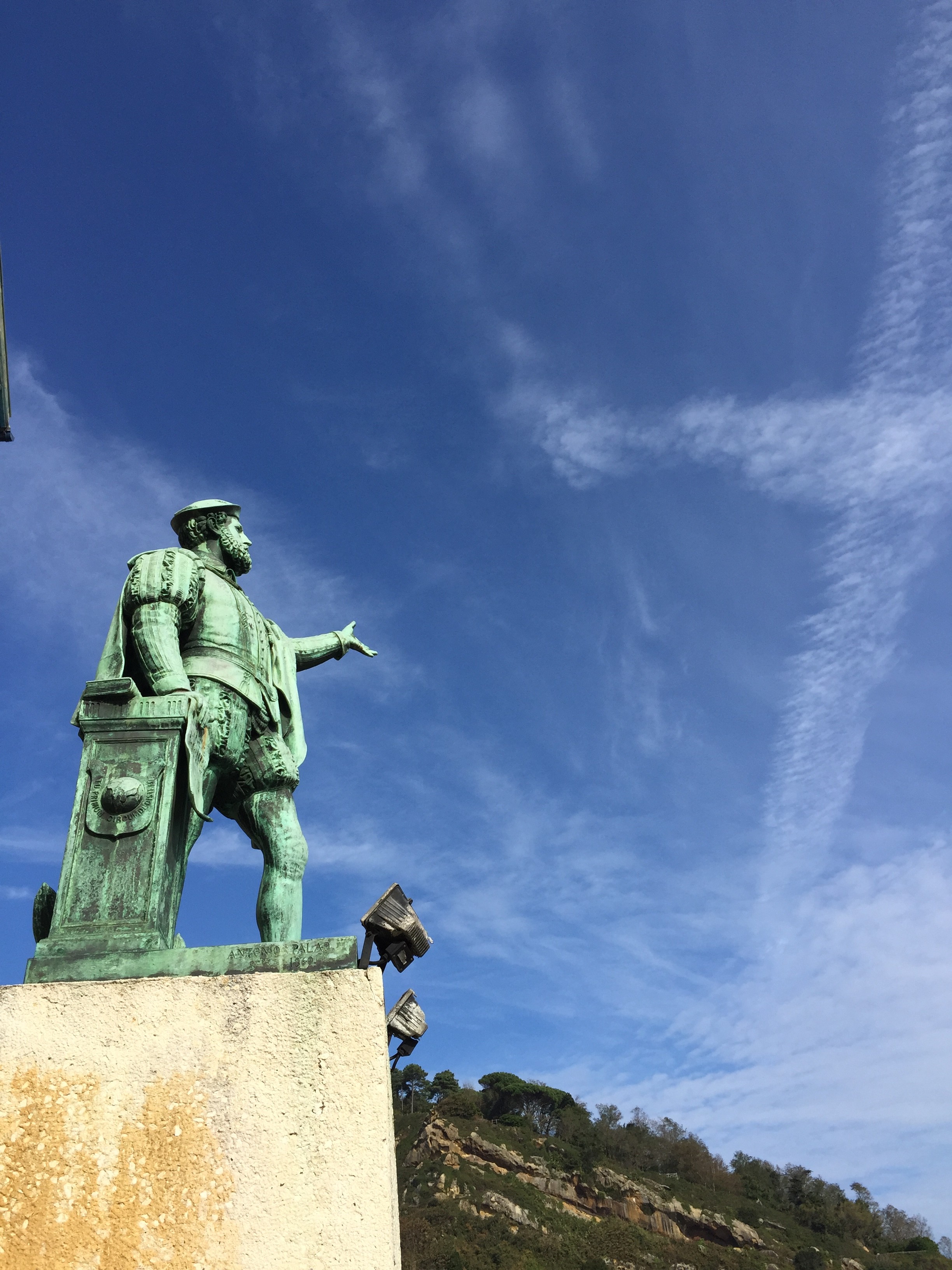 Here is Juan's view of the harbour: not a bad view to look for…..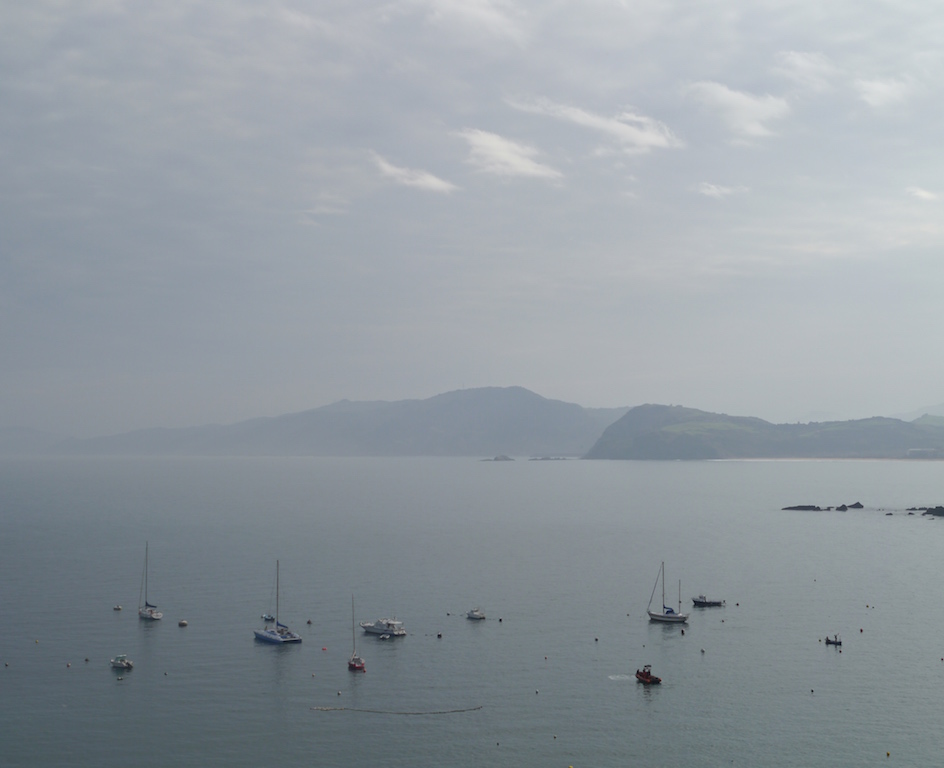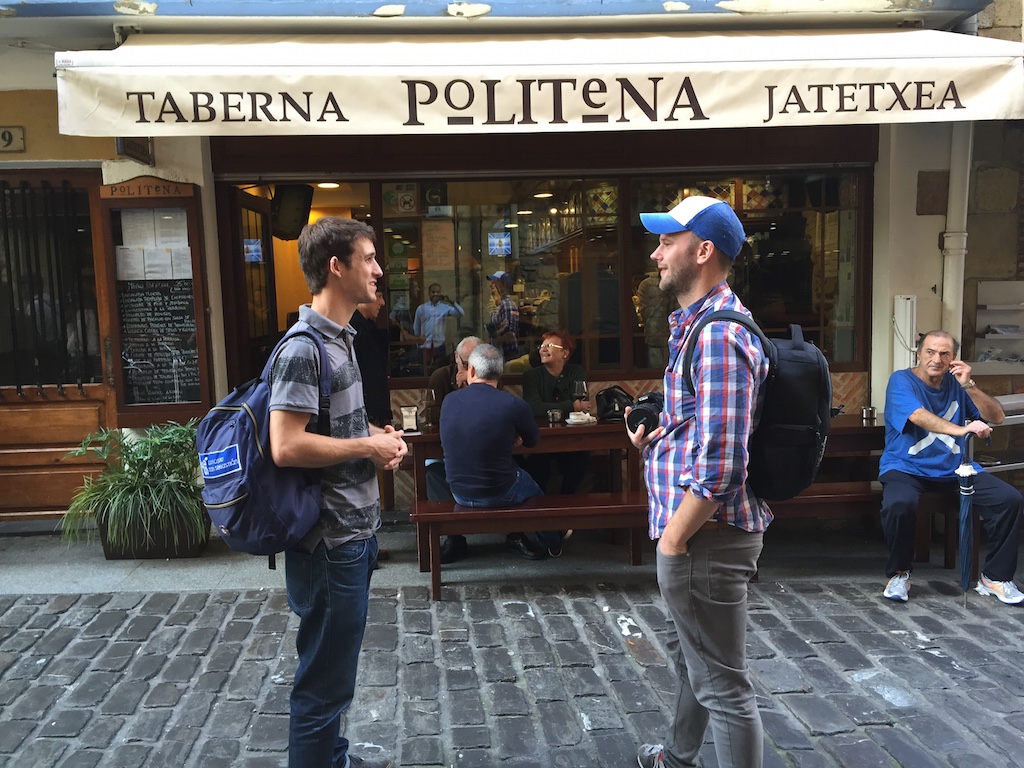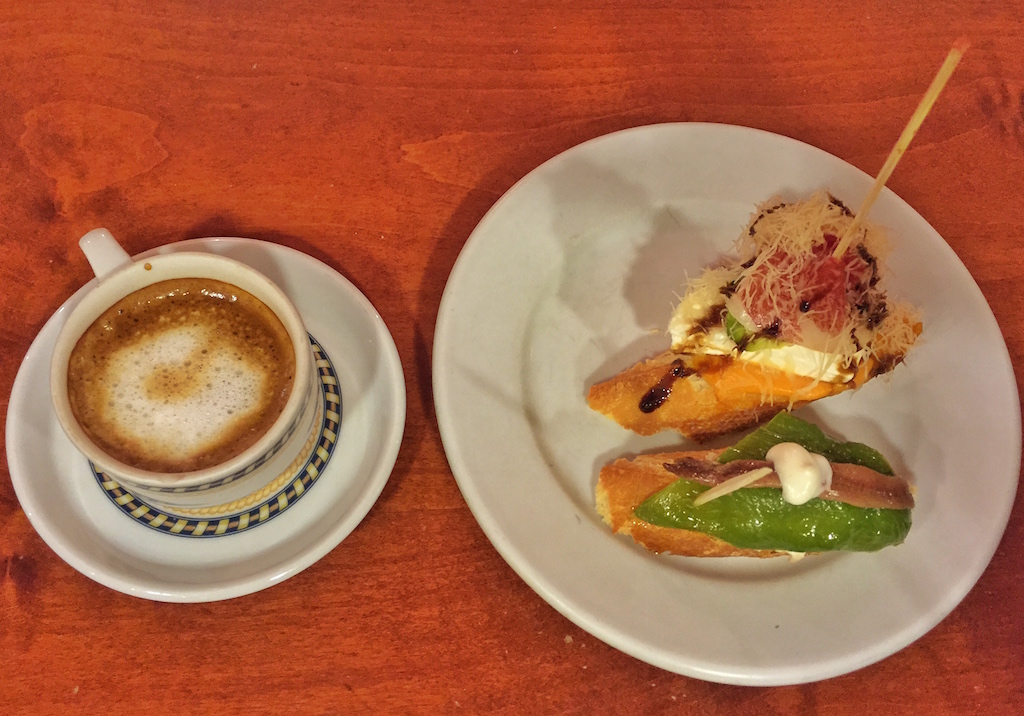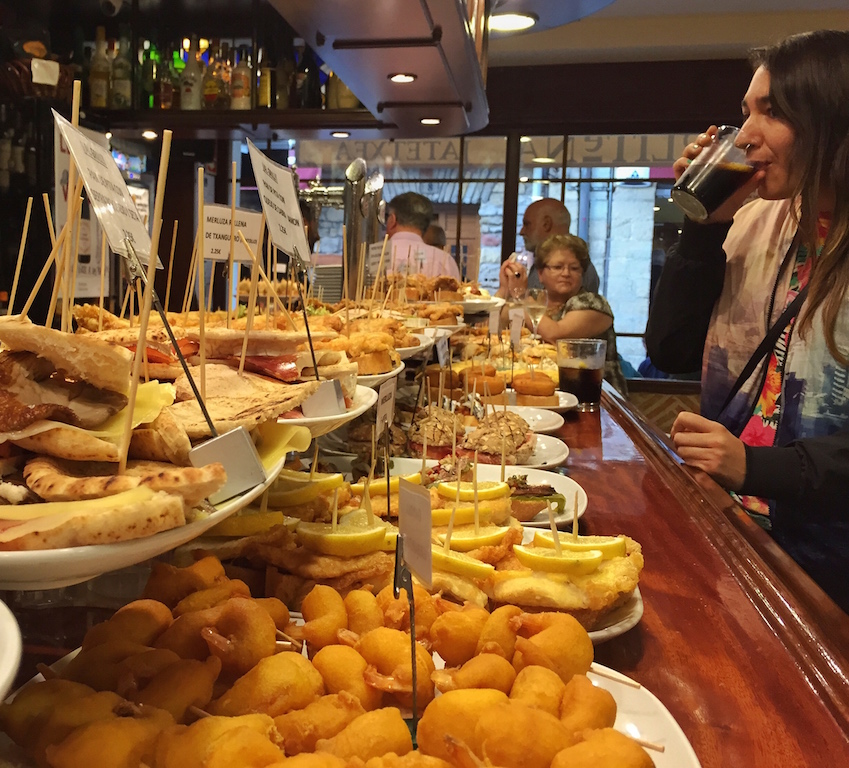 If you're looking for pintxos in Getaria, then pop into Politena. Great selection of pintxos, affordable,great vibe and very lively yet homey atmosphere.
We head back to the town in the evening. I decide to go for a wee sunset stroll by the harbour.
I will let the pictures do the talking.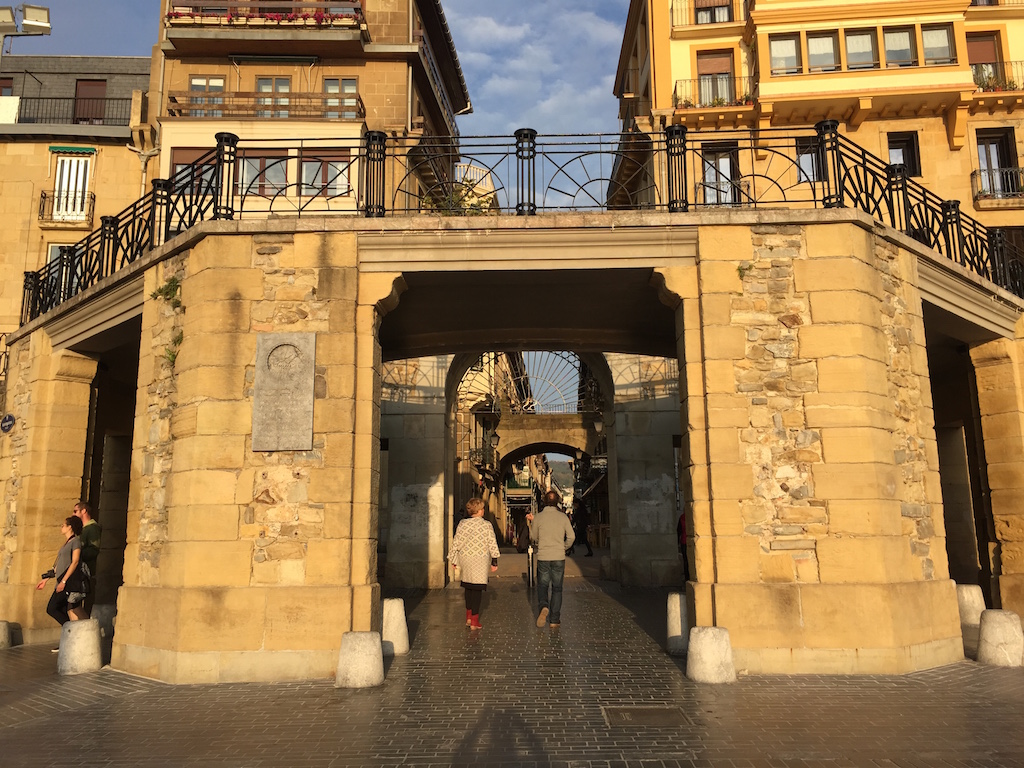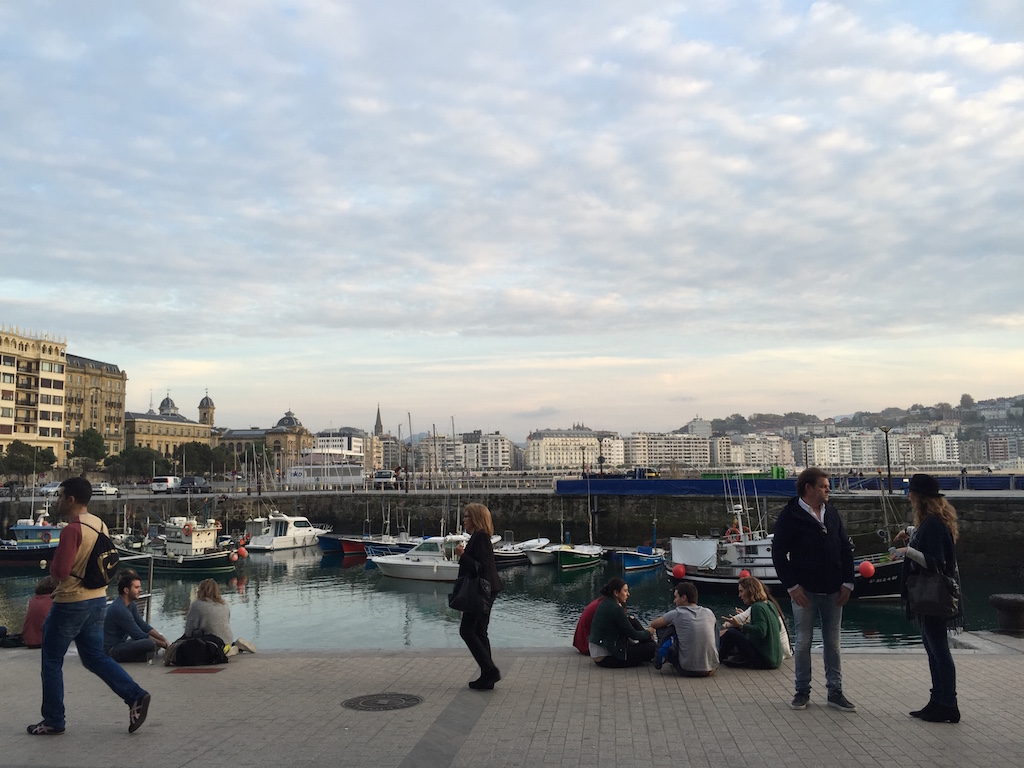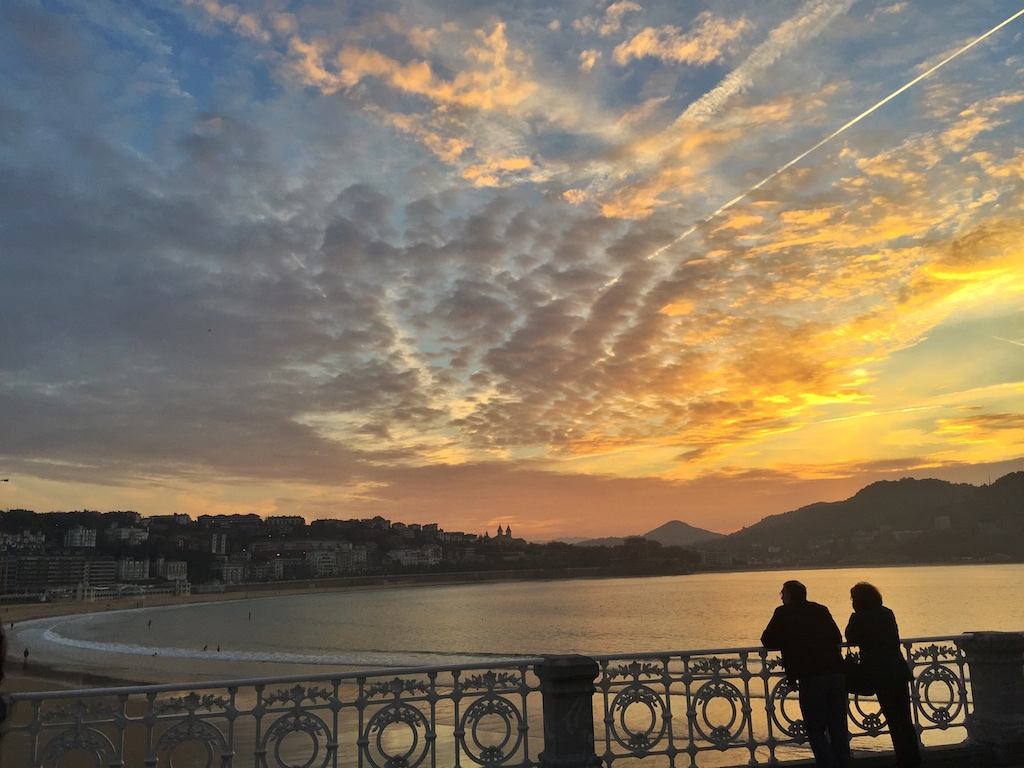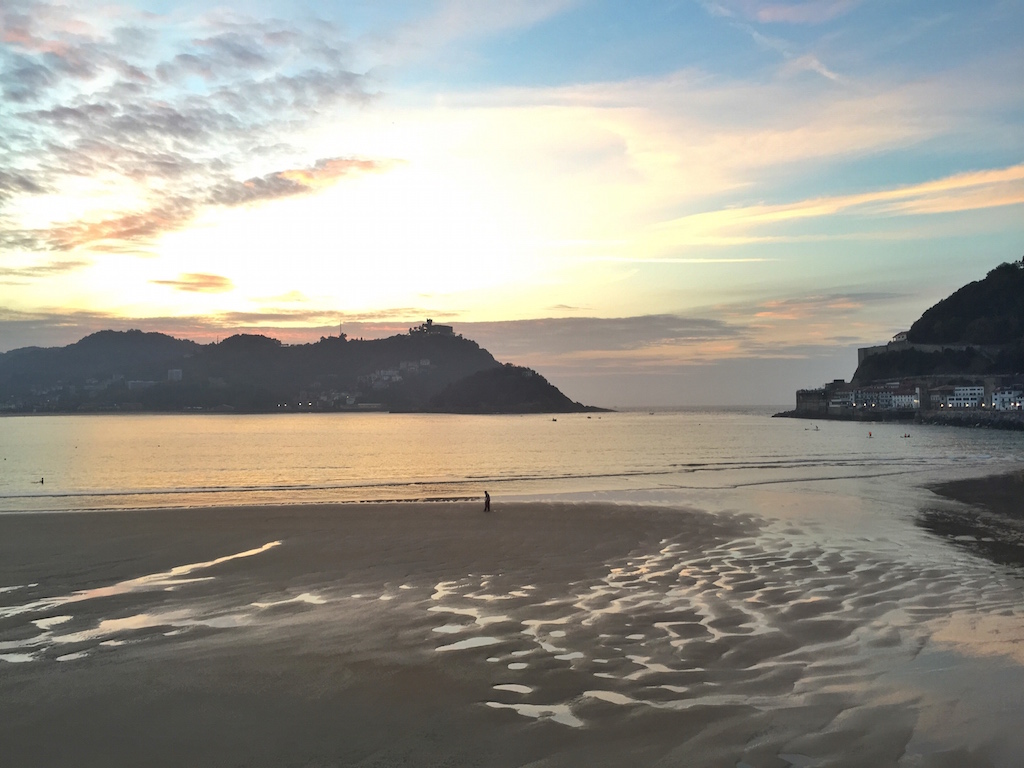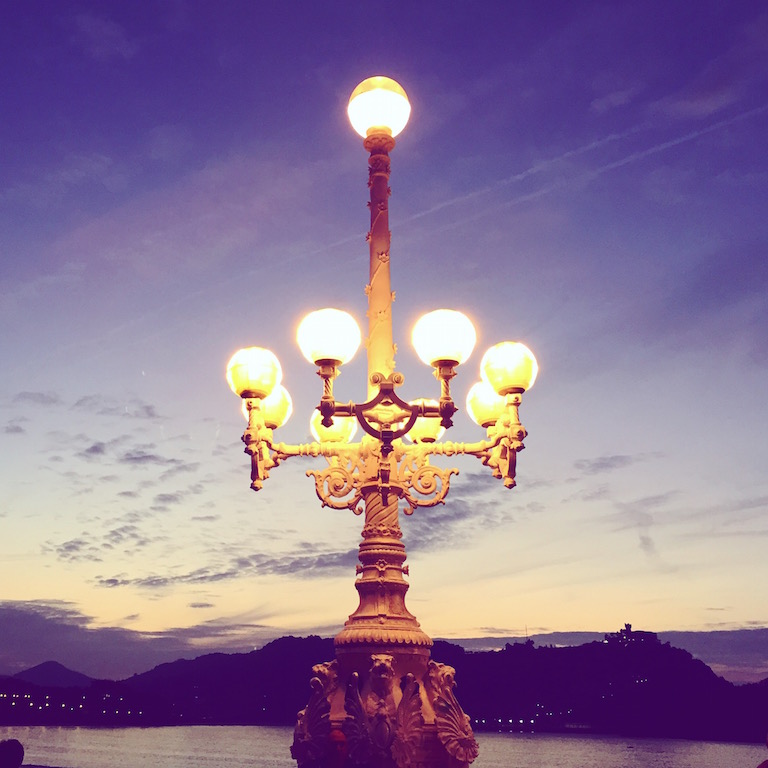 The following morning I have time for a quick cup of coffee and a short walk through the city.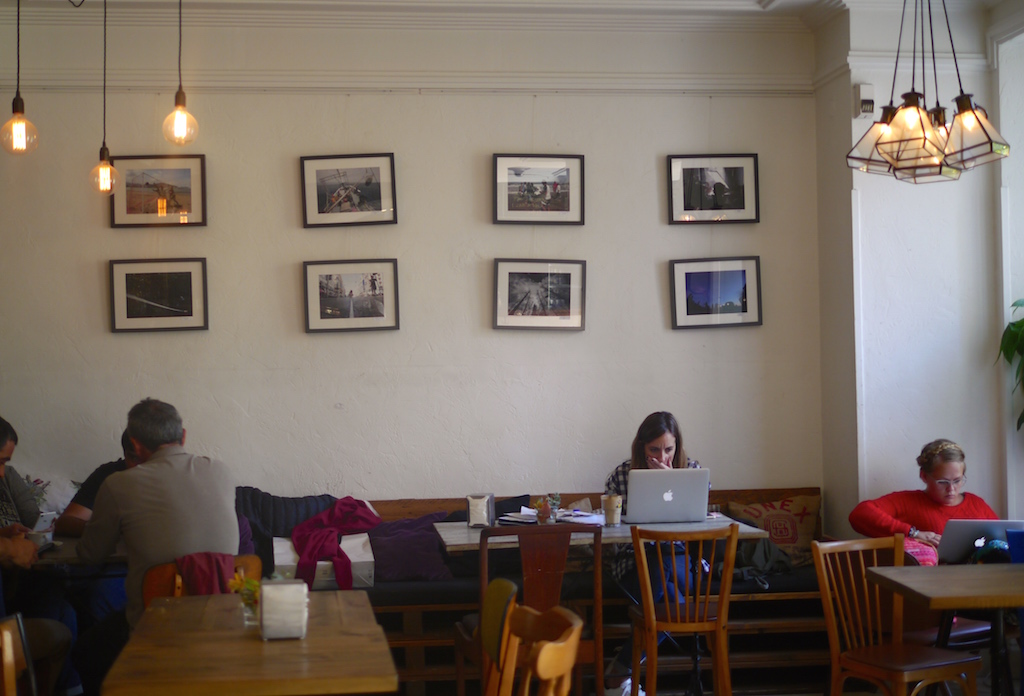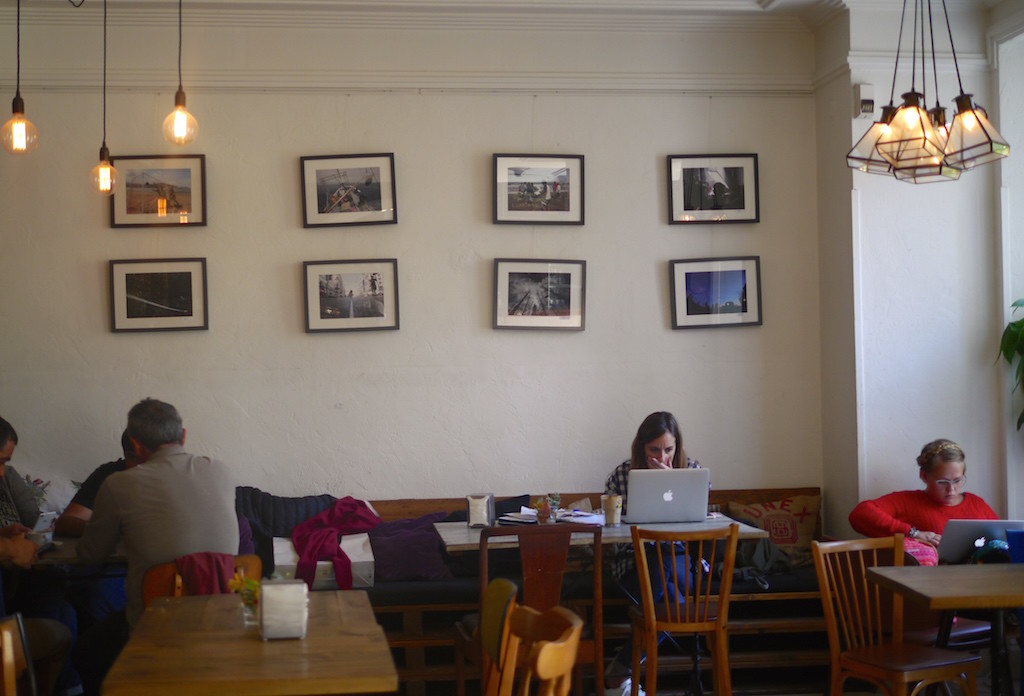 Highly recommend Kafe Botanika to all caffeine addicts.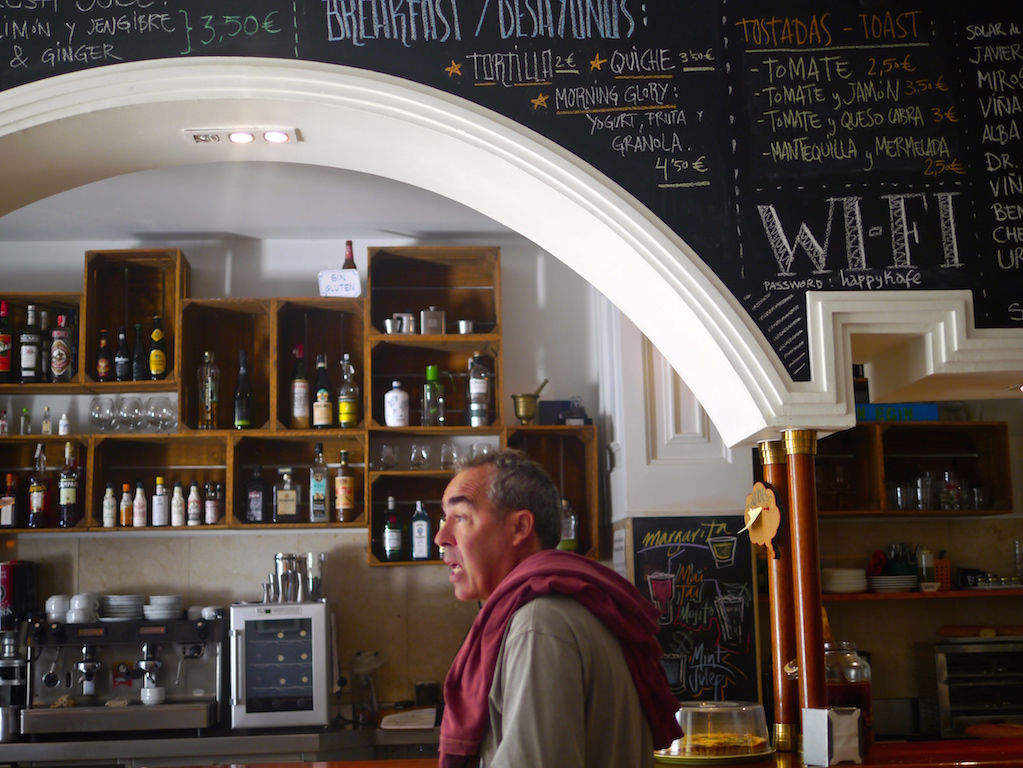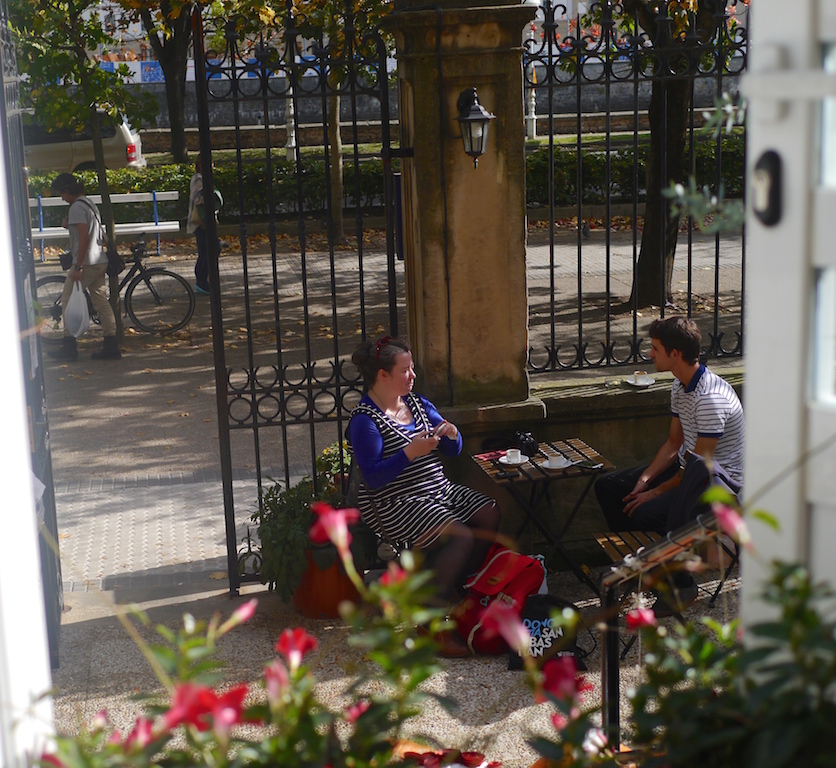 One final picture : the majestic San Sebastian Cathedral.
Some moments, some places stay etched in your memory forever. San Sebastian is one of those places.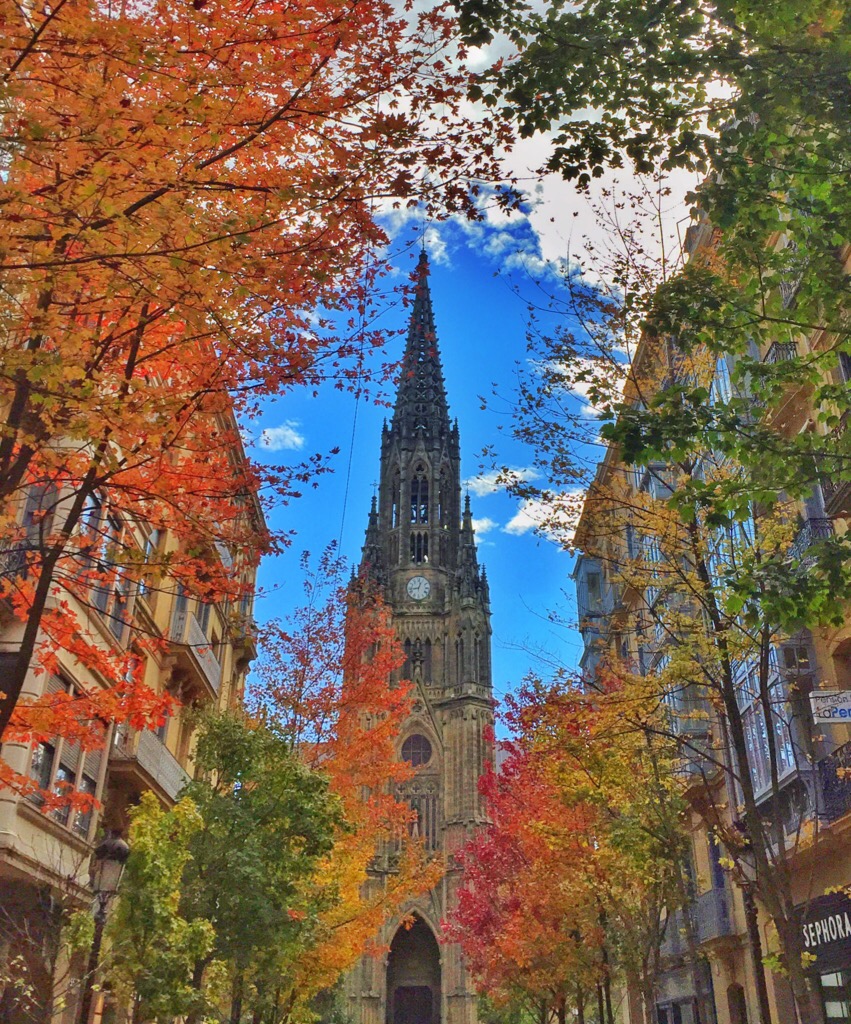 I hope you enjoyed my 40 pictures from San Sebastian and they have inspired you to visit this beautiful city.
If you have any questions or any comments, please leave them below.
My trip to San Sebastian was in partnership with iAmbassador, Spanish Tourism Board and San Sebastian
To find out what San Sebastian have planned as European City of Culture 2016, pop over to their website for the full programme. I would also highly recommend checking out Go Local San Sebastian for their variety of excellent tours led by the charismatic Inigo.
Also many thanks to Ana Bermudez from the Spanish Tourist Office in London , Inigo from Go Local San Sebastian , plus fellow blogger colleagues, Sarah Lee, Michael Turtle, Becki Enright , Abigail King and Niamh Shields for a wonderful few days.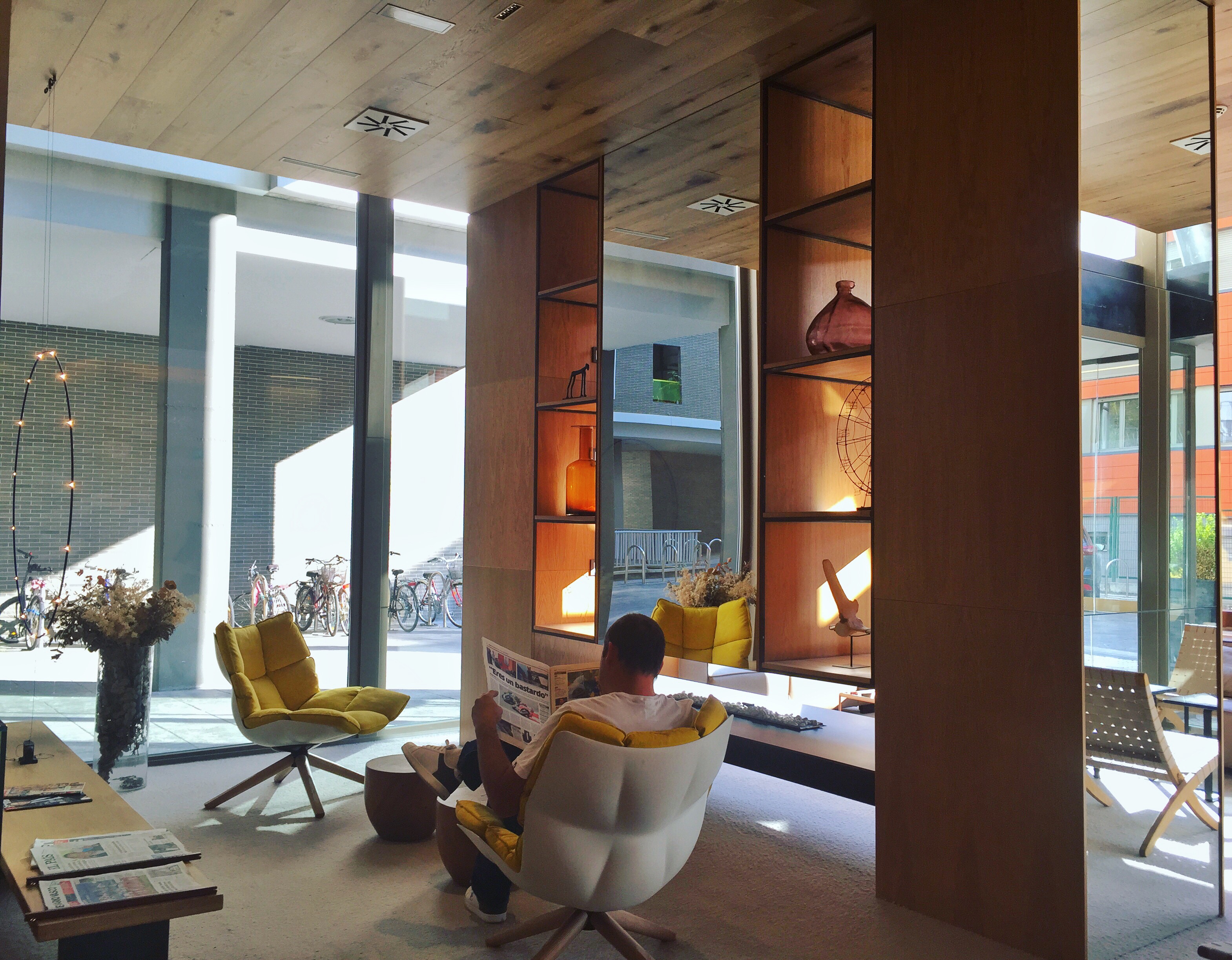 If you have been inspired by the pictures from my trip, I highly recommend staying at the Hotel Zenit San Sebastián. Booking midweek you can get rates as little as €70 for a double ensuite room. Design hotel has outdoor hot tub, minimalist rooms & suites, great wifi and an affordable Basque restaurant.
Getting there and away
I flew with Vueling ( my least favourite airline which I would encourage you to avoid. Explanation here ) from London to Bilbao but thankfully you can also fly with easyJet or BA.
The other way to get to San Sebastian is by hopping on Brittany Ferries from Portsmouth to Bilbao. They currently have holiday offers to Spain that include a 5 night break to Bilbao ( Sunday-Thursday) from £164 per person, 2 people sharing with 2 nights stay in hotel of choice. Options are available to stay in San Sebastian.
The other brilliant value for money option if you have your flights booked,  is booking directly via the San Sebastian tourism website where they offer a range of themed short breaks from as little as €74 per person which includes 2 nights stay in the Green Nest Hostel, a pintxos tour and the San Sebastian Tourism Card.
Please note that the views expressed here are entirely my own so as to give you the best possible idea of the destination. Thank you for reading and supporting my blog!