Of all the places I visited on my month of Interrailing, Ljubljana probably stood out for me as the city I enjoyed and surprised me the most.
Friendliness of locals, the picture postcard cobbled streets and fairytale castle in the sky looming over the city, the surprising lack of tourists, great places to drink, the best ice-cream I've tasted outside of Italy and world-class museums- make Ljubljana a perfect place to explore for a day or two.
I had four days in the city but had a lot of writing to catchup on which meant I had only one day -12 hours to be honest to see the city.
Here is the story of my 12 hours in Ljubljana.
Enjoy, please leave your thoughts below and if you have any memories of this beautiful city, please do share.
The following takes place in Ljubljana ( 22nd June, 2012) between the hours of 9am and 3pm
( In the voice of 24 'Jack Bauer)
9 am
Breakfast at Hostel Celica
The garden of Hostel Celica is the perfect place to start your day in Ljubljana.
( If you missed, here is my review of Hostel Celica )
10:30 am
Bi-Fo-Ke- one of the coolest bars in Ljubljana
This was a really cool bar in Ljubljana.
It was shaping up to be a really hot day and I needed a drink.
I love drinking coke on a hot day.
( A relic from my childhood in India I guess where after a long day cooking in the heat at school, my special treat would be a glass of coke )
The bar has excellent free wifi. Like.
Loved the very cool interior with it's 70's retro feel and album sleeves of classic records from wall to wall.
It's not everyday I recommend this but with this bar check out their bathroom-has some of the coolest toilet art.
Great discovery was the wall of Instagram snaps 'Stickygrams' –brilliant.
The guys who run the bar have great music taste and while I was sitting there I heard some awesome tunes.
For example , I discovered a great house music album 'House Music' from an artist called Kikumoto All Stars.
Going to cool bars and discovering new music ( thanks to Shazam, Spotify ) –that for me is one of the greatest little pleasures from travel.
Cost of Coke: 2 euros.
12pm
Getting into a knot with Lesen Vozel's 'Wooden Knot'
Ljubljana- you never know what to really expect from this city.
Every twist and turn, I was discovering something really cool and exciting.
I walking by the river and then I see this guy- ponytail and a bright orange shirt that you can see from miles away.
Something about a guy and a ponytail- I never trust them.
He's sitting with a table scattered with these wooden, rubik cube like puzzles.
I see a few people busting a gut, going red in the face trying to solve this puzzle-he calls it the Wooden Knot.
It's basically a couple of wooden pegs all interlinked and the challenge is to try and unlink them.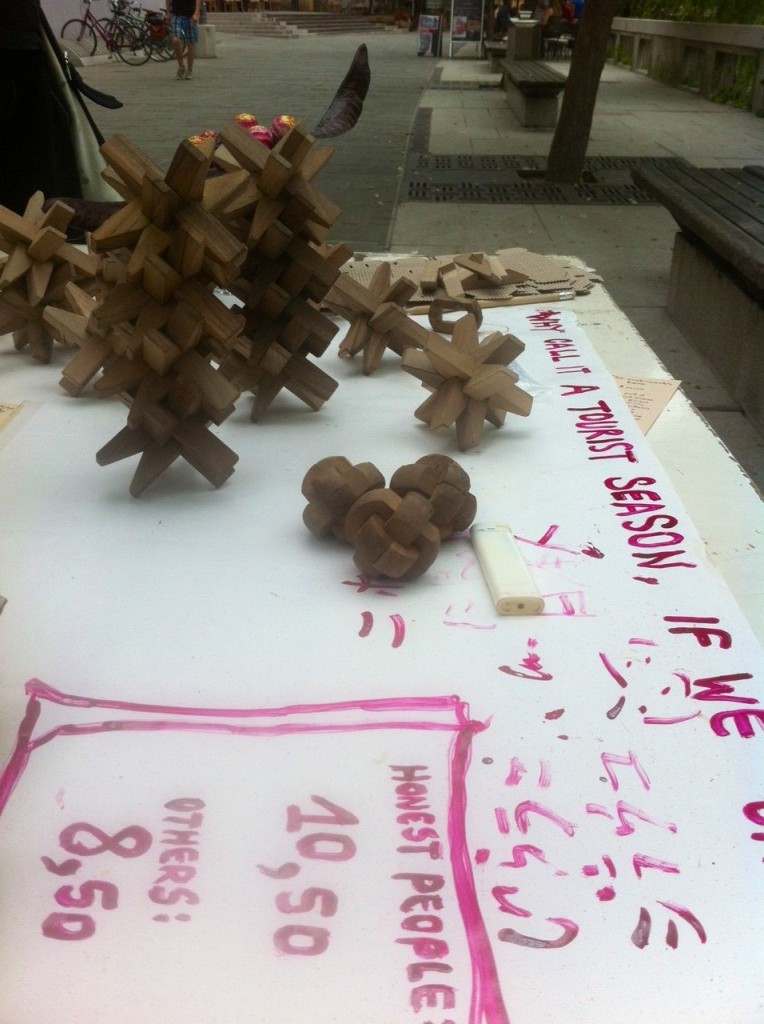 I am guessing there's some money involved to take up the challenge.
He shakes his head and smiles.
'This is all about fun. I like to meet new people and see how they analyse the puzzle and solve it. For me that's the pleasure I get. It's an extreme useful waste of time."
I take up the challenge and phew, sooner or later, I can't seem to be able to crack the puzzle.
'Don't use logic,' he advises me in a yoda like voice, 'just trust your instinct and solve the puzzle.'
I try and follow this philosophy but my mind thinks too logically.
I am about to give up after 30 minutes of struggling.
I've just seen two girls come along and crack it in 10 minutes which makes it even more frustrating.
I notice all the guys struggle-something about the way we think?
Just as am about to surrender, I finally realise the trick and unscramble the puzzle.
I feel chuffed, even though I fail to solve it in the allocated 10 minutes.
I thank Lesen Vozel. Gem of a guy and a rarity.
I walk away thinking, how it's often these cool, offbeat experiences and people you meet are the ones that you remember most when you look back at your memories of a city.
12:45pm
Bear, by the river
Walking past the river, suddenly lo behold, the biggest teddy bear you can imagine, plumped on a bench.
I think he has the best life, sitting all day, doing nothing, just people watching and the river endlessly flow ahead of him.
1pm: Spotted: Random Quote
Random quote I spot in a cafe to add to my collection of quotes:-
'No is listening to you until you make a mistake'
1:15pm
Ace lunch at Wok-in
I'm hungry.
All this endless roaming along the streets of Ljubljana means I need some energy.
I suddenly get a waft of crispy onions, garlic and soy sauce.
After weeks of endless sausage rolls and kebabs travelling across Germany and Eastern Europe, I really have a craving for chinese and stir fried rice or noodles with veggies.
I follow the smell and discover Wok-in.
Small hole in the wall place with one table for customers to sit in.
The way it works is you pick the vegetables or if you want chicken or pork or beef, choose your sauce-could be thai, curry, soy for example and then if you like it with noodles or rice.
All this for just 5 euros!
Note: They offer the same deal to students for just 2.30 euros.
2pm
Magnum: The Face of Time. Galerija Jakopic
I'd heard about the Magnum photographers but this exhibition really blew my mind. This is the first time I believe, some of the best works of the Magnum photographers have been brought together.
83 original black-and-white vintage photographs by world renowned photographers, including, among others, the founders of Magnum Photos: Robert Capa, Marc Riboud, Werner Bischof, Henri Cartier-Bresson, Ernst Haas, Erich Lessing, Jean Marquis and Inge Morath.
It's a very intimate exhibition that allowed me really to understand the genius of these photographers, especially that of Robert Capa- the visionary who developed the idea of an agency that would give the established and emerging photographers a platform to express their talents.
Founded two years after the end of World War Two, Magnum photographers aimed to present people in their actual environments and conditions. Through their works,  photojournalism was seen as a medium capable of raising awareness, educating and thereby contributing to a better world
In the beginning of the exhibition, there's a moving film about the life of Capa that captures key moments in his life like his key involvement in the Allies D-Day landing at Normandy where he captured what remains , the most definitive photographs of World War 2 and possibly of the act of war.
Amongst many other great photographers, it was amazing to see some of the works of Henri Cartier Bresson who travelled India intimately and captured some haunting images of the country.
This images of him documenting the last days of Gandhi and his funeral, were for me the personal highlight of the exhibition.
Exhibition runs till the 2nd September. Entry costs just 3 euros.
3pm- 9pm?
Here is part 2 of my 12 hours in Ljubljana.