After a hectic few weeks of backpacking and interrailing in June, I arrived in Chur, the oldest city in Switzerland and the gateway to the Alps. Seen as the bridge between Germany and Italy, plus as the starting point of the famous Bernina Express, Chur is dotted with leafy vineyards beautiful heritage buildings and surrounded by mountains. You will find the pace of life here sedate and relaxed. They even have a local word here to describe it- 'Patgific'. After just spending a day here, I felt relaxed and feeling patgific here. However, sheltered by the mountains , in splendid isolation, Chur has also apparently a dark edge to it. It was the home to the famous artist, HR Giger, the creator of Alien. Chur was home to the most notorious prison in Switzerland. After being closed to locals for 200 years, the jail has been reborn as Bogentrakt Hostel, a modern, stylish and sustainable hostel run by a good friend of mine, Marco who has put his heart and soul into the place. The darkness has gone and in its place a hostel has been born, a great place to temporarily call home. Perfect for remote workers. Plus there is some great places to eat local cuisine and some cool local bars. So, whether you are a keen hiker, interested in Giger, a train geek or looking for a taste of the patgific life and chill at the Bogentrakt Hostel or party with the Polenta 7000 crew, Chur has something for every traveller. This blog post will give you a taste of the best things to do in Chur plus practical good stuff like where to eat in Chur, best day trips from Chur and also where to stay in Chur on a budget.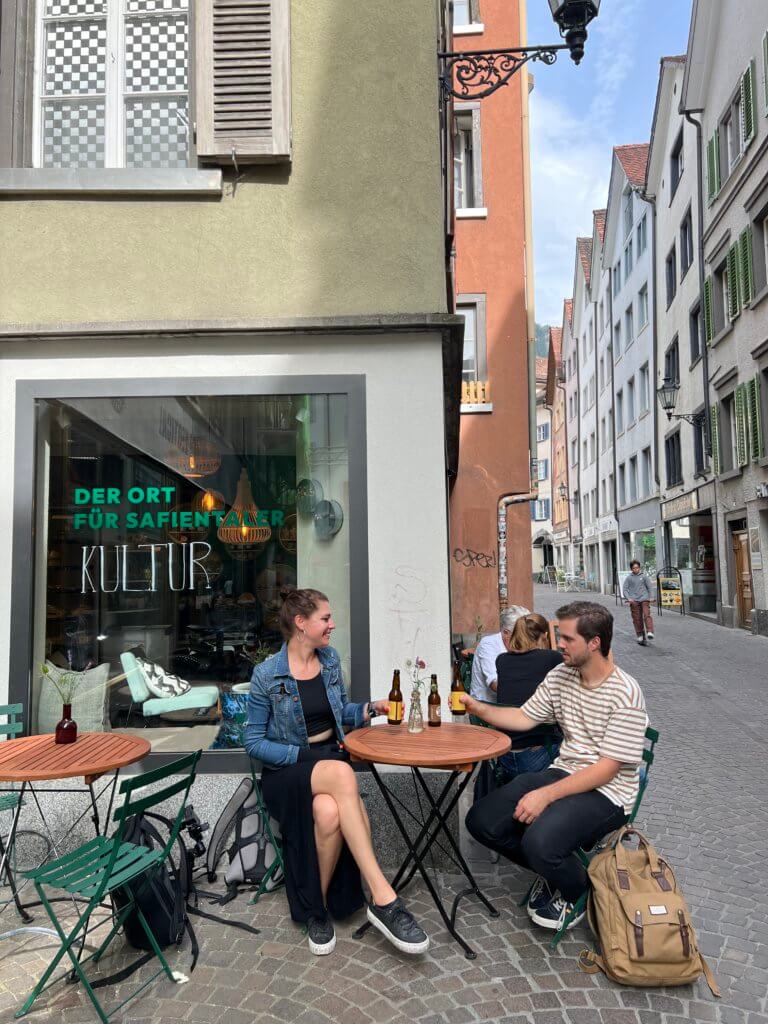 Introduction to Chur
Chur is a small, medieval mountain town in the Swiss Canton of the Grisons, towards the eastern part of Switzerland. Reputed to be the oldest town in the country, this perfectly preserved slice of Swiss history takes visitors back to a slow paced, peaceful, more placid way of life. In the Old Town, with its heritage buildings and leafy green vineyards creeping slowly up the surrounding hills, one could almost believe that time has stood still. Viewed from the heights of Fürhörnli, the highest point of the town, Chur appears spread out across the deeply chiseled Grisonian Rhine Valley. Known for its ancient history, dating to prehistoric times, Chur contains several heritage buildings of national importance. Strategically placed on the Rhatetian Railway route, Chur is the ideal place to hop off for a few days of rest and contemplation of the peace and beauty of the mountain scenery.
Best things to do in Chur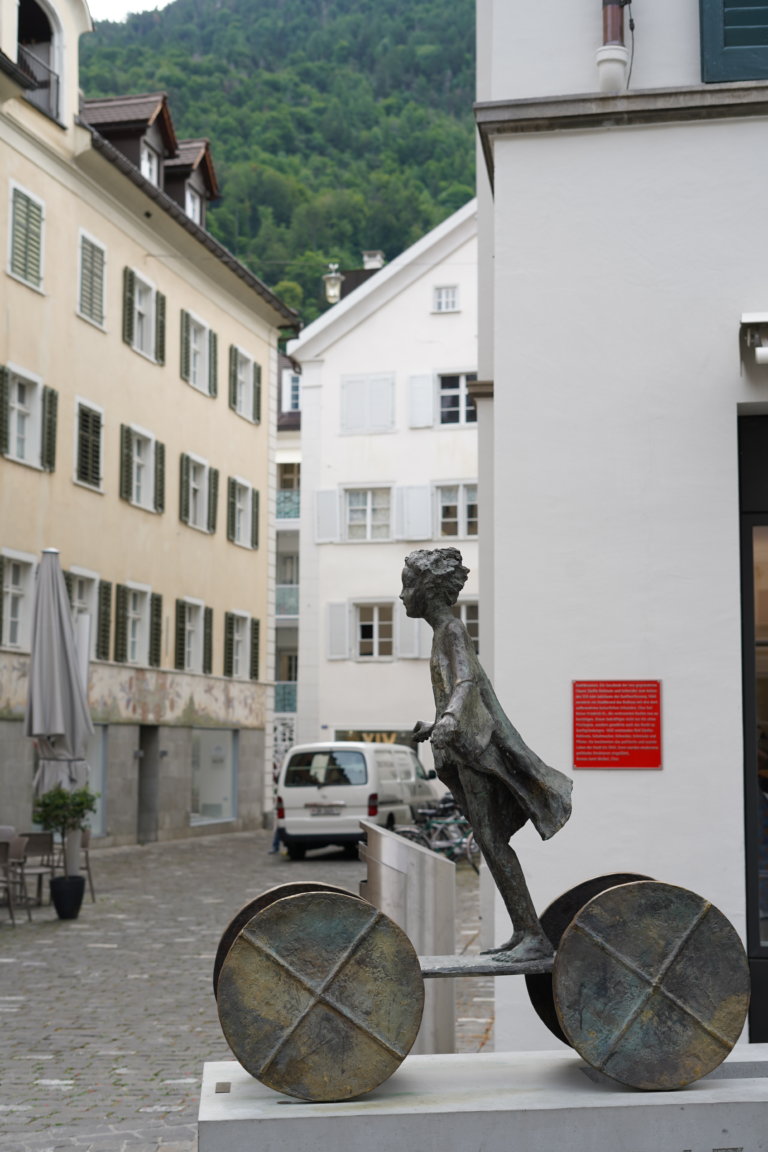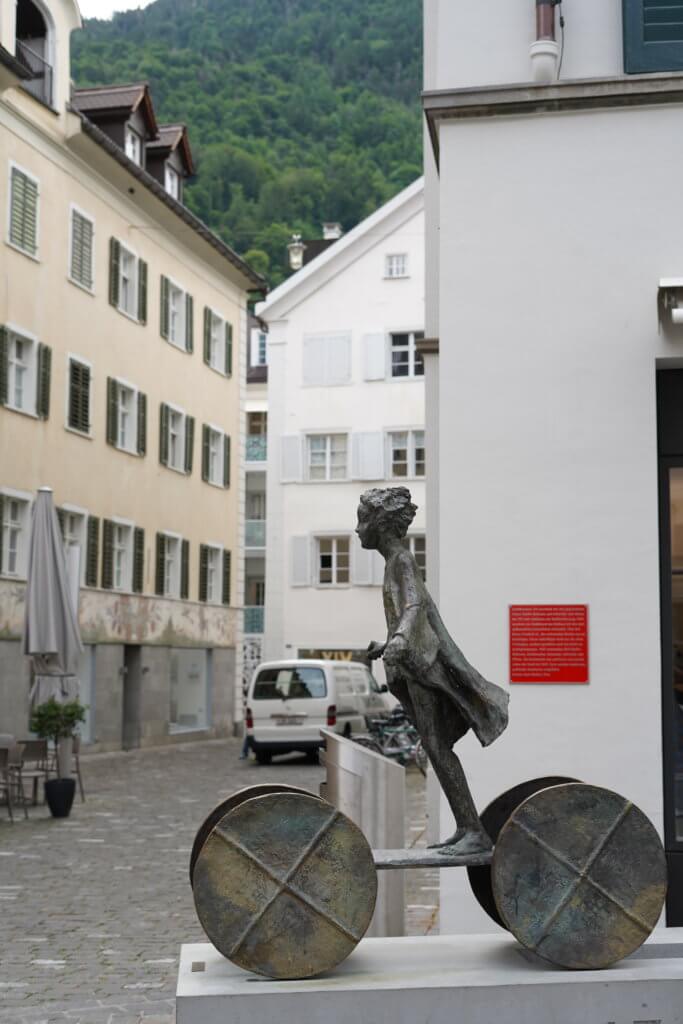 1.Exploring the Old Town
Switzerland's oldest town can be found in the Old Town of Chur. With the additional distinction of having a history of settlement reaching back as far as five millennia, visiting Chur is like stepping into a time warp and breathing in the reality of a long forgotten past. With the majestic backdrop of formidable snow capped peaks and the dark steepled city spires of Chur reaching up to the crisp Alpine air, this lofty city seems to be locked in its medieval past. Adding to its charm is the pedestrian free Old Town, enabling visitors to freely explore its winding streets and alleys, discovering town squares, old churches, painted murals, cafés, shops and museums.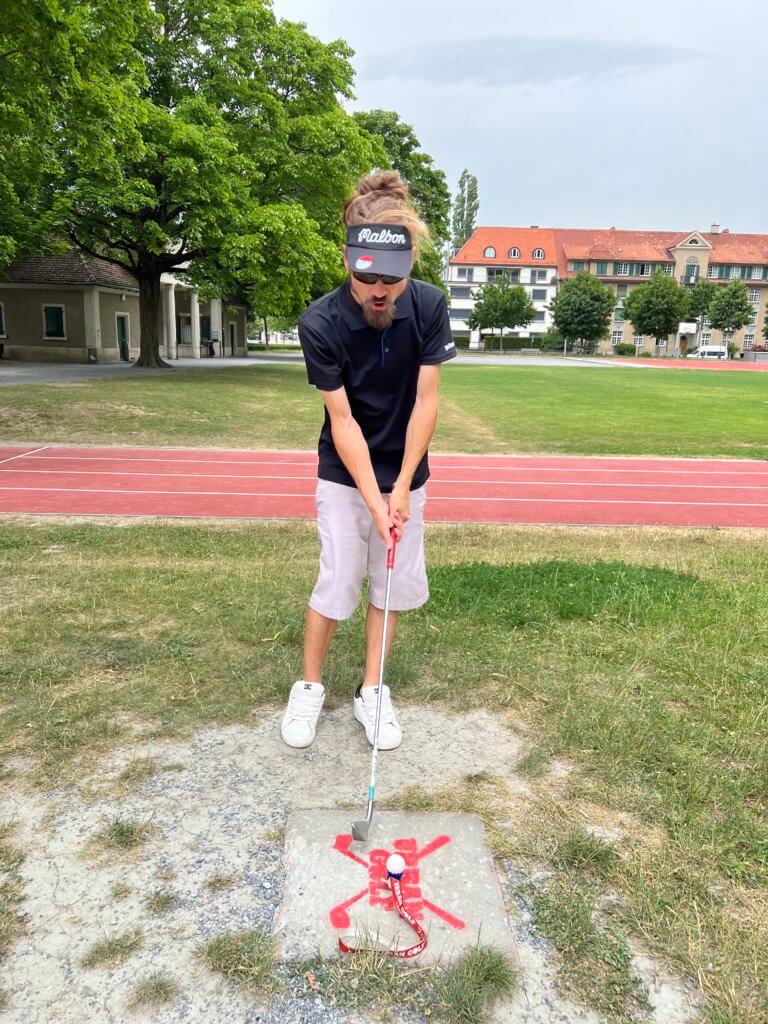 2. Explore the town by playing Urban Golf
A fun way to explore all of Chur's main sights is by playing a game of Urban Golf. Instead of playing on a traditional golf course, Urban Golf can be played in any form of living environment, from narrow winding cobbled streets of Chur to disused industrial warehouses and school playgrounds. In Chur, you can hire for a small price, a set of golf clubs and a special softball from the tourist information office along with a map of the 9 holes to master which are spread across alleys and plazas in Chur's picturesque old town. It is really fun way to discover and interact with a place , drawing you into parts of town you may have missed. It always elicits wonder and amusement from locals and tourists alike so there is never a dull moment. It is a lot of fun and something that people of all ages can enjoy.
Essentials: To play the full 9 holes across Chur with friends or family costs 15 CHF. It takes around 2.5 – 3 hours to complete all the 9 holes. A deposit fee of CHF 10.00 per person is required , in cash when you pick up the equipment at the 'Tourist Information' ( Bahnhofstrasse 32, 7001 Chur ) . The equipment includes 1 golf club, 1 soft ball, 1 "bäseli" and 1 lanyard. The deposit will be returned when the equipment is returned.
3. Chur Cathedral
Chur Cathedral or Saint Mary of the Assumption Cathedral is a Catholic Church borne of the perfect marriage of Romanesque and Gothic Architecture. Perched high up on a hillside, surrounded by lush vineyards, the Episcopal Court contains both the 800 year old Cathedral and its neighbouring Bishop's Palace. Dedicated to the Assumption of Virgin Mary the stunning golden Gothic altar contrasts with the exterior – a nod to Eastern influences shaping its construction due to its proximity to major ancient trade routes. Chur Cathedral is three naved and it's central nave is fashioned from rock from Scalära. The portal of the main entryway is bolstered by six columns that are held aloft by six coloured archways. Notable interior features of the church include the Gothic altar designed by Jacob Russ, the carved choir and the spectacular stained glass arched window.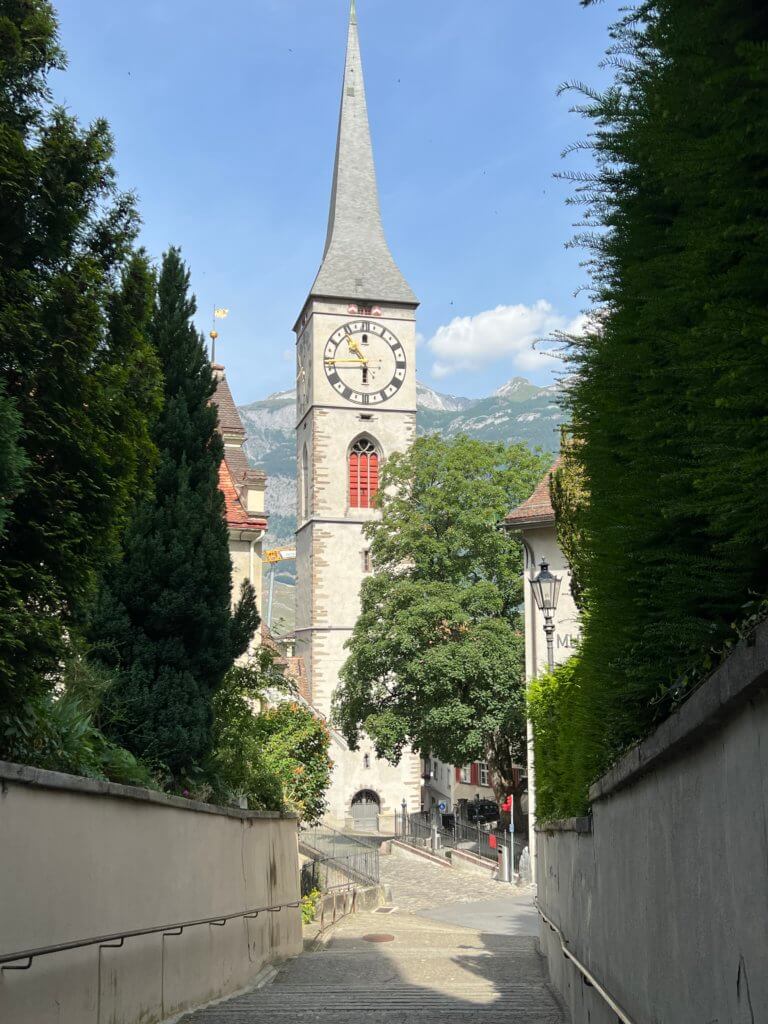 3. St. Martin's Church
The Gothic spire of St Martin's Church leaves an indelible impression on the skyline of Old Town Chur due to its character and the longevity of its existence in Chur. Built in the eighth century in tribute to St Martin, Bishop of Tours, the once Romanesque Church was burnt down in 1464 and rebuilt in the Gothic design. An ethereal feature of the Church is the more recent addition of three stained glass windows by Augusto Giacometti, depicting scenes from the Christmas story. The white facade of the clock tower, with pointed black spire is a convenient landmark in the centre of town and the view from the church tower of Old Town and the surrounds shouldn't be missed.
4. Rhaetian Museum
The Rhaetian Museum is devoted to the history and culture of the surrounding area, i.e. the Graubinden Canton. It is a treasure chest of ethnographic, archeological and sociological finds and information. This permanent exhibition is spread over four floors of the Baroque museum building, originally built in 1675, which is a piece of history in itself. Young children can benefit from a visit to the museum too. A fun way to learn about each of the exhibits from a child's perspective is to pick up a special key from the ticketing office. Each room in the museum contains a locked box, which when opened with the key reveals information about the history of individual exhibits. Not only is this a good way to impart knowledge from a different angle, it also makes each child feel extremely special.
There is a small museum shop that proudly displays carefully curated gifts and souvenirs. The museum is mostly wheelchair accessible.
Prices for tickets start at 6 CHF for adults, 4 CHF for pensioners and students while children under 16 can visit for free.
However, if you are staying overnight in Chur, you qualify for the Guest card Chur which gives you free access to the Raetian Museum, Graubünden Museum of Natural History and Graubünden Art Museum.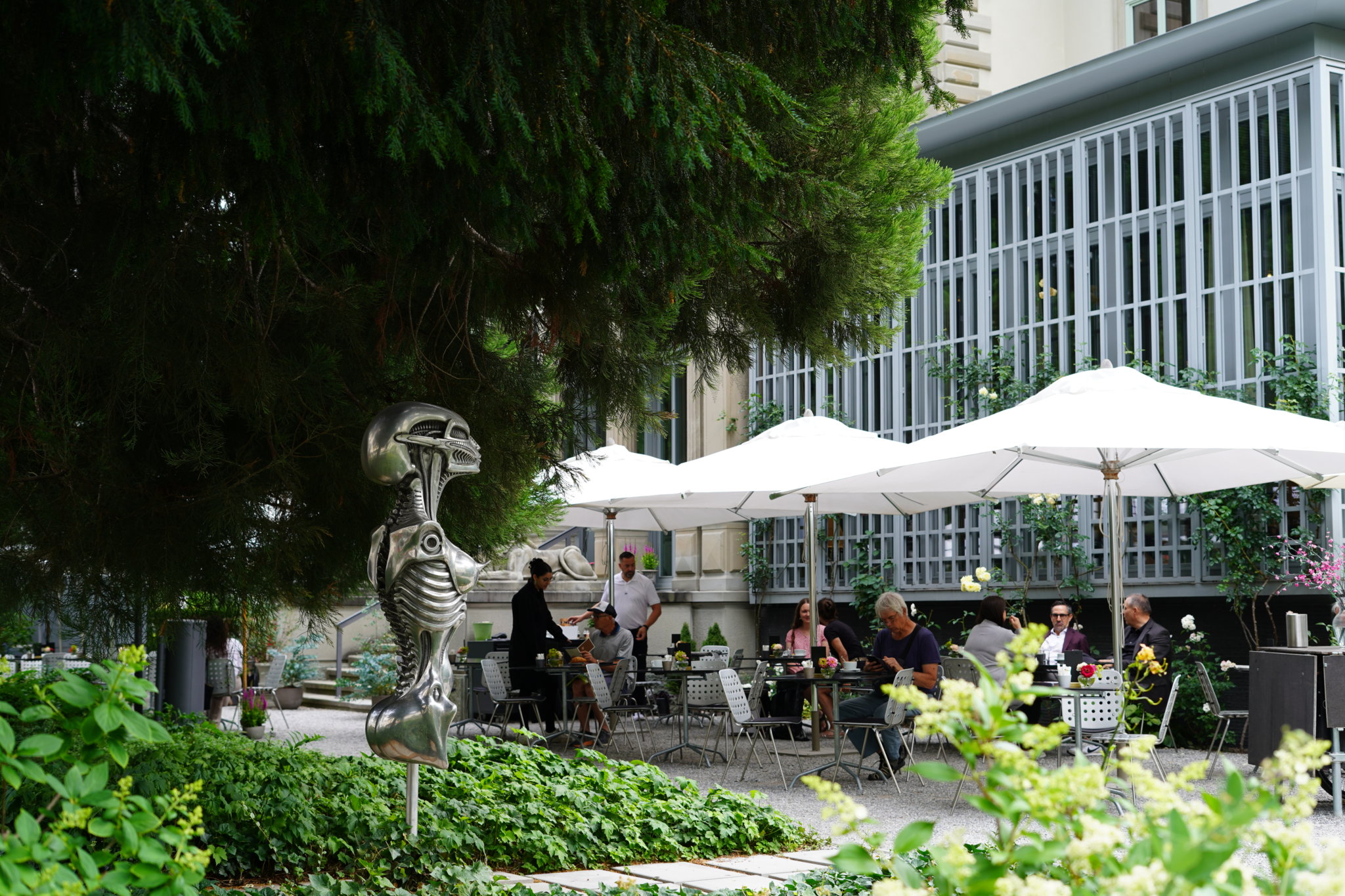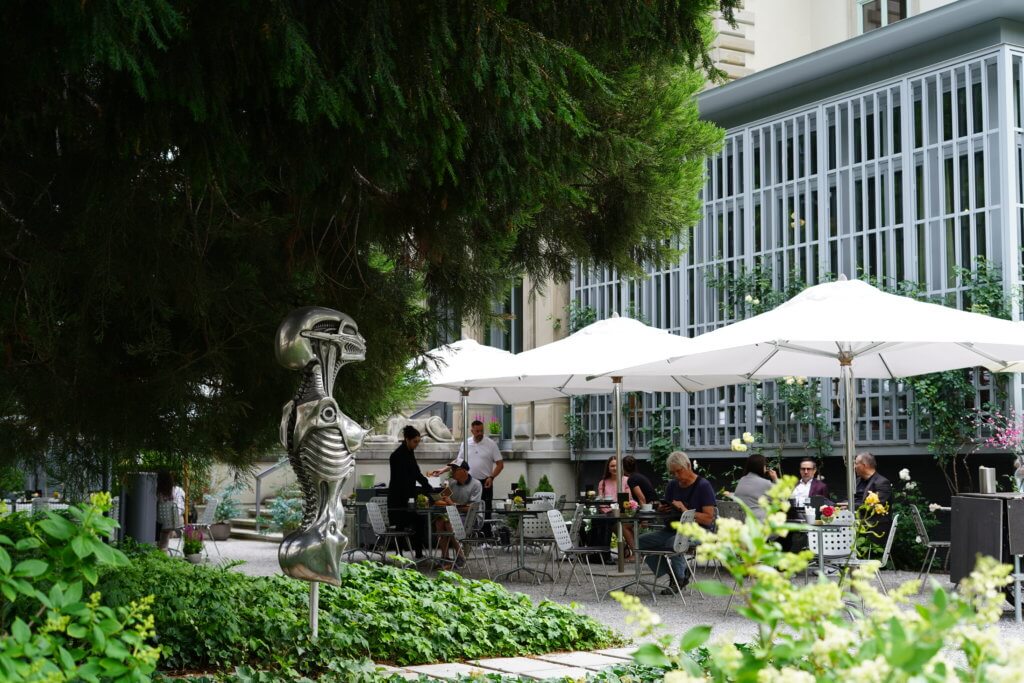 5. Bündner Kunstmuseum (Graubünden Art Museum)
Only a two minute walk from Chur Railway Station, the Graubünden Art Museum is the home of art and art history in Graunünden, spanning over three hundred years. The beautiful heritage building, Villa Planta, is graced by a recent extension – designed by Barozzi Veiga and the combined unit, spread over 1200 square metres is home to 8000 pieces of art. The museum with has strong focus on contemporary art featuring artists that have a strong connection to Graubünden like Angelika Kauffmann, the artist family Giacometti, Ernst Ludwig Kirchner and the artist group 'Rot-Blau.'
Entry fee for adults is 15 CHF for adults while kids under 16 go free.
However, if you are staying overnight in Chur, you qualify for the Guest card Chur which gives you free access to the Raetian Museum, Graubünden Museum of Natural History and Graubünden Art Museum.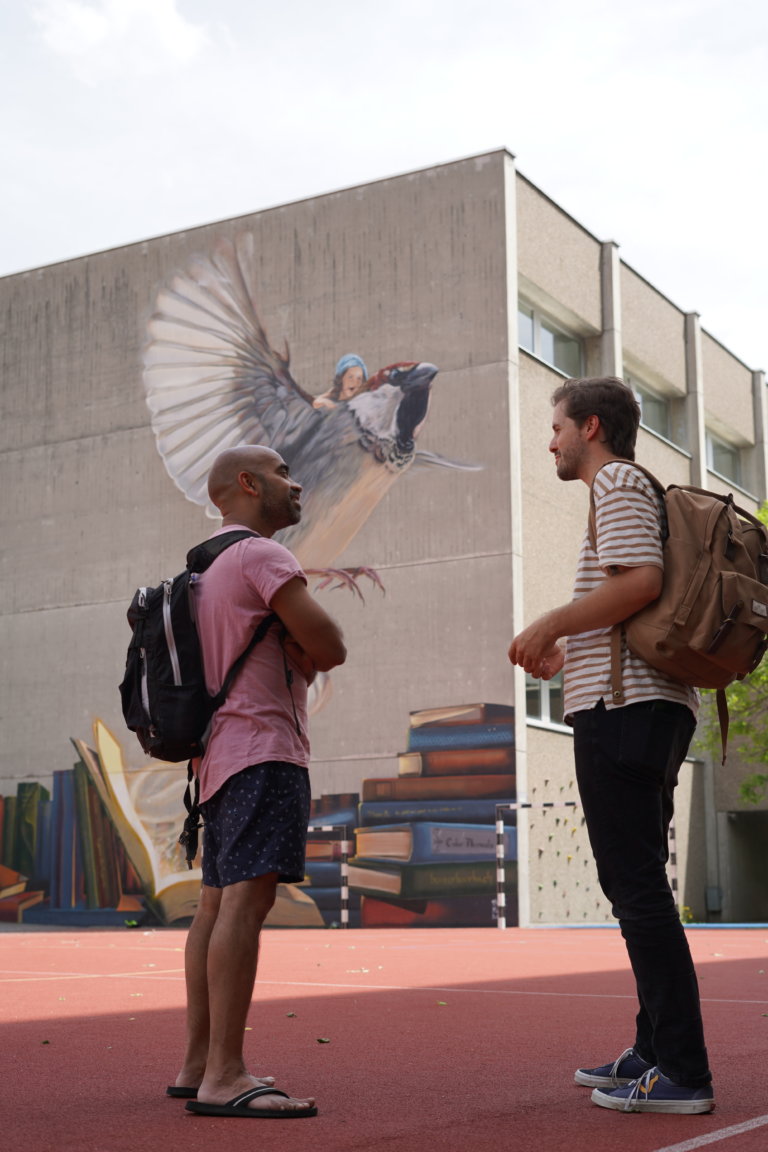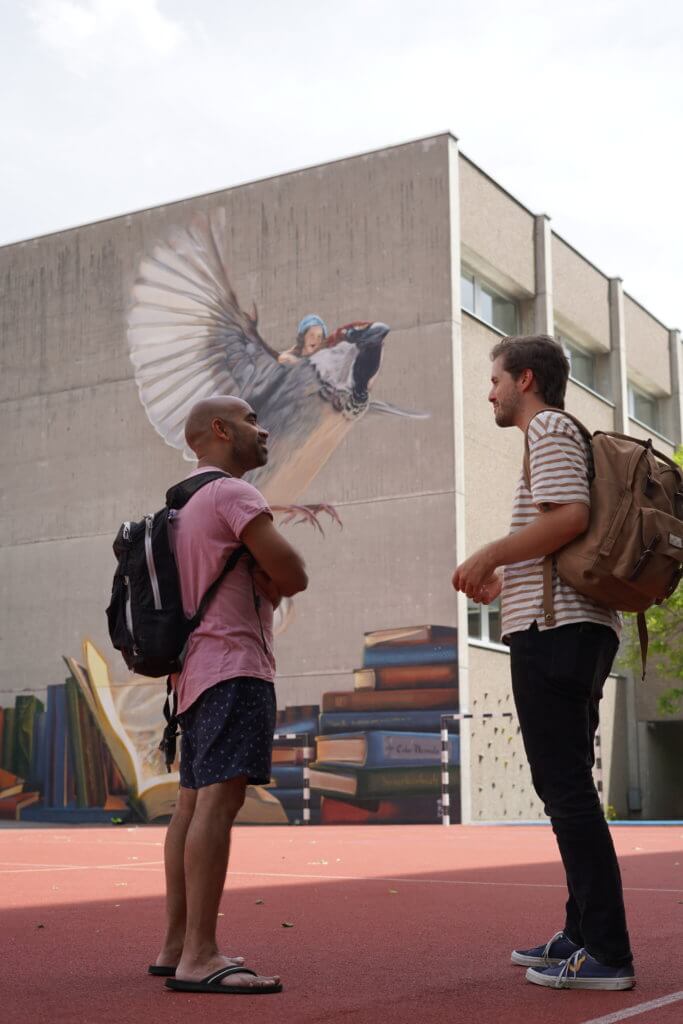 6. Explore the Street Art
Chur is home to the most renowned street artists in the world, BANE. You can find his murals, astonishing in terms of scale and detail, spread across the city.
Unmissable works include Mühleturm , the "creative landmark" of Chur and the largest mural painting in Switzerland and "I have a dream" ( 2015) which he painted with the street artist Pest.
7. Hike from Brambrüesch to Pradaschier
Directly above Chur and easily reached by cable car, Brambrüesch is a hikers paradise in summer with glorious meadows filled with diverse Alpine Flora and incredible panoramic views of the mountains that encircle Arosa, the Schanfigg and the Lenzerheide. The trail starts off with a quite pleasant and scenic walk through the forest to the Malixer Alp. If you haven't haven't had lunch you have the option of dining in the Bergbaiz which serves hearty, fine local Alpine cuisine for affordable prices. After a relatively gentle hike, it gets more scenic and interesting as you ascend higher to the Galti-Alp. This is the highest point of the hike and the surrounding views are spectacular here. For someone who is a hiking novice and a bit afraid of heights, I really enjoyed the hike despite some initial fears. The range of flora and fauna, the views -truly is a unique experience. It is a gradual decent into Pradaschier where the cosy Pradaschier mountain restaurant with its glorious sun terrace offers visitors a chance to unwind with a drink or some enjoy some hearty Graubünden fare like Capuns.
The best part of the hike is the descent to Churwalden via a spectacular toboggan ride- three kilometers long and with 31 bends, some of them hairpin curves, this toboggan ride is listed in the Guinness Book of Records as the longest track-guided railway in Europe. The toboggan ride down is 18 CHF for adults, 13 CHF for kids from ages 13-17 and 9 CHF for kids under 13.
Note: If you have the Guest Card Chur, you get 50% off the ascent and decent on the Chur-Brambrüesch cableways.
Where to eat in Chur
I will be publishing next a more comprehensive guide on where to eat and drink but here a few tips. If you are looking for traditional homemade Italian cuisine at an affordable price then Da Mamma's is the place to come. Fixed price 2 course vegetarian lunch menu is just 16.30 CHF is one of the best value lunch deals in town. If you love South Indian/ Tamil cuisine, then you should also pop into Yaal for their lunchtime buffet which start at just 19.90 CHF. Next door neighbour to the Bogentrakt Hostel, Kostbar, where you have a good mix of local food like the Churer Fleischtörtli or more comfort food like burgers and curries. Prices start from 14 CHF. If you are on a tight budget, the local Coop supermarket offers a range of salads, sandwiches and snacks at affordable prices. For example, a salad nicoise costs 8.50 CHF. Last but not least, try Wok and Momo, a tibetan run diner with a range of dishes , from their excellent value stir fry wok noodles ( from 7 CHF) to momos ( 18.50 CHF).
Special mention must go to Polenta 7000, a summer pop up festival run by local creatives and kindred spirits where visitors can enjoy delicious food ( Chickpea curry and rice for just 8 CHF) concerts, DJ sets, table tennis, open air cinema, childrens circus. The season wraps up on 26th September 2023 but keep your eye out on the Polenta 7000 website for next summers pop up.
Day Trips from Chur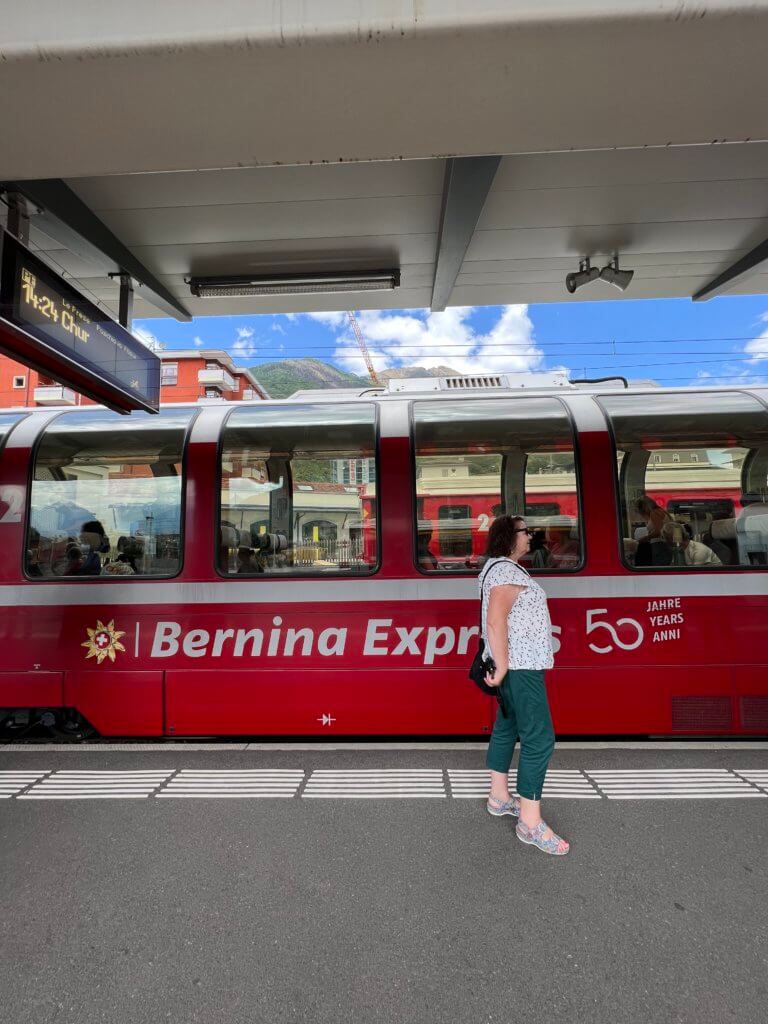 Chur to Tirano with the Bernina Express
The Bernina Express is a must if you are visiting Chur. The train traverses one of the world's most spectacular and scenic routes, providing passengers with a mesmerising, once in a lifetime travel experience. Starting in the Chur, the Bernina Express glides up the Swiss Engadin Alps to culminate its journey at the Italian city of Tirano. The train spans an astonishing 196 bridges, 55 tunnels, winds up high altitude mountain passes, passes glaciers, alpine lakes, twists around spiral viaducts, skirting glaciers and hopping over country borders. Highlights of the journey include the soaring Bernina Pass at an elevation of 2253 metres, the crossing of the famous Landwasser Viaduct an architectural marvel, with some of the most jaw dropping scenery in the stretch between Ospizio Bernina and Alp Grum.
The 1000 mm gauge is fully electrified and uses 7% gradients to negotiate sharp differences in heights. The panorama cars offer an immersive travelling experience for passengers and enable them to drink in the sights and take photos and videos to their heart's content. Audio guides in a variety of languages are also available describing the surroundings.
The Bernina Express is operated by the Rhaetian Railway Company. The Albula and Bernina lines on the Bernina Express were declared World Heritage Sites in 2008. The Albula line runs from Chur to the Pontresina station in the Bernina Valley. The Bernina Line from Pontresina ascends the valley to the heights of the Bernina Pass. South of the Alps, the train traverses glaciers, lakes and mountains and then proceeds eventually towards the Swiss Italian border, to end at Tirano.
The Bernina railway is the highest railway line in the Alps, and somehow manages year-round travel, despite thick snow drifts in deep midwinter.
Where to stay in Chur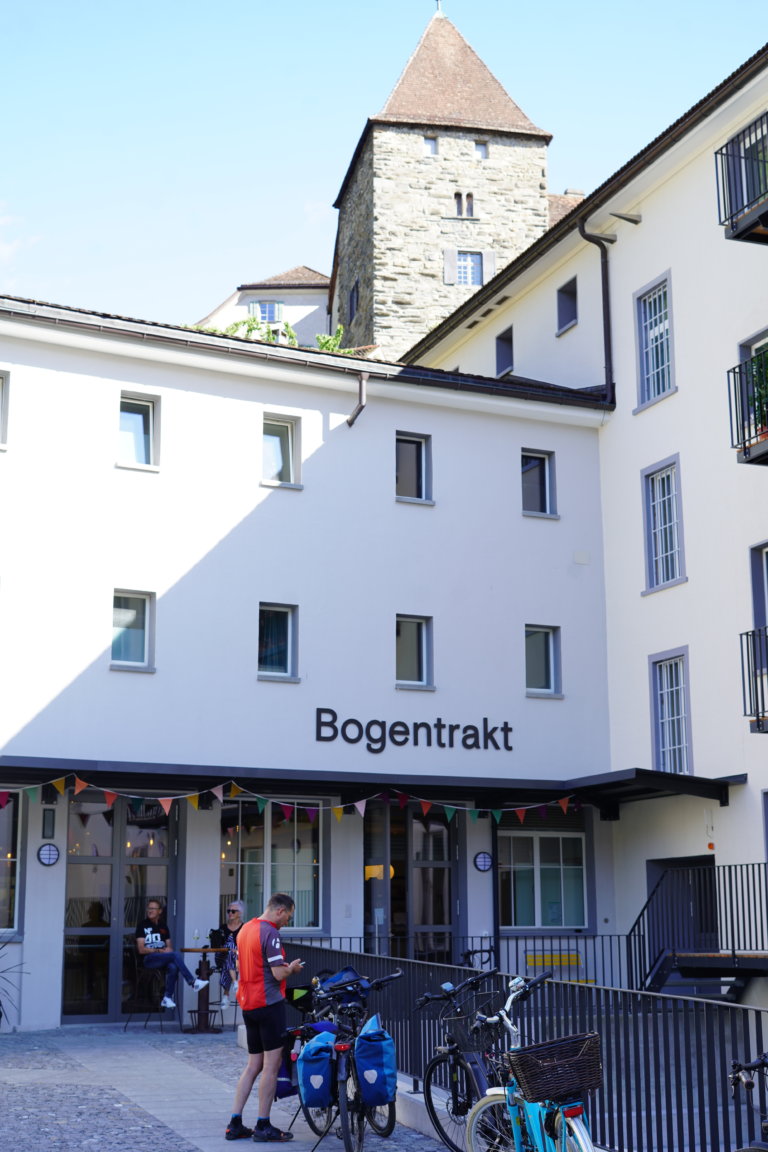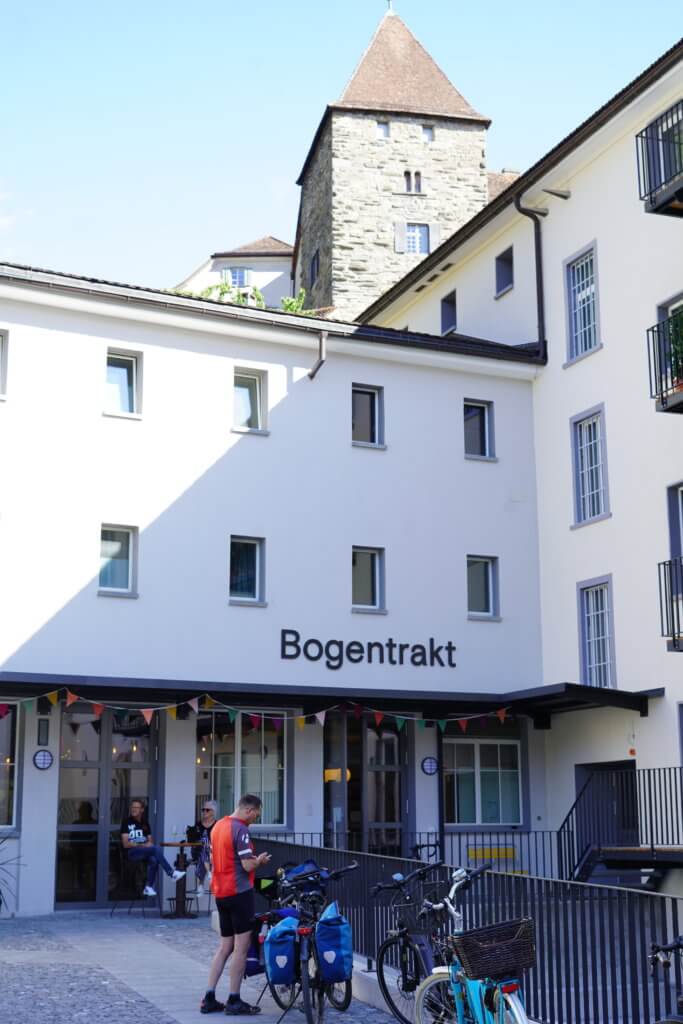 Bogentrakt Hostel
One of my main hostel finds of the year was this beautiful new design hostel in the picturesque town of Chur, the oldest inhabited town in Switzerland. It is one of those rare hostels which is really embedded in the heart of the community. By the end of the trip, I made so many friends across the city. Chur is that kind of place where locals are super friendly.
Bogentrakt Hostel, set in the heart of Chur against the scenic backdrop of vineyards, has a dark history and used to be the "toughest prison in Switzerland. Owner Marco Leibundgut transformed it into a vibrant hostel, giving the historic building a new lease of life.. The hostel's name, "Bogentrakt,"is a German word that translates to "curved wing" or "arched wing" and pays homage to the prison's distinct curved structure.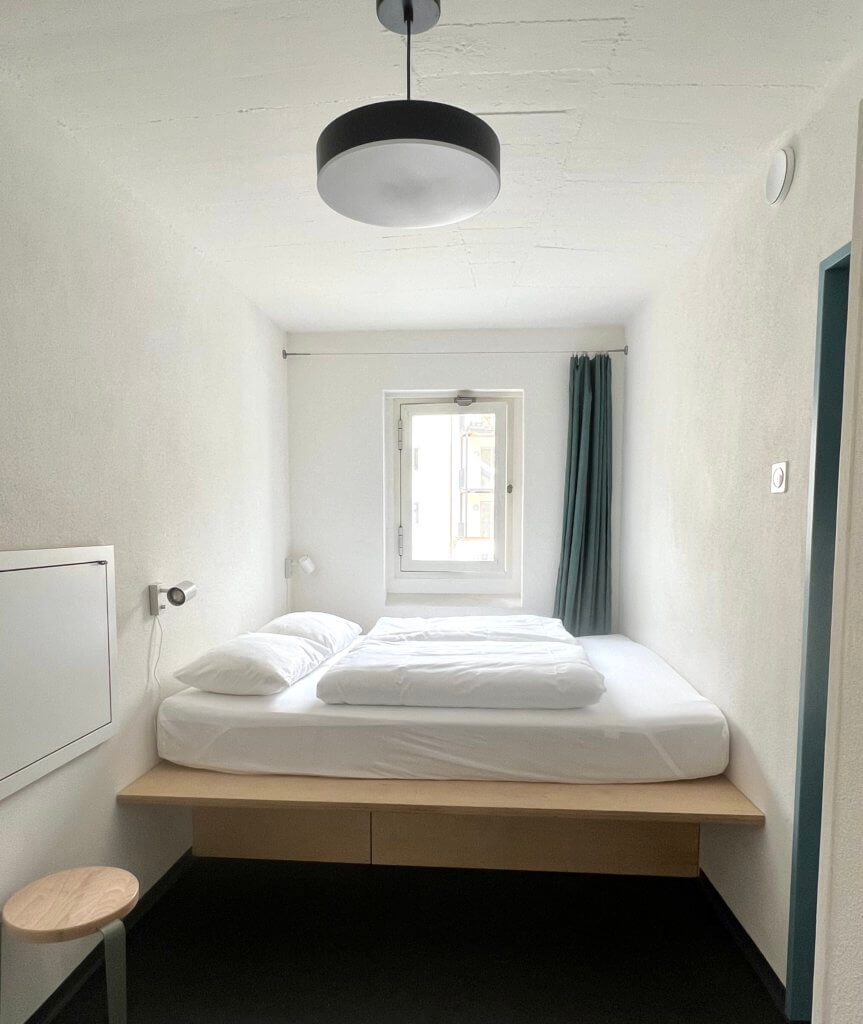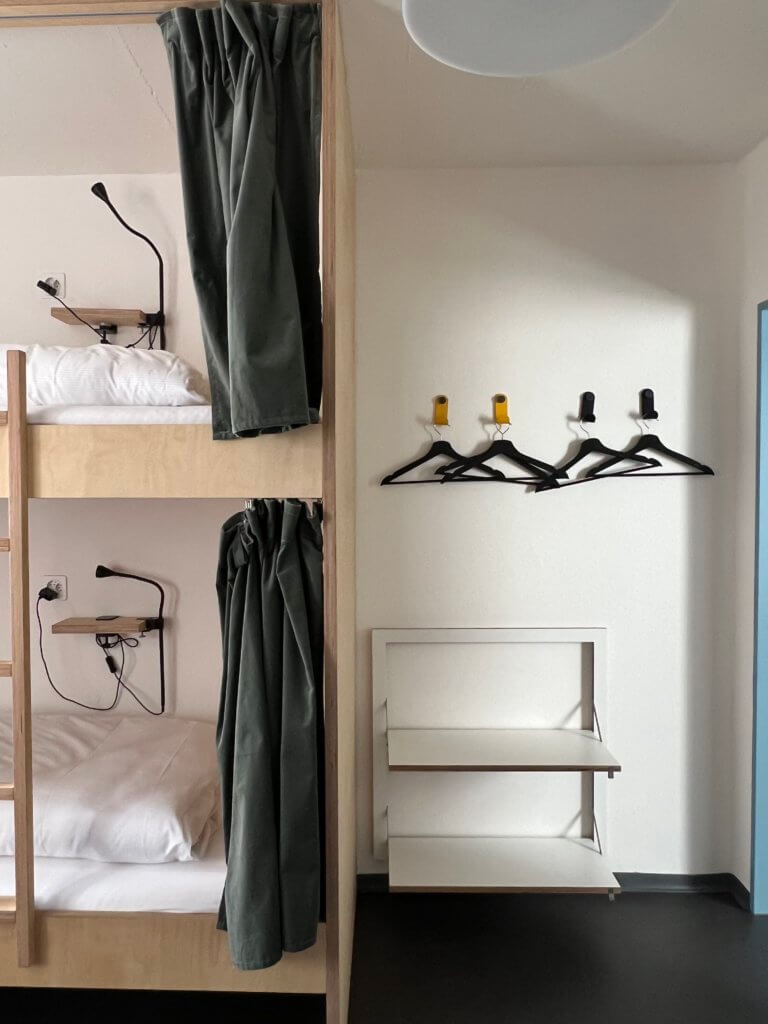 Old, former prison cells have been tastefully converted into modern rooms. Visitors can learn about the colourful history of the prison and former inmates via QR codes and pictures which are visible throughout the hostel.
The facilities are brilliant and perfect for nomads- dedicated coworking space at no extra charge, a really nice guest kitchen which guests can use to cook from ( handy given how expensive eating out is in Switzerland) plus a common room with a library, board games and also a TV for watching movies. For a small fee, the hostel also helps with your laundry which is very handy. The hostel reception has a drinks kiosk with local drinks and a beer on tap if you are feeling thirsty. There is also a small shop with local products, food essentials, everyday body products in case you run out during your stay. Hostel organises dinners and also has plans for hostel happy hour to bring guests together in the lobby. The hostel also has a really cool bar and restaurant called Kostbar which is nice to have a beer and relax, especially in the summer months when the terrace is open. The Sennhof, the original complex where the hostel is located is also home to local designers, a beautiful flower shop and also an art gallery so you really feel a sense of community and being part of the everyday life of the town.
There is a range of beautiful hikes and nature within a short distance of the hostel so that is another big plus for staying here. Room rates start from 32 CHF per bed per night, Doubles from 99 CHF per room, per night. There is a special prices of 399 CHF for a weeks stay, booking directly via the hostel website.
There is a 10% discount for BudgetTraveller readers who book directly with Bogentrakt Hostel: Please quote BUDGETTRAVELLER when booking. Plus anyone who books with my code will also receive a free mystery local drink on arrival.
Free Guest Card Chur
It is worth again reminding that anyone staying overnight at Bogentrakt or any other tourist accommodation in Chur will be eligible for free the Guest Card Chur which gives you access to a wonderful range of benefits which include:-
Free use of public transport in the TransReno fare network, Zone 1 (2nd Class). Not valid for bikes and dogs. Valid after check-in. Bernina Express and Glacier Express is not included.
2. One free entry to the Obere Au indoor and outdoor swimming pools or the outdoor swimming pool Sand
3. Free entry to the local museums: Raetian Museum, Graubünden Museum of Natural History, Graubünden Art Museum
4.Chur-Brambrüesch cableways: Visitors get a 50% discount on the ascent and descent 25% discount on bike day tickets (Alpenbikepark Chur and bike day ticket Arosa Lenzerheide Chur). To get your ticket please show your guest card at the cableways ticket office. The tickets of the guest cards are valid up to and including 5 pm. The evening rides and the rides on 1 August are not included.
Disclaimer
I was invited to Chur as a guest of Bogentrakt Hostel and Chur Tourismus. However, all the opinions, good and bad are entirely mine.