'The most emotionally intense color, red stimulates a faster heartbeat and breathing. It is also the color of love.'
Color Psychology via Infoplease.com
One of the joys of travel for me nowadays is exploring new local cuisines and expanding my culinary horizons
Plus expanding my waistline too 🙂
My recent trip to La Rochelle was such a gastronomic extravaganza.
Every meal here is a celebration.
A celebration of food, of local identity and of life.
Visiting La Rochelle was a sensory explosion.
Not just taste :  on the first day of  the trip first that hit me while wondering the streets was the smell of food here and the colours….
The smell, colour and variety of local food is vibrantly on display in the local market square within La Rochelle.
The moment I walked in the first thing that captured my eye was the juicy RED colour of the strawberries.
Even though we had a hearty breakfast at our gites I just couldn't resist picking up a punnet of the strawberries and I kid you not- was the sweetest and juiciest strawberries I had ever tasted.
2 punnets for just 3 euros- bargain! Who says you can't enjoy luxury on a budget….
A great spot for lunch just a few footsteps from the market is the fantastique La Cuisine de Jules ( Rue de Thiers)
Seafood dominates the menu. Other specialities that Jules offer include his special tartare ( enjoyed as starters, recommend)  veal kidneys and foie gras. Menu changes with every season and all products are locally sourced where possible.
As Jules says

"Le produit c'est comme une femme …si on ne le respecte pas il ne donne rien."

( The product is like a woman. If we do not respect it does not work )
I enjoyed a delicious seafood risotto with squid, prawns, mussels, olives- delicious.
The apertif was excellent: a champagne and pomegranate cocktail. I see red again.
Please note here readers a pattern emerging: An almost elaborate a la Amelie Poulin style seduction going on here.
With Lunch Menu starting at 14 euros and excellent fixed priced menus available ( 3 courses for 30 euros) this place offers really top notch food for excellent value.
One of the highlights of the day was our sunset cruise on the catamaran- the Kapalouest.
One of the packages they offer on the cruise is a seafood platter.  ( 49 euros for sunset cruise, apertif and seafood platter)
However given the possibility of a rough ride, the seafood platter had to wait after in a local restaurant.
I am no seadog like Captain Haddock so the prospect of a rough ride was not very enticing.
However contrary to intial fears, was a smooth ride and I experienced possibly one of the most memorable sunsets in my life- was wow or as the locals would say 'C'est Magnifique!!'
I don't believe in any travel experiences being a must see….however seeing sunset out at sea is unique and something you got to experience soon.
As the sun drowned in the horizon, the fiery red embers still glowering across the sky suddenly I felt this intense sense of happiness, of gratitude… a quickening pulse.
Perfect timing : the skipper of the Kapalouest then treated to us to the apertif of all apertifs- a taste of the local Pineau des Charentes.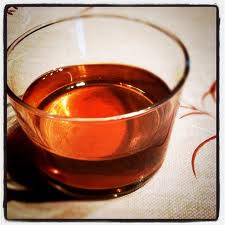 Overshadowed by it's more celebrated big brother Cognac, the Pineau is a bit of unknown gem.
I plumped for the Red Pineau.
Made from the unfermented juice of red grapes of Cabernet Sauvignon and Merlot, the Red Pineau was quite refreshing ( served chilled) and fruity.
A nice warm buzz in my belly, we trooped off the catamaran towards seafood heaven.
Another apertif minute later, landed on my table the most amazing platter of seafood you could imagine….
Fruits de Mer as it is called- or fruits of the sea, this had everything from Oysters,Mussels, Snails in Garlic Butter, Langoustines and a red crab in the middle. It was a treat- everything tasted so fresh and of the sea.
My belly full, heart content I headed back to my rooms at the Best Western in La Rochelle.
I close my eyes but still not ready to sleep. I remembered  all the wonderful things I had tasted and experienced. I felt my heart glowing. Pulse quickening, I saw the colour red again.
It was official. I was in love. I couldn't wait to wake up and see La Rochelle again.
Where I stayed
Autumn/Winter is when you can get some amazing deals on hotels in La Rochelle compared to summer peak season rates.
I stayed in the elegant and very comfortable 3 star Best Western Hotel in La Rochelle ( Champlain France Angleterre) where searching via Booking.Com I found rates for November 2011 for double (room only) little as 79 euros.
Slightly more affordable and comfortable is the Hotel Kyriad in La Rochelle where in November 2011 I found double rooms for as little as 59 euros.
Over the next few weeks I will be presenting a series of feature of how to discover this beautiful region on a budget so stay tuned to the BudgetTraveller!
If you missed, here is my earlier installment of getting lost in the streets of La Rochelle.
Merci beaucoup! to  Sandrine from Poitou Charentes Tourism Board  for hosting me and also Sue Lowry + Magellan PR team for organising this epic trip.  Plus this trip would not have been so epic without the company of  the amazing travel bloggers:  Melvin, Astrid and Titus from Traveldudes, Isabelle from IsabellesTravel and Iain Mallory from MalloryonTravel 
Thanks for the memories and hope to ride with you soon!
Disclaimer:  Please note that this trip was sponsored by Poitou Charentes Tourism Board but the views represented here are my own.