Maybe 2016 will be the year you finally try an airport hotel?
I hate early morning flights. There's nothing worse that starting a holiday without a proper night's sleep.The early flight often means getting up in the middle of the night to get to the airport on time. Which is why sometimes it's prudent to stay in an airport hotel if you got a long haul flight ahead of you.
I've started flying a lot from Gatwick recently. Both short haul and long haul. I find Gatwick , a less chaotic and much more better airport to fly out from compared to Heathrow. I flew to India and Florida from Gatwick recently, both with Virgin Atlantic. Both were early morning flights. As Londoners will testify, getting to Gatwick or indeed any of the London airports early in the morning is a pain in the ass. ( London City airport is a noteworthy exception. Ahead of a 9-10 hour flight you want to make sure you get a decent nights sleep. I could easily bunk down and sleep in the airport in my 20's but it is tough nowadays. This is where booking an airport hotel in Gatwick makes a lot of sense.
The big question for me was: are these airport hotels are any good and worth the extra spend?
The first airport hotel in Gatwick, I checked out was the Yotel last year.
Yotel Gatwick
For as little as £40 you can book a 4 hour slot which is really handy if you've arrived late night on a connecting flight and have an uncomfortable 4-5 hour wait before checking in for your flight.
The Yotel in Gatwick is right in the terminal which is dead handy.
Within a matter of minutes of picking up my luggage from the carousel in North Terminal, I was checked in and prostrate on my bed.
In the morning in a matter of minutes from checking out , I was checking in for my flight at the Virgin Atlantic desk , fresh and looking forward to my flight.
For pictures , videos and a more indepth interview check out my earlier feature about Yotel Gatwick.
Travelodge Gatwick Airport Central
Last month I flew from Gatwick on a similar morning flight with Virgin Atlantic to Florida.
This time, I decided to go ultra budget and check out the local Travelodge branch there.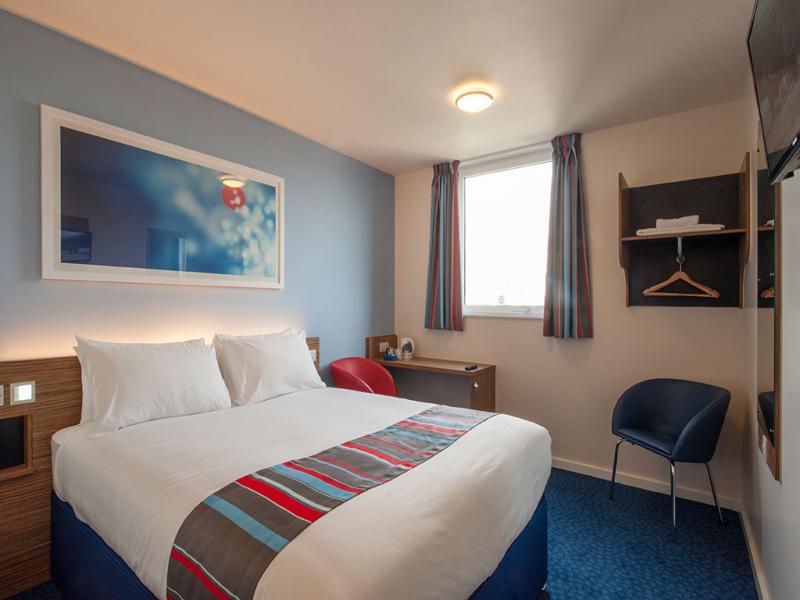 Not everyone's cup of tea, Travelodge but on the few occasions I have stayed with them, they have delivered for me.
I stayed at their brand new Gatwick Airport hotel in Terminal 5 last year and had a great sleep , staying in their family rooms for just £29.
For 3 people, that works out to be just £10 per person.
Or if you are travelling as a couple, you can sleep in their new dreamer king sized beds (in picture) which are very comfortable.
Likewise, booking a month in advance I bagged a room at their Gatwick Airport Central branch ( they have another Gatwick Airport hotel which is further out )
Coming off the Edinburgh- London easyJet flight, I nipped down to the departure point in North Terminal for all airport transfer services.
Bus stop 8- buses leave twice an hour and take less than 10 minutes.
There is a small cost of £3 one way or £5 for 2 adults but given the cost of my room, I have no quibbles paying the extra.
This hotel was different to some of my previous stays at Travelodge- you have the option of self service check in here or alternatively there is a front desk to check in.
There is a huge lounge cum bar where guests can order drinks or a selection of meals from their fixed menu. They offer a 2 course meal and drink for £12.95.
Breakfast is an added on option and costs £7.95 or a breakfast to go for £4.95
The en-suite rooms itself I stayed in was very comfortable. Clean linen, comfy mattress and a nice decent sized widescreen TV. Bathroom shower was good strength. You have a kettle with complimentary tea and coffee available.
Check out time is a pretty decent 12pm.
I check out and hop on the shuttle and in a matter of minutes at the Virgin Check-In desk.
Bloc Hotel, Gatwick
The thing I love about the Bloc Hotel Gatwick is the location- it is situated inside South Terminal in the Departures area. So if for example you are travelling hand luggage only and have printed your boarding pass ( the friendly staff at reception are happy to print them off for you) then you just checkout , scan your boarding pass and then hopefully fly through security.
The rooms are very sleek, snug and comfortable. You have a nice king sized bed with Samsung 40 inch HD LED TV plus an iPad with which you can control the lights, blinds and temperature: very cool feature. The wet room is on the small side but I had no issues with that. Wifi was excellent-got lots of work done before my early morning flight. Note that the standard rooms are on the small side so if you have lots of luggage, you may wish to upgrade to a slightly larger room but with me travelling hand luggage only, I had no issue. Plus, since I was sleeping there only for a few hours, it really makes no difference to me personally.
Powerful rain showers , good wifi, super comfy beds, nice staff and great location makes Bloc the perfect airport hotel.
Room prices start around £79 so this is the most expensive of the three.
So to compare the three- Yotel , Travelodge and Bloc are all really good airport hotels
Yotel's pricepoint is higher so from a budget perspective, Travelodge is the better option. Especially for families.
Yotel and Bloc's location right in the terminal is a big plus plus I like Yotel's flexible option of their 4 hour sleepover.
All the hotels offer a range of advantages to different sets of travellers so it depends on you pretty much.
Next time, when you have a long stopover in Gatwick do think about the Airport Hotel option and check one of the above.
Disclaimer: All three reviews were courtesy of the hotels but the views expressed are my own.