Looking for the perfect roadtrip in 2015?
Hop on a plane to South Africa. I had the good fortune of visiting this beautiful country not once but twice in the last year and on both occasions I was completely bowled over by the warmth of the people and it's breathtaking natural beauty. This country probably has everything you might be looking for in a roadtrip- the most beautiful pristine beaches known to mankind, fynbos covered peaks, constant sea views, vibrant culture, small towns with rich history plus tons of adrenaline filled adventure activities with a great gastronomical scene to boot. There is a bunch of exciting routes and itineraries you can choose from when visiting South Africa. The one route that I would recommend to most people ( especially if you are a flashpacker like me) is the Garden Route. My trip technically was not just covering the Garden Route. I started 338 km east ( If you take PE as the beginning of the Garden Route)  from the beautiful village of Cintsa which is located in the far less populated but beautiful Wild Coast.
To get a flavour of what I did,  here is a trailer of a short film we produced of my time in South Africa
When is the best time to visit South Africa?
Weather wise, Garden Route is a great year round destination. Summer months are from December to March, autumn is April to May, winter is June to August, and spring is September to November. I would avoid visiting in the summer, purely because locals taking their summer holidays over this period and accommodation prices skyrocket. I visited South Africa in the lean season during April ( savour spectacular sunsets like the one I discovered in Northern Cape ) and September last year. These are my favourite 2 months to visit the country. Weather was perfect, flight prices are better ( for example looking at dates of September 2nd-16th 2015, flying with Air France from London to Johannesburg you can get return fares for as little as £463/€600 via Lastminute.com at the moment ) and accommodation prices are far cheaper.
Bus, train or car-what is the best way to explore the Garden Route?
Best way to enjoy the Garden Route is self-drive and hiring your own car. The roads are fantastic here and the short driving distances between places means that you spending more time exploring places and less time in the car. Via price comparison website, CarRentals.com you can hire from Avis a 4 door VW Polo for as little as £13/€18 a day. This option is perfect if you are travelling with your partner, family or friends. The other alternative is the BazBus. With their 7 day pass you can travel in any direction you want and as often as you like within 7 days. You decide where you want to stay along the route. You can choose from over 180 hostels in over 40 cities, towns and villages from Johannesburg all the way to Cape Town. A 7 day pass works out at 2100 Rand which is £120/€155. This option is great if you are travelling solo and looking to meet people along the way. Check out bazbus.com for more details and timetables. To reach Cintsa, I flew to East London Airport from Johannesburg with Kulala. Journey time is 1 hour 30 minutes and fares start around €50, one-way. From East London airport, Cinsta is a 30 minute drive.
Where should I go in the Garden Route?
There are a ton of great places to visit along the Garden Route. It is difficult to pack all the sights into a 7 day roadtrip. Here is the route I took with all the stops.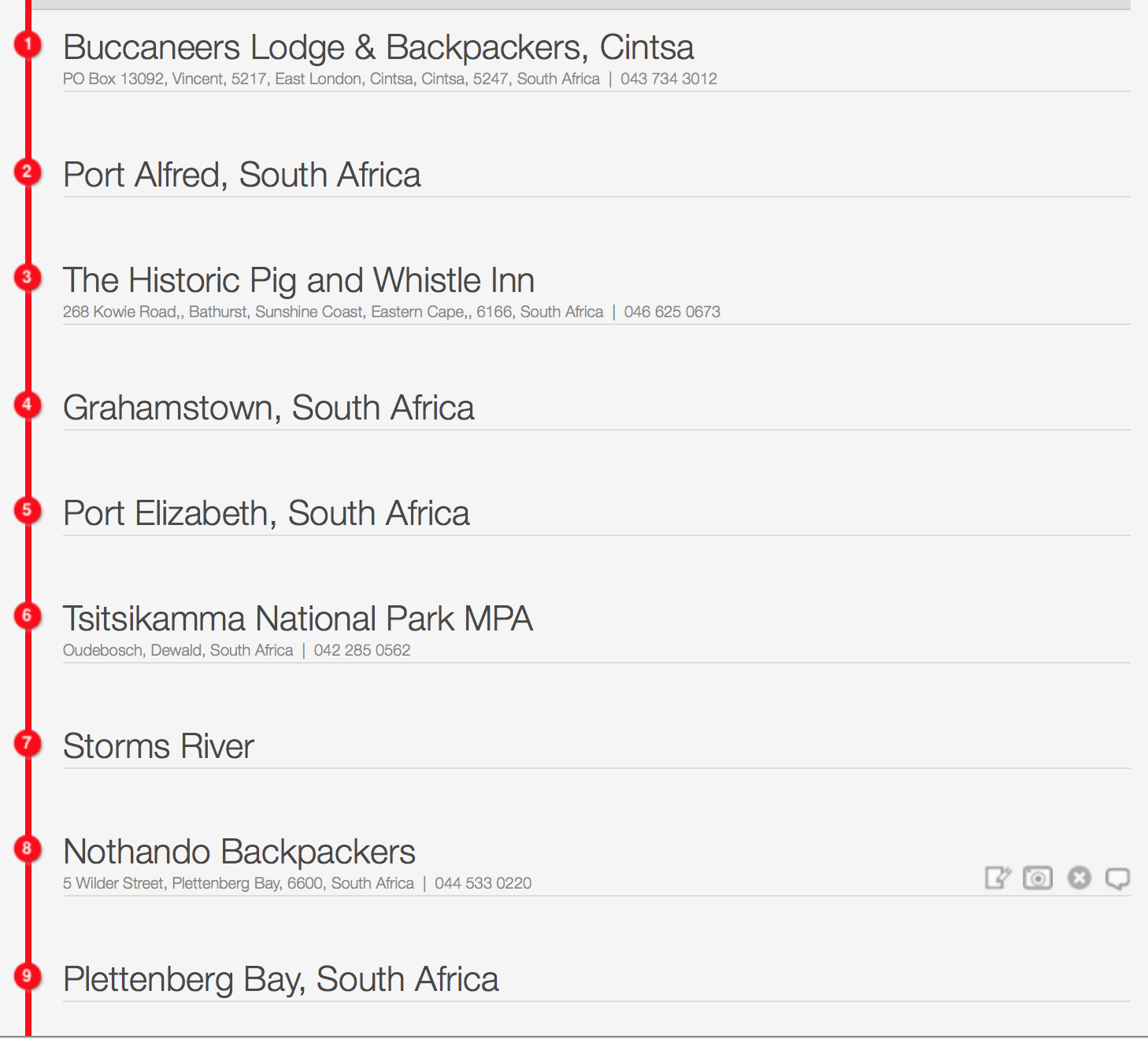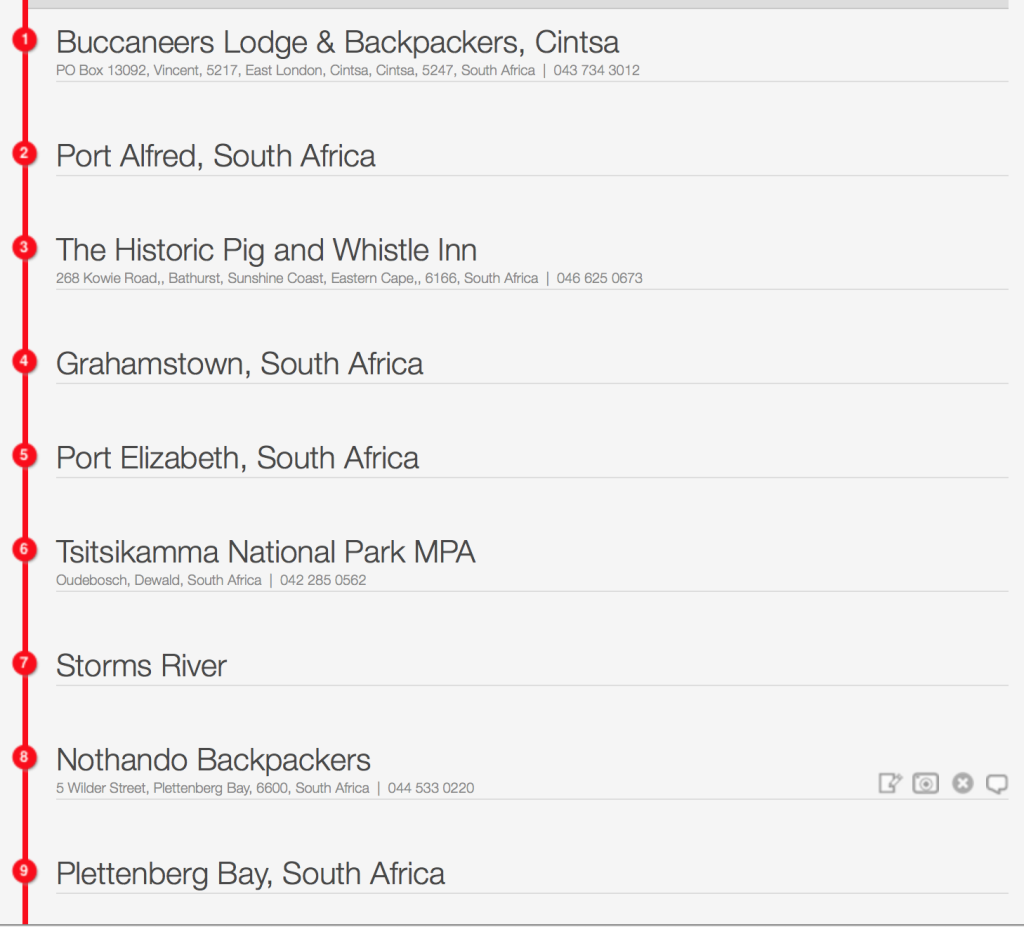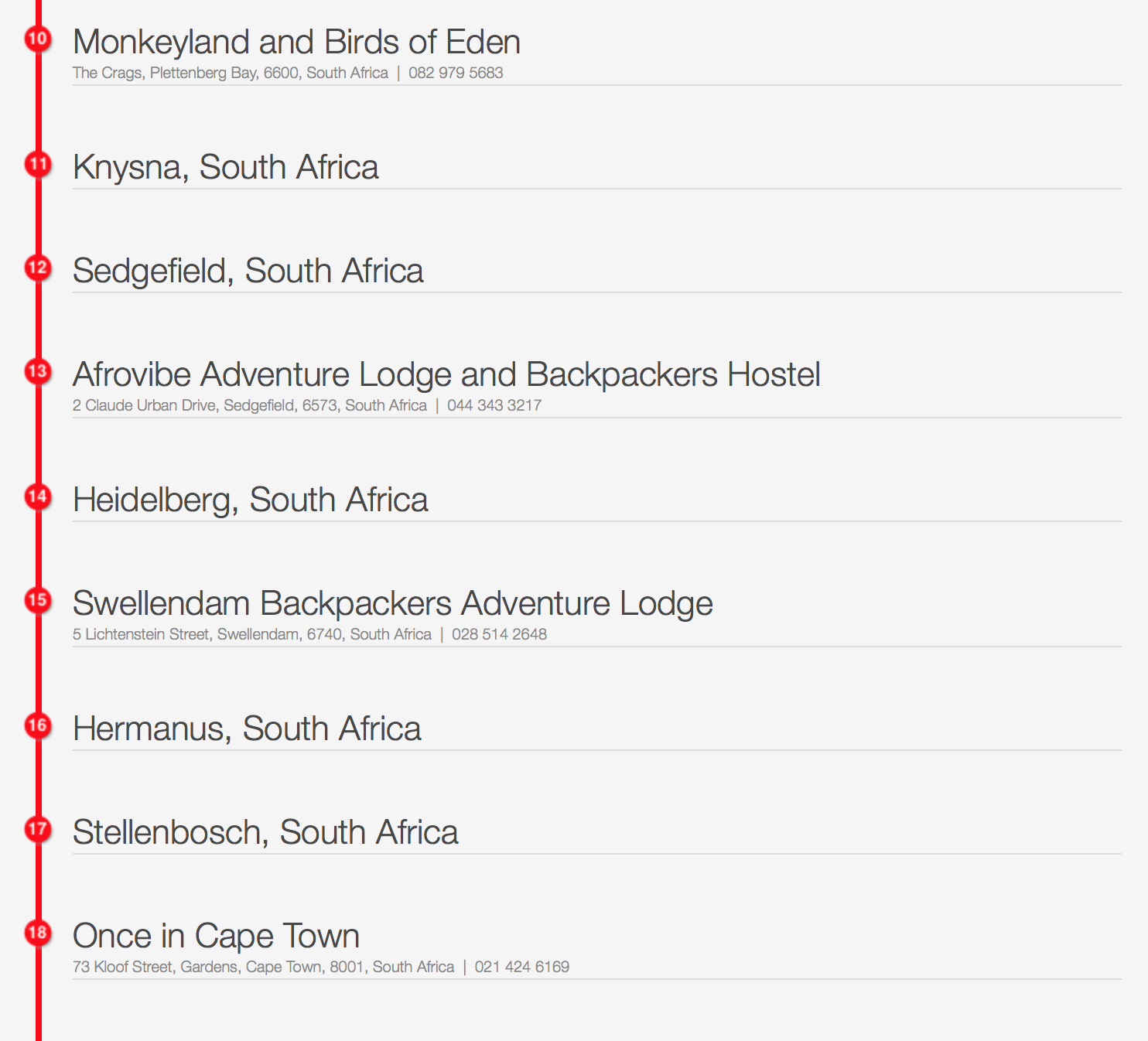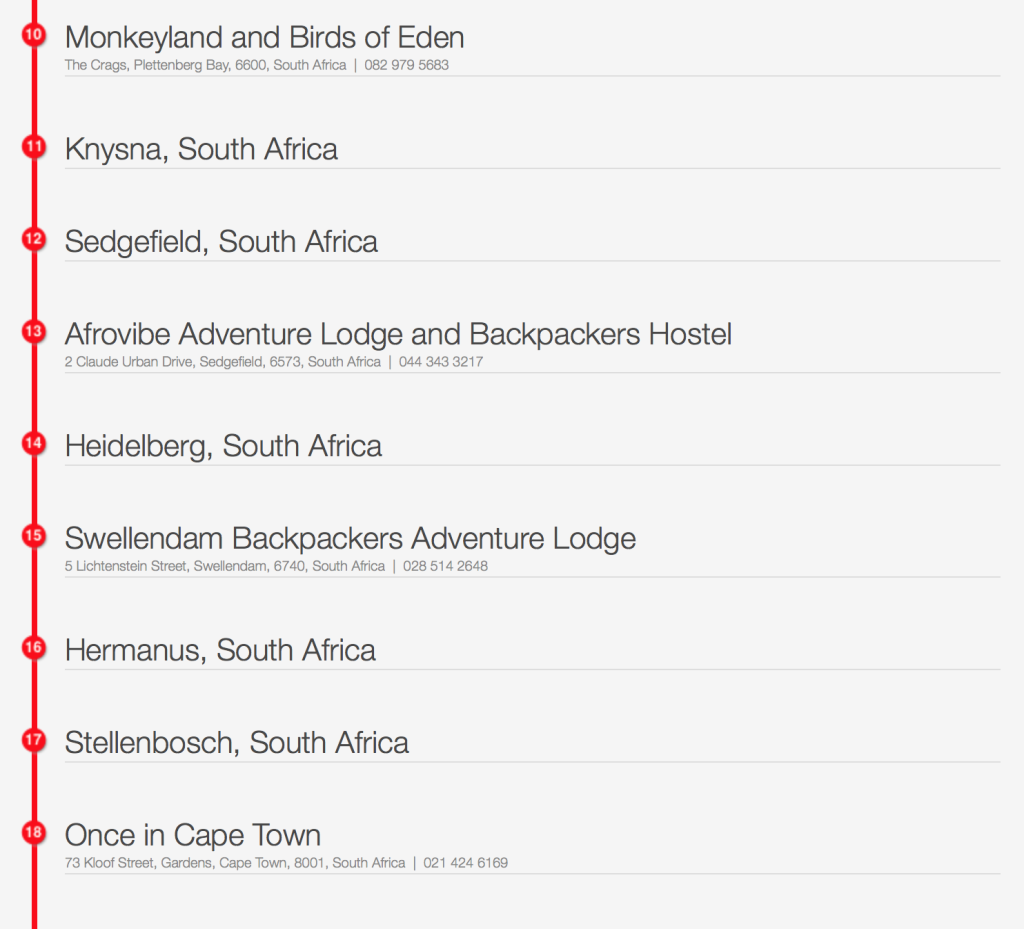 Here is a breakdown of my epic 7 day roadtrip across the Garden Route.
Day 1 & Day 2: Cintsa
My first stop was Cintsa where I stayed at Buccaneers Backpackers & Lodge
  This is probably my favourite hostel in South Africa. I love hostels that connect you with the place and it's people. Buccaneers is that kind of hostel that has deep roots within the community. The Price family are warm hosts and have created a beautiful home away from home for their guests. Cascading down a hill, the lodge has numerous vantage points to enjoy the jaw-dropping views of the lagoon and Chintsa beach. Every view is accompanied by the memorable soundtrack of the distant waves crashing against the beach, lulling you into an idyllic sense of bliss. You can find every possible type of accommodation here to suit your needs: from spacious camping options to dorms, double/twin safari tents, family cottages with private sundecks to enjoy the legendary Cintsa sunrise , double/twin rooms and beautifully designed en-suite rooms. There is a nice bar on the premises where you can enjoy a beer and every evening, they cook dinner ( when I was there we had a Mexican and Indian night. I was the host chef for the Indian night!) that brings guests and locals together.
  Perfect way to start your day is go for a jaunt along the beach at dawn which is right on the doorstep of the hostel…..
   …or go on the beach horse trail ( 350 rand/ €33. 3.5 hours long ) that leaves from the hostel at sunrise. I had never been on a horse before in my life so it was quite an experience but a beautiful one. You can enjoy your breakfast ( do a lovely fry-up) and coffee on the sun terrace. Beautiful way to start the day. There is a ton of really cool activities for guests to enjoy that allow you to immerse yourself in the local surroundings. Buccaneers have a volunteering outreach project and invite guests to come and see the work they are doing. Volunteers are involved in a variety of projects, from teaching computer literacy in rural primary schools to facilitating sports development and arts initiatives. The lodge also has close links with the legendary Mama Tofu's traditional Xhosa village, Ngxingxolo.
Mama Tofu is the oldest registered tour guide in South Africa at the age of 93. Her homestead is a living and working example of a traditional tribal Xhosa homestead where you have the opportunity to visit, sleep and eat while learning about Xhosa culture, traditions and life. Visiting Mama Tofu was a real highlight of my trip to South Africa. She taught be some words in Xhosa and then start giving me an impromptu lesson in lovemaking according to Xhosa tradition. I'll let you watch the video ( see below ) to give you an idea of what happened… I combined the trip to Ngxingxolo with a visit to the local brewery. Craft beer revolution has come to Chintsa and there is a fantastic local brewery, the Emerald Vale Craft Brewery where you can get a tour of the factory and afterwards have a few tastings before hopping back into the bus refreshed.
Combined with a visit to the local township and visiting some of their local volunteer projects, the whole tour of Ngxingxolo and Chintsa Craft Brewery takes 4 hours and costs just 325 rand/ €25. Tours depart from the hostel everyday at 9am and 2pm and must be reserved a day in advance. Essentials: A bed in a 6 bed dorm starts at around 150 rand ( £8.50/€11) going upto 1500 rand ( £85/ €110) for renting their 2 bedroom seaview cottage.
Day 3: Chintsa- Port Alfred- Bathurst- Grahamstown- Port Elizabeth (overnight stop)
Port Alfred
Port Alfred is a sleepy little town that deserves a quick stopover just to admire its magnificent sand dunes which make it popular with sand boarders.
The Pig and Whistle Inn: Oldest pub in South Africa
If it is a hot day and you are thirsty ( like we were), make a quick pitstop at the frontier town of Bathurst which is just a 15 minute drive from Port Alfred on the R67 to Grahamstown. The Historic Pig and Whistle Inn is a family run Inn, and the onsite pub is the oldest continuously licensed pub in South Africa.
Grahamstown
With it's small town sleepy Victorian charm, Grahamstown could easily be mistaken for a quintessential English town. The local Rhodes University is the big draw here plus the city is host to the country's biggest annual arts festival which takes place over 9 fun filled days in July. Grahamstown is the town of churches. 40 to be precise. Which has earned it the moniker 'The city of saints'. If you have time only for just one saint, make sure you visit the Anglican Cathedral of St Michael and St George on Hill Street. It took 128 years to complete the building. It has the tallest spire in the country and one of the most incredible organs and interiors. I enjoyed my stroll down the high street admiring the beautifully preserved Victorian and early Edwardian architecture. If time permits, I recommend a visit to the Observatory museum to learn about the Victorian history of the town. If you are hungry or want a cup of fine coffee, then definitely pay a visit to the classy Haricots Bistro and Deli, a mediterranean cafe and deli where you can enjoy an excellent eggs benedict for breakfast and for lunch or dinner choose from variety of options like chicken schnitzel served in a creamy mushroom sauce or a spinach & feta cannelloni for as little as 60 rand ( £4.50/€3.50 ) They have a cracking bakery with homebaked scones, cupcakes and their flourless chocolate cakes are made with 70% belgian dark chocolate.
Port Elizabeth
Our next stop on the roadtrip was Port Elizabeth which is South Africa's 5th largest city. The city marks the beginning of the Garden Route. It is not the most obvious place to visit on the Garden Route but there is a lot to love about PE. The perfect base for exploring the city is Lungile Lodge hostel. We started our visit with an evening tour of the city, led by hostel owner, Lee Katzen
We first went for sundowners at the scenic Sardinia Bay beach, one of PE's best kept secrets.
We then headed to the hip Stanley Street which at night is bursting at the seams with locals and tourists checking out its exciting mix of eateries, cocktail bars and wine bars. We went to Soho bar which specialises in molecular cocktails and has the best sushi in town.   For dinner we headed to the Colonial Kitchen which is situated on the edge of the wooded Baakens River gorge. It has a quirky interior , great selection of local craft beers to choose from and the food is fresh and delicious. During the day you can choose from artisan breads, salads, pizzas, homemade pies and wonderful cakes. They have a special evening menu which is inspired by the colonial heritage of the area. Goat Curry Potjie ( R95) and Sunday roasts are unmissable. They also have live music in the evenings.   We then hopped next door to the Bridges Street Brewery, a micro brewery that brews a lively range of hand crafted beers, stouts, bitters and organic ciders. Place is buzzing on the weekends with local, upcoming musicians strumming their stuff on the stage ( venue is a proud supporter of South Africa's finest artists) It was the perfect place to end our evening in PE
Day 4 Port Elizabeth- Tsitsikamma Falls- Marilyn's Diner- Plettenberg Bay
And you will meet a tall (flat) white friendly stranger…
To blow off the hangover the following morning, Lee brought us to the Friendly Stranger which is housed in a cobblestone building believed to be one of the oldest in PE. Creatives and hipsters meet here to sample their gourmet artisan coffee ( excellent flat white ) and enjoy sweet treats such as the 'Confused Cake': a layer of chocolate cake, carrot cake and red velvet cake with cream cheese icing! Live entertainment is a key offering here too so you maybe entertained by roaming artists while enjoying you cuppa. Baristas are sociable and the ambience is intimate…plus the burgers are the best in town.
Route 67: A guided walking tour of Port Elizabeth
Lungile Lodge also offers an excellent guided walking tour of the city.
Port Elizabeth is a montage of fantastic architecture from bygone days with some of the finest art nouveau architecture in the country. The tour covers some of the city's finest buildings that include the city hall, the Diaz cross which commemorates the moment Bartholomew Diaz sailed into Algoa Bay in 1488, (the first European to do so ) and then you have the beautiful Italianate campanile tower which gives you panoramic views of Algoa Bay. Lee introduced us to 'Route 67' a new project that saw 67 artists come together to create 67 individual pieces of public art that have been strategically placed around the Port Elizabeth CBD. Idea of the route is to celebrate the words and achievements of Nelson Mandela's glorious 67-year role in South African politics. We meandered through the CBD , past some of the Bay's oldest monuments, art deco architecture and a series of open-air artworks. We finally found ourself at the Donkin Reserve , a heritage monument that is steeped in the colonial history of Port Elizabeth. The space has been redeveloped and now has a statue of Madiba plus the second biggest flag in the whole of Africa. The panoramic views from this point are beautiful and it is well worth the climb.
The last thing I did before leaving PE was visiting the world famous St George's Park, one of the best cricketing arenas in the world. I grew up many years in India seeing the stadium on the telly. So naturally when Lee told me that it is FREE for members of the public, anyone to visit the stadium, I leapt at the chance. When I arrived at the ground, I learnt to my amazement that I could actually walk onto the pitch itself. I befriended one of the locals who was practising at the nets, borrowed this bat and then strode onto the pitch. Cracked a few epic cover drives, both off the front and back foot. Waved my bat to the imaginary audience around me. ( See the video below! ) Relived a part of my youth. It was magical and FUN.
Where to stay in Port Elizabeth: Lungile Lodge
Lungile Lodge, run by the charismatic Lee Katzen is the place to stay in PE. As I mentioned above, Lee is a beacon of knowledge about the city and runs a bunch of excellent tours for his guests. The hostel itself is clean, warm and friendly. You can choose from dorms to one of their ensuite privates. There is a nice sized common room where you can challenge fellow guests to a game of pool. Plus at the back of the hostel there is a pool which becomes party central, once the sun starts shining. Highly recommend. Private rooms (ensuite) start from €35 while a bed in a 6 bed dorm (ensuite) starts from just €10.
Tsitsikamma Falls Adventure
I have a fear of heights. So the idea of zip lining has always been something I never really fancied. Do what makes you happy right? Or… do you subscribe to the school of thought that travel is all about conquering your fears and bringing out your inner Indiana Jones/Lara Croft? In the spirit of discovering my inner Indiana J and conquering my fear of heights (after many taunts from Mr Simon Lewis) I took up the challenge at the Tsitsikamma Falls Adventure. There are eight slides in total. You zigzag along cables across the river gorge. I was high as 50m above the water in some places. Each section presented its own surprise and beautiful views over the indigenous Tsitsikamma fauna and flora. The guides were informative, easygoing and professional. They put me completely at ease. Some of the lines were easy , few of them were fast and some were really long like the aptly named puffadder that is 211 metres long. Altogether a fun and easypaced experience. Perfect for people of all ages. Tsitsikamma Falls Adventure Park is situated 8km from the Storms River Bridge on the N2. The tour costs R375 which is €28/ #33
Storms River Village:  Marilyn's Diner
Another unmissable landmark on my Garden Route roadtrip was Marilyn's Diner. Storms River Village is a one street town. So discovering a 60's themed cafe complete with neon rimmed homage to Elvis Presley and Marilyn Monroe was an unexpected surprise. First of all, you have the stereotypical pink cadillac parked in the driveway. Then there are the posters of the icons plastered over the walls. A jukebox is blaring in the corner playing hits from the 60's. There is a bunch of Elvis and Marilyn memorabilia to feast on. It is one of those surreal unpredictable experiences you have to savour on any roadtrip. If you are peckish, the cafe serves simple but honest food. Tip for adrenaline freaks: Storms River is also home to the Bloukrans Bungy, the world's highest commercial bungy bridge. faceadrenalin.com has all the details and it costs R850
Plettenberg Bay ( Overnight stop at Nothando Backpackers )
Next stop on my Garden Route roadtrip was Plettenberg Bay or affectionately referred to by locals as 'plett.' Nicknamed 'Bahia Formosa' -'beautiful bay' by early Portuguese explorers thanks to its white sand beaches and aquamarine blue waters, Plett is your classic resort town packed with a bunch of excellent hostels and places to eat. The area has a rich history, one time serving as a colonial outpost of the Dutch East India company and in recent decades been home to a whaling station. It is a great base for exploring the Garden Route and is also home to the excellent Nothando Backpackers Lodge. Run by the lovely Maryna Dreyer, the word Nothando originates from the Xhosa language and it means 'love.' When guests come here, they are showered with love and warm hospitality from Maryna and her team that includes the always smiling, happy 'Elvis.' They have an excellent bar on the premises where you sample some local beers while watching the football ( Elvis is a huge fan of Orlando Pirates so anything you wanted to know about South African football, he is your man ) It has a nice wooden log fire which is perfect for those chilly autumn and spring evenings, glass of wine in hand and reading a book. The rooms itself are beautiful. Warm, clean beds with nice linen plus a nice ensuite bathroom. More on par with a boutique hotel. You get an excellent hot, cooked breakfast in the morning so altogether it is the perfect hostel. Essentials: Bed in a dorm is R160 ( €13) per person while a Double Bed Private room is R500 (€39) per room, per night.
Where to eat: The Fat Fish
On the recommendation of Maryna, we went to have dinner at 'The Fat Fish' This diner serves up delicious seafood from all parts of the world: India, Burma, Thailand and if you have a craving for sushi, you will find it on the menu. I had an excellent Burmese seafood curry with rice ( R100/€7.50 ) followed by an excellent chocolate mousse ( R40/€3 ). If you're looking for more variety, they have an excellent tapas menu ( prices starts from R45/€3.50 ) where you can sample everything from wonton prawns , mussels in a garlic and herb gratin, grilled halloumi with chorizo and arancini with a warm gorgonzola dipping sauce.
Day 5 Plettenberg Bay- Monkeyland- Kynsna- Sedgefield ( overnight stop)
Monkeyland 
The name doesn't inspire. I had little idea of what to expect so I am happy to report that Monkeyland does not live up to its name and was FUN. The whole concept is to allow visitors to see the monkeys in their natural free habitat. The sanctuary is exceptional and it caters for several species of primates. Guides take visitors on a 'safari' through the forest where you can see on a typical visit about 10 different species ranging from Gibbons of Asia to the Lemurs of Madagascar. My guide ( I wish I could remember his name!) was very knowledgable and informative. The tour is around an hour long and your ticket does allow you to take more than one tour in the day if you want to go round again. Essentials: It costs R175 (€13) to visit Monkeyland and R88 (€6.50) for kids aged 3 to 12.  
Knysna
Sitting at the foot of a beautiful lagoon, Knysna was another key highlight of my Garden Route roadtrip. It is picture postcard pretty, famous for its oysters and has a variety of adventurous activities for those seeking an adrenaline kick.
Beer and oysters at Sirocco, Kynsna
Our first stop was a bar called Sirocco which is famous for its oysters and sushi. Sun was out, a local band was playing a few tunes. Great vibe. Places was packed for lunch. We got a table which offered great views of the lagoon and the surroundings. We took advantage of their current lunch deal where you can get 6 native oysters and a beer for as little as R74 which works out to be €5. Deal!
Rastafarian Township Tour, Kynsna
Our guide and host for this leg of the trip was Lyle Katzen ( brother of Lee) from the uber cool Afrovibe Lodge. One of the most popular requested tours at the hostel is the Rastafarian Township tour. We popped over to Judas square in the Nekkies Township where a fully functional Rastafarian village is flourishing. We were guided around the village by the charismatic Brother Paul who lifted the lid on the spiritual beliefs and ethics of Rastafarianism which has its origins in Ethiopia. Over 25 families call this village home but there are more 'rastas' spread across the township. It is a colourful and happy place. While walking around the village , were invited to listen to the sunday practise session of the 'Reggae Ambassadors', a local community band headed up by Brother John. They love their music here.
As we were leaving, Brother Nick from Kynsna, lead guitarist of the 'Reggae Ambassadors' gave us a farewell serenade, channelling his inner Hendrix by playing the guitar behind his head.
Where to stay in Sedgefield: Afrovibe Lodge, Myoli Beach. Sedgefield
Just a wee drive away from Kynsna is Sedgefield and the beautiful Myoli beach. The beach is home to one of South Africa's most vibrant and fun backpacker hostels, the Afrovibe. The hostel is literally on the beach. The parties here are legendary. Staff are welcoming and friendly. They have a nice in-house restaurant and do an excellent braai. Plus there is plenty to do: choose from kite-surfing, surfing, wakeboarding, stand up paddle boarding, paragliding, mountain biking, horse riding, canoeing and beach volleyball…or you can spend your days simply dipping your toes into the pristine sand of Myoli beach, cocktail in hand from the bar. You choose. Rooms here are clean, comfortable, lots of light and nicely designed. It gives you the feeling of being in a beachside cottage. They have a choice of dorms and private rooms-all of which are ensuite. Doubles are around R450 (€34) while a bed in a 12 bed dorm starts at R130 ( €10) Prices may vary according to the season so do check their website and always book early to get the best rates possible. Tip: Afrovibe is the sister hostel to Lungile Lodge so if you book your stay in one of these hostels, you get a 10% discount at the other hostel. I loved this hostel and would go back there in a flash.
Day 6: Paragliding in Knysna- Heidelberg- Swellendam ( Overnight stop )
In the morning I went paragliding ( yup that's me about to take off in the middle!) for the first time and it was an amazing experience. I was terrified in the beginning given my fear of heights but by the end I did not want to come back to earth. Such a surreal, beautiful experience. Words cannot describe it. Organised via Flytime paragliding and Afrovibe Lodge it costs just R550. (€40) You can easily pay double to do the same thing in Cape Town so this is THE place to do go paragliding in South Africa. Beautiful views of the lagoon and Myoli beach in the distance, no small wonder Sedgefield was voted one of the top 10 paragliding spots in the world.
Unnamed antiques shop: Heidelberg
On our way to Swellendam from Knysna we stopped off at the small village of Heidelberg. It is a pretty non descript town, no relation whatsoever to its more illustrious German cousin…. but it does have a very cool antiques shop whose name for the love of god I cannot remember. It has a bunch of quirky stuff. I love these kind of places but you may not so feel free to skip this place and head to the next stop of our roadtrip: Swellendam
Swellendam
Set against the picturesque backdrop of the Langeberg mountains I arrived at the beautiful Swellendam Backpackers to be greeted by the hostel dog, Molly. It is again one of those hostels that feel more like a boutique hotel but still retains a homely, social vibe. Master of ceremonies here is the charming Stephanie Coetsee. It is the perfect hostel to take some time out, relax in the huge garden of the hostel and do some bird spotting, go for a walk in the mountains or maybe go horseback riding with Stephanie. On a hot summers day you can go for a dip in the river which as at the bottom of the garden.  Stephanie is a great host and knows her wines very well so if you are looking for an expert local guide, she is the lady to speak to. The rooms at Swellendam are clean, cosy and comfortable. All rooms are with ensuite facilities. Swellendam Backpackers also has allows you the option of camping so if you would prefer to make use of your own tent, there is a camping area so large you may need a map or GPS to find your way around. Essentials:  Camping is the most budget friendly option and is R80 (€6) a night. Bed in their large dorms rooms starts at R120(€9) a night while the double en-suite rooms are just R410 (€32) a night.
Day 7: Swellendam- Hermanus- Cape Town
After a relaxing nights sleep, we went for brunch at the quirky French cafe , La Belle Alliance. Formerly a Masonic lodge, it is a beautiful quirky place overlooking the Koornlands river. Pancakes are awesome as ( R 29, €2.25 /£1.50 ) is their Rataouille Provençal ( R74, €5.70 /£4.50 )
Hermanus
We then drove to Hermanus, the best place in the world for landbased whale watching. There is a bunch of excellent vantage points in the bay to sit down and do a spot of whale spotting. Hermanus itself is a genteel, upmarket resort town full of great restaurants, shops and has an excellent whale museum, if you are curious to learn more these beautiful cetaceans.
Stellenbosch
We ended the roadtrip in style by stopping over in South Africa's second oldest town,  Stellenbosch which is probably the most elegant, stylish place I visited on my roadtrip. Lots of great boutiques, beautiful cafes, art galleries, banjo playing buskers, craft beer bars and obviously, plenty of good wine to sample. This is wine country with the region being home to over 140 different wine makers. So if you have a passion for wine and gastronomy, Stellenbosch is the place to come to.  We had sadly just enough time for a wee stroll around Stellenbosch and enjoy a glass of wine. On the suggestion of local wine expert, Mariette Du Toit-Helmbold we went to the Bramptons wine studio. The studio is the shop front for Brampton wines, and is basically a cellar-door tasting room, but does offer light lunches like salads, wraps (Persian Lamb sausage is a winner. R50 ) and quesadillas until 4.30pm They also do have selected tapas ( like Spanakopita , Dolmades or Slow Roasted Pork Belly. Price range is R30-50 ) available at times. The food operates from 12h00 until 20h00. They also do wine tasting between 11am and 4pm so that is worth remembering. I enjoyed a glass of their Sauvignon Blanc. It is easy on the palate with a hint of passion fruit, pear and peach. Glass costs just R22 or the whole bottle R58. You won't get a better, cheaper bottle of wine anywhere in the world!
Cape Town
Our last stop on the roadtrip. We hit Cape Town in the afternoon. If you have time to do just one thing in Cape Town, take the elevator to the top of Table Mountain where you get beautiful views like this.
It is without doubt one of the most breathtaking views you will see anywhere in the world. Anywhere you walk in Cape Town, just the mere sight of Table Mountain really takes your breath away. It is a very beautiful city. Afterwards for sunset we headed to the nearby Signal Hill. It is the perfect place for sundowners but we didn't have a drink at hand. I watched silently in awe as day turned to night and the city started sparkling in the dark.
Where to stay in Cape Town: Once in Cape Town & the Backpack 
Cape Town is a city blessed with a few cool hostels but few are better than the luxury hostel, Once in Cape Town. This hostel has a great central location in Cape Town with party spots on Long and Kloof street in nearby proximity, clean and v.comfortable rooms available plus they have 'Your Truly', a lovely cafe/bar on the premises which pulls in the locals.
Highlight of my stay was the free breakfast at the Once in Cape Town hostel -great coffee, fresh orange juice, sliced oranges and a freshly baked warm croissant with butter and jam. Perfect way to start the day before heading to the airport for a long trip back home. Essentials: Double room with bedroom starts at €62 while a bed in deluxe 4 bed mixed dorm (ensuite) is €16 ( These prices are correct for the beginning of April, 2015 but may vary according to season )
The Backpack
When in Cape Town, do also check out the Backpack, the oldest and probably still the best hostel in town. Beautiful rooms, friendly staff, lovely onsite cafe, organised tours of the city ( township, craft beer or graffiti tours- take your pick) plus you have beautiful views of Table Mountain in the distance- lot to love about this hostel which Lonely Planet recognised as the best value accommodation in 2014. Essentials: Bed in a 8 bed dorm starts at R240 while a double room with private bathroom starts from R990.
Anything I would have done differently?
I wanted to see more wildlife and see some of the 'Big 5' (the lion, elephant, buffalo, rhinoceros and leopard ) but only came close to an elephant during my trip. I visited the Knysna Elephant Park which came recommended by a few people. It was a very enjoyable visit where I got the chance to feed the elephants and get up close with these beautiful animals. My trip to the park is a troubled memory because shortly after our trip, we learnt about the horrific abuse of baby elephants that had taken apparently taken place at Knysna. This has been disputed and the facts are unclear at the moment. The park is under investigation and still is free to operate. Nobody is guilty until charged so until the facts become clear, I shouldn't worry, right? However, as a blogger it does leave me with an ethical dilemma. I let you, the reader be the judge. I must note here that South Africa is at the forefront of responsible tourism and lot of the places I visited during my trip like the Backpack and Buccaneers Backpackers and Lodge are Fair Trade certified. South Africa is a pioneer in Fair-Trade Tourism. So there is a great deal of local awareness and understanding of the impact that tourism has on people and our environment. If I had more time, I definitely would kept a day aside and visited Addo National Park. Going to Kruger can be expensive with flights so if you have limited time and are sticking to the Garden Route then Addo National Park is a great option to have. Lungile Lodge run tours to Addo National Park. They start in the mornings at 9am and end around 7pm. Price is R700 per person excluding entrance to the park but it also includes a township tour. I would have loved to have stayed longer in Stellenbosch. This is where you might typically begin or end your Garden Route tour. There is bunch of excellent stuff you can do here from horse riding, mountain biking, strawberry picking, brandy tasting and obviously doing a tour of some of the region's awesome wine estates.
Further resources
If you are planning a South Africa honeymoon, checkout this guide from my friend Victoria who runs the lovely blog, Bridges and Balloons.
Disclaimer
My trip was made possible thanks to a number of people. First and foremost a big big thank you to South African Tourism office ( William, Dale, Monde, Gail, Kevin+ many more ) for supporting my trip and bringing me back to South Africa. Thank you to all the hostels for hosting me and showing me your world. Also big shoutout to my roadtrip crew, Mr Simon Lewis from Travel Concept Solution for organising the trip and logistics + the vary talented Mr Jason Aldridge for the fantastic work behind the camera. Also thanks to Keith, Melvin and rest of the iambassador crew and last but not least, big love to the Lonely Planet for their media support.  Please note that I maintain full editorial control of the content published on this site.