'Green, Quirky, Cozy and conscious sleeping' is the slogan of Ecomama, a green and luxurious update to its sister hostel in Amsterdam, the fabulous Cocomama. The emphasis here is on creating space that is friendly to the environment yet fun and also budget friendly. Three words that you never expect in one sentence. I love the large communal space here. Perfect to meet fellow travellers. There is also a lovely large kitchen and a real teepee tent where guests can meet and interact. 
Location
In terms of location, its perfect. You're right in the heart of Amsterdam only a few minutes walk from the Waterlooplein flea market and the Jewish Museum, 15 minutes from the Dam, and two metro stops from Central Station.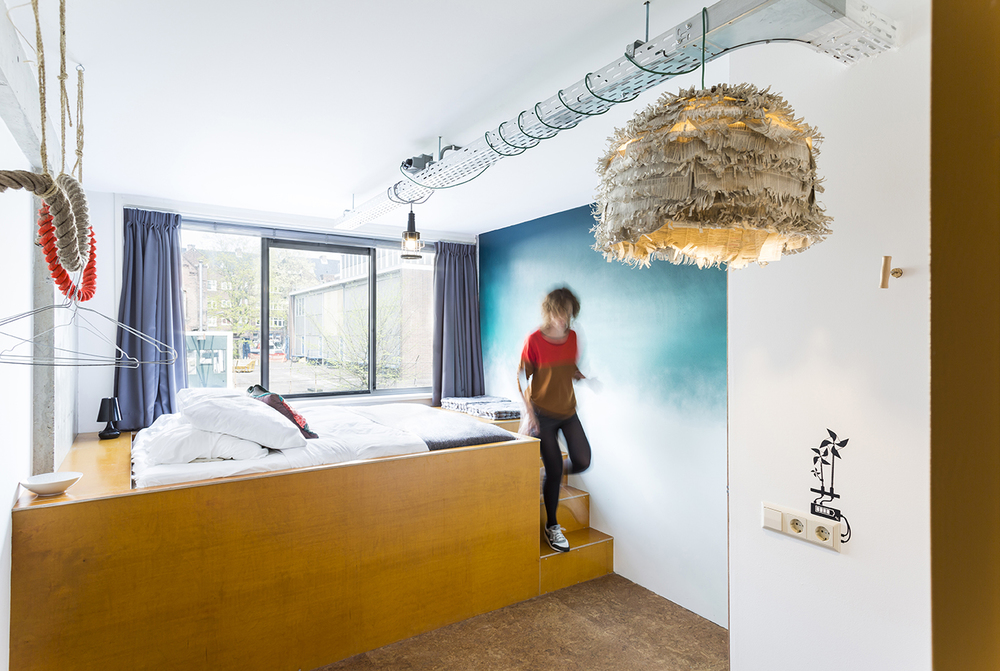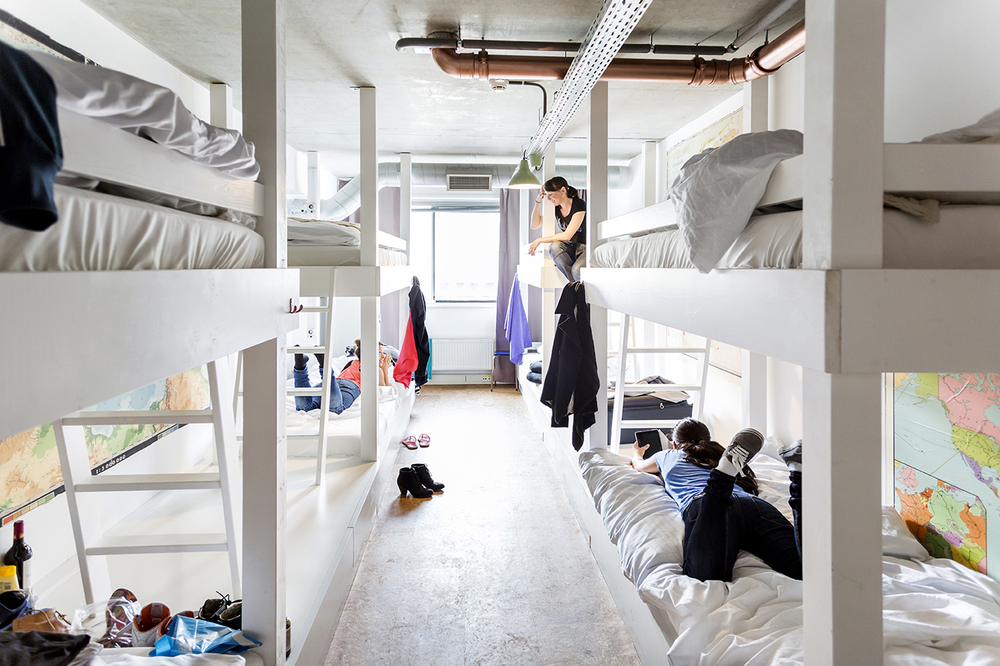 Rooms and bathrooms
Whether you are travelling with friends and need a few beds or you're on a romantic weekend or looking for some luxury while exploring the world  – Ecomama has got you covered. There are 7 different types of rooms, catering to all types of travellers on all kinds of budgets.
The owners have a put a lot of thought into profiling their customers and creating the perfect room for them. For example if you are a solo female traveller in need of some girl time then the Ladies Only Dorm is perfect for you with the different shades of pink and free girly goodies like free nail polish, glossy magazines, hair dryer and straightener. If you're looking for something ideal for a romantic weekend then the Double Deluxe is perfect. For our flashpackers on a budget who want their privacy, there is the option of their windowless double cabin rooms with shared bathroom. I slept in their 8 bed dorm aimed at 'experienced travellers' and this is probably the most luxurious dorm I have slept in. The bunk beds are huge, extremely comfortable beds and have their own power socket and reading light.
All dorms offer multiple power-outlets and large luggage lockers, which can be locked with a padlock to stow away your valuables. Padlocks can be purchased at reception.
Linen and soap are always included. Towels are included in their double rooms and available for rent or purchase in the cabins and dorms.
Ecomama donates €1 for every night that you sleep at the hotel to NGO's and good causes she supports, such as Niños de Guatemala which aims to improve society through education and entrepreneurship in Guatemala.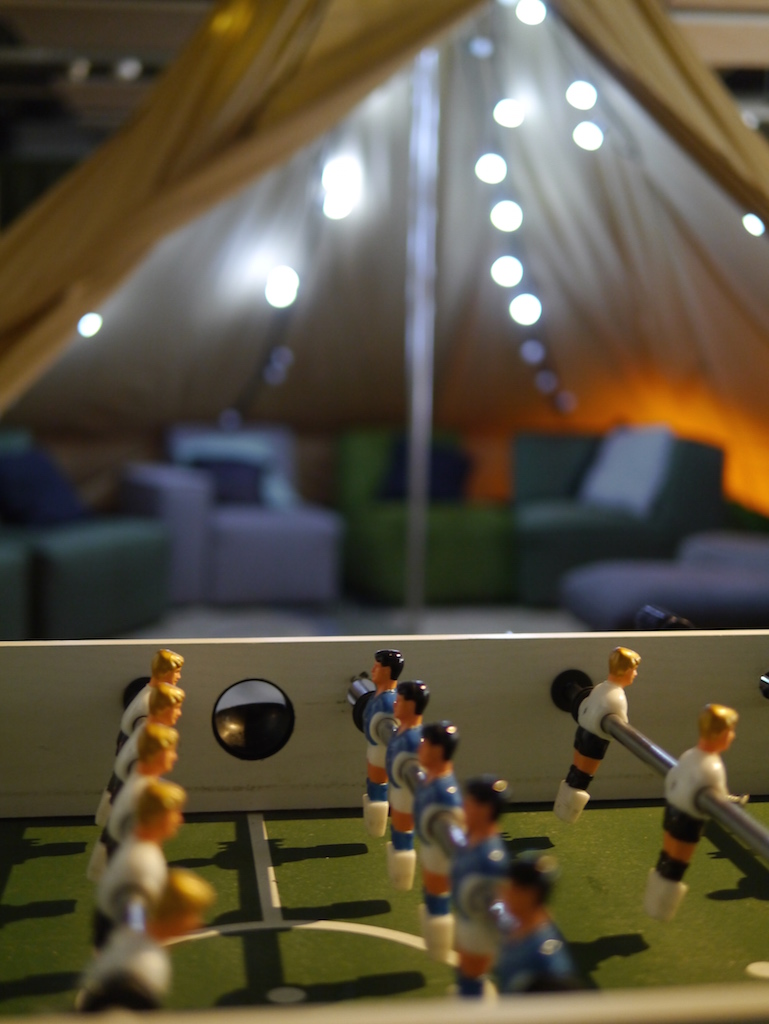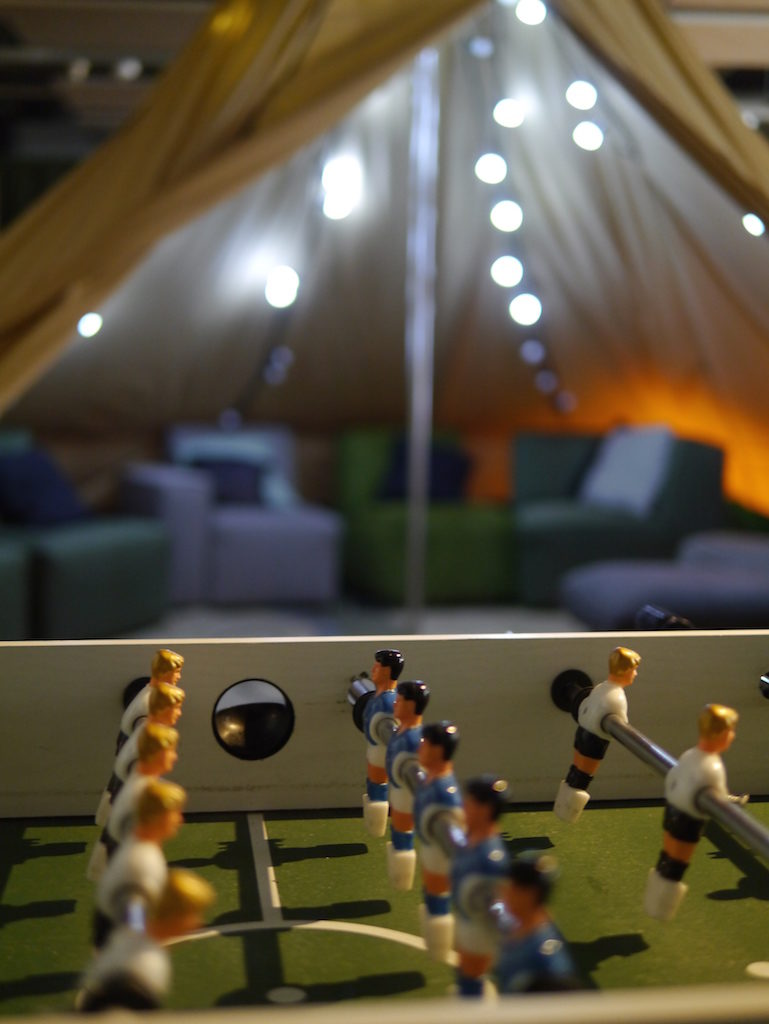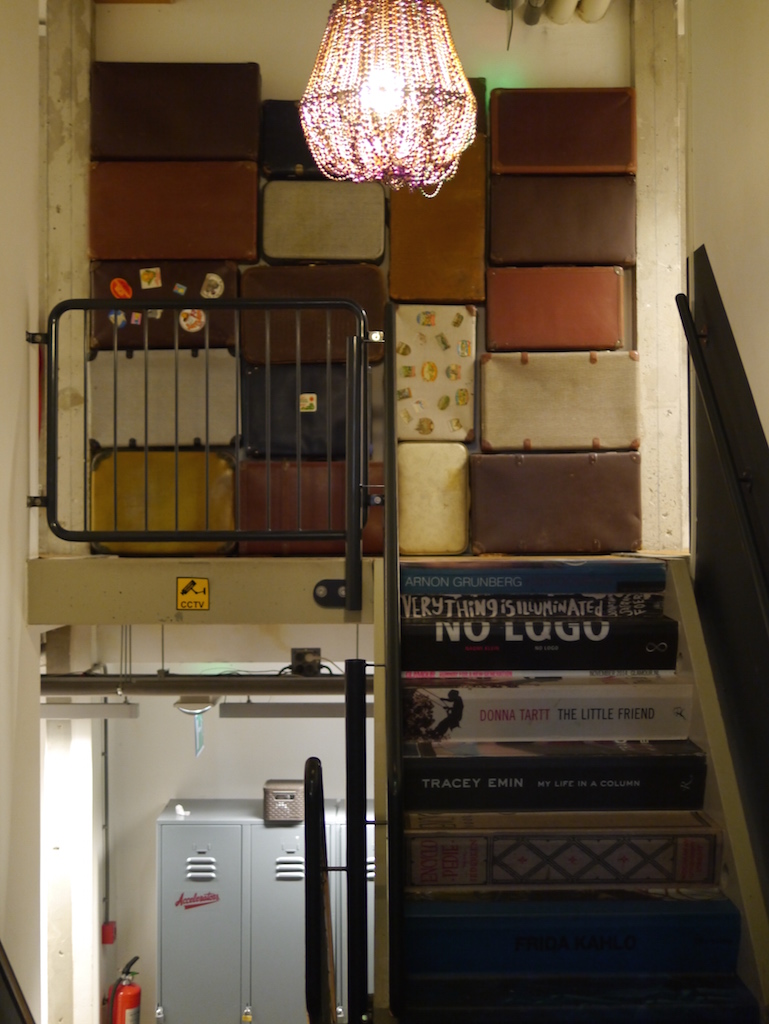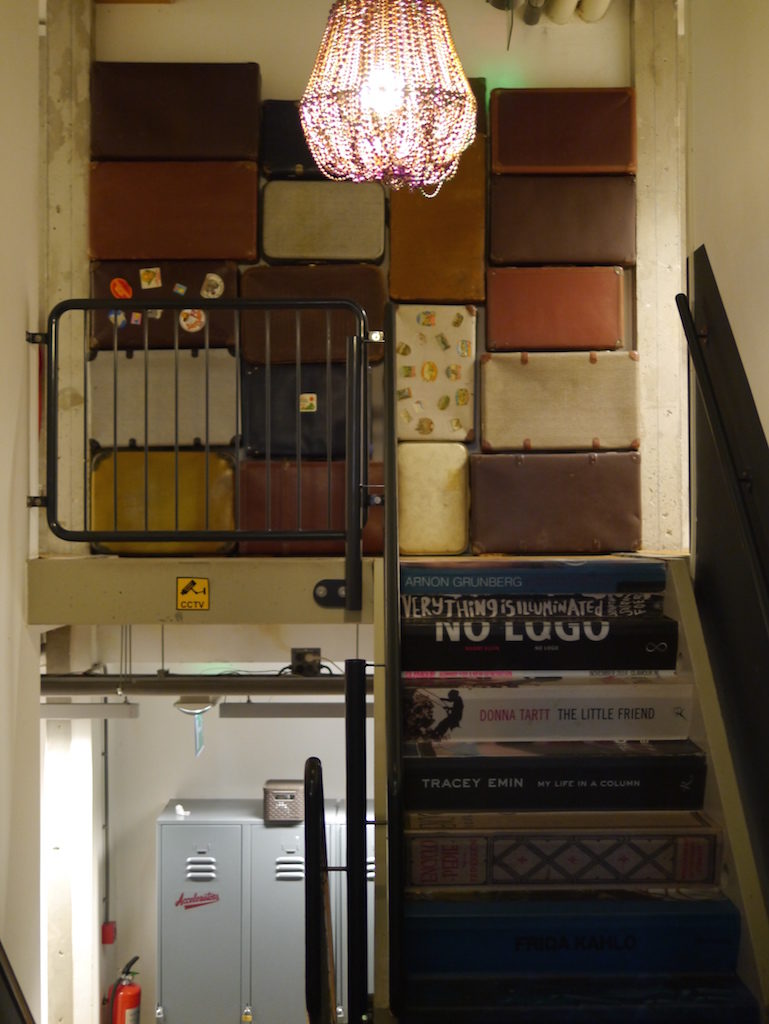 Facilities
Ecomama has set the bar high for hostels and hotels with their ecological philosophy. Apart from a water saving system, green roof and cradle to cradle building materials, they have used recycled materials wherever possible -from building materials to stuffed toys for furnishing the hostel. The reception desk is probably my favourite piece in the hostel, created using vintage books. Hostel cleaners use natural, eco-friendly products.  The hostel has a green roof and natural stone heating. Everything is sourced locally as much as possible.
The communal area is an inspiring and creative space where you can find all the latest issues of Monocle and a great selection of coffee table books to leaf through while sipping on coffee from the hostel cafe, Filter. The cafe by the way, besides great coffee offers  a great selection of baked treats and an awesome breakfast.
Another star feature of Ecomama is the Teepee tent where they show movies: a mix of old-time classics to sci-fi and rom-coms. Hostel staff are happy to offer you popcorn. During the day the teepee is a place to relax and chill with a book. Maybe have a cheeky snooze.
If you are on a tight budget, then the beautiful open plan kitchen is fab. The kind of kitchen you would see in a cooking show. Besides a stove, microwave and all other kitchen mod cons there is a shelf with free leftovers plus an honesty bar in operation for using the mini fridge, which is packed with drinks, ice cream and other snacks. The hostel also hosts a family style dinner twice a week.
Staff here are friendly, all keen travellers and have great tips to share.
Most importantly, Ecomama staff are keen for you to experience Amsterdam as a local and have a great time. From trips to an organic beer brewery to personalized Red Light district tours, or hopping on their canal boat in the summer and enjoying Amsterdam from the best perspective.
Other key facilities: hostel has bikes for hire, board games and also a book exchange.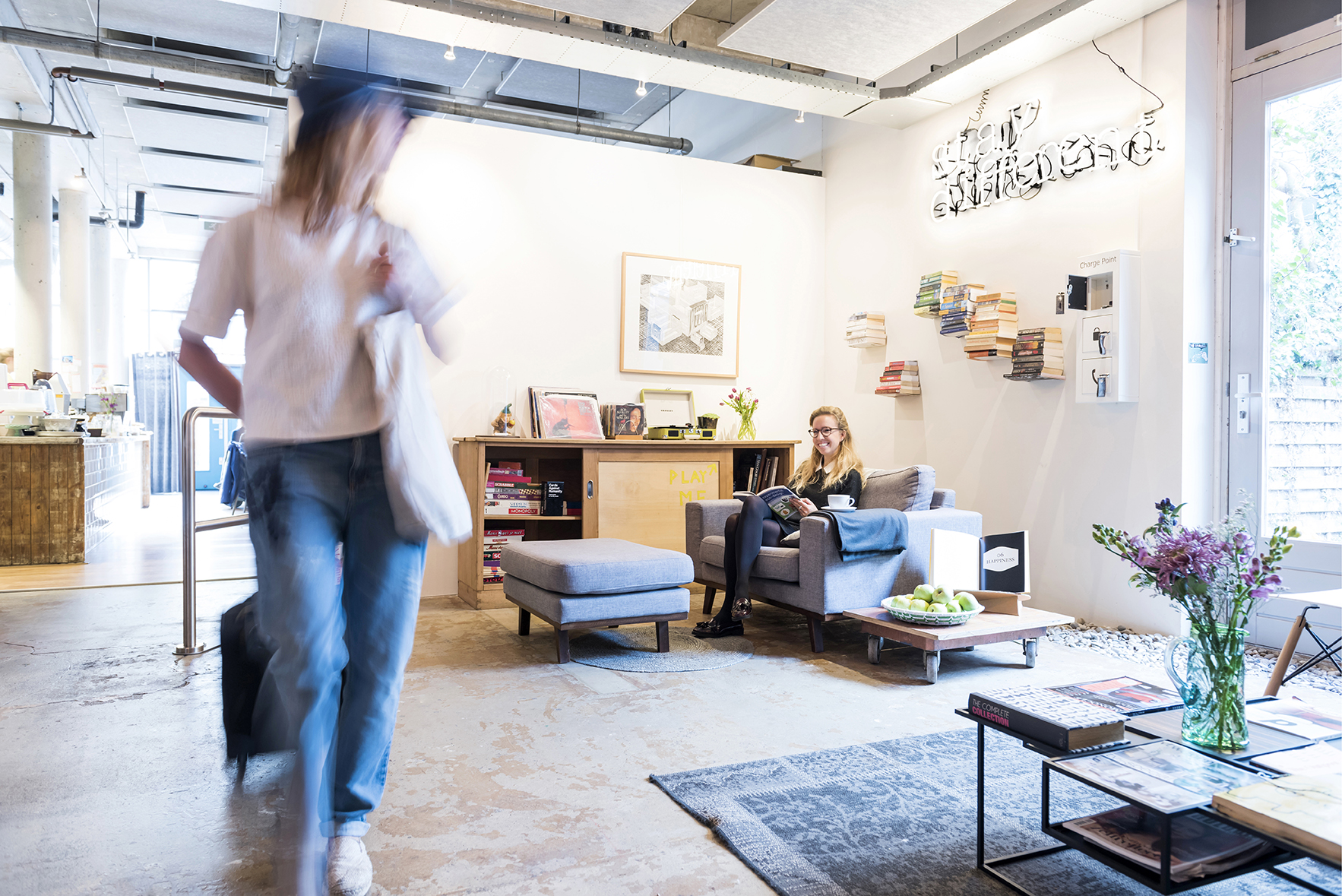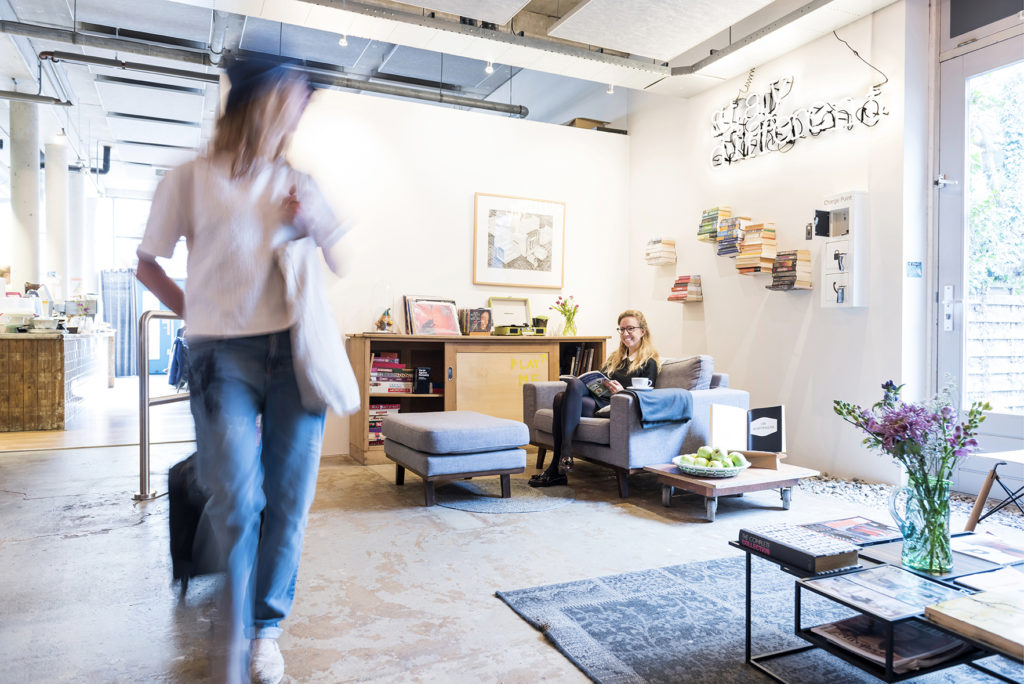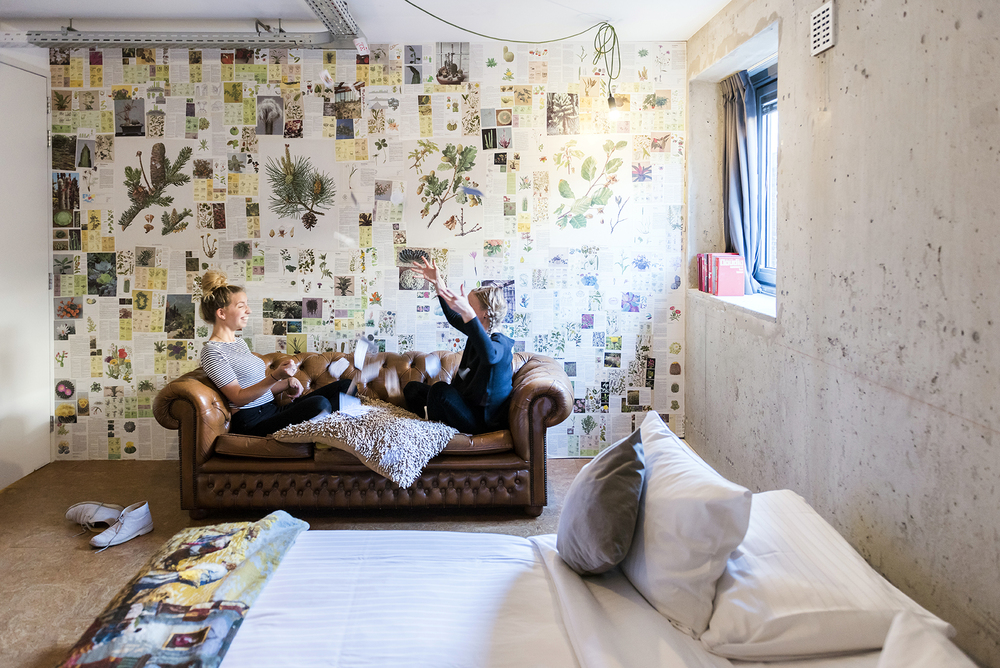 Why is this a luxury hostel
Ecomama is more than just a place to crash. It has impressive green credentials. Who says sustainble living is boring? It's also a hostel where you get to know people, relax and most importantly experience Amsterdam as a local.  Providing the perfect combination between a cozy stay, value for money and offering a unique experience of Amsterdam Ecomama is one of the finest hostels in Europe. Visit soon.
Booking you stay at Ecomama Amsterdam
Ecomama rates for dorms start from 21€ – 45€ while privates range from 76€ – 150€
Dorm rooms range from €21 per person in low season going upto €45 in high season. private rooms start from €76 in low season, €150 in high season. Breakfast is not included.
Valkenburgerstraat 124, 1011 NA Amsterdam, Netherlands.