Amsterdam can be silly expensive, so following last year's guide to some of our favourite stylish budget places to stay in Amsterdam we've compiled for you the 11 best cheap hostels and hotels in Amsterdam. As with everything that comes cheap in life, we advise not to have too high expectation- if you are looking for just a cheap bed to sleep in for the night and a roof over your head, these hostels and hotels will be perfect for you. To help your Euros stretch further, do checkout our guide to the best cheap eats in Amsterdam plus this excellent new guide from local Frankie Bird on her top 100 free things to do in Amsterdam
1. Stayokay Amsterdam Stadsdoel
Kloveniersburgwal 97, 1011 KB Amsterdam, Netherlands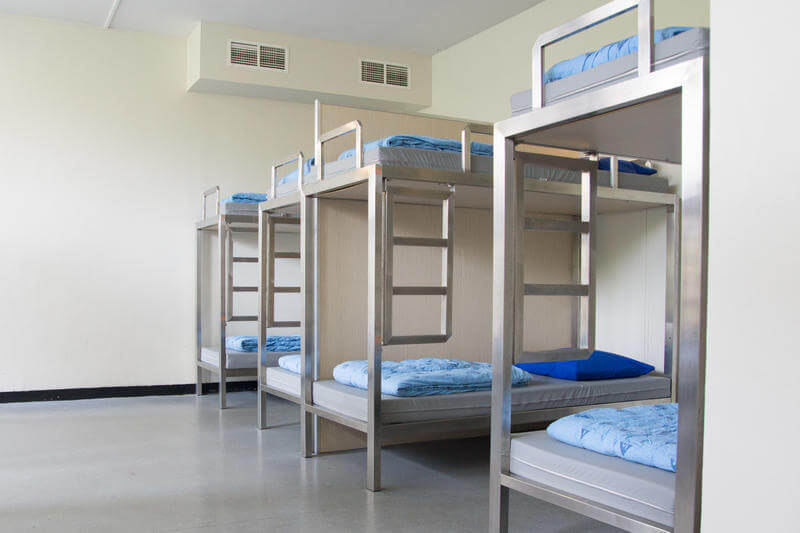 Backpackers love staying at this quiet hostel thanks to its complimentary breakfast, friendly staff, nice onsite bar and also the location: the property faces the canal on either side and is within walking distance of tourist hotspots like the Royal Palace,  Waterloo Square, and the Red Light District. Beds are ok but in terms of price/value, this is a good option for Amsterdam
Price Per Bed: Starts at €23.25/night Book via Hostelworld.com
Amenities: Free Wi-Fi, bed linen, a launderette, bike shelter, tourist info and electronic door locks, lockers, and safes.
2. Hans Brinker Hostel Amsterdam
Kerkstraat 136-138, 1017 GR Amsterdam, Netherlands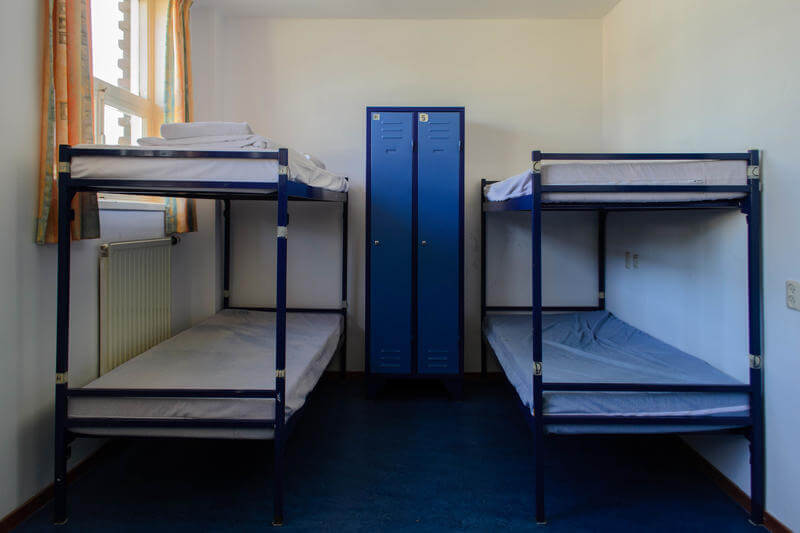 Hans Brinker markets themselves as apparently 'the worst hotel in the world' but delivers the basics for an ideal cheap break in Amsterdam. This is a hostel for party animals and enjoys a great location (majority of the galleries and libraries are located at a five-minute walk from the hostel ) near Leidseplein, the city's dynamic hangout spot. The beds are clean but basic, there is a complimentary breakfast plus Happy Hour between 5 and 6pm where you can enjoy some of the cheapest beers in town. The other star feature is their underground club which stays open till wee hours in the morning.
Price Per Bed: Starts from €23.50/night Book Via Hostelworld.com
Amenities: Free Breakfast, free Linen including towels and free WiFi
3. Dutchies Hostel, Amsterdam
Sara Burgerhartstraat 21a, 1055 KV Amsterdam, Netherlands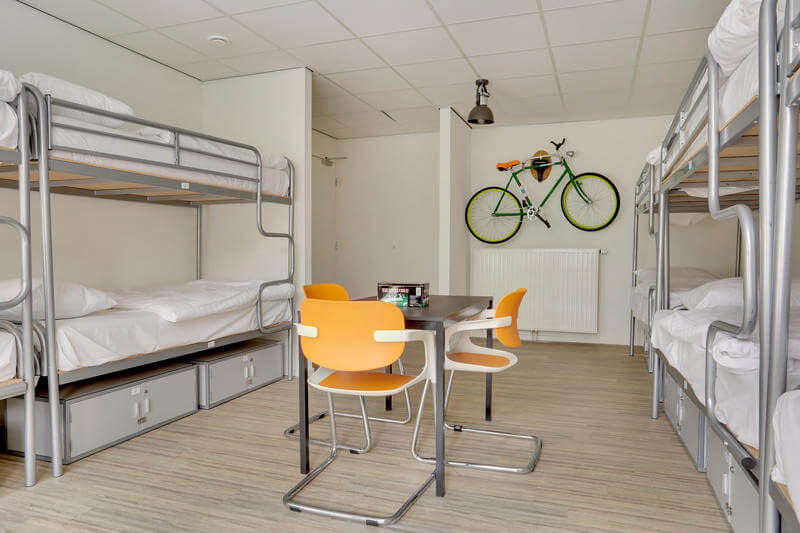 If you're looking for a quiet but social hostel then this graffiti-covered, contemporary hostel is the perfect choice for you.Established on the ground floor of a structure with student residences, it provides good transportation connectivity through buses, trams, and metro. The rooms are spacious, comfy and well-furnished.
Price Per Bed: Starts from €26.59/night Book via Hostelworld.com
Amenities: Free linen, free WIFI, free luggage storage, free city maps, free lockers, and locks.
4. Stayokay Amsterdam Zeeburg
Timorplein 21, 1094 CC Amsterdam, Nertherlands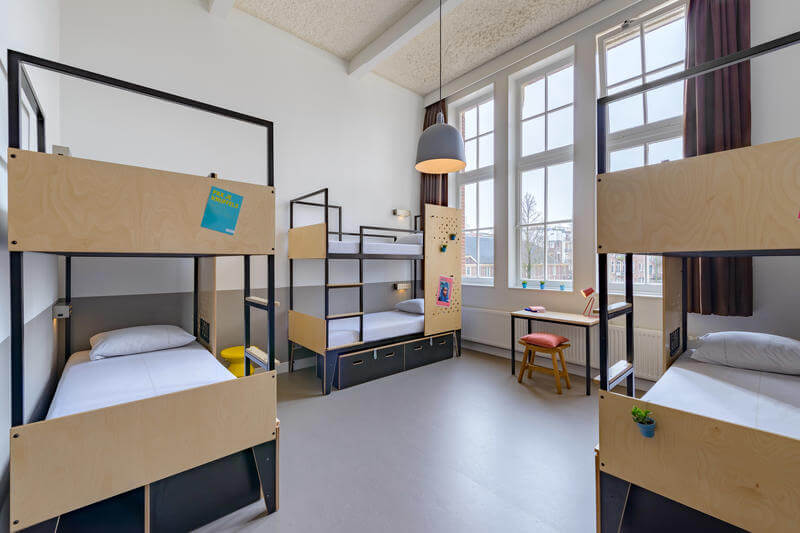 Treat yourself to the luxury of a relaxed stay by checking in at the Stayokay Amsterdam Zeeburg. Grab a bike from the hotel rental or hop on the  tram and visit popular nearby spots like the Natura Atris Magitra zoo and Anne Frank House. The place offers colorful, simplistic rooms in addition to housing an open eatery complimented by a classy wooden panelled bar.
Price Per Bed: Starts from €27.25/night Book via Hostelworld.com
Amenities: Free WiFi, Free Breakfast, and Linen
5. Meininger Amsterdam City West
Orlyplein 1 – 67, 1043 DR Amsterdam, Netherlands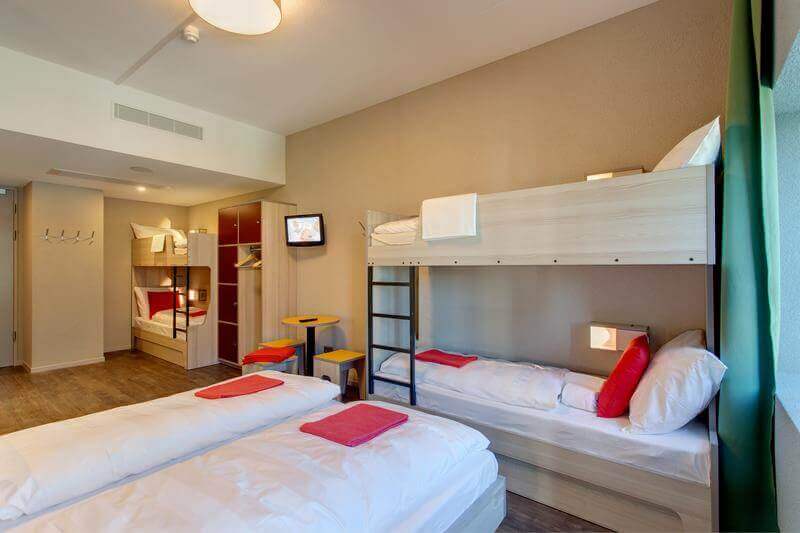 This hotel is ideal for couples looking for a peaceful stay, Meininger is situated in close proximity to the Sloterdijk Railway Station which is just a 6 minute ride from Amsterdam Central Station ( trains run till late). Schiphol Airport is just a 11 minute ride away. The interiors of the place reflect Old Master-style art. As is standard  with most Meininger hotels there's a games area with pool and table football, a fully equipped kitchen plus also a washing machine and dryer.  Staff are friendly and helpful. There's a small bar in the lobby, perfect for  putting up your feet in the lobby with a cold beer after a long day of meandering along the canals of Amsterdam.
Price Per Bed: Starts from €17.85/night via Hostelworld.com
Amenities: Free WiFi
6. Flying Pig Beach Hostel/ Flying Pig Uptown/ Flying Pig Downtown
Parallel Boulevard 208, 2202 HT Noordwijk, Netherlands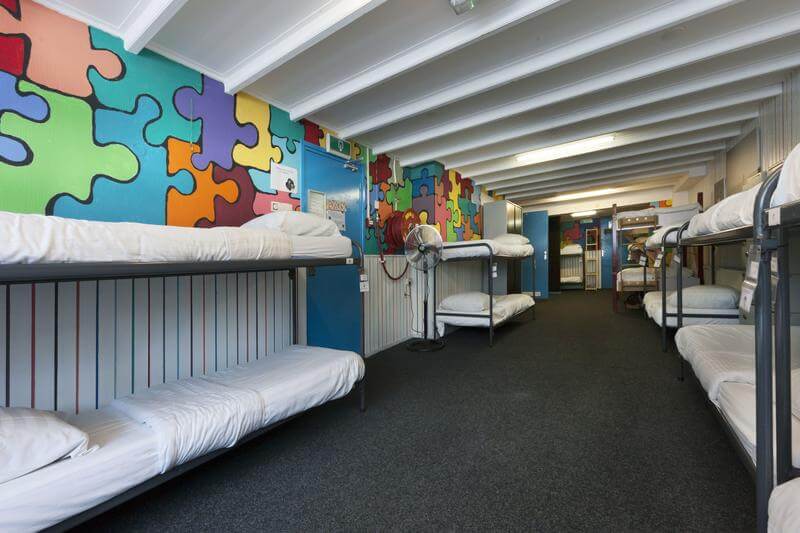 Experience the real hustle and bustle of Amsterdam at the Flying Pig hostels. The three youth hostels are world famous for their relaxed atmosphere in true Amsterdam style.
The Flying Pig Downtown hostel, for example, is the place to party. Located in the city center, this 18th century building has been transformed into one of the best party spots in all of Amsterdam.
The Flying Pig Uptown Hostel, on the other hand, is situated right in the heart of the city and caters to you the luxury of a plethora of clubs, pubs, coffee shops, restaurants and bars in Amsterdam.
Last but not the least, If you are looking to party by the beach, then The Flying Pig Noordwijk is simply the one for you. Located merely 50 meter away from the beautiful coastline, this hostel is also an excellent alternative for backpackers who want to see more of the Netherlands than just Amsterdam.
Price Per Bed: €41.80/night

Amenities: Free Breakfast, Linen, Free WiFi and Free City Maps
7. The Bulldog
Oudezijds Voorburgwal 220, 1012 GJ Amsterdam, Netherlands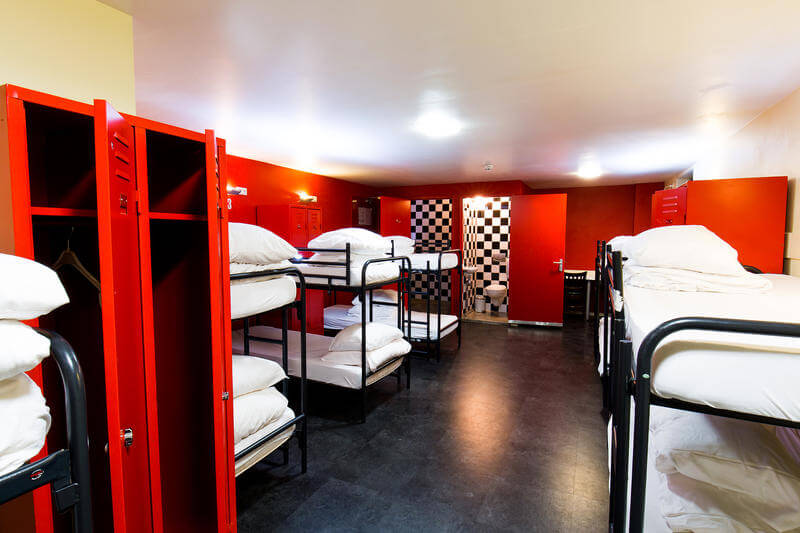 Location. Location. Location. Wake up in the heart of Amsterdam's Red Light District with the some of the most stunning views of the city's dreamy canals from its rooftop terrace. multilingual staff, 24 hours access, free WIFI, on site security, lockers and bag storage plus a social atmosphere that makes this hostel a popular choice amongst backpackers. A great option for the party lovers, the hostel's lively Lounge Bar invites you for unlimited drinks, laughs and FUN.
Price Per Bed: €30/night
Amenities: Free Wifi, Free Towels
8. ClinkNOORD
Badhuiskade 3, 1031 KV Amsterdam, Netherlands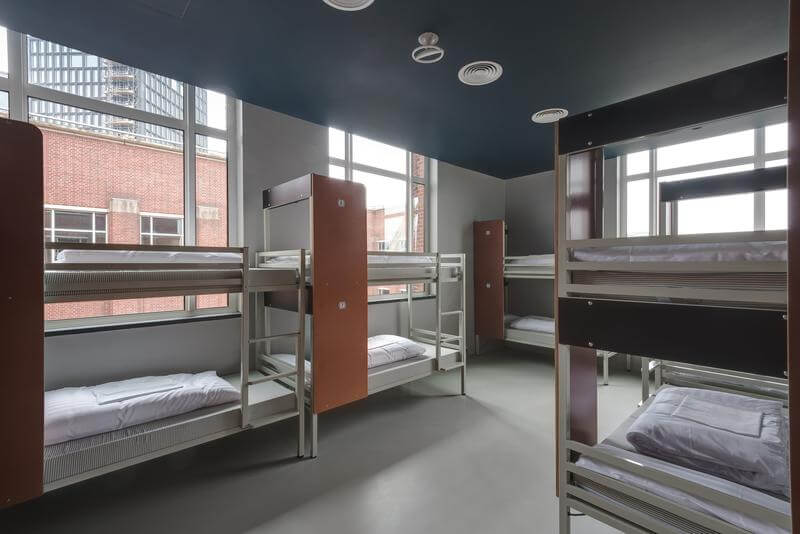 Treat yourself to a memorable stay at this Creative Dutch-styled Hostel in Amsterdam Noord, one of the city's most creative and culturally vibrant areas. With its Dutch-style interiors and chilled out friendly vibe, this hostel is perfect for those who are looking for a perfect blend of a hostel and a hotel.
Various features make this a really cool hostel. Friendly staff. Love the interior design and features like the stained glass windows, the library and the atrium. Their in-house ZincBAR with an affordable food menu is a winner. Plus you have the really cool location in the hip and upcoming district of Amsterdam Noord. Atmosphere can be lacking at times which is the one area they need to work on more. Otherwise this is a pretty cool hostel and great value for its location.
Price Per Bed: Starts from €20/night

Amenities: Library, free Wi-Fi, in-house bar, affordable café, self-catering kitchen, luggage lockers.
9. Pension De Laurier
Eerste Laurierdwarsstraat 52, 1016 Amsterdam, Netherlands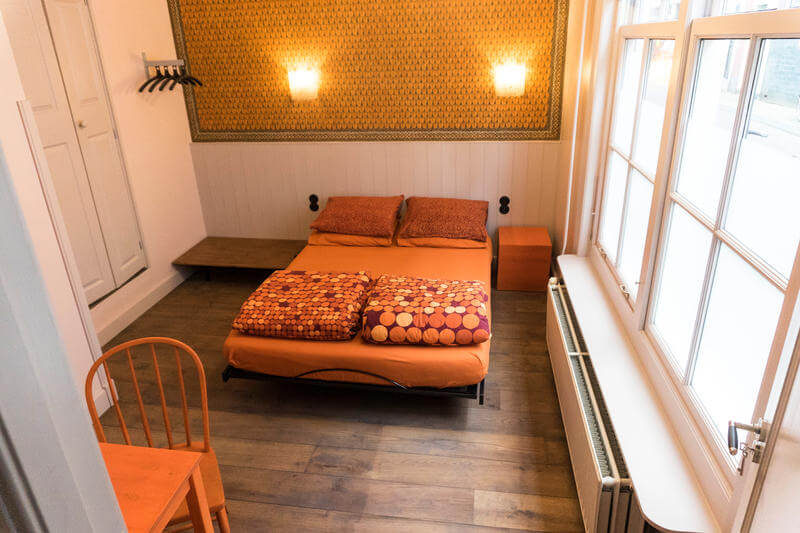 Located in a historic little building in the Jordaan area, rated 4.5 on TripAdvisor, Pension De Laurier is one of Amsterdam's best value stays for those looking for a bit of privacy and also with a good location. The rooms here are clean and cosy with everything you need, kettle, WiFi, hairdryer, hot shower, heating, TV plus added bonus of a fridge.  The hostel provides close access to the number of tourist hot-spots such as the Anne Frank House, Royal Palace, Historical Museum and Madame Tussaud.
Price Per Room: Starts from €75/night via Hostelworld.com

Amenities: Free WiFi, Free Linen, and Free Towels
10. Hotel Jupiter
Tweede Helmersstraat 14, 1054 CJ Amsterdam, Netherlands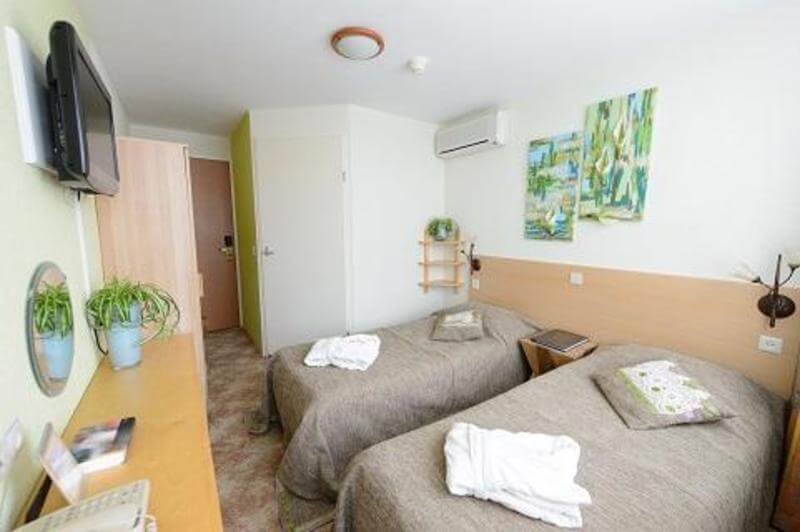 Come visit Amsterdam, and enjoy the services of this small yet convenient hotel. Housed in a historical building built in the beginning of 19th century; this hotel is perfect for couples who want to be left undisturbed. Masterly-crafted in the middle of the silent street, this small three-star property is convenience complimented by ease.
P.S. You will definitely fall in love with its continental breakfast which is loaded with a wide variety of Breads, Meat, Cheese, Sweets, Fruits, salad and more.
Price Per Room: Starts from €64/night booking via Hostelworld.com

Amenities: Free City Maps and Free WiFi
11. Frida Badoux B&B
Sijsjesstraat 2, 1021 CW Amsterdam, Netherlands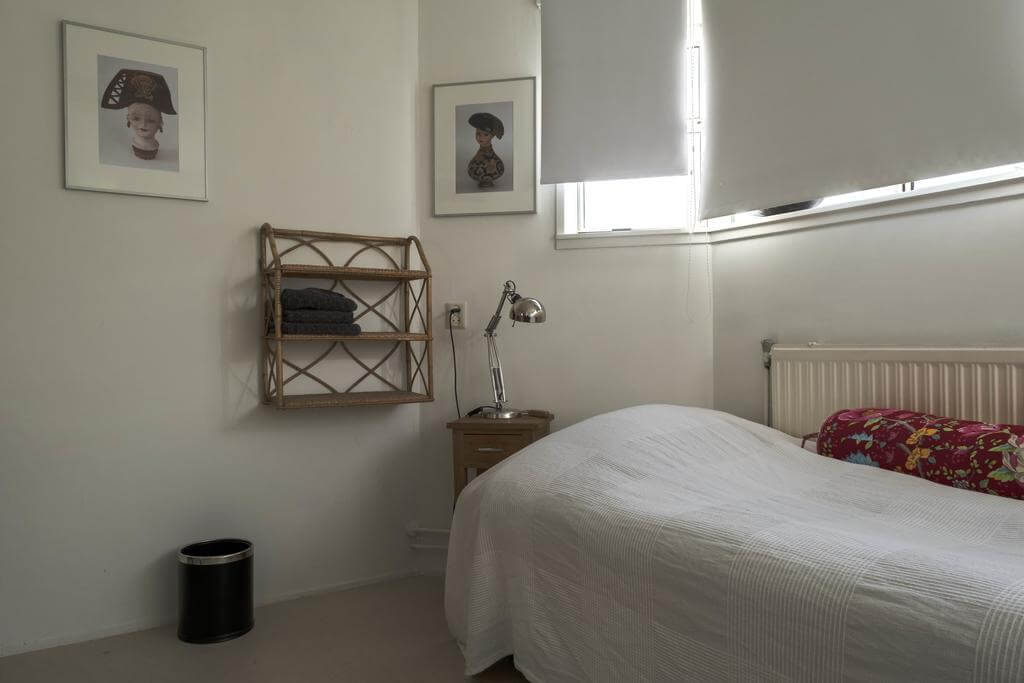 Frida Badoux B&B is located next to Beurs van Berlage in the hip upcoming neighbourhood of Amsterdam Noord. Hostess Frida is warm and helpful and the rooms here are bright and cheerful. You have the added bonus of a free excellent breakfast and the location is fantastic just a short ferry ride from Amsterdam Centraal Station.
Price Per Room: Starts from €75/night via Booking.com

Amenities: Free parking, Breakfast, Free WiFi, and non-smoking rooms