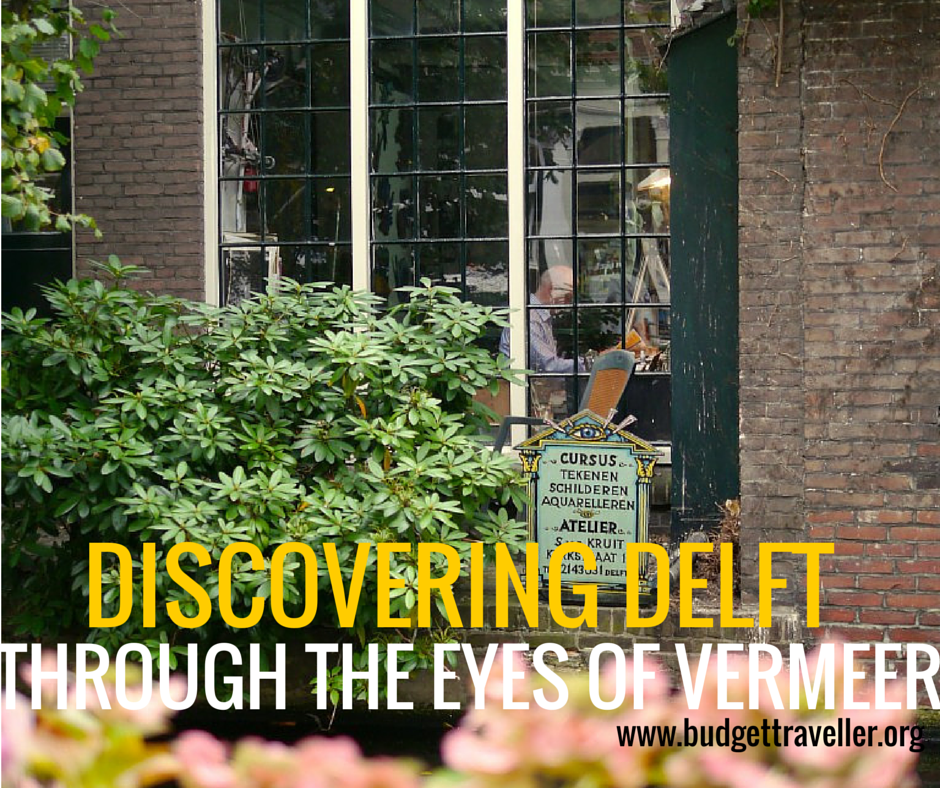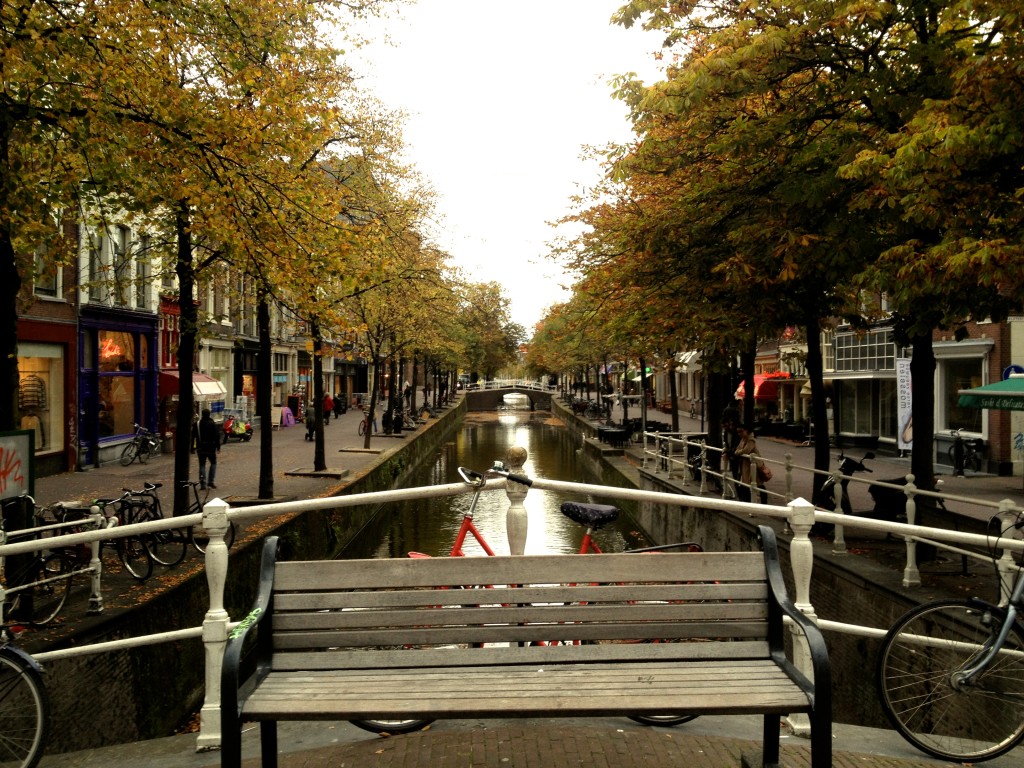 We visited Delft on a windswept, moody day in Autumn.
Shades of grey and of sparkling blue sunshine.
Without the crowds of Amsterdam, it felt strange but also wonderful.
We snailed our way to our hotel from the train station, enjoying every step of the journey. We wondered through the lonely squares. Paused and admired the picture postcard houses stringed unevenly along the dreamy canals. Within a few hours of entering the city, the verdict was loud and clear.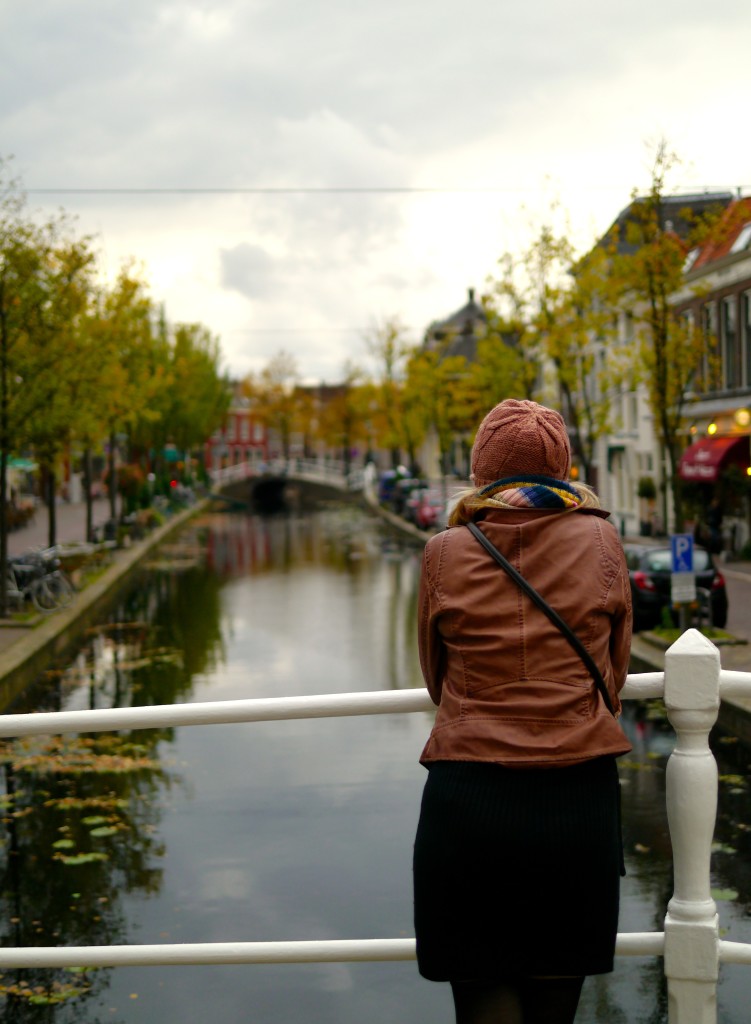 We loved Delft.
It's a small city. Very walkable. We got a feel of the place very quickly.
Often these cities are our favourite cities.
As if they were solely invented for our pleasure and convenience.
Wherever we encountered humanity, in the form of locals, we were accorded a warm welcome.
Starting with our hotel, the Hotel de Emauspoort.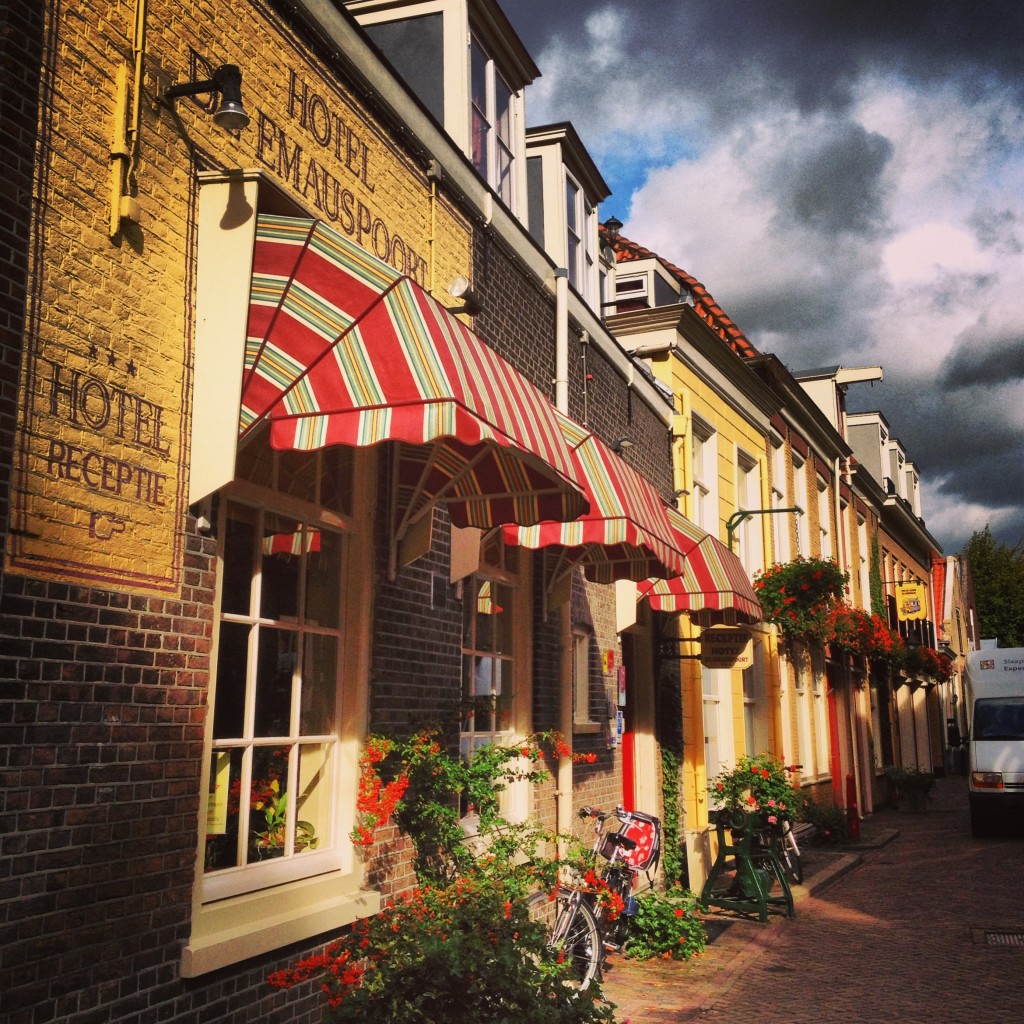 Small and friendly.
They have beautifully furnished rooms. Nothing , however beats a night in one of their gypsy caravans.
After briefly savouring our cosy little caravan 'Pipo de Clown', to the chime of the clock from the nearby Nieuwe Kerk, we strolled out to explore Delft.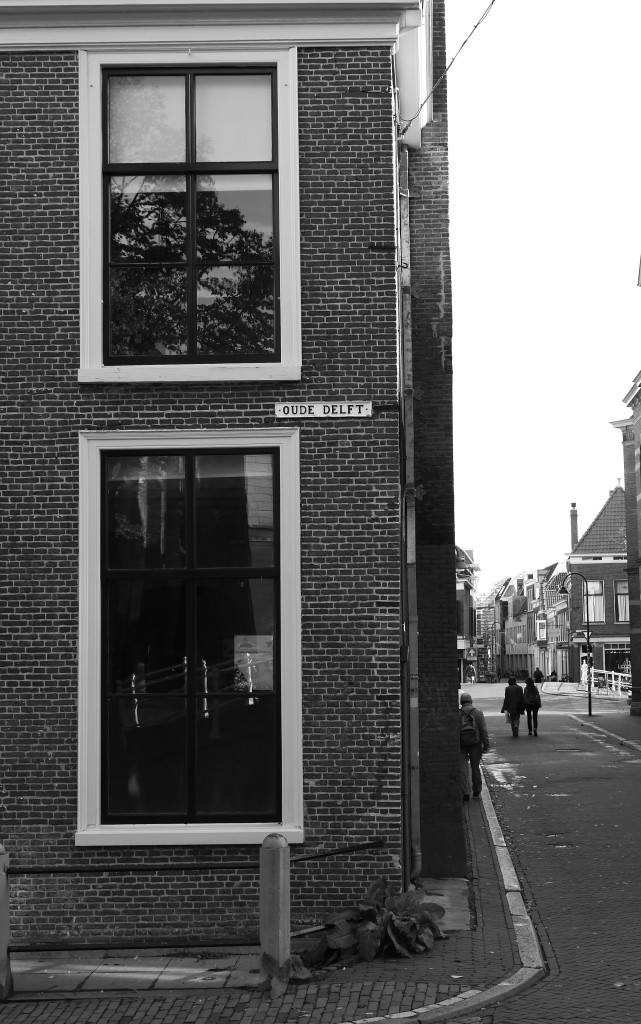 We were here for a few hours. We knew little about the city beforehand. We knew that Vermeer lived here. However, we knew little about his history of living in the city.
With no guidebook to guide us, we let our instinct and curiosity take over.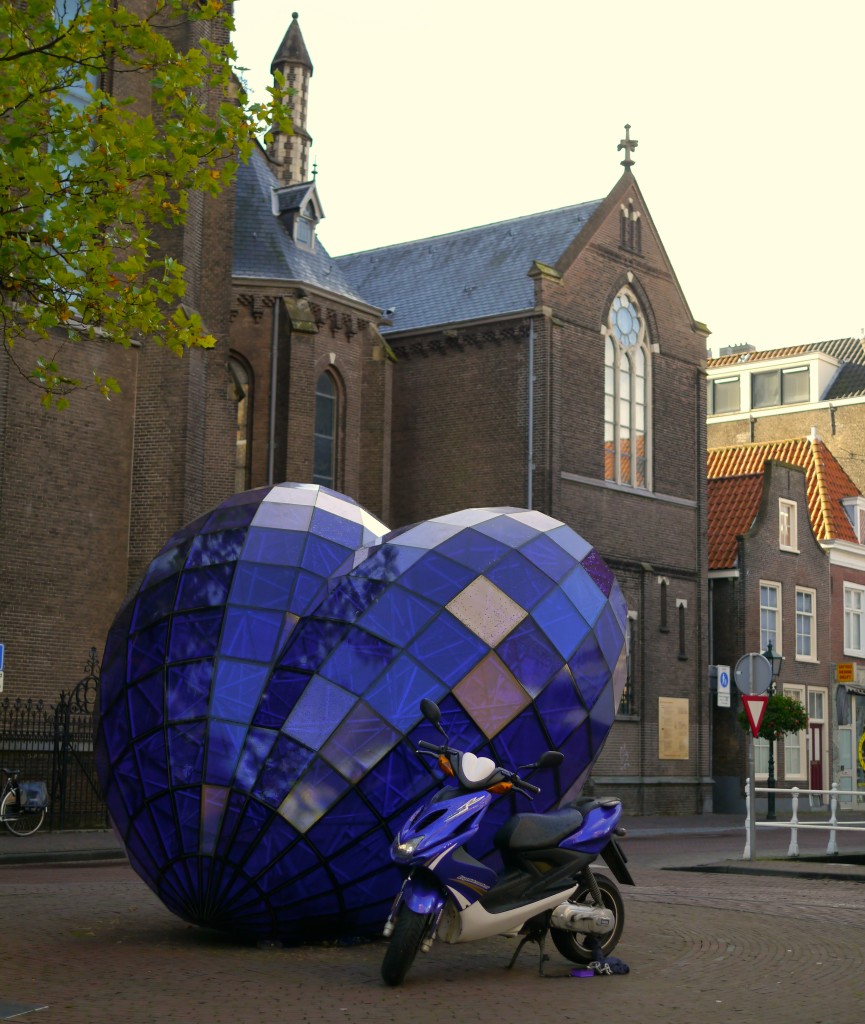 First thing that caught our eye, walking out of the hotel was this glass sculpture of a blue heart.
A blue heart on a cold autumnal day. Heartwarming.
The blue heart of Delft sculpture represents the excellence in local blue pottery, known better as Delftware.
In the background, we spot a building, a church which we are informed by a local, is the spot where Vermeer lived and painted his key works. His house apparently burnt down so there is nothing to see or do.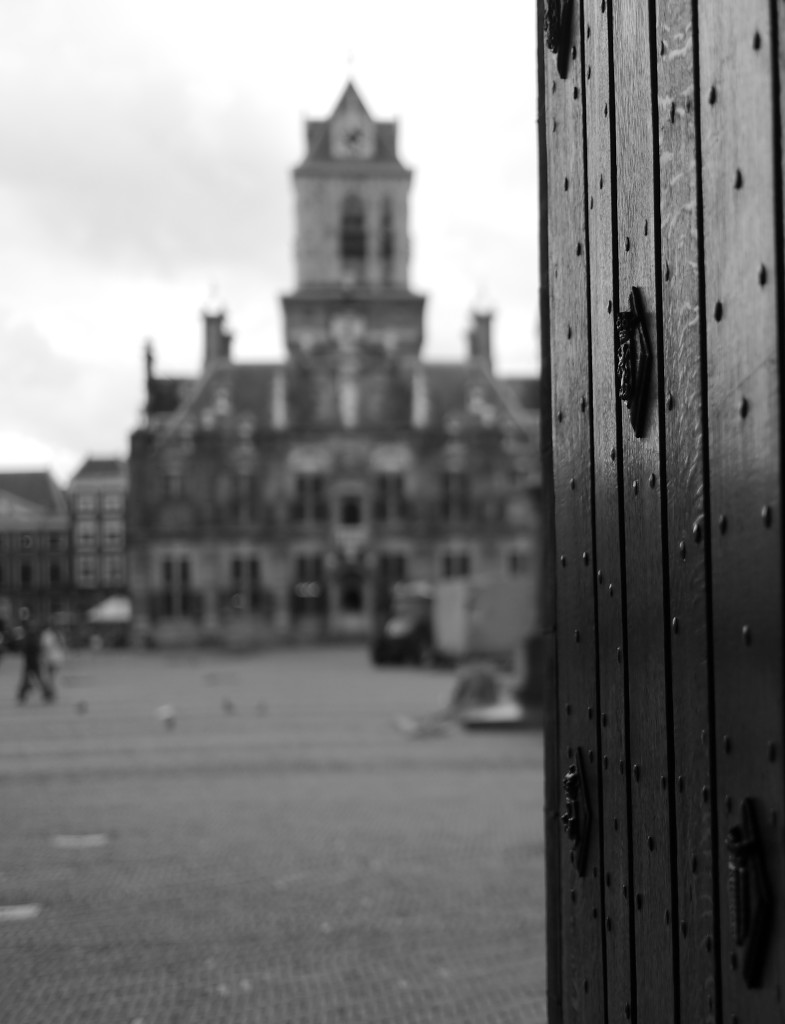 There is apparently, little left of Vermeer's Delft.
We drift into the main square.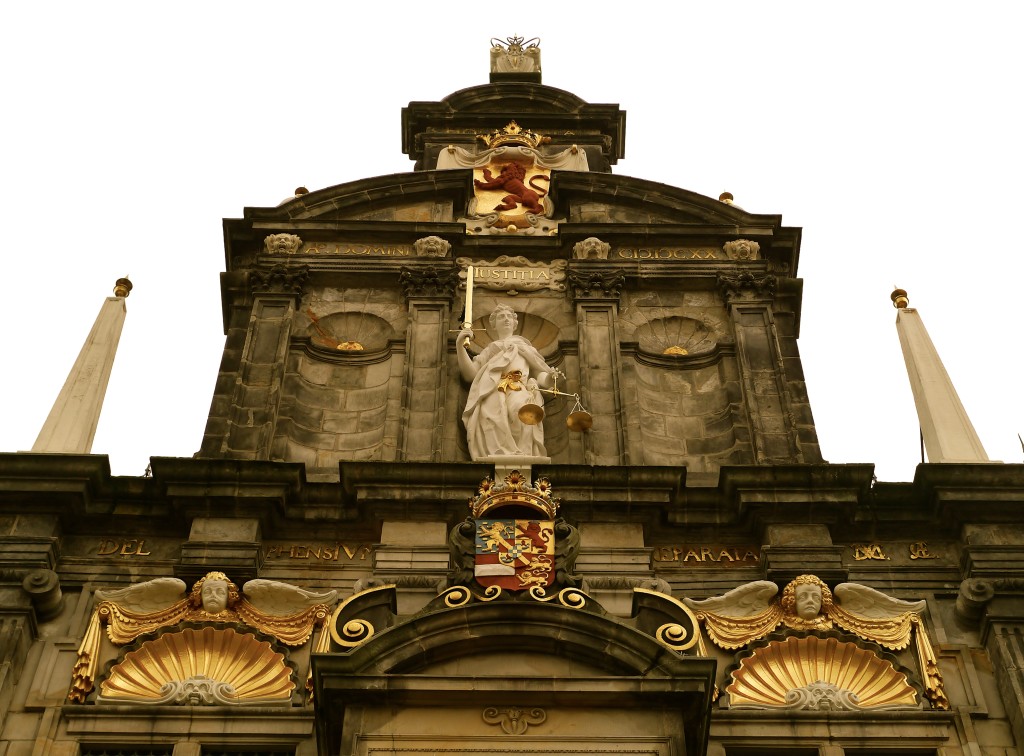 Looking up the first thing that caught my eye was the beautiful renaissance structure of the city's town hall. It was constructed in 1618-1620 by local architect, sculptor and illustrator, Hendrick de Keyser. What I loved in particular was the eye-catching sculpture of the Roman goddess of Justice- 'Justitita' She's pictured with her scales which she uses to measure the strengths of a case's support and opposition and in the other hand she holds a copper sword. This symbolises the power of Reason and Justice.
After that we wondered into 'Cheese and More' store in the main square. Here for free, you can sample various forms of Dutch cheese including the popular 'Gouda' cheese. The staff were lovely and gave us lots of tasty samples ( Gouda with cumin, my favourite) This is also a good place for picking up souvenirs.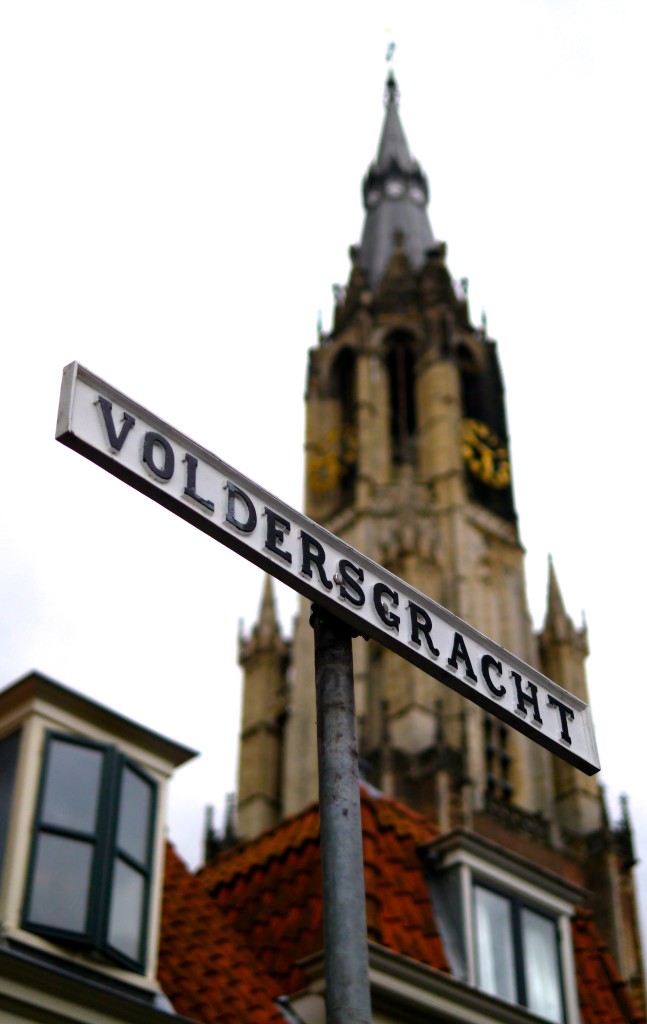 A hidden alleyway led us from the main square onto the beautiful Voldersgracht.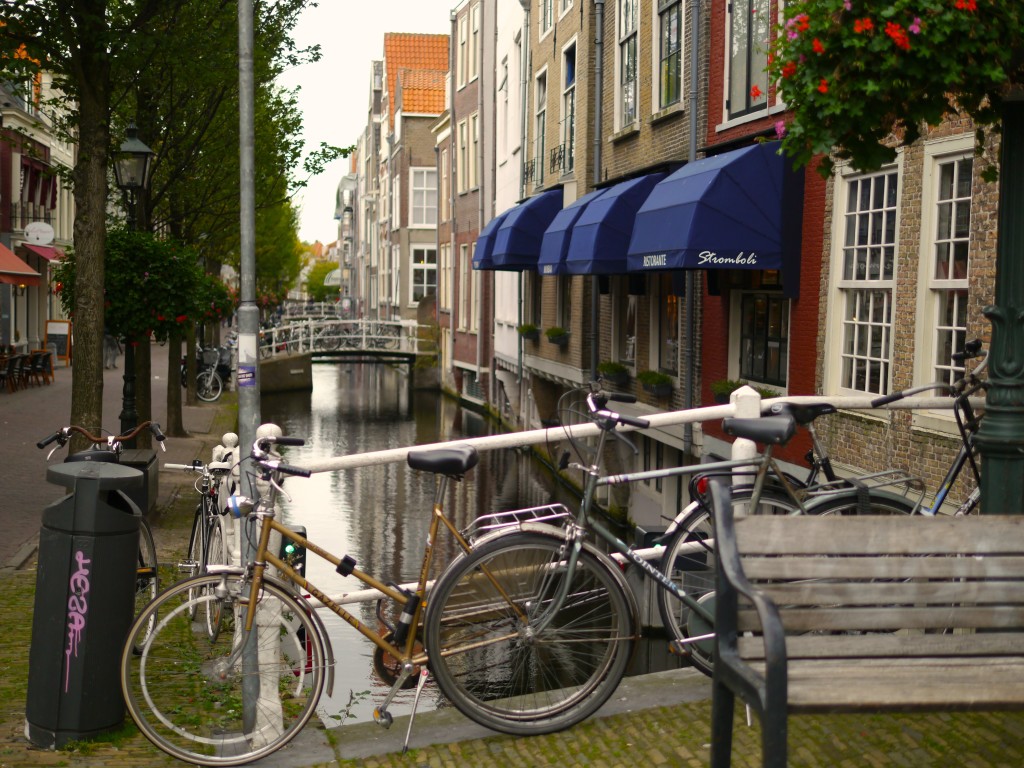 Voldersgracht is beautiful. It is one of the oldest canals in Delft dating back to 1348.
It's got a lot of interesting shops plus houses the new Vermeer centre.
From 1635 to 1672, Vermeer lived his entire life in Delft and produced just 37 paintings. You can read about his life in Delft, his work and delve into the stories behind his various paintings at this centre. However at €8, I felt the entrance price was too pricey so we skipped this and spent some time exploring the gift shop.
Instead, we explored the streets of the city he painted. There are few more picturesque and haunting streets in Delft than Voldersgracht which recently has been claimed by historians to be the inspiration for Vermeer's 'The Little Street.'
Strangely walking this street, I feel the ghost of Vermeer guiding me.
Everyway, I look, I stumble upon private moments.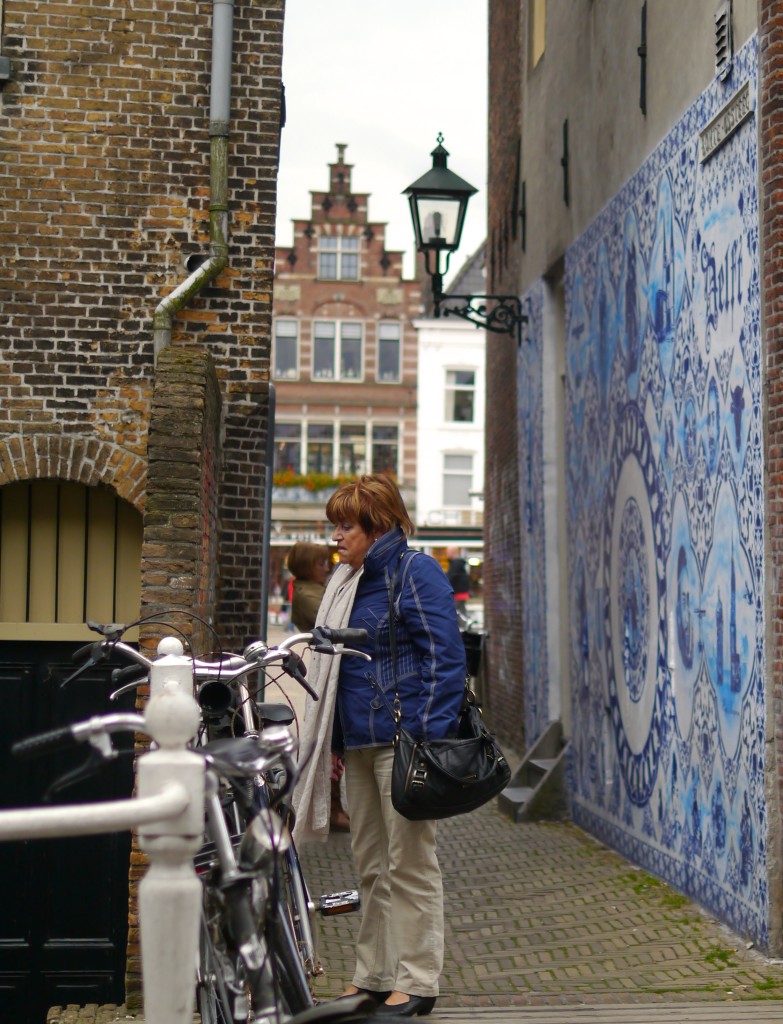 The lady, pausing for thought, gazing at the canal.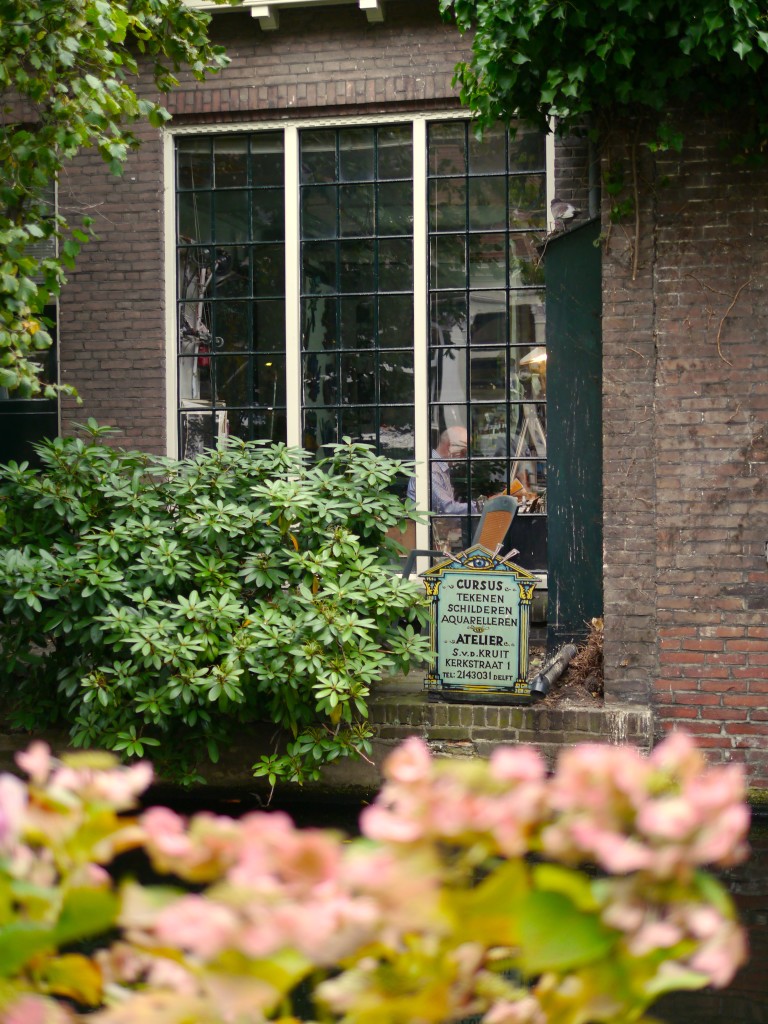 An artist at work.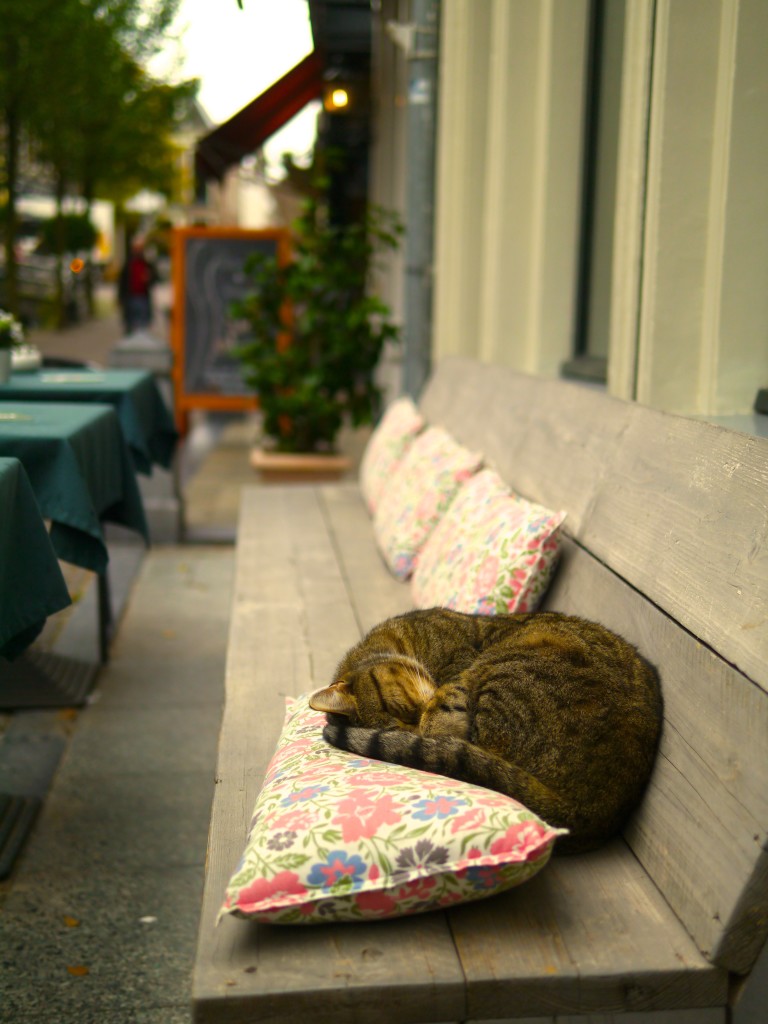 The cold, grey day that had lulled this cat into a deep slumber.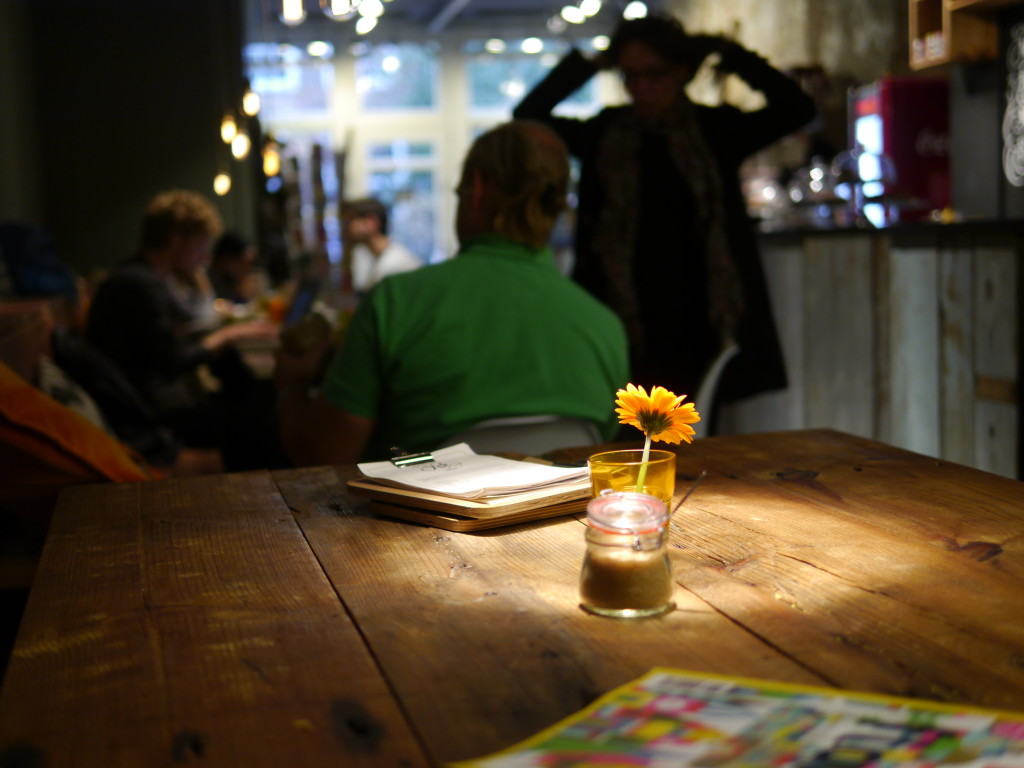 Locals, sharing stories or dreams over cups of delicious freshly brewed coffee at 'Kek', this beautiful coffee and crafts shop.
It is such ordinary moments that give life it's true flavour.
I think this was what made Vermeer's paintings so rich.
Despite, painting such deeply private moments and inviting our curiosity, Vermeer also gave his subjects a deep, touching humanity.
The paintings, whether a woman reading a letter or appraising a string of pearls directly engages the reader.
It is this humane and life like quality, which for me makes his paintings so perfect.
We continue the day in similar vein of extraordinary 'ordinary' moments.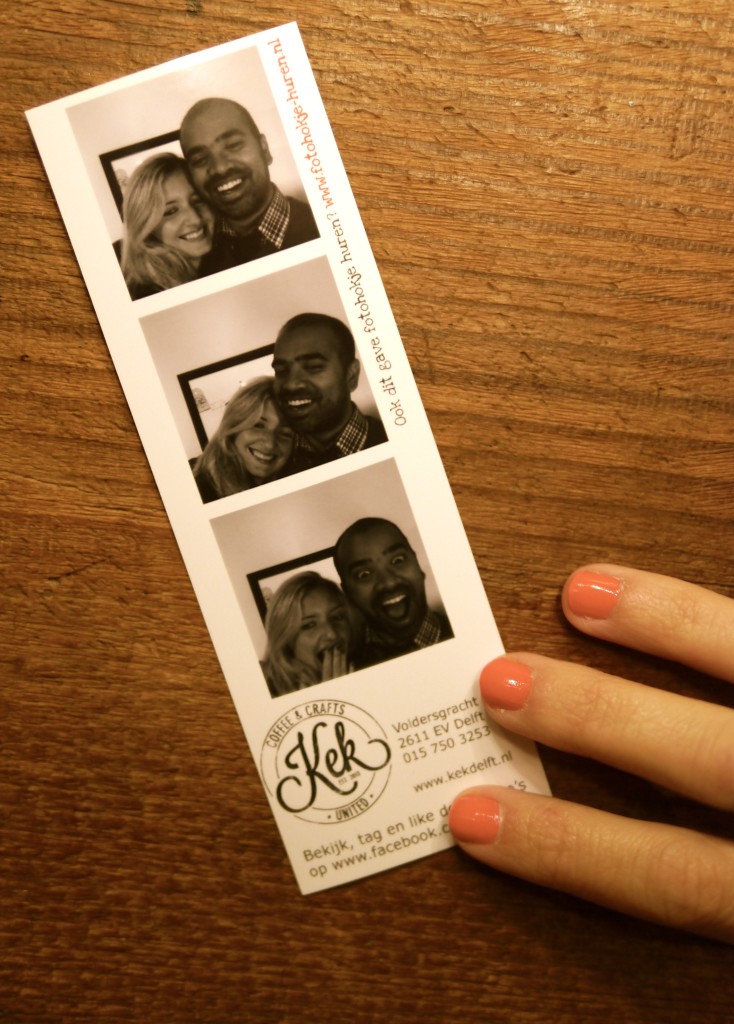 Get fun passport style photos taken of us at 'Kek.'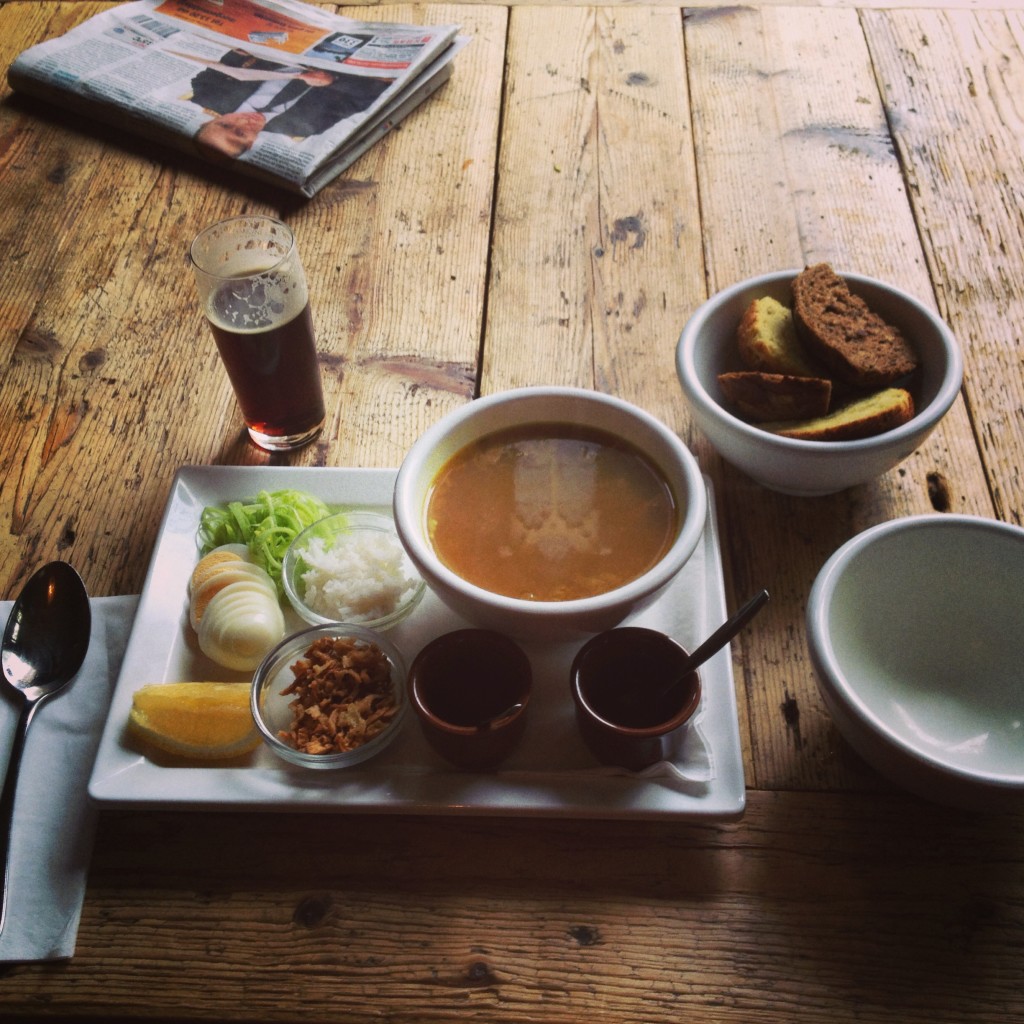 We then stumbled upon this beautiful pub called 'De Beierd' where we had a delicious Soto Ayam soup, washed down with some of the excellent Trappist 'bockbier' which is typically brewed at that time of the year.
Then after a cosy afternoon nap, we strolled out into the pitch black night. There is a distinctly cold nip in the air.
Guided by the buzz of locals and jazz notes, we soon find ourselves tucked into this dimly lit bar called 'De Wijnhaven' where the bier van de tap is excellent as the banter of the bar staff. Plus they serve here excellent dutch finger food like 'Kaassouffles' , 'Vlammetjes' and the delicious , crispy 'Bitterballem.' served with a tongue tingling mustard dip ( Note: Dutch mustard is great! ) All for just €4 a portion.
A belly full of good food and beer, we dribble our way back to the caravan, led by the canals aglow. Every few steps, we are invited to the gaze through the lit up windows of the canal houses.
Locals, busy doing the everyday ordinary things. Cooking, chatting, watching TV or even drinking a glass of wine.
There's a timelessness about the images before us.
All we have to do is use your curiosity and imagination to discover the city he painted, lived and breathed.
A quality, I'm sure Vermeer would have approved of.