An hour's train ride from Dresden, Bautzen with its impressive fortifications and beautifully preserved old town is a joy to wonder through. I had accidentally stumbled upon the city during my original Germany hostels roadtrip back in 2012 enroute to Leipzig and really was enchanted by its winding cobbled streets and colourful half timbered houses plus its impressive collection of 17 medieval towers which form a dreamy skyline, a kind of Manhattan of the German Middle ages. I was curious always to return and spend some more time here. From sampling some of the finest mustard in Germany and Europe to learning about the vibrant Sorbian folk culture that is indigenous to the area plus also getting an insight into the region's dark history when the town was home to one of the most infamous prisons of the GDR era- there's plenty of eclectic and interesting things to do in Bautzen. Here's my recommendations of how you can spend 2 days in Bautzen. PS: Please also have a look at our new video below which gives you a feel of our time in Bautzen, Meissen and Görlitz. PPS If you love the video, please share it with friends or family-I'd really appreciate it!
.

Where to stay in Bautzen
Best Western Hotel Bautzen
Well located in the heart of Bautzen opposite the leaning Reichenturm tower Best Western Plus Hotel Bautzen is a good base for exploring the city- its a comfortable, no frills hotel that offers clean rooms, excellent buffet breakfast plus other facilities like a gym and sauna that are accessible 24 hours around the clock.I wouldn't call it a 4 star hotel but in terms of price and its location, it is a safe choice to base yourself.
Prices start from €89 a night for a double ensuite room. Buffet breakfast is not cheap at €13 per person but extremely filling.

Jugendherberge Bautzen "Gerberbastei"
An excellent budget friendly option is the Jugendherberge Bautzen "Gerberbastei"– a hostel located within one of the medieval city towers, the 500-year-old "Gerberbastei" bastion. The hostel also has two modern, converted townhouses for housing guests. Rooms are clean, spacious and simple. There's a nice outdoor terrace with views onto the old town.
Bed in a dorm starts from €23 with breakfast. There is the option of staying on a half ( €29) or full board basis.(€34)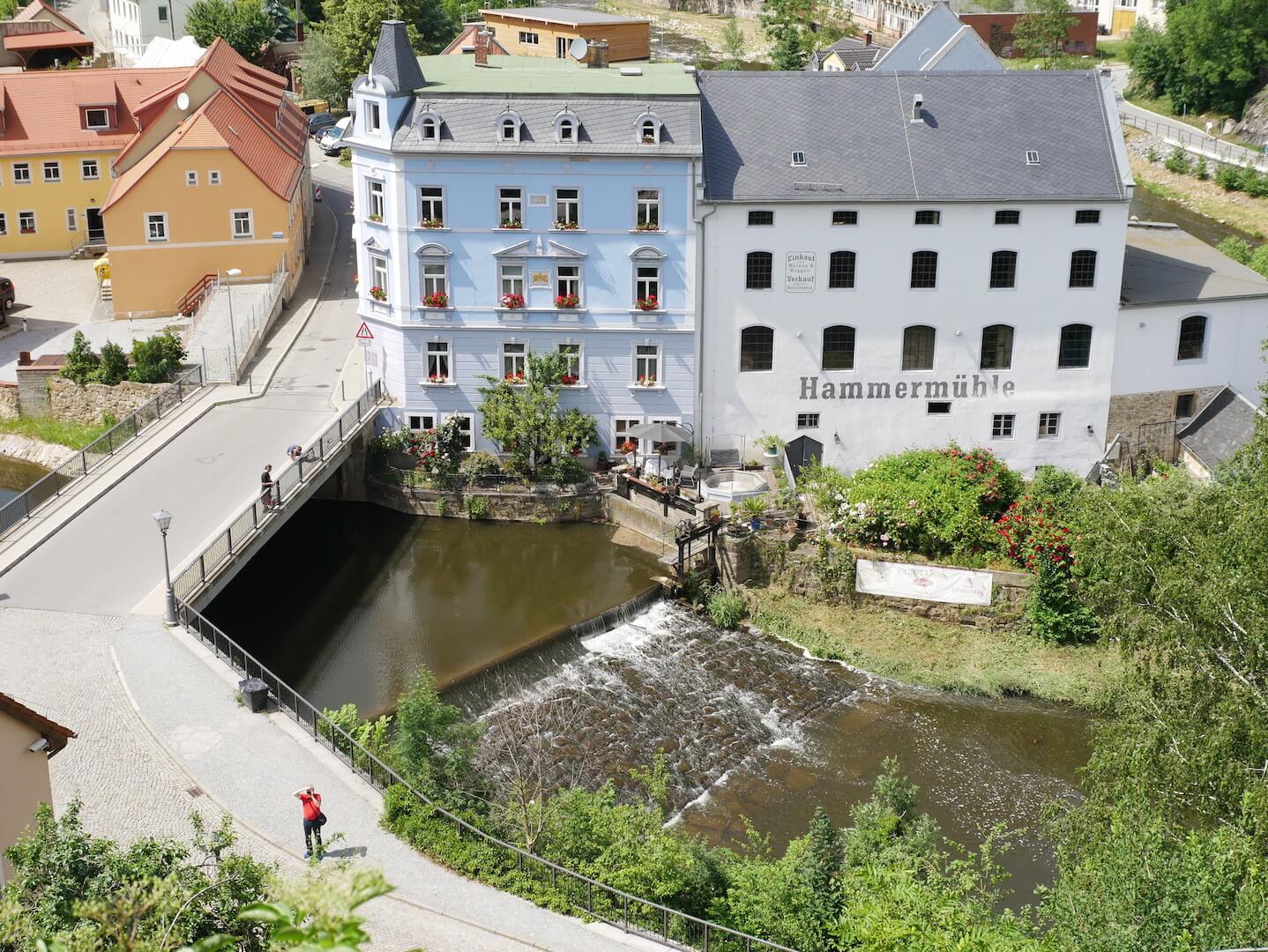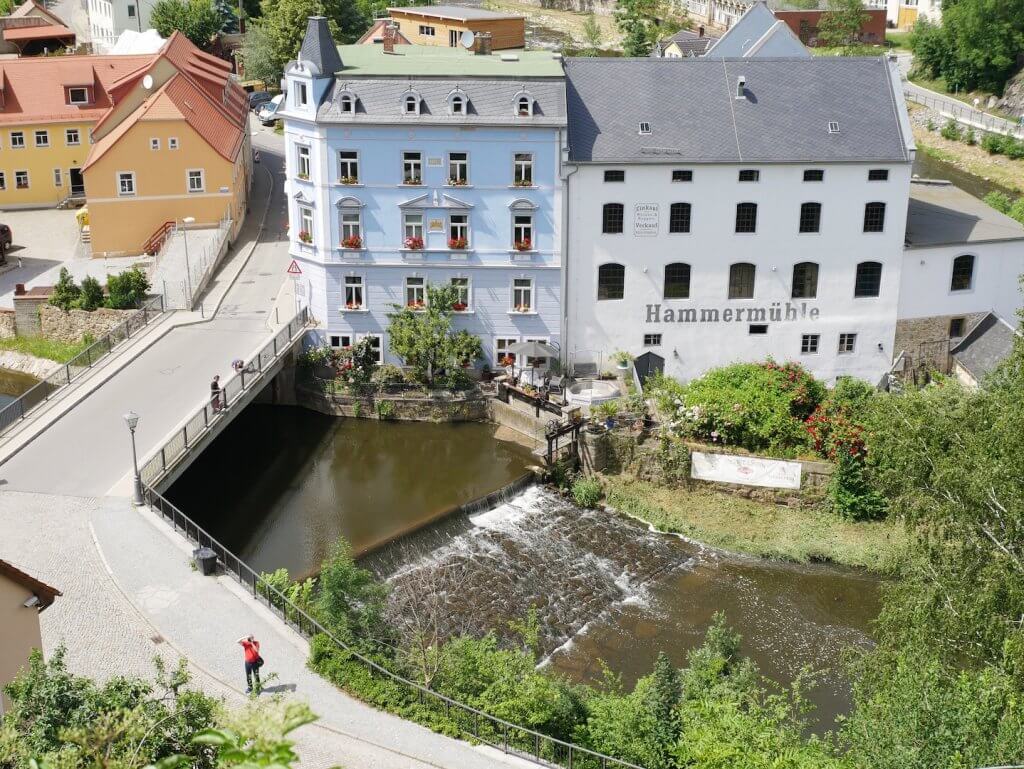 Best things to do in Bautzen
1. Visit the Hammermühle
Right in the heart of Bautzen occupying a scenic location by the river Spree you will find the Hammermühle -a living testimony of centuries old craft and an incredible story of survival of the last standing water mill in Bautzen that dates back to the 15th century. Originally there were 21 mills in existence in Bautzen which were were used for a variety of reasons, mainly in the crafts industry. The advent of the Industrial revolution saw the advent of faster machines and water mills like Hammermühle had to reinvent themselves or face extinction. Initially the mill focussed on making 'healing clay' which was marketed as an effective cure for joint pain and was exported all across Europe and to the Far East. After losing rights to making the healing clay the mill grinded malted barely for local breweries. Today the mill is managed by the 6th generation of the family and still fully functioning, serving as a grinding mill, oil mill and mustard mill.
You can experience the hammer mill Bautzen and its historical technology up close on a guided tour of the mill. ( €10, 1 hour ) Or if you are a foodie and passionate about learning how the Heinke family make their mustard according to traditional techniques, they do offer a mustard making workshop in combination with a traditional tour of the mill. Prices start from €27 per person and have to be booked in advance. The mill also has a lovely shop where you can buy all products and taste them.
Address: Seidauer Str. 2, 02625 Bautzen, Germany
Hours: Tuesday-Saturday, 9AM-1PM. Sunday and Monday closed.
2. Sorbisches Museum
If you're interested in learning more about the vibrant Sorbian folk culture, pay a visit to this wonderful folk museum in the heart of Bautzen which details the cultural history, religious faith, settlement history and artworks of the Sorbian people. The collection dates back to 1856 when it was established as an archaeology department displaying Sorbian artefacts. The museum currently has 35000 inventoried objects. Make sure you pay particular attention to the collection of beautiful Sorbian costumes.
Tickets start from €5 for adults. If you are travelling with your family there is a family ticket that costs €10 which allows admission for 2 Adults + 1 or more children
Address: Ortenburg 3, 02625 Bautzen, Germany
Hours: Tuesday-Sunday 10am-6pm
3. Climb the Reichenturm – "Leaning Tower of Bautzen"
If you think that Pisa has it all with regards to leaning towers you would be wrong! Bautzen has its very own 'Leaning Tower' or 'Reichenturm'. At the end of the Middle Ages the Reichenturm and Wendischer Turm were constructed on the eastern side of Bautzen to reinforce the city walls. Signs of bending started in 1747 and this was allowed to progress until 1953, when the structure was fortified. The lean, slate coloured tower with a golden pinnacle has a relief of Roman Emperor and Bohemian King Rudolf II. It takes a few minutes to climb to the top and be rewarded with a bird's eye perspective of Bautzen.
The fee for visiting the tower is €2.50. You can also visit the tower as part of a guided tour. Prices start from €10 for a 1.5 hour guided tour and can be booked via the Bautzen Tourism website.
Address: Reichenstrasse 14, 02625 Bautzen, Germany
Hours: Open everyday 10am-5pm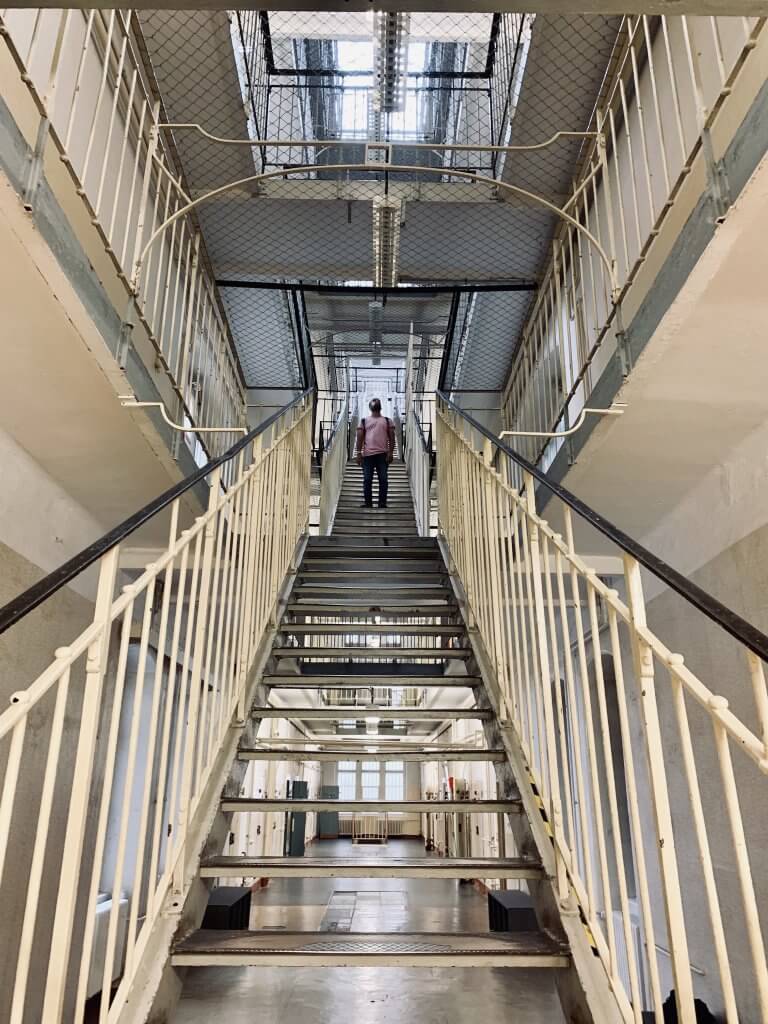 4.Visit the Gedenkstätte Bautzen aka Bautzen Memorial , a former GDR Stasi prison
Today the Gedenkstätte Bautzen aka Bautzen Memorial stands to commemorate all those prisoners who suffered and perished in the former GDR Stasi prison, known as jails Bautzen One and Two. These two prisons existed during the terrible period of National Socialism, Soviet Occupation and dictatorship of the Socialist Unity Party of Germany. Inside the Bautzen Memorial there's a permanent exhibit documenting the pain and suffering of the prison inmates – a cruel reminder of Bautzen's tainted past.
Address: Weigangstrasse 8A, 02625 Bautzen, Germany
Hours: Daily 10am-6pm except Friday: 10am-8pm
Entrance is free.
5. Alte Wasserkunst
The Alte Wasserkunst or the Old Waterworks is a wonderful museum in Bautzen that celebrates an age old landmark of the city. The Old Waterworks, dedicatedly supplied the old town with water for 400 years, in fact until 1963. When you tour the Water Works pay attention to the historic weir and water tower. Today the Old Waterworks has a modern ethos- with concerns towards alternative energy production. After the tower was decommissioned for water pumping, the 100 year old transmission was reinvented as an energy supply for the tower itself. If nothing else, you can't beat the view from the top of the tower either!
Entrance: You can visit the Alte Wasserkunst as part of a guided tour. Tour prices start from €3: more details can be found here
Address: 2, Wendischer Kirchhof, 02625 Bautzen, Germany
Hours: Mon-Sun: 10am-5pm
6. Bautzner Senfstube
Learn about the famous Bautzen Mustard at the Bautzen Mustard Museum and Shop
Ever hazarded a guess as to how many ways you can incorporate mustard into everyday meals? You can put an end to your worrying by learning about the famous Bautzen Mustard at the Bautzen Mustard Museum and Shop. Bautzen in particular, has a long history of producing mustard. Choose from mustard salad dressing, mustard goulash, mustard bread, mustard potato mash and the icing on the cake: vanilla mustard sauce. Don't worry if you are not a mustard fanatic- there are non-mustard items on the menu as well. You can enjoy a lovely meal here, the service is efficient and pays attention to use of seasonal produce.
For those interested, you can book a guided tour and tasting in the Mustard Museum plus enjoy a 3-course menu in the Bautzener Senfstube restuarant, excluding drinks for €24.
Address: Schlossestrasse 3, 02625 Bautzen, Germany
Hours: Open everyday 11am-12am
7. Visit the Cathedral St. Petri Bautzen
This is one of the major tourist spots in Bautzen, situated in the heart of the Old Town, in the square. Though the foundations of the church date back to 1000 AD, the Modern Cathedral came in to being between 1456 and 1463. A hazardous fire, ruined the old church and significant amounts of rebuilding were needed to restore the church to its former glory. The rebuilding of the church was a concerted effort on the parts of many German cities.
The church is a mix of Baroque and Gothic styles with the interiors being the only Gothic aspect of the present day church. Both Catholic and Lutheran altars exist in the church. The former was designed by a student of Balthasar Permoser, the man who designed the Zwinger in Dresden. The Venetian painter Pellegrini has added embellishment to the altars with his beautiful murals.
Address: Fleischmarkt 6, 02625 Bautzen, Germany
8. Climb the Matthias Tower Bautzen
The Matthias Tower or Matthiasturm is one of the top attractions in Bautzen. The huge sandstone relief of King Matthias (the Hungarian King Matthias Corvinus who rebuilt the tower and castle) is a key feature of the tower. The tower built in 1486 is in the Late Gothic style and was the only entrance to the Ortenburg Castle via a drawbridge. The tower can be visited as part of a guided tour of Bautzen. The view from the top provides a lovely panoramic view of Bautzen, not to be missed.
The Matthias Tower can only be visited as part of a guided tour. More details of tours can be found here.
Address: Schlossegraben 21, 02625 Bautzen, Germany
Where to eat in Bautzen
1. Sorbian restaurant, Wjelbik
Bautzen is home to one of the one of four national minorities in Germany called the Sorbs. The Sorbian language is closely related to Polish, Kashubian, Czech and Slovak languages. One great place to learn about the Sorbian culture and their cuisine is the fantastic restaurant, Wjelbik. The restaurant is housed in a 600-year-old natural stone vault framed by a floor to ceiling stained glass window that depicts scenes from Sorbian history. We're greeted with a hearty Witajće k nam! (Welcome!) by a smiling lady in traditional Sorbian dress and handed some bread and salt. We chose their 3 course dinner Sorbian fixed price menu which for starters includes a classic Sorbian wedding soup followed by their famous Lusitanian trout fillet and then finishing with a classic creme brulee. Food is wonderful, great service and for €24.30, is brilliant value.
2. Restaurant Mönchshof
If you're looking for an authentic medieval dining experience complete with people serving you in traditional medieval robes, a beer garden and affordable hearty traditional German food ( Fillet of pork in the local Bautzener Mustard sauce with potatoes and carrots is a winner ) , then Restaurant Mönchshof is a good pick. Big plus- they serve a good range of local beers including their special 'Rot' red beer.
Address: Mönchshof Bautzen I Burglehn 1 I 02625 Bautzen I Phone number : +49 359 1490141
Tip: The eccentric and informative Hendrik Jünemann in the entertaining guise of a 130 year old god fearing Monk Eusebius , offers visitors a guided tour of Bautzen which start at the Restaurant Mönchshof. More details of Hendrik's tours can be found here.
That was our guide to the best things to do in Bautzen! I hope you find the tips useful and informative. If you do have any questions or feedback, please leave a note in the comments below. If you need any further tips for your trip to Germany, have a look at my comprehensive range of article and Germany guides. Thanks for reading and your continued support of the blog!
Disclaimer
Our stay in Bautzen was possible thanks to the support of the Saxony Tourism Board who invited us to discover some of the region's lesser known cities: Meissen, Görlitz and Bautzen. I'd like to take the opportunity to let you know that while my trip was supported by the tourism board, the article and all the views represented here are entirely mine. Thank you for reading.