Sintra.
I've been visiting Lisbon for several years but somehow I never made it to Sintra for some reason. Some places exist in our imagination- half realised, half imagined. You already know the place well from pictures and stories, your soul already inhabits its contours but somehow your body just hasn't made it there. Sintra was that place for me.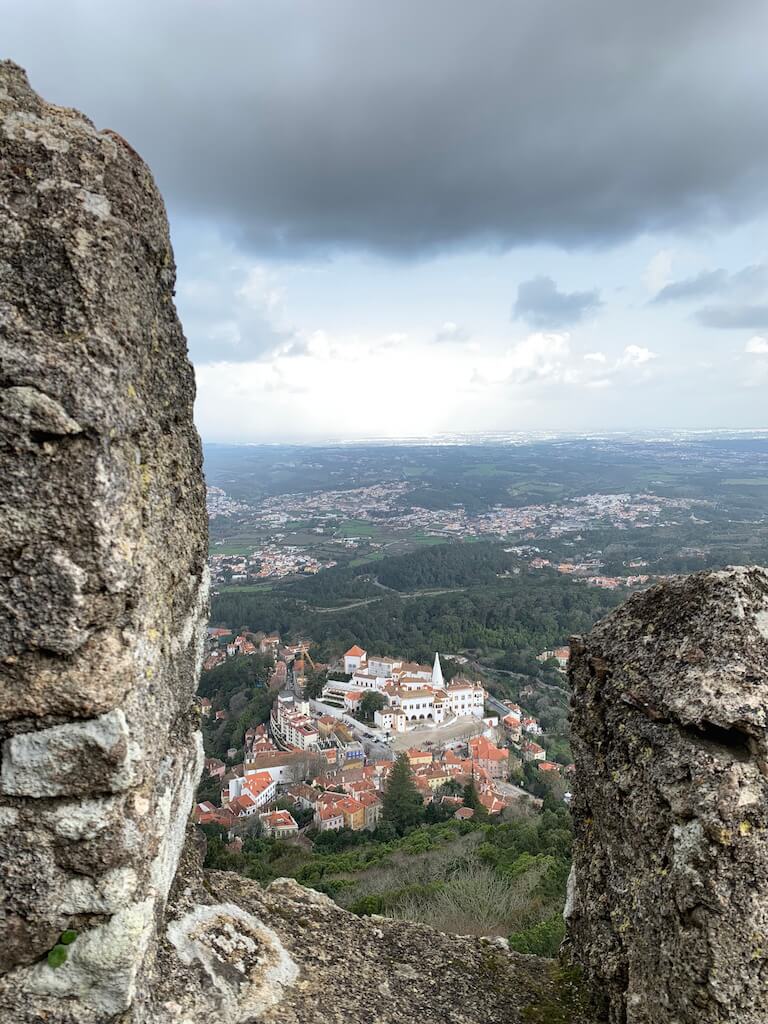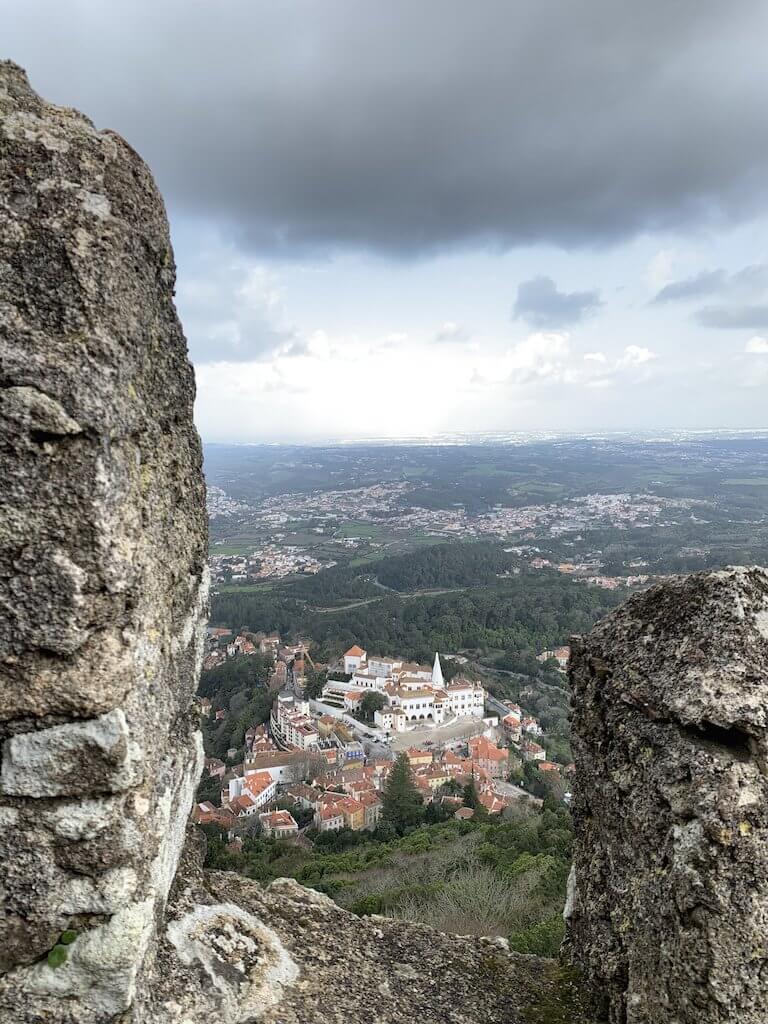 I blame it also on Lisbon. Everytime I visit, the days just disappear into thin air. I never tire of walking these streets. Always some new watering hole or restaurant to induce you into a big food coma. After almost two weeks of winding our way through Lisbon during our last trip, I found myself dreaming about visiting Sintra again. This time, I had to go. My only concern is that I had only a few hours. Plus, there is a fair amount of walking and climbing up hills involved when it comes to Sintra. From all the advice I received from friends in Lisbon, its best to dedicate a day, an overnight stay, possibly 2 nights if you want to get to the best out of Sintra.
We could take the bus to Sintra or the train. The best option in our case, given the limited time we had, was to take a guided tour. For those of you who know, read my blog will know that I'm not a fan of guided tours. In many cases, I feel like I'm being given a dreary monotonous history lesson which I could read in any guidebook. What's the point in taking a tour then? Plus I hate big groups. Not very intimate. The feeling of being herded like sheep to slaughter.
I prefer bespoke guided tours where the guide is flexible and can personalise the tour to meet your interests. So when Withlocals,a Dutch based peer-to-peer market place and startup offered me to try one of their bespoke Lisbon tours , I thought why not give them a shot. All their experiences are private and for a maximum of 8 people. As you've guessed from the name, you have a choice of locals who you can choose for your tour. In our case for Sintra, we could choose from 4 'Withlocals' to take us to Sintra. All the 'locals' had a video profile where you can learn a little about them. Which is cool but still doesn't leave much to the imagination: at some point the whole process of finding a guide to match your needs feels almost like finding a date online. Rita was the only person not to have a video profile ( she has now! Click here ) but she sounded very cool, down to earth in her profile. When she professed her love of food and local markets- that's the moment I thought she would be perfect for the tour.
The tour beautifully named 'Once Upon a Time in Fairytale Sintra' offers you the chance to take in some of Sintra's key highlights in a few hours with a few extras chucked in that include a trip to the westernly most point of Europe.
The other big advantage of taking the guided tour with Rita was the fact that she had a car and could drive us around Sintra. The narrow hill roads of Sintra are not really designed for cars but given the limited time we had to see Sintra, it was perfect to have Rita drive us around. Also since we were coming from Lisbon to Sintra and returning, Rita for a small fee , offered to pick us up and drop us off in Lisbon which was really really handy.
There are two regular inexpensive train services from Lisbon to Sintra for those who prefer taking the train. ( 40 minutes from Rossio, return journey costs €4.50 )
Hopping on the car from Lisbon was also cool because it gave us some time to break the ice with Rita and learn more about her work and about Sintra. Just as we had imagined, Rita was super cool and down to earth. Within minutes we were exchanging stories about travel, food and we clicked instantly. We also discussed a rough plan for the day and what we might be able to cover in the 4 or so hours.
So. Some background information about Sintra. The town of Sintra is just 23 kms away Lisbon. However thanks to its scenic location in the pine covered hills of the Serra de Sintra, Sintra feels like a world away from Lisbon. Because of the cooler climate in Serra de Sintra, back in the 19th century many of Europe's wealthy ruling elite and aristocracy built summer residences here. The result: the hills are draped with extravagant palaces and opulent mansions which give the town an almost Disney like fairytale feeling. Add to that the ruins of an ancient castle dating from the Moors and you get the idea that Sintra is no ordinary town.
With so much to see and so little time, the challenge in half a day in Sintra is deciding what to see. Rita's advice was given the short amount of time, to avoid the colourful, eclectic Pena Palace where hordes of tourists were arriving even at the early hour of 10am.
We happily skipped Pena Palace and headed straight to the haunting Castelo dos Mouros, a fortification that the Moors built in the 8th and 9th centuries. Built at elevation of 574 feet, thanks to to its advantageous position the Castle was an important strategic point during the Reconquista before it fell to Christian forces after the siege of Lisbon in 1147. The earthquake of 1755 caused considerable damage and the castle fell into a further state of neglect.
The castle to the present day has this feeling of being broken, unloved in parts which lends to its charm. We really enjoyed walking along the rugged inner walls of the castle from where you get a pretty amazing panoramic view of Sintra and beyond. The weather on the day we visited in January was quite temperamental which in some ways added to the atmosphere. The picture below gives you an idea.
From one of the towers we also got a birds eye view of the exterior of the dreamy Pena Palace.
We wind our way down to our next stop, the mysterious and lovely Quinta da Regaleira.
On our way, a few things catch our eye.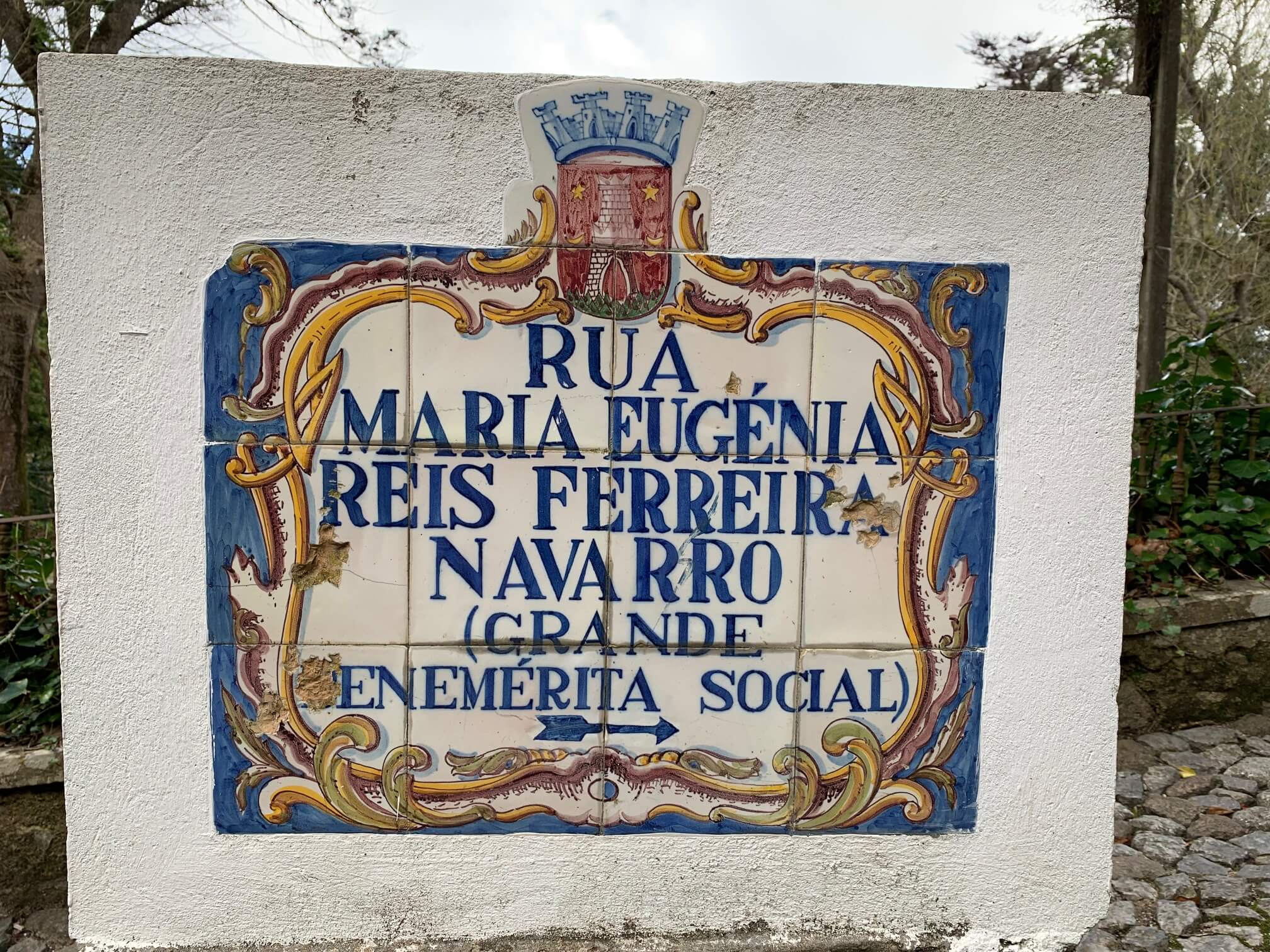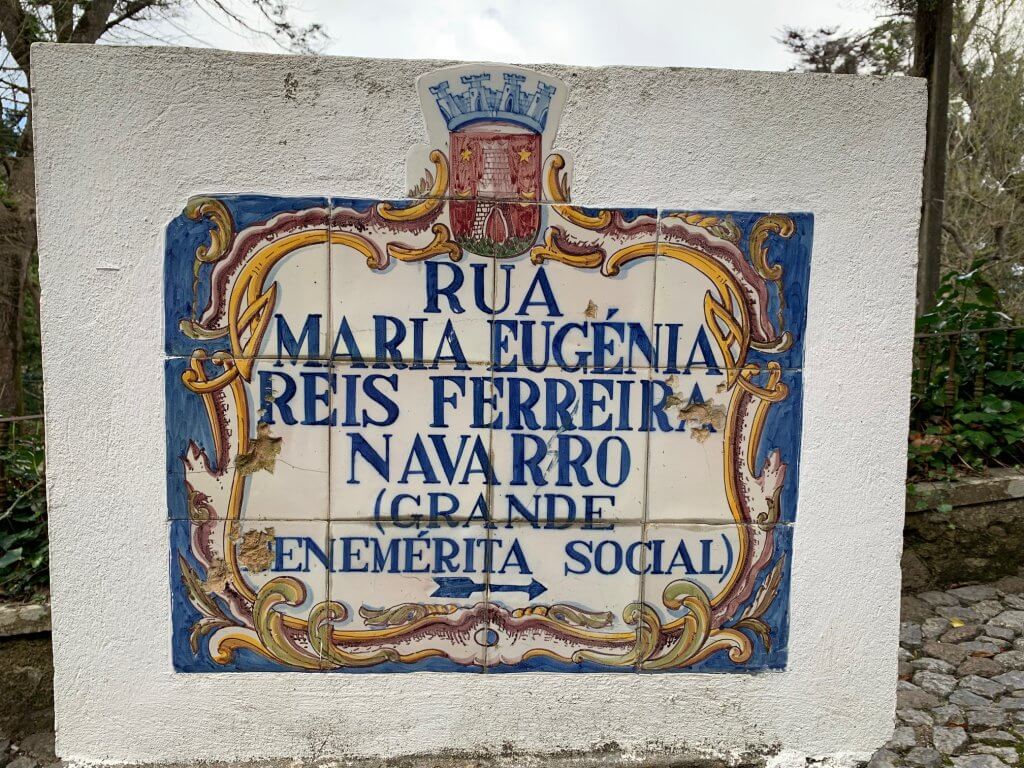 1. The street names, made from painted ceramic azulejos tiles, a typical feature of any trip to Portugal, always draw me in.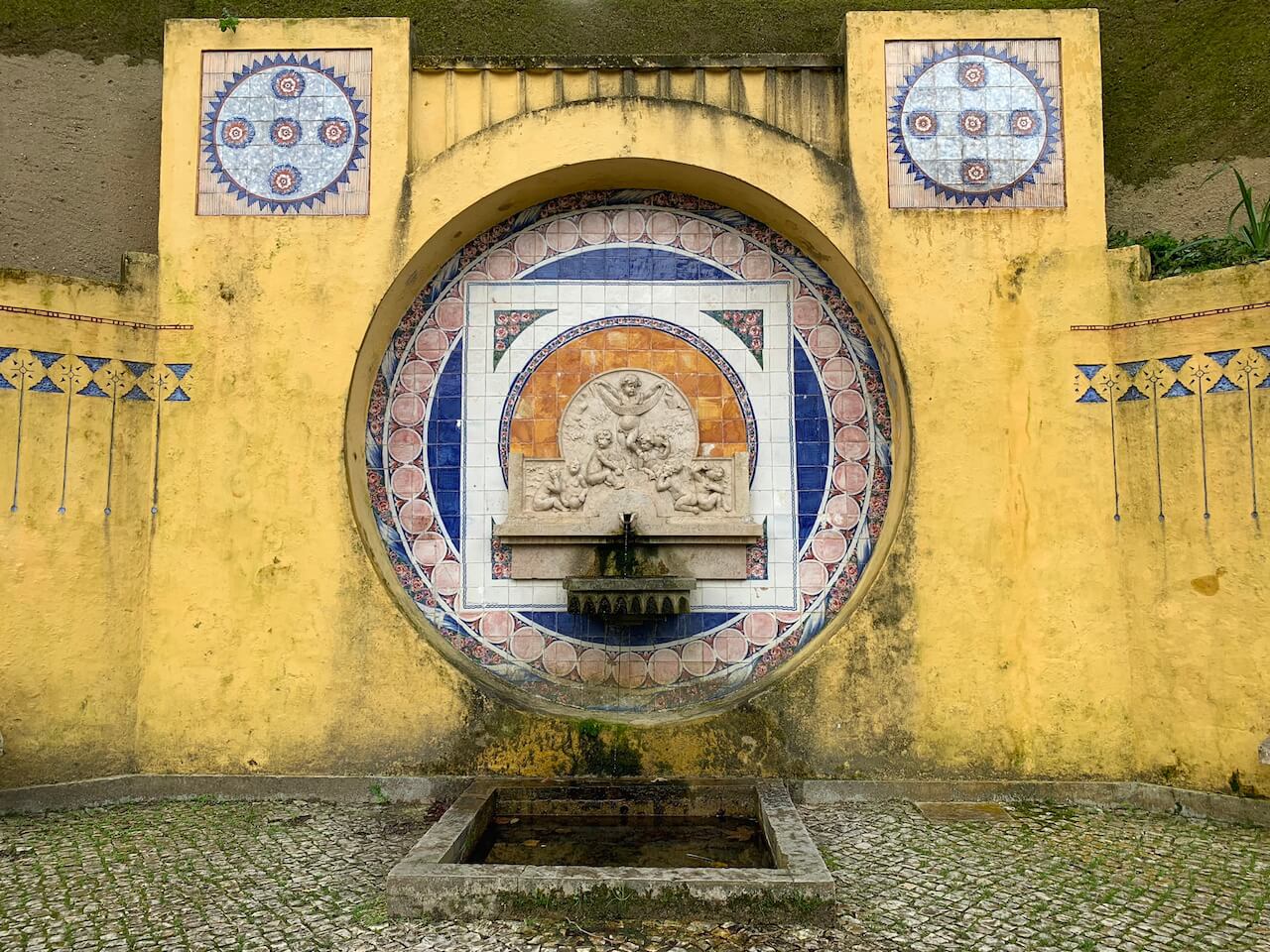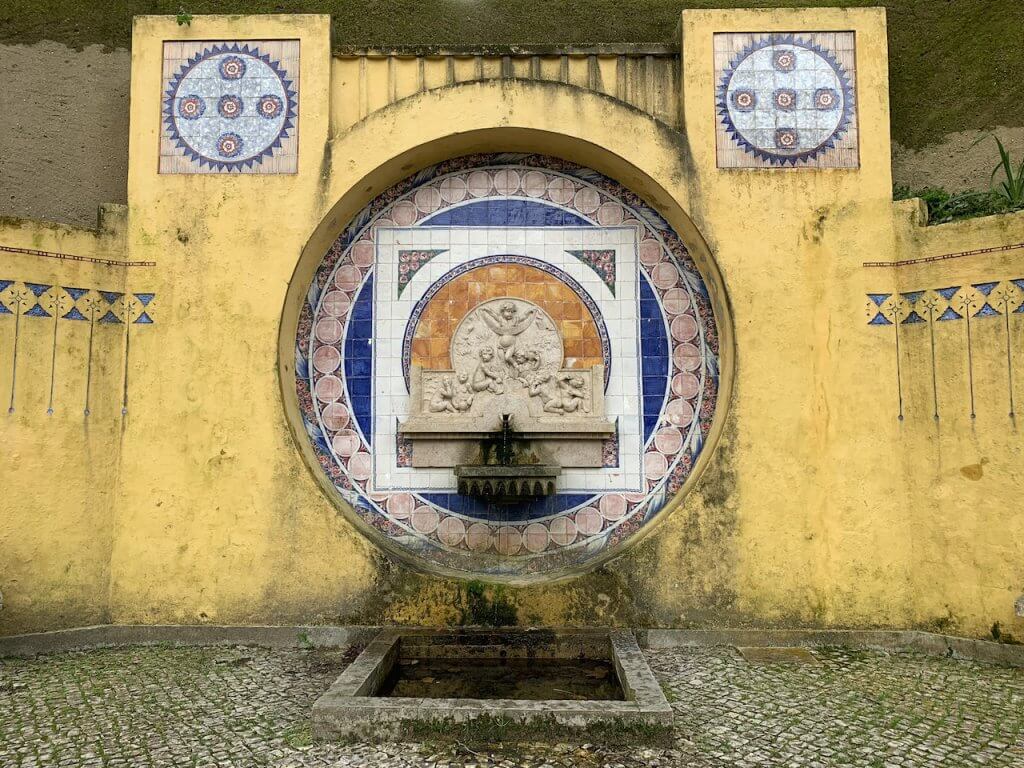 2. Another thing I loved walking around Sintra were the lovely drinking fountains. A legacy of the Moorish rule, the level of detail and colours really takes your breath away.
We finally arrive at the Quinta da Regaleira and the place really takes your breath away at first sight. From waterfall lakes and labyrinthine grotto's to a chapel and the palace itself- it's mesmerising but at the same time, the place feels quite strange. You never know quite what lies ahead.
Once owned by the Baroness da Regaleira, towards the end of the 1800's, the quinta came into the ownership of a certain Carvalho-Monteiro, a distinguished bibliophile, collector and philanthropist. He commissioned Luigi Manini, a famous opera and theatre designer to incorporate his mysterious iconograpical vision into the Neo-Manueline style of the estate.
Rita had been visiting the Quinta since she was a child. The place has always had a hold on her because of the mysticism and stories behind the beautiful facade- Carvalho Monterio was a devout Mason and had incorporated masonic imagery and symbols in several places across the estate.
The most fascinating and eerie masonic imagery can be found beneath the grounds of the estate in the mysterious Initiation Well.
It is not one well but actually a pair of wells that drill deep into the earth. ( Rita later took us to the not so well known sister well which not many tourists are aware of. #winning#sometimesguidescanbeawesome )
One of the strange stories behind these wells was that they were never used for their supposed purpose: water collection. The clue to the true purpose of these twin wells lies in the design of the well. You have to descend five floors and pass nine platforms to the bottom of the well. These nine platforms were created to actually remind visitors of the nine circles of Dante's Hell. It is a pretty dark inside the well and feels claustrophobic. Not quite like hell but still, an eerie feel. At the bottom when you're looking up, besides the hundreds of iPhones and cameras flashing away, you'll see on the inner walls, the Moorish design & certain Masonic symbols ( You'll spot the Greek god Dionysus featured throughout the estate, a popular symbol in the Masonic world )
The wells according to Rita where used for several initiation rites, some of a dubious kind. I'll let your imagination wonder and figure out what these may been.
Lord Byron once called this place "a glorious Eden."
Portugal's greatest poet, Luís Vaz de Camões called the Quinta an oasis where "every pool and stream has Nymphs in its waters,"
We didn't see nymphs but glorious the Quinta is.
We had ate up a lot of time in the Quinta but we had time for one more key highlight before leaving Sintra.
We amble into the town centre. Along the way Rita briefly stops to point out the historic Lawrence Hotel where a certain Ernest Hemingway once stayed.
Our main stop is something of a local institution- Piriquita which for the last 160 years has been satisfying the sweet tooth of locals and visitors alike. Founded by Amaro dos Santos, a baker by trade and his wife Constância Gomes, the couple initially were famous for baking the local pastry Queijada (a cupcake-like, egg and milk pastry) for King Carlos I who used to holiday in the summer in Sintra. Later in the 1940's, the niece of the couple, Constância Cunha came up the idea of Travesseiro– a pastry stuffed with sweet eggs and with a almond touch.
We quaff a few of these delicious Travesseiro's -well earned after walking up and down the winding steep paths of Sintra.
After Piriquita, Rita drives us out for a brief stop at Cabo do Roca, the westernly most point of Portugal and Western Europe. It is quite an atmospheric place with pretty stiff winds battering you from the wide expanse of the Atlantic. The view point from where you can see the rugged dramatic coastline is beautiful but with the baggage of hundreds of tourists all keen to take the same photo as you. After an obligatory ' I was here' photo or two, we quickly clamber into Rita's vehicle.
The journey back via the scenic coastal town of Cascais is pleasant. Rita was great company and besides sharing tips of cool places to eat and drink in Lisbon, we talked a lot about life, food and travel. At the end, she felt less a guide and more a friend that I hope we will meet again in the near future. To summarise, it was a beautiful day spent in lovely company and also visiting a pretty wondrous place.
Sintra.
No longer a figment of my imagination but still a place that lives on in my thoughts and dreams.