What would you do in 24 hours in Madrid?
That is the challenge I faced recently on a quick visit to the capital city. I visited Madrid as part of a whirlwind 5 day rail trip to Spain where I visited the cities of Tarragona, Zaragoza, Madrid and Seville. I've already covered my 24 hours in Tarragona and 24 hours in Seville. In the 3rd instalment of the series, I going to share with you some tips of what you see, eat and drink in 24 hours in Madrid with some bonus tips.
To summarise what I did, check out my tips below
PS If you've enjoyed following my #SpainByTrain adventures. I'm pleased to share with you a cool competition where you have the chance to win two RENFE passes! Please scroll to the end of this post for details on how to enter.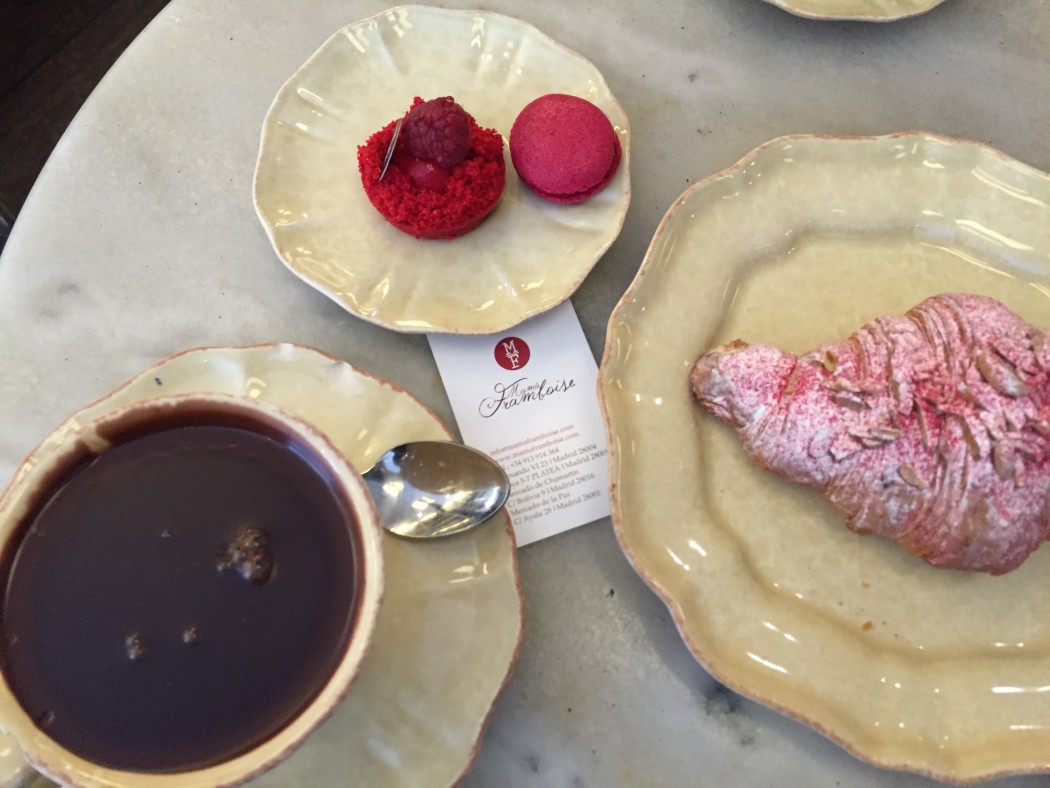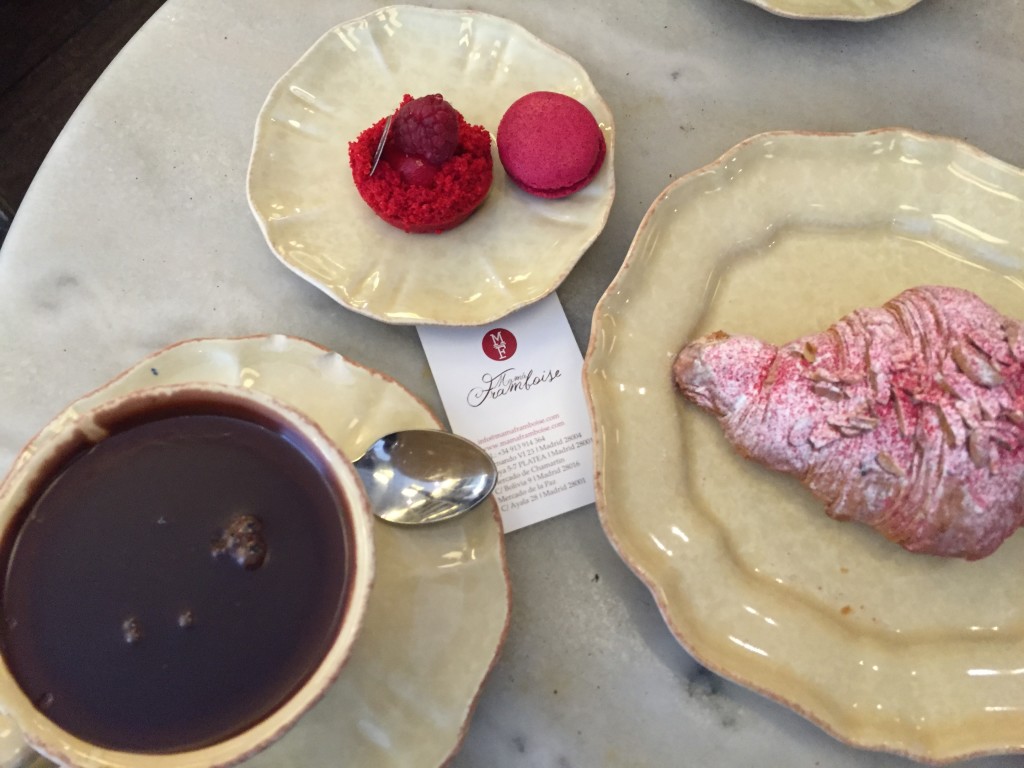 Mama Framboise
We started the day at Mama Framboise (Cost: Hot chocolate, Macarons and Croissant: €8 ) in the Justicia district of Madrid, just a stone's throw away from the Room 007 Hostel in Chueca. This is possibly one of the best bakeries I have ever been to in my life. No exaggeration. Hot chocolate was delectable, the macarons the finest I've tasted outside Paris ( haven't tasted that many outside Paris tbh but it was GOOD) plus their signature framboise almond croissant is the bomb. Must visit when in Madrid. I promise. You will not regret visiting here and will thank me later for this tip.
Food tour with Devour Madrid
Time: 3.5 hours. Cost: €65
Madrid is all about the food. I explore cities through my belly and if there is one thing I often like to splurge on, that is a good meal with a nice bottle of wine or a top notch food tour. There's nothing like exploring a neighbourhood through the eyes of a local and in this case we enlisted the help of Mette Juhl from Devour Madrid food tours. Mette took us on a fun, fact filled and thoroughly enjoyable 3.5 hour romp through the nooks and crannies of the Huertas neighbourhood. Besides enjoying a great literary heritage , Huertas has some of the city's finest and most historic eateries. The tour is a journey through the real heart of authentic Spanish cuisine: from drinking the finest vermouth to tasting the most delicious Jamon Iberico and also savouring Porras con Chocolat. Mette was a very informative , relaxed guide with a very sunny disposition: it felt like I was being guided by a friend rather than a stranger. This is the best €65 you will invest on a trip to Madrid so highly recommend this. (More in-depth review coming up later)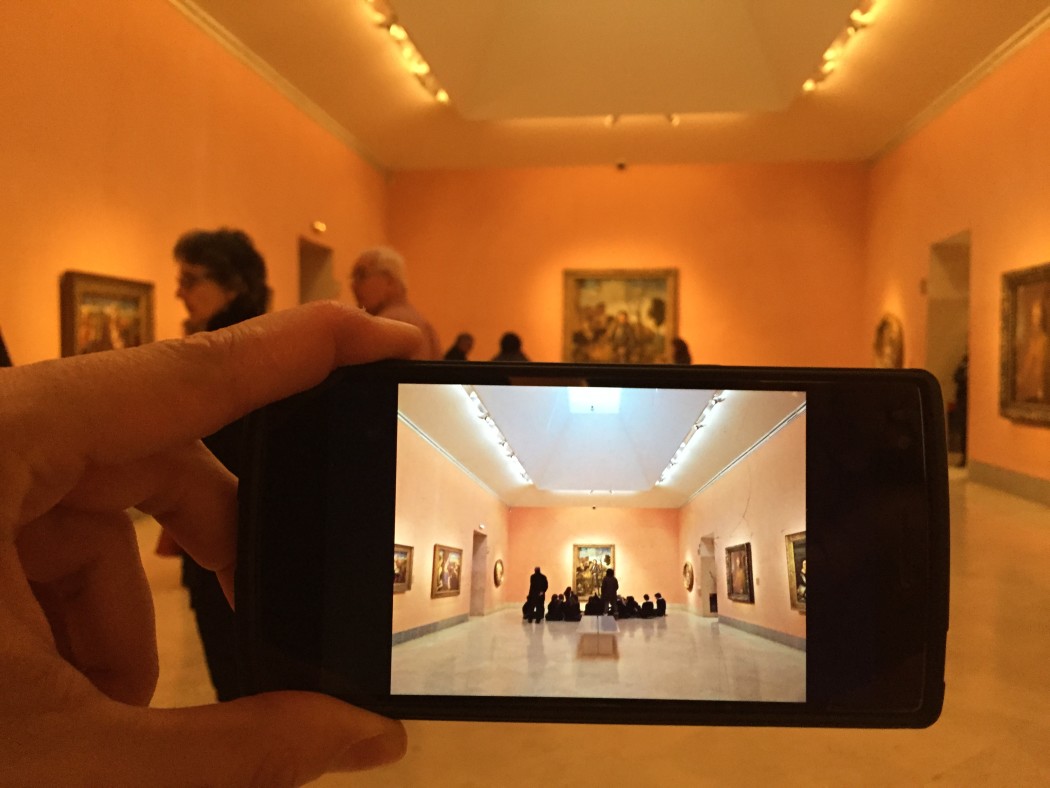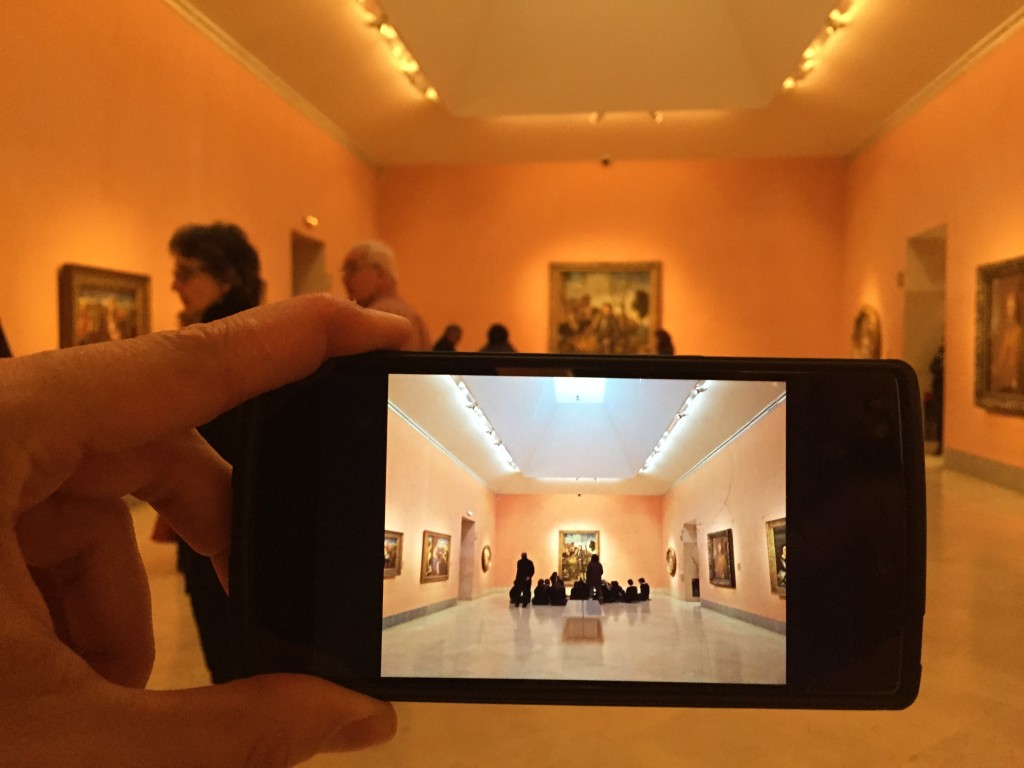 Thyssen-Bornemisza Museum
Entry fee: €12 Free: Monday 12-4pm
Thyssen-Bornemisza Museum is probably my favourite art museum in Madrid and the only one I would personally recommend you visit. Matter of personal taste but I love this museum's eclectic and varied collection. There is something for everyone from Munch, Van Gogh, Monet, Picasso, Dali, Whistler, Tintoretto, to Hopper and Roy Lichtenstein. Amazing collection.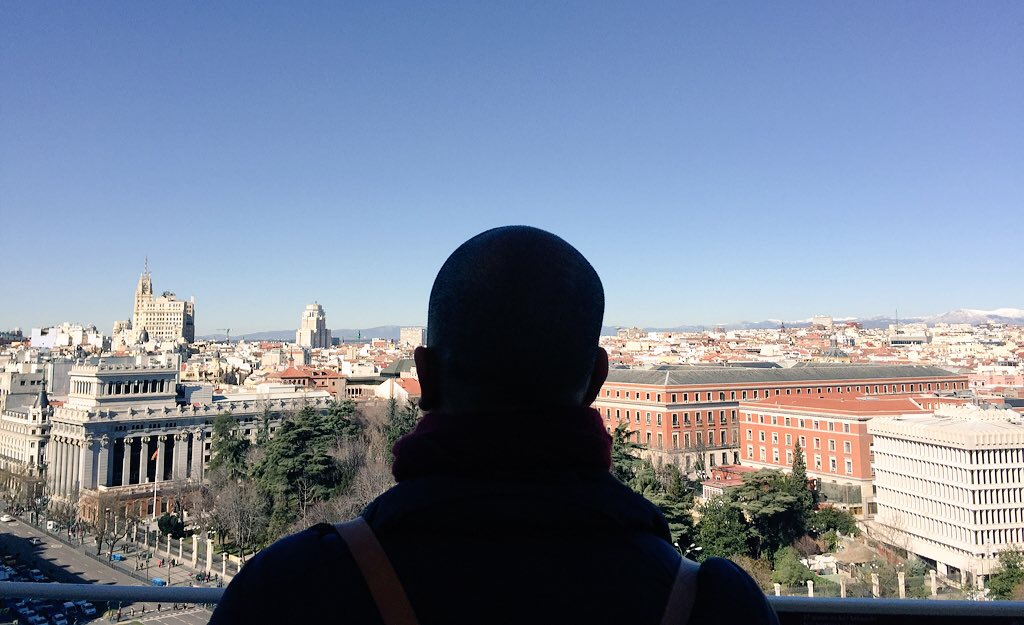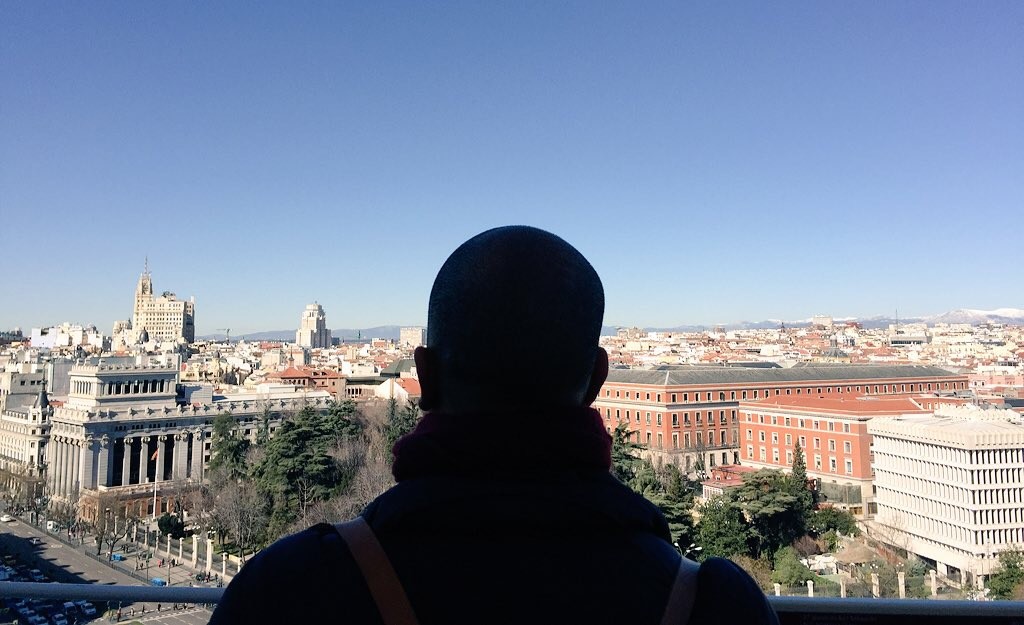 Palacio de Cibeles
Entry fee: €2
Come here for the panoramic views of the city, overlooking the iconic fountain of Plaza de Cibeles ( where all Real Madrid supporters celebrate their triumphs in major competitions )
Parque de El Retiro
€Free
El Retiro or Parque de El Retiro is where all locals come to relax and escape the hustle and bustle of Madrid life. The centrepiece of the park is the magnificent Palacio de Cristal.
Built in 1887 in the shape of a Greek cross ( to house flora and fauna from Philippines) and influenced by the legendary Crystal Palace of London, the Palacio de Cristal is a beautiful glass and metal edifice in Retiro park, great to wonder around , especially during sunset on any evening in Madrid. Plus its free! Also do pop into the next door Palacio de Velaquez , a beautiful building where they frequently host art exhibitions. This is free also to enter.  The park has also a magnificent lake where you can hire and row your own boat. Altogether a lovely park.
Dinner and cocktails at Saporem
Cost €18
On Calle Ventura de la Vega is the lovely Saporem restaurant, next door to the fantastic Room 007 Chueca hostel. If you want a break from Spanish food and looking for something modern but varied , this is a good place to visit. Start your meal with one of their excellent mojitos. They do stone baked pizzas and delicious pastas. I enjoyed their chicken curry while my mate Rui had their steak tartar which he really enjoyed. Great value, great service and a beautiful post industrial interior decor-highly recommend.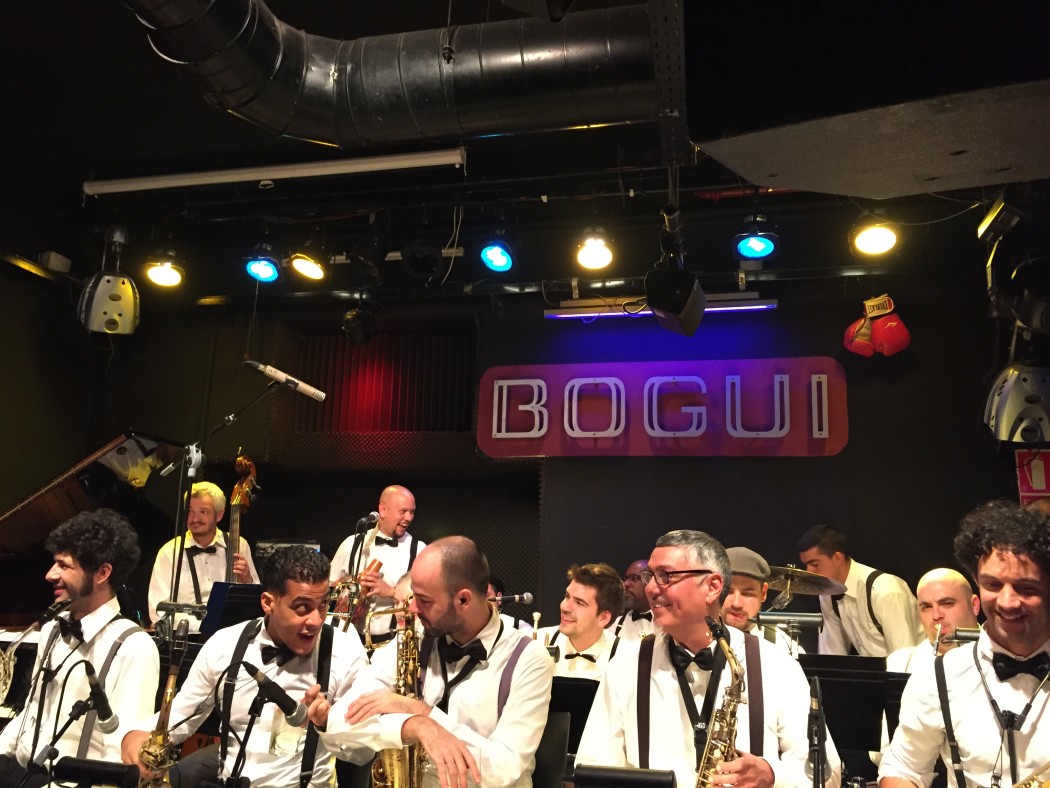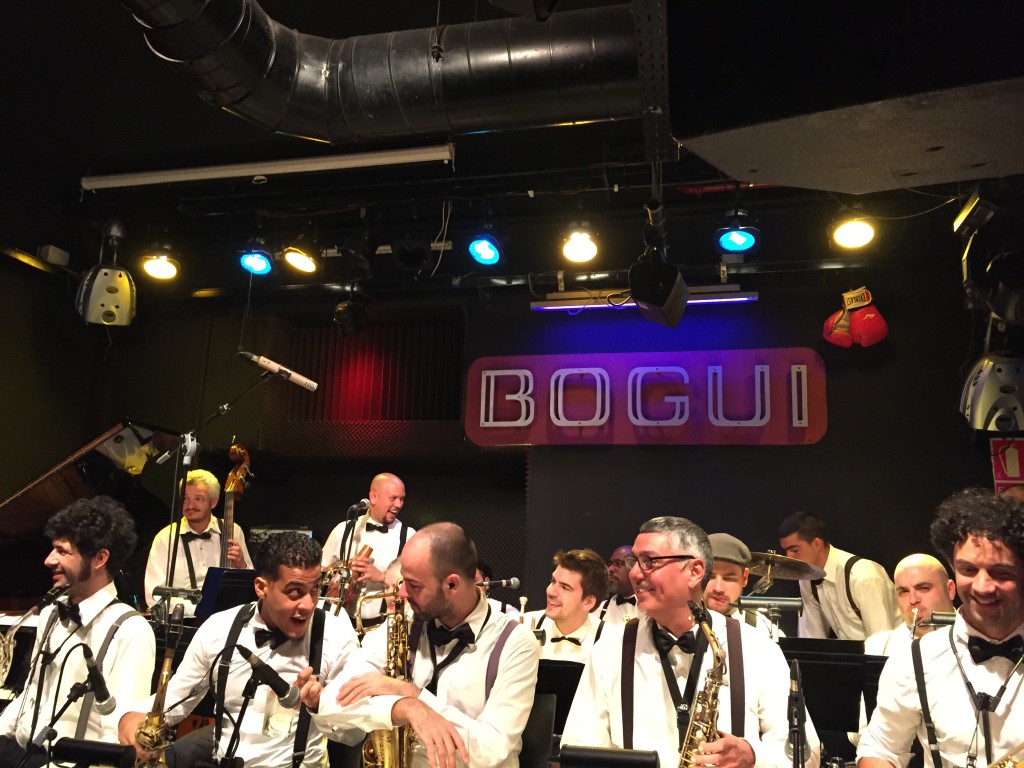 Bogui Jazz
Entry: €10
Bogui is the place to be if you love jazz, funk and soul music. Loved the atmosphere. Jampacked.  For a few hours we didn't feel like we were in Madrid but in a bar in Havana.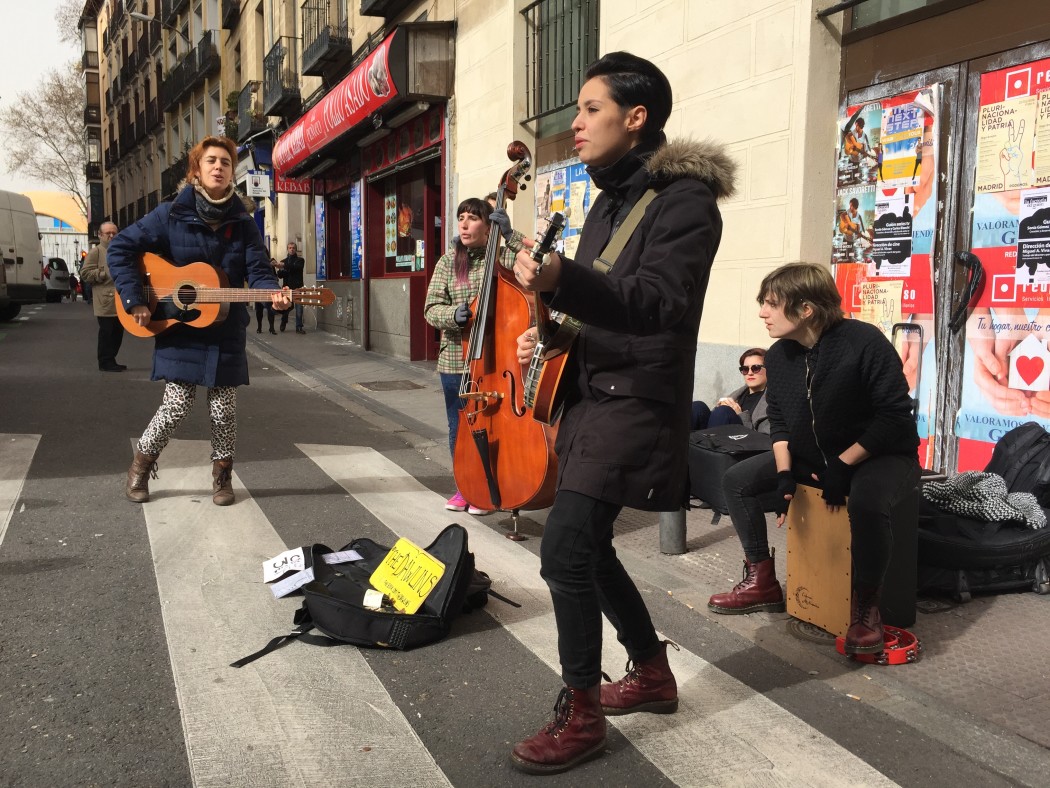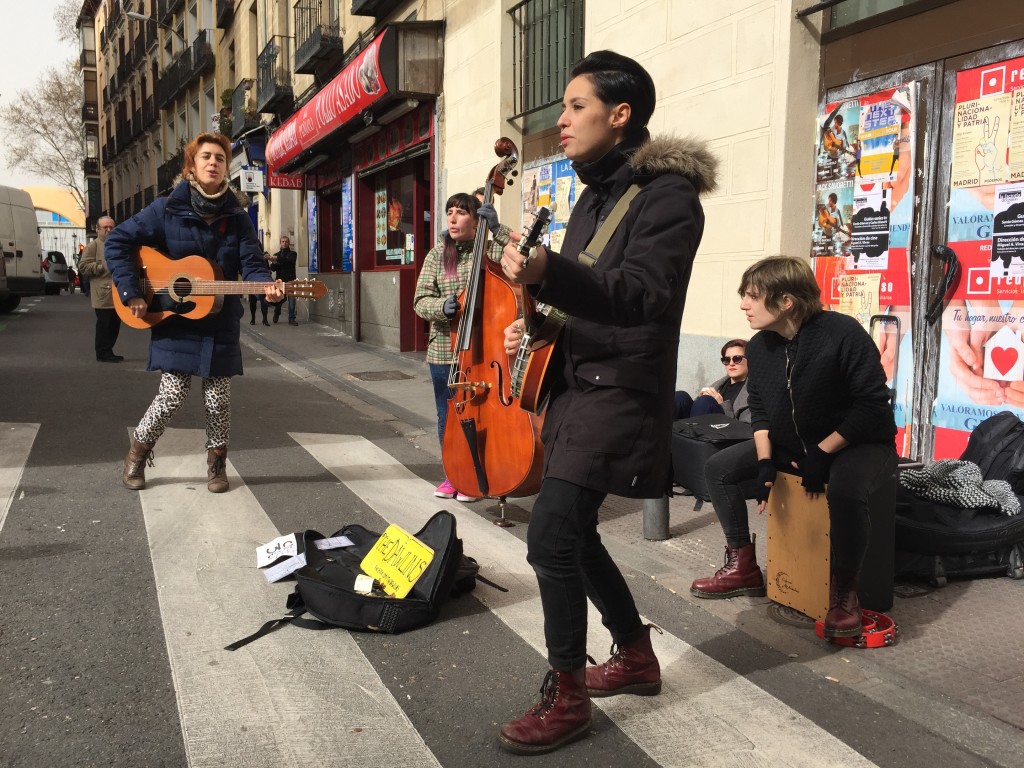 El Rastro de Madrid
€Free
If you are in Madrid on a Sunday going to the El Rastro , an open air flea market is a must. The quality of offering is pretty naff but the general, festive atmosphere is really fantastic. Lots of great street musicians come and perform. Reminded me a lot of Mauerpark in Berlin.
Tapas crawl in La Latina
After the Rastro we ambled through the picturesque streets of La Latina, joining the locals in the sunday ritual of bar hopping: I call it a 'tapas crawl.' The quality of food and restaurants in this barrio is of a really high quality so you can't go wrong but I would recommend the historic Posada de la Villa ( Cana of beer and glass of wine with free tapas: €8 ) and the warm and colourful La Perejila where they serve excellent vermouth & serve pulpo a la Gallega on a bed of creamy mashed potato and bread-food heaven my friends. (Cost €7.50)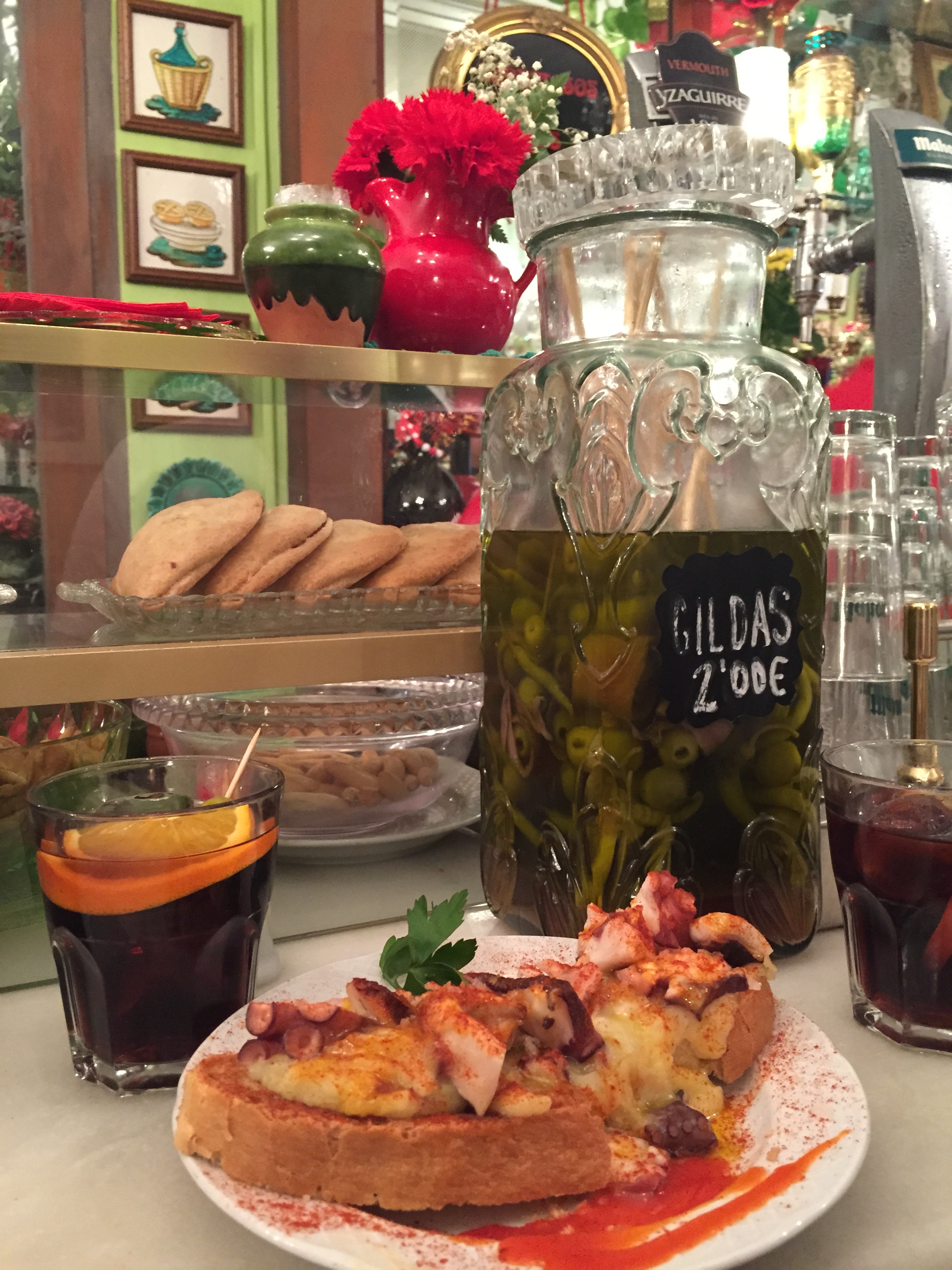 After eating to our heart's desire we wondered through the stately square of Plaza Mayor lined with cafes and restaurants.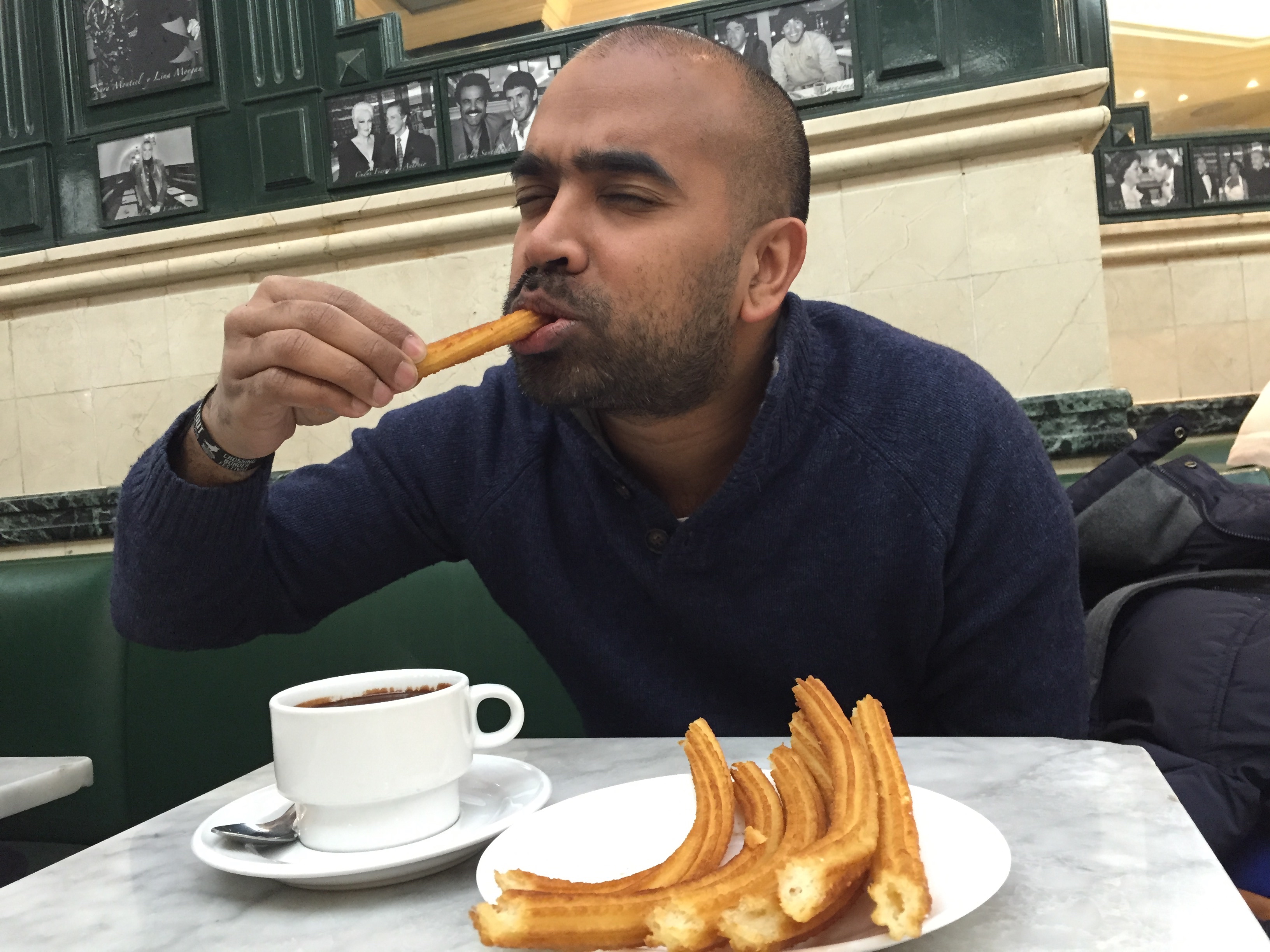 Chocolateria San Gines
Breakfast, lunch , dinner or at 4am after a night of clubbing: do not leave Madrid without checking out the historic Chocolateria San Gines which makes some of the finest churros and porras with chocolate. This stuff will blow your brain , belly but not your wallet: 6 churros + a cup of dark, not too sweet hot chocolate will cost you just €4.
If you haven't had your fill of art, do make a point of visiting La Neomujadar, an avant garde arts centre which focuses on experimental art along the lines of Tacheles in Berlin and La Cartucherie in Paris. Provocative, weird, unusual and very original- this place is definitely an 'experience.'
Sunset at Temple de Bod
One of the most unique aspects of my trip to Madrid was the surreal view of this ancient Egyptian temple that was dismantled and then rebuilt in Madrid, Spain. Come during sunset when the sky dims and the lights switch on: magical stuff.
Bar Palentino
Total cost: €8 
As true to its description on Lonely Planet, there is nothing remarkable looks wise about Bar Palentino from the outside and inside. It is your typical, no frills Iberian bar. On a jam-packed Saturday evening we walked in to find a La Liga match showing on the TV in the corner with a few weary haggard looking guys huddled in one corner sipping on the local draft beer. Besides the excellent beer on tap they do really good bocadillos stuffed with steak or jamon,
Other costs: Instead of a day pass, invest in a 10 pack of Metro tickets which costs €12.20
WIN 2 RENFE passes: Your chance to create your own Spanish railtrip
You've followed my trip and you've downloaded the guides: 24 hours in Tarragona, 24 hours in Zaragoza, 24 hours in Seville. Now it is your turn to create your own Spanish rail-trip and to help you achieve that goal, the BudgetTraveller has partnered with the guys at RENFE to give you the chance to win two RENFE passes. RENFE pass gives you flexibility to explore Spain at leisure, similar to a Eurail pass. Do be in a chance to win these two RENFE passes, simply answer the following question:
Which cities did I visit on my #SpainbyTrain adventure?
1.Madrid, Barcelona, Valencia
2.Tarragona, Zaragoza, Madrid, Seville
3. Málaga, Granada, Seville