How to spend 2 days in Munich? So much to see and yet so little time to see it all. Even though I love living in Berlin, I've always had a soft spot for Munich. Why? Well, Munich was the location for one of my first major blogging projects- the epic 15 hour easyJet Blogger challenge, back in 2011. It is pretty amazing what you can see and do in just 15 hours as you can see from this video. Lord, I have aged a bit since then but still, I got the energy and curiosity to travel. Plus, yes, I still love my beer. Especially the beer from Bavaria. So when the lovely people at Wombats Munich invited me down to Munich to rediscover the city earlier this summer, I was understandably excited and emotional. So. Without further delay, I present to you my account of my 48 Hours in Munich.
Where to Stay in Munich on a Budget
Wombats Munich
Like its sister hostels in London, Vienna and Budapest, Wombats Munich is a fantastic place to base your Munich exploration. The hostel is conveniently located, just a stone's throw away from the Munich main train station. The staff are congenial and welcoming and the hostel interiors are clean and bright. There is a splendid glass-roofed courtyard with real trees to relax in. Perfect place to sleep off the hangover or plan the next leg of your trip.
There's also a cool new self catering kitchen to cook your own meals which definitely is a huge plus. The other thing I love about this hostel is the fantastic womBAR which has some of the cheapest and best beers in town. Every evening, I would also end up here for drinks, playing pool and hanging out with other fellow backpackers. Definitely do not miss their happy hours when you can have a beer for as little as €2.50! Plus I also recommend the hostel free walking tour of Munich-tour starts at 10.45am from reception and last 2-3 hours.
The rooms are clean and comfortable -besides a number of private ensuites ( with balcony!) all the dorms have their own private showers and toilets. Other big plus is the walking distance from the Oktoberfest fair grounds. Plus a special mention to the staff at Wombats and Matthias -really helpful and they have the best travel tips!
Rooms at Wombats City Hostel Munich start from €16 a night
DAY 1
1. Head to Marienplatz and observe the Glockenspiel
I start my 2 days in Munich in the absolute heart of Munich – Marienplatz which has been the main city square since 1158. It is bordered by the Gothic spires of the New City Hall to the north, the Old City Hall to the east and since the Middle Ages, has very much been the place where all the action occurred. Tournaments and markets were hosted in the central square. Nowadays, tourists flock to view the delights of the ornate glockenspiel. Twice a day (and thrice a day in summer) (11am, noon, or 5pm) the clock comes to life and 32 life-sized characters dance to delicate chimes. The show lasts for about 15 minutes and reenacts, among other things, the love story of Duke Wilhelm V with Renata of Lorraine. Who can resist an age-old love story?
Address: Marienplatz, 80331,Munich, Germany.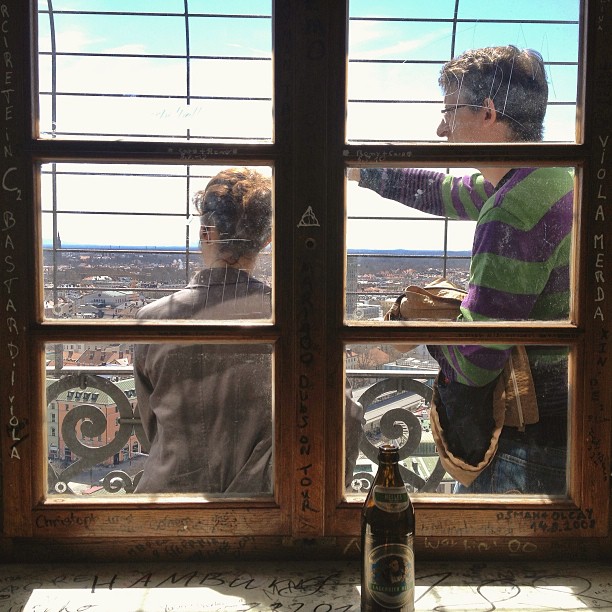 2. Climb St Peter's Tower
Not far from Marienplatz, stands the 91 metre tower of St Peter's Church. 301 steps and 14 flights of stairs up the tower will enable you to look down upon the beautiful architecture of old Munich. On a clear day you will be rewarded to views of the snow-clad Alps. St Peter's is the oldest standing parish church in Munich (hence its name Old Peter) and apart from the view from the tower, the church interiors, including five Gothic paintings by Jan Polack and altars by Ignaz Gunther are worth noting.
Address: Rindermarkt 1, 80331,Munich, Germany.
3. Residenz
The north side of Marienplatz is dominated by the imposing structure of the Residenz Palace. This was the seat of power for the Wittelsbach dynasty, ruling for over 700 years. If you are willing to splurge on a ticket (7 euros) you will be treated to glimpses of the opulent Palace Treasury, the Cuvillies-Theatre, which staged the first production of Mozart's Idomeneo opera.
Address: Residenzstrasse 1, 80333, Munich, Germany.
4. Viktualienmarkt
It's heading to near lunch time. What better way to celebrate it than with a pre-lunch beer in the idyllic biergarten at Victualienmarkt? You'll find even the locals sipping on the Weissbier. It's the perfect way to quench your thirst whilst you indulge in a spot of people watching.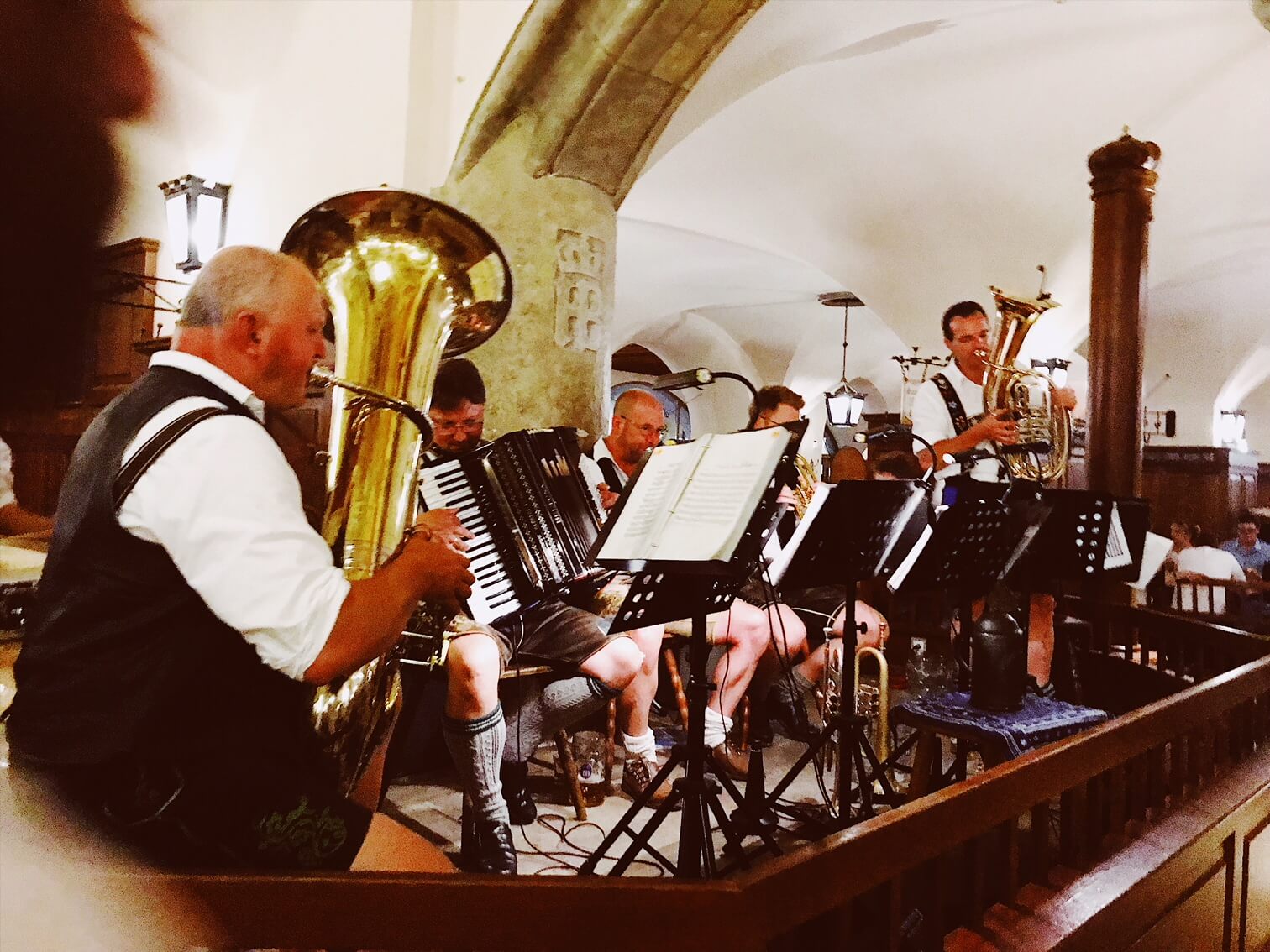 5. Beers and late lunch at Hofbrauhaus
A trip to Munich would be incomplete without a visit to the famous Hofbrauhaus of Munich. It's every bit as loud, raucous, over the top as you imagined it. Evenings are very busy, so lunch time is a better time to take in the atmosphere. The concept of the Hofbrauhaus focuses on extending the Oktoberfest celebrations to a year -long extravaganza of beer drinking, enjoyment and merriment. Although service might not be the very best, the cost of beer by the stein is quite cheap, you can indulge in hearty Bavarian fare and listen to an Oompah brass band to top it off.
Address: Platzl 9, 80331, Munich, Germany.
6. Englischer Garten
Kick off the post lunch coma with a walk through one of the most beautiful, green parks in the whole world. The Englischer Garten is larger that New York's Central Park and has many aspects to enjoy. It has the charm of rides on horse drawn carriages, beautiful free-flowing waterfalls, Japanese tea houses and even surfers riding a man-made 'standing wave'. The park has greenery, beauty, relaxation and a place to escape Munich's cityscapes. It's the perfect place to spend the afternoon and relax.
Address: Englischer Garten 2, 80538, Munich, Germany.
7. Dinner at Augustiner Keller
More beer? Augustiner Keller is the third largest beer garden in Munich and has opened its doors to enthusiastic beer drinkers since 1812. The beer garden, like many others, has a self-serviced and serviced area. Beers are served directly from the barrel and each opening of a new barrel is greeted with a bell and much fanfare. There is no better way to appreciate the long summer evenings in Munich than by enjoying a bite to eat, along with good beer in this beer house that stays open till midnight. Plus, the option of bringing your own meal is a tremendous budget-saving option.
Address: Arnulfstrasse 52, 80335, Munich, Germany.
8. Dance the Night Away at Killian's Irish Pub
Dancing at an Irish Pub in Munich might seem a bit of a strange thing but it is indeed a good way to dance off those beers and bratwursts- before indulging in more. If you're still feeling peckish, enjoy the pub food whilst listening to the live music. Alternatively there's a fantastic sports screen to enjoy a game. Outdoor seating on the terrace is the perfect option on balmy summer nights.
Address: Frauenplatz 11, 80331, Munich, Germany.
DAY 2
9. Head to the Container Collective
After enjoying a very filling and excellent breakfast at Wombats Munich, the perfect way to kick off your sunday/Day 2 in Munich is by paying a visit to a creative art space with a difference called the Container Collective. Creative geniuses have converted nothing other than old shipping containers into a very cool creative space at Werksviertel, near Ostbahnhof. Many of the 27 containers are filling up. Everything from motorbike workshops to cocktail schools, to theatre performances are hosted here. Enjoy the cool artworks on the containers and have another coffee before heading to our next stop.
Address: Atelierstrasse 10, 81671, Munich, Germany.
10. Alte Pinakothek/ Neue Pinakothek and Pinokothek der Moderne
Continue in the indulgence of the Munich cultural experience with an morning of exhibition hopping at the Alte pinakothek/ Neue Pinakothek and Pinokothek der moderne. The Alte Pinakothek has one of the most estimable collections of Old Master paintings in the world. German, Netherlandish, Dutch, Italian, French, Spanish and Flemish paintings stand side by side. Don't neglect seeing masterworks from Pieter Bruegel and Peter Paul Rubens. The Neue Pinakothek features 19th century art and the Pinokothek der Moderne exhibits modern art. Pinokothek der Moderne is probably my pick of the lot with their awesome mix of modern art, installations and multimedia work. Currently they have an exhibiton of the works of the Danish installation artist Olafur Eliasson which really took my breath away-must visit when you're in Munich!
Top tip: If you are lucky to be in Munich for the weekend, visit each of these fantastic museums for just €1 on a Sunday.
Address: Barer Strasse 27, 80333, Munich, Germany.
11.Lunch at Zum Koreanear for cheap and delicious Korean food
Munich doesn't have a great diversity of Asian foodie joints like Berlin so Zum Koreanear in the University district is definitely a place to bookmark. It is a pretty unpretentious, elbows on table kind of joint where the food portions are generous and the food is Korean canteen style tasty too. No table service means the prices are low for food and drink. Come early here as the place fills up pretty quickly here.
Or…Afternoon Drinks or Flammkuchen at Cafe im Vorhoelzer Forum
Highly recommended the Flammkuchen accompanied with afternoon drinks at the Cafe im Vorhoelzer Forum. This is a laidback, simple cafe but the piece de resistance is the sweeping view from the rooftop of Munich's architecture faculty at the Technical University. The interiors are minimalistic and the food prices reasonable.
Address: Arcisstrasse 21, 80333, Munich, Germany.
12. Coffee at the Lost Weekend
If you like discovering cafes with a 'locals only' vibe, then you will love Lost Weekend in the University district. It has a cool mix of identities- bookstore meets cafe meets coworking space. The place is naturally popular with the university crowd and freelancers so it always has a nice vibe plus the coffee here is really good.
Address: Schellingstraße 3, 80779 München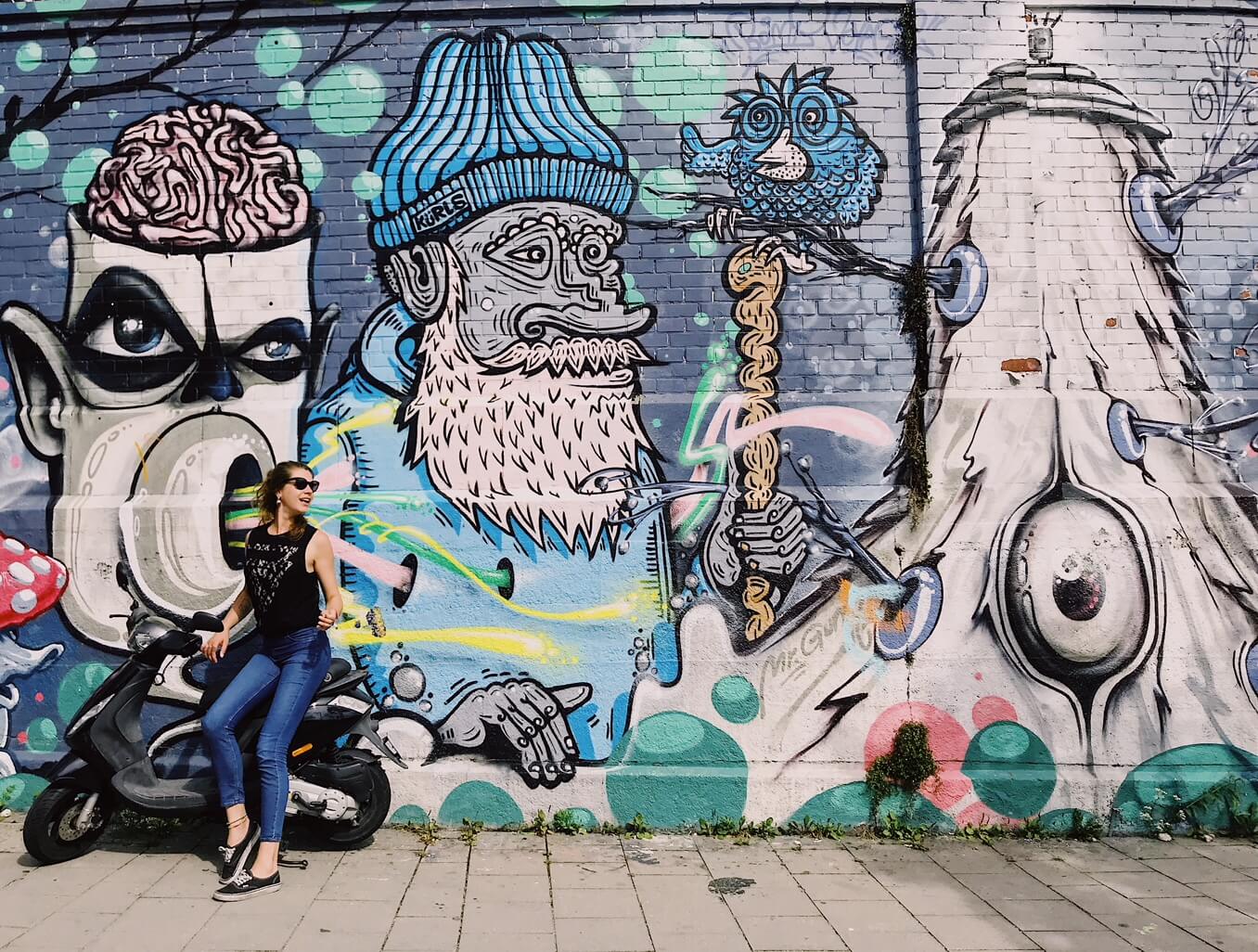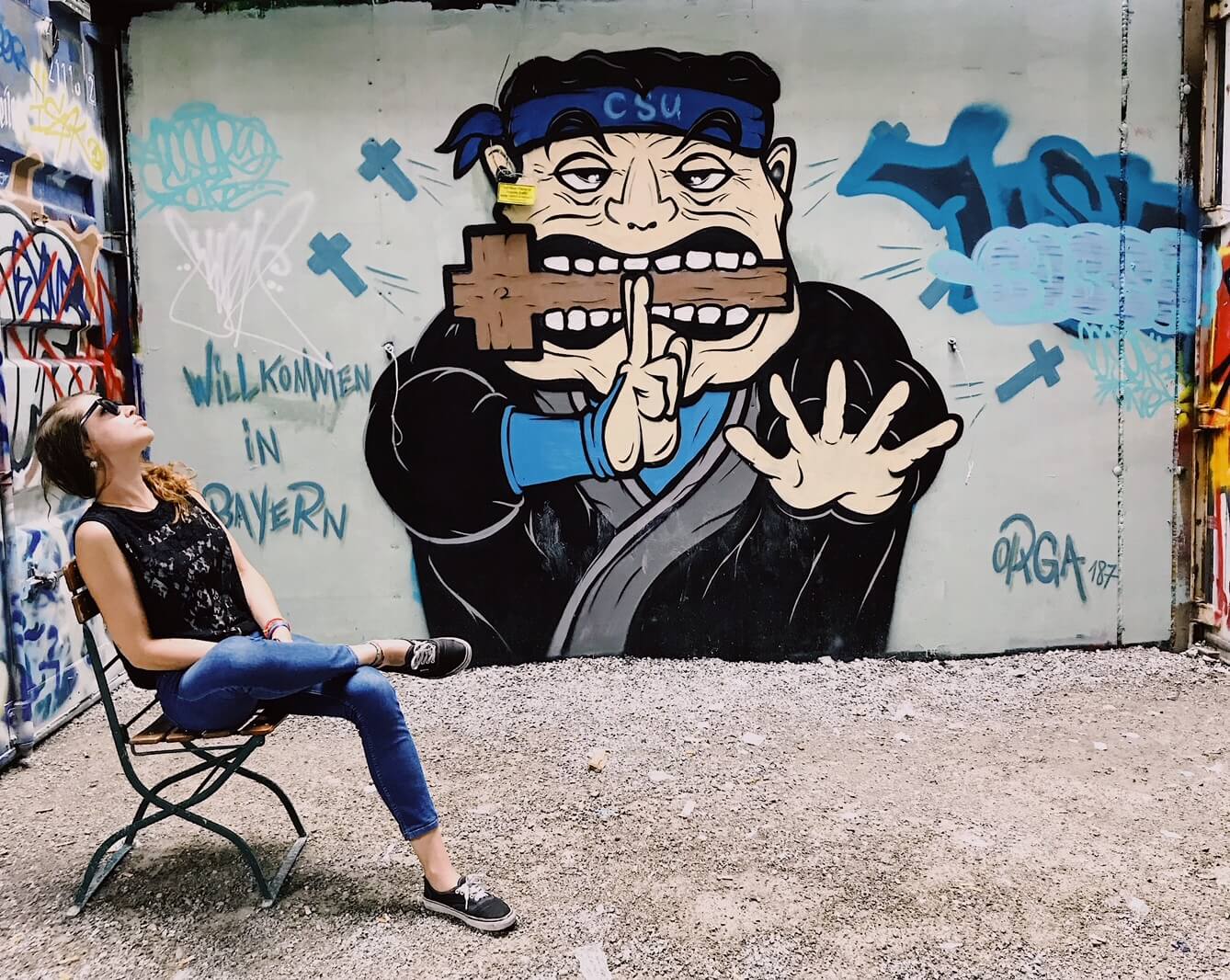 13. Bahnwarter Thiel
Bahnwarter Thiel in Munich is one of the few spots in the city which showcases the creative underbelly of the city with lots of weird, wonderful urban art. It's a cool industrial wasteland sprinkled with containers and even an old U-Bahn wagon -space transforms into techno nightclub at night which I've heard is very good. It's not quite Shoreditch or Berlin but it's promising- side of Munich I never really knew existed.
Address: Tumblingerstraße 29, 80337 München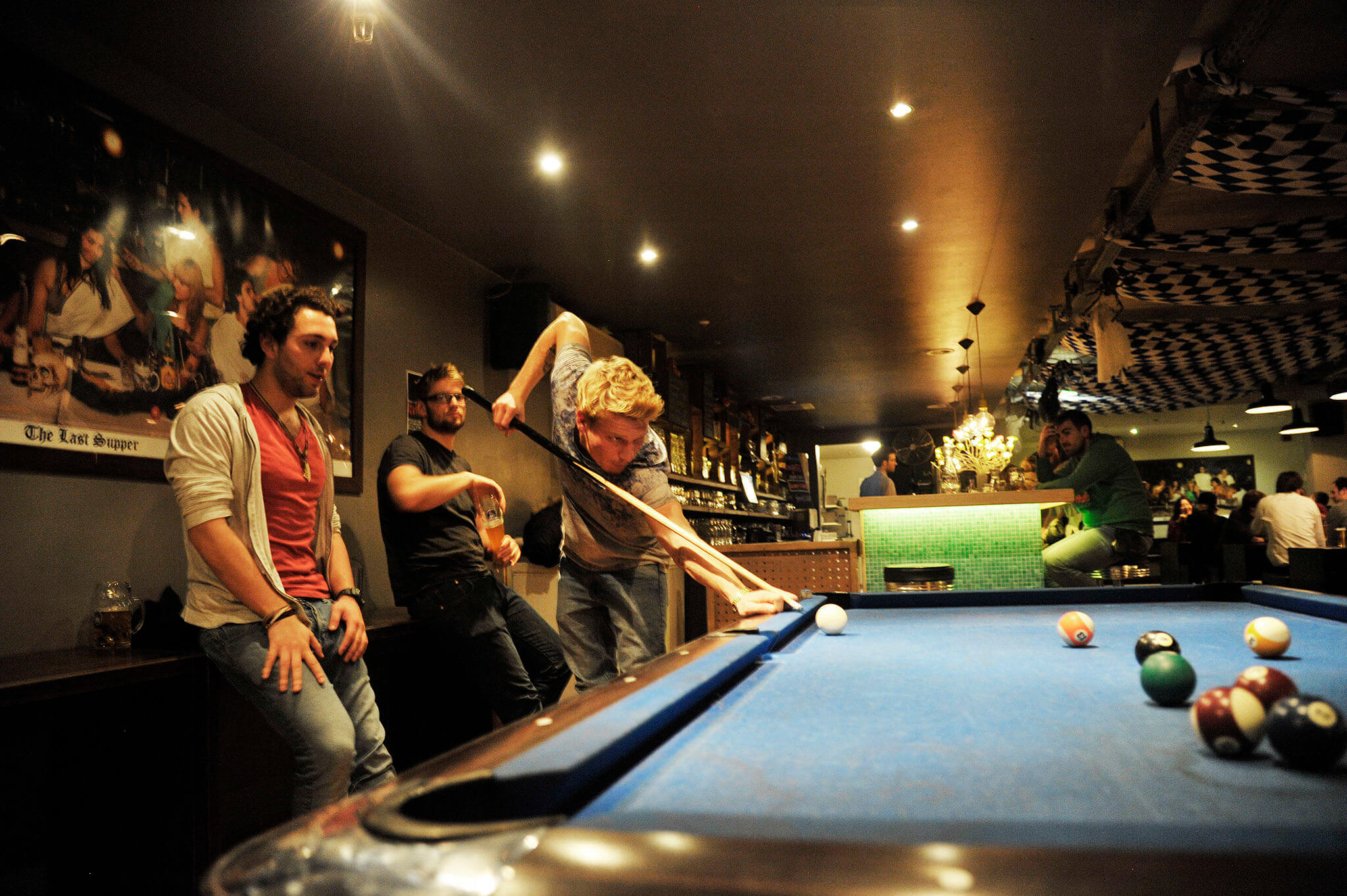 14. Nightcap at Wombar, Wombats Munich
Wind down your Munich adventure with a wee nightcap at the wonderful Wombar in Munich. Make a new friend or two at this lively, convivial hostel.
Further Munich resources and guides to checkout
48 Hours in Munich with €130
48 Hours in Munich –Instagram Stories version