Street Art is a form of art that is displayed in public locations. It has its roots in the graffiti art boom of the 1980s but has subsequently undergone successive reincarnations to achieve cult status as a sophisticated way of creating cultural consciousness and social awareness. In this respect it is a powerful subculture. I recently had the pleasure of educating myself regarding the works of many eminent artists whose works grace the streets of Germany. Here, in no particular order are ten artists who particularly caught my eye.
SHEPARD FAIREY
Shepard Fairey aka Obey Giant is an American born street artist, activist, graphic designer and illustrator. He obtained his training at The Rhode Island School of Design. It was here that he designed his iconic sticker 'Andre the Giant has a Posse'. The unusual and eye-catching design aroused the curiosity of audiences although the Obey the Giant website remarks "The sticker has no meaning but exists only to cause people to react, to contemplate, and search for meaning in the sticker".
Since then, Fairey has continued to use his influence to create art not only restricted to world famous art collections (The Smithsonian, The Museum of Modern Art, NYC, The National Portrait Gallery in Washington DC and the Victoria and Albert Museum) but also extended to urban public spaces in the form of street art.
Among the countless facades in Berlin where he has left his mark, I was privileged to witness his work 'Israel/Palestine'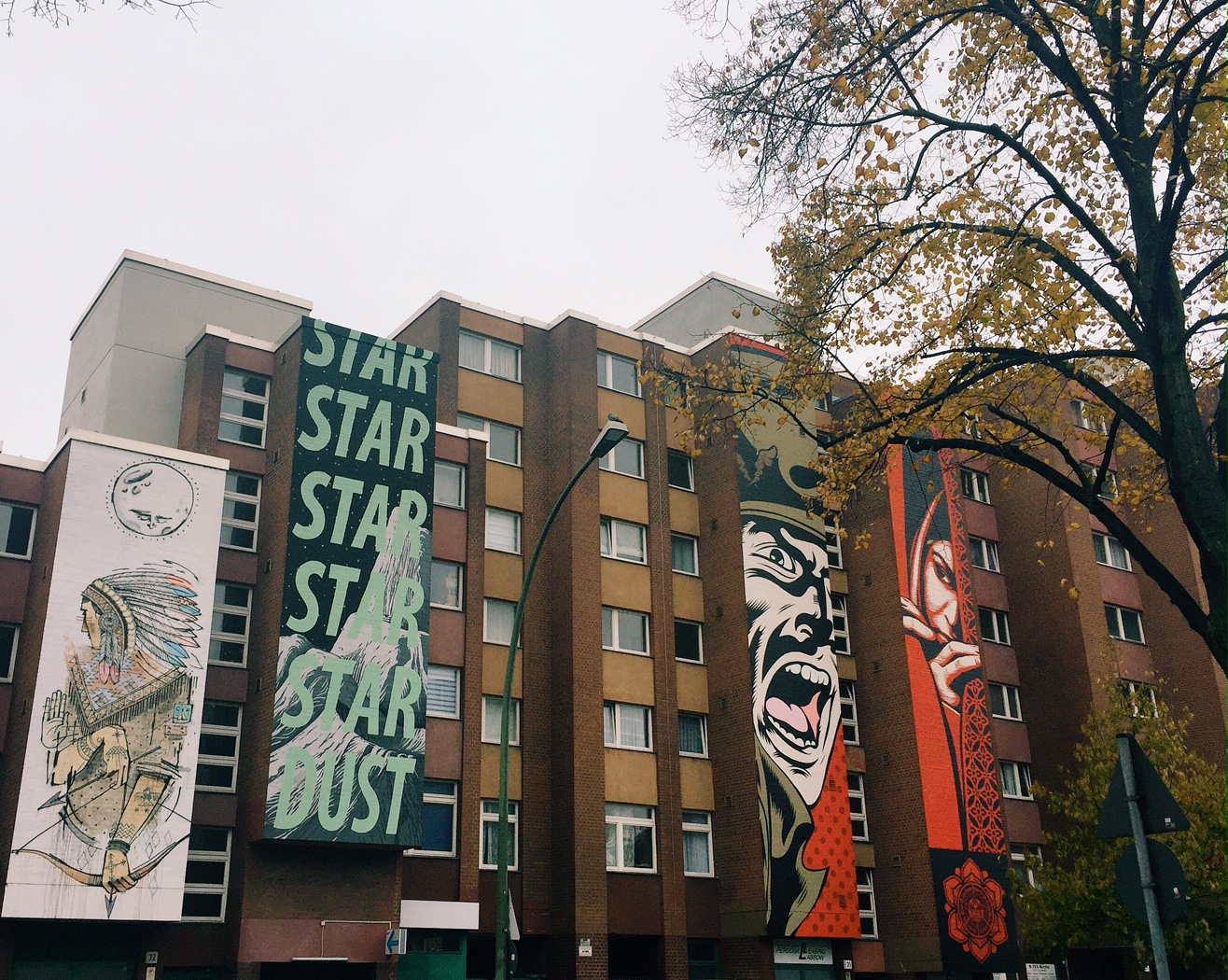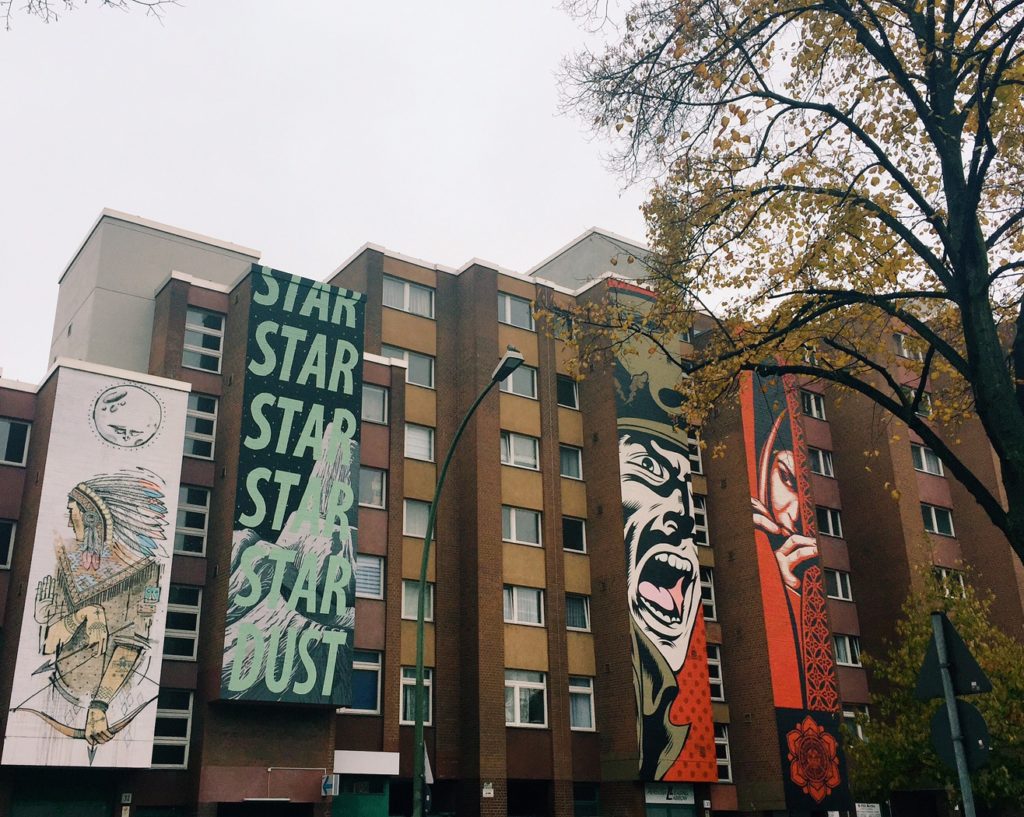 Another major work you can see in Germany is his collaboration, 'Paint it Black' with Positive Propaganda's Sebastian Pohl in Munich where he created a 15×13 metre mural addressing the issue of the influence of oil companies on global politics.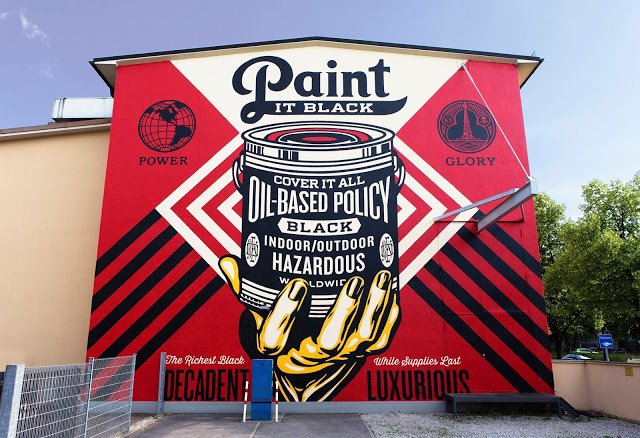 ERICAILCANE
Ericailcane is an Italian street artist, illustrator, sculptor and designer. He initially gained prominence for installing a series of art murals in the social centre of Bologna and is one of the leading proponents of 'muralism'. He has collaborated with street artist Blu and created a series of large-scale street murals.
He is particularly well known for employing the use of beautiful images of animals- all of which portray some element of social disturbance. The messages are often moral and ethical and induce the observer to think deeply.
If you are visiting Munich do see his large mural of the woodpecker in the Westend Quarter of Munich: piece is called 'Gentrifikation'
This woodpecker likes to build its home in a hollow, and live in relative isolation thus displacing the habitation of other woodland creatures occupying the same ecological niche. In doing so, however, he has to encounter the conjoined opposition of ants and fireflies. This reflects (in the words of Positive-Propaganda) the fight between the working class (aka the ants and fireflies) who once lived in the area and the bourgeoisie (aka the woodpecker) that more and more occupies that district.
ROA
Roa is a graffiti artist hailing from Ghent, Belgium. His works of art, some of quite formidable size, grace the international scene- from multiple cities across Europe, to the United States, Asia, Australia and New Zealand.
Roa's signature style features depictions of animals, birds and different forms of wildlife, often depicted in his typical controlled palette of black, white and gray scale colours. Another unique feature of Roa's work is that he often selects animals that are endemic to the place where he paints his artworks. Roa also incorporates elements of life, death and the after life in his paintings.
Working with spray paint or acrylic paint, Roa creates indelible images of wildlife helping to create awareness of the natural environment. In Germany you can see Roa's upside down 'Rabbit' in the Ehrenfeld district which is a treasure trove for anyone interested in street art.
NUNCA
Francisco Rodrigues da Silva aka 'Nunca' is a renowned Brazilian graffiti artist. Nunca means 'Never' in Portuguese and represents his ideology of not being restricted psychologically or culturally. Nunca grew up in a relatively poor neighbourhood of Sao Paulo and was initially part of a child gang spraying graffiti and slogans. Later, he developed a more artistic style. The use of bright, vibrant motifs and colours, taken from the Brazilian culture of the indigenous people, marks his style. His work has extended to sculpture. Nunca has exhibited in Brazil at The Museum of Modern Art, the Tate Modern in the UK and various other places. You can see Nunca's work in Berlin and Frankfurt
His most recent mural is a dedication to the street punk artists of Warschauer Strasse can be seen at the Urban Spree.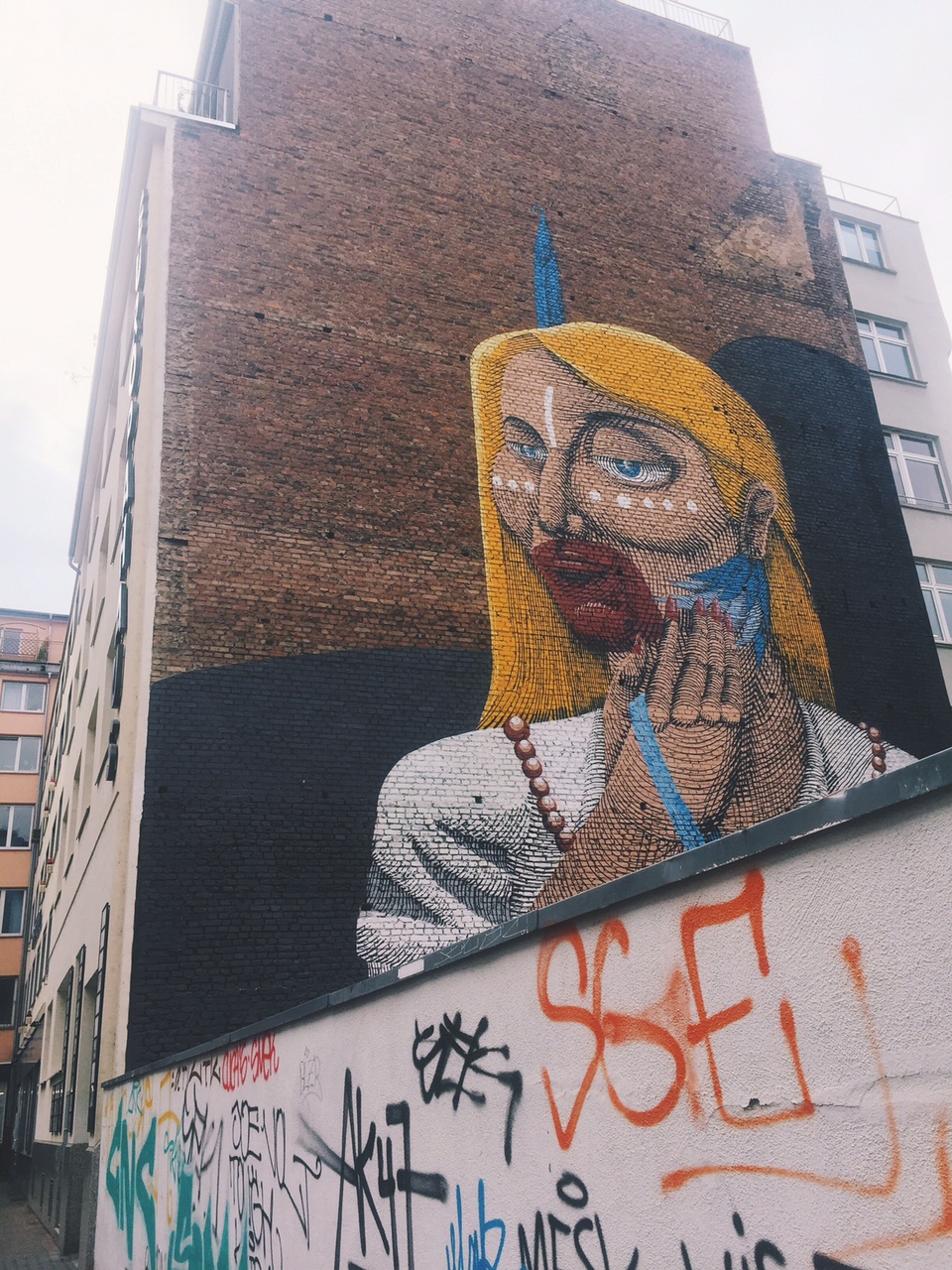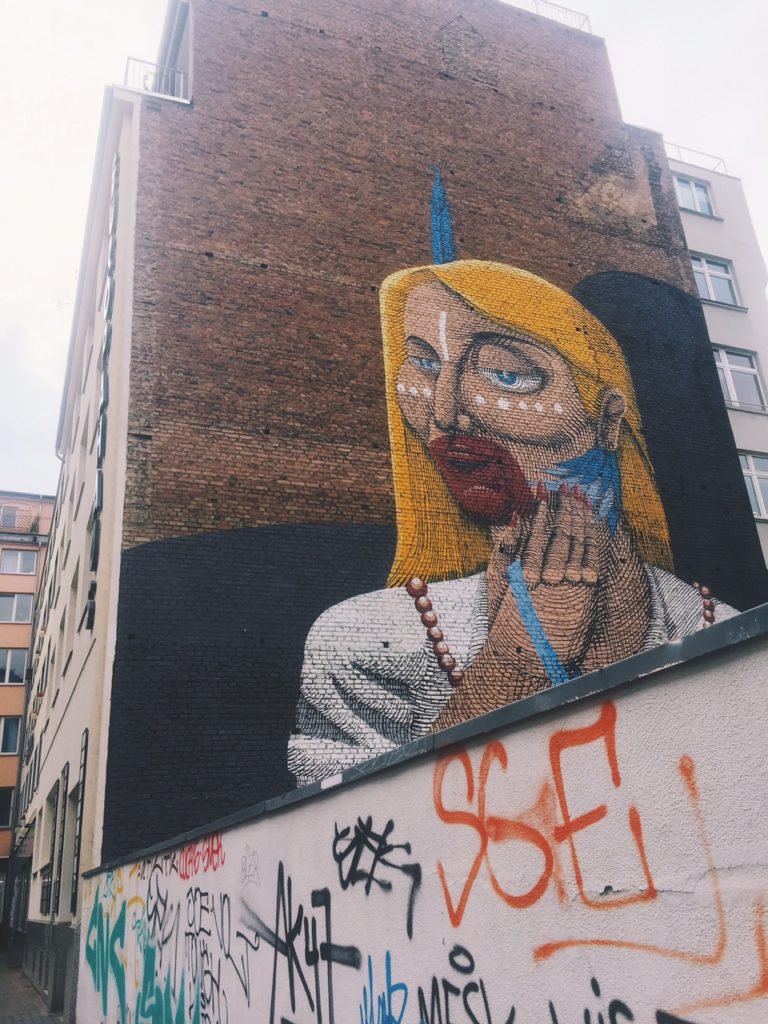 The other major work of Nunca that you can see in Germany is in Frankfurt´s Bahnhofsviertel. This mural was part of the Schirn museum's exhibition "Street Art Brazil" 
ESCIF
ESCIF is a Spanish artist, known for artwork that has many layers and social implications. Viewing of the artwork encourages the observer to think deeply and critically and demands attention to issues, which are important and relevant.
During his visit to Munich, he was struck by the abundance of beautiful flowers in the city. Whilst thinking about a particular art project ESCIF was searching for the most scenic bicycle route to the Dachau Concentration Camp and stumbled upon two leading German Arms Factories (MTU and Krauss-Maffei Wegmann), which were manufacturing tanks. To address his concerns regarding this matter, ESCIF came up with an image entitled "durch die Blume gesagt" (meaning "to say something in a roundabout way" and a wordplay based on "Blume", German for flower). The floral motif is a reference to the fact that Munich – despite being a beautiful, blooming floral city is also renowned as a stronghold of the German arms industry.
BLU
Blu is an Italian artist and activist. He has left the mark of his artistic work pretty much all over the world: from the façade of the Tate Modern, to the urban scene of Berlin-Kreuzberg, to that of MOCA in Los Angeles. He is well known for turning down 99% of commissioned work in strict adherence to his socio-political motivations. It is hence, understandable that the work he does choose to create have strong moral and social implications.
Sadly one of Blu's major works on Curvystrasse which kinda defined the street art scene in Berlin was painted over on the night of 11 December 2014. This he said was a reaction after witnessing the sweeping changes happening in the surrounding area during the last years and the gradual gentrification of Kreuzberg. The now painted black walls you could argue are a form of street art, a commentary on his strong feeling about the gentrification of this part of Berlin. In many ways it is an extension of his previous artworks about the rise of capitalism and consumerism in this city.
HERAKUT
Hera (Jasmin Siddiqui) and Akut (Falk Lehmann) are a German street art duo who have worked together to create the most memorable style of art. The art form they have adopted is mainly to do with storytelling and the creation of imaginary worlds. The characters depicted in their art, portray this element of the storytelling process. The duo work in perfect synchrony, creating different aspects of the artwork. Hera sets the charcater's form and proportions and Akut fills in the photorealistic pieces.The artwork is to be found in public spaces but they also display their art via installations, gallery pieces and canvases. They have shown their work all around the world including Los Angeles, San Francisco, New York, Bristol and London and have also published two books together. Herakut's paintings are powerful, they are sensuous and they convey a message. Humour and a story are definitely two elements you can expect to walk away with after viewing their art. The faces depicted in the artwork are fraught with emotion and inspire curiosity to learn more about the stories. In Germany I saw two of their greatest pieces.
One in Frankfurt: a beautiful large monochrome piece which reads "There Is Something Better Than Perfection"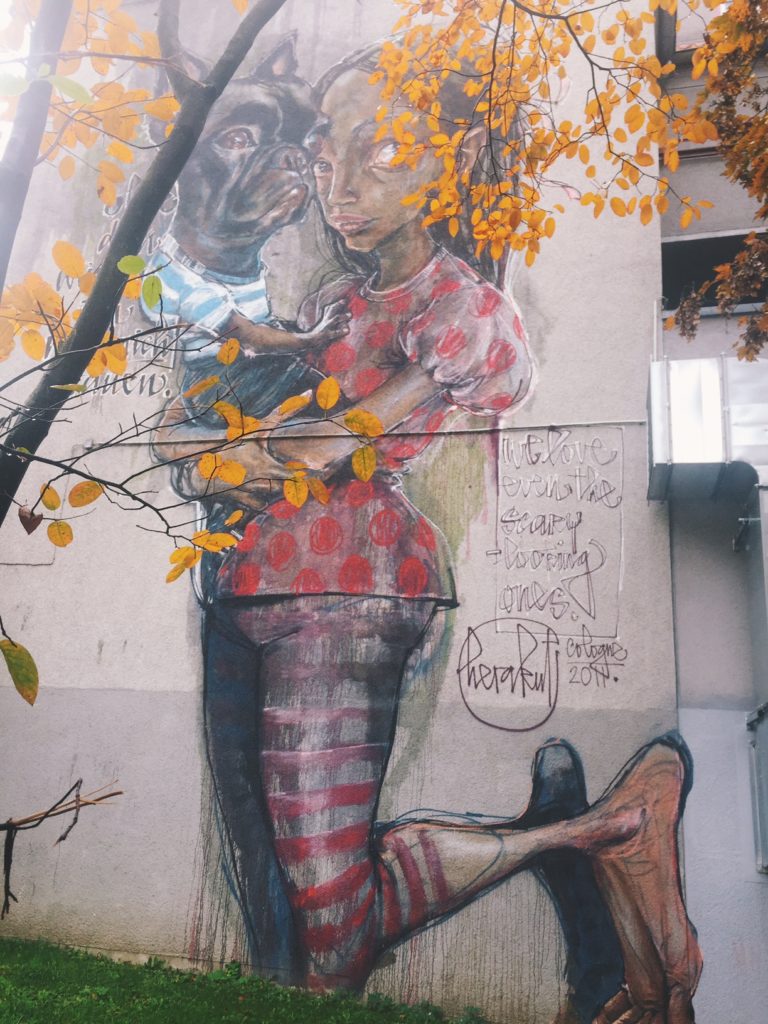 Then in Cologne's Ehrenfeld district, we also found another excellent mural "We love even the scary looking ones.'
CHRISTIAN BOEHMER 
Had the pleasure of meeting Christian Boehmer in Cologne. He is a German artist born in Bad Kreuznach. He started painting graffiti at age 13, emblazoning the walls of Frankfurt and Wiesbaden. Nowadays, though he still likes to create wall art, he also employs canvas and paper for his artwork. Boehmer's particular niche is the painting of human portraits. We were very lucky to visit his studio in Cologne's Ehrenfeld. Afterwards he even kindly took us on a tour of some of the district's major street art works.
If you are in Ehrenfeld, do look at his moving and beautiful painted 'Sleeping Amour'
MITTENIMWALD
Mittenimwald is a German street artist and Mittenimwald is the name he has assumed. Mittenimwald literally means 'in the middle of the forest' and refers to a dark time in the artist's life when he was left without a job and was trying to find his way. The artist's real name and other personal details of his life remain a mystery.
Mittenimwald is well known for working solo, without the help of any crew. In 2007 he started his career by designing stickers. He worked in advertising for many years and that is why some of his artistic inspiration comes from aggressive advertising. Mittenimwald prefers to work alone, using garages as his workshop and the use of canvases. He often uses wood to design intricate stencils. The stencils are used over art pieces to form his unique signature style. Application of aerosol can spray finishes off the job. The multilayered stencils, in particular lend his work that sophisticated, refined look. His images include beautiful women, revolutionaries, dictators and pop-icons to name a few. Memorable texts used in his work include "fuck art", "I love $$$" and "enjoy capitalism". The observer won't forget the impact of Mittenimwald's work in a hurry. I was lucky to see a lot of his work in Hamburg. Below is a sample of his work I saw.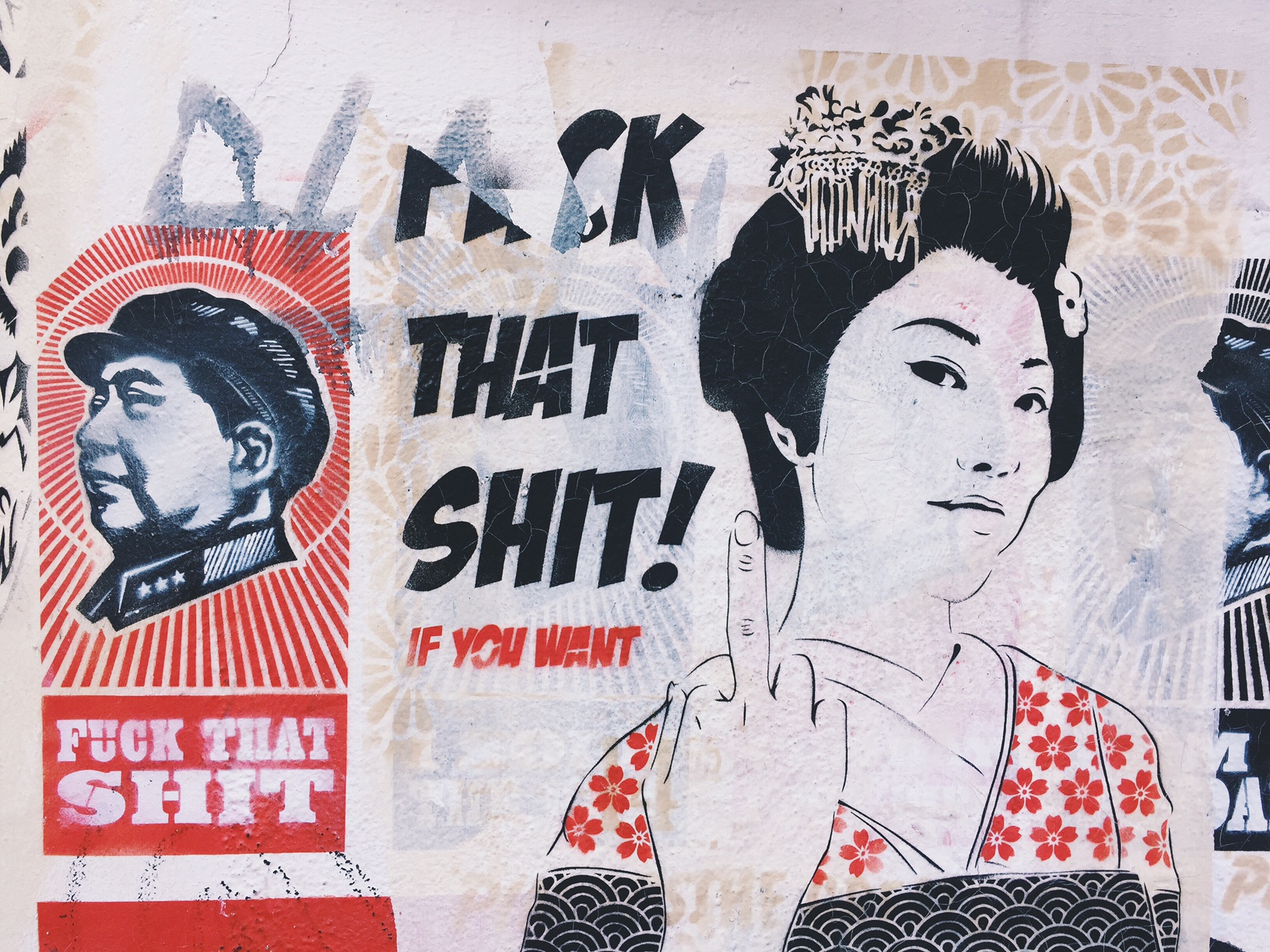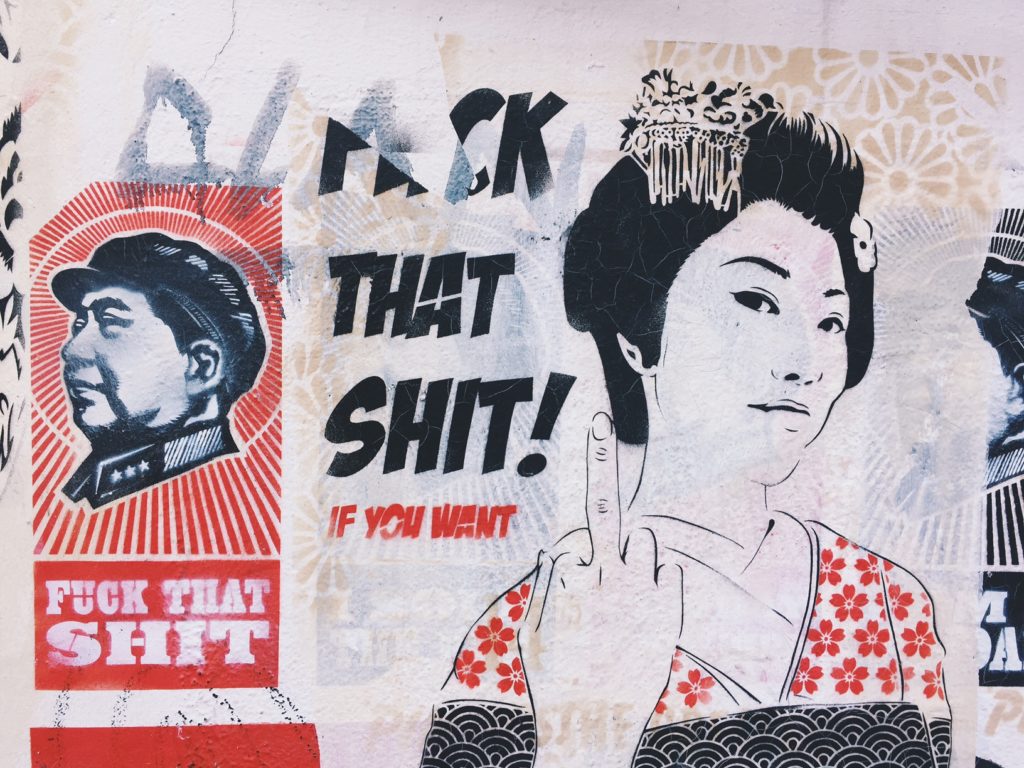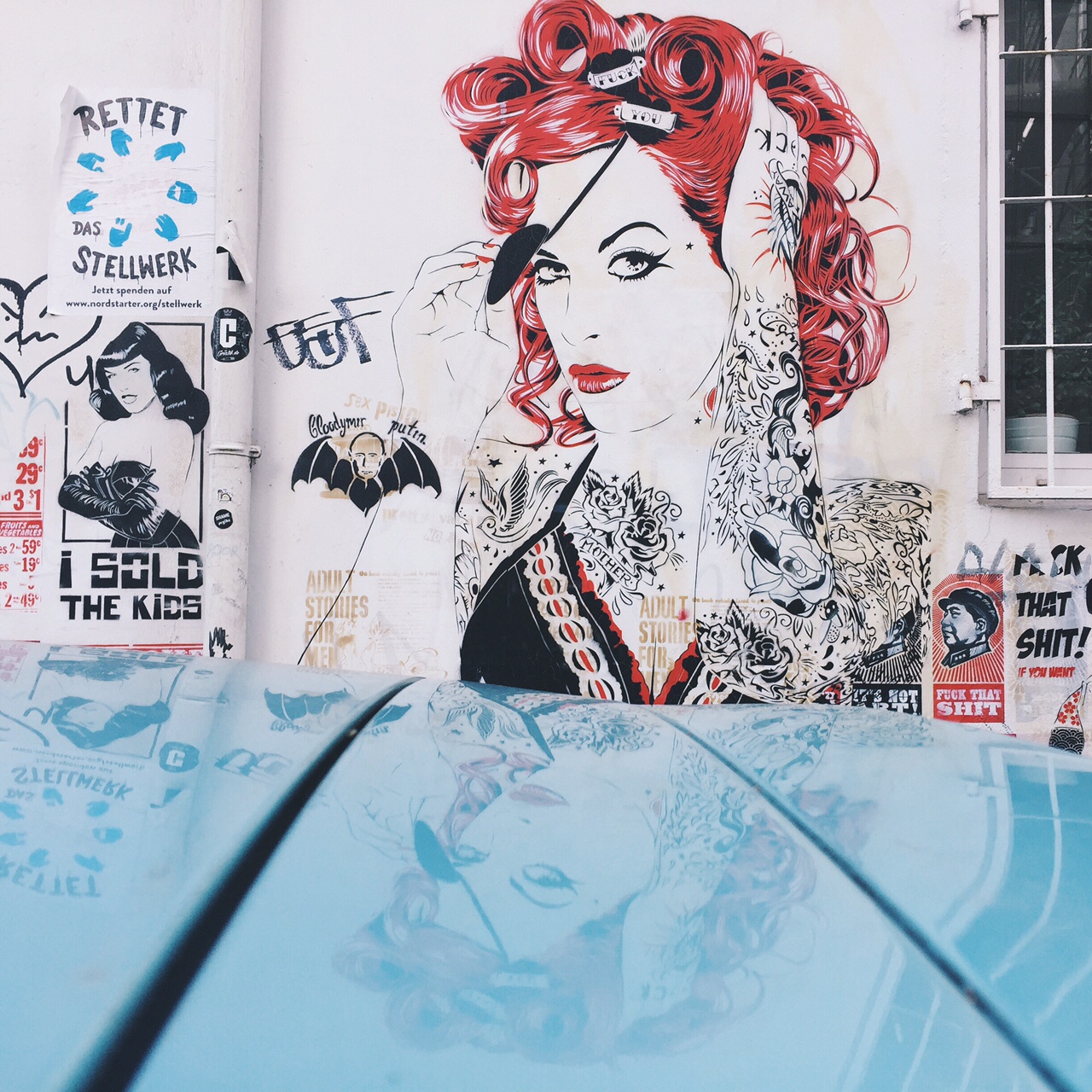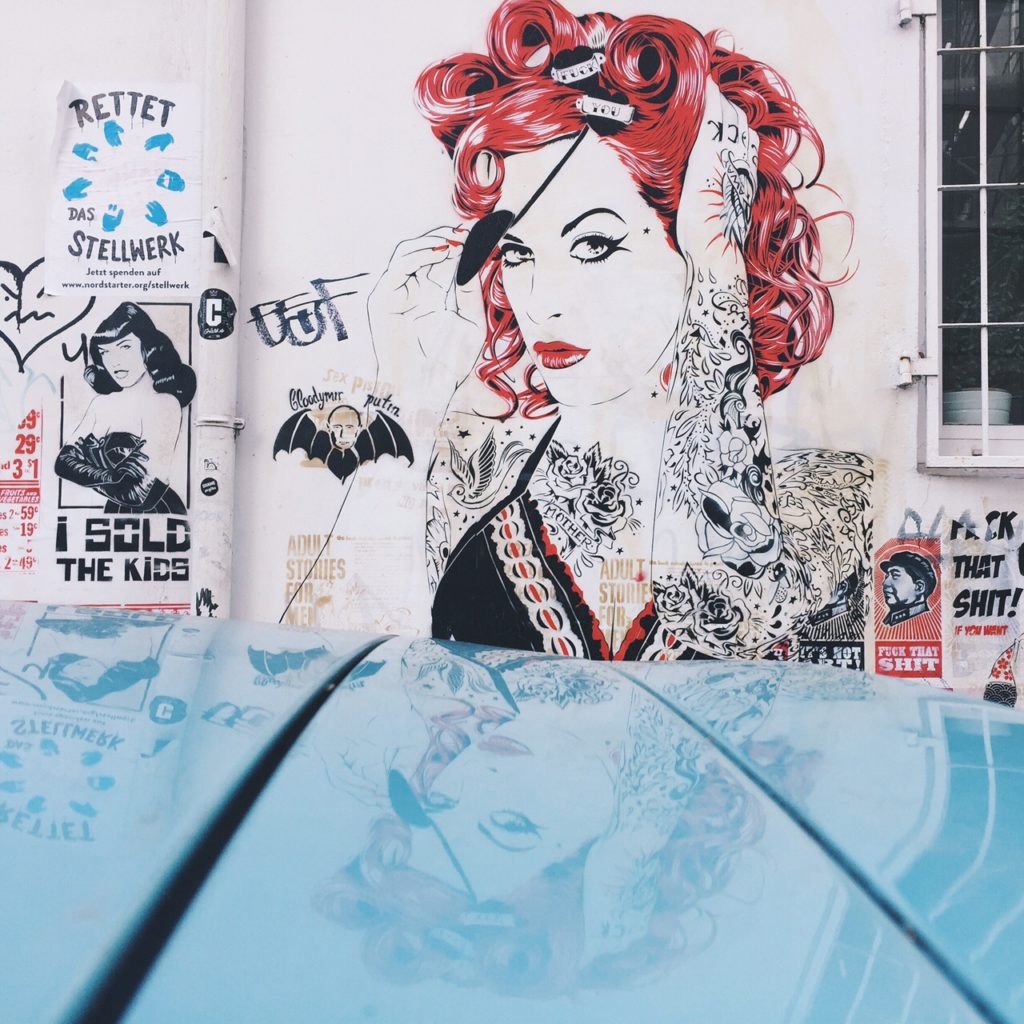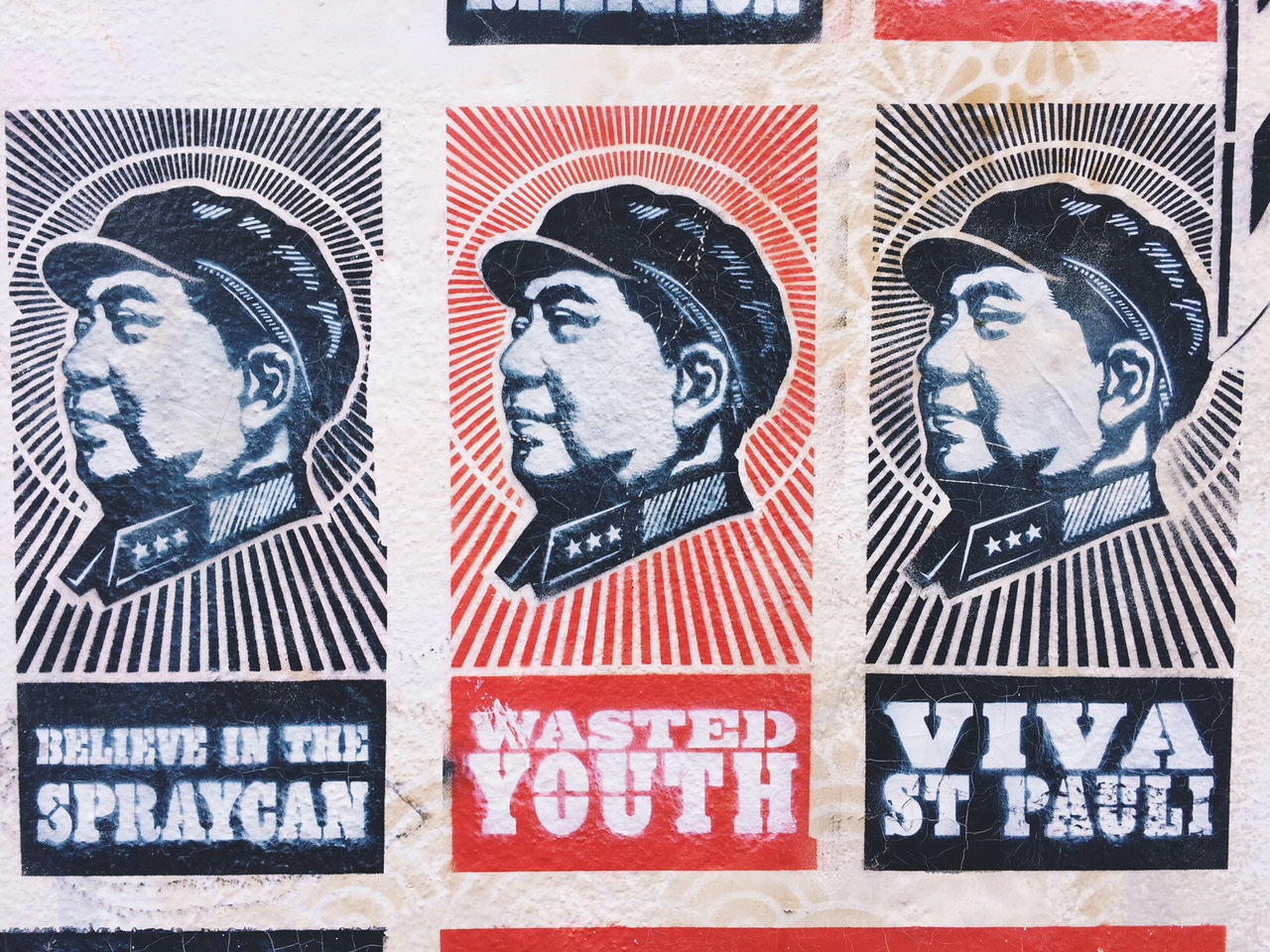 El BOCHO
El Bocho is the nickname of a street artist residing in Germany.
El Bocho is Mexican in origin and means 'little donkey'. He worked originally as an illustrator and typographer by day. He then moved onto graffiti art when he entered the street art scene but now employs the use of paste-ups.
El Bocho excels in the creation of cut-out work and giant installations some of which are upto 20 feet tall. He hangs up the installations and cut-outs on Berlin street walls during the night time.
It was in 2003 that El Bocho created his signature Little Lucy doll, based on a Czech TV programme that ran in the 1970s called Little Lucy-Fear of the Streets. El Bocho found the character so boring that he decided to liven things up with Little Lucy finding myriad ways of killing her cat. In this way El Bocho imparts a dry, dark sense of humour to his works.
El Boco had diversified and extended his reach to even the manufacture of eco-friendly bags, a venture he undertook in 2009.
Creative Commons License Attribution
Andre the Giant has a Posse photograph was licensed  under Creative Commons License  courtesy of Paul Sableman; Ericailcane photograph was licensed under Creative Commons License courtesy of Marta Nimeva Nimeviene; Roa outside Urbanangel.com's Art Lounge photograph was licensed under Creative Commons license courtesy of RJ; Nunca photograph was licensed under Creative Commons license courtesy of RJ; Breeding the Disease photograph was licensed under Creative commons License courtesy of Lord Jim ; Berliner Ansichten photograph was licensed under Creative commons License courtesy of Alexander Hüsing.
THANK YOU
Huge thanks to German National Tourism Bureau – Jan, Elif, Denise and Charlett for supporting this project and also my colleagues at iAmbassador for helping me put this project together.
Plus a big thank you to my #streetartgermany team: Sabina Trojanova from GirlVsGlobe, Peter Parkorr from Travel Unmasked, Mark Hofmeyr from Trademark Pictures and Gloria Atanmo from the Blog Abroad. Check out their blogs and please follow them.
For more posts from the #StreetArtGermany series checkout my recent photoessay about Teufelsberg plus some videos and stories from the trip via my Instagram Stories wrapup of the trip.