If you were to sum up Leipzig in one word, what would that one word be?
It was a question I asked a few locals when revisited Leipzig last month. I got a different answer from everyone.
Bach.
Exciting.
Creative.
Freedom
Crossroads might be my word.
I was lucky to visit Leipzig 5 years ago. I'll be frank with you. I didn't really warm to the city at first. I had booked myself into a hostel in the city's east. The hostel was situated in a classic plattenbau, prefab concrete buildings that were typical of the GDR era. After the imposing modern architecture and grandeur of cities in the west like Munich, Dusseldorf and Stuttgart, the rundown eastern half of Leipzig provided a brutal contrast and reminder that the benefits of German reunification had not been evenly spread.
I remember the eerie silence screaming in my ears, as I walked through the neighbourhood, a mass of crumbling high-rise apartment flats with abandoned buildings on virtually every street. Some of them had boarded up windows while other had fallen-in roofs, often a mesh wrapped around their upper floors to prevent chunks of the buildings from falling and hitting pedestrians. I briefly ventured out in the evening in search for a bit to eat and stumbled across a few alcoholics and a guy offering me some crack heroin. I retraced my steps back to the hostel quickly and after a sleepless night, shifted to a hostel in the more lively city centre.
After dumping my bags in the room and a quick breakfast, I walked out aimlessly into the city. I had no map. The desire was to walk and get some sun on my skin. I had a slight headache from the lack of sleep. I soon wandered into a beautiful square, flanked by bare branched trees showing the first green shoots of spring. At the heart of the square, St Thomas's Church stood tall, a grand gothic romanesque church where apparently a certain Johann Sebastian Bach had been cantor. I walked into the church and heard someone practising on the church's famous organ. Hair on the back of my spine stood up as the music boomed through the cavernous church. Suddenly the weight of all the history and the significance of the place weighed on me. I was left a bit overwhelmed. I stumbled out into the fuzzy April sunshine and was soon drawn to the sound of a blues musician strumming his stuff in the square.
Right beside him I noticed a plaque that commemorated a famous event that took place here, one momentous day in Leipzig 24 years ago. A group of musicians had organised a street music festival here to protest against the communist regime of the GDR. Performing music without permission was a punishable offence in the GDR. As expected, the festival was banned by the authorities. However, much to the delight of locals, musicians from all over the GDR defied the ban and turned up in numbers in Leipzig in front of St Thomas's Church on the morning of 10th of June, 1989. By 12 o'clock the local police had gathered in numbers to breakup the concert. Using excessive brutal force they forced the musicians onto trucks. However that did not stop the festival from continuing. It inspired more people to take their place, spontaneous solidarity actions taking place right till the evening. Small but significant moments like these all contributed to the gradual demise of the GDR regime.
Reading this piece of history on the plaque moved me to tears. I don't know whether it was the lack of sleep or the fact that I had been on the road for a while but the moment I read that, the earth beneath my feet moved a little and my view of Leipzig changed.
The fact that change is possible, even when the odds seems insurmountable is something worth holding onto. It's a message that has a powerful resonance, particularly now when the world, ruled by megalomaniacs and despots, seems to be sliding towards a very uncertain fate.
5 years later
5 years later and I find myself on a similar fuzzy sunny day in Spring heading on an IC train to Leipzig from Berlin. I wander through the city centre and soak in the familiar sights like the Gewandhaus, Nikolaikirche and of course St Thomas's Church.
I visit the former industrial neighbourhood of Plagwitz in the city's west. A bohemian district and home to lot of artists, back in the day, this used to be a pretty run down area with lots of semi derelict buildings with artists squatting in them and a handful of cafes.
Karl Heine Strasse
I walk down the district's main thoroughfare, Karl Heine Strasse and  the street has cleaned up nicely. Locals are huddled into an old favourite Noch Besser Leben which was cool before Plagwitz was cool. Another local landmark for drinks, food and entertainment is the Schaubuhne Theatre is going strong. There are a few visible changes too. I count while walking down the street not one but three guys with man buns, two Audis, a grand cafe serving handcrafted artisanal coffee plus an independent shop selling handcrafted leather goods that were beautiful but ridiculously overpriced. Yup. The hipsters had left Berlin and were taking over Leipzig. I visit a well rated local Mexican eatery, Gallo Negro on the street. The food is delicious but for a bunch of tacos and beers we pay close to €20. I was surprised at how expensive the food was. Maybe I should have done my research better. Later on in the trip I had a delicious meal on Karl Heine at the Moroccan eatery called Casablanca. Lovely food, lots of vegetarian options, good portion sizes, great mint tea and well priced. Maybe the Mexican was an exception.
The point I'd like to make here is that the inevitable consequence of change is that it will lead to progress, a lot of which will be good and some of it may be unpalatable.
A few years ago, I remember lamenting the lack of choice of places to eat and drink in Plagwitz. It wasn't clearly geared up to meet the needs of tourists. Now Karl Heine Strasse is thriving, bursting with cafes and bars packed with locals and tourists. I am weirdly nostalgic for the former Karli and its moribund silence. Which is better? I guess it is a matter of personal perspective.
As I spend a good half of the day exploring Karl Heine Strasse it starts to rain and I take cover in an old factory building.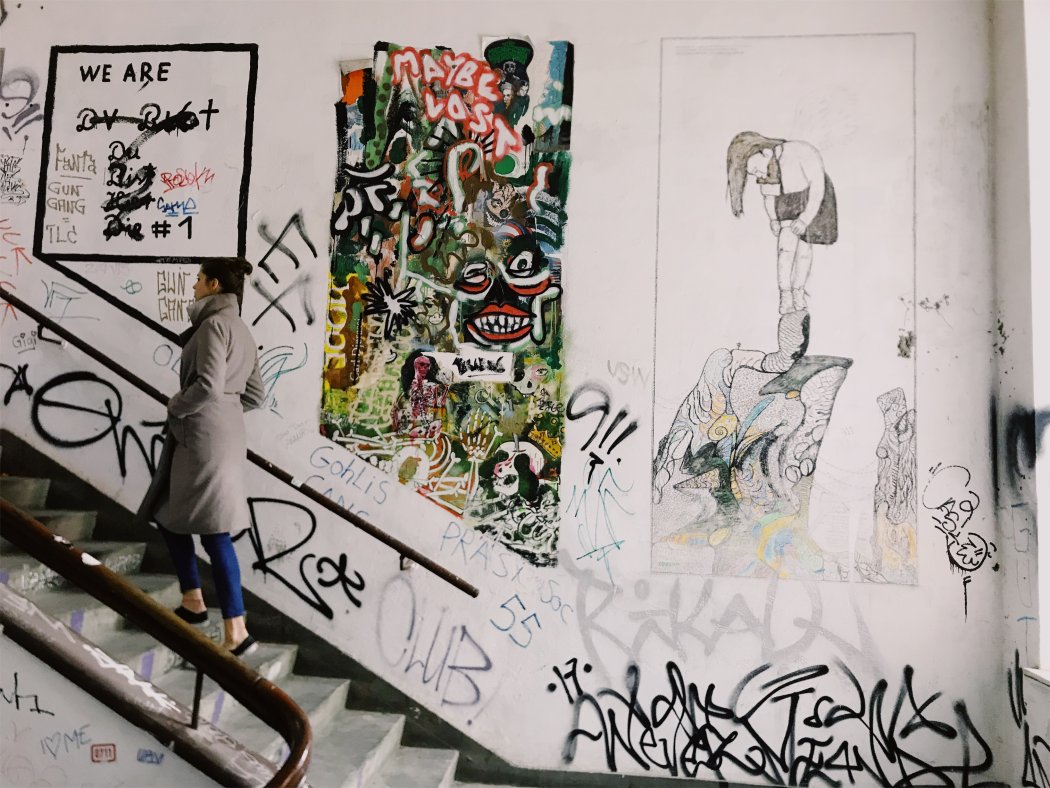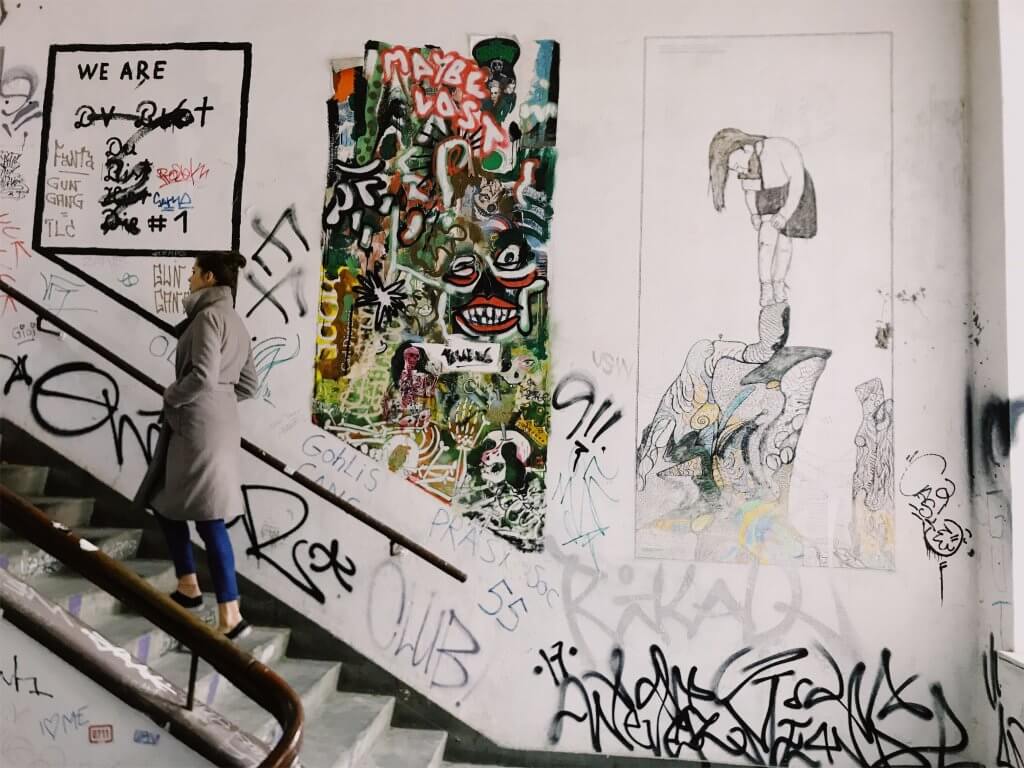 I wind up the staircase and amidst the extensive graffiti strewn walls , find odd pieces of beautiful art works on the wall. On one floor there are a few artist's ateliers. I walk past one and suddenly hear the deep thud of techno music. Maybe this was home to some of the illegal raves we heard Leipzig was famous for? I'm inclined to knock on the door but common sense prevails and I take one more flight of stairs and suddenly find myself in the midst of a hub of frantic activity. A few guys are heaving crates of drinks up the stairs into a huge room that is filled with pool tables. I am terrible at pool but decide its worth grabbing a beer and playing a round given the deluge of rain outside. Luckily, owner of the place, Guy Buss, a former Bundesliga pool champion was on hand to share some pro pool tips and his views on the changes taking place in Leipzig.
'It is an exciting time to be in Leipzig. Rents are still affordable, more young people are coming to live here, more companies are investing here so there are more new opportunities available for everyone. It is still a small city unlike Berlin and everything is within easy reach. I came from Finland here to study and fell in love with the city. I can't think of a better place to live and work in Germany at the moment. '
Guy has a day job working in a software company and in his spare time, runs the place along with his two other business partners. He wants to move away from the stereotypical image of pool halls and attract a younger clientele. He has big plans for the place which include bringing in school groups to pick up the finer points of the game, pool tournaments and also games nights which will hopefully pull in locals looking for a different kind of night out.
I pick up a few pro tips from Guy and after one game, already feeling much more confident about my game. I leave the place, hopeful that Guy will do well.
A weekend of art: Tapetenwerkfest and the Spinnerei
On the weekend we visit, the art galleries of Leipzig have an open doors evening. This only happens twice a year so I'm feeling smugly happy. On the first night, I visit Tapentenwerk, a former wallpaper factory converted into an artists residence. Among the tenants are photographers, artists, architects, a longboard manufacturer and a feng shui practice.
In the evening when I arrive, the place is packed with locals.The air is thick with the waft of grilled meat and beer. It's April and there's a nip in the air but you can almost taste summer. The idea is fantastic. People are invited behind the scenes to explore artist ́s studios, celebrate and dance the night away. There's a raw intimacy about how artists talk to visitors and talk about their work. The pieces of work are on sale but I don't see much money changing hands. Instead I see more a celebration of humanity. There's lots of wine being poured, lots of curious faces and a general air of contentment. There's a large outdoor terrace upstairs where locals huddle together and sway to the moody beats of techno. After another uncertain start, I'm beginning to really warm to Leipzig again.
The following day I visit the Baumwollspinnerei, another stalwart of Leipzig's art scene. Its a gloriously sunny day. Once holding up to 4,000 people in a vast complex of 19th-century factories, the area was so vast it was often considered "a city in the city". After a rapid decline in cotton production, after the fall of the wall, the complex slid into oblivion and was then rescued by a group of artists. Home to now working studios of architects, fashion designers, and artists, exhibition halls, galleries, a theatre and dance groups, cultural initiatives and lofts which you can rent for the night, the city within the city has been reborn. With over 15000 people visiting the ateliers over the weekend, it can be a little overwhelming trying to see all the studios but I come away reinvigorated and a head full of new thoughts and ideas.
Leipzig's music scene: The old vs new 
Continuing the pilgrimage of art and also music, before leaving Leipzig I had the chance to take in a concert at the Mendelssohn House and a rehearsal of a new initiative, Two Play to Play.
Built in the late classicist era, the Mendelssohn house has been beautifully preserved, retaining the same layout when he lived here  back in 1845. It was the composer's last private address, and the only one of his residences that can still be visited. I had the chance to listen to some of his works as part of the weekly Sunday morning concert series. I enjoy the music in the historic setting. The only disconcerting thing is that I am by far the youngest person in the audience. The average age of the audience is well close to the 80's. Its worrying to see how classical music seems to be the preserve of a much older audience. My mind wanders as to how does a city of Bach, Mendelssohn and Wagner make itself more relevant to the musical tastes of younger people?
I find the answer in the next concert I attend. I attend the open rehearsal of 'Two Play to Play' a seasonal initiative that invites musicians of the Gewandhaus Orchestra to interact with musicians of the independent scene. The idea is that they together compose a new piece of music combining different approaches and styles of music.
The rehearsals are open to the public. This season sees a 150 voice choir, the adventurous choir director Gregor Meyer and the introverted yet expressive pianist and composer Martin Kohlstedt find common ground to hopefully produce a masterpiece.
The music of Kohlstedt is hypnotic and quite grand in scale creating a dramatic soundscape which dovetails nicely with the vocal harmonies of the choir. Its a difficult balancing act but the result feels quite modern but still classical in sound.
Leipzig in one word?
After 4 days of immersing myself in Leipzig's arts and musical landscape, I go back to the question I posed all the locals.
Along with crossroads, I definitely would use the word creative. Unlike other cities in Germany which have a wealth of historical monuments, Leipzig doesn't possess one outstanding monument that makes it a must visit city for tourists. However, it does have this one thing that makes it pretty unique which Martin Kohlstedt summed up nicely in one word when I asked him the question.
Friction.
There's a constant clash of forces in Leipzig – left wing vs the emerging right wing Afd , Bach vs Techno, developers vs the squatters, residents vs hipsters- this is a city constantly in flux, reinventing and redefining itself.
A city at the crossroads. Leipzig might go the way of Berlin and Brooklyn but in the meantime this is a city that is very much open to all kinds of possibilities and people. A city open to change despite many odds being stacked against them. That, as history has taught us in the past, can hopefully only lead to good things.
Disclosure Note
This post is a paid collaboration with Leipzig Tourism and Captivate. All words, opinions, photos are my own. The video was produced by Sabrina Wulf.